Are you planning your next South American adventure and don't know where to start? I recommend Argentina!
This South American power house is culturally and geographically diverse.
In a matter of days you can explore the jungle, go wine tasting, and trek across a glacier!
This post is a comprehensive list of the best places to visit in Argentina, from Iguazu to the Patagonia and everywhere in between.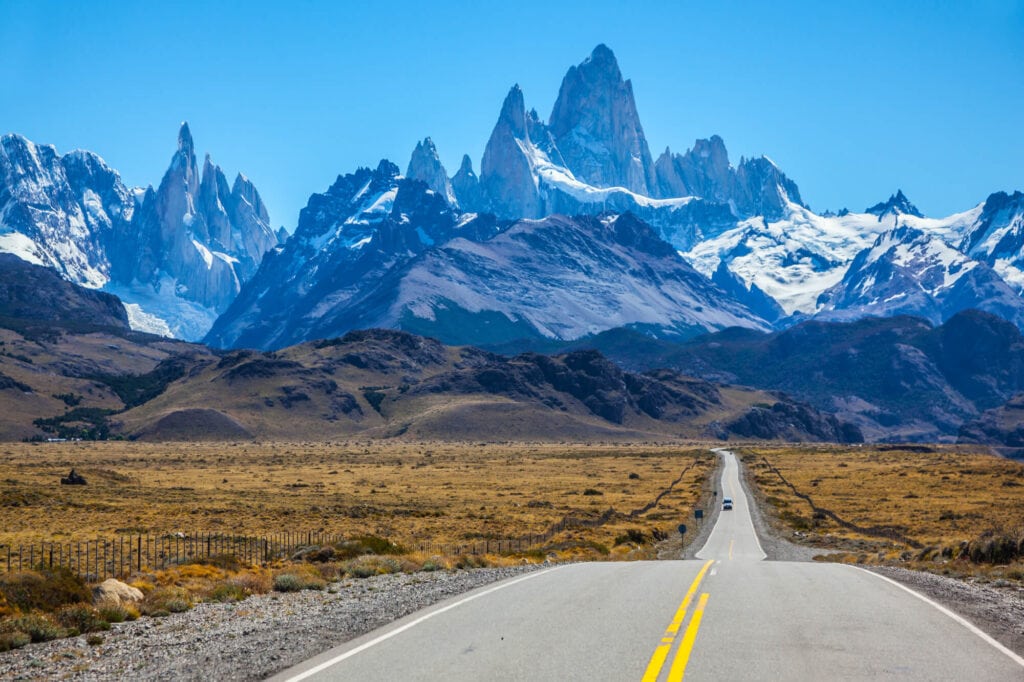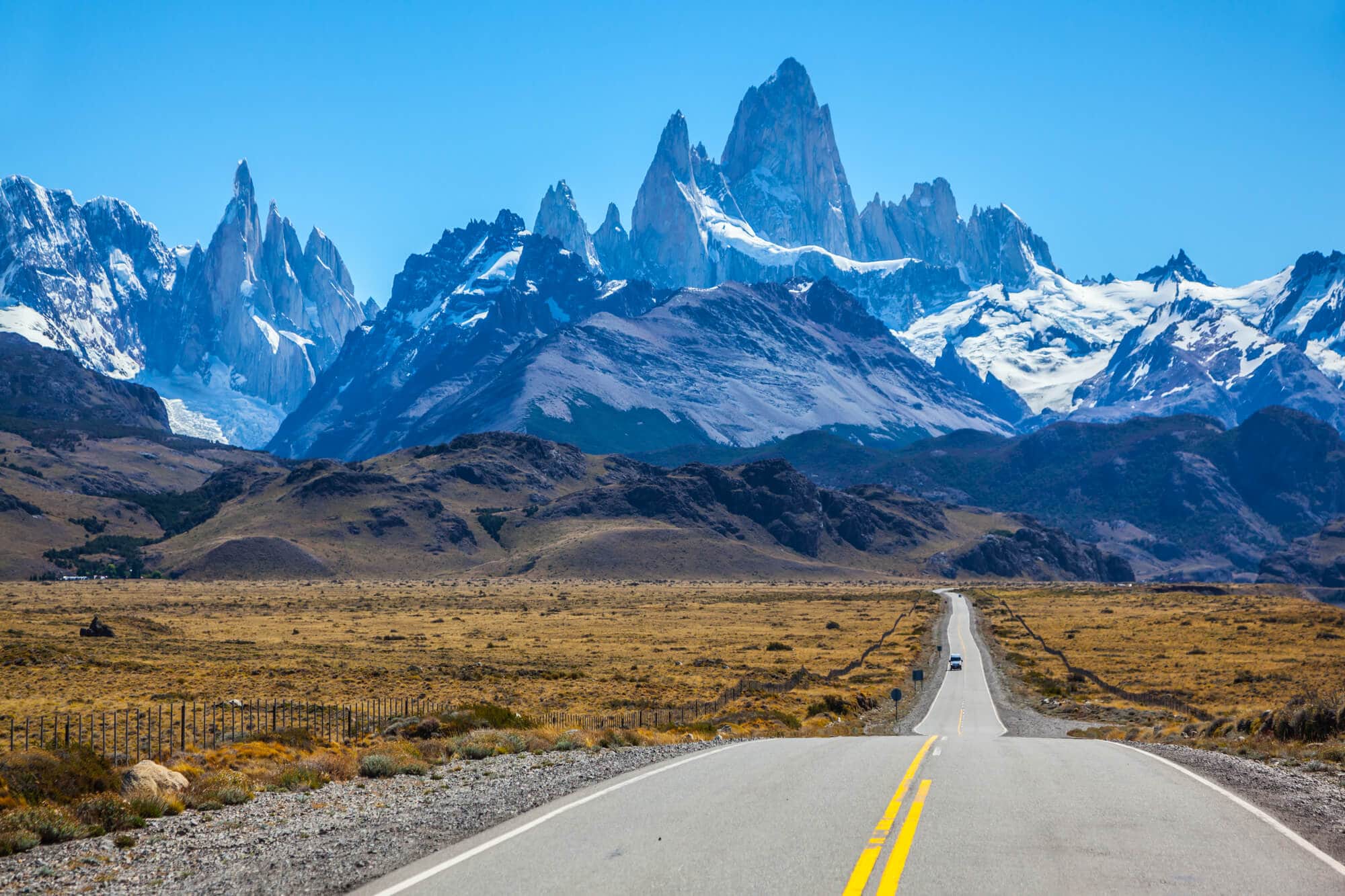 QUICK NOTE: This post contains affiliate links and Sol Salute may receive a commission for purchases made through these links, at no extra cost to you.
18 Beautiful Places to Visit in Argentina
There are a few iconic, world famous places to visit in Argentina: Buenos Aires, Iguazu Falls, Mendoza…
These are the destinations people fly half-way around the world for.
Itineraries are designed around them.
And it's easy to see why!
However, along with these well-known destinations, there are off the beaten path jungle tree-house lodges, rainbow mountains, scenic drives, wildlife, and natural wonders.
This post includes it all. I hope it inspires your travels in Argentina from world famous Iguazu to the hidden moon landscapes of San Juan!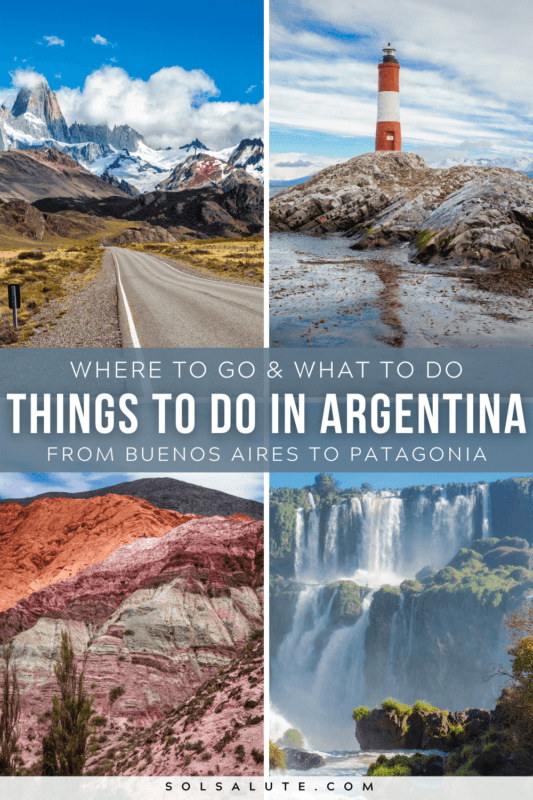 Note as to this post's organization: I've chosen these destinations based on how I'd plan a trip.
Each one may have multiple towns or national parks or landmarks that would all be visited together. I hope this makes your trip planning less overwhelming.
Ok, let's get to it! Here are the best places to visit in Argentina, from the top tourist attractions in Argentina to the undiscovered.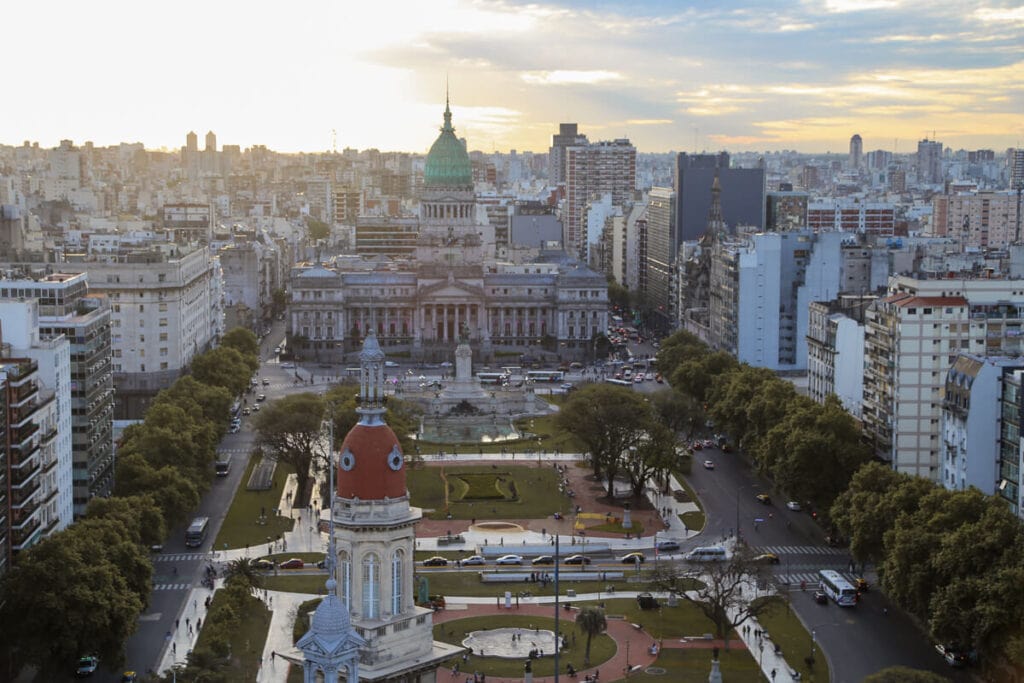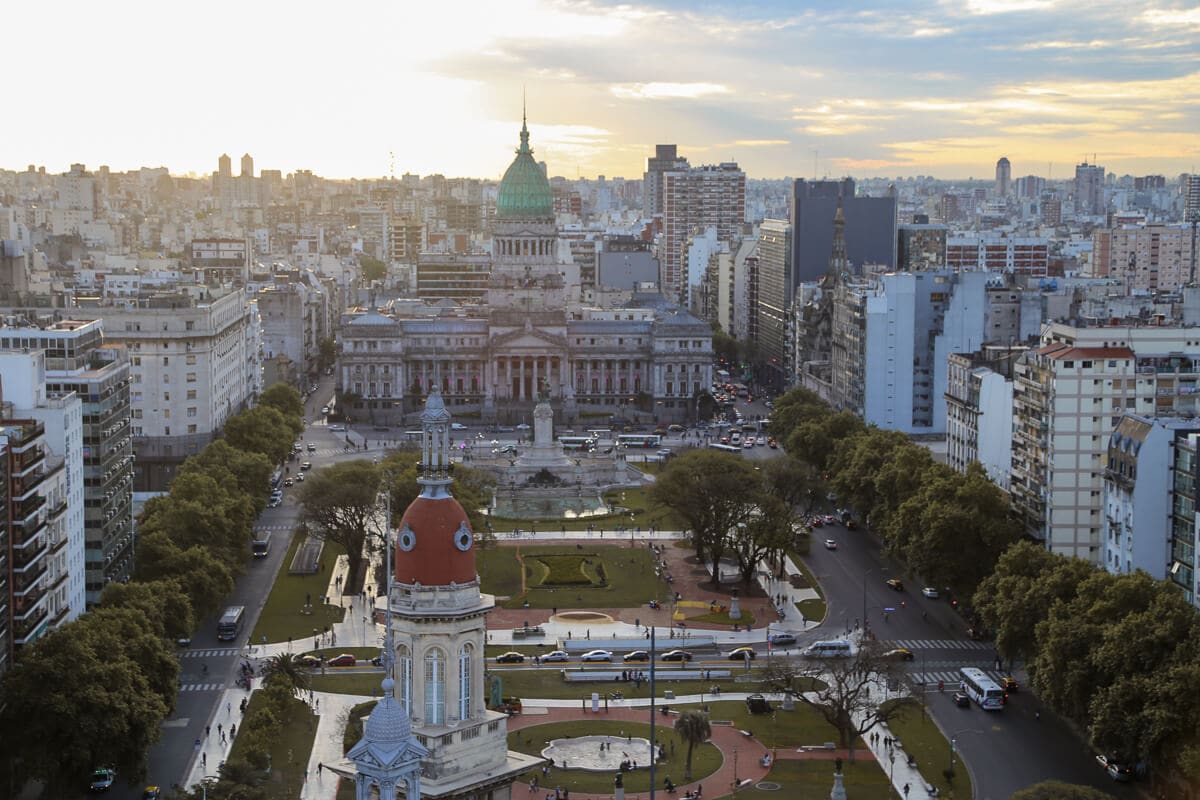 Buenos Aires
Whether it's the reason for your trip or simply your point of entry into Argentina, you will very likely be spending some time in Buenos Aires.
This massive city is home to a third of the entire country's population.
This is where the action is: tango, colorful La Boca, a nightlife that truly never sleeps, European and colonial architecture blending with the modern, and some of the world's best steak.
Buenos Aires deserves time. It's not a city with a list of landmarks to check off like in most European cities.
You need to wander its streets and experience its different neighborhoods to get a feel for it.
Sit in the cafes with a cafe con leche and people watch.
Amble aimlessly through the chaotic streets.
You'll quickly fall in love with it, whether you planned on it or not.
Buenos Aires posts & resources: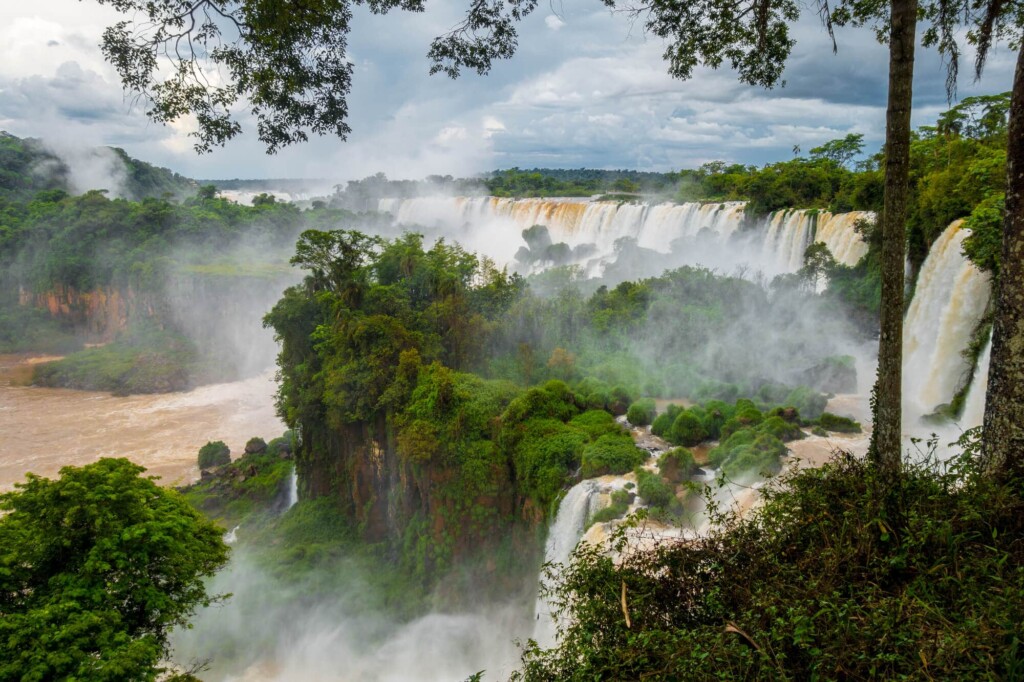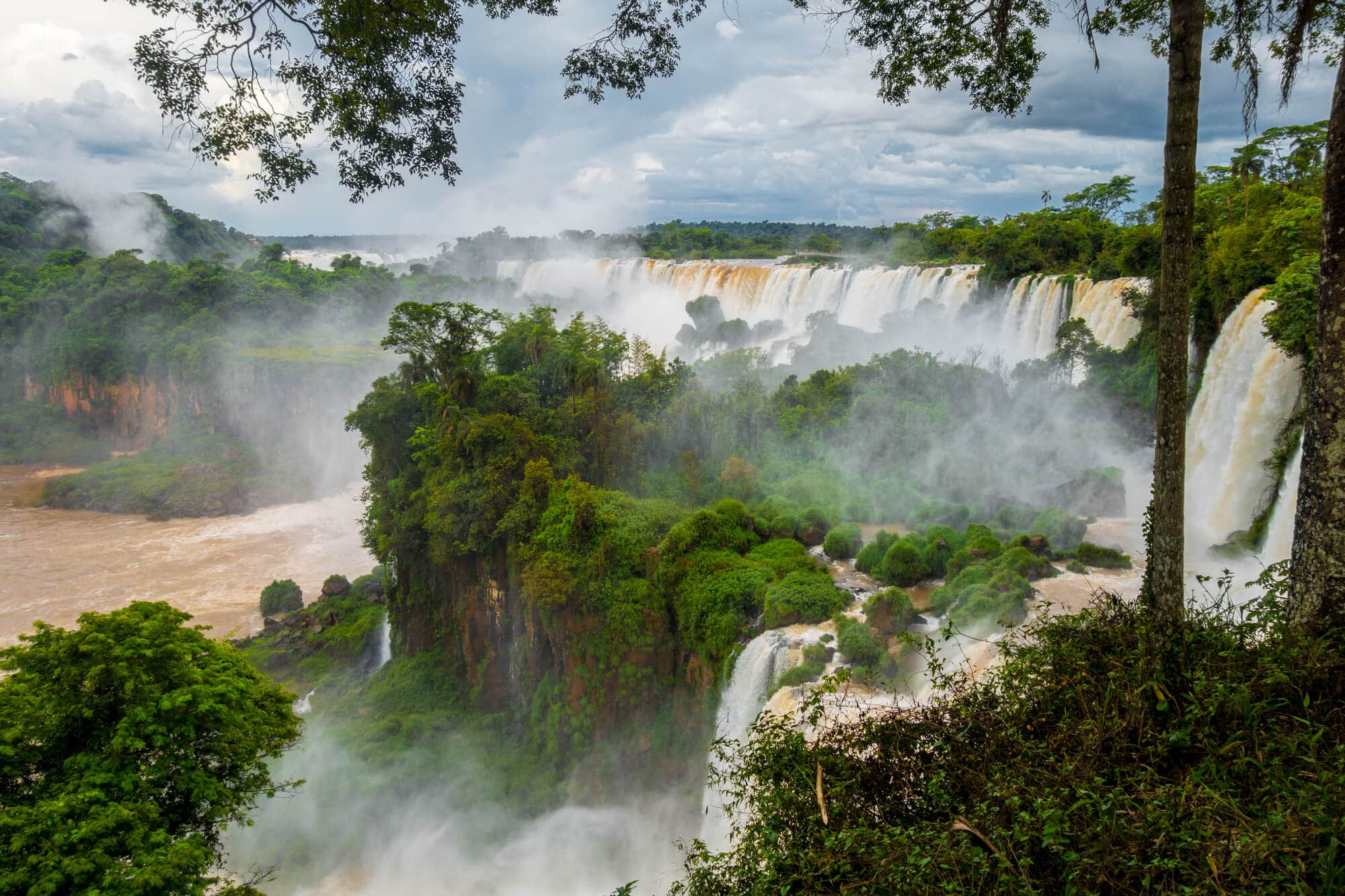 Iguazu Falls
You may not be immediately intrigued at the idea of traveling for a waterfall, but Iguazu Falls is easily one of the most popular things to see Argentina with locals and visitors alike!
Hundreds of waterfalls run along the border of Argentina and Brazil. It is one of those experiences that will leave you standing jaw agape and awestruck.
Curious about Iguazu? Read my comprehensive guide to Iguazu Falls here.
Iguazu is a 2 hour flight northeast of Buenos Aires in the jungle province of Misiones.
Spend 2-3 days in Iguazu minimum. Argentina's side of the park needs 2 days to see everything (make them consecutive to get half off your 2nd day entry fee).
Cross the border into Brazil for a third day to see the falls from their perspective.
Why both sides? In Argentina, you are ON the falls.
Literally, there are catwalks built spanning across the water as it roars under your feet.
In Brazil, you'll have a panoramic view of the falls in front of you. This is where you really understand how massive this waterfall system truly is.
A day trip into Brazil is more than enough time to see the falls and plenty of organized tours, like this one, will take care of everything.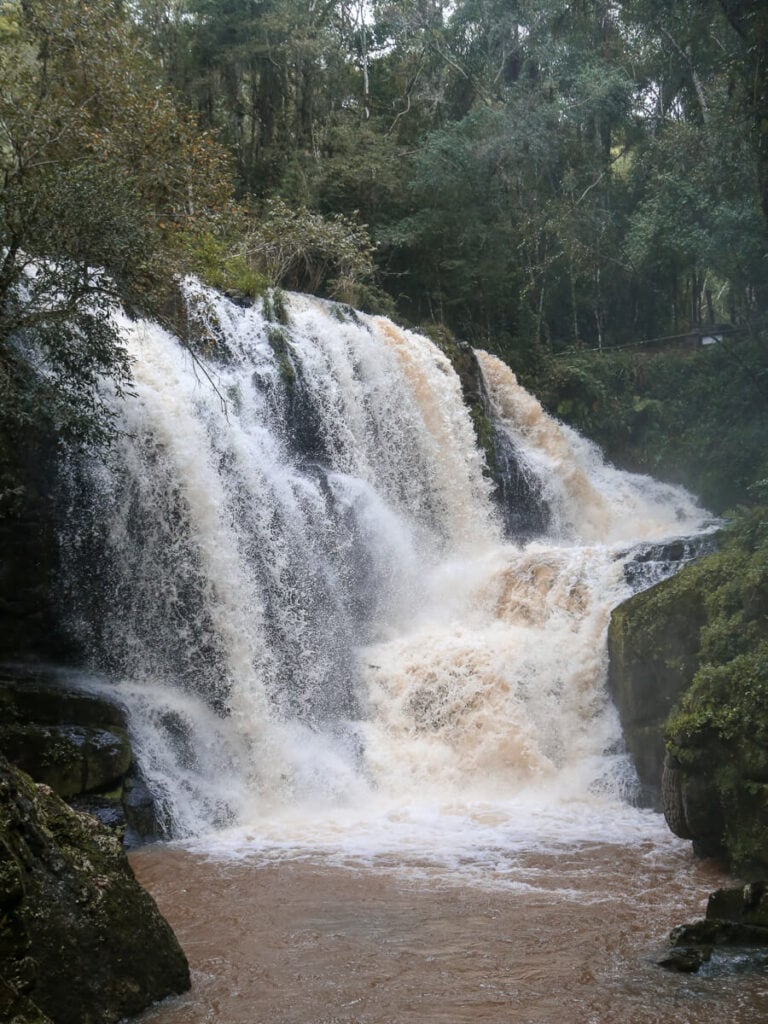 Misiones: The Jesuit Missions & The Jungle
Most people's only interaction with the province of Misiones is Iguazu, a quick visit and they're out to the other exciting Argentina tourist attractions.
BUT WAIT, listen to me, Misiones is worth more time!
This province is Argentina's rainforest and it's officially one of Argentina's 7 Natural Wonders.
Its small size and short distances combined with well maintained highways make it ideal for a road trip.
You can see the entire province in a week if you plan it well (including Iguazu).
Things to see in Misiones include the ruins of the Jesuit missions, tea and yerba mate plantations, countless waterfalls, Mocona Falls (the province's other impressive waterfall system), and sleeping in jungle treehouse lodges.
Read more about Misiones: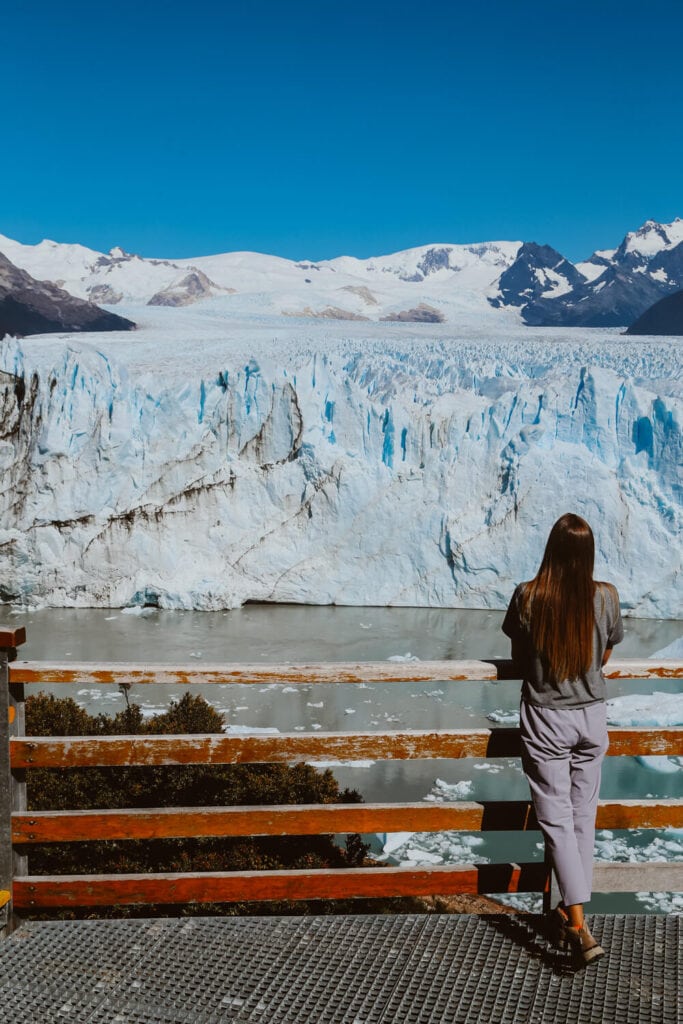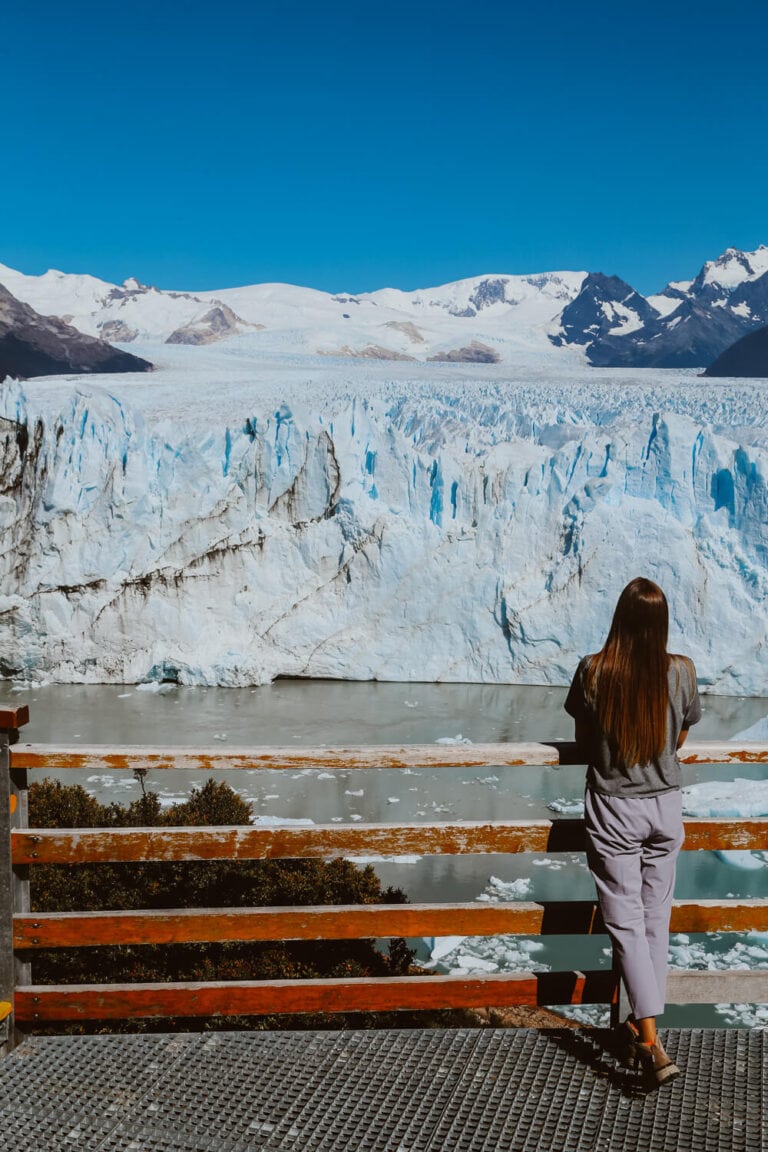 Perito Moreno Glacier
Patagonia is without a doubt one of the best places to go in Argentina. And within Patagonia, Perito Moreno shines brightest.
This glacier is of the busiest and most popular attractions in Patagonia and ranks high with Iguazu in terms of sheer number of visitors.
Read my complete guide to visiting Perito Moreno for more information.
Use the small city (using the term "city" very loosely here) of El Calafate as your base.
Glacier National Park and Perito Moreno are about a twenty minute drive from here.
You don't need too much time to see the glacier, whether you trek across the glacier on the iconic Big Ice Trek or simply admire it from afar, it can easily be done in one day if you're in a hurry.
If you have more time, there is plenty to do in El Calafate, from traditional ranches to horseback riding.
Continuing on in Patagonia from here? The two most common destinations to combine with El Calafate are Ushuaia (hop a plane) and/or El Chalten (next up on this list).
READ MORE ABOUT EL CALAFATE: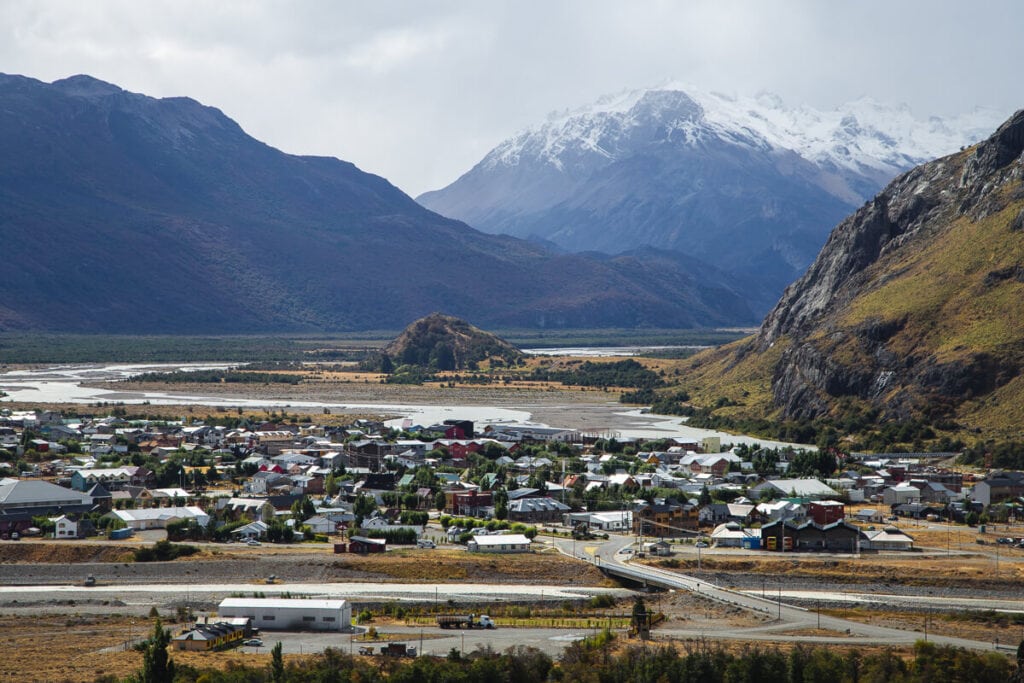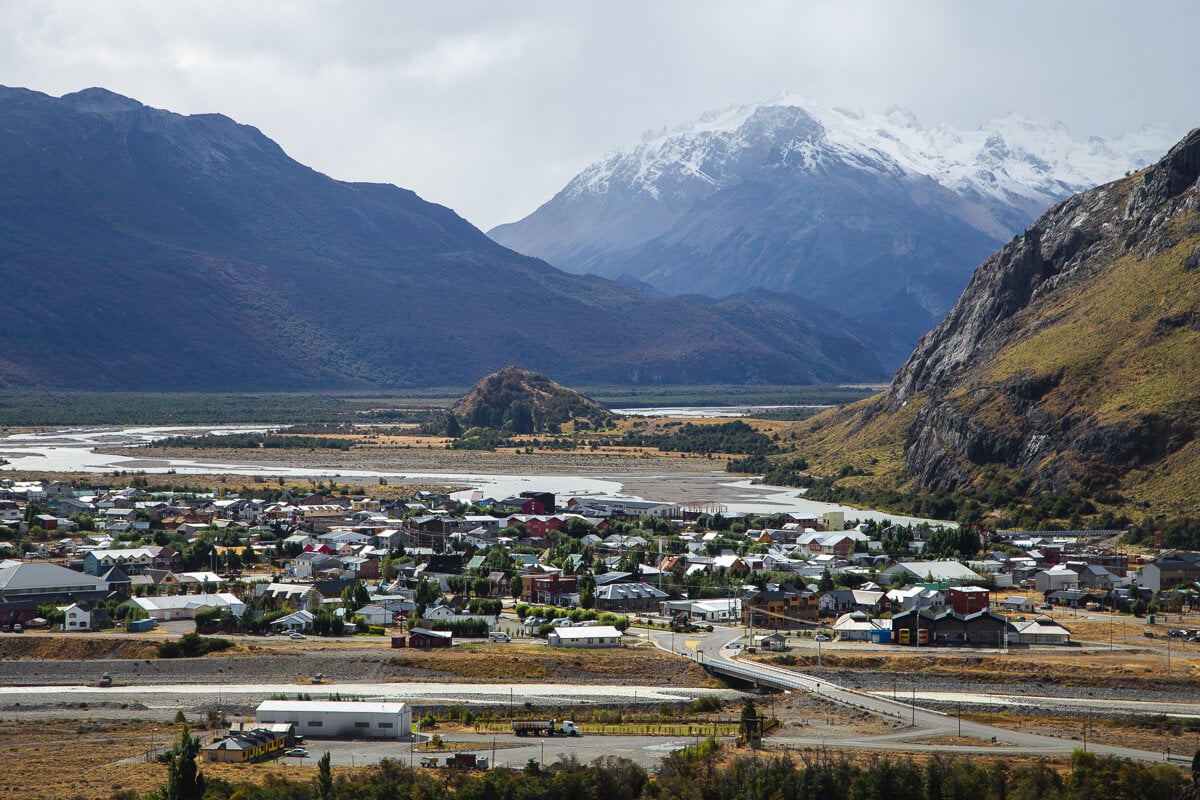 Go Hiking in El Chalten
El Chalten is Patagonia's hiking capital and if you fancy yourself an outdoors enthusiast, it is something you absolutely must do in Argentina.
To get to El Chalten, fly into El Calafate and take a bus or hire a private transfer for the four hour drive north.
There's no need to rent a car. One you're there you'll be on foot enjoying the country's most stunning hikes!
What to do here? Hike, hike, hike.
The best hikes in Argentina are here in El Chalten. It's considered Argentina's trekking capital.
Spend at least 4 days here (minimum) and don't be intimidated.
There are trails for all skill levels from beginners and families with children to challenging hikes for the experienced outdoorsmen.
Read my complete guide to hiking El Chalten to plan your trip there!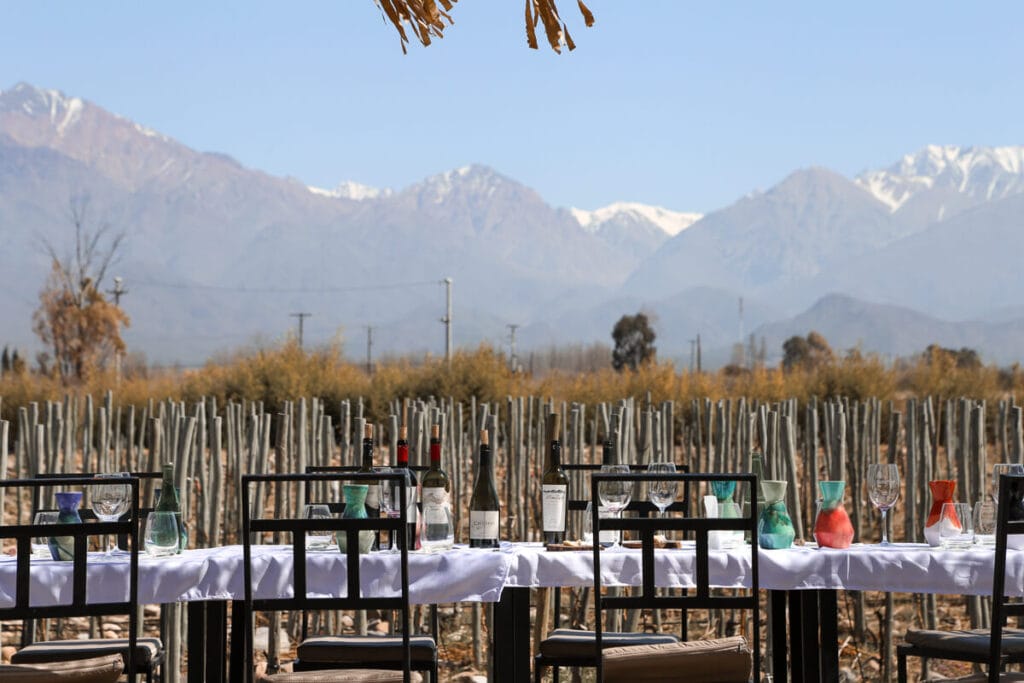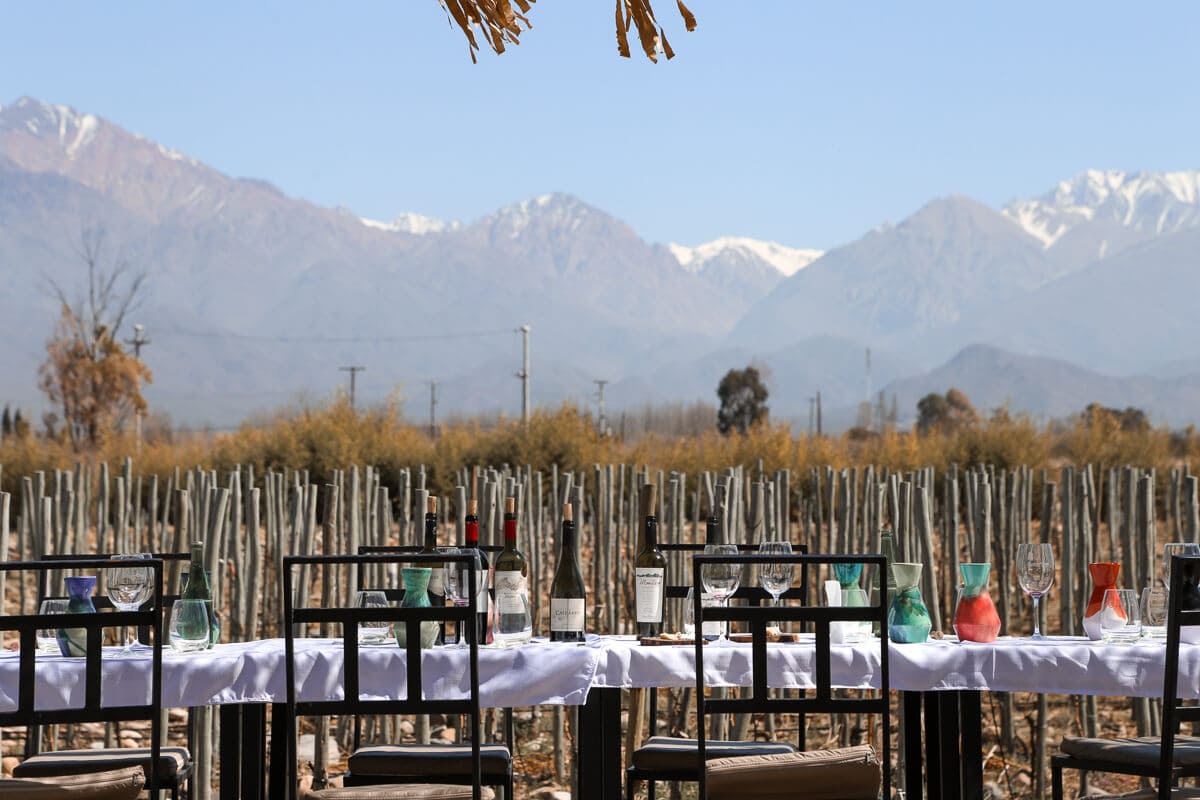 Mendoza
Mendoza is Argentina's largest wine region. It is my personal paradise and is definitely one of the top must see places in Argentina for wine aficionados.
Vineyards surround the city at the foot of the Andes Mountains.
Weather is idyllic year round (winters are cold and summers are hot but the nearly constant sun makes it enjoyable always).
For the best experience, I recommend avoiding the city center of Mendoza and staying in a resort on the vineyards in the Uco Valley.
This region is closest to the mountains, furthest from the city, and produces the country's best wines.
Read my ultimate guide to Mendoza's wineries to plan your visit.
When you need a break from wine tasting, head into the Andes for horseback riding, white water rafting and more.
The town of Potrerillos is just an hour north of Mendoza and a popular day trip for those seeking a bit of nature and adventure.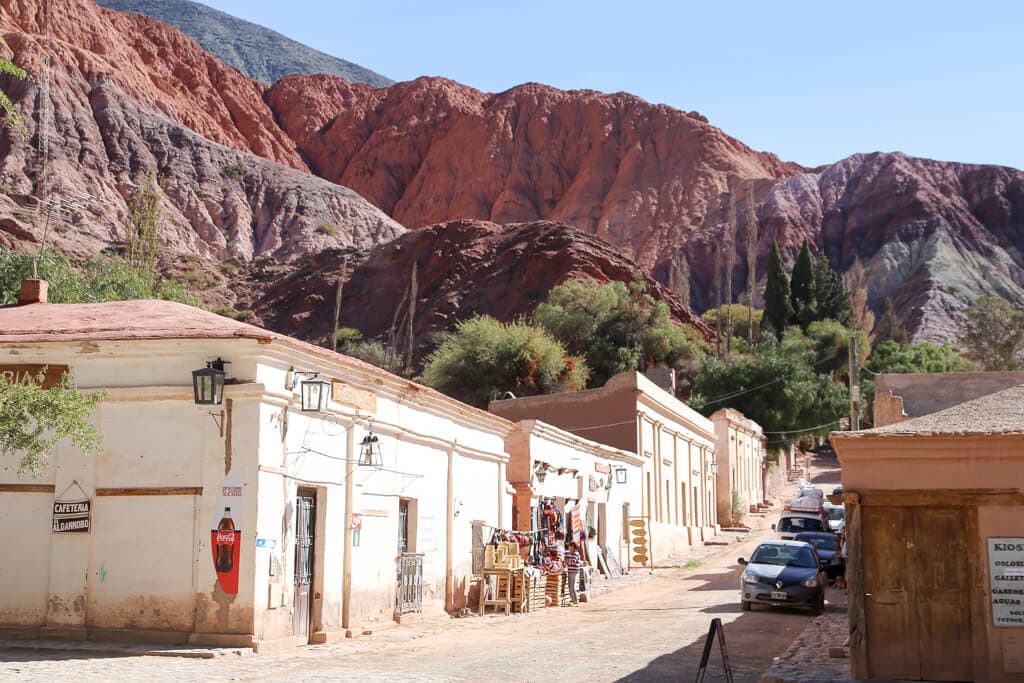 Jujuy's Villages and Rainbow Mountains
Tourists usually only get a tiny taste of Jujuy, visiting its villages and colorful mountains as a day trip from Salta.
So much so that I see fellow bloggers refer to it as part of Salta all the time! And when I read this, I die a little inside (sorry for the dramatics).
Jujuy is its own province, north of Salta, and it is just as beautiful (if not more so). It deserves so much more love than it gets!
Jujuy is in the northwest of Argentina and shares a border with Bolivia (and, of course, Salta).
You can get here by flying into Salta and combining the two into an epic road trip of the Northwest or fly directly into Jujuy.
Visit the small villages of Purmamarca, Tilcara, Uquia, and Humahuaca and their rainbow mountains. Want to avoid the crowds at Peru's world-famous rainbow mountain? Visit Humahuaca's Hornocal!
The culture in Jujuy is much more like its northern neighbor, Bolivia, than the rest of Argentina. A visit here is unique and unforgettable.
We spent 3 days in Jujuy and I desperately wanted more time.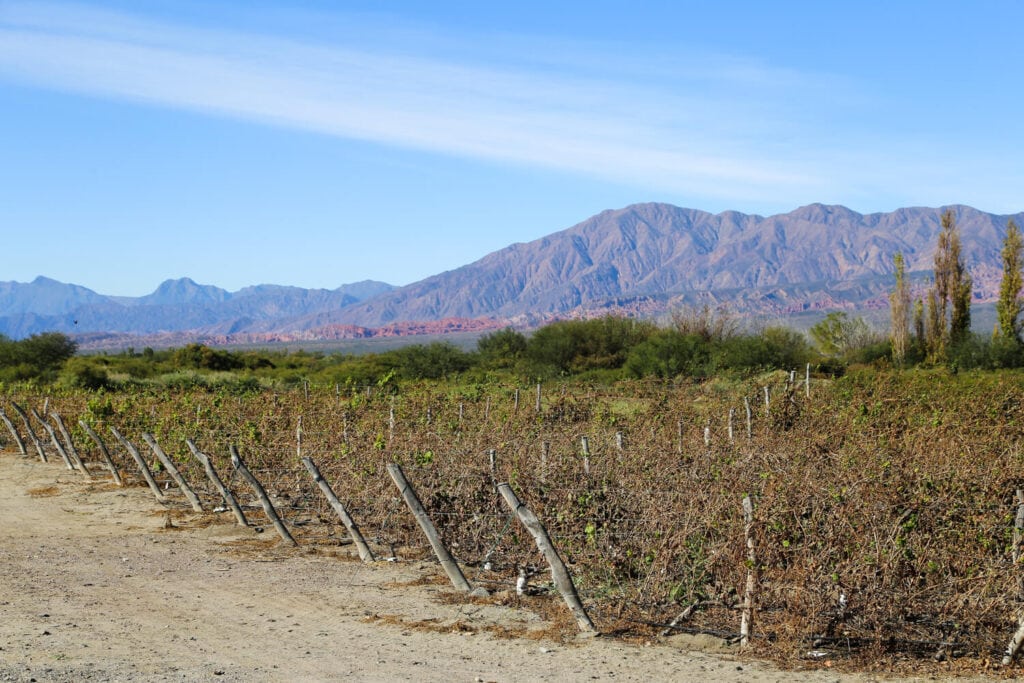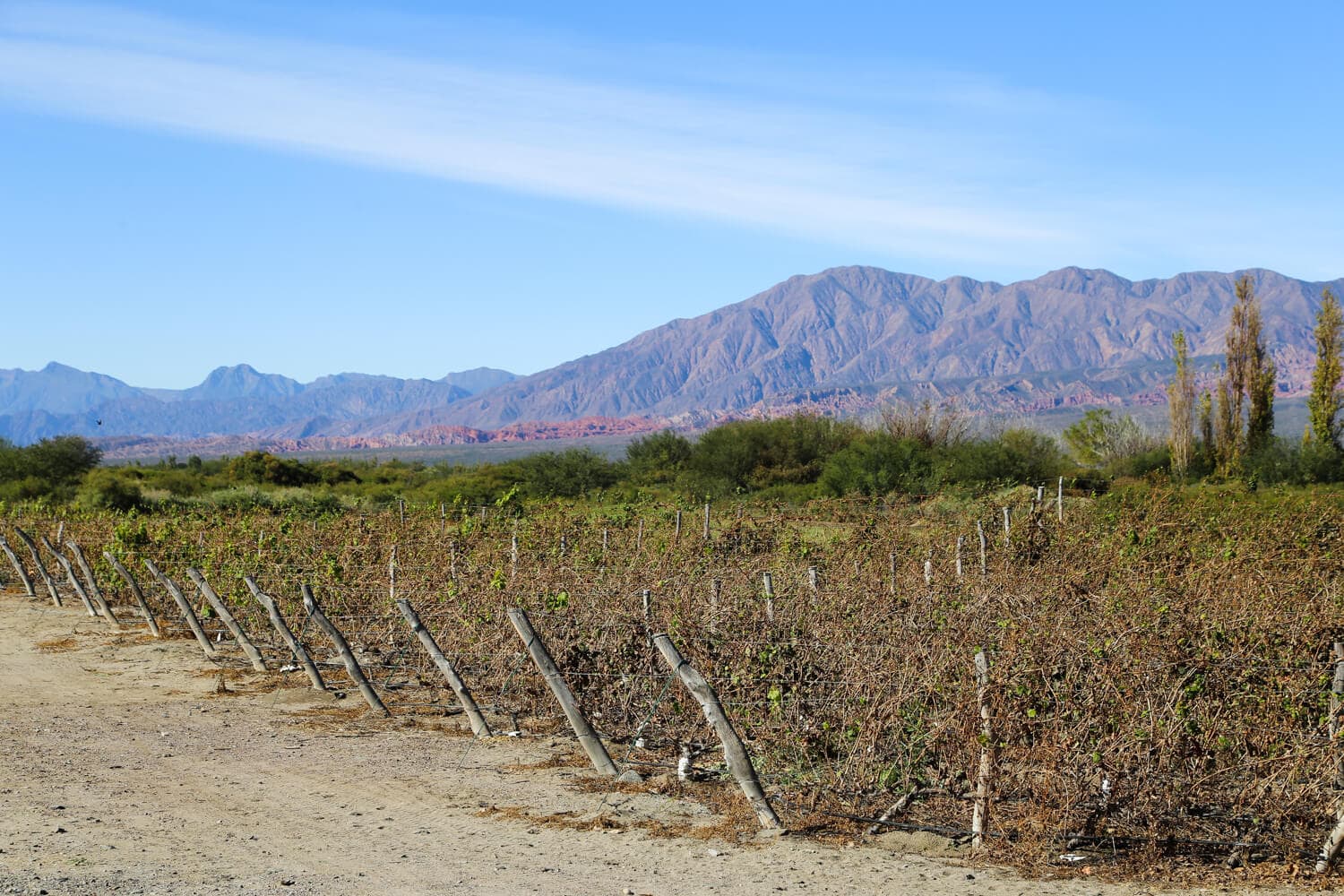 Salta's Wine Region in Cafayate
Salta is one of the most beautiful places in Argentina.
Just south of the aforementioned Jujuy, Salta is aptly nicknamed "Salta la Linda" or Salta the Beautiful.
The city is nice and all but I recommend renting a car and heading south to Cafayate, Argentina's second more important wine region.
The drive is three hours and is an Argentina tourist destination in its own right.
The highway from Salta to Cafayate weaves through the Quebrada de las Conchas. Its valleys and deep red canyons are picturesque (to wildly understate it).
Once in Cafayate, settle in for the country's best white wine.
The crisp Torrontes varietal is the only grape native to Argentina, making it even more Argentinian than Malbec.
We spent 3 days in Cafayate visiting the wineries and hiking in the hills. It's cheaper than Mendoza and easier to visit with the vineyards within walking or biking distance from town. Some are even located right in town!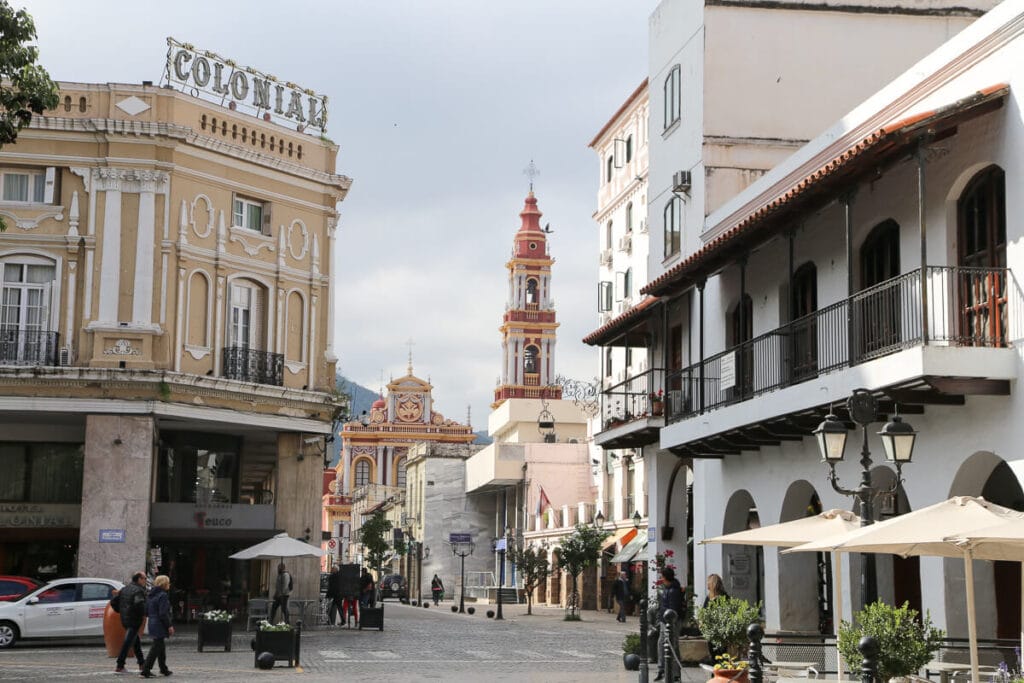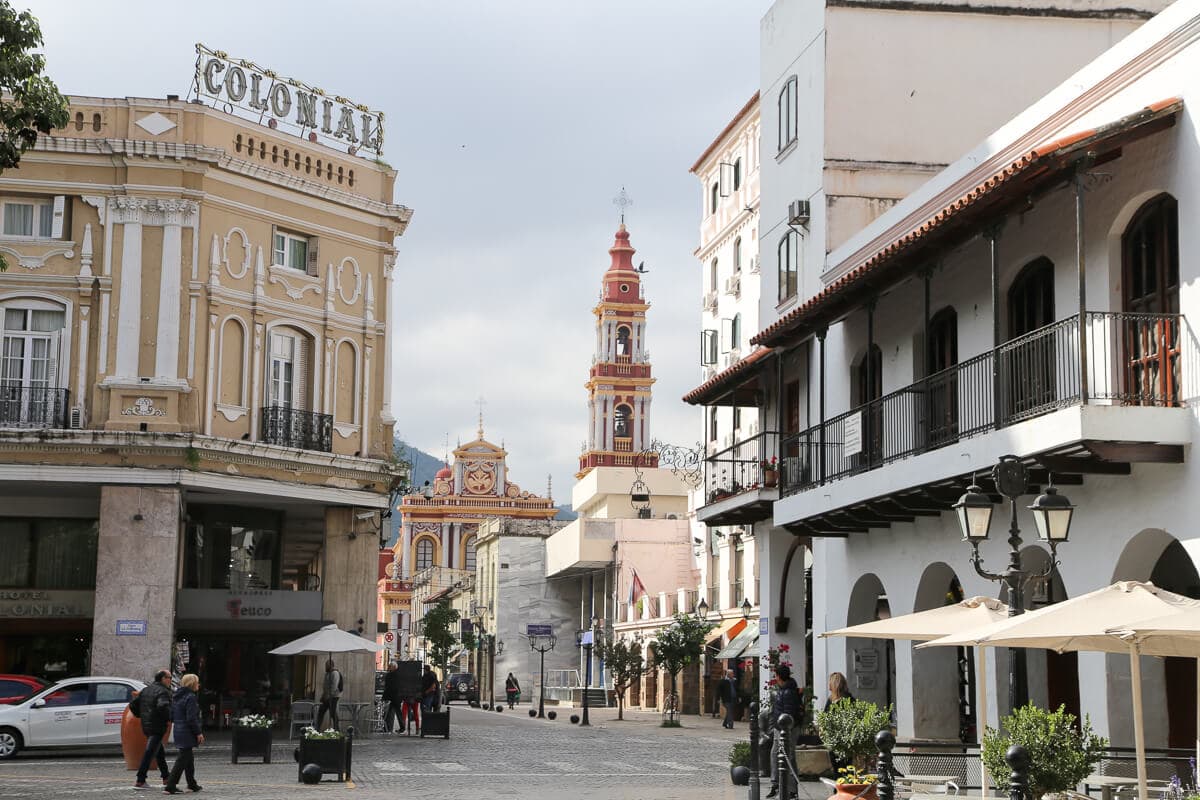 Salta: A note about the city
The most common way to visit this region is by using the city of Salta as a base and taking day trips.
If you'd rather not rent a car and drive, this is totally doable.
Just know that the day trips are long. You will leave before sunrise and return after dark.
Does this sound like you? Want tips on the city of Salta and the right day trips to take? Read this guide.
How would I visit Salta (city & region) and Jujuy? The city of Salta is small and doesn't need much time to see everything. I would (and did) spend only one full day and night there.
This is enough time to see the sites and go to a peña at night.
Then rent a car and embark on a road trip through Salta and/or Jujuy.
If you're comfortable behind the wheel this is absolutely the BEST way to see it.
Related: The Best Things to do in Uruguay
The Salinas Grandes Salt Flats
Argentina's salt flats straddle the border between Salta and Jujuy.
They aren't as expansive as Bolivia's more famous salinas but they're still very impressive.
In the rainy summer months (January and February) it's like walking across the sky itself when the rainwater pools along the surface.
When they're dry (for most of the year), be sure to bring tiny props to take photos playing with perspective!
It's most common and easiest to visit the Salinas Grandes on a day trip from Salta, like this one, that combines it with a stop in Jujuy's most charming village, Purmamarca.
We went on our own when we were on a road trip in the region, read all about the Salinas Grandes here.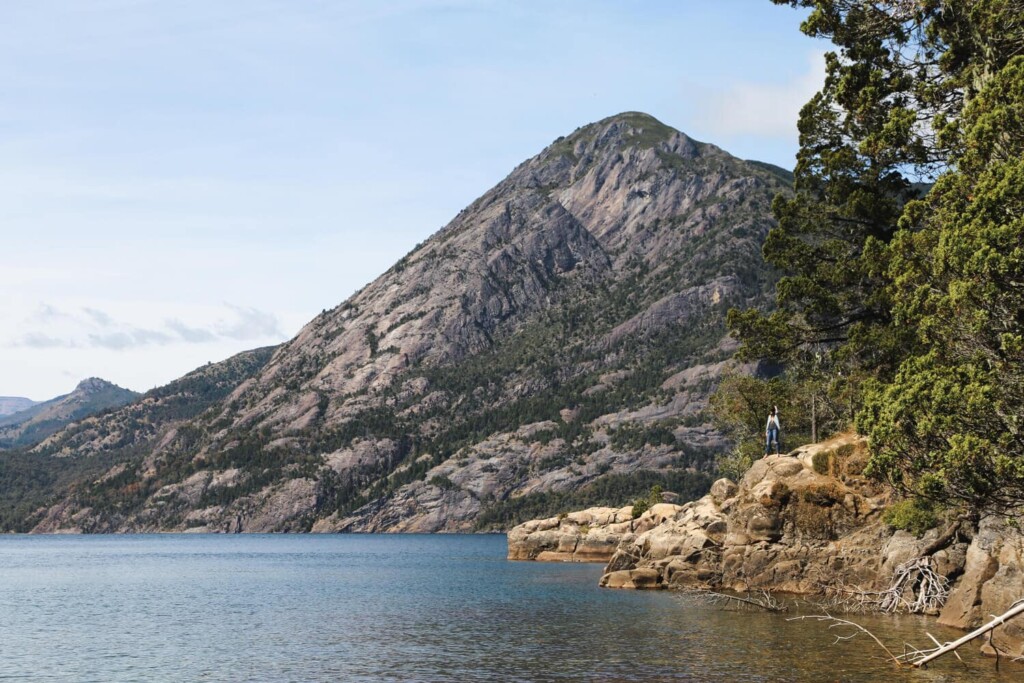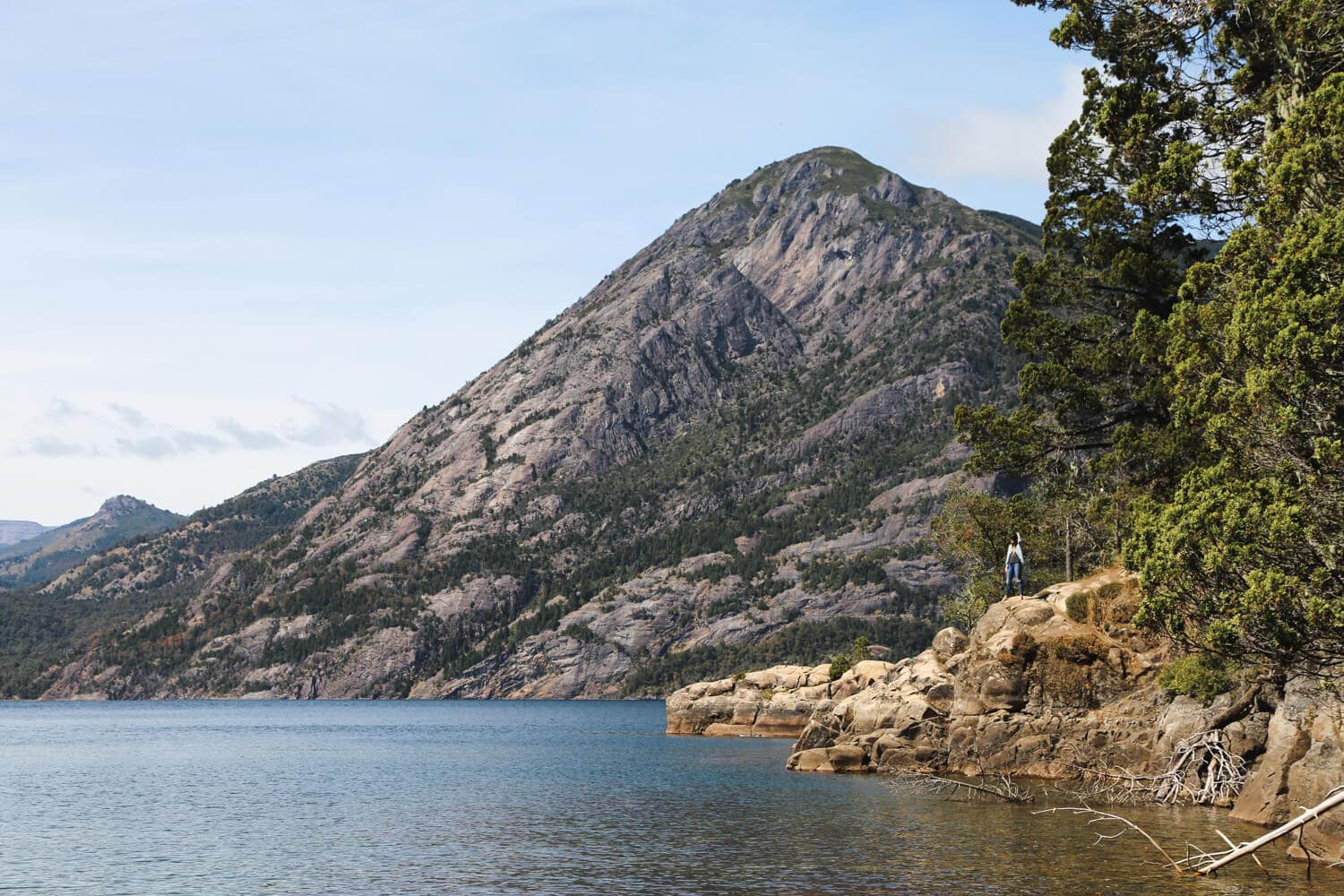 The 7 Lakes Route, Northern Patagonia
Patagonia's lake district in Northern Patagonia is one of the top places to visit in Argentina. It begins in the mountain town of San Martin de los Andes and extends south to the cities of Villa la Angostura and Bariloche.
The stretch of road that weaves through the mountains here has been dubbed the 7 Lakes Route.
Despite there being 7 official lakes there are many more and unsurprisingly this is one of the most beautiful scenic drives in the country.
You can easily do the drive in a day with a guided tour, private driver, or your own car. Start early so you can enjoy rest stops and a nice lunch along the way.
Many people bike this route. Take one day to bike to one or two lakes or conquer the entire region, taking a few days to camp along the way.
Patagonia's Lake District posts & resources: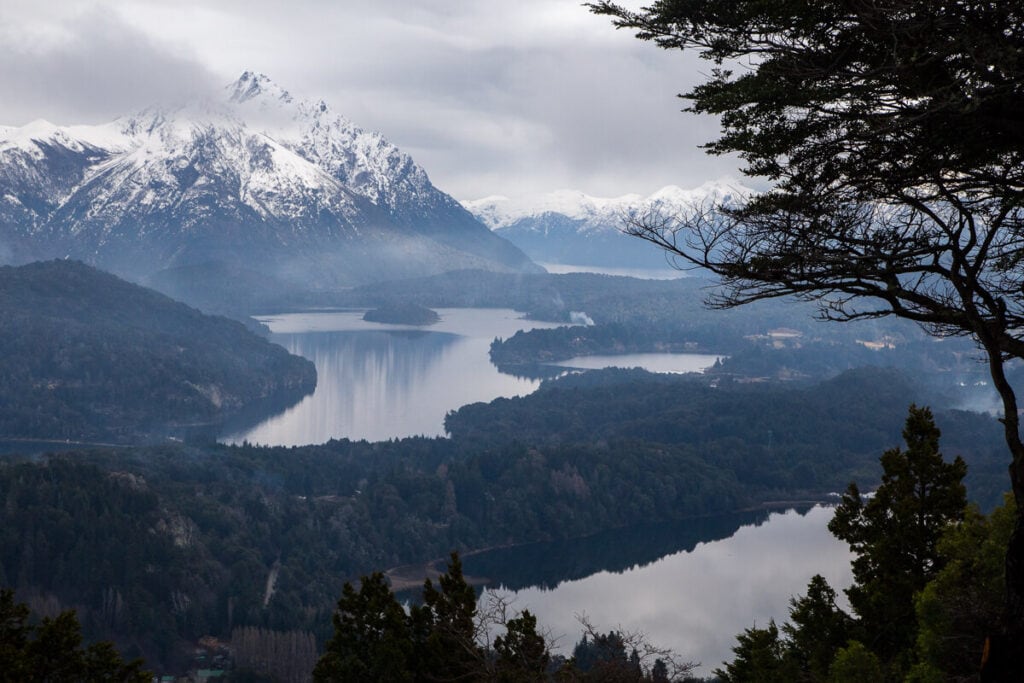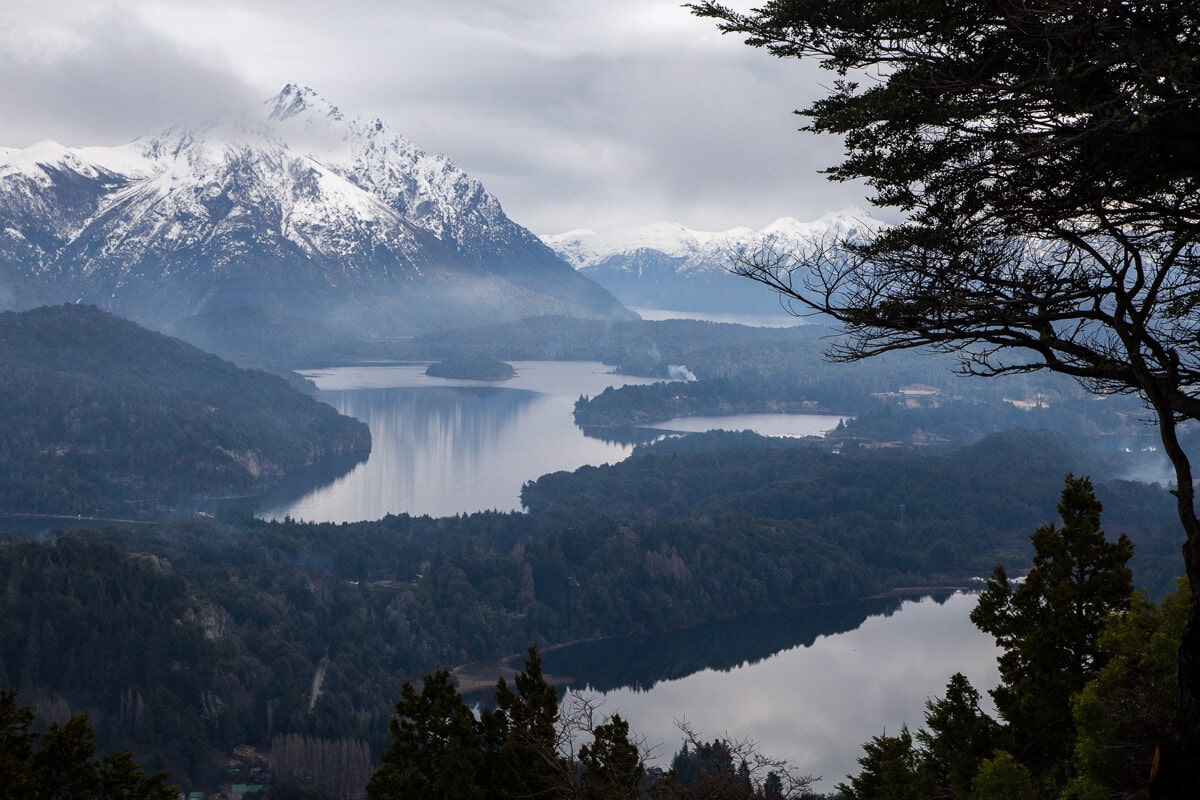 Bariloche
Bariloche is one of the most important cities in Patagonia.
Its airport receives flights from most of the top tourist attractions in Argentina, making it an easy place to dive into the region.
I recommend spending a lot of time in Bariloche because there is so much to do here. It's also easier to navigate than a lot of Argentina.
You can reach everything with public transportation, affordable taxis, and guided tours.
Cerro Campanario offers the best views just outside of town (photo above).
Take the bus here and I recommend staying for a snack in the cafe at the top. They have excellent hot chocolate and pastries!
Cerro Otto is the city's other summit that's more geared towards families with mazes and other games.
Other popular family activities include tours of the Arrayan Forest and Colonia Suiza.
Feeling fancy? Have tea in the alpine luxury Hotel Llao Llao. Want to get outside? Go hiking, kayaking, or fly fishing!
In Winter Bariloche is South America's premier ski resort. Read about winter in Bariloche here.
El Bolson
El Bolson is a couple of hours south of Bariloche. It's a popular destination with backpackers and hippies.
It's unique location in the valley has blessed it with mild weather and stunning vistas. Outdoor activities are the most popular with easy and moderate hikes, fly-fishing, rafting, and more.
In town there is a popular artisan market (thank to aforementioned hippies) and a large number of craft breweries.
Make sure to also visit nearby Lago Puelo, name of both the beautiful town and lake just a short 20 minute drive away.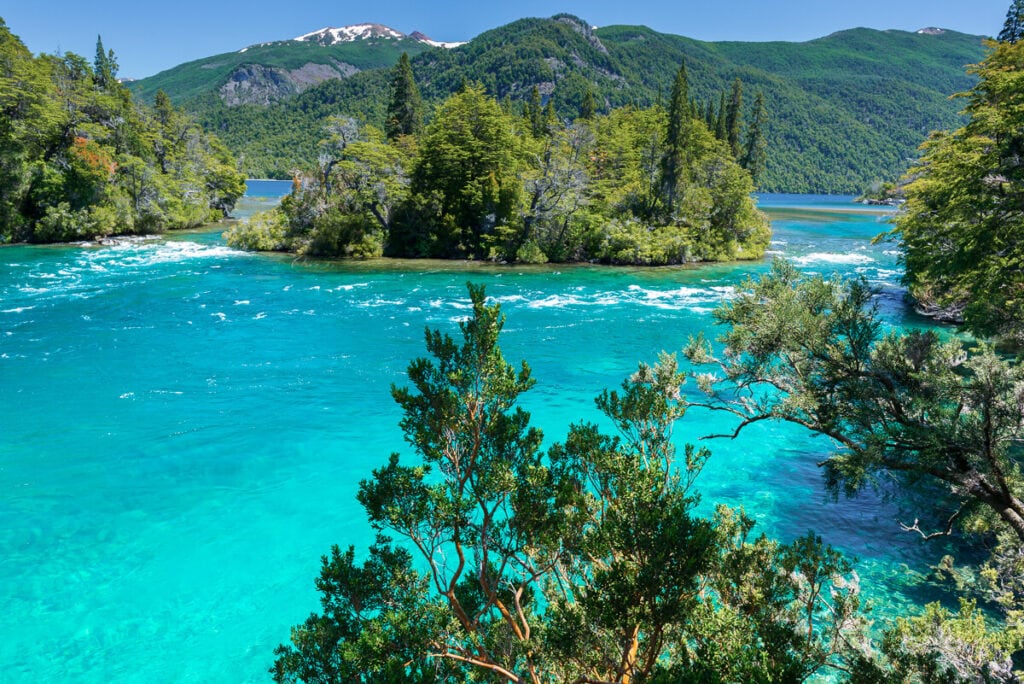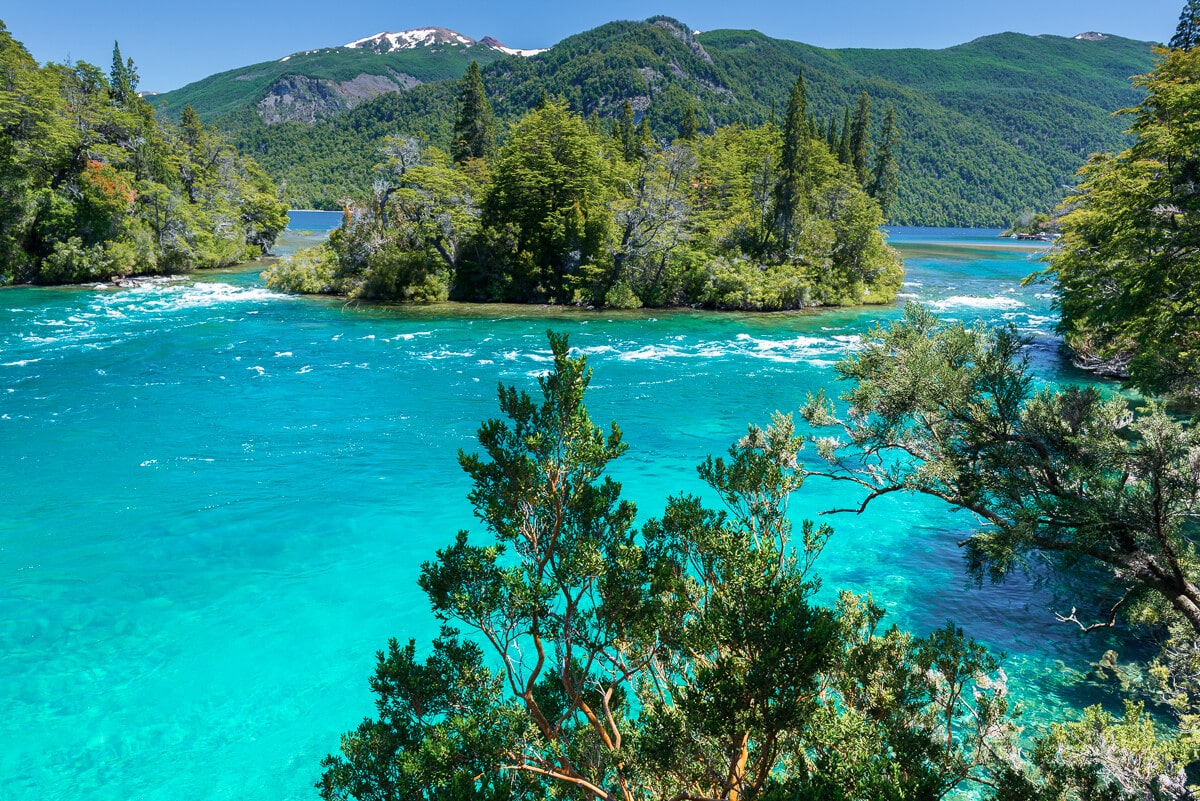 Trevelin & Alerces National Park
Let's move further south from Bariloche and its surrounding lakes into the province of Chubut.
Alerces National Park is off of most foreign visitors' radar but is easily one of the most beautiful places to visit in Argentina's Patagonia.
The park is dedicated to and named after the alerce tree, a conifer tree that looks similar to North America's sequoia.
Get here by either flying into nearby Esquel or from Bariloche on a road trip through northern Patagonia.
Use Esquel or Trevelin as your base for the park. Fly fishing is another major attraction in this region and a number of lodges dedicated to it surround Trevelin.
Another major highlight is a field of tulips. Imagine the Netherlands but with the Andes in the background! See them in October before the harvest.
Finally, don't miss the Welsh Tea houses. Chubut was mainly settled by the Welsh and you'll see their influence everywhere.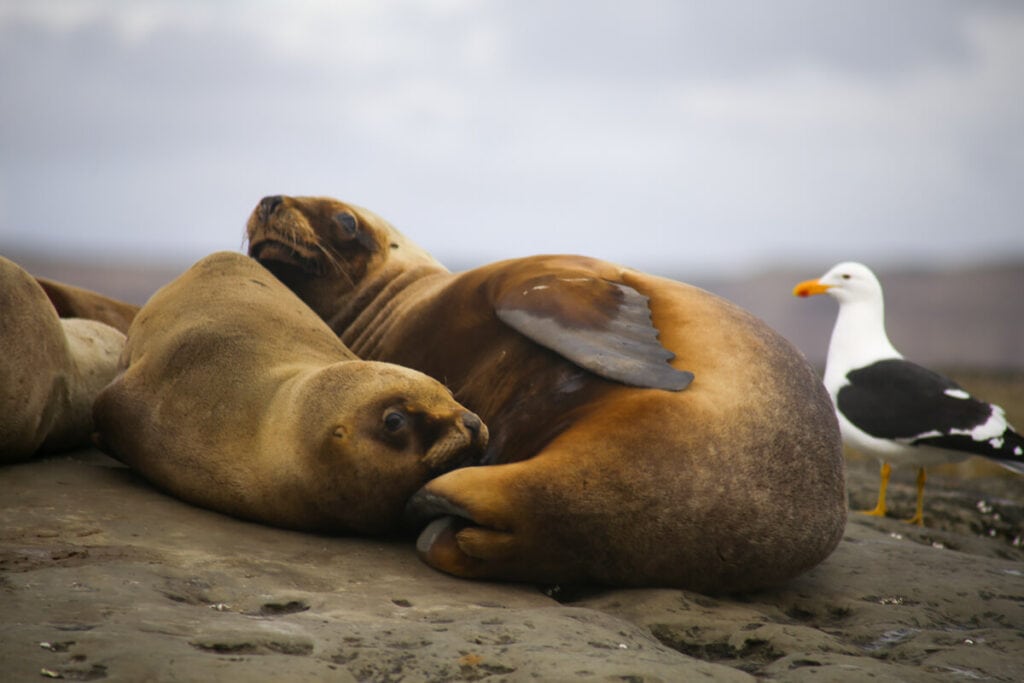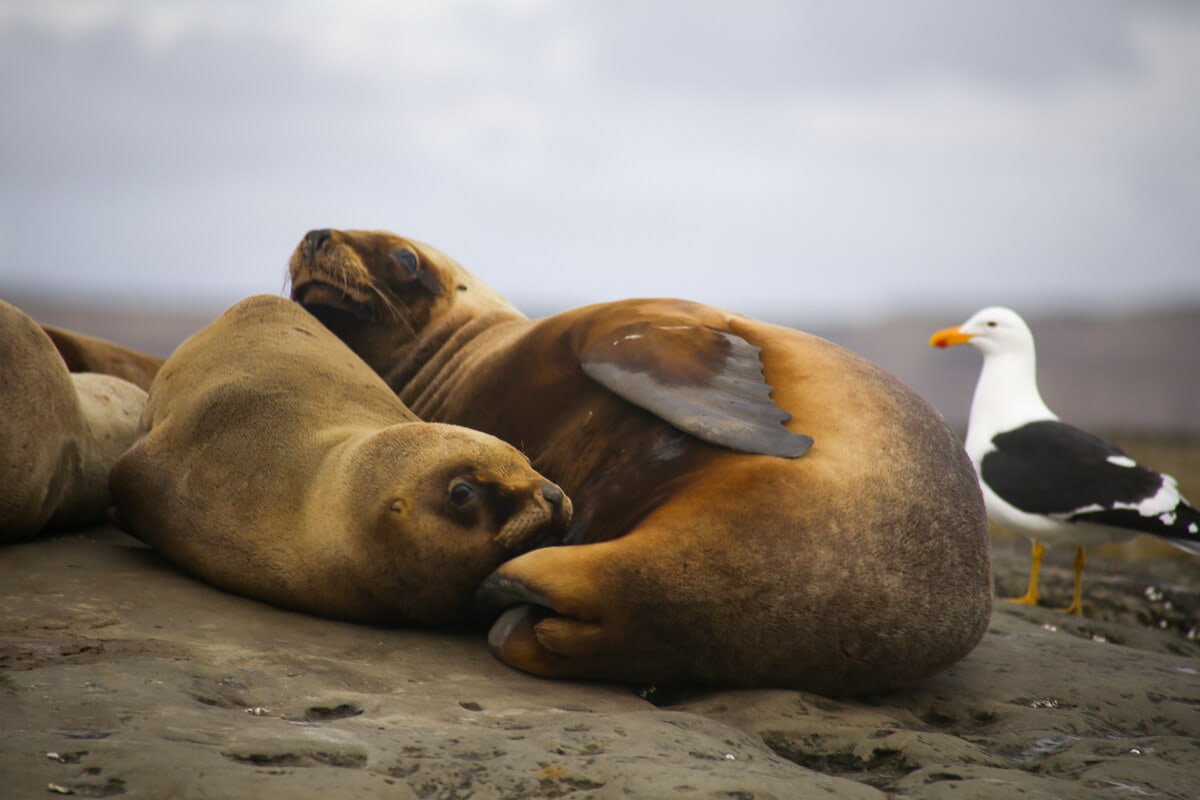 Peninsula Valdes: Wildlife Paradise
The Peninsula Valdes is on the Atlantic Coast in Chubut. It is without a doubt the best place to see wildlife in Argentina.
Puerto Madryn is the closest city and most tourists use it as their base. Don't do that. The best way to see the Peninsula Valdes is by staying on the peninsula itself in Puerto Piramides.
We actually spent four days there and were never bored, read about our itinerary here (and why staying in Piramides is the best).
Valdes is most popular for its whale watching. Southern Right Whales come here to have their young every year, along with penguins, sea lions, elephant seals, and orcas.
The best time to visit is from September through November.
Fly into Puerto Madryn or Trelew (compare both flight and rental car costs from each airport). Rent a car and head directly to Puerto Piramides.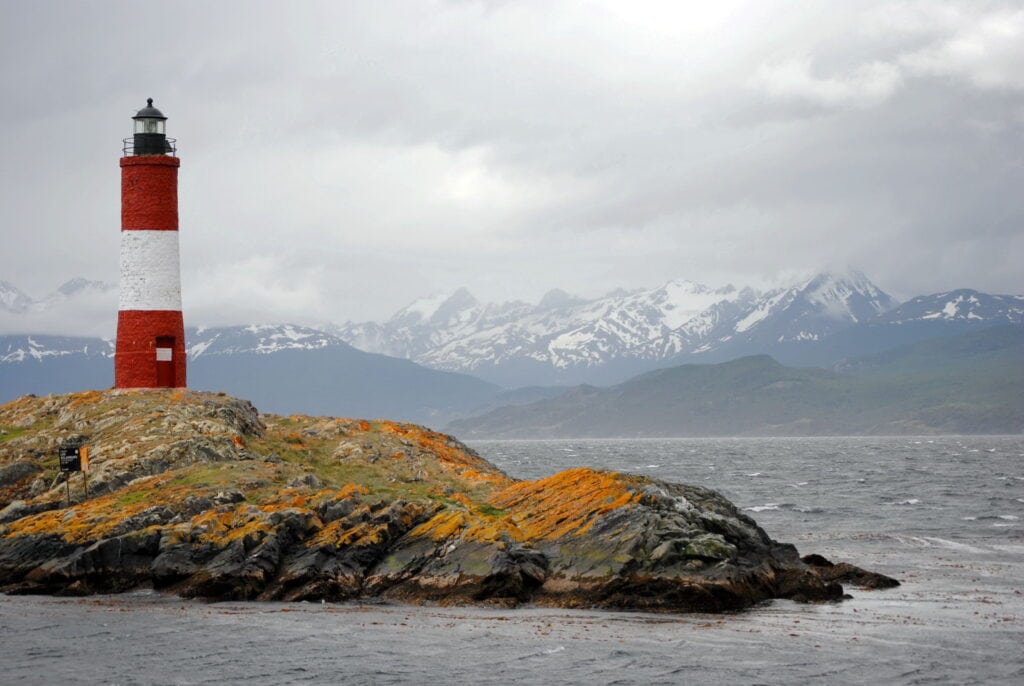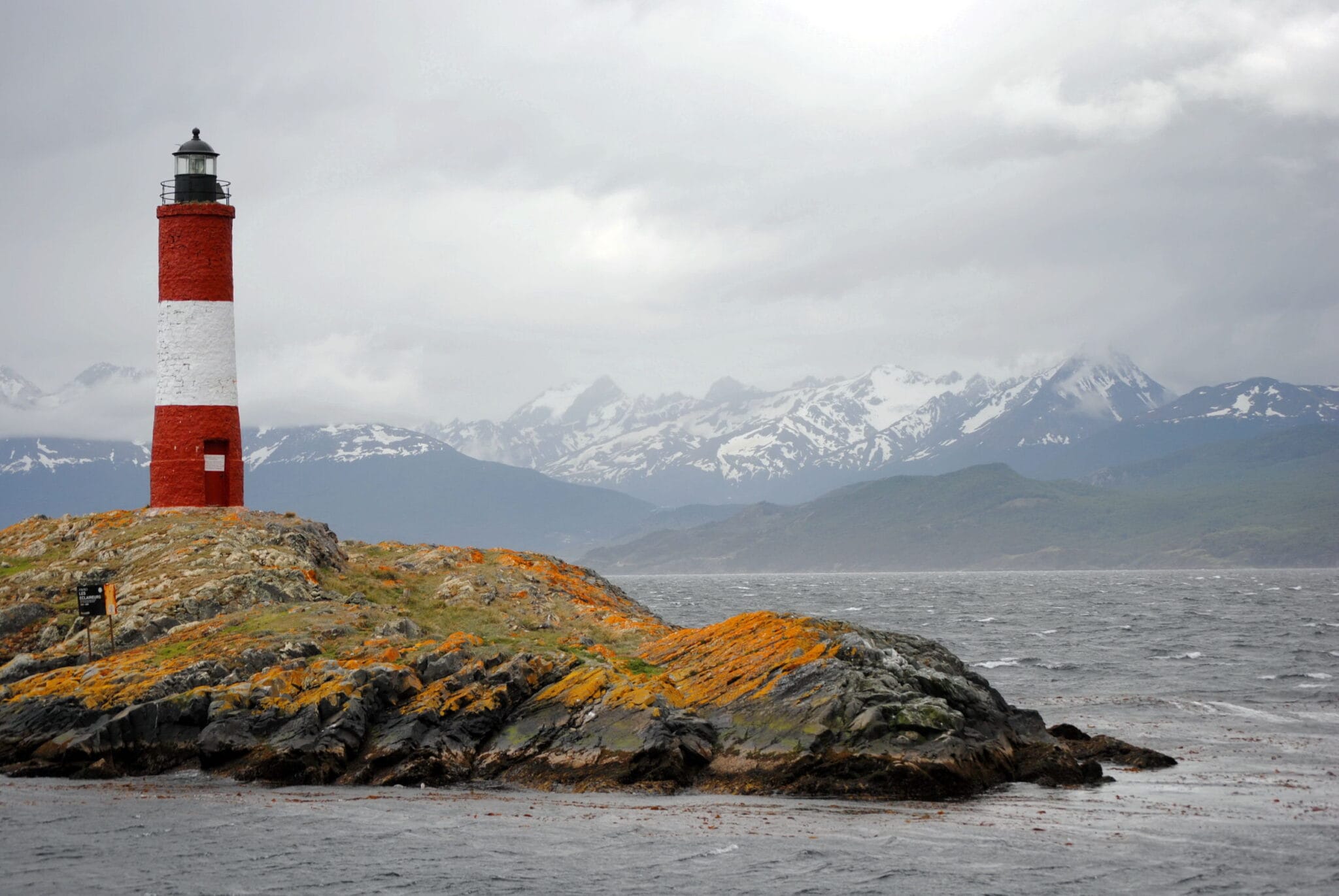 Go to the End of the World in Ushuaia
Go to the literal end of the world in Ushuaia, Argentina's most southern point in Tierra del Fuego.
Ushuaia is bordered by the Beagle Channel to the south and the Martial Mountains to the north.
It's overflowing with natural beauty and you'd be grateful for at least a week here. But if you're on a tight schedule carve out at least four days.
Wildlife is a major attraction in Ushuaia. Bring your best travel binoculars to see the penguins, orcas, seals, and bird life.
Boat tours through the Beagle Channel are one the most popular activities in Ushuaia and the best way to see the penguins.
Other attractions include Tierra del Fuego National Park, the historic End of the World Train, the Eclaireurs Lighthouse (photo above), and estancias (traditional ranches).
Keep reading: The Best Things to do in Ushuaia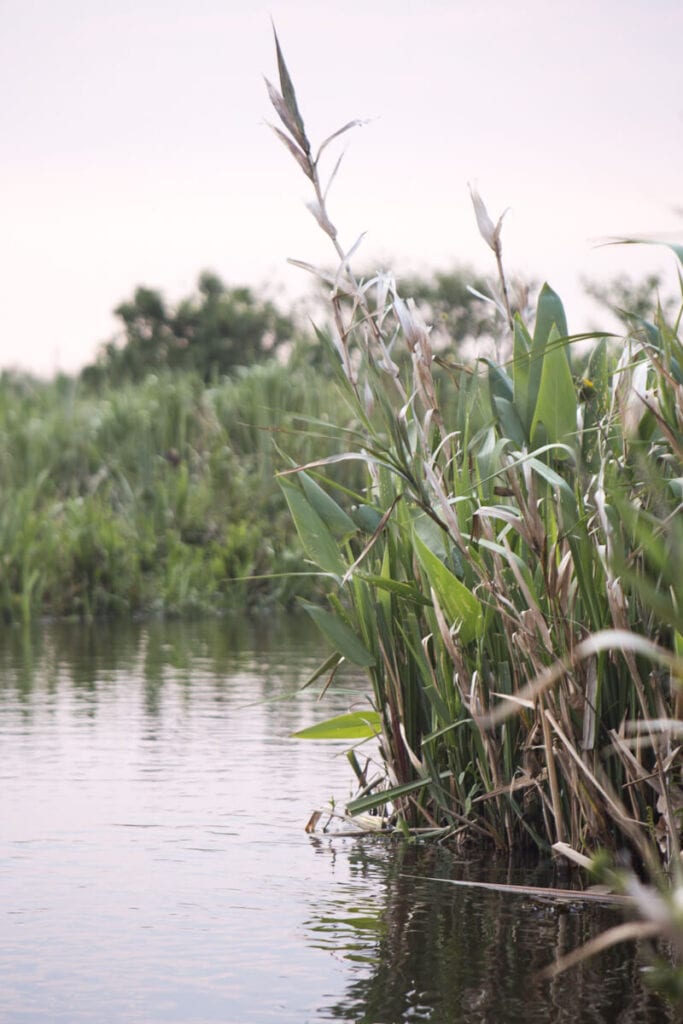 The Esteros del Ibera Wetlands
Did you know that there are wetlands in Argentina? The Esteros del Ibera are actually the second largest wetlands in the Americas (second only to the Pantanal in Brazil).
Ibera is in the northeastern province of Corrientes. Along with Peninsula Valdes, Ibera is one of the best places to visit in Argentina to see wildlife.
You'll see capybara, caiman, marsh deer, anaconda and countless species of birds.
Our favorite experience was hiring a private boat excursion at sunrise.
We were the only ones on the water. We also saw the most wildlife in that tour than the rest of the trip combined. Risking cliche, it was magical.
Ibera is off the beaten path because it is hard to reach. I promise it's worth it.
The easiest (relatively speaking) way is by overnight bus to the city of Mercedes. From here, arrange private transportation to Colonia Carlos Pelligrini with your accommodation (do this beforehand!).
Read my complete guide to the Estero del Ibera Wetlands in Argentina.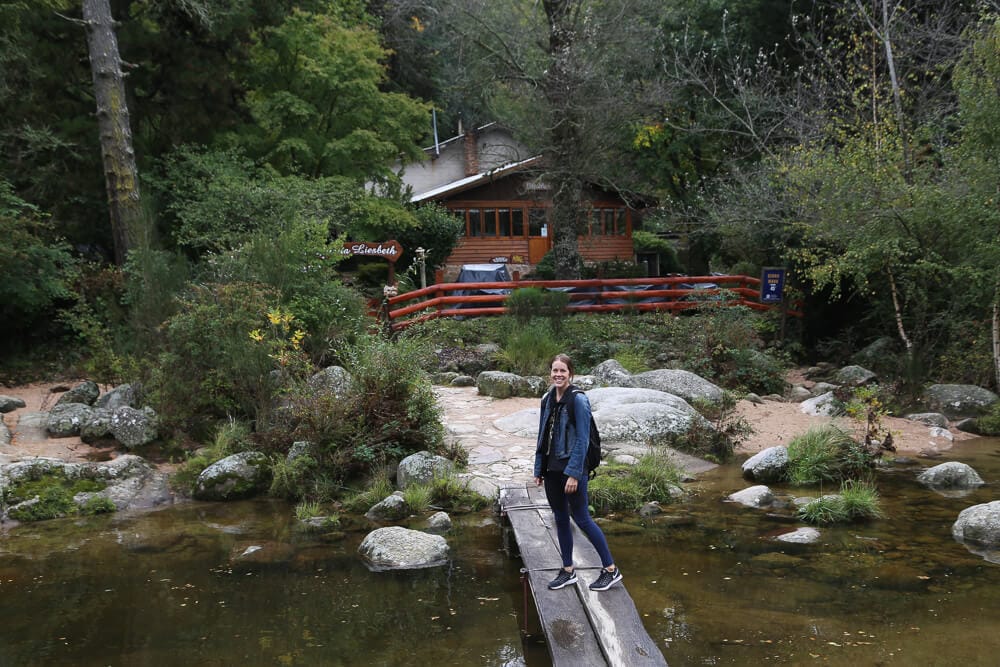 Cordoba
Cordoba is in the center of the country and one of the most popular Argentina tourist places for getting outdoors.
Cordoba's close proximity to Buenos Aires makes is an easy alternative to Patagonia if you need a quick weekend getaway.
Patagonia's distance and size requires time. But you can easily take a long weekend in Cordoba.
Take the short flight into Cordoba city or an easy 9 hour overnight bus. Lay flat seating gives you a full night's sleep and you'll wake up rested and in your destination without the hassle of airport security.
Focus your sights on the small towns in the mountains.
This region was settled by German immigrants and you'd be forgiven for thinking for a second that you're in Europe.
Villa General Belgrano is one of the most popular. It hosts the country's yearly massive Oktoberfest (a must do for beer lovers!).
The tiny village of La Cumbrecita is another popular spot and ideal for families.
It's also conveniently located near Cordoba's small but budding wine region.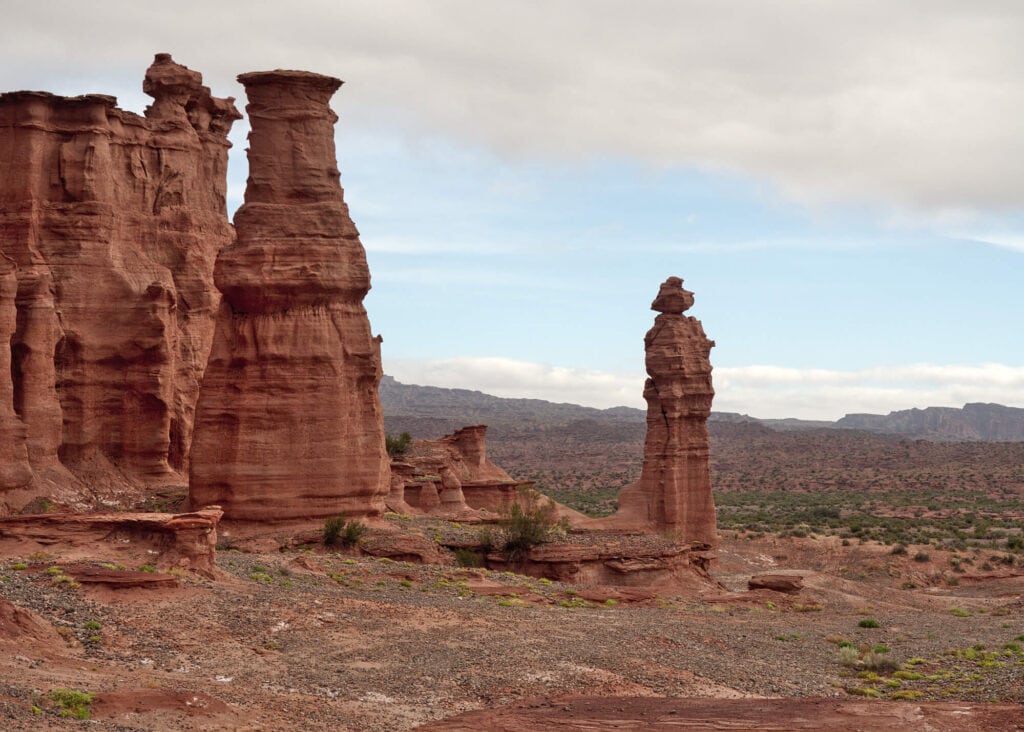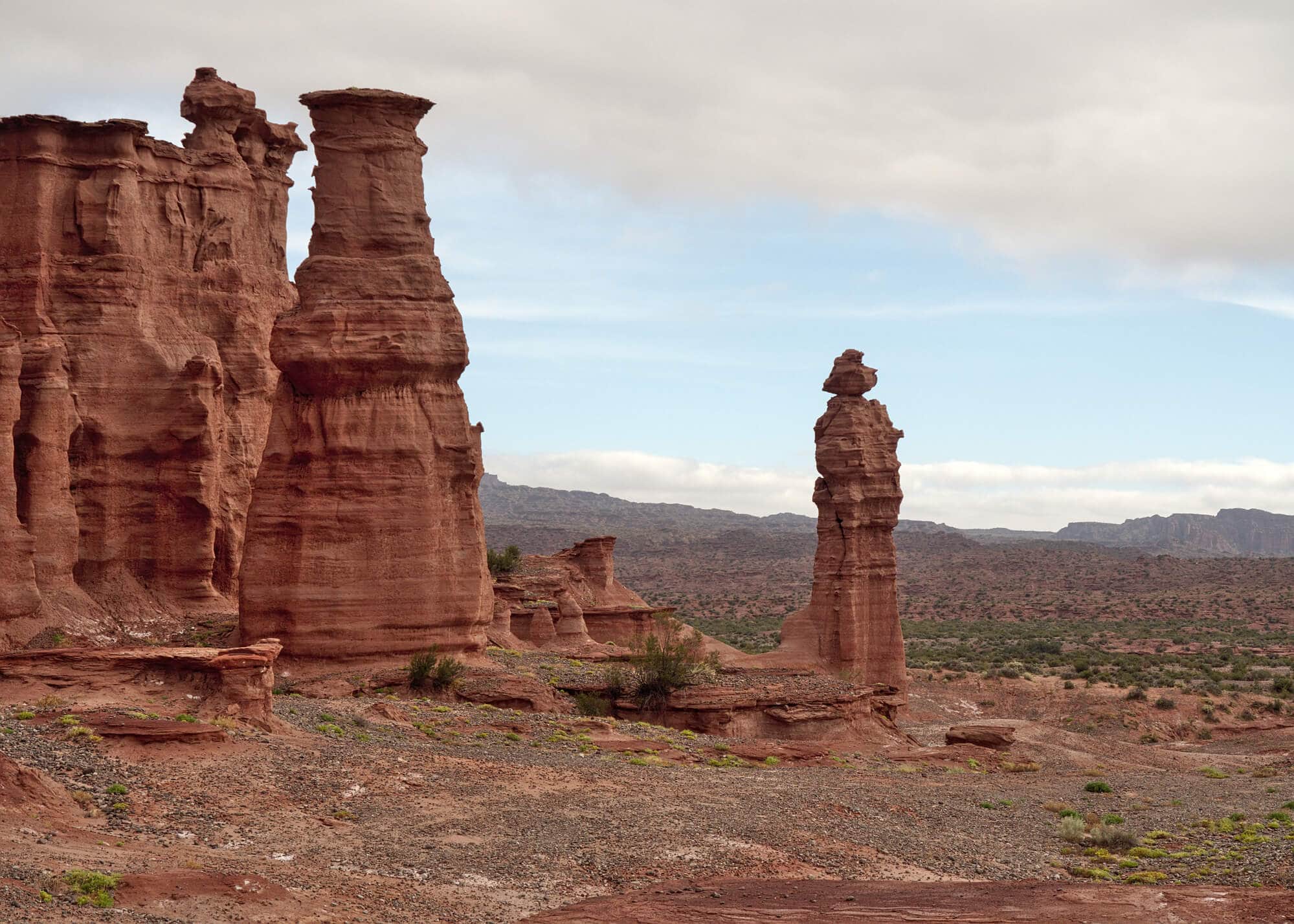 La Rioja and San Juan's Otherworldly Landscapes
While La Rioja and San Juan are fairly popular places to visit in Argentina among locals, they are largely untapped by foreign tourism.
If you're looking to get away from the crowds, this is where to go!
These two provinces are just north of Mendoza and have their own small wine regions as well. But the star of the show are their natural landscapes.
The red canyons and formations in Talampaya National Park in La Rioja look so much like Mars that if you told me Matt Damon filmed there, I'd believe you!
Just fifteen minutes away is the Valle de la Luna in San Juan (in Parque Provincial Ichigualasto). It translates literally to Valley of the Moon.
In one day you can visit Mars and the Moon, take that Elon Musk!
The best time to visit this dry, desert region is in the cooler winter months from June through August.
Try to avoid the sweltering summer from December through February.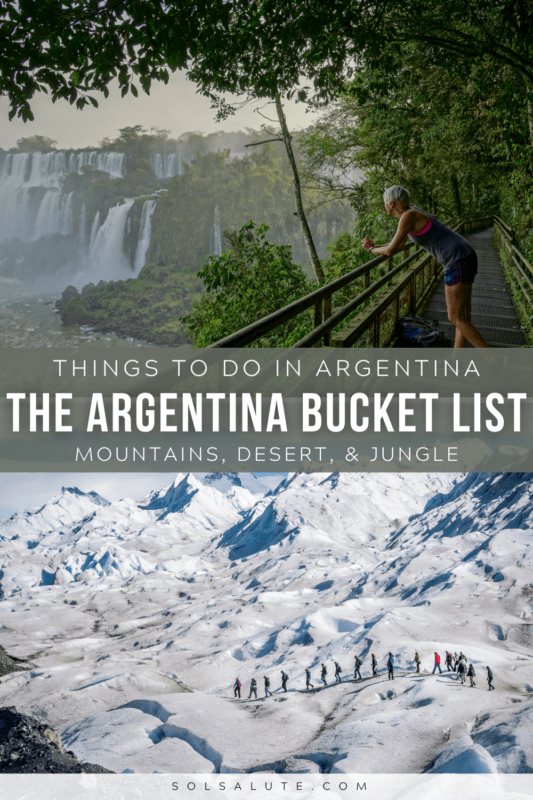 Travel Argentina, Places to Visit & Discover
I hope this list has helped you narrow down your options when planning your Argentina travels.
If you're anything like me, it may have made the decision harder.
There are so many beautiful places to visit in Argentina and it's almost impossible to choose!
Even after over a decade of living here I still have so much left to explore.
Luckily, I can think of worse problems to have.
What's your favorite Argentina destination? Let me know in the comments!
Read More About Argentina
Argentina Travel Resources