On Patagonia's Atlantic Coast, Puerto Madryn and its surroundings are the absolute best place to see wildlife in Argentina.
Southern right whales, orcas, sea lions, seals, and Magellanic penguins all return to the waters surrounding Puerto Madryn to breed every year.
Exciting marine wildlife excursions, an unexpected Welsh community, dinosaurs(!) and traditional sheep ranches all make Chubut worth adding to your Patagonia itinerary.
It can be intimidating planning your trip here because there are so many things to see and they're all very spread out.
So I've put together this post with all the best things to do in Puerto Madryn, Argentina (and its surroundings) with tips to help you easily organize your trip.
QUICK NOTE: This post contains affiliate links and Sol Salute may receive a commission for purchases made through these links, at no extra cost to you.
The 12 Best Things to do in Puerto Madryn, Patagonia
Here are the top Puerto Madryn attractions, which are all really day trips from Puerto Madryn.
The best things to do here are mostly on the Peninsula Valdes (an hour and a half to the north) or along the coast to the south.
I'll organize this list geographically as best I can to help you keep these activities organized in your mind.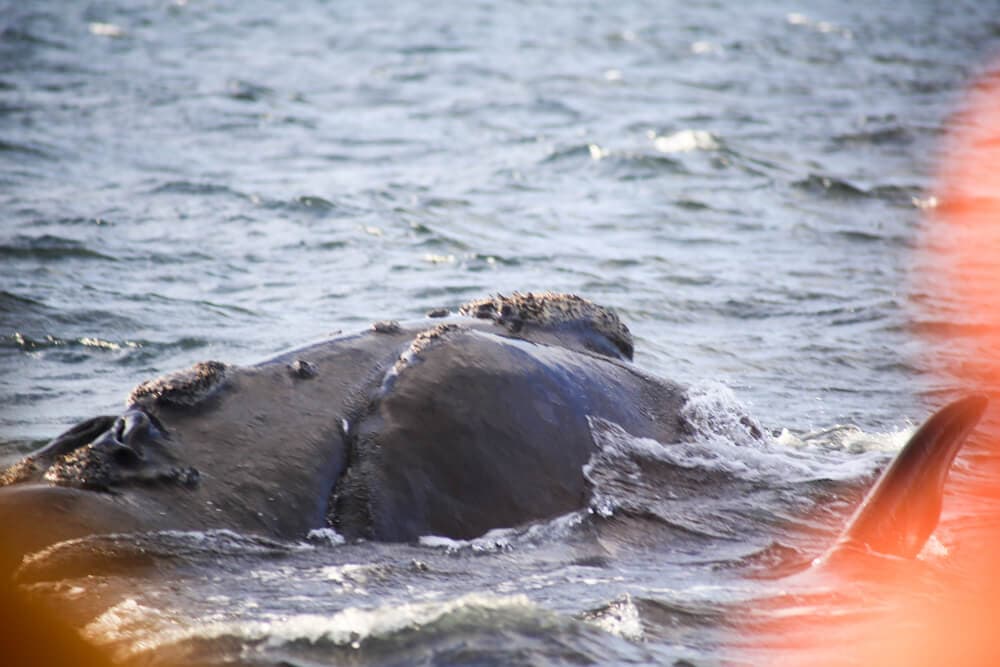 Whale Watching Boat Tour
The most popular thing to do in Puerto Madryn is whale watching.
South Right Whales return to the waters around Peninsula Valdes every year to breed from May through December, with peak whale season being between September and November.
Going on a whale watching excursion is an absolute must-do experience if you are in Puerto Madryn during these months.
There is nothing like it.
They are gentle beasts and get unbelievably close to the boat.
I remember a mother and baby playing with our boat, swimming under it from one side to the other, over and over. They were playing with us and we ate it up.
These boat tours leave from Puerto Piramides, a small village on the Peninsula Valdes.
If you only have time in your itinerary for one day on the peninsula, I recommend booking this tour.
It includes a full day of exploring the wildlife viewing stations around the peninsula and an optional whale watching tour.
If you're renting a car and have freedom to get yourself to Puerto Piramides, you can book a boat tour on your own.
We went with Botazzi (recommended to us by a local).
The final watching of the day is timed for sunset and was an unforgettable experience.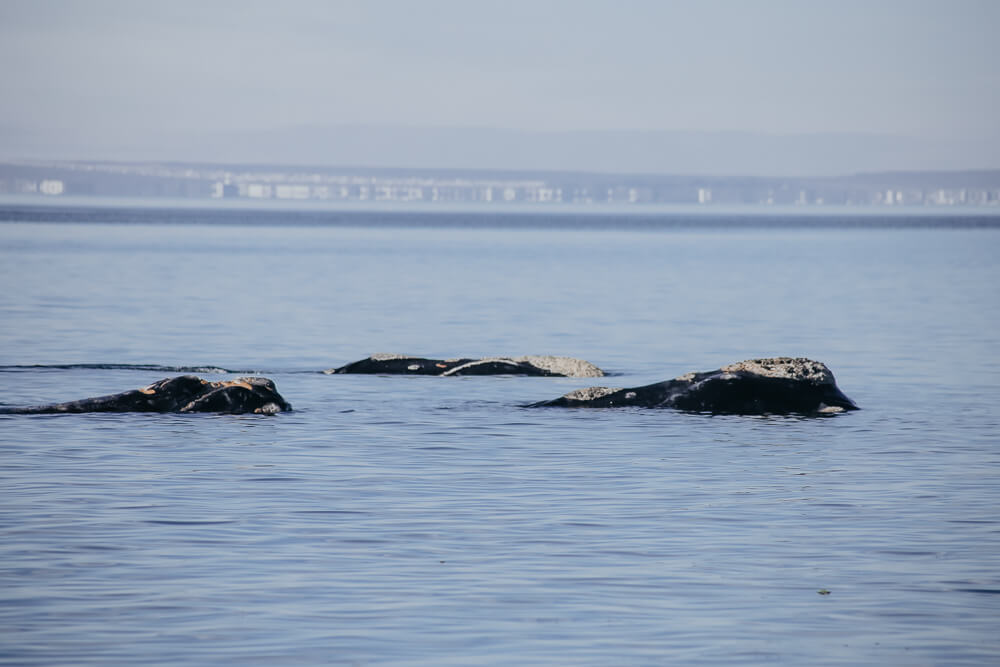 Free Whale Watching from Playa Doradillo
If you're on a tight budget you don't need to book a boat tour to see whales in Puerto Madryn.
Simply take a taxi out to Playa Doradillo and watch them for free right from the beach!
Just 20 meters from the beach the shore drastically drops off and the water if very deep, allowing the whales to swim unbelievably close to the beach.
The water in this bay is so calm that whales swim idly down the coast, 10-20 meters from where you're sitting.
PRO TIP: There are a lot of different beaches here, one right after the other, the best one for whale watching is Las Canteras. It can get crowded so I recommend going early in the morning or trying one of the beaches just before Las Canteras.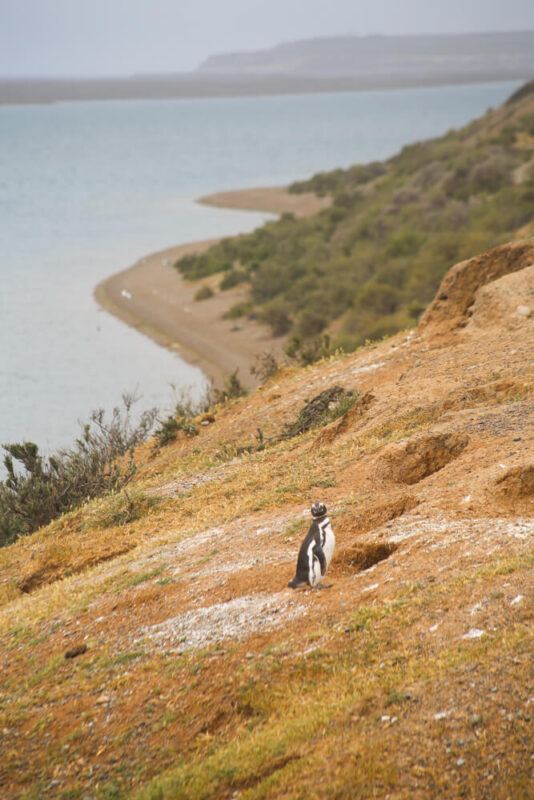 Explore Peninsula Valdes
The star of the show here is the Peninsula Valdes.
It is a UNESCO World Heritage Site, a protected nature reserve, and the best place near Puerto Madryn to spot wildlife.
When most people book their holiday in Puerto Madryn, they do so to use it a base to explore the Peninsula Valdes.
Valdes is a wildlife paradise where animals return every year to breed.
Depending on the time of year you can see sea lions, seals, southern right whales, penguins, and orcas.
If you're staying in Puerto Madryn I recommend doing a full day tour of the peninsula.
You'll want to return again for a whale watching boat tour (more on that later) or book an extended day trip that includes one.
I highly recommend this tour, it is a complete day on the peninsula and you have the option to include a whale watching excursion.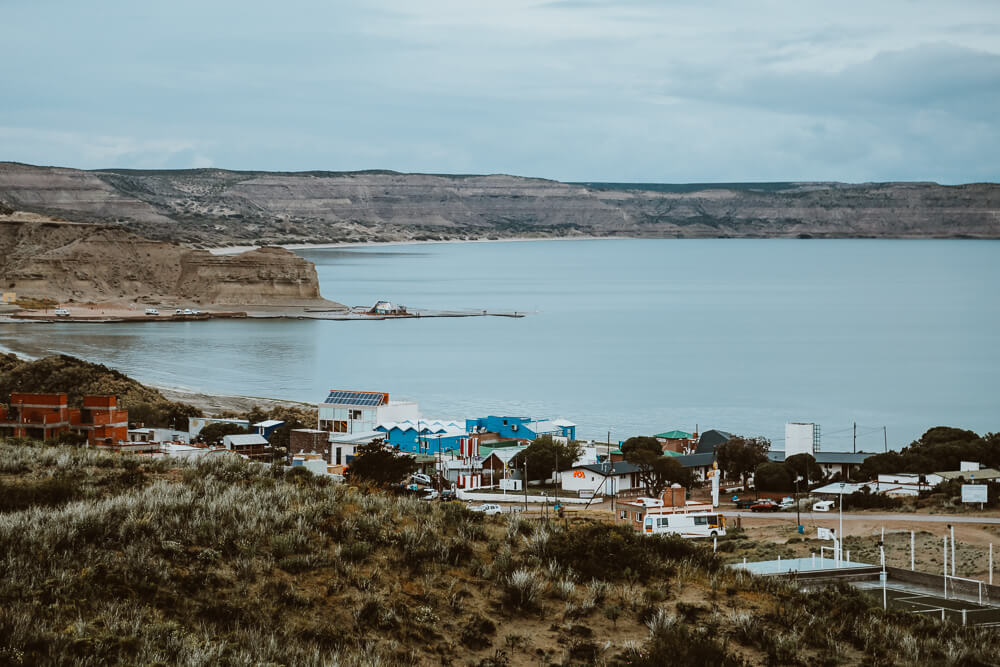 Visit or Stay in Puerto Piramides
Puerto Piramides is a small village that you'll likely visit on your day tour of the Peninsula Valdes.
This tiny town is right on the beach, surrounded by towering pyramid shaped cliffs that give the town its name.
The beach is stunning and worth a walk.
During the hot summer months you can even sunbathe and swim.
If you're a fan of seafood you'll be very pleased here as well.
I love La Covacha, a restaurant with a great view of the water. Sit on their deck for happy hour or cozy up inside by the fire at night for dinner.
PRO TIP: With there being so much to see on the peninsula combined with how cute Puerto Piramides is, I highly recommend staying here for a few nights instead of or in addition to your time in Puerto Madryn.
To really enjoy this, though, you do need to rent a car (check rates here).
We spent four nights at the Oceano Patagonia Wildlife Residence, a beachfront eco-friendly hotel. The whales swim in the bay and you can hear them sing from your bed. It was magical (I'm not being not hyperbolic, it was!). Read about our itinerary here.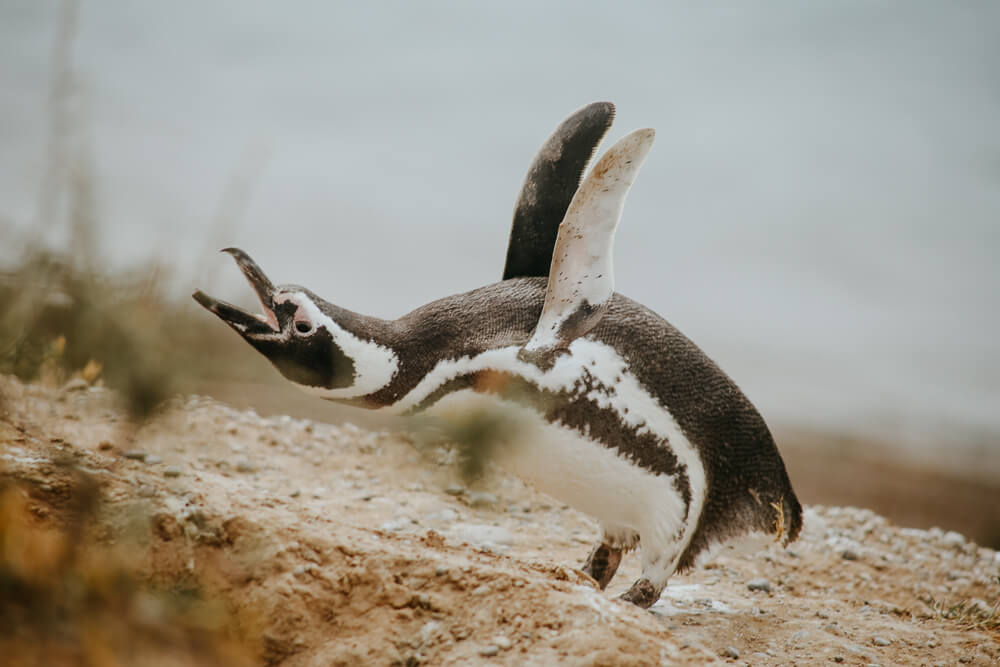 Penguins & Asado at Estancia San Lorenzo
When people hear penguins in this area they usually think Punta Tombo (next up on this list).
But actually, the penguin colony in Estancia San Lorenzo is just as impressive and as an estancia, it has a lot more to offer in terms of a complete experience.
San Lorenzo, on the northern tip of Peninsula Valdes, receives an average of 600,000 Magellan penguins a year from early September through late March.
If you're driving yourself, they have three scheduled visits per day that last an hour and fifteen minutes at 11 am, 2 pm, and 4 pm.
Time your visit to be there for lunch. Their in-house restaurant serves the local specialty, Patagonian Lamb. You can't leave Puerto Madryn without trying it!
Here are some tours that include San Lorenzo's Penguin Colony:
Walk with Penguins in Punta Tombo
Everything on this list has been north of Puerto Madryn on the Peninsula Valdes. Finally, with Punta Tombo we are heading south.
This is the most famous penguin colony in the region, home to nearly 800,000 throughout the season (I saw one website claim a million but that seems a bit ambitious).
800,000, a million, either way, you'll see thousands of penguins at Punta Tombo!
Entrance is not free but at under 10 dollars, it's worth it, this is one of the best places to see penguins in Argentina!
It is 188 kilometers south of Puerto Madryn, closer to the city of Trelew.
Pro tip: If your flight arrives in Trelew, visit Punta Tombo before continuing on to your hotel in Puerto Madryn!.
This Punta Tombo tour is the best option if you don't have transportation. It is a full day with transport from Puerto Madryn including a visit to the Penguin colony, an optional navigation to see Tonina dolphins, and a visit to the Gaiman Welsh town.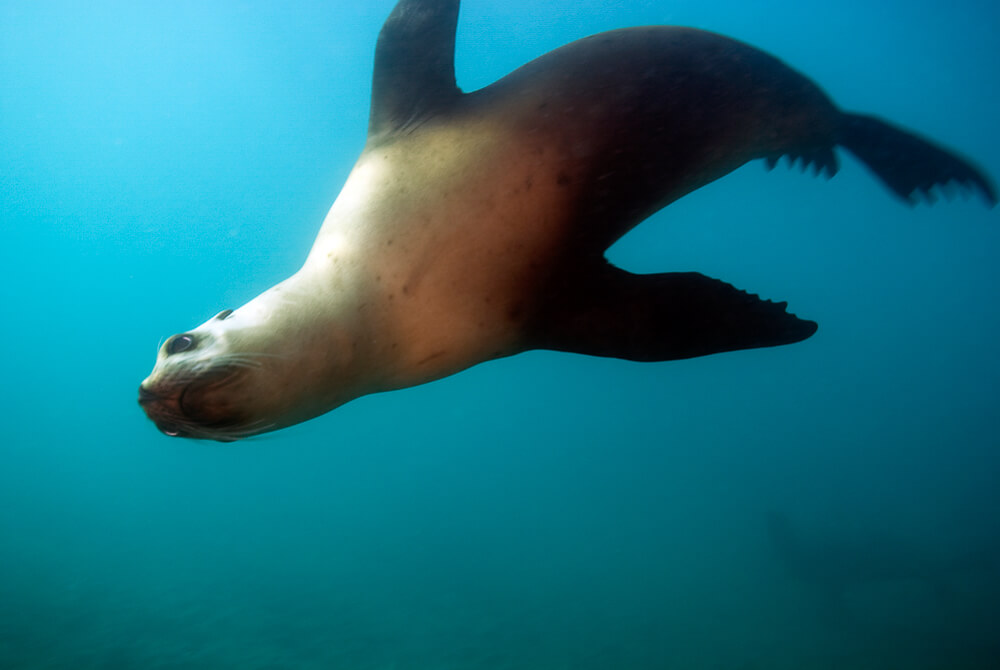 Snorkel with Sea Lions
I so desperately wanted to snorkel with Sea Lions when I was in Puerto Madryn but since we were visiting with my parents we decided to save it for future trips. One day, sea lions, one day…
People who have done it describe it like snorkeling with giant puppies under the water.
This is truly one of the most unique Puerto Madryn attractions that you won't be able to repeat anywhere else.
You don't need to know how to swim and anyone over 6 years old can go.
Remember that the water here is very cold but they provide you with thick wetsuits and gear.
If you want to snorkel with sea lions click here for more information and to reserve.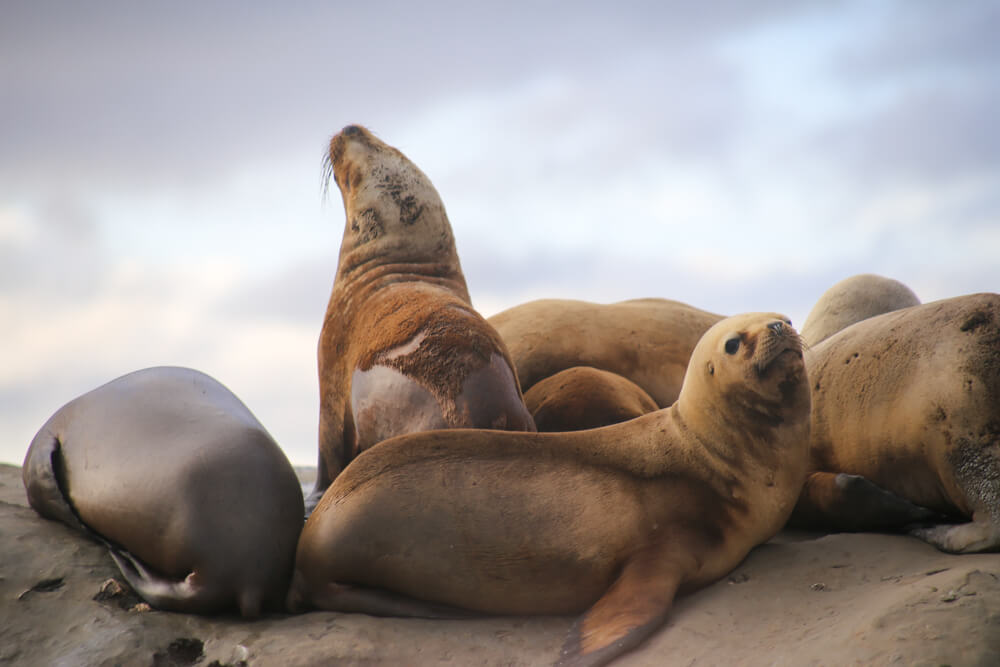 Watch Sea Lions in Punta Loma
If you'd rather not snorkel with the sea lions you can still see them in all of their glory.
Punta Loma is a permanent colony of sea lions only 17 kilometers but on a dirt road it takes 30 minutes.
There's no public transportation but you can easily hire an affordable remis (private driver) or go on a guided tour.
Once there you can watch the sea lions and birds like cormorants from the viewing decks, entrance is free.
(Note: There's another sea lion colony on the Peninsula Valdes just outside of Puerto Piramides, you definitely do not need to visit both! Pick what works best for your itinerary).
Here are some tour options for Punta Loma: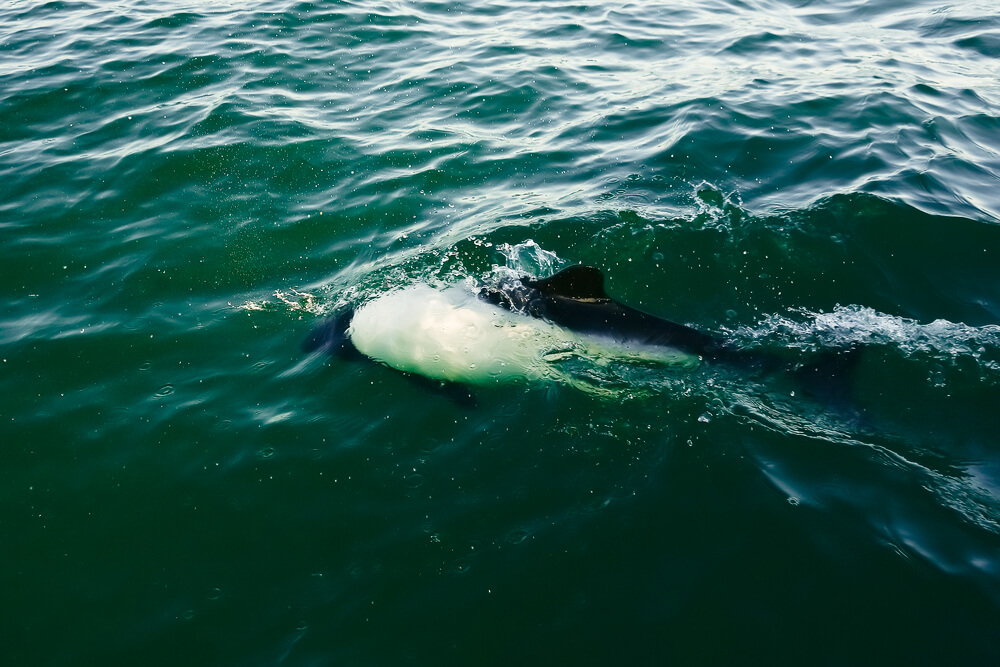 See Tonina Dolphins in Puerto Rawson
Puerto Rawson is a small coastal village near the larger city of Trelew.
Here you can go on boat excursions to see the Patagonian dolphin.
A small dolphin (rarely longer than 145 cm or more than 50 kg) that you won't be able to see anywhere else in the world.
If you're flying in or out of Trelew, you'll be very close to Puerto Rawson and can easily combine a tour to or from Trelew.
If you're based in Puerto Madryn, take this tour that includes a visit to Gaiman, Punta Tombo, and a dolphin navigation (it's optional so make sure to select it when booking the tour).
This tour will cover all the three major highlights south of Puerto Madryn.
See Dinosaurs at the Egidio Feruglio Paleontological Museum
You may not have known it but Patagonia is an excellent destination for the dinosaur enthusiast!
The Egidio Feruglio Paleontological Museum is in the otherwise underwhelming city of Trelew.
The skeleton of the world's largest dinosaur was discovered here and you can see an enormous statue of him by the highway as you drive into town.
We really enjoyed our visit of the museum. It's small but features plenty of skeletons and information.
There are four large rooms overflowing with information about this regions pre-historic past.
Keep in mind that Trelew itself is otherwise not a beautiful or an exciting city. To make the most of your day combine your museum visit with a visit to the Gaiman Welsh settlement and/or Puerto Rawson to view dolphins.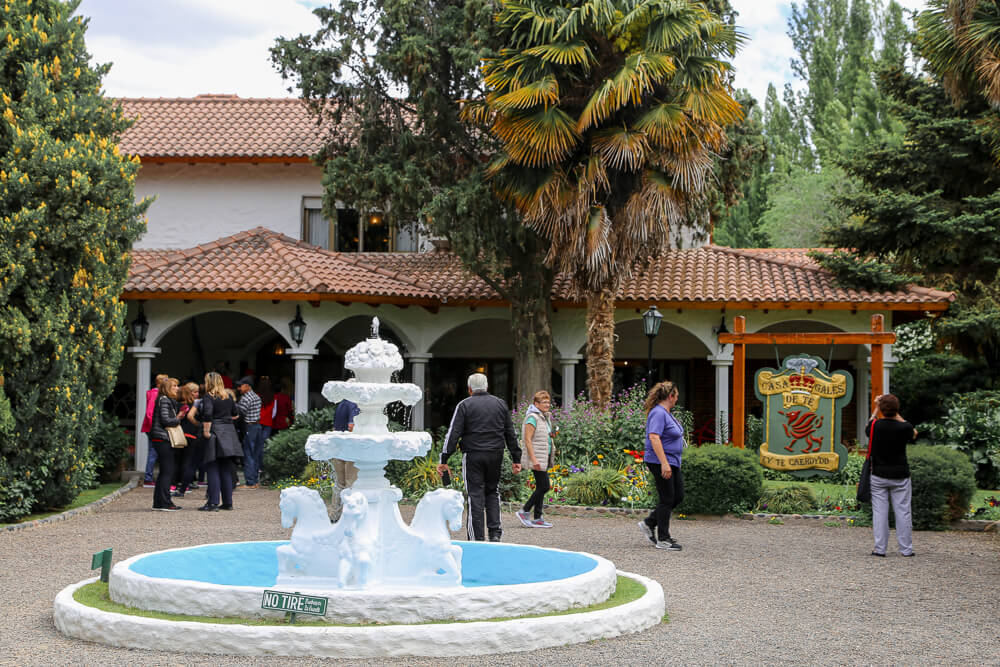 Visit Wales in Gaiman
This region of Patagonia was settled by Welsh immigrants, whose knowledge in sheep farming helped their estancias thrive in this harsh land.
It's surprising to walk through town and see all signs in not only Spanish but also in Welsh.
Visit the tiny village of Giaman for a glimpse into Patagonian Welsh history. It's a short drive from Trelew.
Stop by the visitor center as you drive into town to get oriented.
There are Welsh Protestant Chapels you can visit but confirm opening hours (both were closed on the day we went).
The stars of the show in Gaiman are the traditional Welsh tea houses.
Plan your visit for tea time to enjoy a warm tea and various courses of breads and cakes.
They are: Ty Te Caerdydd, Ty Gwyn (where we went), and Ty Cymraeg.
Guided tour of Gaiman: This full-day tour of Punta Tombo includes a visit to Gaiman. If you're worried you'll be rushed, you really don't need much time in Gaiman.
If you have your own car, though, I recommend combining Gaiman with Trelew's Paleontological museum and/or Puerto Rawson.
Interesting fact: Princess Diana visited Gaiman at Ty Te Caerdydd! Follow in her royal footsteps but keep in mind that everyone else will, too (we decided to skip this tea house when two huge tour buses arrived with us).
Visit an Estancia
One of my favorite things to do in Argentina is visiting estancias. These traditional ranches are a great look at the country's rural history and culture.
I love these estancias near Buenos Aires and this one in El Calafate, and there are also plenty to choose from near Puerto Madryn.
El Pedral has it all: its own elephant seal colony, penguins, boat tours to spot whales in Golfo Nuevo, and a fantastic restaurant.
Estancias are fantastic for families traveling with kids. They're typically full-day tours with good food and plenty of exciting animal encounters.
This full-day experience at El Pedral includes everything from a traditional asado lunch and Welsh tea in the afternoon to a walk with El Pedra's penguins. El Pedral is also a hotel, open from mid-September to mid-April.
Puerto Madryn Logistical Tips
There is a lot more to planning this trip than the above best things to see in Puerto Madryn.
It can be overwhelming planning your trip to Patagonia because there is simply so much information and so many options, where do you start?
Here! You start here.
Keep reading for all the logistical tips from airports to where to stay in Puerto Madryn.
Where to Stay in Puerto Madryn
Here are a few Puerto Madryn hotels to check out for all budgets:
Where to Stay in Puerto Piramides
As I mentioned earlier, we didn't even use Puerto Madryn as our base. Instead we stayed in Puerto Piramides so we could dedicate more time to the Peninsula Valdes.
I HIGHLY recommend spending at least a couple nights here, staying at Oceano Patagonia.
This hotel is right on the beach. We could hear the whales while in bed! It's also eco-friendly and owned by the best people who love this area with all of their hearts. You cannot go wrong with Oceano.
How to get to Puerto Madryn
There is an airport in Puerto Madryn with regular flights from Buenos Aires. This is obviously the easiest option and what I would search for first.
But also compare flights to nearby city Trelew. The two cities are only 45 minutes apart so you can easily fly into either city, you can book this transfer from Trelew to Madryn.
Sometimes flights to Trelew are cheaper or have a more convenient schedule for your itinerary. For example, Fly Bondi (Argentina's answer to Ryan Air) flies into Trelew.
I recommend always checking Google Flights when doing initial research to get a look at all of your options.
Another thing to keep in mind when doing your research is the cost of rental cars. If you want to rent a car (which I HIGHLY recommend) compare rental availability and rates from both cities. Perhaps that will be the deal breaker.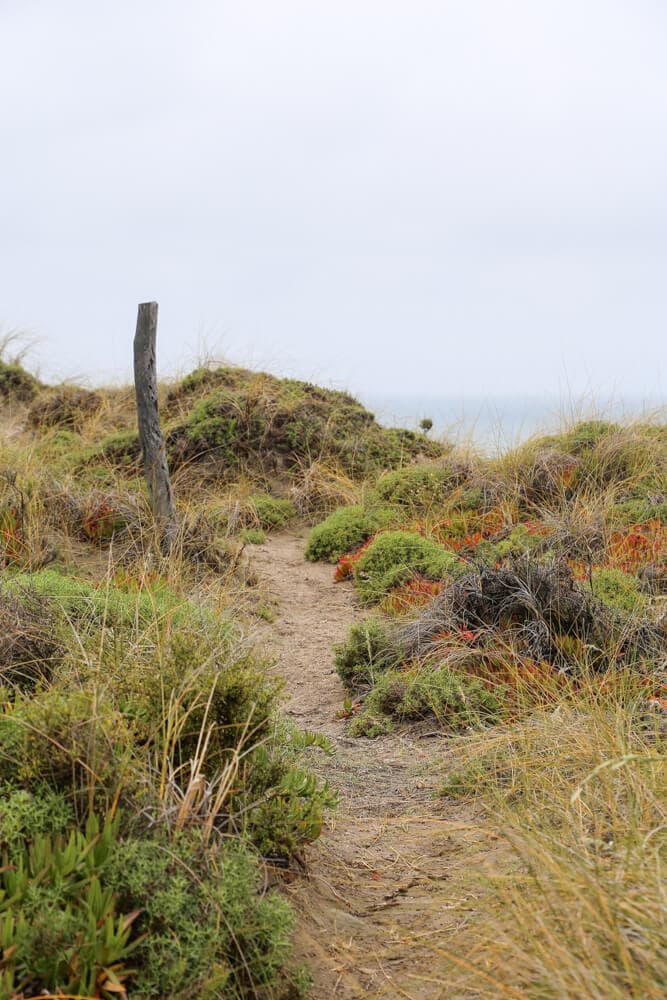 Best Time to Visit Puerto Madryn
The best time to visit Puerto Madryn will depend on what animals you want to see.
But to cut to the chase, the absolute best month is October, followed by September and early November. This is when you'll see the greatest number of whales before they start to migrate south again in December.
Sea lions, elephant seals, dolphins and orcas live here year round. However, you are more likely to spot orcas in February and March.
Penguins are here from mid-September through mid-March.
In summary, the best time to visit is from mid-September through mid-November if you want to see whales AND penguins.
But, of course, you can enjoy a visit to Puerto Madryn during any season. In summer locals flock to the beaches (despite the cold waters) and there IS wildlife here year-round.
It will simply come down to which animal is on your bucket list.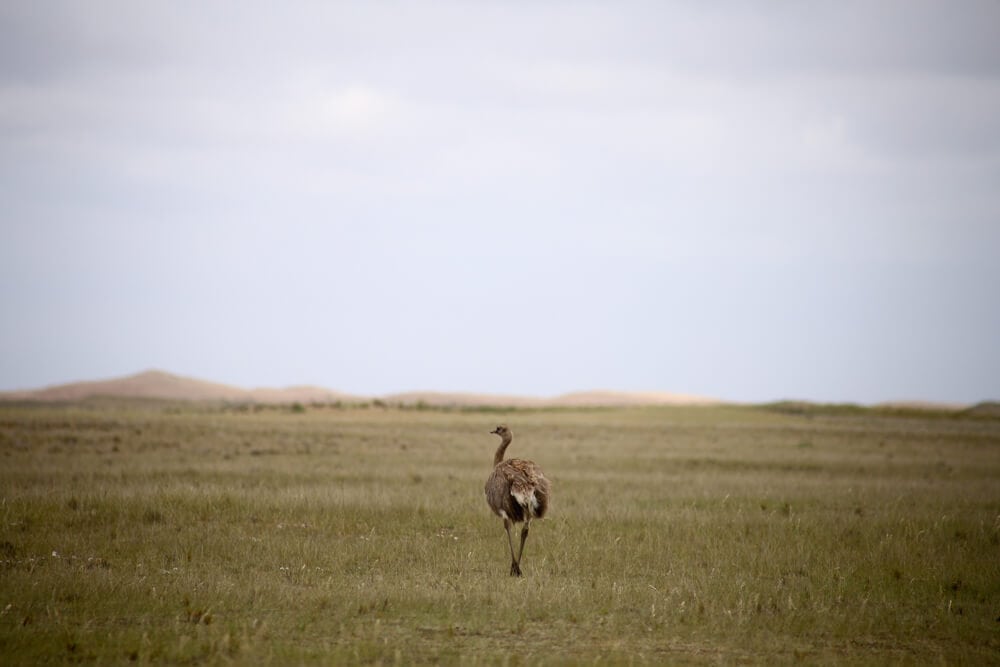 Patagonia & Onward Travel Options
I have been living in Argentina for 12 years now and never stop daydreaming about possible road trips.
While most people hit up Puerto Madryn for a few days and move on, there are actually a lot of beautiful destinations nearby!
Here are the top two on my wish list for a future Coastal Patagonia summer road trip.
They are destinations for the intrepid traveler that isn't afraid of little cell service and lots of dirt roads, all in the name of rugged beauty and stunning landscapes.
Of course, you can catch a flight or bus to continue your travel elsewhere in Patagonia as well. Here are some guides to help you plan:
Argentina Travel Resources
Pin It For Later