While smaller than the salt flats in Bolivia, the Salinas Grandes salt flats in Argentina are still truly epic.
They lie on the border of the northwestern provinces of Jujuy and Salta and are a must-see for anyone exploring this region.
This post is a complete guide on how to visit Argentina's salt flats, whether you choose to go on your own or on an organized tour.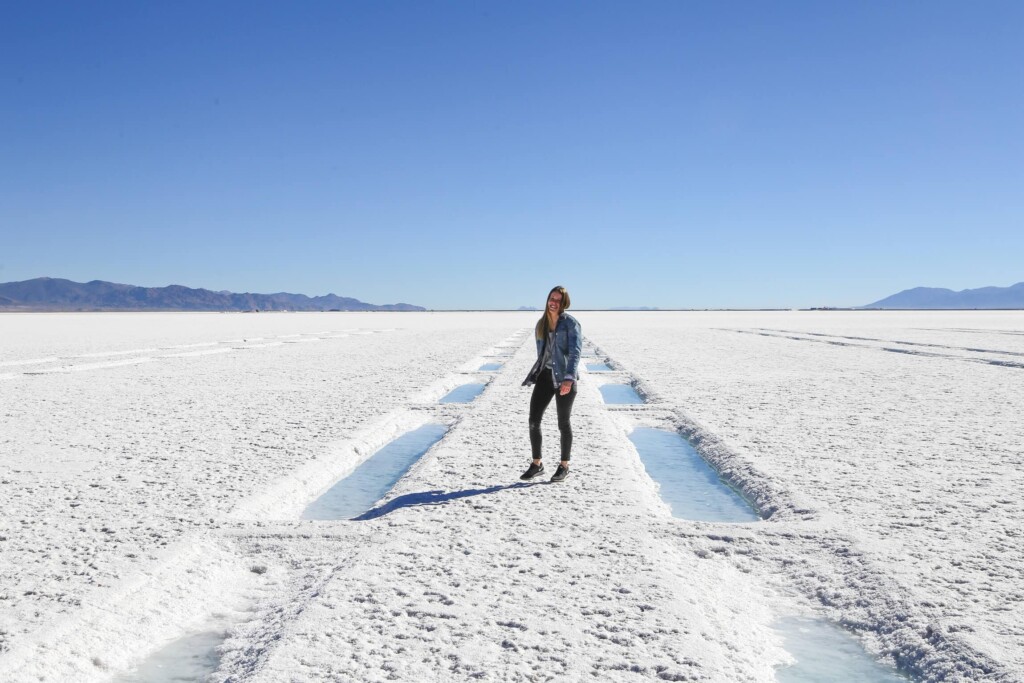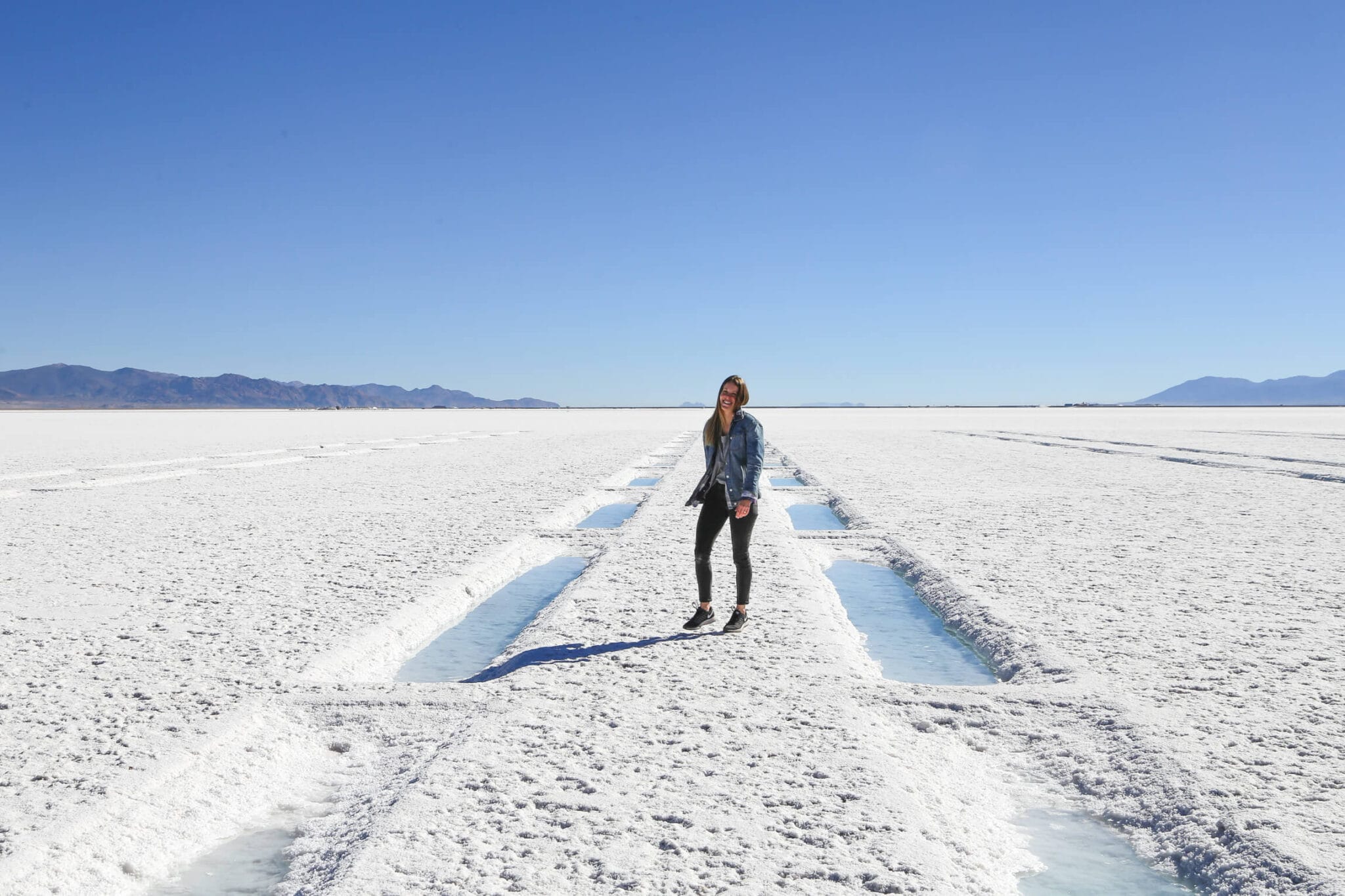 QUICK NOTE: This post contains affiliate links and Sol Salute may receive a commission for purchases made through these links, at no extra cost to you.
Salinas Grandes Salt Flats, Argentina
On our road trip through Salta and Jujuy, I constantly felt like I was actually in the American Southwest.
I've never actually been to Arizona or Utah, but I've been dying to go for years.
The deep red canyons and mars landscapes have always called to me, and I was finally seeing them! In Argentina…
So while I may not have made it to Death Valley in California or to the more famous Uyuni Salt Flats in Bolivia, I did finally see some Salt Flats.
Argentina is making my travel dreams come true!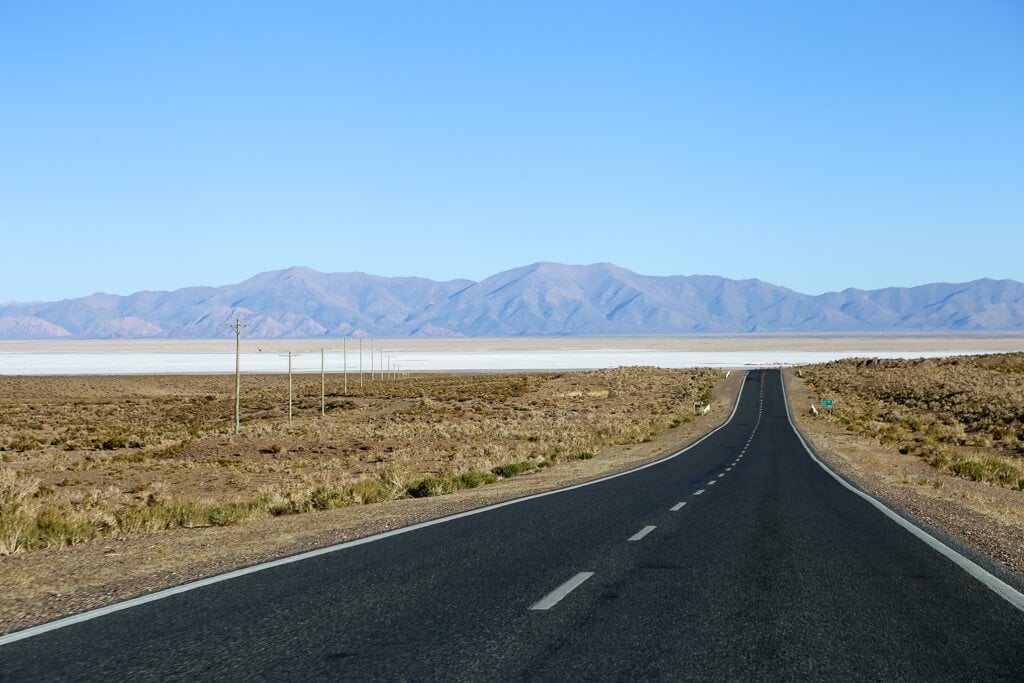 How to get to Salinas Grandes, Jujuy
How to get to the Salinas Grandes by car or by tour.
We drove ourselves since we were in the midst of an epic road trip.
If you'd rather not drive in Argentina, book one of the many-day tours.
Drive from Purmamarca
We were staying in Tilcara with a rental car at our disposal, so we drove. Turn off of Ruta 9 onto Ruta 52, passing Purmamarca.
A great way to spend a day at Salinas Grandes is to combine it with a visit to Purmamarca.
The drive from Purmamarca to Salinas Grandes is just under 126 kilometers and takes a little under and an hour and a half. It includes a mountain pass with a lot of switchbacks and high altitude (pack some coca leaves or coca tea!).
Compared to rougher roads we encountered later, this is a relatively easy drive.
The quality of the road on Highway 52 is good. It's paved and well maintained.
Rental cars in this area of the country are a lot more affordable than other areas like Patagonia.
Check Salta rental rates and availability here.
Day Trips to the Salt Flats from Salta
Visiting the Salt Flats is a very popular day trip from the city of Salta.
We chose to spend three days in Jujuy, but most people just stay in Salta and venture out on day trips.
It's easier if you're short on time. Also, the number of day trips that depart from the city of Salta makes it easy for those who'd rather not rent a car and drive.
If you're staying in Salta, this Salt Flats day tour is the most popular.
It is a full-day excursion into the neighboring province, Jujuy.
You'll visit the picturesque village of Purmamarca and its famed 7 Colored Mountain before finishing the day at the Salinas Grandes salt flats.
Click here to reserve your salt flats day trip.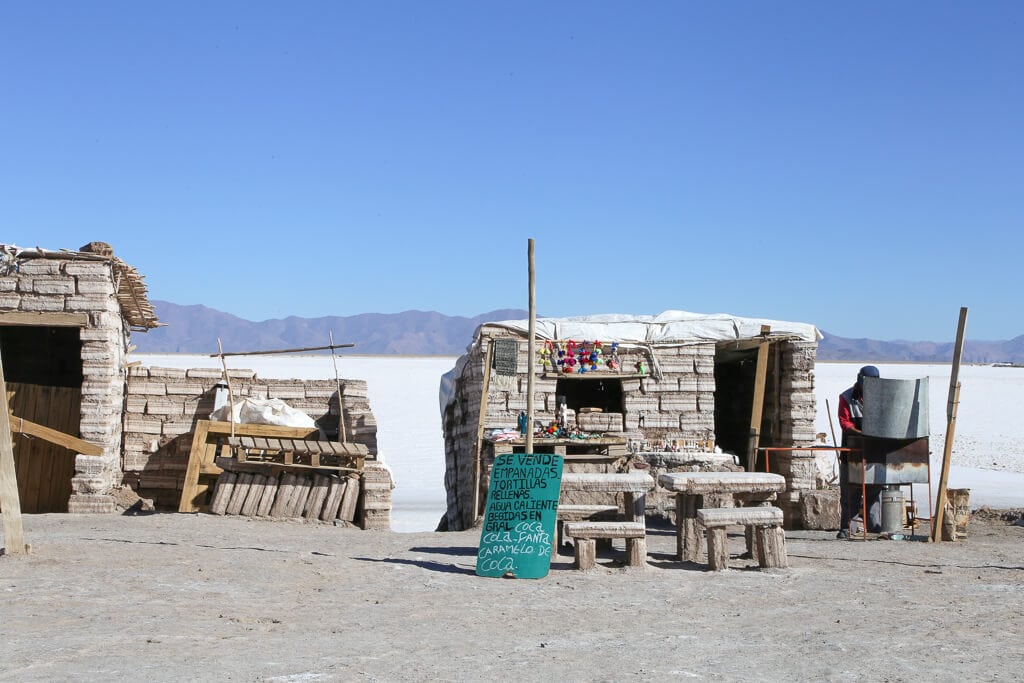 Details to know about the Salt Flats, Argentina
Here are some tips to help you have the best day at the Salt Flats in Argentina.
Food & Facilities at the Salinas Grandes
There aren't any restaurants or facilities.
There was a man setting up a grill for homemade empanadas and tortillas.
I was starving (I'm always starving) so I got a goat cheese-filled tortilla (below). It was delicious!
But I wouldn't rely on that, it's always possible they don't feel like going to work the day you visit.
Just in case, bring lunch with you or visit early in the morning or after lunch.
There is one port-a-potty that cost 5 pesos to use. It had a sign with the rules (no #2's allowed!).
Not ideal but it's better than nothing.
It's a Natural Wonder
Jujuy's Salinas Grandes are included in the official list of Argentina's Natural Wonders.
It shares the honor with the glaciers of Patagonia and the jungle of Misiones. Read all about Argentina's 7 wonders.
Argentine Salt Flats Entry Fees
The salt flats are free to visit! In fact, the highway cuts right through them!
Pull into the parking lot and step down on the salt flats for your own photo shoot, free of charge.
If you're only planning on doing this, you'll probably only spend around half an hour here in total.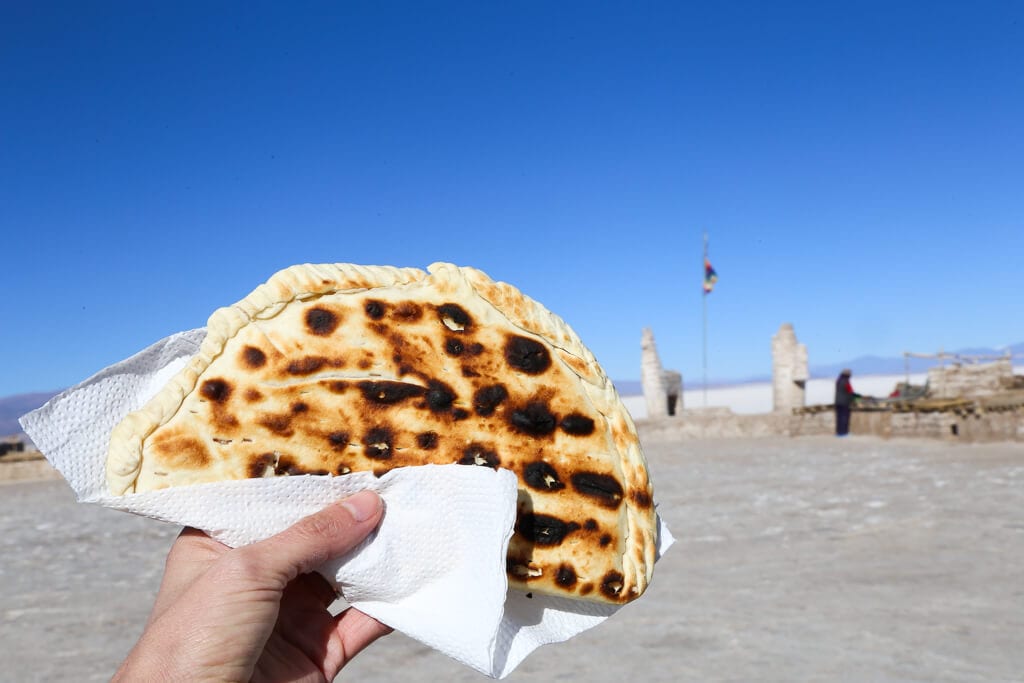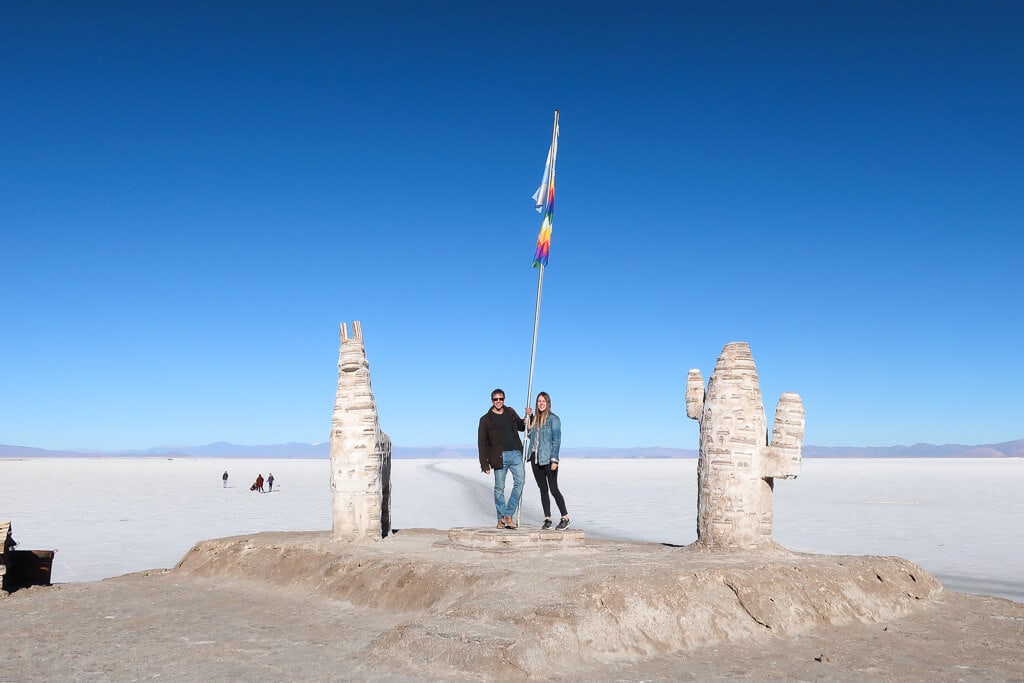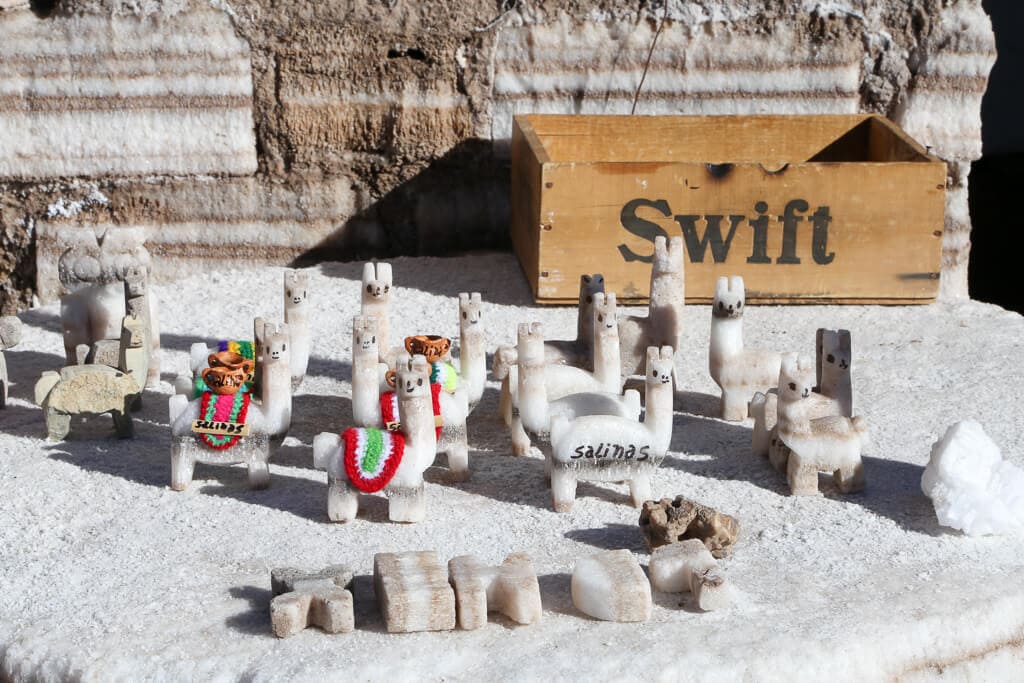 When to Visit Salinas Grandes Argentina
We came to Salinas Grandes in May, in the midst of dry season (which makes up most of the year).
If it hasn't been raining, you'll see something similar to what you see in these photos.
It's ideal for playing on the salt and taking perspective photos. In the rainy season (January and February), the salt flats will be carrying a layer of water.
This offers its own unique beauty, looking like a mirror reflecting the sky. Any photos you take will look as if you're walking in the clouds.
Salt Flats Photo Shoot: Play with Perspective
We spent about half an hour on our own personal photo shoot.
First, we posed with the giant salt cactus and salt llama, because salt llama.
Then commenced the cliche perspective shots on the salt.
Bring props and play!
We had a half-empty bottle of wine that we used (also, it was for later that night at the hotel, don't drink and drive).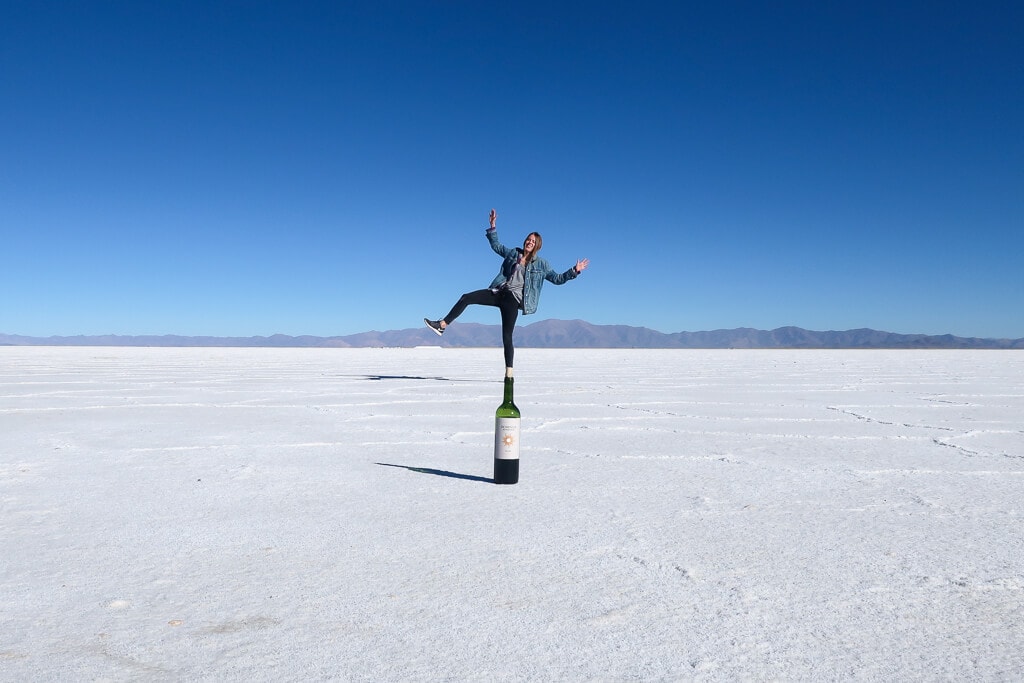 Salinas Grandes Tours
While you don't need a tour of the salt flats, there are a couple options are at your disposal.
If you're in a hurry, you can take pictures near the road and leave it at that.
But, we decided to go on a tour deeper into the salinas. We had driven all the way out there, after all, might as well see all there is to see.
Circuito Ojo del Salar
For 200 pesos (as of May 2018, around $8 US), a local guide will hop in your car with you and guide you towards the center of the salt flat. The cost is per vehicle. The tour takes 45 minutes.
I'm not sure if there are English speaking guides, but it's the only way to get further onto the salar, so whether or not you understand Spanish I'd say it's worth it.
Our guide explained the history of the region, the geographical formation of the salt flats, and how it's currently mined. I really enjoyed it!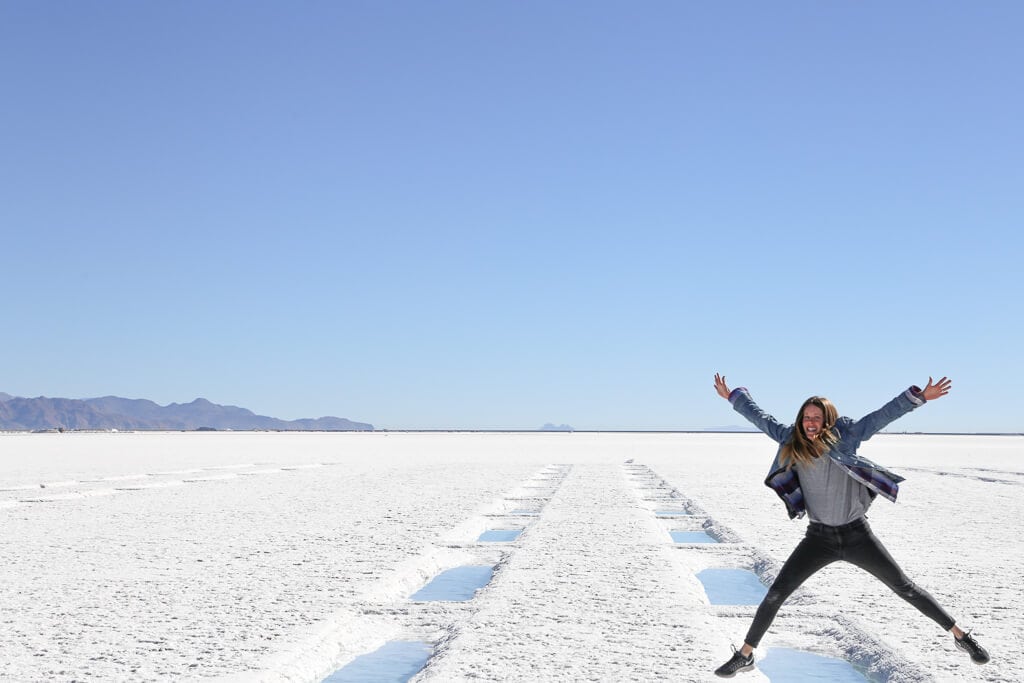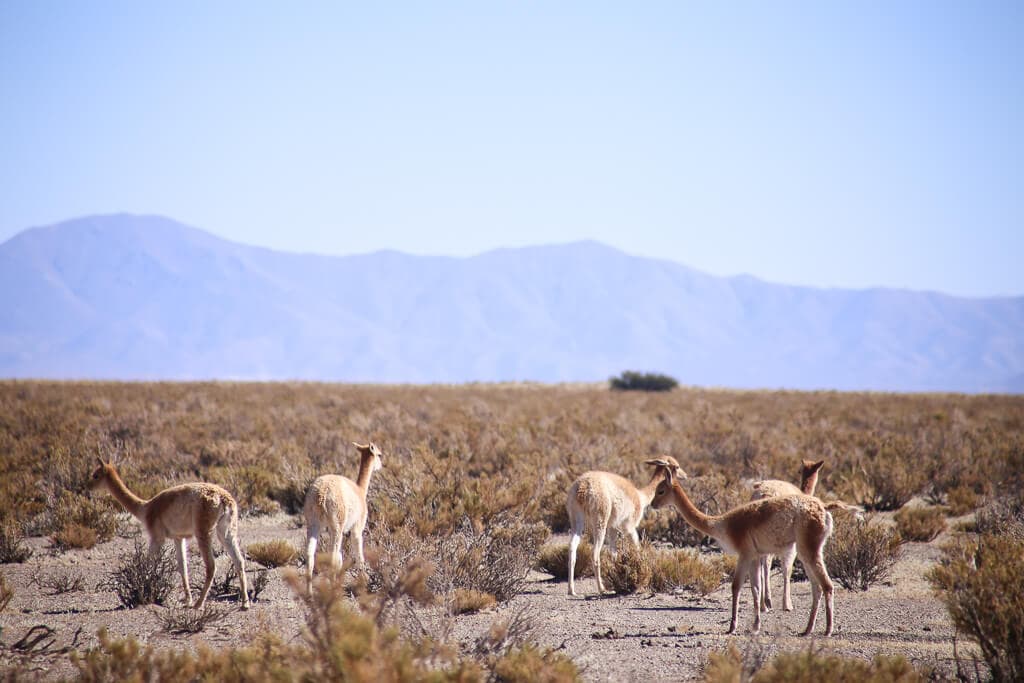 Look for Llamas and Vicuñas
I thought I was going see llamas all over Jujuy, but we didn't see any llamas or their cousins (the vicuña or guanaco) until we were on our way to the Salt Flats.
They're native to this region, the altiplano. We came across this group of dainty vicuñas when we were almost to the Salinas Grandes.
So drive slowly and keep your eyes peeled, you don't want to miss them!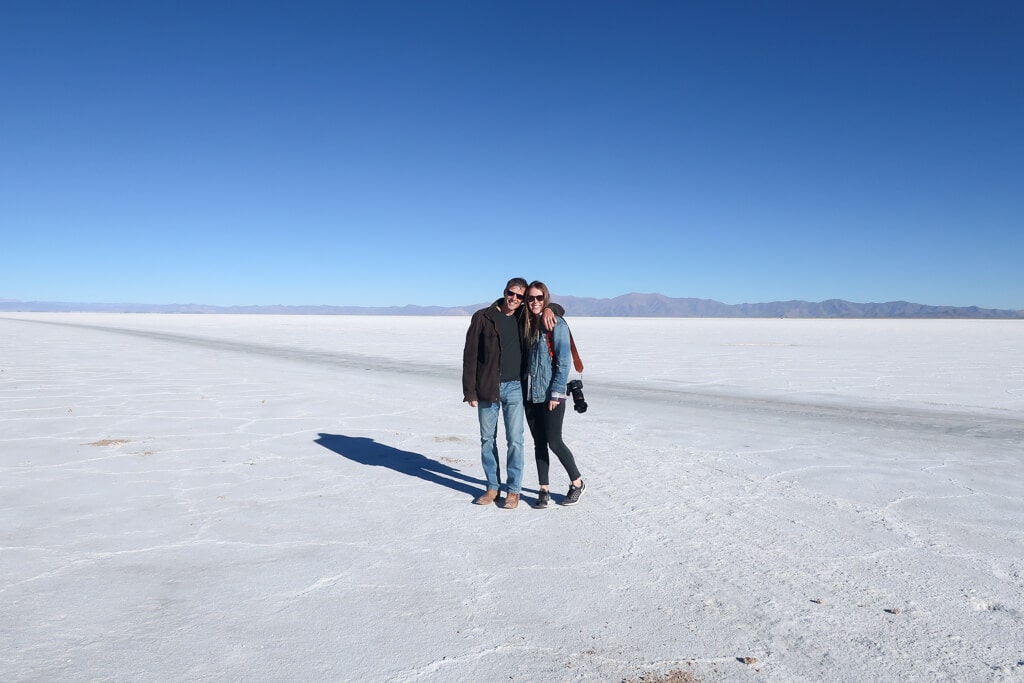 Visit the Salinas Grandes Salt Flats, Argentina
We spent the whole morning here, you can really spend as much or as little time as you'd like!
If you're looking for more to do in the region, check out my 9-day itinerary for Salta and Jujuy.
It offers a great overview of the highlights in Salta and Jujuy, as well as where to stay.
Argentina Travel Resources
Read More About Argentina's Northwest:
Pin It For Later