Cafayate is a blend of Mendoza and America's Southwest.
Red canyons, waterfalls, wineries, and more, there is a lot to do in Argentina's unsung wine region.
This post is a complete guide on the best things to do in Cafayate from wineries to scenic drives.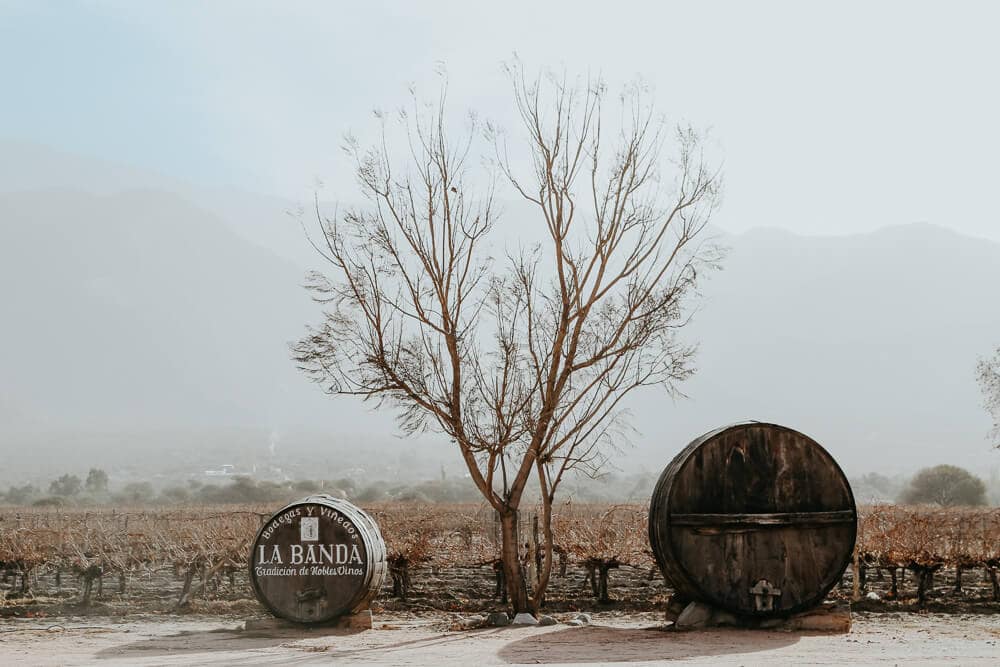 QUICK NOTE: This post contains affiliate links and Sol Salute may receive a commission for purchases made through these links, at no extra cost to you.
Things to do in Cafayate, Argentina
The Northwest is my favorite region of Argentina.
It has the best food, gorgeous desert landscapes, the people are kind, and of course, there is wine.
I've been lucky enough to visit Cafayate a couple of times now and will never tire of its wineries and epic scenery.
If you're wondering what to do in Cafayate besides the wineries, this post is a complete guide to the region including hikes, drives, and empanadas.
What more could you want?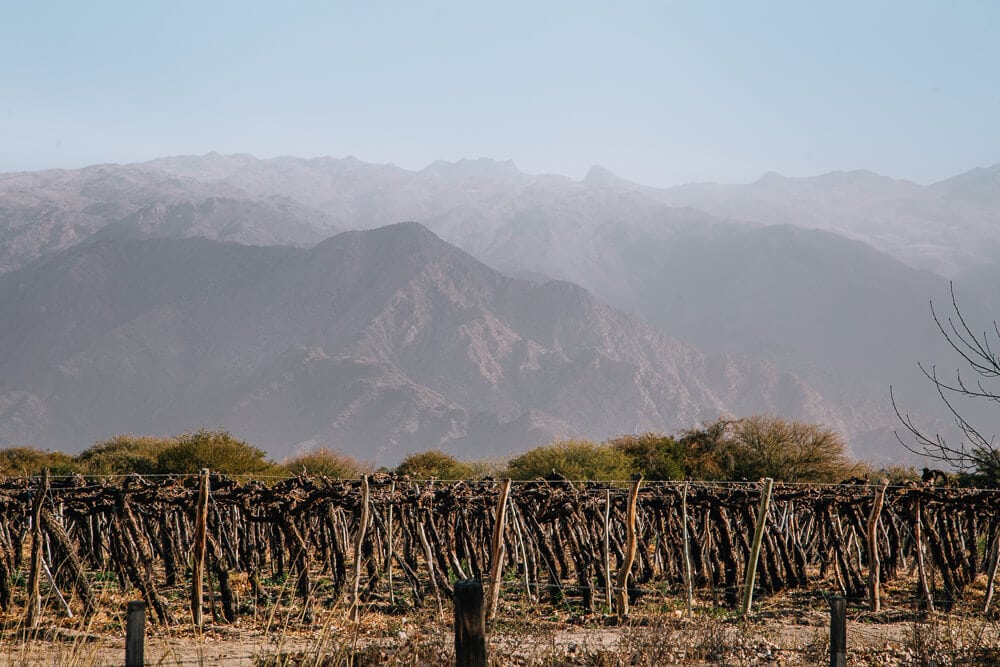 1. Visit the Wineries
Cafayate's biggest attraction is its bodegas.
This is Argentina's second-largest wine region. Try Torrontes, the only truly local varietal native to Argentina. 
It is crisp and aromatic. Most wineries offer both a dry version made of grapes harvested early in the season and a candy-sweet Cosecha Tardia (literally Late Harvest) that makes a great dessert wine.
Wine tasting in Cafayate is accessible in both affordability and location. Wineries are located either directly in town or nearby on the outskirts.
If you don't have a rental car, you can use bikes from your hotel or from downtown rental shops to reach them or take a taxi. The distance is usually not more than 10 minutes by car.
Keep reading: The 12 Best Wineries in Cafayate
Fun Fact: The legacy of Argentina's wine industry can be traced back not to Mendoza, but here in Salta. Spain's final royal governor in the province brought Malbec and Cabernet Sauvignon vines from France and planted them just a few kilometers up what is today's Ruta 40 in Molinos. The rest is proverbial history and we all owe him our thanks.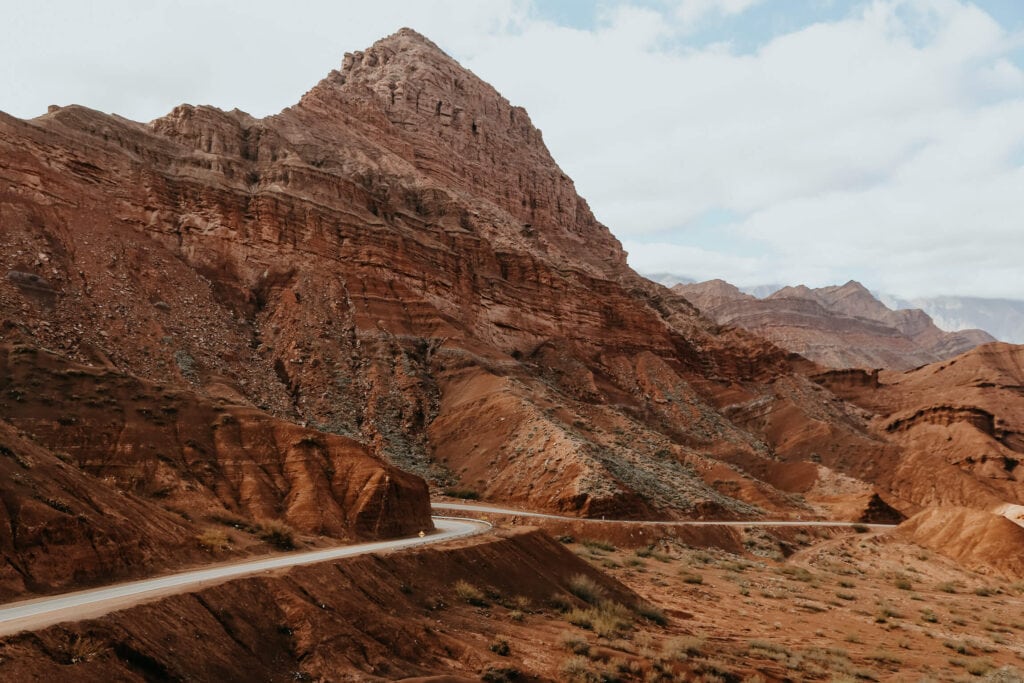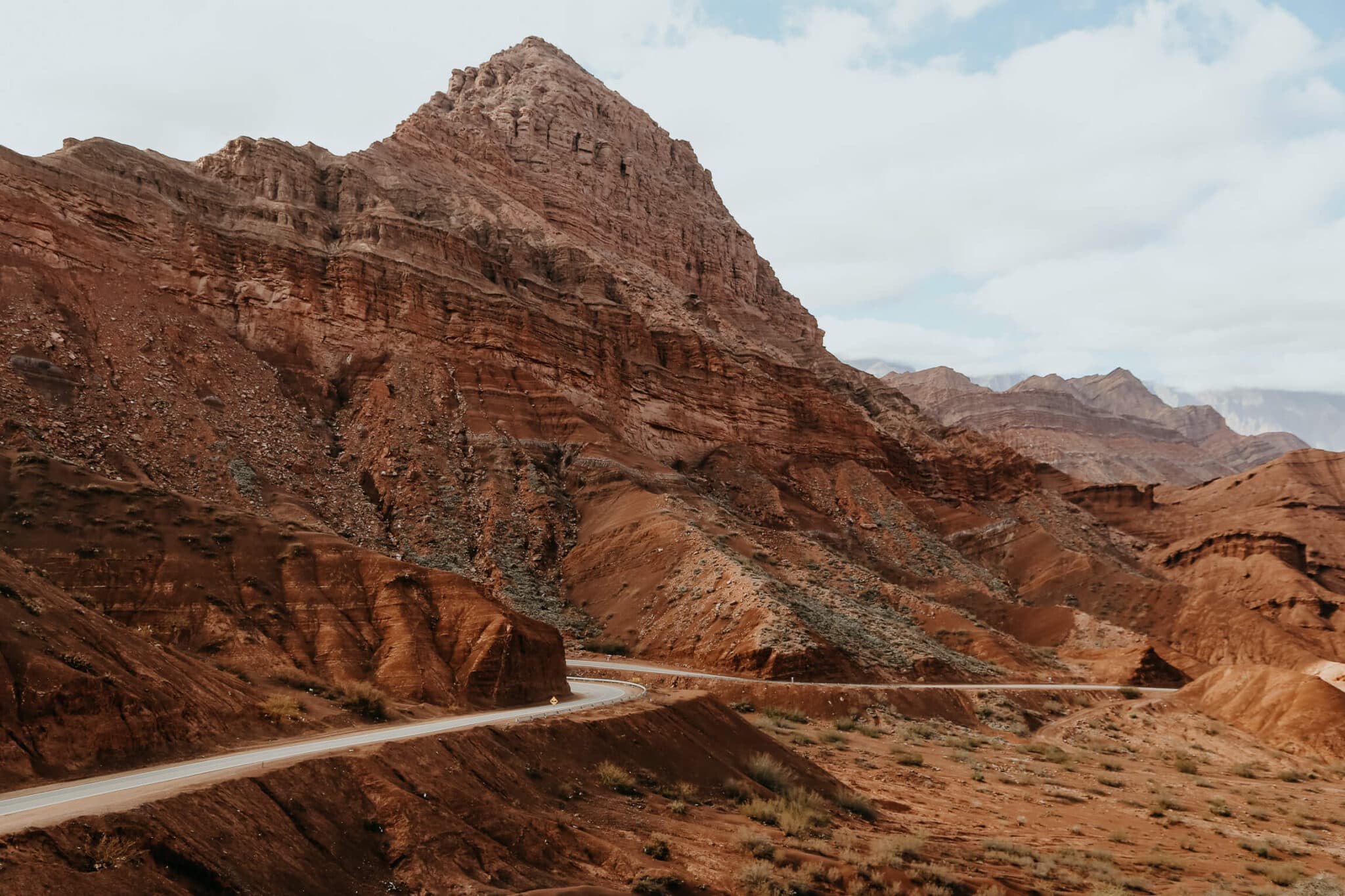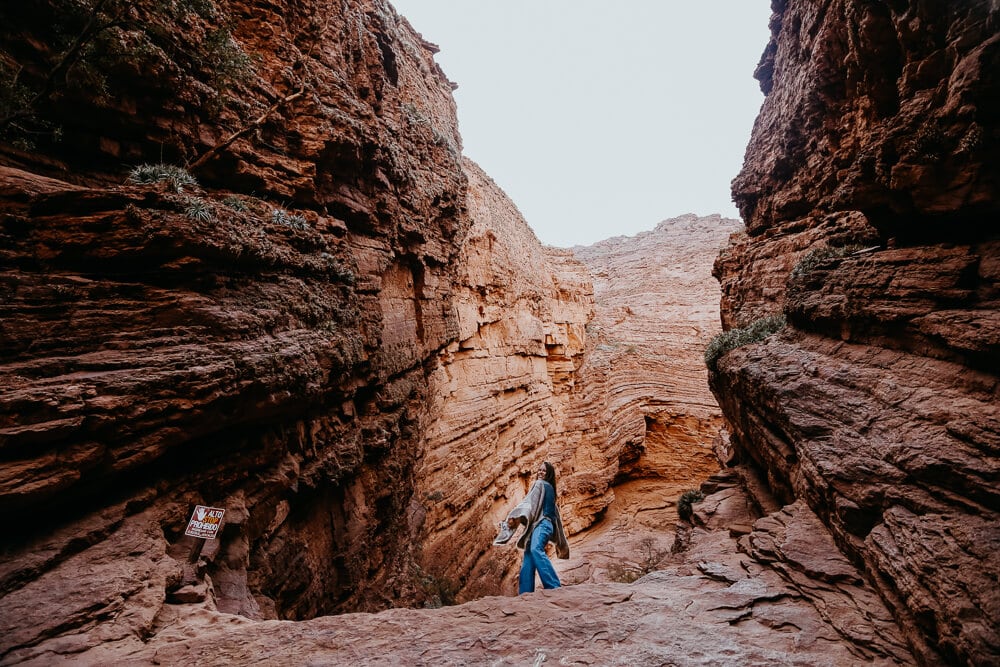 2. Drive or Bike the Quebrada de Las Conchas
The Quebrada de las Conchas is one of Salta's most famous natural wonders (and it has plenty to choose from).
Red canyons and geological formations rival what you'll see in America's Southwest and with a fraction of the crowds if you time it right.
For 50 kilometers just outside of Cafayate on Ruta 68 in the direction of Salta city, you can drive or bike through the Quebrada.
On our first trip in 2018, we explored the Quebrada on our drive back up to Salta.
If you're looking for more adventure, bike the Quebrada de las Conchas.
Hotels and hostels usually lend bikes to their guests. Otherwise, there are bike rentals around the main square.
Taxis here have bike racks or the Flecha bus company can store the bike in the luggage hold for you.
Have the bus driver or our taxi drop you off at the Garganta del Diablo. From here, bike back to Cafayate, stopping along the way to enjoy the formations and viewpoints.
On our second trip, we took it up a notch and stayed there. Castillos de Cafayate is a half-hour drive from downtown but we had panoramic views of the Quebrada from our window.
We spent some time driving or hiking in the Quebrada every day. (Note Staying here does require a car to be enjoyable).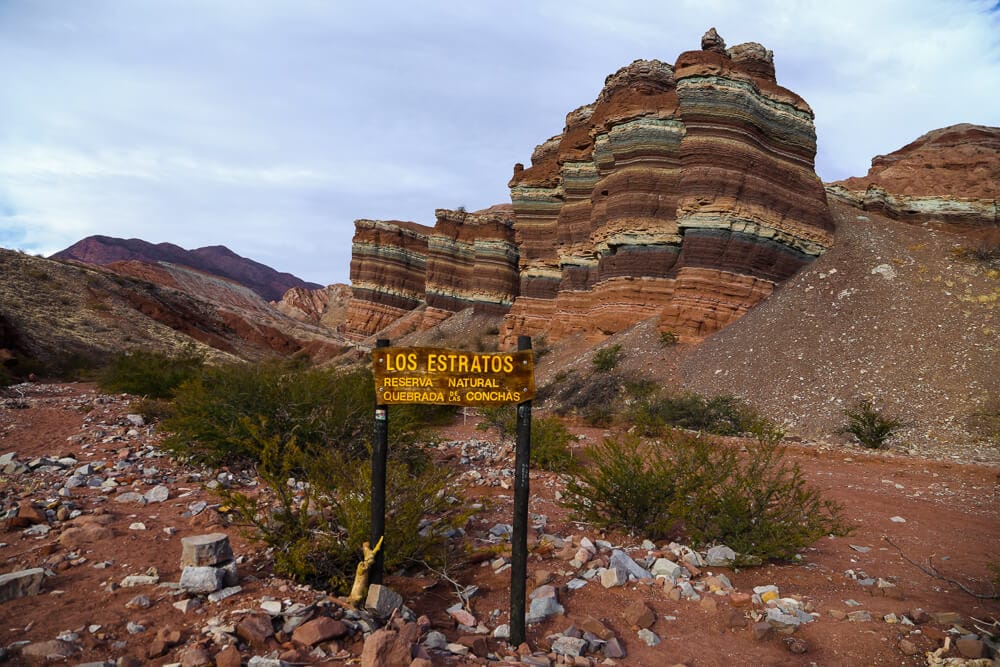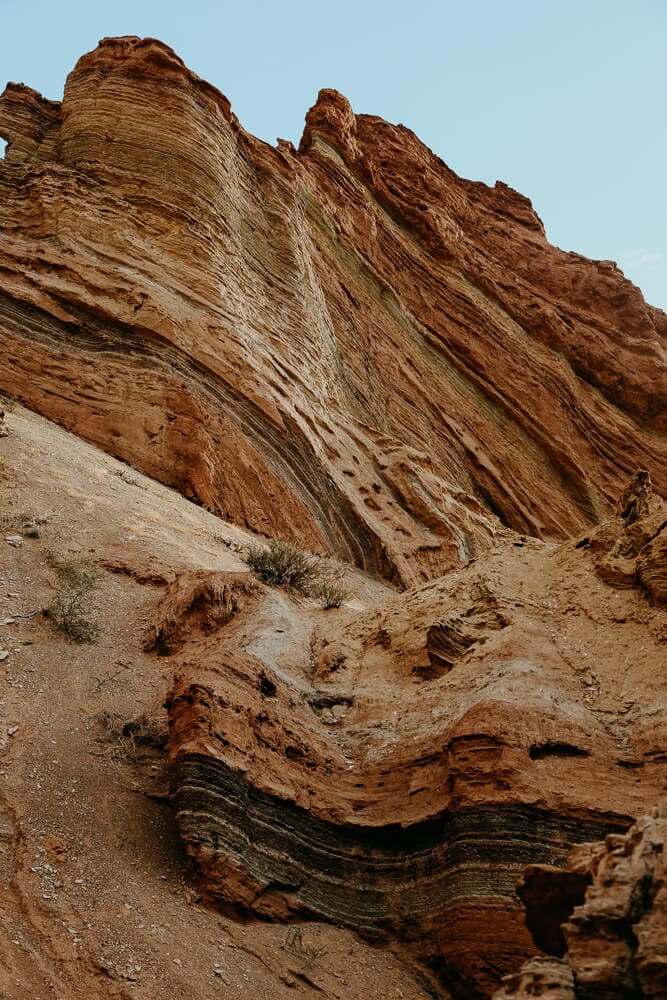 3. La Yesera: Hike to Los Estratos
At Kilometer 28 on Ruta 68, you'll see a tiny gravel parking lot and trailhead for Los Estratos.
This is a short, easy hike.
It took us 30 minutes to get there and another 30 back. And we move slowly to take photos and generally gape open-jawed at the scenery.
This is a must-do experience when in the Quebrada de las Conchas if you can manage the time.
You'll get deep into the Quebrada and leave the tour buses behind for very minimal effort.
Empanadas and Llamas: If you're hungry after your Los Estratos, head to the white house just before the trailhead (you'll see it). This small shop sells clay pottery, snacks, delicious empanadas, and best of all, there are llamas. Feed them some corn while you wait for your empanadas to fry up.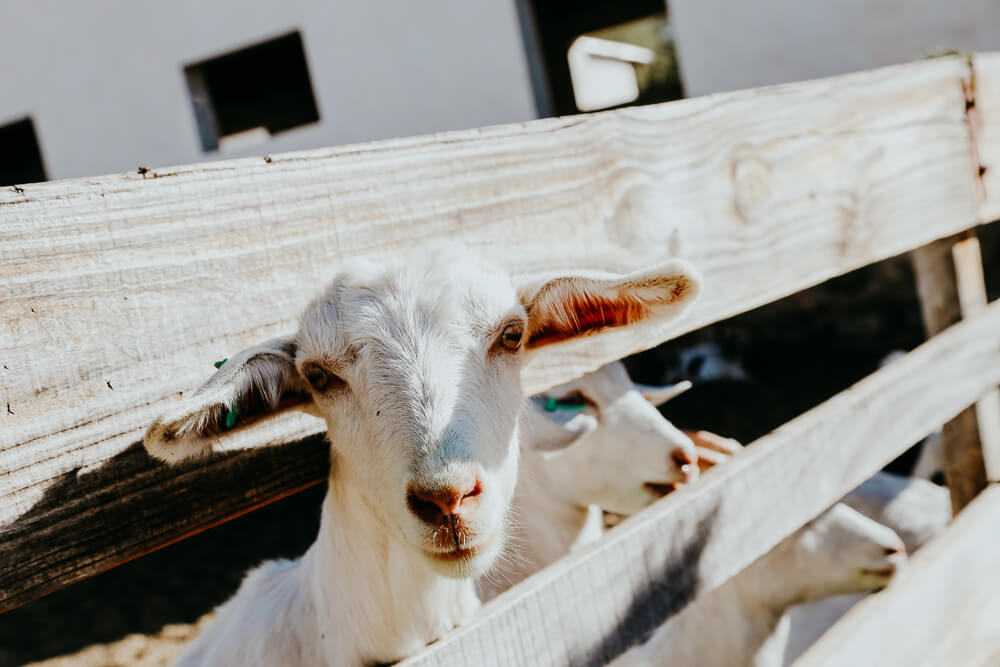 4. Visit Cabras de Cafayate
Small towns in Salta are agricultral economies. You'll see fields of corn and alfalfa. But most of all, you'll see goats.
Everywhere.
Probably blocking traffic at some point.
The result of all these goats is some excellent goat cheese.
Cabras de Cafayate is a local goat farm open for tourim.
It's owned by the same family that owns the Domingos Hermanos winery and each of the two ventures helps sustain the other.
Goats provide fertilizer for the vineyard and the leftover crushed grapes feed the goats.
The tour of the farm was really interesting and the guide was friendly and it included a tasting. Buy some cheese to take home with you and accompany your many, many bottles of Torrontes.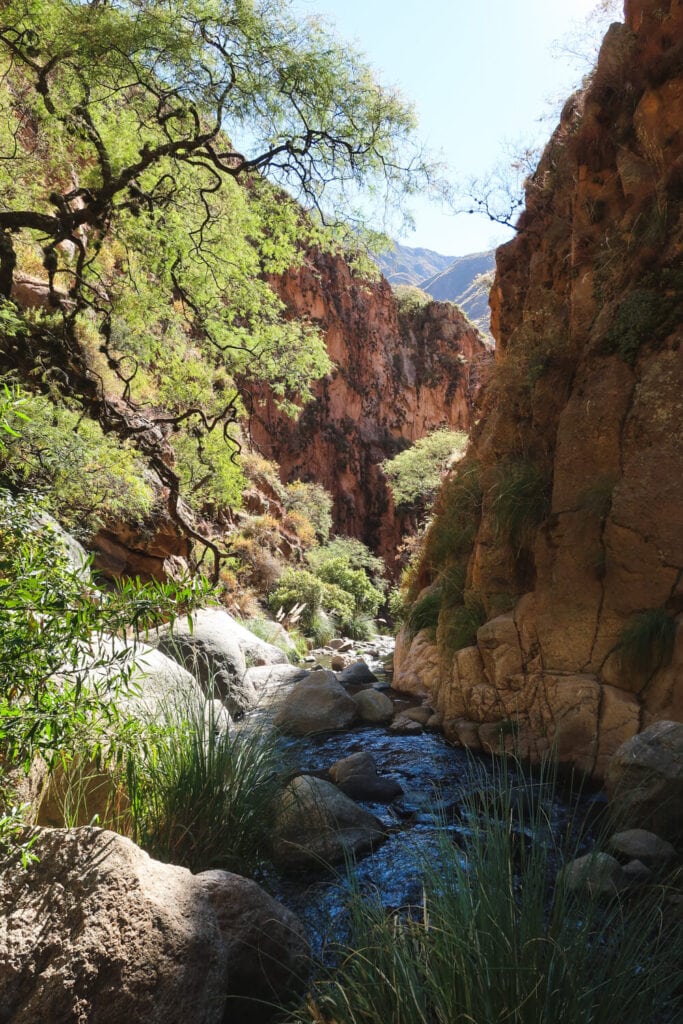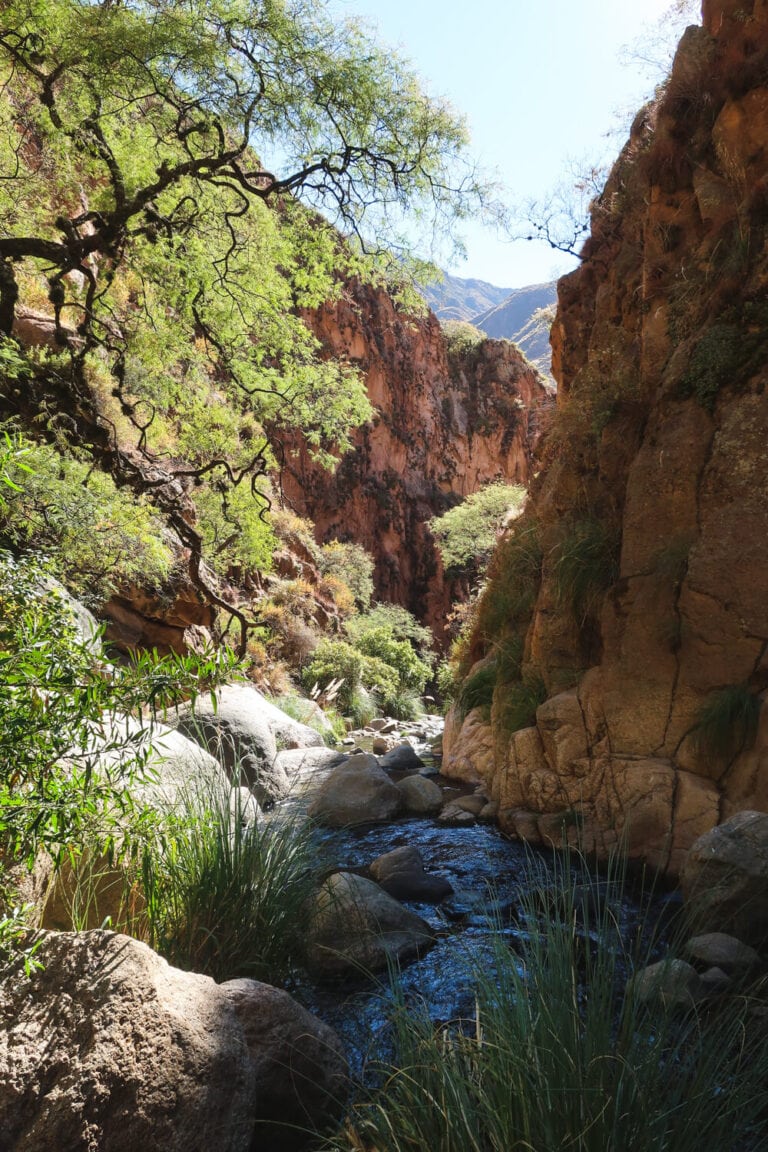 5. Hike Las Cascadas del Rio Colorado
There's a popular Argentine hike in Cafayate. It's a difficult trek to a series of waterfalls and it's recommended to go with a guide.
When you arrive at the trail entrance, just past Finca las Nubes, you'll see a group of young men waiting.
They'll tell you the price and it's standard for all of them, you can check with your hotel beforehand to have an idea of what it should be.
The cost will depend on how many waterfalls you hike to and there are a total of 7.
For a less challenging hike, you can go to the first two and turn back.
I could not have done this hike (all 7 waterfalls) without a guide.
Most of the waterfalls are rather small, two were large and impressive (like the one above). But if I'm honest, the highlight wasn't the waterfalls or the destination, but the overall scenery along the way.
It was gorgeous hiking through the valley, surrounded by cactus, listening to the water flow below us.
I recommend starting this hike early in the morning.
If you plan on completing the entire circuit calculate 3-4 hours. It took us three hours.
When you're done, just drive around the corner to Finca las Nubes.
I laid on the grass with my wine, recovering from an embarrassing fall into the river with a Torrontes.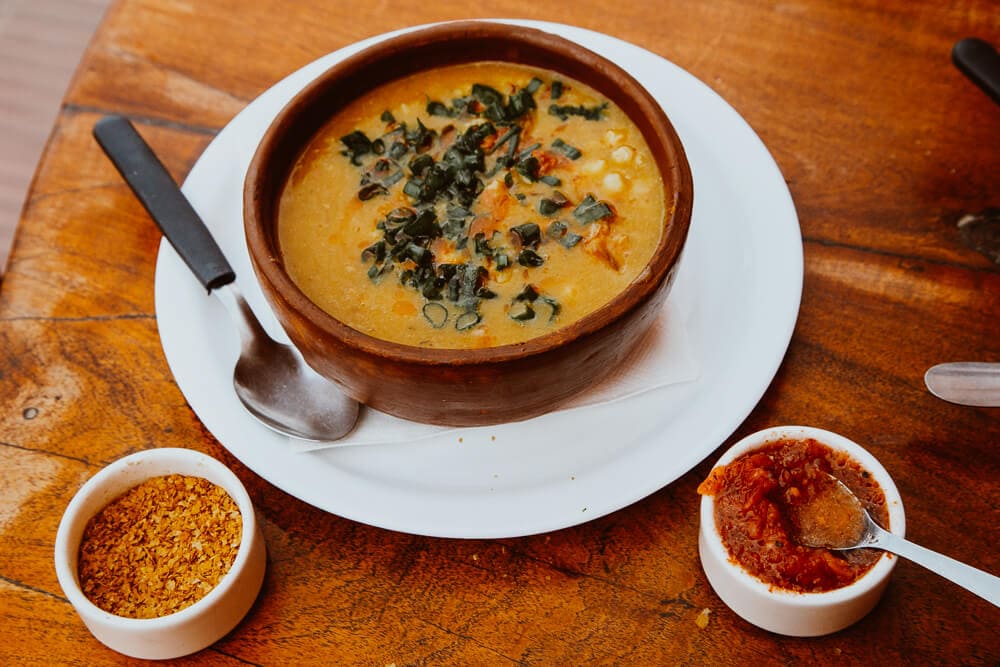 6. Eat All of the Empanadas, Locro, and Tamales
Argentina's Northwest has the most traditional food in Argentina.
Hands down.
The best empanadas in Argentina are here and each province has its own style.
Empanadas salteñas are diced beef with potatoes and spices. They'll serve them with a fresh spicy tomato sauce that is absolutely *chef's kiss*. 
You'll see quinoa empanadas on the menu quite a bit as well and I cannot stress how surprisingly good they are.
Try hearty stews like locro, with beans, corn, red chorizo, and meat.
In Buenos Aires, it's reserved for patriotic holidays but you can and should eat it regularly up here. It will warm your bones on cold Cafayate nights.
Tamales and humita (similar to a tamal but filled with cheesy cream corn filling) are also typical dishes that can't be missed.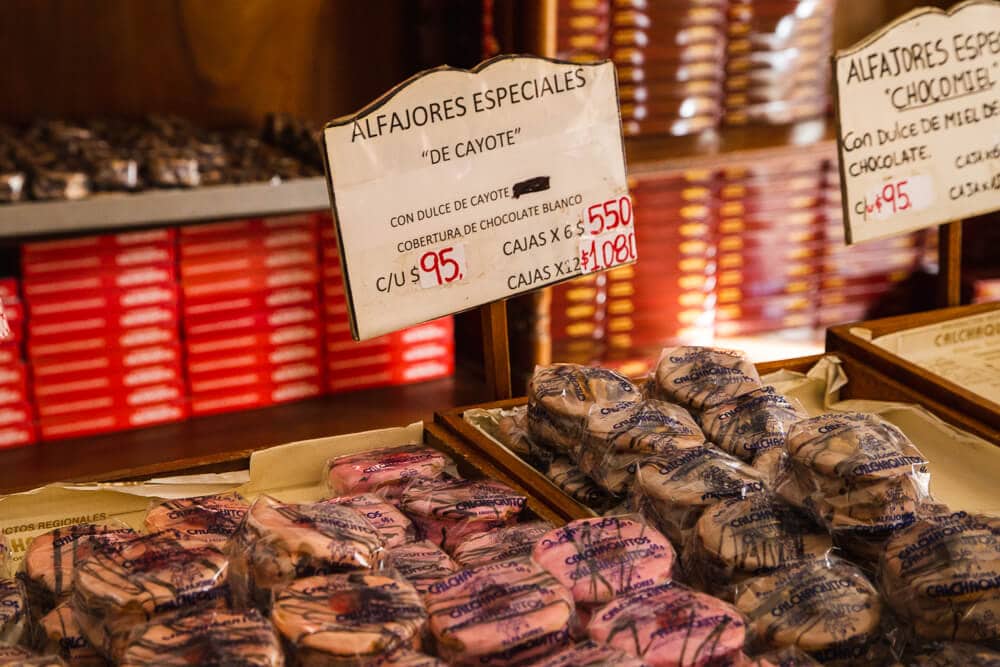 7. Try Alfajores at Calchaquitos
Alfajores are a typical Argentina treat. 
The recipe is simple: two cookies, something sweet in the middle (usually dulce de leche), all of it bathed in chocolate.
Don't leave Cafayate without trying the alfajores at Calchaquitos (just steps from the main square on Av. General Güemes).
I recommend going on your first day and getting enough to snack on throughout your trip! Then going back at the end to stock up and fill your suitcase.
They are that good.
Try regional flavors like miel de caña (like foamy molasses) and cayote fruit. They supposedly have wine alfajores but there weren't any when we visited (believe me, I'd have gotten a dozen).
They always change it up and make new flavors so you'll be sure to find something special at Calchaquitos.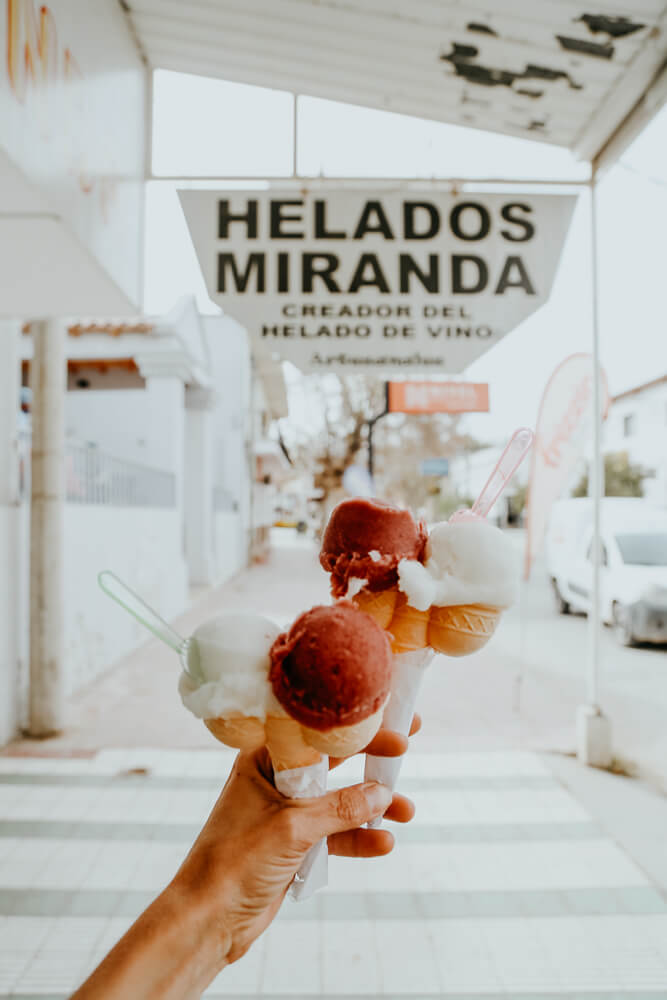 8. Taste the Wine Ice Cream at Heladería Miranda
While we're discussing sweets, don't leave Cafayate without trying wine ice cream.
All the restaurants offer it but the original (and the best) is from Heladería Miranda on Av. General Guemes.
I've tried it at a couple of places and Miranda's truly is miles better than what you'll get at the touristy restaurants on the main square.
They have Torrontes and Cabernet Sauvignon, get a cone with a scoop of each.. Follow their advice and start with the Torrontes, just like a proper wine tasting.
Note: They don't exactly respect their official opening hours and open when they feel like it. You'll probably have more luck on hot days than on dreary, low-season winter days.
Read More: All About Ice Cream in Argentina (& The Best Heladerías in Buenos Aires)
9. See the Sand Dunes
Hidden from the road marked only by a small sign is a path to unexpected sand dunes. 
Keep an eye for the sign (Los Medanos) just before you reach town, about 6 kilometers out on Ruta 68, or simply put Los Medanos into Google Maps.
There's a small dirt road but it's narrow, winding, and lined by thorny bushes threatening to scratch any and all rental cars. I recommend parking on the side of the paved road and walking in.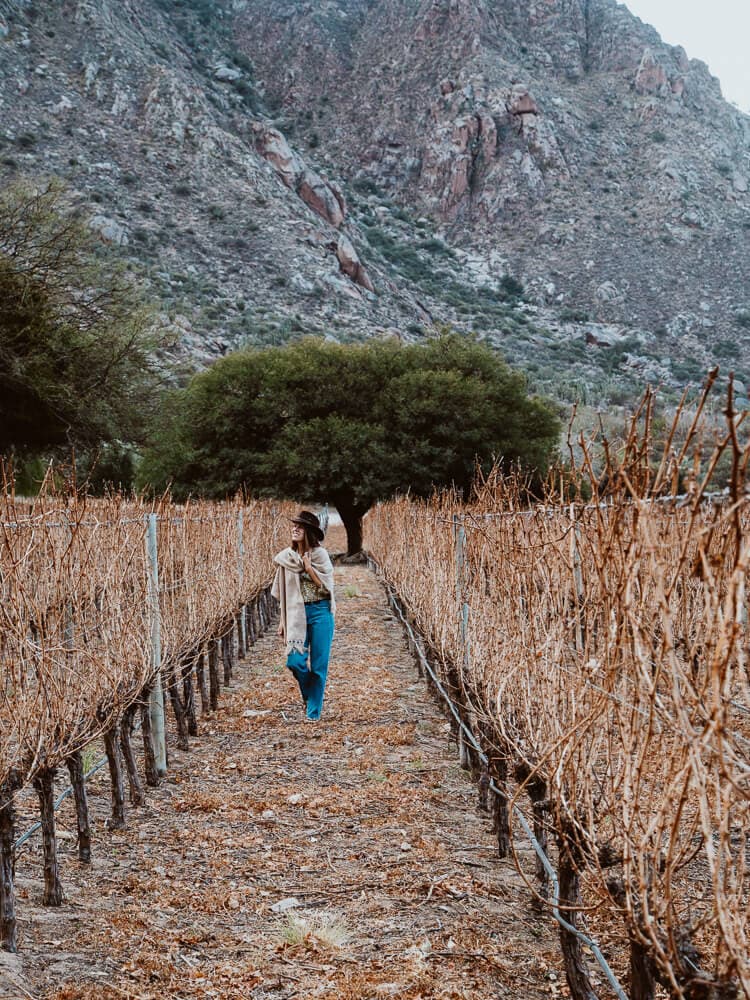 10. Museo de la Vid y el Vino
Cafayate's wine museum is one of Salta's newest museums.
It relies heavily on technology and interactive exhibits going into the history of winemaking in Cafayate.
Personally, I didn't enjoy it. If you're visiting any of the wineries you'll likely learn most of this on a tour in a much more beautiful setting.
But it is very informative if you want to get into more detail.
11. Rodolfo Bravo Archaeological Museum
This small museum at Colón 191  is filled from floor to ceiling with pre-Colombian artifacts.
There's a third room with more recent historical items from the time after colonization.
It's cluttered and packed to the brim with the findings of Don Rodolfo, a local resident of Cafayate. His widow currently manages the museum and is very knowledgeable and passionate about her collection.
If you manage to meet her you'll be in for the most unexepedtly enthralling museum experience of your life.
13. Catedral Nuestra Señora del Rosario
Salta and the northwest as a whole is the most devout region of Argentina.
This building was built in 1885 to replace the Cathedral that was falling into ruin but Cafayate's first church dates back to 1740.
There are five naves and this cathedral is one of only three remaining structures in South America.
13. Shop at the Artisan Markets
Salta is souvenir heaven. I recommend traveling with some extra space in your bag, you'll need it.
Woven tapestries, clay pottery, ponchos, sweaters, silver jewelry…
I wanted everything.
There are a few artisan markets on the main square as well as a cooperative shop. All offer items directly from the artisan.
Across the street from the Wine Museum is an interesting building with a giant llama on the facade.
Inside it's filled with pottery from floor to ceiling.
Where to Eat in Cafayate
Wineries are the best and most obvious choice on where to eat in Cafayate.
In particular, I love the picada and lunch menu at Finca Los Nubes. It's casual, with outdoor seating on their lawn overlooking their vineyard and the town below.
Piattelli is another excellent winery for lunch or dinner. We booked their sunset tour that included a bottle of wine and a picada at their restaurant after the tour. It was one of the best experiences of our trip!
Lunch or dinner at La Rosa at Bodega El Esteco is another Cafayate classic. We had lunch but the ambiance at dinner looks very romantic.
For a more casual winery lunch in town, try Nanni's restaurant, El Retoño.
My favorite restaurant in town is Baco. It's not on a winery but it's where the winemakers go. We had incredible rabbit and duck empanadas and locro. The owner is a character and worth picking his brain if you have any questions about the area!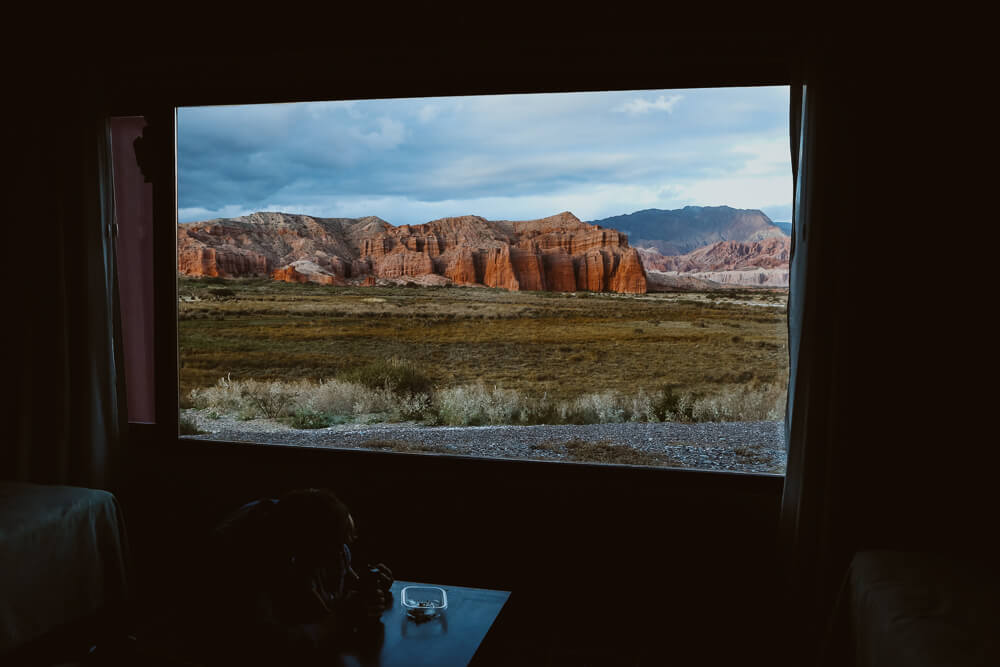 Where to Stay in Cafayate
On our first trip, I already knew where I wanted to stay before even booking the flight.
I had done a lot of research into Cafayate accommodation for my parents when they visited a few years prior.
They were torn between staying in town or on a vineyard outside of town. They chose the latter, I chose the former.
On our second trip, I wanted to stay outside of town this time and went way out, staying in the Quebrada.
Here are all the hotels I recommend from all my research and time in Cafayate.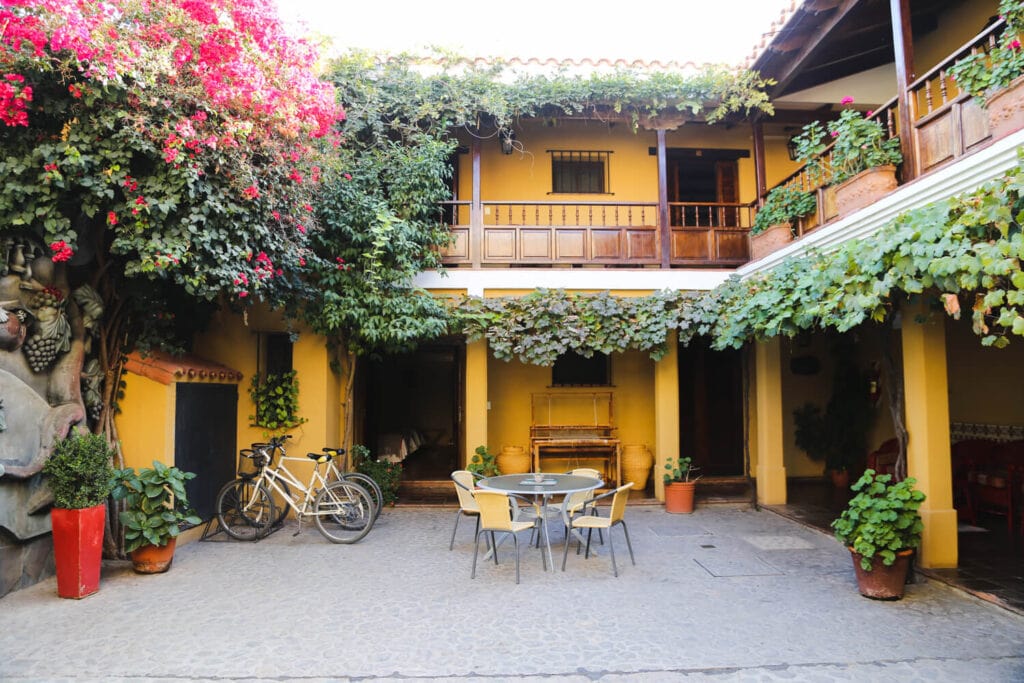 Argentina Travel Resources
PIN IT FOR LATER