Argentina is famous worldwide for its Malbecs from Mendoza, but Mendoza is only one of many wine-producing regions in the country.
Mendoza's little brother Cafayate may fly under the radar but it should be on everyone wine lover's Argentina itinerary.
This post a complete guide on the best things to do in Cafayate (for wine lovers and outdoors enthusiasts alike).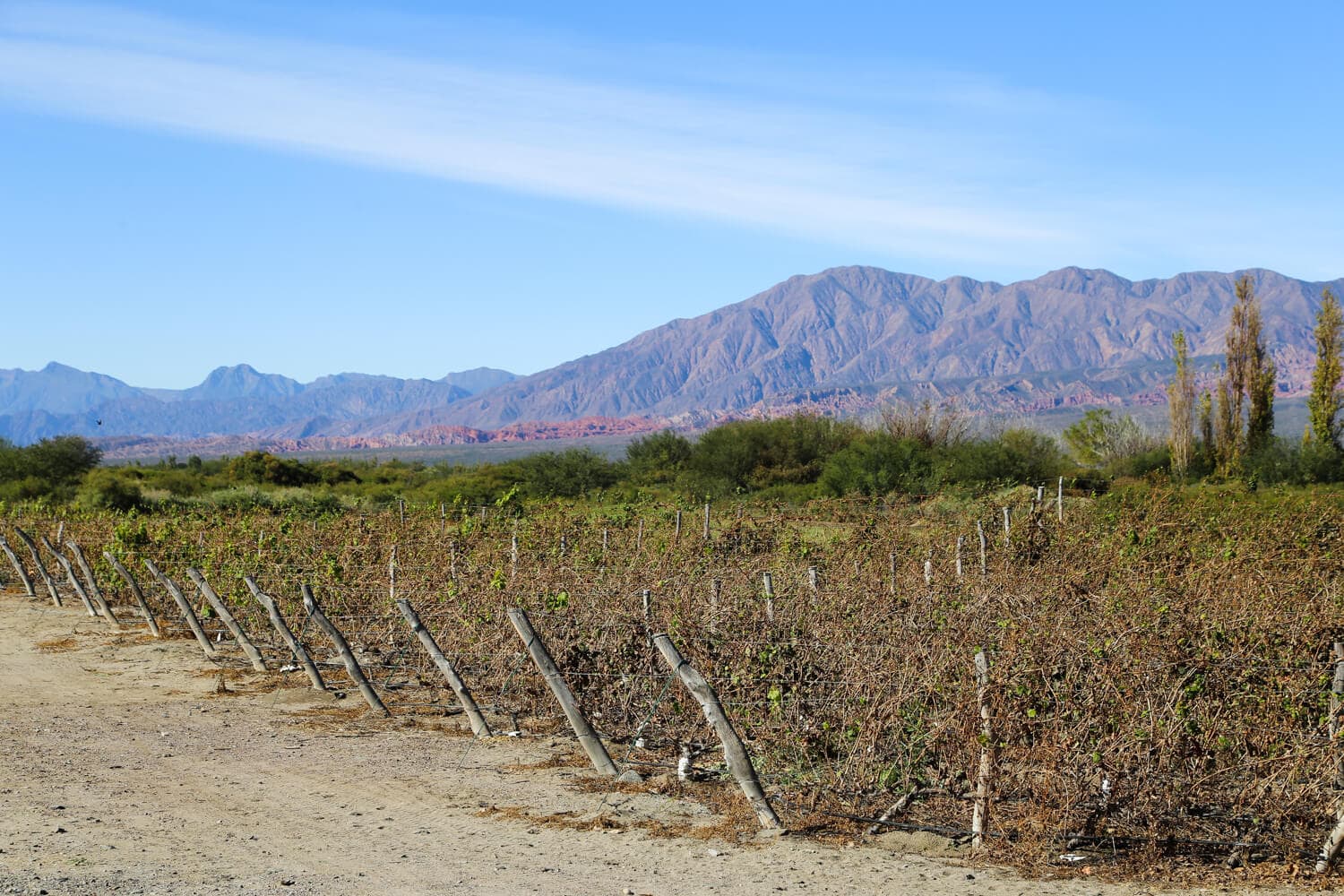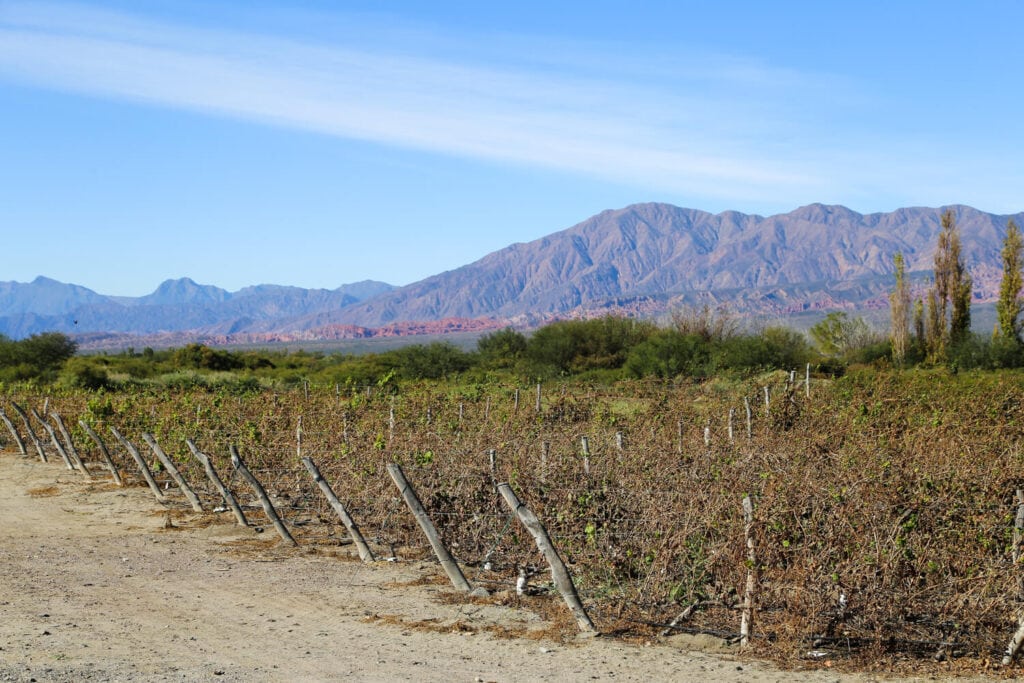 This post contains affiliate links to products & services. Sol Salute may receive a commission for purchases made through these links, at no extra cost to you.
Things to do in Cafayate, Argentina
We spent three nights in Cafayate.
We spent most of that time tasting the delicious Torrontes wine native to the region and enjoying the warm Salta sun.
There are also a lot of outdoor activities available, thanks to the gorgeous natural landscapes Salta has to offer.
You can rent a bike, hike to hidden waterfalls or go on a scenic drive through the stunning Quebrada de las Conchas.
Here are all of the best things to do in Cafayate.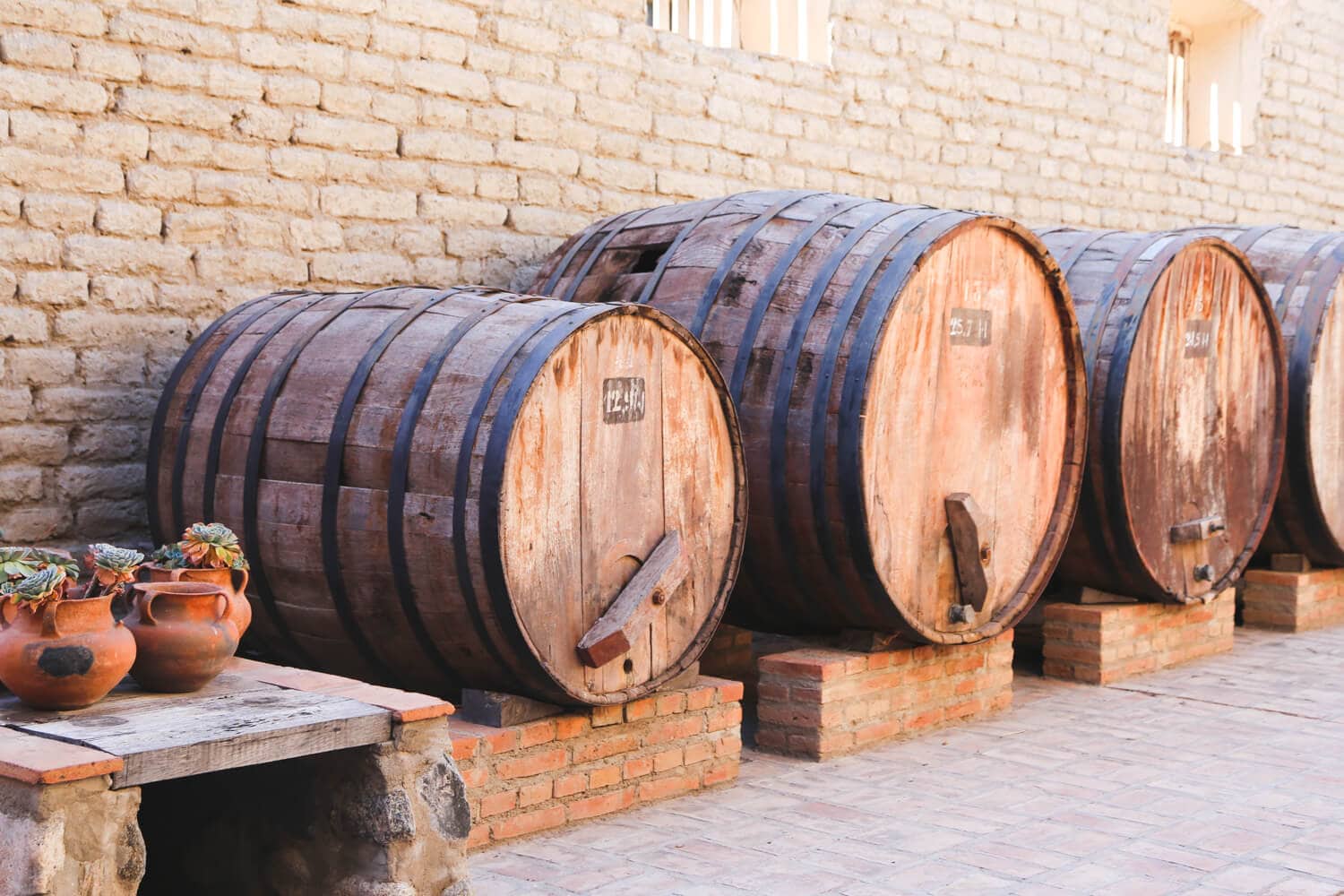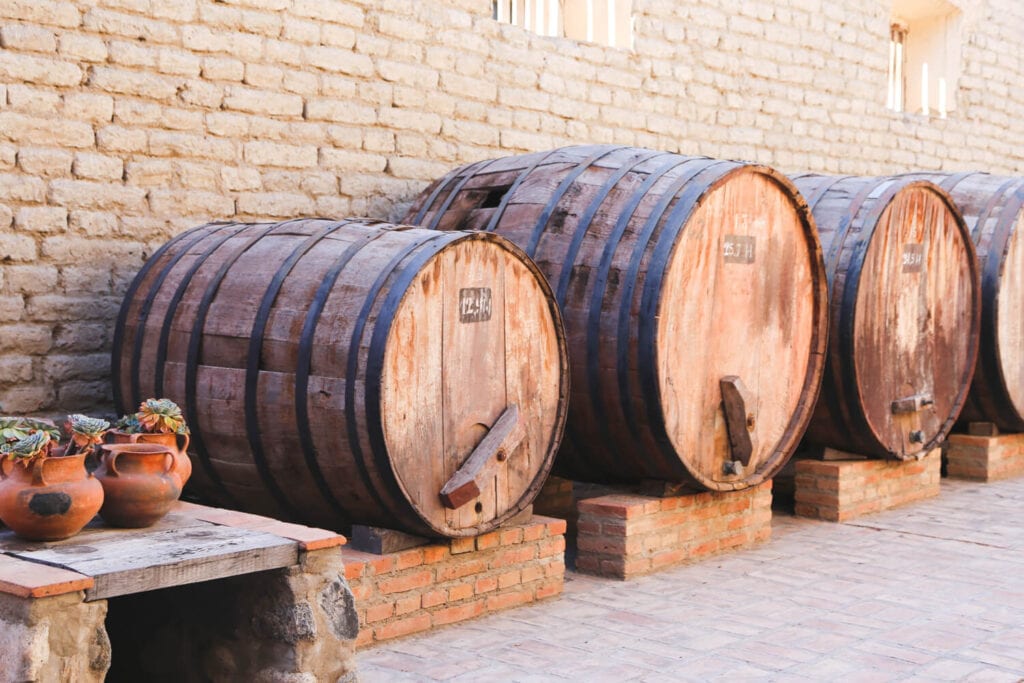 Tips for Visiting the Best Wineries in Cafayate
You don't need to reserve ahead of time. While I reserved some of my Mendoza wine tastings months in advance, in Cafayate we walked in unannounced and were almost always given a tour right on the spot. Sometimes we'd wait 15 minutes or so in case someone else showed up. And the best part?
Most tours and tastings were free of charge. Only one charged us: $100 pesos ($5 US at the time), but they gave us three full glasses of wine, 100% worth it. Most were free, but don't worry, we donated plenty of pesos in exchange in the form of a wine-filled carry-on.
Buy bottles! You can travel with a case of wine as your carry-on luggage on domestic flights in Argentina. Ask a vineyard for an empty cardboard box and fill it up as you go, the last one can tape it up for you. Or just stick them in randomly among your clothes, up to you.
In contrast to Mendoza, the wineries in Cafayate are all in or very near town making touring them very easy.
You can walk to the ones in town, but you need a car to reach the outskirts or a bike. Check with your hotel or hostel, many rent bikes by the hour at very affordable prices.
There are bodegas in downtown Cafayate and others on the outskirts of town. I've listed my favorite Cafayate vineyards below for you, divided in this way to help you with your logistics.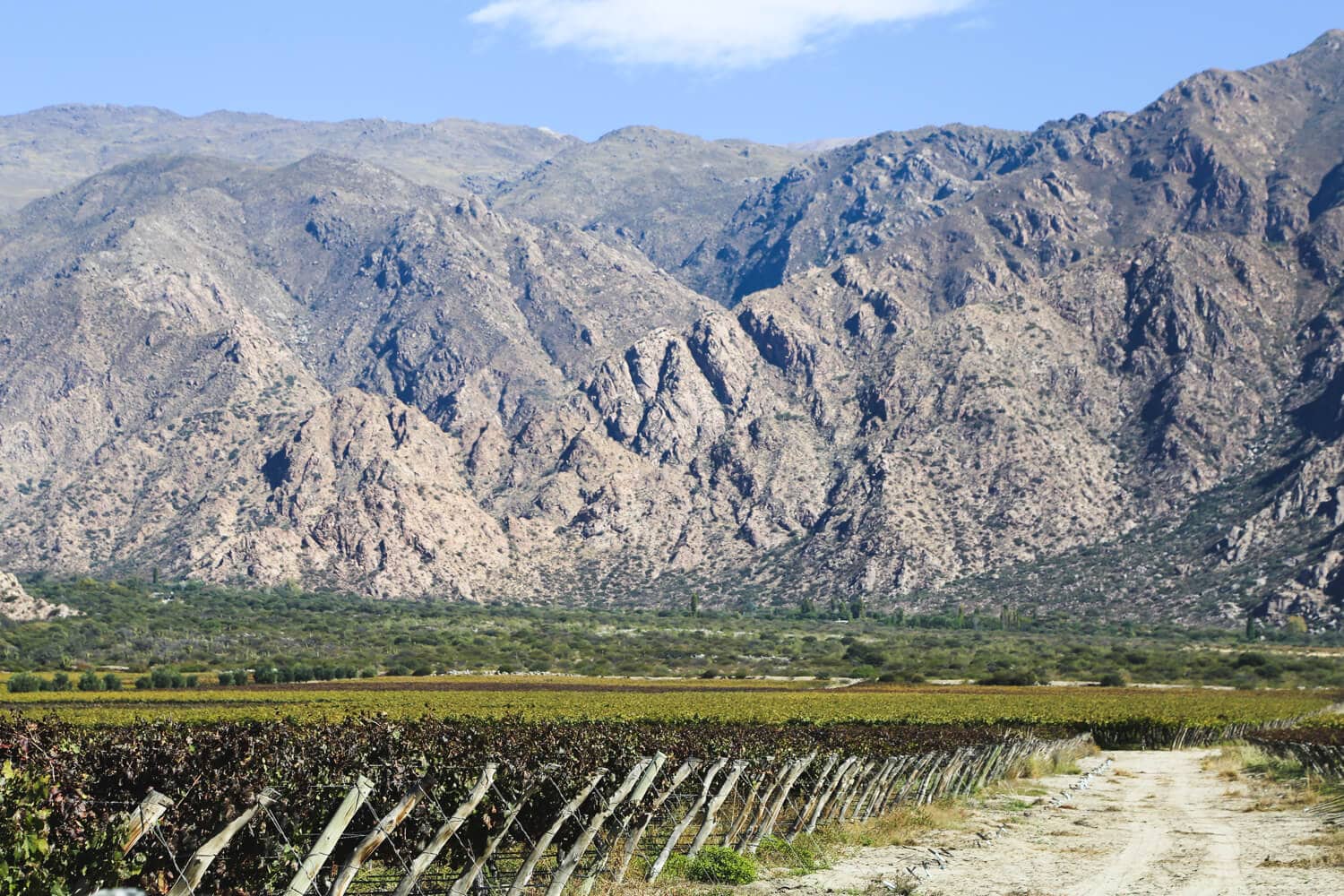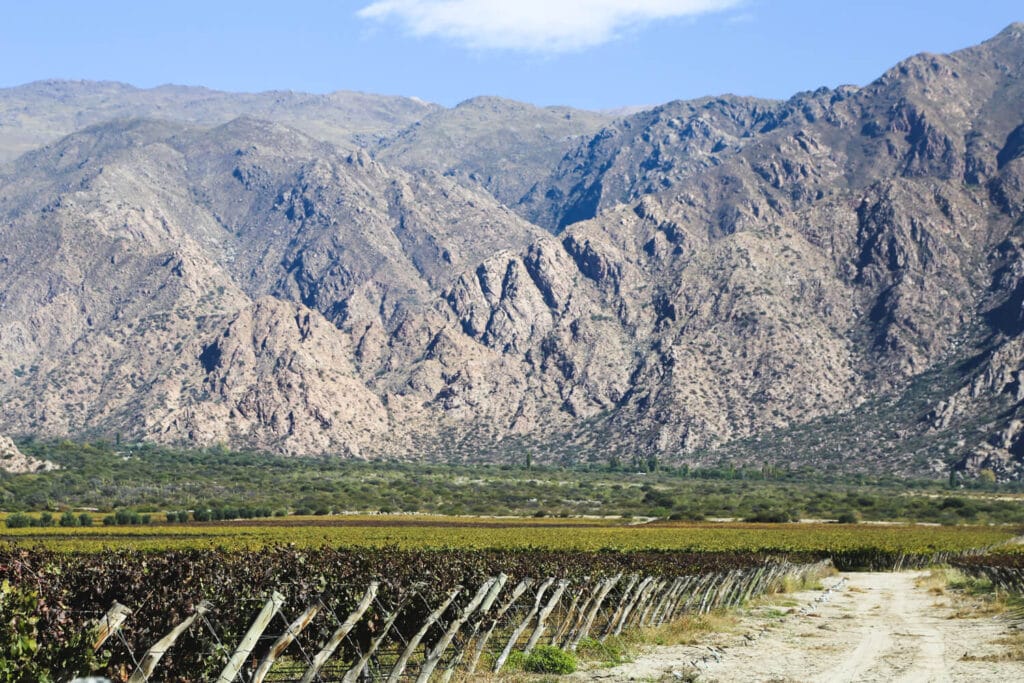 The Best Cafayate Wineries in town
Domingos Hermanos was the most recommended and the one I least enjoyed. We may have just had bad timing as we had to do our tasting with a massive tour group but I'd say you could skip it guilt-free. They offer tours once an hour with a break midday.
Porvenir was one I was very excited about. I've had their Torrontes before and it's fantastic. The massive wooden doors at the entrance to their historic building didn't hurt either. Porvenir charged $100 pesos ($4 US at the time) per tour and tasting. They were the only ones to charge us for a tasting, but it was also the best tasting we had. The paid tasting included three full glasses of wine with an explanation of each.
Nanni makes fantastic wine. I heard this after the fact. I wish we had gone, it was right around the corner from our hotel! Definitely include it in your Cafayate itinerary (and let me know how it went).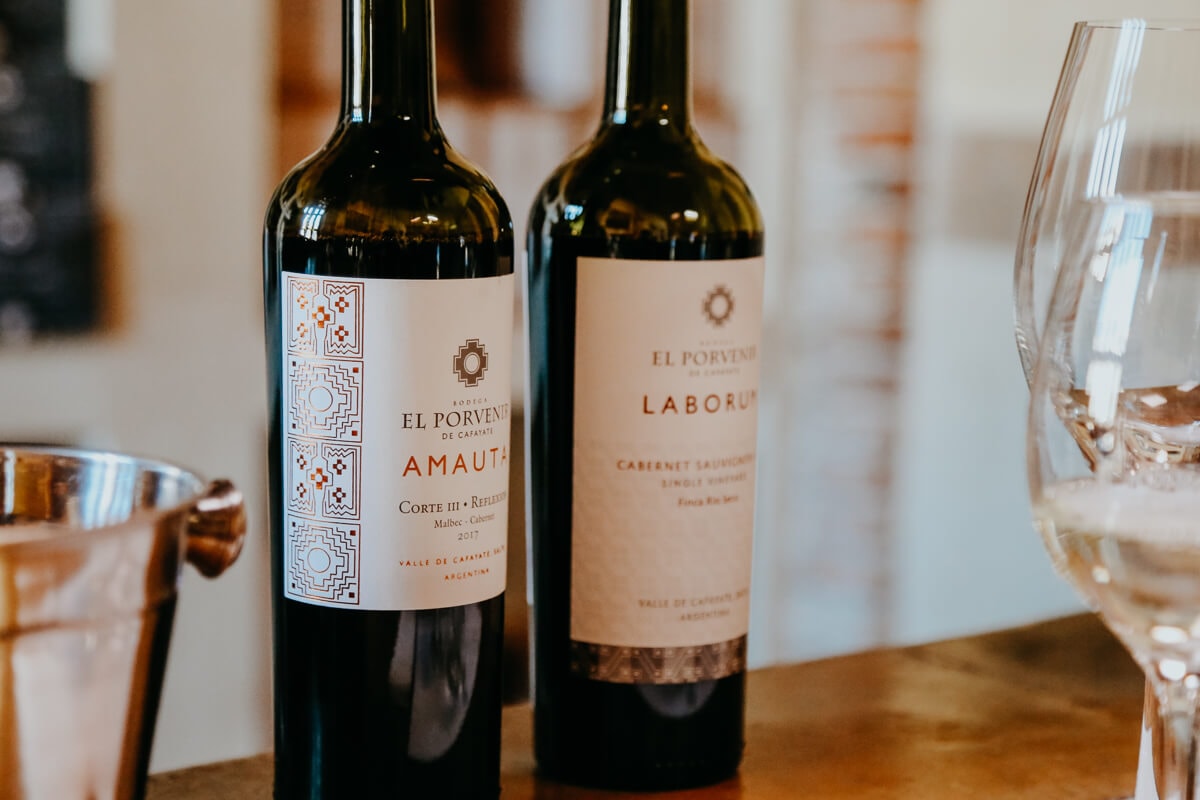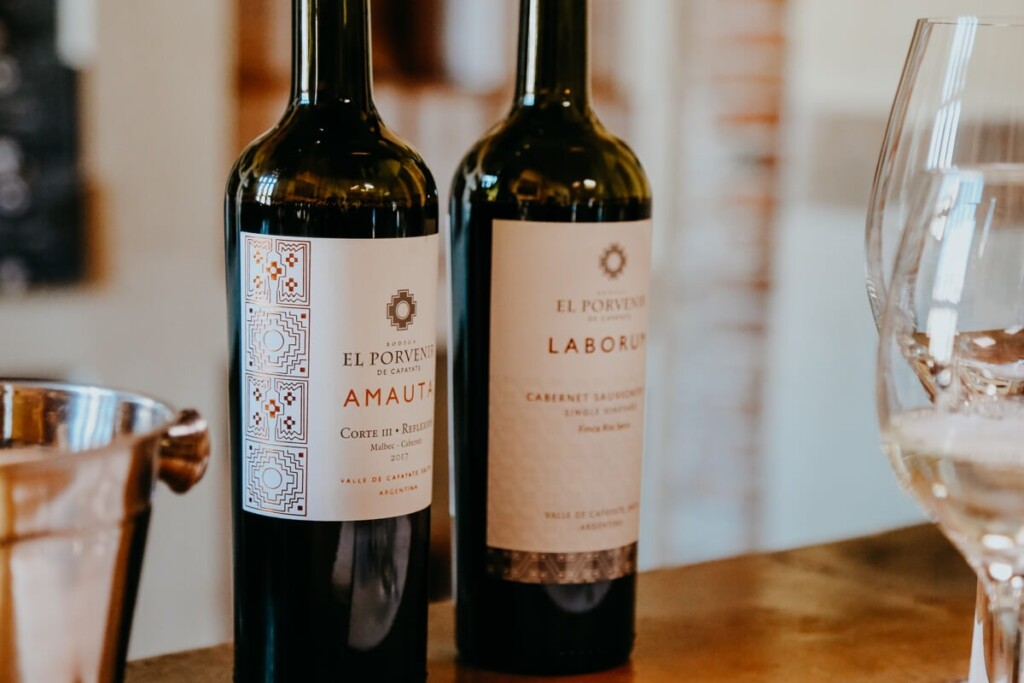 Cafayate – The Best Wineries outside of town
Amalaya was the winery I was most excited to visit, they make my favorite red and white blends, of all time, hands down. They weren't allowing visitors or doing tastings when we visited but I know they have in the past, so perhaps it will change.
Finca Quara: This was the largest, most industrial winery we visited. I admit I started the tour a bit prejudiced, their wine is one of the cheap wines I see in every corner market in Buenos Aires. But our guide Jesus was very intelligent and knowledgeable about wine production, making it an amazing tour. The stunning vistas and tasting their better wines also made Finca Quara recommendable.
There are a number of other wineries outside of town that we, regretfully, didn't make it to. Here are a few that came highly recommended: Bodega Esteco, Vasija Secreta, Piatelli.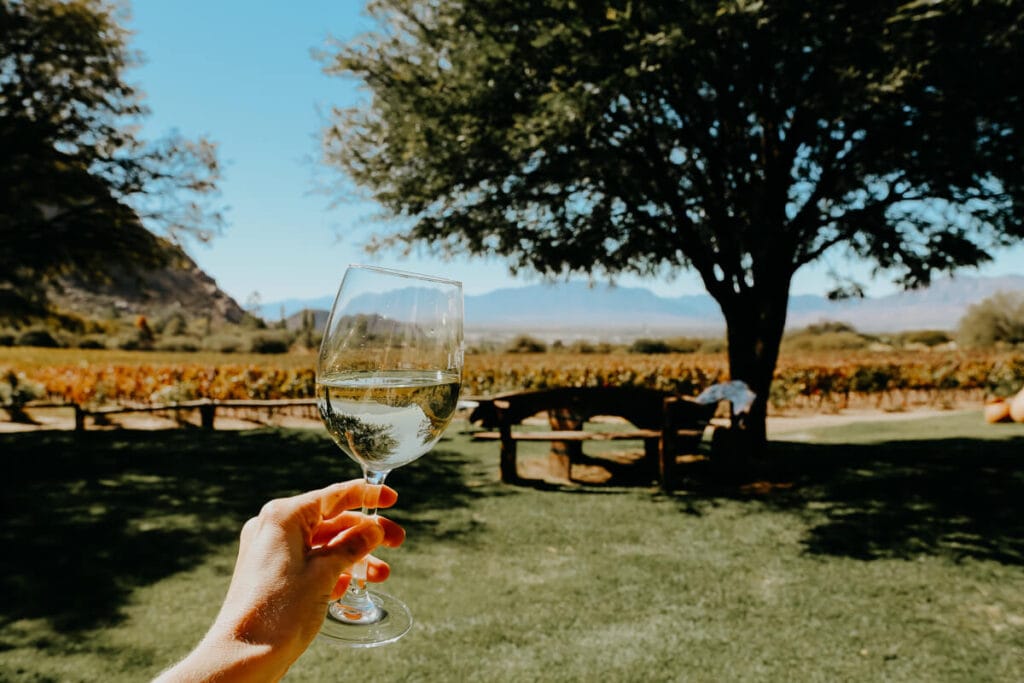 The Best Winery in Cafayate
Finca las Nubes! Finca las Nubes was by far the best bodega we visited in Cafayate.
It's a small, family-run winery just outside of town.
The tour was nice, but the magic is their grassy hill overlooking their vineyards and the town below.
We stayed for lunch, which was delicious and affordable (cheaper than any restaurant in Buenos Aires!).
A glass of wine cost the equivalent of $2 US (50 pesos) at the time of our visit in May 2018.
We were encouraged by the staff to stay as long as we wanted, relax, enjoy the weather and the view! I was tempted to stay all day.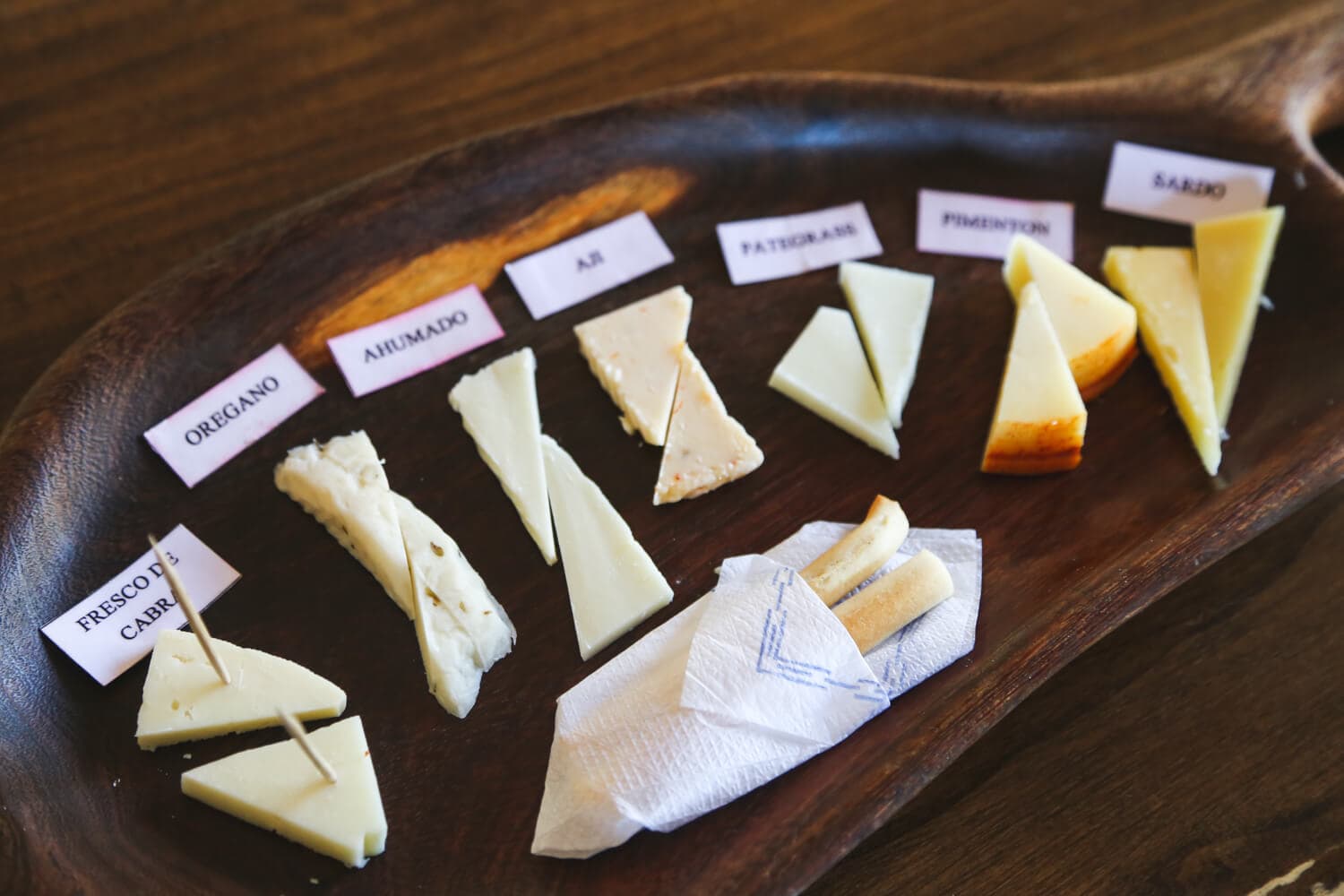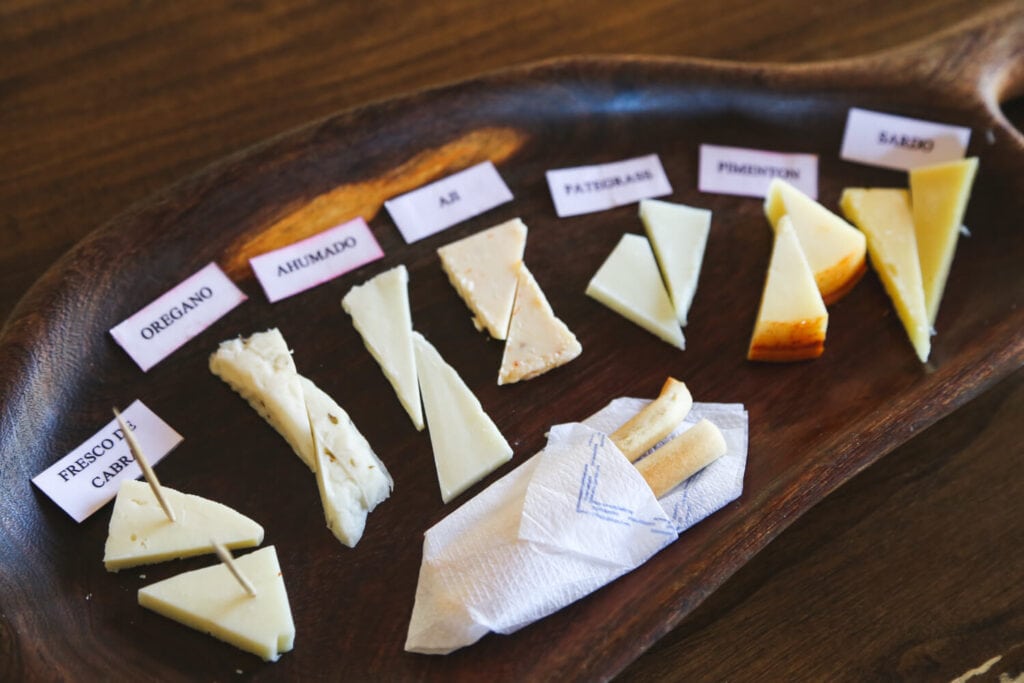 Visit the Goat Farm: Cabras de Cafayate
Cabras de Cafayate is owned by the same family that owns the Domingos Hermanos winery. Each of the two ventures helps sustain the other.
Goats provide fertilizer for the vineyard, and the remains of the crushed grapes feed the goats
. They produce artisanal goat cheese on property and let me tell you, I loved it and I normally hate goat cheese.
The tour was really interesting, the guide was friendly and it included a tasting. I recommend it!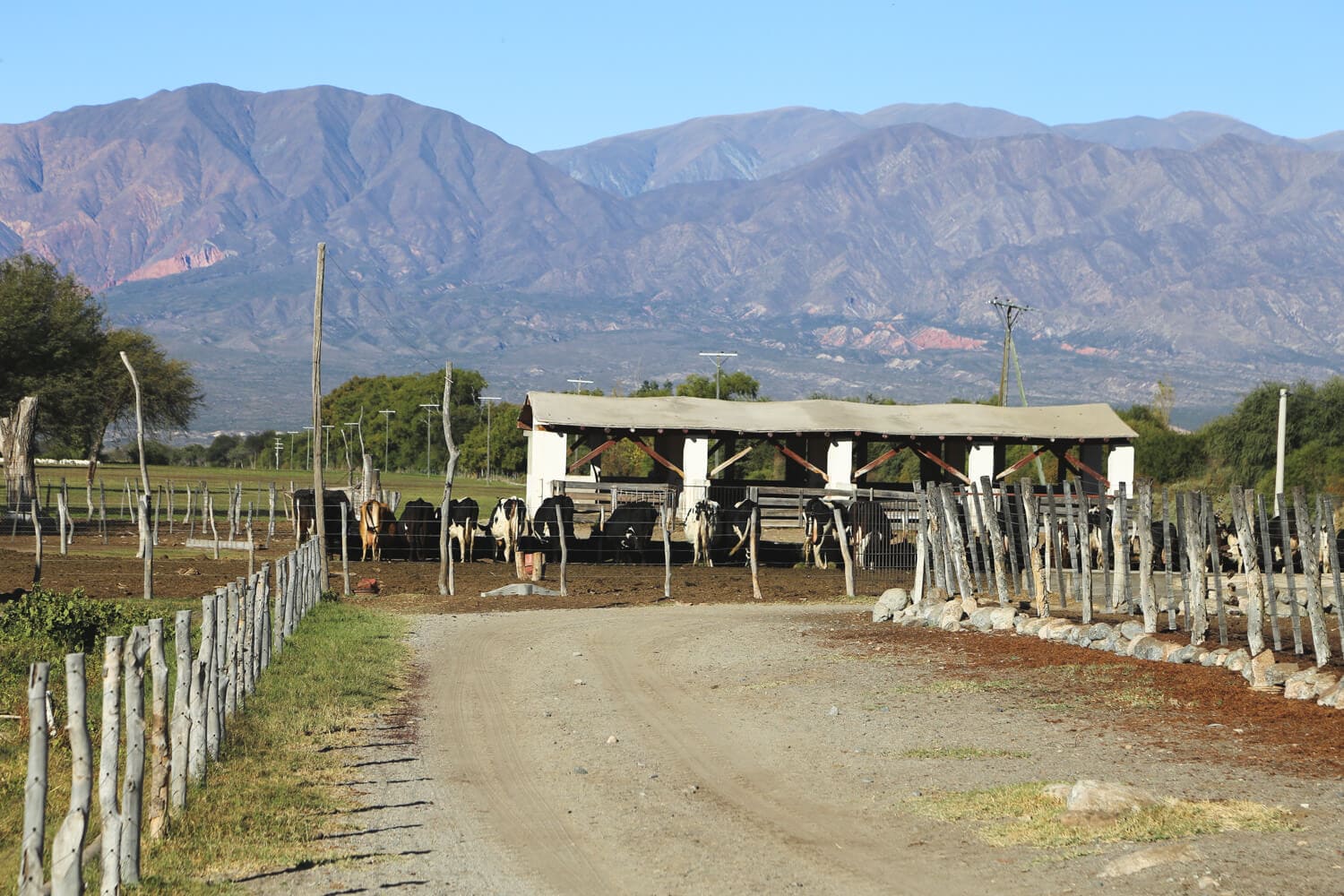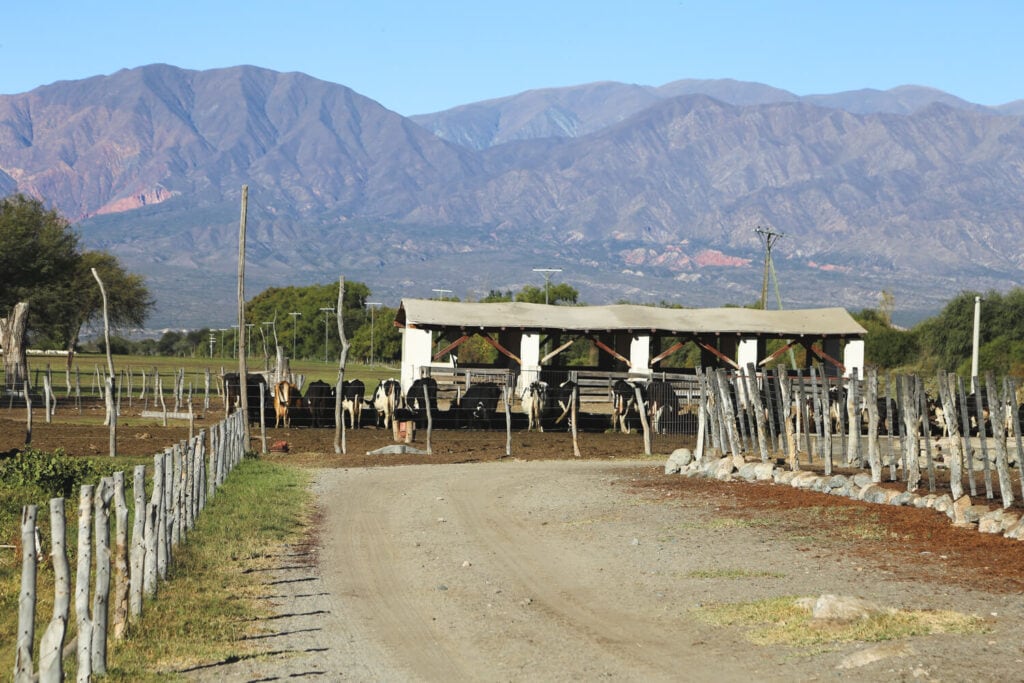 Where to Eat in Cafayate
Grace Cafayate | I was hesitant driving through the security gates of Grace. It seemed like it was going to be very expensive, and the drive to the actual restaurant once inside was fifteen minutes! What does one do if you've made such a commitment and then discover the menu is far out of your price range?
The shame! Luckily it was very affordable, more affordable than most restaurants in Buenos Aires but far superior in quality and views. We ate at the Clubhouse. Martin ordered the best locro he's ever tasted. I enjoyed a glass of Torrontes made on property, so fresh from the source they hadn't even labeled the bottle yet. .
Finca las Nubes | I already mentioned this above, but it was such a great experience that I just really wanted to hammer the point home that you should have lunch at Finca las Nubes.
Bad Brothers | A good option for dinner just 50 meters off the main square, Bad Brothers is in a beautifully remodeled home. They produce and sell their own wine, it is delicious.
Helados Miranda | Miranda is home of the original wine ice cream in Cafayate. They supposedly make Malbec and Torrontes ice creams, but I have no idea how they taste. They didn't open once in our three-day visit. The sign on the door said they'd be back tomorrow, such a tease.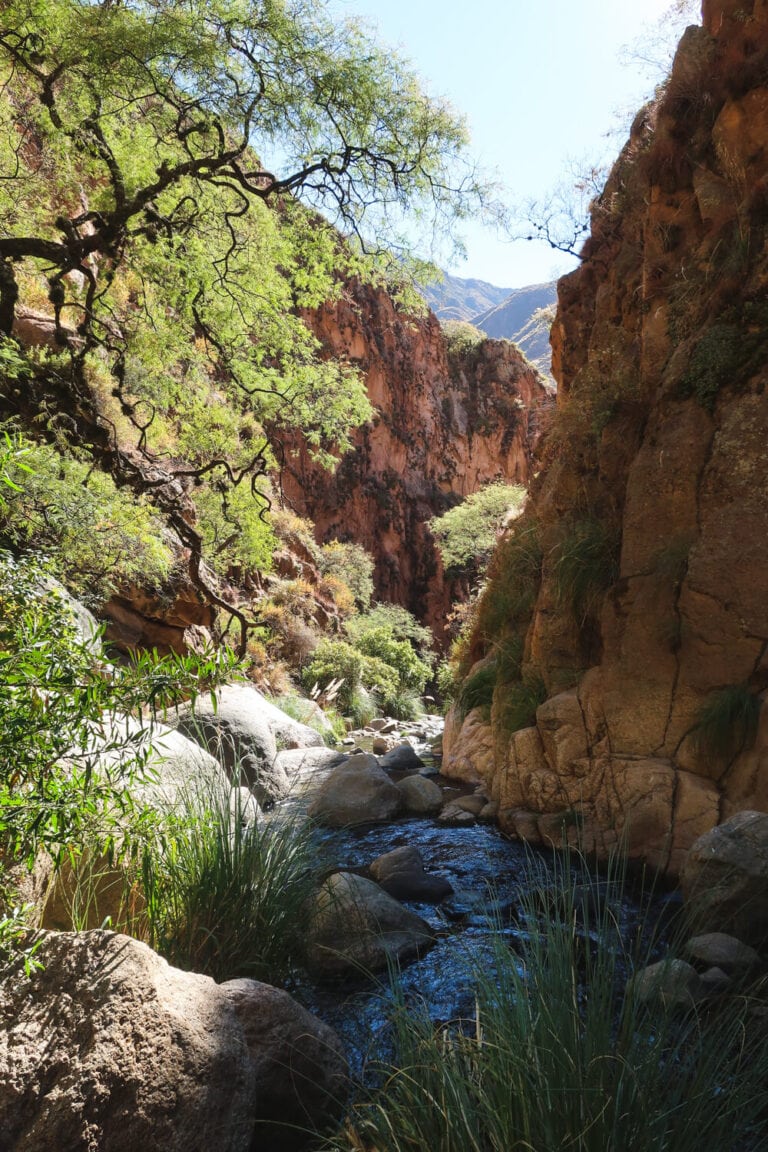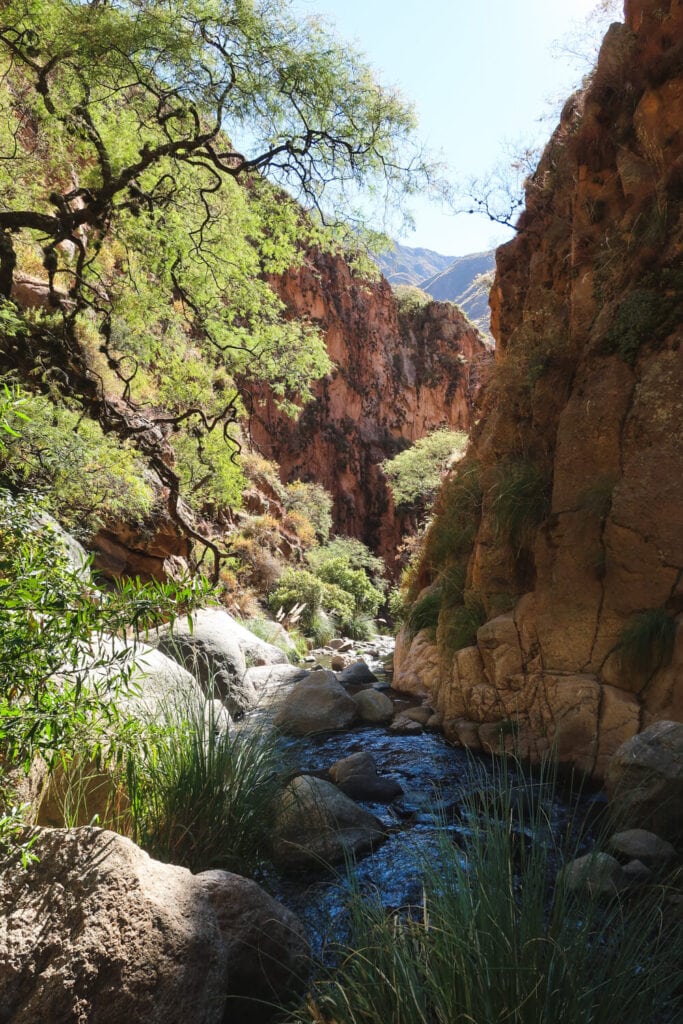 Hike Las Cascadas
There's a popular Argentine hike in Cafayate. It's a difficult trek to a series of waterfalls and it's recommended to go with a guide. I was skeptical.
I don't tend to ever choose the guided option, but I don't think I could have done this hike without our guide. When you arrive at the trail entrance, just past Finca las Nubes, you'll see a group of young men waiting.
They'll tell you the price and it's standard for all of them, you can check with your hotel beforehand to have an idea of what it should be.
The cost will depend on how many waterfalls you hike to and there are a total of 7. If you want a less challenging experience you can hike to the first two and turn back.
Most of the waterfalls are rather small, two were large and impressive (like the one above). But if I'm honest, the highlight wasn't the waterfalls or the destination, but the overall scenery along the way.
It was gorgeous hiking through the valley, surrounded by cactus, listening to the water flow below us.
It was very challenging at some points. There was one part where we were kind of just hanging off the rock, a fall would have been very dangerous.
At a lot of points, you cross the river, hopping from stone to stone.
Towards the end, I got a little overconfident and overzealous. I slipped and fell straight into the water, butt first, slamming my hip into the rock.
Luckily Martin was carrying the camera and phones and nothing was damaged besides my pride (and the enormous bruise I carried on my hip for two weeks after).
I recommend starting this hike early in the morning. It took us three hours. If you plan on completing the entire circuit calculate 3-4 hours.
When you're done, just drive around the corner to Finca las Nubes. I laid on the grass with my wine, recovering from my fall with a Torrontes.
Things to do in Cafayate Proper
Museums, churches, and markets, here is what to do in Cafayate after your wine tastings and hikes.
Wine Museum
I put this first to get it out of the way.
Everyone recommended the wine museum, but I was not a fan.
It was corny and there was nothing there you couldn't see in the vineyards themselves.
Rodolfo Bravo Archaeological Museum
Colón 191 | This small museum is filled from floor to ceiling with pre-Colombian artifacts.
There's a third room with more recent historical items from the time after colonization.
Visit the Church
Just like every town in Salta and Jujuy, you should take a look inside the church.
This is a very devout region of the country, and it shows. The churches here are gorgeous.
Shop for Handicrafts
Salta is souvenir heaven. Woven bags, pottery, ponchos, sweaters, silver jewelry… I wanted everything.
There are a few artisan markets on the main square as well as a cooperative shop, all offering items directly from the artisan.
Across the street from the Wine Museum is an interesting building with a giant llama on the facade. Inside it's filled with pottery, from floor to ceiling.
Drive or Bike the Quebrada de Las Conchas
One of the region's highlights is the red valleys of the Quebrada de las Conchas.
Located along the first stretch of highway 68 on the way to Salta, it's a stunning drive!
We explored the Quebrada on our drive back to Salta (read about it here), but it's very popular to explore by bike.
Rent a bike and take the Flecha bus to the Garganta del Diablo (you can store the bike in the luggage hold).
Then bike your way back to Cafayate, enjoying the views and landmarks along the way.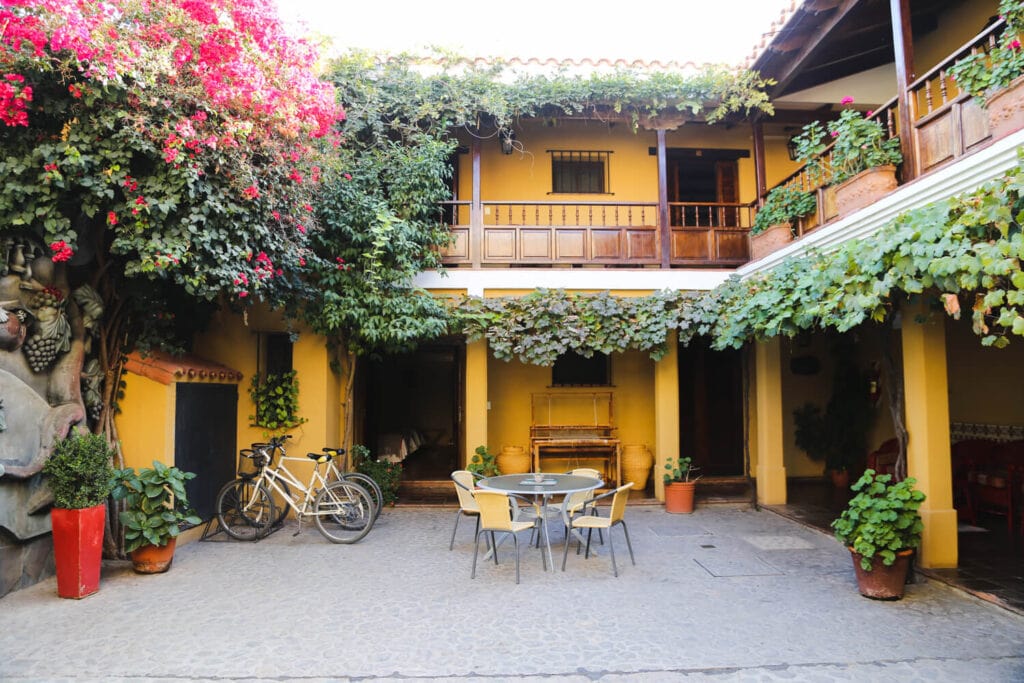 Where to Stay in Cafayate
I already knew where I wanted to stay before even planning this trip.
I had done a lot of research into Cafayate accommodation for my parents when they visited the region a few years ago.
They were torn between staying in town or on a vineyard outside of town. They chose the latter, I chose the former.
VILLA VICUNA | We stayed in town at Villa Vicuna and I loved it! It's in a gorgeous colonial-style building. The front desk staff was incredibly friendly and helpful in planning our day each morning. Breakfast was included and very good by Argentine standards. The location is ideal, just one block from the main square and around the corner from a few wineries in town. The interior patio (below) is ideal for relaxing after a long day of wine tasting. Check rates here.
PATIOS DE CAFAYATE | My parents stayed here, as they were looking for a more resort feel. They loved their experience at Patios de Cafayate. It's not far outside of town but you'd think you were miles away thanks to the gorgeous grounds. Check prices here.
LA MORADA HOSTEL | If you're on a backpacker's budget, La Morada is a great option. Check their rates here.
PIN IT FOR LATER