Visiting Ushuaia has been at the top of my Argentina bucket list for years.
It was the last major destination to elude my travels despite living in Buenos Aires for 12 years.
Finally, I went and I did it right, spending 9 days exploring the end of the world.
What took so long? When I first moved here, domestic flights in Argentina were exorbitant and those to Ushuaia even more so.
Lately, with budget airlines have driven costs downwards and Ushuaia has been no exception.
Local budget airline FlyBondi now operates a budget route to Ushuaia (beginning in January 2022).
So if you've been dreaming about the best things to do in Ushuaia, then now is the time to book that trip!
Here's a complete travel guide to Argentina's Fin Del Mundo!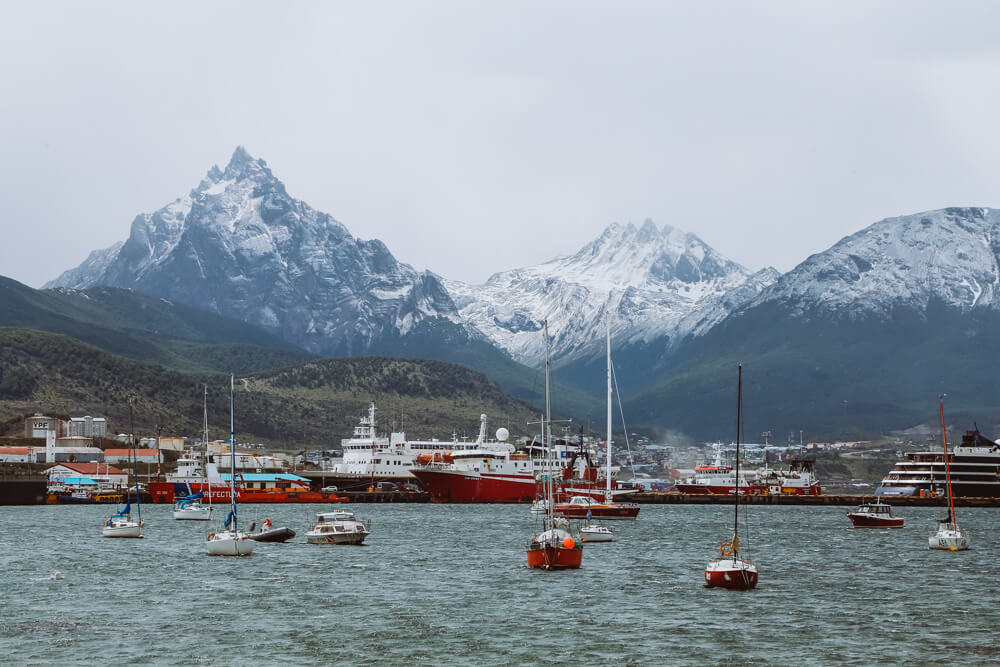 QUICK NOTE: This post contains affiliate links and Sol Salute may receive a commission for purchases made through these links, at no extra cost to you.
Ushuaia Travel: The Essentials
Where is Ushuaia?
Ushuaia is nicknamed The End of the World for a reason.
It is the southernmost city in the world (technically, Puerto Williams in Chile is further south but is too small to be considered a city, yet).
How to get to Ushuaia?
It is easy to reach with daily flights from Buenos Aires.
There are also regular flights from El Calafate if you'd like to make this part of a larger Patagonia itinerary.
How to get around Ushuaia?
We rented a car to have more freedom to explore.
Having a little one (2 year old this trip) I prefer to have our own car when possible.
Check rental rates here. And always stay open to small local agencies that might not have an office at the airport, they're often cheaper!
But do you NEED a car?
No, you don't need one to enjoy Ushuaia.
Shuttle buses leave at scheduled times from the port to major sites like the national park and trailheads.
Taxis are very affordable and can bring you to trailheads outside of town and pick you up after, guided tours are top notch, and hiking in the national park is actually easier without a car!
How long should you spend in Ushuaia?
Argentina promotes Ushuaia as the perfect 4-day destination.
This is mainly to target locals for long weekends (of which there are MANY), but I think that should be the bare minimum.
I recently went for 9 days and was never bored.
If you love the outdoors and are an enthusiastic hiker, you can easily spend a week or more here.
If you can pass on the outdoors and only need one hike (Laguna Esmeralda) to see the mountains and say you did it, then yes, I do think 4-5 days will be enough.
If you're going on an Antarctic cruise, then you may want to cut it back to just a couple days to rest up for the cruise excursions, but again, for me more is more here.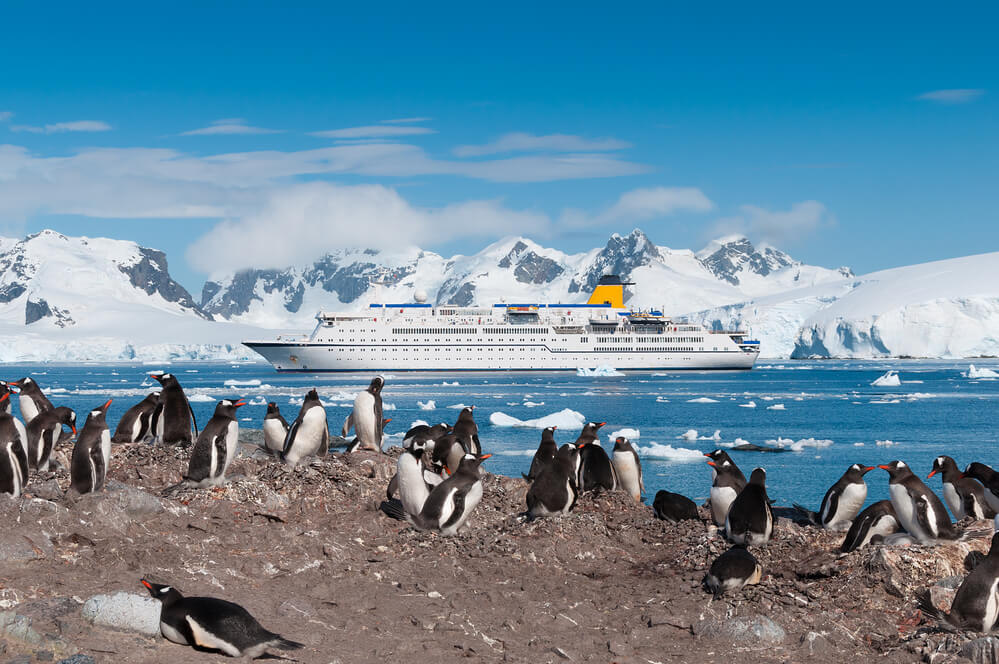 Ushuaia: The Gateway to Antarctica
If you've ever dreamed of visiting the great white continent, you'll have to visit Ushuaia for departure.
I highly recommend staying at least a day or two extra before your cruise, just in case.
You'll want the time to see Ushuaia, it's STUNNING, don't underestimate it.
Also, it will give you time to handle any snafus like lost luggage or flight delays, god forbid.
Read this Antarctica Travel F.A.Q. for more.
Looking for a last minute Antarctica deal? I recommend and work with Wayfinders, it's a local agency run by three men from Patagonia. They're passionate about this region and you'll find no one better to help you in this adventure.
Wayfinders has very cheap last minute deals, in case you find yourself in this part of the world and think, WHY NOT.
They can also help you get the best deal if you want to book in advance (because it does make sense to plan a trip like this with some forethought).
Click here to see Wayfinders offerings and let 'em know I sent you.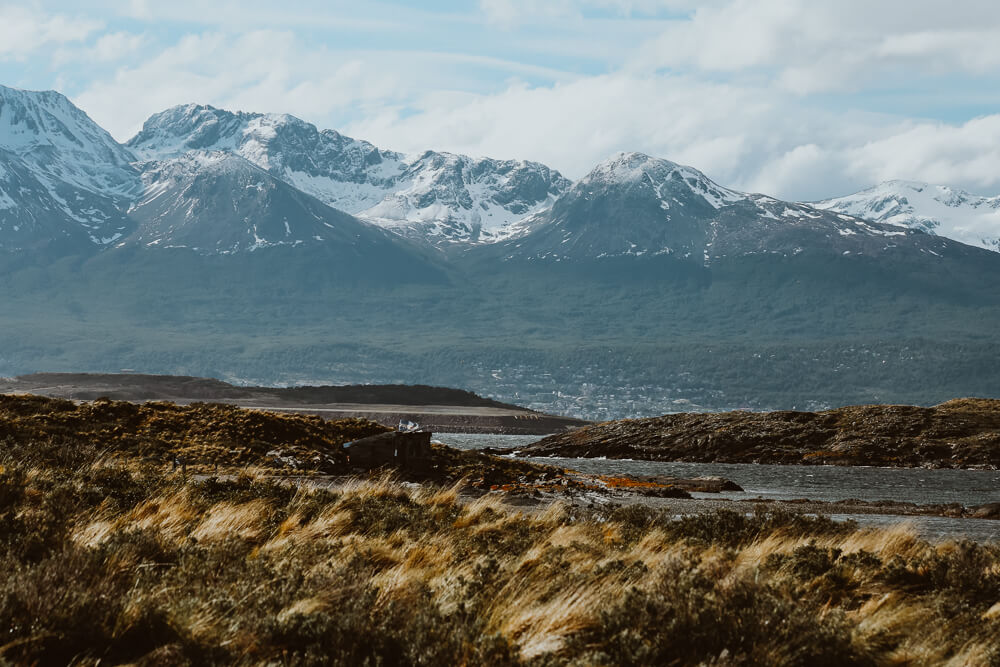 The Best Things to do in Ushuaia
Keep reading for the best things to do in Ushuaia.
I will always link to the best tours for every option (because not all tours in Ushuaia are created equally).
At the end of this post I'll list the best places to stay and tips like what to pack and when to visit. So stick around!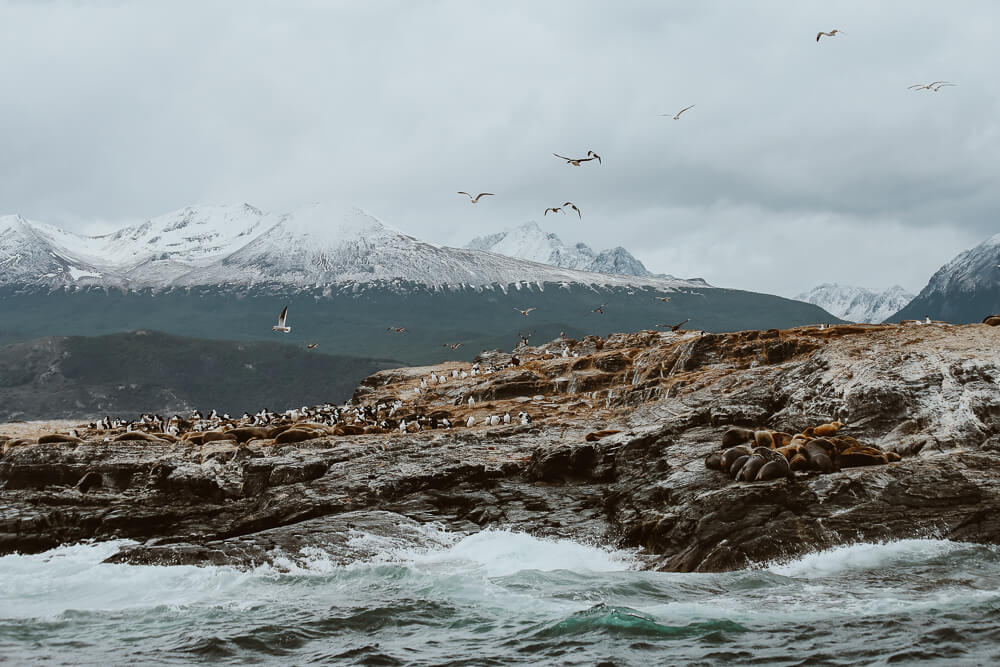 Cruise the Beagle Channel (Sea Lions + The Red Lighthouse)
Taking a boat tour of the Beagle Channel is without a doubt the most popular of Ushuaia attractions.
There are a lot of options to choose from and it can be overwhelming.
I recommend sticking to a short, half-day tour which includes the sea lions and cormorants, the Les Eclaireurs lighthouse, and a walk on Bridges Island (where you'll learn about local flora and fauna and indigenous communities).
We chose to go with this tour because the boats are small.
Groups are capped at 25 passengers, a far cry from the large ships carrying upwards of 200 tourists.
You'll get more time to talk to your guide and less elbowing fellow tourists for photos at the photo ops.
But, of course, there are alternatives.
Here are the two top Beagle Channel tours (and their pros/cons):
Small Group Cruise: As I mentioned, we took a 4-hour cruise with this tour. It was perfect, to add more time would have been too long in the boat and we saw all the highlights. The guides were SO informative and spoke perfect English. I can't recommend them enough. The only con is the size of the boat. We struggled with our 2 year old due to lack of space and he got motion sickness. This is no fault of the tour company, but mobile toddlers may be happier on a larger boat. Reserve yours here.

Full Day (add on Pengins & Estancia): The half day tour doesn't include a viewing of the penguin colony. If this is a MUST for you (and you don't have time for a walking with penguins tour later) then you can book this tour. It adds a couple hours of navigation to Martillo Island as well as a visit to the region's most historic ranch, Estancia Haberton (but know that you see the penguins from the boat, you do not disembark to walk with them, you do disembark to tour the estancia). If you're on a time crunch this fits a TON in one day.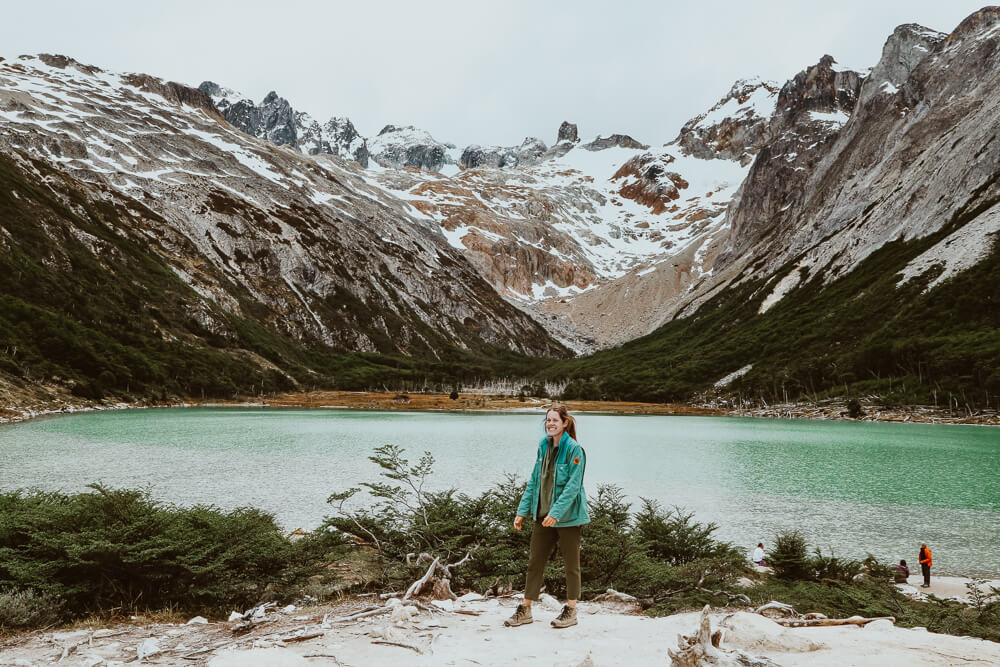 Hike to Laguna Esmeralda
Laguna Esmeralda is one of the top things to do in Ushuaia and its most popular hike by a landslide.
It's classified as moderately difficult at 8.7 kilometers.
But honestly, with minimal elevation gain I found this trail to be relatively easy.
What can make it difficult?
Mud.
Try to hit this trail after a day or two with no rain if your itinerary allows and pack waterproof hiking shoes if you have them.
Mud and peat bogs can make it slightly unpleasant after a heavy storm.
Once your at the laguna stop and enjoy a picnic! The views are incredible and there are plenty of sheltered nooks and crannies to enjoy a picnic even on the windiest of days.
There are plenty of guided tours on offer but you don't need one. The trail is very well-marked and easy to follow.
PRO-TIP: If you don't have a car, take a taxi to the trailhead and have them pick you up at a set time. Signal can be spotty here (we never had signal at this stretch of Ruta 3!) so don't count on being able to call a taxi when you're done.
Read More: The Best Hikes in Argentina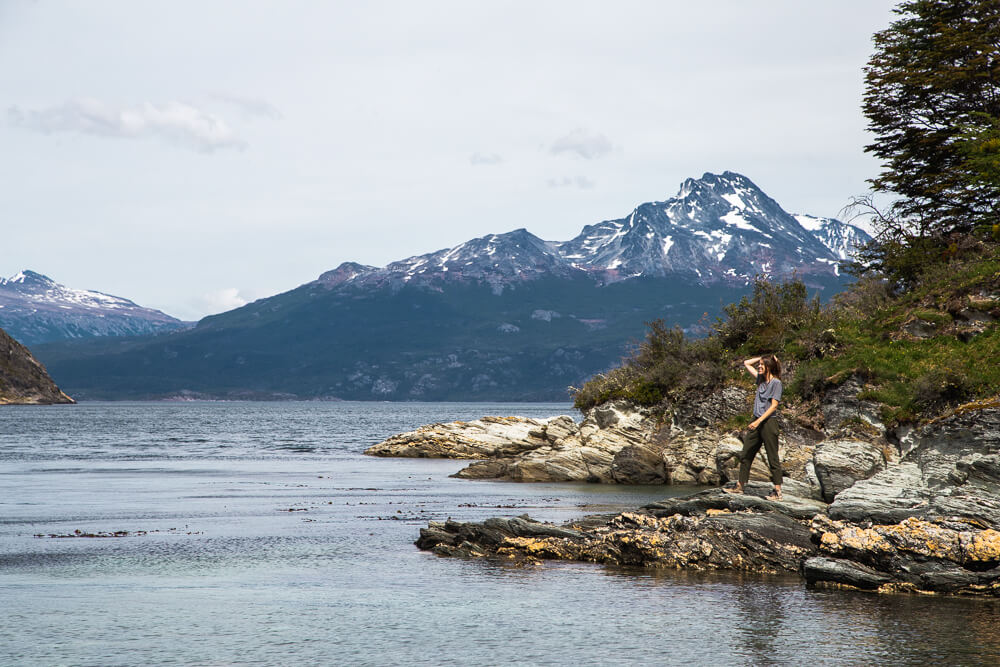 Visit Tierra del Fuego National Park
Spend a day (or 2 or 3) exploring Tierra del Fuego National Park, one of the most beautiful national parks in Argentina.
At only 13 kilometers outside the city limits it's very easy to access.
It's also relatively small and if you're short on time, a half-day or full-day guided tour can cover a lot of ground.
This half-day tour is popular and great if you're not keen on doing the major hikes.
The bus tour will take you to the most scenic views and includes a lunch in the park.
If you want to hike, skip a tour and hire a taxi to drop you off at a trailhead (La Costera Trail is a great starting point).
The main hikes are all one way here so it's easy to cross the bulk of the park on foot. Arrange to have your driver pick you back up at the end of the day at a designated spot (usually Lapataia Bay at the end of Ruta 3).
You can also choose to take the famous Fin del Mundo train to get to the park, which brings me to…
Keep Reading: A Complete Guide to Tierra del Fuego National Park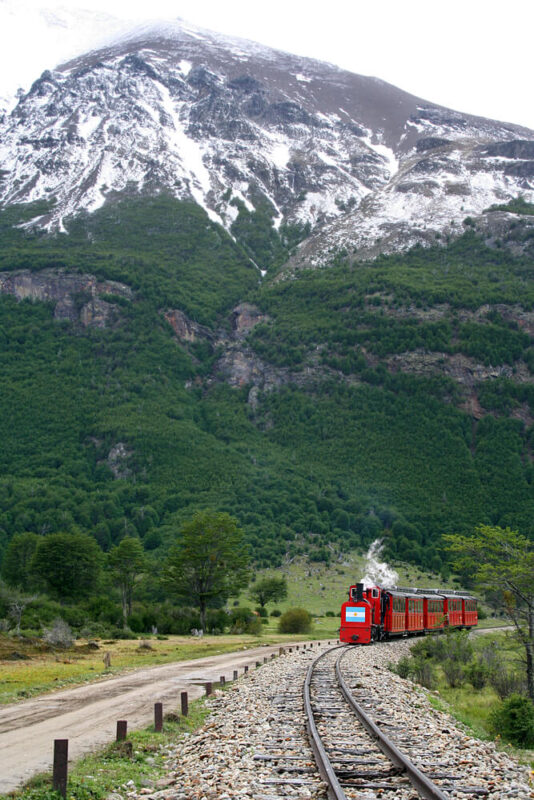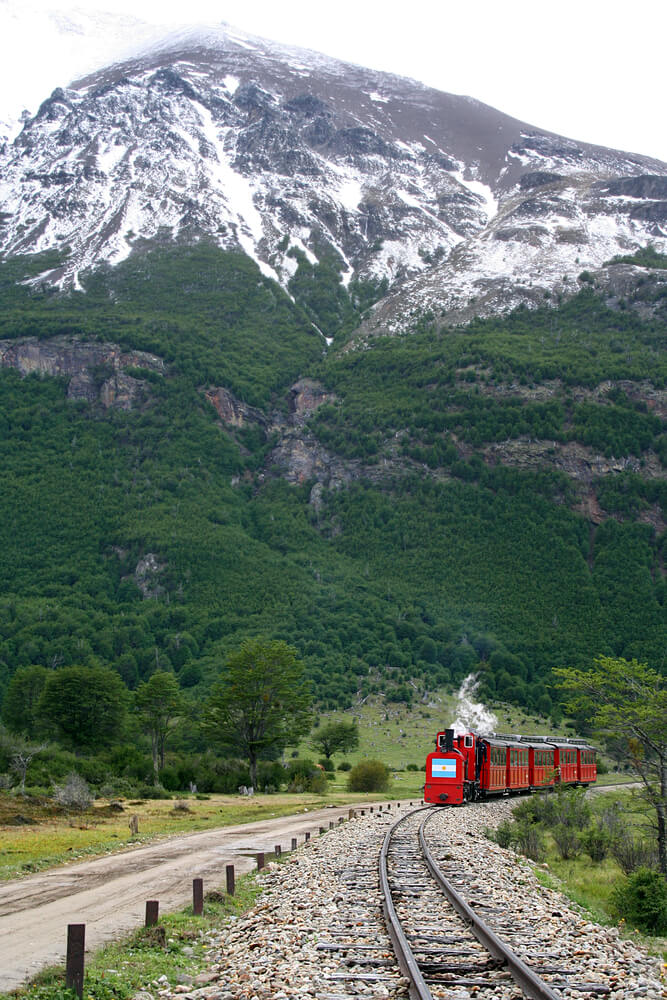 Ride the End of the world Train
In Ushuaia you'll quickly notice that everything is nicknamed the end of the world this or the southernmost that.
Of course, this historic steamer train is aptly named the End of the World Train.
Train lovers can't miss this ride, it's one of the most historic trains in Argentina.
The train line itself was built by inmates from the prison here and it is a part of the this region's history.
There are different class levels each with its own level of comfort and quality of meal offered.
The train station is just outside of the city so keep in mind that you'll need to take a taxi to get there. Once aboard you'll ride through some of Argentina's most stunning scenery.
You can opt to spend some time in the park before returning if you'd like.
The Alta Pampa trailhead is not far from the station in the park and will bring you to beautiful Ensenada Bay and the La Costera Trail.
Click here to purchase your tickets for the End of the World Train.
QUICK & IMPORTANT NOTE: Reading through the reviews of the train on the tour vendor here, the negative reviews seem to reflect a misunderstanding of the train itself versus the quality of the experience. The train does not reach the literal end of the world. It reaches an interior region of the national park. Like I mentioned above, the entire region is referred to by locals as "The End of the World."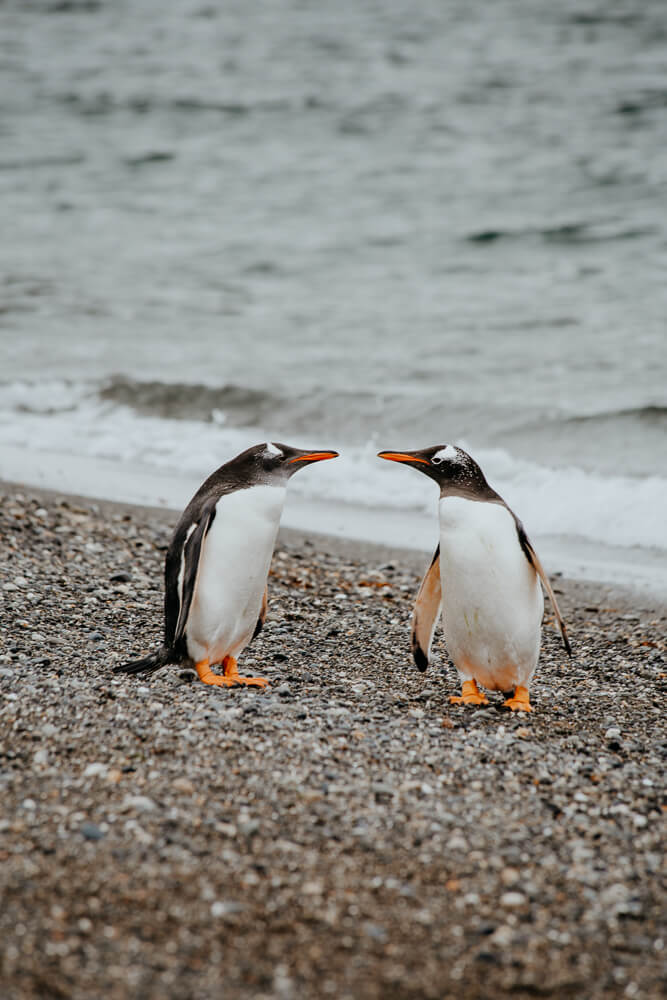 Walk with Penguins on Martillo Island
If you want to see penguins in Ushuaia then there's only one tour you can take, this one.
There is only one authorized company that offers tours on the island itself, allowing you to walk among the two breeds of penguins that live here: Magellanic and Gentoo penguins.
NOTE: Penguins are only on Martillo Island in Ushuaia from mid-October through mid-April.
The tour starts with a drive down Ruta 3 to reach Estancia Haberton.
You'll tour the estancia and take a 15 minute ride in a zodiac boat (covered and safe from the elements) to Martillo Island.
Here you'll spend an hour on the island viewing the penguins.
We LOVED, LOVED this tour. Because, obviously, we love penguins and this was one of the best places to see penguins in Patagonia.
The highlight was seeing two King Penguins who have strayed too far north and now live here in Ushuaia (spotting them is not guaranteed but is exciting if you're lucky!).
We also spotted a rare leopard seal (native to Antarctica) who was hanging out on the beach, likely enjoying his buffet of penguin lunches.
Click here to reserve your Isla Martillo Penguin tour.
PRO-TIP: The weather on Martillo Island and at the estancia will be windier and colder than in downtown Ushuaia. When in doubt, pack layers and dress warm!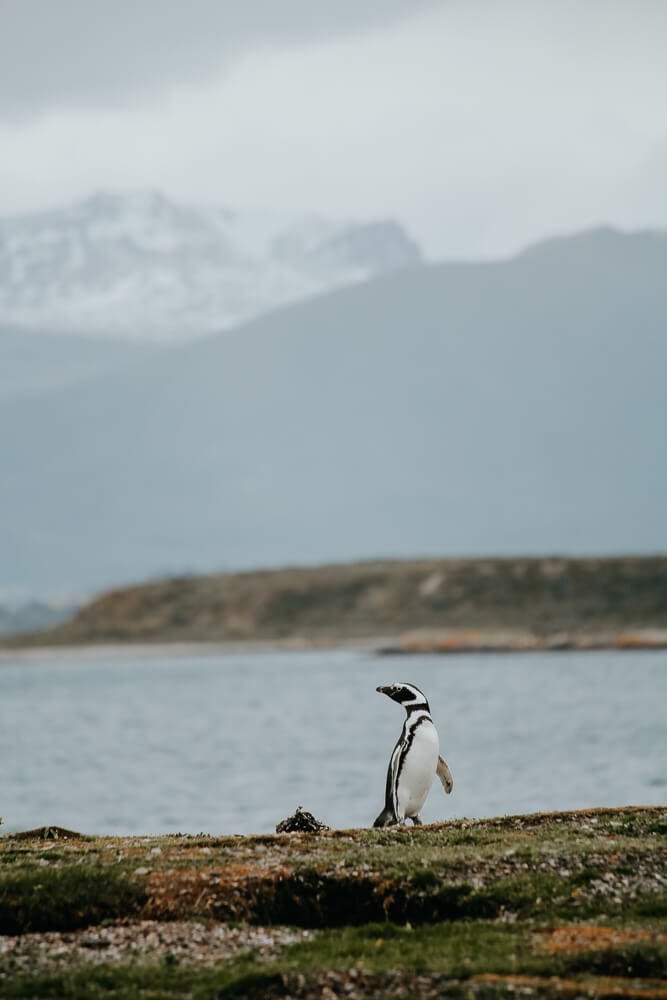 Visit Estancia Haberton
Visiting an estancia is one of the most authentic experiences one can have in Argentina.
Rural culture and ranches have been vital to the country's identity and economy. Also, estancias are different all over the country.
Tierra del Fuego's estancias are unique and I would definitely make time to see one during your stay.
Estancia Haberton is one of the oldest estancias in the region and also the easiest to visit.
It is mainly touristic at the moment and less of a working ranch, but I found it beautiful.
It's common and easiest to visit Haberton as part of a packaged tour (like the pengions or on a boat cruise through the Beagle Channel).
You'll love the cafe to warm up after a cold, windy day and the museum of marine artifacts that have washed up on their shores over the years.
The Best Tours to Estancia Haberton:
Penguin Colony/Estancia Tour: This tour of the penguin colony on Martillo Island includes a visit to the estancia.
Beagle Channel Cruise: This full-day Beagle Channel cruise includes a viewing of the penguins on Martillo Island (from the boat, not ON the island) and a guided visit of Estancia Haberton. It's also a great way to see the estancia without the long bus ride.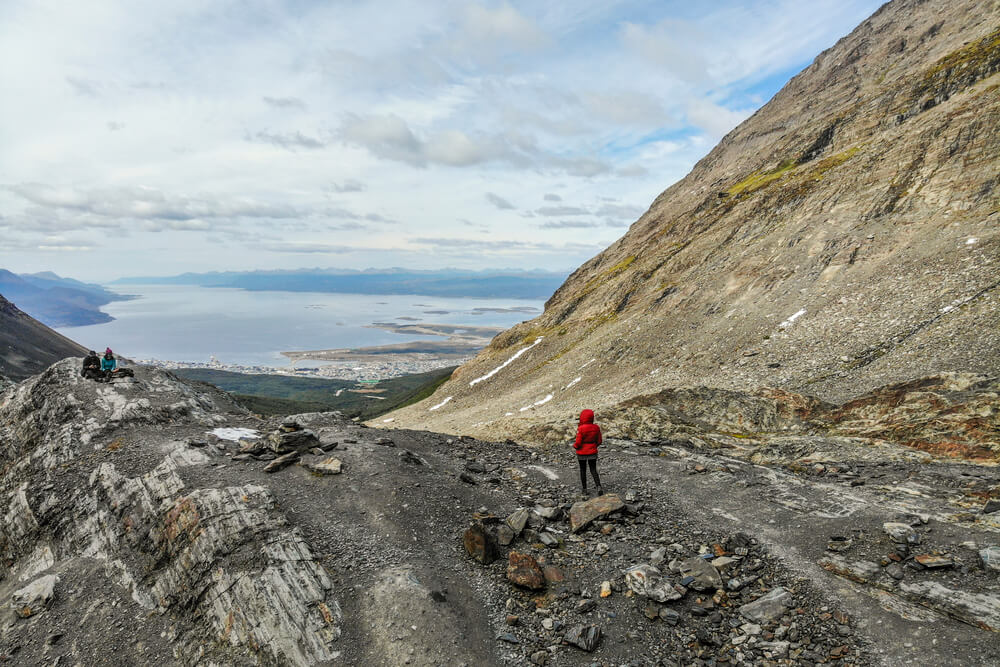 Hike to Martial Glaciar for a Panoramic View
Another one of the top things to do in Ushuaia is the short but steep hike to the Martial Glaciar.
It's a short 3.7 mile out and back trail. It's said to be relatively easy and short but it is steep with a lot of elevation gain.
But with that effort comes rewards because this hike offers some of the best panoramic views of Ushuaia and the Beagle Channel.
We didn't do this tour because it was snowing when we were at the trailhead and my 2 year old was not a fan of that in the slightest.
But we did enjoy the teahouses!
Read More: The Best Hikes in Ushuaia
MARTIAL GLACIER FOODIE TIP: After (or before, or instead of!) your hike head to one of the two great restaurants at the trailhead. I LOVED the Refugio de Montaña, a rustic spot for skiiers after a long day on the slopes. Their chocolate cake was spectacular! For a more girly teahouse vibe (and delicious gooey medialunas) head to La Cabaña Casa de Té. Being a dedicated medialuna lover, I tried both spots. Loved both!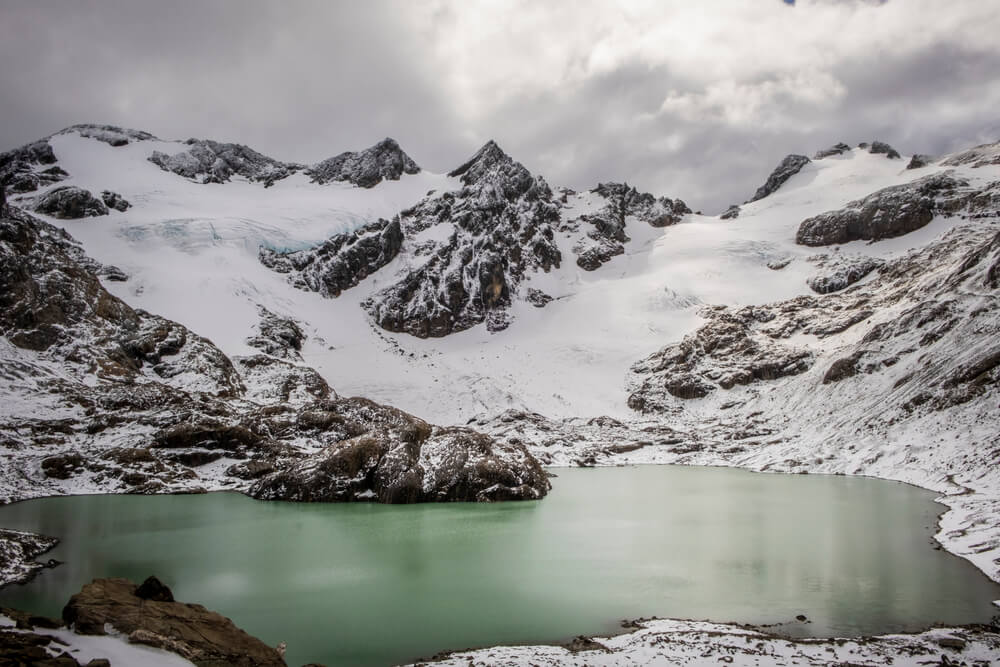 Take a Guided Hike to the Vinciguerra or Ojo del Albino Glaciers
If you're an avid hiker, I highly recommend taking one (or both) of these full-day guided hikes for a unique Tierra del Fuego Argentina experience.
Glaciar Vinciguerra is a full-day to a gorgeous glaciar and lagoon filled with icebergs. If you're lucky you'll be able to walk in ice caves on the glacier (always, always with your guide).
NOTE: You'll see this hike referred to as Vinciguerra or Laguna de lo Tempanos (Lagoon of the Icebergs) interchangeably.
Ojo del Albino is another full-day hiking excursion.
It's a continuation of the Laguna Esmeralda trail, passing the laguna and continuing upwards for a panoramic view of Laguna Esmeralda below until you reach the glaciar.
Reserve your hike(s) here, note that a guide is required:
Glaciar Vinciguerra was SO high on my list of things to do in Ushuaia but we didn't manage to do it (due to a multitude of personal reasons). One day, I'll make it!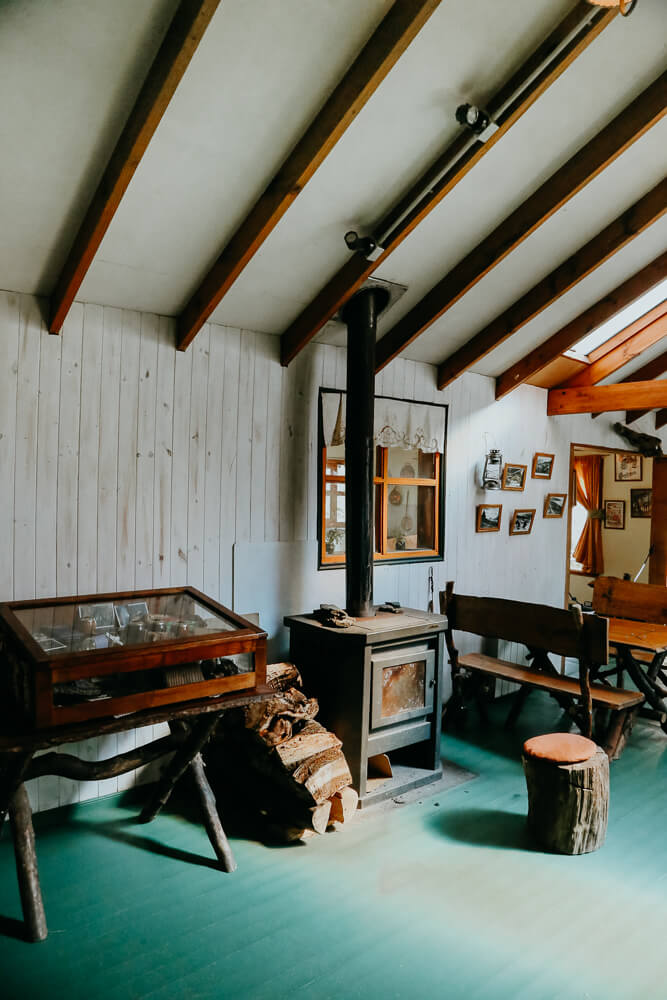 Enjoy the Many Teahouses
When in the cold, windy mountains one must eat. And it isn't all seafood and steak here in Ushuaia, the teahouses here are excellent.
If the morning or afternoon is simply too windy, cold, or dreary to go outdoors, head to one of these teahouses for coffee, tea, and all of the cakes you can handle:
La Cabaña Casa de Té: At the foot of the Martial Glaciar trail, this is easily the most popular teahouse in Ushuaia. It's a cozy cabin in the forest serving gooey medialunas and beautiful cakes.
Chloe Casa de Té: It's a bit far from the city but a short taxi ride will bring you to Chloe Casa de Té and its panoramic views. Go for sunset for the best experience (reservations required at the moment, check before going to see if that changes).
Ana & Juana: Visit Ana & Juana in downtown Ushuaia (they have a few locations) for Instagram worthy (and huge portions) pastries, seriously, the cookies on my traditional Chocotorta were covered in edible glitter. It's a great place to rest your legs in town with a good coffee and a book.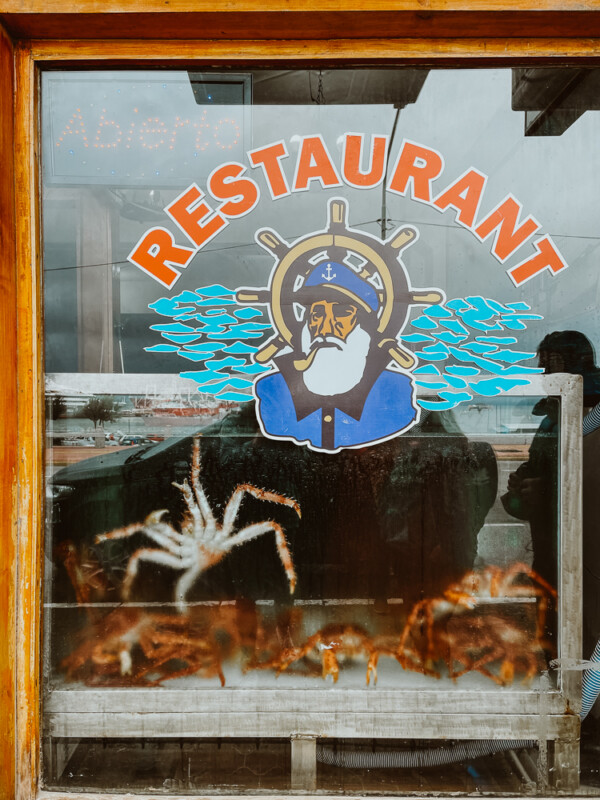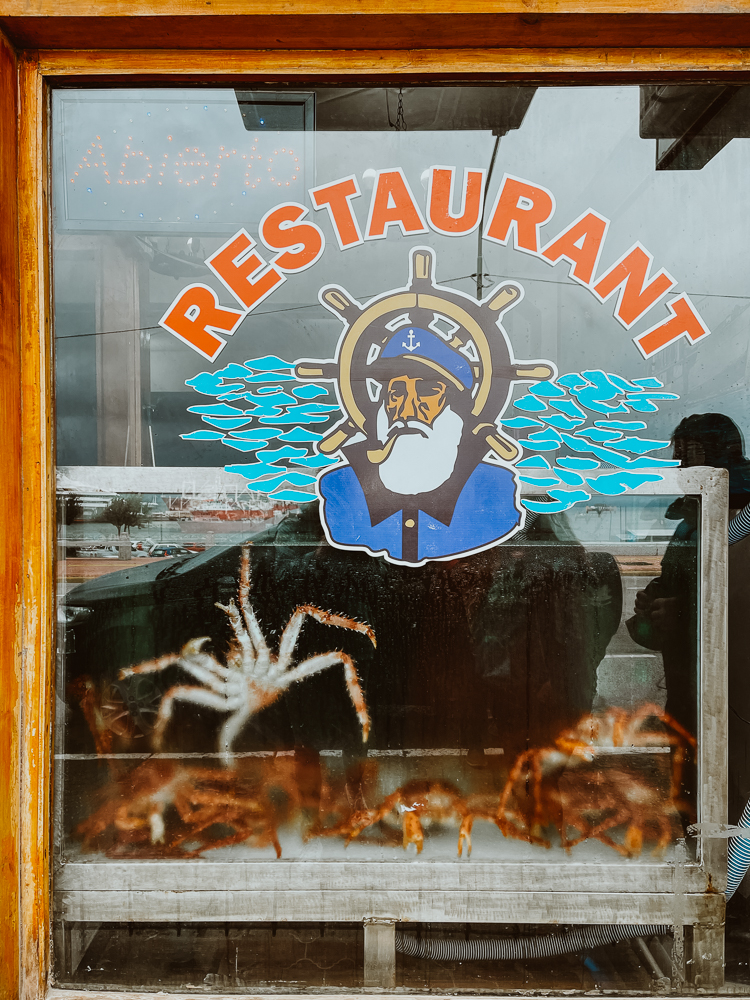 Eat Centolla (King Crab) Like a Local
When you think of popular foods in Argentina, you probably think of red meat. But in Ushuaia, it's all about the king crab, or centolla.
You'll see centolla on menus everywhere but the top three places in Ushuaia proper are all located on the waterfront: Tia Elvira, Volver, and El Viejo Marino.
If you want to try it in its purest form, get Centolla Al Natural. It will be served cold and as is. You'll taste the flavor of the centolla to the fullest.
In El Viejo Marino, you can split a crab with your partner.
You'll be able to watch the waiter fish a crab out of the tank at the front of the restaurant then scurry to the kitchen as fast as possible, dangling the enormous centolla from an outstretched hand.
Read More: A Complete Guide to Centolla in Ushuaia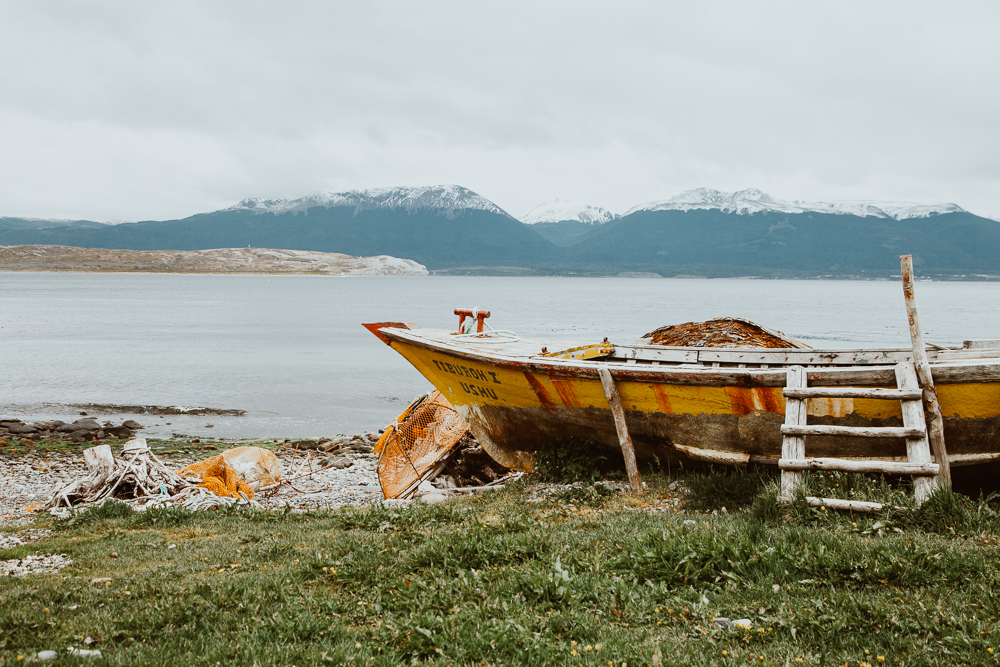 Catch Your Own King Crab
If you'd like a bit more adventure with your king crab, go on a fishing excursion!
In a once in a lifetime type of experience, you'll be able to learn about traditional Patagonian fishing and culinary techniques.
Catch your own king crab and enjoy it for lunch in Puerto Almanza, a small fishing village on the Tierra del Fuego coastline.
The tour also includes a short hike to a waterfall in the forest and a chance to meet the locals who dedicate their lives to these traditions.
Click here for more information or to reserve your crab fishing tour.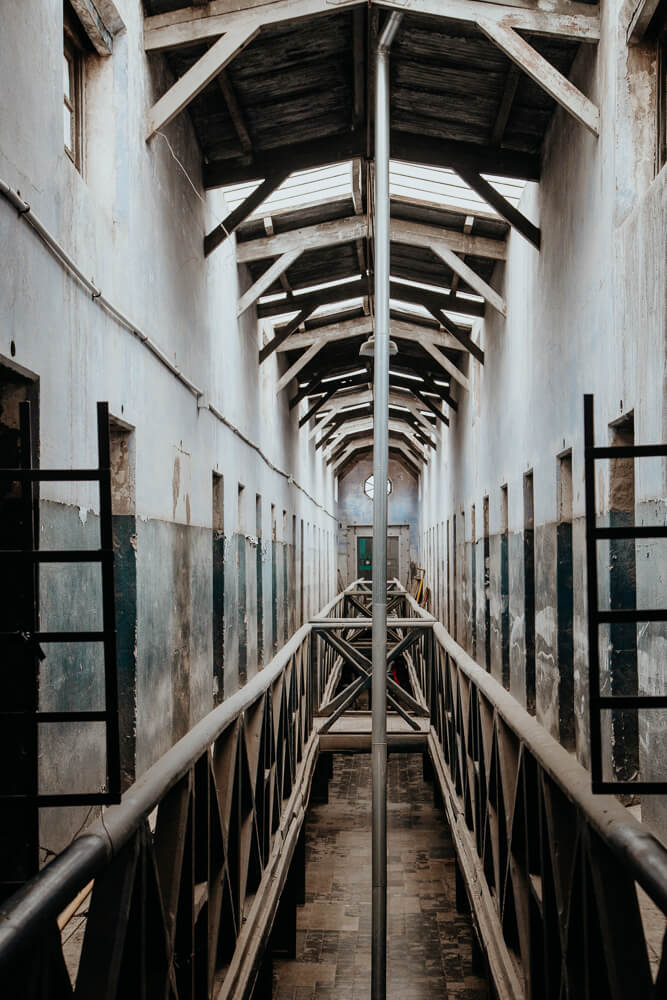 Tour the Prison Museum
Museums may not be what you came to this remote corner of the world for, but I promise you that this museum is worth the time.
It's also the perfect activity for a cold, rainy Ushuaia afternoon!
Agentina modeled this remote prison on England's use of Australia, using prisoners to occupy a vast expanse of land far from its central government.
To say conditions here were harsh it putting it mildly and it makes Alcatraz feel like a spa.
The prison wasn't even walled in because honestly, where would anyone escape to?
The museum itself is jam-packed with information, all available on plaques or via an audio guide.
The various wings teach about the history of shipping and shipwrecks here, the native indigenous tribes, and of course the most notorious criminals in Argentina's history.
For a weird memento, take selfies with the statues of the country's worst murders that are placed strategically in Instagram-worthy tableaus.
Entrance is a bit pricey for non-citizens but it's worth it. It does help that the ticket is valid for 48 hours so you can easily return the following day.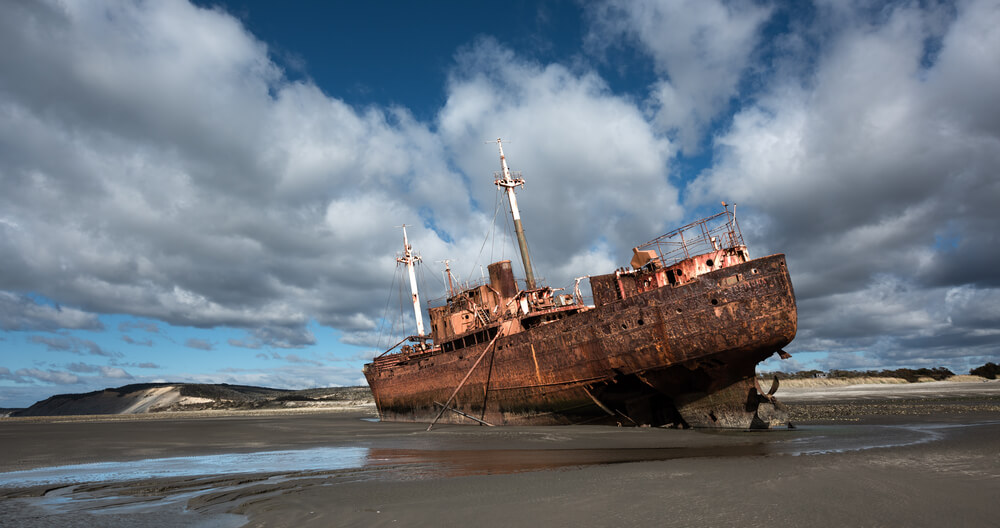 See a Shipwreck on Cabo San Pablo
If you want to get off the beaten path, this full day excursion to Cabo San Pablo and Estancia Rolito is unlike any other Ushuaia attractions.
It is a lot of time in the car but it's worth it as you will go deep into Tierra del Fuego.
The tour visits the Desdemona shipwreck on the beach in Cabo San Pablo. Walk around this massive beached ship, one of many historic shipwrecks in these inhospitable waters.
Afterwards, you'll visit a working ranch and experience a traditional Fuegino asado lunch and tea time (merienda) before heading back to Ushuaia.
On the road you'll see stunning lakes, cross the Andes at the Garibaldi pass, and see the rolling plains of the steppe.
This is a full-on Tierra del Fuego experience you'll never forget.
Click here for more information and to reserve your tour.
I really wanted to do it but it was simply too many hours in a car for our toddler. It's added to the list of "things to do on a future trip when he's older". This list is so long.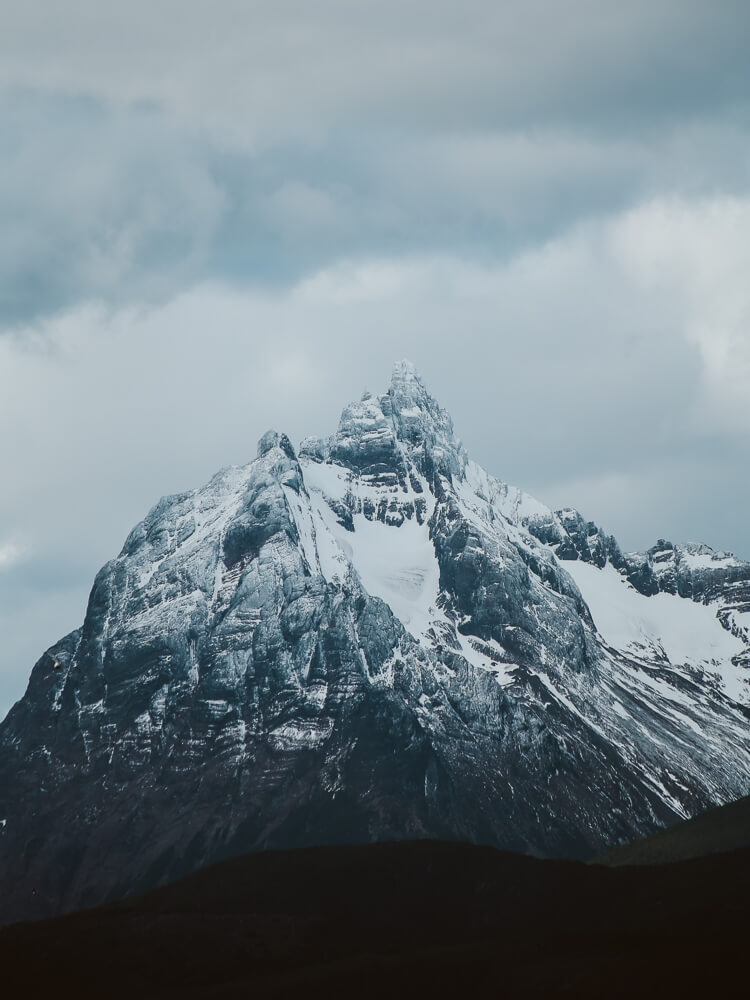 Splurge on a Helicopter Ride
When I asked friends for Ushuaia sightseeing tips, a tour operator (a.k.a. someone who knows what they're talking about) said to go on a helicopter ride if my budget allowed for it.
My budget did not allow for it.
If yours does than I highly recommend it!
Ushuaia is unbelievable picturesque and to see it from the air is a once in a lifetime experience.
There are two options, but this one with a stop in the Andes is the best one. The total time in the helicopter is an hour and you'll see the city and the mountains, with a landing in the Andes on a mountaintop, champagne included.
I cannot think of a more luxurious way to experience Ushuaia.
If you want a more budget friendly option, book this thirty-minute flight over the city. The views will still be wonderful, you'll only be missing the stop in the mountains.
Where to Stay in Ushuaia
Ushuaia accommodation is varied and there is something for every budget.
We stayed in La Posta Apart, which is a hotel offering apartments instead of hotel rooms.
As a family, it's much easier to have a whole home to spread out in with a kitchen and separate bedroom for the baby.
La Posta was very comfortable and I would easily choose to stay here again. It's right by the airport and a bit far from downtown but with our rental car we had no problems. When we needed a taxi they arrived within just a few minutes of being called and were very cheap.
There are plenty of options in the heart of downtown if you want to be able to walk to restaurants and the port.
More unique accommodation options (including nearly all luxury hotels) are located just outside of town with infinitely better views of the bay and mountains.
Here are some of my top recommendations for Ushuaia hotels: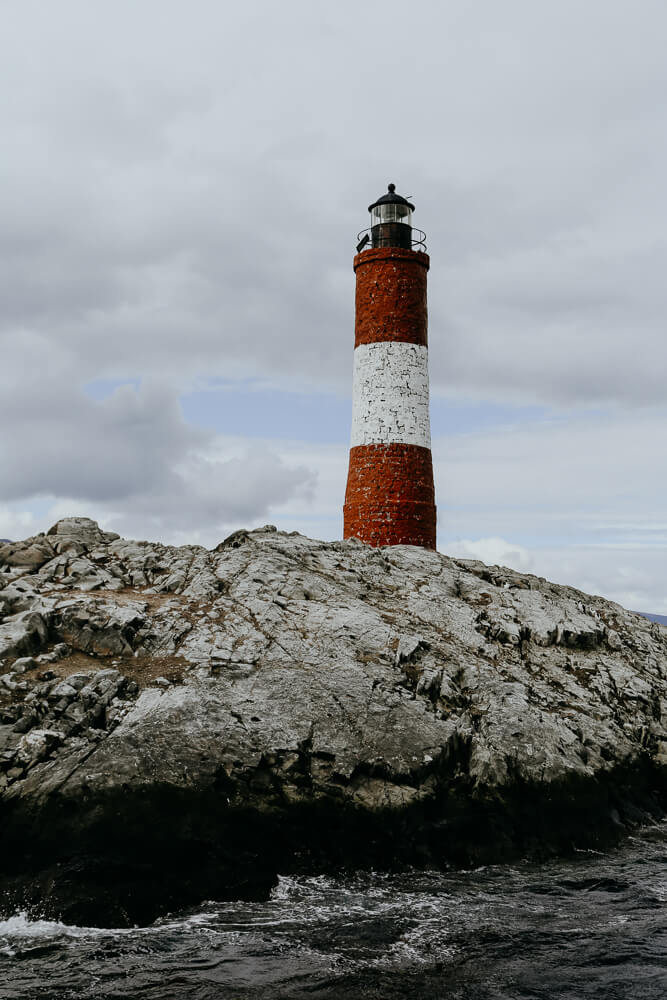 When to Visit Ushuaia
The best time to visit Ushuaia is definitely in the sweltering (joking) summer months, from December through March.
I say "joking" about sweltering because in Tierra del Fuego you can easily experience any season on any day.
Snow in summer? It's possible.
It snowed on 3 days of our 9 day holiday in late November. On other days it was 15 degrees Celsius (in the 60's Fahrenheit) and lovely! It's highly unpredictable.
Winter is also a magical time to visit Ushuaia. It's home to the southernmost ski resort in the world, Cerro Castor.
The Beagle Channel is also very peaceful and you will have a drama-free boat excursion in winter. The snow makes everything seem pulled from a picture book.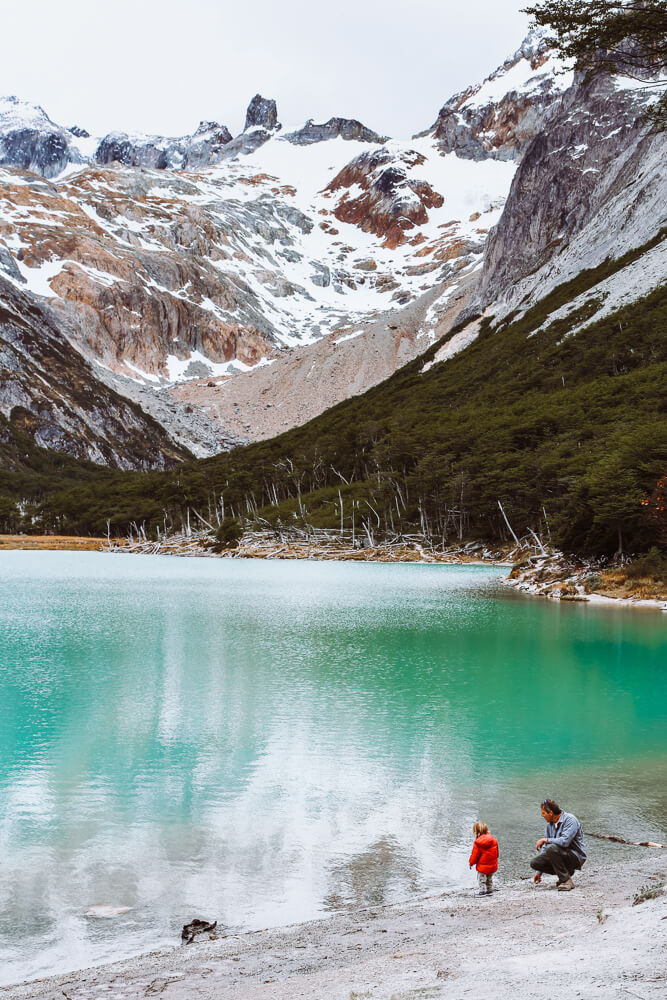 What to Pack for Ushuaia
I tend to be a horrible packer but for Tierra del Fuego travel you really want to be prepared for the elements and unpredictable weather.
Pack plenty of layers, as one day may be sunny and warm and the next day it might snow. Perhaps you'll only have sun, but… probably not.
Ushuaia, like the rest of Patagonia, is also notoriously windy. Make one of those layers a good waterproof windbreaker with a hood.
Here's a list of things that we found helpful:
Waterproof hiking boots: Never have I felt so much love for my hiking boots. Peatbogs and mud abound in Tierra del Fuego and if you want to hike, you'll be grateful for waterproof, proper hiking boots.
Hiking Poles: You're going to want hiking poles if you plan on doing a lot of trekking here. We own this very affordable beginner-friendly pair and it saved our knees and made the rocks and muddy stretches manageable.
Hiking Pants: I am obsessed with these specific hiking pants. They're stylish enough for the city (seriously) but are made for being outdoors. They stretch, they hold their shape (I wear them 3-4 times every trip and they look fresh, always), and they have useable, deep pockets. I live in them whenever we travel to Patagonia.
LAYERS: As I said above, pack plenty of layers.
Camera & plenty of space on your SD card!
Is Ushuaia Worth It?
100%, yes! Many people use Ushuaia as a jumping off point for their Antarctic cruises, but Ushuaia deserves to be the destination itself!
After 9 days exploring the best things to do in Ushuaia Patagonia, even I still have things left to do. And luckily, living in Argentina I'll have the opportunity to return.
If you have any questions about planning your Ushuaia travel let me know in the comments. I always respond!
Argentina Travel Resources
Keep Reading About Patagonia:
Pin It For Later