I can agonize over where to stay for weeks when planning a big trip, really making too big a deal of things.
Which neighborhood?
Hotel or cabin?
WHICH hotel or cabin?
But some things can really make or break a trip, like your meals and where you base yourself.
The internet has also given us so much information that it's easy to overanalyze things.
So here you go, an article all about where to stay in Bariloche, to help YOU to overanalyze things and pick the best hotel or house for your trip.
I promise your type A planning efforts aren't in vain.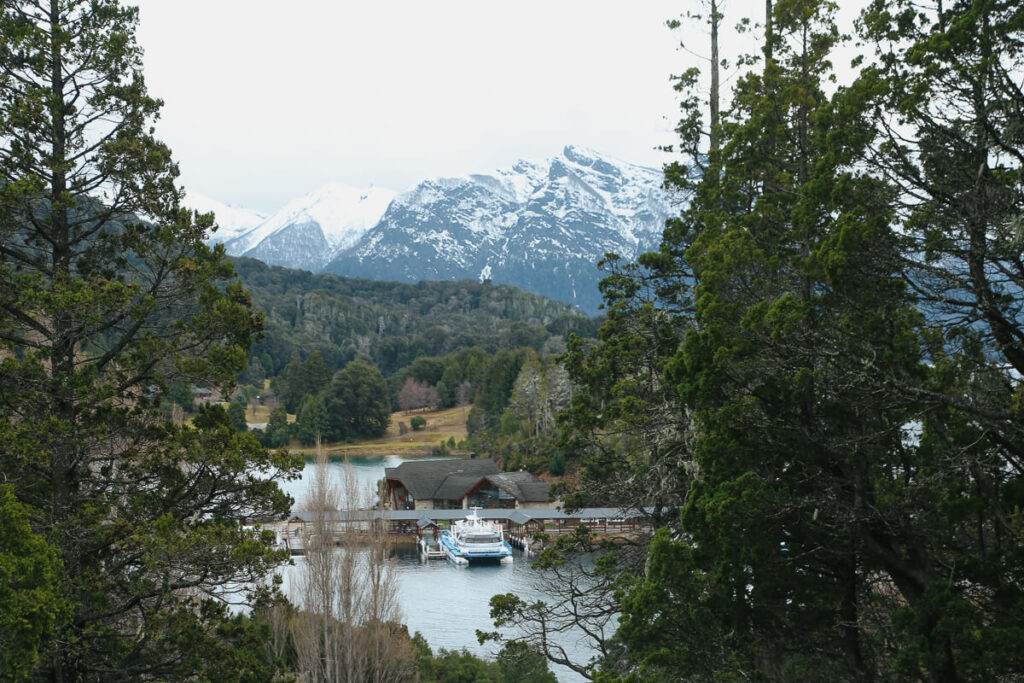 QUICK NOTE: This post contains affiliate links and Sol Salute may receive a commission for purchases made through these links, at no extra cost to you.
Where to stay in Bariloche
Bariloche is no longer a small mountain village, those days are long gone.
It's a big city that has seen a lot of growth in recent years.
Everywhere you look are hotels, complexes of cabins and hostels.
In fact, there's a housing crisis here for locals because everything is being marketed to tourists, but that's a story for another article…
My point is, you have a lot to choose from here.
First, choose which area of Bariloche that you want to stay in and then choose from there.
This article is divided up that way, by area with options for each, but if you're in a hurry and want a quick TLDR of places I love here you go.
Where to stay in Bariloche TLDR: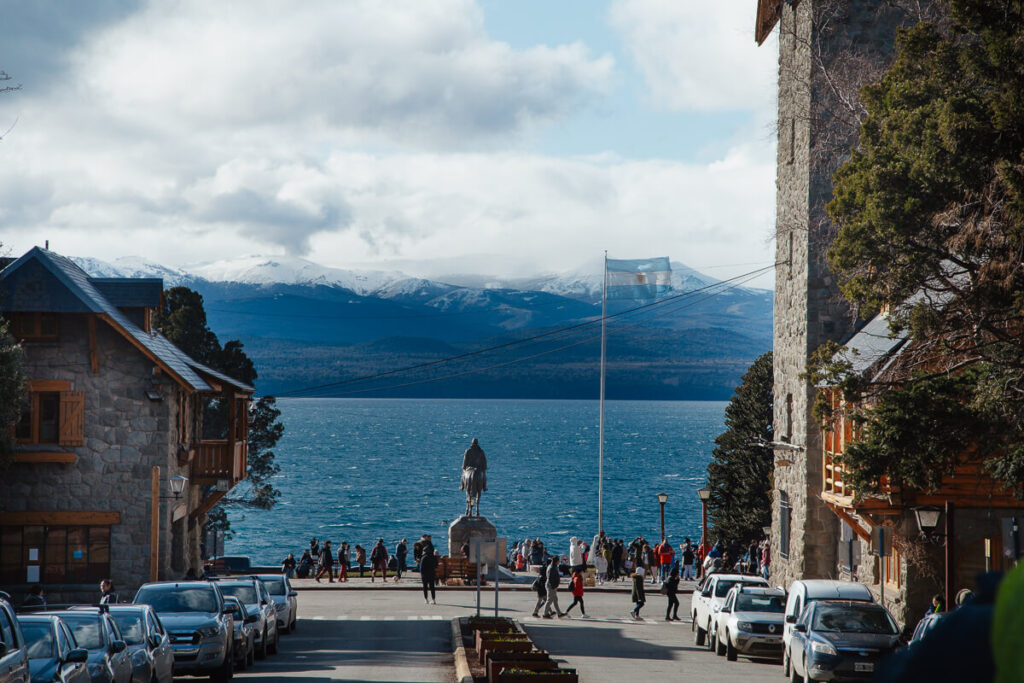 Downtown Bariloche Accommodation
The obvious answer is always to stay right in the heart of the action.
But should you stay downtown?
If you're a backpacker or on a budget, the best hostels are in the city.
Also, I always recommend renting a car in this area of Patagonia (check rates for Bariloche) but if you don't want to or can't, staying downtown is convenient.
The city center is walkable and the city has good public transportation to most tourist sites (also, taxis are abundant).
The downside is that downtown Bariloche is not beautiful, at all.
If you choose downtown, look for somewhere near the Centro Civico, or main square.
Where to stay downtown:
Penthouse 1004 – The best hostel in Bariloche, incredible view, great location, very highly reviewed.
NH Bariloche Edelweiss – For those who like the comfort and reliability a chain hotel provides, NH rarely disappoints. Rooms are cozy, breakfast looks great, and the indoor pool is ideal in winter. They also offer parking, which is priceless downtown.
Apartment – I prefer to have my own kitchen and a living space these days, these apartments are just a couple blocks from the Centro Civico (main square), close the shops and the sites.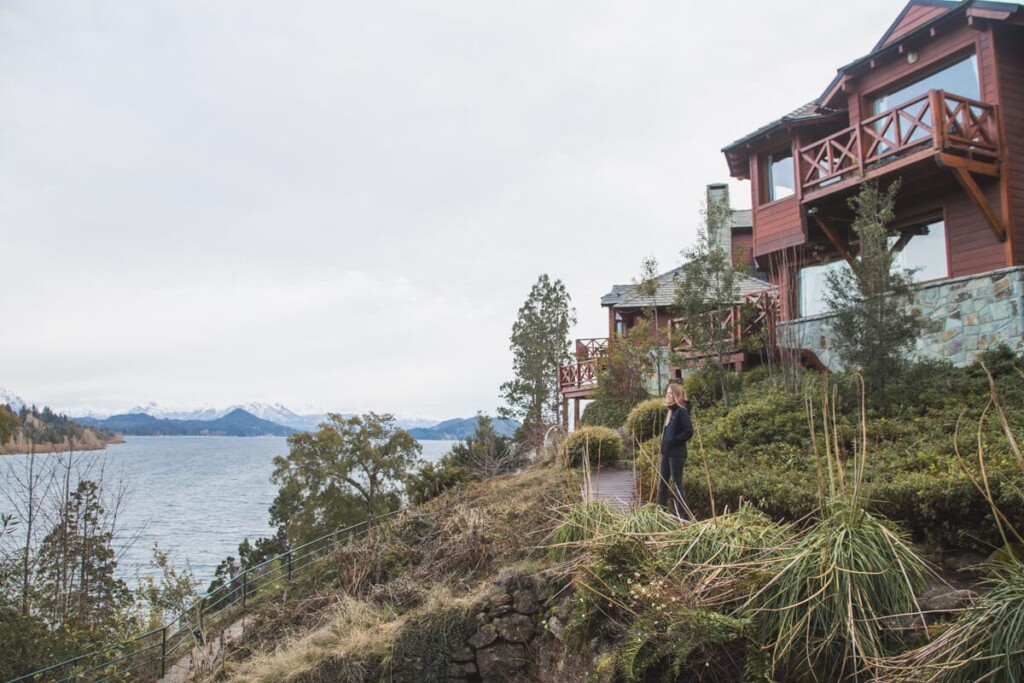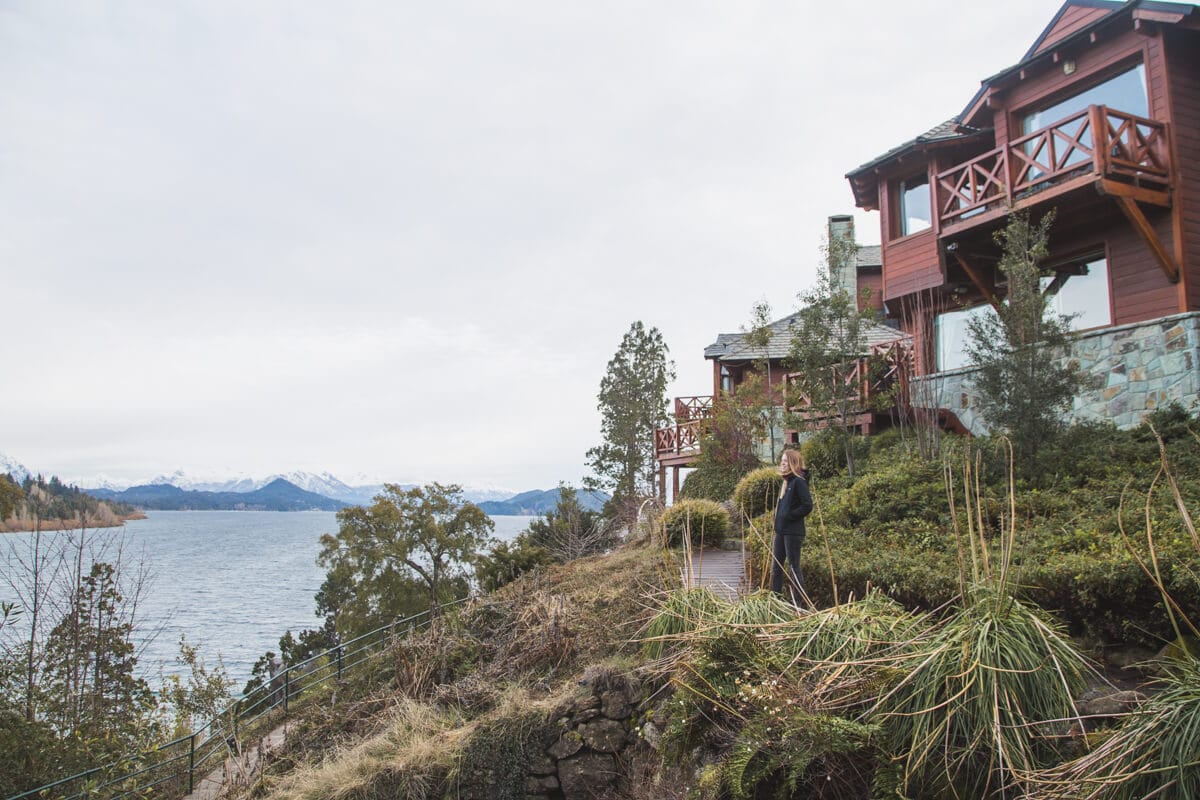 Playa Bonita
Playa Bonita is a beautiful neighborhood and compromise.
It's right on the water with beautiful views and is centrally located between the city center, Cerro Catedral (for you ski bunnies), and the Circuito Chico.
It will be most comfortable to have your own car here but public buses circulate on the main road, Bustillo or you can get by with tours and taxis.
Where to stay in Playa Bonita:
Bonita Lake House, Hostel & Bungalows – $ – Beautiful hostel right on the water, option for private double rooms or a bed in a shared dorm.
La Cascada Casa Patagónica by Don – $$$ – Beautiful boutique hotel on waterfront property, turning off bustling Bustillo avenue, the property is peaceful despite being close to the action. I love Don properties
Charming Luxury Lodge & Private Spa – $$$$ – For luxury, this is the best choice if you have the budget for it. The hotel is right on the water with panoramic views (see below) and each room has its own private spa. The in-house restaurant, Stag, is spectacular. We loved our stay in Charming in 2019.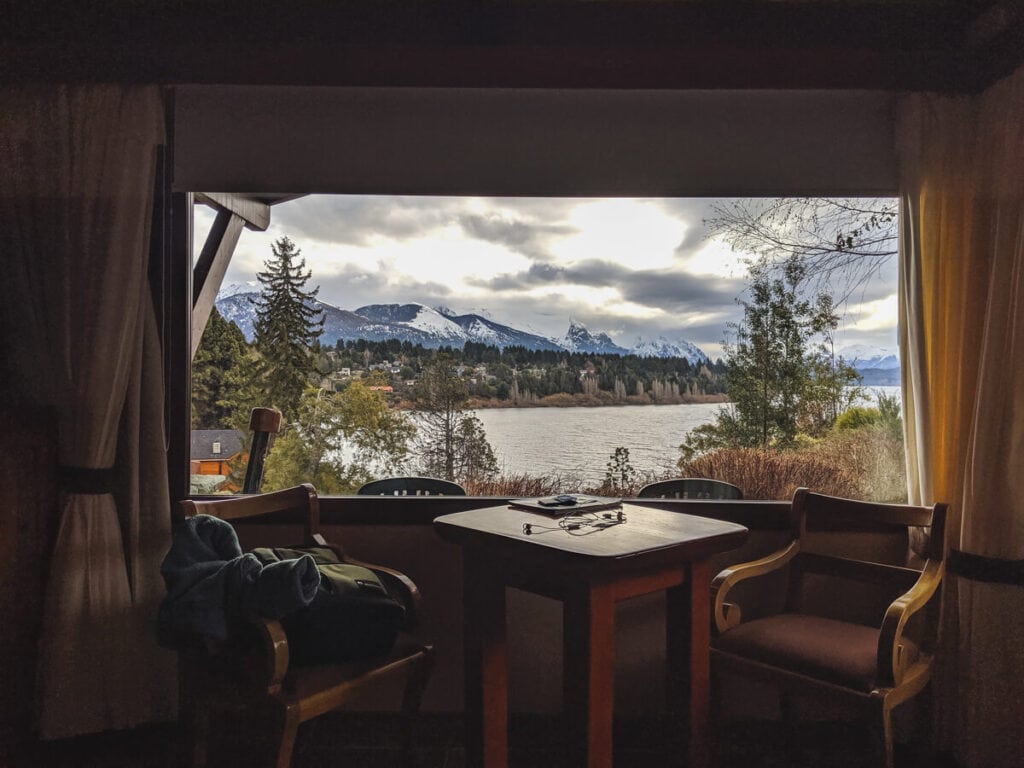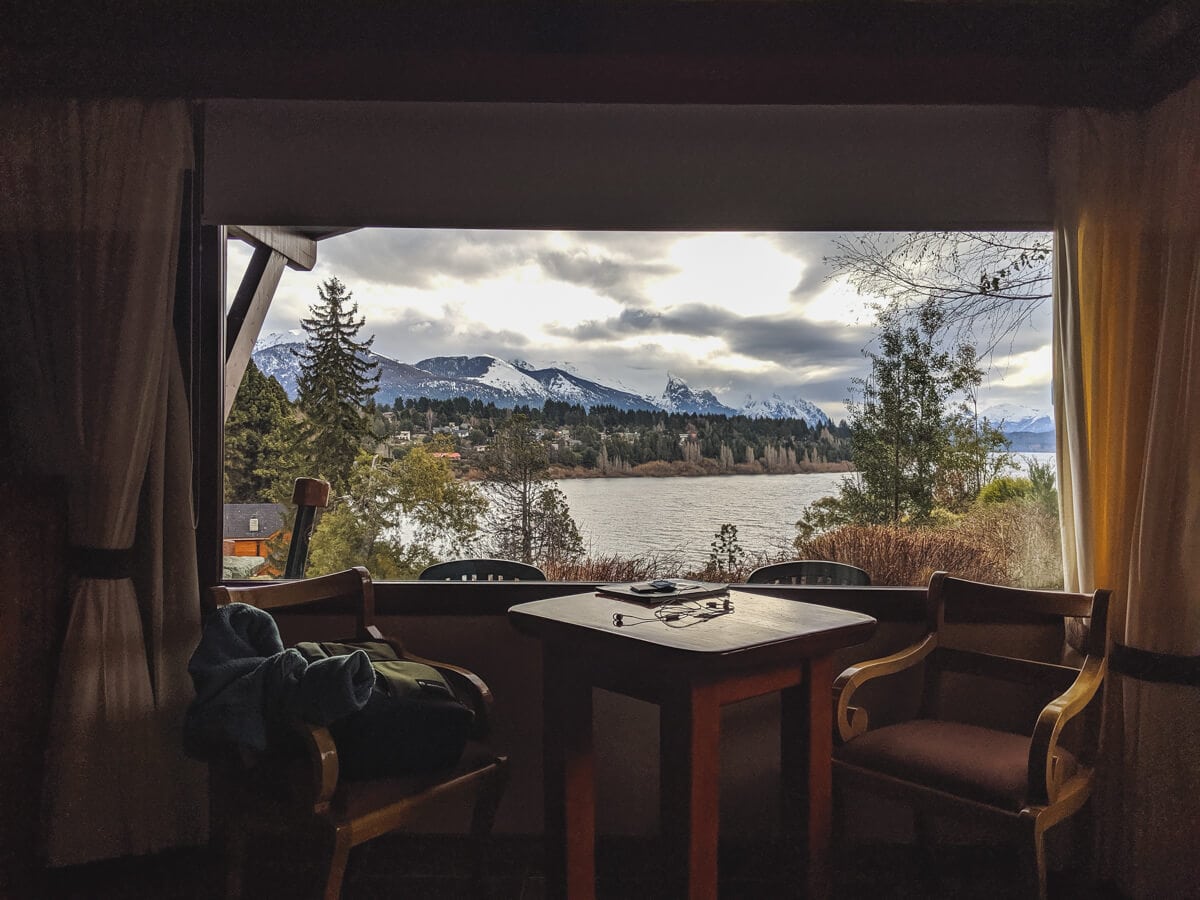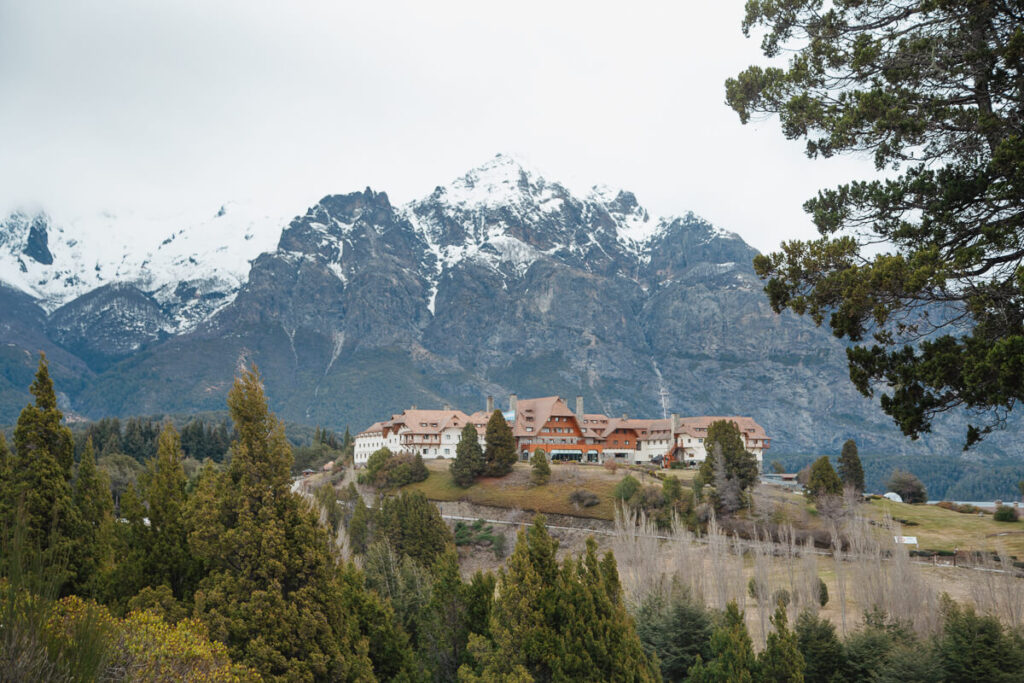 Circuito Chico (& Los Kilometros)
The Circuito Chico is a short circuit around the peninsula about 20 kilometers from the city center.
It is one of the most scenic areas of Bariloche with a lot to do and see (read my full Circuito Chico guide).
Driving to the Circuito Chico from downtown, you'll notice kilometer markers along the side of the road.
Bustillo is the main road in Bariloche, bordering Lago Nahuel Huapi, and the kilometer markers refer to how far out on Bustillo you are.
The area is referred to as Los Kilometros and I've stayed out here for our past two stays in Bariloche and really like it.
Out here we're close to the sites and trails on Circuito Chico, far from the hustle of downtown, and a lot of the main shops and restaurants downtown have a second location out here (like my main love, Oveja Negra empanadas, for example).
I will admit that it takes about 20 minutes to get downtown and so I rarely go, but I don't miss it.
The beauty is out here, I feel one or two days in the center for a tour or a special meal (like the decadent milanesa at La Fonda del Tio), is enough.
Commit even further, and stay ON the Circuito Chico.
You'll find a lot of hotels and cabins here.
It's a gorgeous area to stay if you want to be surrounded by nature.
You likely won't head into the city center much, but you won't miss it.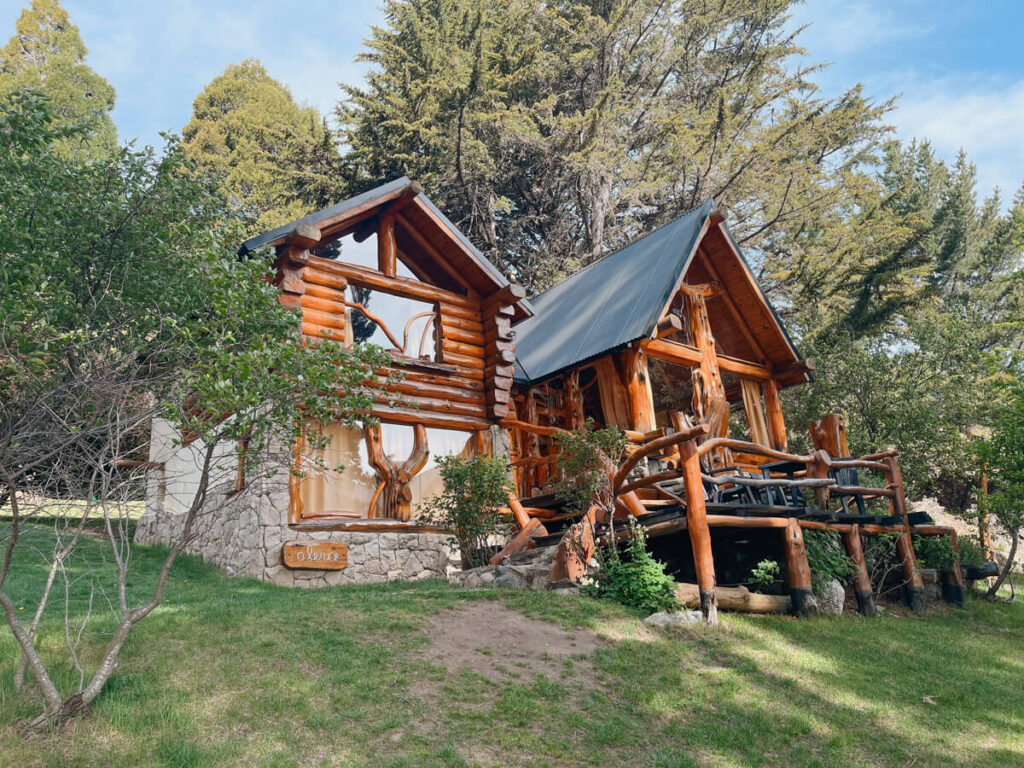 Where to stay in "Los Kilometros" & Circuito Chico: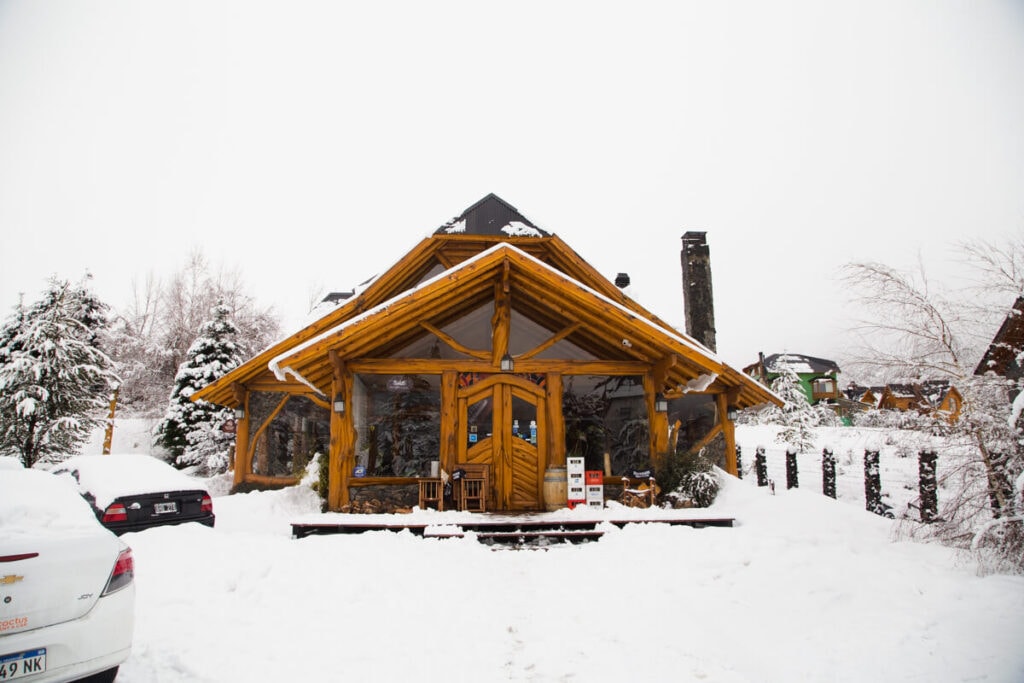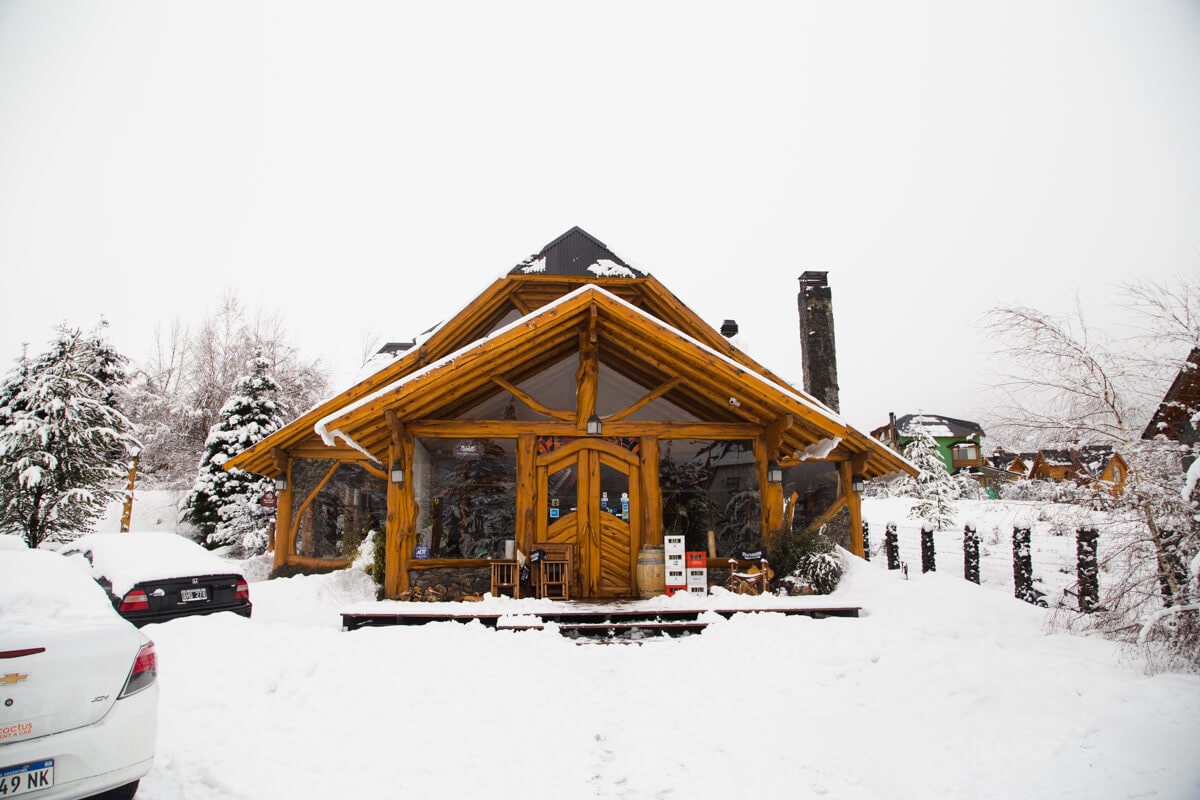 Villa Catedral – Where to stay in Bariloche to Ski
If you're coming to Bariloche to ski or snowboard, and nothing else, then definitely stay IN Villa Catedral.
The drive to and from the ski resort can be brutal(ly annoying).
If you don't leave very early in the morning and then finish your day early, think 4 pm and cut your skiing short, you'll be in slow, stop and start traffic twice a day.
There are a lot of options right here at the foot of Cerro Catedral, just do your best to book as far in advance as possible.
Where to stay in Villa Catedral:
Hosteria Sudbruck – In 2019 we stayed here and loved it. The rooms were basic but comfortable and the lobby and restaurant were stunning, like a cozy mountain cottage, complete with fireplace.
Posadas Aurelio – Simple but perfectly located hotel on the main entry road to the ski resort, I didn't stay here but rented my equipment just across the street
Punto Bariloche Cabins – Cozy cabins, great for families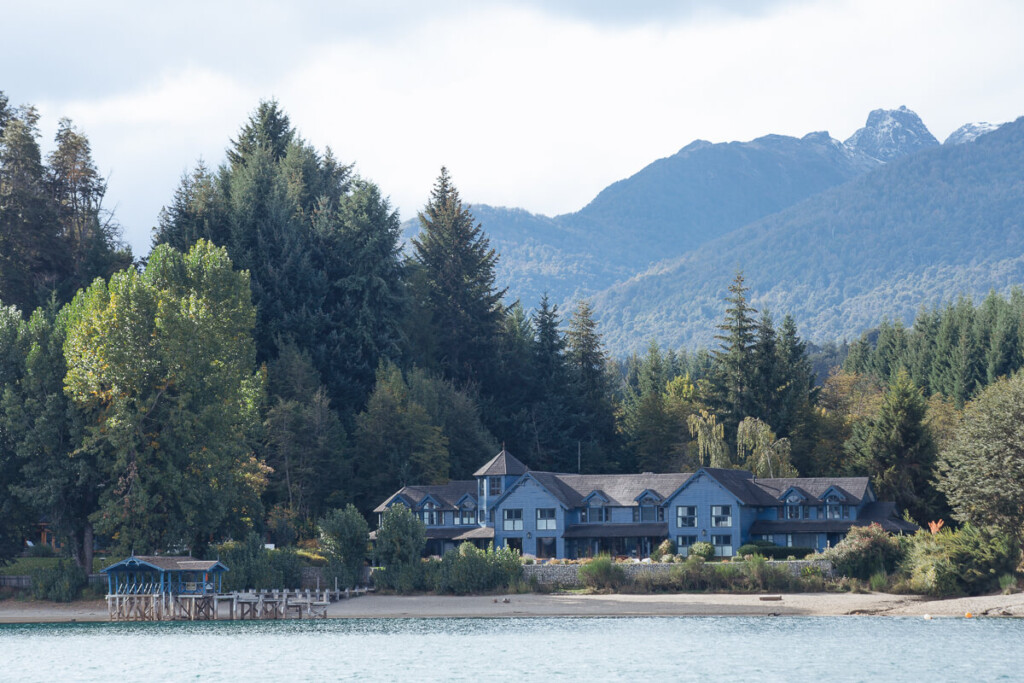 Villa La Angostura – Where to stay in Bariloche Alternative
Plot twist, what if the best place to stay in Bariloche is actually deciding to go to Villa La Angostura instead?
Villa La Angostura is just one hour north of Bariloche and still has that small mountain village charm that Bariloche long outgrew.
Read my guide on The Best Things to do in Villa La Angostura
Also on the shores of Lago Nahuel Huapi, you get the benefits of the same activities.
Hikes, kayak, and sunset sails.
Also, the town has its own share of specialty chocolate shops.
Villa La Angostura is also closer to the scenic Ruta de los 7 Lagos and Circuito Grande scenic drives than Bariloche.
So, if you're considering Villa La Angostura instead, here's where I love to stay there:
Las Balsas – $$$$ – A Relais & Chateaux property, Las Balsas offers the type of rustic luxury perfection that you can only find in Patagonia. You won't want to leave the property your entire stay. It's the choice of royalty (literally, Queen Maxima loves it here). Read about my stay at Las Balsas.
Alehue Casa de Montana – $$ – A beautiful boutique hotel with lake views in a residential area just a few minutes' drive from the main road and a short drive to town, ideal for couples.
Hosteria Traunco – $ – A budget option right downtown, you can walk to the shops and restaurants. Great for couples or families, we stayed here for one night and were very comfortable.
Read more about Bariloche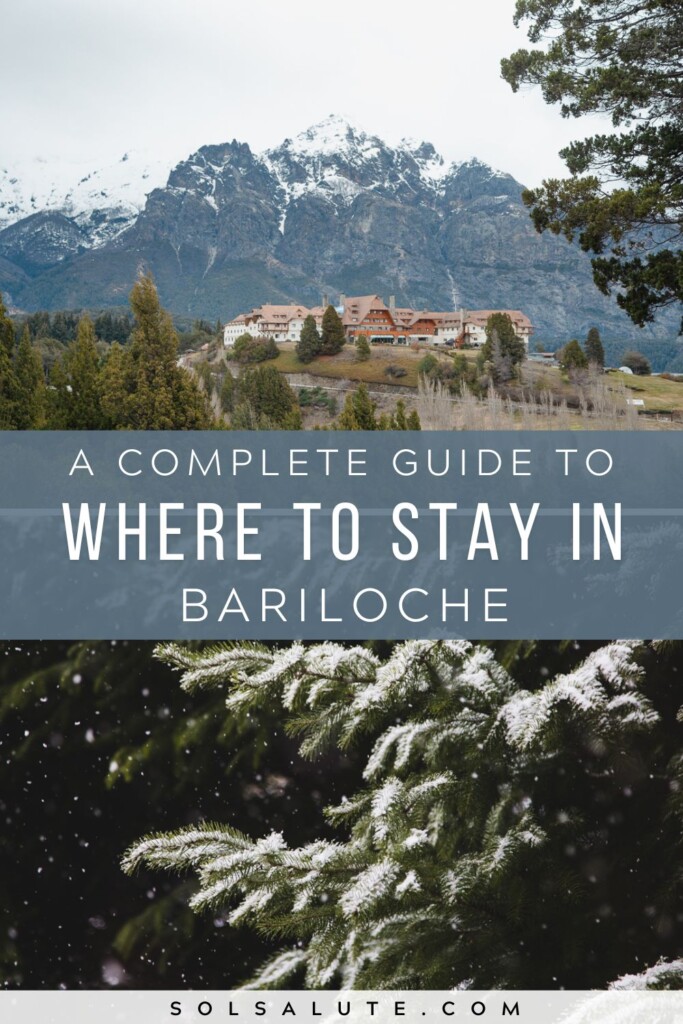 Argentina Travel Resources