Choosing where to stay in Buenos Aires can be overwhelming.
This is a massive city and every neighborhood is so uniquely different from the next.
Which is right for you?
Don't worry, I'm here to help!
I've spent over 13 years living in Buenos Aires and have admittedly very strong opinions about the city, its barrios and where you should stay.
And also on where you should avoid.
That's because where you stay has such an impact on your trip as a whole.
It matters!
So let's get to it, after reading this Buenos Aires where to stay super guide you will walk away knowing the best hotel and neighborhood for you.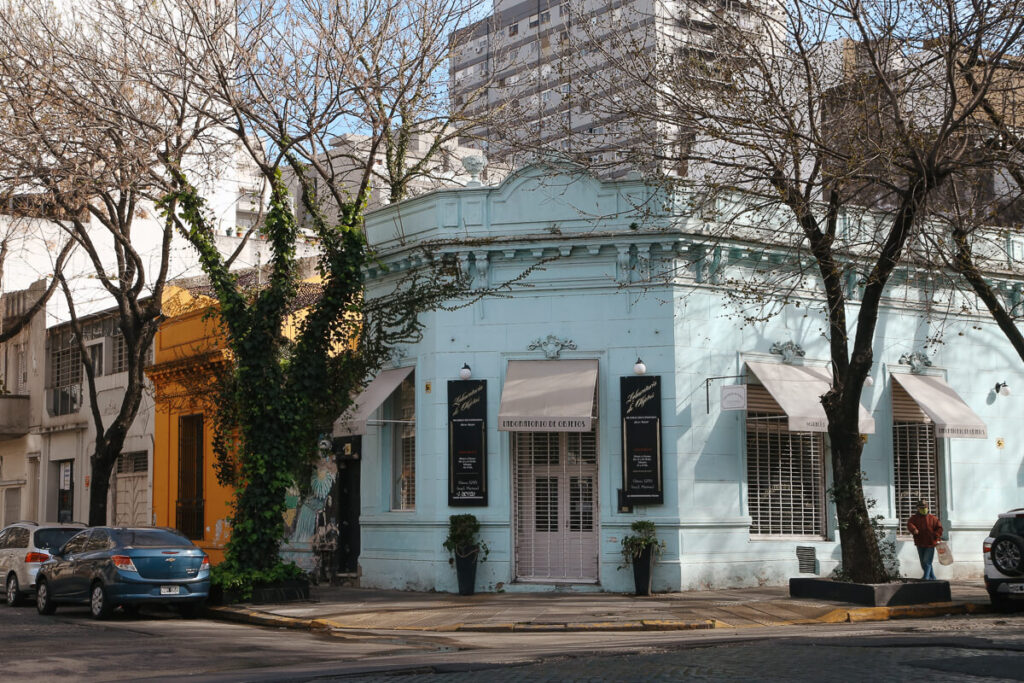 QUICK NOTE: This post contains affiliate links and Sol Salute may receive a commission for purchases made through these links, at no extra cost to you.
Where to Stay in Buenos Aires
Buenos Aires is a city defined by its neighborhoods.
Each barrio has its own personality and vibe.
Where you stay will 100% affect your experience, so before choosing your hotel/hostel/apartment, I recommend first picking the part of town you want to use as your base.
That's why I've organized this guide by neighborhood.
You'll discover the best neighborhoods and what makes them great, then I include a list of my favorite hotels and hostels in each for all budgets.
TLDR: My Top Recommendations
Looking for a quick list of the best places to stay in Buenos Aires, without the fluff? Here are my favorite hotels for every budget: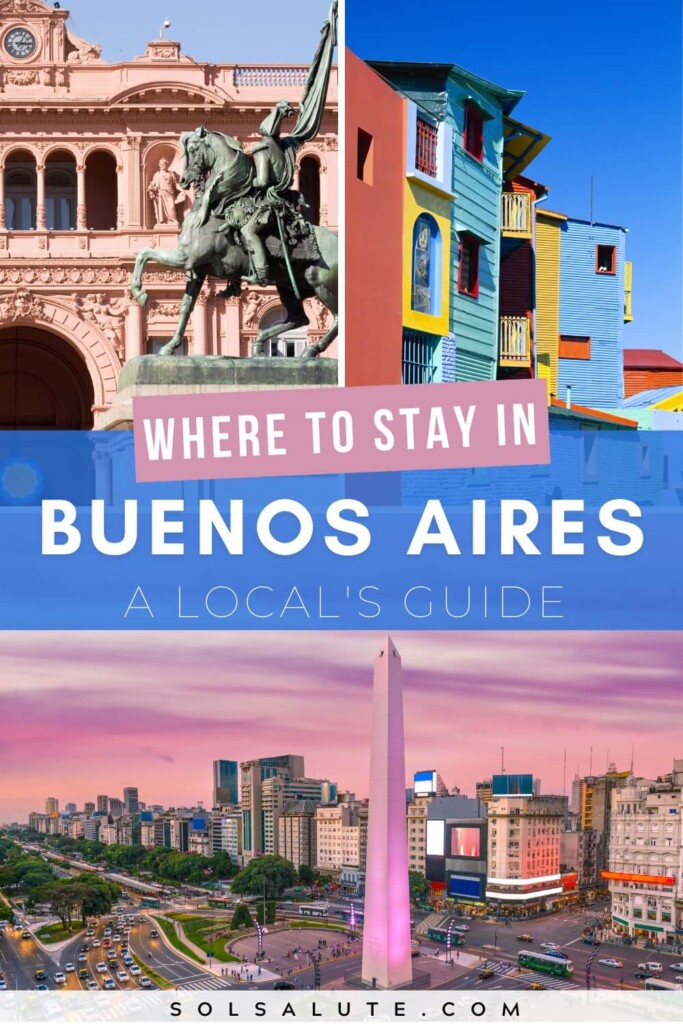 Where To Stay in Buenos Aires by Neighborhood
Ok, let's finally get to the point, shall we?
Here are the best places to stay in Buenos Aires by barrio.
Buenos Aires is the epitome of urban sprawl. T
here are 48 neighborhoods plus suburbs on all sides.
A third of the country calls the great Buenos Aires area home. It's a lot.
So which is best for you?
Let's find out.
You may also be interested in: The Best Things to do in Buenos Aires
Microcentro: Downtown (Montserrat/San Cristobal)
Downtown at a glance: A tempting place to stay due to its central location around the sights, but also a hectic business district that is loud at night, lacking the charm of other neighborhoods. Good for those with very short stays.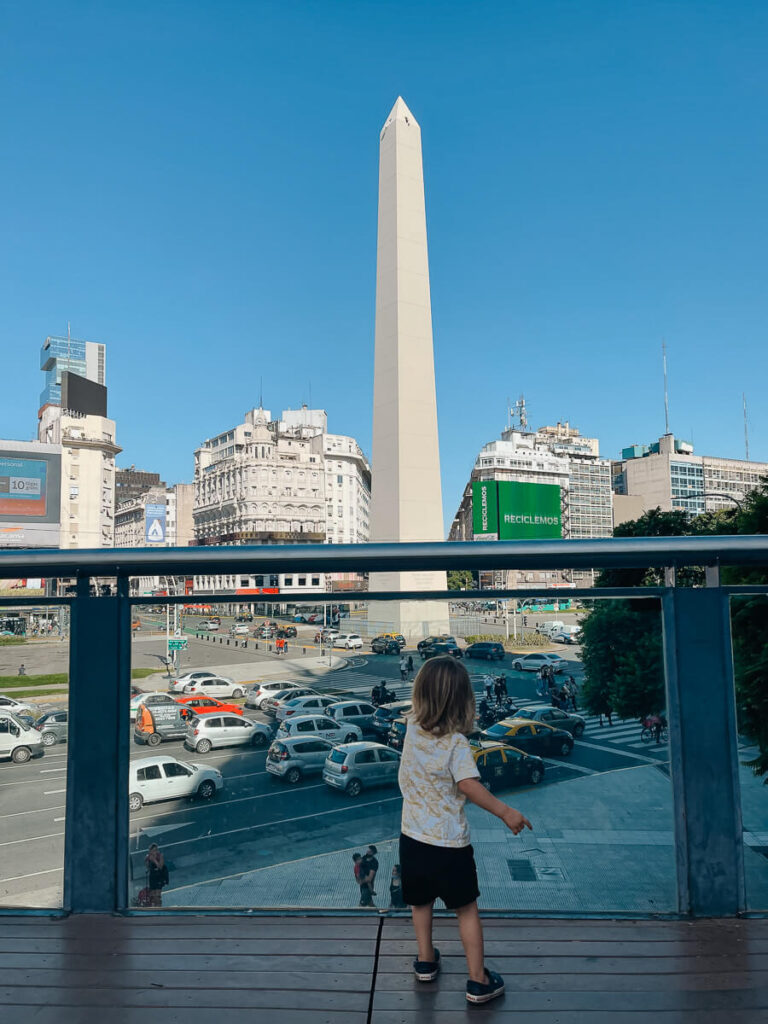 I'm starting with the downtown neighborhoods all looped together (Microcentro/Montserrat/San Cristobal), because I have strong opinions about it.
Due to its central location by the obelisk and other main sights, the conglomerate of hotel chains and tango theaters… it's tempting to stay here.
It feels logical, I know.
But I would recommend against that, for most of you.
Microcentro is the city's business district so it's a bit/very dead at night and on weekends. It can feel less safe and while it has great dining options for lunch (read: business crowd) it's less charming for dinner.
It's also very busy with tiny sidewalks and can feel a bit less safe after dark.
Instead, I'd stay somewhere like Palermo (or other options mentioned below), where you'll have charming cobblestone streets, canopies of trees, and more dining options than you could dream of.
But when SHOULD you stay downtown? If you only have one or two short days in the city, then yes, I say stay downtown. You really do need to see the sites as quickly and efficiently as possible.
I would stay on Avenida de Mayo instead of 9 de Julio. It is still very central but much more charming than the hustle of massive 9 de Julio.
Where to Stay in El Centro
Palermo Soho
Soho at a glance: Widely regarded as the best place to stay and I agree. Best boutique hotel ($$$$) BE Jardin Escondido | Modern boutique hotel ($$$) Palermitano by DON | Best Soho hostel ($) Malevo Murana Hostel
Palermo holds the trophy as the best area to stay in Buenos Aires as a whole.
It's overflowing with street art, restaurants, cafes and bars as well as some of the best shopping in Buenos Aires. Soho is home to award-winning Don Julio and El Preferido de Palermo (among countless others).
It's generally regarded as just about everyone's favorite neighborhood, local and tourists alike.
The most active areas of Soho (cafes/art/etc) are the blocks surrounding Plaza Armenia and Plaza Serrano.
But is Palermo too far? Echoing my earlier argument about avoiding downtown, is Palermo too far?
No.
With a taxi or the subway you can be downtown in 15-20 minutes.
Having the peace of the leafy streets and sidewalk cafes at your door for breakfast and happy hour/dinner is priceless, in my opinion.
Where to Stay in Palermo Soho
Read all about Soho in my Palermo Soho neighborhood guide.
BE Jardin Escondido by Coppola | $$$$ | Charming boutique hotel in a historic home. Impeccably decorated rooms surround an oasis of a garden. And yes, it's owned by that Coppola. Ideal for couples.
Hotel Palermitano by DON | $$$ | Boutique hotel with a more polished and modern feel near Plaza Serrano.
Malevo Murana Hostel | $ | Just three blocks from Plaza Serrano, this is the best hostel in Palermo Soho with large, clean shared spaces, a great terrace, and multi-language staff.
Palermo Hollywood
Hollywood at a glance: Great for dining and nightlife, borders Soho | Best Hollywood hotel ($$$$) Home Hotel | Modern boutique hotel ($$$) Hotel Fierro | Budget Apartments ($) Boutique Suites Palermo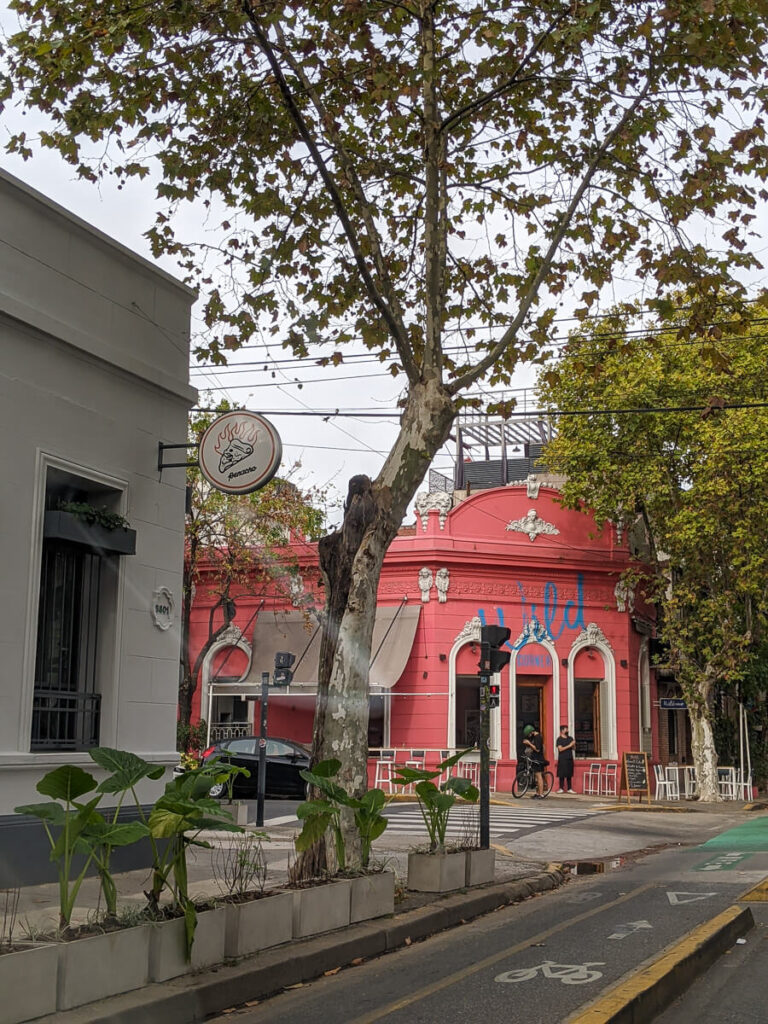 Palermo as a whole is a beast of a neighborhood. Soho is just one small part. Palermo Hollywood is another sub-section that borders Soho, separated by Juan B Justo Avenue.
Hollywood is very similar to its neighbor but is more restaurant and bar heavy, lacking the plazas and boutique shopping of Soho.
This is where you want to be if you want the best nightlife in Buenos Aires.
However, I wouldn't stress too much on which to pick (Hollywood or Soho).
Being separated only a single avenue, it's very easy to visit one from the other.
Where to Stay in Palermo Hollywood
Home Hotel | $$$$ | One of the best hotels in Buenos Aires, along with comfortable rooms there's a lush green garden. They are also well known for their in-house spa.
Hotel Fierro | $$$ | Excellent price for what you get, relax pool on the roof, sleek rooms,a and just a 5 minute walk to the Ministro Carranza subte and train stations
Boutique Suites Palermo | $ | This apart hotel has stylish and large studio apartments for at a budget friendly price point
San Telmo
San Telmo at a glance: Very close to major sites, bohemian feel with a booming food scene. Best hotels ($$) L'Adresse and UPOINT | Best San Telmo Hostels ($) America del Sur and Circus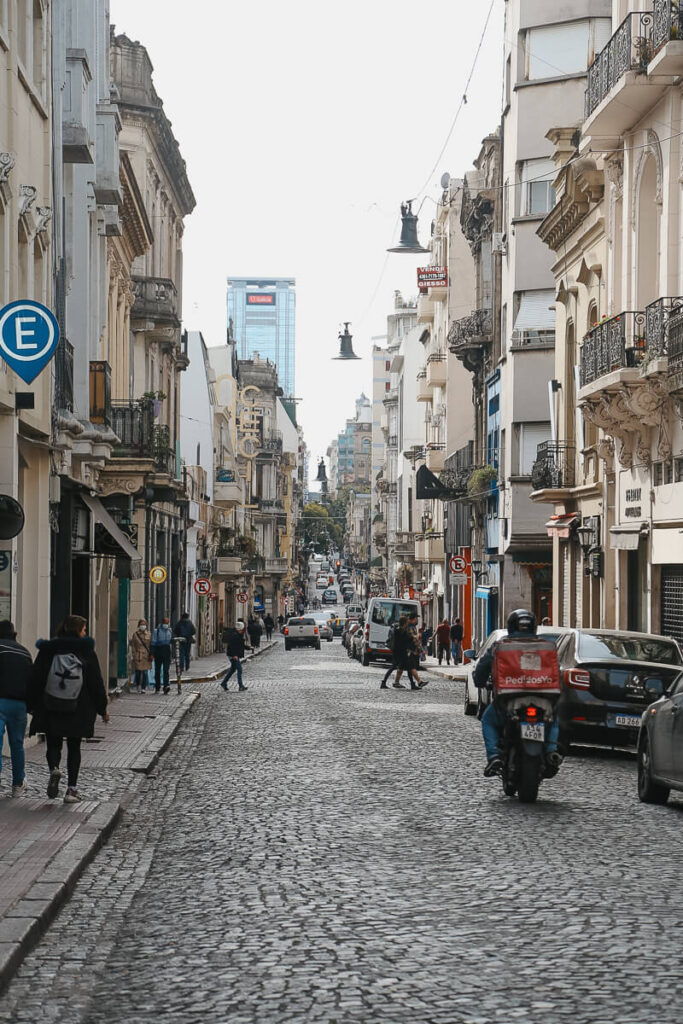 San Telmo is my favorite neighborhood, I love it here.
I lived around the corner from Plaza Dorrego for a year when I first moved to Buenos Aires and a piece of my heart has been in San Telmo ever since.
San Telmo is colonial and bohemian, with cobblestone streets and remodeled mansions.
It's older than Palermo in all the right ways.
You'll find budget friendly boutique hotels and a lot of hostels in San Telmo.
Staying in San Telmo will have you within walking distance of many major sites like Puerto Madero and Plaza de Mayo.
Is San Telmo Safe? San Telmo may not have the best reputation for safety but it's much, much safer than it ever was.
Read More: Buenos Aires Safety Tips & Advice
As new shops and restaurants open, the "safety net" of which blocks are safe after dark in San Telmo is spreading out.
Today I confidently walk alone in certain areas after dark I wouldn't have just ten years ago.
While San Telmo is safer than ever, you should still be cautious of your surroundings (just like in any big city).
When looking for a hotel in San Telmo, use Bolivar, Defensa and Balcarce Streets are all great, versus getting too close to Avenida 9 de Julio.
Recoleta
Recoleta at a glance: Where to stay to feel like you're in the Paris of South America. Think luxury hotels like Four Seasons and Park Hyatt, but with budget friendly options like Wyndham and European-style hostels make it accessible for all.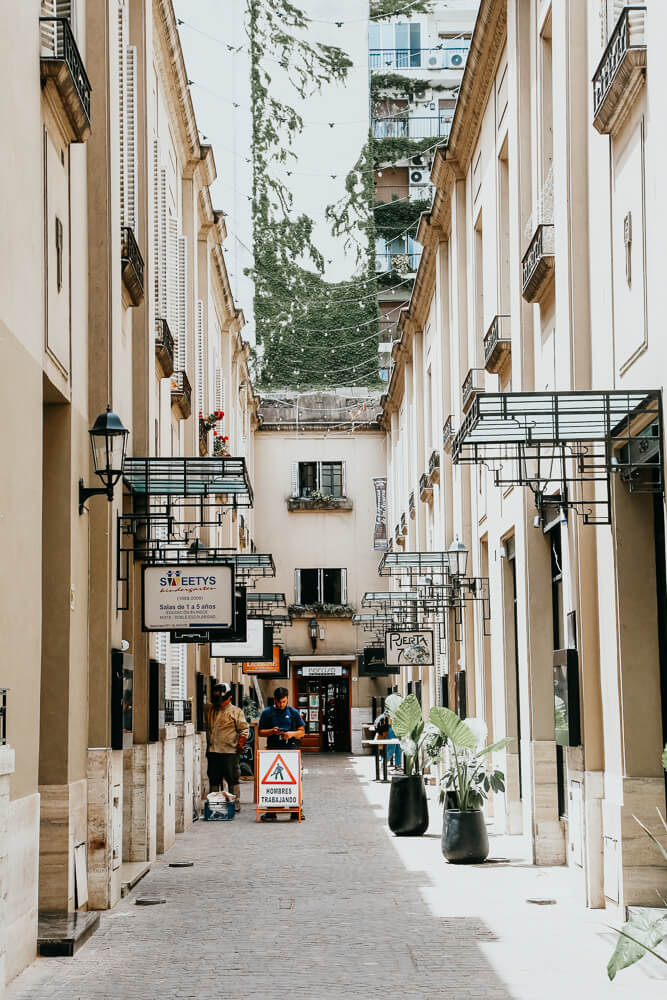 Recoleta is wealthy, it's the epitome of the Paris of South America.
Recoleta is a good option if you want to be somewhere a bit quieter then downtown but still close to the sights.
It's also quieter here at night in comparison to Palermo's nightlife. If you're older or just prefer less bars, this is a good alternative.
The best luxury hotels are unsurprisingly right here in Recoleta but there are options for all budgets.
If you want to stay here, I suggest basing yourself near the cemetery and its surrounding blocks.
Plaza Francia is also by the Floralis Generica (the metallic flower statue), the Recoleta Shopping Mall, the Fine Arts Museum and boutique shopping on Alvear Avenue.
The Subte H Line has a stop right here that will zip you into Palermo or downtown in a matter of minutes.
Where to Stay in Recoleta
For more about what to see and do in Recoleta, read my Recoleta neighborhood guide (including a map with a self-guided walking tour route).
Villa Crespo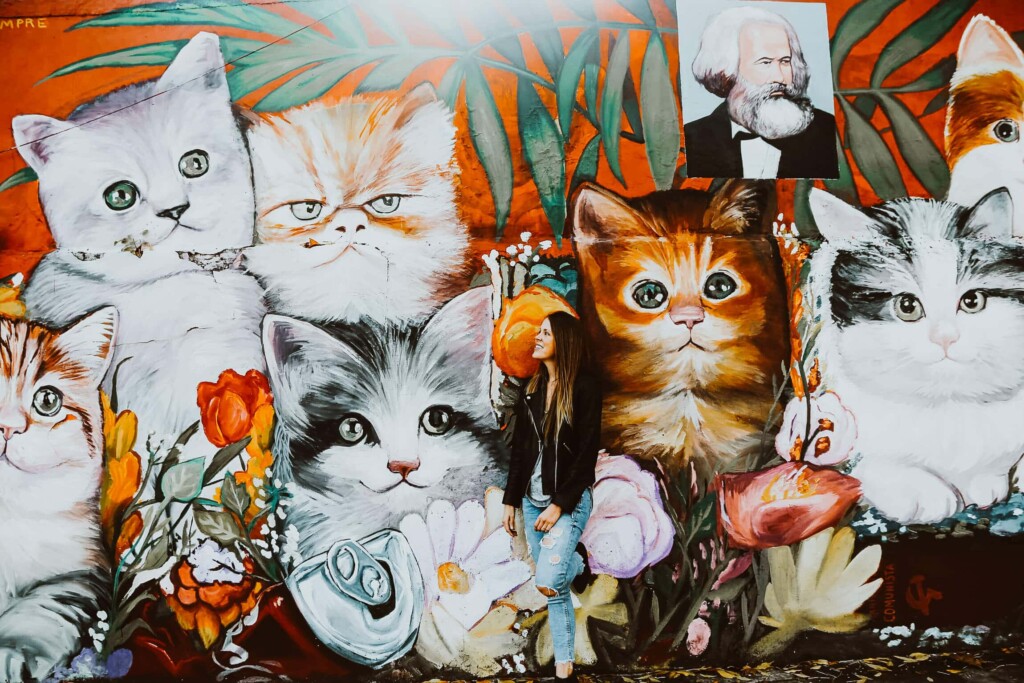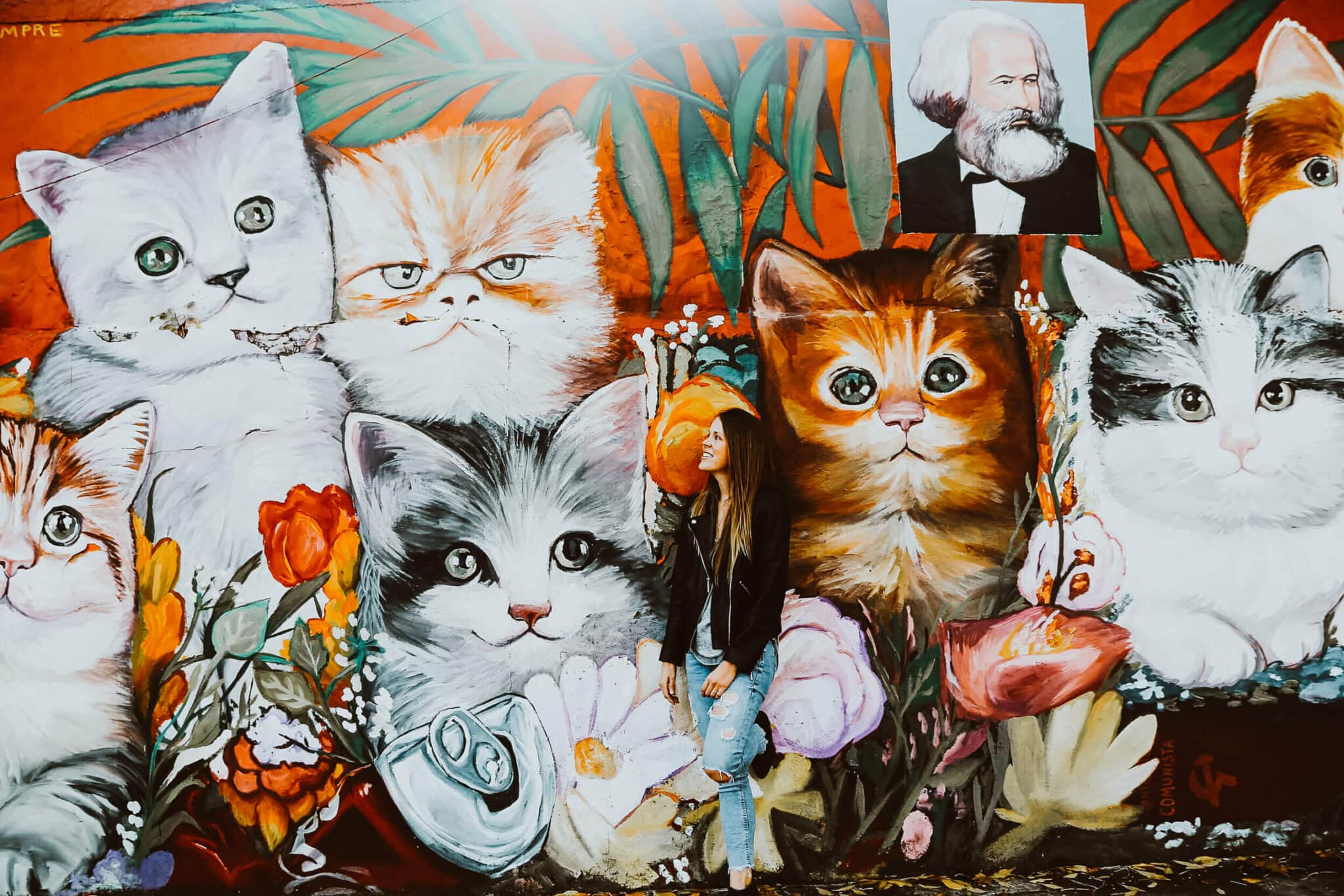 Villa Crespo is where to stay in Buenos Aires if you want to feel like you're off the beaten path but in reality, you're right next door to the beaten path.
Villa Crespo borders Palermo Soho so you're right next to all the action, not that you need it.
This neighborhood has it's own fair share of restaurants and bars. Tree canopies cover cobblestone streets.
Quirky fact? It's so close to Palermo that some cheeky real estate agents even tried to loop it into the greater Palermo umbrella, giving it the name "Palermo Queens" to the disdain of Villa Crespo locals. You may see that moniker appear in some apartment listings but don't be fooled, this is not Palermo.
Villa Crespo is also home to some of my favorite murals and street art in Buenos Aires.
The blocks closest to Cordoba Avenue have the most bars and restaurants as well as outlet shopping (in case you're looking for a bargain).
Move further from Cordoba for a more residential feel.
Murillo Street (cross street Armenia), a.k.a. leather paradise, is also here. A few blocks of nothing but leather shops make it the perfect souvenir shopping spot.
Where to Stay in Villa crespo
While developing rapidly, Villa Crespo remains much mostly residential. You won't find hotels and hostels here.
Rent an apartment, house, or room in an apart-hotel for a local, budget-friendly experience.
Acevedo 716 Apart Hotel | $$ | Apart hotels combine the best parts of having your own apartment (hello private kitchen) with the amenities of a hotel. This is a new, impeccable offering in Villa Crespo offering the best of both worlds.
Apartments on Booking | Don't discard booking.com for apartment rentals, it's the most popular booking site in Argentina and a ton of rental homes, like this stunning apartment, are listed on it versus/along with Airbnb.
Chacarita
Chacarita at a glance: The "new" neighborhood on the scene, with Palermo's nightlife and shops slowly creeping in to take root. Stay in an apartment like this for a true local stay near the best upcoming food scene.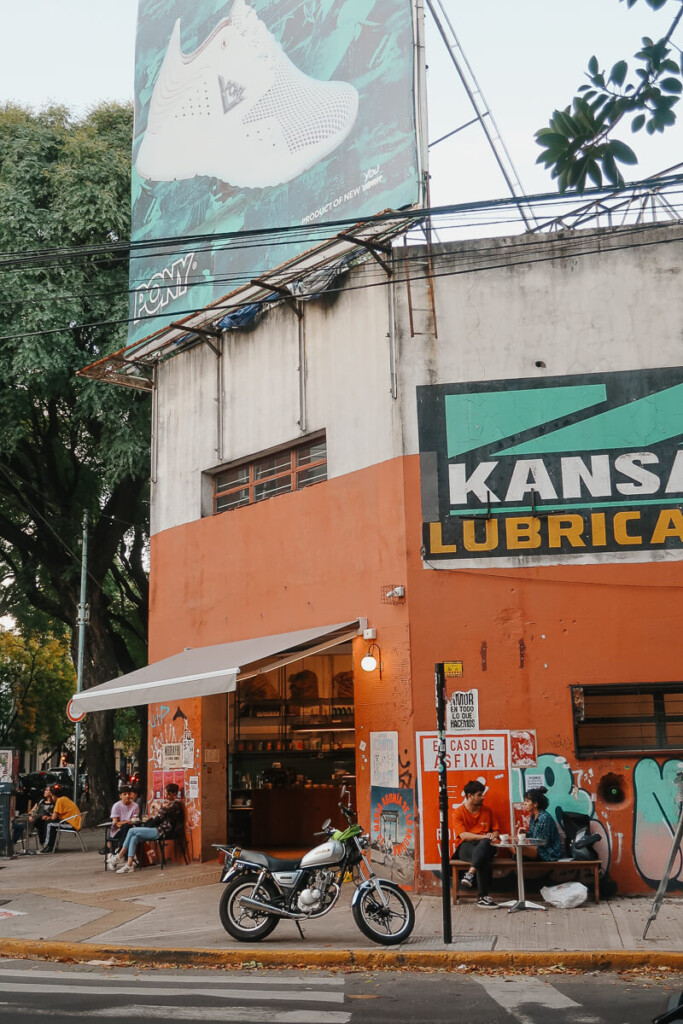 Just a few years ago you never would have seen Chacarita pop up in lists like this. In fact, I didn't even include it when I first wrote this guide in 2018.
But now, in 2023, Chacarita is booming.
With rent in Palermo skyrocketing, cafes, restaurants, boutiques, and art galleries found their way to Chacarita in search of more affordable spaces, converting Chacarita in a great place to stay in Buenos Aires (or live!).
Look around Jorge Newberry and surrounding blocks for an apartment to stay close to the best eateries.
You'll be close to the Subte (Line B) to get downtown easily and a stone's throw from Palermo and Villa Crespo.
Where to Stay in Chacarita
You won't find hotels here in Chacarita, this isn't a tourist hub. Stay here to feel like a local by renting an apartment. Read more with my Chacarita neighborhood guide.
Modern Apartment Tower with Amenities | This apartment has everything you could ask for in the way of amenities: a laundry room, a gym, and common spaces on the roof with panoramic views of the cityscape.
VRBO Apartment | There are some affordable options on VRBO like this cozy apartment on the border of Colegiales and Chacarita (get the best of both worlds)
Puerto Madero
Puerto Madero at a glance: Puerto Madero offers modern luxury hotels like Hotel Faena and the Alvear Icon (compared to Recoleta's decadent luxury) as well as known chains, like the Hilton (great for families and business travelers alike)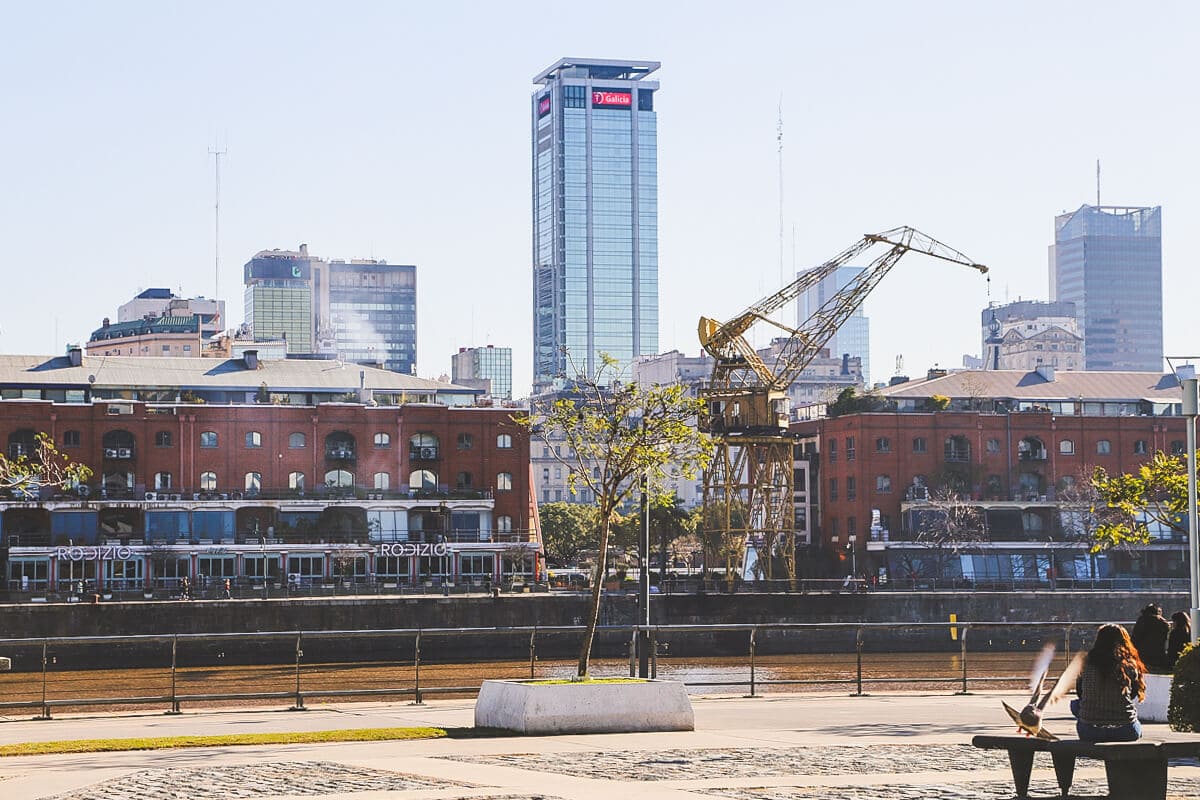 Puerto Madero is the city's youngest neighborhood, being completely re-developed nearly thirty years ago.
Previously abandoned warehouses that line the waterfront have been turned into stylish lofts and expensive restaurants.
Behind the main waterfront is a mini-city of skyscrapers housing luxury apartment towers and hotels.
Puerto Madero is home to a large park and an ecological reserve, adding a large amount of green space to enjoy.
I personally find Puerto Madero to be sterile and clean in all the wrong ways.
It lacks the gritty goodness of the rest of Buenos Aires, the culture, the vibrancy. It's a bit too quiet.
It can also feel cut off from the rest of the city despite its geographic closeness.
Taxis can only get into Puerto Madero via certain streets and it's a bit of a trek to get to the subway.
However, if you find yourself very concerned about safety this is one of the safest neighborhoods in Buenos Aires.
It will also be good for business travelers and families, thanks to the nearby park and wide pedestrian paths by the waterfront where your kids can run wild.
Where to Stay in Puerto Madero
Belgrano & Neighboring Barrios
Belgrano at a glance: Best area for families looking for a long term stay. You won't find much in the ways of hotels but apartments like this offer a comfortable local experience.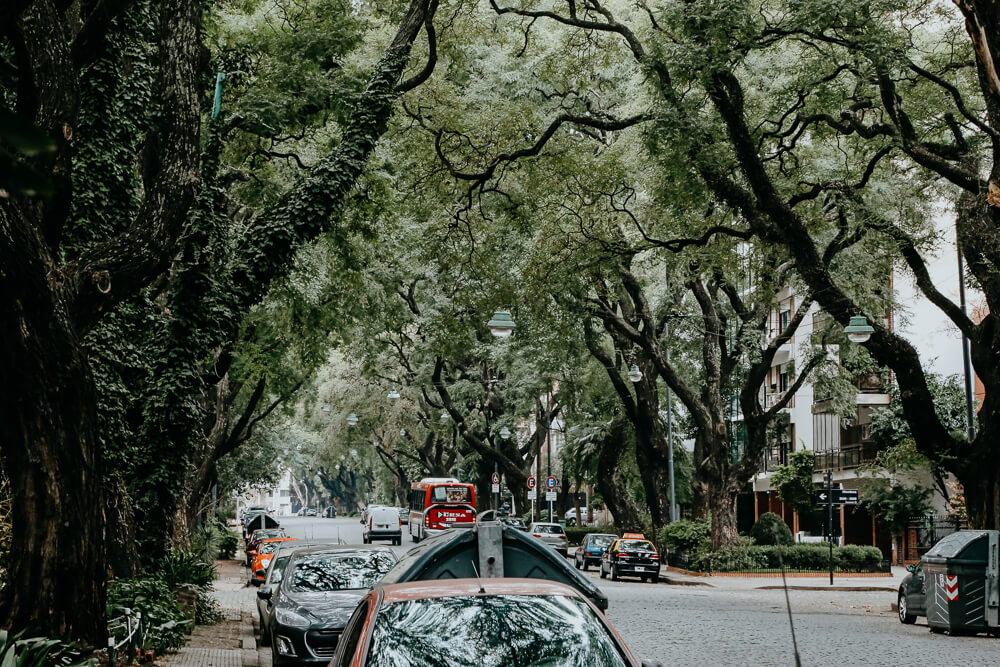 Belgrano, like Palermo, is a massive neighborhood that covers a lot of ground.
It's towards the northern edge of the city and very residential.
That doesn't mean it's without its highlights. Chinatown is in Belgrano, as well as an unexpected Statue of Liberty replica.
The Glorieta de Belgrano houses regular outdoor Milongas, with locals coming out to dance tango in the open air every night after sunset.
Belgrano is a quiet neighborhood.
It has squares and parks with playgrounds, the streets weave below a canopy of trees and the sidewalks are wider.
It is the ideal place to stay in Buenos Aires for families.
And with two train lines and the subway going through Belgrano, you can be in Palermo or downtown within twenty minutes.
Stay closer to Avenida Cabildo for more apartment towers (versus houses) and a commercial feel with shops and a lot of movement.
For a quieter, family feel with leafy streets, wide sidewalks, plazas with playgrounds, and the like look towards Belgrano R (use Plaza Castelli and Ave. Melian as reference points).
Núñez is another excellent option for families in it for the long haul. In the past few years a huge number of cafes and bars have opened in the area.
I particularly love the blocks surrounding Plaza Alberti (which at only a couple blocks from Chinatown has you walking distance from the best grocery shopping).
Where to Stay in Belgrano
There are a few hotels in Belgrano but none jump out, for a stay here rent an apartment or house.
Apartment near Barrio Chino | This is a clean, simple two bedroom apartment that's great for families in the more commercial area of Belgrano.
VRBO | Another great source for rental apartments in Buenos Aires
Colegiales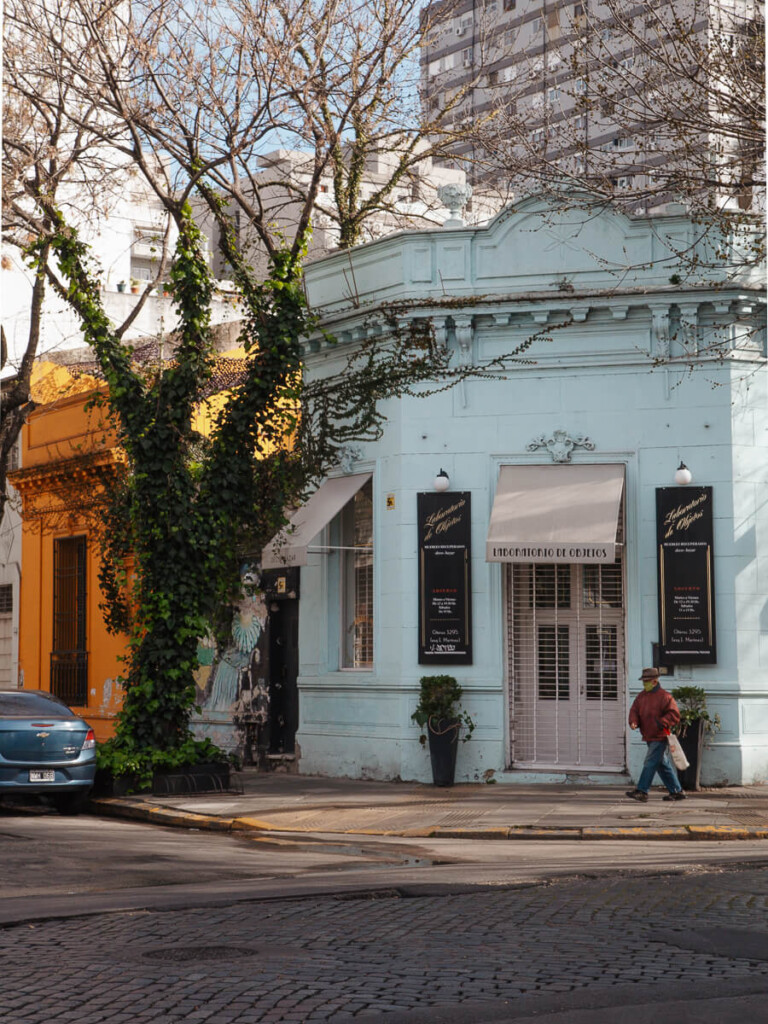 You don't see Colegiales mentioned too much for tourists and I find that to be a damn shame.
It's a wonderful little neighborhood bordering Palermo Hollywood to the north.
And while it may be overlooked by visitors, it's up and coming for younger locals.
The vibe is calmer than its party-focused neighbor. Think more young professionals and families in small apartment buildings or houses.
This neighborhood is home the city's best Flea Market and the blocks surrounding it are quirky, filled with street art and murals.
There are plenty of bars and restaurants but the vibe is more low key than crazy late night. You'll find an impressive number of cafe's.
It's home to my and everyone's favorite medialuna powerhouse Atelier Fuerza and the city's best microbrewery, Strange.
All of these cafes and bars are mixed into the residential fabric of the neighborhood.
You will feel like a local here. (Versus Villa Crespo which has adopted more of a commercial shopping vibe).
Where to Stay in Colegiales
In the vain of Villa Crespo and Belgrano, you're going to need to rent an apartment or house to stay in Colegiales. Staying here will make you feel like a local while still being a stone's throw from Hollywood's nightlife.
Areas to look for an apartment would be near Plaza Mafalda. This is by the Flea Market and walking distance to Palermo. Avenida Elcano is another beautiful area with a ton of dining options but family friendly.
The train station you see on the map can have you downtown in under 20 minutes.
Where to Live in Buenos Aires
If you're reading this post not because you're coming on vacation, but because you're planning to move here, then all of the advice on each neighborhood still applies.
However, there are even more neighborhoods you may be willing to consider.
If Belgrano caught your eye, also take a look at Villa Urquiza, Coghlan, Nunez, and Saavedra.
All are wonderful neighborhoods in the same vicinity as Belgrano. And in the past two years they have grown a lot in the ways of food, cafes, and bars.
If you'd like to be closer to the heart of the city, Almagro, Boedo, and Caballito are a few neighborhoods to look at.
All are more commercial, off the beaten "expat" path and have a lot of activity.
For more information on living in Argentina, read my Buenos Aires Expat guide.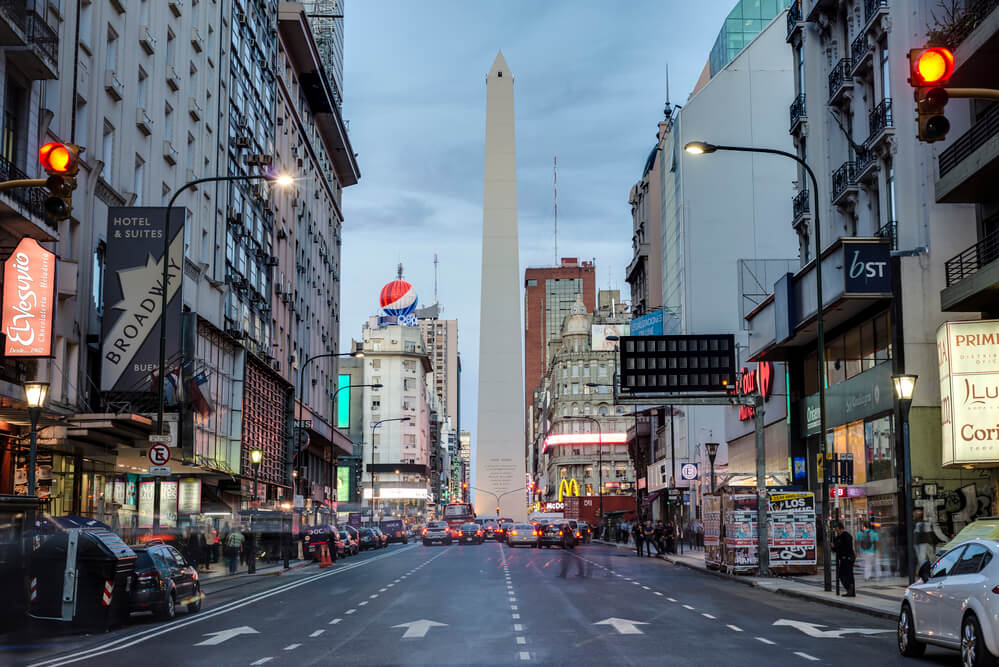 Where to Stay in Buenos Aires: Final Thoughts
If after that onslaught of information you're still feeling overwhelmed on choosing a neighborhood or place to stay in Buenos Aires, don't.
Take a breath and follow your gut. Pick the neighborhood and hotel or apartment that sparked your interest most.
Buenos Aires is a fun city.
You're going to love the neighborhood you choose, wherever it is.
Public transportation, taxis, and ride-sharing apps make it easy and cheap to get around the city, so you'll see it all, regardless of where you're based.
If you have any questions at all, ask away in the comments! I'll do my best to answer as soon as possible so you can choose where to stay in Buenos Aires!
Read More of my Buenos Aires Resources:
Pin It For Later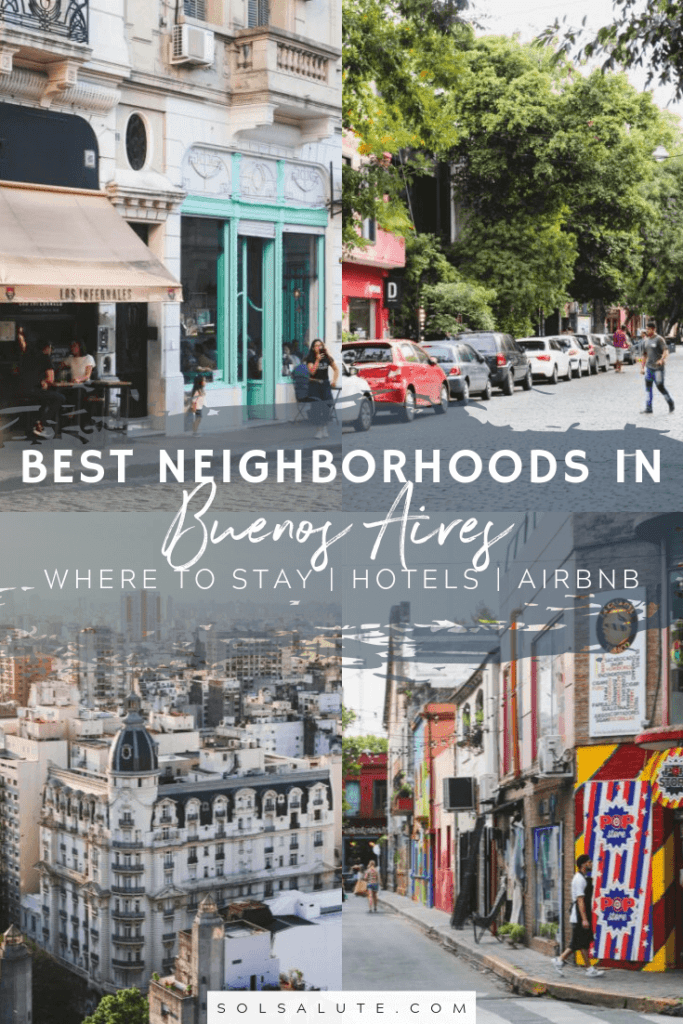 Argentina Travel Resources