Choosing the right accommodation can make or break a trip. And choosing where to stay in Buenos Aires can be overwhelming.
Buenos Aires is a massive city and every neighborhood is so uniquely different from the next, so which is right for you?
Don't worry, I'm here to help! I've spent over a decade living in Buenos Aires.
I am a seasoned professional. I know the best Buenos Aires neighborhoods and what makes this city tick.
In this post, I explain each neighborhood: where is it and what makes it special.
Then I list out the best hotels and hostels in each to help you choose the best Buenos Aires accommodation.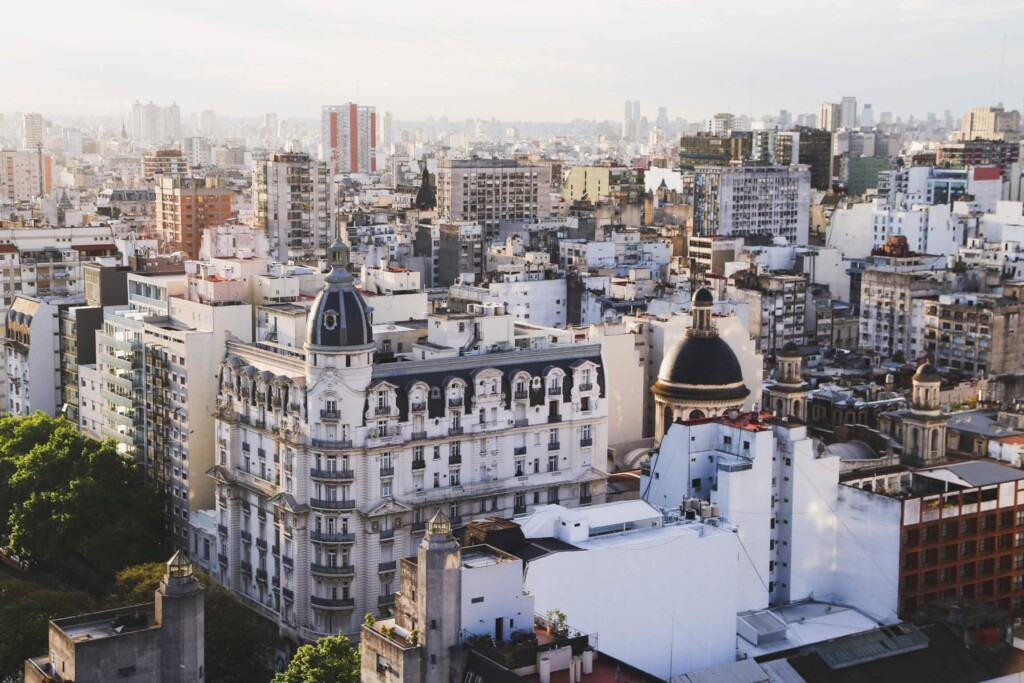 QUICK NOTE: This post contains affiliate links and Sol Salute may receive a commission for purchases made through these links, at no extra cost to you.
Best Neighborhoods in Buenos Aires: A breakdown
Buenos Aires is a city defined by its neighborhoods.
Rather than ticking off a list of monuments and sites, the best way to see everything in Buenos Aires is by experiencing each of its barrios.
Sit in a cafe and enjoy a coffee with pastries or meander through the streets and people watch.
Each neighborhood offers a unique experience.
So, which barrio is for you?
TLDR: My Top Recommendations
I get into pretty granular detail in this post (I just can't help myself). If you read all the way through you'll end this post knowing ALL about the different neighborhoods and my top recs for each.
If you are in a hurry and just want a quick list of my favorite hotels, here they are:
The Best Neighborhoods in Buenos Aires:
For a more detailed guide, read my post all about Buenos Aires neighborhoods.
Palermo | Palermo Hollywood and Palermo Soho are two popular, hipster sub-neighborhoods that form part of the larger neighborhood of Palermo as a whole. They offer the city's best restaurants, cafes, and nightlife. During the day they also have the best boutiques and shops and enough Buenos Aires street art to make an Instagrammer happy for life.
San Telmo | San Telmo is centrally located near big tourist spots like La Boca and Plaza de Mayo. It has a bohemian and colonial feel with historic buildings and cobblestone streets. In recent years many restaurants have been migrating here, making it even more tempting than before.
Recoleta | Recoleta can be described as the Paris of South America more than any other neighborhood in Buenos Aires. Recoleta houses the city's most luxurious hotels and impressive mansions.
Villa Crespo | Villa Crespo is next door to Palermo Soho but is quieter, with a more residential feel. Rent an Airbnb here to feel like a local and still be only a stone's throw away from Palermo's hipster bars and restaurants.
Centro | The area surrounding Avenida 9 de Julio downtown is always bustling with activity. Its strategic location makes it where to stay in Buenos Aires for people low on time who need to see the sites and see them quickly.
Puerto Madero | The youngest and most modern neighborhood in Buenos Aires. Puerto Madero is home to luxury hotels and upscale apartment towers here It borders San Telmo and Plaza de Mayo.
Belgrano | This quieter neighborhood is on the north side of the city, far from southern neighborhoods like La Boca and San Telmo. It's calm and the many tree-lined plazas are ideal for families.
Colegiales | Just north of Palermo Hollywood but not quite as far as Belgrano, Colegiales is the perfect halfway point for a couple or family looking for calm but not wanting to go too far from the action. This quiet neighborhood has more houses than apartment towers, cobblestone streets, and its own fair share of bars and cafes.
Read More of my Buenos Aires Resources: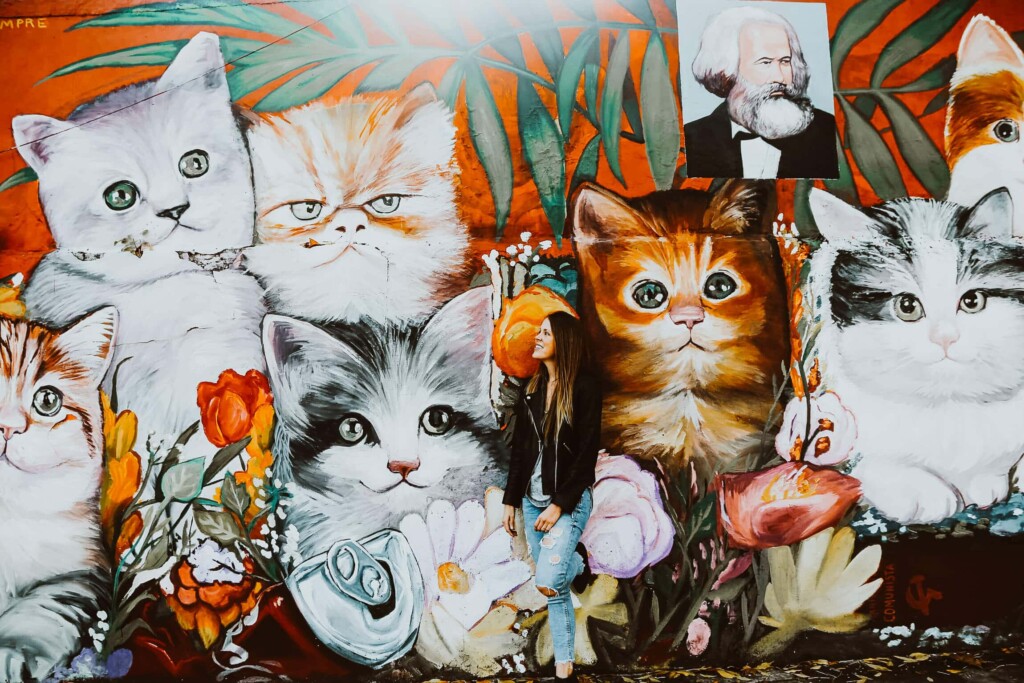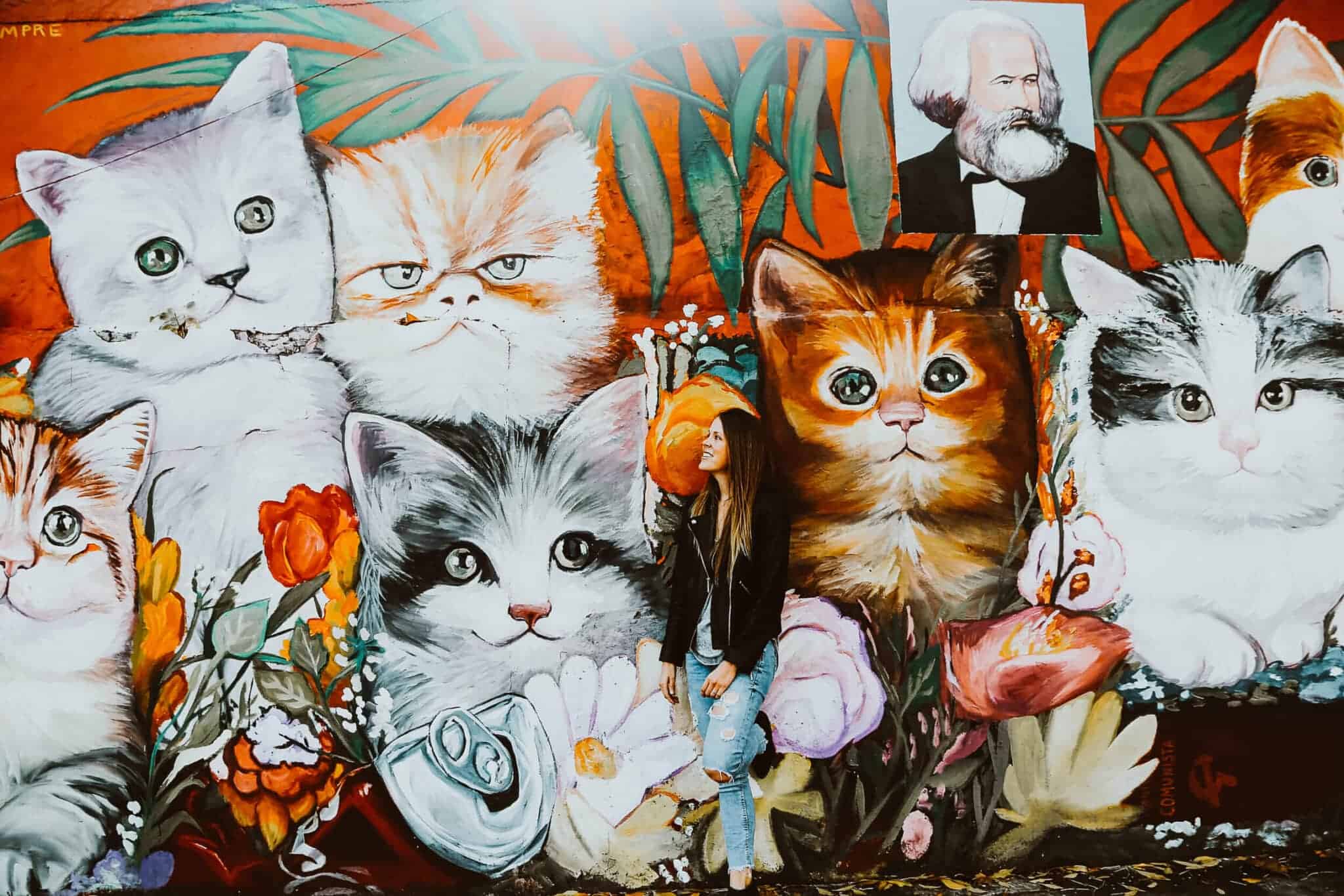 Where To Stay in Buenos Aires
Ok, let's get to it.
I'm going to break down each of the neighborhoods I just highlighted above in much more detail: where they are and why you should stay there.
And most important, what are the best accommodation options in each one.
Palermo – The Best Place to Stay in Buenos Aires
Palermo is hipster, has excellent street art, is filled with restaurants, cafes and bars as well as some of the best shopping in Buenos Aires.
It's ideal for foodies and nightlife seekers.
By far, Palermo is the hippest, most popular neighborhood in the city.
The kicker is that Palermo itself is enormous. It's broken down into chunks and the most popular of those chunks are Palermo Hollywood and Palermo Soho.
But there's so much more to Palermo, like Palermo Viejo, Alto Palermo and even Villa Freud (a section of blocks with a high density of psychiatrists!).
There is literally something for everyone in Palermo. So let's break it down even more…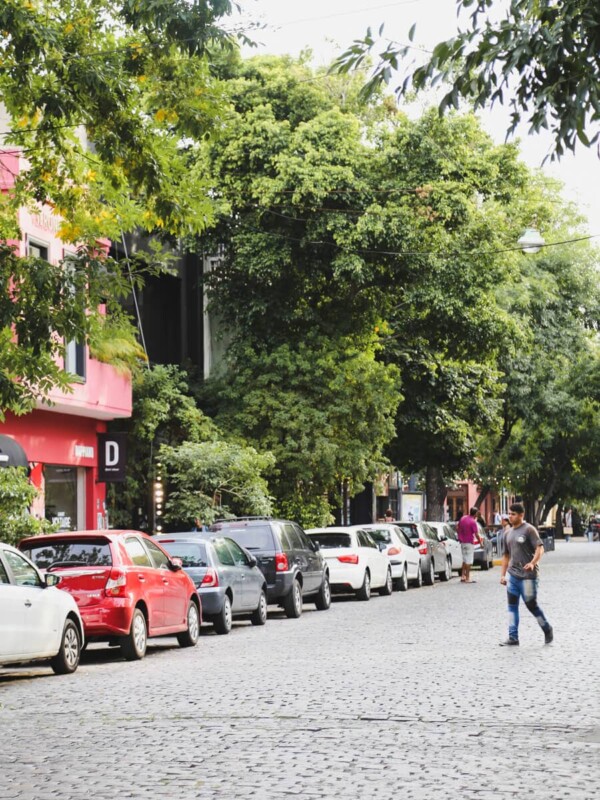 But first, is Palermo too far?
I've heard some people express concern about Palermo being too far from the sights.
And it's true that you're not right next to the main spots like San Telmo, La Boca, Plaza de Mayo and the Obelisk.
But I wouldn't say these are the only sights you need to see.
Experiencing neighborhoods like Palermo and its neighbors is just as big of a Buenos Aires experience as seeing the Casa Rosada.
The best part about staying in Palermo Soho or Hollywood is its plethora of restaurants, bars, and cafes.
After spending your day exploring, you can return to your hotel/apartment for a snooze before that late night dinner.
When you're ready to go back out for the night, all the restaurants and bars are at your doorstep.
And similarly, when you want a relaxed morning, the best coffee shops and breakfast spots are here as well.
Palermo Soho
Palermo Soho (the pink section on the map above) has everything for living the good life.
The blocks surrounding Plaza Armenia and Plaza Serrano are chock-full of cafes, bars, boutique shopping, and more terraces and patios to lounge on than you'll know what to do with.
Boutique hotels in Palermo Soho
Leave the chain hotels downtown, the best hotels in Palermo are boutique hotels.
BE Jardin by Coppola | Know who else loves Buenos Aires? Francis Ford Coppola, yes, that Coppola. So much so that he opened this boutique hotel in Palermo Soho. It's impeccably decorated and feels like a personal oasis to hide out from the chaos of the big city. The BE Jardin is ideal for couples. Check availability here.

Hotel Palermitano by DON | This hotel is more polished and modern and offers a more affordable price point than BE Jardin. I've stayed at a DON property before and had a great experience. It's located near Plaza Serrano but is also only a short walk to Palermo Hollywood. Check availability here.
Best Hostel in Palermo Soho
The Art Factory hostel chain is one of the top hostels in Buenos Aires.
They have multiple locations throughout the city and all are ultra-cool with street art decorating the walls and friendly, helpful staff.
Check availability here for their Soho location.
Palermo Hollywood
Palermo Hollywood is the blue square on the map above. It borders Soho, separated by Juan B Justo Avenue.
Hollywood is very similar to Soho but is more restaurant and bar heavy, lacking the plazas and boutique shopping that Soho has.
If you want to be near great restaurants and nightlife, you'll be very happy in Hollywood.
However, I wouldn't stress too much on which to pick (Hollywood or Soho).
Being separated only a single avenue, it's very easy to visit one from the other.
Best Hotel in Palermo Hollywood
Home Hotel is one of the most popular boutique hotels in Buenos Aires and it is easy to see why.
You won't enjoy only the room here.
The beautiful green garden and swimming pool are the perfect oasis to hide from the city streets after a busy morning exploring.
They get bonus points for their spa, a massage on vacation never hurts!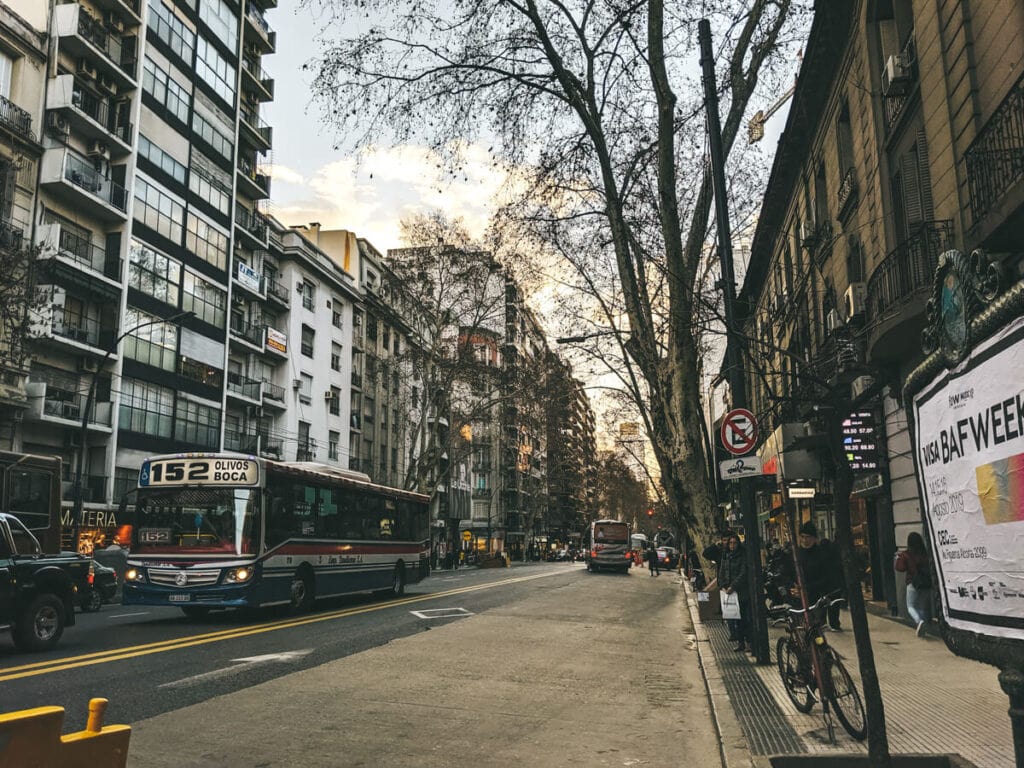 The Rest of Palermo
There are three other color squares blocked out on my map of Palermo.
All are great places to stay in Buenos Aires so here's a little bit more about them:
Palermo Nuevo | The green square on the map is on the other side of Santa Fe Avenue from Palermo Soho and borders the Bosques de Palermo parks. The apartment towers here are modern and upscale. You'll be a bit closer to the Rosedal rose garden, running trails, and the beautiful Palermo parks. It's ideal for families or active travelers.
Palermo Viejo | This is the yellow section on the map, it's next to Palermo Soho (separated by Scalabrini Ortiz). It's been slower to "gentrify"/get invaded by hipsters and may feel a little more old school or authentic. Despite that, Soho is slowly seeping over and every day there are more bars and restaurants here as well.
Alto Palermo | The purple square on the map. Alto Palermo is named after the mall in the heart of this Palermo sub-neighborhood. With the mall and Santa Fe Avenue in the heart of this area, it is a bit more commercial. Parque Las Heras is a very nice park and you'll be bordering Recoleta here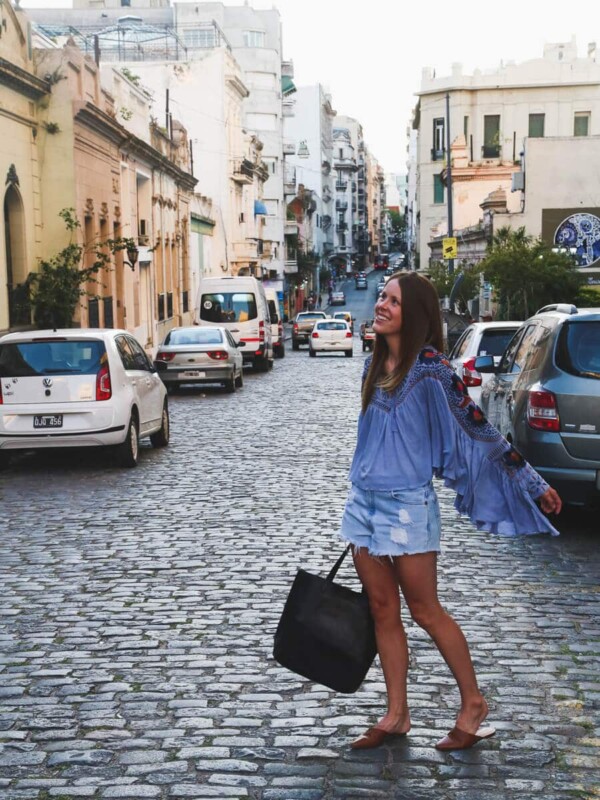 San Telmo
Coming in a very close second on the best neighborhood to stay in Buenos Aires is San Telmo. And personally, this is my favorite part of town.
I lived around the corner from Plaza Dorrego for a year when I first moved to Buenos Aires and a piece of my heart has been in San Telmo ever since.
San Telmo is colonial and bohemian, with cobblestone streets and remodeled mansions.
It's older than Palermo in all the right ways.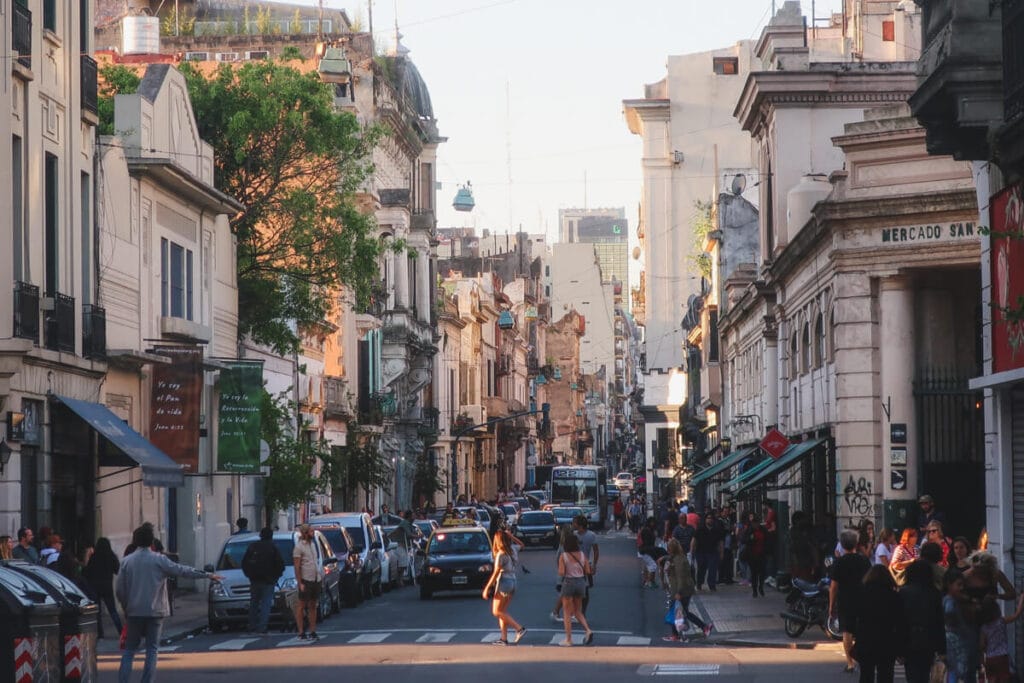 Is San Telmo Safe?
San Telmo may not have the best reputation for safety but it's much, much safer than it ever was.
9 years ago I would have said not to cross Avenida San Juan but today that's not the case.
As new shops and restaurants open, the "safety net" of which blocks are safe after dark in San Telmo is spreading out (there's even a big art museum on Avenida San Juan now, the street that used to make me nervous!).
While San Telmo is safer than ever, you should still be cautious of your surroundings (just like in any big city) and there are certain streets that are safer than others.
When looking for a hotel in San Telmo, use Defensa and Balcarce Streets as your starting point and try not to go too far towards 9 de Julio from there.
READ MORE: Buenos Aires Safety Tips & Advice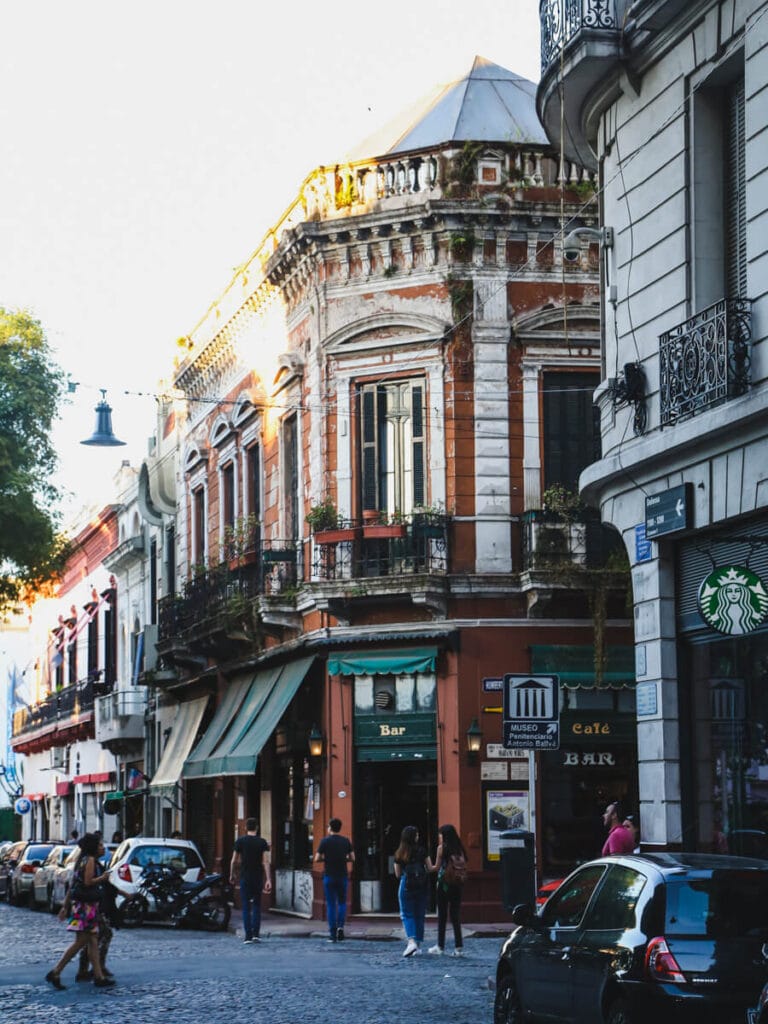 BEST HOTEL IN SAN TELMO
L'Adresse Hôtel Boutique is a boutique hotel is in the heart of San Telmo in a remodeled mansion.
The decor is both modern and cozy in a historic setting. It's only a few blocks from Plaza Dorrego and steps from the new gastronomic hub on Avenida Caseros.
I feel safe in this area during the day (and go plenty!) but at night consider a taxi just to not get lost. 
Check availability and rates here.

BEST HOSTEL IN SAN TELMO
America del Sur Hostel Buenos Aires is the best hostel in San Telmo.
You can't go wrong with this chain of hostels, I stayed with them in El Calafate and love them!
Their Buenos Aires location is in San Telmo, in yet another restored mansion.
It offers shared dormitories and private rooms with both private or shared bathrooms.
Bonus: They offer daily free activities like walking tours and tango lessons. 
Check availability and rates here.
Airbnb & Apartments in San Telmo
Rental apartments are always a great option and often the most affordable in Buenos Aires.
The apartments in San Telmo, in particular, have a lot of personality!
This vacation home is my favorite. It is loaded with antiques and character. It has the best location (even better than the hotels above).
You'd be just a few steps from all of the best street art, bars, and restaurants.
Recoleta
Recoleta is wealthy, it's the epitome of the Paris of South America.
Recoleta is where to stay in Buenos Aires if you're looking for a bit of refinement and pampering.
The best luxury hotels are unsurprisingly right here in Recoleta but there are options for all budgets.
If you want to stay in Recoleta, I suggest basing yourself near Plaza Francia.
This is where the world famous Recoleta Cemetery is located.
Plaza Francia is also by the Floralis Generica (the metallic flower statue), the Recoleta Shopping Mall, the Fine Arts Museum and the boutique shopping on Alvear Avenue.
There is also a new subway stop here that will zip you into Palermo in a matter of minutes.
For more about what to see and do in Recoleta, read my Recoleta neighborhood guide (including a map with a self-guided walking tour route).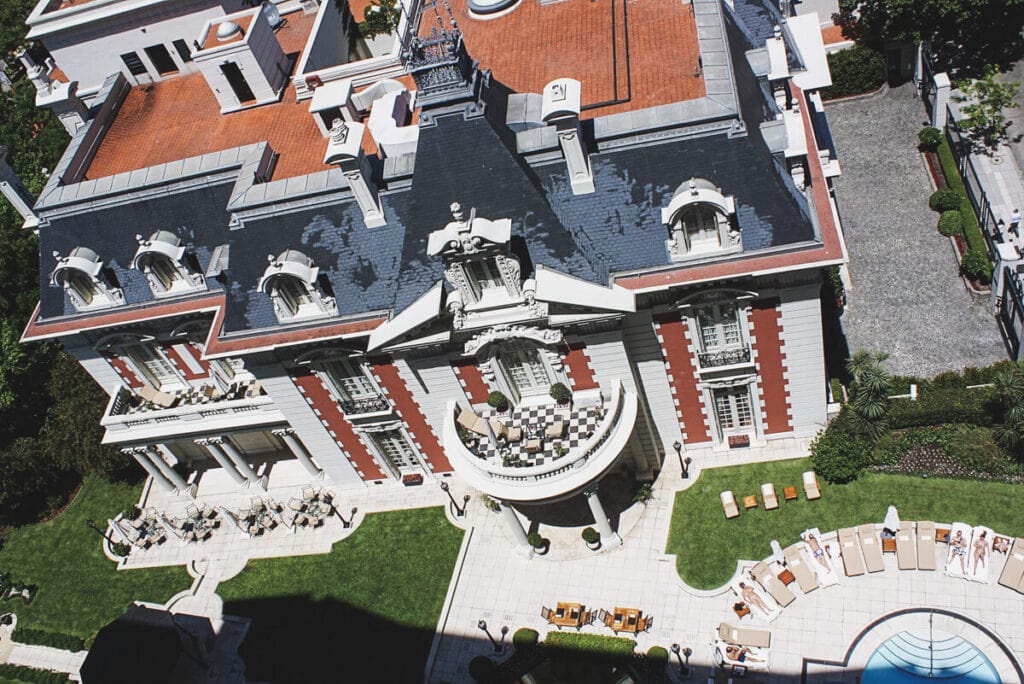 Recoleta: Luxury Hotels in Buenos aires
The Four Seasons | Having interned for the Ritz Carlton, I'm a bit of a sucker for the level of service at hotels of this caliber. I was lucky to spend a couple of nights here with a friend once and the Buenos Aires Four Seasons does not disappoint.

Rooms at the Buenos Aires Four Seasons have either a panoramic view of the river (seeing Uruguay on a very clear day) or a city view looking down on 9 de Julio Avenue.

The spa and pool are a highlight if you're visiting in summer. Not to mention the restaurants on property (Elena and Pony Line are two of my favorite places for a special night out). 

Palacio Duhau – Park Hyatt Buenos Aires | This might be the best luxury hotel in Buenos Aires. If you have the budget to live like a king, this is where to do it.

It's rare to have access to historic palaces like this in Buenos Aires, let alone to be able to sleep in one. The spa, the tea time, the brunch, it's expensive but if you like to travel in luxury, this is it. Stay in Palacio Duahu here.

Dazzler by Wyndham | For something a little more within reach price-wise, the Dazzler by Wyndham is a great option. It is just around the corner from the Recoleta Cemetery so the location is perfect.

It has all the benefits you get from a large hotel like this such as a buffet breakfast, large pool, and a gym. Check availability here.
Apartments in Recoleta
Rental apartments are a great option in Recoleta if you want to have more space and amenities like a rooftop pool or gym.
This apartment has a pool on the roof that rivals any hotel. It's new and modern and will make you feel right at in home in Buenos Aires.
They have more than one unit in the building so you can get a small studio or rent a larger one if you need more beds.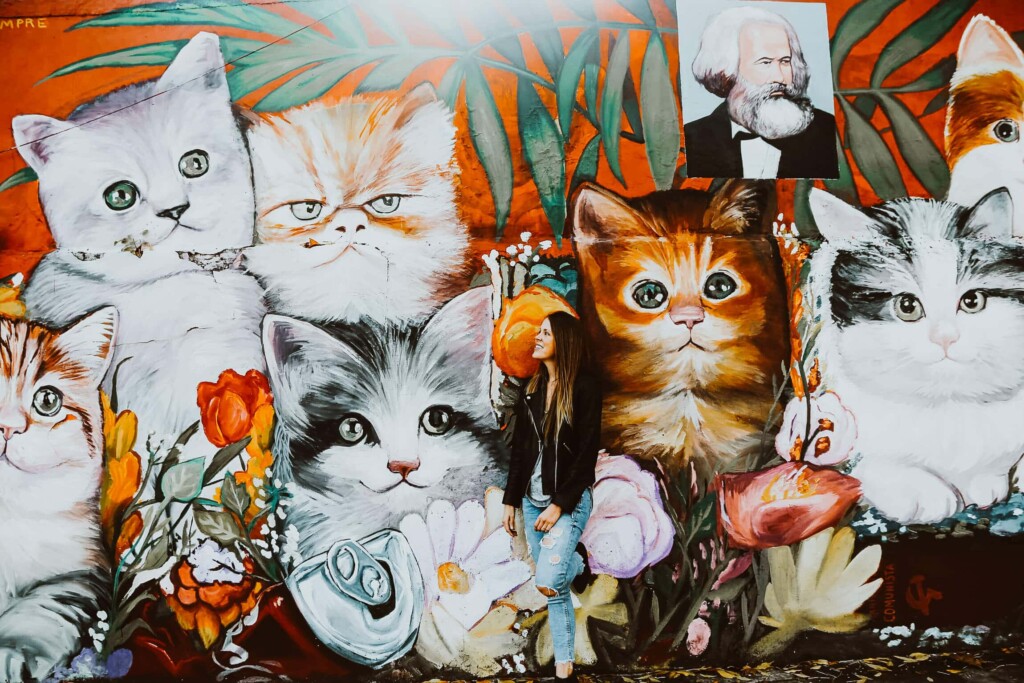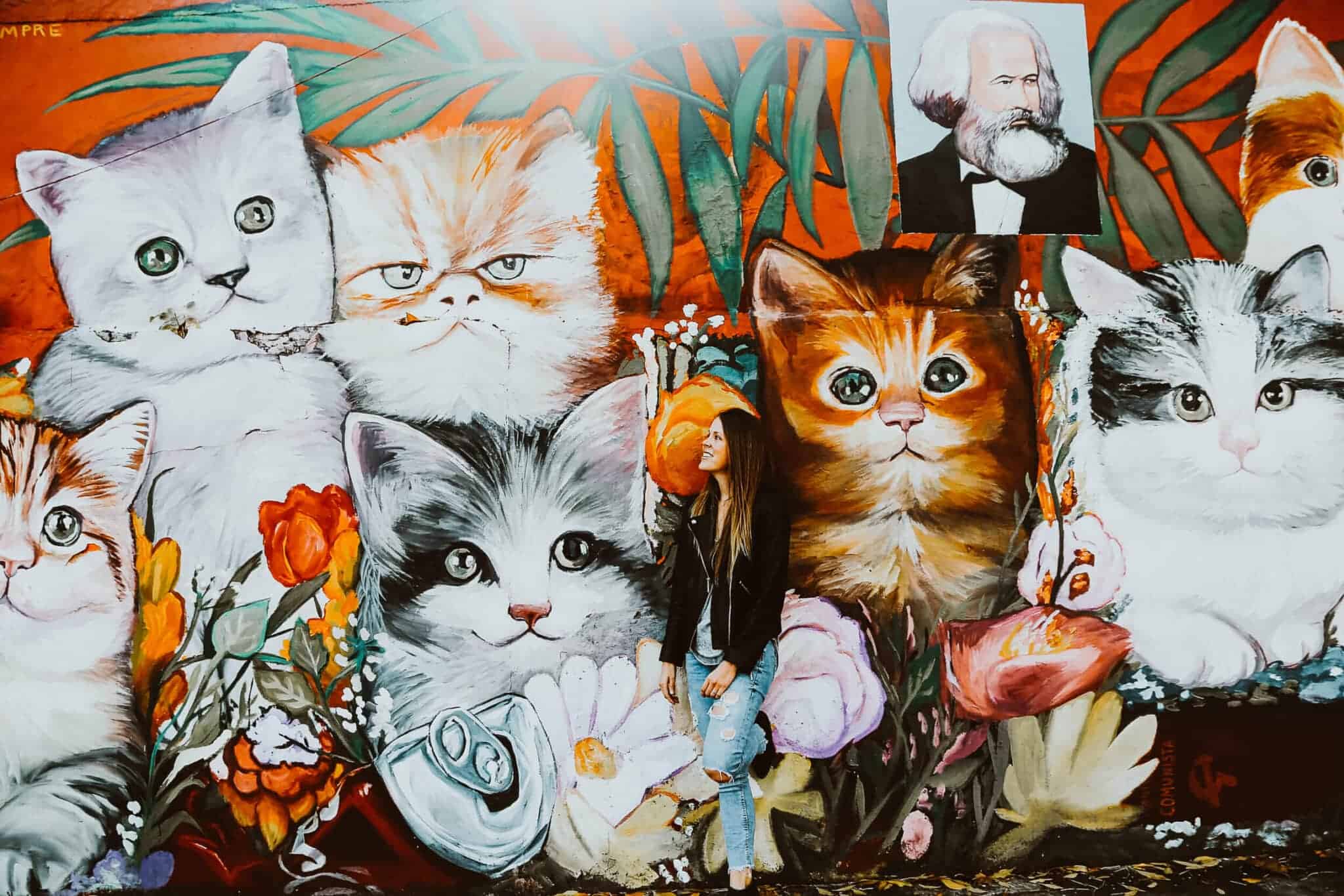 Villa Crespo
Villa Crespo is where to stay in Buenos Aires if you want to feel like you're off the beaten path but in reality, you're right next door to the beaten path.
Villa Crespo borders Palermo Soho so you're right next to all the action, not that you need it.
This neighborhood has it's own fair share of restaurants and bars worth your time.
This neighborhood also has some of my favorite murals and street art in the city.
There are some seriously impressive works of art, just wander the streets and you'll be sure to stumble upon some cool pieces.
The blocks closest to Cordoba Avenue have the most bars and restaurants as well as outlets (in case you're looking for a bargain).
Murillo Street, a.k.a. leather paradise, is also here.
If you want a new leather jacket, go to Villa Crespo!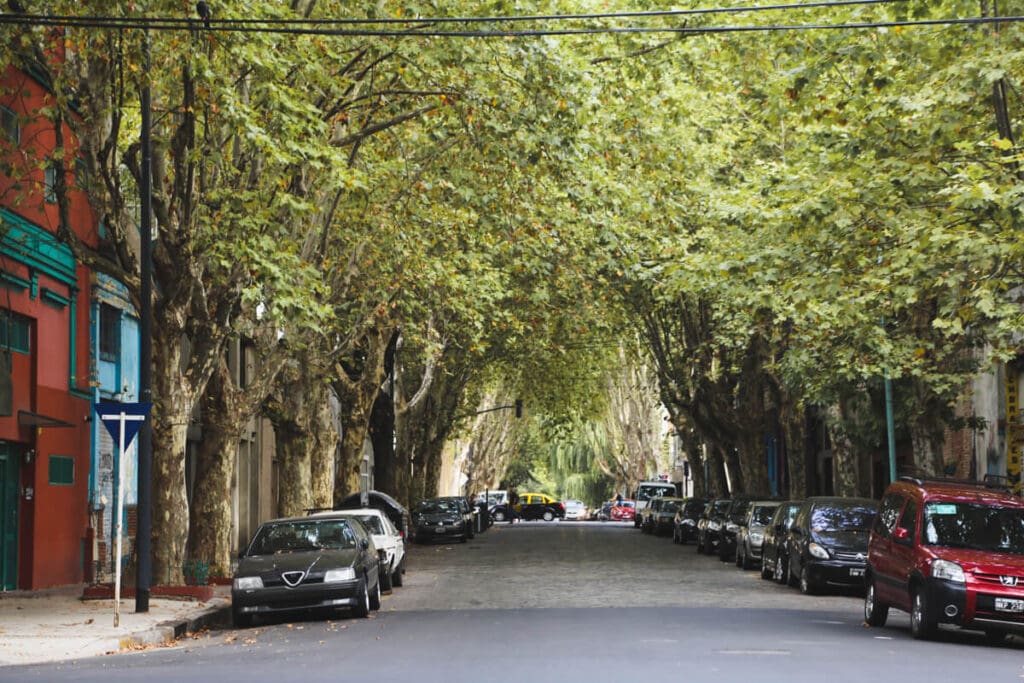 Palermo Queens
Palermo Queens? You may see that name pop up on a few apartment listings.
After Palermo Soho's explosive popularity, real estate agents were climbing over themselves to re-brand other neighborhoods in its likeness.
To everyone with any self-respect's disdain, Villa Crespo was quickly dubbed Palermo Queens.
The name hasn't really stuck, thank God. However, some apartment owners are still trying to ride Palermo's coattails.
Don't pay them any mind. Villa Crespo for the win.
Where to Stay in Villa Crespo
There aren't really many hotels here and its a bit off the beaten tourist path.
If you want to stay here, I recommend renting an apartment.
This loft will make you feel right at home. It's a studio but they have done a great job in separating living and kitchen spaces from the bedroom area. The building has amenities like a pool, grill, and gym.
For more space, this three-bedroom apartment sleeps up to 8 and is very affordable.
You'll have TONS of room to move around.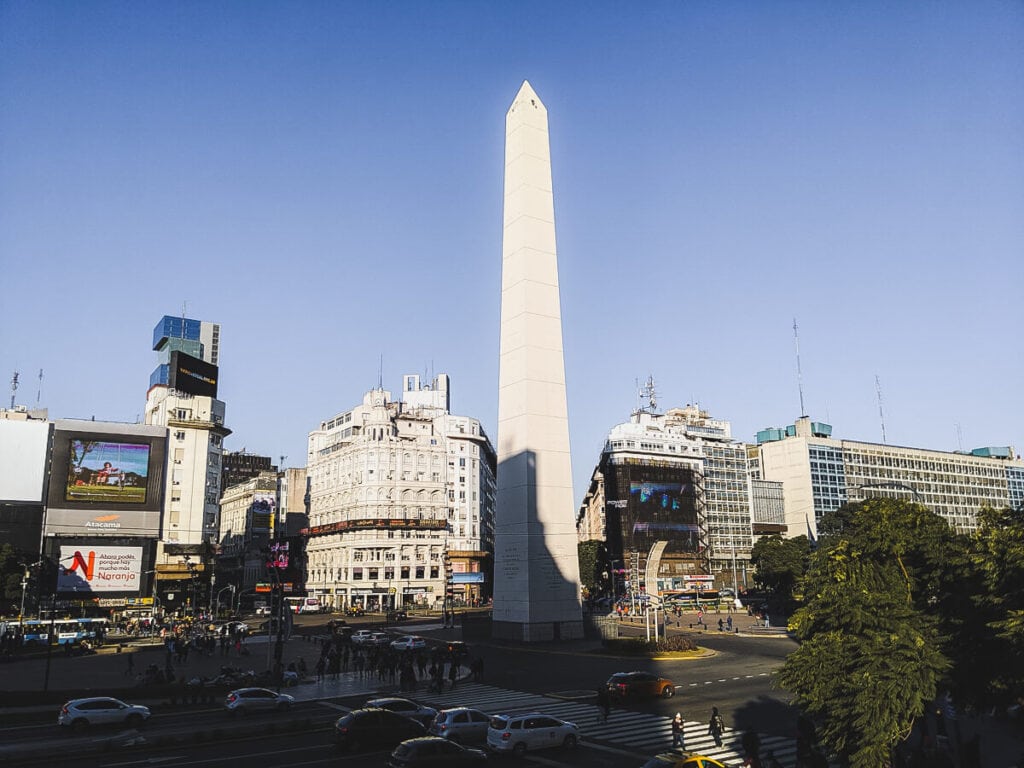 Downtown/Centro
This is one of the most popular areas to stay in Buenos Aires. Personally, it's also my least favorite.
There are a lot of chain hotels all along 9 de Julio Avenue and Avenida de Mayo.
These are tempting because at first thought you think, downtown!
That's where the action must be, no? And yeah, there's action there, but it's not the kind I like to return home to each night.
While it's not nearly on the grand scale as New York, I find staying here a bit like staying on Times Square.
It's loud, there are a lot of lights, and it can be a bit grungy after dark.
Where to Stay in Buenos Aires for First Timers
All that said, this is only my opinion. I prefer the peace and charm of San Telmo, Palermo, or Recoleta.
However, plenty of people disagree with me.
That's clear to see with all the recognizable hotel names you see in this area of town.
It's also a central location and good jumping off point for all the tourist spots like Plaza de Mayo, San Telmo, and even the most popular Tango Shows in Buenos Aires.
So who should stay downtown?
It's not a bad place to stay if it's your first time in Buenos Aires and if you are here on limited time.
If you only have a couple of days to explore the city and you want to see the main sites and see them quickly, this is a good location for that.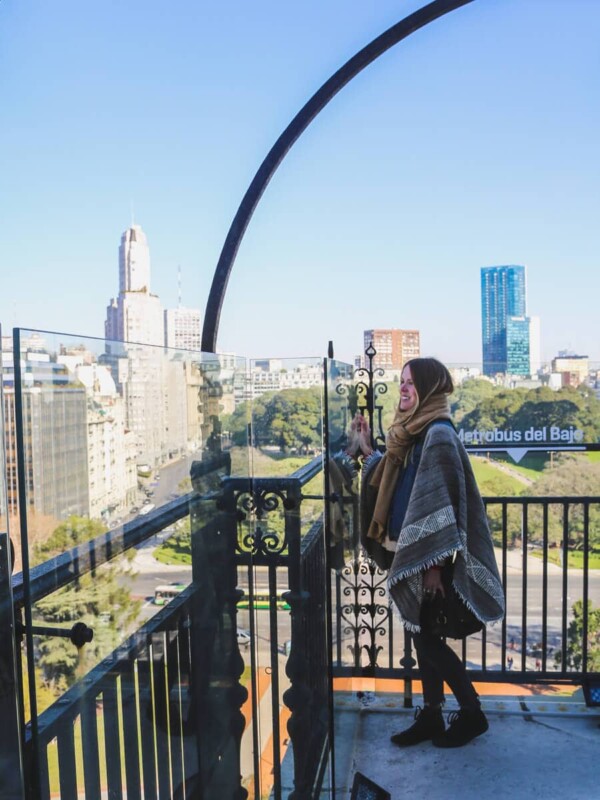 Best Hotels in Downtown Buenos Aires
Buenos Aires Marriott | This is the best hotel in Buenos Aires' Centro. It's on 9 de Julio, just across the street from the Teatro Colon opera house and by the Obelisk.

The rooftop pool and cafe offer some of the best views in town. Their rates are on the higher end but it's a luxurious hotel with very large, comfortable rooms.

And not that you asked, but Jojo's season of the Bachelorette filmed a group date on the roof here. Check availability and rates here.

La Fresque Hotel | This affordable hotel is in a remodeled colonial building that dates back to 1894. Rooms are decorated with antique furniture with modern touches.

The location is perfect at the intersection of 9 de Julio and Avenido de Mayo. Check availability and rates here.
The Best Hostel in Buenos Aires Centro
Milhouse Hostel Avenue is the best backpacker and budget accommodation in Buenos Aires.
A close friend stayed here when in town and I spent quite a bit of time hanging out with her here. It was very cool but also comfortable.
The downstairs common room is enormous, with a bar, pool tables, and everything you could need.
Puerto Madero
Puerto Madero is the city's youngest neighborhood. It was remodeled nearly thirty years ago and brought back to life.
Previously abandoned warehouses that line the waterfront have been turned into stylish lofts and expensive restaurants.
Behind the main waterfront is a mini-city of skyscrapers housing luxury apartment towers and hotels.
Puerto Madero is home to a large park and an ecological reserve here, adding a large amount of green space to enjoy.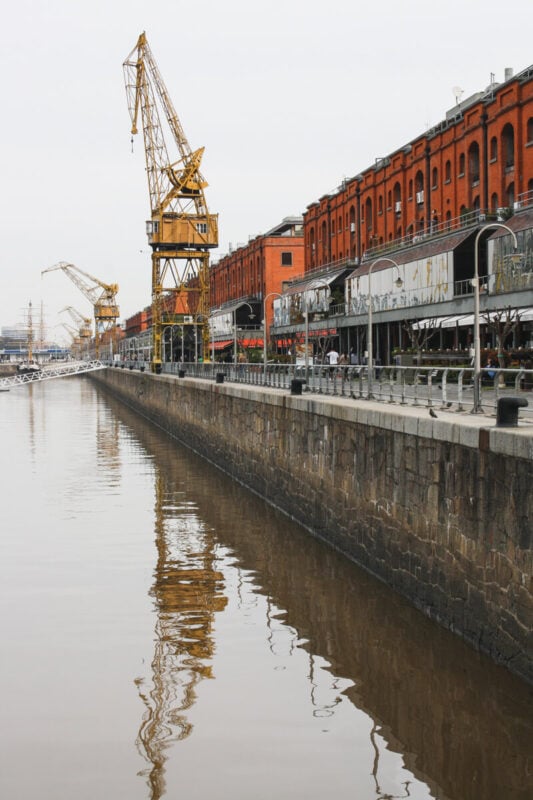 The downside to staying in Puerto Madero is that it can be difficult to get to.
Yes, it's just across the street from the Casa Rosada, downtown, and San Telmo.
But, there are only a few streets that cross over into Puerto Madero so it can be difficult to reach by car (and you may have to wait a while for your Uber/taxi to pick you up at your hotel here).
Everything can be be so close but feel so far.
For pedestrians, it's easier now due to the recent opening of a park and pathway connecting the Plaza de Mayo to Puerto Madero.
Best Hotels in Puerto Madero
Hotel Madero | Like all hotels in Puerto Madero, Hotel Madero is 5 stars. The rooms are modern, the restaurant is excellent and it's close to the important attractions downtown. It's the more affordable of the luxury options in the area. Check rates and availability here.

Alvear Icon Hotel | The Alvear Icon is part of the Leading Hotels of the World. The modern suites and rooms are spacious and offer panoramic views of the city from its 32 stories. However, the best view of all is from the hotel's rooftop bar. They have a spa, fitness center, and a climatized pool. It's a luxurious 5 stars and the place to stay to pamper yourself. Check rates and availability here.
Apartments in Puerto Madero
The price tags on the luxury hotels in Puerto Madero aren't for the faint of heart.
If you're on a tighter budget but still want the location, vibe, and luxury of Puerto Madero then renting a loft ist he way to go.
Get the modern, luxurious feel of Puerto Madero with these modern lofts. They have apartments of various sizes from studios to two bedrooms.
The building has all the same amenities as the nearby hotels like a fitness center and pool for a fraction of the price.
Belgrano: WHERE TO STAY IN BUENOS AIRES FOR FAMILIES
Belgrano, like Palermo, covers a lot of ground. It's towards the northern edge of the city and very residential.
That doesn't mean it's without its highlights. Chinatown is in Belgrano, as well as an unexpected Statue of Liberty replica.
The Glorieta de Belgrano houses regular outdoor Milongas, with locals coming out to dance tango in the open air.
Belgrano is a quiet neighborhood.
It has squares and parks with playgrounds, the streets weave below a canopy of trees and the sidewalks are wider.
It is the ideal place to stay in Buenos Aires for families.
And with two train lines and the subway going through Belgrano, you can be in Palermo or downtown within twenty minutes.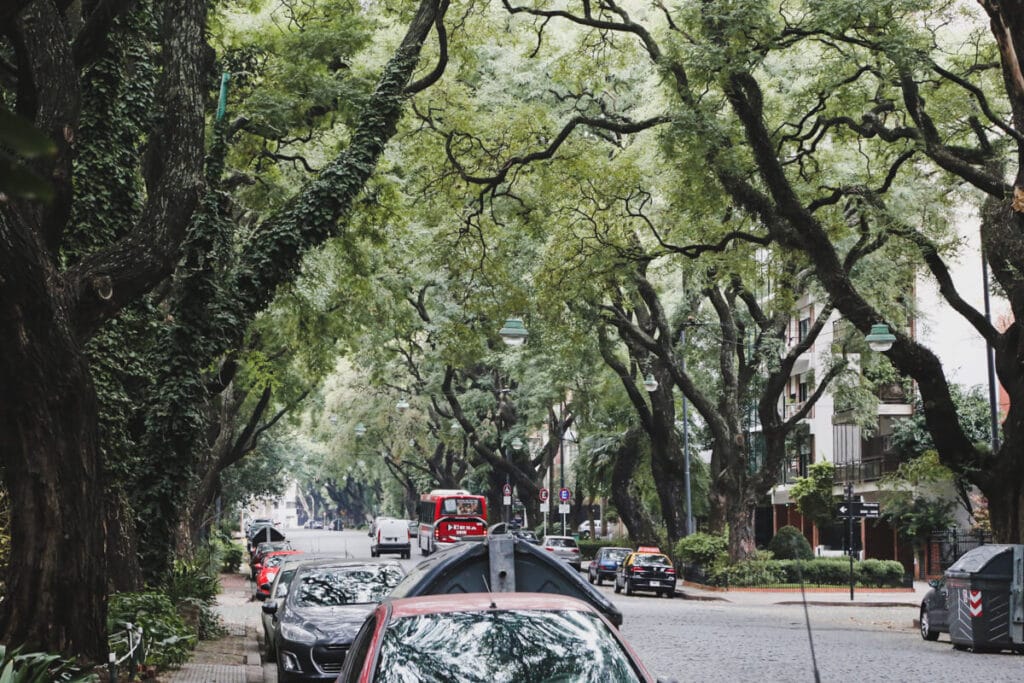 Belgrano C vs. Belgrano r
This northern neighborhood is about as big as Palermo, so take a look at the map before you reserve your apartment here.
There are two train lines, named Belgrano C and Belgrano R.
Belgrano R
Belgrano R is more upscale. There are mansions, wide sidewalks, cobblestones and overall charm.
The best place to base yourself here is anywhere near Plaza Castelli.
Plaza Castelli is next to the train station for the Mitre line, which will take you to Palermo or Downtown in 8-20 minutes respectively.
It's also beautiful here! And there are plenty of shops and restaurants to keep you busy while still feeling very much residential.
Belgrano C
Belgrano C is near Chinatown. There is another train station here as well as the Subte D metro line.
Both will have you in Palermo, downtown or Recoleta within 20 minutes.
This area is more commercial than Belgrano R. There are more apartment towers versus houses.
Cabildo Avenue is the artery of Belgrano and has all the shopping and bus lines.
Where to Stay in Belgrano
I recommend getting an apartment in Belgrano. This is a residential area without many hotels.
This apartment is perfect, modern, and ideal for families. There are two bedrooms (one with bunkbeds!). The area is beautiful and close to Chinatown and plenty of great restaurants.
Colegiales
You don't see Colegiales mentioned too much for tourists and I find that to be a damn shame.
It's a wonderful little neighborhood. And while it may be overlooked by visitors, it's up and coming for younger locals.
Colegiales borders Palermo, just north of Palermo Hollywood.
The vibe is calmer than its party-focused neighbor. Think more young professionals and families in small apartment buildings or houses.
This neighborhood is home the city's best Flea Market and the blocks surrounding it are quirky, filled with street art and murals.
There are plenty of bars and restaurants but the vibe is more low key than crazy late night.
Where to Stay in Colegiales
Like Belgrano, there aren't really any hotels to choose from here. Also like Belgrano, Colegiales is a bit off the beaten tourist track, you'll need to rent an apartment.
This apartment is great for couples. It's cozy and the location is by one of my favorite areas on Elcano Avenue.
You'll be with the locals here in a more residential area with plenty of great restaurants (a few are Palermo staples that opened new locations here on Elcano). A taxi can have you in Palermo in less than 10 minutes.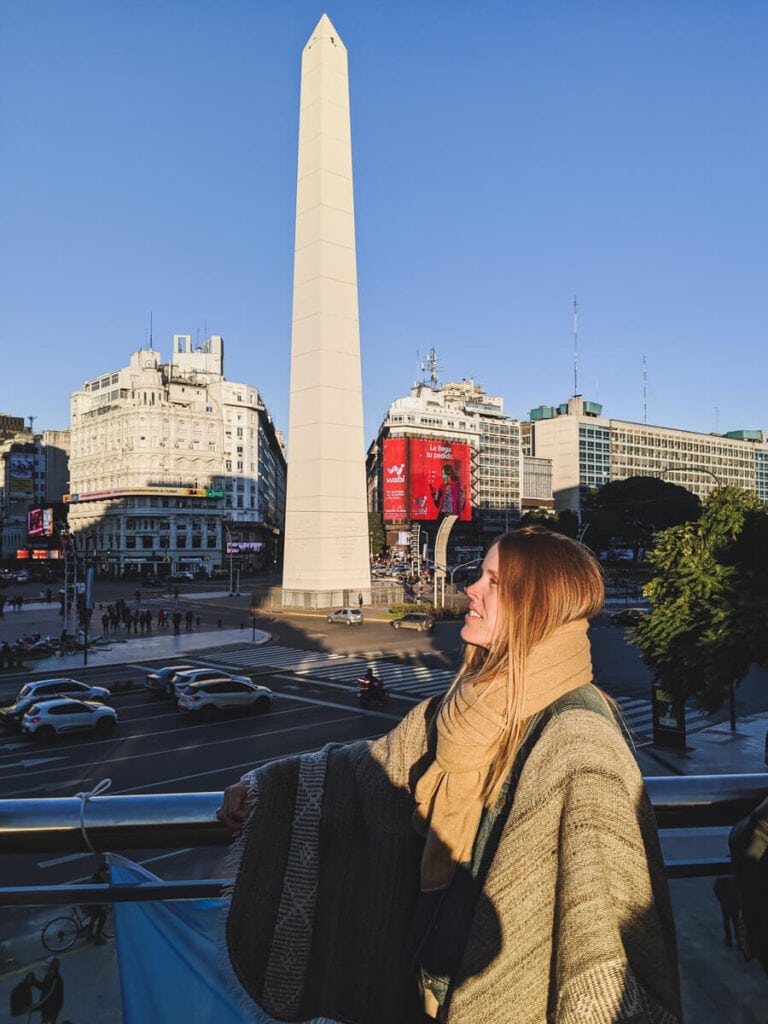 Where to Live in Buenos Aires
If you're reading this post not because you're coming on vacation, but because you're planning to move here, then all of the advice on each neighborhood still applies.
However, there are even more neighborhoods you may be willing to consider.
If Belgrano caught your eye, also take a look at Villa Urquiza, Coghlan, Nunez, and Saavedra. All are wonderful neighborhoods in the same vicinity as Belgrano.
If you'd like to be closer to the heart of the city, Almagro, Boedro, and Caballito are a few neighborhoods to look at.
All are more commercial, off the beaten "expat" path and have a lot of activity.
For more information on living in Argentina, read my Buenos Aires Expat guide.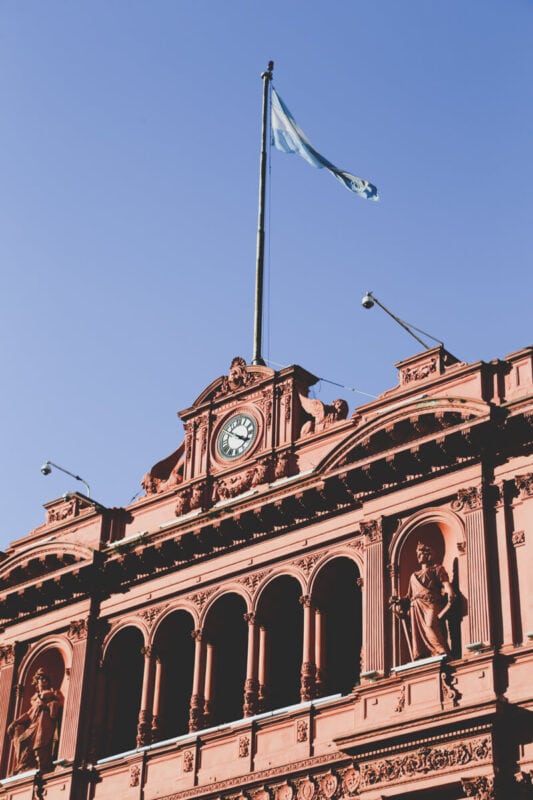 Where to Stay in Buenos Aires: Final Thoughts
If after that onslaught of information you're still feeling overwhelmed on choosing a neighborhood or place to stay in Buenos Aires, don't.
Take a breath and follow your gut. Pick the neighborhood and hotel or apartment that sparked your interest most.
Buenos Aires is a fun city. You're going to love the neighborhood you choose, wherever it is.
Public transportation, taxis, and ride-sharing apps make it easy and cheap to get around the city, so you'll see it all, regardless of where you're based.
If you have any questions at all, ask away in the comments! I'll do my best to answer as soon as possible so you can choose where to stay in Buenos Aires!
Argentina Travel Resources
Pin It For Later