Mendoza is one of my favorite destinations in Argentina.
The wineries are beautiful and abundant.
Views of the Andes Mountains are epic.
The air is crisp, the weather is generally always sunny, and the people are warm.
There are also traditional ranches, horseback rides, hikes included in the many things to do in Mendoza…
But this post isn't about those things.
This post is all about the best wineries in Mendoza's three wine regions as well as best wine lodges, wine tours and winery lunches.
I have been to Mendoza twice but unfortunately for me, it's been a while since I've been back.
Between the pandemic and having babies, Mendoza hasn't been in the cards for me since 2018.
I sure hope to remedy that soon, and was holding off on updating this post until my triumphant return, but what can I say, I'm impatient.
This refreshed post includes all of the best bodegas in Mendoza I've visited including new wineries and restaurants that are on my ever growing wish list, the ones I'll visit next time.
Wine lovers, get ready.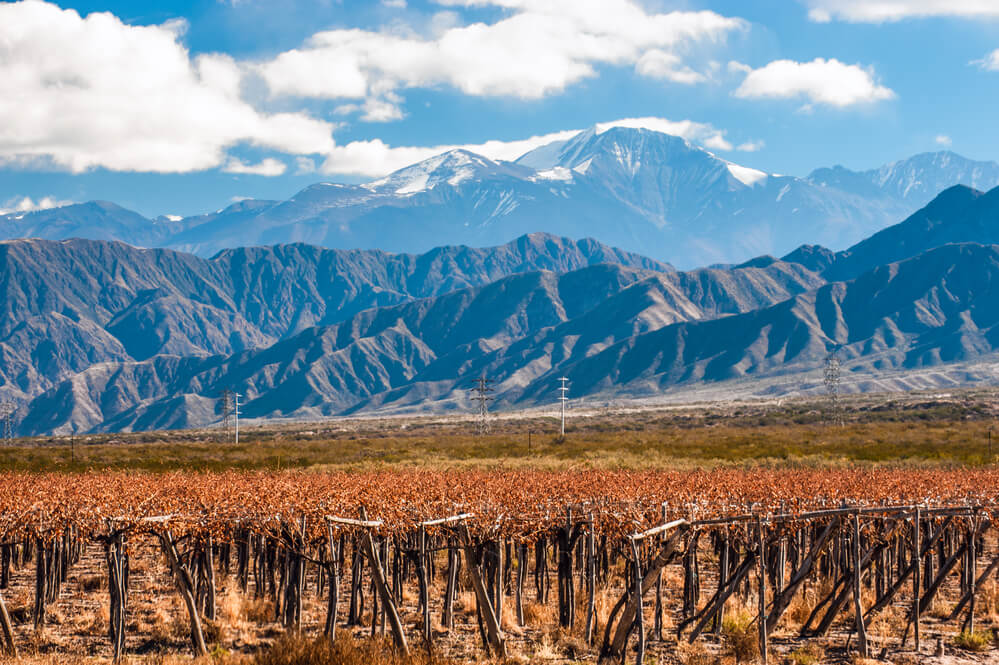 QUICK NOTE: This post contains affiliate links and Sol Salute may receive a commission for purchases made through these links, at no extra cost to you.
A Complete Guide to Wine Tasting in Mendoza
One thing you need to know before you plan your Mendoza wine tour is that it's huge.
There are actually three major wine regions that make up Mendoza: Maipu, Lujan de Cuyo, and the Uco Valley.
While you will taste incredible wine anywhere you go in Mendoza, all wineries and wine regions were not created equal regarding experience.
The three Mendoza wine regions are:
Maipu is closest to the city and easiest to reach by bus then tour by bike. I recommend it for backpackers on a shoestring budget.
Lujan de Cuyo is a little further from the city yet still reachable by bus or an affordable taxi. Some wineries are reachable on foot, others by bike, and the best of the best by car or taxi.
The Uco Valley is home to the best wineries in Mendoza and most stunning views. It is the furthest from the city (an hour and a half drive). You need to hire a private driver like this one or rent a car.
Wine tastings and tours are very affordable in Argentina compared to the US and Europe.
Some cost as little as $5.
The quality of the Mendoza wine you will taste here is excellent and lucky for you, so is the quantity.
Tasting sizes tend to be full pours here (which makes the private drivers worth their weight in gold).
NOTE: You'll also want to read my guide on Where to Stay in Mendoza (with all of the best hotels and neighborhoods).
Short on time? If you only have one day to dedicate to Mendoza wine tastings, I recommend spending it in the Uco Valley. It has the best vineyards, the highest quality wine, and the most impressive views.

Hire a private driver like this one to make the most of your day. You can scroll down to see my favorite Uco Valley wineries to plan your day.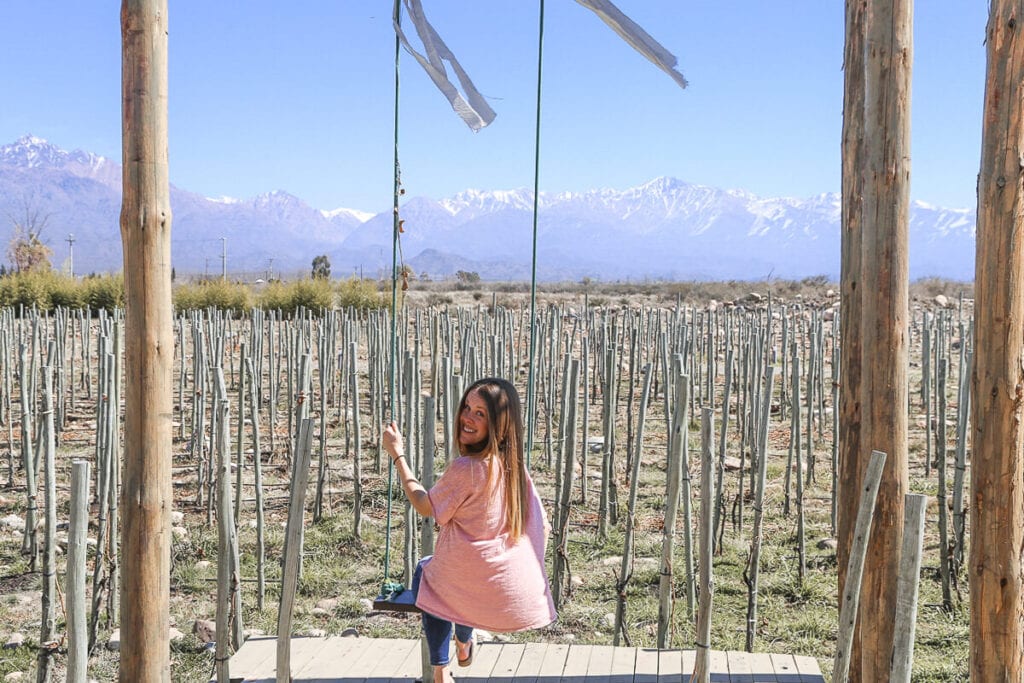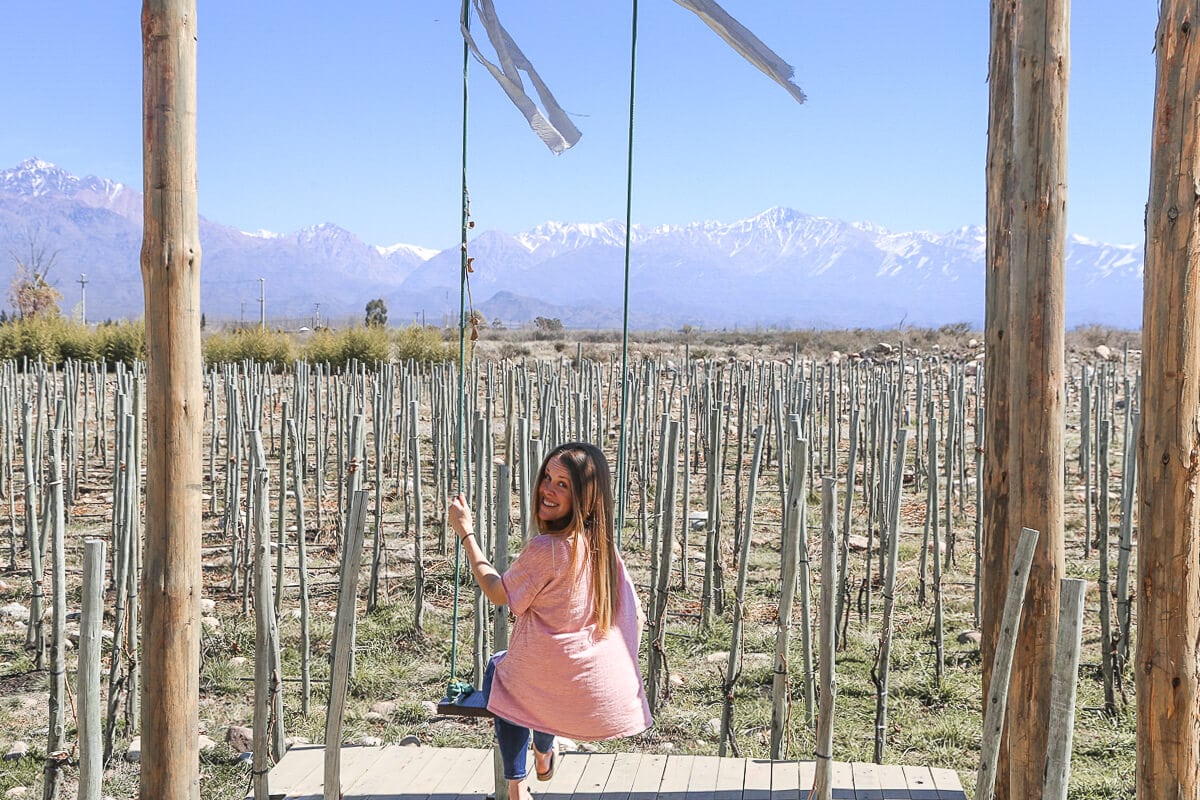 My Mendoza Winery Wish List
Look, these lists are usually written after a blogger goes to a place once and writes up the few wineries or tours they went to.
Or maybe a journalist gets schmoozed at a set list of wineries (something I'd be willing to do, in case anyone that does that sort of thing is reading).
The 14 main wineries in this blog post (listed later) are the former.
They are the wineries we visited on our first two trips to Mendoza wineries.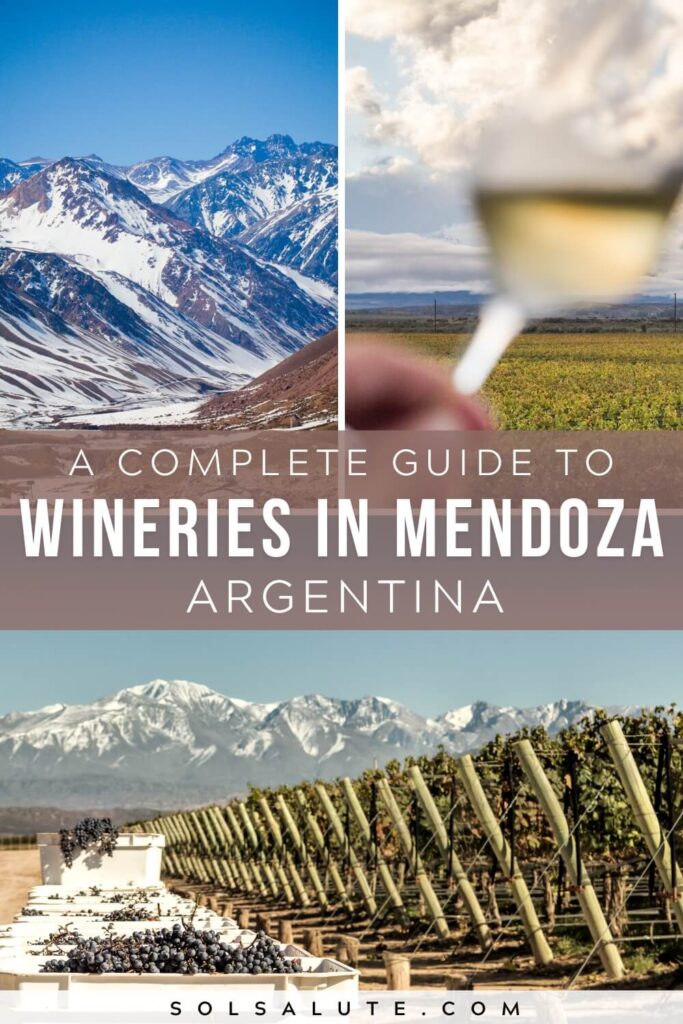 But I haven't been to Mendoza since 2018 and considering I live in Argentina, that is far too long.
In fact, it's unacceptable considering how much wine I consume.
So, unsurprisingly, I've accumulated quite the wish list of Mendoza wineries I want to visit on our next trip (hopefully soon, I type with crossed fingers).
Here they are, add them to your list:
Viña Cobos – Lujan de Cuyo – A favorite of a friend who knows what she's talking about
Bodega Rolland at Clos de los Siete – Valle de Uco
Cruzat – Lujan de Cuyo – Known for their sparkling wine
Susana Balbo – Lujan de Cuyo – Balbo was the first female winemaker in Argentina.
Riccitelli – Lujan de Cuyo – Their restaurant has become the spot since I've last been so I'll definitely do a tour and lunch next trip
Casa Vigil / El Enemigo – Maipu – Their restaurant is always on the World's Top 50 list and the wine is fantastic.
Decero – Lujan de Cuyo
Anaia – Lujan de Cuyo
Achaval Ferrer – Lujan de Cuyo – Ex-Melipal, Previously I raved about Melipal but it has since been bought out by Achaval Ferrer.
Andeluna – Valle de Uco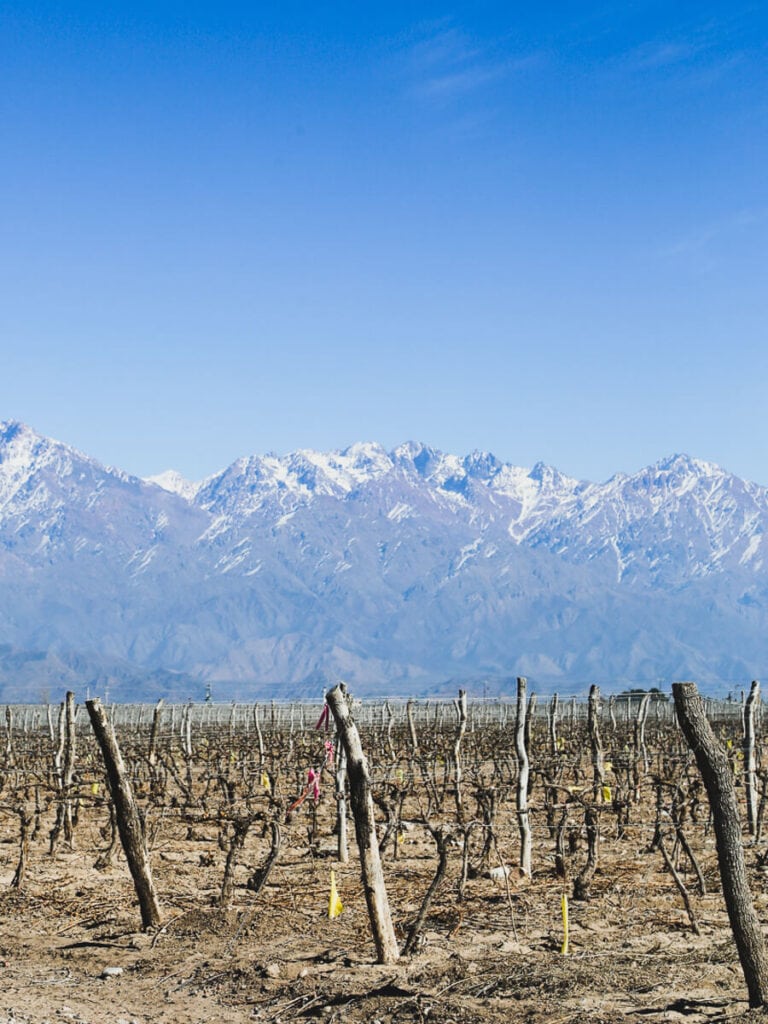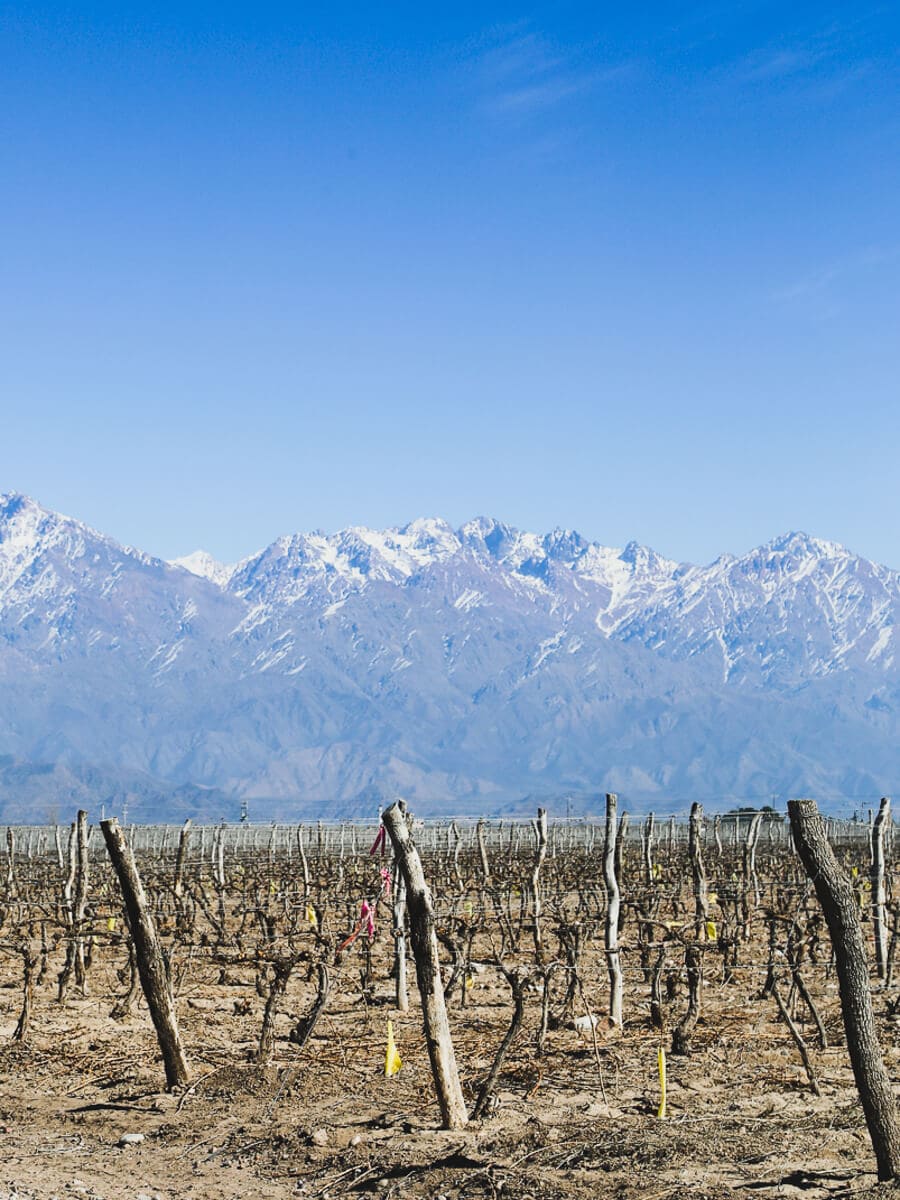 Best Wineries in Maipu
Maipu – let's start with the area closest to Mendoza city proper and possibly the easiest to visit.
This area is popular with backpackers.
It's easy to reach most of the wineries in Maipu by bus then renting a bike.
Alternatively, you could take taxis or Uber/Cabify between tastings.
For even more ease, you can go on a guided Maipu bike tour like this one to see the top wineries and get off the backpacker path.
The main road was very industrial if you are biking.
When we biked Maipu (admittedly back in 2014), the bike lane was next to mainly 18 wheelers and large lorries, not exactly fitting with the romantic image I had imagined of riding among the vines.
However, once we were in the wineries themselves, and off the road, these Maipu bodegas were very beautiful.
Bodega La Rural
If you're interested in history you'll love La Rural and their Museo de VIno filled with wine production antiques.
La Rural is one of the most important bodegas in Argentina.
Felipe Rutini starting making wine here in 1885 and their wines are on just about every menu in the country.
Unlike most Mendoza wineries, most of their wine is consumed locally, rather than for export, so if you're visiting from abroad their wines may be new to you.
The tour ends with a wine tasting in their impressive tasting room.
Visit Bodega La Rural
Monte Caseros 2625, M5513 Maipú, Mendoza
How to visit: Website. Tours of the winery and museum, Monday-Saturday & Holidays from 9 am to 5:30 pm. Last guided tour departs at 4 pm.
Mevi
Mevi is a great option for lunch on the bike route of Maipu wineries.
It is charmingly boutique compared to the mass production of La Rural.
We skipped the full tasting in favor of ordering a glass of delicious Malbec Rose to enjoy on their terrace (we'd already had quite a bit of wine by this point).
For food you can order a picada (charcuterie platter) to enjoy on one of their two terraces.
They are located down a small road further from the main highway so it is quiet and beautiful here.
Visit Mevi
Moreno 1751, M5513 Maipú, Mendoza
How to visit: Website. Tuesday-Saturday, from noon to 6 pm. Check for holiday schedules. Make reservations on their reservation portal.
Trapiche
Trapiche is the one winery in Maipu I wish we had had time to visit but weren't able to.
No matter where you're visiting from, you've likely seen a bottle of Trapiche Malbec on your store shelves back home.
They are one of the oldest wineries in the region, established in 1883 and winning awards since 1889.
The building you'll tour is newer to Trapiche remodeled and restored to its previous glory.
Visiting Trapiche is at the top of my wish list for future trips.
If you've tried their wines at home don't miss the chance to learn about their interesting history in person.
Visit Trapiche
Address: C. Nueva Mayorga s/n, M5513 Maipú, Mendoza
How to visit: Mondays-Sundays from 9:30 am to 5 pm. Final tour at 4. Make reservations on their website.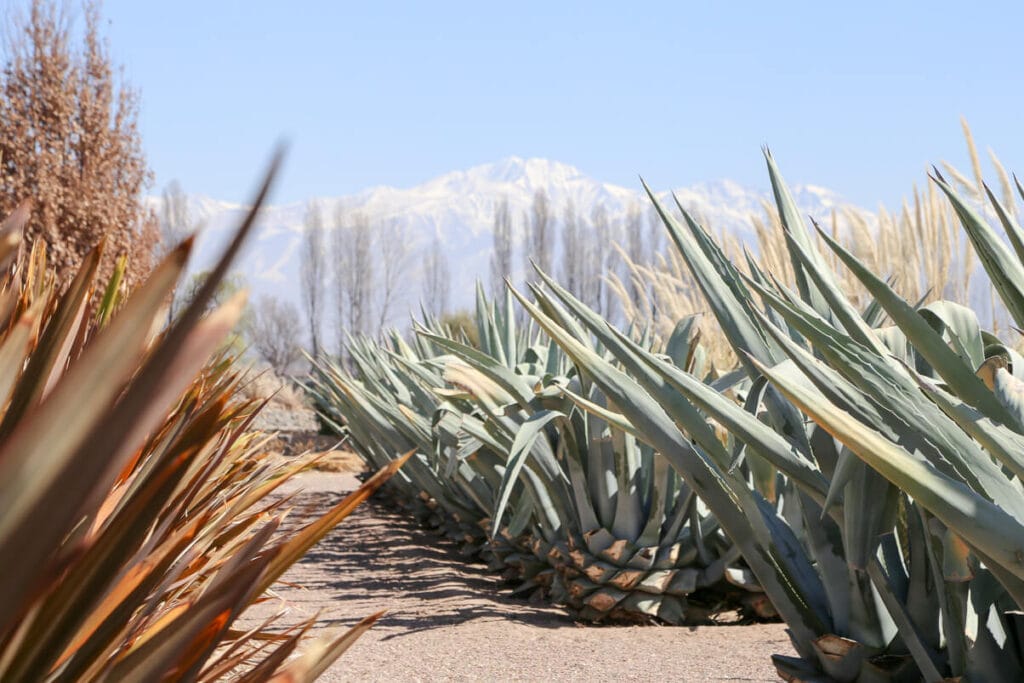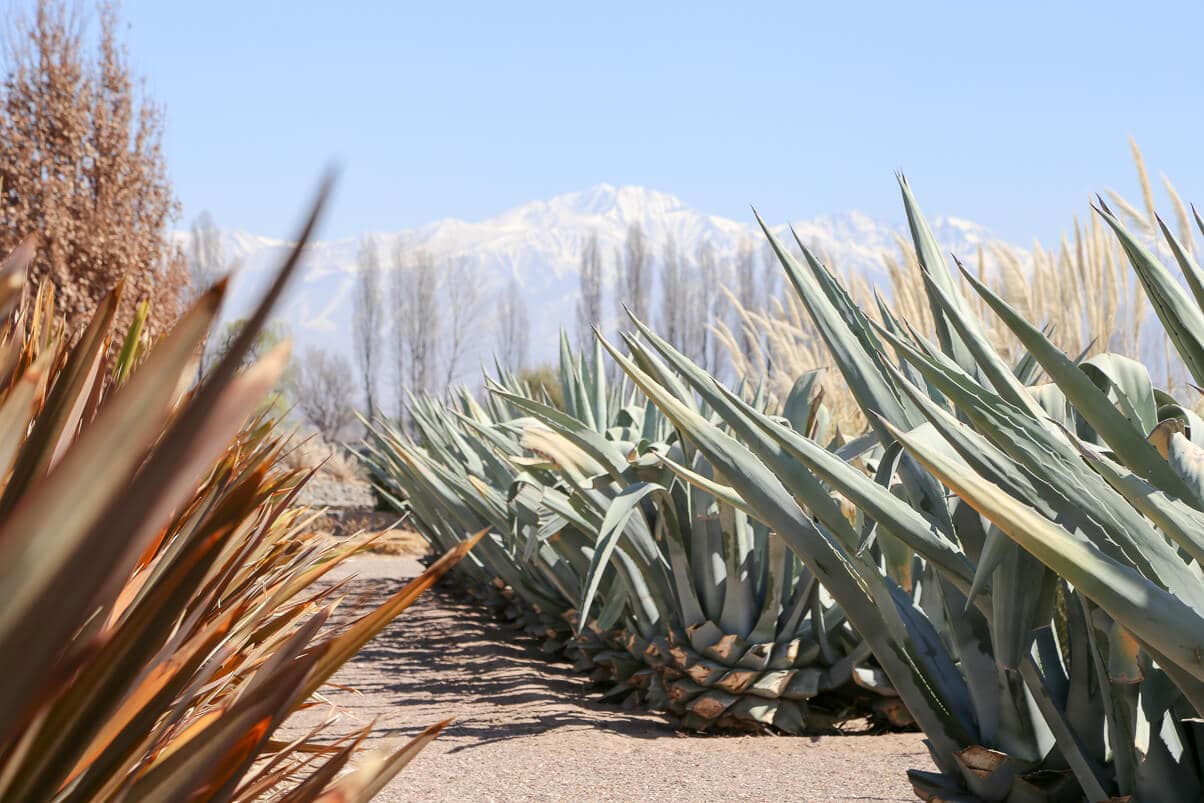 The Best Wineries in Lujan de Cuyo
Luján de Cuyo, now we're talking.
I love Lujan de Cuyo.
It's also incredibly easy to get to from the city center.
You can take a city bus from Mendoza to the small town of Chacras de Coria and it takes about 45 minutes.
A taxi will be very affordable as well and only take 20 minutes.
In fact, a lot of people use taxis or ride sharing apps to get from one tasting to another.
In Luján de Cuyo you're closer to the Andes than in Maipu, making the views much more impressive.
You can rent bikes to visit wineries in and around Chacras de Coria or if you have a car or driver, visit the wineries further afield (it's worth it, I promise!).
Lujan de Cuyo tours
If you're visiting wineries on your own with taxis or a rental car, it's best to reserve in advance.
Organize your days with 3 tastings, one including a lunch, per day.
If you don't want to deal with those logistics, hire a tour wine tour of Lujan de Cuyo:
Bike Tour of Lujan de Cuyo – I always recommend this region for biking, wineries are close enough to make it feasible but it's much more beautiful than Maipu.
Private Tour of Lujan de Cuyo – This tour includes my favorite wineries like Carmelo Patti and will take care of all the logistics, no need to deal with reservations or transportation.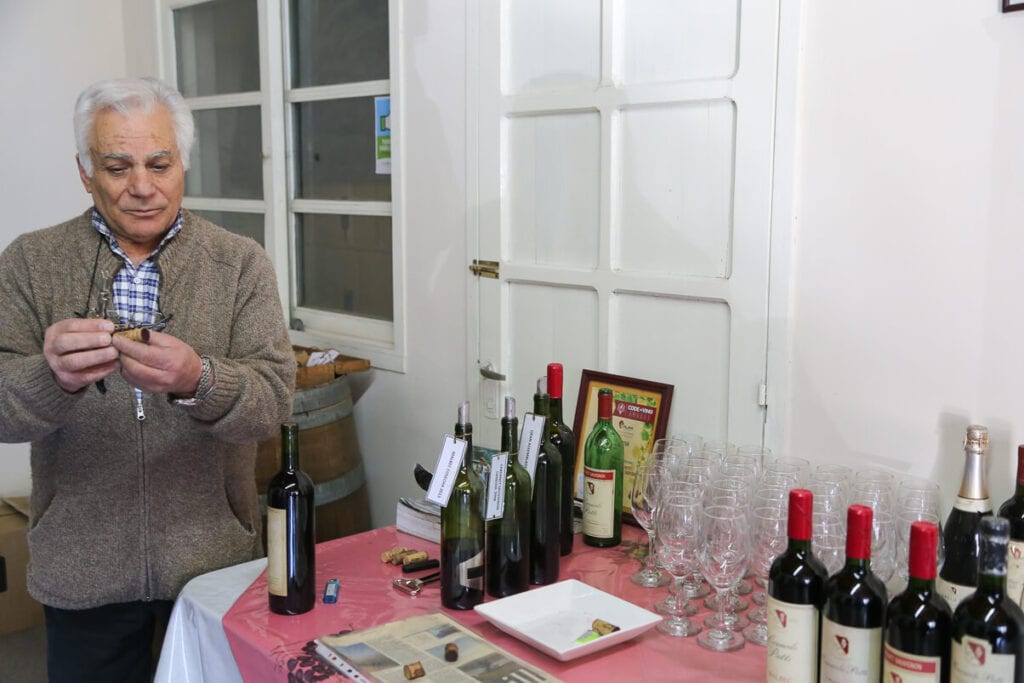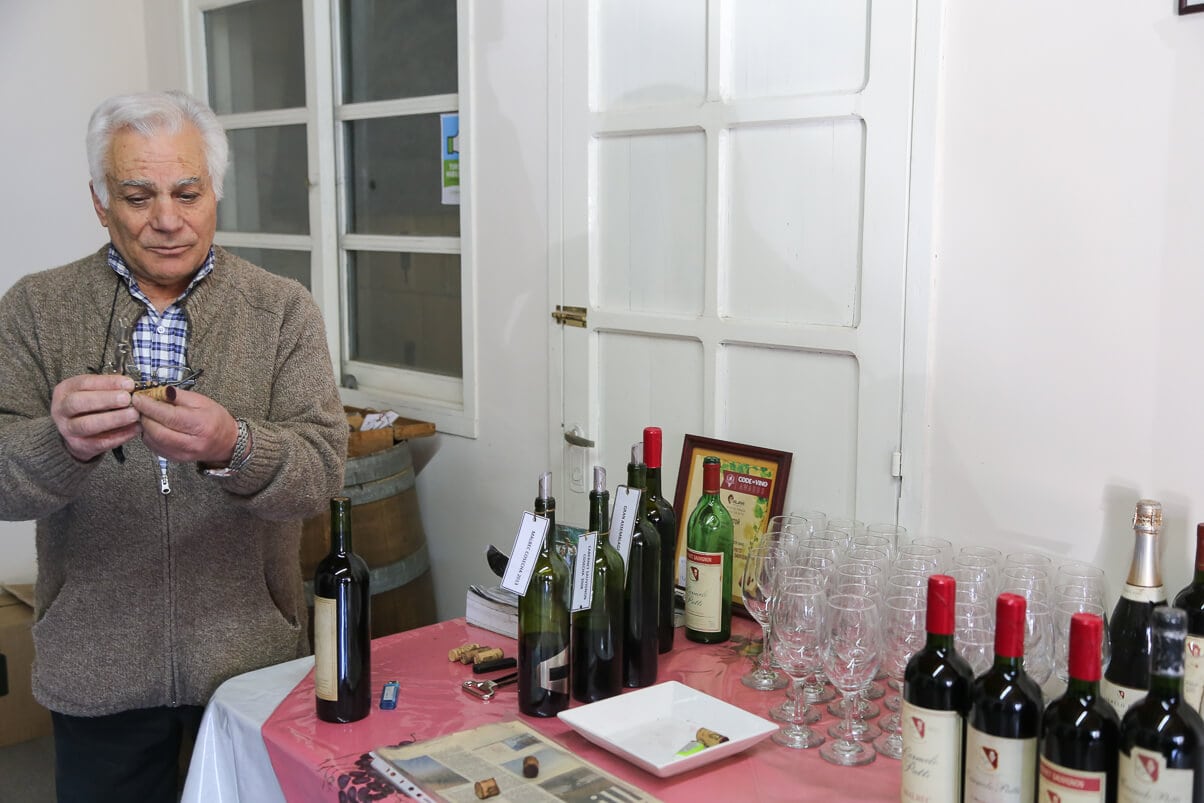 Carmelo Patti
No reservation needed, check his Facebook page here for hours.
This is a must visit if you're in the area.
I've been twice and I'll visit Carmelo Patti every time I go to Mendoza.
Carmelo Patti is a garage winery, which technically means there is no cellar, but it's also in a garage-like warehouse.
Carmelo Patti (seen above) is the winemaker, owner, and even the tour guide!
Just show up and he'll give you a tour free of charge.
If you buy a bottle, he'll sign it and write which year to open it for best results.
He is incredibly charming and passionate about what he does, making a visit to his tiny bodega unforgettable.
Visit Carmelo Patti
Address: San Martín 2614, Luján de Cuyo, Mendoza
How to visit: Mondays-Sundays, 11 am – 1 pm, 3 pm – 5 pm. When we visited no reservation was needed.
Lagarde
Lagarde produces excellent wine grown on a beautiful historic estate.
It was founded in 1897 but was acquired by the Pescarmona family in 1969.
Today it's run by two sisters, Lucia and Sofia Pescarmona.
It's exciting to see women take the frontlines in Mendoza and you can try it in Lagarde's Proyecto Hermanas line.
I loved touring this winery and of course, tasting their wines.
If you're looking for a more upscale restaurant for lunch, their two restaurants – Zonda and Fogon – are of the best in the area.
Visit Lagarde
San Martín 1745, M5507 Mayor Drummond, Mendoza
How to visit: Make a reservation for a tour or at one of their two restaurants on their website.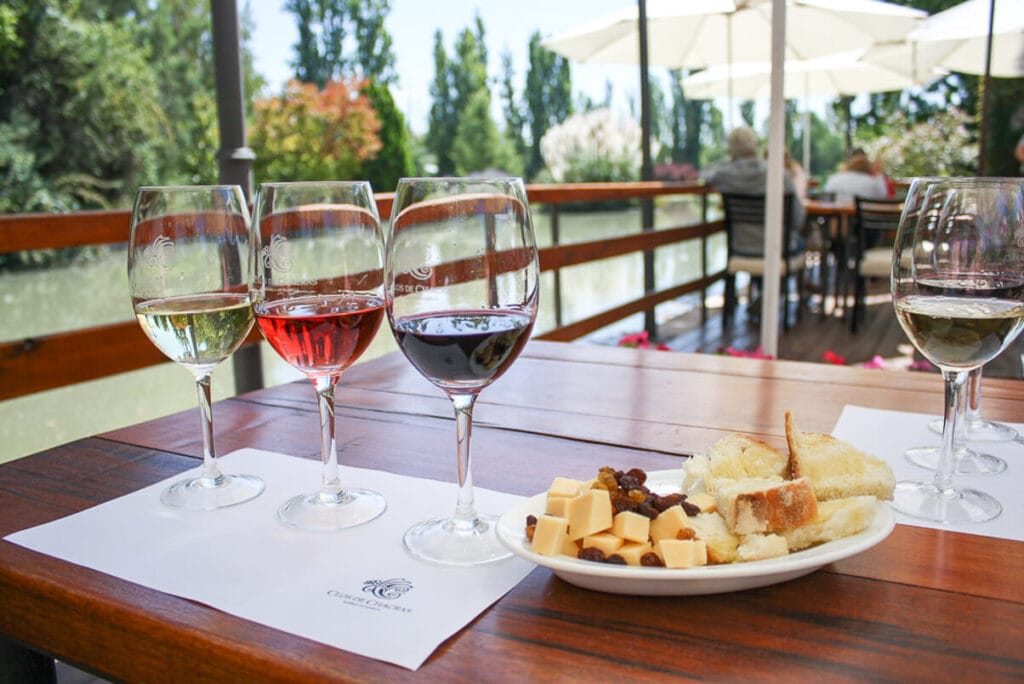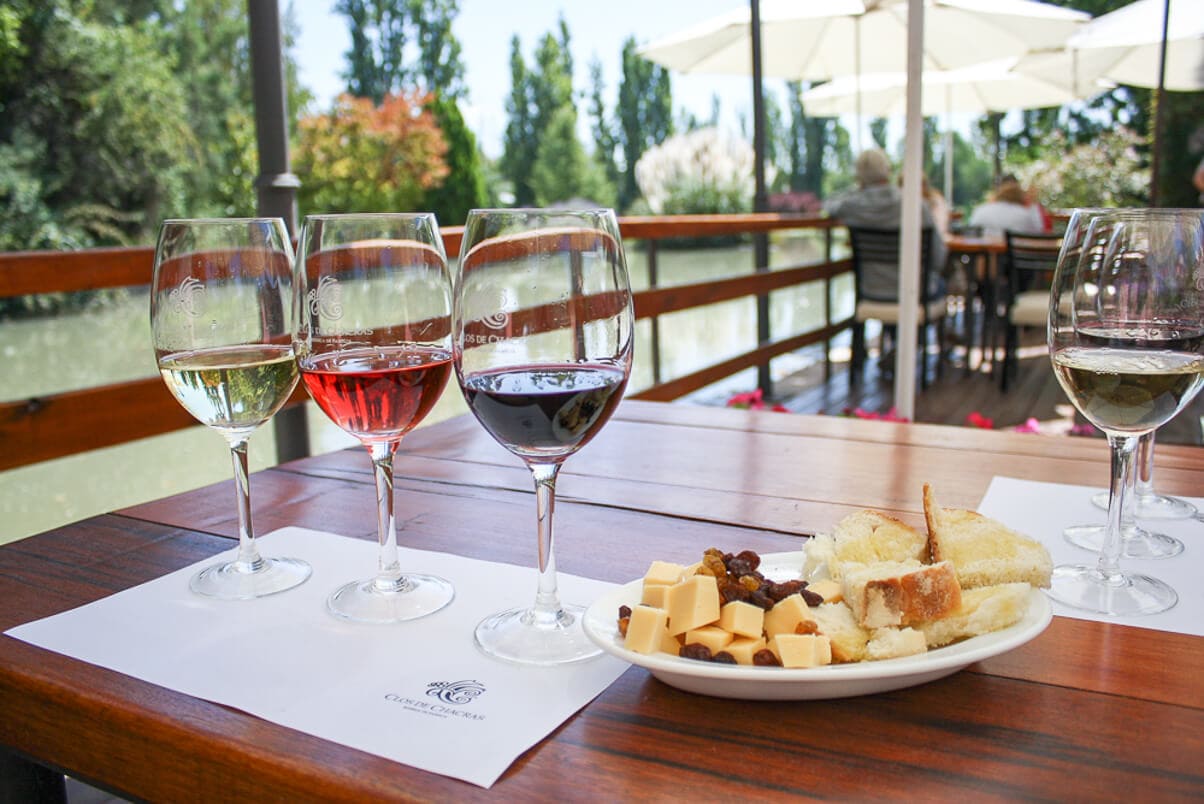 Clos de Chacras
This boutique winery is located in downtown Chacras de Coria, but once you're through the gates you feel like you're miles from the city.
Relax with a glass of their wine on the deck next to their large coy pond or enjoy lunch in their dining room, located inside a beautiful restored building from the 1920's.
Tours take you through the winery and vineyard and the tasting at the end conveniently comes with a cheese plate that you can enjoy at your leisure.
Visit Clos de Chacras
Monte Líbano 1025, M5509 Chacras de Coria, Mendoza
How to visit: Make a reservation for tours, tastings, and their restaurant on their website.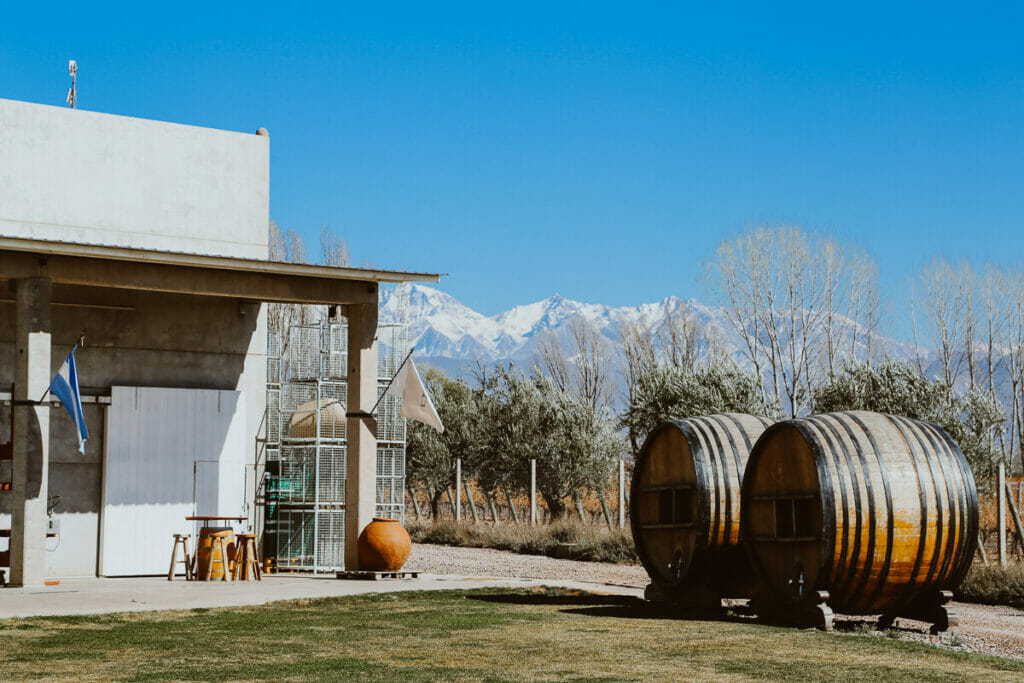 A16
I chose A16 purely because I'd never heard of it before.
I like to visit boutique wineries or wineries that are new to me, rather than try wines I see all the time in the shops at home.
The random choice paid off because the wine was spectacular and our tour guide was very friendly.
After our tour of the property (which included a tasting straight from the barrel), we were free to taste any of their wines that we'd like.
I was particularly intrigued by their white wine made out of Malbec grapes.
They have tours and tastings from Wednesday through Sunday from 11 am to 3 pm.
On Saturdays, you can watch the sunset from their vineyard with a DJ and a food truck.
Visit A16
W35P+76 Luján de Cuyo, Mendoza Province
How to visit: Make a reservation on their website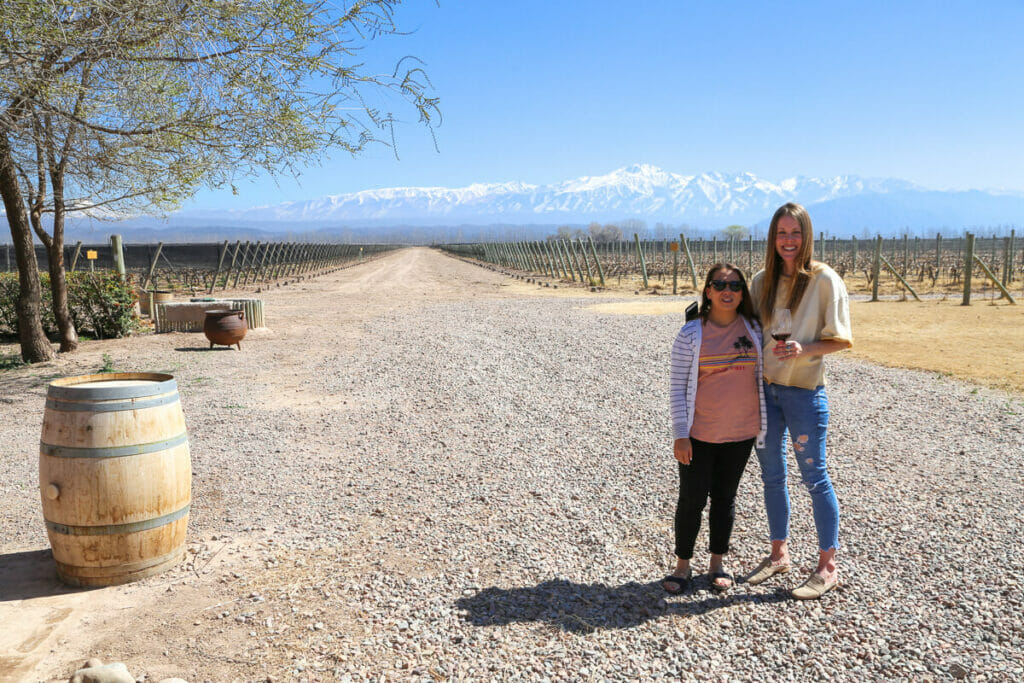 Ojo de Agua
We had a delicious three-course lunch with wine pairings at Ojo de Agua.
We sat outside on the porch by the vines with a view of the snow-capped Andes.
Ojo de Agua is owned by Swiss artist and musician Dieter Meier.
They don't sell their wines in Argentina or the US, so eating here may be the only chance you get to try their wine.
Visit Ojo de Agua
Luján de Cuyo, Mendoza Province
How to visit: Check their website for hours and menu, email for reservation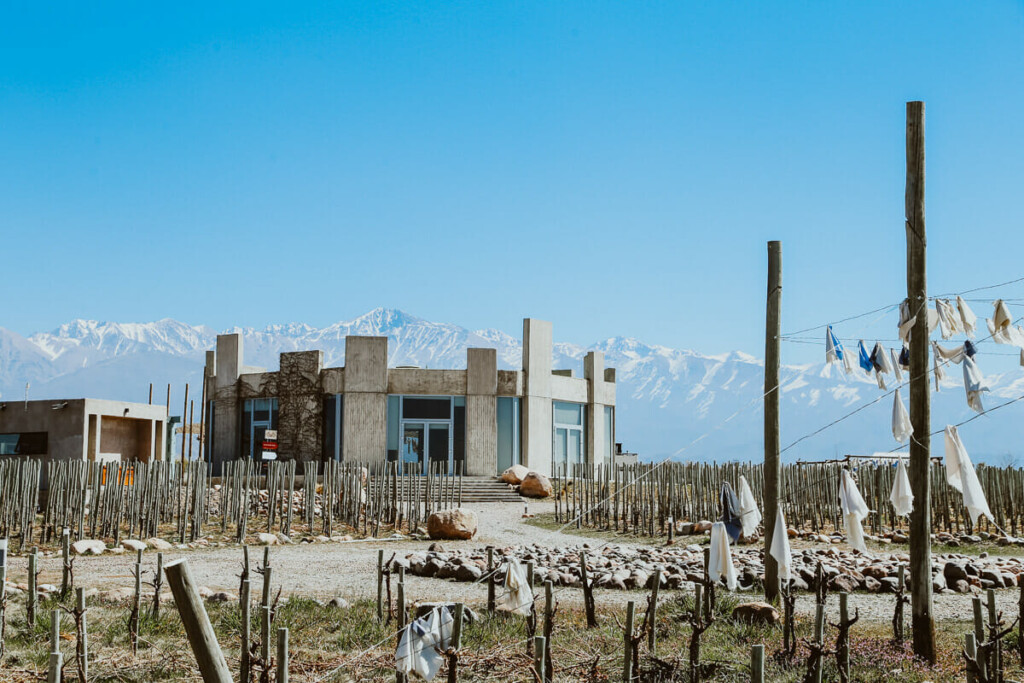 The Best Wineries in The Uco Valley
You'll be hard-pressed to have a better Mendoza wine tasting experience than the one you'll have in the Uco Valley.
If you only have one day to spend tasting wine in Argentina, then choose a tour or private driver that will bring you here.
Note: You absolutely must make reservations ahead of time in the Uco Valley.
If you're planning to rent a car and go on your own, spend some time planning your itinerary and making reservations before you leave for Argentina.
If you're touring with a private driver, they likely take care of it for you (check to be sure) but can follow your itinerary if its important to you.
Also, if your driver or guide is creating your itinerary and you want to visit a specific winery, let them know in advance.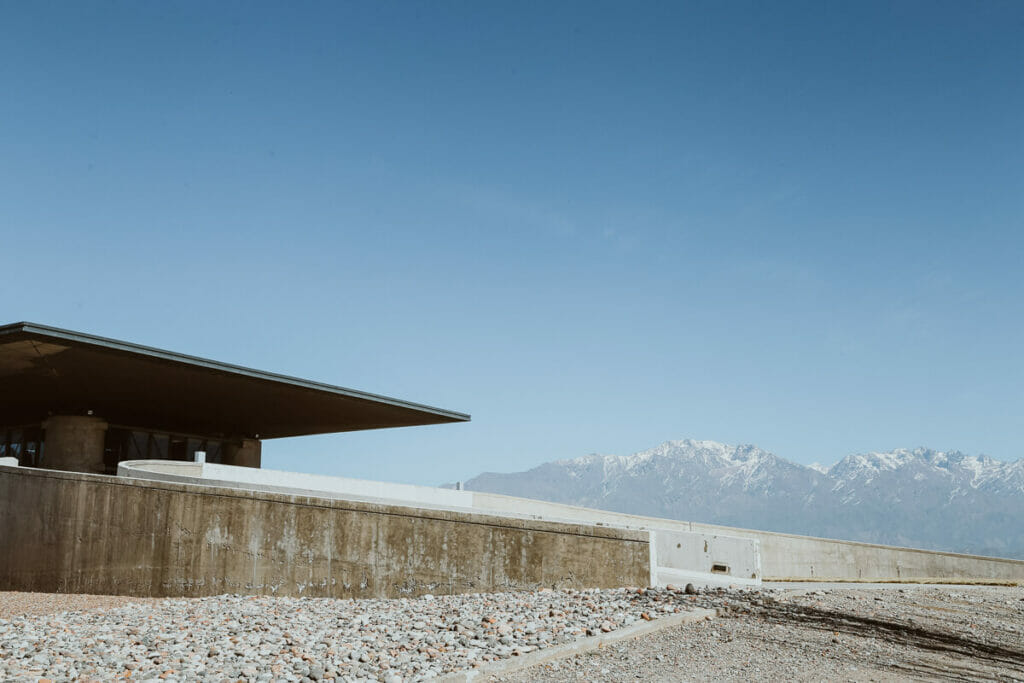 Alfa Crux
Alfa Crux may be hard to reach but it's worth every minute you sit in the car to get there.
It took us an hour to get there from Tupungato (where we stayed in the Uco Valley). It will take an hour and forty minutes from Mendoza's city center.
The wines were spectacular and the building was as well.
If you love architecture, then you have to visit Alfa Crux.
The highlight for me (besides the wine, of course) were the massive tanks that also served as structural columns.
The tasting includes a wine from all levels of their wines. If you want to get more bang for your buck regarding the drive out, stay for lunch at their restaurant (the views won't disappoint).
Visit Alfa Crux
5VWJ+RM Eugenio Bustos, Mendoza Province
How to visit: The website for their restaurant has a reservations button that opens WhatsApp, consult them about tours and lunch reservations.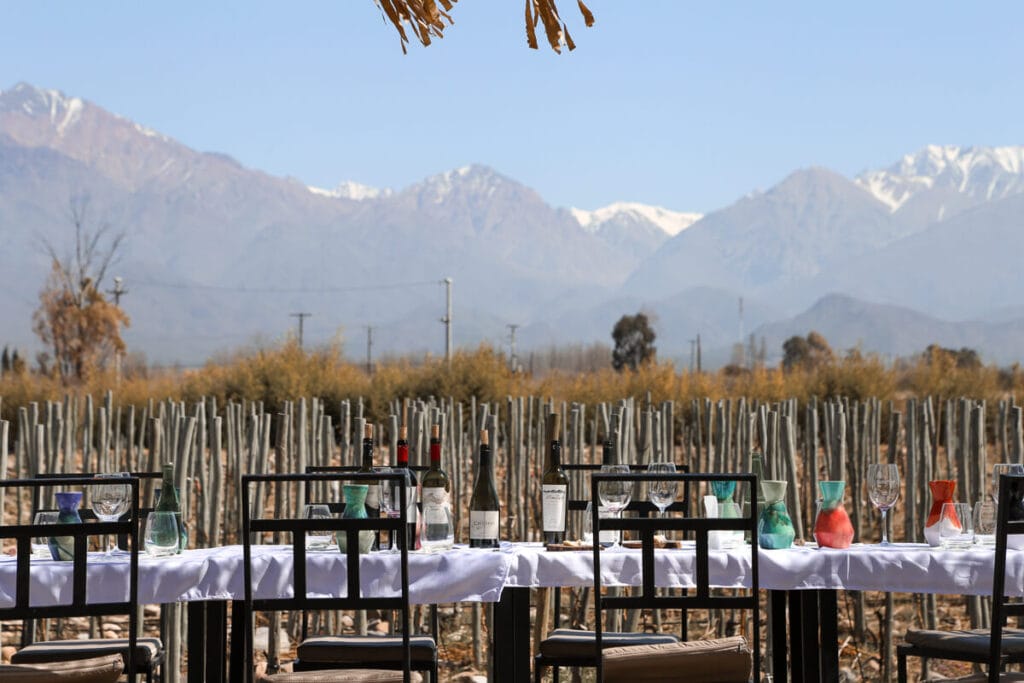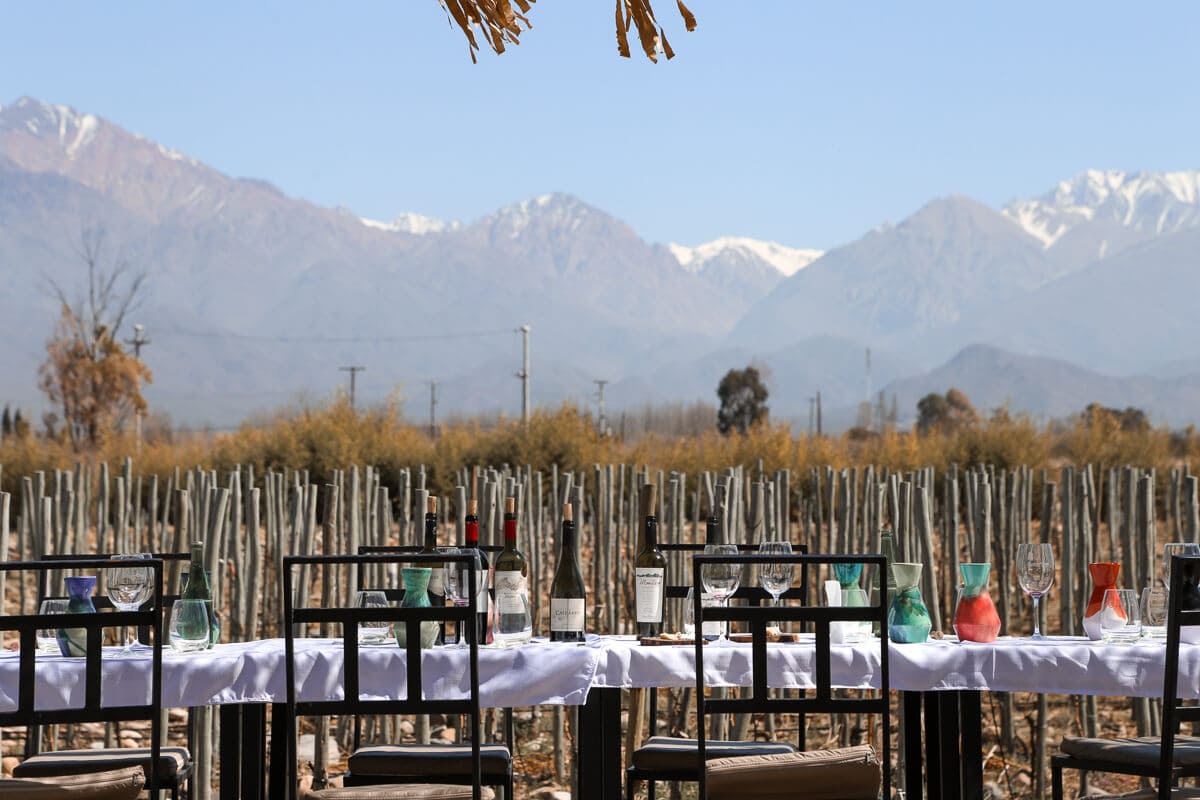 SuperUco
SuperUco was my favorite Argentina winery tour and tasting.
This Uco Valley winery is owned by the four Michelini brothers and is a family passion project.
They grow and produce their wines organically and bio-dynamically, aiming to keep everything as close to the way nature intended as possible.
You can see this in how they grow their vines to how they've designed the architecture of the building itself.
The tasting took place on their deck with a view to the Andes in front of us.
Tours are in Spanish or English, but English tours are available every day except Tuesdays or Wednesdays (confirm before going just in case this changes).
Visit SuperUco
RP94, M5562 Los Chacayes, Mendoza
How to visit: WhatsApp the number on their website, tours at set times all week but Mondays. Since we have visited they have opened a restaurant, I would love to dine on that deck!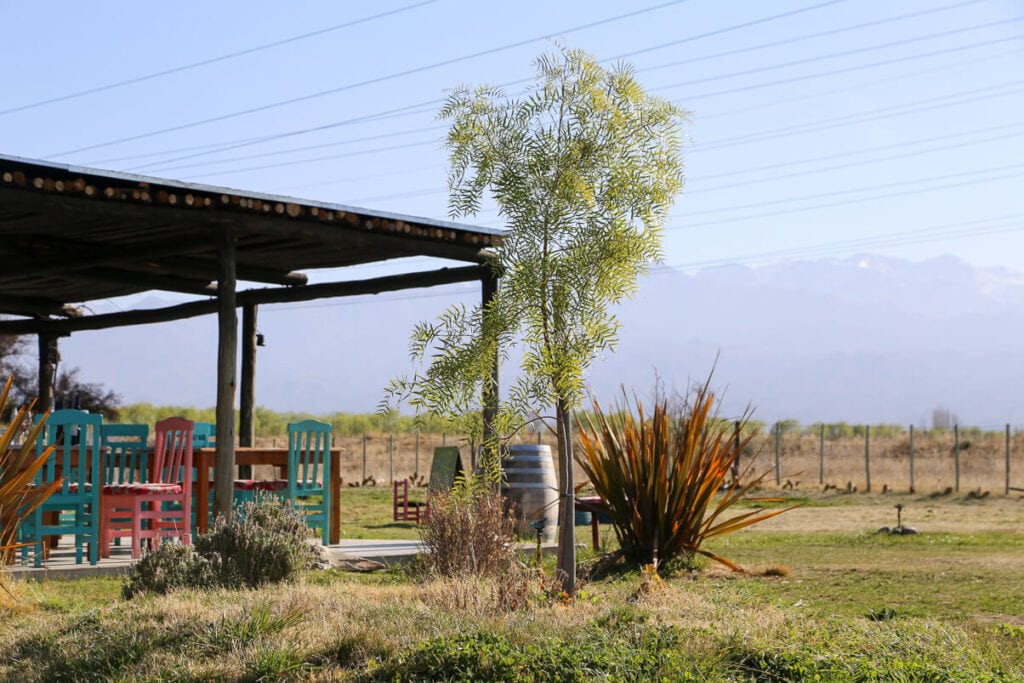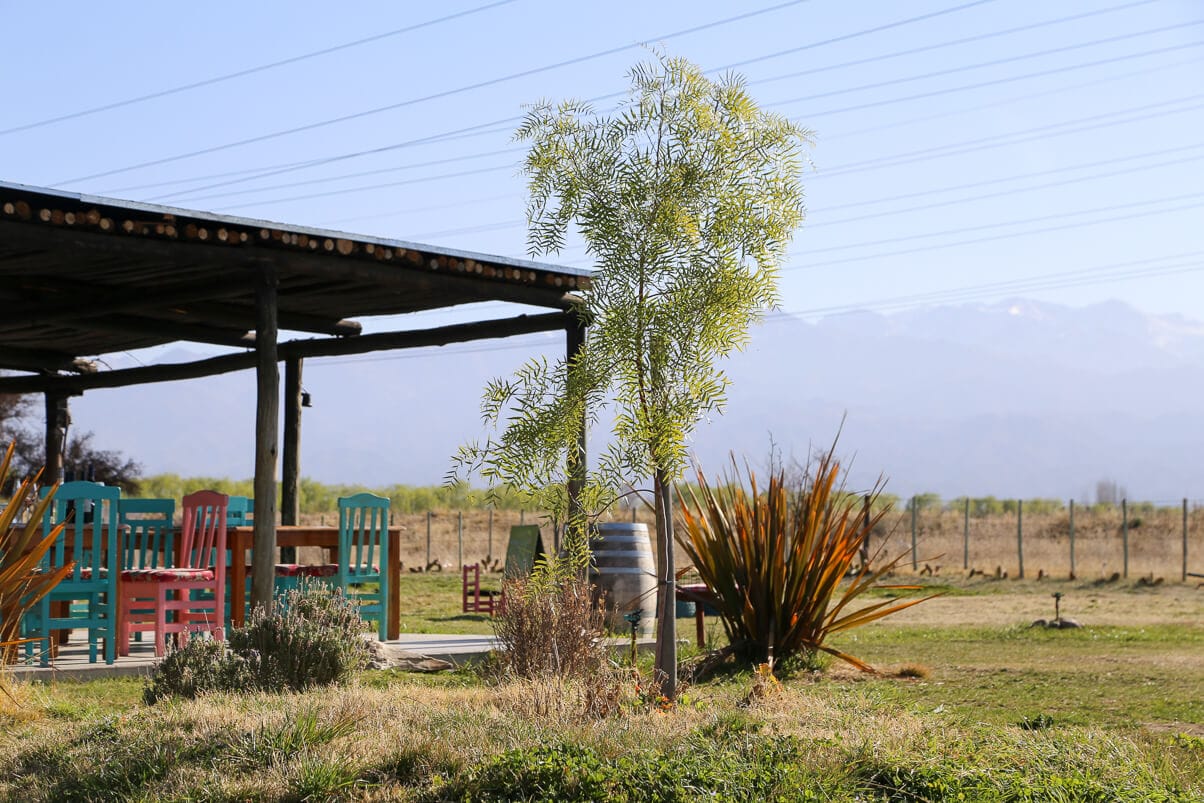 Bodega La Azul
Bodega La Azul is my absolute favorite winery and restaurant in all of Mendoza.
We had lunch at Bodega La Azul on both of our visits.
Just like Carmelo Patti above, this is a place I will visit every single time I'm in Mendoza.
Bodega La Azul offers a 5-course lunch with (bottomless) wine pairings.
After lunch, you are taken for a private tasting of a reserve wine straight from the barrel.
I can say confidently this is the best lunch I've ever had, twice.
The wine flows freely and the views are unbeatable.
It is a family-owned winery and the only Uco Valley winery owned by a family actually from Mendoza.
For a unique experience offered by people who truly love what they do, have lunch at La Azul.
You can read more about my most last visit there in my review of Bodega La Azul (restaurant and hotel).
Visit Bodega La Azul
GQJH+7J Tupungato, Mendoza Province
How to visit: Reserve via WhatsApp: +54-2622-603443
Domaine Bousquet
French-owned Domain Bousquet makes organic wines in the Uco Valley.
The father of the current owners came to Argentina after searching the world for the perfect location to support organic wine production.
Lucky for us, the dry desert air in Mendoza was perfect.
The dry air, the land, everything came together for him to produce some of the best organic wines in Argentina.
Visit Domaine Bousquet
RP89 km. 7, M5561 Tupungato, Mendoza
How to visit: Check their Website, email at turismo@domainebousquet.com or write by WhatsApp: +54 9 261 532 0896
Bodegas Salentein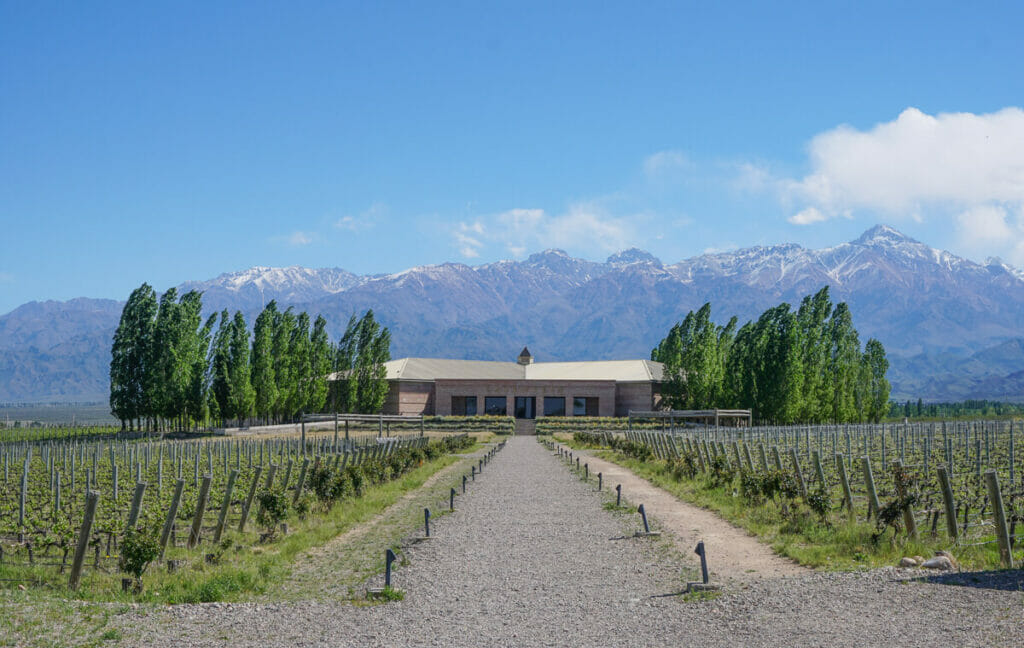 Salentein is one of the most popular wines domestically in Argentina and abroad.
You will see it on store shelves everywhere and for good reason.
Their wines are excellent at every level, even their youngest line Portillo finds its way to my kitchen on a regular basis.
This is one of the most popular Mendoza wineries to tour in the Uco Valley.
The building itself is an architectural feat designed to be as inconspicuous as possible.
From ground level it appears to be a minute single-story building but once you descend the staircase you'll find a massive space with room for 5,000 barrels.
The star of the show (aside from the wine) are the acoustics.
In the center of the barrel room is a space designed to reverberate sound directly upwards.
Concerts can be (and are) had here without affecting the barrels just steps away, not a single drop of wine will vibrate.
There is also an in house art gallery, Espacio Killka.
The only downside is that the visit is more expensive than its neighbors.
For my last two visits it cost U$20 for a tour and tasting. But it's very much worth it for such a unique experience.
There is also an art gallery on site, a restaurant, and a boutique hotel.
Visit Salentein

How to visit: Reserve one their many experiences from tour/tastings to the restaurant on their website.
Zuccardi Valle de Uco
Zuccardi in the Uco Valley is not only among the best Mendoza wineries, for three consecutive years it has been voted the best vineyard in the world in a list of the world's Top 50 vineyards (other Argentine bodegas on the list include Salentein, Catena Zapata, and Trapiche).
Even before they won that distinction, Zuccardi has been in my sights for a while. It will be the first tour I schedule for our next trip.
Visit Zuccardi
RP89 km. 7, M5561 Tupungato, Mendoza
How to visit: Reserve one their many experiences from tour/tastings to the restaurant on their website.
https://zuccardiwines.com/turismo/
email: reservas@piedrainfinita.com
They have regularly scheduled tours and tastings Tuesday-Sundays (closed Mondays), prior reservations required.
Mendoza Vineyards for Architecture Lovers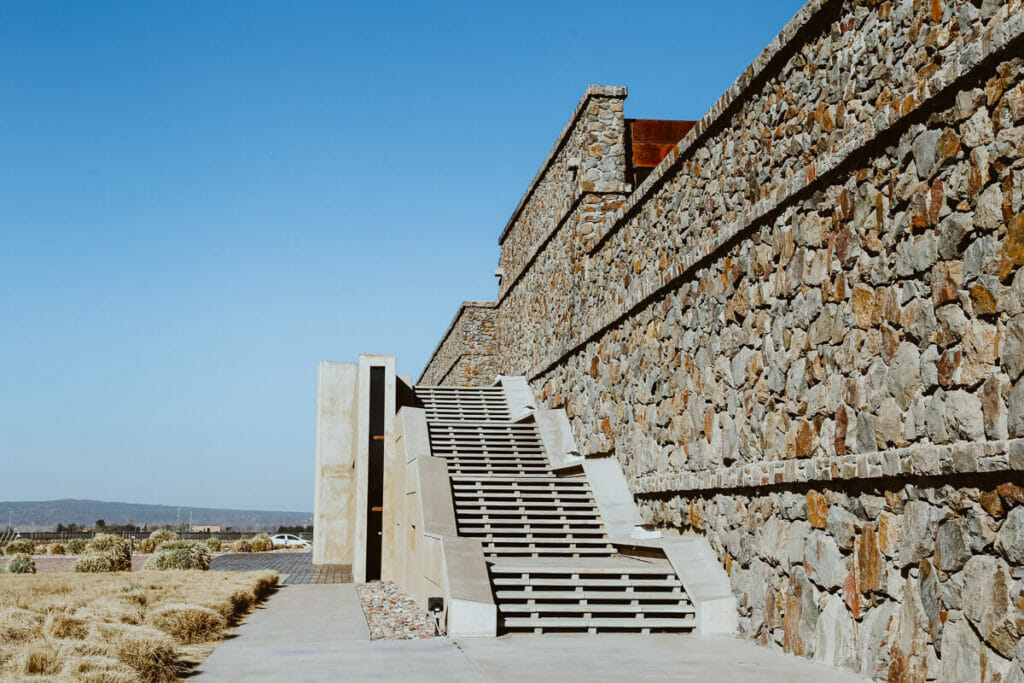 A team of two architects together make up the firm Bormida y Yanzon.
If you love architecture and design, you'd be well-served to take their projects into account when planning your wine tasting itinerary.
Together they have designed the most impressive buildings that dot the landscape across Mendoza.
They incorporate innovative materials such as concrete, stone, wood, and glass into their projects that result in a building that echoes the land around it.
Their winery projects are both modern and functional but also fit perfectly into the natural landscape of Mendoza.
A few noteworthy bodegas that they've designed include Salentien, O. Fournier, Septima (above) and DiamAndes.
If you're interested in learning more, put this article about them through Google Translate.
For a complete list of their projects visit their website, click on proyectos, then bodegas.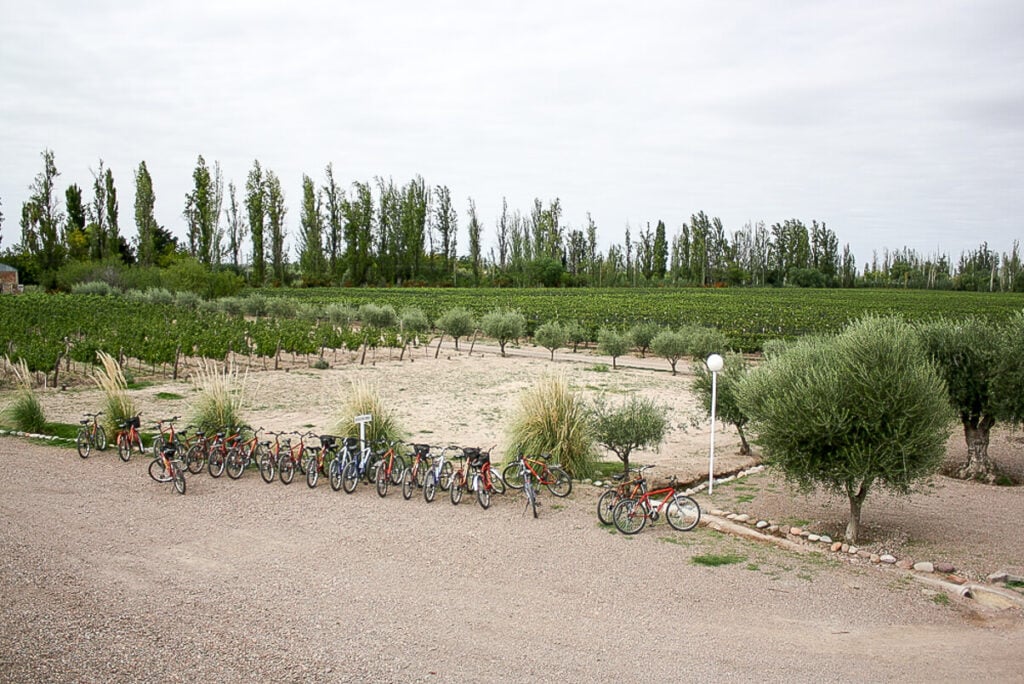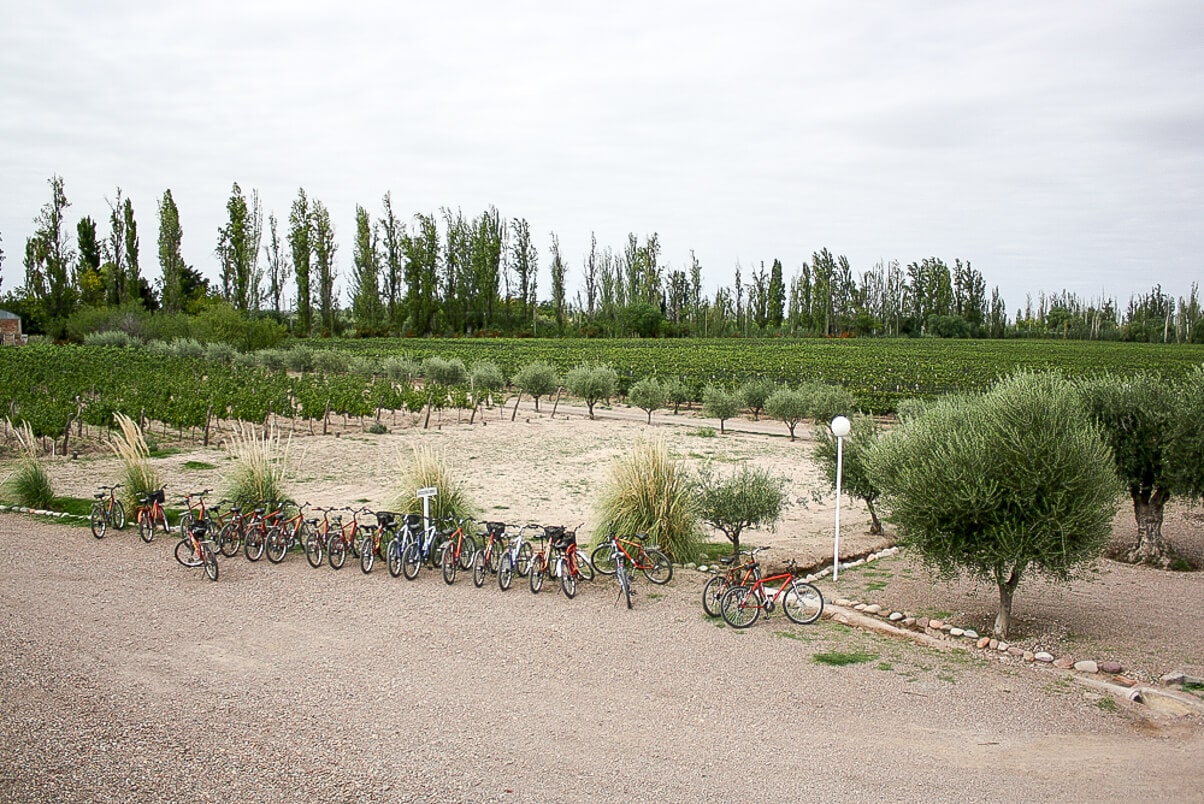 How to Get to the Top Mendoza Bodegas
There are SO many top Mendoza wineries to visit but how does one visit them?
There are wine tours galore, hop on hop off buses and (my personal favorite) you can rent a car to take complete control of your trip.
1. Rent a Car
I'm a total advocate for the rental car industry because I think there's no better way to explore a new place than with your own car.
If you're willing to leave the city and stay in a resort on the most beautiful Mendoza vineyards (scroll to the end on where to stay), you'll need a car.
Also, my favorite wineries (and the most beautiful) aren't accessible by bike or public transportation, and perhaps the cheapest option will be a rental car.
Warning, manual transmissions are most common here and renting an automatic will be more costly.
Check Mendoza Rental Car Rates Here.
2. Private Tour with a Driver
The next best thing to renting your own car is hiring a driver to take you on a customized tour.
If it's in your budget and you're new to driving in Argentina, it may very well be the best option because you won't have to worry about designated drivers in a place where drinking is the main attraction.
A driver will pick you up from your hotel and see to it that you have the best day possible.
I particularly like this tour because he brings you to the Uco Valley. This area is without a doubt home to the best wine and the most beautiful Mendoza vineyards.
Keep in mind when making your budget that a driver's rate doesn't typically include the fees for wine tours/tastings or your lunch.
Check rates and reserve your private tour.
3. Small Group Tour
If you are traveling alone and a private driver is out of your budget or you'd rather be with fellow travelers, a small group tour like this one is the best option for you.
With max group sizes of 8 people, you'll still have an intimate experience yet enjoy your experience tasting the best Mendoza wines with a group.
NOTE: The price of a small group tour is about half what it will cost to hire a private driver, so if you're with a friend/partner or even a group of friends (up to 4 people total) a private driver is, in fact, cheaper and more customizable.
The rate includes visits to 3-4 wineries, a gourmet lunch, and hotel pick-up.
Check rates and reserve your small group tour.
4. Bus Vitivinicola: Hop On-Hop Off Bus
Don't want to drive but don't want to pay for a driver?
Take the hop on hop off bus to hit up the best wineries, the tickets are an affordable $22 US.
They operate in different wine regions depending on the day of the week. I personally recommend the El Rio and Valle de Uco days if they work for your itinerary.
Reserve your hop on-hop off bus.
Read Next: Traditional Foods to try in Argentina
5. Bike Rentals and Bike Tours
Out of the three wine regions, two are most easily bikeable. You can bike in Maipu and Lujan.
The two companies worth your time are Mr. Hugo's Bike Rentals in Maipu and Baccus Biking in Chacras de Coria in Lujan.
Of the two, I wholeheartedly, without a doubt, recommend Baccus (I've done both and speak from experience).
For a more curated, guided experience, this bike tour is excellent.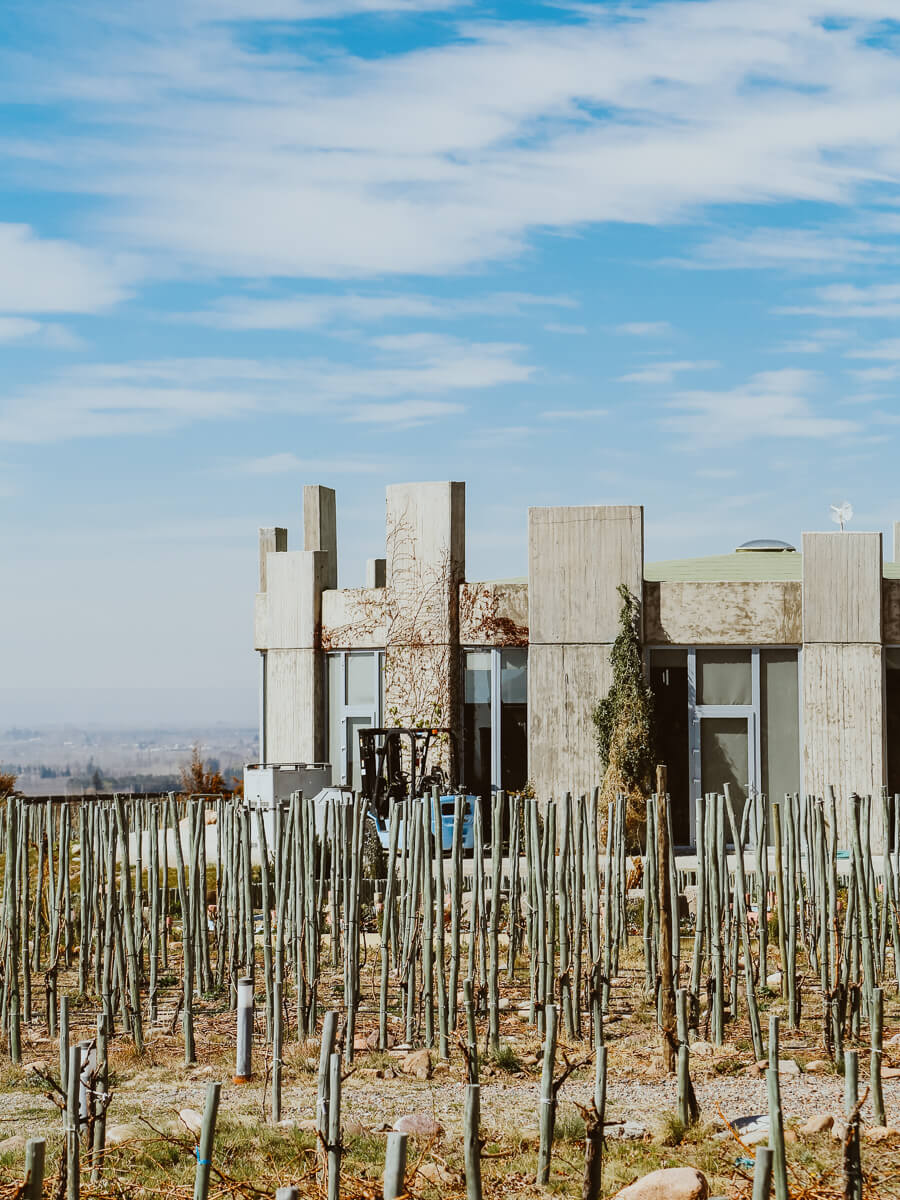 When to Visit Mendoza
The best time of year to visit Mendoza is generally from October until April, from planting until harvest.
However, visiting in summer (January and February) will give you hot afternoons and the busy season.
Locals travel in droves during their summer holidays in January.
The absolute best time to visit Mendoza is in March for harvest (the "cosecha" or vendimia).
Despite all of that, Mendoza is a generally a great destination year-round.
We've visited in both September and in March.
In March, we were there a week before the actual harvest festival, so we were able to see the vines lush and full of grapes.
In September, we were there just after most wineries had done their pruning, so we didn't see any vines and it was still beautiful.
The vines will begin to regrow for spring at around the end of September.
Read more: The Best Time to Visit Argentina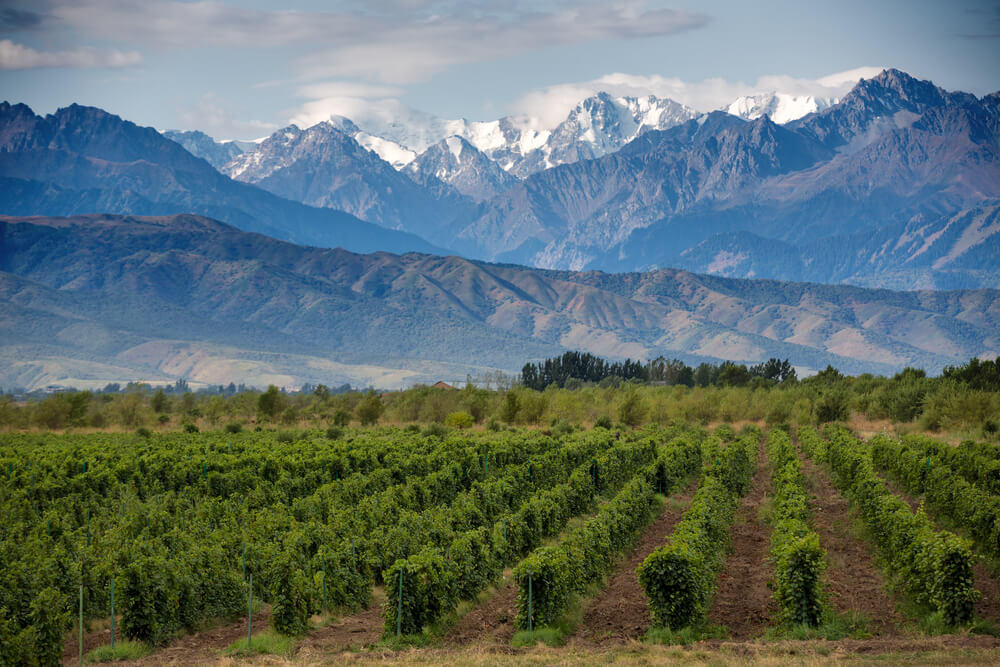 Mendoza Wine Tasting Tips
Planning your day of wineries in Mendoza can be overwhelming.
There are so many to choose from and information about the winery's tours isn't often displayed clearly on their websites.
Plan well to make sure you have a great Mendoza wine tasting experience and not ruin your wine tasting.
Check opening hours! Many Mendoza vineyards aren't open Sundays. Others close Mondays and Tuesday.
If you're driving yourself, you'll need to contact the wineries ahead of time to make your reservations. Their websites usually have an email or WhatsApp number for this.
Be persistent. Yes, it's normal for them to not respond for days. Follow up, be the squeaky wheel. WhatsApp will probably be faster than email.
Most wineries begin offering tours from 10 am. Ideally, you'll visit two wineries at 10 am and 11:30(ish) and a third for lunch. Lunches are best at the wineries themselves, most offering a fixed coursed menu with wine pairings.
PRO-TIP: I always like to have a few extra wineries in mind that are nearby. I won't reserve a tasting with them in case there's no time. Two tours and lunch can usually fill the day. But if there is time, I'll swing by and see if they have time to squeeze me in for a tasting (you won't have time for a third tour).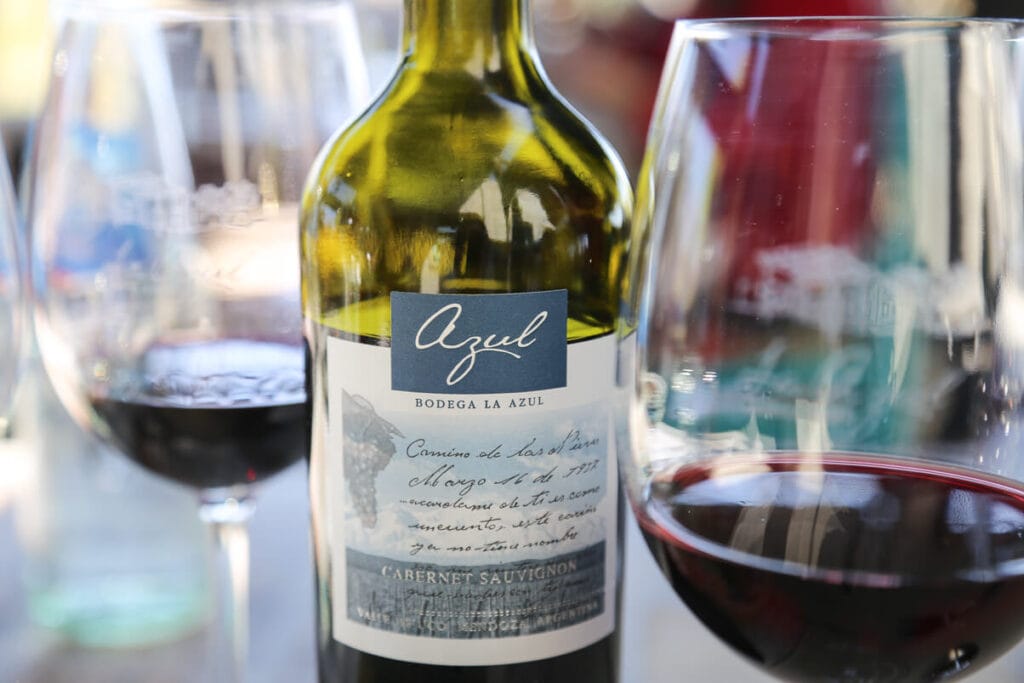 Sample Mendoza Winery Itineraries
Here are two sample itineraries for my two favorite Mendoza wine regions: Lujan de Cuyo & The Uco Valley.
They're tried and tested (they're our itineraries from our more recent trip!).
Take them and copy them identically or use them as a guide, substituting your own favorite wineries that are nearby.
Whichever you choose, I hope you have an excellent day of wine tasting!
Uco Valley Itinerary
If I were to plan a wine tasting in Valle de Uco Itinerary for a friend, this is the day I'd schedule for them.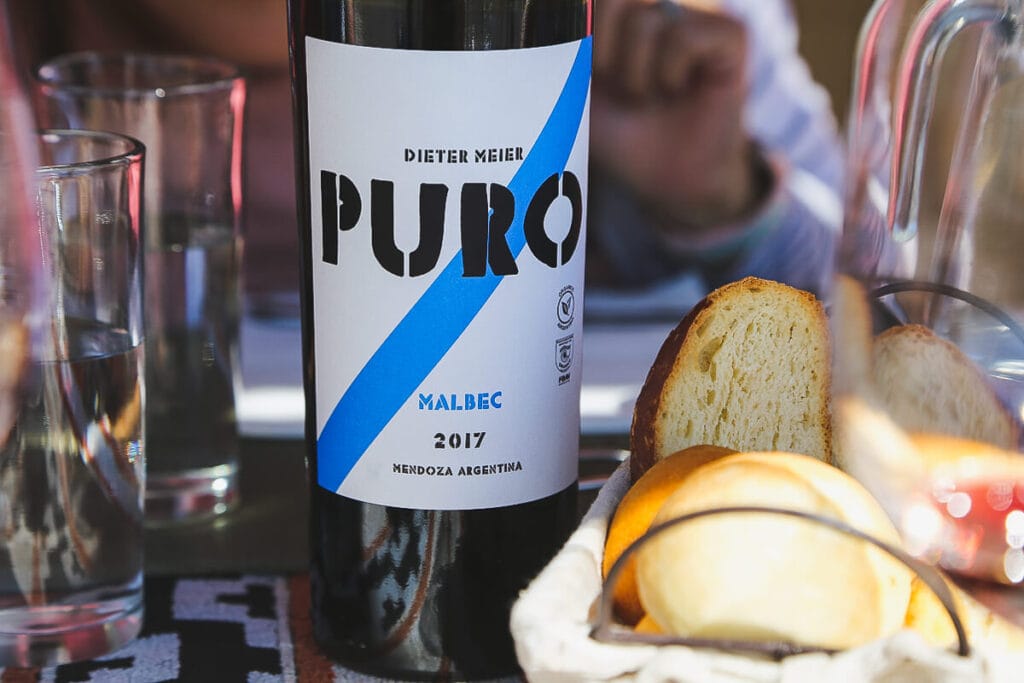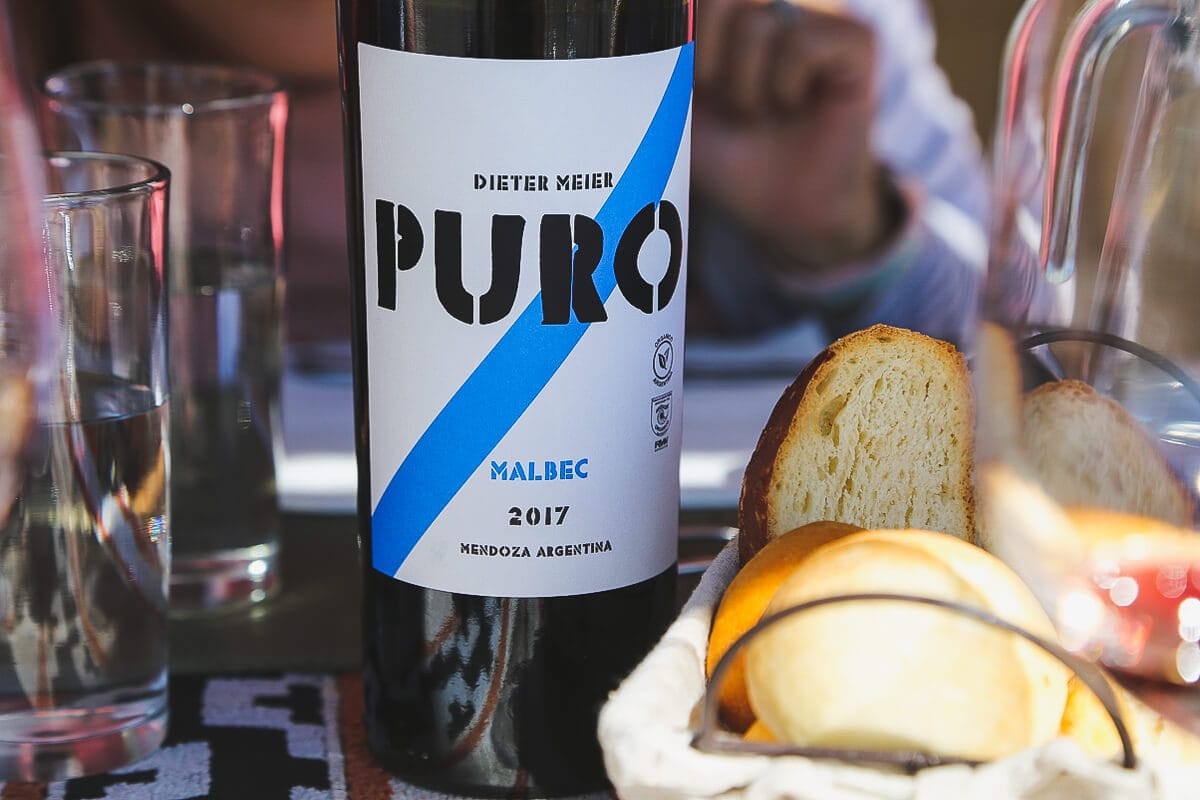 Lujan de Cuyo Itinerary
This is my ideal day in Lujan de Cuyo, and it's tried and tested because this is how we spent a day here this year.
You'll need a car or a driver for this itinerary as these wineries aren't reachable by bikes rented from Baccus. It's worth the effort, I promise.
A16 – 10 am – Start your day with a tasting and a tour at A16.
There are a LOT of wineries in this area, pick from: Ruca Malen, Cruzat, Vinas Cobos, Septima, Susan Balbo for winery #2 at 11:30
Ojo de Agua – 1:30 pm for a winery lunch – It took us about 15-20 minutes to drive to Ojo de Agua from Melipal (which has since been bought out by another corporation). Enjoy a leisurely lunch, we finished lunch at 4 pm.
Optional Bonus Tasting after lunch. Wineries close at 5 or 6 so if you play your cards right you can squeeze in one last tasting (no tour) after Ojo de Agua. Choose from: Septima, Cruzat, Viña Cobos or Ruca Malen.
Map of the Best Mendoza Wineries & Hotels
Use the following map to see the locations of the best Mendoza vineyards, hotels & restaurants mentioned in this post.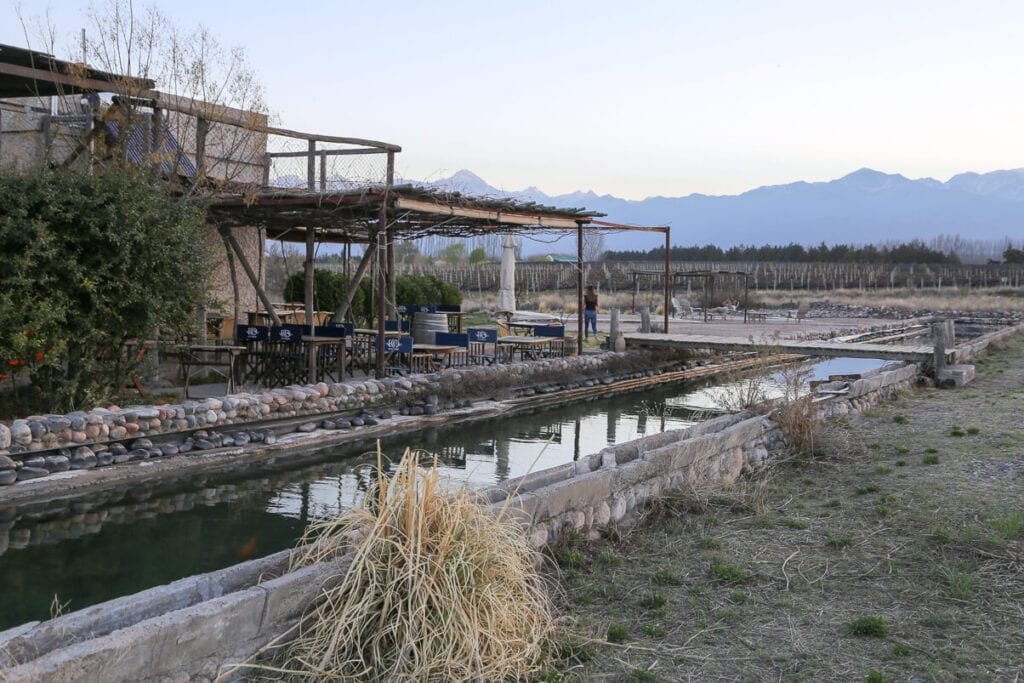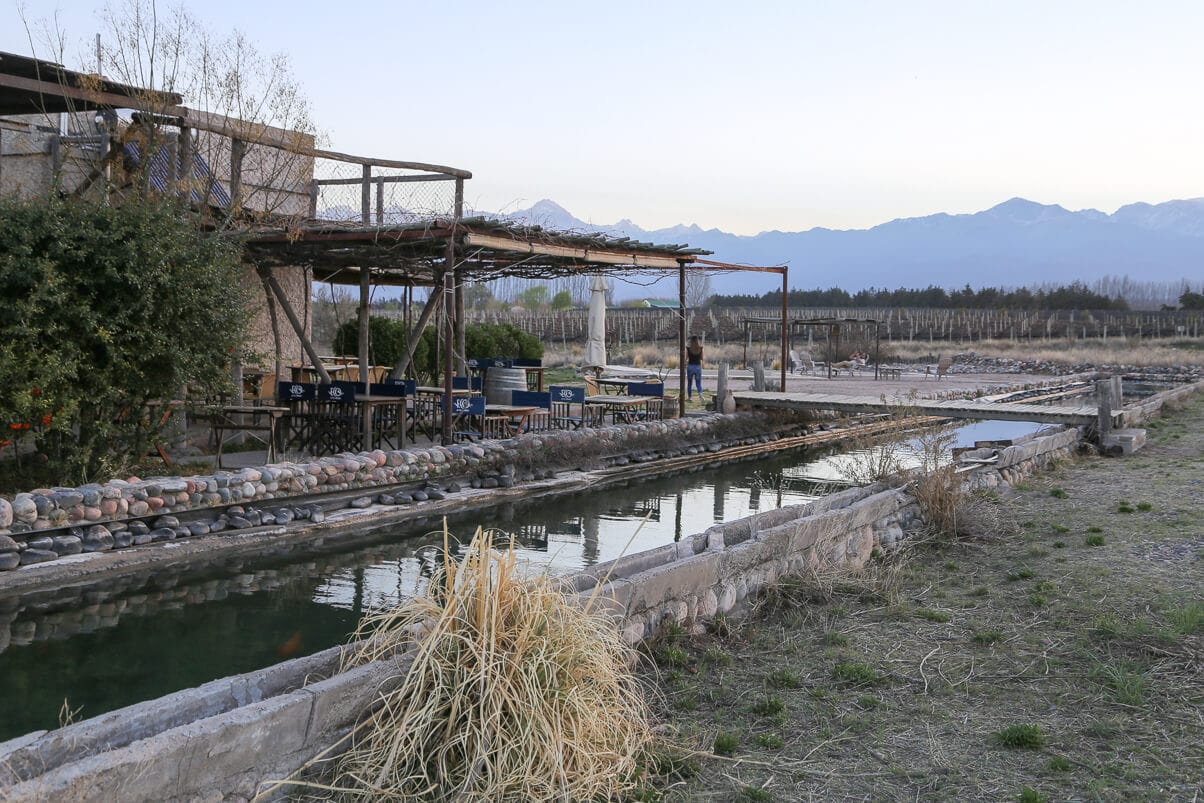 Where to stay in Mendoza
Staying in the city is a good option if it's your first time to Mendoza, if you're on a tight budget, and/or you don't want to rent a car.
You'll be walking distance to great restaurants, museums, and parks.
But staying on a vineyard, especially in the Uco Valley, is my favorite choice for Mendoza accommodation. This is best if you have your own rental car.
For detailed information I have a complete guide on where to stay in Mendoza, or just pick from the list below.
Here is a curated selection of places to stay in Mendoza from hostels in the city to resorts: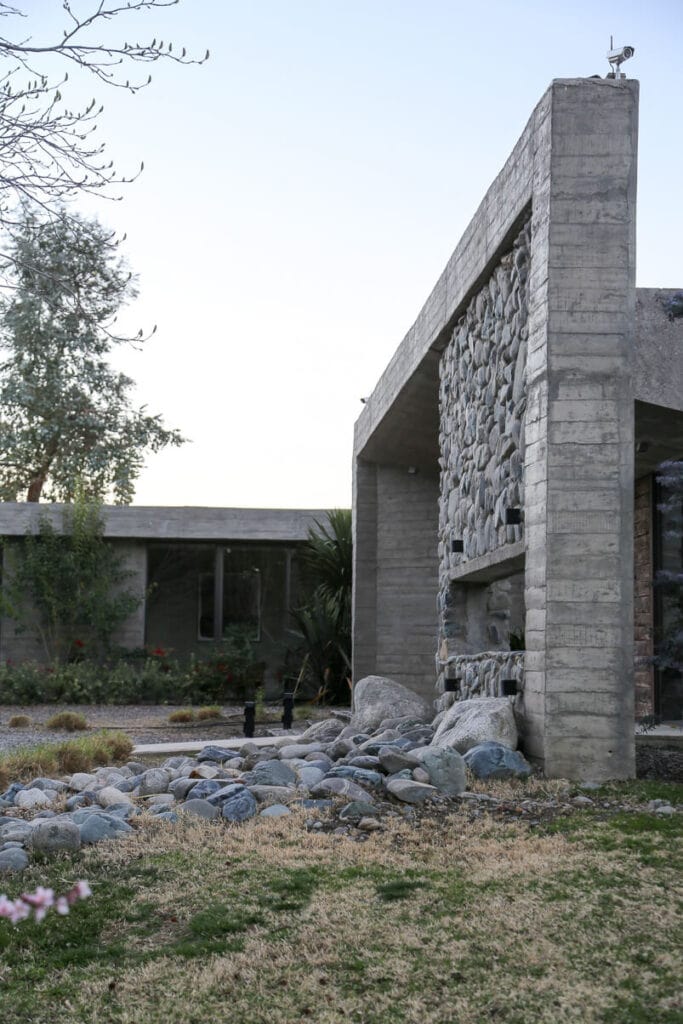 Wine Tasting in Mendoza's Bodegas: In Summary
I hope this post gives you EVERYTHING you need to know to visit Mendoza.
If you have any questions whatsoever, please let me know in the comments and I'll answer you as soon as I can.
If I missed your favorite Mendoza vineyard, let me know in the comments as well!
I'm always looking for places to visit on our next Argentine wine trip.
Cheers!!
Argentina Travel Resources
Read More About Argentina Wine Regions
Pin It For Later