Mendoza is my personal happy place.
I love wine and there is no better destination in South America for wine lovers than Argentina's Mendoza.
But not everyone loves wine (at least not as much as I do, which is probably normal).
If you're lukewarm on wine and wondering if there are enough things to do in Mendoza, Argentina besides wine, then worry not. There are enough Mendoza attractions to keep the whole family happy.
After two visits to Mendoza (and more to come), I've completely fallen in love with it.
We've eaten our way from the Uco Valley to Maipu, we've ridden the rapids in a rubber raft, and we've followed San Martin's footsteps on horseback through the Andes.
Keep reading to discover all the Mendoza attractions Argentina has to offer.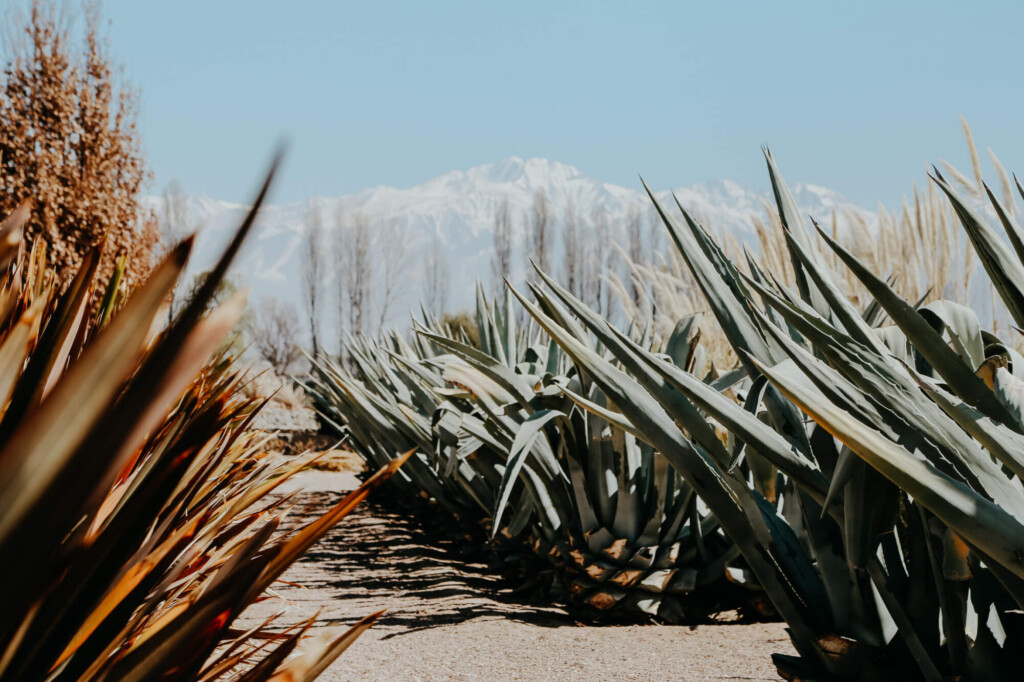 QUICK NOTE: This post contains affiliate links and Sol Salute may receive a commission for purchases made through these links, at no extra cost to you.
10 Things to do in Mendoza, Argentina
Mendoza is just over two hours from Buenos Aires by plane and just a hop over the Andes from Santiago de Chile.
You could easily get a flight there from either city.
The city itself, in my opinion, isn't particularly gorgeous. It has enough highlights that do make it worth spending an afternoon exploring but most of the great things to do in Mendoza are in its stunning surroundings.
Get into the Andes on horseback, hike part of South America's tallest peak, soak in the thermal hot springs, and of course, try all the Malbec.
If you want freedom to move, check rental car rates here.
We typically rent a car but rental cars in Argentina tend to be expensive so it sometimes can make more sense to take tours (mentioned throughout the article).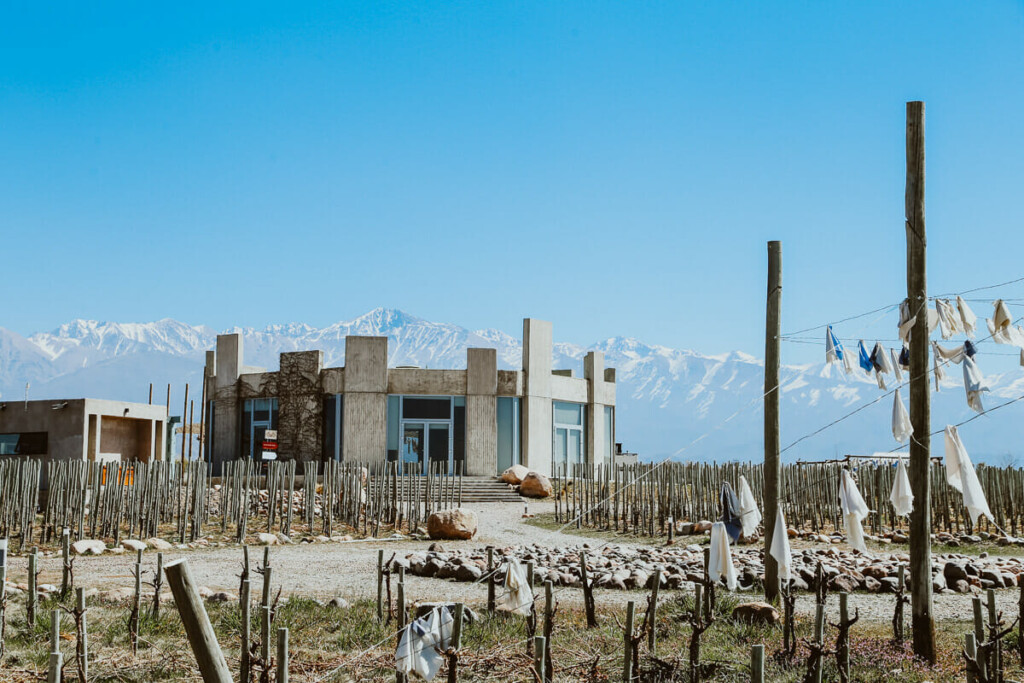 Go on a Wine Tour
As they say, when in Rome…
If you're in Mendoza, try the wine!
There are a number of ways to tour the vineyards with something on offer for every age bracket and budget.
You can definitely use a rental car and explore the vineyards yourself, but between navigating the backroads with splotchy cell service and having to drive after wine tasting, a tour is often the best option.
On a full day of wine tasting, whether it be by bike or with a private driver, you typically visit 2-3 wineries with a lunch at one of these.
There are three wine regions that surround the city of Mendoza. They are Maipu (closest to the city), Lujan de Cuyo, and the Uco Valley (the most beautiful region nearest the Andes that produces the highest quality wines).
Here are the best wine tours in Mendoza:
Winery Bike Tour | In the regions of Maipu and Lujan de Cuyo, the wineries are very close together and bike tours are very popular. I've biked in both areas and enjoyed myself both days!
Uco Valley Private Driver | MY PERSONAL RECOMMENDATION, If you only have one day for wine tasting, hire a private driver and go to the Uco Valley. It is the most beautiful region, the closest to the Andes, and it produces the best quality wines.
Small Group Tour | While the private driver makes more sense financially for two or more people, solo travelers (or the social butterflies out there) might enjoy this small group tour instead. The group is small enough to fully enjoy while still making friends with fellow travelers over Argentina's best wine.
If you want to read more, read my guide to The Best Wineries in Mendoza where I go into more detail on my favorite bodegas, tours, and even include sample itineraries from my past trips.
Wine, Spirits, & Beer Tour
There is more than just Malbec in Argentina.
In recent years, handcrafted beer has soared in popularity and artisanal distilleries have appeared, producing one of a kind local spirits (like yerba mate infused gin).
This guided tour will give you a taste of all three: a vineyard, a distillery, and a brewery.
You'll eat, drink, and be merry (sorry, I had to).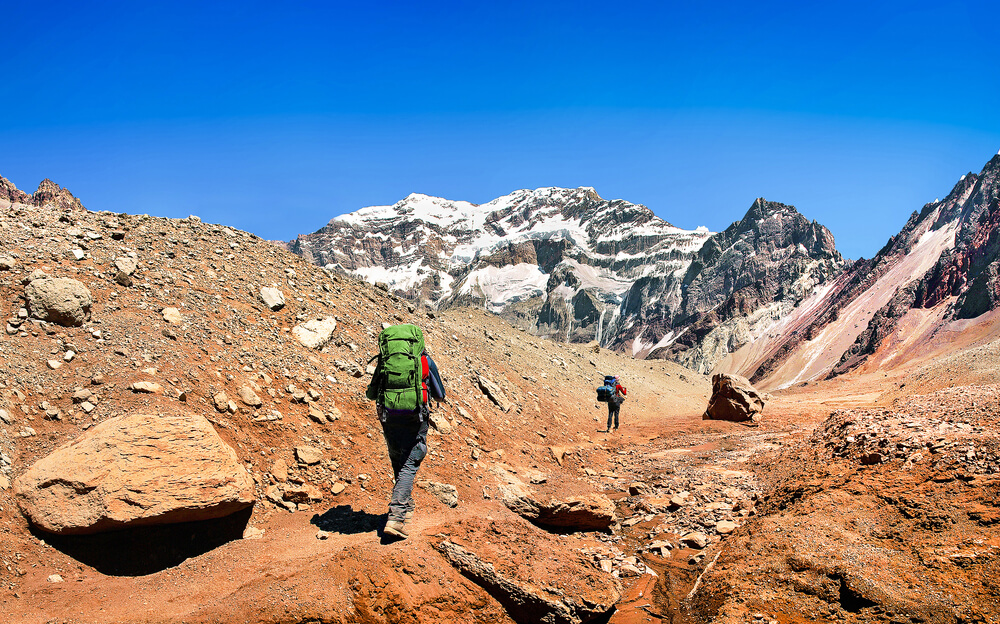 Aconcagua & High Mountain Andes
Aconcagua in the Andes is the highest peak in South America and if with just three weeks of mild effort you can too summit it!
I mean, that or with a day trip you can gaze up at it and go on a short trek at its feet.
This High Mountain tour is the most popular day tour into the mountains from Mendoza. It includes a lot in one day.
The 3-hour drive (long but incredibly scenic) brings you to Aconcagua Provincial Park including stunning vistas along Ruta 7 through the towns of Potrerillos and Upsallata. The tour is friendly for all budgets but the group is large on a coach bus.
If you prefer a smaller group, I recommend this tour instead. It includes the same highlights as above but with a group of max 8 people and a traditional asado lunch in Upsallata.
If you want to properly hike, then go on this tour to hike to Confluencia Camp. It's a full day and the hike itself is about 11 miles making it ideal for hiking enthusiasts who want to experience more than just a superficial visit to the park.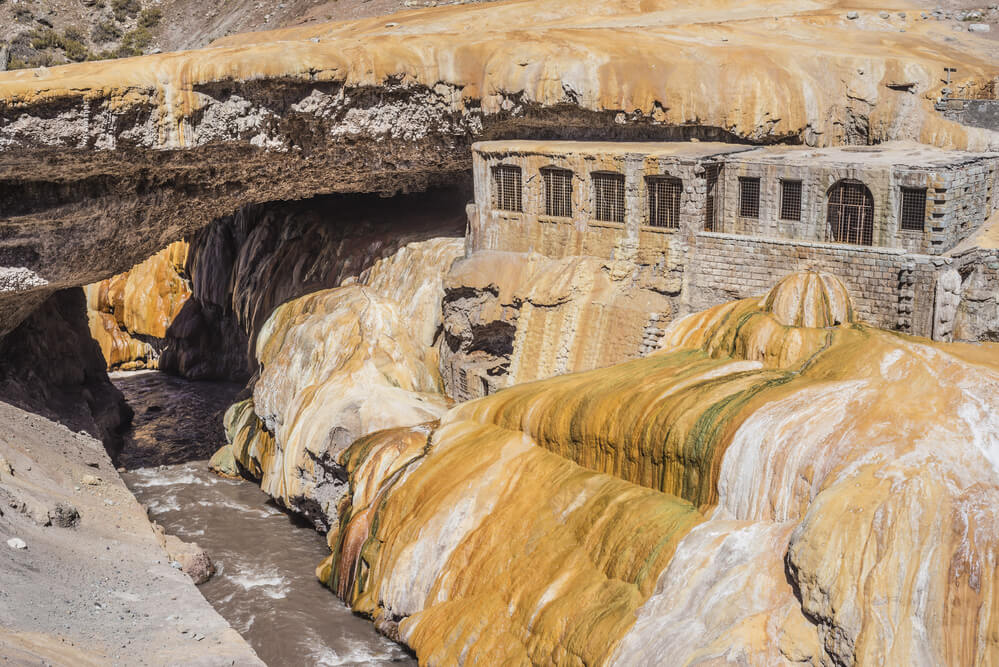 See Puente del Inca
Argentina's Puente del Inca (Inca Bridge) is a natural arch over the Las Cuevas River in the Andes.
If you go on either the High Mountain Tour or the small group to Aconcagua then your guides will bring you to see this natural geographical formation.
At one point, a healing spa operated here and you can see the deteriorating abandoned buildings that remain.
These days, the thermal spa has moved down river a bit to…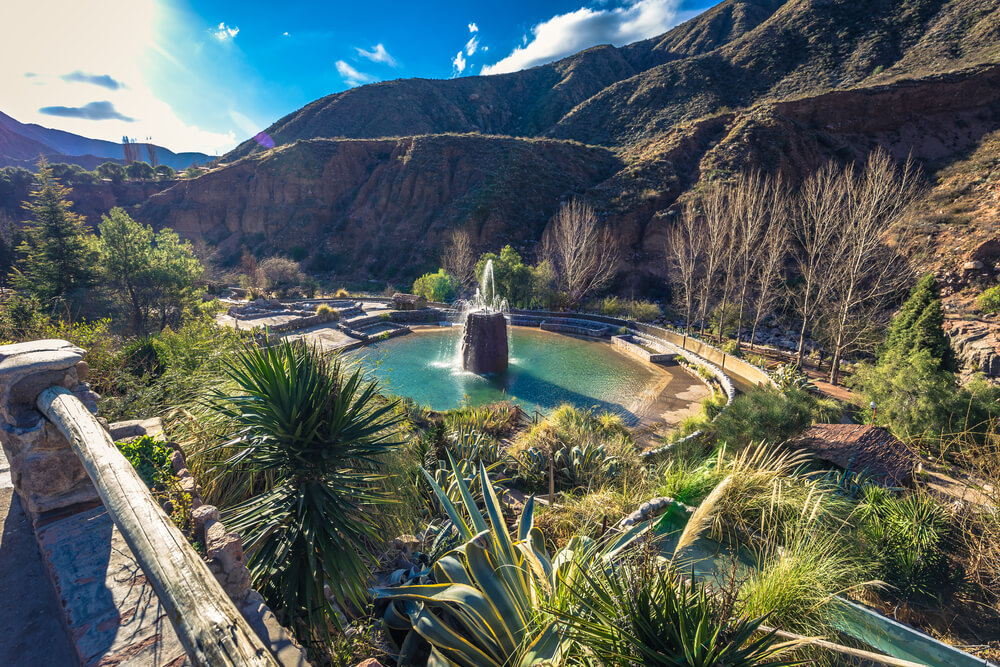 Relax at the Termas de Cacheuta Spa
The Cacheuta hot springs are one of Argentina's most popular thermal baths.
Spend a day relaxing in the numerous pools, hot tubs, mud baths, and indoor pools here.
This Cacheuta tour includes transport and lunch.
There is a buffet lunch included and optional massages (bring cash to add a massage once there).
The views from the pools in the mountains are spectacular. I recommend ending your trip here to relax after hikes and wineries.
Note that kids under 14 aren't permitted as this spa is geared 100% to a quiet atmosphere.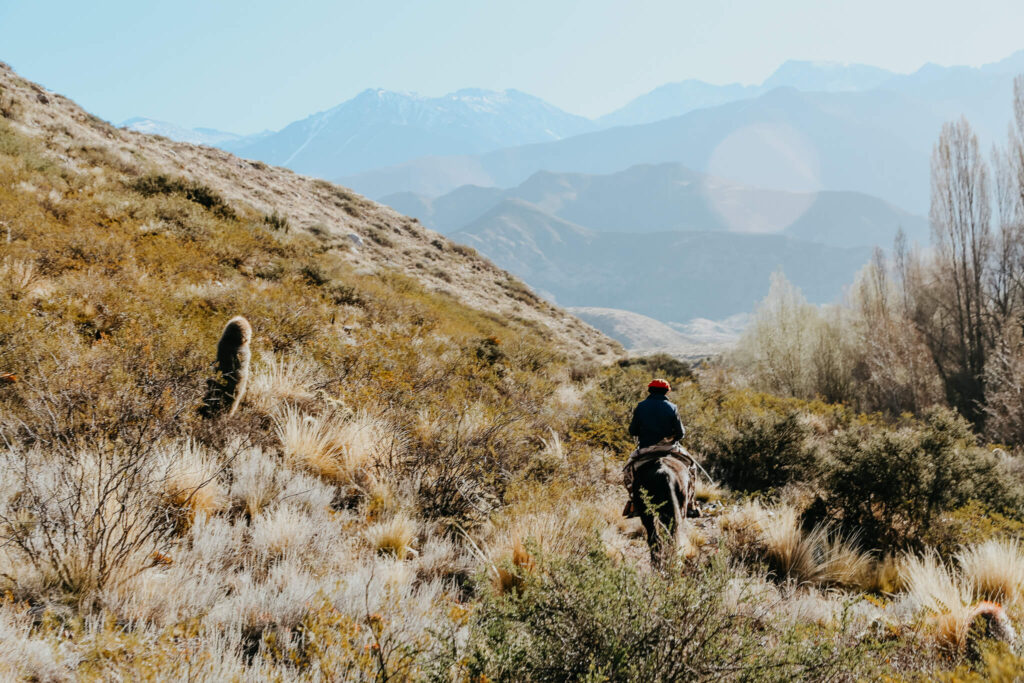 Go Horseback Riding
With its strong rural history and gaucho culture, horseback riding in Argentina is a must and Mendoza's mountains offer the perfect backdrop!
On our last trip we went on a short 45 minute ride from nearby Potrerillos. It was too short and it wasn't enough to properly enjoy or get deep into the beautiful mountain scenery.
Instead, I recommend a full day horseback ride like this that includes a traditional asado in the mountains prepared by your personal gaucho guides. I did a similar ride in El Calafate once and it was worth every penny.
If you want something a little more relaxing, many wineries include horseback rides as ways to tour their properties. Gimenez Rilli, for example, is one winery I love in the Uco Valley that offers cabalgatas (horseback rides). End your ride with lunch and wine right on the vineyard!
If horseback riding is your passion, one of the most popular multi-day tours from Mendoza is this week long ride to cross the Andes to Chile. It includes meals and camps prepared by gauchos, sleep under the stars and ride across the Andes.
A friend took his children on this tour and made memories that will last a lifetime (time will tell if I, myself, am brave enough to take my kids when they're old enough).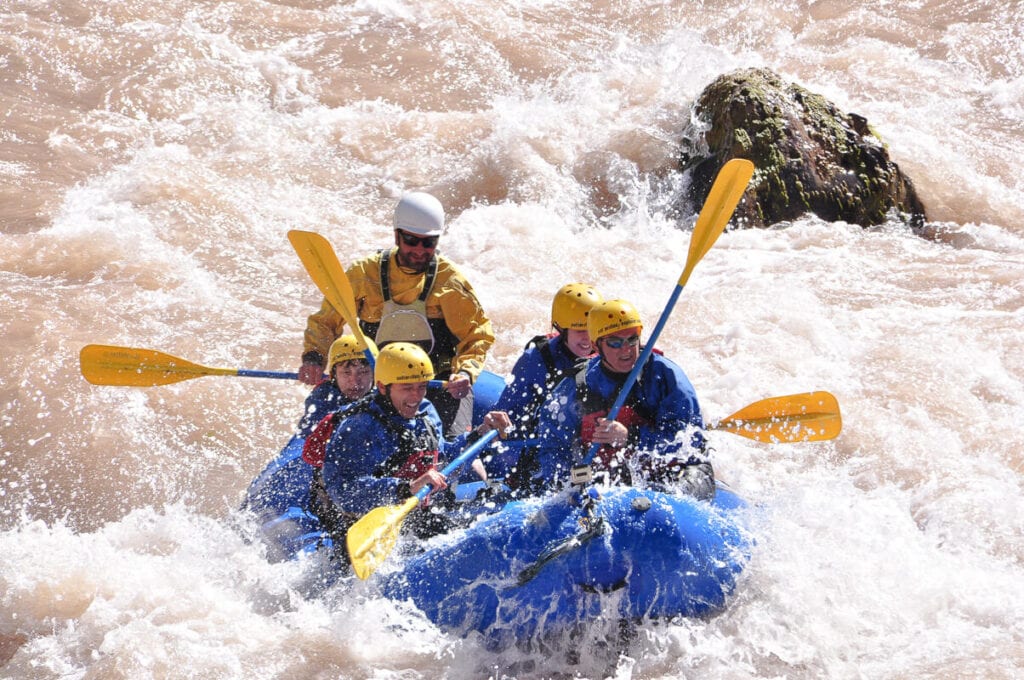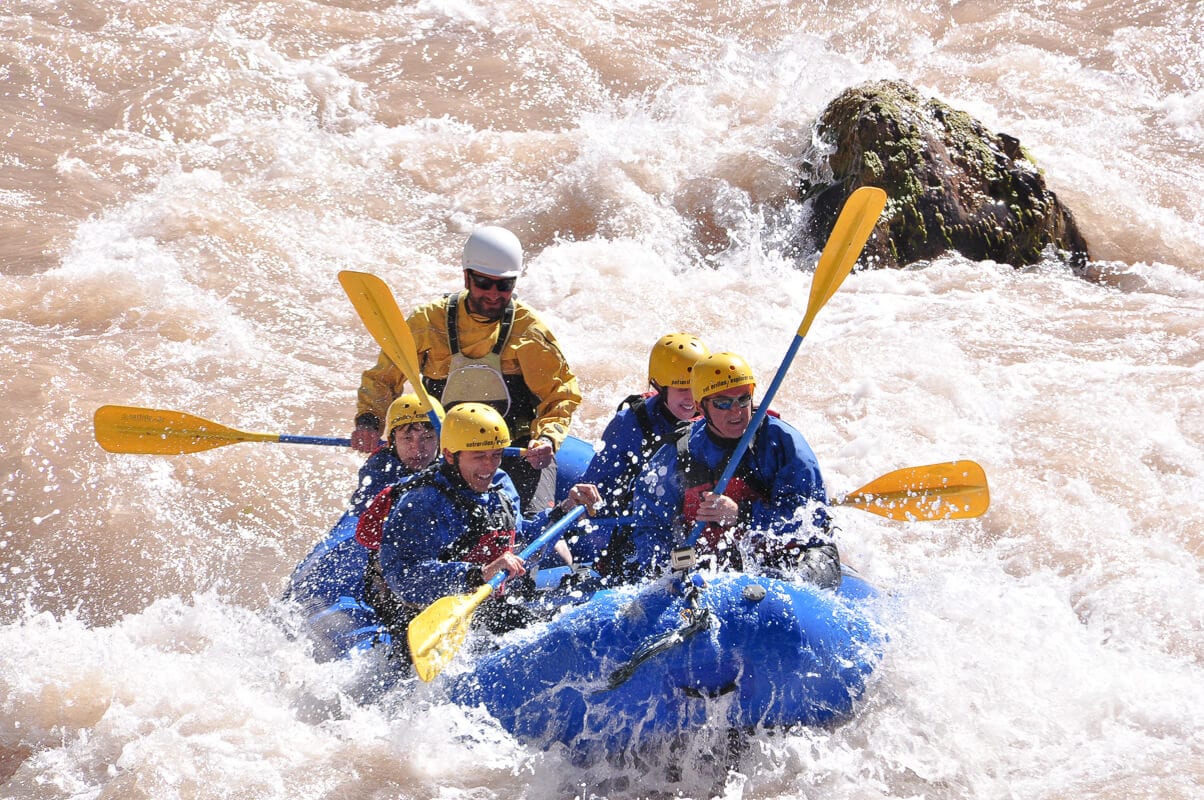 White Water Rafting
On our more recent trip to Mendoza, my husband and I went on this white water rafting excursion and had a blast.
Admittedly, I was a bit trepidatious because I'm hardly an adventure tourism type of person but our guides were excellent and I felt safe the entire time!
The tour itself is in Potrerillos but the package includes transportation from the city center of Mendoza.
The intensity of the rapids varies depending on the time of year. For example, in the hot summer months (December-February) the river will be much more full as snow melt floods into the river.
Read More: Mendoza Adventure Tourism in Potrerillos
See Chacras de Coria
Chacras de Coria is a small town just outside of Mendoza.
There are city buses you can take if you have a local SUBE card or you can take an affordable 20 minute taxi ride.
This small town is beautiful and feels much further from the city center than it really is.
We rented bikes from Baccus Bikes here and spent a day peddling to the wineries in and near the Chacras de Coria center. The kind people of Baccus will help you plan your day's itinerary and take care of logistics.
Don't miss my favorite bodega here, owned and operated by the charismatic Carmelo Patti!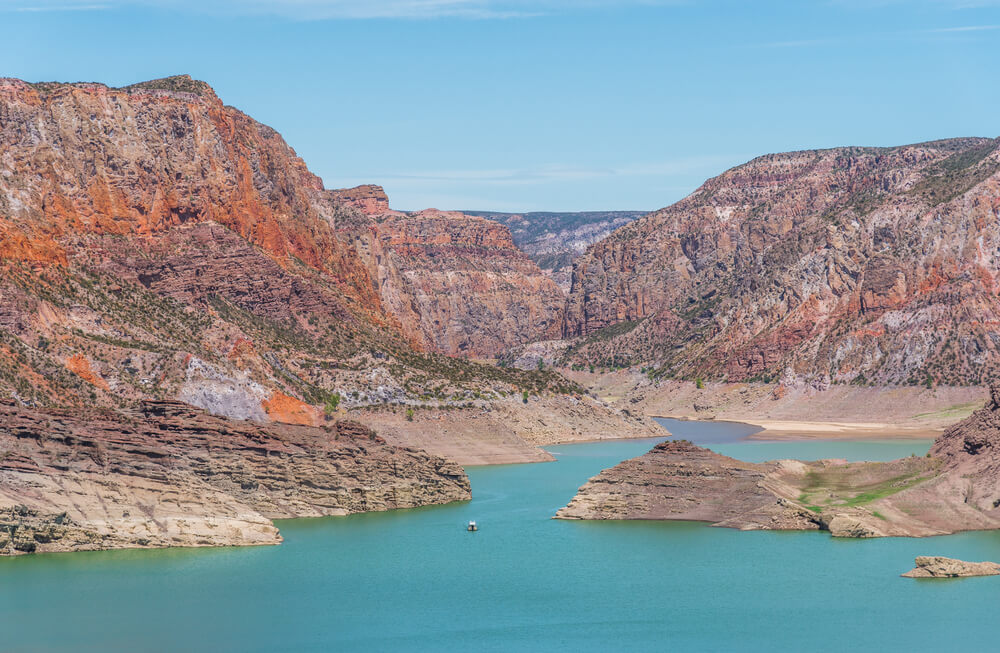 Go to Atuel Canyon in San Rafael
San Rafael is a small city three hours south of Mendoza and in reality, it's a destination all on its own.
My husband has family there and we spent a few days with them back in 2014 (way before my blogging days) and we're due for another visit soon.
San Rafael's Atuel Canyon is absolutely stunning and worth a few days, if you can spare them. If you can't, this day trip from Mendoza is an ideal substitute.
The day tour hits up the most beautiful highlights in San Rafael. If you have more than one day there you can easily spend a couple days in the canyon and another touring San Rafael's vineyards.
Yes, three hours is a lot but that's also how long it takes to get into the Andes for Aconcagua (Argentina is vast and distances can be long here).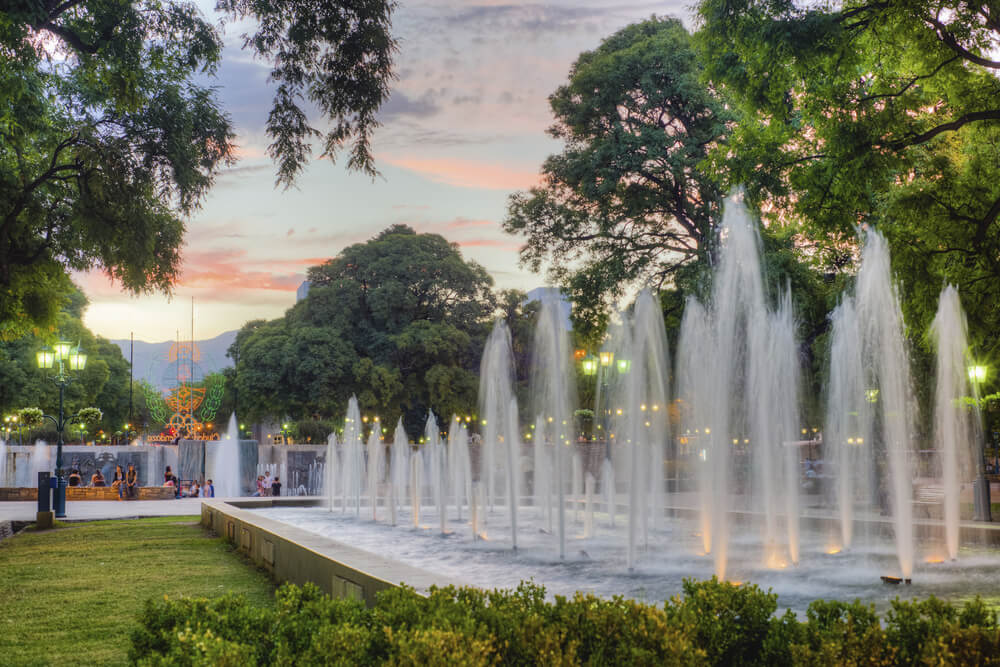 Explore the City Center
Get to know a little about Mendoza's city center on a walking tour or simply by wandering on your own.
The layout is easy to follow, with one main square, Plaza Independencia, in the center of the city surrounded by 4 complimentary plazas on each corner. Don't miss Parque San Martin to unwind on a sunny afternoon.
This free tour (guides work for tips) is an excellent option. The only downside is limited times (at the time of writing it's offered only on Wednesday afternoons).
If you need a tour on any other day of the week, I recommend this Mendoza walking tour.
Where to Stay in Mendoza
I have a more complete guide on Mendoza accommodation where I break down the pros and cons of staying in town versus on a vineyard, and list the best hotels in each location.
But for a quick glance, here are the best places to stay in Mendoza starting from hostels in town and ending in my favorite Uco Valley guesthouse.
When to Visit Mendoza
Mendoza is a wonderful destination year-round.
It's a desert climate, with sunny days 330 days out of the year. Nights tend to be cooler so I recommend packing layers.
I've been in March during the harvest and again in winter after pruning and found it to be beautiful in both scenarios.
Summer (Dec-Feb) will give you lush, full vines loaded with grapes. Harvest is typically in early March but varies, confirm by searching for Vendimia Mendoza. The harvest festival, Vendimia, is a festive time to visit but if that is your plan, book well in advance!
In winter the vines will be empty and pruning is around September (making it extra bare). But, as I said, I still found it beautiful!
Read More: When to Visit Argentina (By Region & Season)
How to Get to Mendoza
Mendoza is at the same altitude as Buenos Aires but on the opposite end of the country, butting up to the Andes Mountains rather than the coast.
You can either take a long distance bus or fly there from either Santiago de Chile or Buenos Aires.
From Buenos Aires I recommend flying. Historically, domestic flights have been expensive but these days budget airlines like FlyBondi and Jetsmart have driven costs down and the two hour flight is unbeatable.
Long distance buses aren't much cheaper (if at all) but if you're on a tight budget, it IS an option. The lay flat seats are comfortable at 180 degrees. It's between 12-15 hours but overnight, so you'd save the money on a hotel that night. Check Plataforma 10's website for hours and costs.
From Chile, I've heard the bus offers magnificent views over the Andes! It's 8 hours via bus or a very short (equally beautiful) flight.
Read More of my Mendoza Resources
Pin It For Later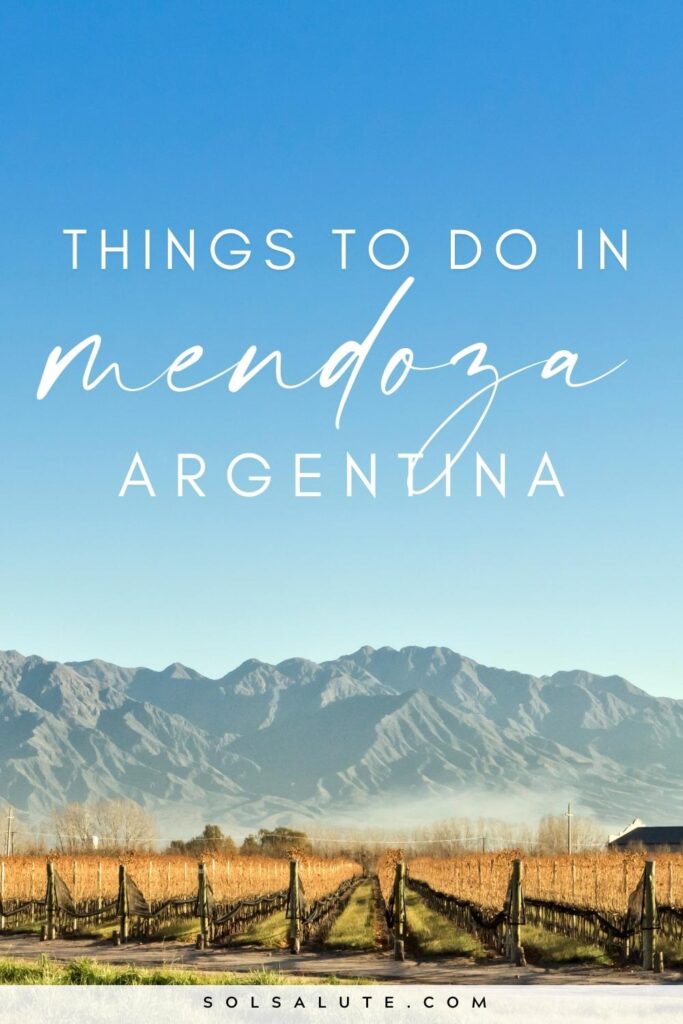 Argentina Travel Resources