The Calchaqui Valleys that stretch from Catamarca northward through Salta are not only some of Argentina's most stunning scenery, but they also house one of Argentina's most prominent wine regions.
Cachi is at the northern end of the Calchaqui Valley ruta de vino and has some of the highest altitude vineyards in Argentina (and the world).
This post is all about the best wineries in Cachi and how to visit them.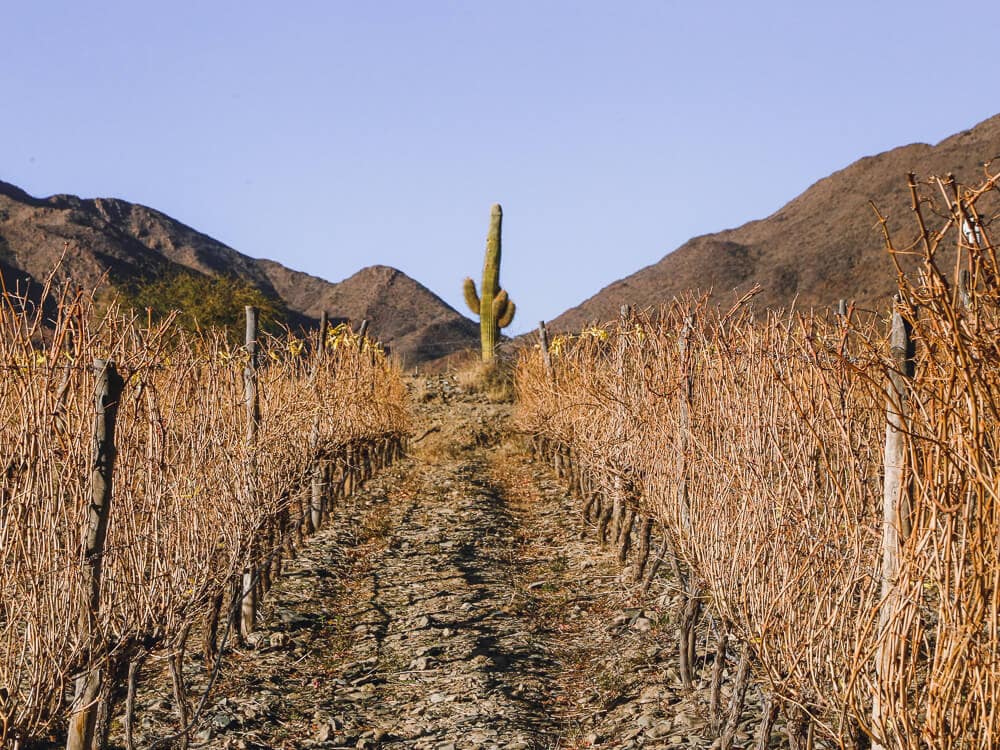 QUICK NOTE: This post contains affiliate links and Sol Salute may receive a commission for purchases made through these links, at no extra cost to you.
The Cachi Ruta del Vino
At 2,600 meters above sea level, Cachi is 1,000 meters higher than Cafayate, making it home to the world's highest-altitude vineyards.
Dirt roads weave into the mountains to reach the bodegas, leaving Cachi proper behind.
Unexpected vineyards dot the landscape next to the simple adobe homes of the local Diaguita people.
Herds of sheep and goats can and will block the road at any given moment.
To visit the wineries in Cachi is unlike anything you've experienced in nearby Cafayate or the heavily cultivated Mendoza.
This is the altiplano desert, the puna.
The award-winning vines share the soil and rare rain with Cardon cactus and prickly pear.
6 Wineries in Cachi to Visit
We spent four nights in Cachi recently and I made it my mission to visit all the bodegas in Cachi that I could.
Below are six wineries in Cachi and its surroundings to help you visit this high-altitude wine region.
NOTE | To be completely honest, it can be hard to organize things in this region of Argentina. It's informal and not always organized.
I found I had the best luck when I could reach someone on the phone. If you speak Spanish, I recommend calling when possible to confirm tours and opening hours.
Miraluna was the only winery that had a tour schedule posted on their website (and it was accurate!). And of course, Colome is very modern with an online reservation system.
1. Miraluna
Miraluna has three regularly schedule small-group tours of their bodega: 11 a.m., 3:30 p.m., and 5 p.m.
Tours are no larger than 8 people so you'll be guaranteed an intimate and educational experience. No reservation is required, just show up 15 minutes in advance.
Miraluna's Merlot is award-winning.
A delivery of Malbec vines turned out to be accidentally thousands of Merlot vines and they turned a horrible mistake into their specialty.
Miraluna is also a boutique hotel with cabins built among the vines.
Click here to check the cabins and views. It's 15 minutes from downtown Cachi with epic views of the mountains.
We stayed there for four nights and completely recommend it, especially for families.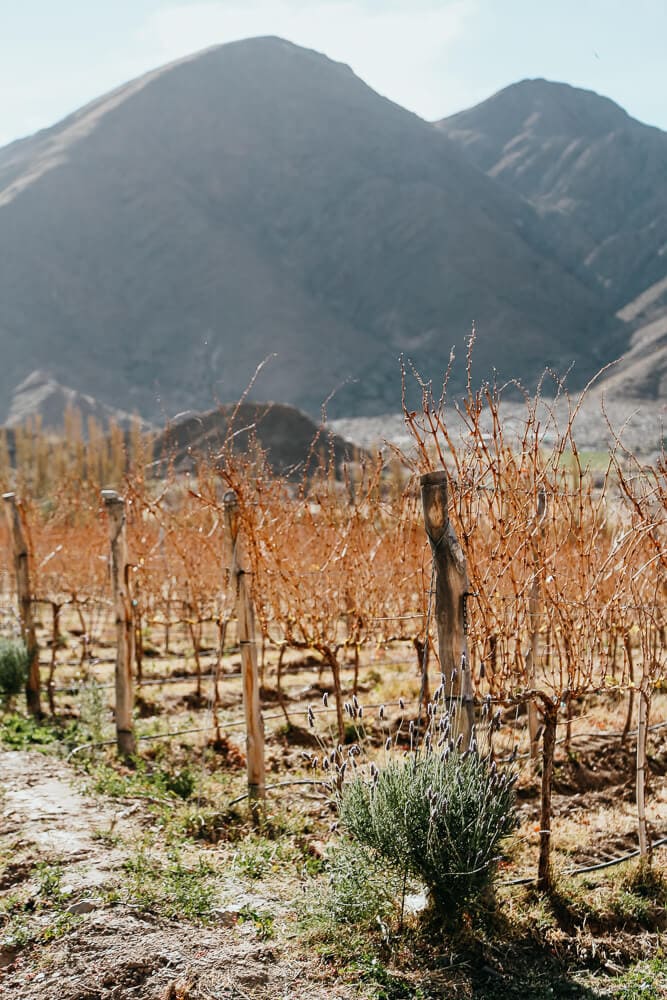 2. Bodega Puna
Bodega Puna is open every and from 10 a.m. to 6 p.m. and offers free tours.
We made lunch reservations and their restaurant really is the highlight!
They serve breakfast, lunch (with the option of a four-course meal with wine pairings), or just stop by for a glass of wine to watch the sun dip behind the Nevado de Cachi.
We went for lunch with wine pairings. It was very affordable and a great way to try their wines.
They request that you make a reservation with 48 hours' notice but if you're in a pinch give them a call. We reserved the morning of our lunch.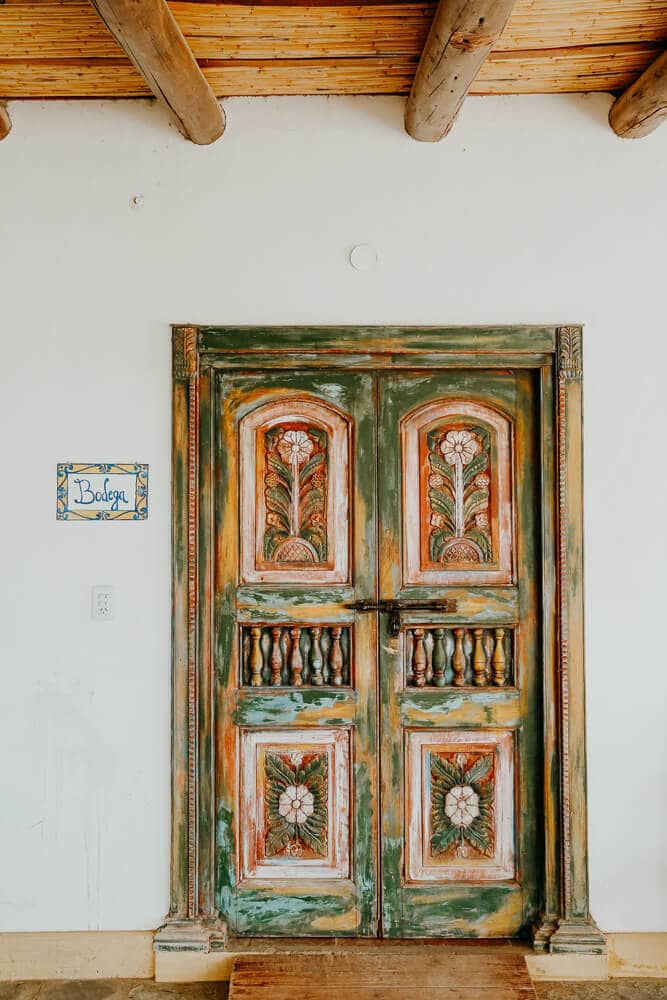 3. Isasmendi
Isasmendi was by far my favorite winery in Cachi.
They're open every day but Wednesday in the afternoon (after 3 p.m. more or less). They produce organic and biodynamic wines that are spectacular.
The bodega is just outside of downtown on the road that leads to Miraluna and Puna. Unlike those two wineries, however, you can walk there from town.
The estate is 3 hectares and it's stunning, I cannot recommend it enough.
I had filled out the online contact form on the website and never heard back from them so I recommend calling them to organize a visit The number is on their website.
We showed up unannounced when we couldn't manage to get in touch with anyone.
The sign on the door said they'd be open after 3 and our hotel said they offer regular tours, so off we went.
Valentina met us and told us the only tour would be in an hour, which is an eternity when it's dangerously close to a tired one-year-old's bedtime.
Disappointment began to sink in (because the property was so beautiful. I definitely did not want to leave!).
Then Valentina offered to pour us each a glass of wine in lieu of a formal tasting.
She brought out her mate and joined us on the patio to tell us the entire history of Isasmendi as we drank our wine, she sipped her mate, and as our baby ate the crackers she so kindly brought out.
The history of Isasmendi is fascinating, dating all the way back to when Argentina was a Spanish colony. It dates back to the foundation of the wine industry in Argentina.
I won't tell the whole story here, but I do recommend going for yourself to hear it.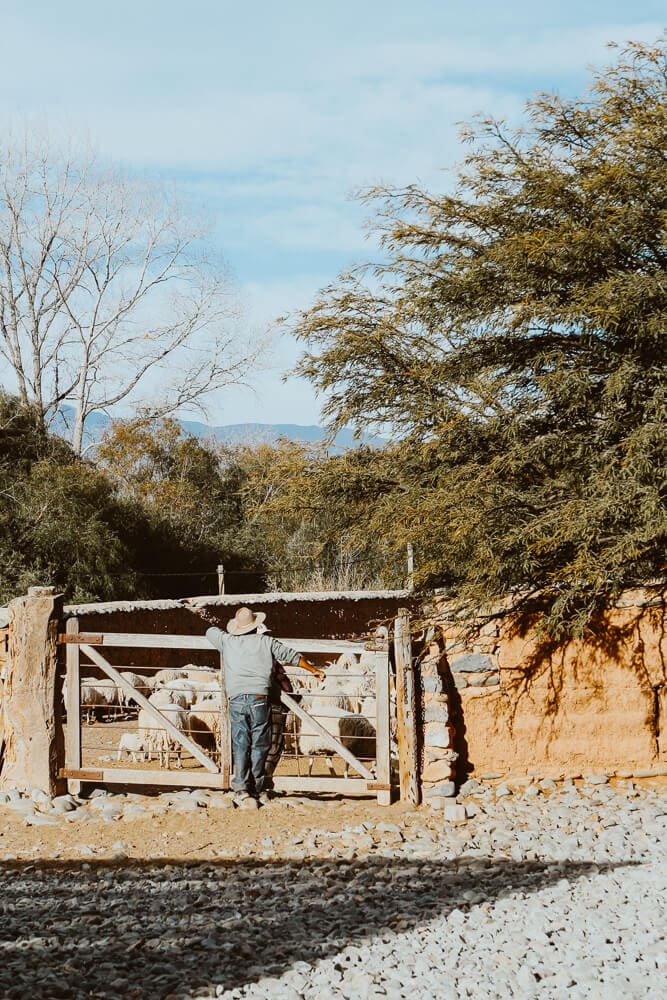 4. Viñas de Payogasta
Tiny Payogasta is a 15-minute drive from Cachi. There isn't much to do in Payogasta but there IS a winery on the edge of town.
When is it open? How can you book a reservation? Do they offer tours? I DON'T KNOW.
I can't find a website, only an Instagram. There was no way to get in contact with them but our hotel told us they offer tours and to just show up.
So, show up we did.
They were closed.
There's a restaurant next door that serves their wine but they wouldn't seat us without a reservation (how does one find them to reserve? Our hotel had made it sound like they were just open all the time).
This whole experience summed up what can be frustrating about trying to organize visits and tours in this region.
It is all very informal. Sometimes that works out in your favor (like at Isasmendi for us) and sometimes it's a bust (like Payogasta for us).
How to reserve a visit to Payogasta? There is a boutique hotel on the Ruta 40 just in front of the restaurant and winery, called Sala de Payogasta. Perhaps they'd have more information for you. At the very least, they sell bottles of Viñas De Payogasta so you can try the wine in some form or fashion!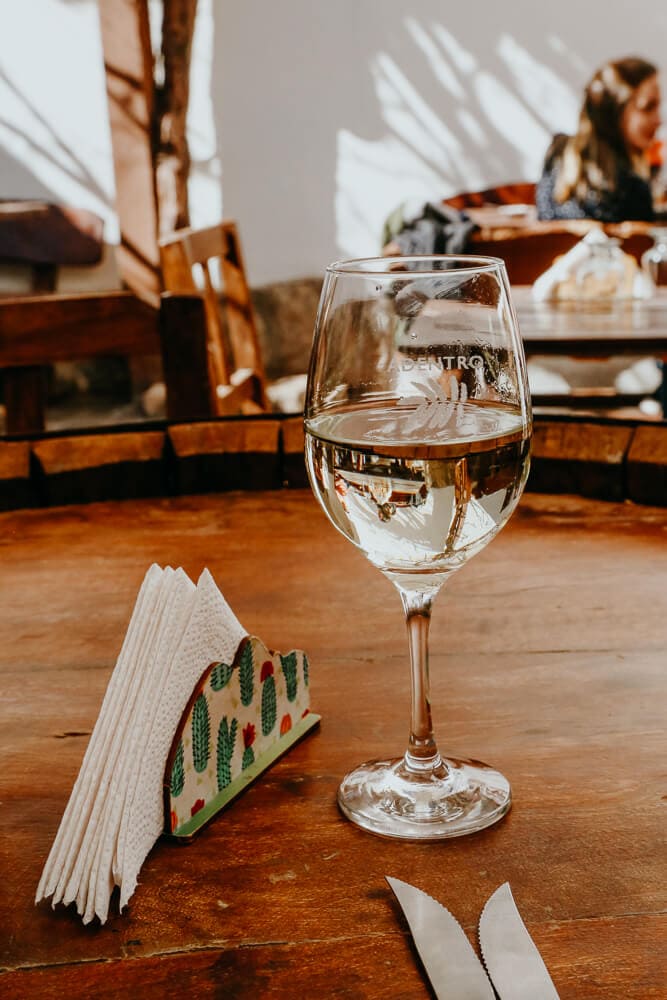 5. Vinos Adentro
Adentro does not have a bodega that you can visit but the wine was so good and I'm so in love with it that I couldn't exclude them here.
They have a vineyard here in Cachi but elaborate their wine by renting the bodega facilities at Colome.
Their website says they are in the process of building a bodega, so perhaps that will change soon.
Try their wines at any of the restaurants in town like Oliver or Bistro de Cachi. It's also available at the wine shop next to the church.
You May Also Like: The Best Mendoza Wineries & How to Visit Them
6. Colomé
Colomé is the oldest winery in Salta.
It was founded in 1831 by Nicolás Severo de Isasmendi y Echalar, Spain's final governor of Salta. He brought us Malbec and the rest of history (incidentally, this is also tied into the history of Bodega Isasmendi mentioned earlier!)
Visiting Colomé is a bit of a trek and takes an entire day.
Colomé is located just outside of the town of Molinos further south on the Ruta 40.
The drive takes just over an hour and a half in total, with an hour to Molinos then over half an hour weaving up into the mountains to reach the bodega.
If you are driving down to Cafayate after Cachi, you can visit Colomé on your travel day. Just keep in mind that it is a long drive. Limit the wine you taste for a safe trip (or stay over in Colomé's boutique hotel for the night).
Go to their website for more information and to reserve in advance (absolutely essential as they only allow groups of 10 people maximum).
The Colome Experience includes a guided visit, a tasting, and a tour of the James Turrell Museum.
It's said to be extraordinary and is one of the most highly raved-about experiences in the area.
We didn't go solely because we were traveling with an infant which complicates the visit to the museum.
Keep Reading: The Best Wineries in Cafayate
Argentina Travel Resources
PIN IT FOR LATER