Argentina's Peninsula Valdes is a wildlife lover's dream.
Whales, sea lions, seals, and penguins all breed here. Orcas call it home year-round along with other native species like guanaco.
We designated four days to our Peninsula Valdes itinerary and it was wonderful.
This post is a complete breakdown of how we spent our time there to help you plan the best Peninsula Valdes trip possible.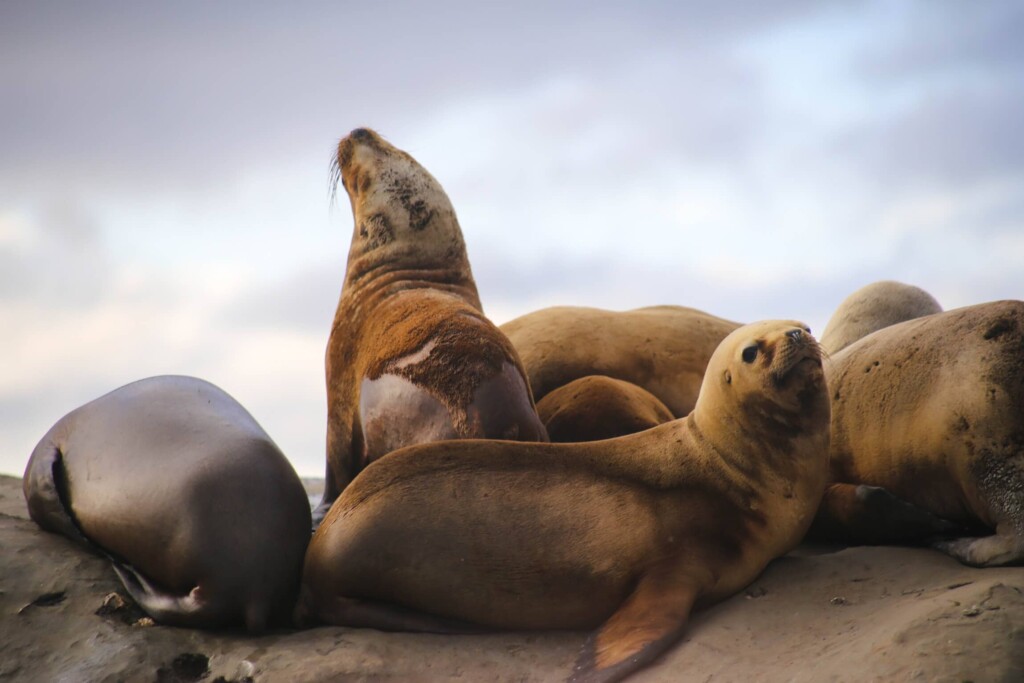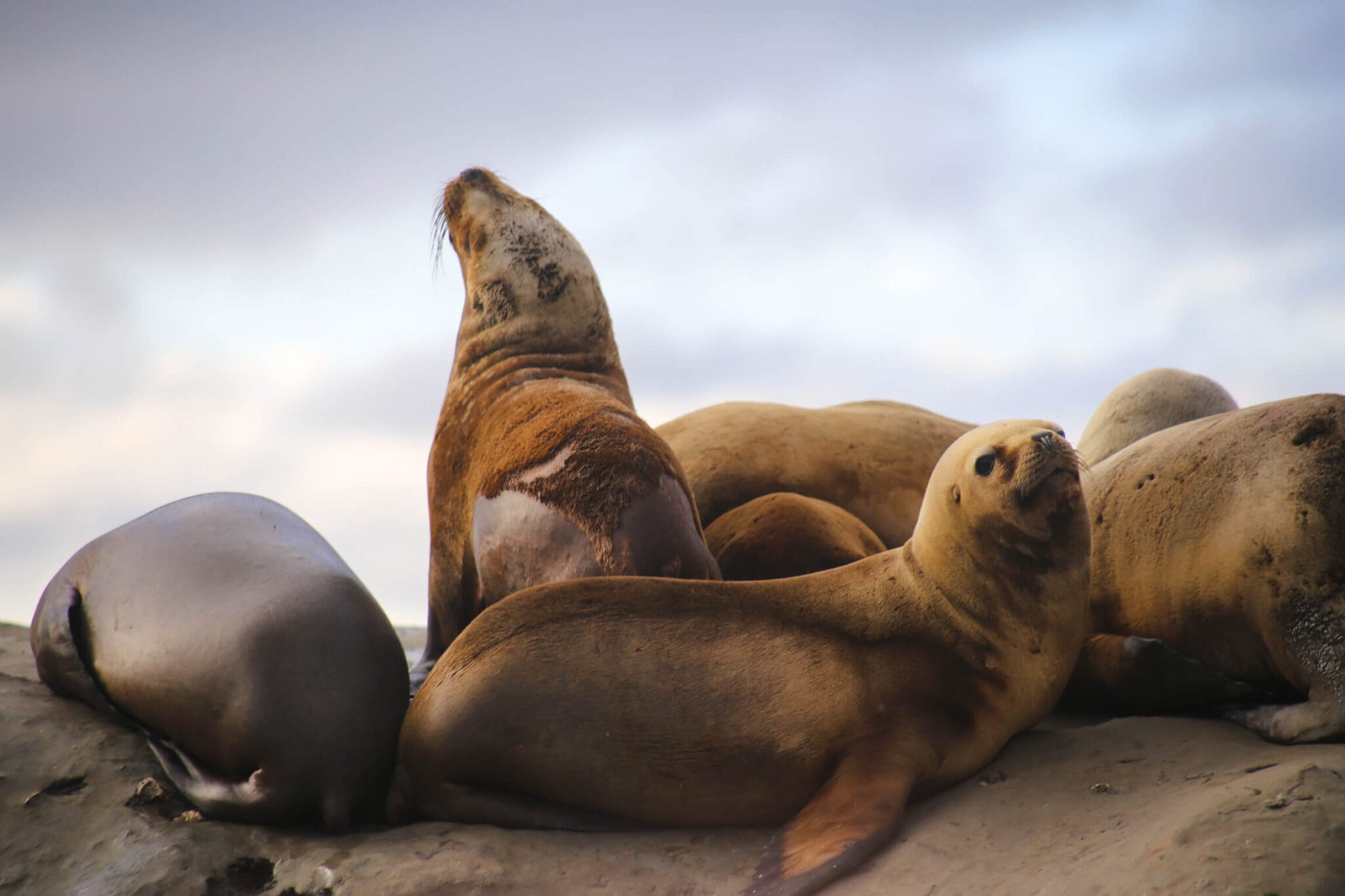 QUICK NOTE: This post contains affiliate links and Sol Salute may receive a commission for purchases made through these links, at no extra cost to you.
A Logistical guide & Itinerary for The Peninsula Valdes, Argentina
When my parents visit me in Argentina they always take the opportunity to explore the country.
On one such trip, my husband and I joined them. And I'm so glad we did.
We spent four days on the Valdes Peninsula and I am confident we took advantage of every single minute we had.
This post includes our itinerary, step by step, animal by animal, and all the logistical information you need to plan your trip.
Where to Stay: Puerto Piramides vs. Puerto Madryn
We spent four nights and five days on the peninsula in the small seaside village of Puerto Piramides, choosing to bypass the city of Puerto Madryn entirely.
I couldn't be happier with this decision.
The magic really happens on the peninsula itself and basing yourself in Puerto Madryn anchors you two hours from the action.
If you're considering skipping Puerto Madryn, and basing yourself in Puerto Piramides, go for it.
I hope this post shows you why I believe basing yourself right inside the Nature Reserve (a UNESCO world heritage site!) is the way to go.
Related: The Best Things to do in Puerto Madryn
Our 4-day Itinerary for the Peninsula Valdes
Here's how we spent four days on the Peninsula Valdes.
Day 1: Arrival in Puerto Madryn
There was only one daily flight to Puerto Madryn, arriving at 2:30 in the afternoon.
Unfortunately, we couldn't pick up our rental car until 5.
I had rented from the Budget location in town because it was significantly cheaper than the airport rental agencies.
But since that office closes for a generous siesta we were stuck with our luggage and nowhere to go for two hours.
Check rental car rates for your dates here.
Killing time in Puerto Madryn
We searched for a cafe that was still open (nearly everything had also closed for a midday siesta!) and we found Lizard Cafe on the waterfront.
Well, near the waterfront. Like Buenos Aires, I feel like Puerto Madryn has seriously wasted their prime waterfront real estate
All of the restaurants are turned to face the street, not the beach. So, we chose a street-facing table and had lunch at Lizard Cafe.
The food was good, plentiful and affordable with good WiFi. I'd go back (and we did to wait for our return flight).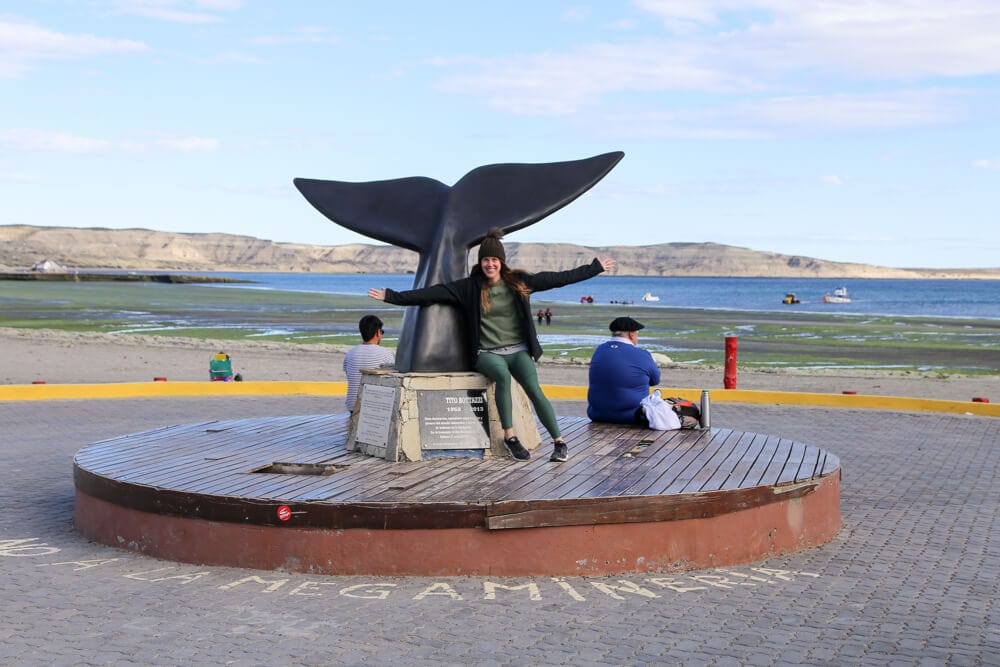 Drive from Puerto Madryn to Puerto Piramides
After picking up our rental car from Budget, we left Puerto Madryn in the literal dust (it's dusty in the Patagonian desert).
I repeat this in so many posts like a broken record, but if you can get out of the city and stay in the country or in a smaller town in Argentina, do it. If you're able to work a rental car into your budget, do it.
You'll see much more of what this country has to offer you.
Check for rental car rates from Puerto Madryn here.
Pro Tip from a Reader | Since you can fly into either Puerto Madryn or Trelew, it's a good idea to compare rental car rates from both cities. This reader got a much cheaper rental car from Trelew (but flights were similarly priced to either city). This made her decision an easy one! Check rates here for Trelew to compare.
Peninsula Valdes Entrance Fees
The drive from Puerto Madryn was easy and we were in Puerto Piramides in just over an hour. When we reached the neck of the peninsula we paid our entrance to the nature reserve.
We paid $520 each for my parents, $280 each for my husband and I (Argentine resident price) and $80 pesos for our car.
Check current rates here as they are surely due for an increase soon.
If you are staying on Peninsula Valdes inside the reserve, you only pay this entrance fee once.
If you leave the reserve for the day, show your tickets as proof of payment when you return.
You do have to pay the car fee upon each re-entry to the reserve. If you are staying outside of the reserve, in Puerto Madryn, or elsewhere, you will be required to pay the entrance fees each day you visit.
Checking in at Oceano Patagonia, Puerto Piramides
Our first day was spent mainly in transit, so we were relieved to check in to our hotel and unwind.
Hotel Oceano is right on the beach, taking advantage of their beachfront space in every way restaurants in Puerto Madryn did not. We got to our room, opened the door to the patio, and smelled the salty sea air.
The following morning, and each morning thereafter, we enjoyed breakfast with a front row seat to the whales jumping in the bay.
Breakfast was included. They stocked the mini fridge with eggs, juice, water, and apples. Each night we were given freshly baked bread and brownies.
I can't recommend Oceano enough, they're the best hotel in Puerto Piramides. It's eco-friendly, the location is unbeatable, and the service was perfect. Check rates for your stay.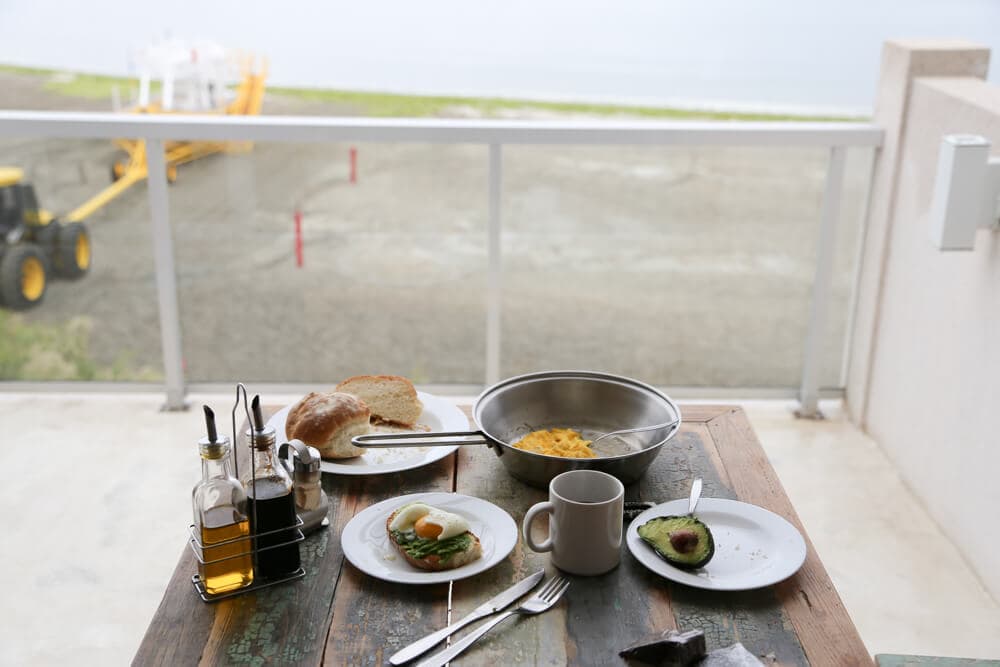 Peninsula Valdes Map | Wildlife Viewpoints & Highlights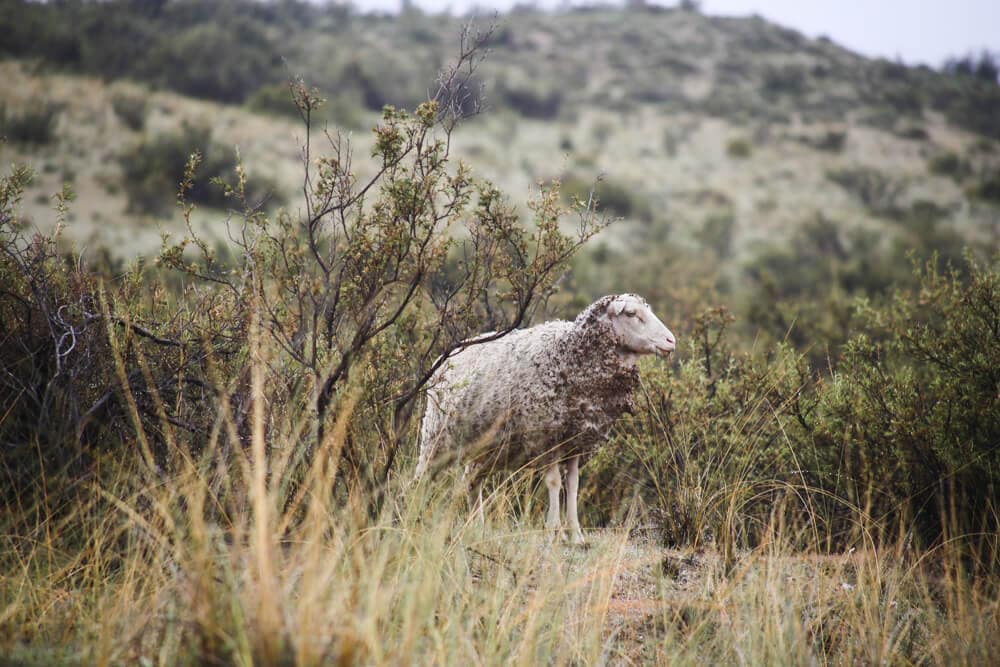 Day 2: Elephant Seals, Sea Lions & Whale Watching
On our first day waking up in Piramides, we were met by a rather dreary morning.
We left at around 9:30, hitting the dirt road to drive deeper onto the peninsula.
We decided to take the southern route towards Punta Delgada.
There's a restaurant there and better, a large elephant seal colony.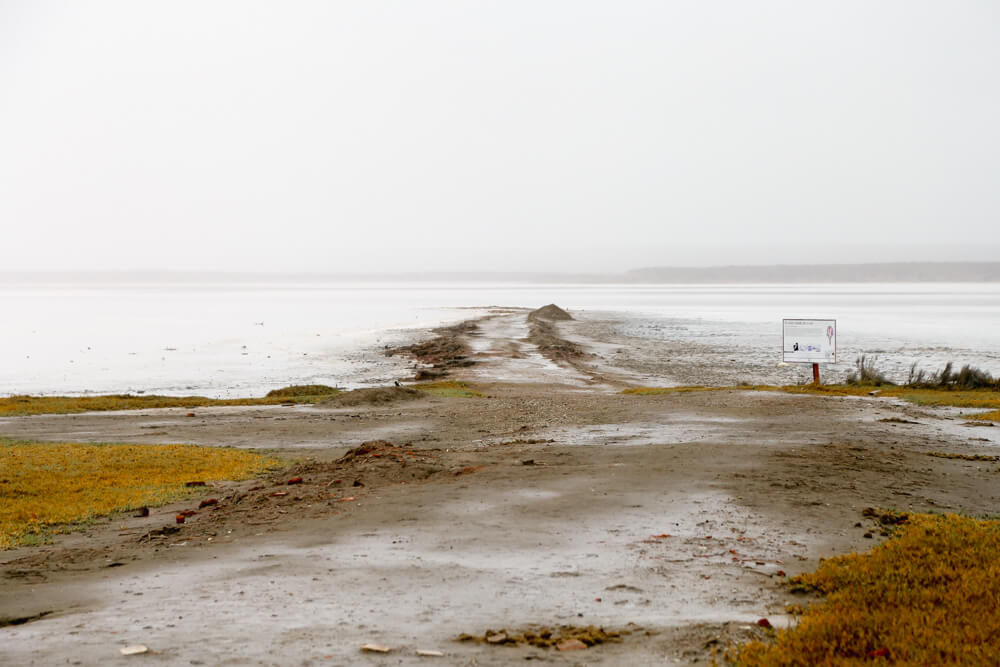 Salina Chica: the Pink Salt Flats
Halfway to our destination, we spotted the salt flats to our left.
Rain be damned, we turned off the main road to have a look.
Turns out there's not much to look at on an overcast, rainy morning but I believe they're actually pink from krill on a good day.
If you can visit on a sunny day I'm sure it's worth a stop.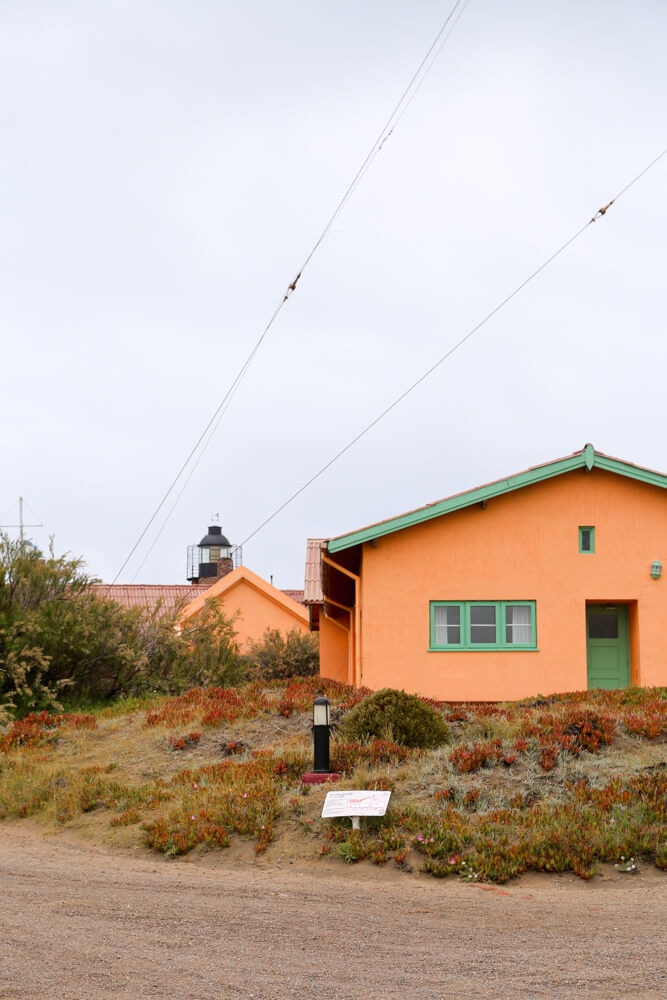 2021 Update re: Punta Delgada
Unfortunately, shortly after our visit (in 2018) the hotel and restaurant at Punta Delgada shuttered their doors. I've kept the following paragraphs in my original itinerary for memory's sake. I'm so sorry to hear they've closed as it was an excellent experience.

Alternatives? To see seals head to Punta Norte and Punta Caleta.
Lunch & Elephant Seals at Punta Delgada
We pulled up to Punta Delgada at 11:30. We were greeted by the inviting aroma of a fire being prepared at the grill.
There was now zero doubt we'd be eating lunch here and ignoring the measly picnic items sitting in the glove compartment.
You can pay for a guide to bring you down to see the Punta Delgada elephant seal colony or have lunch at the restaurant with a complimentary elephant seal visit included.
Since 11:30 is a tad early for lunch, we walked to the lighthouse first to see the seals from (far) above, see photo below.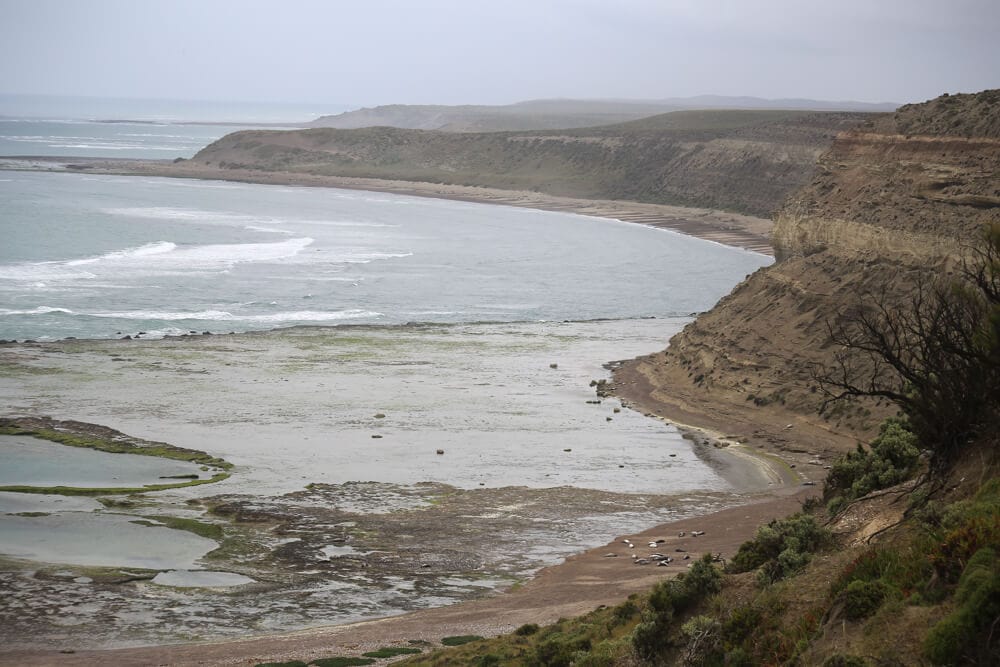 The road here from Puerto Piramides was inland, so this was our first real exposure to the vast coastline of the Valdes Peninsula. The cliffs here were rugged and the beach below was covered in elephant seals.
The seals are large, motionless lumps of blubber that occasionally heave themselves forward a few "steps" before collapsing back into a deep sleep.
One of the males was swimming in a pool on the shore and in the water, he moved effortlessly (unlike the poor sops beached on the sand).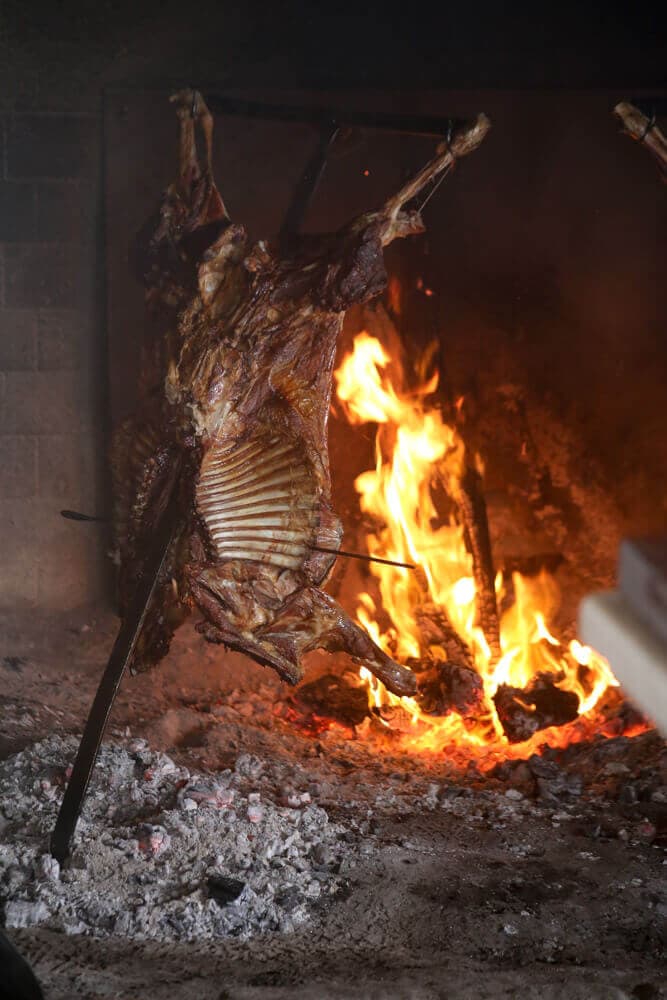 Patagonia Lamb at Punta Delgada
We made our way back to the restaurant from the lighthouse for lunch.
Our guide would take us down a different path after to get us as close as allowed to the seals. But first, lamb.
The main specialty that you have to eat in Patagonia is lamb. It's traditionally grilled "a la cruz," hanging from a metal cross, slow-cooked over an open fire.
We ordered their lunch special that included empanadas, lamb stew, and flan.
I don't remember exactly but it was around $400ish pesos, which is a steal considering it includes your seal tour after.
When we were done eating, our guide took us and a small group down to the beach.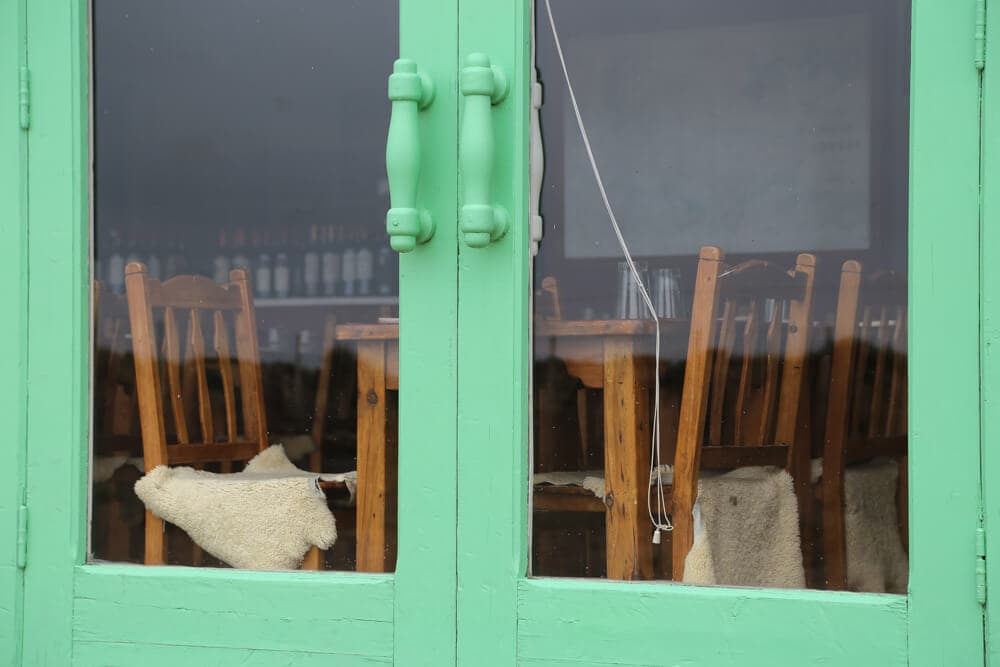 Read More About Patagonia | The Best Things to do in El Calafate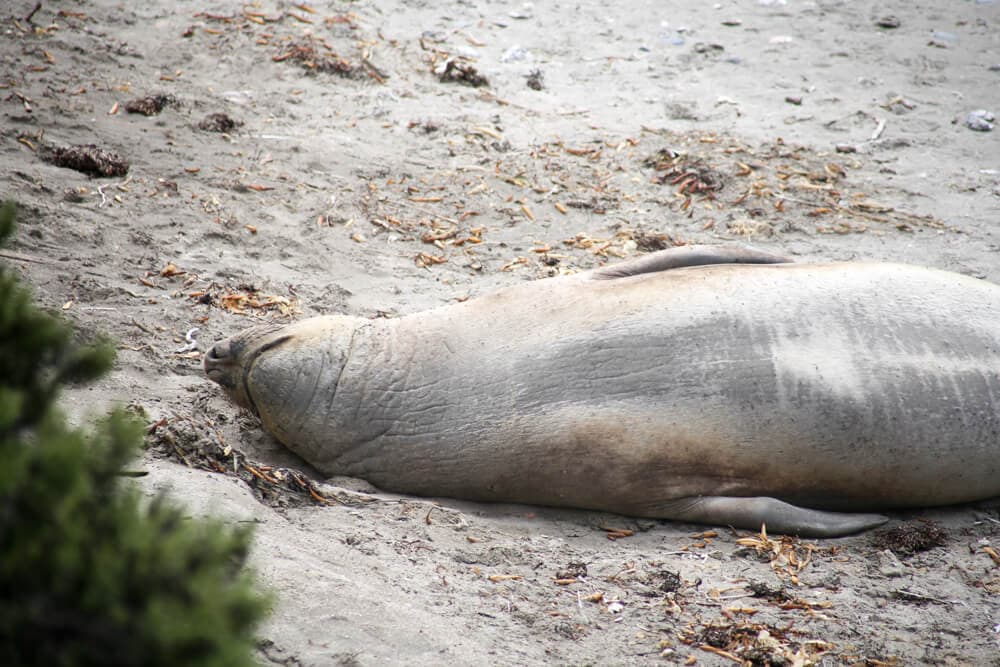 Punta Delgada Elephant Seal Tour & Viewpoint
Our guide didn't speak English so I'm not sure if they offer English speaking tours.
I learned a lot from talking with her but even if you can't understand her, it's worth doing.
You get very close while still maintaining enough distance for the animals' safety.
You're not allowed onto the beach itself but the path gets very close.
We were more or less ten meters away from one giant seal taking a snooze (above).
REMINDER // PUNTA DELGADA IS PERMANENTLY CLOSED.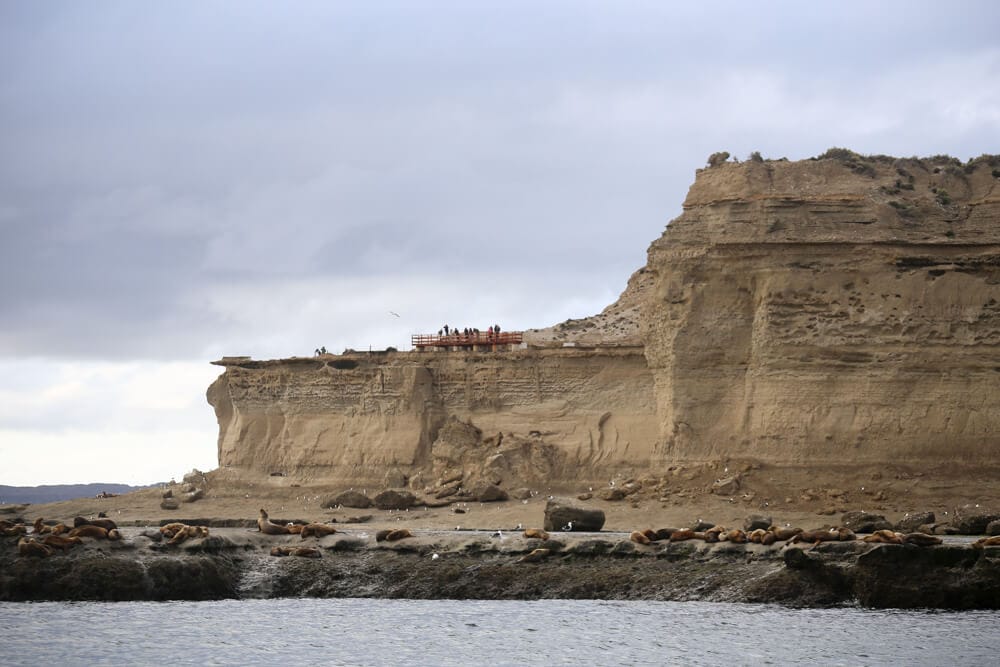 Sea Lion Colony in Puerto Piramides
We left Punta Delgada at 2 pm and decided to get ourselves back to Puerto Piramides.
We had a sunset whale watching tour and we did NOT want to risk being late.
But right before we got into town, we passed the sign for the sea lion viewpoint.
Obviously, we couldn't pass that up.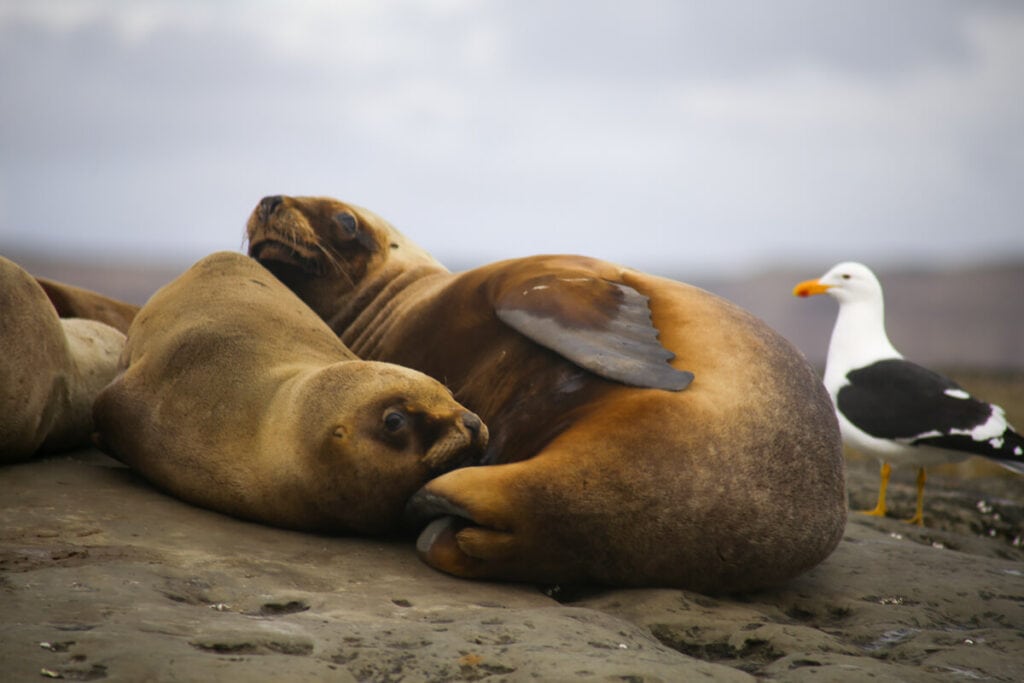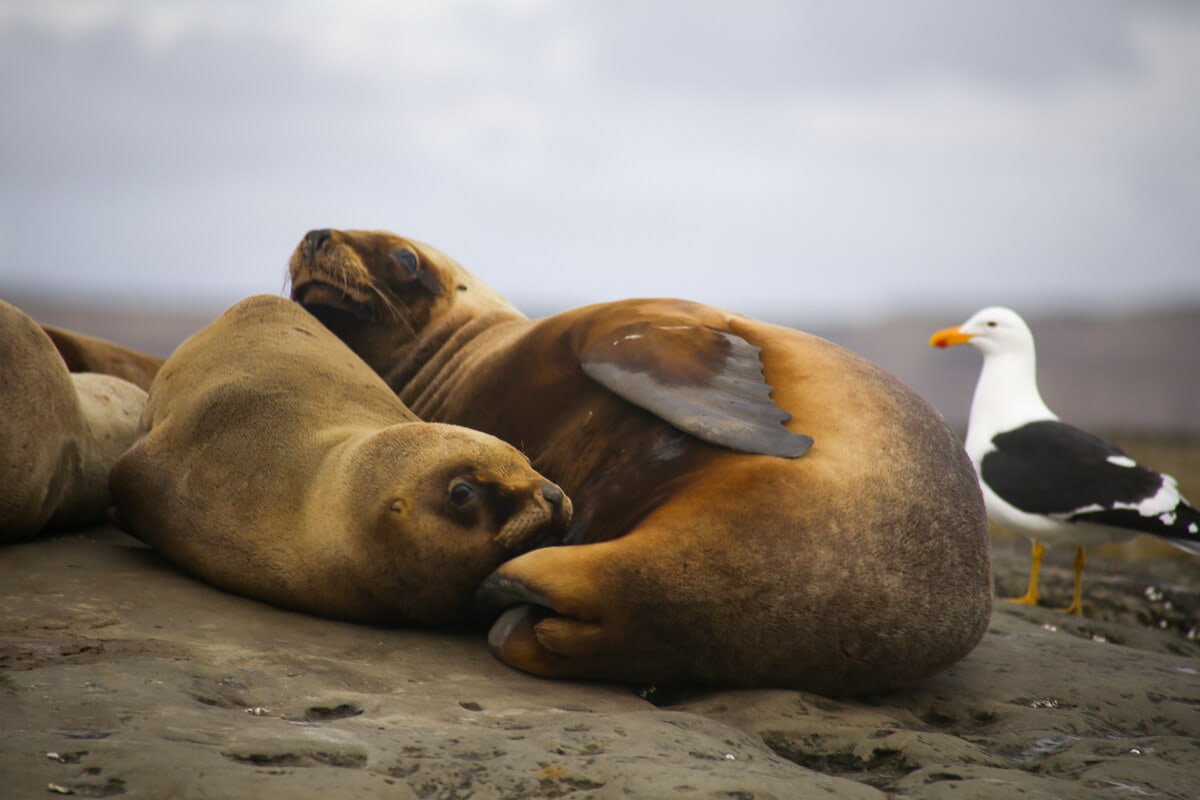 Compared to the elephant seals, the sea lions were loud, active and far more entertaining.
Like elephant seals, they mate in harems. One alpha male mates with all the females in his harem.
They slept this way as well, with one huge male surrounded by all his ladies.
We watched one interloper try to sneak into another's harem and get a couple of females off for himself. He failed but I did enjoy watching the fight, so, thanks for the effort buddy.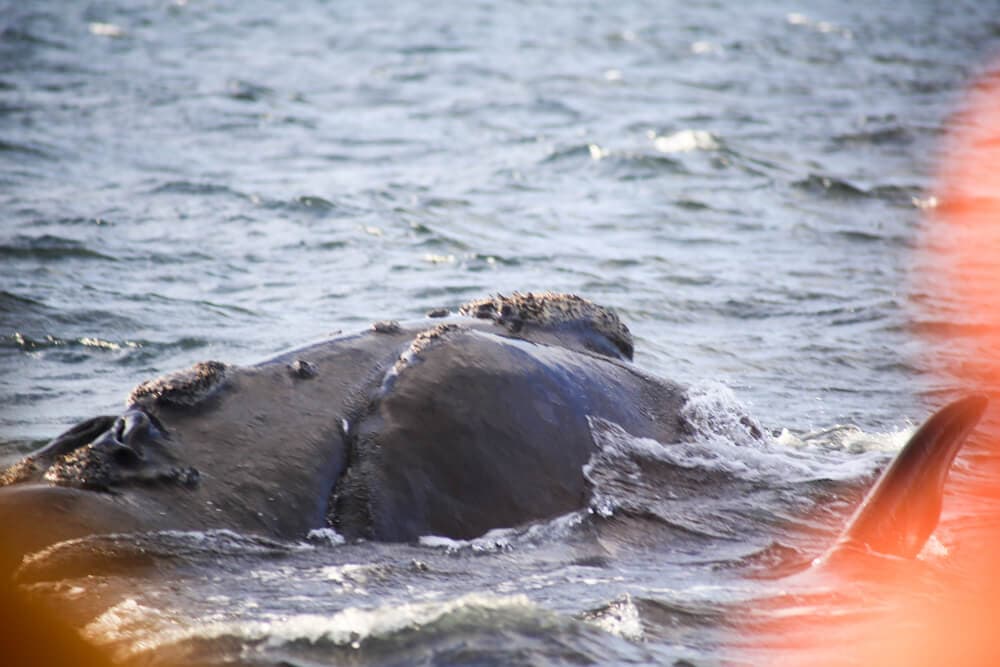 Puerto Piramides Whale Watching Excursion
Luckily for us, the skies cleared for us. There are a couple of companies to choose from, and our hotel recommended
Botazzi.
We reserved their "ultima salida del dia" excursion, the last outing of the day, timed perfectly to end with the sunset.
The boat left at 6 but we were checking in and strapping on life jackets and waterproof ponchos by 5:30. You don't need to bring anything on board with you except for your camera.
We had a great experience with Botazzi.
The guides were very friendly and gave all their instructions/explanations in both Spanish and English.
They also made sure that everyone got equal whale viewing time, no matter what side of the boat you were on.
Reserve your Whale Watching Excursion here.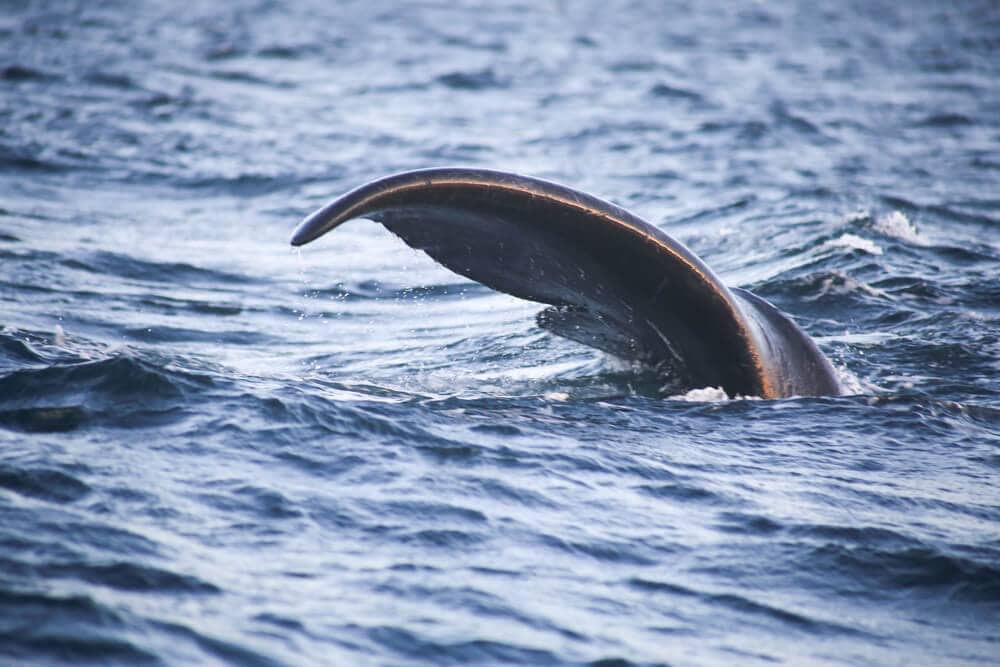 We saw so many whales, SO many whales.
They got unbelievably close to the boat. One even swam under it at one point, surfacing on the other side with her (not small whatsoever) baby.
The two of them spent nearly half an hour watching us, jumping and splashing just 20 meters from the boat.
They took us by the sea lion colony at one point, so we could see them up close. And to top it off, a penguin swam by, as if to say hey, what's up.
I would not only recommend Botazzi to a friend, but I'd also go out with them on another excursion in a heartbeat. You can reserve with them here.
If you don't have a car and are based in Puerto Madryn, you'll need to book a tour that includes transfers like this one, that visits most of the peninsula and optional whale watching.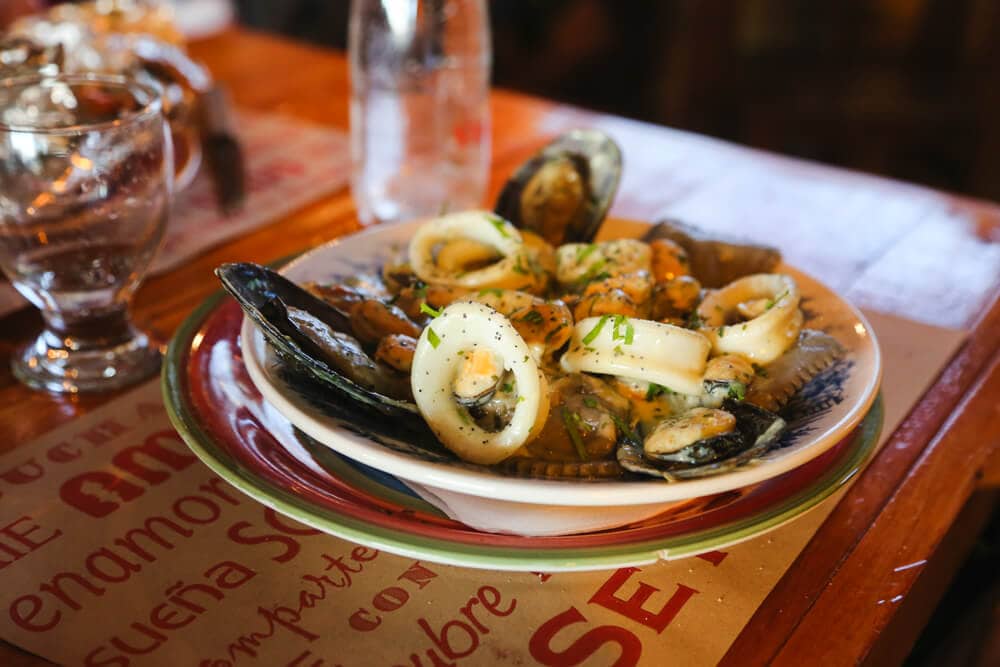 Dinner in Puerto Piramides
We stumbled off the whale watching boat excited but frozen, so we ran to the first restaurant we saw.
La Covacha was perfect (read: they had their heater on).
A hearty plate of pasta thawed me out and a huge plate of prawns made my husband happier than I've seen him in months.
This was a LONG day but we saw so much.
So many people do the Peninsula Valdes in a one-day tour, but it took us two days to do it justice and three to fully enjoy it at a relaxed pace.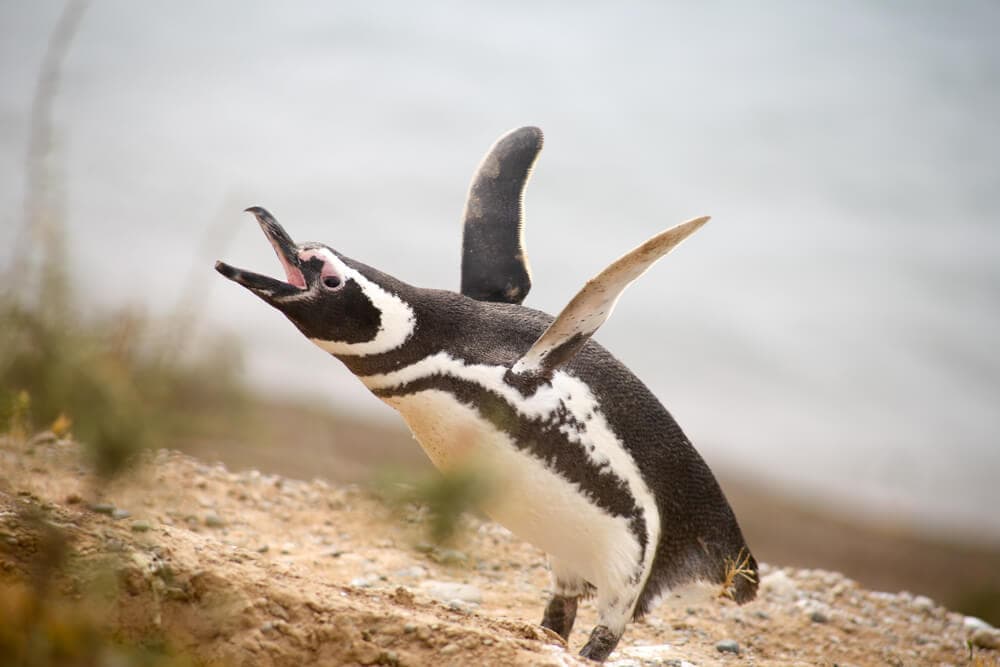 Read More: Where to see Penguins in Patagonia
Day 2: Penguins, Orcas & a Furry Armadillo
We started day 2 in Puerto Piramides as slowly as our first. It was just too hard to leave Hotel Oceano bright and early.
It was too comfortable!
A leisurely breakfast was a requirement. And hell, it counted as a wildlife experience because we could watch the whales from our hotel room's dining table. By 9:30, we were off and penguins were the goal.
Penguins at Caleta Valdes
We got to the Caleta Valdes penguin viewpoint at 11.
I thought we wouldn't see the penguins up close, with the designated path being so far from the beach.
But they build their nests almost right next to the boardwalk.
There were some penguins only meters away, hee-hawing (seriously, they sound like donkeys).
NOTE | The Peninsula Valdes, while the best place to see Argentina wildlife, is actually not the only place you can see penguins in Argentina! If you're continuing your trip through Patagonia, you can also see penguins in Ushuaia.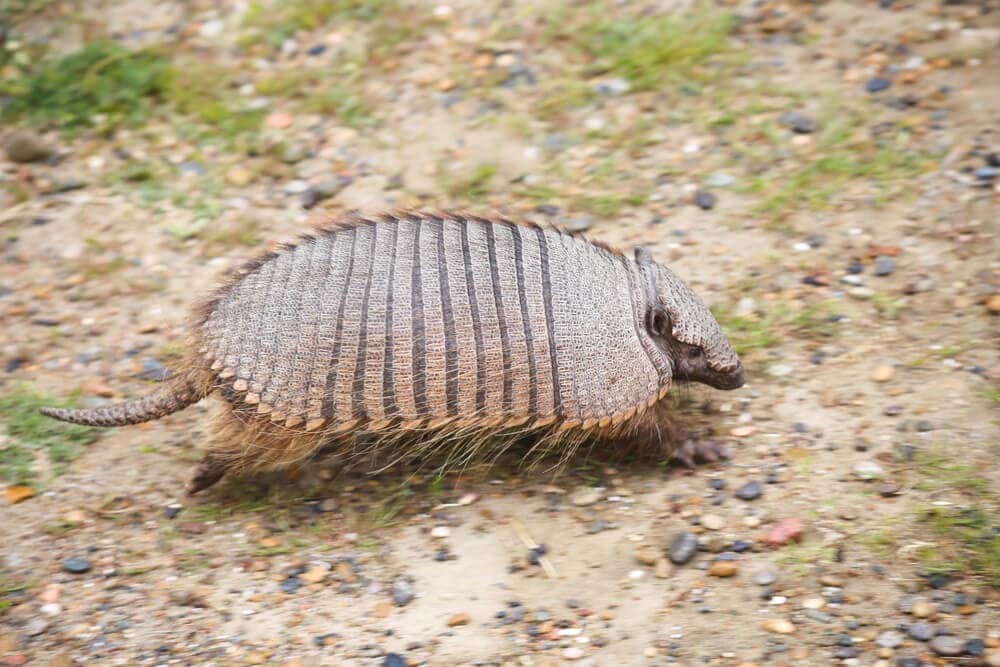 Lunch at Caleta Valdes
It was another cold, windy day, so after admiring the penguins, we drove south for ten minutes to La Elvira, a cafe and rest stop.
There are a few paths here leading to different viewpoints overlooking the beach and a large elephant seal colony. It's cafeteria-style and there's plenty to fill you up (choripan, empanadas, and sandwiches).
While we thawed out with hot chocolate and coffee, sitting by the window, we finally saw it.
A peludo (furry Patagonia armadillo) scurried by on the sidewalk outside! I'd been dying to see one so I flew out of my chair and went after it camera in hand.
I finally saw one, mission accomplished!
During our time on the road, we also saw a lot of new animals, like a choique (cousin to the ostrich), the small martineta, and a few grey foxes.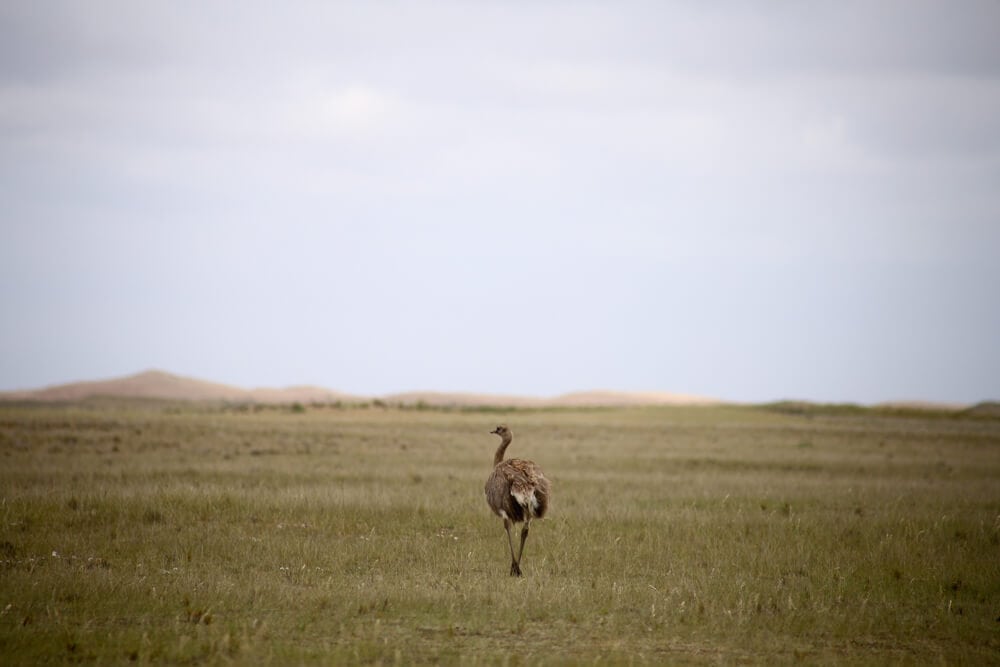 Orcas & Sea Lions at Caleta Valdes
In between the penguin colony and La Elvira, there's a viewpoint called "Mirador Elefantes Marinos" (Elephant Seal Viewpoint). 
We skipped it the first time and nearly passed it again the second time as we headed north on our way to Punta Norte.
The idea of going back out into the cold wind wasn't tempting and we'd already seen so many elephant seals… But never one to turn down a viewpoint, I reluctantly pulled off the road.
Well, good call because there were FOUR ORCAS there.
Ironic that we almost passed it to drive to Punta Norte in search of orcas.
Turns out, because of the large sea lion and seal colonies here, this is where the orcas hunt the most (along with Punta Norte).
It was an hour past high tide so it was a little low.
We didn't get to see any beachings (where they beach themselves purposely to grab a baby seal), but we were lucky to watch them swim among the seals.
This was a VERY lucky experience and we left on a high.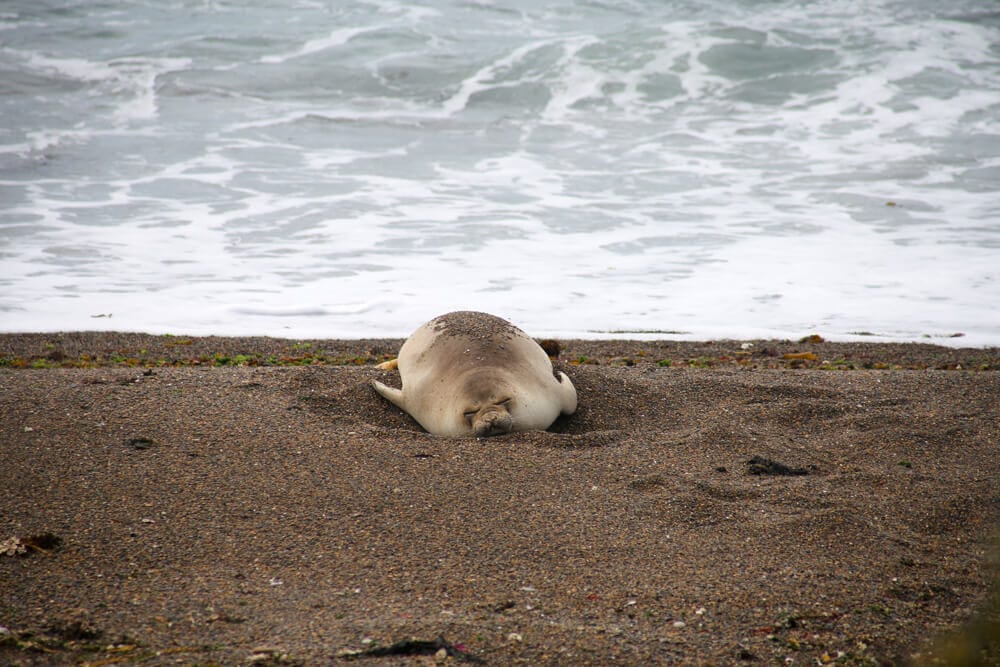 Punta Norte Orca Research Center
It was still early in the day so we decided to keep going to Punta Norte anyway. Hell, maybe the orcas would meet us there! (They did not).
While we didn't see any more killer whales, we did see yet even more elephant seals.
The park ranger here was very friendly and informative and when we told him about our orca sighting, he showed us which four we likely saw and their family tree.
Dinner in Puerto Piramides
We had dinner at La Estacion on our second night in Puerto Piramides.
The ambiance was great, the service was friendly and the food was fantastic.
They serve pasta, pizzas, and seafood.
If you're after fresh seafood in Argentina, you're in the right place. Once again, my husband stuffed himself on shellfish.
Day 3: Punta Norte
We saw all of the Peninsula Valdes in two days. So on our third day, we decided to try our luck again at Punta Norte.
We stayed for four hours but saw no more killer whales.
Luckily, the sun had finally come out and we had a very warm day! We were able to enjoy our time here and watched the elephant seals for four solid hours. 
For how to see Killer Whales in Patagonia, see tips at the end of this post.
If you have your heart set on seeing orcas, it's best to allow yourself multiple days. I'd love to come back with no end date set, and just stay until we see them beach themselves on the hunt.
While we didn't see them today, we were incredibly lucky to have seen them at all.
We showed up at Caleta Valdes and saw them on pure chance. So, maybe you'll get lucky also and be at the right place at the right time!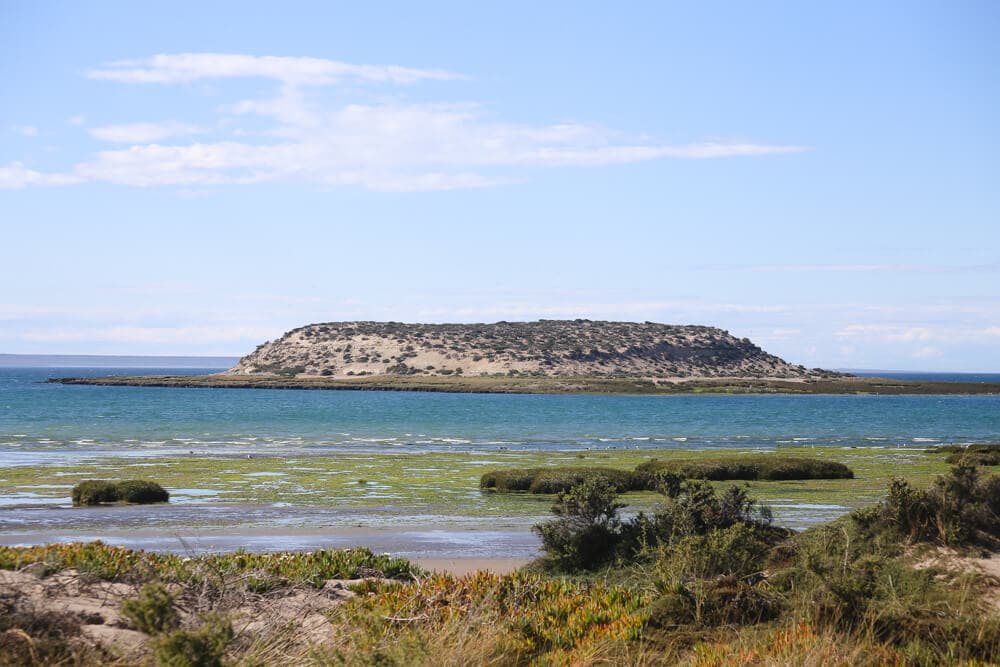 Isla de Los Pajaros
The only thing we hadn't seen by now was Bird Island (where you can see, you guessed it, birds). We ended our last full day here.
Legend has it that this island was the inspiration for The Little Prince, as it looks like a snake that has swallowed an elephant.
We saw a lot of birds, as promised! The island was covered in seagulls and penguins waddling about.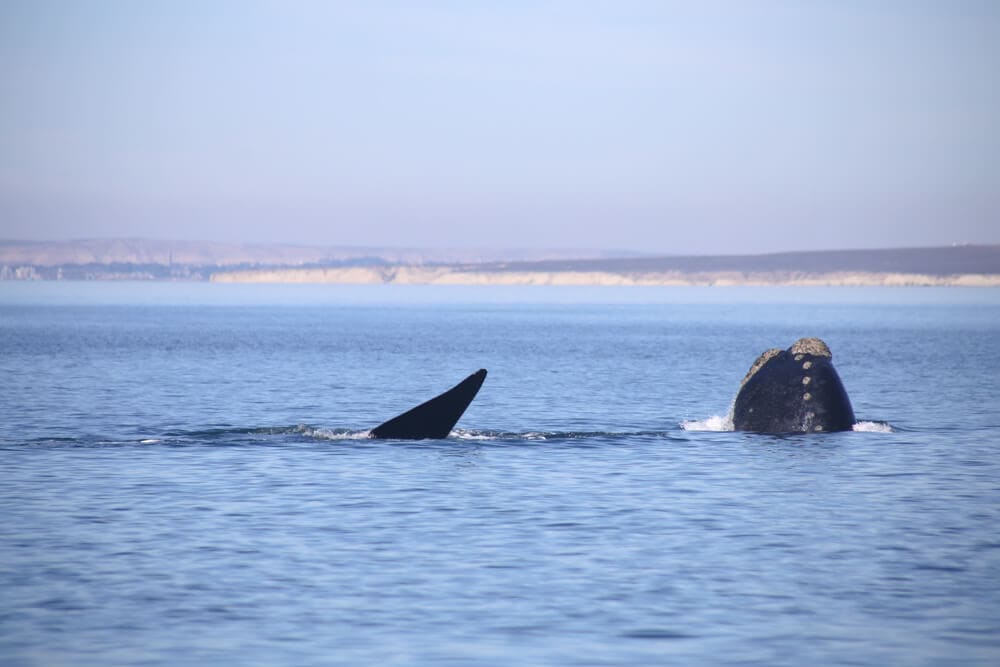 Day 4: Playa Doradillo
Our flight out of Puerto Madryn wasn't until nearly 9 pm, so we were able to take full advantage of our last day here.
I had decided to spend the day seeing the Welsh culture in Gaiman and Trelew, but on our way there we had one last wildlife experience to squeeze in.
Whale Watching at Playa Doradillo
Playa Doradillo is right outside of Puerto Madryn, between Madryn and Peninsula Valdes.
It's possible to whale watch here from the shore and see whales as close as 20 meters away!
The shoreline drops off drastically very close to the beach, so the water is vastly deeper here than at the beaches in Puerto Piramides, allowing the whales to get very, very close.
It's actually one really long beach with various sections, each with their own name, parking lot etc. 
Las Canteras is the best "beach" section to see whales. But we were lucky to spot whales just before we got to Las Canteras.
We had this stretch of beach to ourselves and watched at least 10 whales slowly swimming by.
They seemed to be relaxing. There were no jumps or splashes, they just slowly rolled around in the water and they were so damn close.
When we finally made our way down to Las Canteras, the whales we had watched early by ourselves had also just arrived.
There was a pretty large crowd here by now, so we were pleasantly smug and happy with our private whale watching experience down the beach.
It was hard to pull ourselves away and looking back, I wish we had spent more time here rather than rush off to Trelew, read about our day in Trelew and Gaiman.
Because, in my humble opinion, there's no such thing as enough whale watching.
Needless to say, we'll be back one day.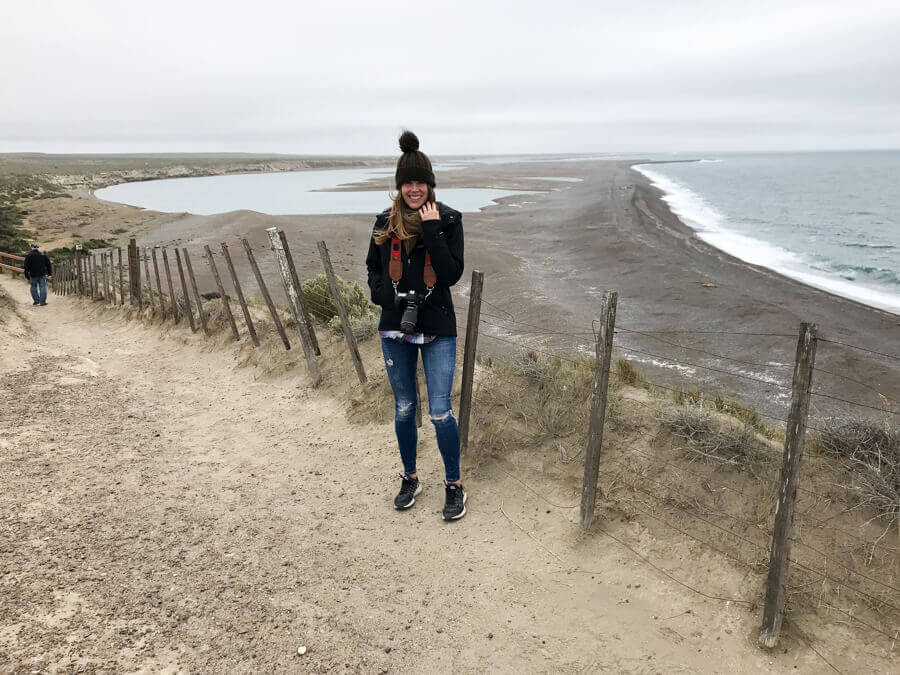 How to see Orcas in Peninsula Valdes
How to see orcas in Peninsula Valdes? Here are some pro-tips (from the park ranger to me to you):
There are two places you're likely to see them: Caleta Valdes Elephant Seal Viewpoint & Punta Norte
Killer whales hunt by beaching themselves to snag the seals from the sand, and they need high tide to do this safely. Check the tide schedule before you go. Find a spot and camp out there for four hours (2 hours before and after high tide).
Be patient and if you can, dedicate more than one day to up your chances of seeing Orcas.
They are here year-round, but your chances are higher in October and November when seal pups are being born.
Check the tides here for Puerto Madryn and add 2 hours for Caleta Vales, 3 hours for Punta Norte.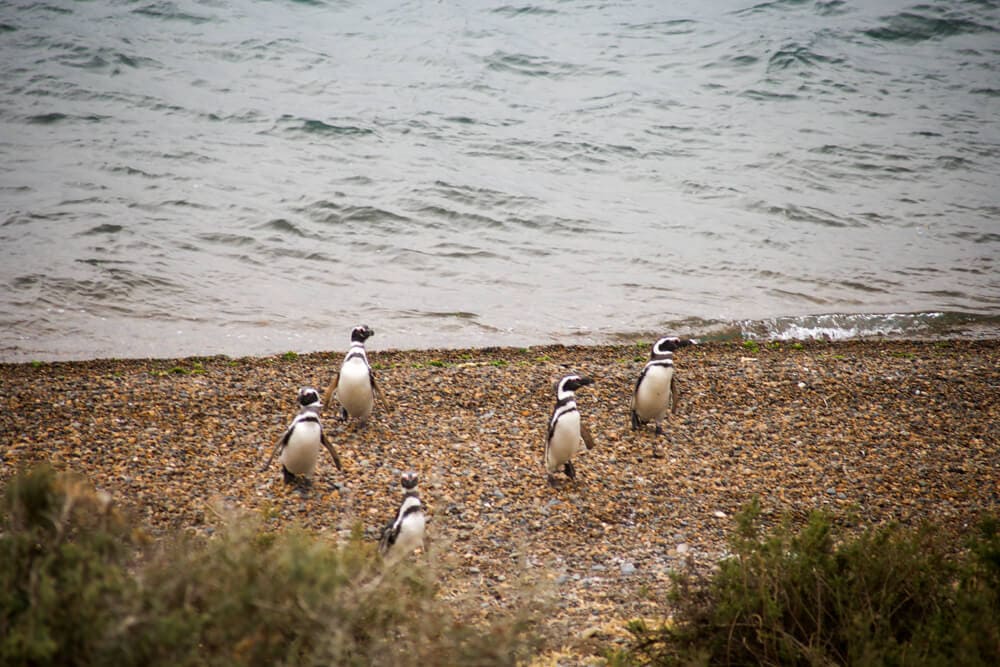 Where to see Penguins near Puerto Madryn
PUNTA TOMBO | This is the largest colony of Magellanic Penguins in the world. BUT, it's 3 hours south of Puerto Madryn (making it 4 hours from Puerto Piramides). So it's not exactly convenient unless you're not planning on traveling elsewhere in the province.
ESTANCIA SAN LORENZO | I was convinced I'd go to San Lorenzo, it was all penciled into my itinerary. Then we arrived and I found out the price: $500 pesos each for Argentine Residents, $1,500 for foreigners. Just to visit the penguins, this doesn't include a meal in their restaurant. ($1,500 pesos is an absurd, abusive price. Don't pay it. We had dinner for 4 for that price). NEXT!
CALETA VALDES | This pinguinera, or penguin colony, was the Goldilocks of penguin colonies. It's on the Peninsula Valdes and it was free.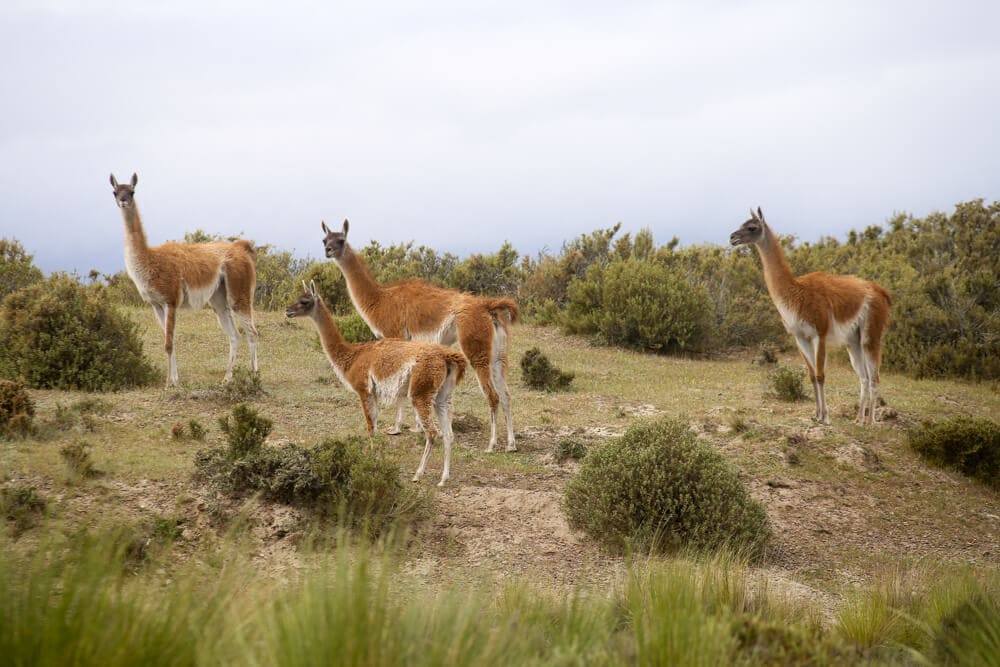 When to visit the Peninsula Valdes
If your goal is to see whales or seals, you'll need to schedule your visit carefully to coincide with when they're on the peninsula.
Right Whales are here from April to December. Sea Lions and Elephant Seals also come to the peninsula for a couple months each year to have their pups and mate.
September through November are the best months for wildlife, but for a complete look at the wildlife calendar click here.
If you're traveling elsewhere in Patagonia, find out the best times to visit Patagonia here.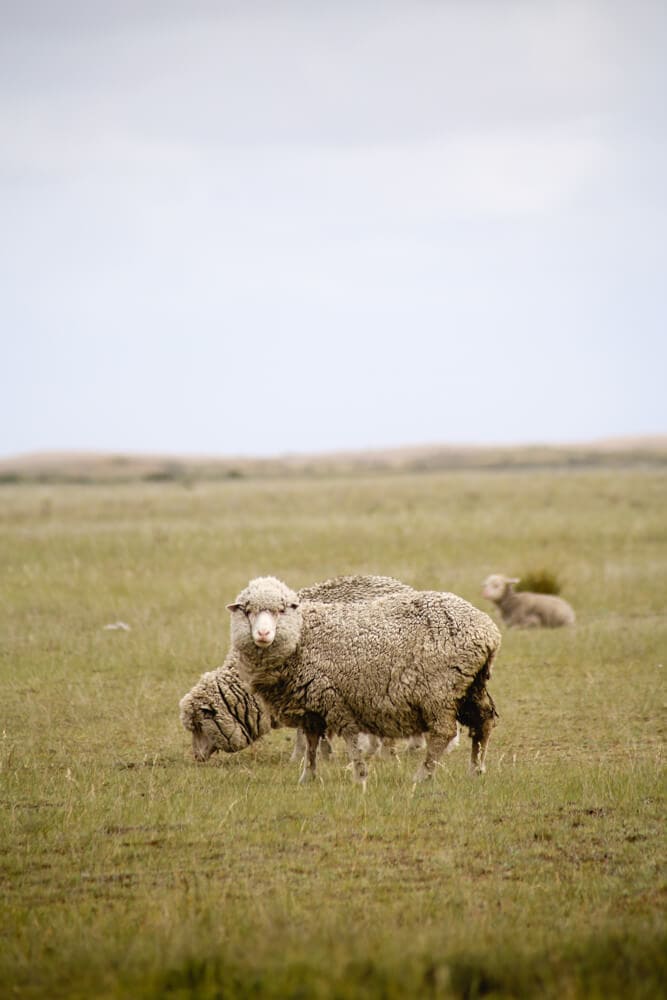 How to get to the Peninsula Valdes
There are actually two cities nearby, Puerto Madryn and Trelew, each with its own airport. I personally chose to fly into Puerto Madryn for its location. Truth be told, the options here are limited! Compare your choices below.
Fly into Puerto Madryn
Like I said above, we chose Puerto Madryn. And being honest, I didn't even realize at the time that Trelew was an option!
It's an easy hour and fifteen-minute drive from Puerto Madryn to Puerto Piramides on the peninsula. Only one airline flies this route, Andes Airlines, with one flight per day each way.
Check for rental car rates from Puerto Madryn.
Fly into Trelew
The drive from Trelew to Peninsula Valdes is slightly longer at about an hour and forty-five minutes. The drive was between Madryn and Trelew is easy (on a well-paved highway) so the distance in drive time is minimal.
Aerolineas Argentinas and the budget airline FlyBondi fly into Trelew.
Check rental car rates from Trelew.
Argentina Travel Resources
Pin It For Later