When you look up things to do in Bariloche, the Circuito Chico is what comes up the most.
The short circular route, as the name describes, is a short scenic drive 23 kilometers from downtown Bariloche.
You could spend as little as a few hours driving it, stopping at scenic viewpoints along the road as you go.
Alternatively, you could spend the entire day exploring the many hiking trails, tucked away beaches, and restaurants here.
This guide is a breakdown of all the sites to see along the route from hikes to beaches, where to eat, and how to do it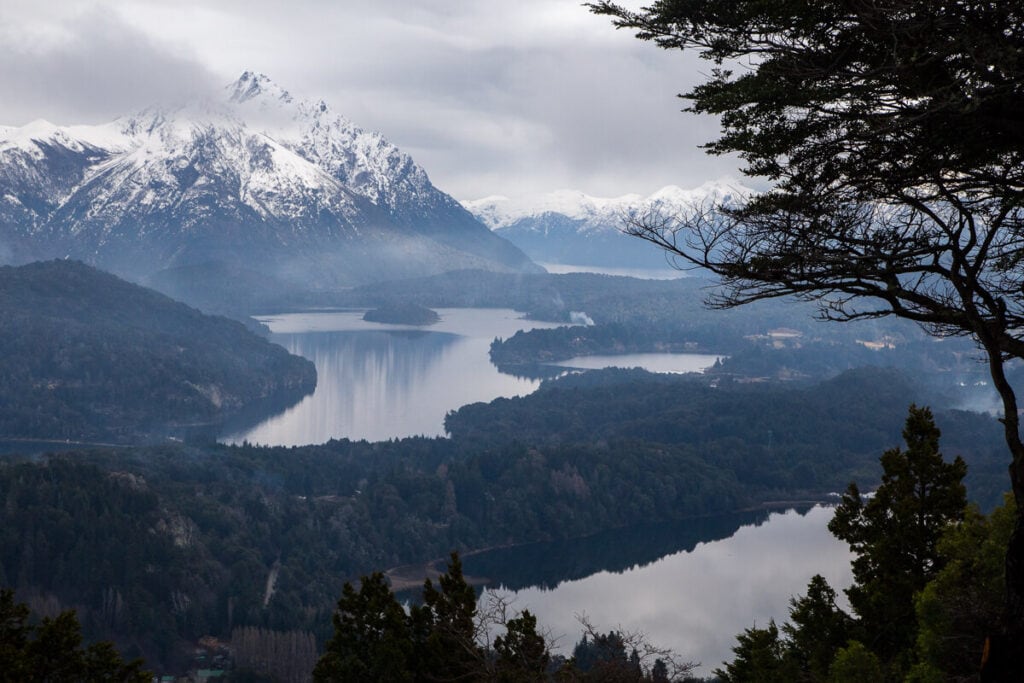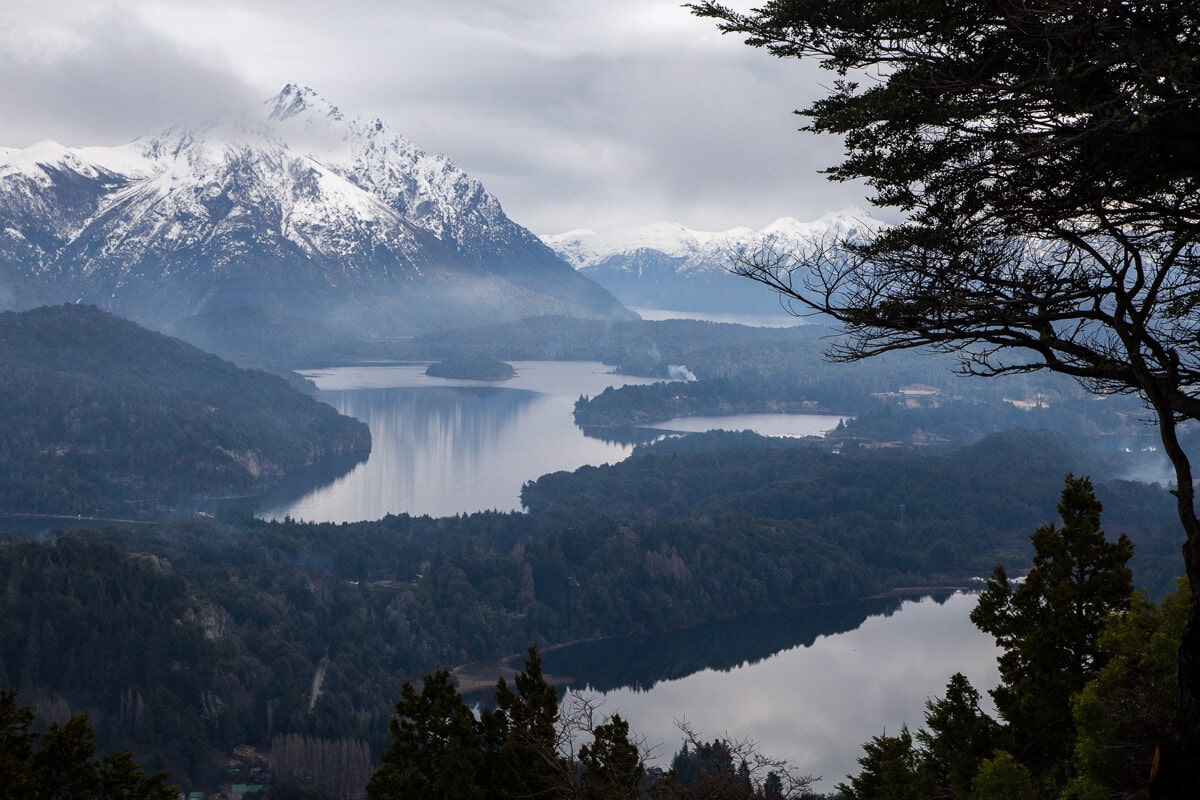 QUICK NOTE: This post contains affiliate links and Sol Salute may receive a commission for purchases made through these links, at no extra cost to you.
How to get to the Circuito Chico, Bariloche
Whether you drive it, bike it, or hike it, here's how to get to the Circuito Chico in Bariloche.
Drive – I always recommend renting a car in Bariloche, it's the best way to explore here. Click here to check rental rates for your stay and to do the Circuito Chico on your own.
Bike – If the weather is good, renting a bike to cycle the Circuito Chico is a popular option. I haven't done this but have heard good things about Circuito Chico Adventure.
Bus – You can also take the bus, lines 20, 10, and 13 all go to the Circuito Chico and you can use your SUBE card. As of 2023, locals have been complaining of long waits for the bus, so keep that in mind and have patience.
Tours – Guided tours like this will hit up the main sites and take care of all the logistics.
Taxi/Remis – No car but still want the freedom to go at your own pace? Hire a taxi or remis for the day or half-day.
Circuito Chico Map
All of the sites mentioned in this post are pinned in the map below.
Things to do along the Circuito Chico
There is a lot to do in this area of town.
We stayed near here for a month and I found myself venturing into the Circuito Chico loop quite often for hikes, beaches, or just to eat and shop.
You could spend as little or as much time here as you want, depending on your interests.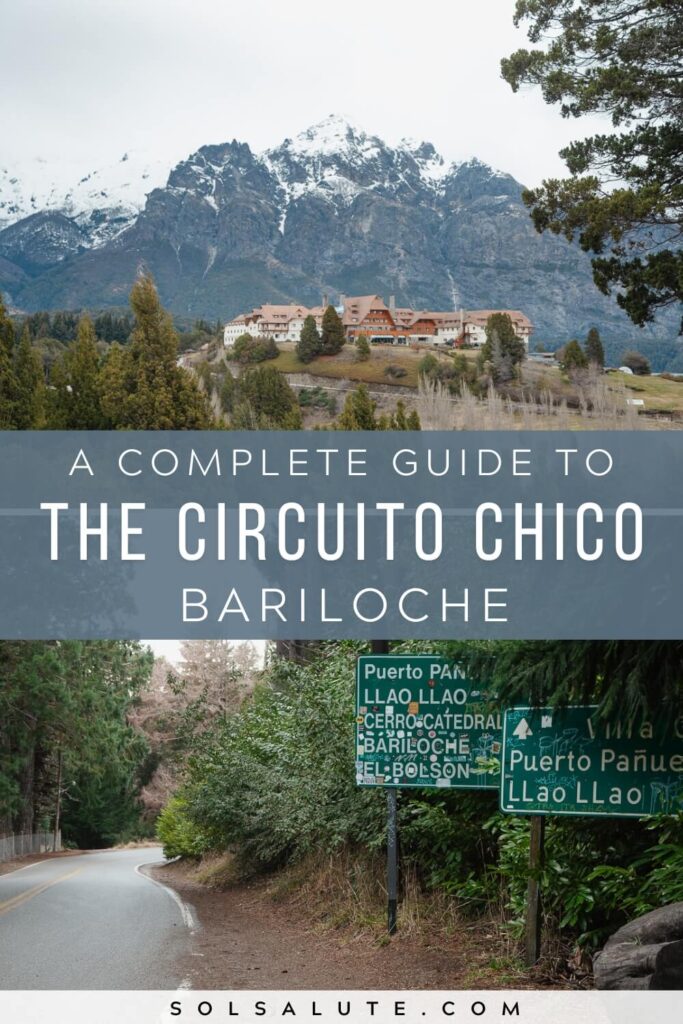 Aerosilla Cerro Campanario
Just before the Circuito Chico, the Cerro Campanario chairlift and view is 100% worth it.
You can hike to the top for free, but save yourself the effort and take the chairlift.
The 360 degree view from the top is the best in town.
Get a hot chocolate and cake from the cafe at the top or bring your own mate to enjoy from one of the many viewpoints.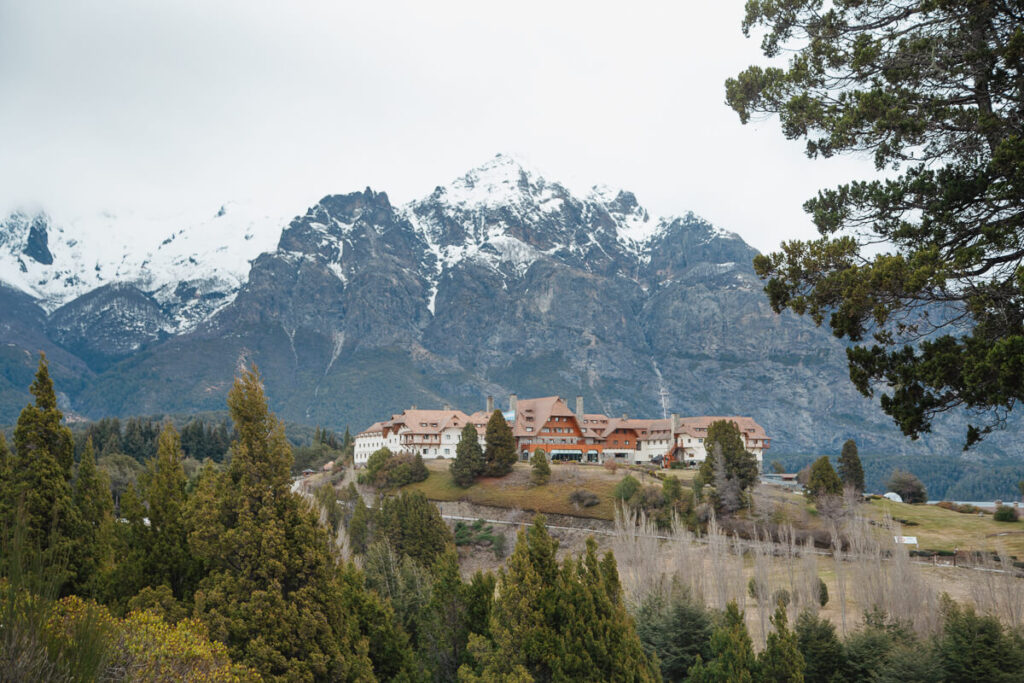 Parroquia San Eduardo
This small wooden chapel stands at the top of a hill overlooking the Hotel LLao Llao and Puerto Pañuelo.
Turn left on the side road and drive uphill to park in the lot just behind the chapel.
Hotel Llao Llao
The Llao Llao was designed and built by Architect Alejandro Bustillo in 1938.
It is one of the most iconic hotels in Bariloche.
Whether you stay here or not you can make reservations for tea or lunch in the many restaurants or treat yourself in their spa.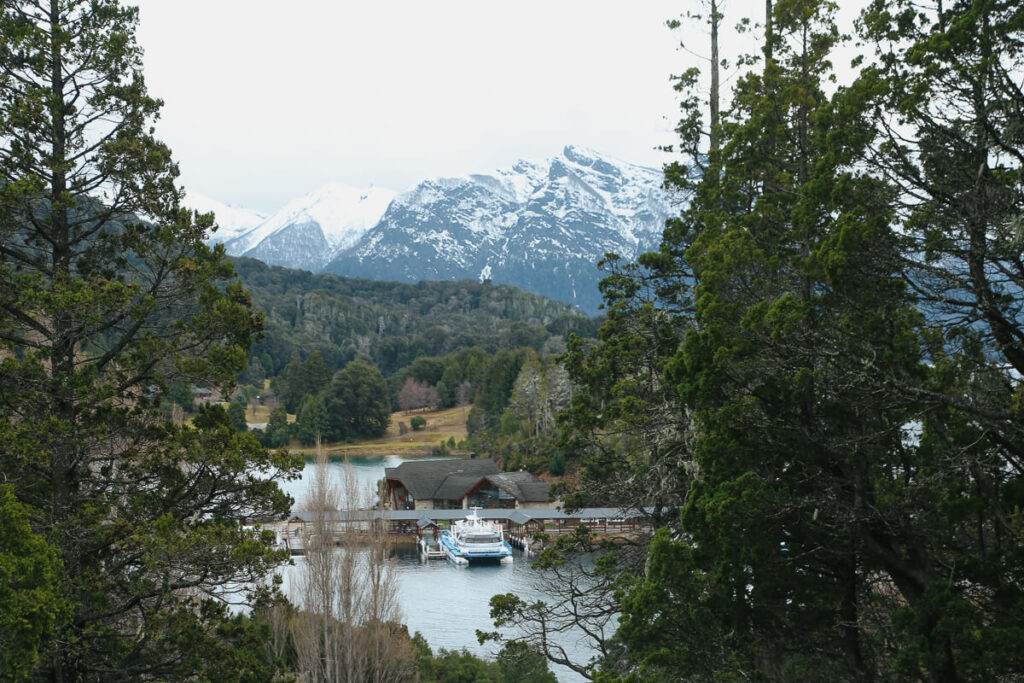 Puerto Pañuelo
Across the Llao Llao is Puerto Pañuelo.
Two of the best day tours on the water depart from here: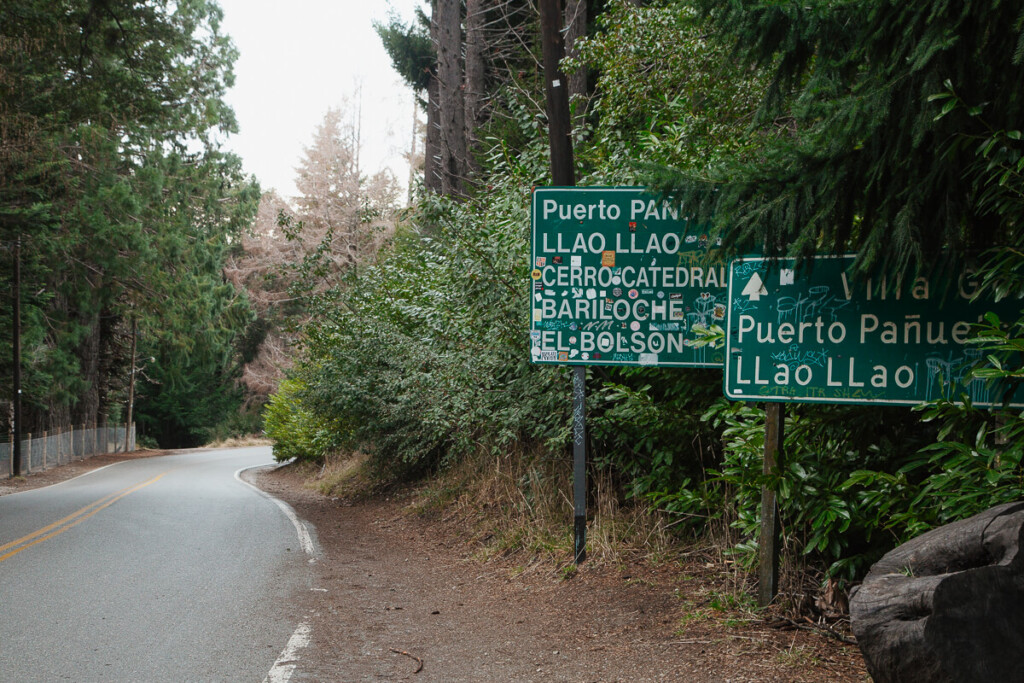 Hike in the Llao Llao Municipal Park
If you love lower effort, high reward hikes then you're going to want to hike the Circuito Chico.
Shorter trails in the Llao Llao Municipal Park can be done in 2-3 hours and don't require you to register in advance (like you need to do to hike in Nahuel Huapi National Park).
Below are just the more popular hikes in Llao Llao Municipal Park, click here for more complete information about the park.
Note that the park closes the trails on windy and stormy days. Check their Instagram page if the weather seems suspicious.
Sendero de los Arrayanes | Easy, 2-3 hours | Trailhead leaves right from the parking lot you'll see on the left 1 km after Puerto Panuelo, a short, flat walk to the beach of Lago Moreno, about 45 minutes to an hour each way depending on your pace. About 20 minutes into the trail you'll see a short loop through Arrayan forest.
Cerro Llao Llao | Easy, 2-3 hours | Trailhead is off the main road just past the parking lot, park in the lot or parallel to the main road at the trailhead. 45 min to an hour to ascend to the top of the Llao Llao hill for gorgeous views. More challenging than Arrayanes but still on the easy side.
Villa Tacul | Easy, 3 hours | This is the same trail as Llao Llao for the most part but instead of detouring to the left, you continue onwards to Villa Tacul and it's gorgeous beaches.
Brazo Tristeza | Easy, 2 hours | Trail starts off of the Hotel Alún Nehuén parking lot further down the road from the above trails, uphill the whole way but not challenging.
FOOD TIP: The Llao Cafe del Bosque food truck is parked in the parking lot of the Sendero de los Arrayanes and makes the best hot chocolate I've ever had. Definitely go after your hike for a treat!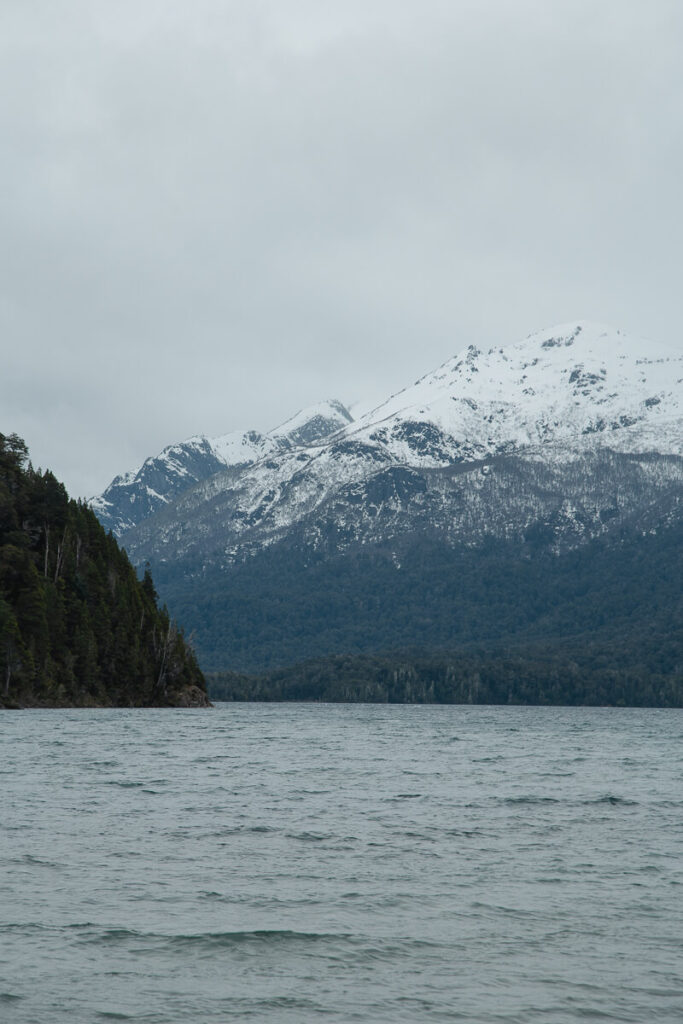 Villa Tacul
At KM 29, you'll see a sign to turn off for Villa Tacul, take the weaving dirt road uphill and back down again to some of the most beautiful beaches in Bariloche.
The name Villa Tacul is in honor of Ismael Tacul, whose family was one of the many indigenous tribes removed from their land in the 1950's by the national park.
Some of his children have returned here in 2007, creating a sminall community of Mapuche people repopulating their land.
At one extreme of Villa Tacul you can see ruins from a hotel built in 1946, destroyed by the government a decade later.
Like all abandoned ruins in Argentina, there are rumors around the ruins claiming it was a Nazi bunker. (While this conspiracy is often true in Argentina, I haven't seen any proof of this one).
Bunker or not, go for the beautiful forest lined beaches.
Bring your mate and snacks on a beautiful sunny day, you won't regret it.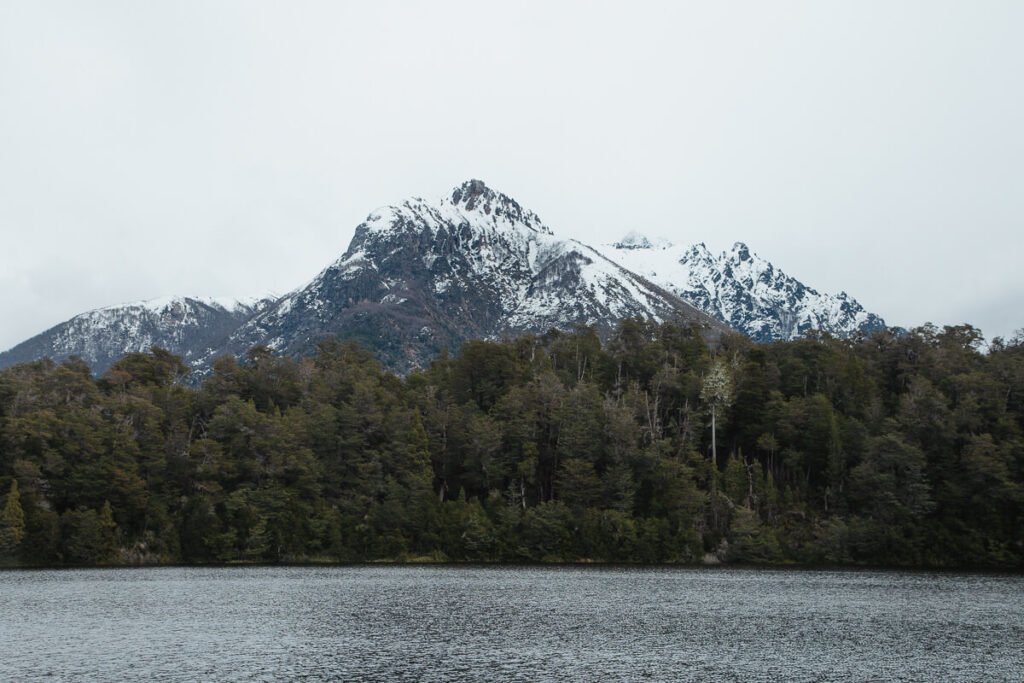 Laguna Lago Escondido
A beautiful small lake a short walk from the main road.
It weaves through the forest and feels very much like you are walking through a fairy tale.
There's a wooden pier that's very picturesque and thanks to that, can be very crowded and hard to enjoy as it deserves.
But that also depends on if you arrive at the same time as a tour group, if so, just wait it out to enjoy the view in peace.
If it's a still day, the laguna will mirror the peak behind it.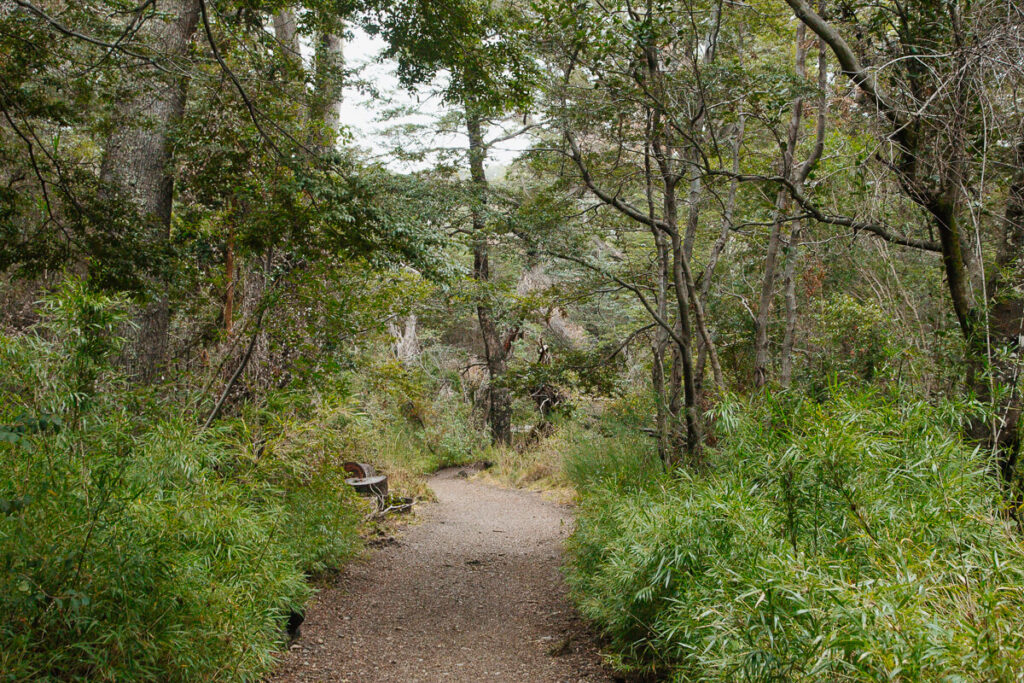 Bahia de los Troncos
You'll see the access to Bahia de los Troncos almost immediately after the sign for Laguna Lago Escondido.
After a short walk through the same forest (I actually took a wrong turn and instead of the Bahia de los Troncos I ended up at Laguna Lago Escondido, so, they connect).
Yet another beautiful beach on the lake in Bariloche, bring your mate and a book, enjoy.
Cementerio del Montañés
Park and walk uphill about 5 minutes to reach a mountain cemetery, the resting place of many who died dedicating their lives to the mountains.
Skiers, mountaineers, and the like rest here in the place they loved best.
Visit with respect.
Colonia Suiza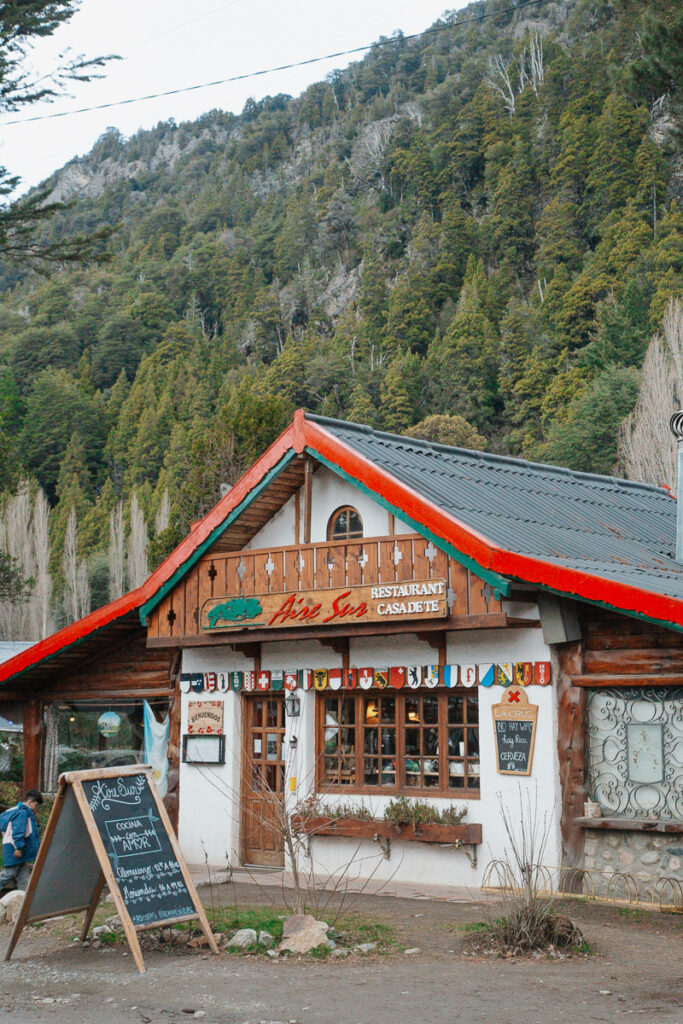 Colonia Suiza is a short drive from the Circuito Chico.
It could be a stop in your Circuito Chico itinerary or a destination on its own.
As the name suggests, this is a historic Swiss town where settlers originally built their homes when immigrating to Argentina.
It's turned into quite the tourist trap but if you look closely, you can see remnants of the original settlement here and there (especially further from the main food court area).
Curante in Mapuche means hot stone, meat and vegetables are buried underground with the heat source (covered in leaves).
The Goye family brought Curanto with them when they arrived to Argentina via Chile.
👉🏻 Visit Colonia Suiza midday on a Wednesday or Sunday. This is when they operate the Curanto meal services and when most restaurants and shops open.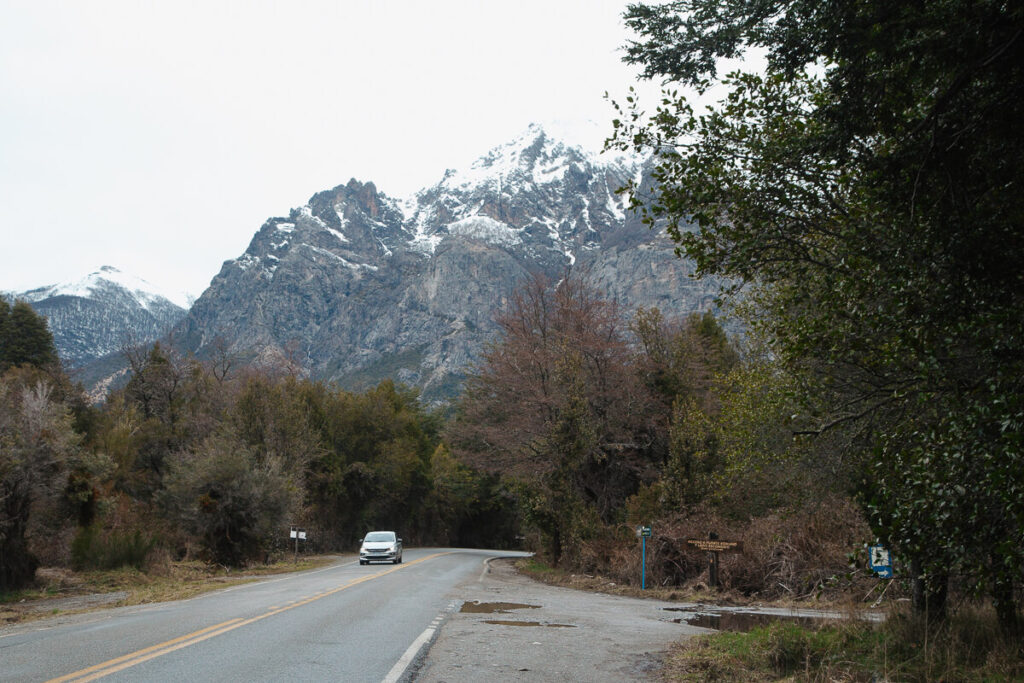 Parque Nahuelito
A mini-theme park for dinosaur loving kids, Parque Nahuelito is filled with life size statues of dinos.
It may seem random at first, but with many fossils discovered in Patagonia, this area of the world is actually a great destination for dinosaur obsessed toddlers (or adults, I'm not judging you Ross!).
Make sure to check their website for hours since visits are done as a guided visit.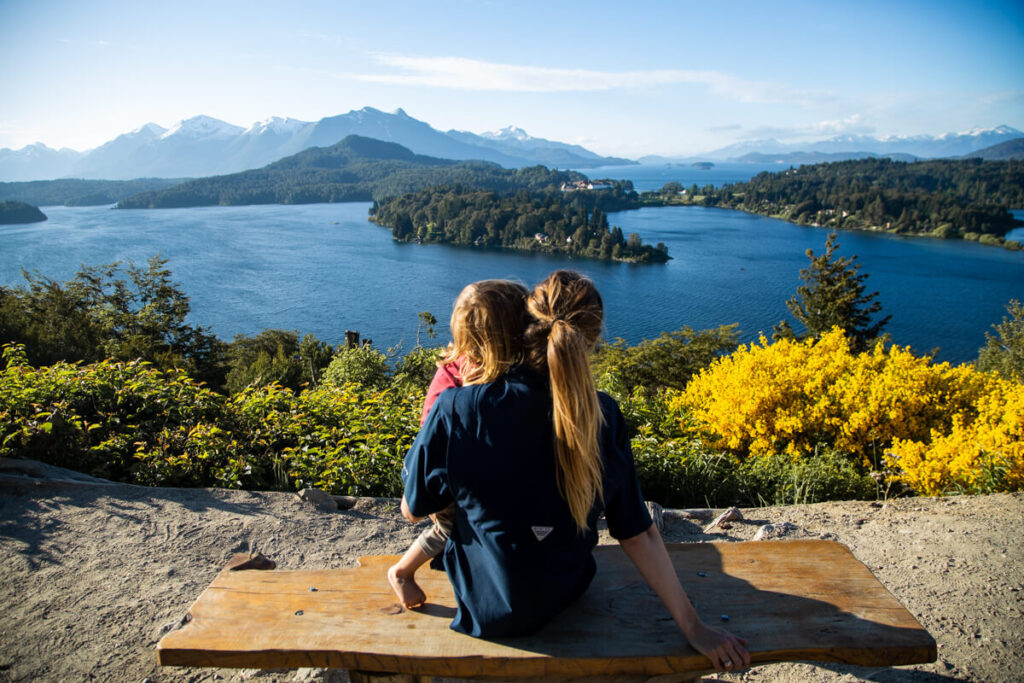 Punto Panoramico
The most beautiful panoramic view in Bariloche, this mirador is a must see.
You've likely seen this view photographed in your guidebook or post cards, so definitely stop for your own memories.
There is plenty of parking on either side of the road, be very careful crossing the road with the curves here.
Playa Sin Viento
Yet another beach and viewpoint on the Circuito Chico.
This bridge is a great photo op and as the name suggests, the bay is protected from the wind making it a good stop even with less than ideal weather.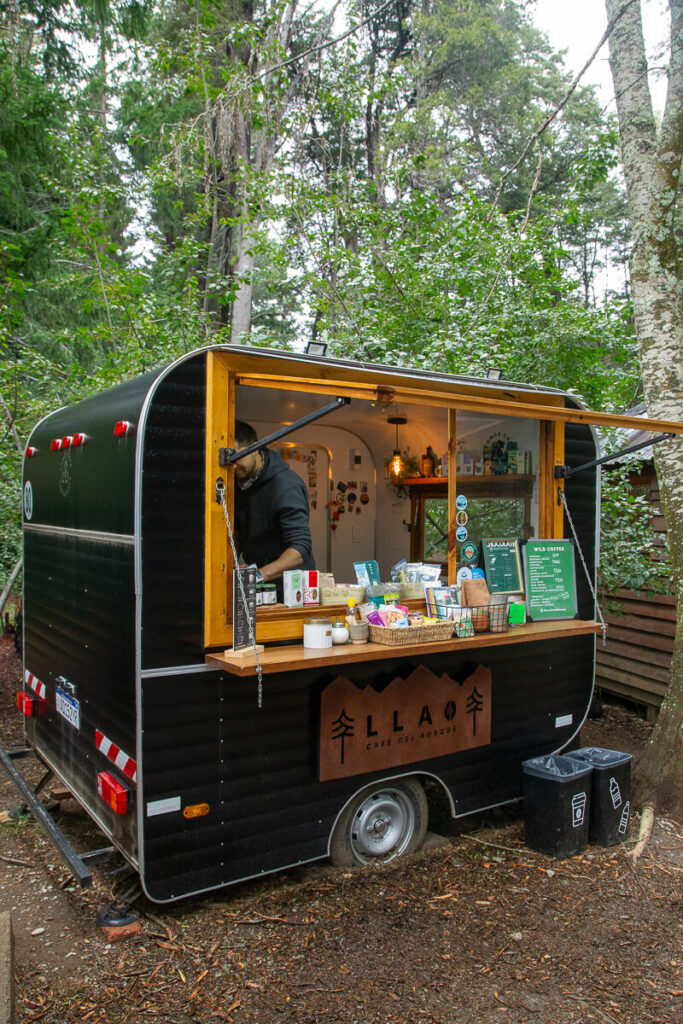 Where to eat on the Circuito Chico
Cerveceria Gilbert – My go to for lunch, skip the popular Patagonia Brewery (for lunch anyway), eat here for authentic Patagonia cuisine like Jabali a la Cazadora (tender wild boar) or Goulash and Spaetzle. The decor feels like you're in the Swiss Alps hiding from the snow, regardless of what's happening outside.
Patagonia Brewery – Wildly popular thanks to its view and Instagram. It's a large production brewery, but does offer tastings that are worth it for the beer lovers.
Bruncherie – Cakes, coffee, hot chocolate, and pastry heaven.
Llao Cafe del Bosque – Food truck with specialty coffee and hot chocolate, worth the trip alone.
Ourea Foodtruck – Pizza and burgers from a food truck at Playa Sin Viento, get your food and enjoy it at the beach.
Punto Panoramico – Cafe and restaurant just before the Punto Panoramic viewpoint, enjoy a beer with your view.
Anima – Fine dining, widely regarded as the best restaurant in Bariloche, make dinner reservations.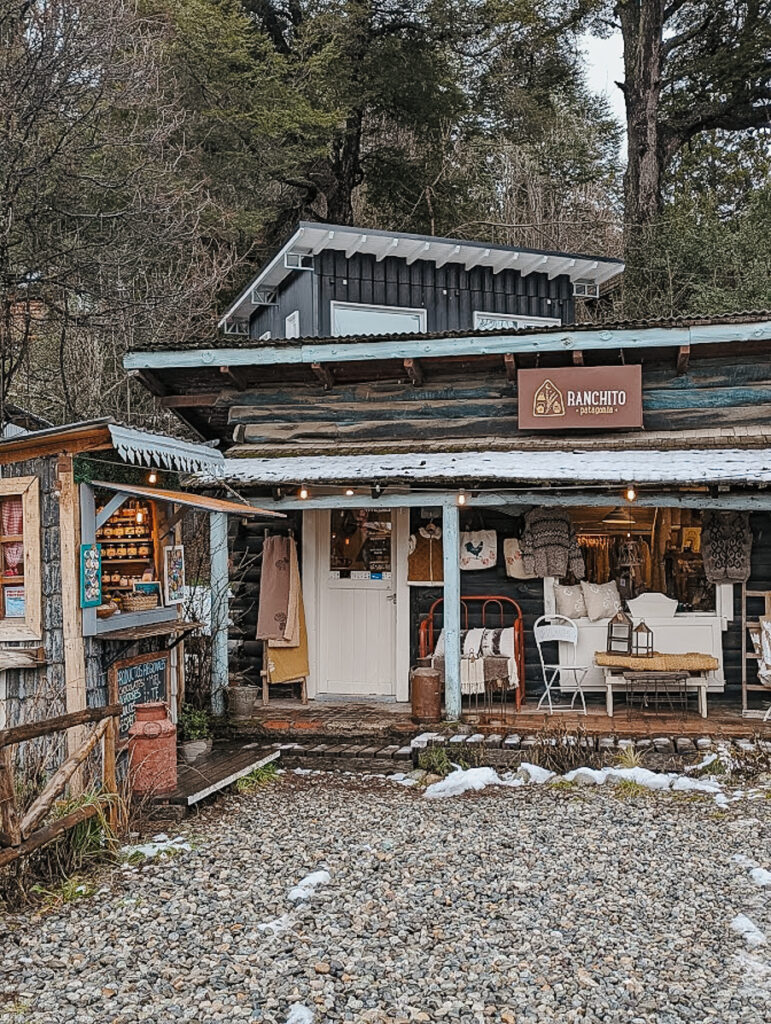 Shopping on Circuito Chico
Skip the tacky souvenir shops on Mitre street downtown, visit these carefully curated boutiques for handcrafted items you actually want:
Ranchito Patagonia – Don't skip this tiny shop with everything from hand woven sweaters, prints by local artists, local chocolates and hot sauces, locally sourced cosmetics and more. I want everything here.
Morena Llao Llao – Artisan items like wooden platters, spoons, woven sweaters, again, I wanted everything.
Casa de Muñecas y Relojes – Small shop of dolls and clocks from creepy antique dolls to crocheted animals, great stop for collectors or families.
Argentina Travel Resources