This post is a complete guide to Salta, Argentina.
It's nickname is Salta La Linda (Salta The Beautiful) and it definitely lives up to the hype.
After spending 12 years living here and exploring the most beautiful corners of the country it is easily my favorite place in Argentina.
I've been twice and plan on returning as many times as I possibly can.
This is in Argentina's northwest. It's the desert with jagged red canyons and a strong indigenous culture unlike anywhere else in the country.
I highly recommend including a visit to Salta in your Argentina itinerary.
Odds are you'll fall in love with it just as I have.
Now let's get to the best things to do in Salta and all the insider logistical tips I've picked up from my trips!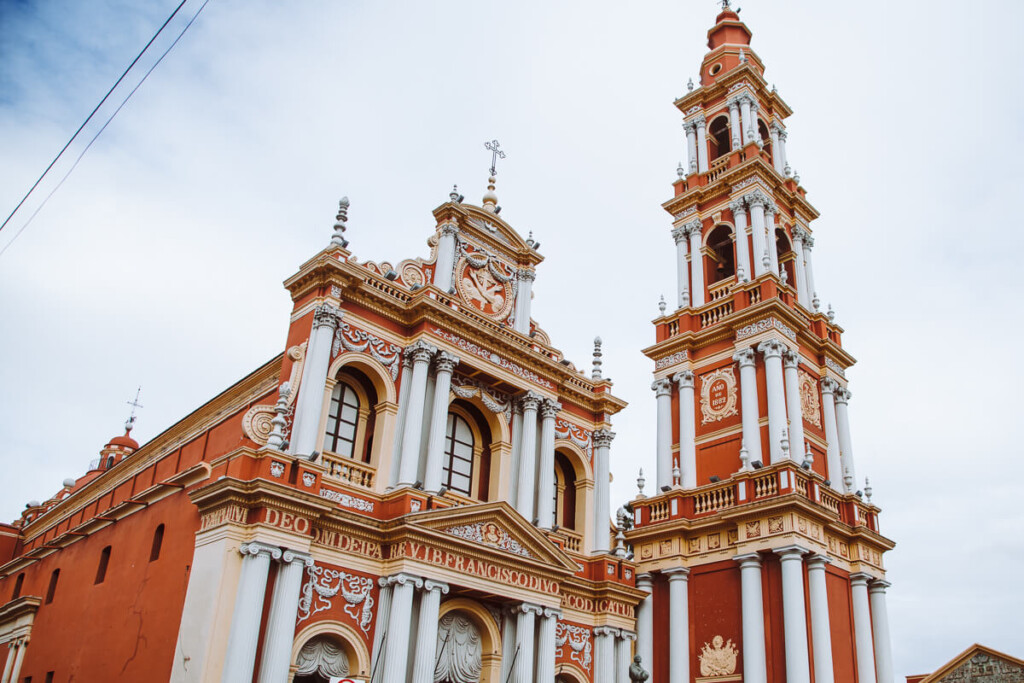 QUICK NOTE: This post contains affiliate links and Sol Salute may receive a commission for purchases made through these links, at no extra cost to you.
A Complete Guide to Salta, Argentina
The Salta province is widely known as Salta la Linda, or Salta the Beautiful.
It's easy to see why.
The entire province is jaw-dropping at every turn.
But how should you plan your visit to Salta?
Most people use the city of Salta as a base and go on day tours from there. If you're only here for a few days, this is you're best option.
If this is your plan, dedicate a full day to see the city and at least two days to go on a couple of the excursions I list below.
Personally, I always rent a car and go on road trips through Salta. It is home to some of the country's most stunning scenic drives and I prefer to have the time to dedicate to the small towns and hidden gems along the way.
If you have the time and are brave enough to drive, I highly recommend it.
The rest of this post is a comprehensive breakdown of the best things to do in Salta.
I divide it into two categories: what to do IN the city and the best excursions to make it easy to plan your itinerary.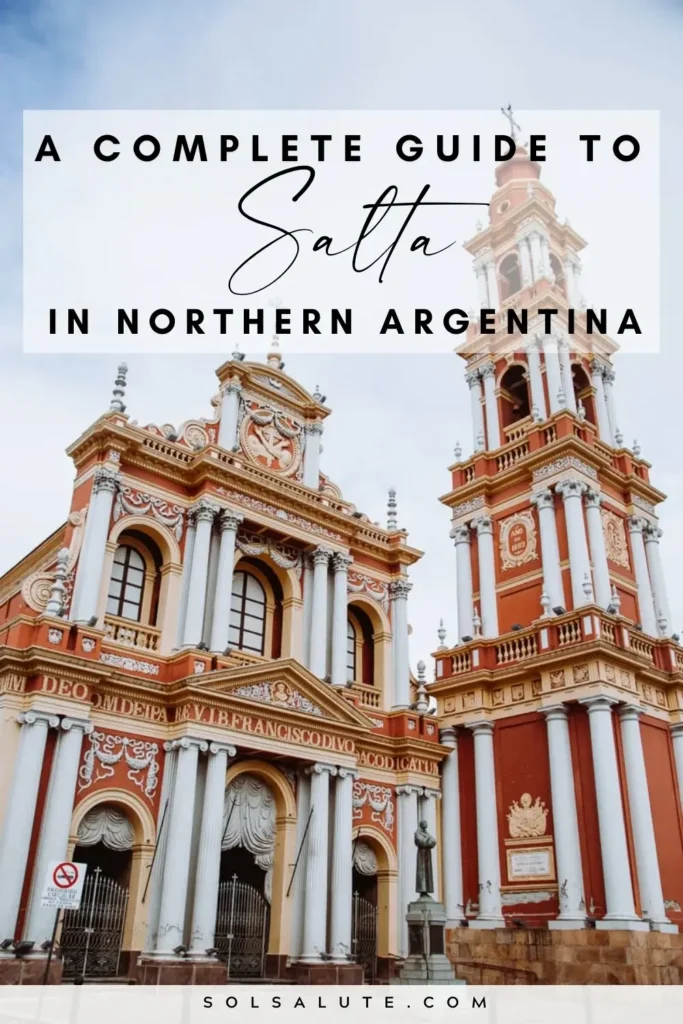 The Best Things to do in Salta
Salta is a small city and most activities are on or near the main square, the Plaza 9 de Julio.
This makes it very easy to see a lot of things in a short amount of time without feeling rushed.
We spent one full day in the city on our first trip and we saw everything. I prefer to take my time to enjoy a city and still did not feel rushed.
Here at the top Salta attractions to do when in the city.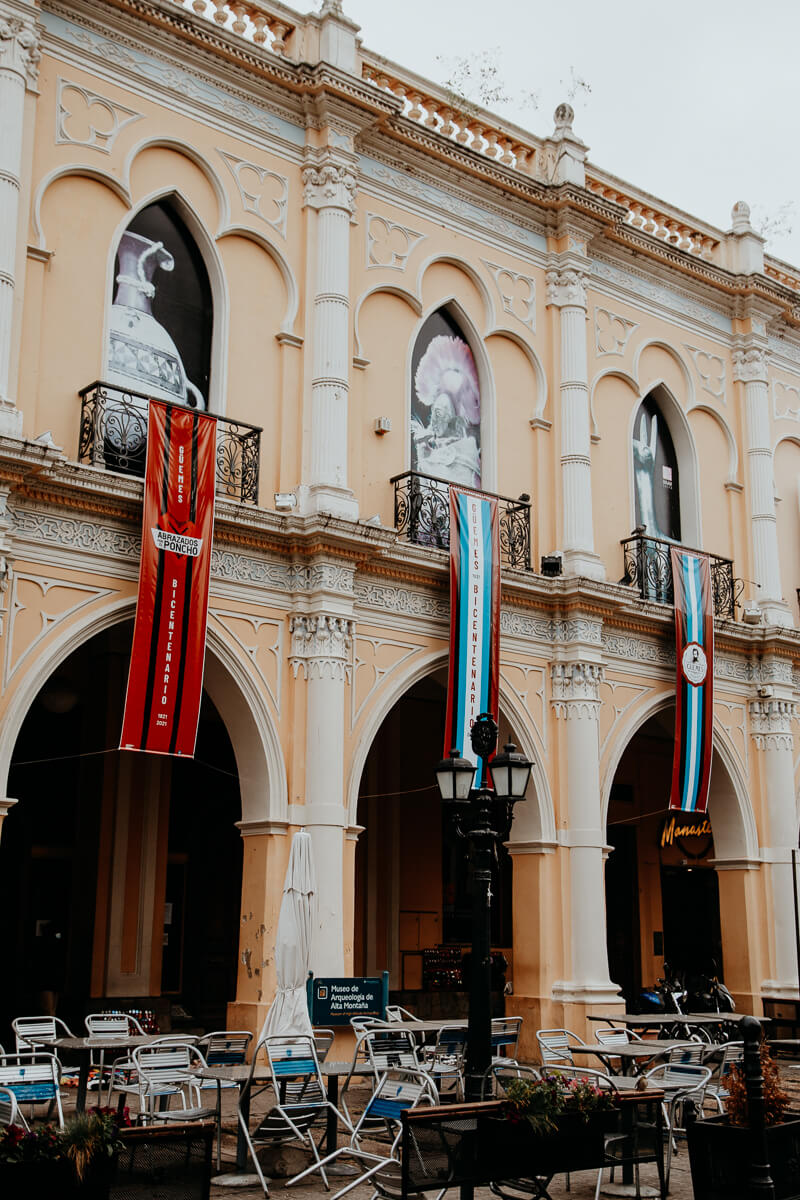 1. Museo Arqueológico de Alta Montaña (MAAM)
Plaza 9 de Julio at Mitre 77
Tuesdays-Sundays, 10:30 am-6: 30 pm (closed Mondays)
The High Altitude Archeological Museum is a MUST.
In 1999,  Dr. Johan Reinhard discovered three mummified children at the peak of a mountain in perfect conditions.
The children were buried during the time of the Incas, before the arrival of the Spanish.
They are one of the greatest archeological discoveries of our time, and you can see them in tiny Salta!
The objects they were buried with are on display and one of the three mummies will be on display.
They never display all three children together for conservation reasons.
Ultimately, this was one of the most interesting museums I have ever visited.
If you love history, you cannot miss it.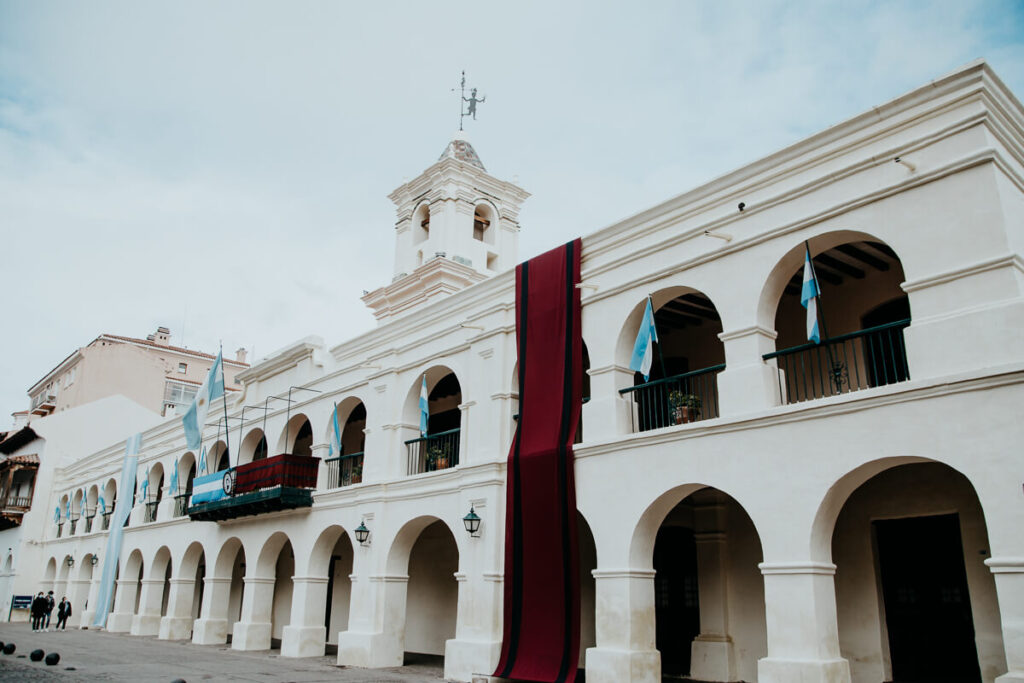 2. Visit the Cabildo
Located on Plaza 9 de Julio at Caseros 549
The Cabildo (or city hall) in Salta is one of the oldest colonial buildings in the region.
All cities in Argentina have a Cabildo and if you've been to Buenos Aires, you've likely seen the Cabildo in Plaza de Mayo. But Salta's remains in tact (whereas the Cabildo on Plaza de Mayo was modified to make room for Avenida de Mayo).
Visit the museum to see historical artifacts about Salta's role in Argentina's battle for independence.
The interior patios are reminiscent of Spain, with colorful flowers flowing over the upper floors' balconies.
Make sure to enjoy the panoramic view of the plaza from the second-story balconies.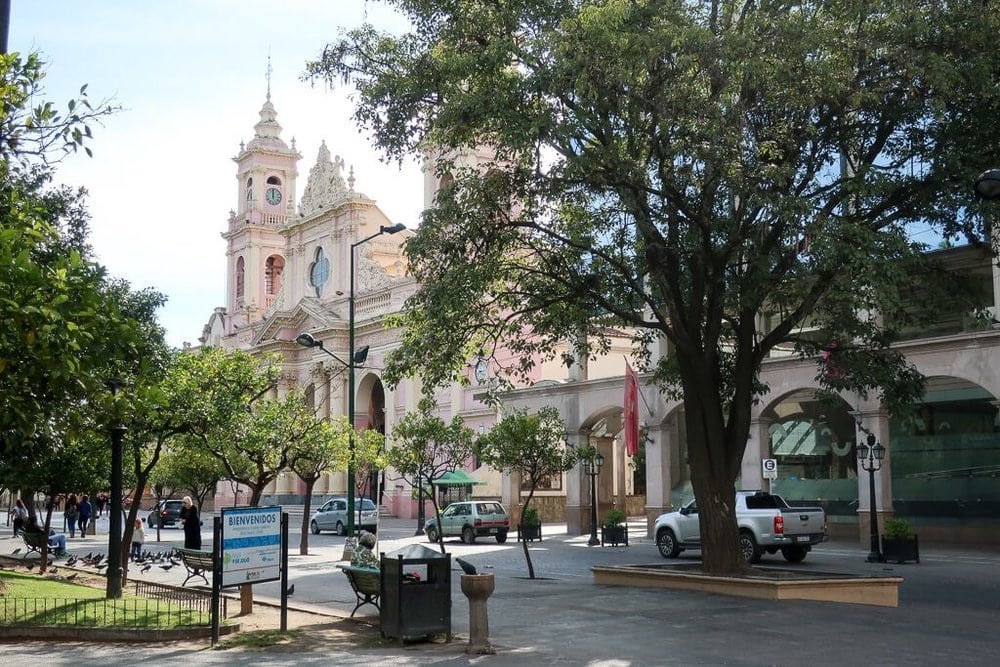 3. Cathedral of Salta
Also on the Plaza de 9 de Julio is the Cathedral.
There's been a church here in one form or another since the 16th Century.
There are free guided tours that are very worthwhile but are only in Spanish. They're only offered at certain times on certain days of the week, in the afternoon from Friday-Sunday when we visited. Check at the cathedral in person to be sure as these things often change.
But even without a tour, you're sure to enjoy a walk through the Cathedral.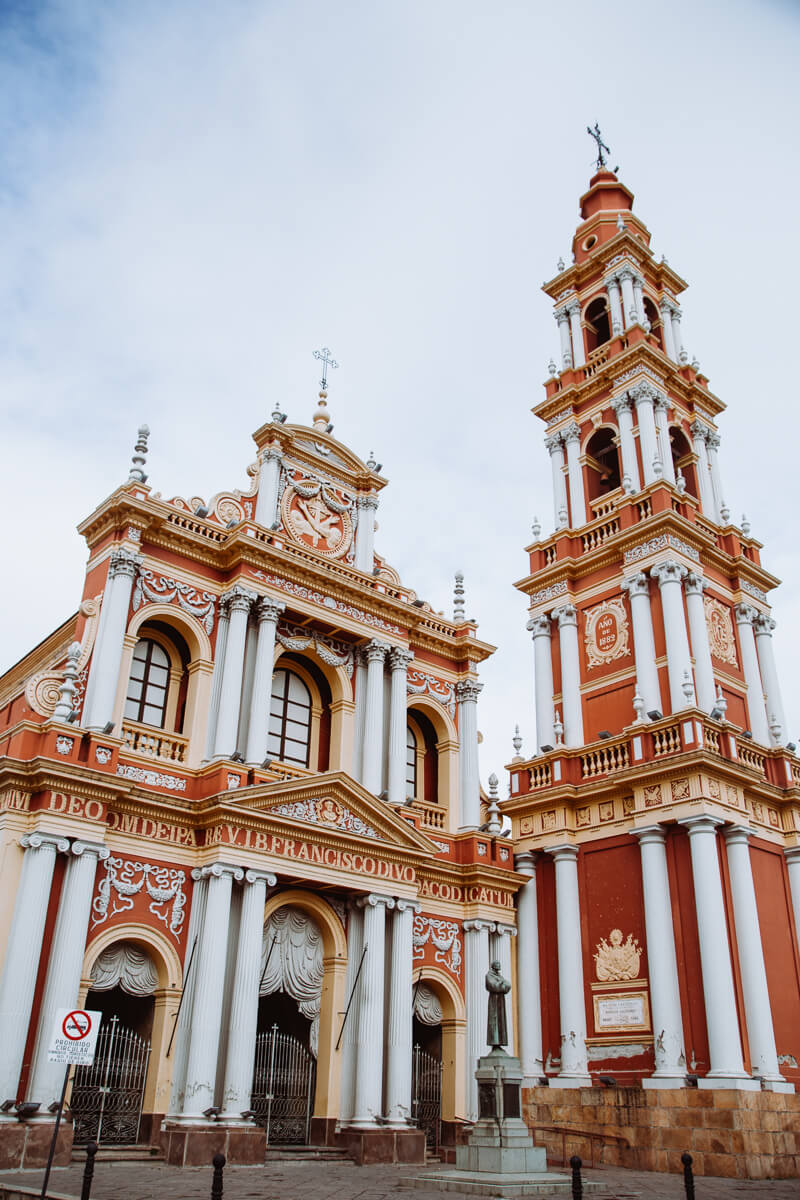 4. Iglesia San Francisco
When you see photos of that stunning church in Salta, it is actually the Church of Saint Francis (not the cathedral!).
Despite not being the main cathedral, this is the church I always associate with Salta as I see it in every single brochure or promo for the city.
I think it's the most stunning church in Argentina and I'm not alone. It's hard not to stop to admire it when sightseeing in Salta.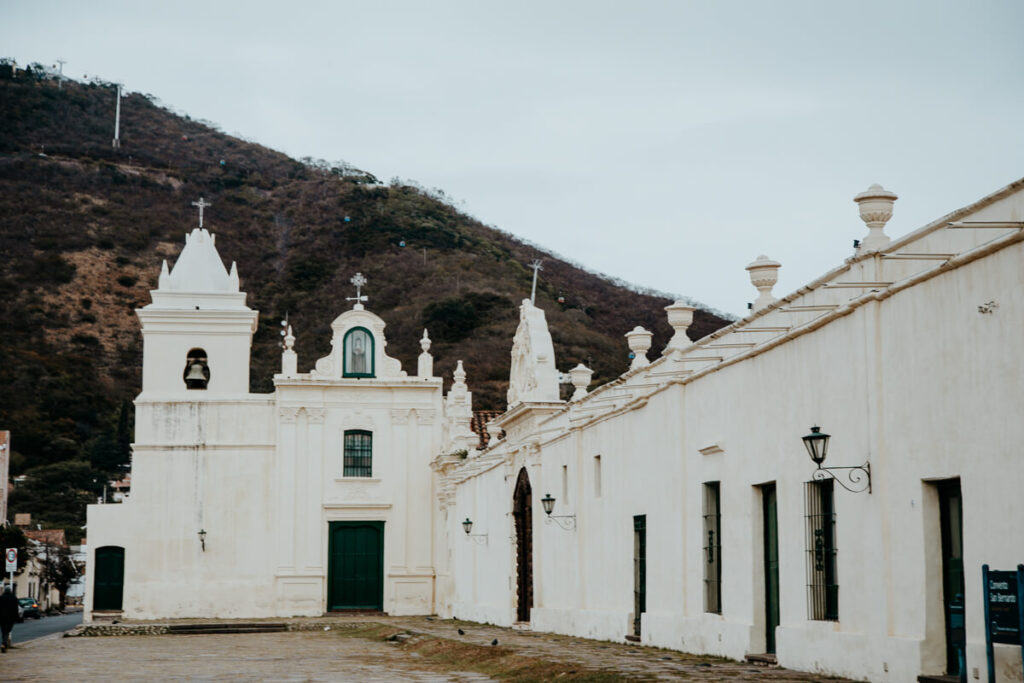 5. Cerro San Bernardo
The San Bernardo Funicular is located 1 kilometer from the Plaza 9 de Julio. Check here for current hours and prices.
You can choose to take the funicular or walk the steps to the top.
We took the easy way out and took the funicular to the top and then walked the steps back down (the descent took us half an hour).
The views at the top are great and we spent a while at the top relaxing. Time your visit for sunset for the best views!
There's a café, a market, restroom facilities, and a playground at the top.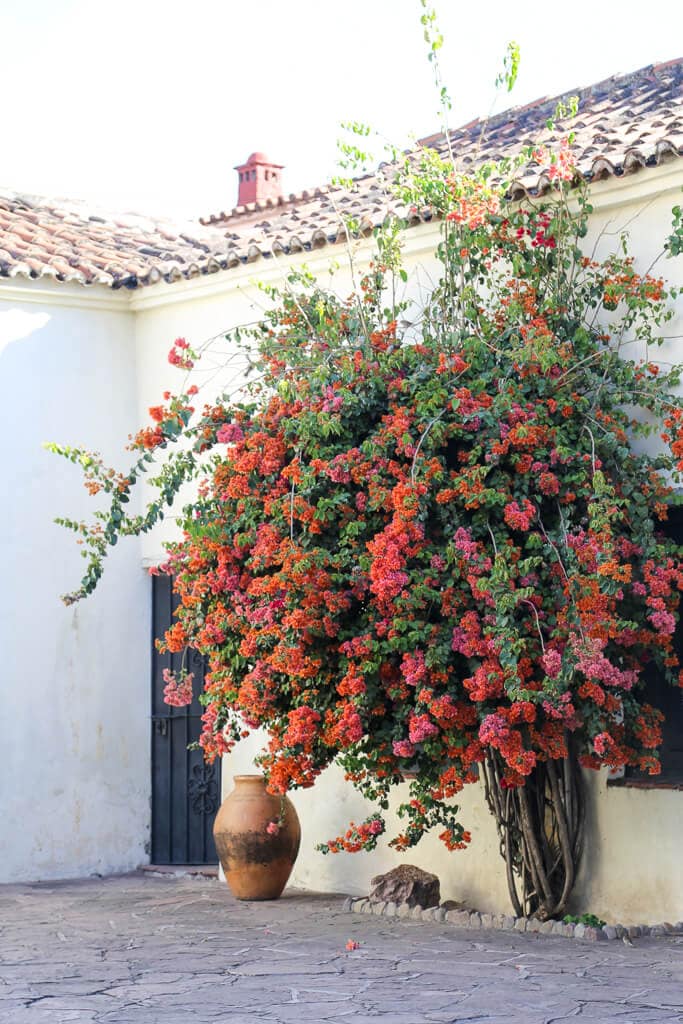 6. Visit a Peña Folklorica
Folklore is a general term that refers to all traditional song and dance that isn't tango (which is from Buenos Aires only).
Arguably, a traditional peña is the perfect night out, by offering music, traditional food and lots of wine!
Peñas are typical in Salta and if you want to feel like a local, then stay up late one night to join the party.
There is a guided tour to visit the best peñas in Salta, reserve it here.
Calle Balcarce
Go to Balcarce Street (on the two blocks between Alsina and Ameghino) find yourself in the heart of the peña nightlife.
"La Balcarce" is famous for its nightlife amongst locals and tourists alike.
The peñas of Balcarce offer a dinner and a show environment.
A few Balcarce peñas to check out include La Vieja Estación, Los Cardones, and Nora Julia.
La Casona del Molino
Located far from Balcarce (address: Luis Burela 1), La Casona del Molino is the best peña in town.
There's no show and you won't see dancing (stick to Balcarce for that). The musicians sit at tables in each room and on the patio.
The musicians sing and jam together late into the night and locals in the crowd who know the words join in. 
Make a reservation to make sure you get a table. We strolled in with no plan and were very lucky to get a table, the place was packed.
It was an incredible and authentic experience listening to the musicians play in such a relaxed manner.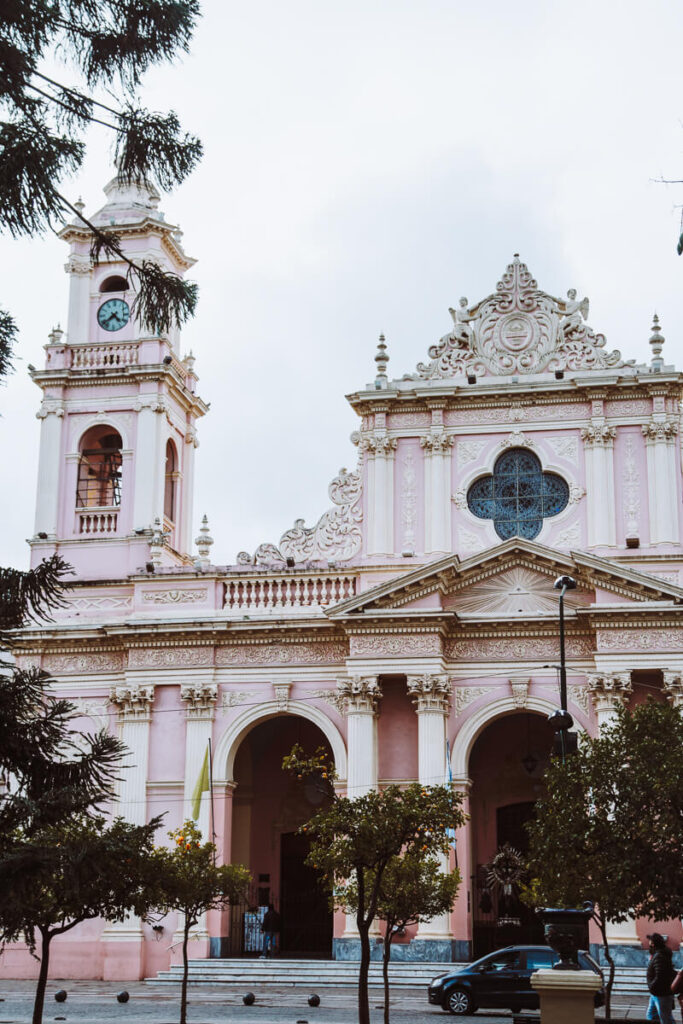 Things to do near Salta: The Best Excursions
As I mentioned above, I love to explore Salta by renting a car for maximum freedom to explore the regions of Salta and Jujuy at my own pace. 
However, if you'd prefer not to drive and would rather just use Salta as your base this is completely possible and the norm (especially for international travelers).
Moreover, all the best things to do in Salta are available as organized excursions from the city.
PLANNING TIPS: I apologize for repeating myself but I recommend spending 1-2 days in the city and dedicating 2-3 days to excursions.
Also keep in mind that these excursions are long, FULL days out. It might not be a bad idea to plan for a break in between to get some rest. You could go on a day trip one day, spend a day exploring the city, then another excursion on the third day.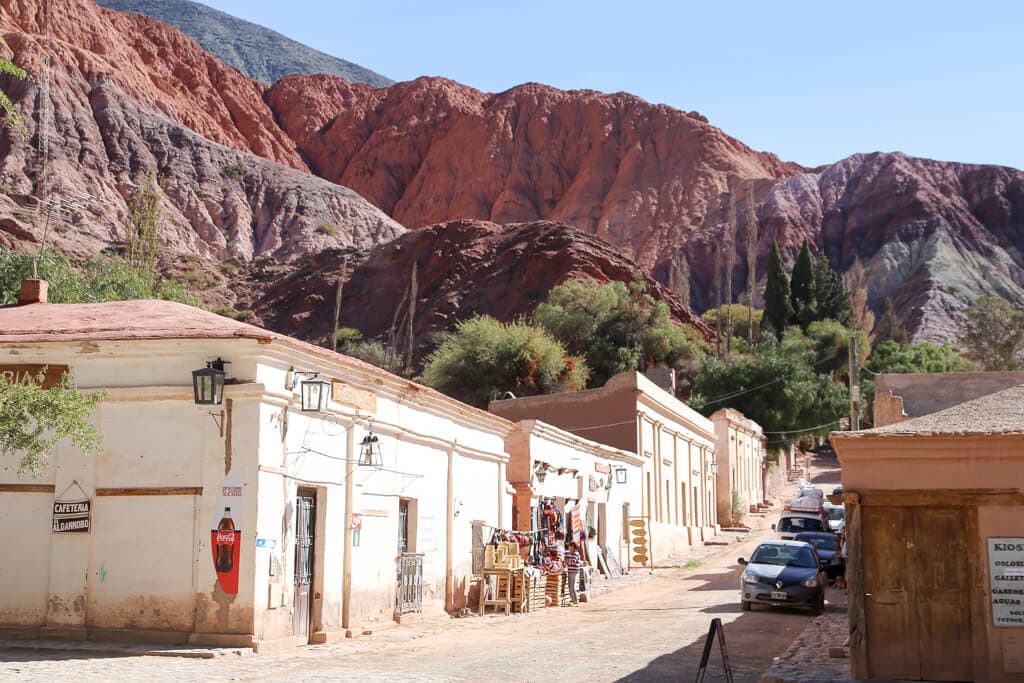 1. Purmamarca & The Salinas Grandes Salt Flats
One of the main things to see in Salta is a day trip to Jujuy to see Purmamarca and the Salinas Grandes Salt Flats.
This is a full day excursion into the province of Jujuy.
Jujuy is a tiny province that borders Salta just to the north. Spending at least a day here is a MUST if you are in Salta.
The town of Purmamarca is gorgeous and you'd be forgiven for thinking you were actually in Bolivia.
There's a permanent artisan market in the main square surrounded by mountains in a rainbow's worth of reds, ochres, and oranges.
After Purmamarca the tour heads to Argentina's Salt Flats.
They're lesser known than the salinas grandes of Bolivia but are equally worth a visit!
Check availability and rates here.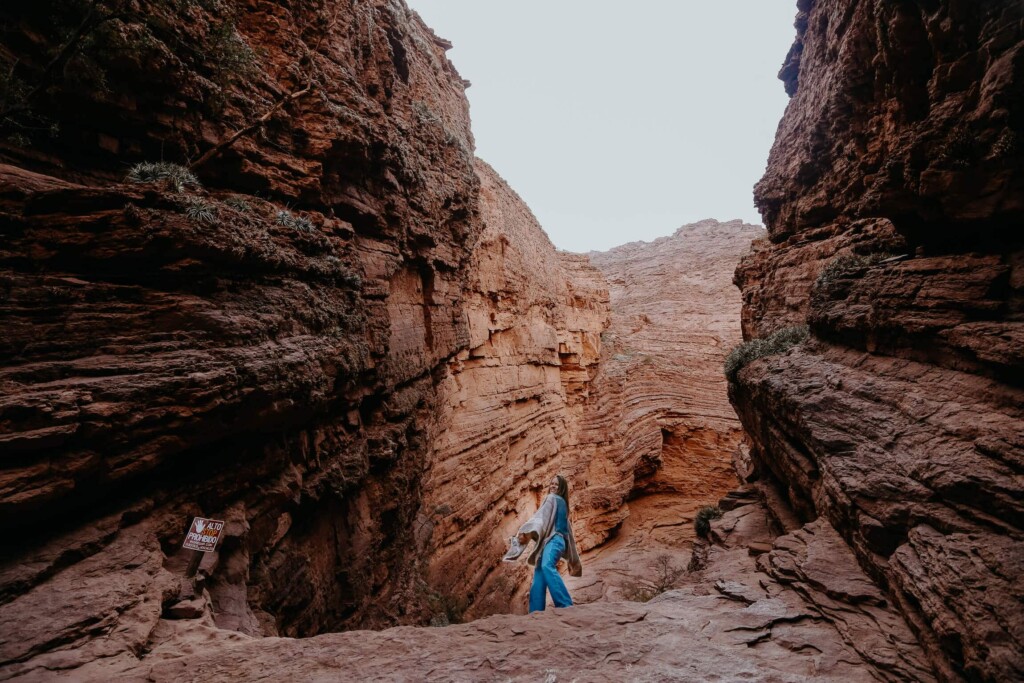 2. Cafayate & The Quebrada de las Conchas
While Jujuy lies to the north of Salta, a day trip to Cafayate will take you three hours to the south.
This popular Salta excursion includes a drive through the gorgeous Quebrada de las Conchas (Shells' Gorge).
The tour stops to see unique geological formations unlike anything you've ever seen before.
Once in Cafayate, you'll be treated to wine tastings in Argentina's second-largest wine region.
Read More: The Best Wineries in Cafayate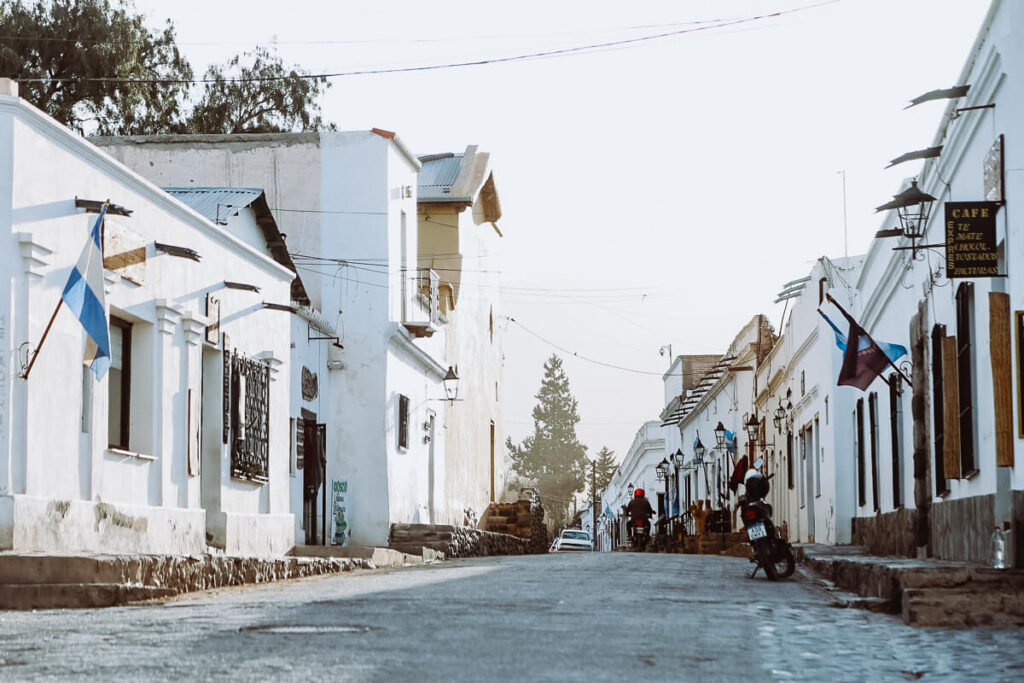 3. Cachi & the Cuesta del Obispo
We've gone north to Purmarmarca and south to Cafayate, now let's go west to Cachi!
Cachi is one of the most beautiful towns in all of Salta (if not all of Argentina). This colonial town is three hours from the city of Salta but don't worry, the drive is gorgeous.
I fell so hard for Cachi after our first trip to Salta that we recently returned to stay for four nights. It's that beautiful.
The drive from Salta to Cachi weaves along Ruta 33. You'll see the Escoipe Gorge before ascending the Cuesta del Obispo, one of Argentina's most popular scenic drives.
After the Cuesta del Obispo's dizzying series of switchbacks you'll drive the impossibly straight Recta Tin Tin through Los Cardones National Park.
The tour includes time to wander the beautiful colonial streets of Cachi and time for lunch.
Click here to reserve your Cachi excursion.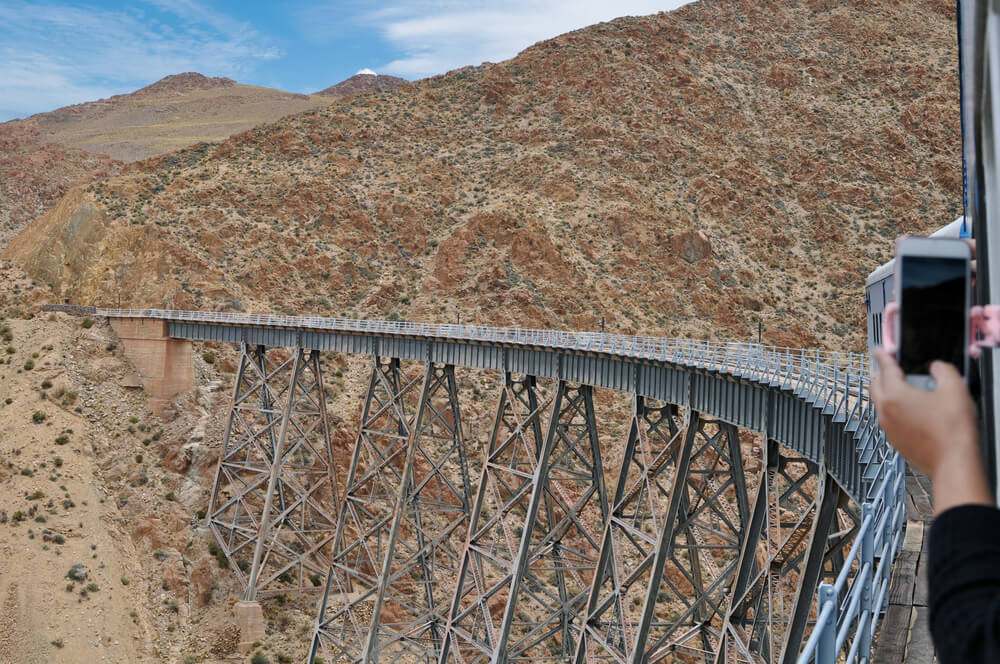 4. Ride the Tren de los Nubes
The Tren de los Nubes, or train to the clouds, is one of the most popular things to do in Salta.
It is a long day, starting with a long bus ride to San Antonio de los Cobres where you'll transfer onto the train. There are scheduled photo stops along the route but keep in mind that you'll be spending a lot of time in the bus.
Once aboard the train you'll spend about an hour to reach the Viaducto La Polvorilla, the viaduct and massive bridge that you see in all of the photos and promotional material.
The views ARE beautiful and you'll see an area hard to see any other way but by this train.
It's a pricey excursion but it is a popular one.
I haven't personally been on the Tren de los Nubes so I can't offer an honest opinion other than why we've chosen not to do it. And that is that it sounds like a lot of time in the bus there and back for what it is. Asking around I've heard all sorts of opinions. Some rave that it was the most beautiful thing they've seen and others agree it's not worth the effort. You know what interests you best.
It's one of the most popular things to do in Salta for a reason, so if you want to see beautiful scenery and love train travel, reserve your Tren de los Nubes excursion here.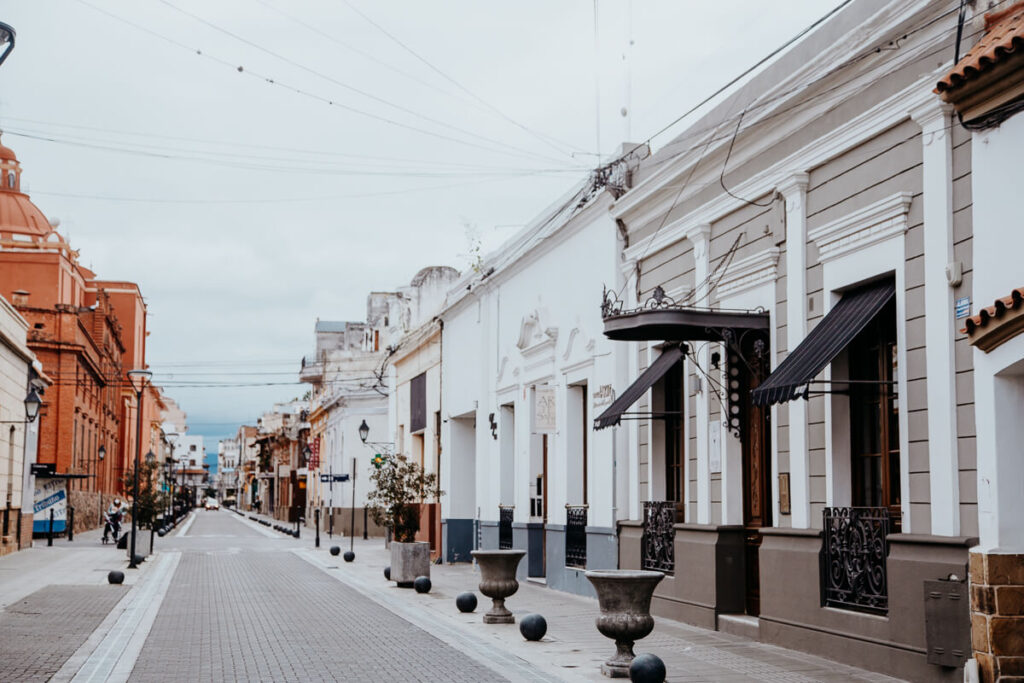 Where to Stay in Salta
Searching for accommodation in Salta?
Keep your search centered near the main Plaza 9 de Julio to be close to the sights.
Ideally, open the map in booking.com's site and look at hotels in the blocks between Plaza 9 de Julio and Cerro San Bernardo.
Here are my recommendations for the best hotels in Salta (beginning at the most comfortable and ending with budget).
Villa Vicuña
On my first trip to Salta we stayed at Villa Vicuña in Cafayate, but to my great disappointment the Salta Villa Vicuña location was fully booked.
But my parents stayed here when visiting Salta and loved it! It has the perfect location in between Plaza 9 de Julio and Cerro San Bernardo. You can walk everywhere.
The colonial home is beautiful, with a gorgeous green interior patio with a pool for hotter days.
Check rates & availability here.
Kkala Boutique Hotel
On our second visit to Salta in 2021 we stayed at the Kkala Boutique Hotel. I was VERY impressed by this property.
The rooms are uniquely decorated with artisan work from around the province. Service and attention to detail were very high. On future stays this is where I will stay.
The only downside is that it's a little far from downtown. You will need to take a taxi into town but the hotel can always call them for you and it only cost us a few dollars and about 5 minutes of our time per ride. I do think the quality of the hotel, the great pool, and the views from the rooms and the breakfast room are worth it.
Breakfast was very impressive (a rarity in Argentina) with a variety of baked goods, fruit and good coffee. Toucans fly back and forth in front of the deck all morning putting on a great show!
Check rates & availability here.
Hotel Salta
Hotel Salta a was recommended to us by quite a few people. Stay at Hotel Salta for the historic building and prime location, not for the luxury. While it's a nice hotel, it's basic.
The rooms may be dated, but the building is beautiful and the location is unbeatable. Hotel Salta is located right on the corner of Plaza 9 de Julio.
Check rates & availability here.
Argentina Travel Resources
Keep Reading about Salta
Pin It For Later