The best way to discover a new city is to eat your way through it.
Asados, empanadas, ice cream, pasta, and street meat… you're going to want to come to Buenos Aires hungry.
And with food playing such a major part in the Argentine way of life, there are some aspects of it that you really can't access or understand properly without a tour.
Asados, for example, are nearly impossible to experience without a local to invite you in.
Hidden away bodegones and greasy spoons are best found with a local.
This guide of my favorite Buenos Aires food tours will help you find the perfect tours and unique dining experience to perfect your itinerary.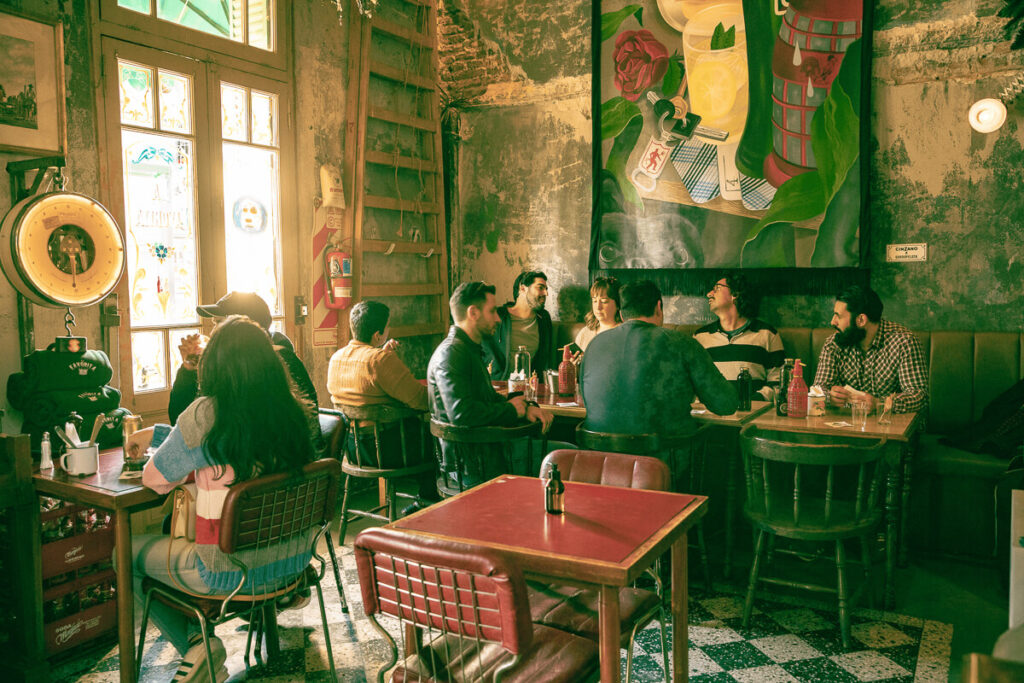 QUICK NOTE: This post contains affiliate links and Sol Salute may receive a commission for purchases made through these links, at no extra cost to you.
The Best Buenos Aires Food Tours
Below are the best food tours in Buenos Aires, but while you're at it, prepare for your gluttony.
Here are some of my other posts all about food in Buenos Aires from pizza to ice cream. All of the links will open in a new tab for you to indulge in (pun intended) later.
1. The Asado Adventure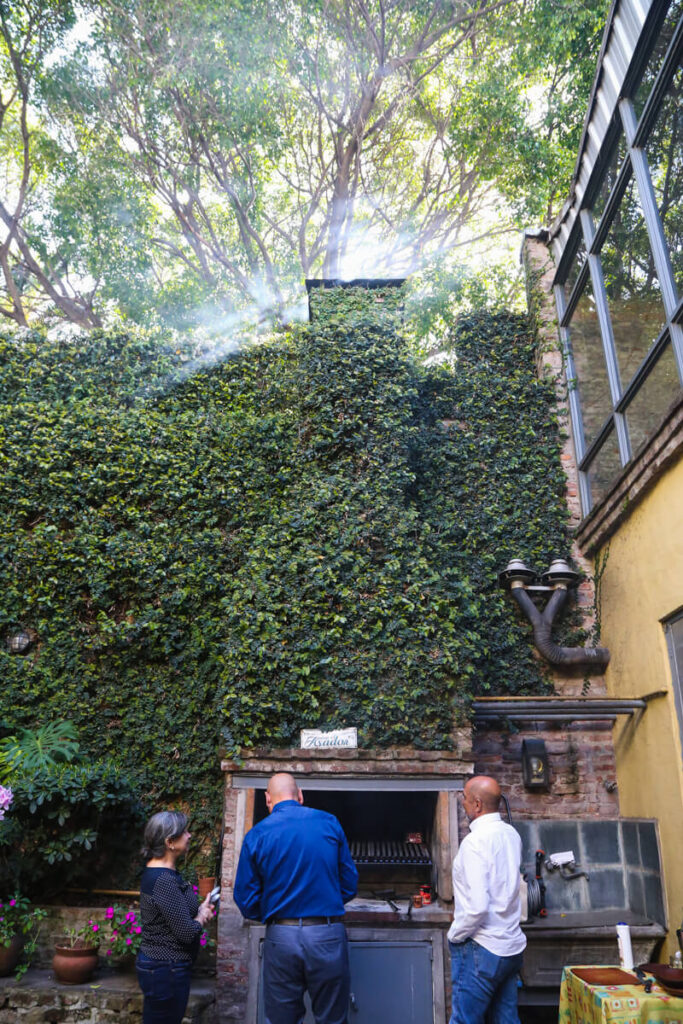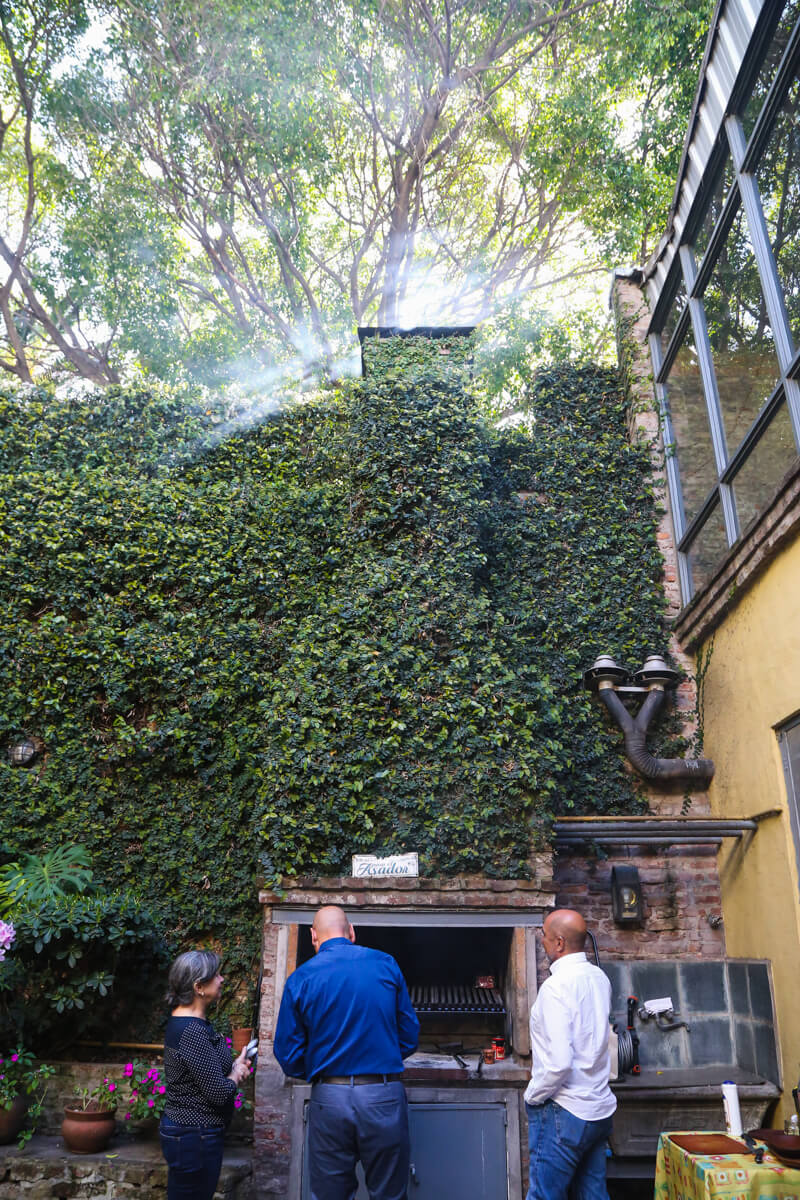 Whenever friends visit I always prepare them an authentic asado.
Ok, I always ask my husband to prepare an asado and then I invite my friends.
It's always a hit.
Asados are the Argentine versions of a barbecue and while they're an incredible, authentic experience, they're nearly impossible to access unless you're friends with a local.
If you want to learn how to grill like an Argentine or you simply want to pig out like one, then the Asado Adventure is the tour for you.
I loved my experience on this tour and wrote a whole post about it, read it here.
You'll learn how to make chimichurri (you can't beat homemade), how to prepare the grill (nothing like the gas grills up north), and how to prepare the meat.
The day even includes a tour of the neighborhood as you go pick up the meat, wine, and veg. This is a truly local experience from start to finish.
The link in the button below books via Viator, which is a trustworthy booking site. But booking direct is always ideal whenever possible.
If you want to book directly with AsadoAdventure, click here, and use my code SOLSALUTE to save 10%!
2. Palermo Viejo Food & Neighborhood Tour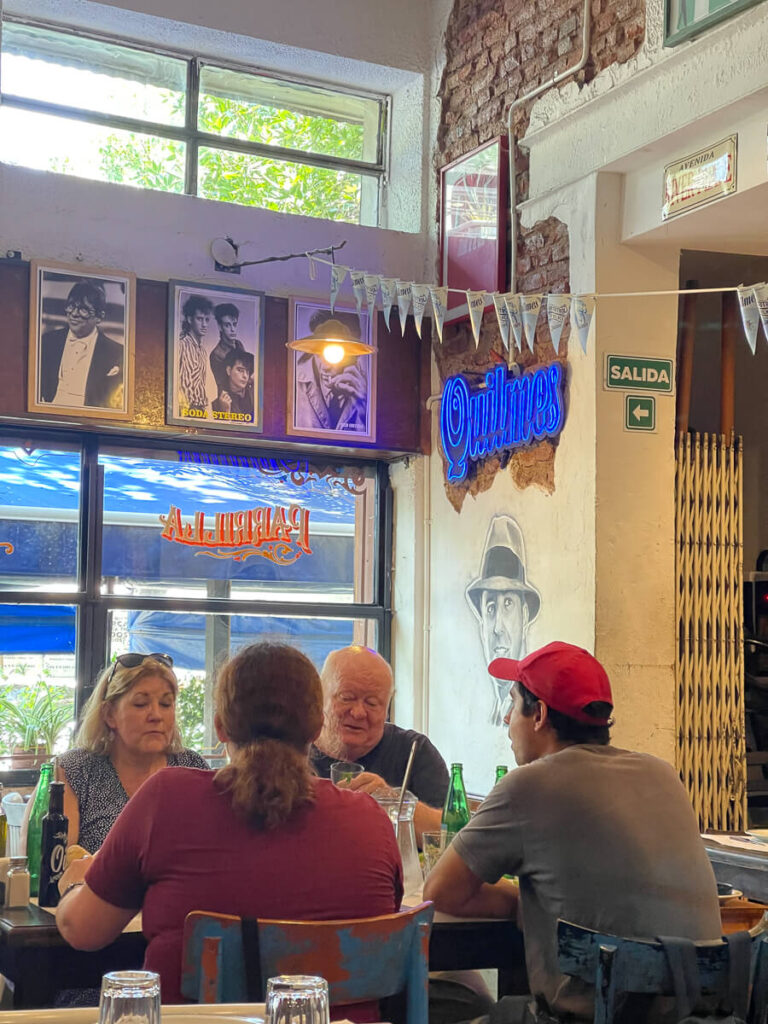 Frank at Asado Adventure (described above) also offers unique food and walking tours of his home neighborhood, Palermo Viejo.
In 6 hours we covered a lot of ground, starting with coffee and pastry for breakfast before trying Argentine staples like choripanes while wandering through local parks and dive bars only found with a local.
His tours offer the option to add on a craft beer tasting or wine tasting.
On our tour we had a wine tasting, trying wines from around the country.
And if craft beer perked your ears up, he also has a craft beer tour where you can try some of the city's best brews.
For all of the tours on AsadoAdventure.com use the code SOLSALUTE to save 10%.
I loved our food tour with Asado Adventure because I learned a TON about the history of Argentina, the meaning of many of the area's murals, and more that I didn't know even after living here for over a decade.
Check Rates & Availability Here
3. Evening in Palermo with Sherpa Food Tours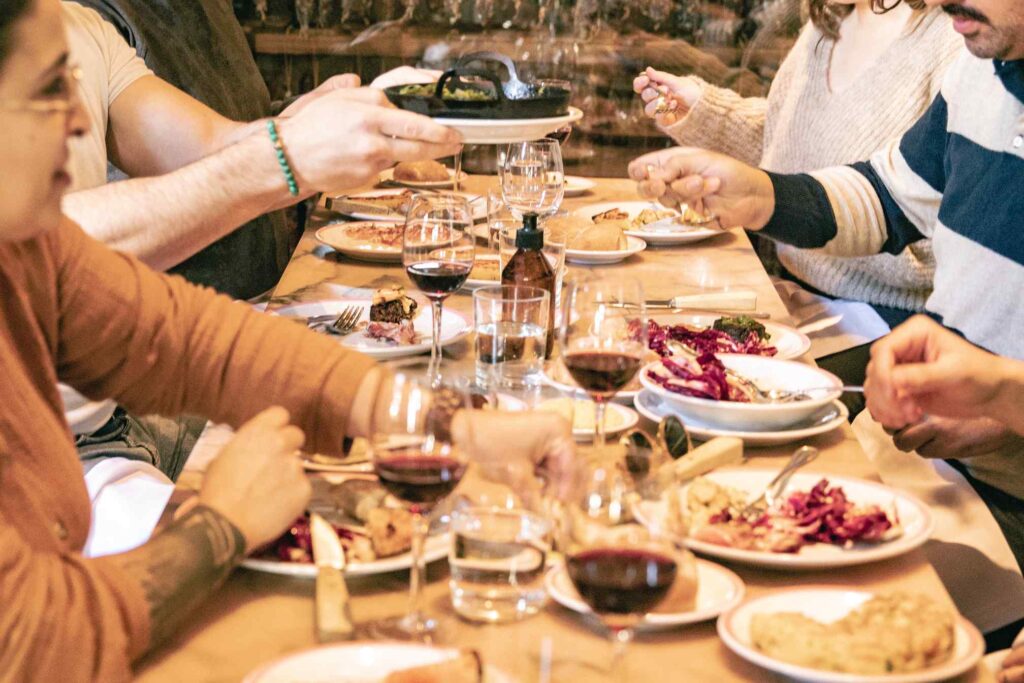 TripAdvisor recently included Sherpa Food Tours in the top 10 foodie experiences around the world.
Join their Palermo food tour that takes small groups of max 10 people around Palermo Soho.
Throughout the evening you'll visit four restaurants trying ten dishes and enjoying a wine tasting.
And that's right, I said evening.
Sherpa's tour starts at 5:30 pm and ends at 9:30.
That's perfect for any Americans out there struggling to adjust to Argentina's late dinners.
The timing also makes this Buenos Aires food tour an easy add-on to an otherwise full day of touring or a good start to a night out in Palermo.
Check Rates & Availability Here
4. The Parrilla Tour (for Meatlovers)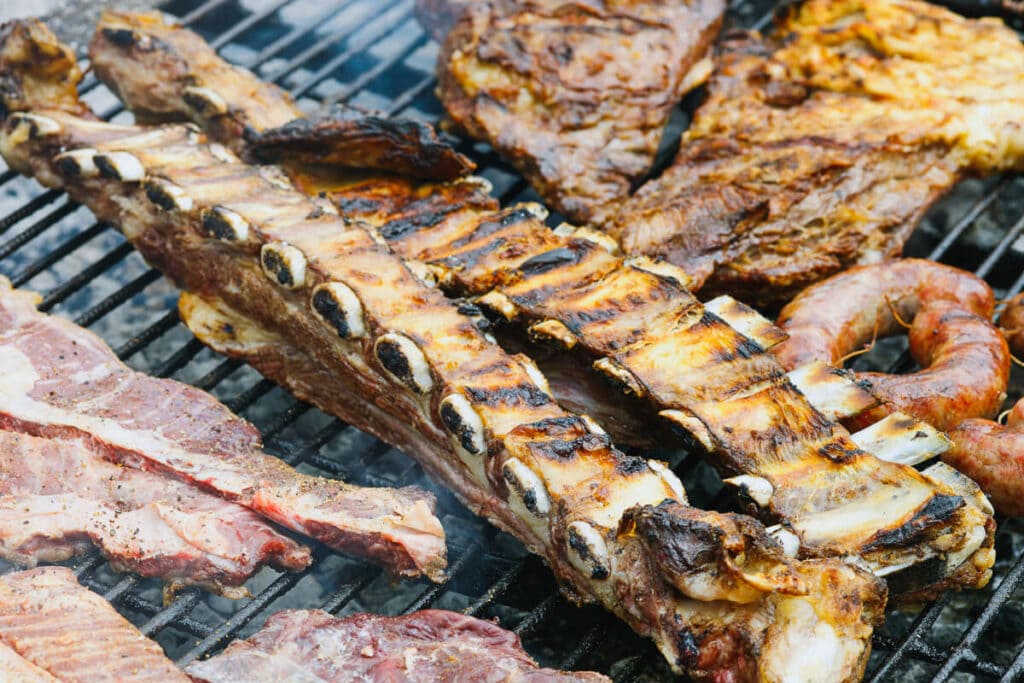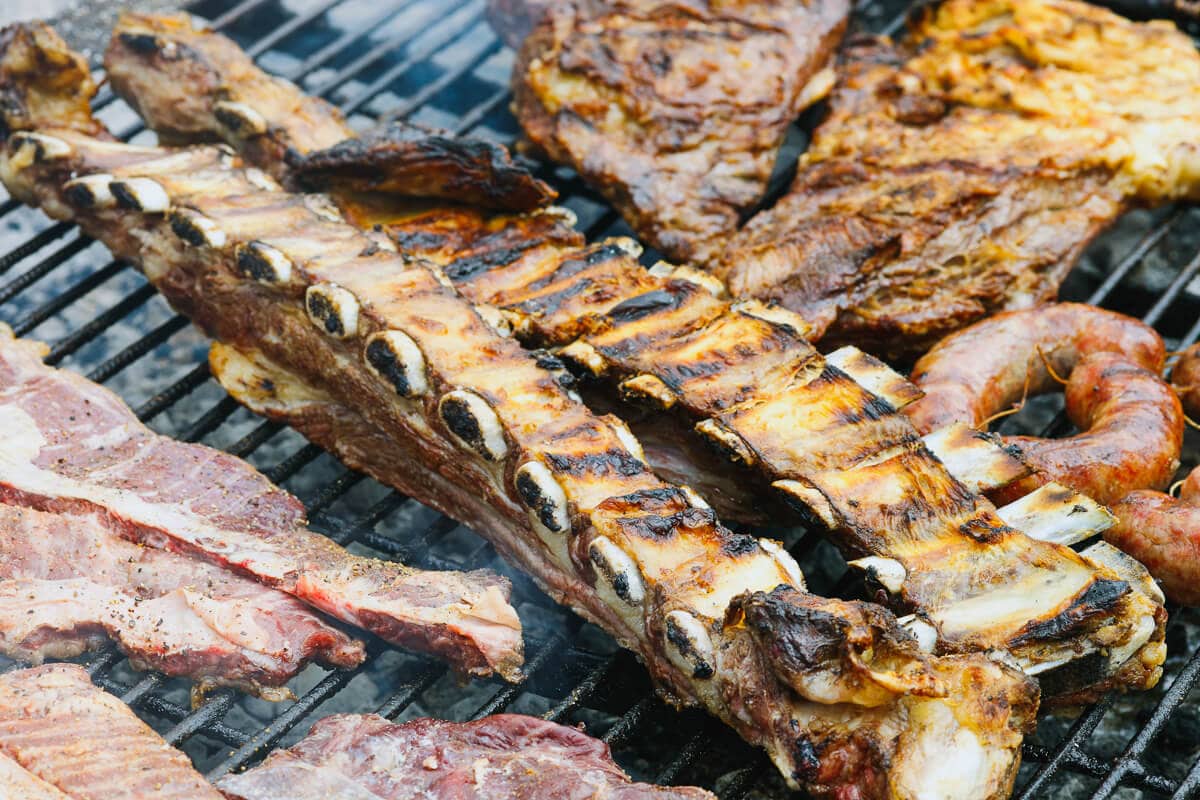 Steak is the biggest pillar of Argentine food so it's easy to see why The Parrilla Tour is one of the top Buenos Aires food tours.
I took my parents on their San Telmo tour years ago and had a great time. They also have a Palermo tour.
If I had to pick, I'd say you can't beat the history of the locations in San Telmo, but the food will be incredible on both.
The afternoon includes a full three course meal, spaced out across three authentic restaurants in your barrio of choice.
If you're a major carnivore and want to see a bit of the city along with your food experience, this is the tour for you.
5. The Argentine Experience & Fogón Asado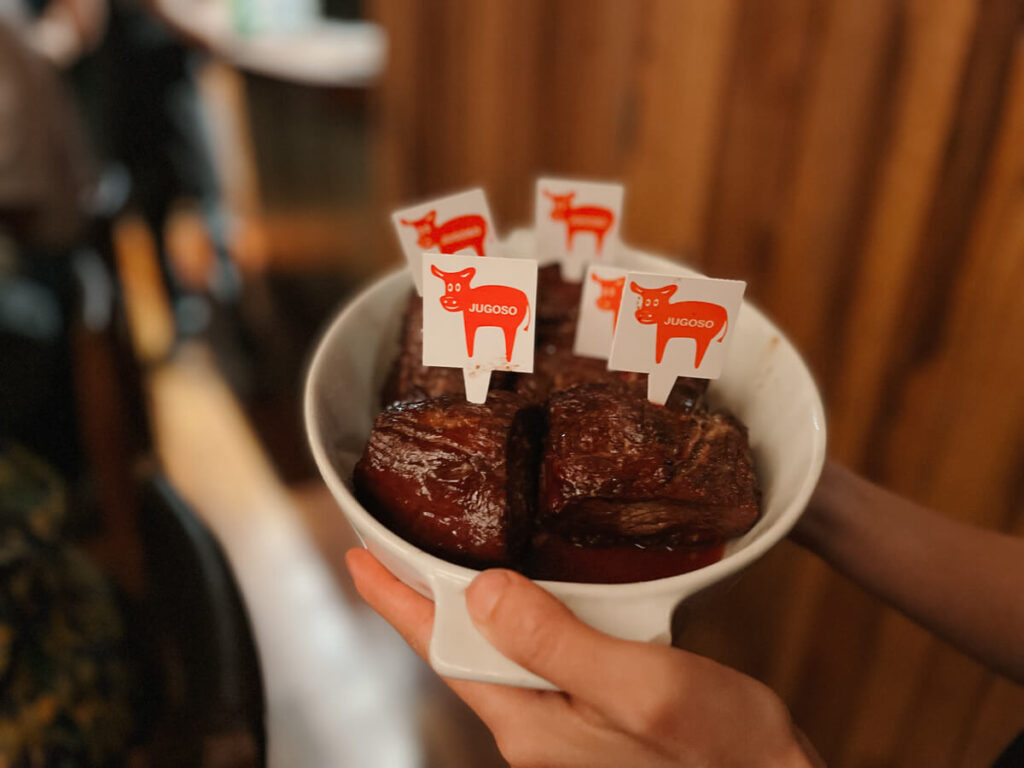 The Argentine Experience and Fogón Asado are two dining experiences (not tours, per se) that really encompass Argentine cuisine.
They both take the traditional asado and turn it on its head to create a tasting menu.
But they're completely different experiences, which one is right for you?
The Argentine Experience is one of the most popular activities in Buenos Aires. You're seated at a table with fellow diners family style.
It really encouraged all of us to talk and make friends with everyone at the table.
There was an empanada making competition and a lot of explanations about Argentine culture throughout the night.
It was a bit fast paced (there was a lot packed into those few hours) but it was a fun night.
I highly recommend the Argentine Experience for solo travelers, friends, or couples wanting to make friends and be social (our whole table went out for drinks together after).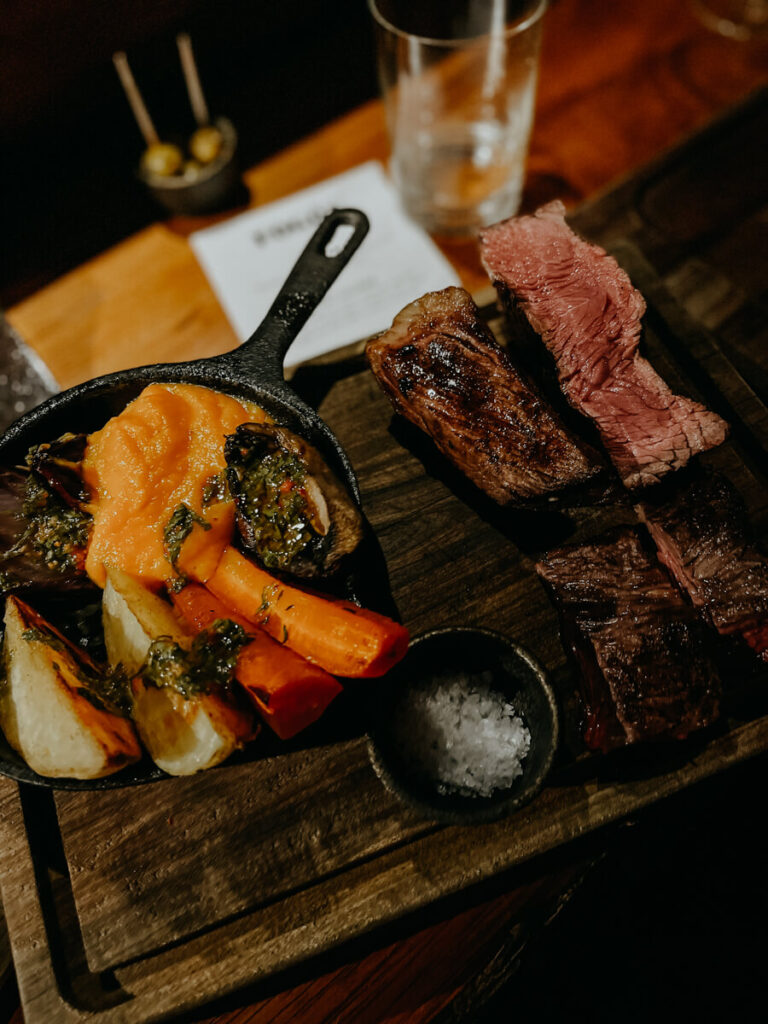 Fogón Asado is another dining experience owned by the same operators but is more upscale than the Argentine Experience.
The dining situation is a large bar facing an open kitchen, with the grill in the center of the room.
I loved our meal here. Everything was impeccable from the service to the quality of the steak.
This is a more refined dining experience, ideal for couples or friends looking for a nice meal out.
If I had to choose one, my favorite was Fogón Asado for the quality of the food (that steak…), but both were great nights out!
6. DeTour BA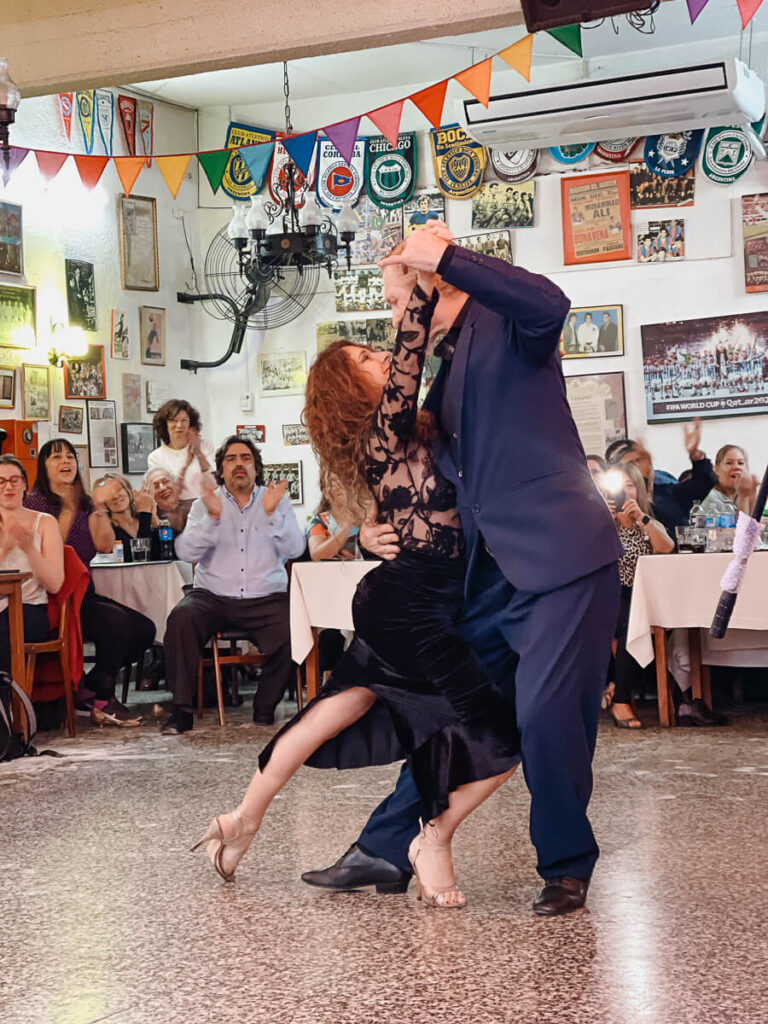 "DeTour BA was created when three family members, including a professional chef and restauranteur, a marketing manager, and a sociologist decided to pour their love for food, travel and culture into a business idea."
DeTour BA offers unique spins on the classic foods tours of Buenos Aires.
I went on their Tango with the locals tour and finally experienced my first milonga. If you're looking to experience tango like a local, this the tour.
But this is a food tour post, so don't worry, we ate our weight in milanesa, empandas, and plenty of wine.
Their other tours include options like a Peron themed history food tour, a tour of the upcoming foodie neighborhood Chacarita, and a historic cafe tour.
Click here to view Detour BA's options and use code SOLSALUTE to save 10%.
7. Yerba Mate Master Clas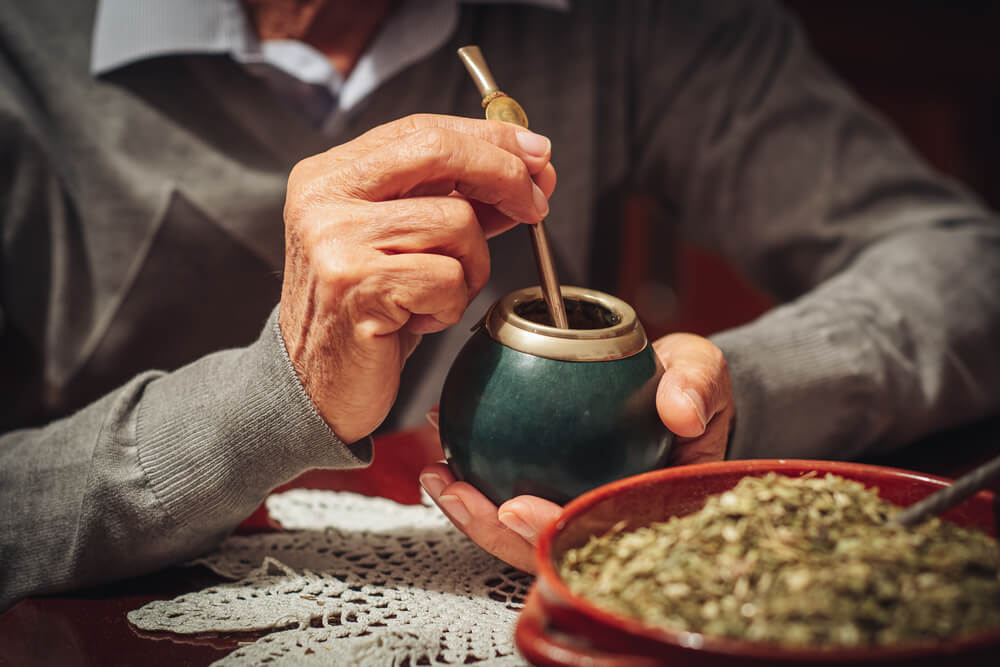 Yerba Mate is a major facet of Argentine life.
You'll see groups of friends passing mate around in a circle at the park. Or a couple on a bench passing the gourd back and forth as they catch up between sips.
Every desk in an office isn't complete without a thermos, bag of yerba, and a mate gourd sitting atop it.
If you want to learn how to prepare your mate and drink it like a local, take this yerba mate experience tour.
It is nowhere as simple as dumping the tea into the cup with some hot water and jamming a straw in. There is a method and every step matters.
This is a great tour for those looking for meat alternatives or are short on time, as this tour is shorter (just an hour and a half).
More Buenos Aires Guides & Tours
Argentina Travel Resources