The best way to discover a new city is to eat your way across it.
Asados, empanadas, ice cream, pasta, and street meat… you're going to want to come to this city hungry.
And with food playing such a major part in the Argentine way of life, there are some aspects of it that you really can't access or understand properly without a tour.
Asados, for example, are nearly impossible to experience without a local to invite you in.
If you're looking for the right tour(s) for you, this guide of my favorite Buenos Aires food tours will help you choose.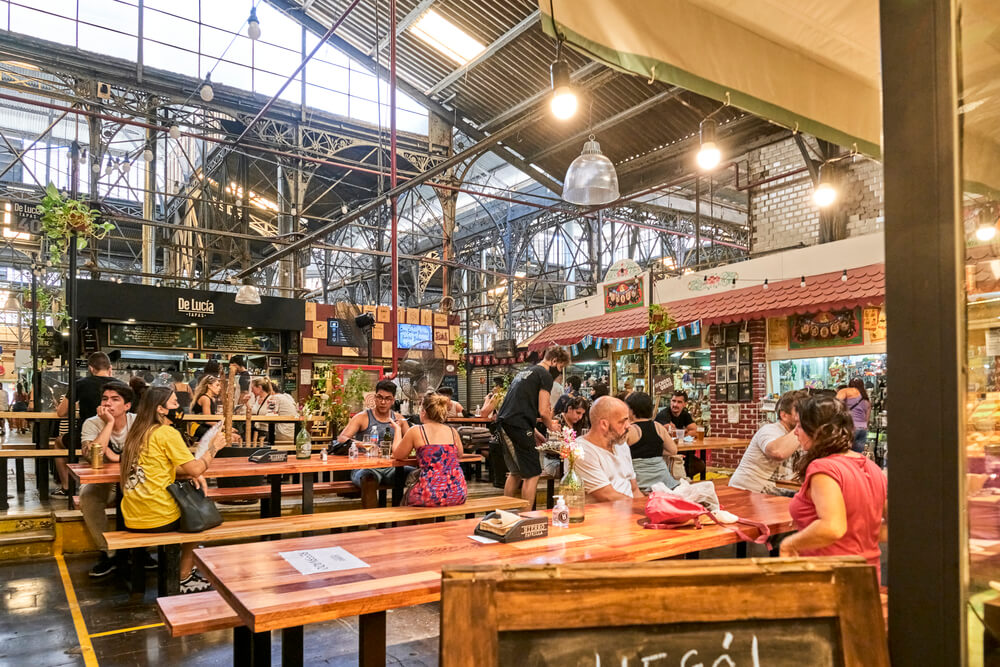 QUICK NOTE: This post contains affiliate links and Sol Salute may receive a commission for purchases made through these links, at no extra cost to you.
The Best Buenos Aires Food Tours
Below are the best food tours in Buenos Aires, but while you're at it, prepare for your gluttony.
Here are some of my other posts all about food in Buenos Aires from pizza to ice cream. All of the links will open in a new tab for you to indulge in (pun intended) later.
1. The Argentine Experience
Ok, the Argentine Experience isn't a tour, it's an experience (to be redundant).
It's not exactly a cooking class but it's more than just a dinner out. This complete interactive dining experience will expose you to nearly every aspect of Argentine cuisine in one fell swoop.
You'll learn how to make and close empanadas (a true artform) as well as how to make Malbec infused cocktails.
Then everyone will sit down to a multi-coursed meal of authentic Argentine dishes paired with four boutique wines.
At the end of your meal, you'll learn how to prepare mate (again, a true artform), paired with alfajores for dessert.
There's a reason this is one of the top tours in Buenos Aires. If you want to learn about nearly every aspect of Argentine food and have fun doing it, this is the experience for you.
2. The Parrilla Tour
Steak is a pillar of Argentine food so it's easy to see why The Parrilla Tour is one of the top Buenos Aires food tours.
I took my parents on their San Telmo tour and had a great time, but they also have a Palermo tour. If I had to pick, I'd say you can't beat the history of the locations in San Telmo, but the food will be incredible on both.
The afternoon includes a full three course meal, spaced out across three authentic restaurants in your barrio of choice.
If you're a meat eater and want to see some of the city along with your food experience, this is the tour for you.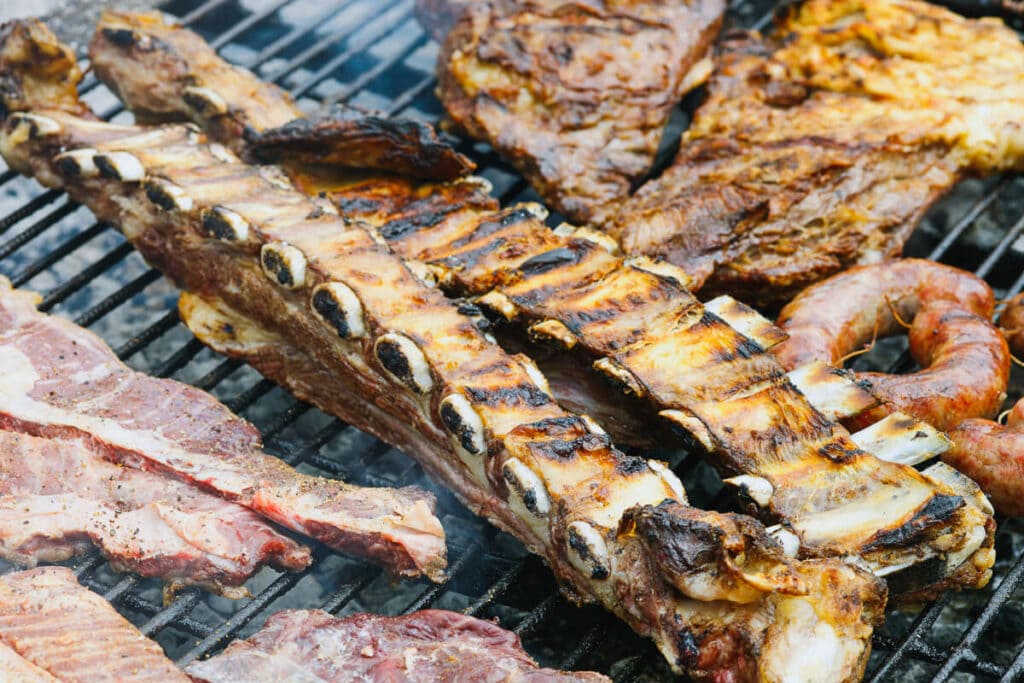 3. The Asado Adventure
Whenever friends visit I always prepare them an authentic asado. Ok, I always ask my husband to do an asado and then I invite my friends. It's always a hit.
Asados are the Argentine versions of a barbecue and while they're an incredible, authentic experience, they're nearly impossible to access unless you're friends with a local.
If you want to learn how to grill like an Argentine or you simply want to pig out like one, then the Asado Adventure is the tour for you.
I loved my experience on this tour and wrote a whole post about it, read it here.
You'll learn how to make chimichurri (you can't beat homemade), how to prepare the grill (nothing like the gas grills up north), and how to prepare the meat.
The day even includes a tour of the neighborhood as you go pick up the meat, wine, and veg. This is a truly local experience from start to finish.
The link below books via Viator, which is a trustworthy site I love to use myself. But booking direct is always ideal! If you want to book directly with them, click here, and use my code SOLSALUTE to save 10%!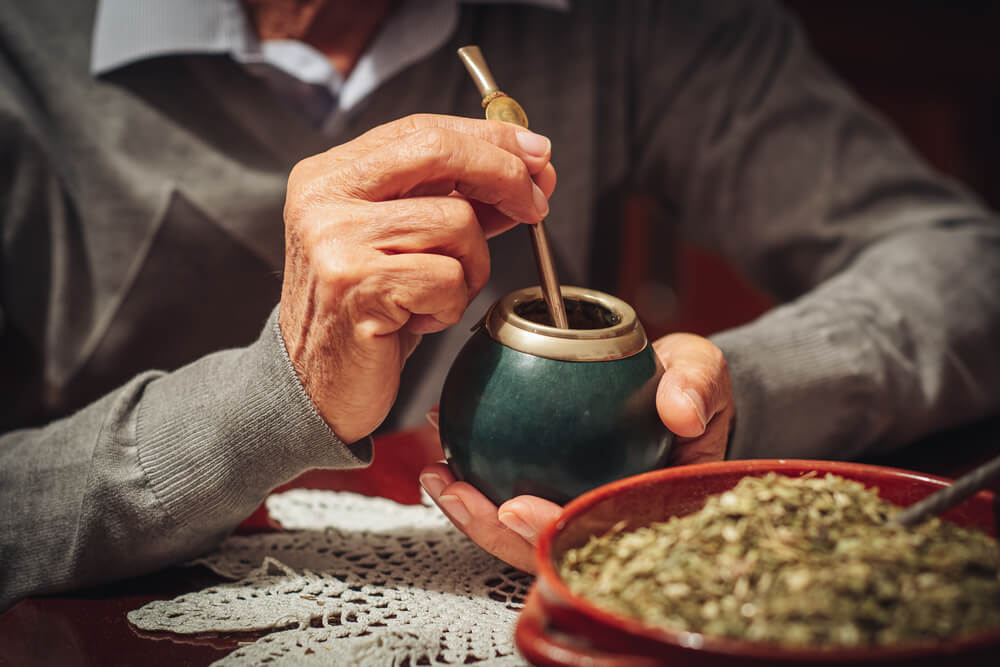 4. Yerba Mate Master Class
Yerba Mate is another pillar of Argentine life. You'll see groups of friends passing mate around in a circle at the park. Or a couple on a bench passing the gourd back and forth as they catch up between sips.
Every desk in an office isn't complete without a thermos, bag of yerba, and a mate gourd sitting atop it.
If you want to learn how to prepare your mate and drink it like a local, take this yerba mate experience tour.
It is nowhere as simple as dumping the tea into the cup with some hot water and jamming a straw in. There is a method and every step matters.
This is a great tour for those looking for meat alternatives or are short on time, as this tour is shorter (just an hour and a half).
Even More Buenos Aires Food Tours
The four tours above are my personal favorites. They're unique, well run, and all offer a look into an important aspect of Argentine cuisine.
But if you're looking for a few other options, here are some great ones:
Wine Tour – If you want to skip the food and focus on the wine, I get it. This wine tasting experience is two hours long, keeps groups small, and is the ideal add-on to later dinner reservation in Palermo.
Small Group Palermo Food Tour – This tour visits four restaurants in Palermo and you'll try over 8 authentic dishes with a small group. Want to have dinner with friends but you're traveling solo? This is the tour for you!
More Buenos Aires Guides & Tours