The Northwest is my favorite region of Argentine, full stop.

It's famous for its rainbow mountains, charming villages, folkloric music, and handwoven crafts. Salta is home to the country's second-largest wine region and Tucuman saw the beginning of Argentina's battle for independence.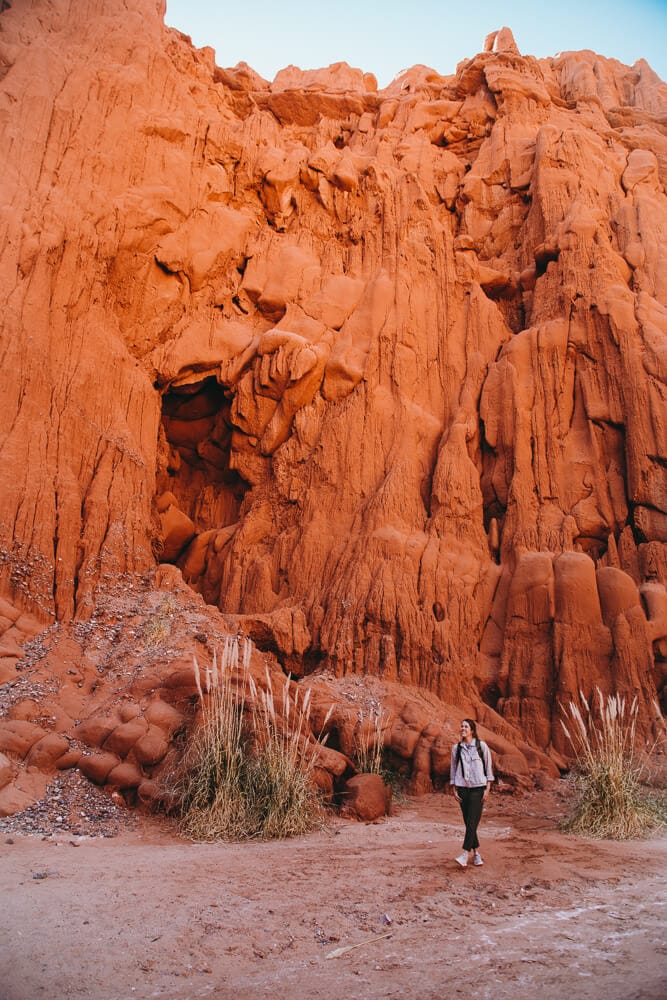 QUICK NOTE: This post contains affiliate links and Sol Salute may receive a commission for purchases made through these links, at no extra cost to you.
The Northwest At A Glance
Provinces: Jujuy, Salta, Tucuman, Catamarca, and Santiago del Estero
Where to go in Argentina's Northwest?
In Jujuy explore the small villages of Purmamarca, Tilcara, Uquia and Humahuaca. This region has some of the country's best food with pre-Hispanic origins, beautiful folkloric music, and handicrafts like woven tapestries you'll need an extra suitcase to bring home.
Salta has some of the world's highest-altitude vineyards in Cafayate and Cachi and the country's most beautiful landscapes.
Drive through some of the most stunning vistas in Salta's Quebrada de las Conchas, Quebrada de las Flechas, and Cuesta del Obispo, centuries old cactus in Parque Nacional de los Cardones.
Catamarca and its upcoming wine region are still on my to-do list as well as the history and green valleys of Tucuman. La Rioja has been doing a lot to promote tourism to its beautiful Talampaya National Park, which borders San Juan's Valley of the Moon.
When to visit the northwest?
Fall and Spring are the best time to visit NOA for warm days and cold nights. Winter is great as well but nights will be cold. Summer months (December-February) can be extremely hot and are the rainy season. Summer storms and flooding can complicate road trips on dirt roads like the Ruta 40.
Carnival (in February) and Easter are very busy (avoid or book accommodation well in advance). This region is devoutly religious so these holidays are very important and exciting times to visit.
What to pack?
Dress comfortably here. Pack jeans or hiking pants (like my trusty hiking pants) and comfortable shoes like a sneaker and a Birkenstock (my go to, always).
This is a desert, so temperatures will dip at night, bring a sweater, jacket, and scarf. In that vain, afternoons, even in winter, can get quite warm so pack light layers as well as sunglasses and a hat.
In Jujuy the altitude can get quite high, especially at the 14 Colored Mountain in Humahuaca and at the Salinas Grandes, I recommend picking up coca tea when in Jujuy in any of the supermarket and preparing a tea (get hot water at your hotel's breakfast) in a thermos (I use my S'Well water bottle). It works wonders against the altitude!
How to get around?
This region is best seen with your own car. If you feel comfortable driving, I highly recommend renting a car and going on a road trip. We've done this twice, read about my itineraries here and here. Note that being able to drive a manual transmission will get you a far better rate renting cars across Argentina.
Road quality is generally good. The main highways through Jujuy's Quebrada de Humahuaca (the main villages) and connecting Salta to Cafayate are paved. Driving the Ruta 40 requires patience as it's unpaved. We've done it with a dinky rental car twice and the views are epic (but you will be happy to see pavement again when it is over).
Bus travel is very common as well. This route is popular among backpackers coming down through Argentina from Bolivia. You can take buses from town to town and hire transfers from the bus stations as well for excursions to the Salt Flats (from Purmamarca) and the Hornocal (from Humahuaca), for example.
If it's in your budget, hiring a private driver and tour guide is popular and will remove hassle while still giving you freedom to explore.
Finally, you can fly into Salta and stay there as a base. Take day trips from there to things like the salt flats, Cafayate, and Cachi. Just know that these day trips are very long days. Read about that option in my Salta city guide.
read about the northwest