If you've stumbled onto this post then you're planning a trip to El Chalten and for that, I am envious.
I've never seen a more beautiful place and you have something special to look forward to!
This post is a complete guide to El Chalten trekking, from day hikes to multi-day adventures to conquer some of Argentina's most famous peaks.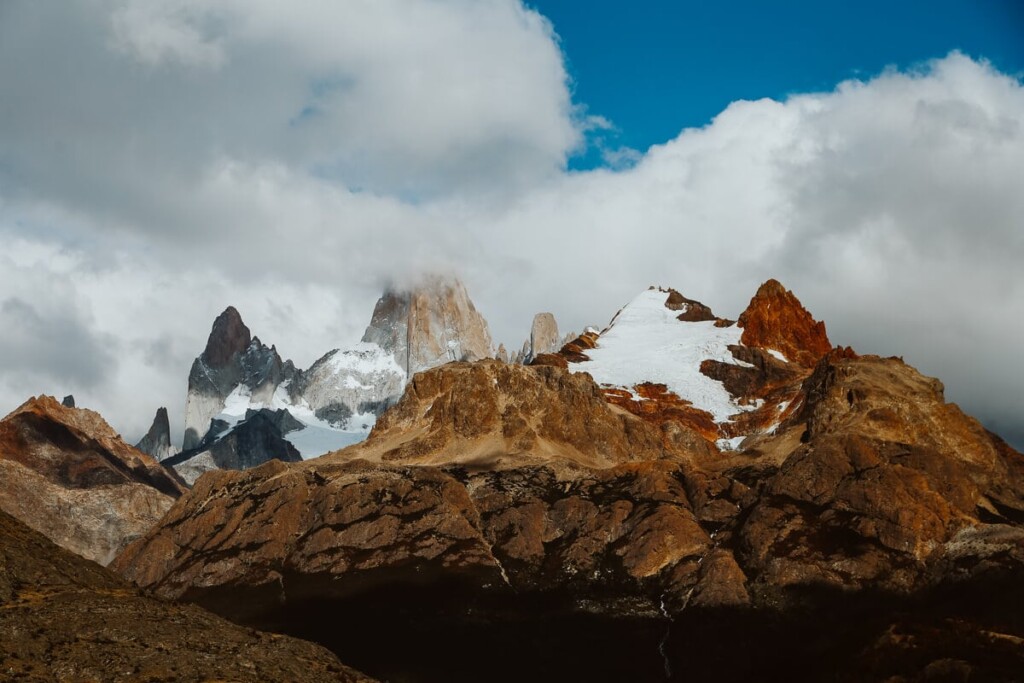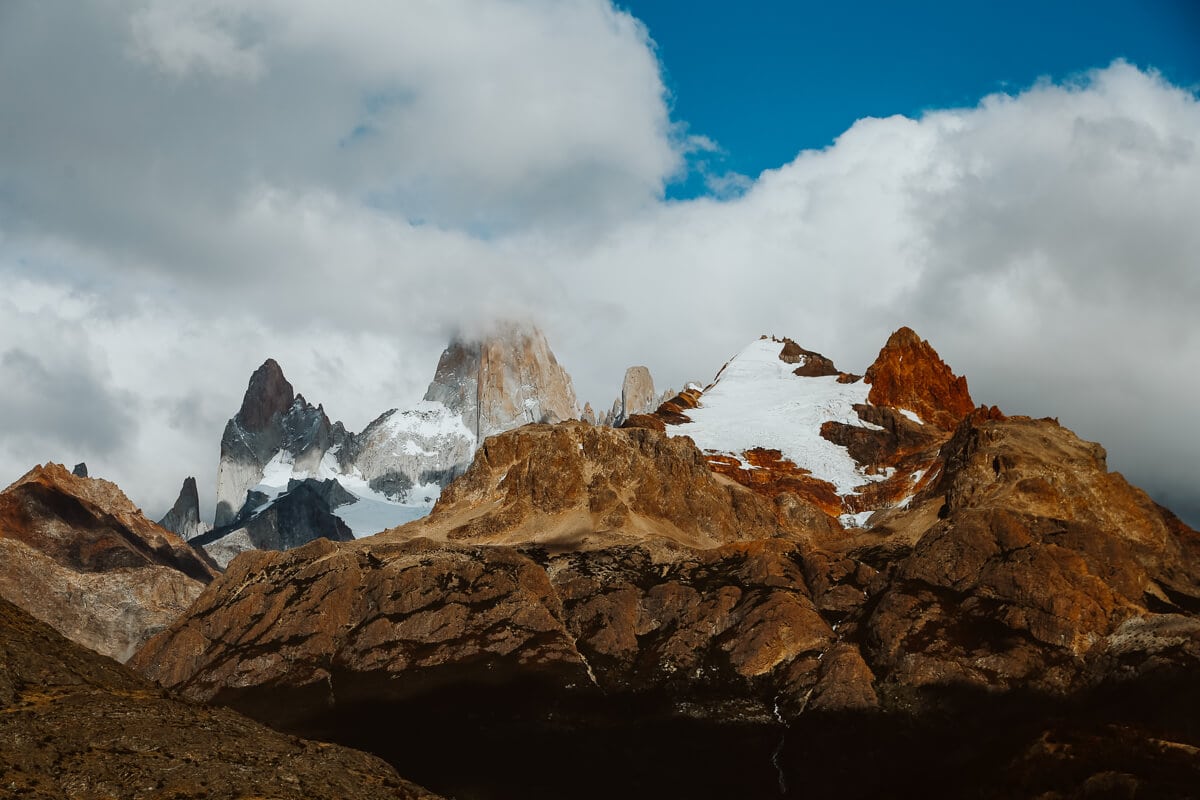 QUICK NOTE: This post contains affiliate links and Sol Salute may receive a commission for purchases made through these links, at no extra cost to you.
El Chalten: Hiking Capital of Argentina
It may be a young town but El Chalten is well-established among backpackers and outdoors enthusiasts.
This tiny mountain village was established in the 1980s, mainly as an effort by Argentina to push back against Chile's constant, pesky encroachments.
My husband and his family drove through this budding little town in 1984 on one of their epic cross-country road trips.
Their tiny Renault (filled to the brim with four kids, mom, dad, and luggage) bumbled into a town of nothing, home to only a few mountain refugios or shelters.
They slept in their car.
Today there are hostels, cabins, restaurants, and plenty of resources welcoming hoards of outdoors enthusiasts looking to conquer.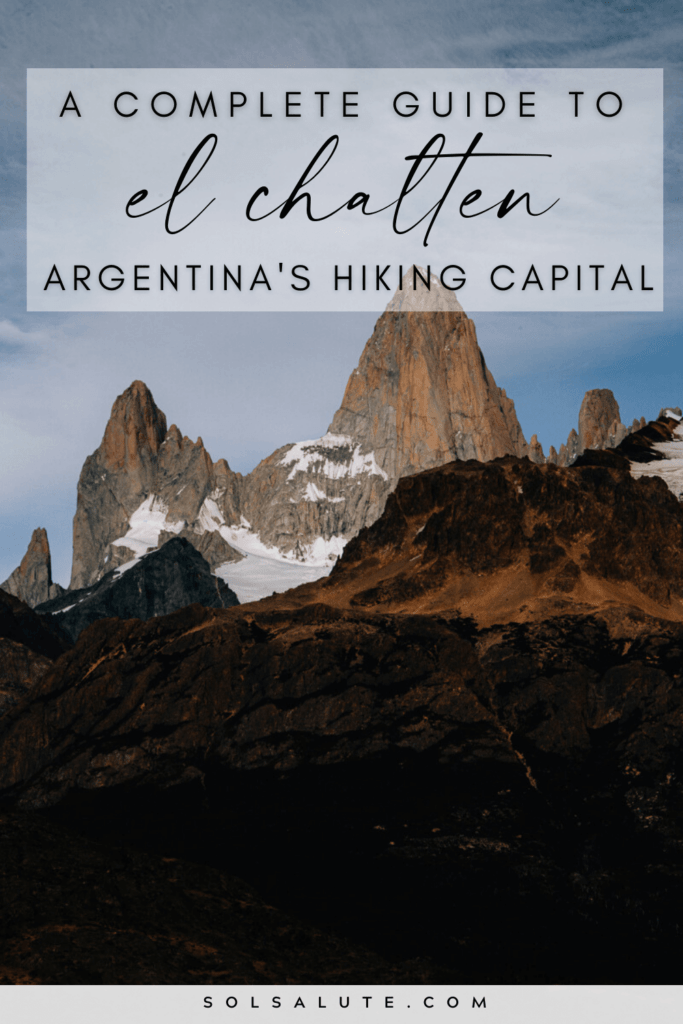 We just spent 6 days hiking in El Chalten with our one-year-old.
We hiked every single day and explored as much as we could.
This post is a complete guide to El Chalten trekking, including the best day hikes in El Chalten, multi-day treks and camping, and where to stay.
El Chalten at a glance
Here's a quick FAQ to help you plan your visit to El Chalten:
WHEN TO VISIT EL CHALTEN? When it's warm and the days are long! The best months are from October-May (November-March will be warmest). Read more about when to visit Argentina.
HOW LONG TO SPEND IN EL CHALTEN? It may sound like a lot but 6-10 days is ideal to allow you to rest days and days off for bad weather. At a minimum, I recommend 3-4.
CAN I SEE CHALTEN AS A DAY TRIP? Yes, you can! This day trip to El Chalten from El Calafate includes a hike, usually to Laguna Capri. Personally, I don't recommend it (it really deserves more time), but if you're truly in a pinch it is possible and common.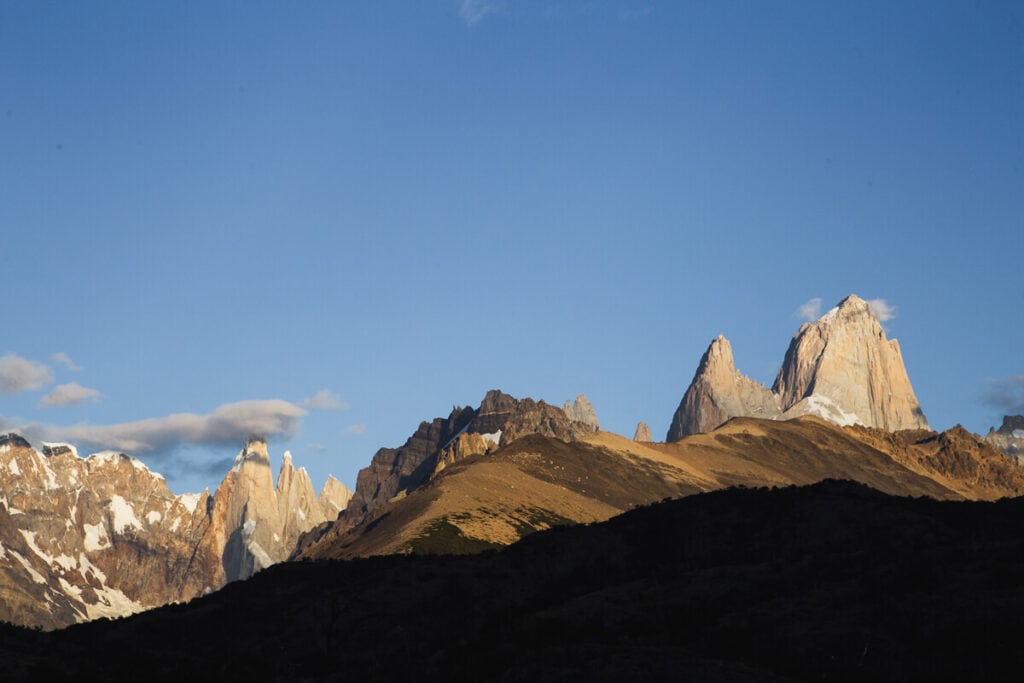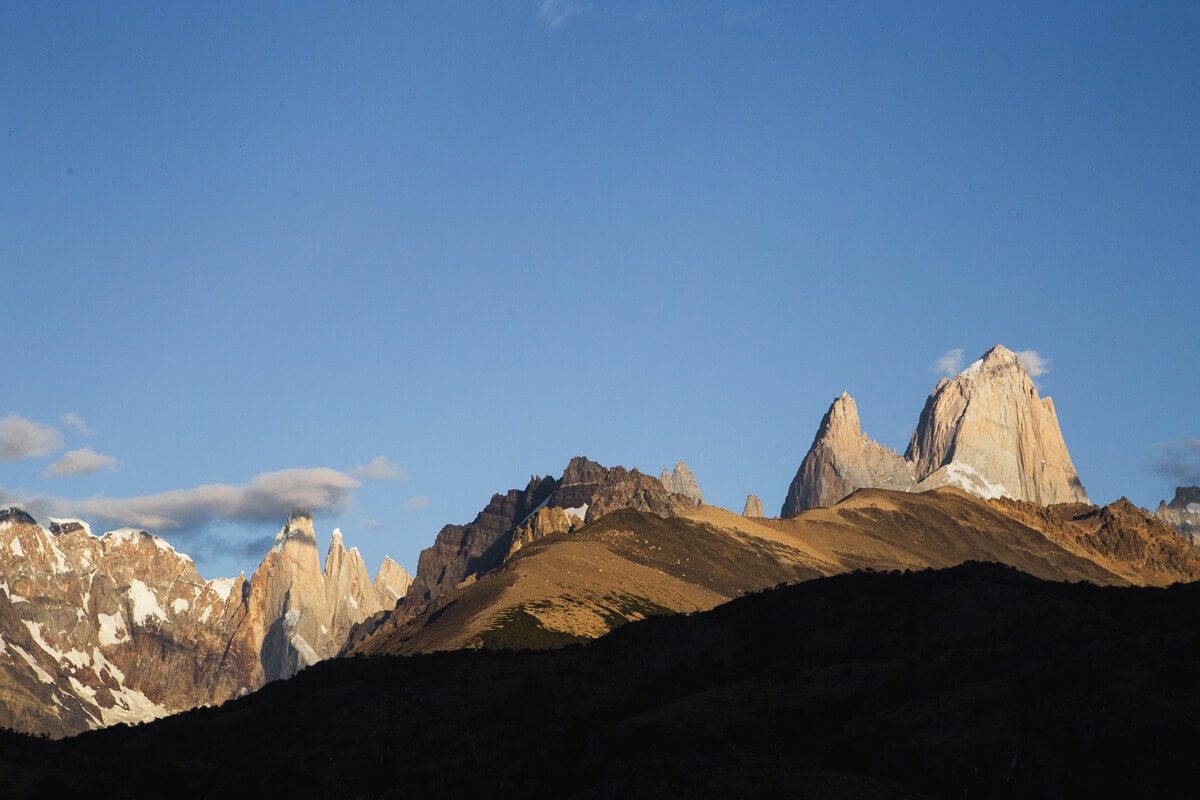 7 Day Hikes in El Chalten
All of the hikes in El Chalten are day hikes, accessible right from the village.
The trails are free and you don't need to register with park rangers for any of the El Chalten trekkings listed below.
Just roll out of bed, strap on your boots, and find your way to the trail!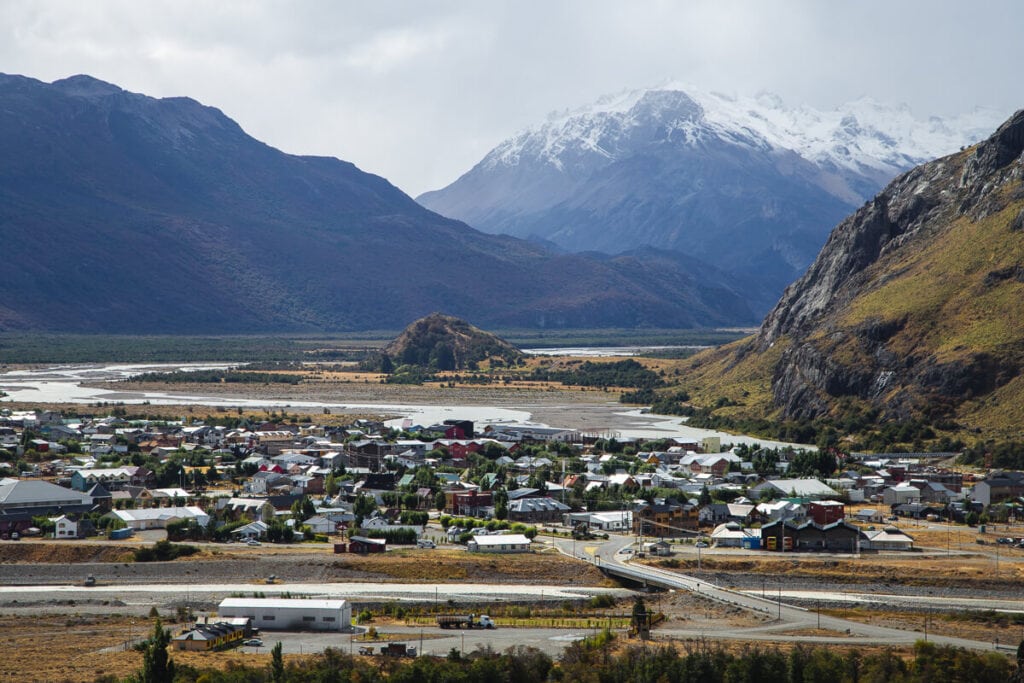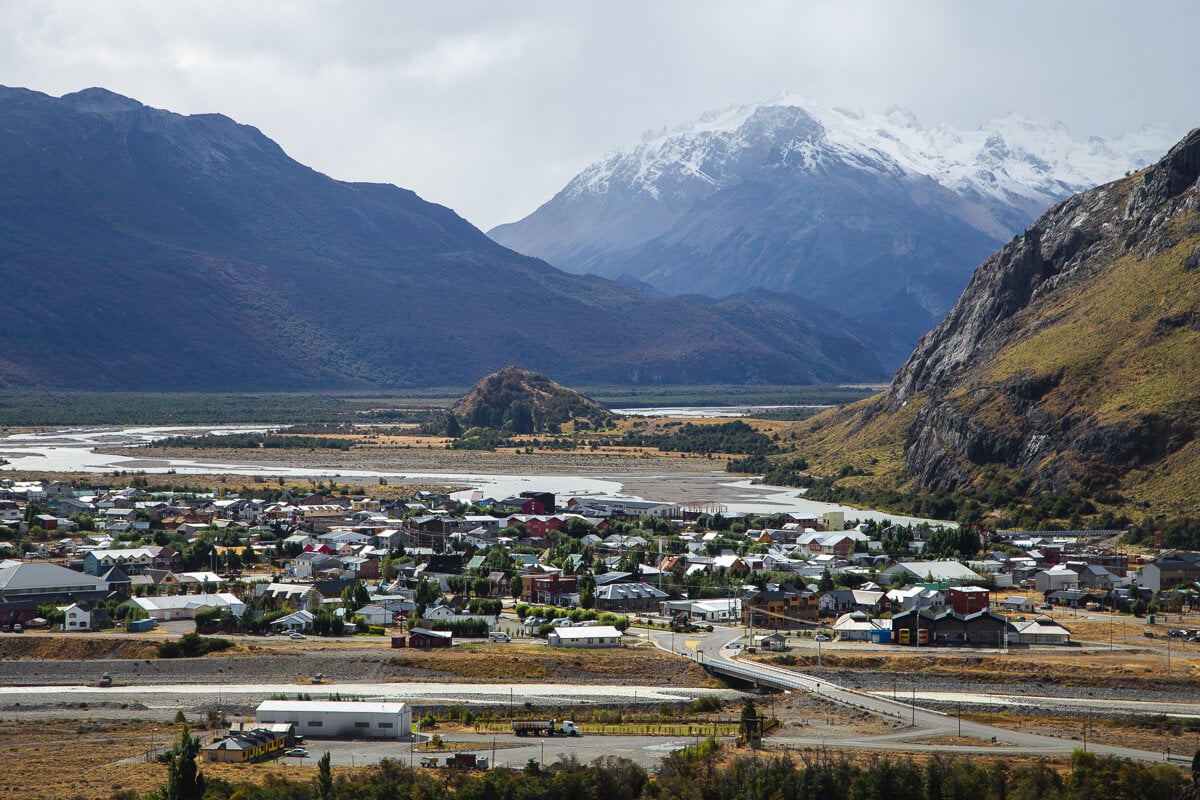 1. Mirador de los Condores (+ Aguilas)
Distance: 4/6km
Time: 2 hours
Difficulty: Easy
The Condor Lookout is the easiest of the day hikes in El Chalten.
This short trail starts from the Visitor's Center just before the entrance to town.
If you have a car you can park there. Otherwise, walk from town passing by the famous entrance sign and cross the bridge over the Fitz Roy River (the 2 hour time includes that walk from town, driving shaves off half of that).
The trail is easy and well-marked with informative plaques along the way about the region's famous condors.
It's steadily uphill to the viewpoint but nothing too steep.
At the top sit for a while until you see condors flying from the Valle De Las Vueltas to Rio Fitz Roy, but on very windy days they may not be flying.
TIP: Hike Mirador de los Condores at sunrise or sunset for the best view!
You can call it a day here or hike one kilometer more to Mirador de las Aguilas. I highly recommend doing this!
The elevation gain from Condores to Aguilas is minimal (you already did the bulk of it to get to Condores) but the view is very different.
You'll get a view away from town down to the steppe below and Lago Viedma. It's a beautiful view of what you saw driving into El Chalten from a completely different angle.
CHALTEN HIKING TIP: Check the forecast when you get to El Chalten and reserve all sunny days for hikes where you'll want to see Fitz Roy or Cerro Torre (that includes Laguna Torre, Laguna De Los Tres, and Laguna Capri). Cloudy days cover these beautiful peaks!
2. Laguna de los Tres
Distance: 25km
Time: 8-9 hours
Difficulty: Moderate
Elevation gain: 770 meters (2,300 feet)
The Laguna de los Tres hike to the foot of Mount Fitz Roy is the most iconic hike in Argentina. If you only have time for one hike in El Chalten, this is the one to do.
The trailhead is at the end of Avenida San Martin and impossible to miss with its sign and parking lot. There is a faucet with potable water here to fill your bottle.
It's the toughest day hike in El Chalten, with an hour of ascent into the mountains. After an hour you're rewarded with a panoramic view of the Rio de las Vueltas valley below (look for condors!).
From here you're out of the forest and exposed to the sun and wind so make sure to wear sunscreen.
After another hour and a half, you'll reach a fork in the road for Laguna Capri to your left or Laguna de los Tres to your right. Ten minutes from here (in the direction towards Fitz Roy) there's another viewpoint with a sign marking all of the mountains before you.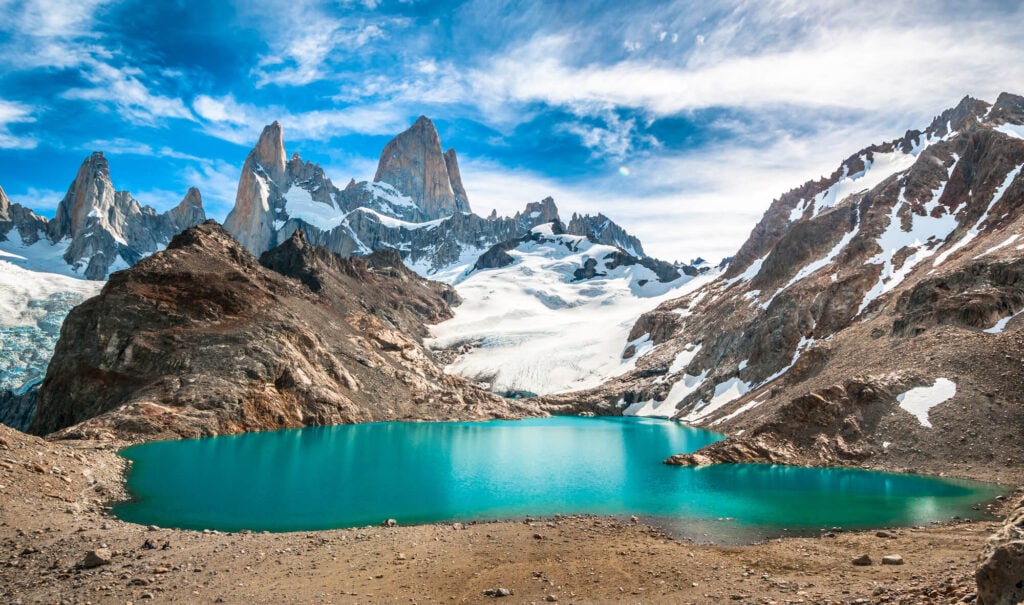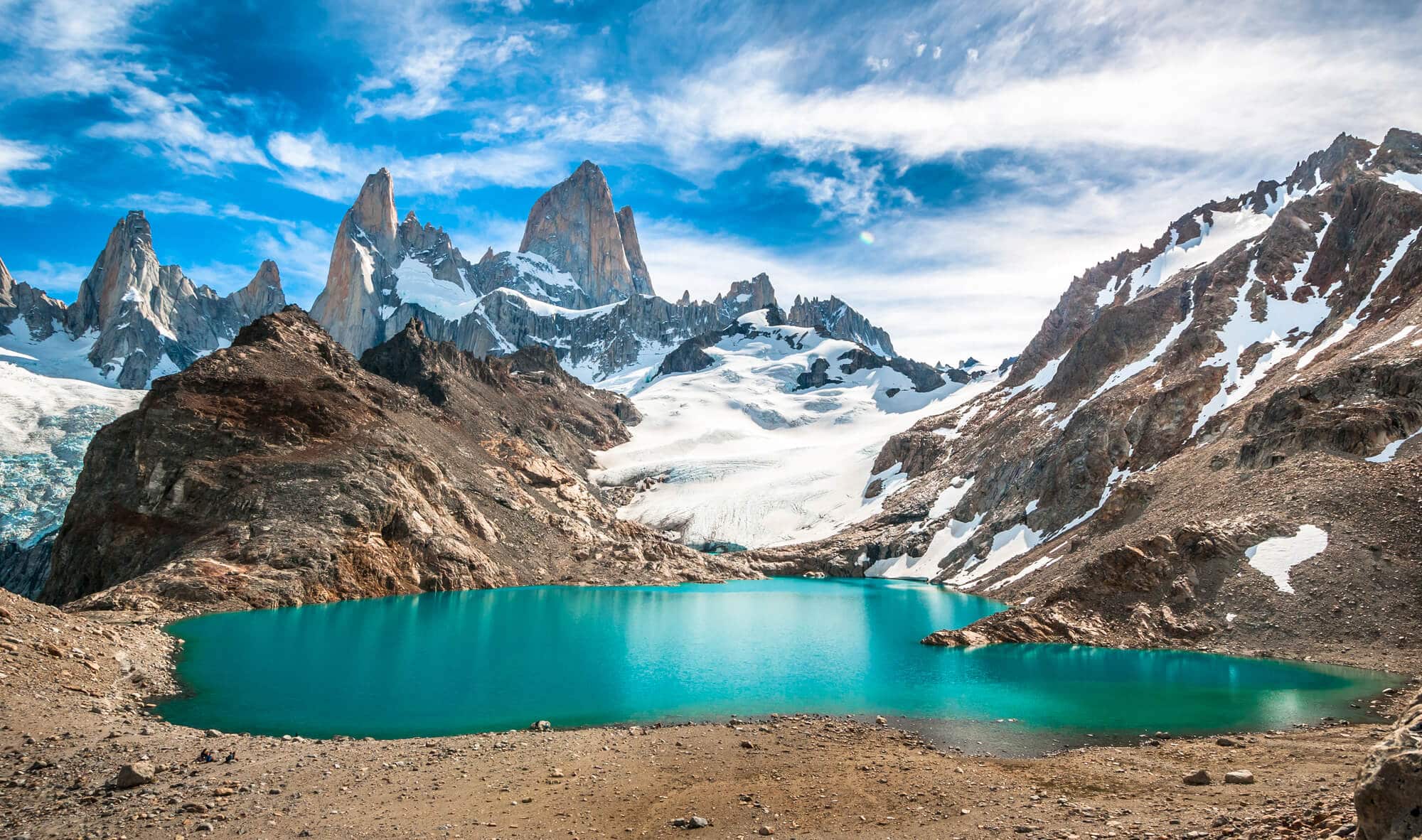 Eventually, the hike brings you to the Poincenot Camp before ascending for the final (but toughest) 400 meters of the trail.
It takes an hour to conquer that final 400 meters! Enjoy the laguna and its turquoise water.
Make sure to also hike around the shore to reach the viewpoint for Laguna Sucia and its hanging glaciers.
This final 400-meter hurdle and everyone's reactions to is why we decided not to try this hike with our heavy baby on our backs. But our cabin neighbors did it with their two-year-old (anyone can do anything if they set their mind to it!).
I greatly regret not doing it. Do not miss this hike!! We will definitely be back for it.
Senda del Pilar Route to Laguna de los Tres
UPDATE NOV 2022: A popular shortcut has always been to start the Laguna de los Tres hike at Hosteria Pilar 17 kilometers outside of El Chalten on the way to Lago del Desierto.
This shaves a few kilometers off the ascent and also allows you to see a different trail up than you will down.
As of the 2022 season the Hosteria has decided to no longer allow hikers onto the property to access these trails.
An alternative route has been opened up from the Rio Electrico bridge, where you can also find the trail to Piedra del Fraile.
This trail is open as of November 2022 and shortly connects to the original Hosteria Pilar trail with very little difference in the trail length.
You can easily take a taxi to the trailhead at Rio Electrico. The trail is well marked. Return on the main trail passing by Laguna Capri and ending in El Chalten to walk back to your hostel or a well-deserved beer.
There is a transfer that will take you to this alternative trailhead but it will get you there at 9 am. If you want to start earlier than that (which I would), take a taxi.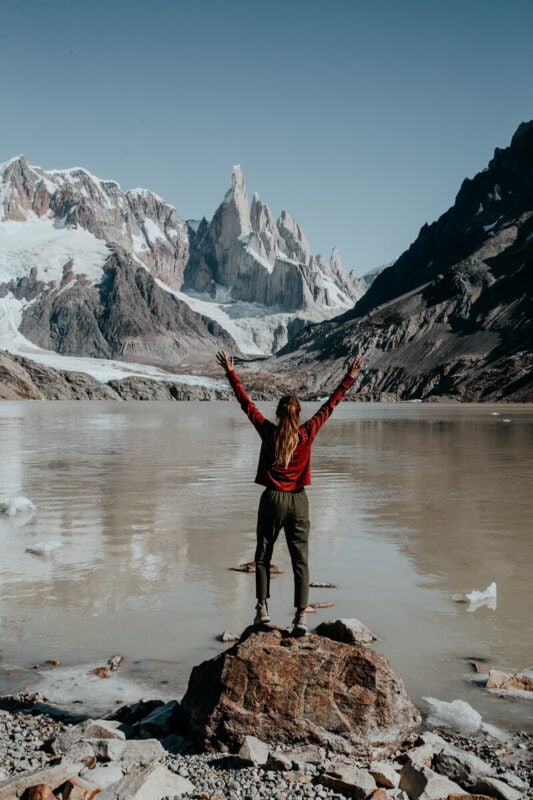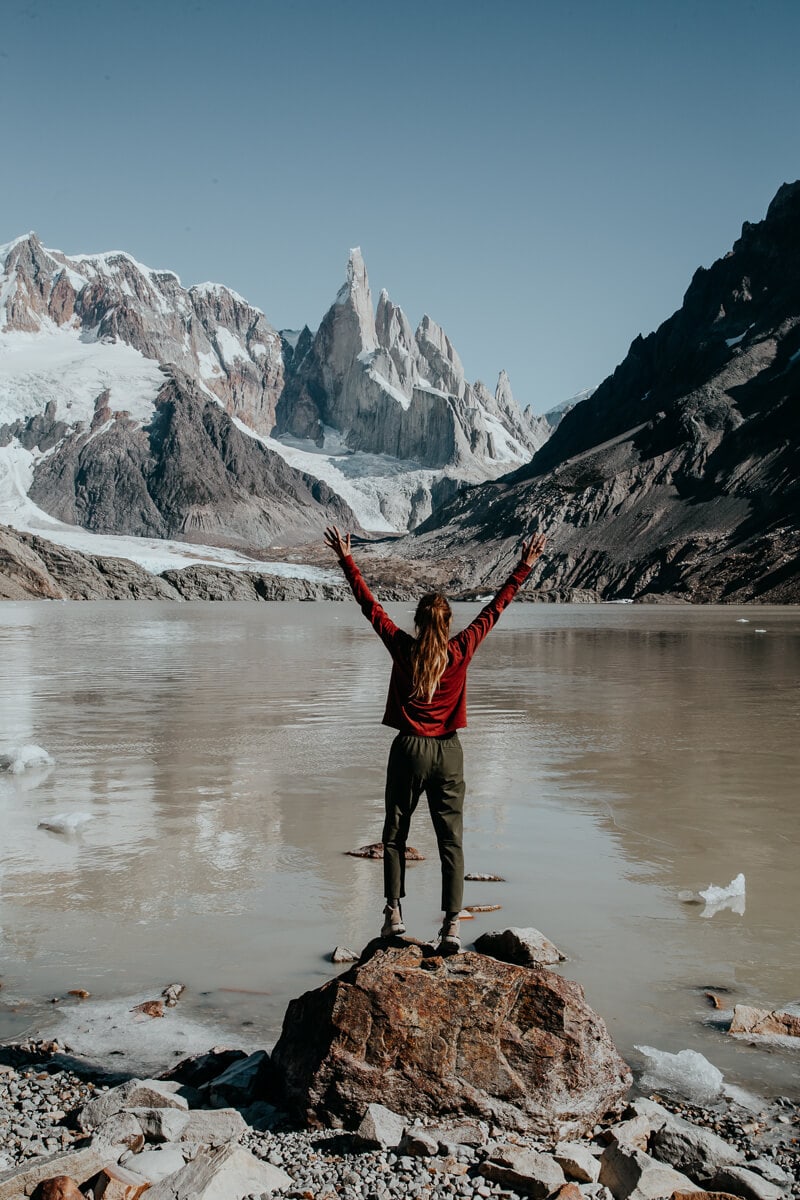 3. Laguna Torre
Distance: 19km
Time: 7-8 hours
Difficulty: Moderate
Laguna Torre is one of the two must-see trails when hiking El Chalten. It's a full-day hike through the valley of Rio Fitz Roy to the stunning Cerro Torre along with its lagoon and glacier.
Like most hikes in El Chalten, the first thirty minutes are the toughest part as you ascend from town into the mountains.
The first highlights are the Margarita waterfall and the Mirador del Torre viewpoints.
After that, it's pretty smooth sailing through the river valley. A lot of this part of the trail goes through the forest so you aren't overly exposed to the elements or wind.
I recommend starting as early as possble to beat the crowds.
We left our cabin at 7 before sunrise and had the laguna all to ourselves for 45 minutes when we got there.
The surface was still frozen over from the night before. Ice cracked as the sun warmed it and the icebergs shifted in the water, breaking large cracks into it.
Having that to ourselves was a memory I'll never forget.
It took us 8 hours but we were slow with the baby and spent a lot of time at the laguna with our picnic enjoying the view before heading back.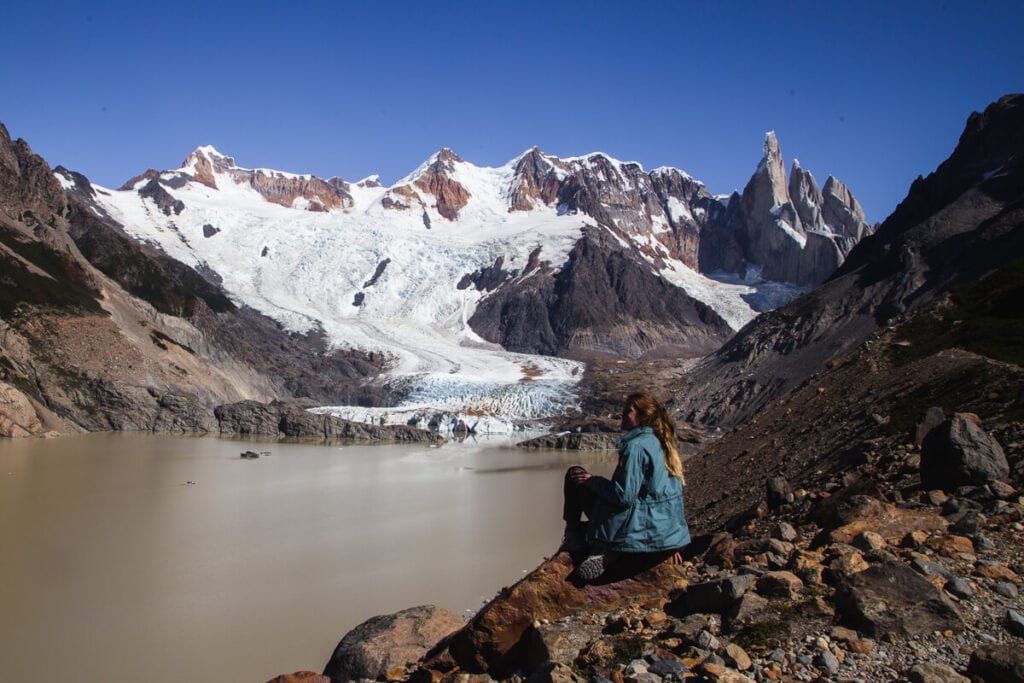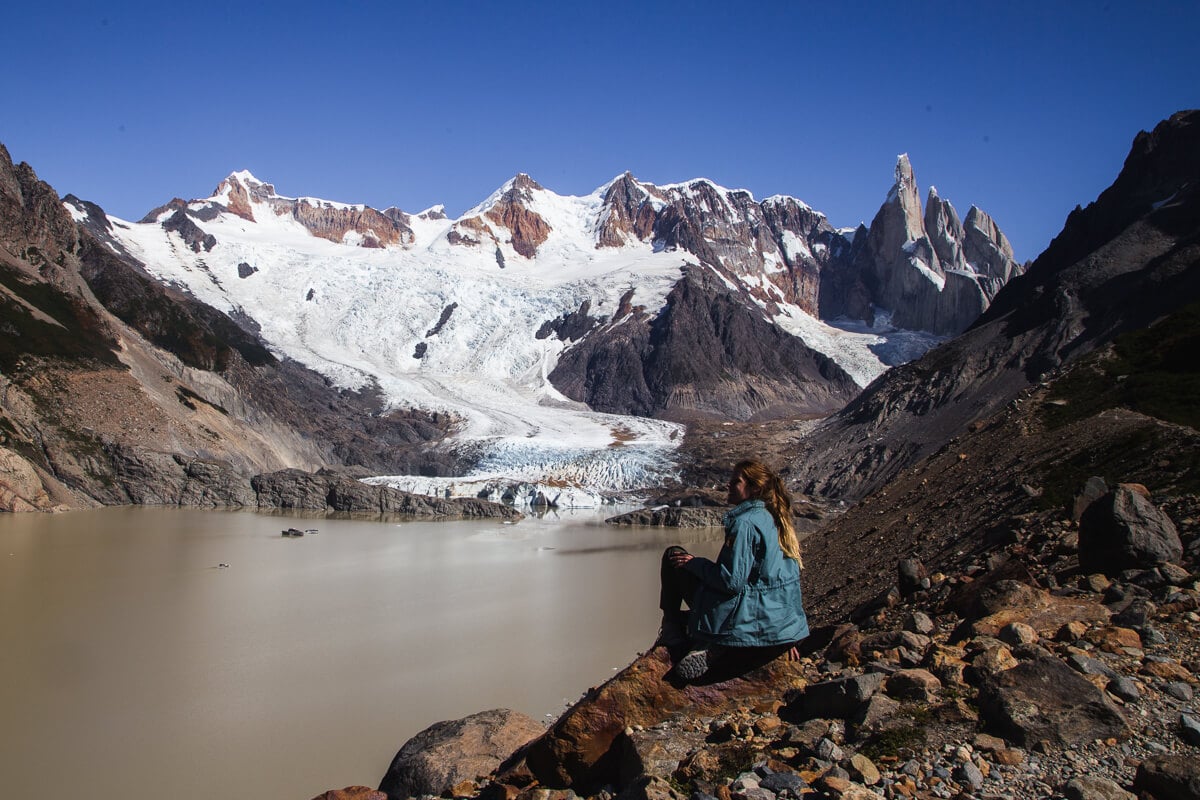 Laguna Torre & Mirador Maestri
From the ridge before descending to the lagoon's shore, you have the option to keep going for 2 kilometers to the Maestri viewpoint.
The trail isn't market but is easy to follow along the ridge circumventing the lagoon below.
It's a little difficult but worth it! You'll see the glacier full-on from this viewpoint and get a unique view of the Cerro Torre's granite needles as well.
This may not be enjoyable or worth it, however, on extremely windy days as you are fully exposed on the ridge.
Laguna Torre Shorter Alternatives
If you don't want to hike the full way to Cerro Torre, hike to the Mirador del Torre (seeing the Cascada Margarita shortly before it).
The hike to the viewpoint is halfway to the laguna and only takes 3-4 hours roundtrip.
There are benches and informational signs marking the peaks you can see. Bring a picnic and relax here before heading home.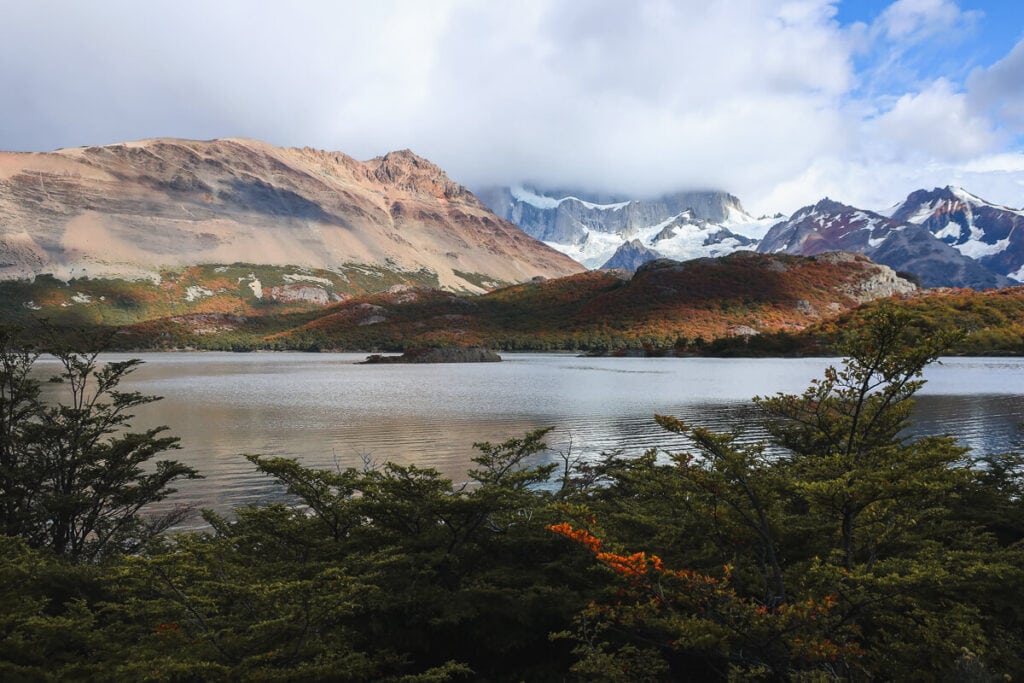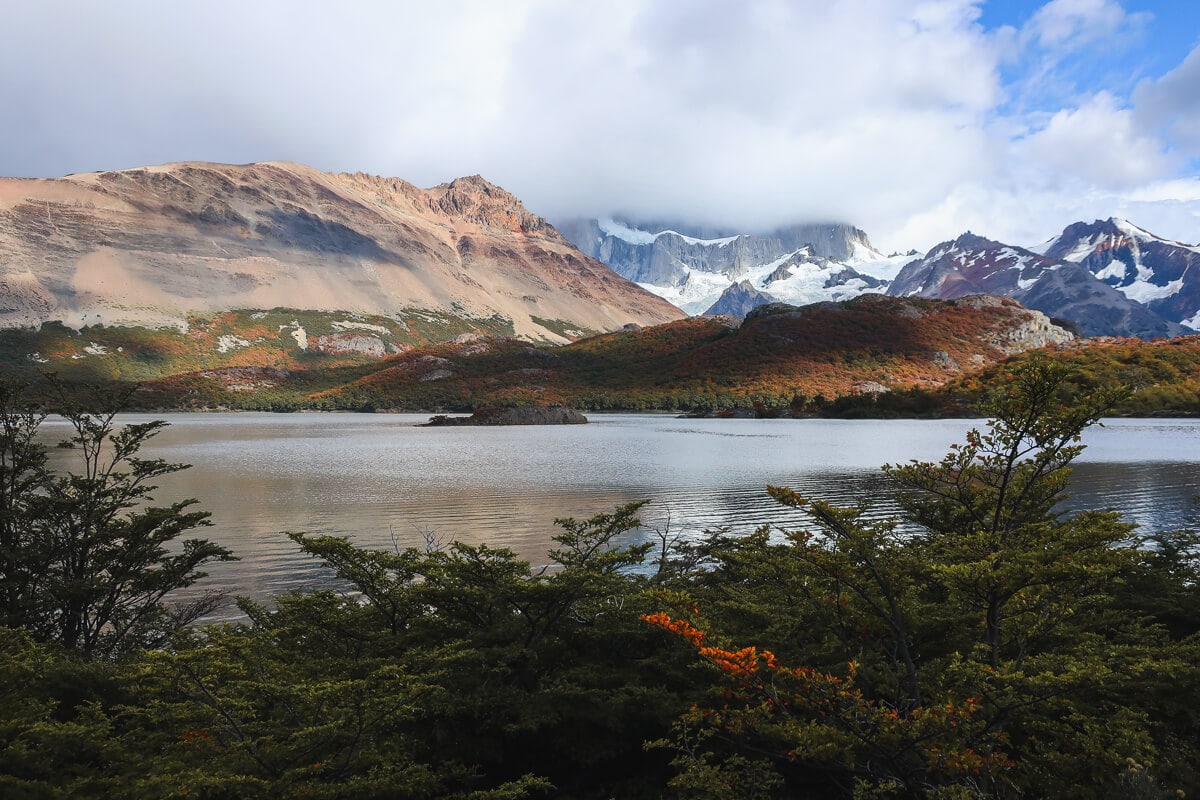 4. Laguna Capri
Distance: 8km (5 miles)
Time: 4 hours
Difficulty: Easy
The hike to Laguna Capri is one of the most popular hikes in El Chalten because it offers gorgeous views of Fitz Roy.
The trail to Laguna Capri is the first 4 km of the trail to Laguna de los Tres, starting at the car park at the end of Avenida San Martin.
Laguna Capri is a great alternative to Laguna de los Tres if you don't think you can handle the full-day hike or you just don't have the time for it.
The laguna isn't as stunning (it's not the same turquoise glacial blue as Laguna de los Tres), but it is very beautiful and Mount Fitz Roy towers behind it.
It's heavily trafficked but leaving early in the morning will help beat the crowds.
HIKING TIP | Don't head straight back to town after your time at Laguna Capri. 15 minutes down the trail past the Laguna Capri/Laguna de Los Tres fork in the road is Mirador del Fitz Roy, a viewpoint with stunning vistas not to be missed.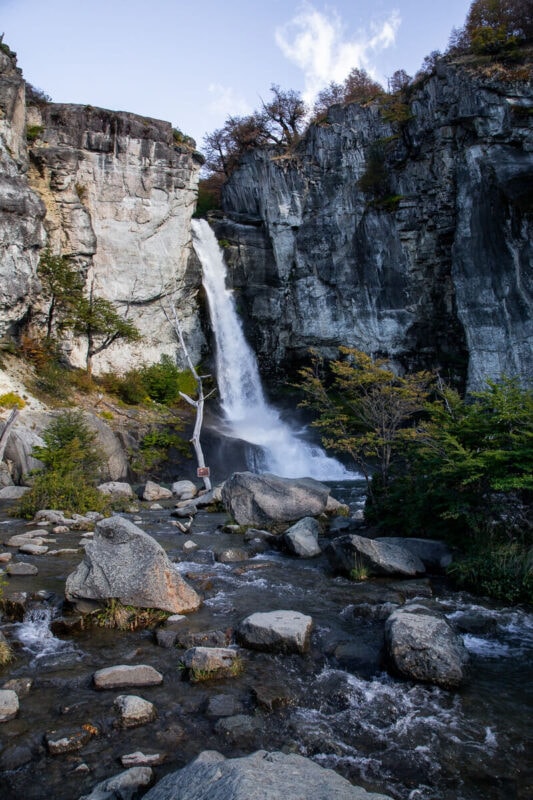 5. Chorrillo del Salto
Distance: 7km (4.3 miles)
Time: 3 hours
Difficulty: Easy
Chorrillo del Salto is one of the easiest El Chalten day hikes.
The trailhead is at the end of Avenida San Martin like Laguna de los Tres and Laguna Capri. Take the path to the right.
The trail goes uphill out of town before descending down to Ruta Provincial 41 (the dirt road that leads to Lago del Desierto).
You'll walk along the road for a while until you see a trailhead open up to your left (the first trail you'll see is the bicisenda/bike lane, the hiking trail will be next).
From here it's a half hour walk to the parking lot and a from that lot it's a .5 km walk to the waterfall.
And yes, that parking lot means you can drive here and walk only half a kilometer, which is exactly what we did.
If you're taking a taxi, transfer, or rental car in the direction of Lago del Desierto at any point, you can easily pause here for a quick visit to Chorillo del Salto.
Read Next: The Best Hikes in Argentina
6. Pliegue Tumbado
Distance: 21km (13 miles)
Time: 7-8 hours
Difficulty: Moderate
Elevation Gain: 850 meters
Pliegue Tumbado is another full day hike in El Chalten.
Instead of bringing you to the foot of the village's infamous peaks, it brings you up and around to the best panoramic views.
The trailhead is the same as Mirador de los Condores, turn to the left for the Condores and to the right for Pliegue Tumbado.
The trail starts with about a kilometer of elevation gain. Ok, the entire hike is elevation gain.
It is a hard trail but you will be well rewarded with the panoramic views it provides.
Throughout this trail you are very exposed to the elements so wear sunscreen and pack a wind jacket to fend off those strong Patagonian gusts.
In that vain, this isn't a trail to do on a day with very strong wind.
Pliegue Tumbado doesn't have the star power of Laguna de los Tres but it's a beautiful hike.
The panoramic views are a great compliment to the up-close hikes of Laguna Torre and Fitz Roy.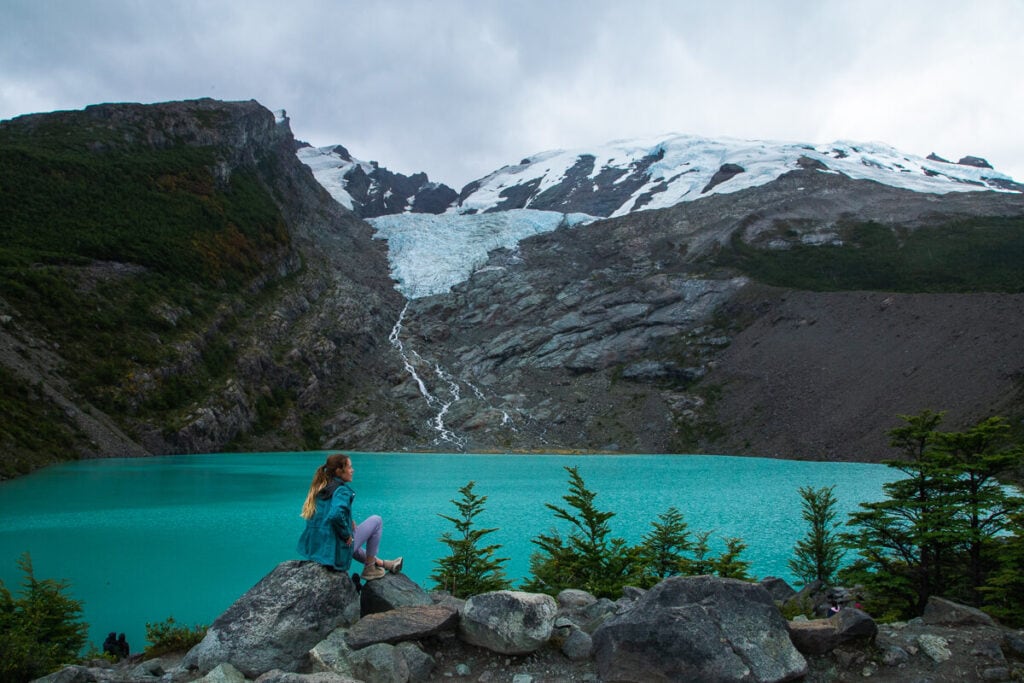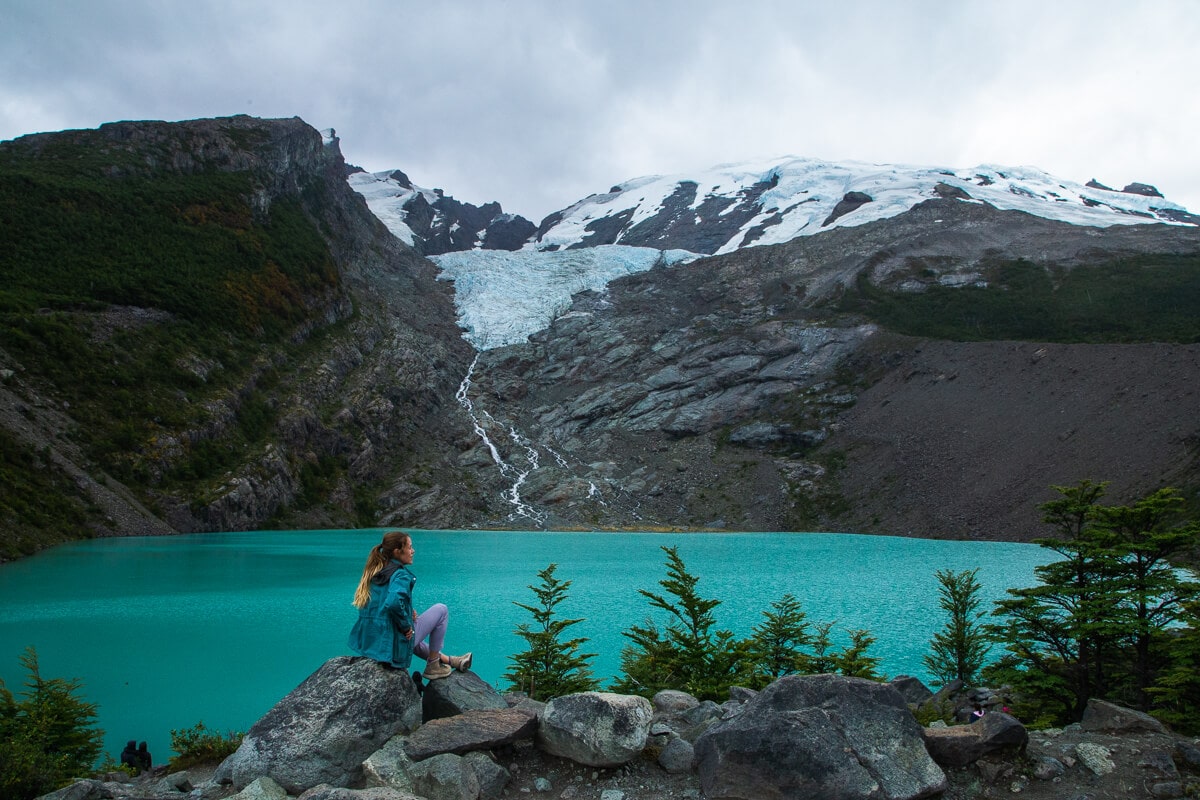 7. Lago & Glaciar Huemul
Distance: 2.5 miles
Time: 2 hours
Difficulty: Easy
Our hike to Glaciar Huemul was one of my absolute favorite treks in El Chalten!
And actually, it's not in El Chalten but 37 kilometers down Ruta Provincial 41 in Lago del Desierto.
The drive there is slow as the road is unpaved but the views in the Rio de las Vueltas valley are worth it.
We had a rental car but there are private transfers and guided tours like this one you can hire.
The hike has an entry fee as the entire trail is on private property but it only cost us the equivalent of a few dollars at the time (February 2021).
The trailhead is right by the free parking lot next to the cafe (pop into the cafe post-hike for hot chocolate!). We paid at the kiosk selling snacks, you can't miss it.
It's an easy hike through a forest and it's completely different than anything you'll see in El Chalten. It's humid, moss-covered, and gorgeous.
The first half of the hike is pretty steady and all of the elevation gain hits you at the end but it's short. Luckily, there are ropes strung up on the trees to help you pull yourself up. The hike back is complete descent and a breeze.
Glaciar Huemul and its laguna took my breath away (forgive the unimaginative cliche).
This hike has HUGE rewards for very minimal effort. If you want a stunning view with a turquoise glacial lake but can't make it to Laguna de Los Tres, this is a good alternative.
EXPLORE LAGO DEL DESIERTO | Lago del Desierto was the main stress point between Argentina (proper owners of this region) and Chile (who peskily kept calling it theirs) and the two countries were on the brink of war until the Pope intervened. There's a monument to the event along RP 41 as you approach the lake.
This area isn't as visited by backpackers due to the distance but locals love it. There are a few amazing hikes, boat excursions on the lake, and excellent fly fishing in the river. I recommend spending a day here to see a different side to El Chalten!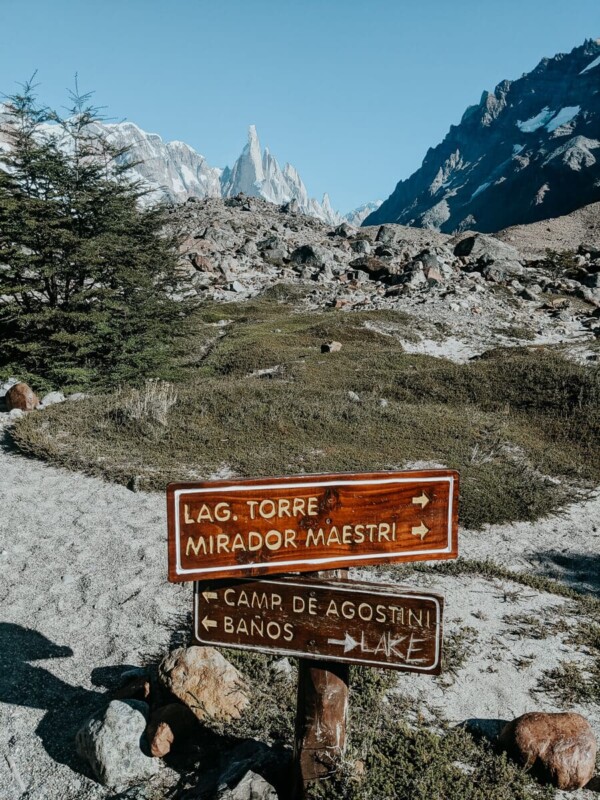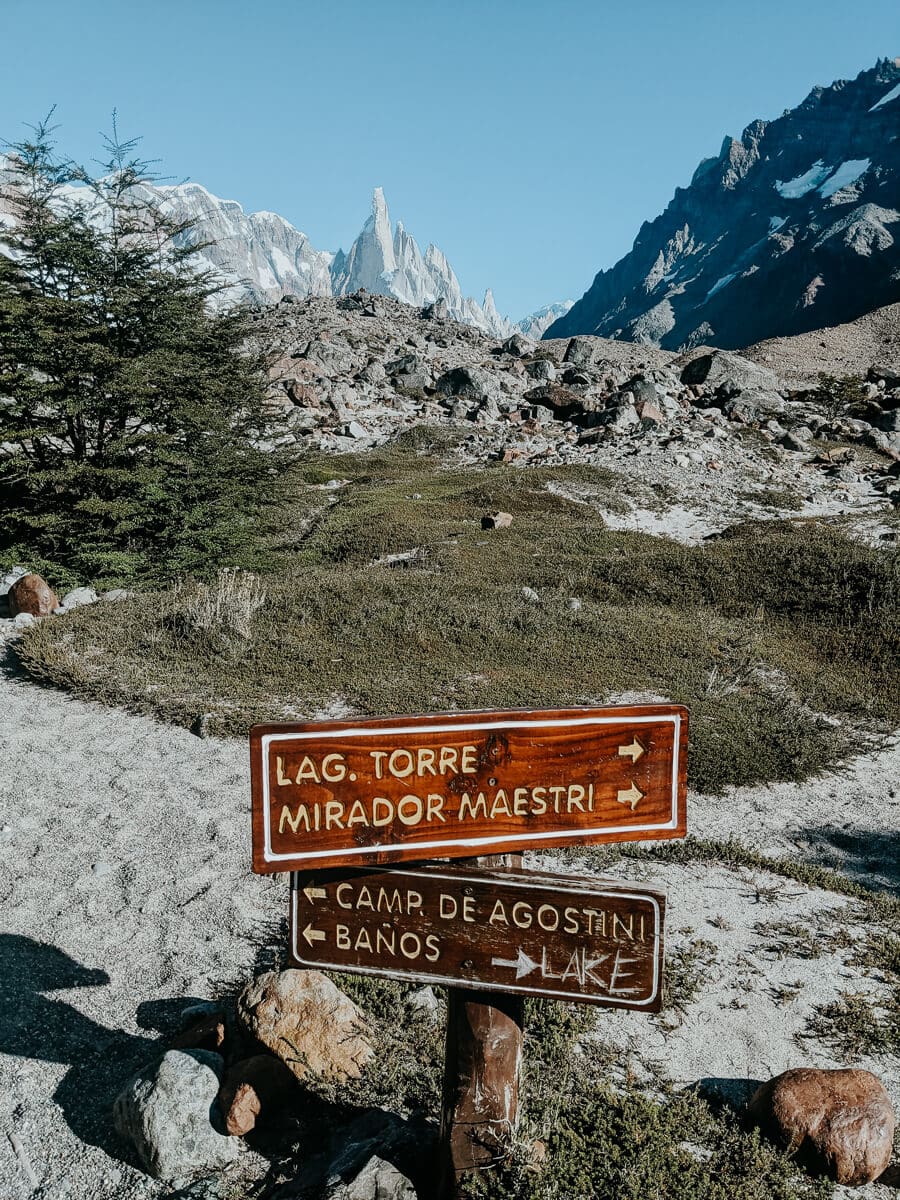 Multi-Day El Chalten Trekking & Camping
While all of the hikes out of El Chalten are day hikes, it is very easy to combine them into an epic multi-day trek utilizing the area's free campsites.
There are three campsites inside Los Glaciares National Park: Laguna Capri, Poincenot (the most popular, by Laguna De Los Tres), and Padre De Agostini (by Laguna Torre).
Click here for full information on the campsites.
There is a trail that connects Laguna De Los Tres and Laguna Torre that goes by Lagunas Madre e Hija.
Build your own multi-day hike by hiking to Poincenot or Laguna Capri for one night. Wake early to see the sunrise over Mount Fitz Roy and Laguna De Los Tres.
Then on the second day hike by Lagunas Madre e Hija to see Laguna Torre.
You can camp a second night at Laguna Torre's Agostini Camp or go back to El Chalten that night depending on your energy and plans.
Or of course, do the route in the other direction.
Build your own adventure!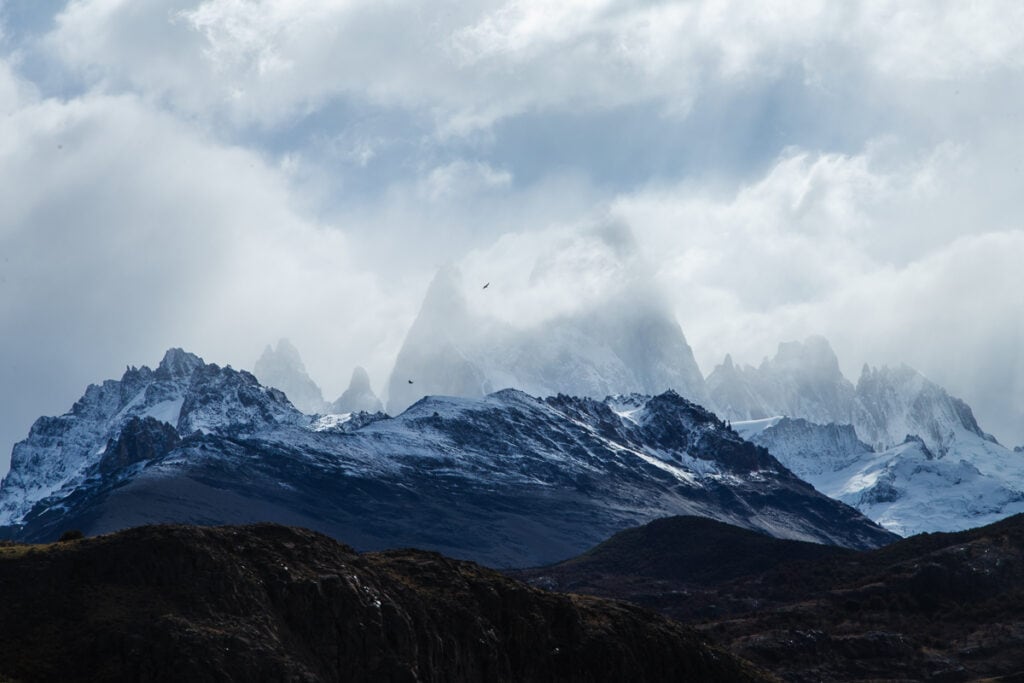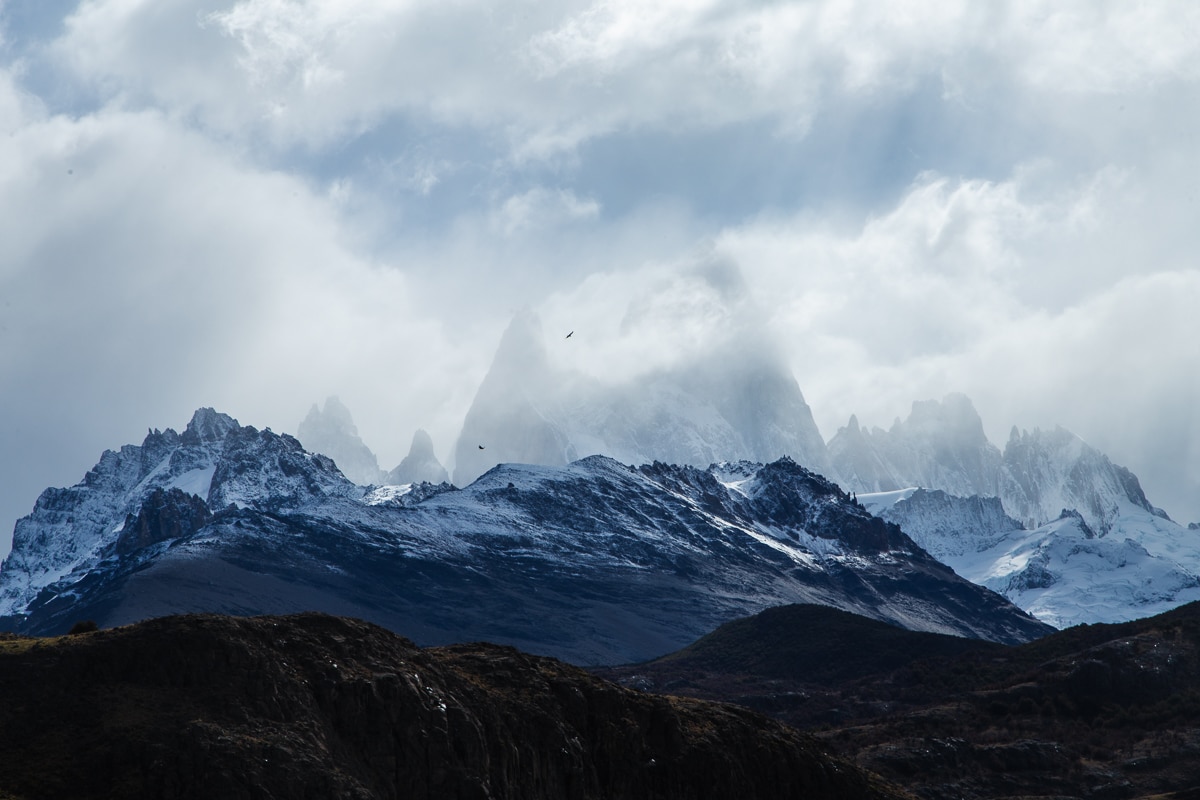 Huemul Circuit: Multi-Day Hike For The Brave
The Huemul Circuit is a four-day hike for those who know what they are doing (not me).
It's not a widely publicized hike due to the difficulty level but if you're a pro then this should definitely be on your radar.
This circuit is 40 miles, so the difficulty doesn't lie in the length but in the technical difficulties. The experience is said to be unforgettable, with glaciers and views of the Southern Patagonian Ice Field you'll never see any other way.
Inform the park rangers at the visitor's center that you'll be going on this hike.
It's not a bad idea to go with a guide on this hike, you can get more information on a guided Huemul Circuit here.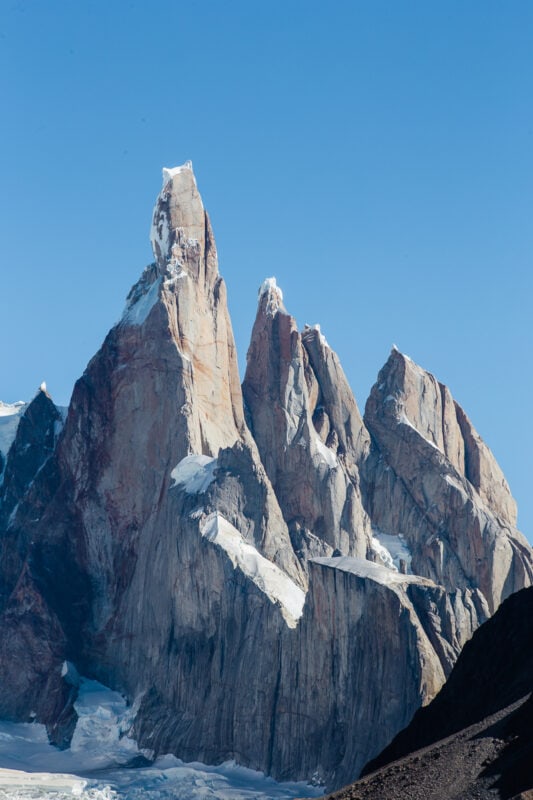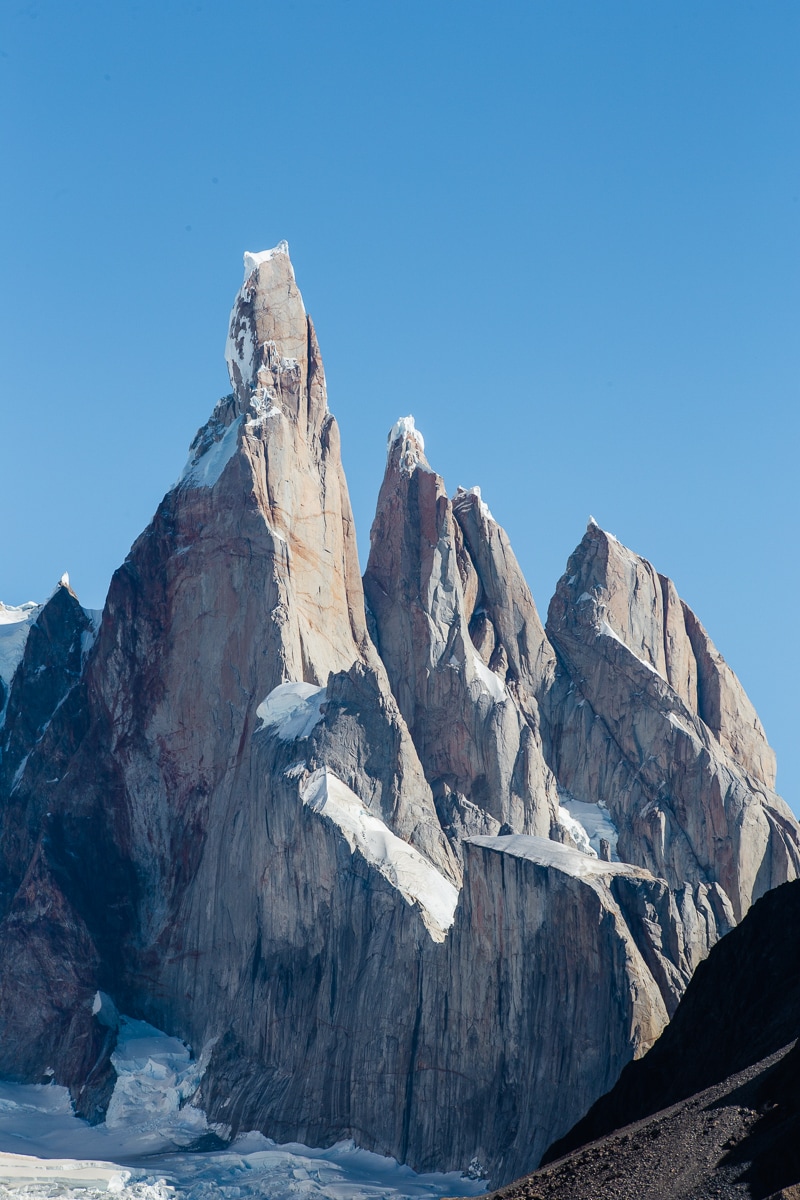 Our 5-Day El Chalten Trekking Itinerary
The forecast for our trip looked bleak, with only one sunny day on the horizon.
We dedicated that first sunny day to our long hike, Laguna Torre.
Despite rain being forecasted all week, we had decent weather and hiked every day. But only a day and a half were sunny enough to enjoy constant views of Fitz Roy & Cerro Torre. Don't waste your sunny days!
Our second day was a bit of a bust. We wanted to take it easy. Laguna Torre with a heavy baby and heavy baby carrier on his back wrecked my husband's knees and he needed to rest.
We took an easy hike to Piedra del Fraile since it has no elevation gain. It wasn't the most stunning hike of the trip but it was relaxing hiking through the forest along the river.
We hiked to Laguna Capri on our third day to have a view of Mount Fitz Roy (since we weren't going to do Laguna De Los Tres due to previously mentioned heavy baby).
But we had squandered all of our sun on Piedra del Fraile and the clouds covered Fitz Roy. It was a fun hike, nevertheless!
We spent our fourth day at Lago del Desierto, stopping at Chorrillo del Salto on the way. I am a big fan of driving to the parking lot versus the 3-4 hour hike because while beautiful, I don't think the waterfall merits four hours of hiking.
At Lago del Desierto we hiked to the Huemul Glacier, which was one of my favorite moments of the trip. It was gorgeous!
On our last day we took it easy, yet again. After a lazy lunch, we lugged ourselves up to Mirador de los Condores and Mirador de las Aguilas.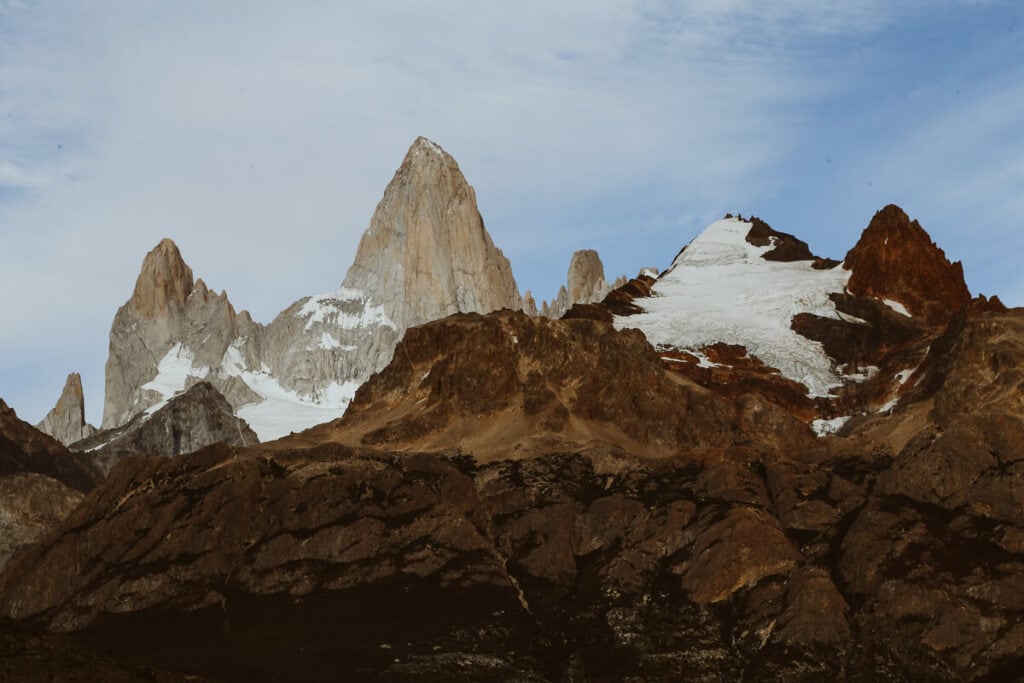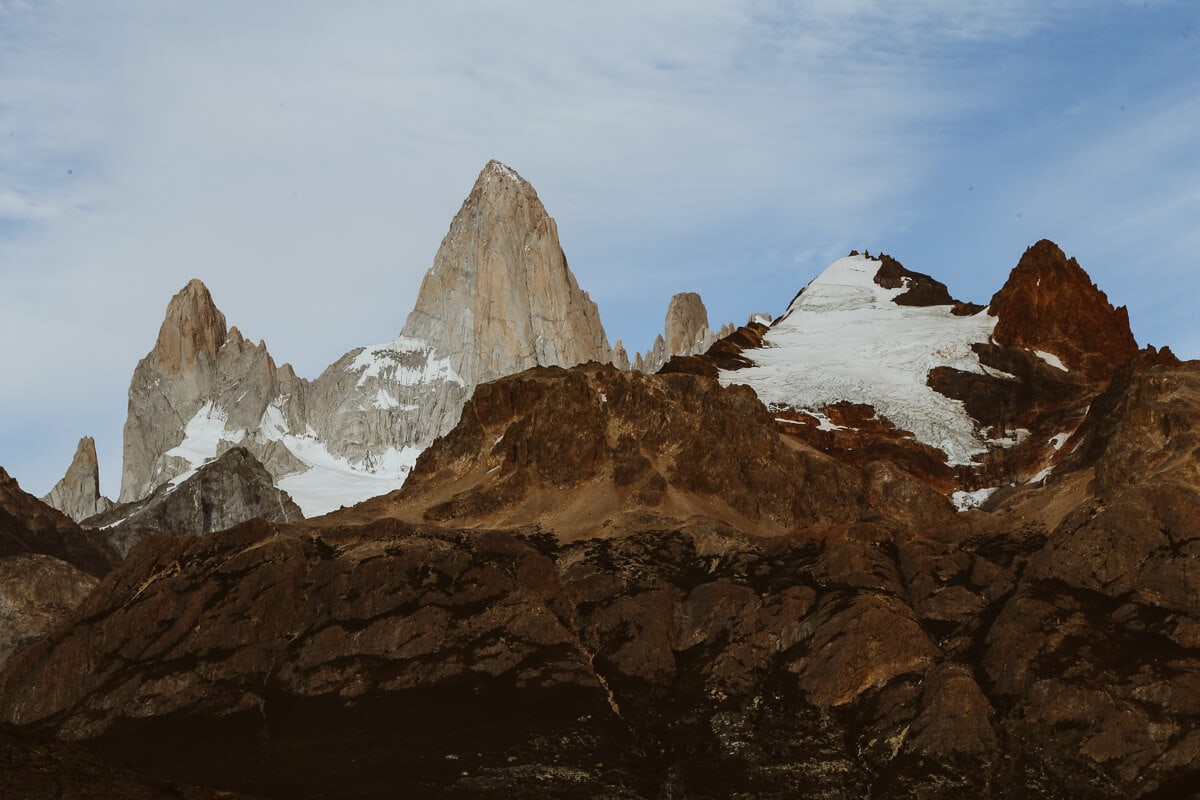 Non-Hiking Things to do in El Chalten
If you, God forbid, want to do something besides hike in Argentina's hiking capital, you have a wealth of choices.
Here are all of the best things to do in El Chalten.
MADSEN HOUSE | Visit the Danish settler family's home to see how the first pioneer's lived in this harsh climate over a hundred years ago. The house is across the bridge over Rio de las Vueltas from town and it's walkable or a short drive. Click here for more information, reserve in advance via WhatsApp.
GLACIAR CAGLIERIO | The Cagliero Glacier is in Reserva de los Huemules off RN 41 towards Lago del Desierto. It's a moderate hike to a beautiful glacier. There is a restaurant and lodge there as well if you'd like to stay the night or just for a well-deserved post-hike beer. Click here to reserve a hiking excursion to Cagliero.
WHITEWATER RAFTING | Go whitewater rafting on Rio de las Vueltas, snowmelt always ensures exciting rapids!
MOUNTAIN BIKING | Estancia Bonanza in the valley of Rio de las Vueltas is ideal for mountain biking and horseback riding, click here to check out their biking excursion.
HORSEBACK RIDE | Horseback riding in gaucho-land Argentina is always a hit! Click here to check out Estancia Bonanza's horseback ride outside El Chalten.
LA LEONA PETRIFIED FOREST | This petrified forest is like walking on another planet. It's a popular day trip from both El Calafate and El Chalten because it's located smack in the middle. This day trip leaves from El Calafate but you can try and see if they operate El Chalten departures or if you can organize a tour as your transfer from one city to the other.
What to Pack for El Chalten
This isn't a comprehensive packing list but here are a few things I'm glad I had and a few things I wish I'd packed differently.
HIKING SHOES/BOOTS | I wore my Danner hiking boots but honestly, they felt a bit clunky for the day hikes. I wish I'd had hiking shoes like these that are cooler and allow for more agility. Unless you're going on strenuous multi-day hikes I think you're fine with a shoe vs a boot.
LAYERS | It was below freezing when we left our cabin and in the 70s by lunch, wear light layers you can peel off. Everyone had jackets and scarves hanging from their backpacks by midday.
TREKKING POLES | We will never hike again without trekking poles. They absorb the impact and would have been a game-changer. We got this cheap pair on Amazon after our trip but if you want to get a better pair, read REI's Hiking Pole Guide to pick the best pair for you.
BINOCULARS | We never go anywhere without our travel binoculars, here we used them to watch the condors!
PROPER HIKING PANTS | I own three pairs of these Outdoor Voices RecTrek pants and that's all I wore on our trip. They stretch, they have deep, useful pockets, they look nice, and they hold their shape despite wearing them for multiple days. I also recommend a pair that converts to shorts (because weather varies in Patagonia), check out these REI Coop pants.
TRAVEL YOGA MAT | Stretch out your tight hamstrings after your hikes with one of these foldable, lightweight top yoga mats for travel.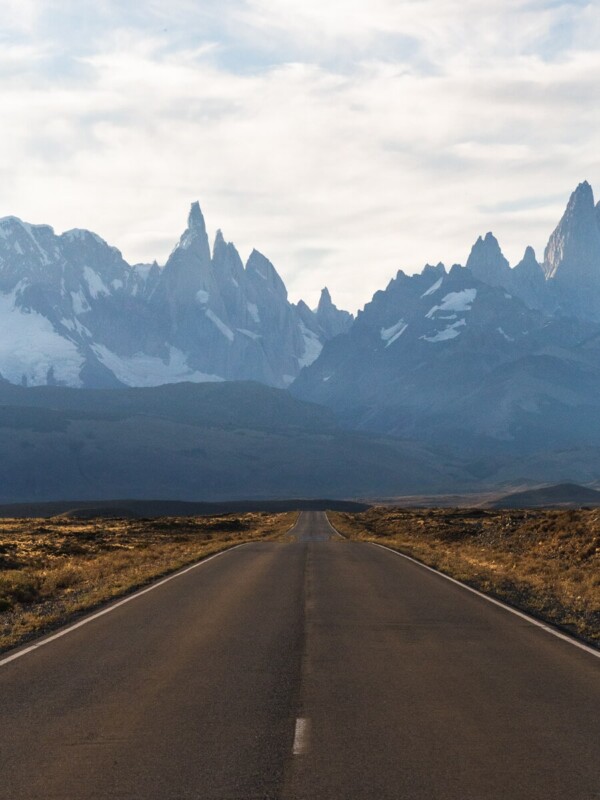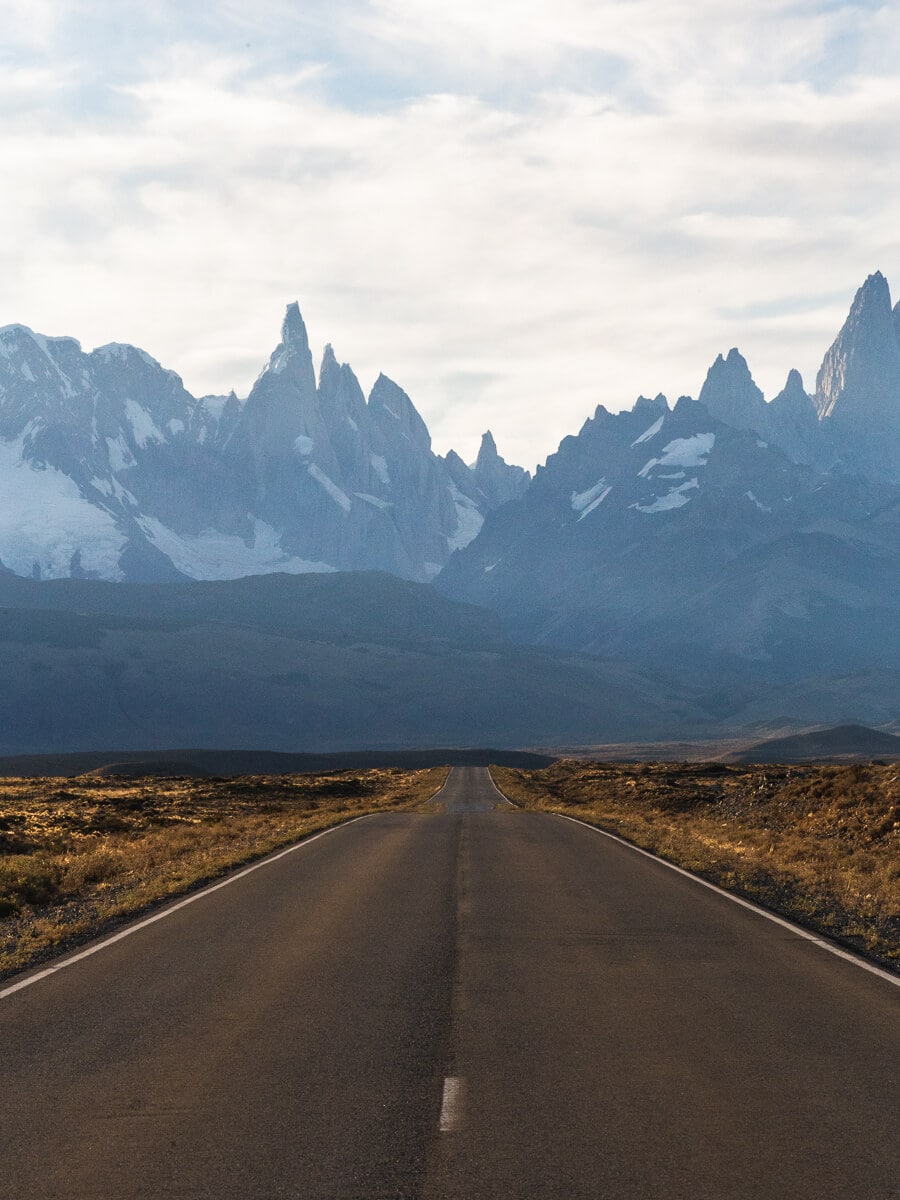 How to get to El Chalten
To get to El Chalten you'll fly into El Calafate and take a bus, private transfer, rent a car, or if you're brave, hitchhike.
Bustling El Calafate is home to the area's airport and also the southern portion of Los Glaciares National Park.
It's an easy 3-hour drive down paved Ruta 40.
Bus from El Calafate
The easiest way to get from El Calafate to El Chalten is by taking the bus.
This mini-bus is the best option for price and comfort. It's not a huge bus so you'll be able to enjoy yourself without the crowds while still getting a good deal.
They make a few scheduled photo stops along the way (which you'll be grateful for, the views are insane!), including a stop at La Leona.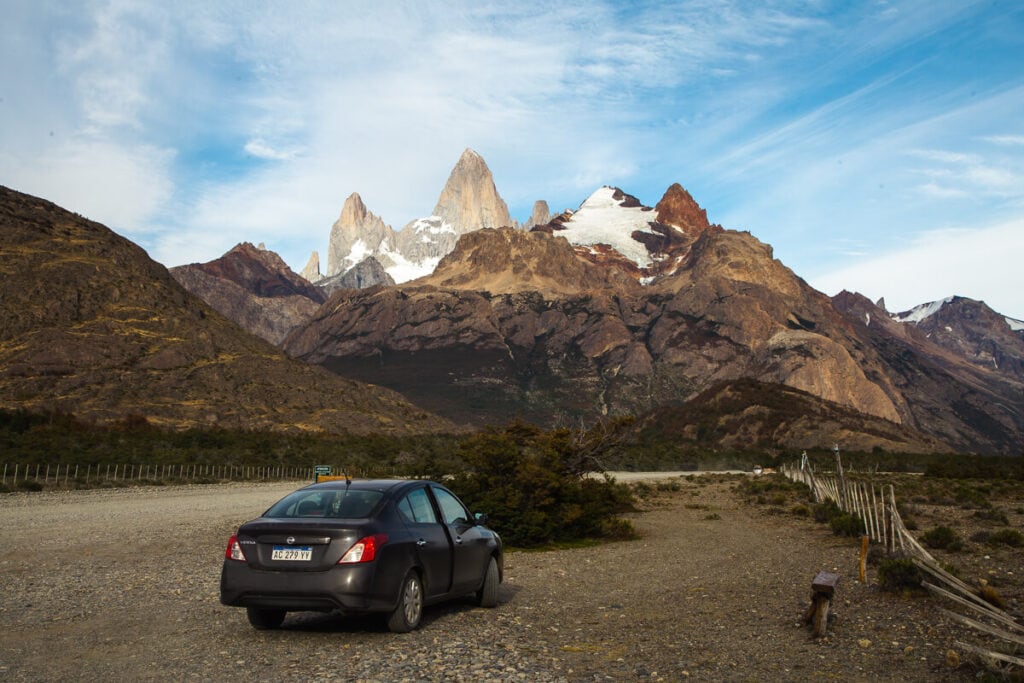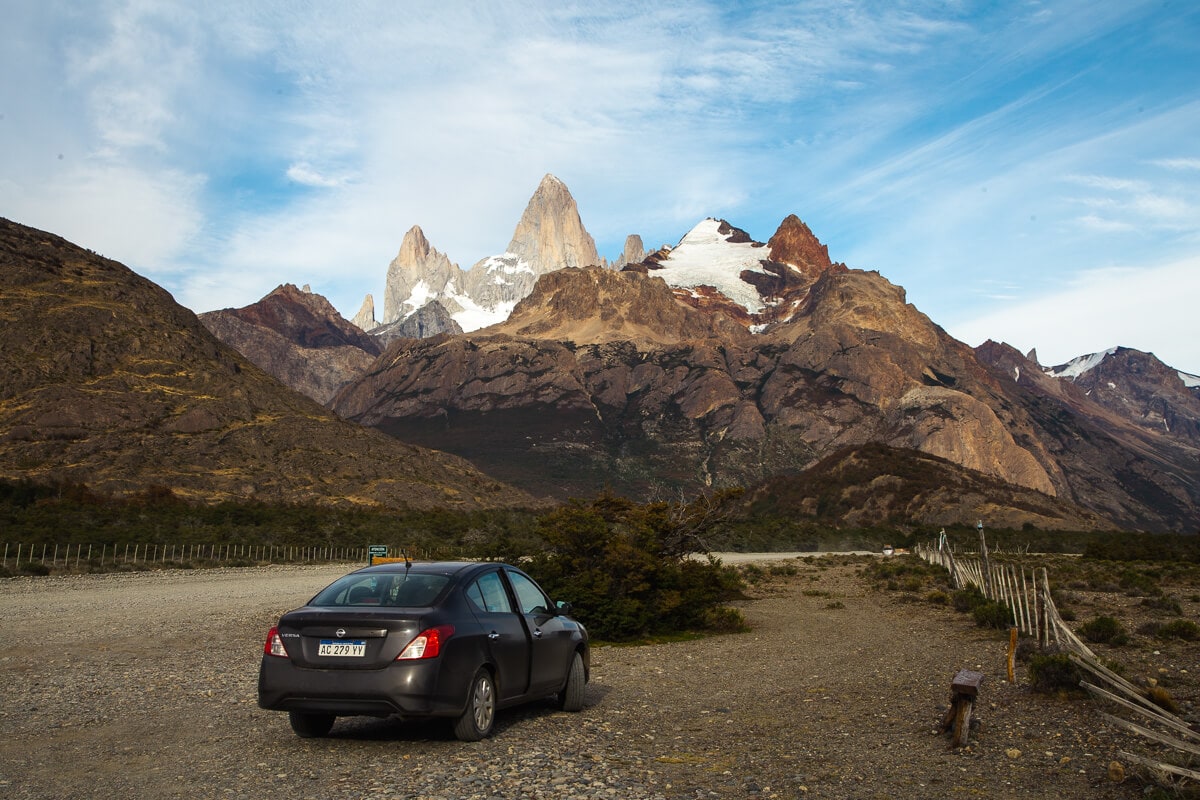 Rent a Car
We rented a car for our 10-days in El Calafate (we were visiting in the height of the pandemic and wanted our space).
Despite Patagonia's high rental car costs I am so glad we had our own car! We were able to see a lot more than we would have otherwise. If it's in your budget, I recommend it. (If it isn't in your budget, don't worry, you'll be fine without it).
It gives you so much freedom to explore outside of town in Lago del Desierto and the surroundings of El Calafate.
Check Rental Car Rates & Availability Here.
Tip: You'll get better rates if you can drive manual.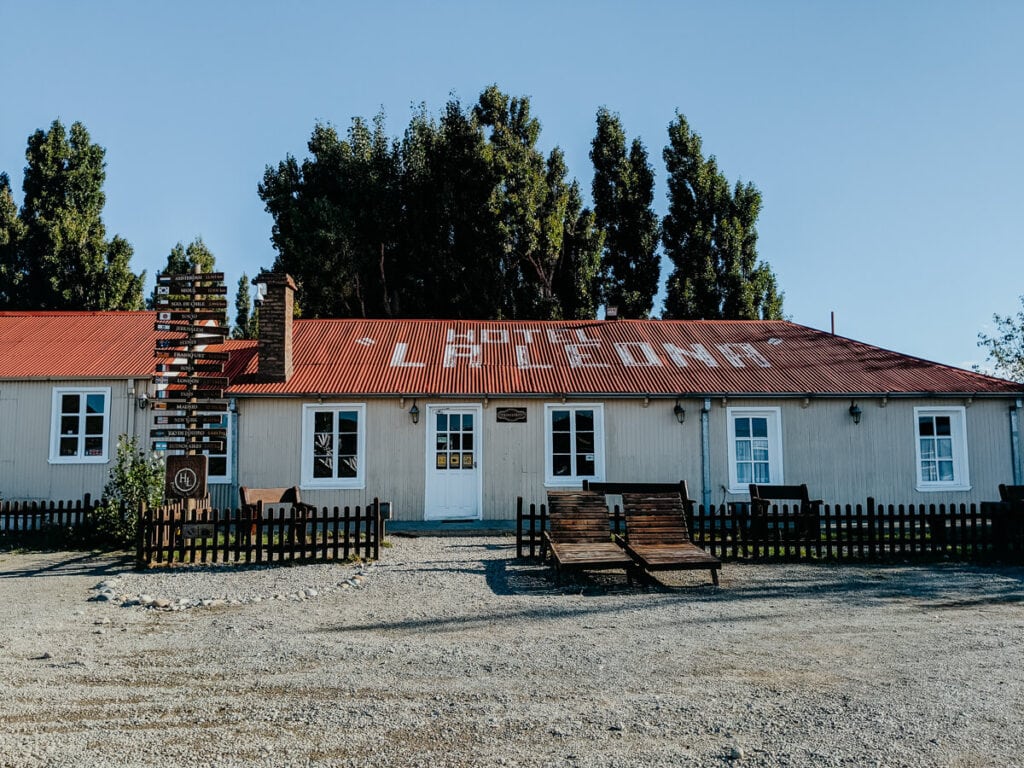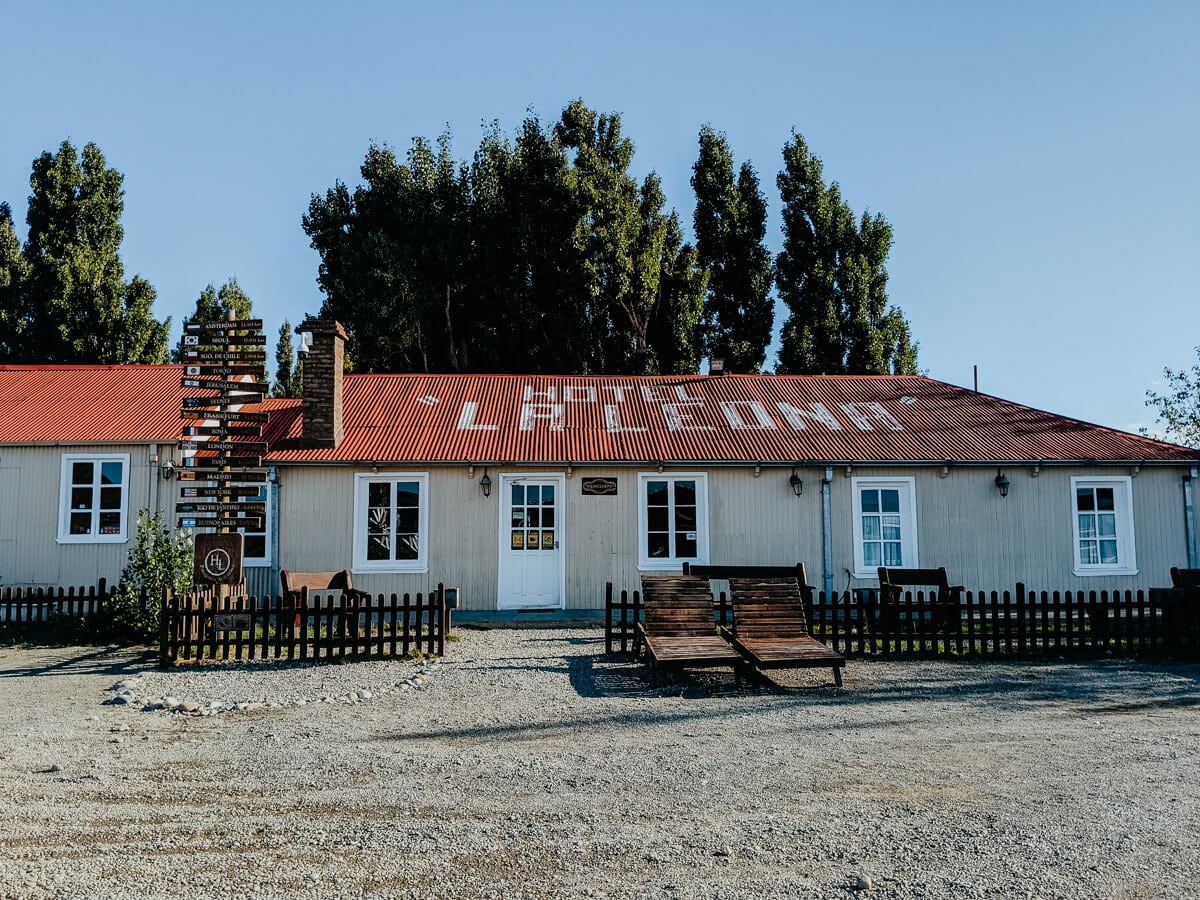 La Leona, Butch Cassidy, and The Sundance Kid
Whether you drive or take the bus, don't miss the only pit-stop between El Calafate and El Chalten.
Besides being the only bathroom on this deserted route, it's a historic location you'll want to see.
Perito Moreno, the region's most famous explorer and namesake of the glacier, was attacked here by a mountain lion, giving the name to this river crossing, hotel, and rest stop.
Butch Cassidy and the Sundance Kid once called this isolated hotel home. After a heist, Cassidy, Sundance, and Sundance's girlfriend fled to Argentina to start a new life.
They passed through this hotel and now you can sip a cafe con leche in the same space as some of the world's most infamous outlaws.
The cafe doubles as a museum dedicated to the bank robbers.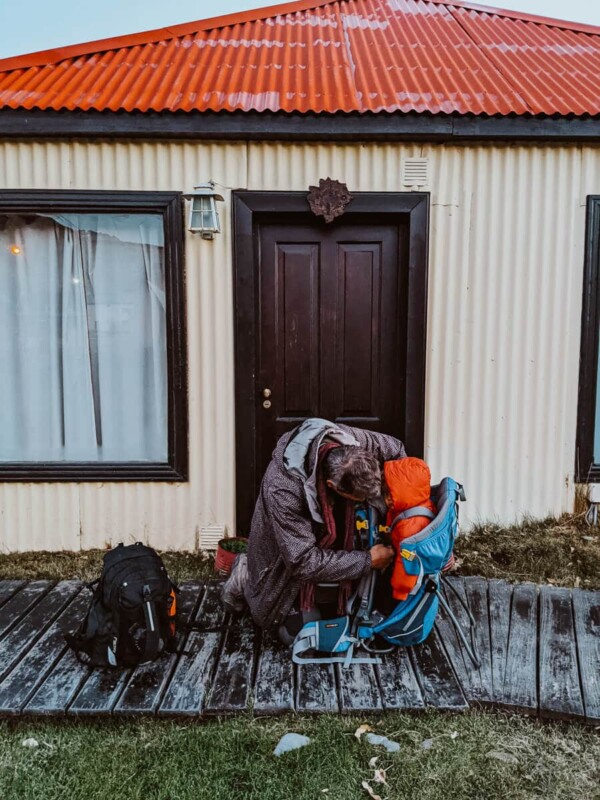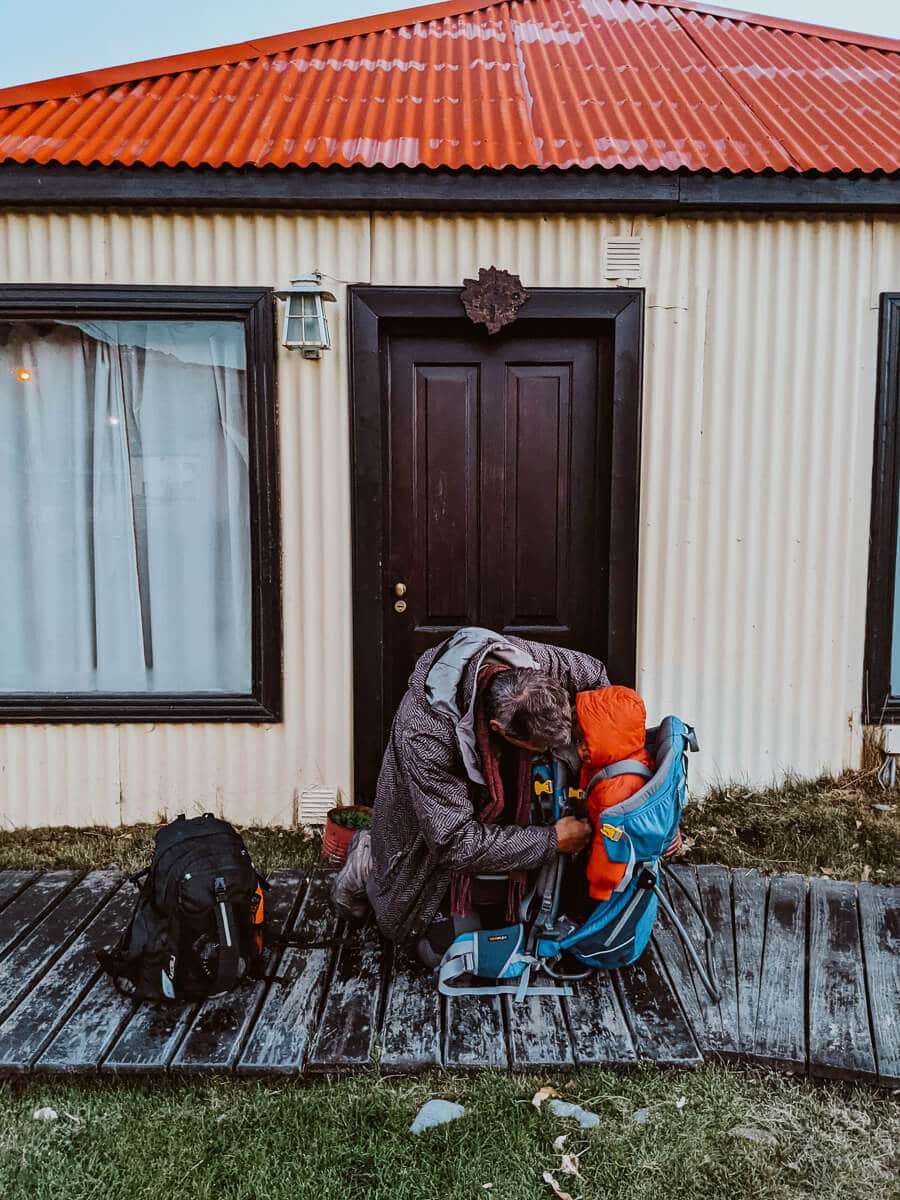 Where to stay in El Chalten: Hotels, Cabins, & Hostels
We stayed in these cabins, more on that in a minute. Our cabin met our needs but there are plenty of places to stay that I'd probably choose if my needs were different (solo traveler or with my husband alone vs. with our baby).
Those El Chalten hotels are:
Chalten Camp | Luxurious eco-domes that offer a unique glamping experience. A friend stayed here and raves about it! Spoil yourself after your hikes at this "camp". Check rates & availability.
Solo Lofts | These stylish lofts were under construction while we were there and we admired them every single day. They're a stylish alternative to the cabins we stayed in (and I'd likely book them if I traveled with our kids again) or heck, alone or with friends. Check rates & availability.
Patagonia Hostel | This cozy mountain hostel is one of the highest rated hostels in El Chalten. It houses a library, restaurant, and bar and both private rooms or shared dorms. Check rates & availability.
Since we were traveling as a family with a baby we needed a cabin to be comfortable.
I had more needs than normal to make sure our trip with a little one would be easy.
I was looking for two bedrooms, a crib, a living space and kitchen, and a bathtub for the baby and to handwash any laundry (and cloth diapers, but that's a whole other article).
Cabañas El Puesto Sur was the only place that met all of those requirements. I really liked it. The cabins were simple but comfortable, and I loved enjoying the view of Fitz Roy from our living room with my morning coffee or end-of-the-day wine.
Good alternatives are Cabañas Rivendel or the more stylish Solo Lofts.
Where to eat in El Chalten
Eating in El Chalten is all about picnic lunches for the hikes and happy hours for post-hike celebrations.
For picnic lunches to take with you on your hikes go to La Roti. It's located towards the entrance to town near the bus station and they have great empanadas and tarts!
Any of the bakeries are also great options for takeaway lunches. We loved Panaderia Que Rika.
We got pastries and bread for breakfast but they also have empanadas and sandwiches to bring on your hikes.
Our best meal was at Restaurante Ahonikenk. Definitely go for a classic Patagonian meal, the trout was unbeatable!
The best alfajores I've ever had in my entire 11 years of living in Argentina were at Chalteños!
The bakery's massive line at the end of the day speaks for itself but the brownie-like cookies are what kept me coming back every single day (and filling my suitcase with them).
For happy hour hit up any of the bars in town for two for one beer (some had specials on cocktails, others just beer).
Mathilda is a good option for an end of day tea-time and cakes if you're not interested in beer specials.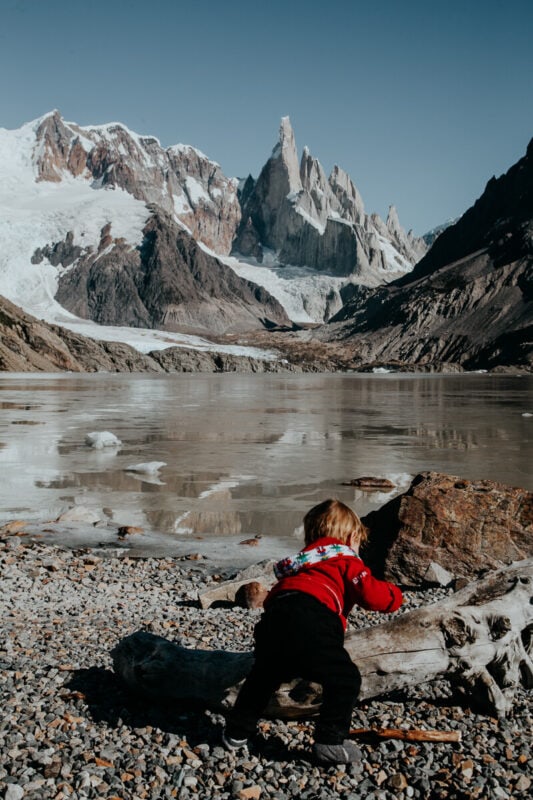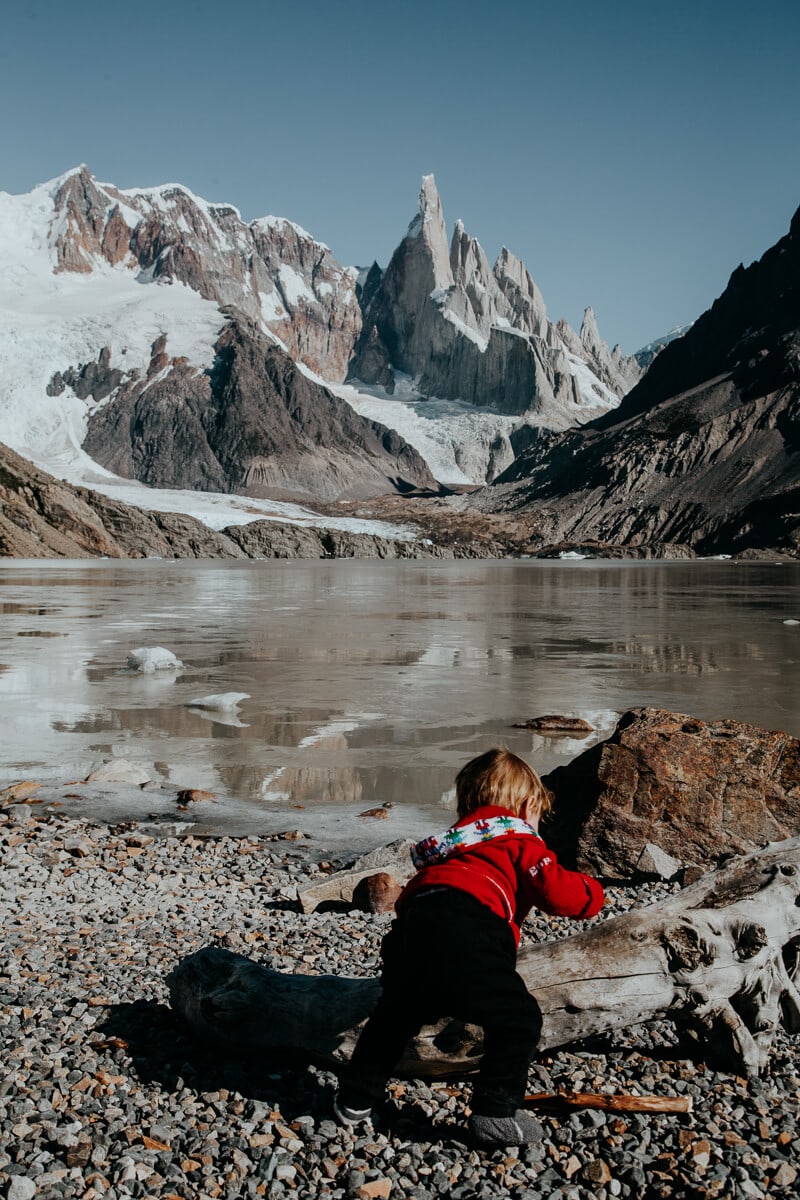 El Chalten with kids
We did all of our hikes with our one-year-old strapped to our backs, hiking in El Chalten is totally possible with your littles!
It was a lesson in slowing down to smell the roses.
We couldn't just barrel through the hikes in a hurry to reach the finish line.
Instead, our little guy needed a few breaks to get down on the ground and crawl, play, and experience the hike in his own way.
We saw one family with four kids (2 were toddlers!) at Laguna Torre. Our neighbors at our cabins hiked to Laguna De Los Tres with their two-year-old.
If you're willing to slow down for them, your kid can go with you anywhere.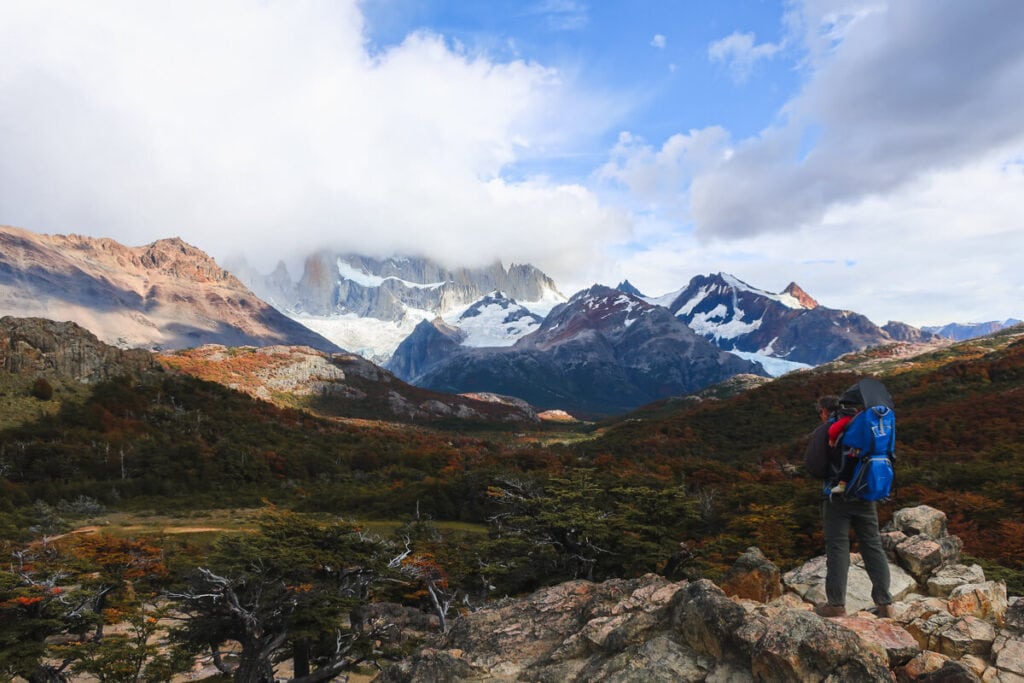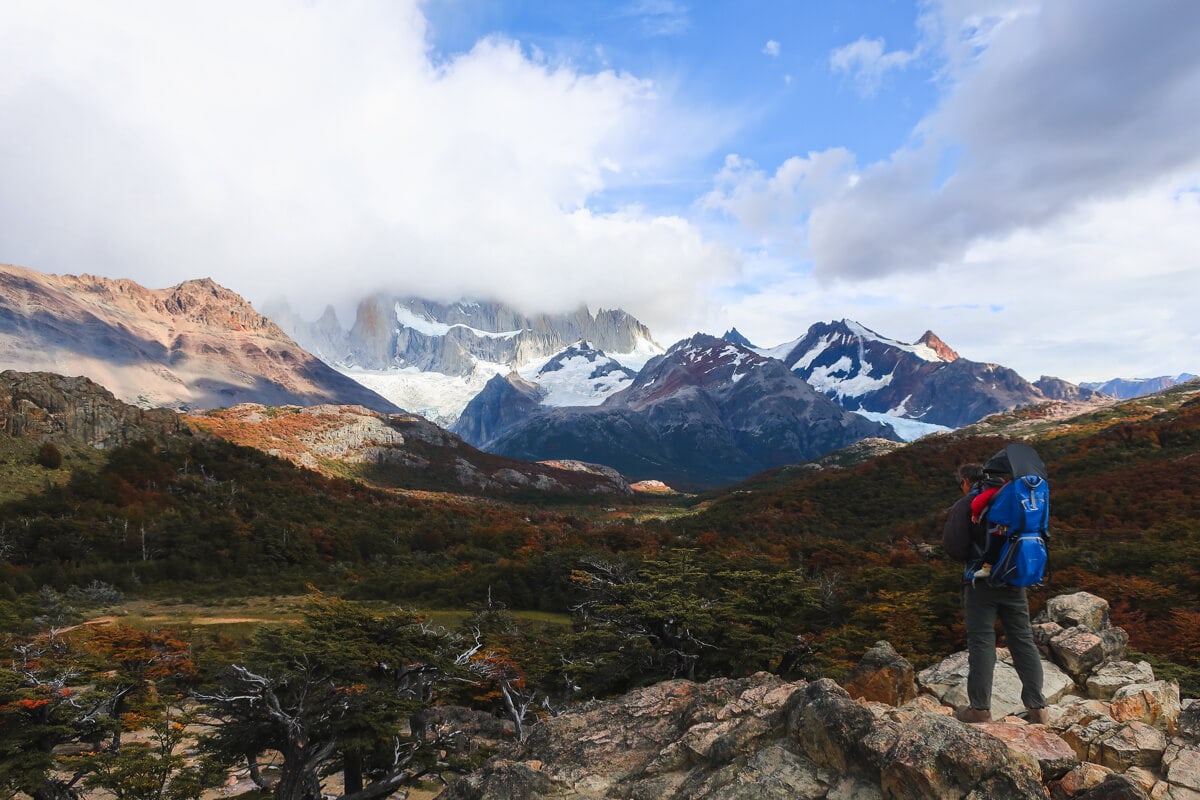 Baby Carrier for the Trail
We got a hiking specific carrier, this Deuter Kid Comfort Pro (the Osprey Poco is usually tied in popularity among parent hikers).
Tiny babies will be fine in your usual soft carrier like an Ergo.
It fit my husband great so he did most of the carrying. For me, it hit my hip bones in a weird way and they felt bruised at the end of the day.
Which carrier works best will depend on your body, so if you live near a shop where you can try them on I recommend doing that.
If not, order a few and try them on to compare at home.
Trekking in El Chalten: A Summary
El Chalten had been in my sights for years.
I don't know why it took me so long to finally organize this trip but I know it won't be this long again before I return.
Laguna De Los Tres is waiting for me and I will be back to hike El Chalten's most iconic trail!
I hope this guide helped you organize your trip to Argentina's hiking capital.
If you have any questions, let me know in the comments and I'll get back to you.
Save this post to Pinterest to reference it as you plan.
Read More About Patagonia:
Argentina Travel Resources
PIN IT FOR LATER