Argentina is a diverse country with natural wonders that range from jungle to desert to mountains. Figuring out what to pack for Argentina can be tricky.
This post will help you pack efficiently so you have everything you need to explore Argentina!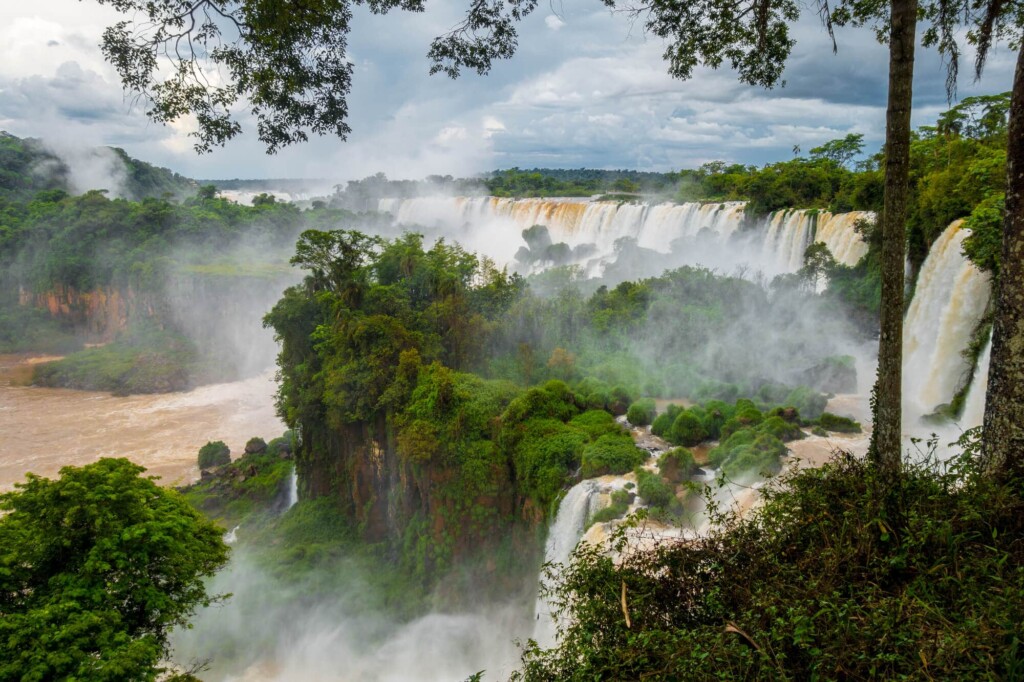 QUICK NOTE: This post contains affiliate links and Sol Salute may receive a commission for purchases made through these links, at no extra cost to you.
What to Pack for Argentina
Argentina makes up the bulk of South America's southern half. It is the 8th largest country in the world.
If you're planning on spending time in urban Buenos Aires, the jungles of Iguazu, and hiking in the mountains of Patagonia, you're going to need to plan your suitcase well.
What you'll get in this Argentina packing list guide: I start out with my must-have items that will make your Argentina packing list the most comprehensive and also efficient.
Then I break up Argentina by region, giving you packing tips by destination: Buenos Aires, Iguazu, Mendoza, and Patagonia.
Quick Argentina packing list tips: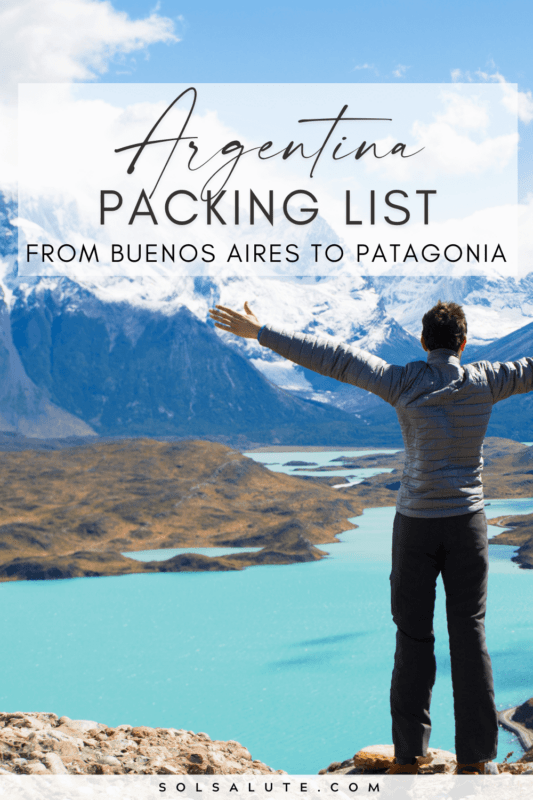 Argentina Packing List Must Haves
To reduce the fluff and avoid over packing, it's important to plan ahead and be efficient when packing for your Argentina trip.
Here are the must haves for your Argentina packing list.
1. Documents & Money
Bring your passport and a photocopy. Print out your itinerary beforehand with all of your hotel reservations and addresses.
Immigration will ask for your hotel address in Buenos Aires upon arrival.
You may have read about a reciprocity fee if you're from the US, Canada, or Australia. This is no longer a requirement for citizens of any of the 3 countries.
Check to see if your home country requires a visa. US Citizens are not required to have a visa to travel into Argentina.
Dollars. Dollars are king in Argentina. If you plan on bringing dollars to exchange for pesos here, bring crisp, new, hundred dollar bills.
Some exchange houses will reject small denominations (twenties, tens, or fives) and damaged bills (torn or marked, even in the slightest).
Go in person to the bank teller before leaving and check that every bill you get is basically new.
2. Versatile Clothes
Argentina is so diverse that you need to pack clothes that can easily be repurposed. Buenos Aires is stylish and European, but in Patagonia you'll be hiking in the Andes.
2. Download the Apps
In the age of the smart phone, it's a good idea to download the apps you'll need before you leave. Here is a list of the best apps to use in Argentina.
Also, since you'll need these apps I recommend getting a phone plan. It can be hard to activate a SIM card in Argentina without a local DNI, so save the hassle by getting this e-SIM plan before travel. It's very cheap and you'll have data the second you land without wasting any precious travel time.
If you do only one thing to prep your tech for your trip, I recommend it being download a map.
Download the Google Map for Buenos Aires and any other towns/regions you'll be visiting.
This is particularly important if you'll be renting a car and going on a road trip.
You want a downloaded map to avoid getting stranded with no cell service.
3. Camera & Memory Cards
Argentina is gorgeous and you're going to want to document your trip!
If you're passionate about photography, i recommend investing in a proper DSLR. No smart phone camera will ever compete with the quality of a real camera.
Here's a post listing all of the camera gear I use for my trips (and the photos you see on this blog).
For a professional quality compact camera option: Of course, there are times I'd rather not carry my heavy DSLR.
For those trips, I bring this Canon G7X PowerShot. It takes professional quality photos but fits in my pocket.
I use it for long hikes and in city's where I'd prefer to be discreet.
Bring Multiple Memory Cards. You NEVER want to run out of space, I use these SanDisk Extreme cards (they're fast and high quality).
Also, you can use a new card for each destination.
This way, you don't have all of your Patagonia photos on you if you (knock on wood) get robbed in Buenos Aires.
Those photos can be on a separate card, safe in your hotel.
This has not happened to me yet but it is always better to be safe than sorry!
4. A Universal Adaptor
There are two kinds of outlets here in Argentina. One is the same as in Europe (two round prongs) and the other is the same as in Australia (2 angled flat prongs, sometimes with and sometimes without a third prong below, like in the US).
Since you don't know which of these two will be in your hotel or Airbnb, play it safe and bring this universal adaptor that can be used anywhere (and on all your future travels!).
It also has space to plug in 4 USB cables, which is priceless these days.
What to Pack for a Trip to Argentina by Destination
I know I sound like a broken record but I'll say it again, Argentina is huge.
What you decide to pack for a trip to Argentina depends on where you're going.
So I'm going to break these Argentina packing list tips down by region.
Buenos Aires Packing List Tips
Buenos Aires is the most important city in Argentina. And as the gateway into the country it is highly likely you'll be spending some time here.
While casual, Buenos Aires is a stylish city.
You don't need to suffer in high heels, but do try to pack something other than your hiking boots to wear in the city.
Buenos Aires by Season:
What to Pack for Buenos Aires
Pack comfortable walking shoes. In warmer months in Buenos Aires, I live in these soft footbed Birkenstocks (they're like walking in stylish pillows).
In winter, comfortable boots or a more stylish sneaker-like Converse or these Allbirds are great options.
Pack one nice outfit. If you go out for a nice dinner or a tango show you'll want to dress nice.
Men can get away with a clean pair of jeans and a nice shirt (no coat or tie needed) and women will be fine in a nice blouse or dress.
Note: Here are the top 10 tango shows in BA.
Use a purse/bag with a zipper. Buenos Aires is as safe as any big city in the world, but every big city in the world has pick pockets. Use a bag that zips shut.
Thank goodness 80's fanny packs are back in style (and all the rage in Buenos Aires). 
These nylon fanny packs are ideal for travel because they zip shut and also fold into nothing. Easily pack it away when you don't need it.
Read More about Buenos Aires: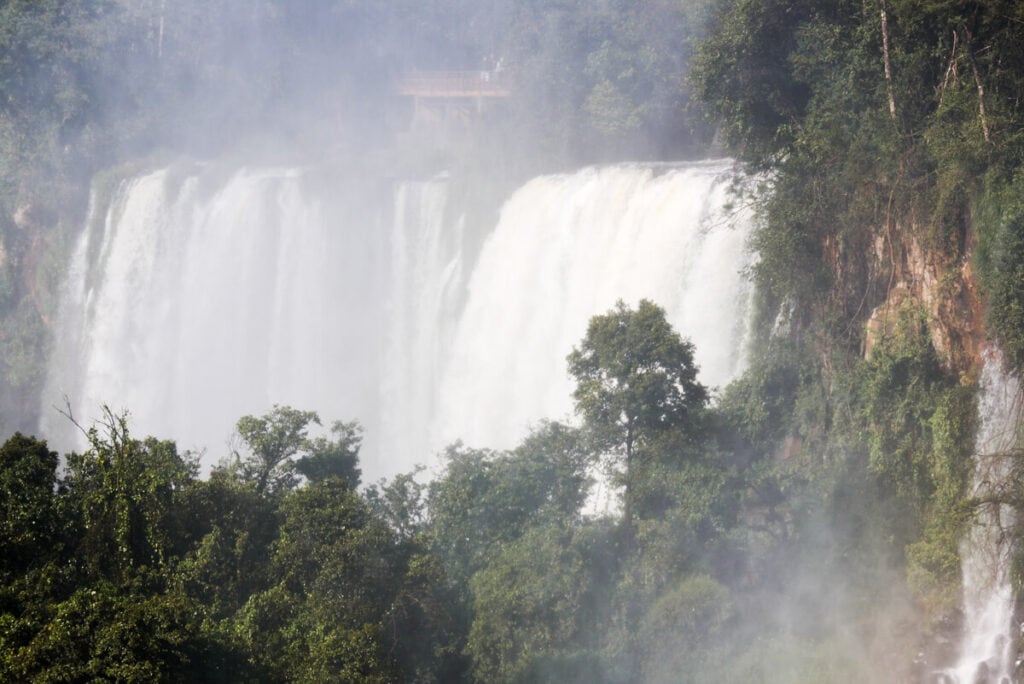 Iguazu Packing List Tips
Iguazu is one of the most popular destinations in Argentina. It is located in the northeastern corner of the country in Argentina's rainforest.
Iguazu Climate & Seasons
The weather is warm in Iguazu year-round.
It is hot and muggier in the summer.
In the winter you may need a light jacket, especially at night.
What to Pack For Iguazu
Read More About Iguazu: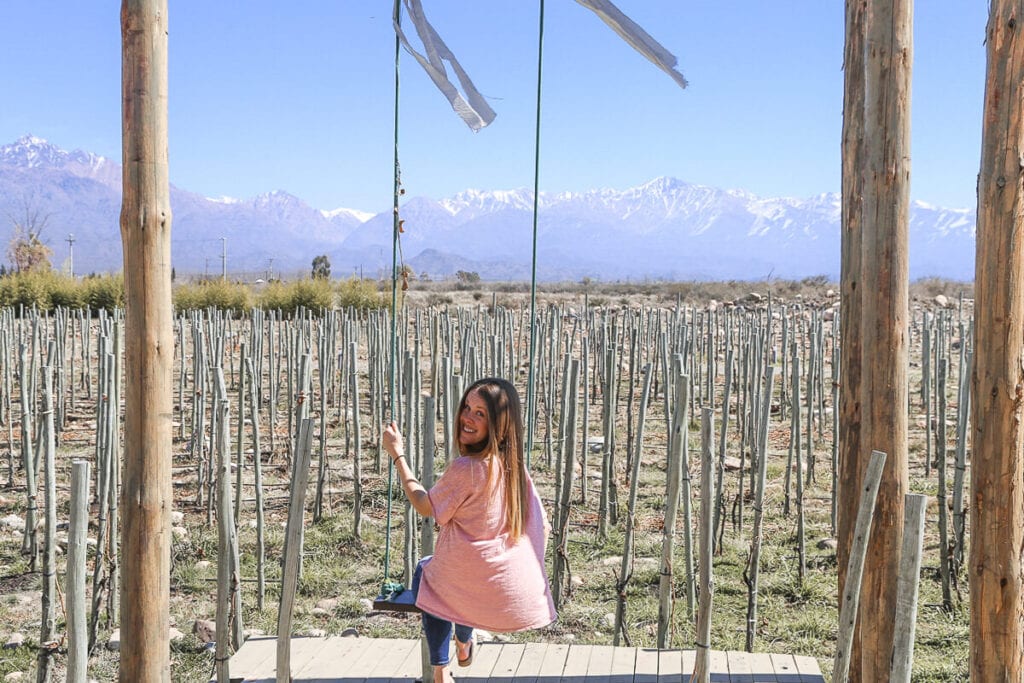 Mendoza Packing List Tips
Argentina's wine country in Mendoza is wildly popular and my personal happy place.
Don't stress too much on what to pack for Mendoza. It's a relaxed, easy going destination.
PRO-TIP: You can fly with a case of wine (6 bottles) as your carry-on luggage on domestic flights within Argentina. If you want to pick up a few bottles in Mendoza to drink at your next destination then load up! There's no need to check it.
Mendoza Climate & Seasons
Mendoza is a year-round destination. The weather is nearly always sunny, crisp, and clear.
Summers are hot (but dry) and winter will be cold (likely with snow but sun).
You'll have the best weather in spring or fall but you really can't go wrong in Mendoza.
What to Pack For Mendoza
Read Mor About Mendoza: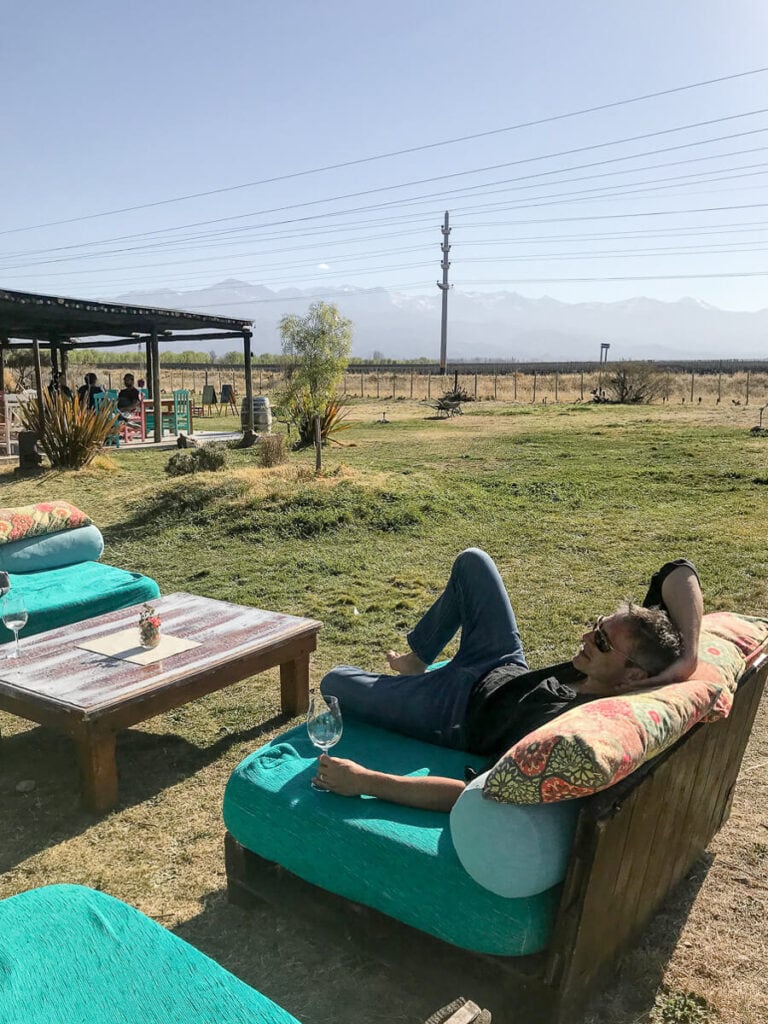 Patagonia Packing List Tips
Patagonia is the reason most people visit Argentina.
If you love the outdoors, the mountains, hiking, or even just fresh air and beautiful views, you will love Argentina's south.
And if your itinerary includes Patagonia you need to be strategic with your packing.
Patagonia Climate & Seasons
Summer is the best time to visit Patagonia. Days will be warm and sunny, but nights and early mornings will still be chilly.
Always pack layers, even in the summer.
The further south you go, the colder it will get.
You can get away with shorts in the summer in Bariloche but in Ushuaia you will need jeans and a coat even in January.
The shoulder seasons (think March & April or October through early December) are the best times to visit to avoid crowds and still have warmer weather.
Temperatures drop at night so bring a warm coat, scarf, and boots. And light layers for the afternoon.
Winter will be cold and snowing. If you're going to Patagonia in winter I imagine you're skiing so pack the warmest clothes you have!
Also, WIND! Patagonia is very windy so pack a nice windbreaker and scarf to keep warm.
Rental Gear
In some cities you can rent the gear you'll need. This is an option to consider if you forgot something or don't want to pack something you'll only need for a couple of days.
For example, if you want to go skiing in Bariloche you can rent all of your gear there for a very reasonable price.
PRO-TIP: Ushuaia is tax-free. If you forgot something and need to buy some outdoor gear, this will be the most affordable place for that.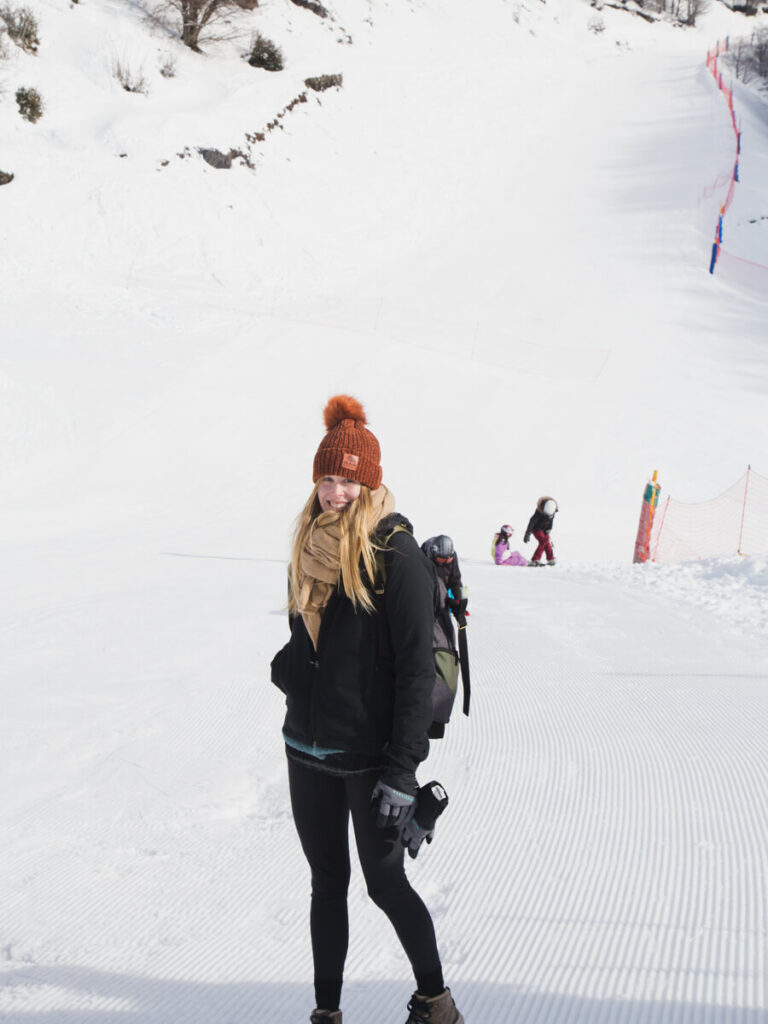 what To Pack for Patagonia
READ MORE ABOUT PATAGONIA:
Argentina Packing List
I hope this post helped you organize your trip to Argentina.
If you have any questions at all about what to bring or leave behind, let me know in the comments! Also let me know if there's something you packed that made your trip better!
Argentina Travel Resources