Bariloche's 7 Lakes Drive is one of the most popular scenic drives in Argentina, but I'm here to make a strong argument for an alternative route.
Why is the Circuito Grande in Bariloche worth your consideration?
Well, you'll drive less kilometers while seeing both the Patagonian steppe and the lush forests and lakes of the lake district.
Being able to see two completely different landscapes in one fell swoop is hard to beat.
You'll get a full picture of what Patagonia is truly like as the steppe desert covers a lot more of Patagonia than cool lakes and forests of Bariloche.
This post is all about our experience on Bariloche's Circuito Grande with ideal pitstops and photo ops along the way.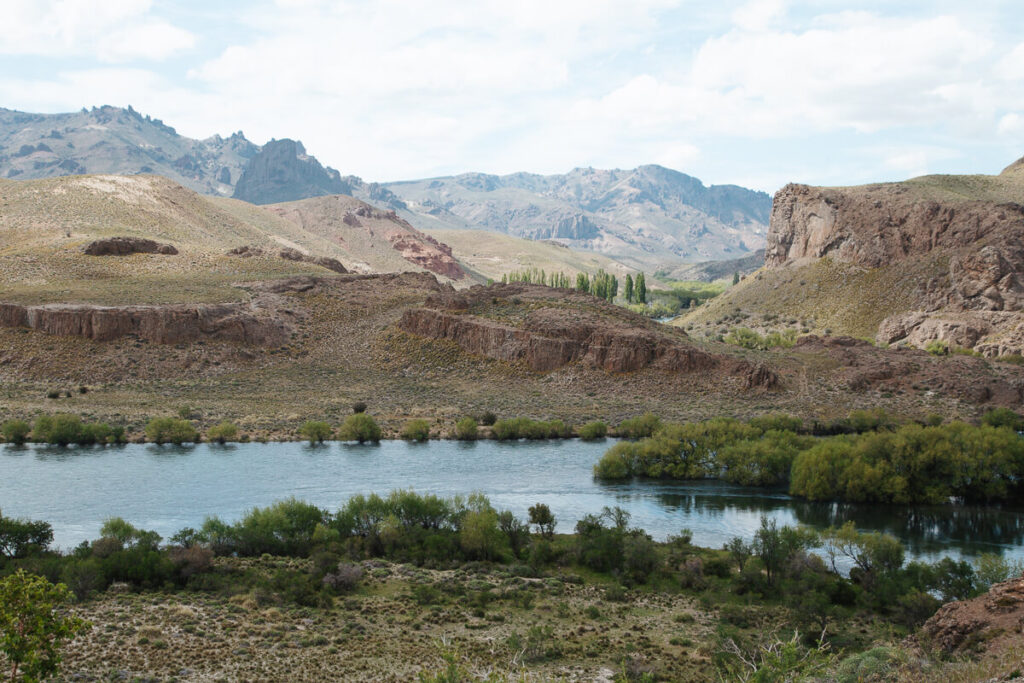 QUICK NOTE: This post contains affiliate links and Sol Salute may receive a commission for purchases made through these links, at no extra cost to you.
Circuito Grande Bariloche: Steppe, Rivers, and Lakes
We decided to do the Circuito Grande after I suggested to a local that I was going to try to do the 7 Lakes route with a baby and toddler in tow.
They rightfully balked at the idea of driving nearly 400 km in a single day with two littles screaming in the backseat.
Why do Circuito Grande instead?
At 240 km it's still a lot of driving but it significantly less than 400.
Also, it's a circuit rather than a there and back drive.
You'll see new scenery with every turn.
This drive will take the entire day. Start as early as possible to get the most out of your day.
Bring a picnic, water and plenty of snacks to enjoy along the way.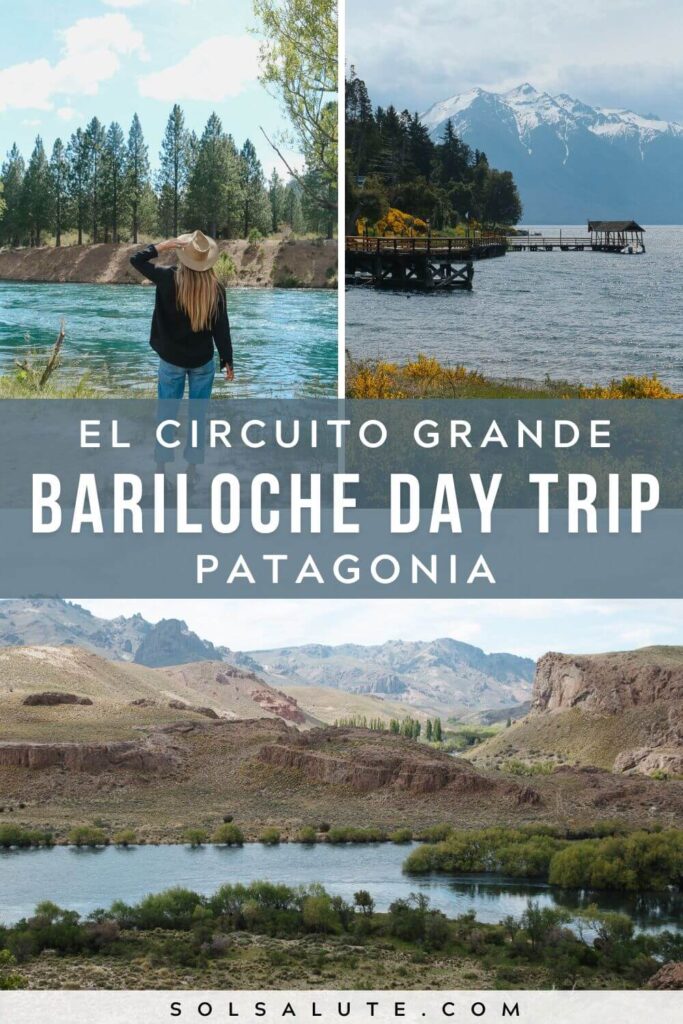 Drive Yourself or Take a tour?
This is the sort of thing that is infinitely better on your own with a car than with a tour.
You'll have the freedom to stop everywhere you want and trust me, you'll want to stop a lot.
Of course, guided tours like this one and are an excellent alternative if you can't or don't want to rent a car.
But if you can rent a car, do it.
Check rates here for Bariloche rental cars.
You'll be able to stop for picnics on the river alone, far from the hoards. You'll get all the time you want in Villa Traful and at the lakes on Ruta 40.
In other words, you'll be glad you did it.
Circuito Grande: The Route
The route starts by heading northwest out of Bariloche on Ruta Nacional 237.
The 237 is paved and in great condition.
You'll skirt along the Río Limay through the Valle Encantado until you reach the left turn for Ruta Provincial 65.
The 65 will take you along Río Traful for a bumpy unpaved 35 kilometers until you reach Villa Traful.
Stop here.
Villa Traful is a beautiful little town on the shore of the massive lake of the same name. Stay and enjoy before continuing along the 65 until you reach Ruta 40 and its blessed pavement.
The drive down the 40 until you reach Villa La Angostura is a beautiful portion of the Ruta de los 7 Lagos. You'll see Lago Correntoso, Lago Espejo Grande, and a few photo spots along the highway for Lago Nahuel Huapi just outside of VLA.
I recommend taking some time to see the quaint downtown of Villa La Angostura before continuing onwards to Bariloche to end the day.
Read all about Villa La Angostura to plan you time there.
Our Experience driving the Circuito Grande Bariloche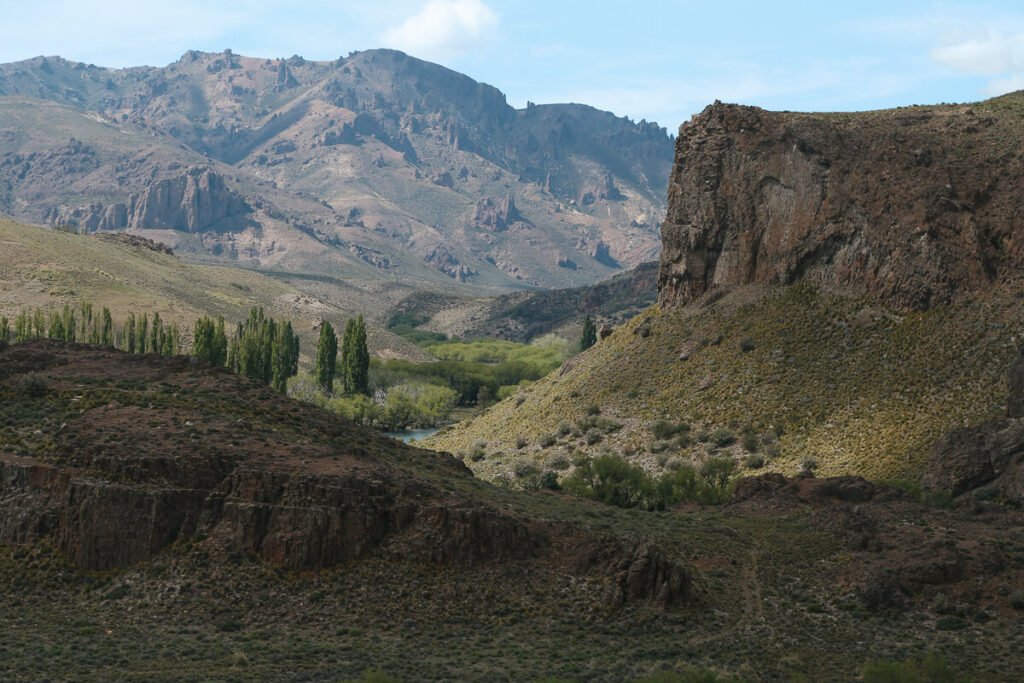 Ruta 237: Valle Encantado
We started our day at around 9 am because things with a toddler and a baby never start as efficiently as I like to delude myself into believing they will.
Pre-kids I'd have risen just before the sun and left after a quick breakfast.
Since the drive starts in the direction of Villa La Angostura and we were staying at Villa Labrador's cabins near the Circuito Chico we had to cross the entire city of Bariloche before even starting the drive.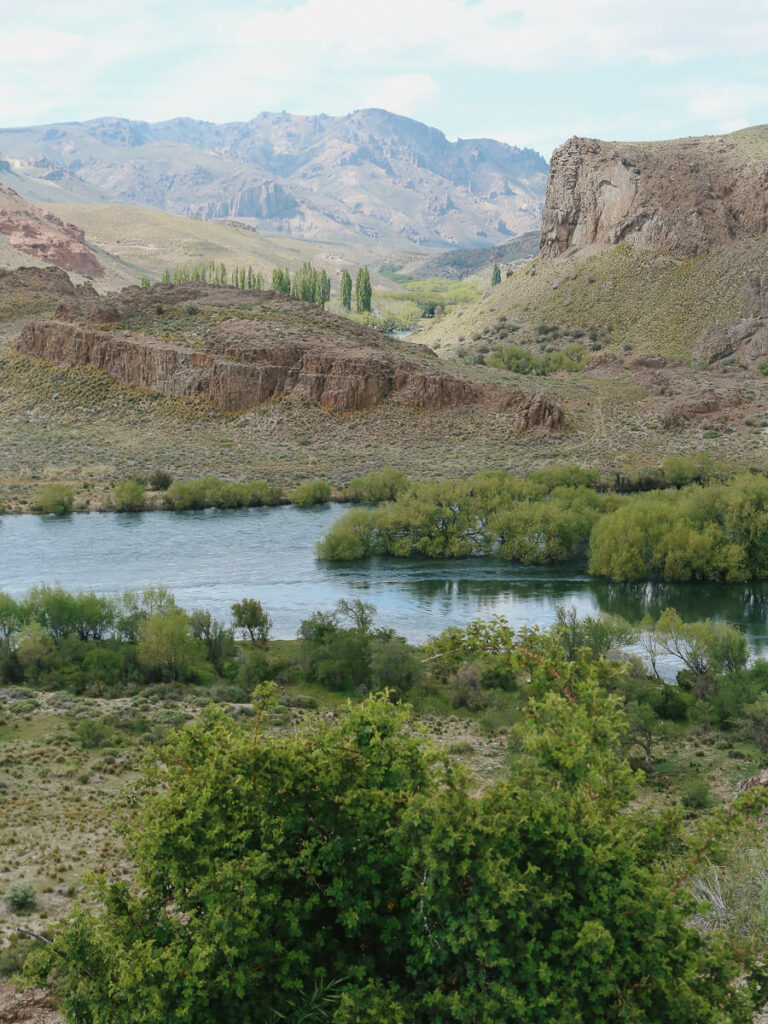 That alone took an extra 30-40 minutes thanks to traffic. Where you stay is something to keep in mind if you plan on exploring the 7 lakes, Villa La Angostura, and the Circuito Grande.
Once we were past Bariloche and neighboring Dina Huapi and cruising through Valle Encantado it didn't take long before we were oohing and ahhing over the views.
Shortly after entering the valley we passed a viewpoint that I cannot find on the map to mark but it's impossible to miss.
After stopping for photos we drove along slowly, eventually finding a spot to pull over for a picnic by the river.
We ate sandwiches. My baby napped. My toddler threw rocks in the river.
Best of all, we had the spot completely to ourselves.
After lunch we stopped again only once at the mirador/viewpoint for the Dedo de Dios rock formation.
That viewpoint IS on the map (and marked on the embedded map earlier in this post) but honestly, I don't know which formation was THE finger of God. There were a lot that could be fingers, oddly.
Does it matter?
Not particularly, the entire view is worth the stop.
Ruta 65: Villa Traful
With the turn onto Ruta Provincial 65 we said goodbye to the smooth pavement and rattled along the rocks and dirt.
The same thing happened to me that happens on every unpaved "ripio" road in Argentina.
The first thirty minutes I repeatedly utter things like "well this really isn't that bad!" until eventually I get a headache and am 100% over it.
Luckily, picturesque Villa Traful is the perfect rest stop at the halfway point.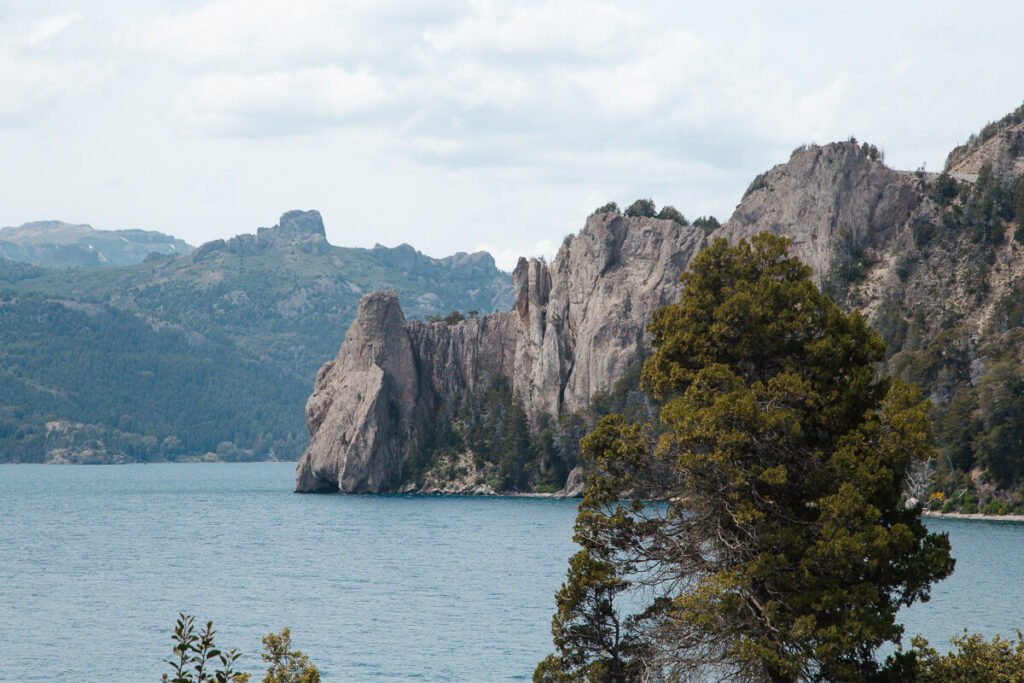 Coming in this direction, you'll first reach the Ventisquero viewpoint, which was a wooden platform perched precariously on the top of a massive boulder.
Being named after the intense wind that whips around this hilltop/boulder top deck it's not wholly surprising that when we came back to check it out this time it was completely torn apart.
Whether a storm damaged it or it's being rebuilt, as of late 2022 the decks are inaccessible but you CAN still appreciate the view by parking your car here and taking a quick peek.
Just hold on to your hats.
In Villa Traful, I like Ñancu Lahuen for lunch and delicious chocolates.
We made it and the nearby playground our first stop before taking the chocolate to the postcard perfect pier for a snack.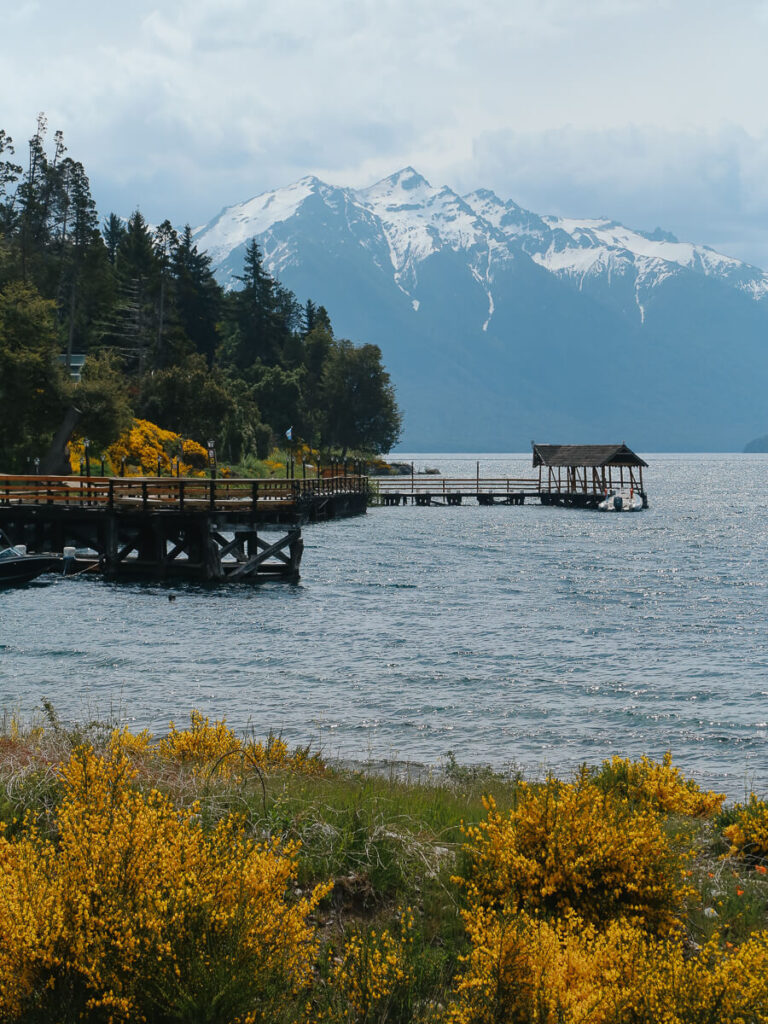 Ruta 40: Villa La Angostura to Bariloche
After Villa Traful there is about another 30 minutes or so on the ripio/dirt Ruta 65 before you reach Ruta 40.
They've been doing a lot of improvements on this road since I first drove it in 2020.
It's still unpaved and you'll still be sick of that fact by the time you're done with it but it's wider and smoother now.
Once you hit Ruta 40 and that sweet sweet pavement you'll hang a left and drive the final portion of the Ruta de los 7 Lagos.
The scenery is drastically different here than the steppe you saw in the morning.
It is a lush deep green with forest thick on either side of the highway.
The first lake you'll see is Lago Correntoso, pull over at the mirador/viewpoint for photos and to stretch your legs.
Just around the bend from here is a turn off for Lago Espejo Chico.
We didn't have time this drive but we did it when we did the 7 Lakes Drive and it is very much worth the short detour. Don't miss it if you can help it.
From here until Villa La Angostura you'll border lagos and lagunas.
Stop at any and all of the designated photo stops that you fancy before reaching VLA.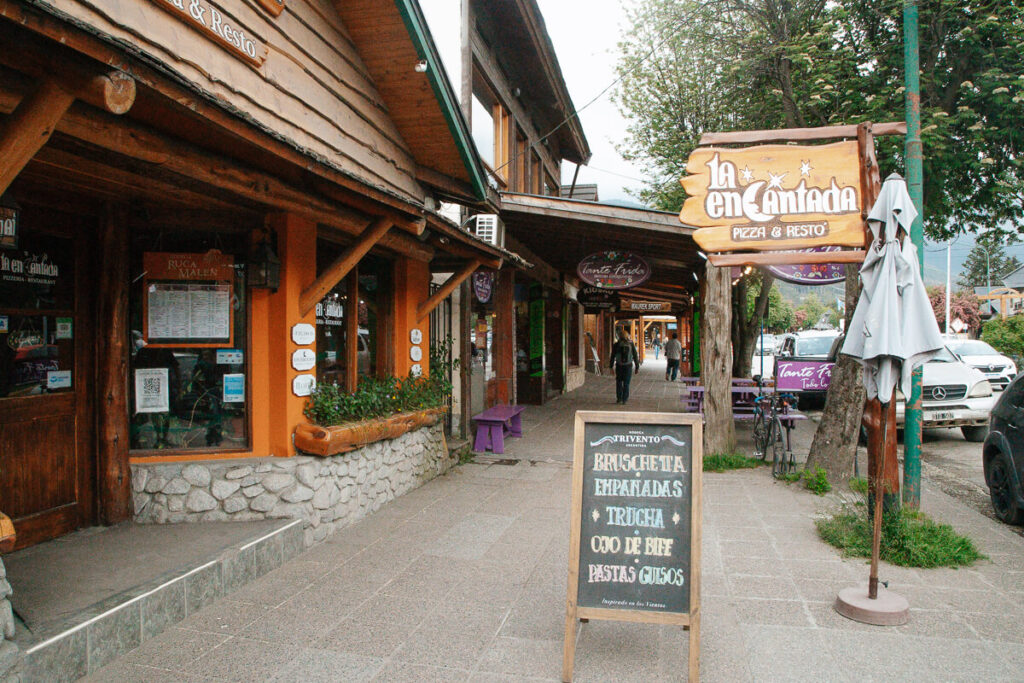 I recommend spending some time downtown here, compared to big city Bariloche this downtown is very quaint and adorable.
After you'd had your fill, make your way back to Bariloche to end the day.
It's about an hour and fifteen minutes, which is longer than I expected.
For some reason I reached Villa La Angostura and felt like, well that was a good day. We are done now!
You're not.
But at least that final home stretch is a beautiful one, bordering Lago Nahuel Huapi for the bulk of the drive.
Read More About Bariloche
Argentina Travel Resources