Patagonia is a hiker's dream destination.
People fly from all over the world to hike in Bariloche and explore the best day hikes in El Chalten, but surprisingly not many people travel to Ushuaia to hike.
Many spend just a day hiking one of the more popular Ushuaia hikes and move on, but after a little research into trekking Ushuaia I was obsessed.
I booked a 9 day trip with the goal of conquering all of the best day hikes in Ushuaia.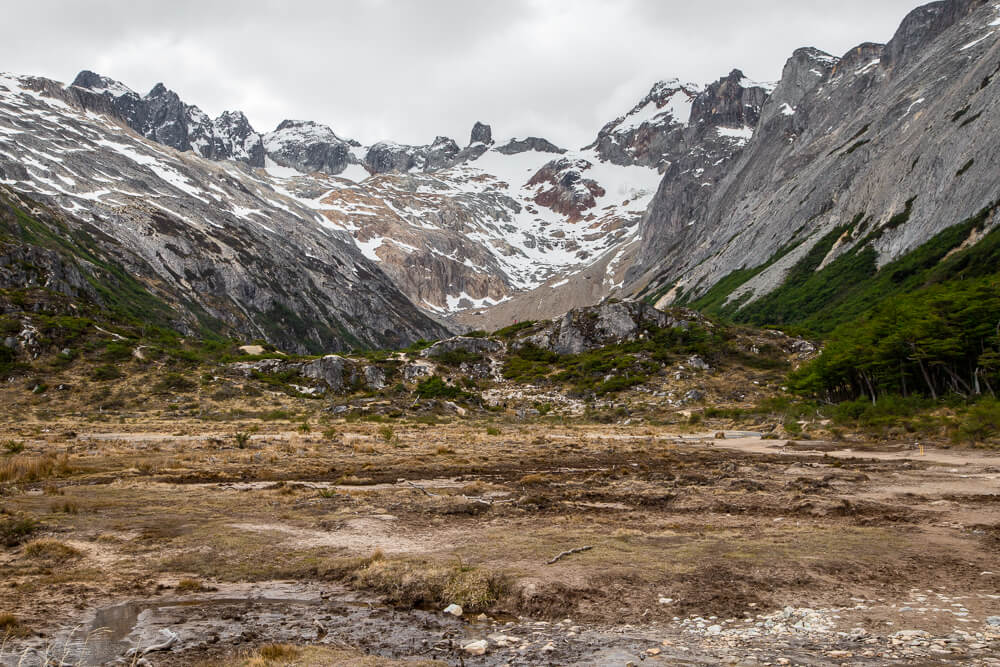 QUICK NOTE: This post contains affiliate links and Sol Salute may receive a commission for purchases made through these links, at no extra cost to you.
The Best Day Hikes in Ushuaia: Trekking at the End of the World
In my opinion, trekking in Ushuaia is underrated. Many people visit for 3-4 days and move on, but if you love hiking and the outdoors, you could easily spend a week or longer here.
Tierra del Fuego National Park is just 15 minutes from downtown Ushuaia and houses some stunning trails.
This post will help you plan your itinerary for hiking in Ushuaia.
Important Tips for Hiking in Ushuaia
The weather in Tierra del Fuego can be very unpredictable. Check the forecast before hitting the trail and pack layers, just in case.
Ushuaia, like all of Patagonia, is very windy. Pack a good compact windbreaker like this.
Tierra del Fuego is very muddy, as a rule. It's recommended to wear proper, waterproof hiking boots (I have these Danner boots) [REI Boot Guide] and use poles on all the Ushuaia day hikes.
For hiking poles you don't need to invest much, we packed this cheap set from Amazon (or read REI's guide to pick a better pair). They saved our knees on rocky, muddy trails!
Ushuaia Day Hikes Outside the National Park
Some of the most beautiful day hikes in Ushuaia aren't in the national park.
Here's a list of those hikes to help you plan your hikes.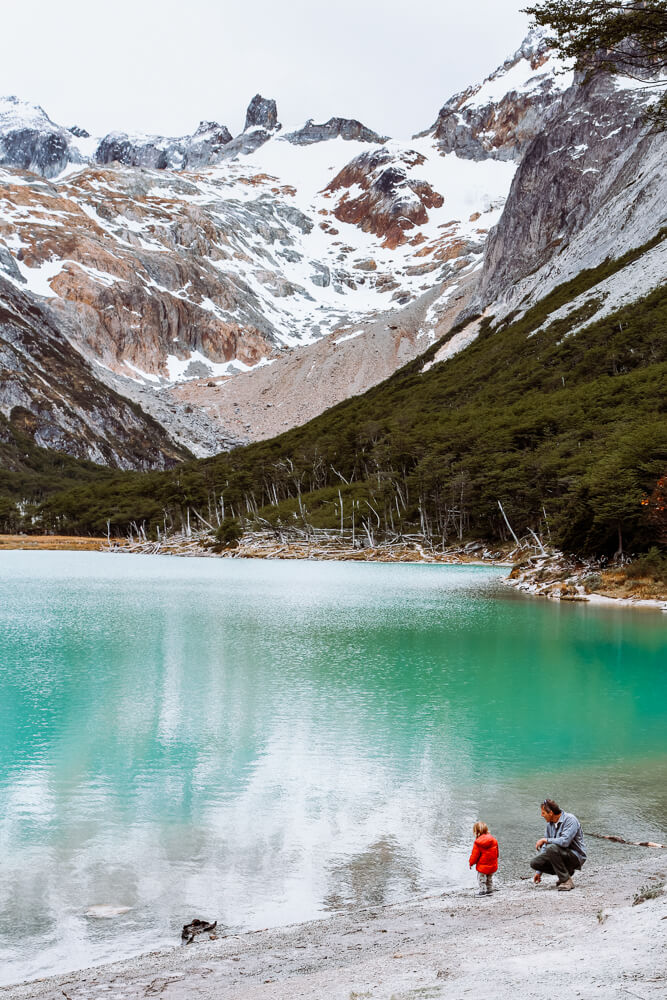 Laguna Esmeralda
Difficulty: Moderate
Length: 9 kilometers, there and back
Time Required: 4-5 hours
Laguna Esmeralda is the most popular of the day hikes in Ushuaia. It's moderate in difficulty but I found it to be relatively easy.
The trailhead is on Ruta 3 and 18 kilometers outside of Ushuaia.
Like all of the hikes in Ushuaia, this trail can get very muddy and it does include some peat bogs. Try to do this hike after a day or two of no rain, if possible (that's not always possible in TDF but one can dream).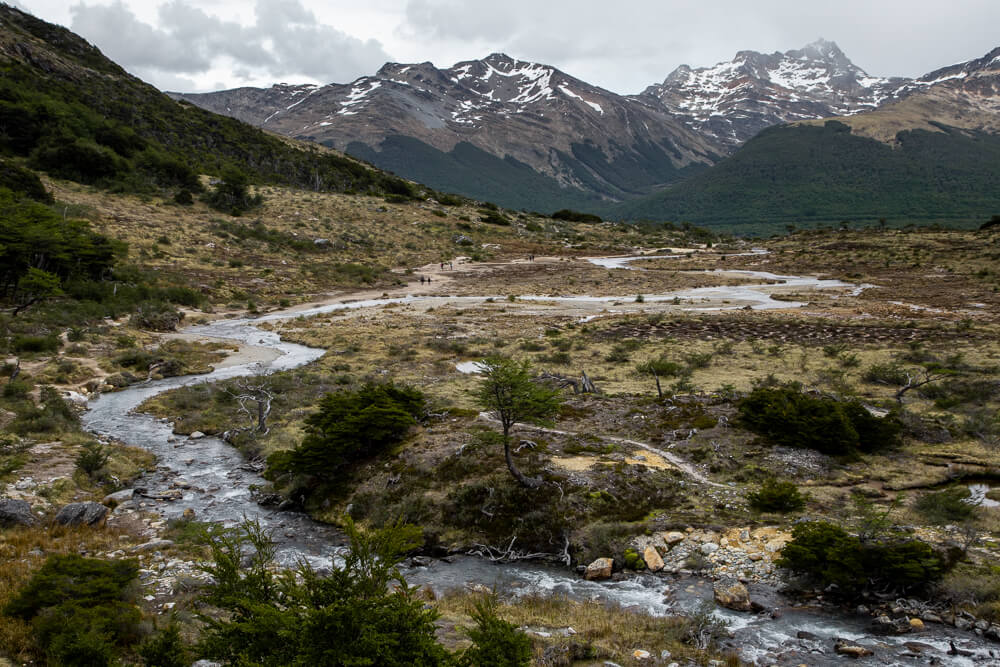 The beginning of the trail is relatively easy and leads through a lenga forest. When the forest ends you'll be in a clearing with a wooden pathway leading you to and over a river. I found the views here to be so, so beautiful!
After the river you'll go through another forest and this was the only difficult portion of the hike for me. There was more steep inclines as you ascend up from the river, but it wasn't bad overall.
When you exit the second forest and reach the river yet again you're in the home stretch. The views get better and better as you climb towards the laguna (still hidden from sight until the final moment).
I had read about this part of the hike being difficult as it's over a peat bog but it wasn't bad when we were there. Leaving the laguna I overheard a guide comment that they had made the trail a bit longer to hug the river's edge instead, so it may take a few minutes longer but you'll be a little less muddy!
Once you scurry up over the final rocks the turquoise lagoon appears out of nowhere and it is breathtaking!
The lagoon owes its color to the sediments from the Ojo del Albino glacier.
Rest for a while and enjoy the view with a picnic before turning around to go back. We spent ages here and had to pull ourselves away!
POST HIKE REWARD: Depending on the time of day, there is usually a street food vendor selling choripan and steak sandwiches and empanadas at the trailhead. It's the perfect reward after the hike! That choripan saved me from being severely hangry.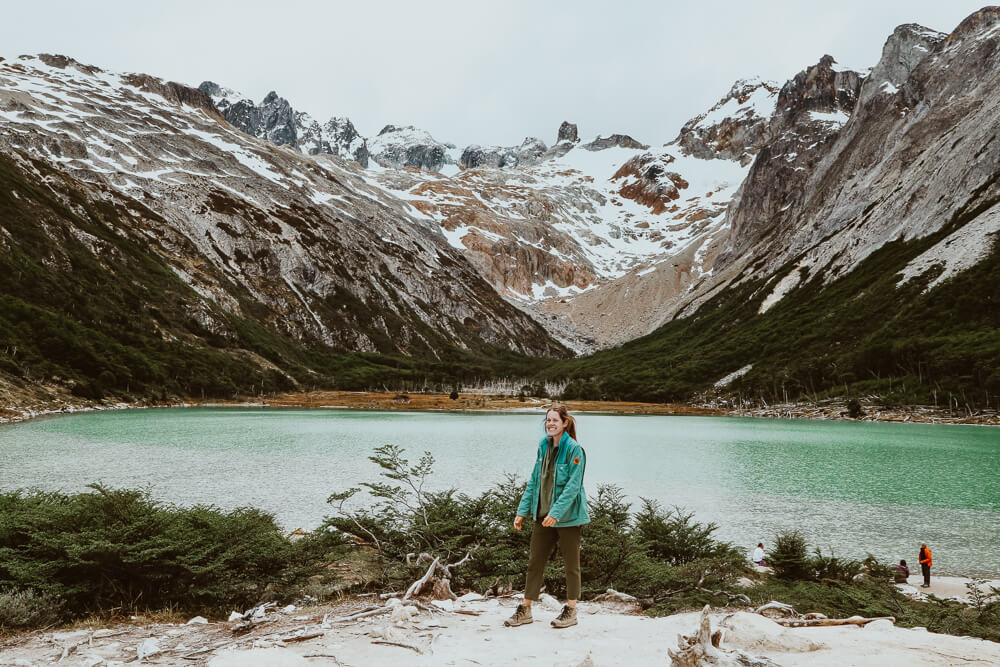 Ojo del Albino Glacier
Difficulty: Strenuous
Length: 13 miles (21 km), there and back
Time Required: 10 hours
This hike is extremely strenuous and you'll need a hire a guide, like this.
It is 21 kilometers long with 800 meters in elevation gain.
The Ojo del Albino Glacier is the glacier above Laguna Esmeralda, so the hike begins with that trail and continues to ascend the mountain until you reach the glacier.
If the conditions are right you may be able to walk on the glacier.
Click here to reserve you Ojo del Albino excursion. The package includes lunch, use of crampons and boots.
Read Next: Where to Eat King Crab in Ushuaia (+ How to Catch Your Own!)
Laguna Turquesa
Difficulty: Moderate
Length: 3 km, there and back
Time Required: 3 hours
Laguna Turquesa is a great alternative (or addition) to Laguna Esmeralda.
The trailhead is just a few hundred meters before Laguna Esmerelda's on Ruta 3. You'll see a sign and a tiny parking lot.
Unlike Laguna Esmeralda's large parking lot, parking for this trailhead is more of an enlarged shoulder so you need to look for it.
Laguna Turquesa's trail follows an old axmen's trail so you'll see cut trees recovering.
The hike is very short in comparison to Laguna Esmeralda but it is very steep for the entire way there. If it's been raining it can be extremely muddy and hard to hike up so I recommend wearing proper footwear and using hiking poles.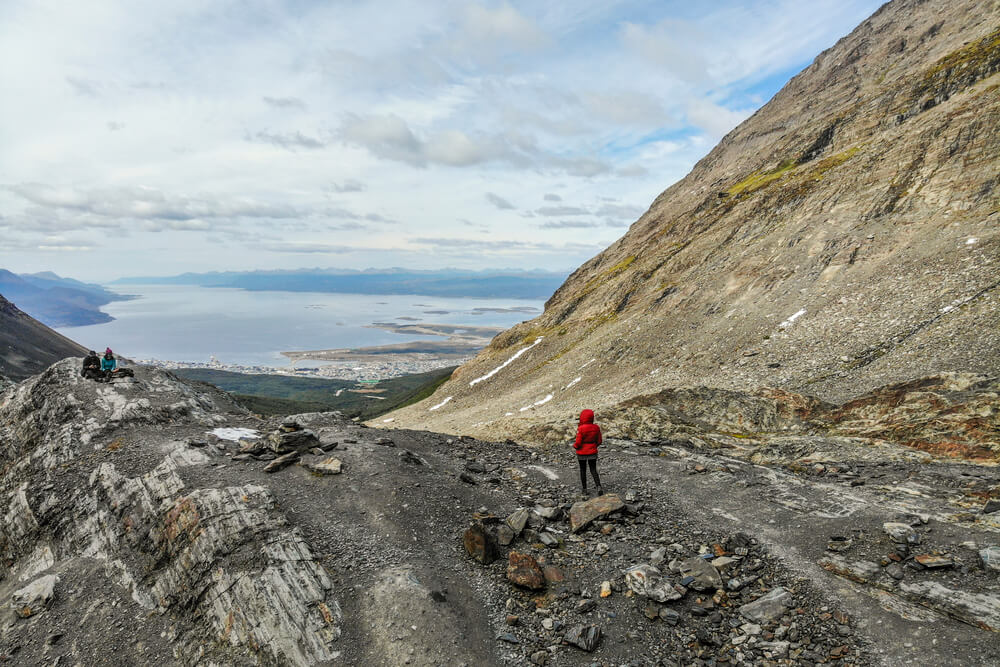 Glaciar Martial
Difficulty: Moderate
Length: 6 km (3.7 miles), there and back
Time Required: 3-4 hours
The Martial Glacier hike is 7 kilometers outside of downtown Ushuaia.
A lot of people suggest walking to the trailhead if you're on a tight budget, but the road to reach the trailhead is 7 kilometers of straight uphill. I, personally, would not want to walk it. If you don't have a rental car I'd take a taxi.
The trail itself is short but very steep. You will be going uphill the entire way to the glacier.
Thankfully, all of that effort is not in vain as this hike offers an incredible panoramic view of Ushuaia and The Beagle Channel.
Keep in mind that being so high up and exposed, this might not be the best trail for extremely windy days (of which there are plenty).
PRO TIP: There are two great places to eat at the trailhead, so save time to reward yourself post hike. Refugio de Montaña is more rustic and is directly by the trailhead. They have incredible chocolate cake! Across the street, tucked away in the trees is La Cabaña Casa de Té. It is very cozy and cute with delicious cakes and gooey medialunas.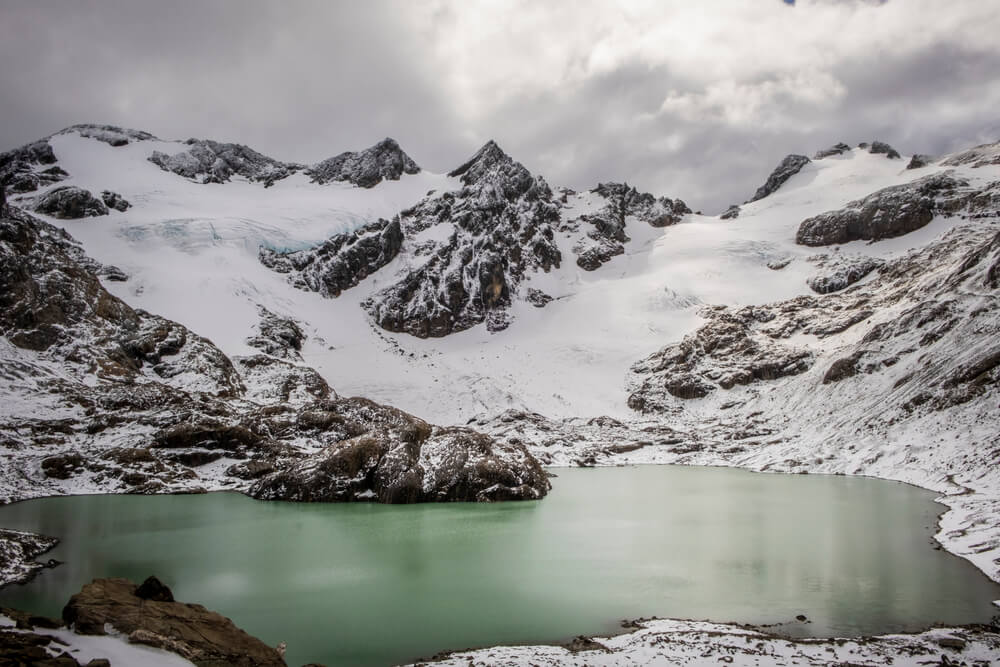 Glaciar Vinciguerra & Laguna de los Tempanos
Difficulty: Strenuous, Guided
Length: 13 km, there and back
Time Required: 8 hours
This is the main Ushuaia trek I wanted to do and we weren't able to do it (basically guaranteeing that I will return to Ushuaia as soon as possible).
It is a strenuous hike and requires a guide, check this option out if interested.
The hike starts in the Andorra Valley and starts across a stretch of peat before reaching a forest. After the forest you'll be exposed and it can be very cold so pack plenty of layers to stay warm.
First, you'll reach the Laguna de los Tempanos (Lagoon of the Icebergs) and the group will continue hiking until you reach the glacier and its famous ice caves.
If conditions are right you'll be able to explore the ice caves for a once in a lifetime experience!
Click here for more information and to reserve your Vinciguerra hike.
Ushuaia Hikes in Tierra del Fuego National Park
If you love hiking then you're in luck, the best way to see Tierra del Fuego National Park is on foot.
Here are the best Ushuaia hikes in the national park.
Read Next: A Logistical Guide to Tierra del Fuego National Park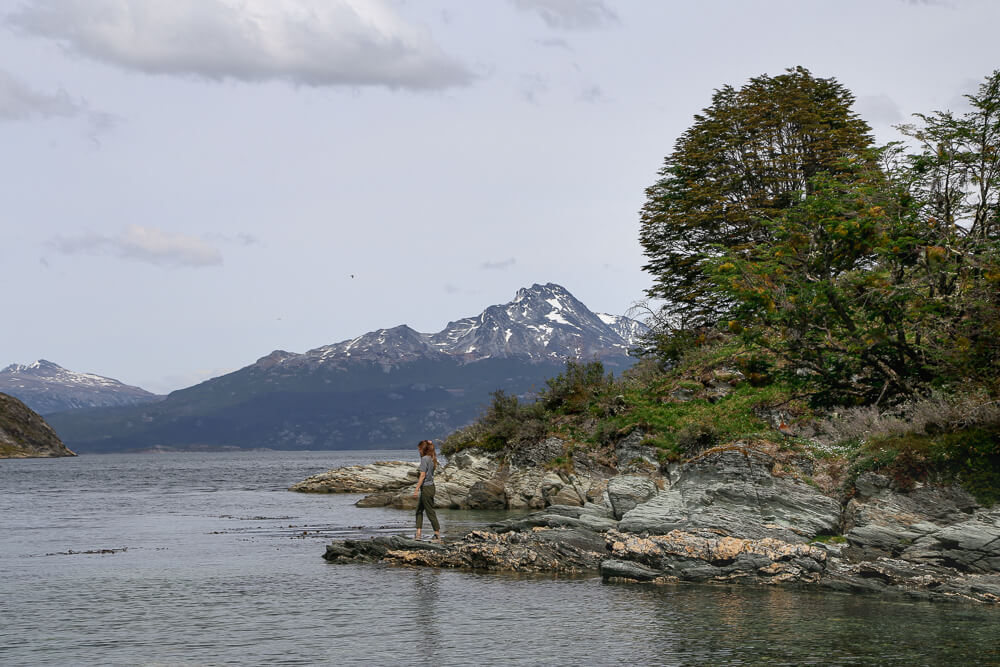 Senda Costera Trail
Difficulty: Moderate
Length: 8 kilometers, one way
Time Required: 2-3 hours
This was my favorite trail in the national park and I had that in common with just about everyone else who visited the park.
The Costera Trail is relatively easy, bordering the coastline of the Beagle Channel with stunning views of the mountains at every turn.
There isn't really any elevation gain since this trail borders the coastline but there are some short steep sections here and there and it can get muddy (just like every trail in Tierra del Fuego).
We didn't hike this entire trail since we had our toddler and a car in the main parking lot. We hiked half-way then turned around and went back the way we came.
If you're in a similar situation this was a great alternative to hiking across the park.
If you hike through to then end you'll exit the forest onto the main road.
You'll be by a bus stop (check with visitor information when you enter the park on the bus schedule) and the visitor center/restaurant.
FUN TIP: At the trailhead you'll see the most southernmost post office in the Americas (the world?). Buy a postcard and send it off to your family, stamped from the end of the world! They'll also stamp your passport with a fun souvenir stamp so if you want to do that, don't forget your passport. Just make sure you have PLENTY of pages left because the stamp takes up nearly an entire page.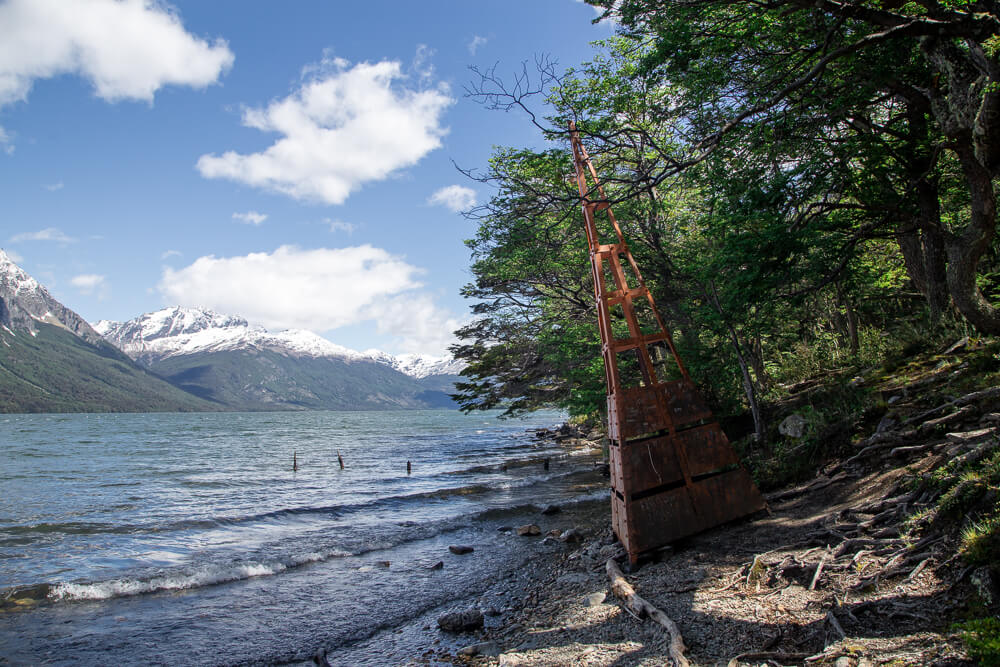 Sendero Hito XXIV
Difficulty: Moderate
Length: 7 kilometers, there and back
Time Required: 3 hours
The Hito XXIV trail is another trail that hugs a coastline, this time the shores of Lago Acigami (also known as Lago Roca).
The trail starts at the parking lot for the lake and ends at the border to Chile.
Like the Costera Trail, the difficulty level is technically moderate but overall it's very easy. There isn't any elevation gain and it's a great trail for families and all ages.
I managed to hike the entire trail with my toddler on my back and felt like a champ after!
Most of this hike is in the forest so it's a great option for hiking on windy or rainy days since you'll be more protected from the elements than on trails like Costera.
TIP: There are benches on the beach by the parking lot. Relax here after your hike as a reward. The views are incredible and you earned it!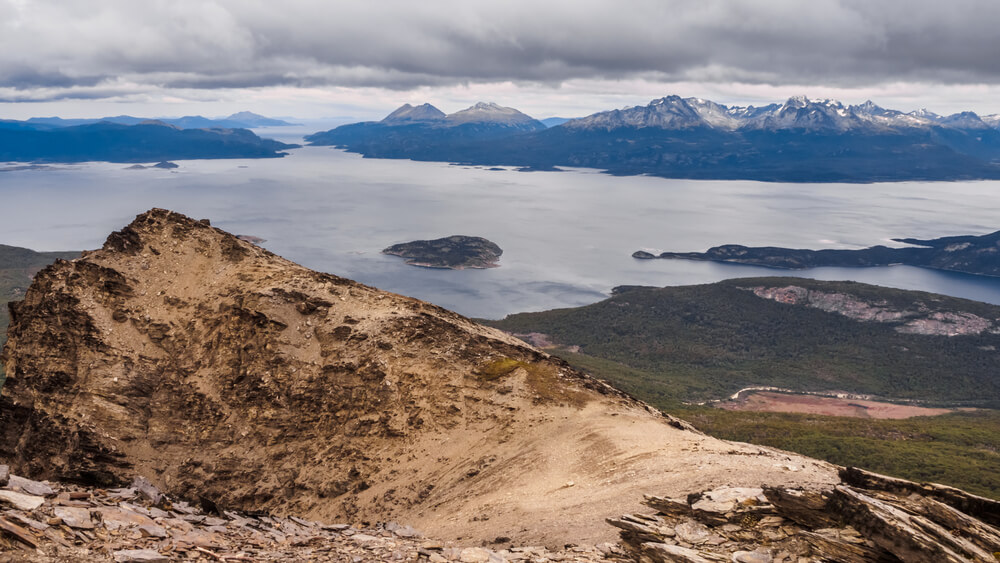 Cerro Guanaco
Difficulty: Strenuous
Length: 8 kilometers, there and back
Time Required: 4 hours
Cerro Guanaco is classified as strenuous because it is basically a steep, uphill climb for the entire ascent.
It can also be very muddy and portions of the hike traverse peat bogs. Definitely don't attempt this hike without proper, waterproof hiking boots and poles.
You are required to register with the visitor center before starting this trail.
The trailhead is next to the start of Hito XXIV, instead of bordering the lake it forks off immediately to ascend the mountain.
Once at the peak (of nearly 1,000 meters above sea level) you'll have panoramic views of the national park, the mountains, and the Beagle Channel.
Random but helpful tip: Yoga after long hikes is crucial for me! Read this list of the best travel yoga mats to find a tiny, foldable mat to bring your hiking travels.
Short Hikes in Lapataia
Ruta Nacional 3 is the road that leads from Ushuaia to the national park.
The highway ends at Lapataia Bay and is the end of the national park (at the end of the end of the world, one might say.
There are a number of short, easy hikes along Ruta 3 from the Alakush Visitor Center to Lapataia Bay.
These hikes range from half an hour to an hour and a half, all are officially classified as easy.
The views do not disappoint and offer a great effort/reward ratio for those that don't want to hike much but want to see the park or those that just finished a longer trail and want to chill.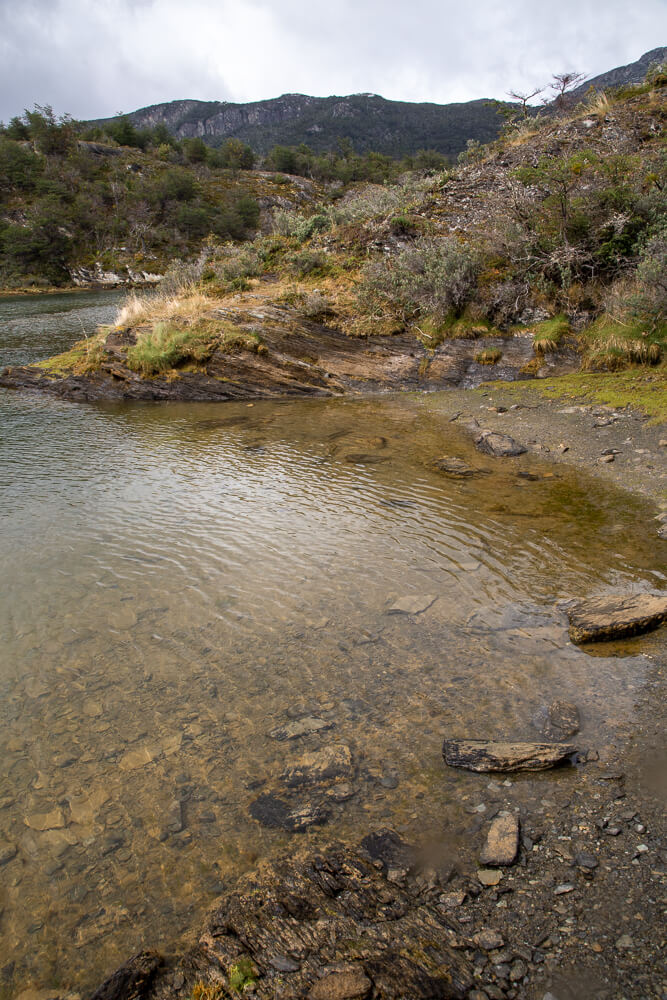 The Lapataia Bay Ushuaia Hikes
Here's a list of the 6 very short and easy trails in the Lapataia region.
Take the length of each with a grain of salt. I pulled these trail lengths from the park map but the signs nearly always said something different.
Sometimes the conversion from miles to km also makes no sense, so… which is right? In reality, they're all short and easy so it a few hundred meters here or there doesn't matter.
Paseo de la Isla | 0.4 miles/800 meters | This was one of my favorite hikes in the park. It was gorgeous!! The trail borders the Lapataia and Ovando rivers and the Cormoranes Archipiélago.
Paseo a la Laguna Negra | 0.6 miles/950 meters | An easy hike to a laguna in a peat bog, the lagoon's dark coloring comes from the peat.
Mirador Lapataia | 0.6 miles/950 meters | Good views of the bay and since it connects to Turbal it's a good way to reach Lapataia Bay on foot.
Paseo del Turbal | 1.2 miles/2 km | Easy walk across a peat bog, it connects to the Castorera trail.
Paseo de la Castorera | 0.2 miles/200 meters | This short walk is mostly on a boardwalk viewing the effects beavers have had on this ecosystem. There are information plaques about the invasive species (brought in from Canada) and how they're being controlled. Definitely worth doing.
Senda de la Baliza | A short hike at the Bahia Lapataia, you'll see the trailhead fork off from the main boardwalk, great views of the bay.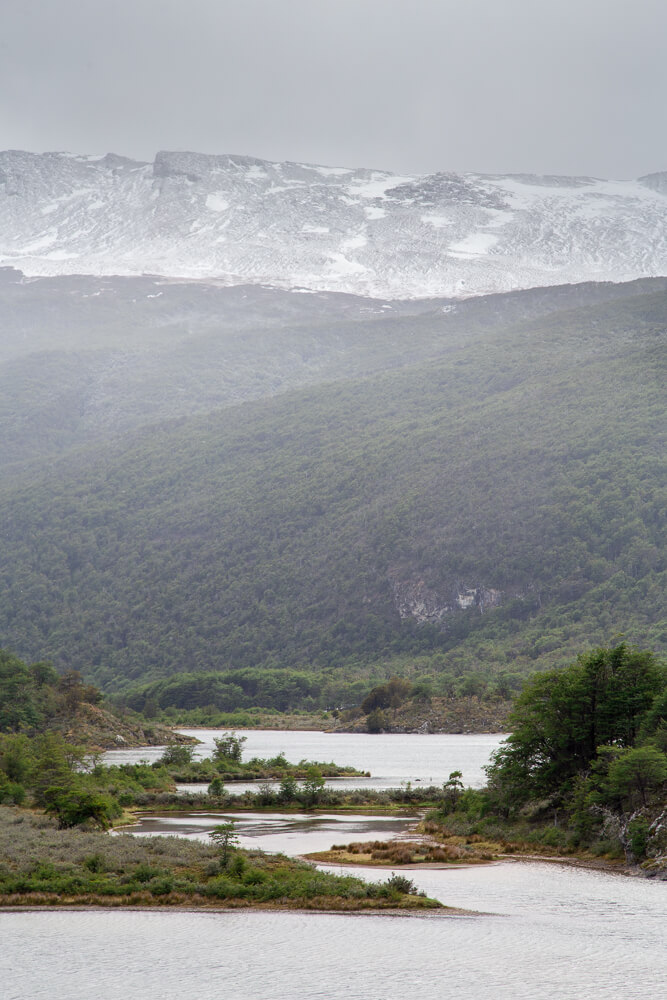 In Summary: Ushuaia Trekking & Beyond
Tierra del Fuego is a rugged, isolated corner of the world. It's unlike the rest of Patagonia and honestly, unlike anywhere else you'll ever see.
We loved exploring the many day hikes in Ushuaia and can't wait to return for more.
If you have any comments or questions, let me know in the comments! I always read and respond.
Keep Reading about Hiking & Patagonia: