Northern Patagonia has a string of mountain towns running along Ruta 40.
Each has its own specific beauty and charm.
I have strong opinions about all of them, and in reality, everyone has a favorite.
Of these, Bariloche is the biggest and it really is a powerhouse.
It has a ton to offer by way of dining, activities and tours.
But it has very much become a city.
It's grown a lot over the years and if you're looking for a cozy quaint mountain town sort of vibe, you might have a hard time finding it in Bariloche these days.
Enter Villa La Angostura, this smaller village is just one hour north of Bari and is still very heavy on the activities and beauty (if not more so, dare I admit it).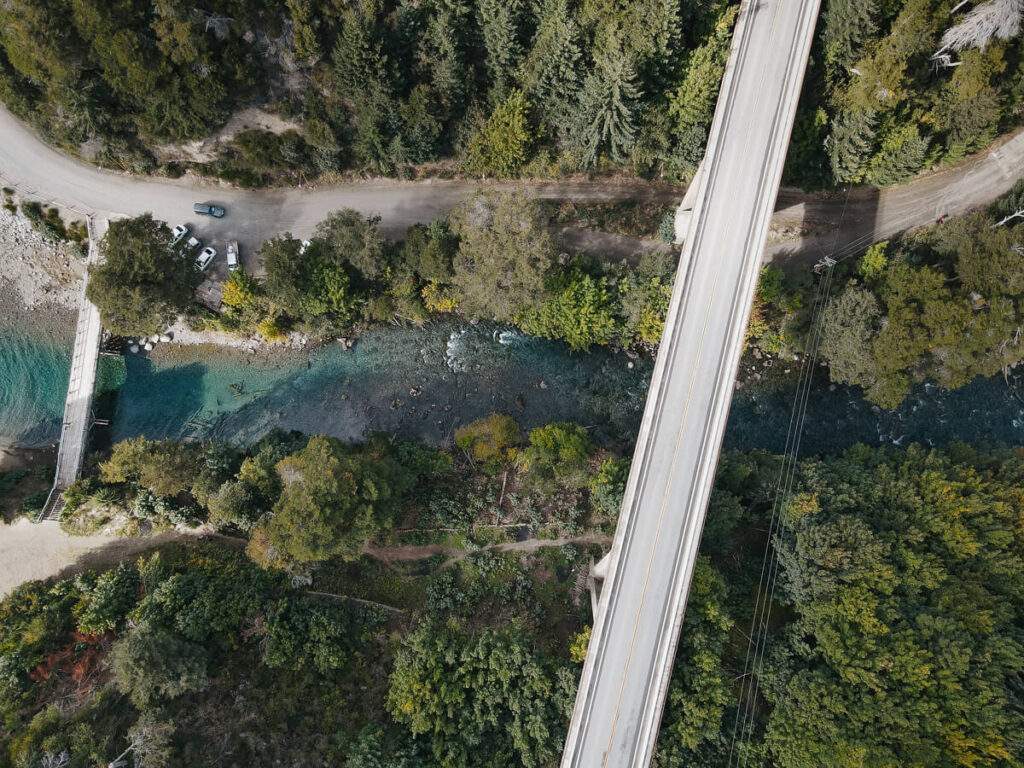 QUICK NOTE: This post contains affiliate links and Sol Salute may receive a commission for purchases made through these links, at no extra cost to you.
Visit Villa La Angostura: Why, What, How
We recently spent a week in Villa La Angostura but it wasn't my first time here.
We'd been a couple of times, just passing through on scenic drives like the 7 Lakes Route and the Circuito Grande.
After so much neglect we decided make VLA the destination itself and give it the time it deserved.
Now it's sky rocketed to the top of the list of my favorite towns in the area.
Why did I fall for VLA? The downtown is adorable and both it and the area overall seem to be very clean and maintained.
Villa La Angostura is also home to some of my favorite lakes in the region, has plenty of activities, hikes, and dining options, and the weather is beautiful.
How to get to & Around Villa La Angostura
The best way to get here is by flying into Bariloche.
There are multiple flights throughout the day with all airlines, compare here.
From here, I HIGHLY recommend renting a car. Check rates here.
It's the best way to get around this area, hands down.
Everything is very spread out in this area and taxis aren't easy to come by (you can't just flag one down).
We usually rent a car in this region but didn't this trip since we'd be spending most of our time on one beautiful property (read about it here).
We relied on taxis and often had to wait for it to arrive. If you end up taking taxis/remises, I recommend getting their numbers as you go so you can just call the driver directly later. Having the numbers of two drivers saved us time later.
I hated relying on taxis (despite it making most sense this time) so like I said, if you can, rent a car.
Can't afford a rental car or there aren't any available? You can take a taxi to Villa La Angostura from the Bariloche airport. We took one for our return flight and it cost the equivalant of 45 dollars.
You can also take a bus, this is the best option for a budget. The bus station is downtown in VLA and will take you to the airport for 1300-1800 pesos (as of April 2023, that would be between 3-6 dollars). For buses, check Plataforma10.
👉🏻 Rent your car in advance, don't wait until you're there. There is a lot of demand in the area and they will either sell out or prices will go up. This is exponentially more important in busy season from December through February.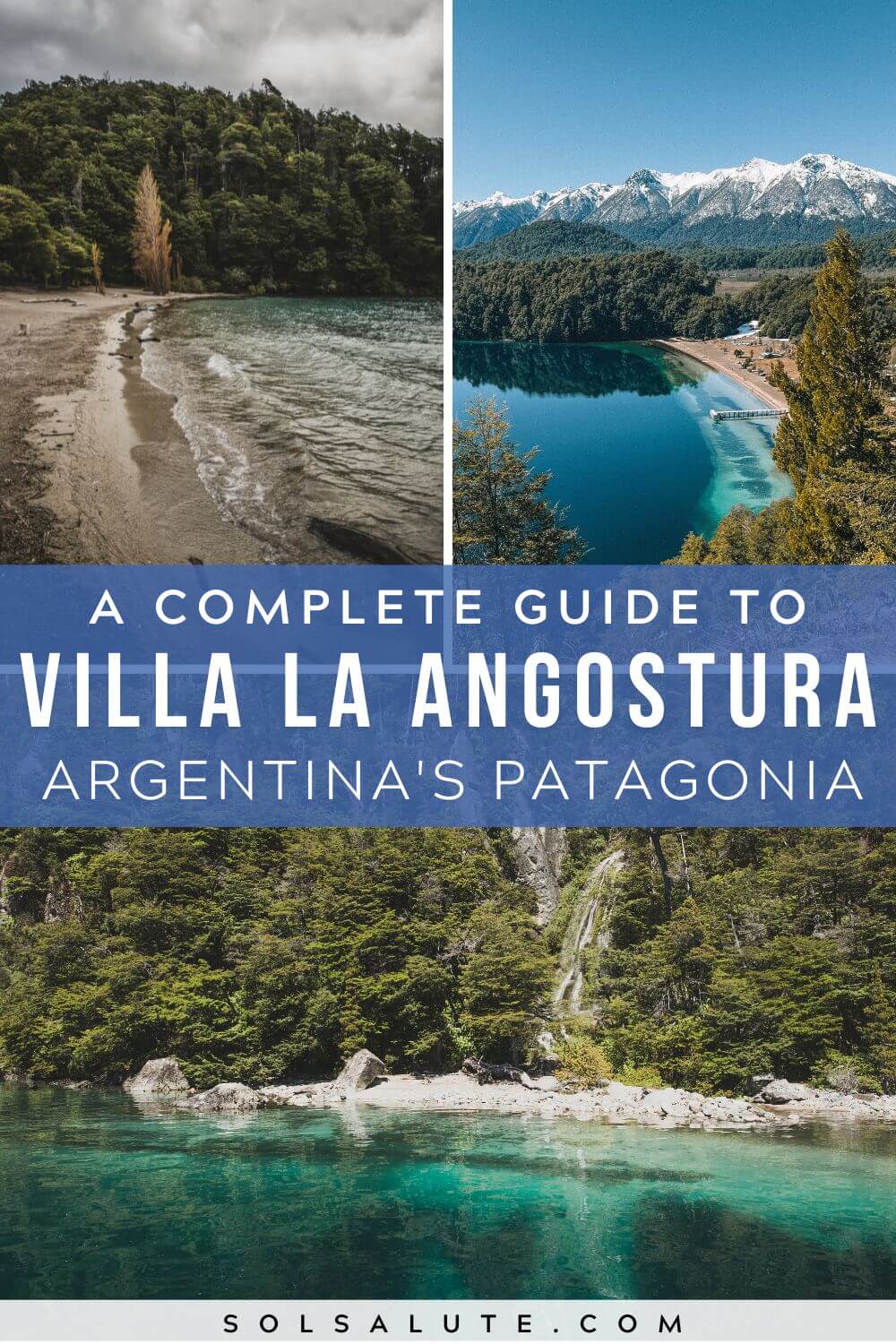 Things to do in Villa La Angostura
A trip to Northern Patagonia can involve as much or as little action as you want.
Being Patagonia, it's chock full of hiking trails, kayaking, and adventure.
But Villa La Angostura is home to the rich and famous.
Former presidents (Macri), infamous athletes (Ginobli) and even royalty (Maxima) all come here to unwind.
So you know can trust that you'll find ways to truly spoil yourself here if all you want to do is relax.
Here are the best things to do in Villa La Angostura to fill your days.
Explore and Relax Downtown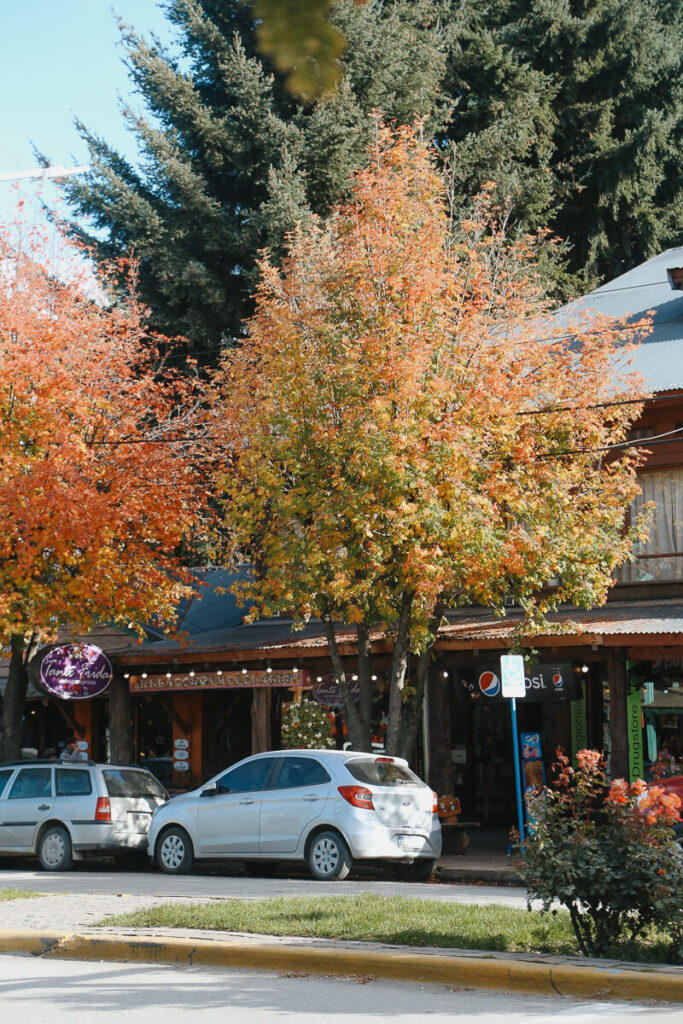 Where I find downtown Bariloche very unattractive and something to be avoided, Villa La Angostura's city center is everything you want from a quaint mountain village.
The main avenue is the infamous Ruta 40 itself.
The downtown portion of Ruta 40 here is named Avenida Arrayanes. It the main pedestrian drag and just 6 blocks long.
You'll find restaurants and shops, both souvenir and practical, think pharmacies, supermarkets, etc.
Buildings feel like log cabins and a lot of cafes and shops are in galleries tucked away from the main street, feeling extra cozy.
Off of the main road all of the streets have cutesy names like Rasberry or Rosehip Road or are named after peaks in the area.
Forget the political homage streets like Avenida San Martin you see everywhere else, it's all cute in Villa La Angostura.
See Puerto Angostura, Bahia Mansa, & Bahia Brava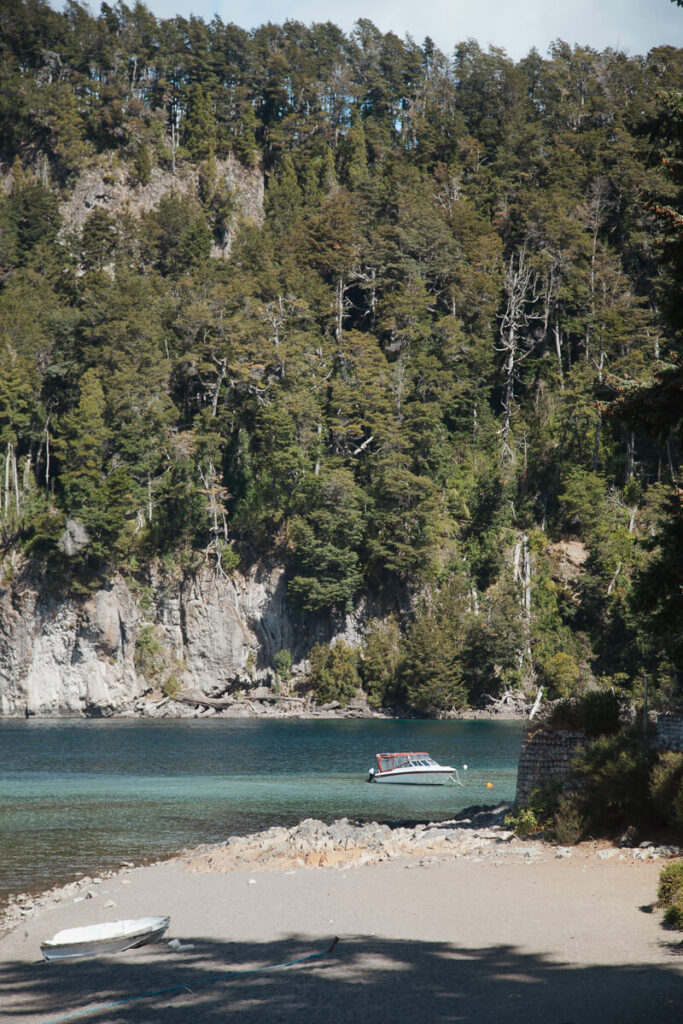 A couple kilometers up Ruta 40 from downtown is the historic center (casco historico).
To get here you'll need to drive or take a taxi.
There are a couple of restaurants, a dock for boat excursions, beautiful beaches, and the entrance to the Arrayanes National Park.
NOTE OF INTEREST | This is the place that gave the town its name. Angosta is Spanish for narrow, and the Quetrihué Isthmus here, flanked by bays Mansa and Brava, was the first port and namesake to the town.
Things to see and do in Puerto Angostura:
Parque Nacional Los Arrayanes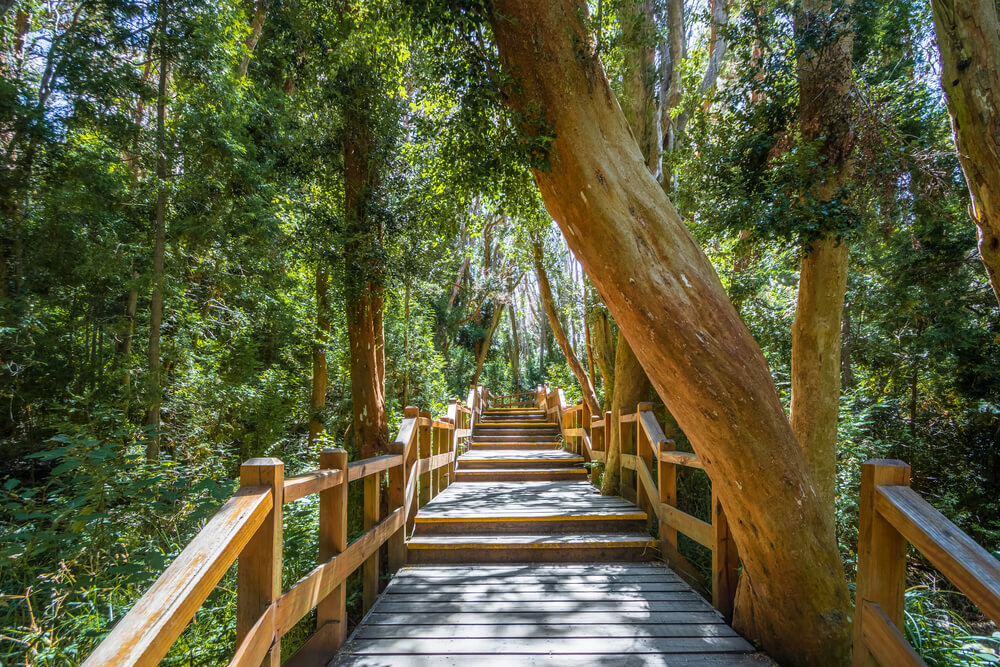 This national park is marketed sold as a day trip from Bariloche but it belongs to Villa La Angostura.
Why see this tiny park? This particular species of myrtle only grows as a tree here, thanks to the richness of the soil here. Everywhere else you'll only see it grow as a bush.
You can hike or bike the 12 kilometer trail accessible by foot from the Quetrihue Isthmus.
IMPORTANT: If you want to do the hike, you have to start by a certain time, by 2 pm during summer (Nov 1 through Semana Santa) and by 11 am in winter (Semana Santa to November). There are also deadlines to start your bike or boat excursion. Confirm hours here.
Alternative to the hike, you can take a catamaran for a few hours and enjoy the experience with a bit of comfort.
Check here for sailing excursions, ISV Patagonia is a great locally run agency. Use code SOLSALUTE to save 10% on any excursions booked with them.
Go Kayaking
One of the best ways to get active and out on the water is to go on a kayaking excursion.
I went with Mariano of Dalca Kayak Adventures and had such a great time!
He keeps an eye on the weather before confirming the location. We were lucky to have a smooth day so we left from Bahia Brava and kayaked on Lago Nahuel Huapi. Had it been too windy we could have kayaked instead on Lago Espejo.
We kayaked out to a beautiful, remote beach for a picnic. I really enjoyed chatting with both Mariano and the fellow travelers on our tour.
We left at 10 and were back by 2 pm so it's an easy half-day outing.
Throughout the day, he also taught us so much about history and geology of the region.
I can't say enough for it, if you're even remotely interested in kayaking, book it. You don't need to be experienced (I definitely am not).
Book your kayak excursion now.
When to go? Obviously summer and warmer months are ideal but winter (June-August) is also doable. They watch the weather forecast closely, leave later in the day to take advantage of the warmer hours, and have warm gear like mittens and jackets, you won't get wet.
Horseback Ride, Fly Fishing, Mountain Bike & more with ISV Patagonia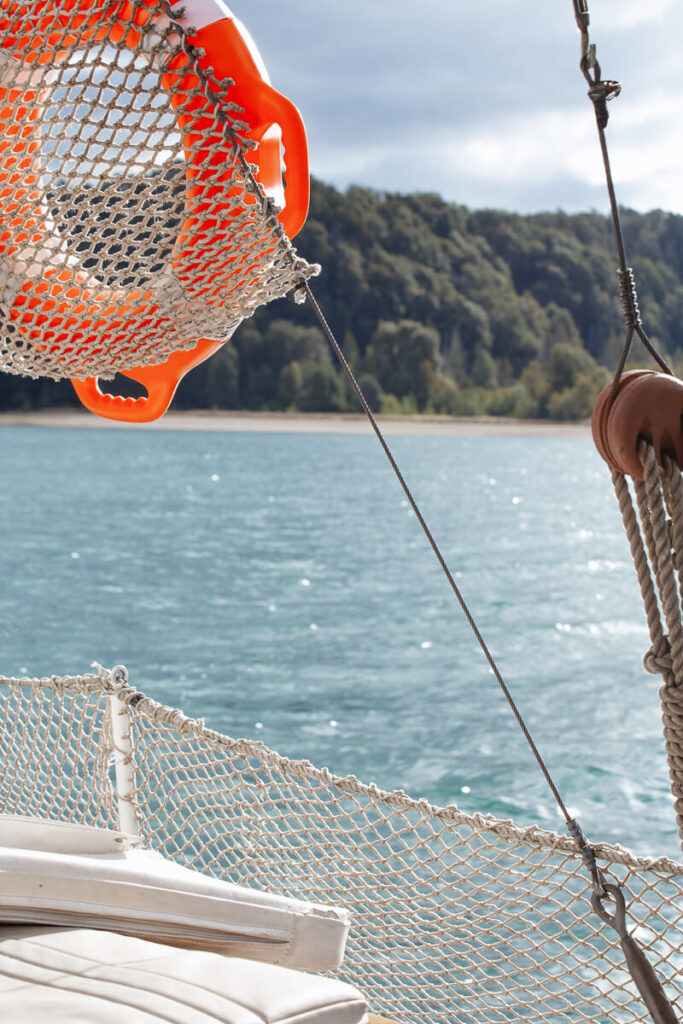 ISV Patagonia is a locally run agency that offers some of the best excursions in Villa La Angostura. If you want to support a small business in the area, this is a great opportunity.
They can book you in for anything from horseback rides with gauchos to luxurious sunset sails. Click here for a fill list of their offerings.
If you want to get active and enjoy the mountains, they can arrange mountain bike excursions, guided hikes, and fly fishing when in season.
Seriously, if you like to fish this is a beautiful place for it! Imagine yourself fly fishing for trout in the lakes or on the Rio Limay, it's an angler's dream.
We went on a romantic sunset sail with them and it was fantastic (we were definitely more in the mood for luxury/relax than hiking and adventure).
Book anything with ISV Patagonia and use code SOLSALUTE to save 10% on your excursions/trip.
Go hiking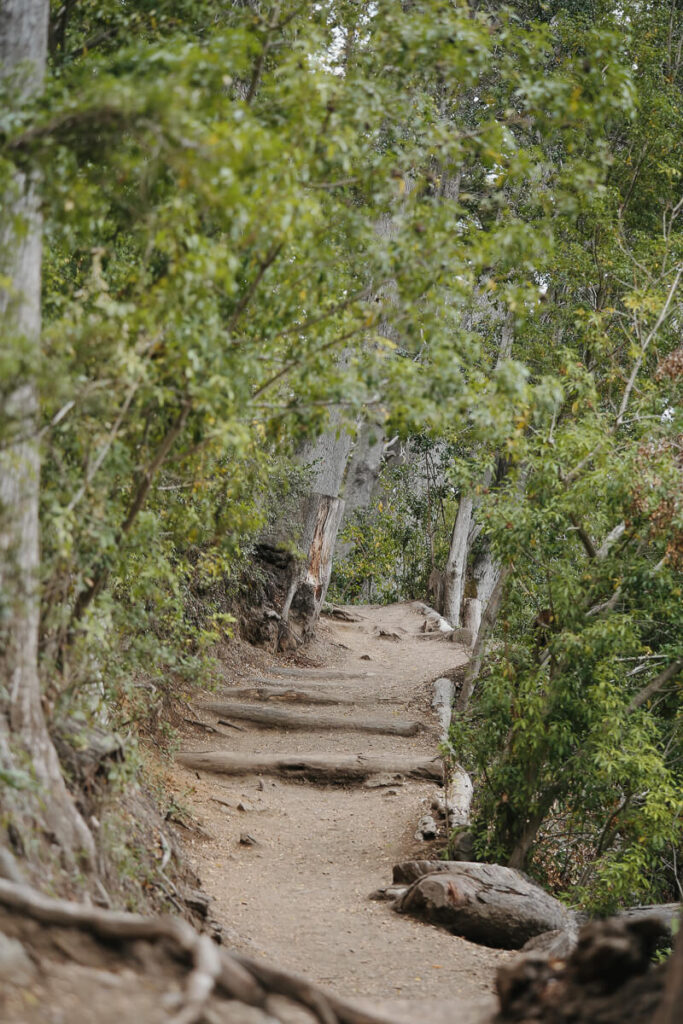 When in Patagonia, hike.
There are short trails like Rio Bonito, Ultima Esperanza and Cascada Nivinco along with more challenging full day hikes.
If you understand Spanish, this PDF guide to all the hikes by the tourism board is extremely informative.
While you can easily do these hikes on your own, you can book a guided hike with ISV Patagonia for more well rounded, stress free experience.
As with all excursions booked with ISV, use my code SOLSALUTE to save 10%. A full day hike is a great idea with ISV as they'll provide snacks and lunch.
Drive the Ruta de los 7 Lagos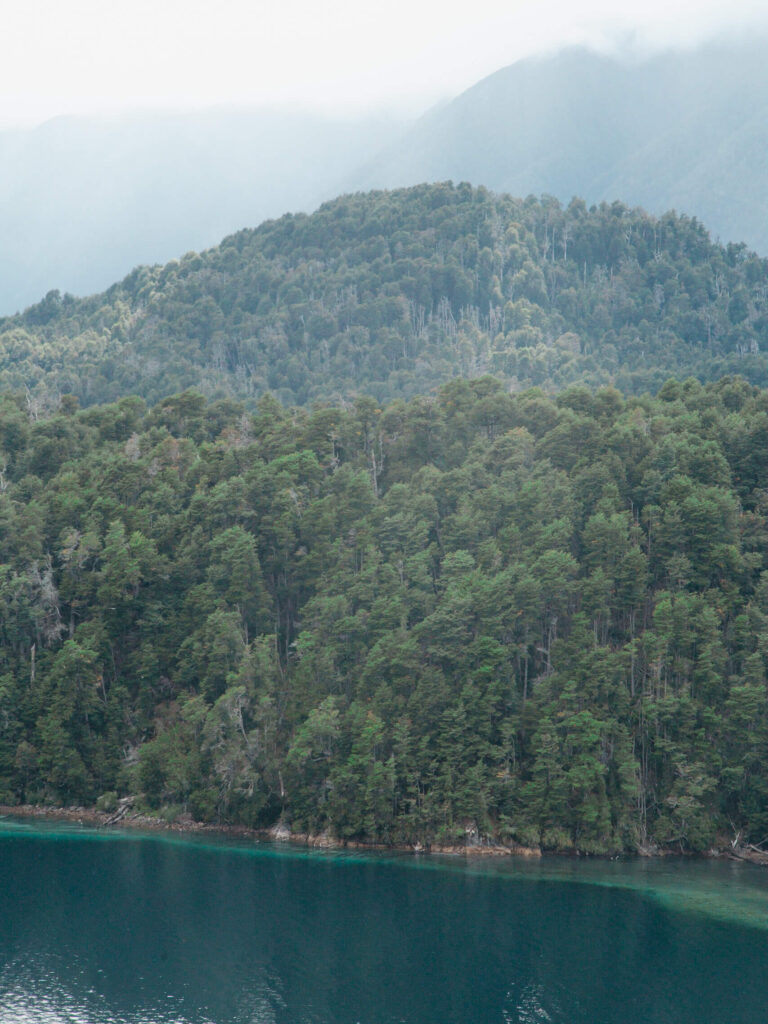 One of the most beautiful scenic drives in Argentina starts right here in Villa La Angostura.
The Ruta de los 7 Lagos weaves along the Ruta 40 passing beautiful lake after beautiful lake, ending at Lago Lacar in San Martin de los Andes to the north.
If you were to drive straight through without stopping it would take you 2 hours, but that's not why you're here, is it?
With stops along the way this drive will take you all day and is another major reason to rent a car here.
For more information, read my complete guide to the 7 Lakes Route.
Don't want to drive the whole 7 Lakes Route? To be honest, you can appreciate the beauty of the 7 Lakes without leaving the surroundings of VLA.

Lago Correntoso and Lago Espejo Grande are right on the outskirts of town and are stunning. Just hang out here if you want! You can reach them with a cheap taxi.

If you can drive just a smidge further, I highly recommend going at least as far as Rio Ruca Malen and Lago Espejo Chico.
Drive the Circuito Grande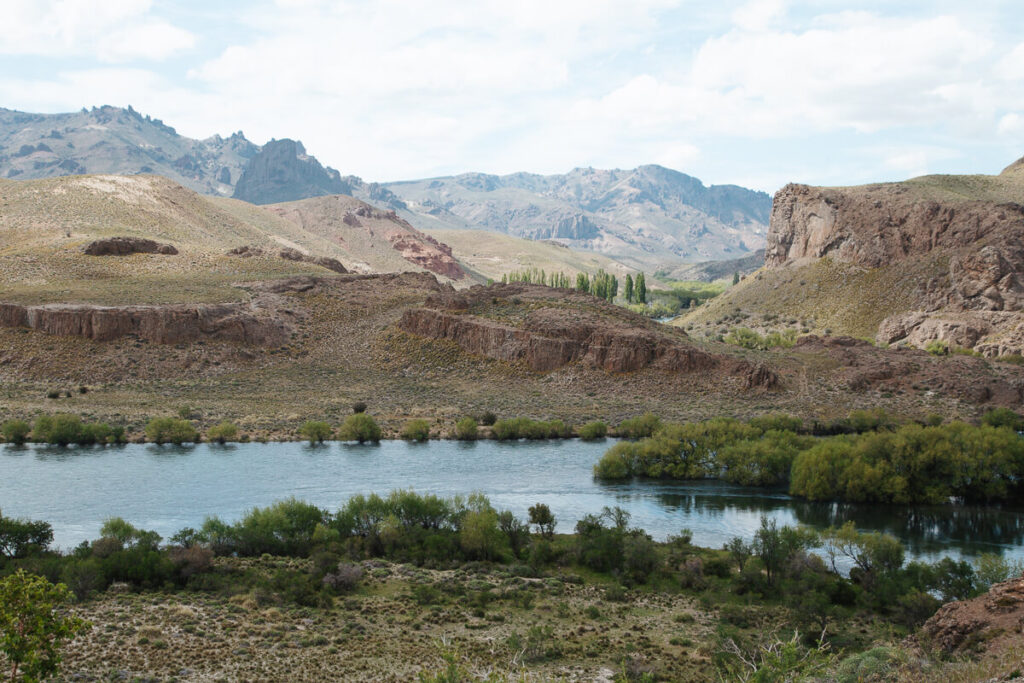 An alternative scenic drive to the 7 lakes route is the long circuit or Circuito Grande.
Read my full guide to the Circuito Grande.
This drive takes you back down towards Bariloche where you'll head west along the Limay River through the Patagonian steppe.
From here you'll take Ruta 65 back to the lush forest and lakes via Villa Traful before rejoining the Ruta 40 back to Villa La Angostura.
I really like this drive as you'll see a variety of landscapes, seeing the steppe and the lakes in one fell swoop.
Relax at Correntoso River & Lake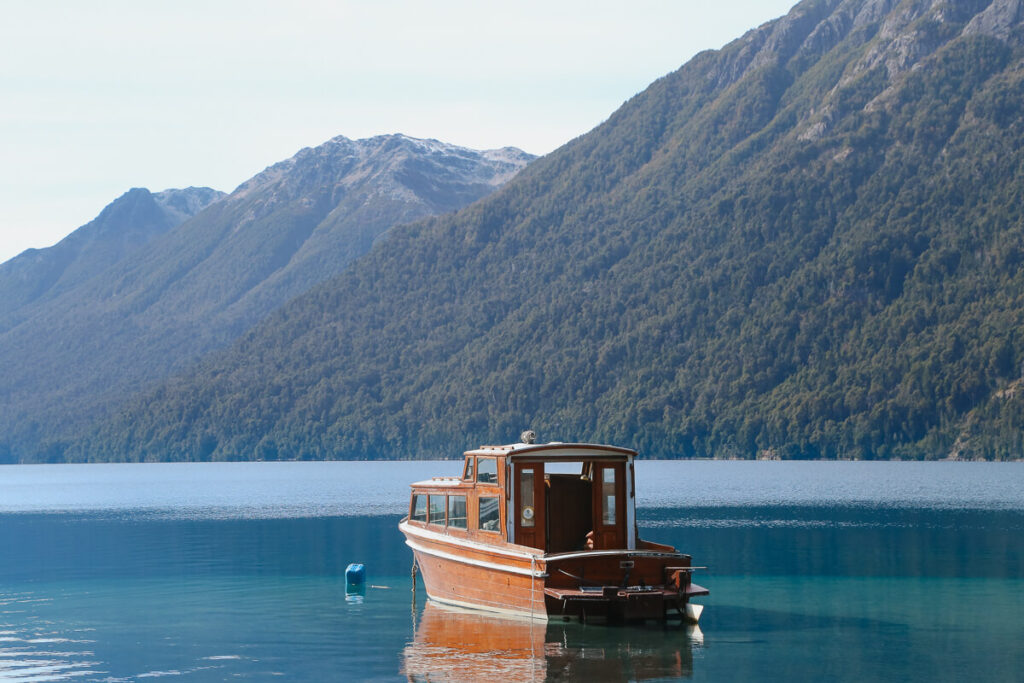 We spent one beautiful afternoon doing absolutely nothing on the beach at Lago Correntoso, just north of town.
Lounging by the lakes is the best way to do nothing and spend nothing.
During the summer season you'll see lifeguards, yoga classes, and restaurants open here.
On the way to the lake's beach you'll pass by the Rio Correntoso, supposedly the shortest river in the world.
This tiny river connects lakes Nahuel Huapi and Correntoso. It's a beautiful photo stop and you'll see a ton of cars stopped here doing just that. Mornings have fewer – to no – crowds.
Eat All of The Chocolate
If you aren't boarding your flight home with a huge bag of souvenir chocolate, did you even go to Patagonia?
Mamushka and Rapa Nui are the stars of Bariloche, but where should you go in VLA?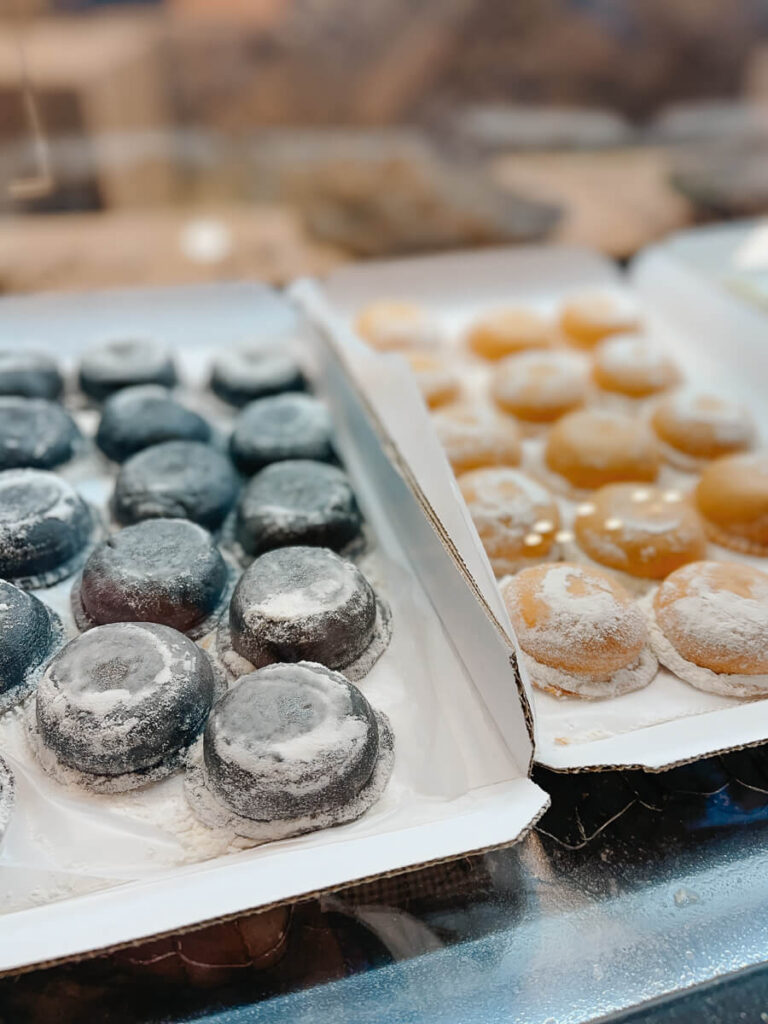 Where to Eat in Villa La Angostura
Here's where we ate and wanted to eat (until next time!).
Traveling with a toddler and baby restricts our nights so we can't take advantage of late Argentine dinners, so that's why my dining guides are often a wish list for even myself.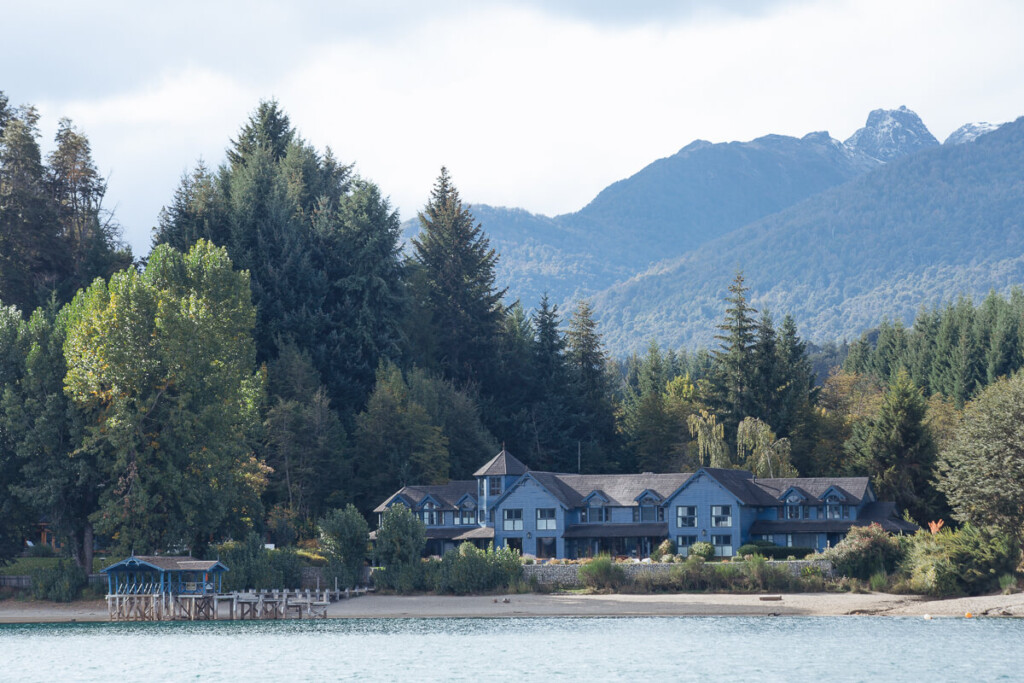 Where to Stay in Villa La Angostura
We were lucky to be hosted at a few properties in Villa La Angostura, all three at different price points so we were able to see three options that meet different needs.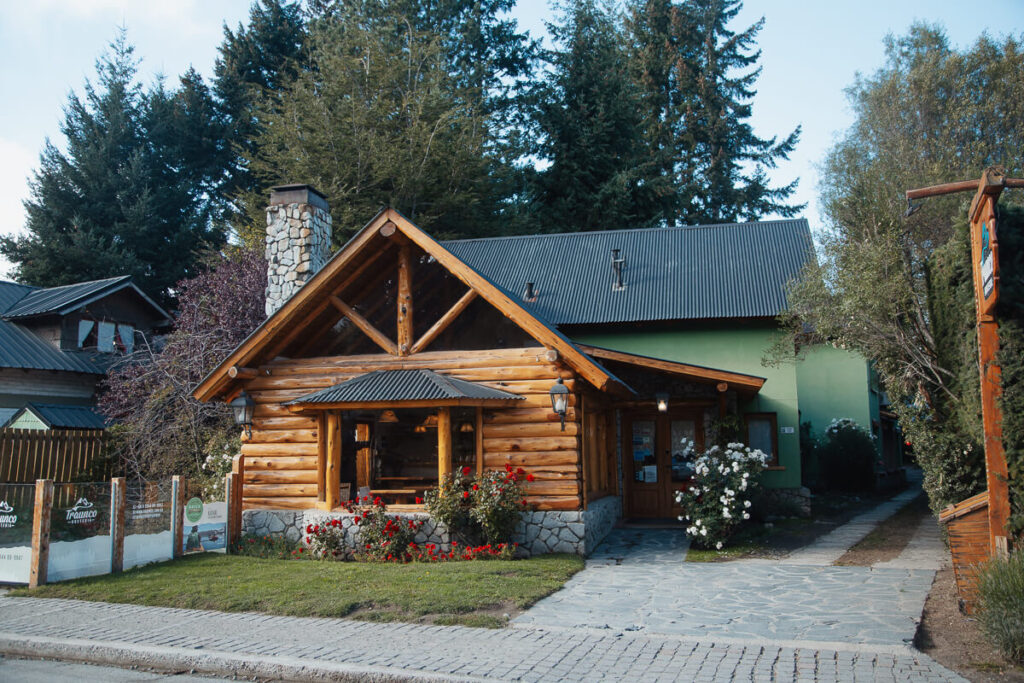 Argentina Travel Resources