All wine lovers should include the beautiful province of Salta when in Argentina.
This northwestern desert province is home to some of the world's highest altitude vineyards. It's famous for sweet Torrontés and robust, full-bodied reds.
Paired together with stunning views of the mountains and the quebrada, skilled artisans, and arguably Argentina's best cuisine you can't go wrong in Salta.
This article is a guide to the best wineries in Cafayate that I have visited over my two trips (and counting!).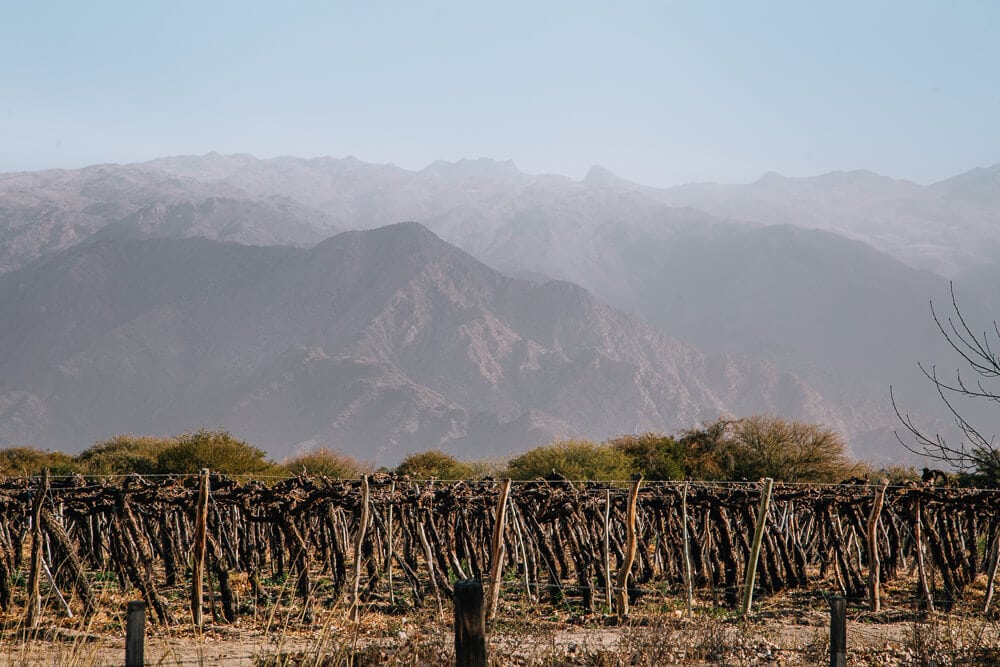 QUICK NOTE: This post contains affiliate links and Sol Salute may receive a commission for purchases made through these links, at no extra cost to you.
Cafayate Bodegas: A Guide to Wine Tasting in Cafayate
Wine tasting in Cafayate is fun, easy, and best of all, affordable.
Conveniently, wineries in Cafayate are located directly in town or nearby on the outskirts.
We always rent a car in Salta (the region is very road trip-worthy and has Argentina's cheapest rental rates!) but if you're on a budget, it's very common to rent bikes to visit the wineries and even the Quebrada de las Conchas. The taxis even have bike racks to help you out.
There are bike rental shops in town and most hotels and hostels rent or lend them directly to their guests.
For an idea of winery costs, on our most recent visit in June of 2021, many wine tastings and tours cost between the equivalent of $2-5 dollars.
With Argentina's volatile economy the exact amount (even in dollars) will change but no matter what, it will be affordable (especially if you're used to expensive tastings in the US or Europe).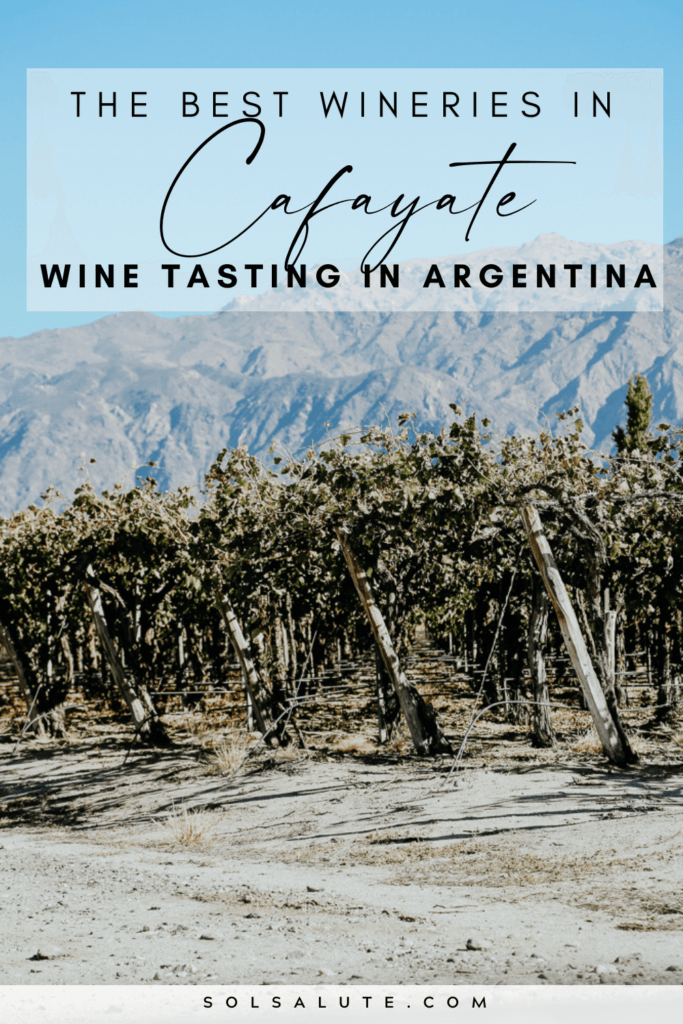 When to Visit Cafayate
Like a lot of Argentina, Cafayate is a good destination year round.
But it IS the desert and summers will be hot during the day.
December through early February is Salta's rainy season but being the desert this mainly just means quick (but powerful) showers. This would only seriuosly affect your time here if you were planning a road trip.
The rains can make dirt roads like the Ruta 40 without a 4×4 risky. But the paved Ruta 68 connecting Salta and Cafayate would be fine.
And also like all of Argentina, January is when all the locals take their holidays. Destinations get crowded and more expensive.
Most vineyards harvest in March. Visit before that to see lush, green vines (but it's stunning here even when pruned!).
Winter (June-August) is beautiful with very cold nights but agreeable afternoons.
Note: Previously, you didn't need reservations to visit Cafayate wineries, but in 2021 reservations were required to meet new health protocols. I'm not sure if this will be a lasting change but just to be safe I recommend contacting any wineries you have your heart set on ahead of time.
History of Salta's Wine Region
Mendoza may be the king of Malbec but to truly pay homage to Argentina's wine history you should actually visit Salta.
Located in Argentina's northwestern desert, this high altitude wine region specializes in Argentina's only truly native varietal: torrontes.
And importantly, Mendoza's star Malbec was actually first introduced to Argentina here in Salta, not in Mendoza.
Salta's final Spanish governor prior to independence, Nicolas Isasmendi, brought Malbec and Cabernet Sauvignon vines and planted them here. (Actually, just north of Cafayate at Bodega Colome in Molinos).
And the harsh climate produces a robust wine, unlike the reds you'll try from Argentina's more famous wine region.
The 12 Best Wineries in Cafayate
I live in Argentina and have made it my personal goal to visit all of this country's wine regions.
Mendoza and its wineries are my happy place. I've also tasted Patagonia's Pinot Noir in Neuquen.
In doing so, I've been to Cafayate twice (and counting).
Between the two visits, I've been to eight of Cafayate's top bodegas. I've drunk many a bottle from far more than that and researched even more.
Seriously, I had planned tastings at more wineries on my most recent trip but a wine trip with a one-year-old in tow turned out to be tougher than I hoped (surprising no one but myself).
I also sacrificed trying a new winery to re-visit my favorite one a second time (it's just too good).
Here are the best wineries in Cafayate and what to look for at each one.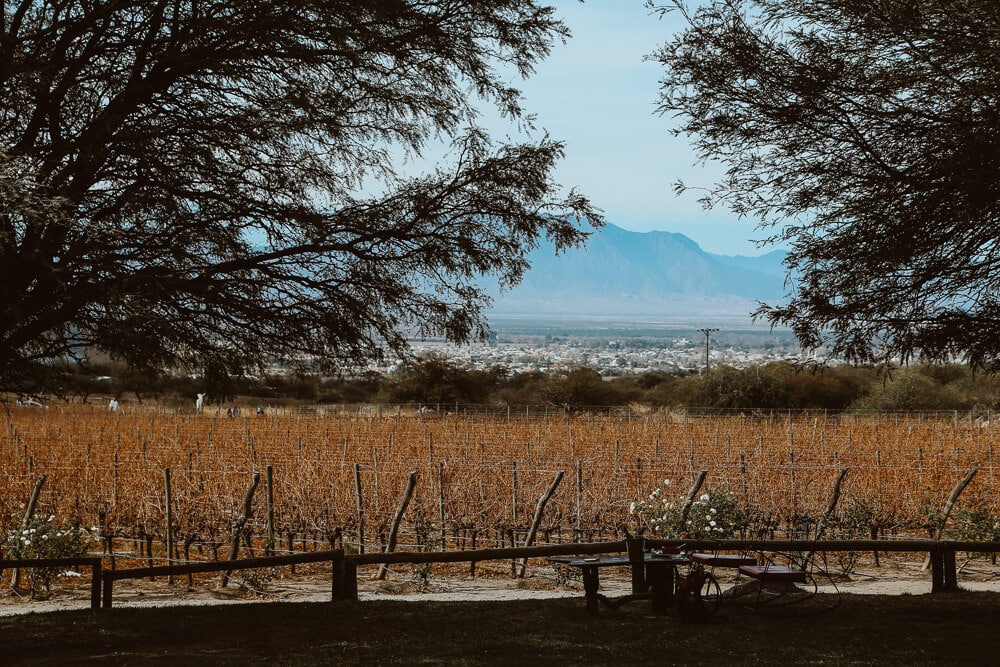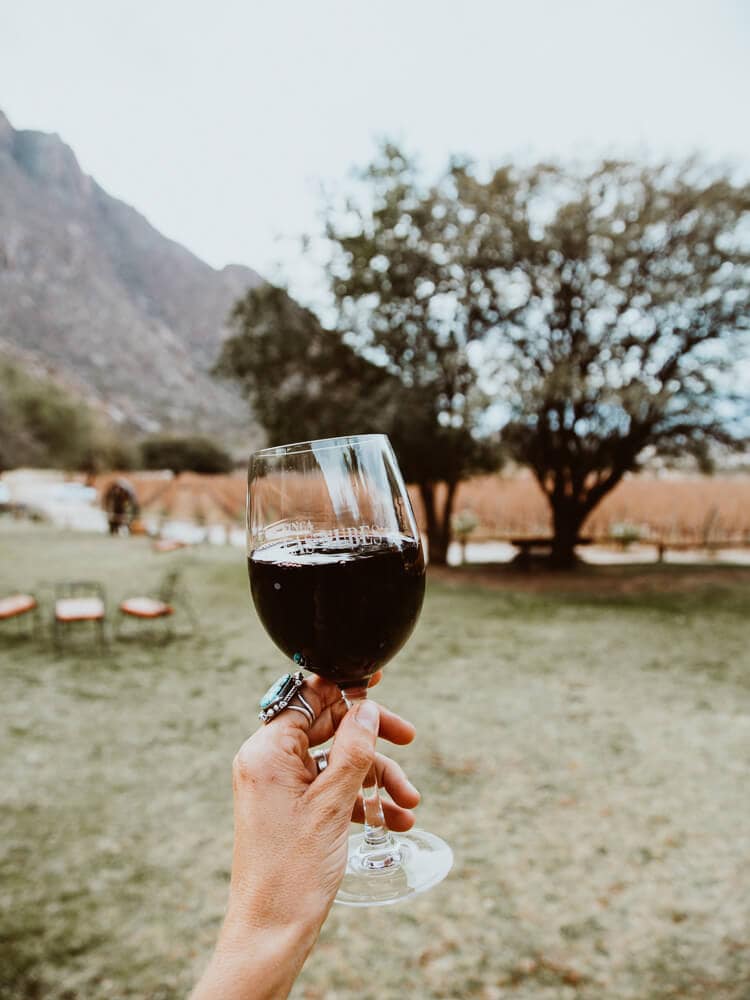 1. Finca las Nubes
Open 7 days a week with regularly scheduled tours and tastings. Check their official site for current prices and times.
Finca Las Nubes is my favorite bodega in Cafayate.
This small family owned winery is a bit outside of town so you'll need a bike or taxi to get there.
The best part about this winery is the view. They're perched up above town.
I recommend staying to relax on their lawn after your tour to enjoy the view of their vineyard, the town, and the quebrada all below you.
They have a great affordable lunch menu and excellent picada (charcuterie plate) that would be a good lunch substitute or snack to enjoy with your wine at sunset.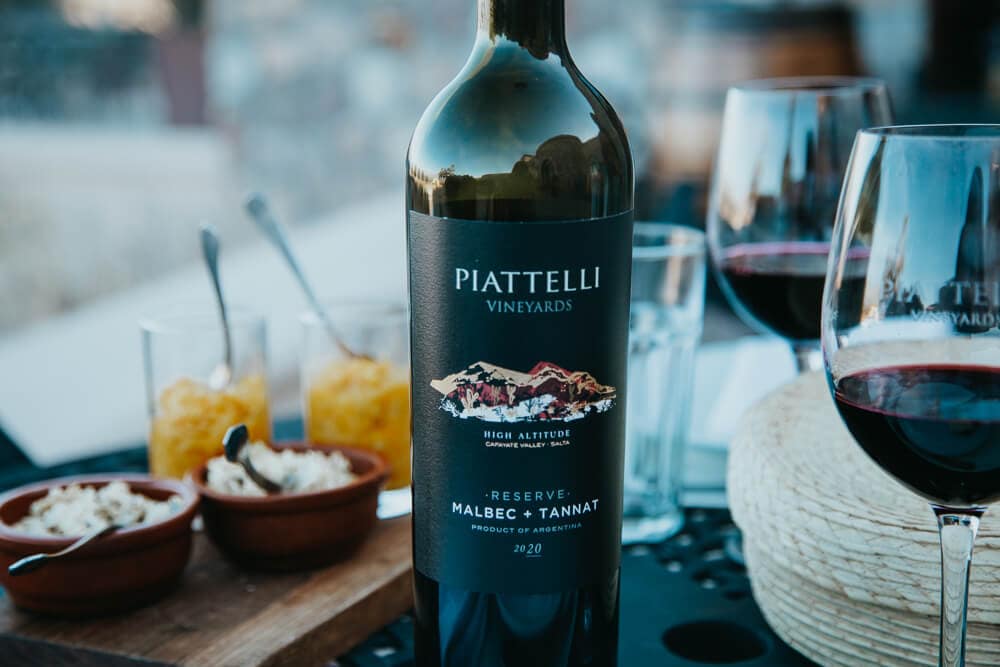 2. Piattelli
For current offerings and schedules fill out the contact form on their website. They are responsive and got back to me within 24 hours to reserve.
Piattelli harvests their vineyard earlier than most wineries in Cafayate. As a result, their wines are drier and less sweet. Combine that with the full-body reds typical to the region, the wines here are stand out.
The tour was interesting and similar to most winery tours in general, but I really enjoyed the tasting.
We were served two wines side by side to easily compare. Such as Sauvignon blanc to Chardonnay, and more interestingly, their Mendoza Malbec next to their Cafayate Malbec (there is a huge difference!).
My personal recommendation for Piattelli | We reserved their sunset tour. The tour and tasting are at 4 pm, after which you go to the restaurant for a picada and a bottle of their reserve line. The value for what you pay is incredible. The food was delicious (and the spread was huge) and the view of the sunset over the red mountains was a wonderful experience!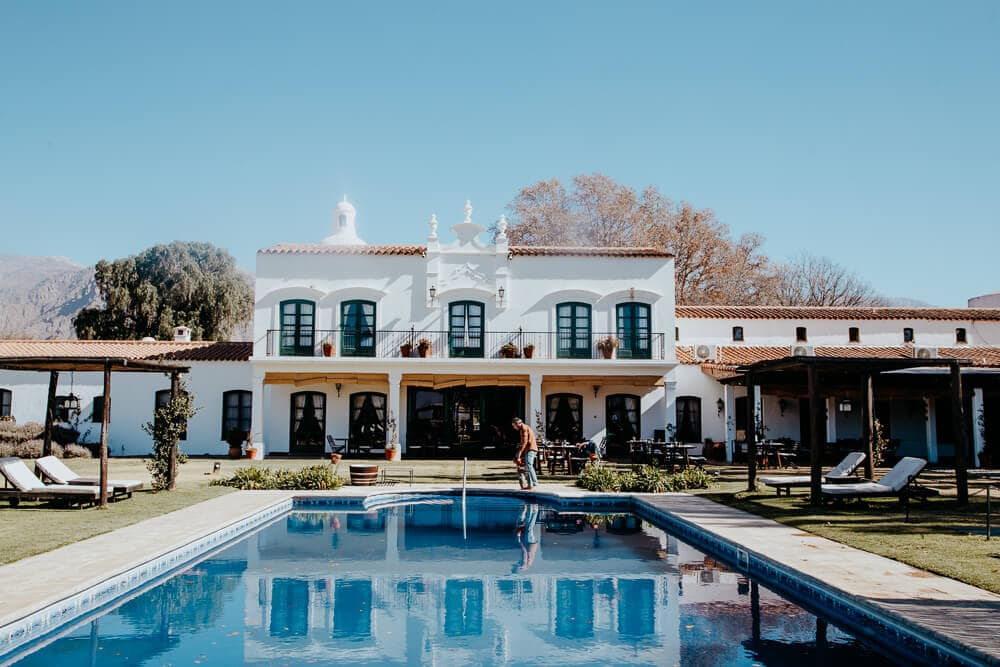 3. El Esteco
Check their opening hours and reserve tours directly on their official website.
What makes this Cafayate winery so special is that it really is the whole package.
Their hotel, Patios de Cafayate, is one of the most well-known in the region. If you want to sleep among the vines, you can't go wrong with this Spanish colonial building.
Service is five star, the location is ideal, and the wines are a Cafayate institution.
The hotel and winery's restaurant, La Rosa, is also a good lunch or dinner option. Tables are set up on the back patio overlooking the pool and vineyards.
We opted for lunch instead of a tour and were able to try both a Torrontes and a Malbec.
Recommendation for El Esteco: Esteco offers horseback rides through the vineyard followed by a wine tasting. This is a unique way to experience Cafayate (in a most perfect and authentically Argentine way).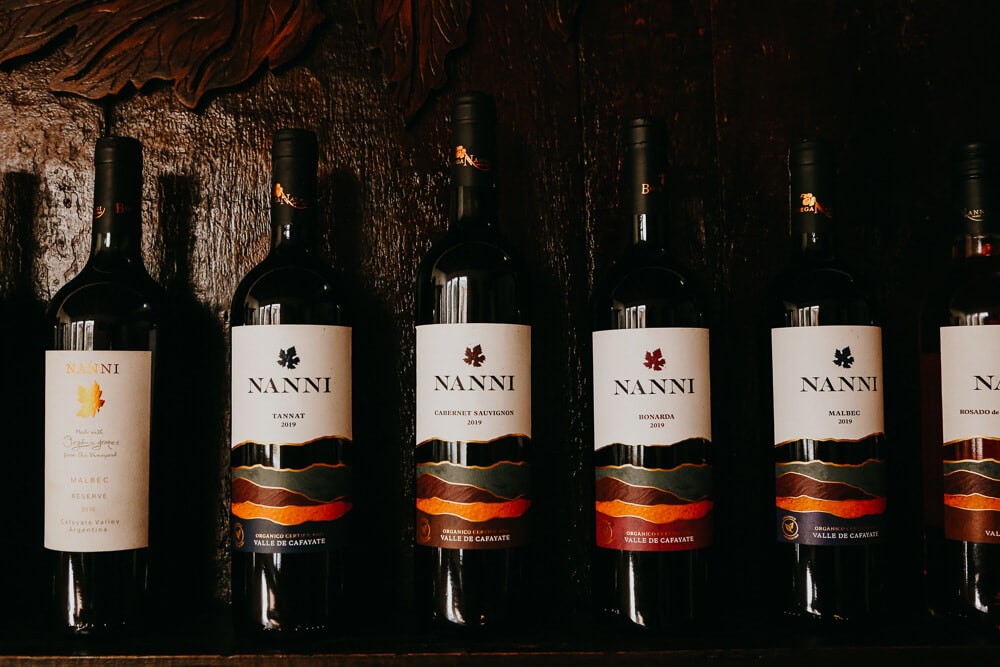 4. Nanni
Tours are free, tastings have a cost, and include 4 wines. They are a bit slow to respond to the online contact form re: reservations but being located directly in the heart of downtown it's easy to just swing by for a tasting on the fly.
This certified organic winery is located in town, just a block from the main square.
Nanni is a small family-run winery, founded in 1897 and currently in the hands of the fourth generation.
Tastings were $250 pesos at the time of visiting in 2021, equal to less than two dollars at the time. It includes four wines.
I recommend having lunch at Nanni's patio restaurant, Retoño. You can sit in the sun in the grassy courtyard. The vibe is laidback and the menu is simple and hearty.
Recommendation for Nanni: Try their Tannat! We have to agree with our waiter who said the Tannat found its place in the world here.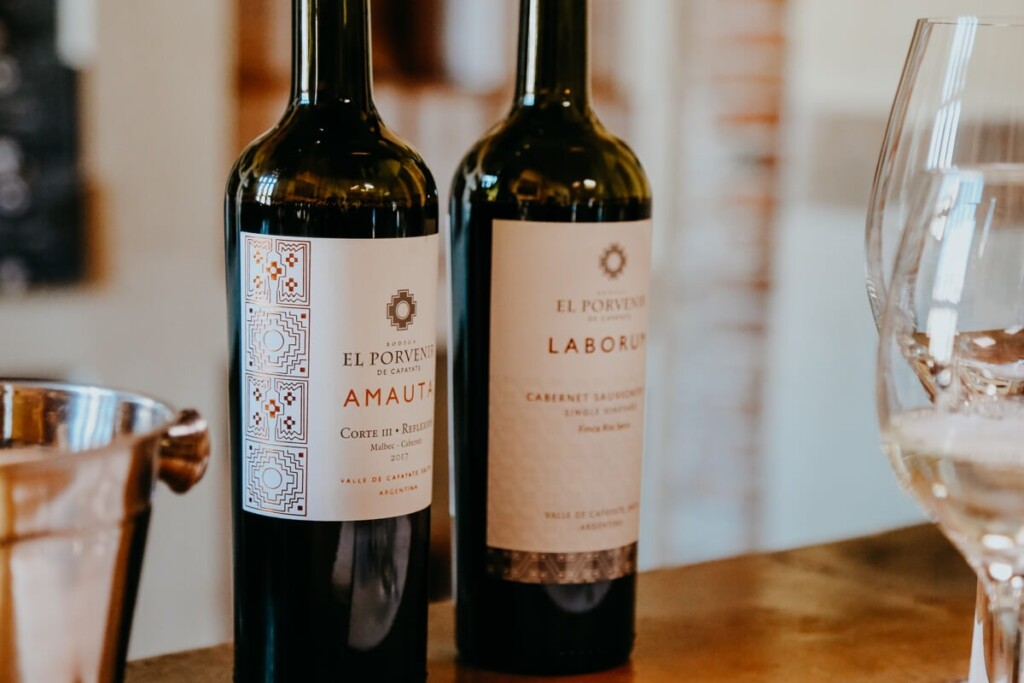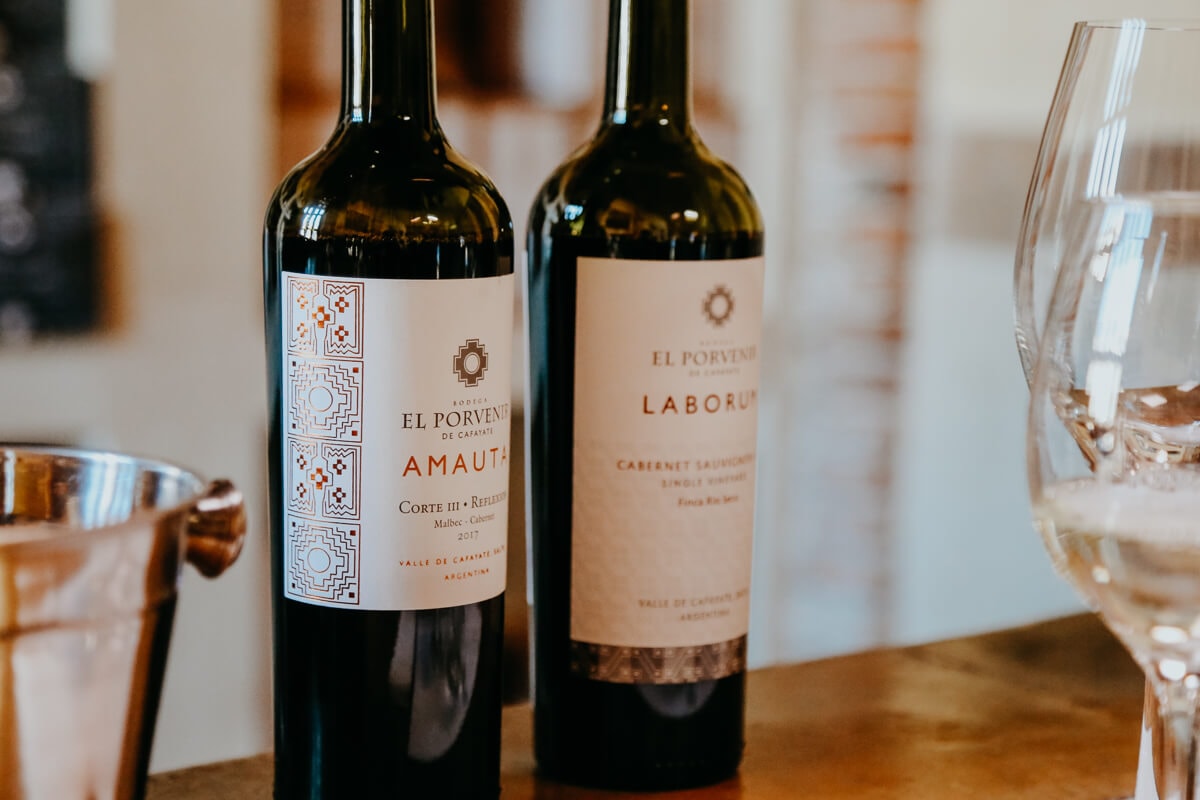 5. Porvenir
You can reserve tours, tastings, and lunches at Porvenir on their official website, open Tuesday-Saturday for tastings.
Porvenir is another small family-run winery in town. Their Laborum line is one of my favorites to drink when home in Buenos Aires.
We did the guided tour with a tasting and I really loved it.
The historic building downtown is gorgeous and the tastings were generous pours (it was really like drinking three glasses of wine!).
Recommendation for Porvenir: They offer lunches (coursed meals or picnics) at their vineyard outside of town. You can reserve lunch easily on their website.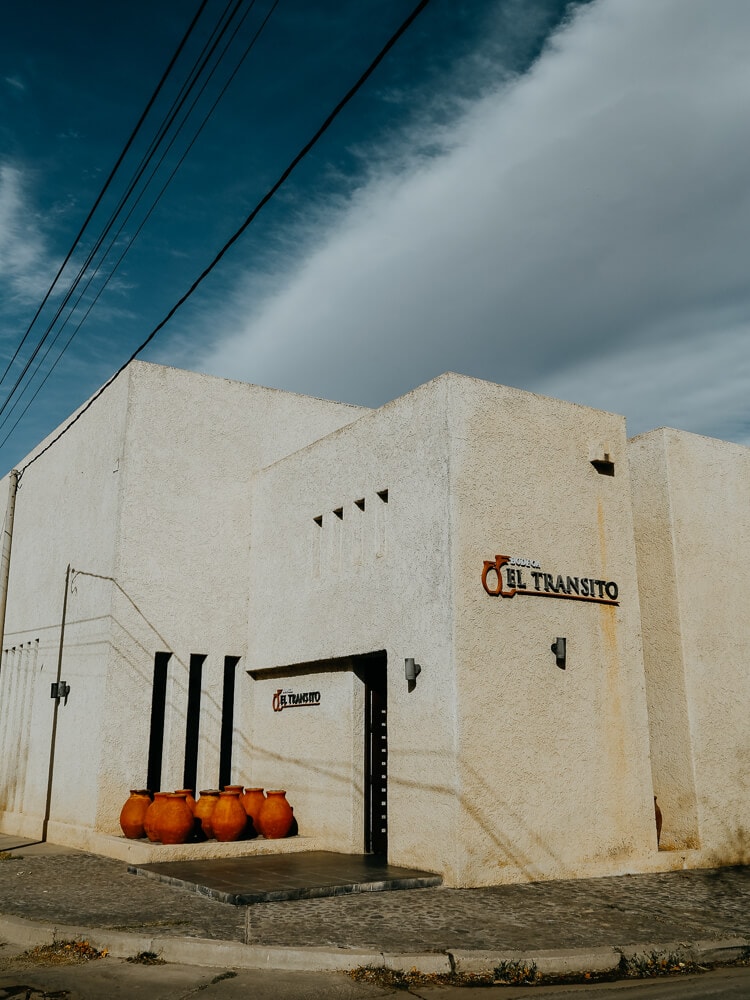 6. Bodega El Tránsito
Located in town just steps from Nanni, El Transito offers regular tastings that include four wines (rotating out the varietals but always including a torrontes and three reds of different lines).
El Tránsito is in town right around the corner from Nanni. It's also owned and managed by a member of the Nanni family.
I really recommend visiting El Tránsito for a tasting because you won't find their wines on any supermarket shelves.
They sell their wines in house at a significantly cheaper price tag than you will find in the city or abroad, so if you like what you taste I recommend grabbing a bottle (or two) while you're there.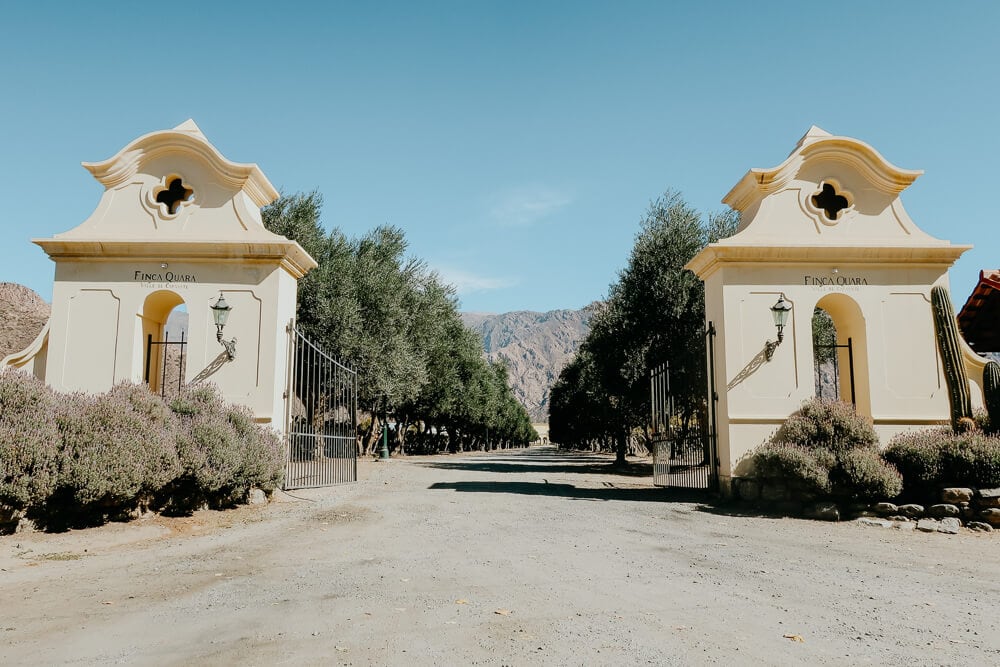 7. Finca Quara
Open daily with free guided tours every hour, check opening hours and reservation requirements on their official website.
Finca Quara is a wine label everyone in Argentina has heard of and likely has a bit of a (negative) opinion about. Their young line is one of the cheapest wines available in Chino supermarkets in Buenos Aires.
Instead of letting that sway you against visiting Quara (I definitely went into our tour with a preformed opinion…).
It's worth going to try their finer wines and seeing everything they have to offer. We were really impressed and brought a couple of bottles home with us for a special occasion.
Their location is also one of the most beautiful, with vineyards spread out at the feet of the mountains.
8. Domingo Hermanos & Domingo Molina
Open daily with regular tours and tastings, confirm hours, and email for reservations on Domingo Hermanos' official website and here for Domingo Molina.
Domingo Hermanos is one of the more industrial wineries on this list but with very affordable wines.
I didn't really enjoy the experience visiting here but it's easy to squeeze in and give it a try for yourself. They're located right at the edge of town (easy to stop at on your way to Finca Las Nubes or Finca Quara).
Domingo Molina is another winery ran by the same family. Their vineyard and bodega are outside of town next to Piattelli.
It is more picturesque and they focus exclusively on high quality wines.
Related: The Best Wineries in Mendoza
9. Bodegas Etchart
Visit their website for more history and contact information.
Bodegas Etchart was founded in 1850 and is one of the oldest and most important Cafayate wineries.
I can't find information online about visits and tastings there but when we drove by on our way to Tolombon it did look like it was open for visits.
If you're interested, I recommend emailing or calling ahead of time.
Since we couldn't visit in person, I'll have to settle for drinking their candy sweet late harvest Torrontes every single week because it is my father-in-law's favorite wine!
10. Bodega Vasija Secreta
Compare different tour tiers and make reservations on their official website.
Vasija Secreta is the oldest functioning winery in the Calchaqui Valleys.
They offer three tiers of tours and tastings. Compare them and reserve directly on their website.
Personally, I found their tours to be pricey and it's why we didn't visit them. We paid the same price for a four-course meal and wine pairings in nearby Cachi and it didn't feel justifiable to pay that for just a tasting. However, compared to tastings in the US, it's still very affordable.
Itinerary Recommendation for Vasija Secreta | This historic Cafayate bodega is located at the entrance to town across the street from El Esteco. You can easily visit them in the morning, cross over to El Esteco for lunch, then end the day at Piattelli.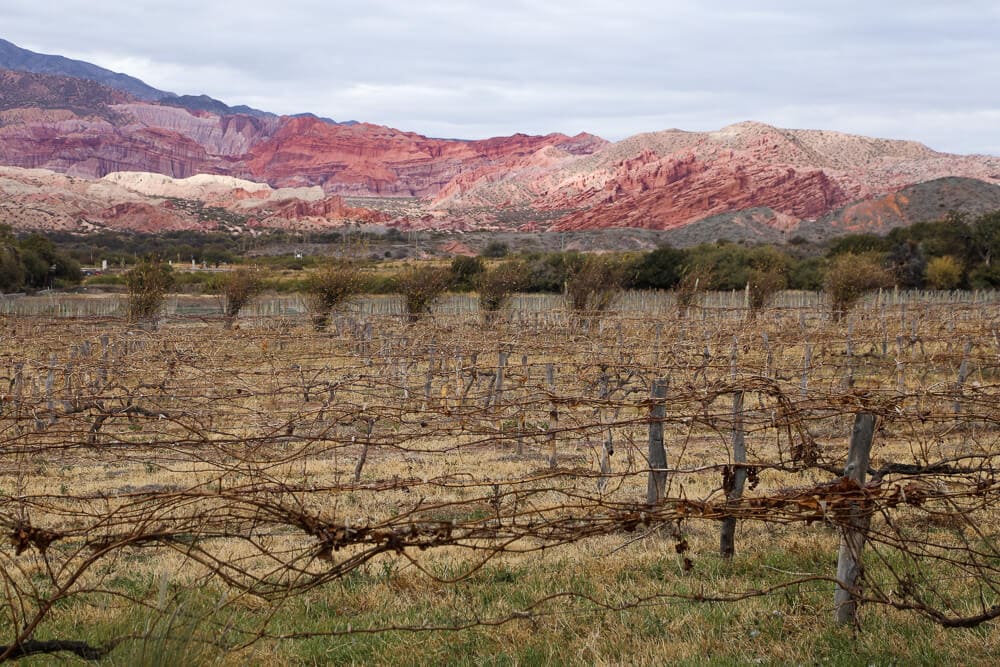 11. Quebrada Wineries on Ruta 68
There are quite a few small wineries and fincas (farms) along Ruta 68 as the Quebrada de las Conchas begins to fade away and you near Cafayate.
Stop at one on your way into Cafayate from Salta to cap off your Quebrada de las Conchas scenic drive.
Bodega Don Celedonio | Stop by this adobe brick building surrounded by porticos perched on a hill overlooking the valley below and you'll probably be met by the owner himself. The building itself looks as old as the landscape around it.
Bodega Tierra Colorado | This family winery is currently run by the fourth generation. Their tasting room by the 68 is impossible to miss.
Viñedo Peña Veyrat Durbex | We actually stayed at the hotel (Castillos de Cafayate) located on this winery's property so we were able to taste their wine each night at dinner. Their Finca La Punilla Malbec is very good! But honestly, the best part of this winery is the view of the Castillos formation of the quebrada.
BONUS: Colomé
Colomé is the oldest winery in Salta. It was founded in 1831 by Nicolás Severo de Isasmendi y Echalar, Spain's final governor of Salta. He brought us Malbec and the rest is history.
Visiting Colomé is a bit of a trek and it'll take an entire day. It's actually in the small town of Molinos, further north on Ruta 40 closer to Cachi.
Go to their website for more information and to reserve in advance (absolutely essential as they only allow groups of 10 people maximum).
The Colome experience includes a guided visit, a tasting, and the tour of the James Turrell Museum.
It's said to be extraordinary and is one of the most highly raved about experiences in the area.
We didn't go solely because we were traveling with an infant which complicates the visit of the museum.
Read more about Northwest Argentina: