Cachi is easily one of the most beautiful towns in all of Argentina.
This small town was home to colonial powers in the 18th century. Today it's one of the most well-maintained, picturesque towns in Salta.
You can visit for the day from the city of Salta on a planned excursion or you can make it your destination and stay for days of exciting activities.
Whatever you choose, I guarantee you'll fall in love with it.
This post is a guide to the best things to do in Cachi, Salta.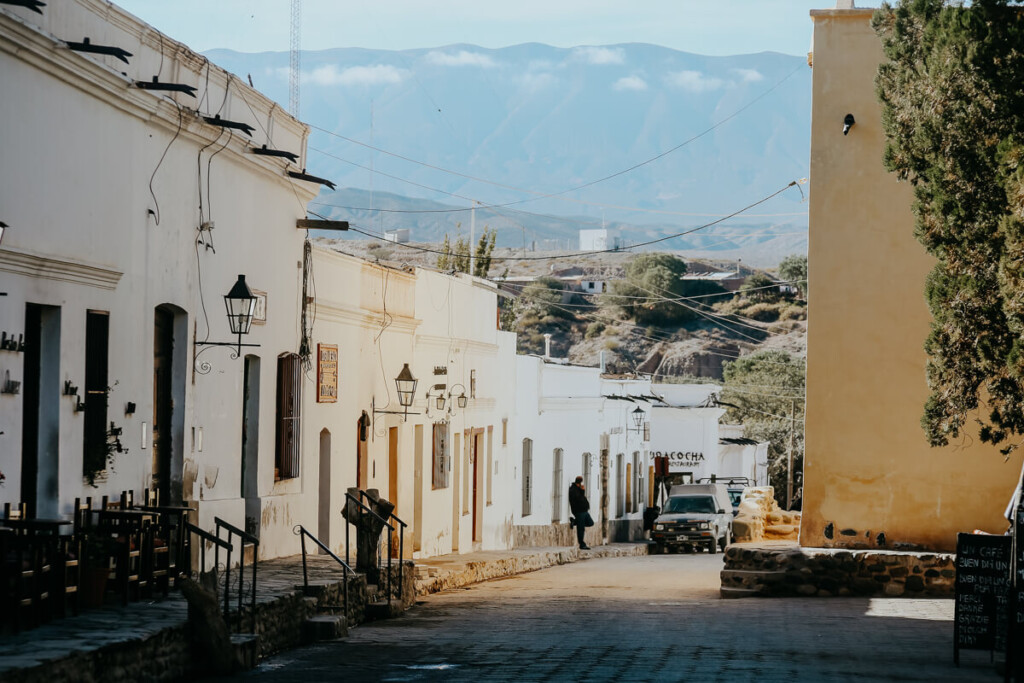 QUICK NOTE: This post contains affiliate links and Sol Salute may receive a commission for purchases made through these links, at no extra cost to you.
Visit Cachi, Salta
I've been to Cachi twice now and I know I'll keep coming back to this beautiful town.
Most people visit Cachi on a daytrip but on our most recent trip we spent four nights there and could even have filled a few more days with excursions in the area.
There's plenty to do here!
NOTE: For an extended stay in Cachi you're going to need a car. Check rental rates and availability now for cars out of Salta. If you won't have a car I recommend booking an organized day trip to see Cachi…
Cachi Daytrip from Salta
If you won't have a car and you're using the city of Salta as your base to explore the region, I recommend booking this popular Cachi day trip.
Your guide will show you all the beautiful sites along the Ruta 33 including the Escoipe Gorge, the Cuesta del Obispo, the Recta Tin Tin, and Parque Nacional Los Cardonas.
Once in Cachi you'll have free time to walk around, take 1,000 photos, and have lunch before heading back to Salta.
The Best Things To Do In Cachi, Salta
Here are the best things to do in (and around) Cachi, Argentina.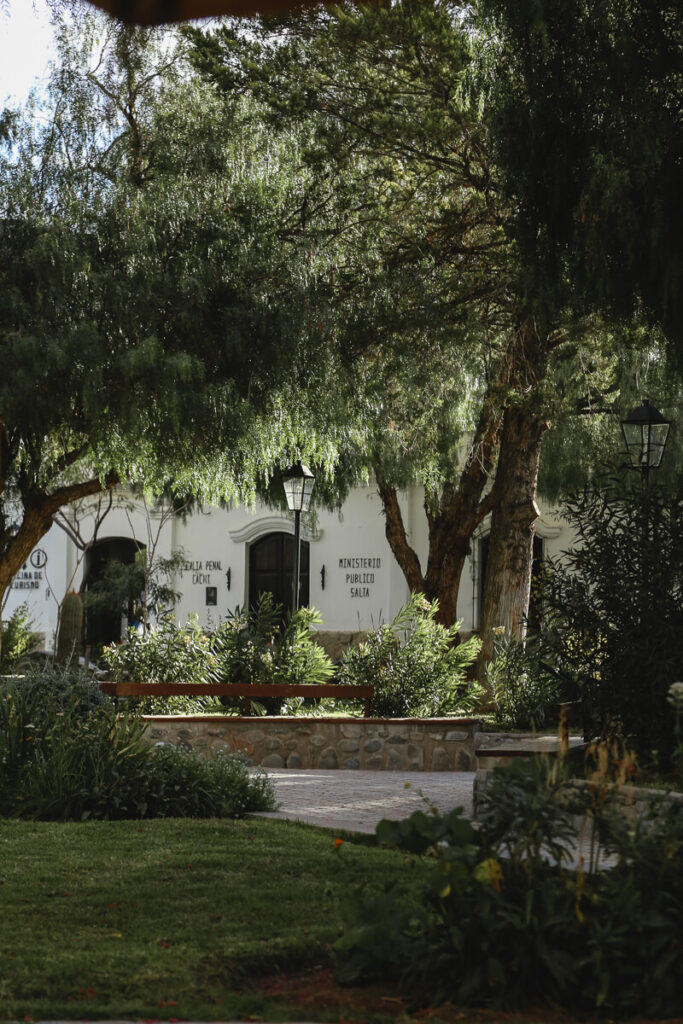 1. Plaza 9 de Julio
The first thing you should do in any small town in Argentina's Northwest is make your way to the main square.
These towns were built by Spanish settlers and like in Spain, the main square is the beating heart of the town.
Cachi's Plaza 9 de Julio is particularly beautiful. Enter under one of the stoned arches and enjoy the shade of the manicured trees and gardens.
The church, the Pío Pablo Díaz museum, tourism information, and one of my favorite Cachi restaurants, Oliver, all border the plaza.
2. Museo Pío Pablo Díaz
Cachi's archeological museum was founded in 1969. Visit it to learn about the pre-Hispanic history of the region. You'll see ceramics and indigenous pieces discovered right here in these valleys.
It's located just off the main square by the church. It's open every day except Monday from 9 am-6 pm
NOTE: Check current hours at tourist information if the museum is closed. Opening hours can be very irregular in this area of the country.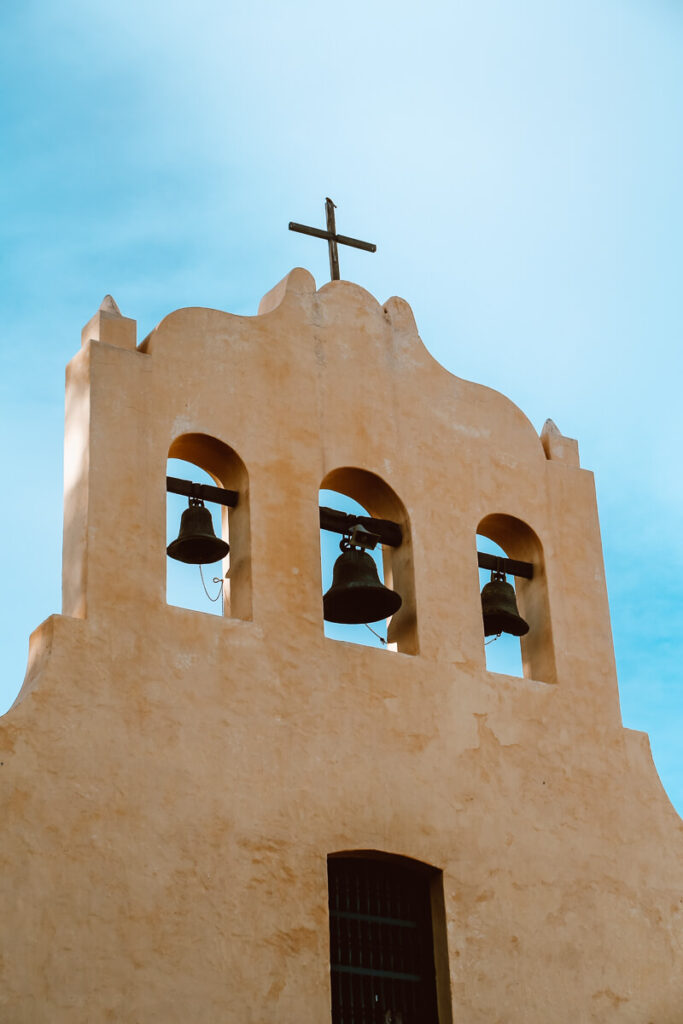 3. Iglesia San Jose de Cachi
The churches in Salta and Jujuy are a special kind of beautiful and Cachi's church is no exception.
The vaulted ceiling and confessional are constructed from the wood of the region's Cardon cactus. It's unlike anything you'll see anywhere else in the world.
It was originally built in the mid-18th century as a place of worship for the Aramburu family, the owners of this land at the time.
4. Eat Regional Cuisine
Goat and sheep farming is typical in the region and you'll see goat stew (cabrito) everywhere.
Salta's empanadas are some of the best in the country and you'll find it impossible to find a bad one here. For a unique flavor you won't see elsewhere try quinoa empanadas!
My two favorite restaurants in Cachi are Oliver (on the main square) and El Bistro de Cachi (next to the church).
Oliver prioritizes high quality ingredients and their location on the main square is unbeatable.
El Bistro de Cachi recreates international recipes with local ingredients. I tried a llama goulash! They also have an excellent wine menu.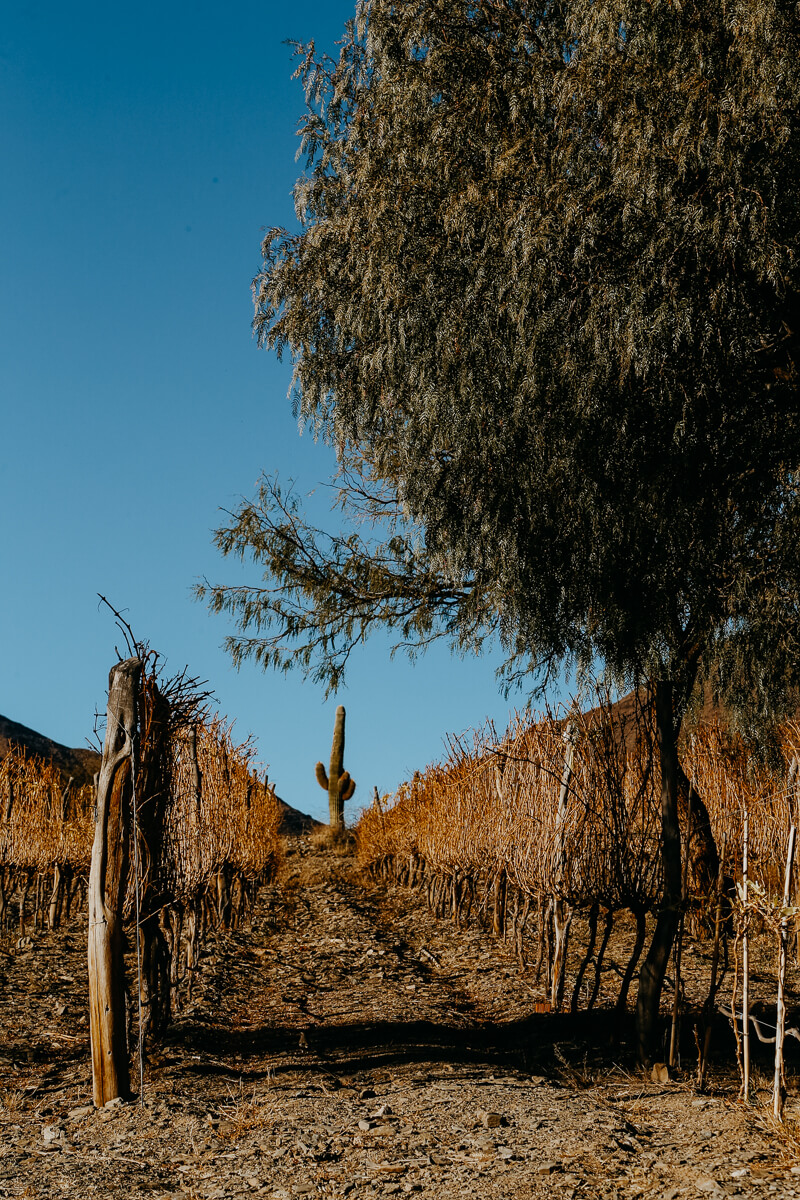 5. Visit the Wineries
It is my personal (and enviable) mission to visit all of Argentina's wine regions and Cachi is home to some impressive high altitude vineyards.
Naturally, I visited them all.
The wineries in nearby Cafayate may be more famous than those of Cachi but they have the same favorable conditions at an even higher altitude.
For more information read my post about the best wineries in Cachi.
Bodega Isasmendi was my favorite and it is reachable on foot (just outside of downtown).
Bodega Miraluna offers three scheduled visits with tastings each day. It's also a hotel with cabins among the vines, check it out here.
The restaurant at Puna has the best view for a glass of their wine at sunset or to enjoy with their three-course lunch.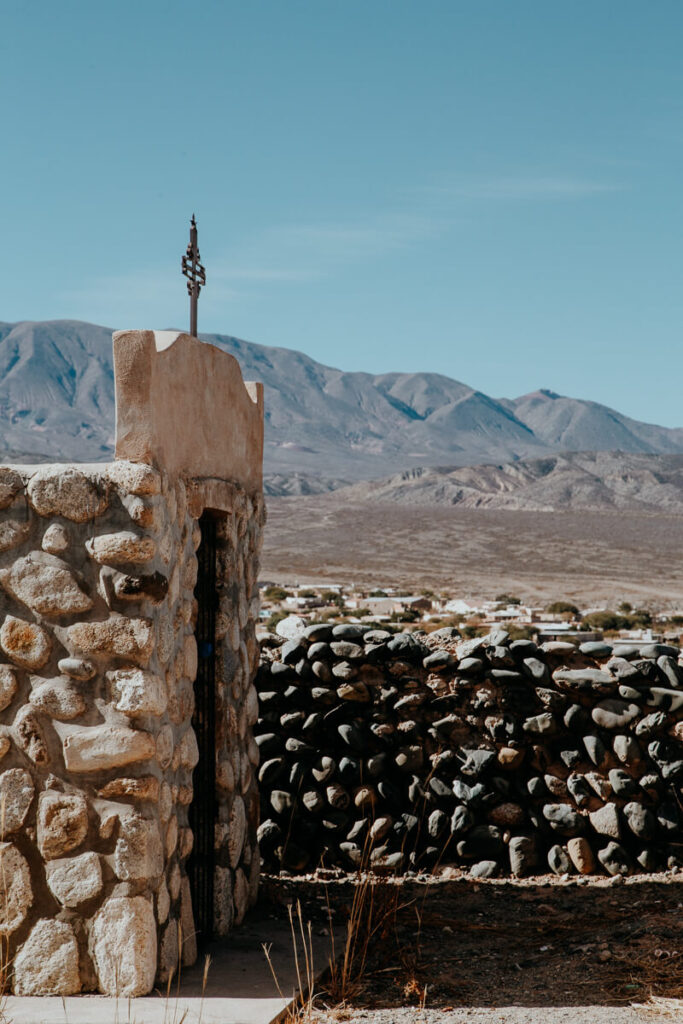 6. Visit the Cemetery & Mirador Norte
That's right, one of the best viewpoints in Cachi is the cemetery.
I didn't realize it was an official "mirador" until I later looked a bit closer at the map. Personally, I was just interested in the cemetery.
If you are also intrigued by cemeteries you won't be disappointed by Cachi's tombs and mausoleums. Each one is wildly different from the next.
HOW TO GET TO THE CEMETERY: We had a car so we drove here on our way to the OVNIpuerto. A block past the main square take a right onto De Los Rios street and cross Rio Las Trancas. It's a 10 minute walk (uphill for the final half).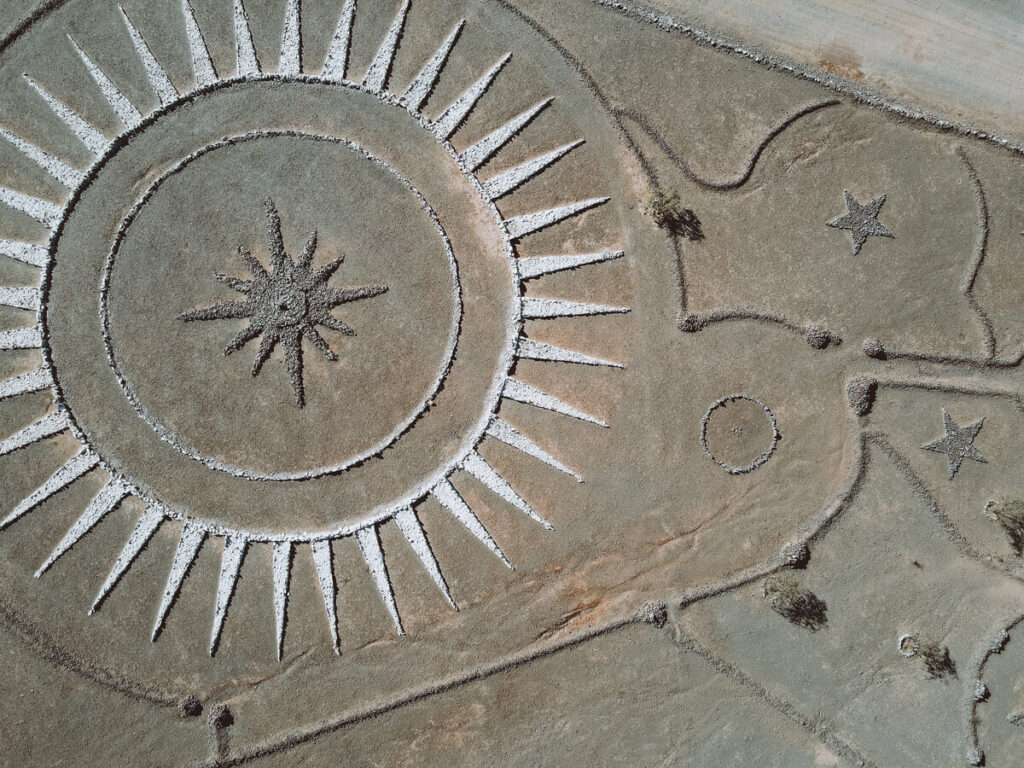 7. The Ovnipuerto
If you like weird things and even slightly believe in aliens (raises hand) then you have to see Cachi's quirky Ovnipuerto.
OVNI is the Spanish translation of UFO. So you read that right, this is the alien landing pad of Cachi.
It's a 10 minute drive from down and worth the drive. The walk is a bit of a trek at 45 minutes so if you go I recommend driving or hiring a driver.
White stones are grouped together to form a series of 12 stars on a field above the city. From ground level it's not easy to take it all in but it is really beautiful from above. I flew my own OVNI, my new drone, to check it out!
The UFO landing pad was built by the eccentric Werner Jaisli from Switzerland after he saw a flying object in the area. He built the landing pad with three helpers.
Despite using zero plans and drawing by hand in the dirt the stars have an incredible symmetry to them.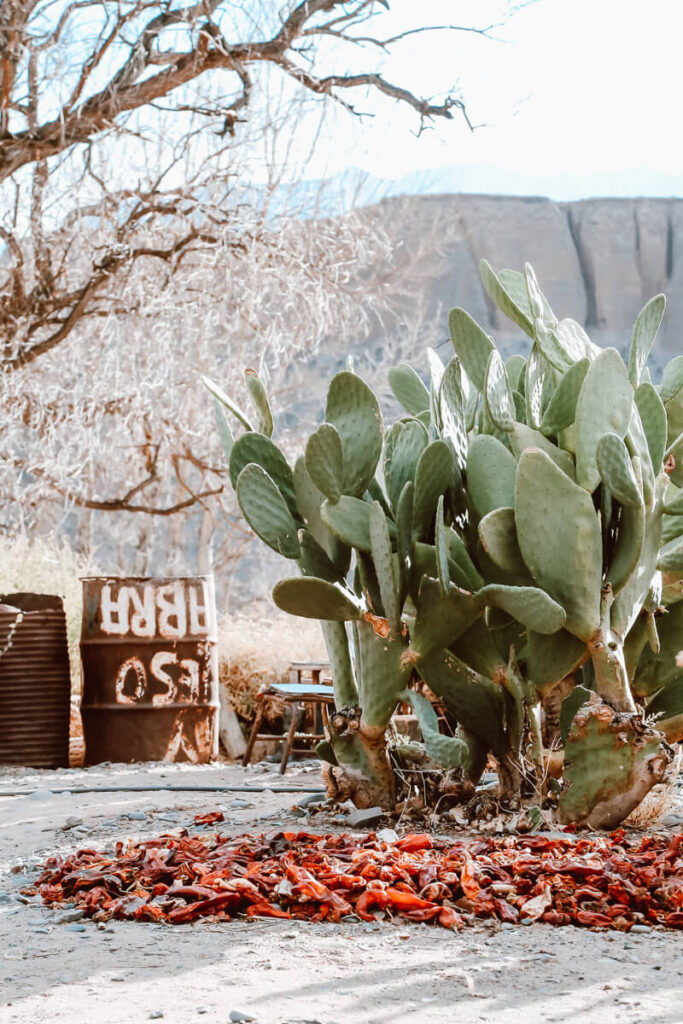 8. Visit Payogasta
Payogasta is the first town you'll see after the Ruta 33 from Salta. It sits right at the intersection of Rutas 33 and 40 and is only 15 minutes from Cachi.
It is best known for its sweet pepper harvests and the paprika they produce! Visit in June or July and you might get lucky enough to see peppers drying on the hillsides next to the highway here!
Buying spices here is a must. We always bring back packets of paprika and cumin from our trips to Salta.
Downtown Payogasta is tiny and rundown but I found it to be very picturesque and charming in its own way.
There's always a winery here and a hotel. You can visit for a tasting or have lunch (reservations required ahead of time).
The Best Cachi Excursions
Cachi is on Argentina's most epic highway, the Ruta 40.
Naturally, there is a lot to see and do nearby if you're willing to drive a little (or a lot) for some epic Cachi day trips.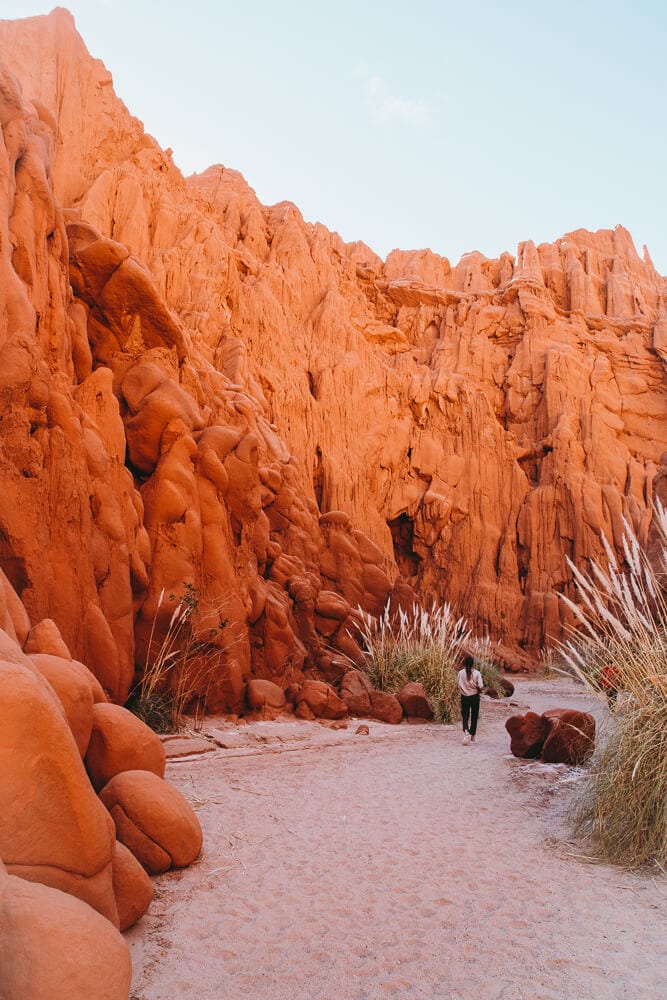 1. Seclantas & The Cuevas de Acsibi
The Cuevas de Acsibi are stunning and not really on many people's radars. It's as beautiful as the moree famous Quebrada de las Conchas, if not more so.
This day hike is located on private property and you have to hire a guide. We went with Tony (find his contact information on my complete Cuevas de Acsibi guide). He's very affordable and insanely informative!
The hike takes four hours but it's a 6 hour excursion in total including the drive across their beautiful property to reach the canyon.
It is one of the most beautiful things I have ever seen.
After he drops you back in town at around 3 pm make sure you take the time to see the beautiful church, main square, and cemetery.
On your way back to Cachi drive through El Colte to see Salta's best artisans weaving ponchos along the road!
2. Molinos & Colome
Colome is one of the best wineries in Argentina and it's just an hour and a half from Cachi.
It's an hour and a half drive total to reach it (an hour to Molinos, and half an hour uphill from there).
It's famous not only for its wine but for the James Terrell Museum. This is the first museum dedicated to the American "light-and-land" artist and people travel here just to see these exhibits.
Plan for the visit to take an entire day including their lunch, a tasting, and the visit to the museum. You must book in advance on their website.
Related: The Perfect Argentina Packing List
KEEP READING: If you are driving to/from Salta or Cafayate, there are a lot of stunning things to see along the way. Read my Salta Road Trip Itinerary to see all of the sites along the way, free map included!
3. Puente del Diablo & La Poma
Where the other two excursions take you south, a visit to La Poma will bring you north along the Ruta 40.
La Poma is the final town before the Abra del Acay mountain pass (and is the halfway point between Cachi and San Antonio de los Cobres).
It's home to Incan ruins and a beautiful geographical formation, the Puente del Diablo. You'll need to hire a guide to explore these natural caverns.
Regrettably, this is the only thing on this list we didn't have time to do.
At least there is always a reason to return!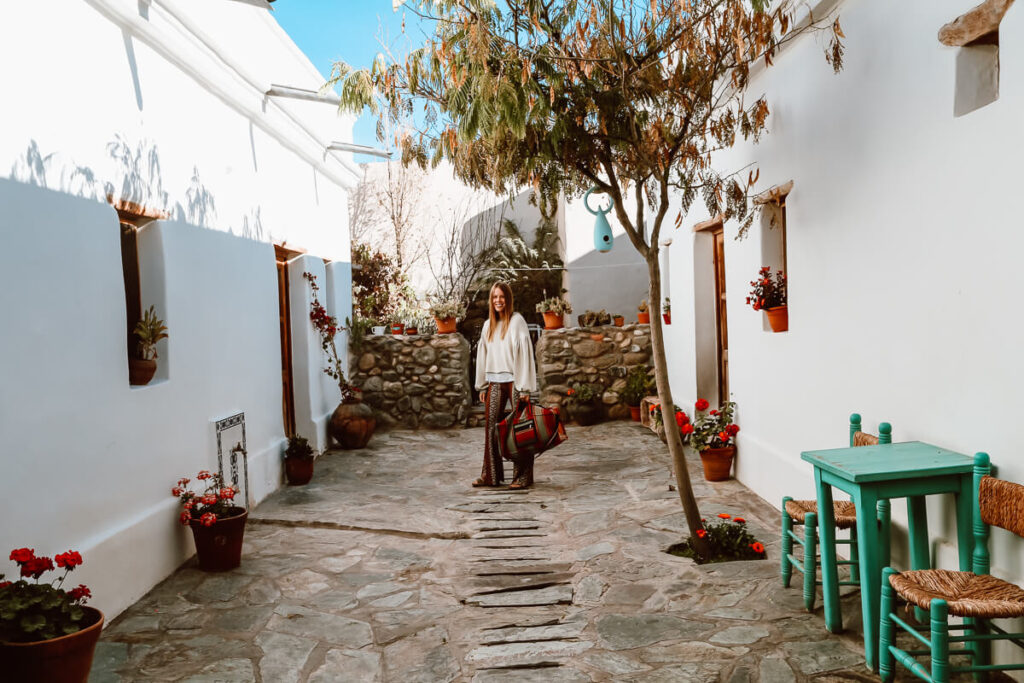 Where to Stay in Cachi
On our first trip to Cachi we stayed at the Hosteria Villa Cardon.
It's gorgeous and very affordable! It's just a couple of blocks from the main square and the best restaurants. You'll easily find parking right in front since it's on a quiet street.
For our second trip to Cachi we needed more space since we were coming with our baby this time around. I rented a cabin at Miraluna, a winery 15 minutes outside of Cachi.
In my opinion, the distance was worth it to be sleeping on this beautiful vineyard.
The cabins were spacious and having a kitchen was very helpful with our little one. The pool and playground would be amazing if you're visiting in warm months (we were there in winter).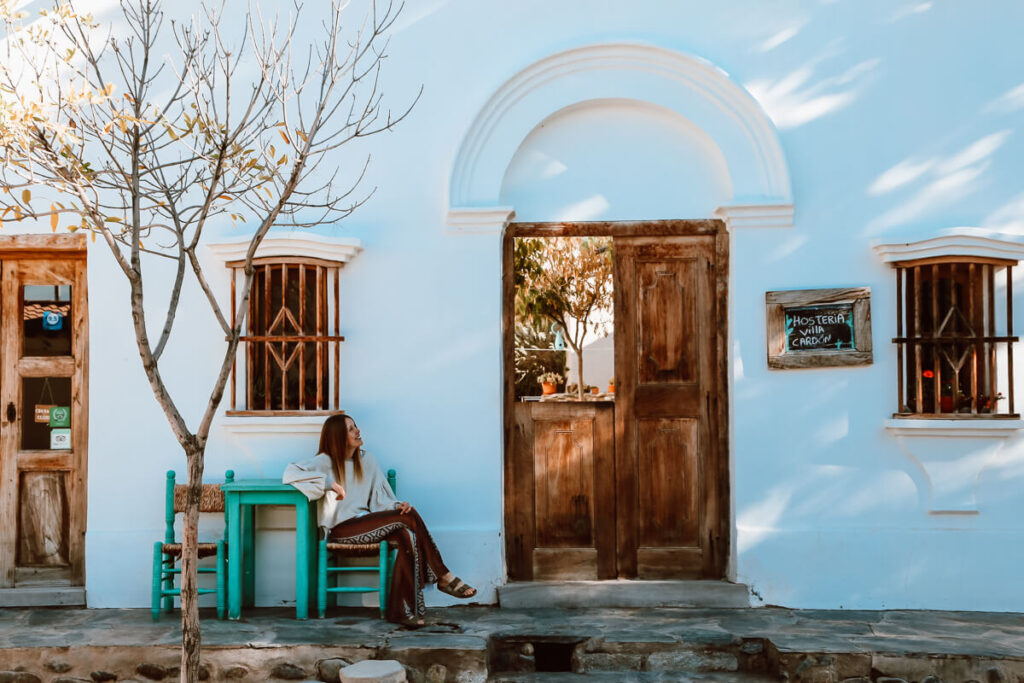 Keep Reading about Salta
Argentina Travel Resources
Pin It For Later