The hikes in Patagonia are legendary. This region of South America is so synonymous with the outdoors that there's even an outdoor brand named after it.
And while the Patagonia hikes are some of the best in the world, there are actually bucket-list-worthy trails all over Argentina.
This post is a compilation of all the best hikes in Argentina.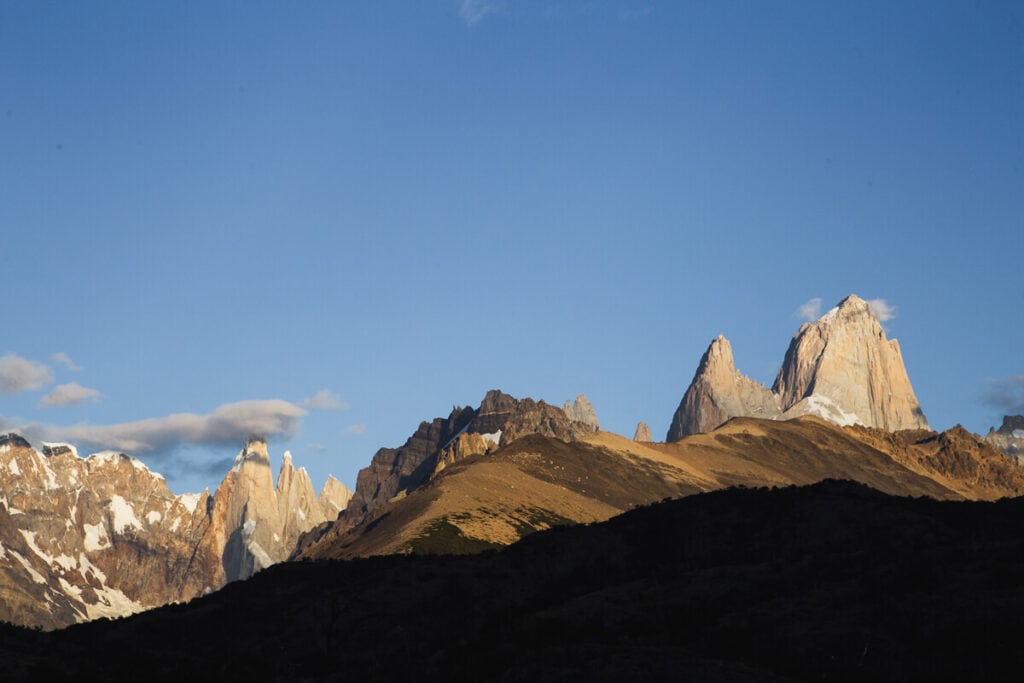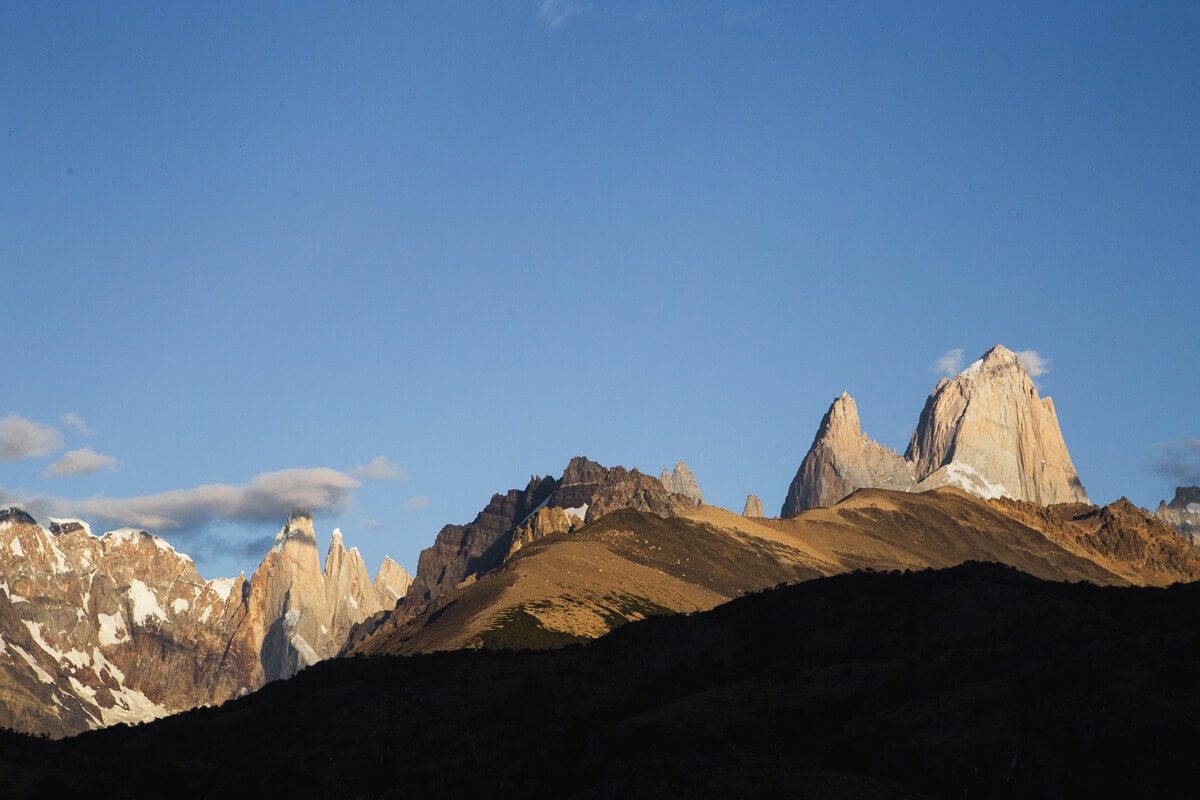 QUICK NOTE: This post contains affiliate links and Sol Salute may receive a commission for purchases made through these links, at no extra cost to you.
Where to go Hiking in Argentina: North to South
I've been hiking in Argentina across Mars-like terrain in the northwest, through the humid jungles of Misiones, and to waterfalls in the wine regions.
However, despite living in the country for nearly a decade, sheer negligence has kept me from actually exploring the trails in Patagonia (really, I have no excuse).
So to offer a complete list of the best hikes in Argentina, I've turned to fellow travelers for their professional advice and personal experiences.
This post contains all my favorite Argentina hikes, plus suggestions from fellow bloggers who have conquered the best hiking trails in Argentina that I've missed.
The treks in this post are listed from north to south, starting in the northeastern jungle and working our way south to Ushuaia.
Strap on your hiking boots and let's get started!
Read More about Argentina Hikes: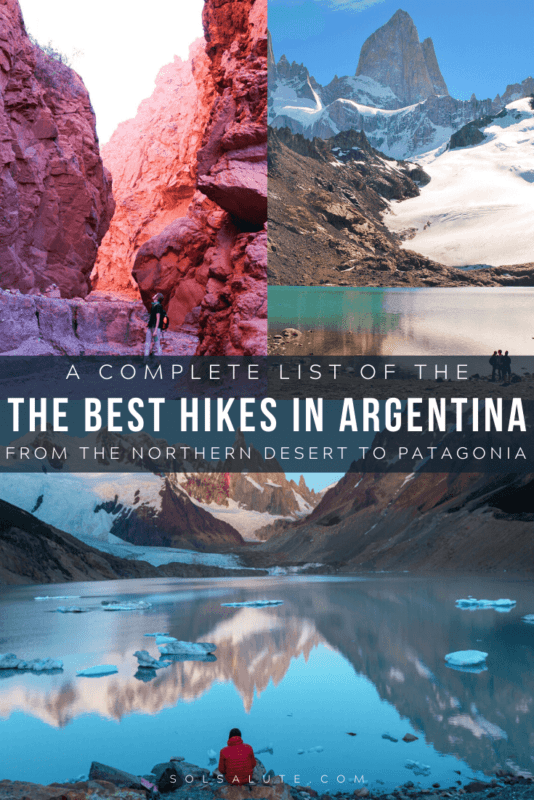 Northeastern Argentina Hikes: The Misiones Jungle
The northeastern province of Misiones is home to Iguazu and countless other waterfalls.
With it comes trails through the dense jungle to stunning waterfalls and rivers.
Parque Provincial Teyú Cuaré, San Ignacio
People normally visit the small town of San Ignacio in Misiones for its ruins.
It's home to the country's most intact Jesuit mission, but just outside of town you'll find the Teyú Cuaré Provincial Park.
It's not far from the center of town, but you do need a car (or to hire a driver) to reach it.
Once in the parking lot, you're already immersed in the dense vegetation of the jungle.
There is a spigot here to fill your water bottle, bathroom facilities, and a park ranger's office (that wasn't there when we visited).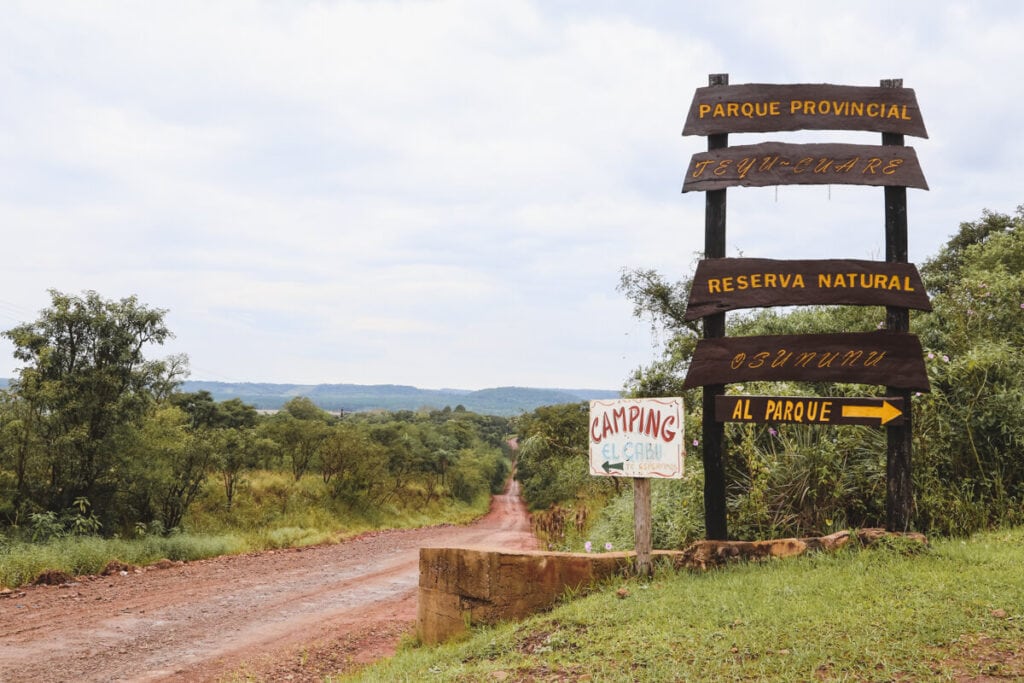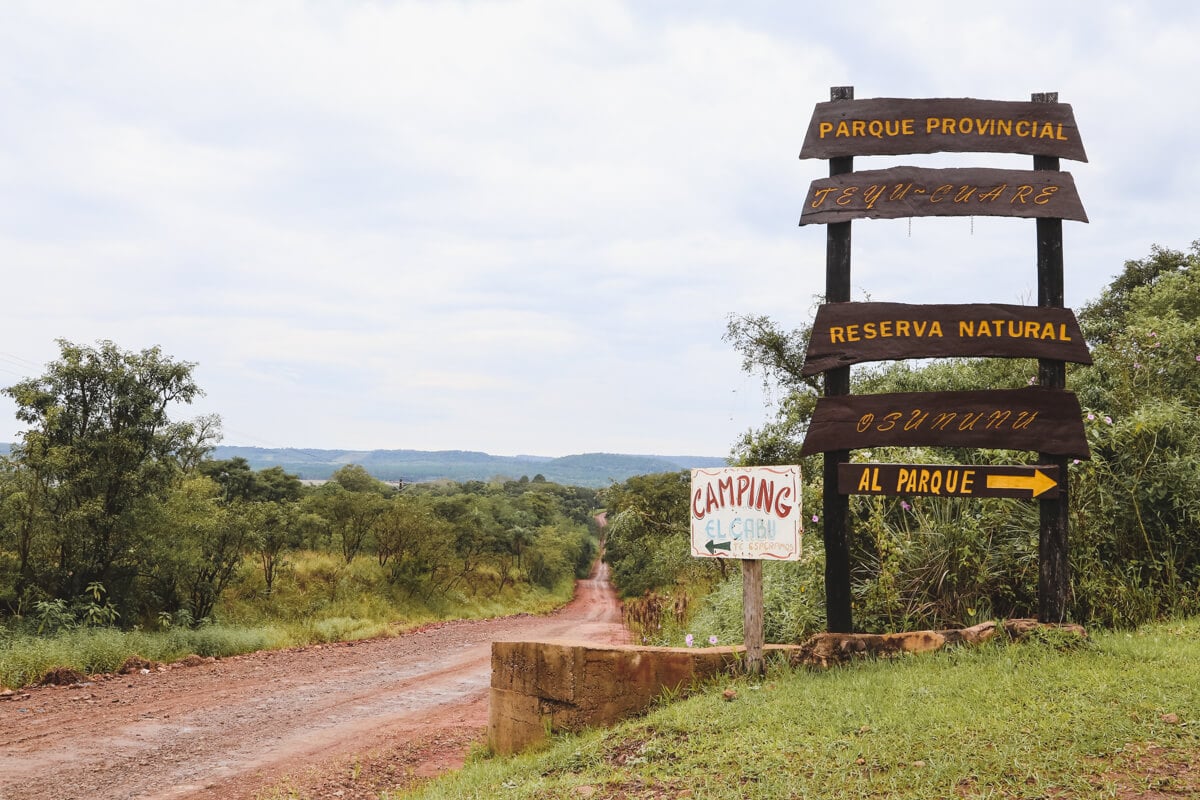 Just exiting the parking lot you'll find the trail head for three different trails.
All depart from this spot and are short hikes at only 2 kilometers.
They are easy for all ages and skill levels, just mind the humid heat (dress appropriately, wear insect repellent, and pack water).
One trail takes you deep into the vegetation to the ruins of what is rumored to be the home of a Nazi officer hiding in Argentina.
While it's not been proven, it's likely, seeing as the home features European luxuries like a bathtub and plumbing that weren't common in this region at the beginning of the 20th century.
Fascist relics were also found including a Franco belt buckle and various coins.
After your dark history lesson, backtrack to the trail head and take one of the other two trails to reach the shores and views of the Parana River.
On hot summer days, bring a picnic, your swimsuit and sunscreen to take a dip and enjoy the beautiful Misiones sun.
Read more about things to do in Misiones here.
Read Next: A Complete Guide to Trekking El Chalten: Argentina's Hiking Capital
Northwestern Argentina Hikes: Jujuy & Salta
The red desert of Argentina's northwest offers drastic scenery and with it, beautiful trails.
Cerro de los Siete Colores, Purmamarca in Jujuy
Submitted by Rebecca Arnold of Rebecca and the World
Open any Argentina guidebook and it you won't have to flick through many pages before you come across a picture of one of the most striking sights in the country: the Cerro de los Siete Colores.
Translated as the Hill of Seven Colors in English, this geological formation features layer upon layer of purple, pink, orange, green, yellow, and white sediments, an incredible phenomenon formed over hundreds of millions of years.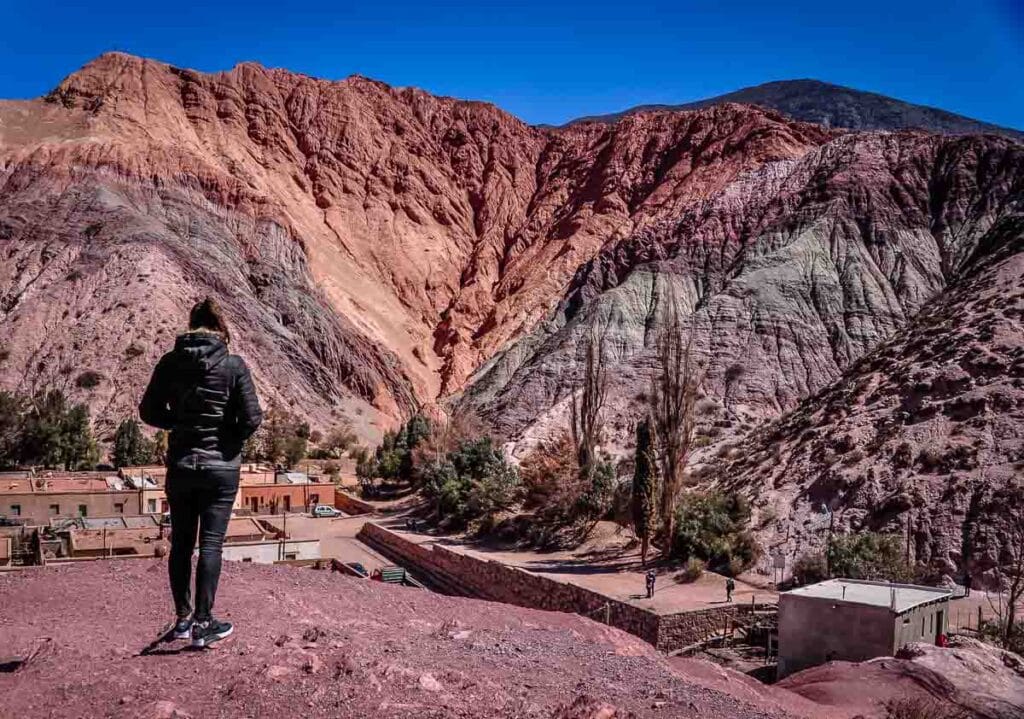 Located in the small town of Purmamarca in north Argentina, the Cerro de los Siete Colores is easily reached from Salta, the capital of the province of the same name, 98 miles away.
Most people come to gaze at the mountain as a day trip, but I recommend staying a night or two in Purmamarca so that you can get up early and see the colors at their best in the morning light.
There are several viewpoints around Purmamarca that provide panoramic views of the Cerro de los Siete Colores (most with a small entrance fee – pay up as this helps to maintain these trails!).
But an often-overlooked thing to do in Purmamarca is to hike around the base of the Cerro de los Siete Colores.
Well, it's more like a stroll than a hike, but it's a great way to see the hill from a different perspective and admire the magnificent colors up close.
This Northern Argentina hiking route, the Paseo de los Colorados, is only 1.5 miles and on fairly flat ground, so it's suitable for all fitness levels.
The loop starts in town and it's best to do it in the morning or late afternoon just before sunset for the best light.
Cerro las Señoritas, Uquia in Jujuy
The red mountains of this gorge just behind the tiny town of Uquia in Jujuy isn't well known, but the hike here is a must do experience.
Walking across the deep red earth, surrounded by jagged cliffs, it feels as if you're walking across the surface of Mars.
This is an easy hike. It took us under two hours total, and that's including an empanada picnic in the canyon.
The main concern is the hot sun, you're very exposed for much of this Argentina trekking so be sure to protect yourself from the sun.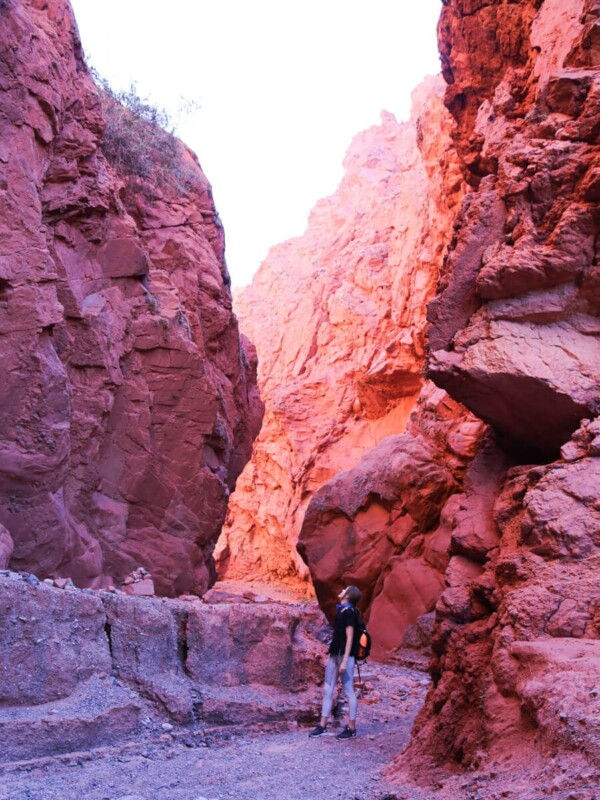 Ask the locals to help you find the trailhead, it's just outside of town (following the main road to the left of the church).
The hiking path is marked only by red ribbons tied to branches, so you have to pay attention as you go.
We walked until we found the entrance to a canyon, which we had all to ourselves. Imagine having Arizona's popular Antelope Canyon all to yourself, this is what the deserted Argentina desert has to offer!
Once at a dead end in the canyon, we paused to eat some of the region's famous empanadas and enjoy the stunning views.
There is a legend behind the name of these mountains. It involves three Incan women fleeing from the Spanish conquistadors, click here to read more about their story and this beautiful province.
Las Cascadas, Cafayate in Salta
Cafayate is famous as Argentina's second largest wine region.
So while one of the most popular things to do in Cafayate is sip on refreshing Torrontes, it's also home to a beautiful hike.
Las Cascadas is a difficult hike and requires a guide.
When you arrive at the trailhead, a group of guides will be waiting, so there is no need to hire a special tour ahead of time.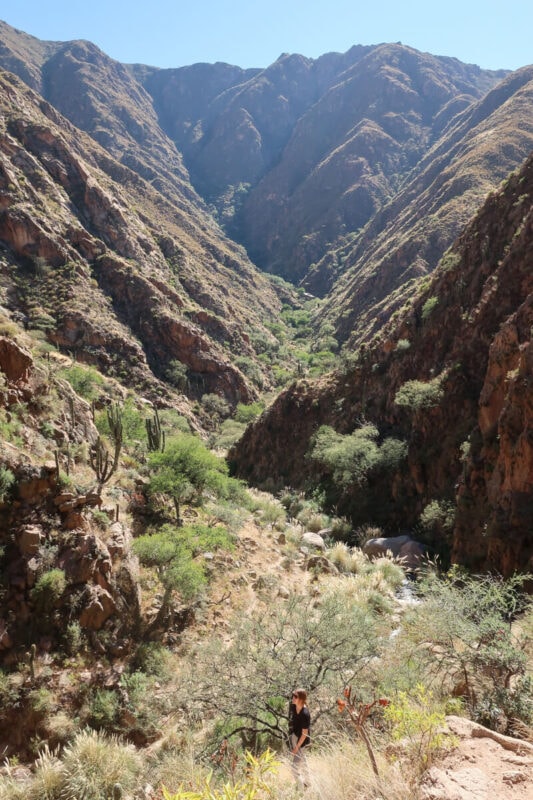 This northwestern Argentina hiking trail includes 7 different waterfalls. You can decide how many you want to visit and your guide's fee depends on how far you go (each waterfall increasing the price).
And I promise you DO need a guide for this trail.
While not particularly difficult skill-wise, there are tricky patches that the guides know how to pass (and the trail isn't really marked).
For an easy hike, hike to only the first two waterfalls and turn back.
We conquered all seven in three hours, so calculate up to four hours tops for the entire circuit. If you're tight on time, just turn back when you need to.
After your hike through the valleys and waterfalls, reward yourself with lunch and wine at the nearby Finca las Nubes winery.
Lie on their grassy hill and overlook the vineyards below, you earned it.
Read Next | The Most Beautiful National Parks in Argentina
Where to go Hiking in Patagonia
Refugio Frey Hike, Bariloche
Submitted by Kimmie Conner of Adventures & Sunsets Blog
Bariloche is an incredible destination in Argentina. It's the chocolate capital of the country, and is an amazing historic town surrounded by scenic lakes, mountains, and – you guessed it – lots of hiking.
After exploring the town and doing some bike rides, it would be silly not to venture up into the beautiful jagged mountains to experience some Northern Patagonia nature.
The Refugio Frey hike in Patagonia is one of the most popular day hikes from Bariloche.
To get to the trailhead, you'll take a public bus to Cerro Cathedral (purchase and top up a SUBE transport card from any kiosk).
The trail is about 12 kilometers in each direction, and offers sweeping views over the wooded landscape.
You'll pass streams, bridges, rushing rivers, and forests as you ascend the mountain, eventually sighting the tips of mountains so jagged they look like Mars.
Once you reach the top you'll be greeted with massive rocky mountains overlooking a lake.
I recommend packing a lunch to enjoy as you look out over the lake (above), enjoying the view before your descent.
The trail does continue – so you can trek farther if you would like! The actual Refugio Frey is a small little kitchen and room if you need to use it as a base for a while.
Unfortunately, there's no looped trail here – you'll have to head back the same 12 kilometers you came up, and you'll deserve plenty of chocolate when you arrive back to the city!
Paso de las Nubes, Bariloche
Submitted by Wendy Werneth of The Nomadic Vegan
The Paso de las Nubes trek climbs up and over its namesake, which roughly translates to "Cloud Pass."
This trail includes some spectacular mountains and glaciers along the way.
The basic trek takes two days, but this can be stretched to four days by adding on side trips that are well worth it, such as the hike to Glaciar Castaño Overo, one of the most beautiful sights in all of Argentina.
The trail is fairly easy compared with others in Patagonia, although it can get boggy in parts.
The entire trek is essentially an ode to Mt. Tronador, whose name means "Mt. Thunderer" in reference to the sounds its glaciers make.
Tronador is easily the highest mountain in the region at 3554 meters and completely dominates the area.
The triple-peaked mountain is shared between Argentina and Chile and is covered in snow year-round. All of the glaciers you'll see on the trek hang from its slopes.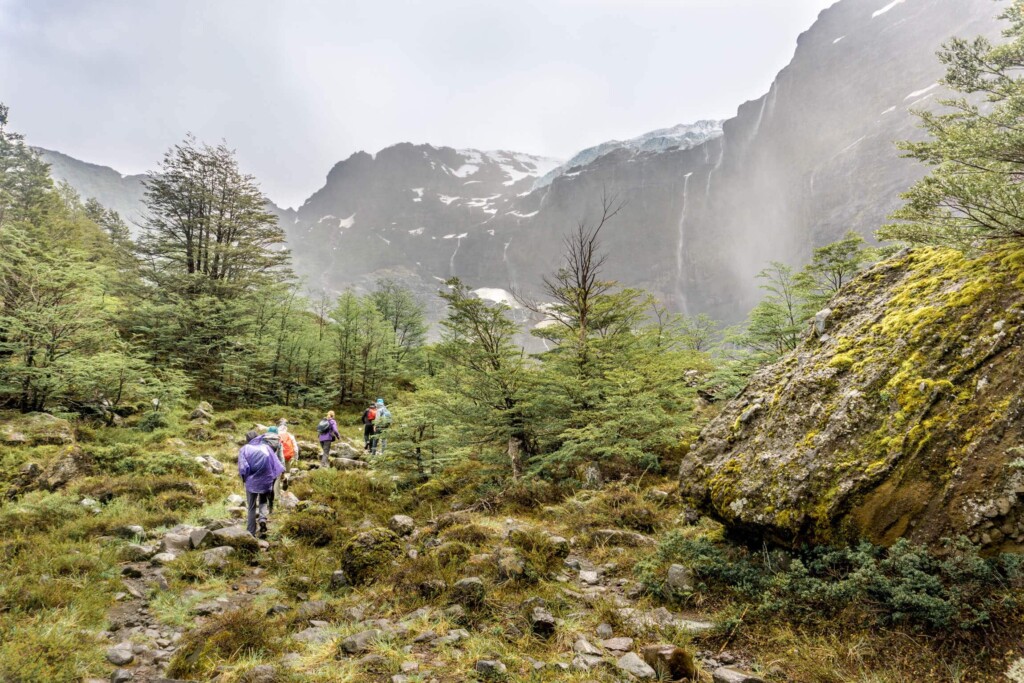 Glaciar Castaño Overo and Glaciar Frías are two of the most beautiful glaciers we've ever seen.
And, unlike the famous Perito Moreno Glacier and the many that we saw on our cruise from Ushuaia to Antarctica, these glaciers we had practically all to ourselves.
Paso de las Nubes is not a loop trail, but instead of walking all the way back you can join the "Cruce de Lagos" boat and bus tour from the end of the trail at Lago Frías.
This cruise ferries tourists from Puerto Montt in Chile to Bariloche in Argentina and includes boat rides on Lago Frías and Lago Nahuel Huapi.
Joining a boatload of tourists after being alone in nature can be a bit of a shock, but the scenery on the cruise is beautiful, and it's a lovely way to end the trek.
My husband and I did a lot of trekking on our trip through Chile and Argentina, and this trail was one of our favorites.
Laguna Torre, El Chalten
Submitted by Claudia Tavani of My Adventures Across The World
The hike to Laguna Torre is one of the nicest ones to do in Patagonia.
The trail starts in El Chalten, allegedly the hiking capital of Argentina, and goes all the way to Laguna Torre, a lagoon from where you can get stunning views of Cerro Torre.
This is a moderate hike along an easy to follow trail. You will be walking on the same trail on the way to Cerro Torre and back to town.
The only difficult bit is the 2 km there and back walk along a very narrow and somewhat uneven trail that goes to Mirador Maestri, from where you can get even better views of Cerro Torre and of the glaciers.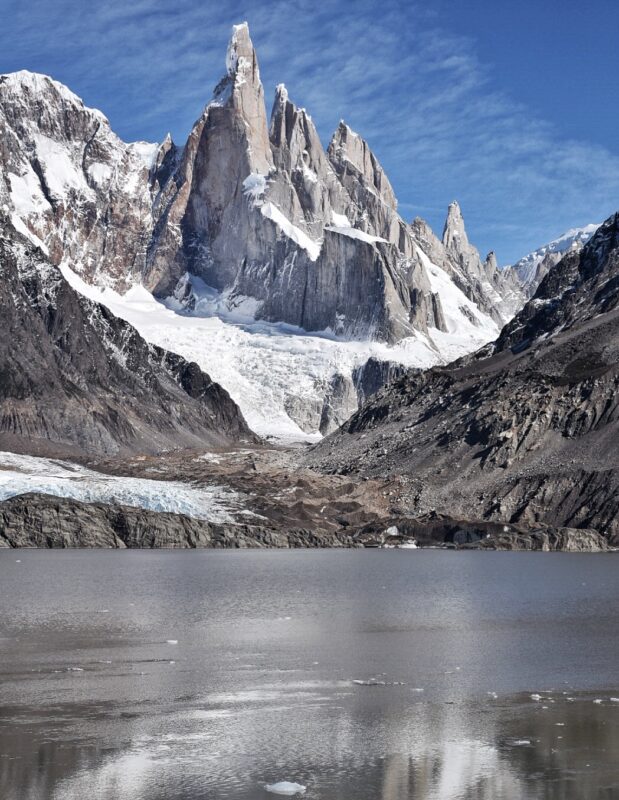 The overall hike is 21 to 24 km long, depending on whether you go all the way to Mirador Maestri or not, and it can be completed in around 6 to 7 hours, depending on how often you stop for breath and for photos.
The views along the hike are beautiful – definitely wait for a clear day to hike to Cerro Torre for an even better experience.
This is one of the most popular hikes in Patagonia, and you can definitely walk it independently.
There generally are a lot of people on the trail, but it never feels crowded.
You will need to bring enough food and water for the duration of the hike. You can refill your bottle at the river – water is supposed to be safe to drink but to be on the safe side make sure you have a water filter with you.
There are no toilets along the way. You will have to go in the bushes – there is a sign at about half way to the lagoon that points to a toilet but this is nothing more than a well covered spot.
Make sure not to leave any garbage (including toilet paper) around.
Pets are not allowed on the trail.
Fitz Roy Hike (Laguna de los 3), El Chalten
Submitted by Serena of Serena's Lenses
The Fitz Roy track in Patagonia is one of the best day hikes in Argentina.
The Fitz Roy mountains are the mountain range that appears on the logo of the clothing brand Patagonia, so you can only imagine how amazing the hike to the Fitz Roy must be.
The Fitz Roy hike is a there and back trail that is about 20 kilometers (13 miles) round trip. It starts in the town of El Chalten, Argentina's hiking capital.
The entire hike takes around 8-9 hours and it is considered a moderately difficult trail due to the length and some of the steep climbs throughout.
The hike begins with a steep uphill trek for the first 3 kilometers. As you continue the trail flattens out for the next 2 kilometers and the Fitz Roy Mountain begins to appear at this point.
The rest of the hike is relatively flat with a view of Fitz Roy until the 1-2 kilometers, where the trail suddenly becomes extremely steep with a 400 meter elevation.
The trail also becomes slippery with loose gravel and rocks before you finally reach the summit with the view of Fitz Roy and the glacial lake below it.
The weather on this Argentina hiking trail can change dramatically and it is entirely possible to experience both sun and snow throughout the hike.
Fitz Roy is impressive and stunning. If you can only do one hike in Argentina's Patagonia, this should be it.
Trek the Perito Moreno Glacier, El calafate
Perito Moreno, one of Argentina's most popular destinations, is something everyone should see.
This stunning glacier is unique in that is advancing and also very easy to access.
So if you're in Argentina, one of the best experiences is this epic Patagonia hike. It involves strapping crampons onto your sneakers and scurrying across a glacier.
There is only one company that operates these guided treks.
While this monopoly obviously results in an expensive tour, it also helps manage the number of tourists on glacier.
I find this to be a valuable trade-off. We want to preserve and protect these natural landmarks, not drown them in over-tourism.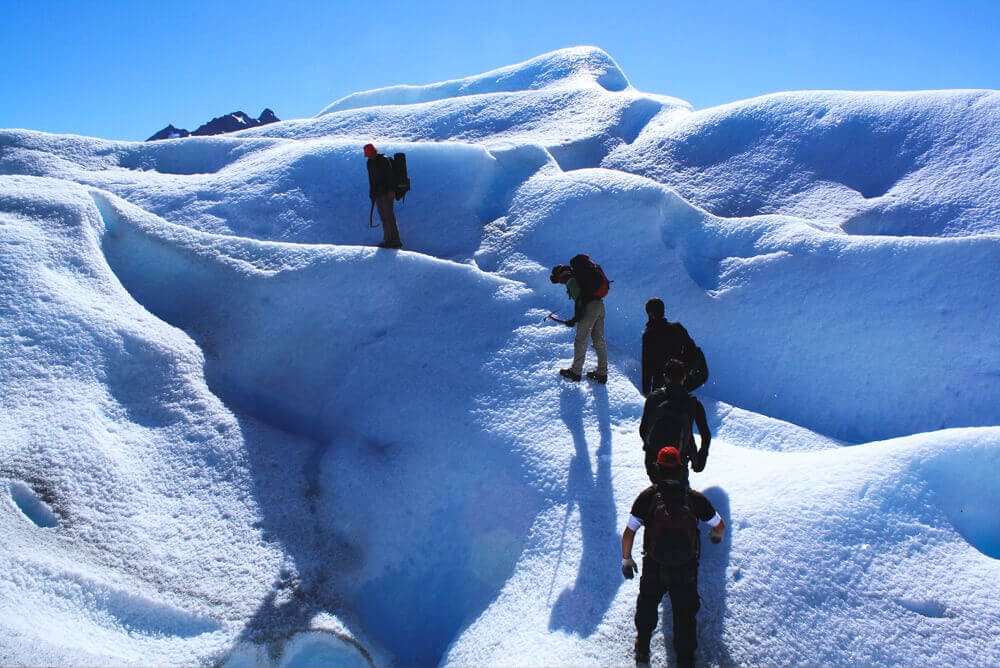 The company, Hielo y Aventura, offers two different excursions: Minitrekking and Big Ice.
The Minitrekking is a shorter trek and is open to a wider range of ages and skill levels.
The Big Ice Trek is longer and you need to be relatively fit and they're more restrictive on age (no children or elderly, no pregnant women, etc).
Both are full-day excursions and one of the best things to do in El Calafate, however, with the Big Ice Trek you spend 3.5 hours on the glacier and with a smaller group of 10 people.
The Minitrekking involves a group of 20 people and one and a half hours on the ice.
Both end with a wonderful glass of whisky poured over glacial ice, you earned it.
Pack sunscreen, dress comfortably and in hiking boots if you have them. If you only have running shoes though, you'll be fine. I did the Big Ice Trek in my nikes and jeans (but leggings would have been a wiser choice).
For more information about how to trek and experience Perito Moreno, click here.
Martial Glacier, Ushuaia
Submitted by Rebecca of Rebecca and the World
Far south in Argentina, at the "end of the world", lies the city of Ushuaia, most well-known as the departure point for intrepid travelers heading for Antarctica.
While nearby Tierra del Fuego National Park has some great Patagonia hiking trails, there are also some hikes right in town.
One of the best things to do in Ushuaia is to hike up Martial Glacier, just behind the city. This is the most popular hike in Ushuaia, probably because it's so easily accessible, but if you start the hike early you can avoid the crowds.
The rocky trail is 4 miles out and back and is steep in some parts. It's considered moderate, but we saw older people and children doing it – just take your time!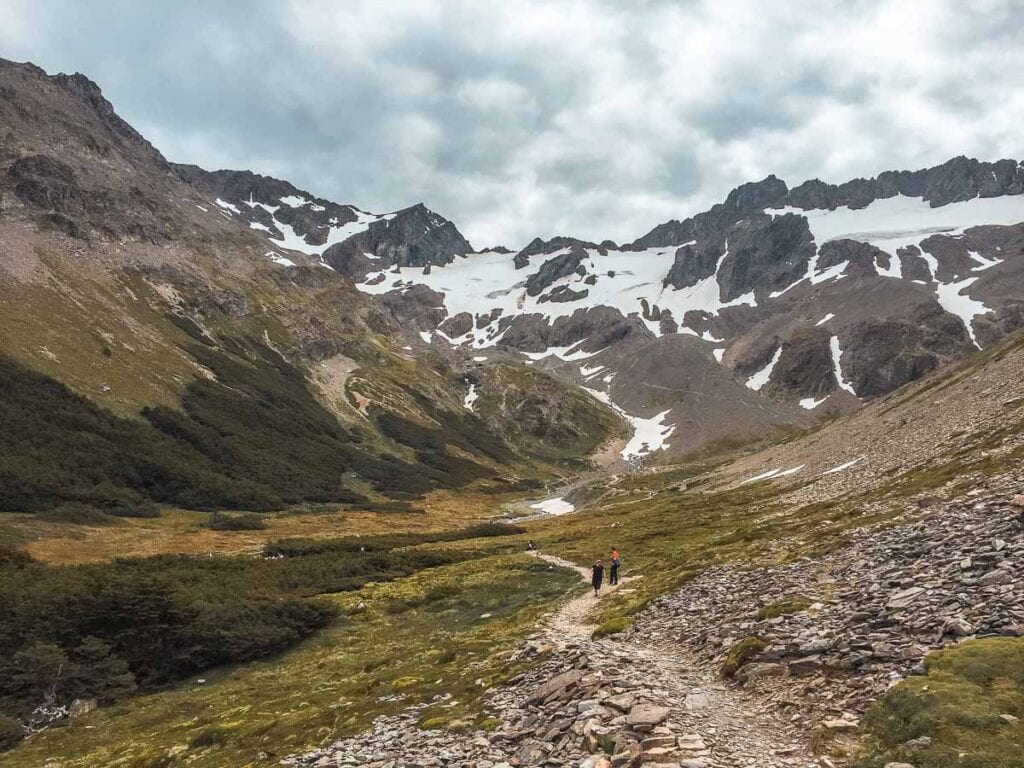 To get to the trailhead, take a taxi from town and start the hike from the café. (Come back to the café later to enjoy a cup of hot chocolate as your reward for finishing the hike!)
After entering the trail, make sure to take the trail to the right.
It runs alongside a stream and is prettier than the main road that leads to the top of the glacier. You may see snow – or the last remaining remnants – along the trail, even in the summer months.
While the glacier and the trail aren't that spectacular themselves, the views from the top are reason enough to do this hike.
From above, you'll have panoramic views across the Beagle Channel, over Ushuaia and to the surrounding Martial Mountain range.
Keep Reading: Things to do in Ushuaia, A Guide to the End of the World
Laguna Esmeralda, Ushuaia
Submitted by Lora Pope of Explore With Lora
Ushuaia is the most southerly city in the world and home to some of the most beautiful hikes in Argentina.
Although I came to Ushuaia to walk with the penguins, I stayed for the hiking.
And out of all Ushuaia's Patagonia hikes, the Laguna Esmeralda trail was my favorite.
This short but sweet hike takes you to Laguna Esmeralda – a vibrant, green alpine lake about 15 kilometers outside of Ushuaia.
It takes about an hour each way to hike to Laguna Esmeralda from the trailhead.
Mini-buses leave from the main bus station in Ushuaia to the trailhead every hour throughout the day.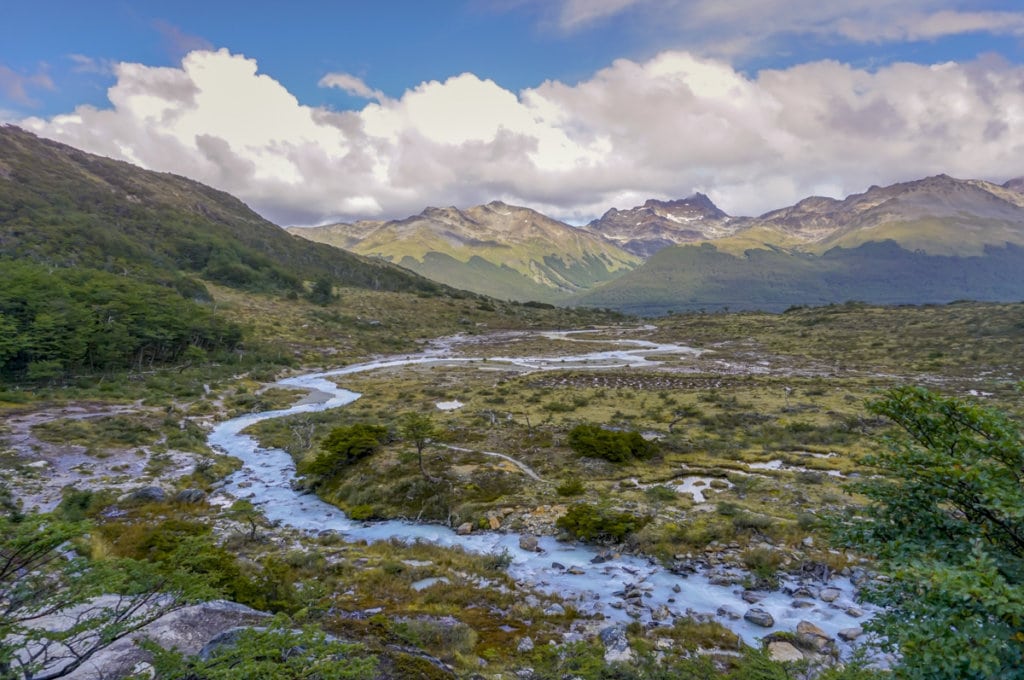 Along the trail, you will pass through many different vegetation zones.
It starts off through young woods and then opens up to a valley with stunning views of the surrounding mountains.
The trail follows along the river, which has beautiful milky blue water. Eventually, it reaches Laguna Esmeralda, which is the perfect place to enjoy lunch before heading back.
There is also an option to extend the hike to the glacier behind.
Although this Ushuaia hike is a there and back trail, the views seemed brand-new facing the other direction.
As the sun kept appearing in and out of the clouds, the colors of the landscapes changed at every turn.
It's a magical area to walk through, and well worth an afternoon if you're in Ushuaia.
Torres del Paine, Chile
Yes, this is a post about the best Argentina hikes. And also, yes, these following hikes are on the Chile side of the border in Patagonia.
To have a complete picture of the best hikes in Argentina, this post has to include Torres del Paine.
Nearly all hiking enthusiasts that visit Argentina's Patagonia also visit Chile to hike the stunning Torres del Paine W and O circuits.
So, while these hikes are technically in Chile, they offer a more complete hiking in Patagonia experience.
The O Trek in Torres del Paine, Chile
Submitted by Campbell & Alya of Stingy Nomads
The O circuit in Torres del Paine is one of the most iconic hikes in Patagonia. It deserves to be on a bucket list of every hiking enthusiast.
The route offers incredible scenery; turquoise color lakes, bizarre rock formations, stunning lookouts, and massive glaciers.
Some of the highlights of the circuit are Mirador Las Torres, Grey Glacier, Pehoe Lake, Mirador Frances, and Mirador Britanico.
The O Trek is a circuit route that starts and finishes at Hotel Las Torres, the Laguna Amarga entrance.
The total distance of the route is 120 kilometers (74 miles) and can be done over 6-8 days.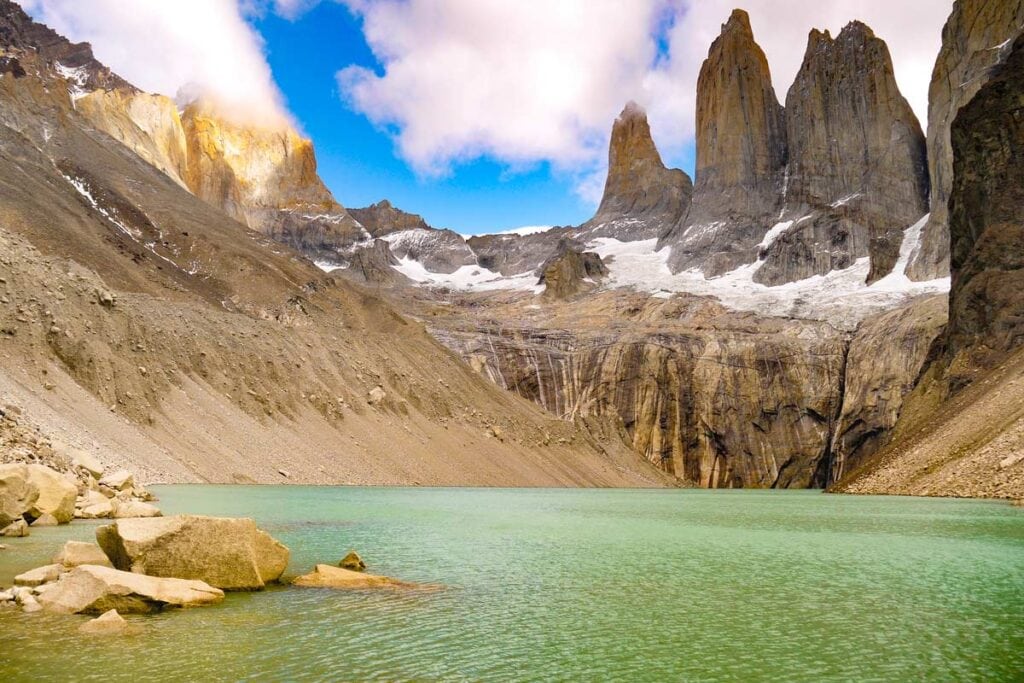 The O circuit is not a high altitude trek but it does feature steep ascents and descents which makes the route quite challenging.
The highest point on the route is John Gardner's pass at 1120 meters (4000 feet). The circuit can be done independently or as a part of an organized tour.
No special permits are required for the trek but it's compulsory to book campsites or refugios in advance before starting.
Puerto Natales is the best place to stay before and after the trek.
There are many accommodation options, a couple of supermarkets and rental shops for gear there.
Torres del Paine is connected with Puerto Natales by a regular bus line.
The O circuit is accessible for all budgets. Hikers can conquer the trail on their own or go with a tour.
You can choose to bring your own food and camping gear or opt to pay a bit more for refugios and eat in the restaurants.
The W Trek in Torres del Paine, Chile
Submitted by Kimmie Conner of Adventures & Sunsets Blog
While not specifically in Argentina, the W Trek of Torres del Paine has to be included when speaking of the best hikes in Argentina or Patagonia.
Why?
It's simply spectacular.
The W is a 5-day trek that you can do in either direction, giving you varied views of what may just be some of the most stunning mountains in the world.
There are a few high-elevation viewpoints of unique peaks and arctic lagoons, an incredible massive glacier, and generally gorgeous trails next to lakes and through forests.
There's not one boring bit!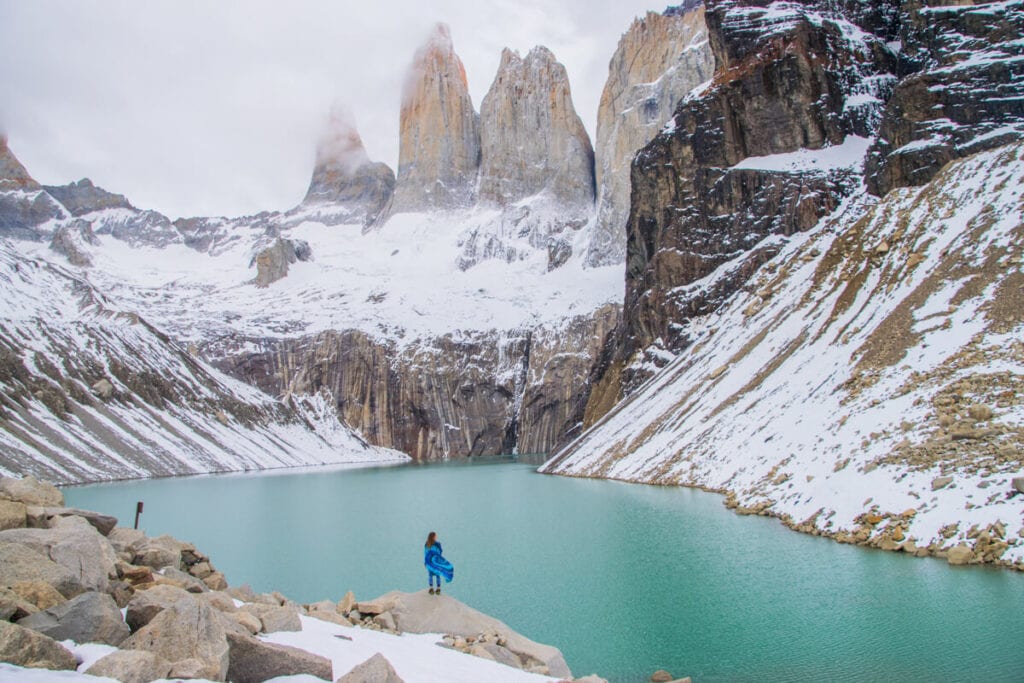 It is definitely a very high difficulty level, however, with certain days reaching well past 20 kilometers up a mountain.
There are quite a few places to stay along the W Trek – both refugios with bunks and sheltered campsites.
The trek is very well-suited to both the budget and more luxury traveler – with restaurants, packed lunches, and heating available in between stretches of the hike.
The best time to go to Torres del Paine would definitely be in the summer, although weather can be inclement year-round.
Torres del Paine National Park is famous for having a temperamental micro-climate, which can lead to cold, wind, rain, and snow with no warning at all!
In my experience on the W Trek, the weather was too poor to reach a few of the viewpoints during our initial trek, so we had to come back a few days later.
Plan in extra time if you want to be sure sure to see what you want to see!
Make sure to book your W-Trek early, because spots nearly always fill up for this once-in-a-lifetime Patagonia trek.
It's a natural beginning to any Patagonia itinerary, after which you can cross into Argentina to check out El Calafate and El Chalten.
French Valley Day Hike, Torres del Paine Hike
Submitted by James Ian of Travel Collecting
The French Valley forms the central arm of the famous "W" hike in Torres del Paine.
However, for those who don't want to do a multi-day trek, it's also a wonderful day hike.
Doing it as a day hike gives you the comfort of sleeping in a real hotel rather than tent or a refuge and the flexibility of making sure you have great weather instead of being locked into the regular "W" itinerary.
The French Valley hike is probably the most stunning in the entire national park, but there are no views at all in bad weather, so doing it on a clear day is essential.
Start by catching the first ferry from Pudeto to Paine Grande. The first leg of the hike is up and down rolling hills and past picturesque Skőttsverg Lake.
There are constant views of the stunning Cuernos del Paine.
In spring (November), shrubs are covered in bright red flowers along this entire section of the trail.
At the French River, cross the narrow pedestrian bridge and turn left into the French Valley. The going for this section of the trail is steep, mostly through woods.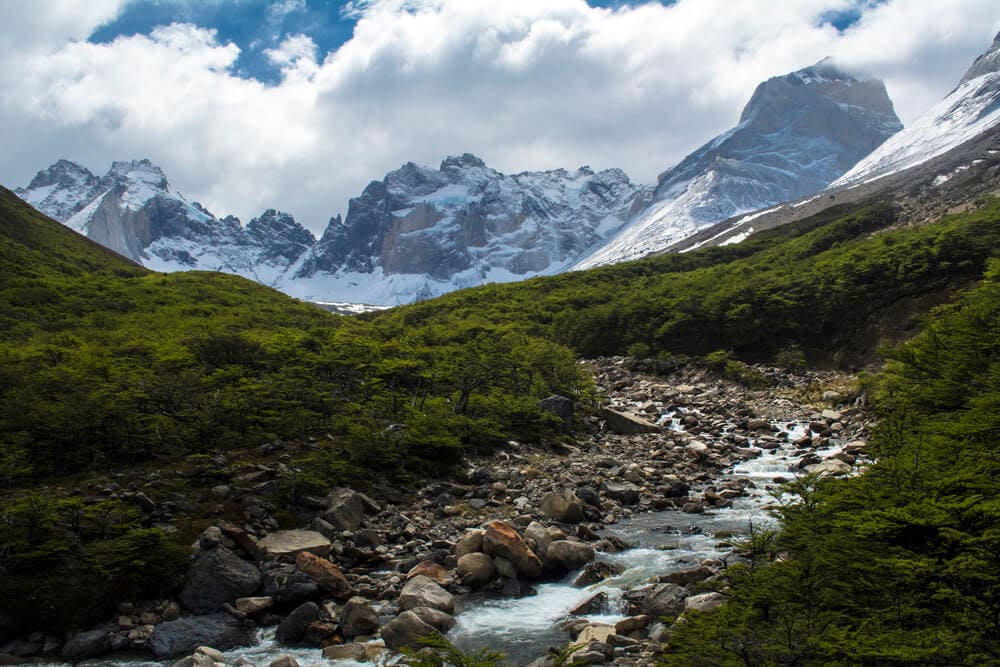 However, you will be rewarded with jaw-dropping views of the French Glacier, framed by craggy peaks; picture postcard perfect Grand Paine; and bright turquoise alpine lakes in the distance.
The 360° view from the French Valley Lookout is some of the most awe-inspiring scenery I've ever seen.
The trail continues to Britanico, but this is the best place to turn back on the day hike so that you get back in time for the last ferry back to Pudeto.
The total distance round trip is 19 kilometers (12 miles) and took just over eight hours, including breaks.
It's a difficult hike because of the elevation change and I was tired and a little sore at the end of the day, but it was totally worth it!
Read all about the French Valley hike here.
The Best Argentina Hikes
Whether you choose to trek across the red earth of Jujuy's colored mountains or through the Andes in Patagonia, these hikes in Argentina will leave you breathless (both literally and in awe).
These are the best hikes in Patagonia, but there are miles of trails to discover.
Pack your hiking boots and get ready to be impressed.
Argentina Travel Resources
Pin It For Later