There may be no destination in Argentina that is more popular than Bariloche.
Sure, Iguazu and Perito Moreno are major destinations but there is just something about northern Patagonia.
Bariloche is one of the largest cities in Patagonia.
It is located in the heart of the country's lake district.
The whole area feels like it was plucked right out of northern Europe rather than Argentina, which makes it easy to understand why so many Swiss and German immigrants were drawn to it.
If you're planning your ideal Argentina itinerary, this post will help.
It is filled with the best things to do in Bariloche from chocolate to trekking and other invaluable tips to make sure your trip to the lake district is the best it can possibly be.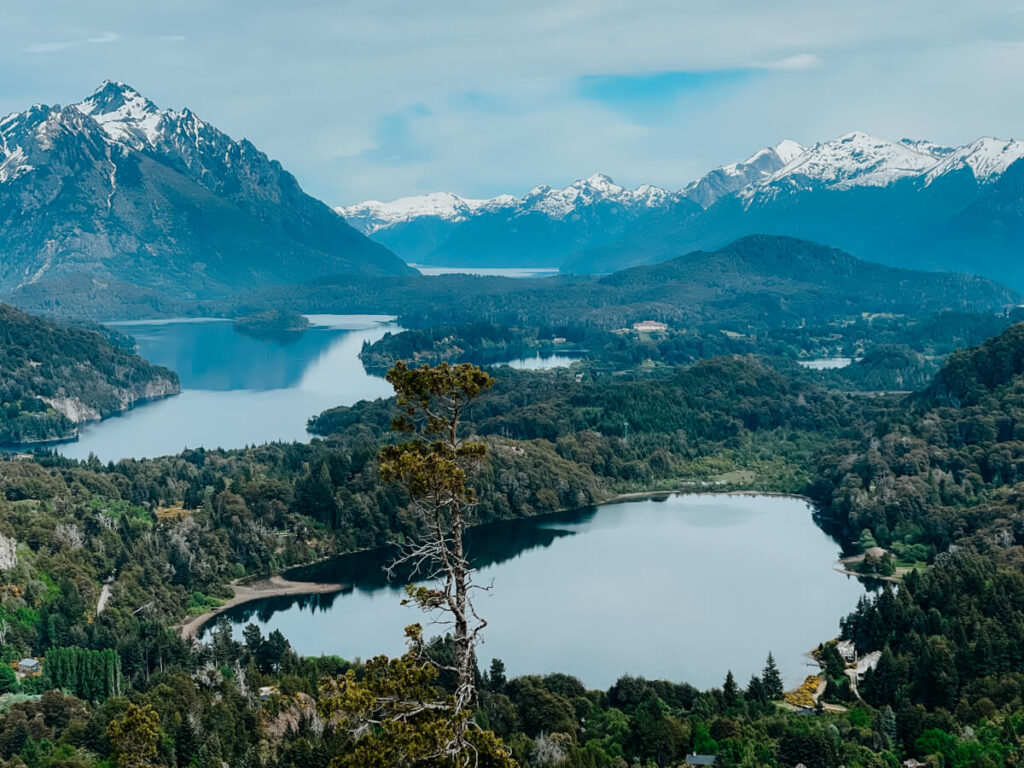 QUICK NOTE: This post contains affiliate links and Sol Salute may receive a commission for purchases made through these links, at no extra cost to you.
A Complete Bariloche Travel Guide
I've been to Bariloche four times now, one trip lasting an entire month (pretending I'm a local)
Suffice it to say, I've fallen hard for Bariloche and understand why it's one of Argentina's most popular destinations.
I first visited when I was a baby expat, having just arrived in Argentina 13 years ago and boy, this city has grown quite a bit since then.
A few years ago, I came back on a ski trip, read all about skiing in Bariloche here.
But the most recent visits sealed the deal. I love it here and I'm confident this post will give you all you need to know to discover Bariloche.
And stick around to the end of the post for practical advice on when to visit, where to stay, and how to get around.
Read More about Bariloche:
The Best Things to do in Bariloche, Argentina
Bariloche is a major city filled with attractions both in the city center as well as hikes and scenic drives in the surrounding area.
Here's an easy to understand break down of the best Bariloche attractions to plan your stay, the best things to eat and drink, and major day trips.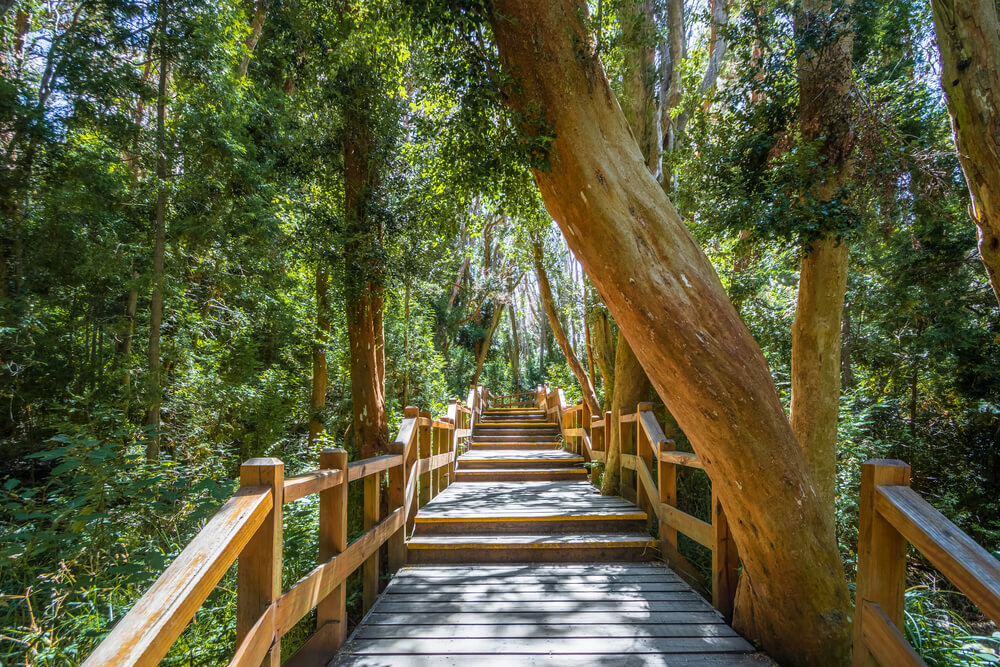 Go on a Lake tour: Arrayanes/Isla Victoria or Puerto Blest
Bariloche is in the lake district and is nestled against the massive Lago Nahuel Huapi.
So, going on a boat tour of the lake is a given!
There are a two major options to choose from.
Everything departs from Puerto Pañuelo in front of the Hotel Llao Llao on the Circuito Chico.
Isla Victoria and Parque Nacional de los Arrayanes – This is easily the most popular tour. Isla Victoria is the largest island you'll see when you look at the lake and is basically a massive botanical garden with a variety of pines and trees that have grown wildly well in the volcanic soil. Then you'll sail to the Arrayan Forest and see that national park filled with red velvety trees.
Puerto Blest – This excursion goes down one of the most beautiful branches of the lake and includes a short hike to beautiful waterfalls.
Go on a Private Boat Tour
Having been there, done that with the large boat to Isla Victoria and the Arrayan Forest on my first trip, I wanted something a bit more personalized this time around.
I booked a private day out on the lake with Lake Tours and it was the best thing we did!
You can choose 4, 6, or 8 hour excursions and it will be fully customized to what you want to do.
We spent the day on Isla Victoria (such a great experience having the island to ourselves instead of with a massive group) and beach hopping.
They also offer fishing excursions in season (November-May) or you can do a mix of fishing, beaches, hiking, whatever you want.
The price is a package deal for up to 5 people. The boat can take up to 8 so for each additional person after 5 there's a small surcharge.
For another additional price they'll provide a delicious picnic lunch or you can bring your own (which we did) and store it in their cooler.
Check out their website to book.
Epic Day Hikes & Refugios
Hiking is one of the best activities in Bariloche that I haven't been able to do enough of.
I did one epic hike to Refugio Lopez this past winter, for most hikes in winter it's best to hire a guide. We needed our guide for navigating the trail and snow shoes.
I have every intention of planning a hiking-specific trip because there are so many iconic and off-the-beaten-path trails to see here.
For a complete list and guide to the trails here, reference Trekking Bariloche.
You can filter trails by name, difficulty, or length to choose your hikes.
Refugio Frey is easily the most popular hike in Bariloche, and it's easy to see why.
If you want to avoid the crowds on the trail, though, I recommend waking up very early and going at sunrise.
For short hikes, there are beautiful low effort/high reward hikes in the Llao Llao area and along the Circuito Chico (for example, I love the Mirador Brazo Tristeza trail).
And speaking of refugio, the refugios are a great experience you'll find on a number of trails here that you won't find anywhere else.
These mountain shelters have complete restaurants and beds if you want to stay the night before hiking even further up or going back to the city.
On Bariloche Trekking filter by name and find the hikes that say Refugio (or Hut if you have the site set to English) in the name.
In the description you'll see if you need to reserve the bed ahead of time or not, what months of the year it's open, and every possible detail you could need from how to reach the trailhead to elevation gains.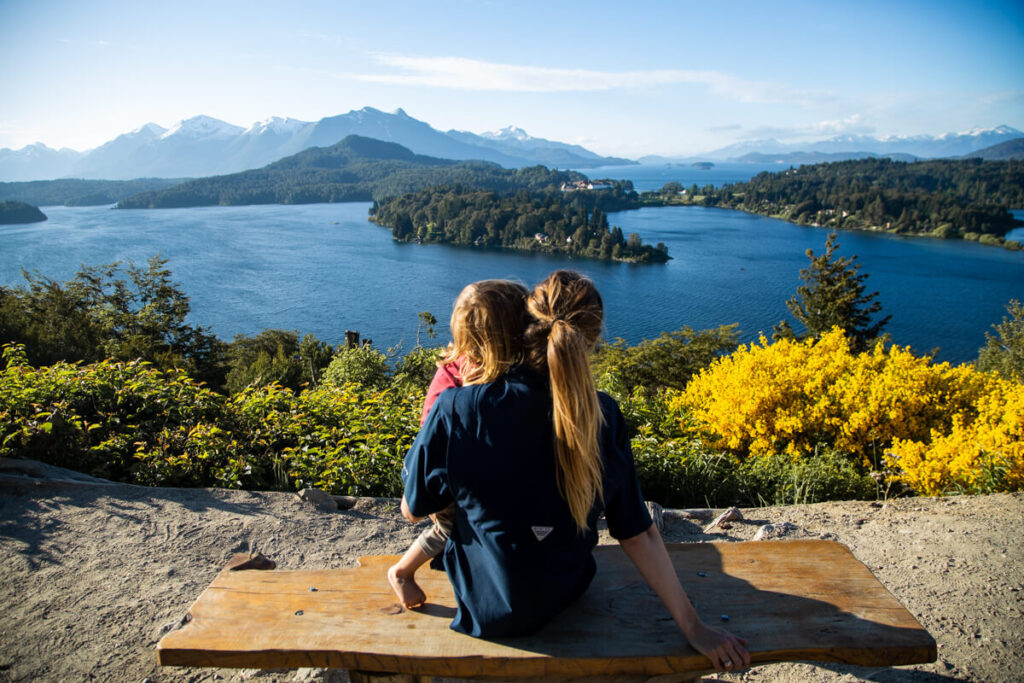 Explore the Circuito Chico
The Circuito Chico is a short loop at the end of Av. Bustillos.
It's a short scenic drive and most of the top Bariloche attractions are located here.
For more, read my detailed guide to the Circuito Chico
You can do it as a drive, bike it, or take a guided tour.
As the name suggests, it's a short drive, so you can spend as little as a couple hours driving it and stopping at viewpoints.
You could also easily spend an entire day or more if you want to stop at teahouses, restaurants, and hikes.
If you're driving, drive SLOW. The speed limit is a crawling 40 km/h and that is because there are so many bikers and hitchhikers here and pedestrians crossing from one side to the other for viewpoints.
Take it slow.
And speaking of crowds, if you have a car and want to experience it in peace then go at sunrise.
I went at 8 am for a short hike and had popular viewpoints completely to myself. It was idyllic.
Circuito Chico Highlights
Cerro Campanario – More on that next on the list
Hotel Llao Llao – The most famous and beautiful luxury hotel in Bariloche, you can reserve tea time here or a spa package if you're not staying overnight
Capilla San Eduardo – A small wooden chapel with the best view of Hotel Llao Llao and the port, find the free parking lot uphill behind the chapel
See Dinosaurs at Parque Nahuelito – Here with kids? For a fee you can walk through a park of life-size dinosaur statues, because WHY NOT.
Lunch at Gilbert – This brewery has the BEST lunch in the best atmosphere. It feels like a mountain cabin/ski lodge frozen in time. Get the jabali al cazador (tender wild boar) or goulash for a traditional dish. Go right at noon to avoid crowds.
Cerveza Patagonia – The largest brewery here has one of the best views, schedule a tasting or grab a beer and take in the vistas for a lazy afternoon
Punto Panoramico – This viewpoint has infamous view you'll see in nearly every Bariloche stock photo, don't miss this one. There's also a café of the same name just before the viewpoint if you want to enjoy the view with cake.
Countless bridges and viewpoints/miradors – I can't/won't list them all. You don't need it! You'll see one breathtaking view after another as you drive, so take your time to enjoy them all.
Take the Chairlift at Cerro Campanario
Cerro Campanario on the Circuito Chico has one of the best 360 panoramic views in Bariloche.
You can hike to the top or take the chairlift.
Take the chairlift.
The walk isn't worth it, being a nearly straight uphill slog. Save your hiking for the more beautiful trails where you'll actually enjoy the ascent.
The chairlift costs 2,000 pesos (as of November 2022), a little less than $10 USD, minors from 5-12 cost half of that and under 5 are free. It opens at 9 am and the final ascent is at 5:30 pm.
There's a café at the top offering decent hot chocolate for a cold day but I recommend either bringing your own mate to enjoy at the top or saving your snacking for another tea house in the area.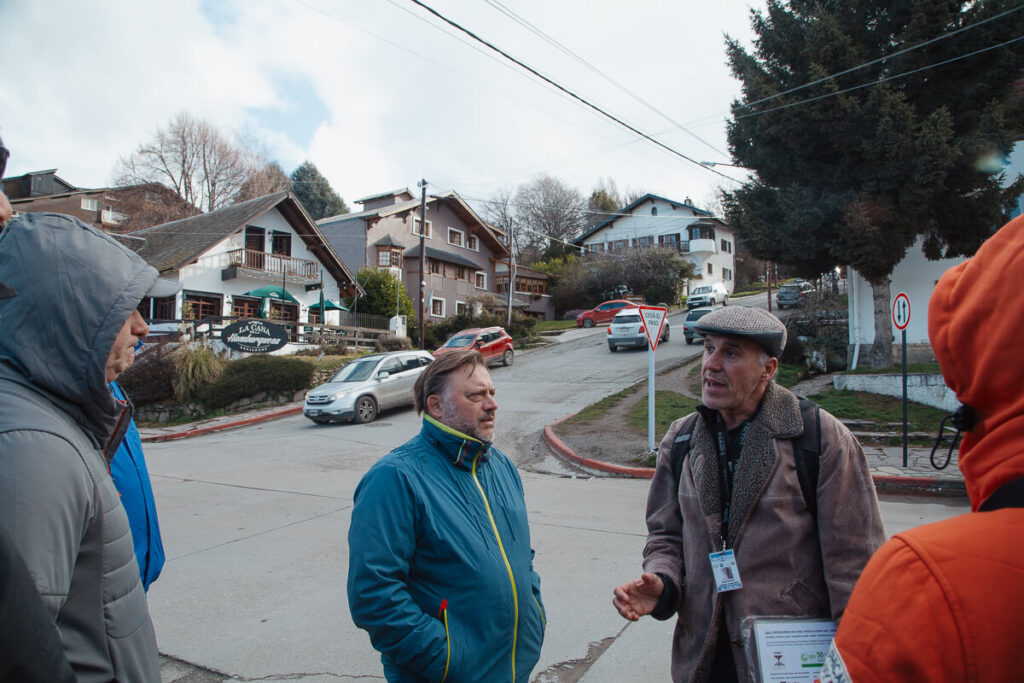 German Footprint Tour Downtown
Downtown Bariloche, if we're being completely honest (and I am), is not that beautiful.
But there is a lot of history there.
After exploring on your own, dive deeper with a history-focused tour.
It's no secret that this region was a haven to Germans and Nazis after World War II.
I recently went on the German Footprint Tour.
The tour was very well done, delicately teaching about the Nazi presence here but going even deeper than that to the earlier waves of German immigration here and the city's founding.
We spent an hour and a half walking downtown and ideally, it starts at 4 pm. This allows you nearly a full day to enjoy Bariloche before the tour.
More History Walking Tours of Bariloche:
What to see downtown: Walk around the Centro Civico main square, shop in the artisan market, visit the chocolate shops, and the Cathedral. These are the main hits downtown and it doesn't require a lot of time.
Cerro Otto: Cable Cars & Views
An alternative or addition to Cerro Campanario is Cerro Otto and its cable cars.
It's a bit touristy but not in the good way.
If I had to choose one, I'd choose Campanario.
But Cerro Otto can be a lot of fun for kids, especially in winter.
They offer snow activities like snowshoes and sledding that can fun for families.
There's a café at the top as well as a deck offering panoramic views, that can be enjoyed year-round.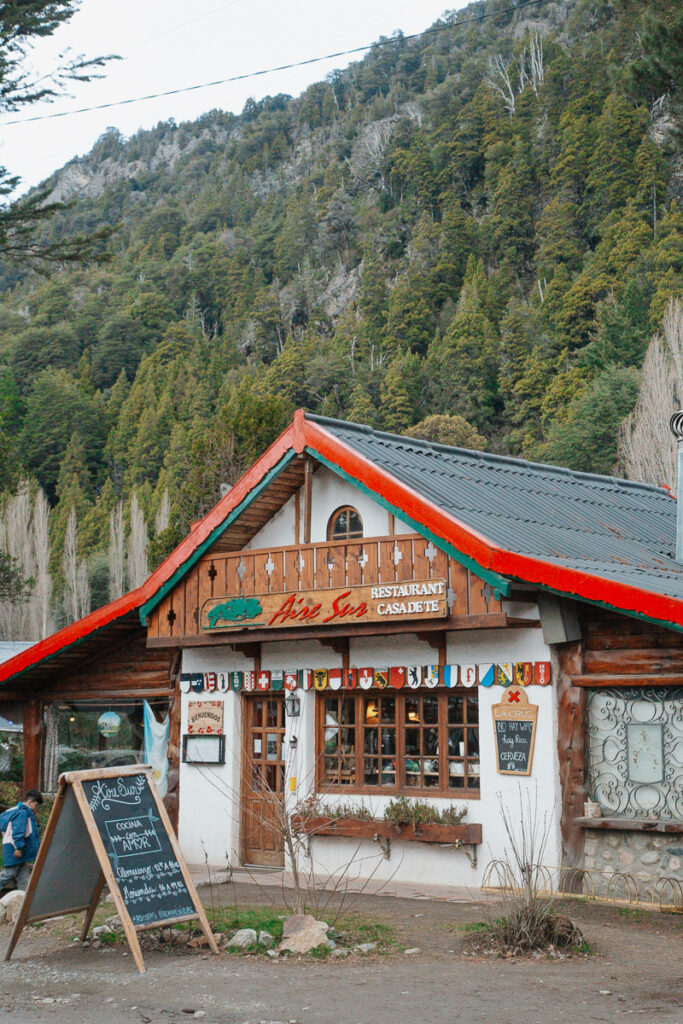 Colonia Suiza
Colonia Suiza is a small village outside of Bariloche, a short drive off of the Circuito Chico.
It's known for its typical chalets and Swiss "vibe" but in reality the vibe is a bit more touristy Epcot Switzerland than the authentic Swiss colony it once was.
There are a number of small shops selling souvenirs you can also pick up in Bariloche proper.
The main draw here is the curanto, a traditional method of cooking meat and vegetables underground on hot rocks.
Swiss immigrants arrived in Bariloche via Chile, where they picked up this indigenous method of cooking by burying meat and vegetables underground.
To be honest, Colonia Suiza has become very touristy and not very Swiss these days. But there are a few authentic teahouses if you look and choose with a discerning eye.
TIP: Go on a Wednesday or Sunday, this is when they do Curanto and when everything is open. All other days it's more of a ghost town (but peaceful).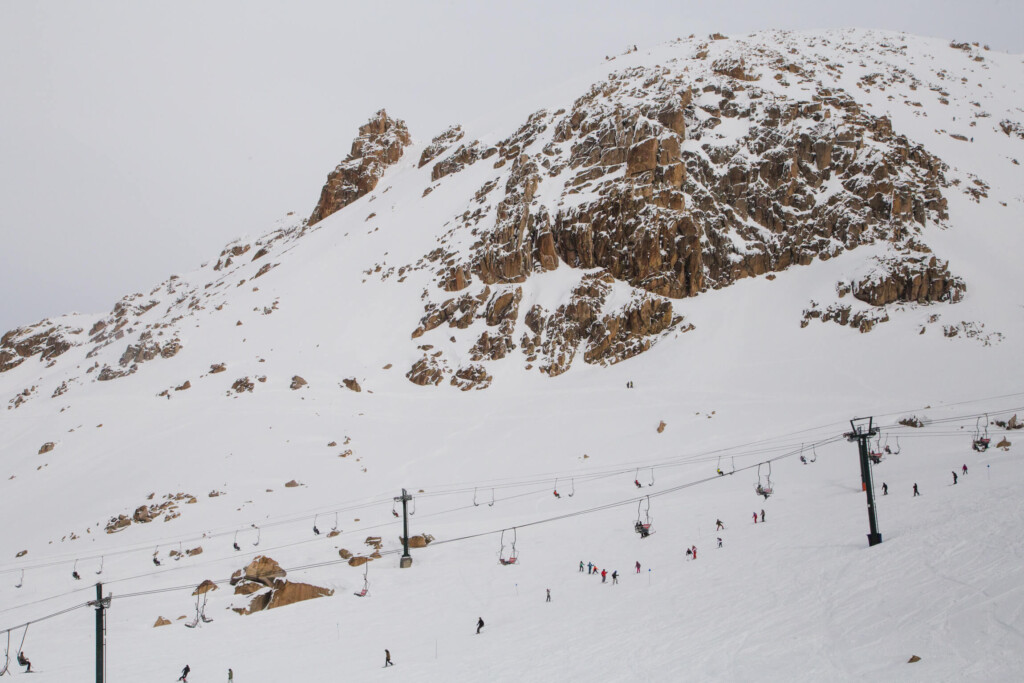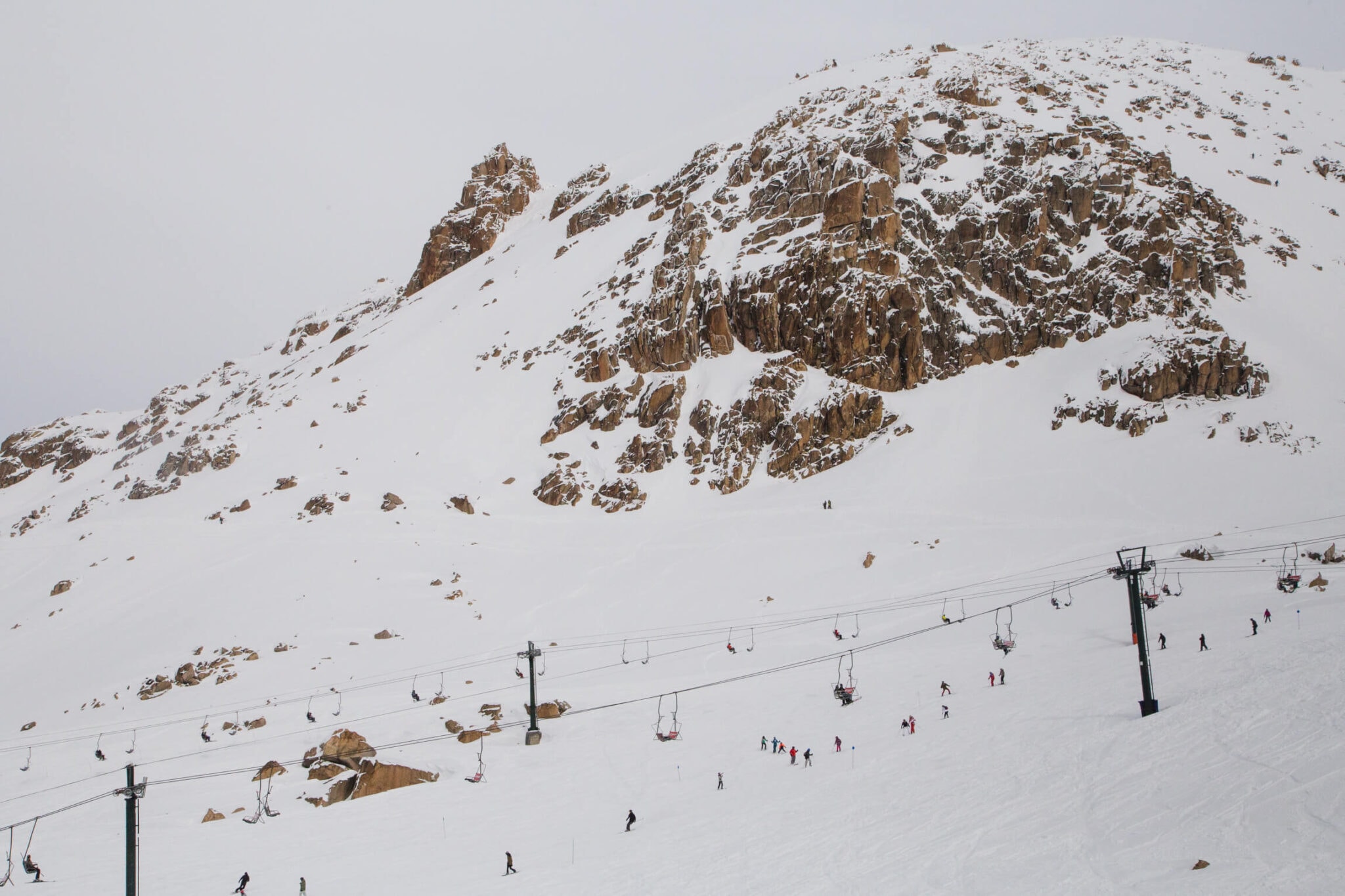 Ski or Hike Cerro Catedral
Bariloche is home to South America's largest ski resort, Cerro Catedral.
If you're here in winter, you cannot miss the chance to ski or snowboard here.
For more, read my post all about Bariloche in winter.
In summer, Catedral is home to some of Bariloche's best hiking trails. They also have mountain bike trails, zipline, rock climbing, and more.
You can also take the chairlifts up to Punta Princesa and eat at the restaurant at the top of the mountain.
I did this in winter even though I didn't ski and it was well worth it for the views!
Check out the official website for Cerro Catedral and go to "activitades" to see everything you can do in summer. Summer activities open from December through February.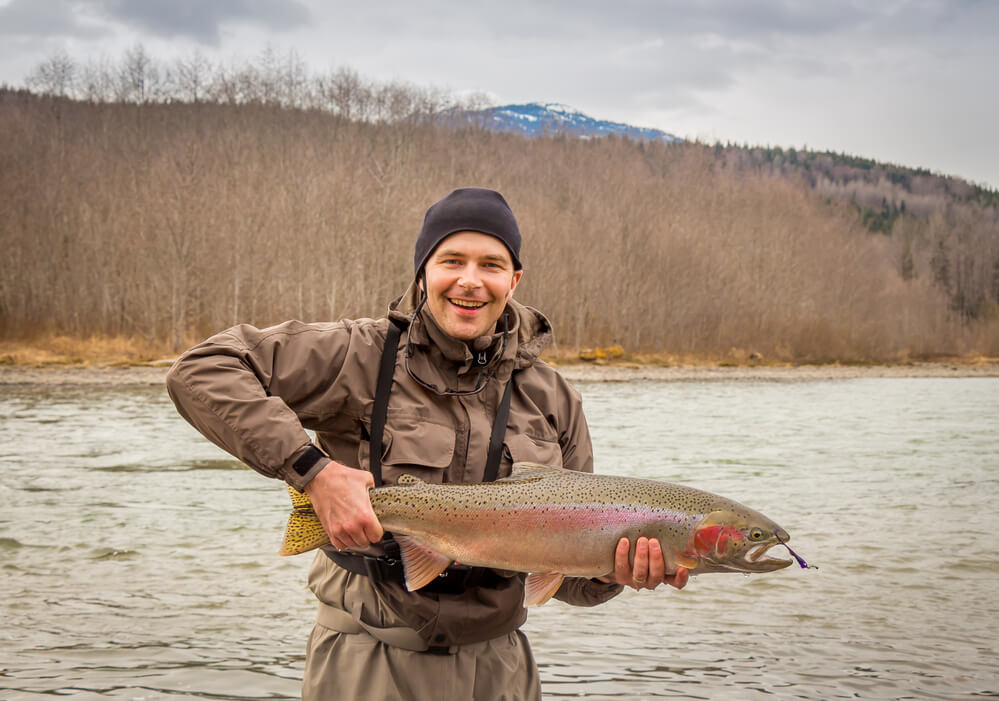 Flyfish for Trout
If you're a fishing enthusiast, you'll be in heaven in Patagonia.
Fishing for trout in the turquoise water of the lakes and rivers here is an unforgettable experience.
This full day excursion is the highest rated tour operated by one of the area's biggest fishing operators.
You'll be out all day catching some of the largest trout of your life with a complete lunch and wine or beer to keep the day going.
The season is open from November through May.
Bariloche Things to do – Food & Drink
Food is a major driving factor for me at home and on vacation.
Want to eat your way across Bariloche?
Keep reading…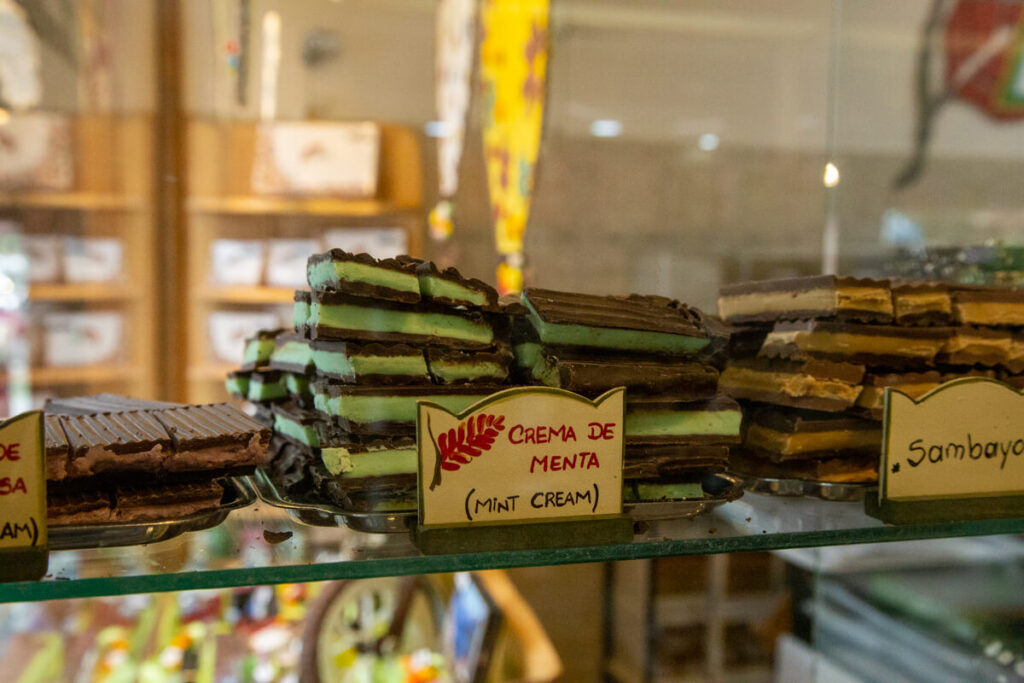 Eat chocolate, lots of it
I'm starting with my top addiction: Patagonian chocolate.
This area was heavily settled by German and Swiss immigrants, so you would think that is where the chocolate in Bariloche originated.
But no, like a lot of things in Argentina, we have the Italians to thank here too.
In 1947, Aldo Fenoglio and his wife Inés Secco arrived from Turin in northern Italy.
They wasted no time, opening a chocolate shop using traditional Italian recipes in 1948.
They named it Tronador after the region's iconic peak.
While Tronador is no longer here, there are more chocolate shops in Bariloche than you'll have time to visit (unless you're a dedicated chocolaholic and I understand that!).
the best Bariloche chocolates to try:
I'm listing them in my order of preference/quality.
TIP: Mamushka and Rapa Nui are Bariloche powerhouses but at this point they also have locations all over Buenos Aires.
While you should go to them I also recommend visiting Patagonia-only shops for a unique experience.
LA CHOCOLATERIE – Opened in 2015 by a Belgian family, this was my FAVORITE on our recent visit. You won't find a shop that uses better quality raw ingredients and don't get me started on the hot chocolate menu. They have a location downtown but the main one is on Bustillo just before Circuito Chico.
BENROTH – This was recommended to us by locals and they were right. The bars are very thick with generous portions of both chocolate and filling. It feels like factory made and more roughly artisanal. Don't miss Benroth!
RAPA NUI – Rapa Nui's interior is also stunning. They have a great café inside if you want to dine in with hot chocolate, pastry, and/or a dish of their chocolates. They have an in-house ice cream shop and ice skating rink as well.
MAMUSHKA – This is a classic. If you aren't traveling back to Buenos Aires without a Mamushka bag as your carry-on, did you even go to Bariloche? They have an indoor café but it's tiny and not comfortable with the hustle and bustle of the shop. They opened an ice cream shop down the block, savagely next door to Rapa Nui.
ABUELA GOYE – Another classic, a Swiss family so try them in Colonia Suiza
TURISTA – I mention this just to discard it because it's my least favorite. It feels very factory made, mass produced, and I think you can skip it for any of the above.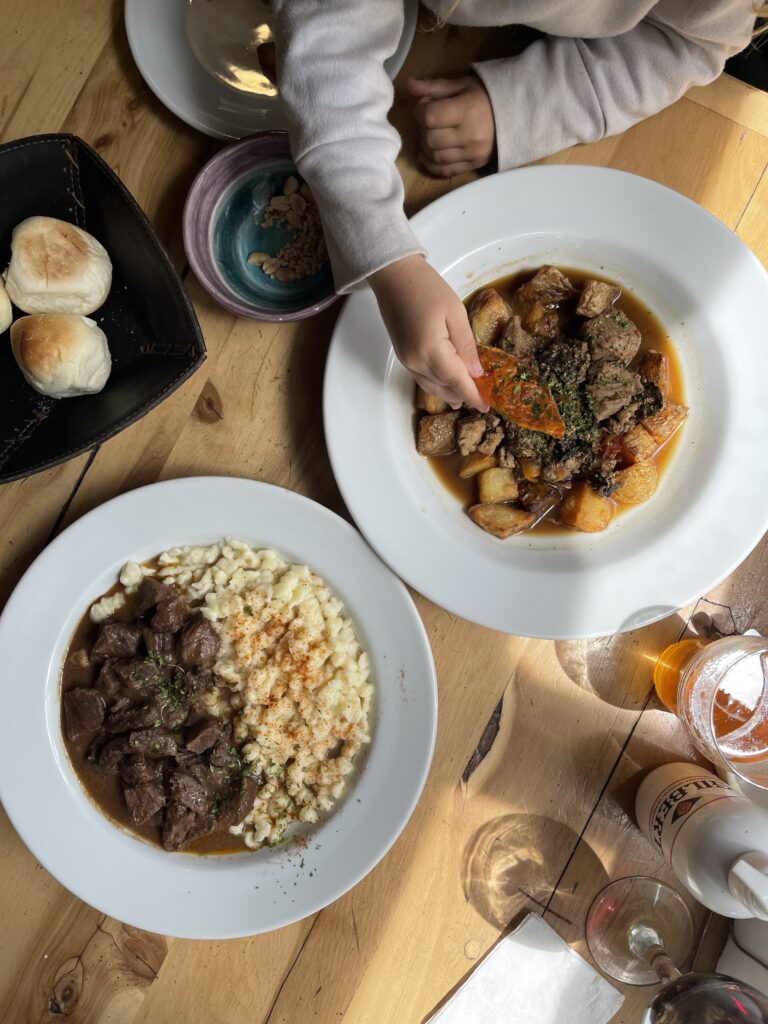 Foods to Try in Bariloche
While you can get good beef here, forget the steak of Buenos Aires. Patagonia has unique delicacies to try.
Look for trout, wild boar, deer, and lamb.
At the recommendation of Juan Patricio on our lake tour we tried jabalí a la cazadora at Gilbert on Circuito Chico. It was incredibly tender!
Thanks to the German and Swiss immigrants, goulash with spaetzle, and fondues are on the menu in a lot of traditional restaurants.
For the best empanadas, go to Oveja Negra for both traditional and Patagonian flavors.
They have a beautiful location downtown that also has a ice cream, craft beer and wine on tap. They have another small location on Bustillos on Circuito Chico.
For fine dining, Anima is one of the best restaurants that came highly recommended.
For aged meats, don't miss Madurado. Make reservations at both.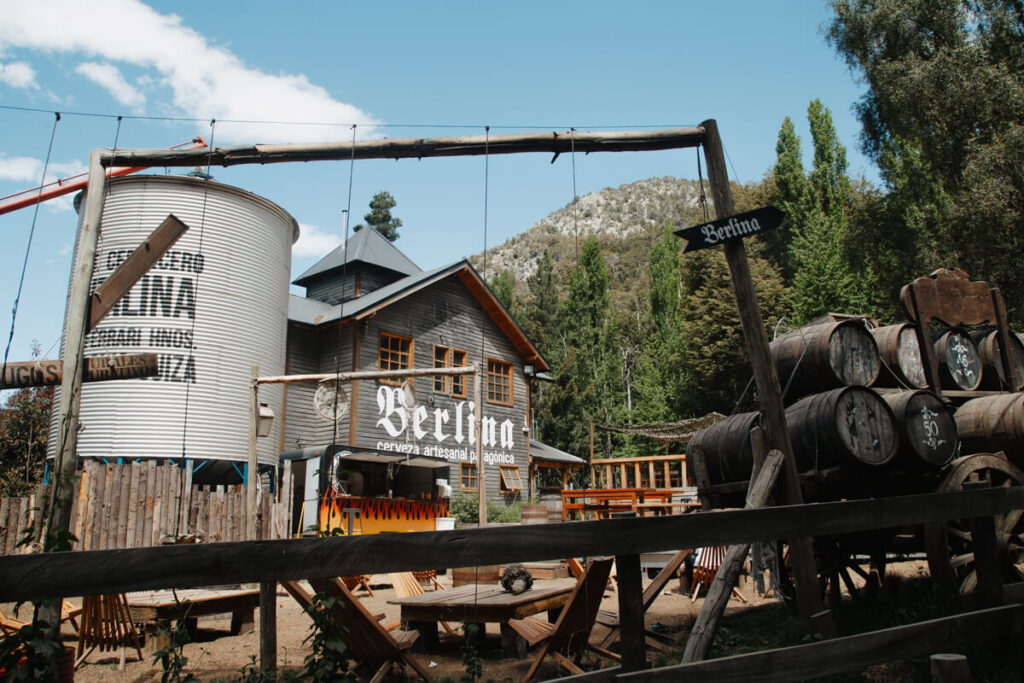 Try Craft Beer, Lots of it
If you love beer, you are in the right place.
One of our guides on a tour said there must be 300 different craft breweries in Bariloche.
I'm not sure if that number is accurate but I wouldn't doubt it. It seemed like every bar brewed their own!
Top Bariloche Breweries to Visit:
Patagonia Brewery is the most popular, with an epic view on Circuito Chico near the Punto Panoramico but Patagonia is industrial, you can get it anywhere and it's very overcrowded, always.
Manush – When locals recommend their favorite breweries they always mention Manush.
The Berlina location near Colonia Suiza was charming but they also have one on Bustillo between downtown and the Llao Llao.
Gilbert is a brewery that I LOVED for the food. It had such a charming apres-ski lodge feel and incredible wild boar and goulash and it was one of the first breweries in the area.
Wesley has a beautiful location on a family farm with horses, chickens, and more to add to the charm near Bustillo Km 15.
This beer tour visits the factories for all first three of the above locations, a great option if you're interested in the process rather than just the drinking.
Visit the Teahouses
Teahouses abound in Bariloche, dishing up homemade cakes and pastries with picturesque views to enjoy them in.
Casa de Te Blend came highly recommended by locals.
Chiado is a beautiful option on Circuito Chico just before the loop begins, with great views of the lake.
Paila Co. is another one I had my eyes on but was temporarily closed during our visit.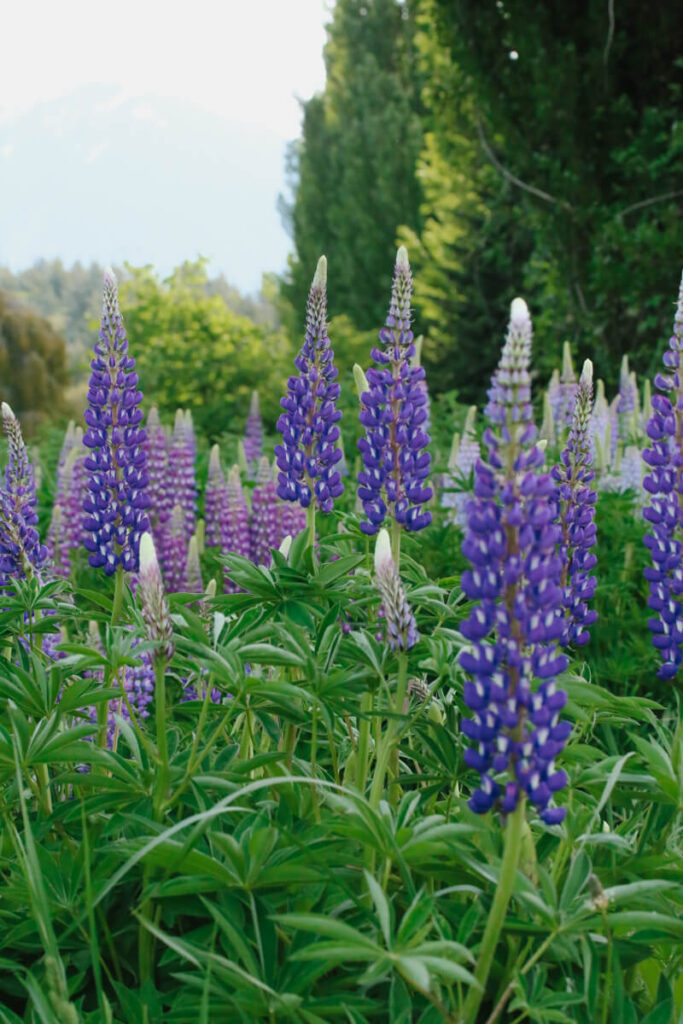 Bariloche Excursions & Day Trips
Want to spend a day a bit further afield? Check out nearby towns and lakes on these day trips from Bariloche.
El Bolson
El Bolson is a tiny town and a hippie enclave two hours south of Bariloche.
I recommend spending at least a couple days, if not longer, based here. But if you simply don't have that kind of time, you can book this organized day tour to El Bolson.
El Bolson was settled by hippies in the 1960's, making a unique town in the area. It's famous for its berry and hop farms and its artisan market.
The tour also includes a visit to the nearby Lago Puelo, a national park and gorgeous lake about 20 minutes outside El Bolson.
While it's a LONG trip to make in just one day, it is possible and the drive itself is absolutely breathtaking.
Read More: A Complete Guide to El Bolson Patagonia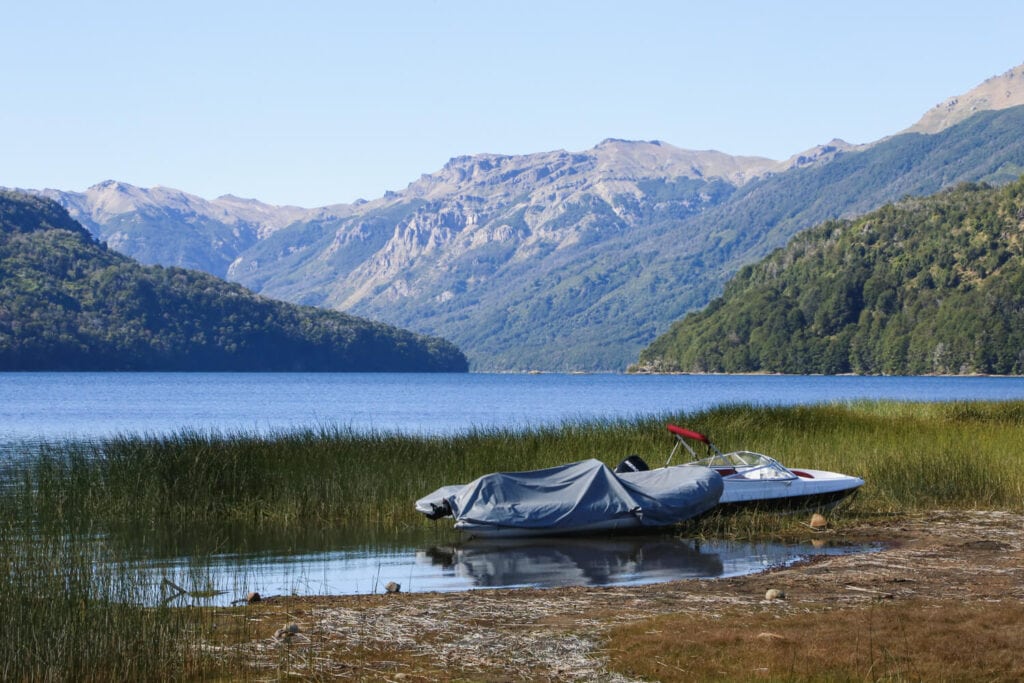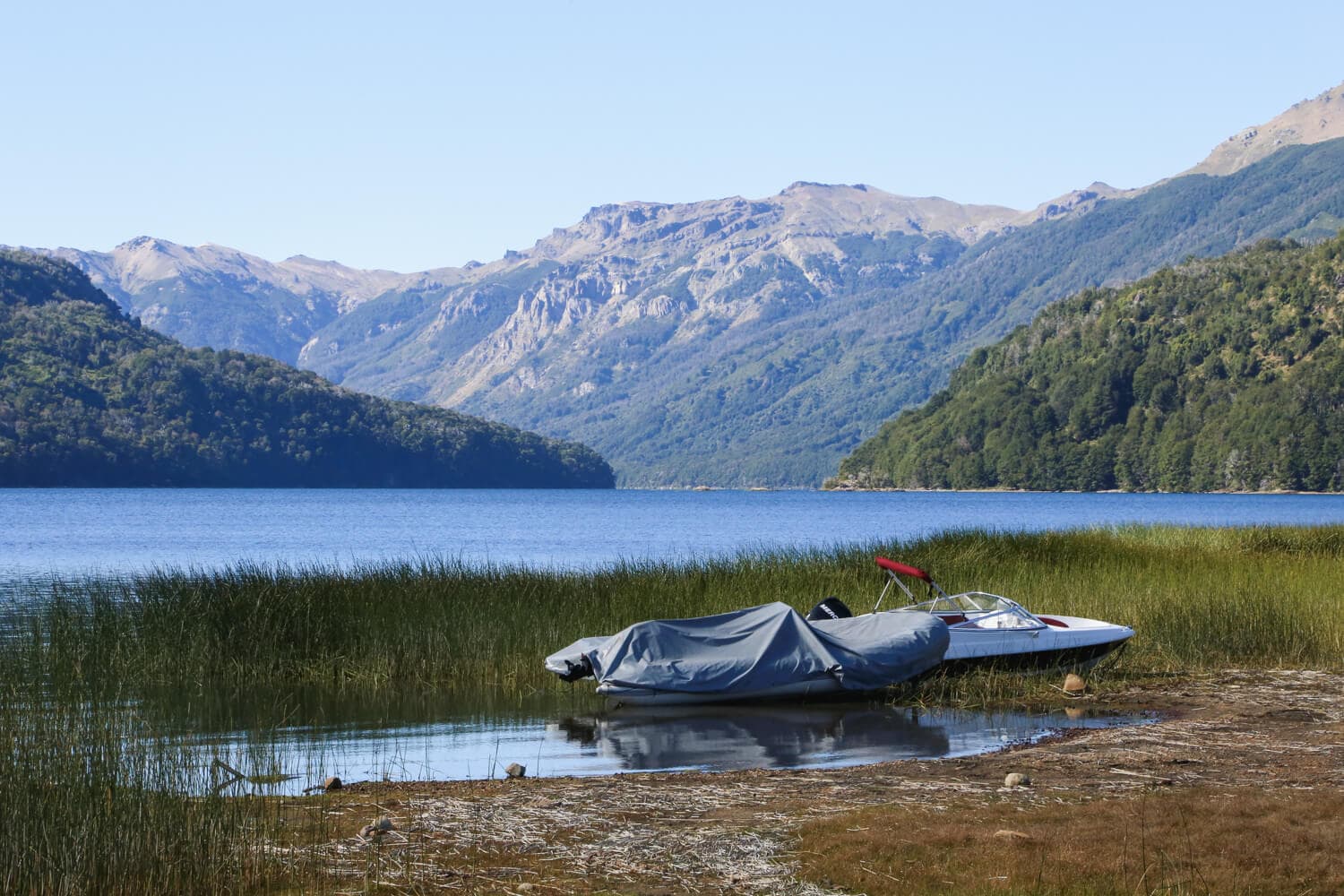 Drive the 7 Lakes Route
The 7 Lakes Drive is the stretch of Ruta 40 that connects Bariloche and San Martin de los Andes.
It's named after the seven lakes you'll see along the way but there are plenty more than just seven to stop at.
If you want to do this scenic drive, I recommend renting a car (check rates here) and doing it on your own.
Keep in mind that in busy season rental agencies might run out of cars or just run low and raise rates significantly. It's better to reserve in advance.
Start your morning as early as possible. This is a LONG drive. Starting early will let you squeeze everything you can out of every bit of daylight.
You'll want to make a lot of stops along the way and enjoy a nice lunch or teatime in San Martin before going back.
If you don't want to drive, reserve this guided tour. They stop at a few scenic stops along the way and include a lunch stop in San Martin de los Andes.
We did this drive but started from the northern end in San Martin de los Andes, read my complete guide to the 7 lakes route for more information to plan your day.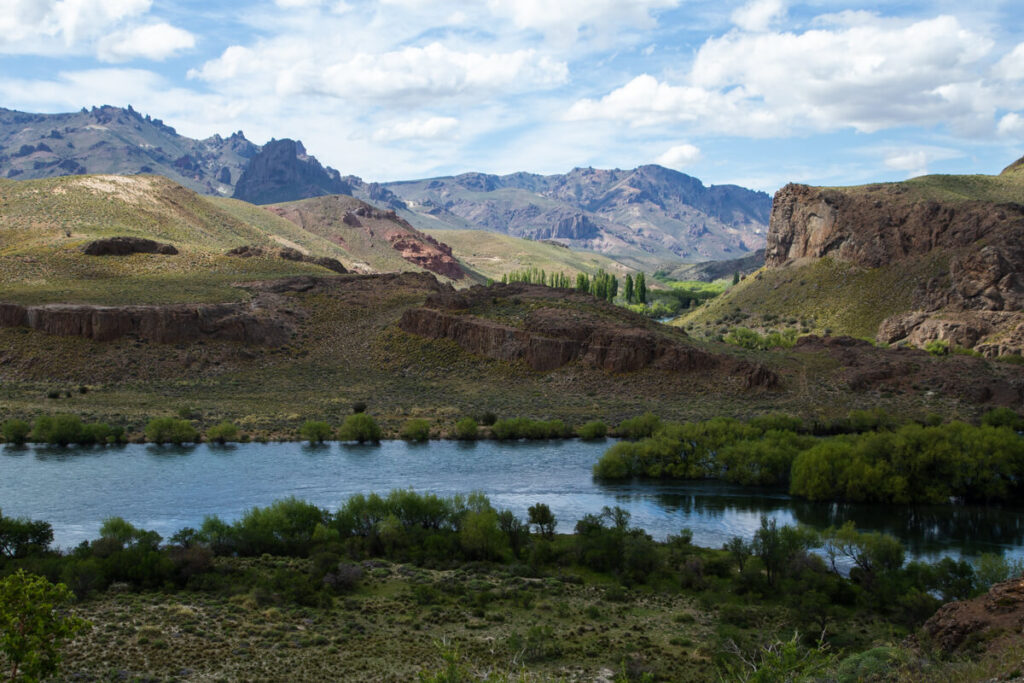 Drive Circuito Grande
The Circuito Grande is another scenic drive and great day trip from Bariloche.
It's a shorter drive than the Ruta de los 7 Lagos but don't let that fool you, it will still take the whole day.
It starts down the paved Ruta 237 through the Valle Encantado to Ruta 65, passing through beautiful Villa Traful.
The 65 will take you back to the wonderfully paved Ruta 40 and Villa La Angostura, including a tiny of the Ruta de los 7 Lagos.
The great thing about this route is you'll see so many different landscapes from the desert and steppe to the mountains.
Again, I recommend renting a car and doing it on your own.
If you don't want to or cannot rent a car, reserve this tour of the Circuito Grande.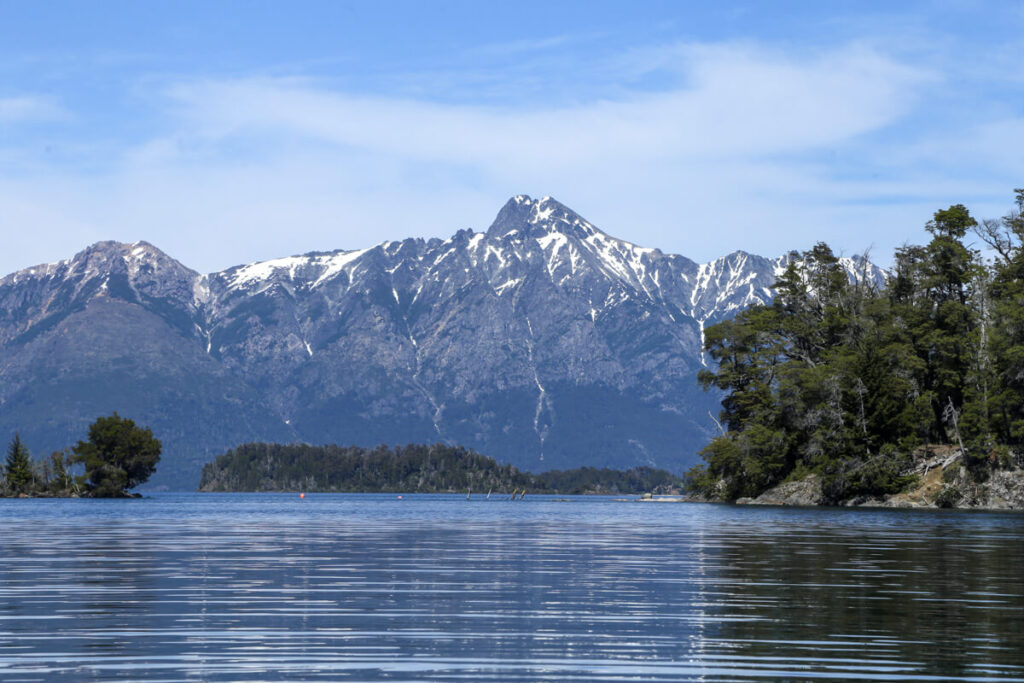 Cerro Tronador
Tronador is Bariloche's highest peak, towering over the city and Parque Nacional Nahuel Huapi.
The name is Spanish for thunder, coming from the cacophonous roar of glaciers breaking off.
Excursions, like this one, take the entire day, ranging from 8-10 hours.
The drive to Cerro Tronador itself is beautiful, bordering Lago Mascardi and then Rio Manso.
Ventisquero Negro is the final viewpoint of the glacier, black in color.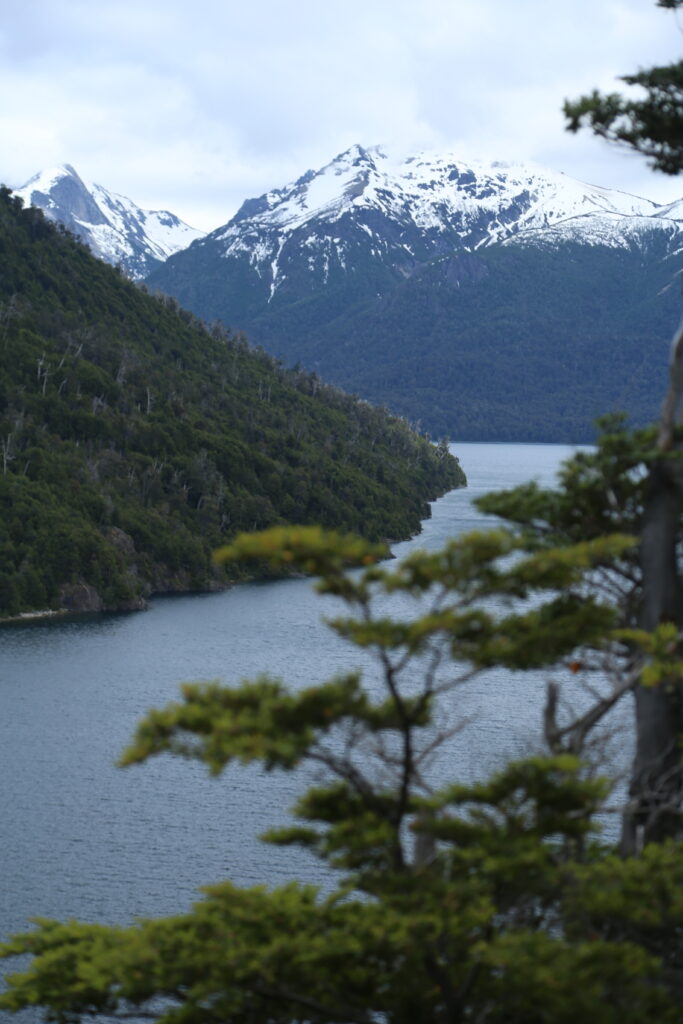 When to Visit Bariloche
Demand for travel in Bariloche has surged in recent years.
Since the pandemic and the stifling lockdown of 2020, countless families have relocated to the area trying to escape into nature.
Combine that with the city's eternal popularity, Bariloche is crawling with people year round.
There is no longer a true low season in Bariloche. There is HIGH season in all caps and then your average high season to fill in the gaps.
Don't feel like you can't visit in the busier months, just know that you should reserve accommodation and rental cars well in advance for availability and better prices.
The busiest months are in the summer, from Christmas through February. January is peak busy, when Argentine's take their summer holidays.
Spring is beautiful with mild weather, beautiful wildflowers and long days, think October and November.
Fall is a great time as well, visit in March and April. May is good too but expect a bit more cloudy weather and rain.
Winter is another beast altogether. July is a crazy month with winter school holidays colliding with Bariloche's tempting ski season.
If you want to ski here, I recommend August for mid-season, or early September for a the tail end of the season (less people and better prices).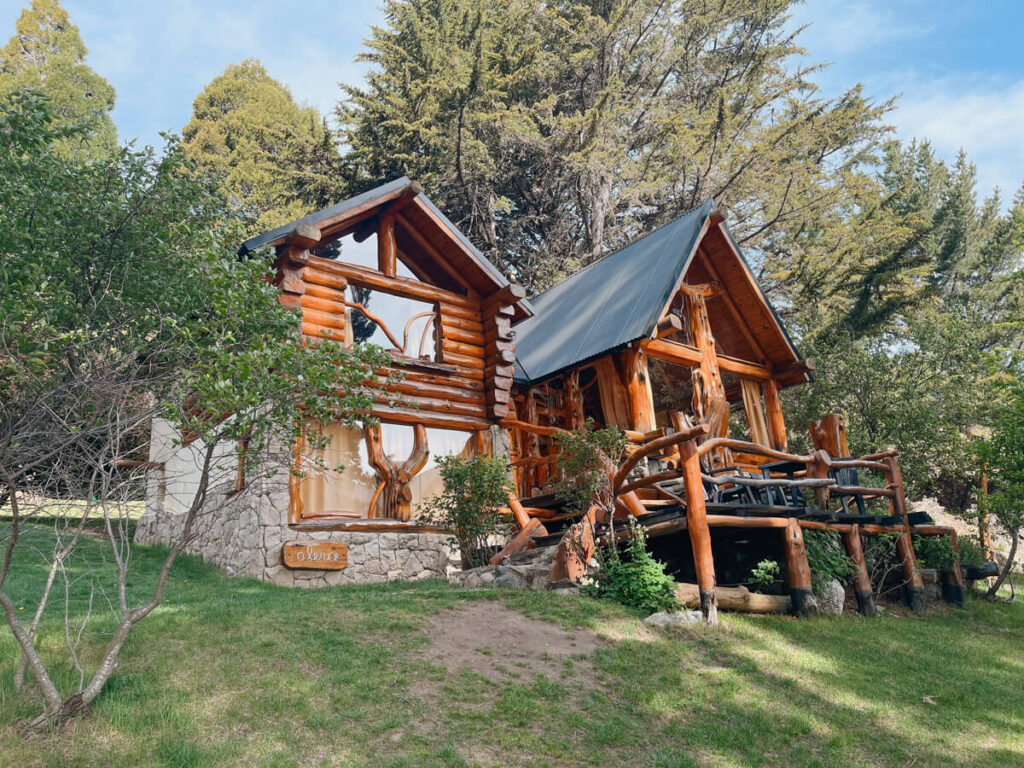 Where to Stay in Bariloche
Read more: A Complete Guide on Bariloche Accommodation
When it comes to where to stay in Bariloche you'll have no shortage of choices.
There are hostels for the backpackers, luxury for the comfortable among us, and plenty of hotels and cabins for those of us lie in the middle.
Soon I'll publish a complete guide on where to stay in Bariloche including areas and types of accommodation in detail.
For a quick glance of the best option in each category, here my picks: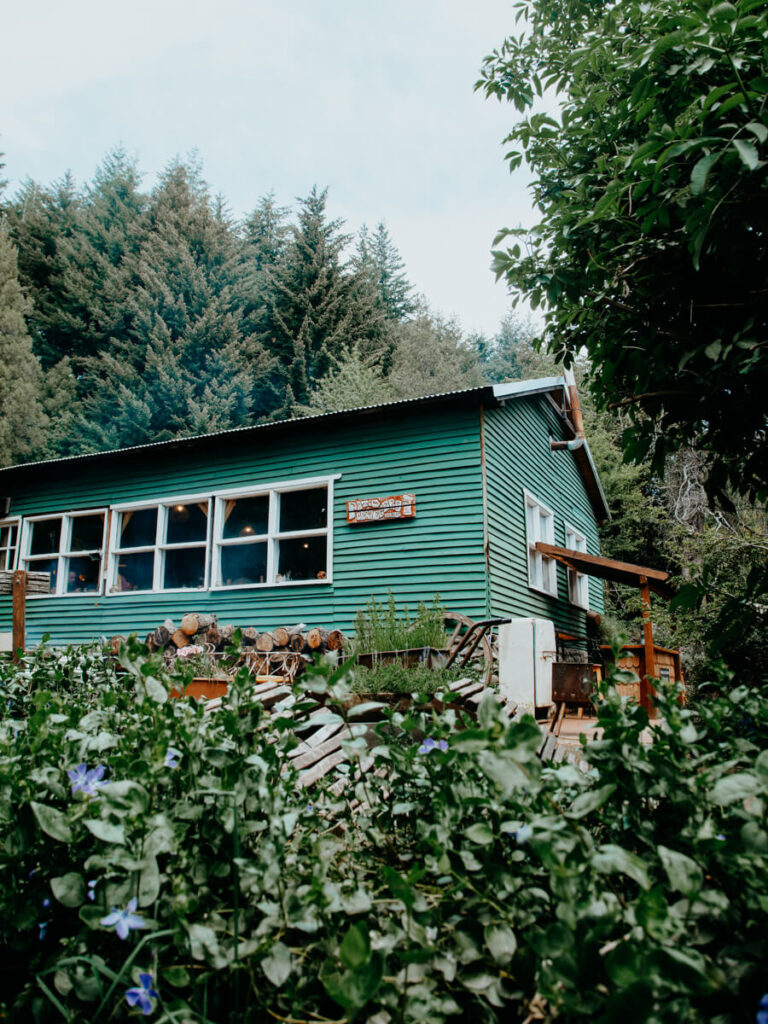 What to Pack for Bariloche
What you bring will depend on what you want to do.
If you plan on hiking, bring some appropriate clothes, as buying them here in Argentina is very costly. I love these pants the most for hiking because they hold their shape for multiple uses (seriously, I'll wear them upwards of 5 times per trip!) and they even look good in the city.
Patagonia is also notoriously windy, so a good windbreaker or light jacket is always a good idea, even in the summer.
For the lakes, I was really happy I had my Teva sandals to walk around on the rocky beaches.
No matter the season, bring layers. The weather can change quickly in Patagonia.
A sunny day could be a chilly, cloudy afternoon and vice versa.
And, of course, don't forget your camera! It's so beautiful you'll want to document everything.
This is all the camera gear I use for my photos on the blog.
If you love birdwatching or wildlife, bring travel binoculars to see condors flying and spot kingfishers in the distance.
How to Get to Bariloche
Bariloche is a major city with an airport that receives multiple flights daily from Buenos Aires.
Depending on the season, typically in the peak summer months, there may be direct flights to/from other destinations like Mendoza, Cordoba, or within Patagonia.
However, expect to have to connect via Buenos Aires to get to or from Bariloche by air.
Long distance bus travel in Argentina but know that Bariloche is far from everything.
The bus from Buenos Aires is over 20 hours and it is probably cheaper to just fly.
If you want to continue through Patagonia, because that feels like the logical thing to do, know that it's never as easy as it sounds.
To get to El Calafate, a common next stop on a Patagonia itinerary, direct flights and buses don't run all year and when they do run, they do not operate every day. If you plan on doing this, do exactly that, PLAN.
The only bus company that operates this route is Marga Taqsa. This route's flights are operated by Aerolineas Argentina.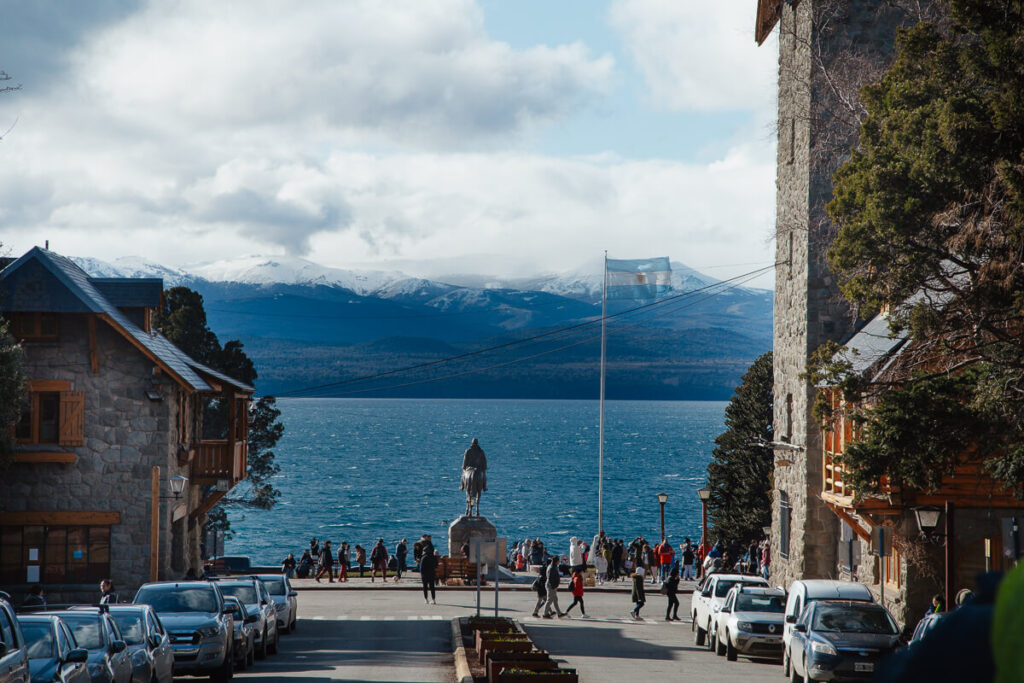 How to get around Bariloche
Public transportation is easy to manage in Bariloche.
The bus line 20 hits up all the major Bariloche attractions from downtown to the Circuito Chico.
To use the bus here you can use your SUBE card just like in Buenos Aires.
You can also take taxis or remis (private drivers with set rates based on the distance) to get around.
If it's in your budget, I always highly recommend renting a car, check rates here. So many of the best things to do in Bariloche are spread out and you'll have more fun if you have the freedom to drive.
Read More: All About Renting Cars & Driving in Argentina
Read More about Patagonia:
Pin It For Later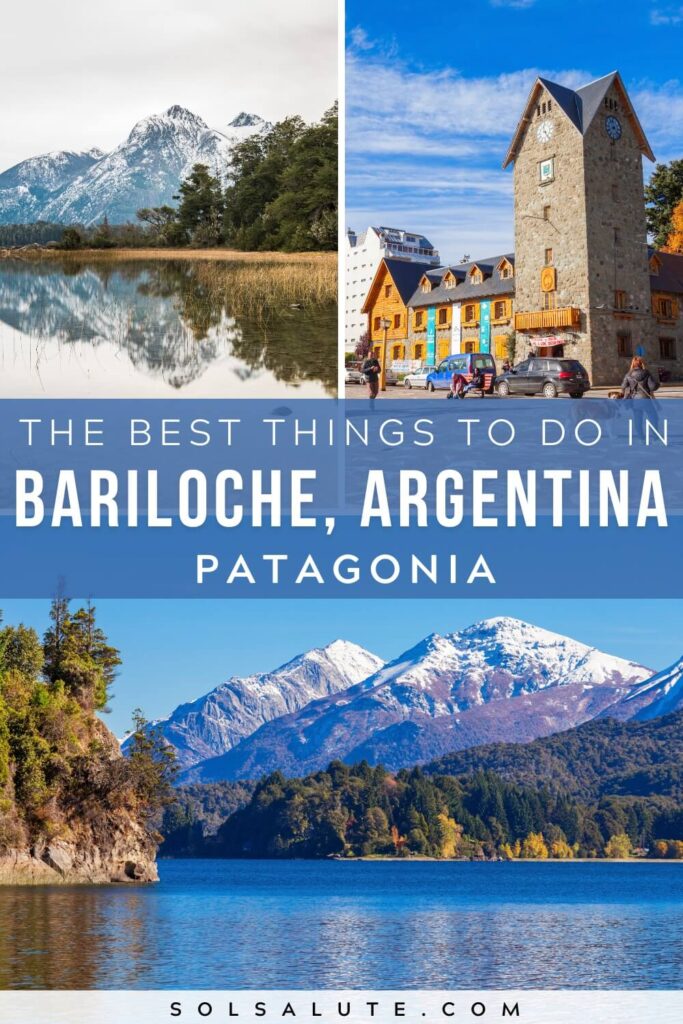 Argentina Travel Resources