Salta, in Northwestern Argentina, is one of those places I can't stop returning to.
It's one of the most beautiful regions in the country, it's very affordable, and it has some of the best food and wine in Argentina.
What more could you ask for!?
If you said beautiful scenic routes, then don't worry!
Salta also has stunning vistas and scenic highways and she has them in spades.
We recently returned from an epic Salta road trip, it's easily one of the best road trips in Argentina.
This post is a complete breakdown of our Salta itinerary and how to follow in our footsteps.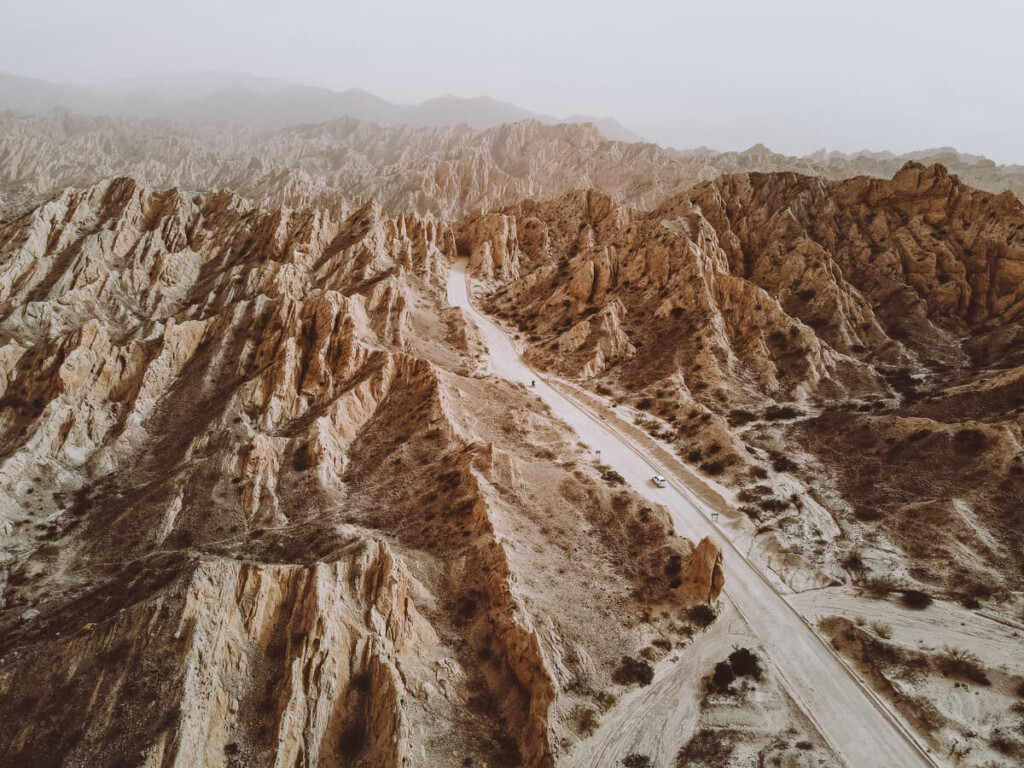 QUICK NOTE: This post contains affiliate links and Sol Salute may receive a commission for purchases made through these links, at no extra cost to you.
The Perfect Salta Road Trip: Things to Know Before You Go
This Salta road trip itinerary is a loop that starts and ends in the city of Salta.
You'll probably be flying into the city of Salta from Buenos Aires.
Rental cars are very affordable in this part of the country compared to pricier destinations like Patagonia, but definitely book in advance. Since this region is ideal for road trips they do sell out of the cheaper rental categories quickly.
Road Quality in Salta
Road quality is very good in Salta. This itinerary involves three major scenic highways. Two of them are paved and one is not.
The unpaved road (Ruta 40) is not recommended by rental car companies but we found it to be in great condition.
IMPORTANT: While the condition of this stretch of unpaved Ruta 40 (between Cachi and Cafayate) is very good, fight the temptation to exceed the speed limit (60 km/h). You never know when a huge rock or even a herd of goats will be around the next curve.
Take it slow and avoid trouble because the next tow truck is hours away in Cafayate and you do not want to have to wait for them (speaking from unfortunate experience).
When to Visit Salta
Salta is a great destination year-round but if you'll be driving avoid the summer months if possible.
This is the desert so, of course, there isn't much rain. But when it does rain it can make driving the dirt Ruta 40 impossible without a 4×4. If there's been rain recently ask the locals about the state of the road.
The rainy season is in the summer months, mainly from December through February.
Winter is a great time to visit Salta with warm afternoons and cold nights. And, of course, spring and fall are always excellent options.
If you want to see leaves and grapes on the vines in Cafayate, visit before March when the harvest begins. In June they begin pruning.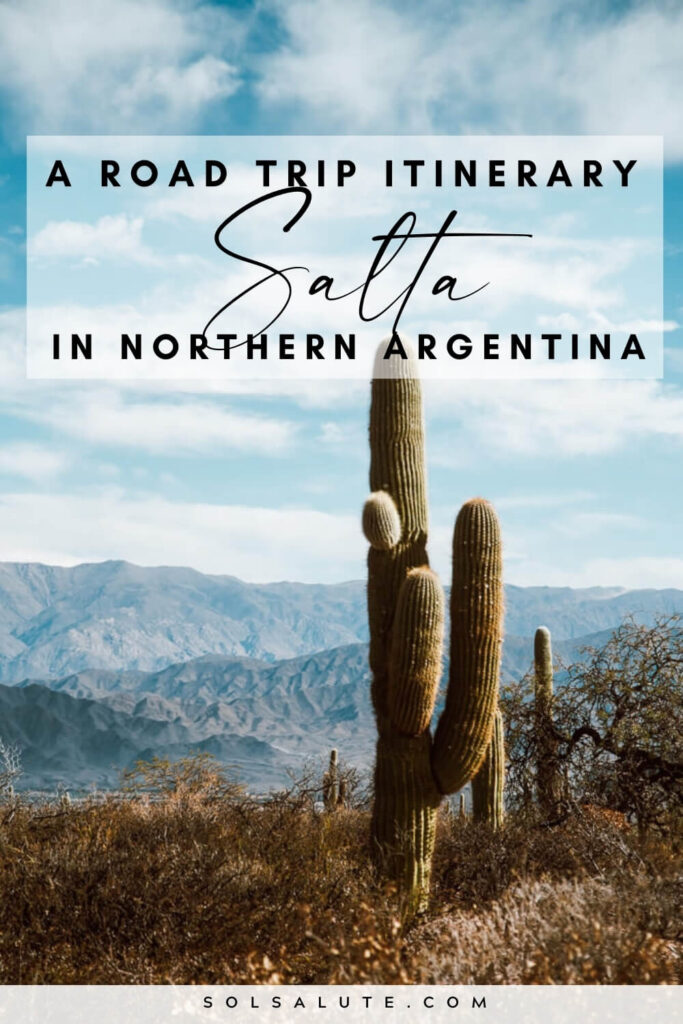 Our Salta Itinerary
I built our road trip in Salta itinerary to include the top three scenic drives in the region:
Salta to Cachi via Ruta 33 driving the Cuesta del Obispo, the Recta Tin Tin, and seeing Parque Nacional Los Cardones
Cachi to Cafayate via Ruta 44 driving through the Quebrada de la Flecha
Cafayate to Salta via Ruta 68 driving through the Quebrada de la Concha
About This Itinerary
This post is a complete breakdown of our itinerary. I focus on the highways we took and the must-see stops along the way.
There are tips on where to stay and how long to be in each destination. But I don't break down our day to day activities there because I have detailed guides dedicated to these destinations. I link to them when appropriate to help you round out your itinerary.
Map of our route
Salta: The City
You'll likely be flying in the city of Salta. You can decide whether you want to spend some time here at the beginning or at the end of your trip (or both!).
I recommend saving a couple of days at the end of your itinerary for Salta city (rather than at the beginning).
If you have road trouble along the way or any delay whatsoever, you'll have that cushion to get back in time for your flight.
You can also turn in the rental car and rest a bit before flying back.
For whenever you do decide to be there read my complete guide to the city of Salta to plan your time there.
Ruta 33: Salta to Cachi
The drive from Salta to Cachi is three hours but it can take up to 5-6 hours with stops (especially if one of them is a lunch break).
You'll start driving south out of the city on Ruta 68 before joining the Ruta 33 highway. This is when the fun begins.
This road was particularly beautiful because I felt like we saw so many different types of scenery.
It begins lush and green with iron-heavy deep red earth. It slowly dries out into an arid desert through the Cuesta del Obispo then the land explodes into a forest of huge cardon cactus.
You'll see a LOT on this route.
Ruta 33 ends just before you reach Cachi. You'll take a left onto Ruta 40 and in 15 minutes you'll arrive at your destination (say that in a GPS voice).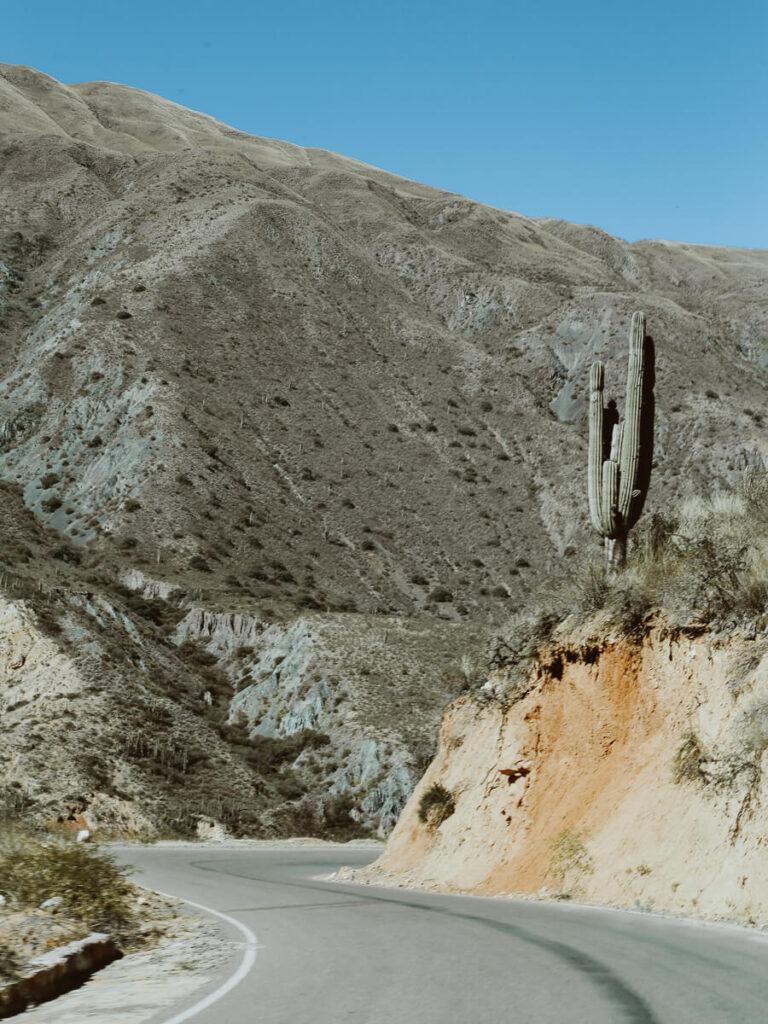 Ruta 33 Pitstops
Ruta 33 is paved and in excellent condition. The stretch that makes up the Cuesta del Obispo was the only dirt section but very well maintained. It's no problem at all for any type of vehicle.
There are a lot of switchbacks but nothing too gut-wrenching.
The road is wide and easy to manage.
Here are the must-see photo ops and sites along the way:
CHICOANA: You'll see the sign for Chicoana shortly after joining Ruta 33. It's a beautiful small town and worth the detour. I recommend having lunch here if you need a meal stop in your drive. It's the last good town for a sit down meal and it is very picturesque!
QUEBRADA DE ESCOIPE: This is the stretch of land between Chicoana and the Cuesta del Obispo. You'll see multi-colored mountains, green hills and red earth. There are hikes in this quebrada but we chose to just drive through.
CUESTA DEL OBISPO: You'll drive up a series of switchbacks to the top of the Cuesta del Obispo. This is the only unpaved section of highway. At the top you'll see an area where the shoulder is very wide and you can pull over for a panoramic view of everything you just drove.
PIEDRA DEL MOLINO: This small chapel (Capilla San Rafael) marks the highest point between Cachi and Salta. It's also a great viewpoint.
RECTA TIN TIN: The Recta Tin Tin is satisfyingly straight 19 kilometers of highway. Avoid the urge to speed or you'll miss the huge cactus that surround you!
PARQUE NACIONAL LOS CARDONES: Cactus National Park is along the Recta Tin Tin. There are a few stops with informational plaques and short walks, I highly recommend them!
PAYOGASTA: This tiny town is the first town you'll pass on Ruta 40 after Ruta 33. It's about 15 minutes from here to Cachi. It has an abandoned feel to it but is very, very photogenic. It's famous for it's paprika so if you see any vendors selling on the side of the road definitely buy some!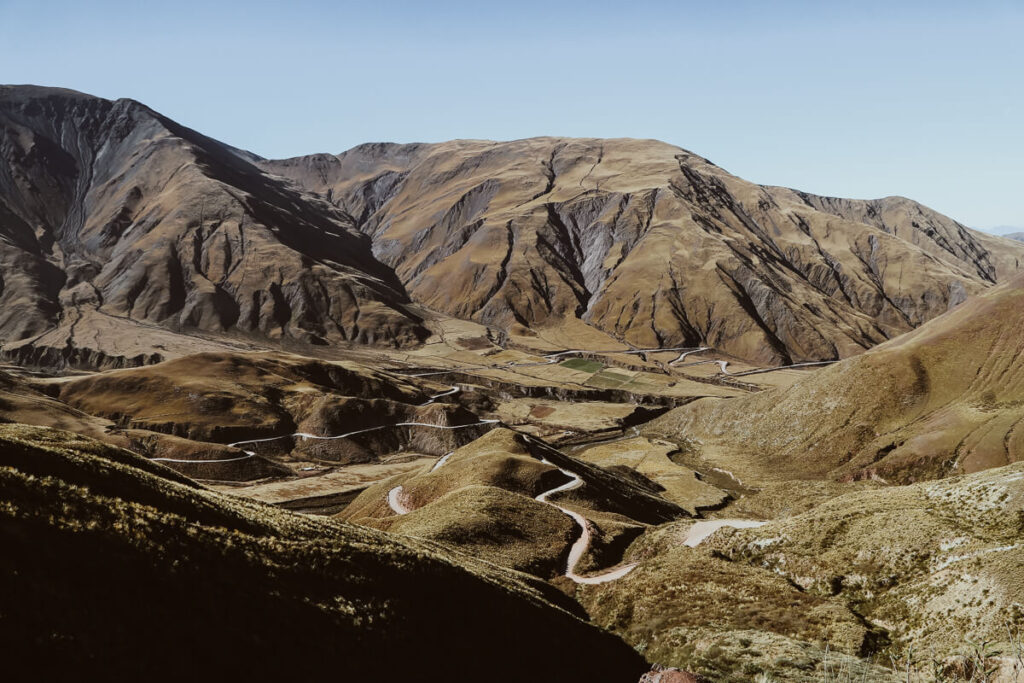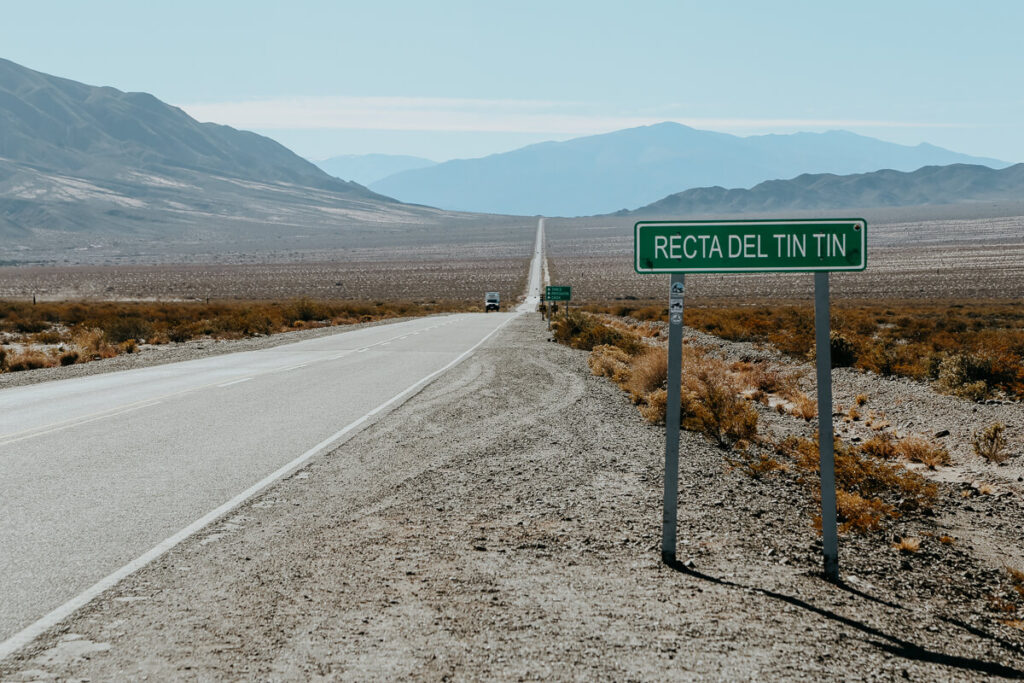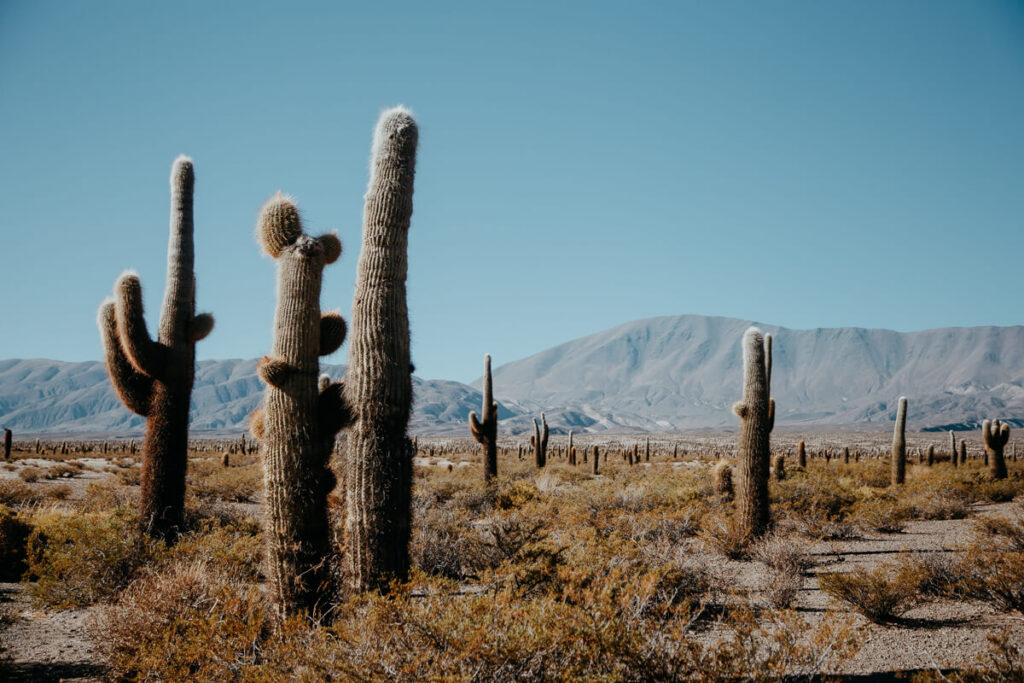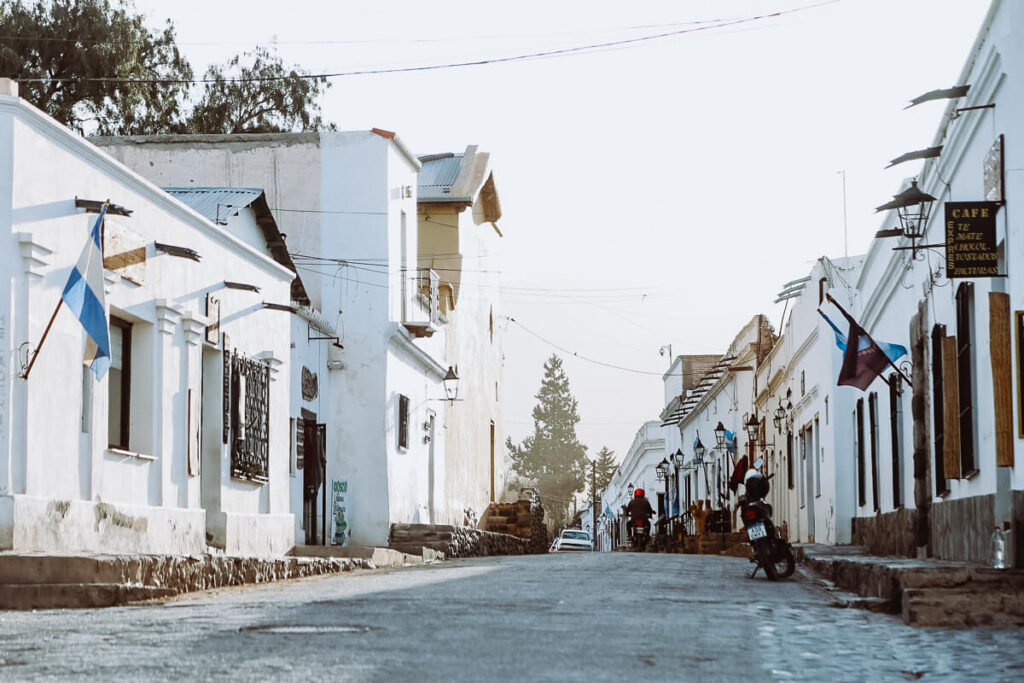 Where to Stay in Cachi
You made it, you're in Cachi!
It's very common to do the Ruta 33 drive, stop for a late lunch in Cachi and then head back to Salta all in one day.
But there is so much to do and see here so I recommend staying in Cachi for at least 2 nights. We stayed 4 nights and easily filled all of our days.
On our first trip to Cachi we stayed at the Hosteria Villa Cardon. It's gorgeous and very affordable! It's just a couple of blocks from the main square and the best restaurants. You'll easily find parking right in front since it's on a quiet street.
For our second trip to Cachi we needed more space since we were coming with our baby this time around. I rented a cabin at Miraluna, a winery 15 minutes outside of Cachi.
In my opinion, the distance was worth it to be sleeping on this beautiful vineyard.
The cabins were spacious and having a kitchen was very helpful with our little one. The pool and playground would be amazing if you're visiting in warm months (we were there in winter).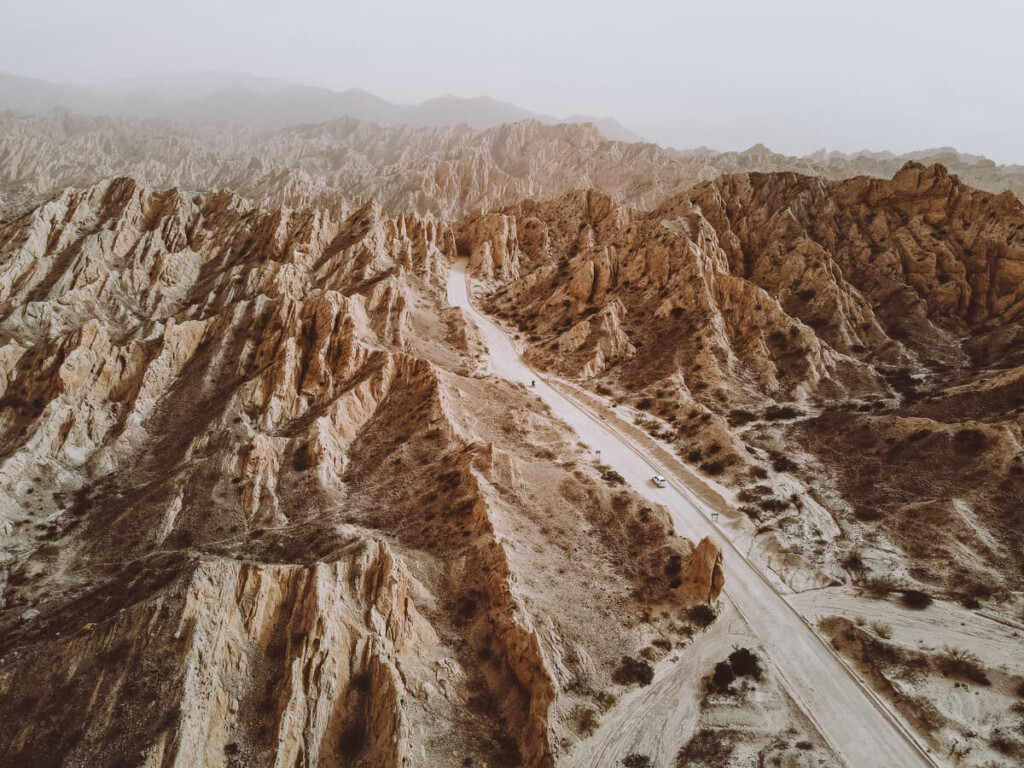 Ruta 40: Cachi to Cafayate
Ruta 40 is Argentina's Route 66. It crosses the entire country from north to south but many claim the short stretch between Cachi and Cafayate is the most beautiful section!
Ruta 40 Pitstops
The drive is around 3.5 hours if you drive straight through but honestly, dedicate the ENTIRE day to it.
There is a LOT to see.
The main highlight is the Quebrada de la Flecha but there are a number of small towns worth stopping at.
Here are a few of my main recommended pitstops:
SECLANTAS & EL COLTE: El Colte is a stretch of road where artisans set their looms up outside their homes. You can watch them weave and purchase gorgeous pieces (sweaters, scarves, and ponchos) directly from them!! It's a MUST. We did this and Seclantas as a full day trip from Cachi, you'll want time here.
MOLINOS: We always stop in Molinos for lunch at El Rancho de Molino (pinned on the map above). It's a small, tiny restaurant but the food is top quality and the owners that run it are SO friendly. Make sure to see the church in Molinos before you leave.
COLOME: This is one of the best wineries in the country. If you want to visit reserve in advance and plan on it taking up most of your day.
ANGASTACO: You'll pass the entrance to this tiny town before you enter the Quebrada de la Flecha.
QUEBRADA DE LA FLECHA: This is the star of this route! You'll feel like you're on another planet. Stop at the Ventisquero viewpoint (you'll see the small parking lot to your right) to climb to the top of a small hill for the best views.
Between the quebrada and Cafayate you'll pass a lot of tiny towns, all are beautiful but there just isn't enough time to see it all. We always stop at…
SAN CARLOS: A small town just before Cafayate. It has a gorgeous main square and is a welcome leg-stretching spot at the end of a long day's drive.
Where to Stay in Cafayate
It's hard to pick where to stay in Cafayate because there are so many great options.
I recommend staying in Cafayate for at least 3-4 full days. There is a LOT to do.
If you want to stay in town, I recommend Villa Vicuna. We stayed there on our first trip to Cafayate and loved it. It is one block from the main square and wineries like Nani. The colonial building is beautiful and rooms are very, very comfortable.
To stay outside of town on a winery, stay at Patios de Cafayate. I would have stayed here on our second trip but I wanted a bigger room with the baby.
It's the most popular place to stay in Cafayate and it's easy to see why. You're on one of Cafayate's best vineyards only a short drive into town.
On our second stay we stayed at Castillos de Cafayate. It's a 20 minute ride outside of Cafayate in the Quebrada de las Conchas.
I don't recommend it for being in the heart of the wineries but I DO recommend it for the views.
Every single room has a panoramic view of the quebrada, it was breathtaking. Service is average (could be improved) but the location is priceless, the rooms are huge and the restaurant was great.
Keep Reading About Cafayate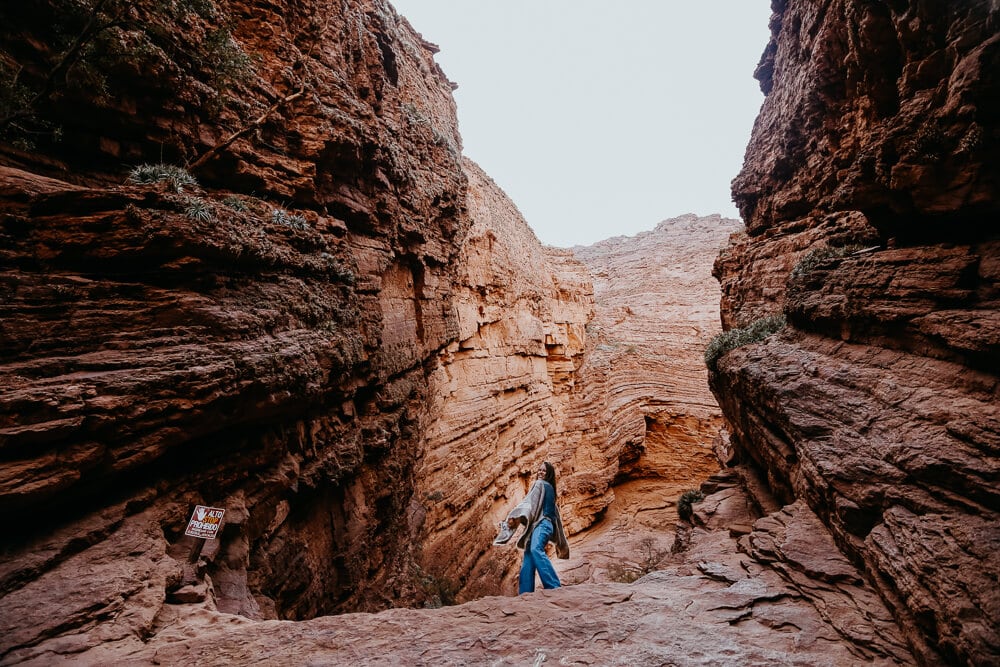 Ruta 68: Cafayate to Salta
Time to leave beautiful Cafayate and make your way back to Salta.
Luckily, it's one of the most beautiful drives through the Quebrada de las Conchas.
Ruta 68 Pitstops
The drive from Cayafate to Salta is a little over 3 hours. Calculate some time in for photo ops.
We usually leave early in the morning to enjoy the quebrada before the tour buses arrive from the city and we get into the city just after midday.
You'll drive on Ruta 68 which is paved and easy to drive.
NOTE: All of the pitstops (read: jaw-dropped photo ops) are in the Quebrada de las Conchas.
Honestly, you'll find a ton of places to stop on this route, read my complete guide to the Quebrada de las Conchas for all the details. But let's keep going with the highlights…
LA YESERA/LOS ESTRATOS HIKE: This short hour roundtrip hike is worth the effort. It's easy and the views are stunning.
EL ANFITEATRO: The amphitheater formation is my favorite! The acoustics are amazing, as you'll see as there are always musicians playing folkloric music inside. Stay, dance a little, take a ton of photos, and tip them before you go.
GARGANTA DEL DIABLO: Gorgeous canyon/dried waterfall. If you're wearing proper footwear you can scramble to the top and walk into it. There's a woman usually here selling goat cheese filled tortillas, get one!
MIRADOR TRES CRUCES: The best panoramic viewpoint of the valley in the quebrada.
PUENTE RELATOS SALVAJES: One of the best Argentine movies, Relatos Salvajes, filmed an epic scene here! You'll see handwritten signs marking where to pull over for it at kilometer marker 88.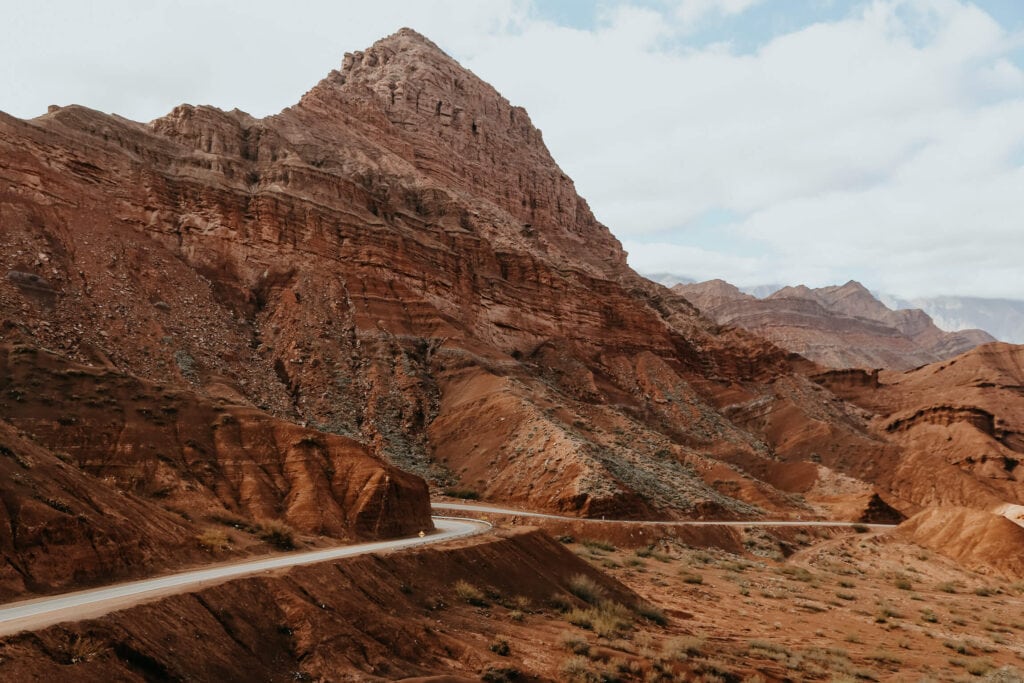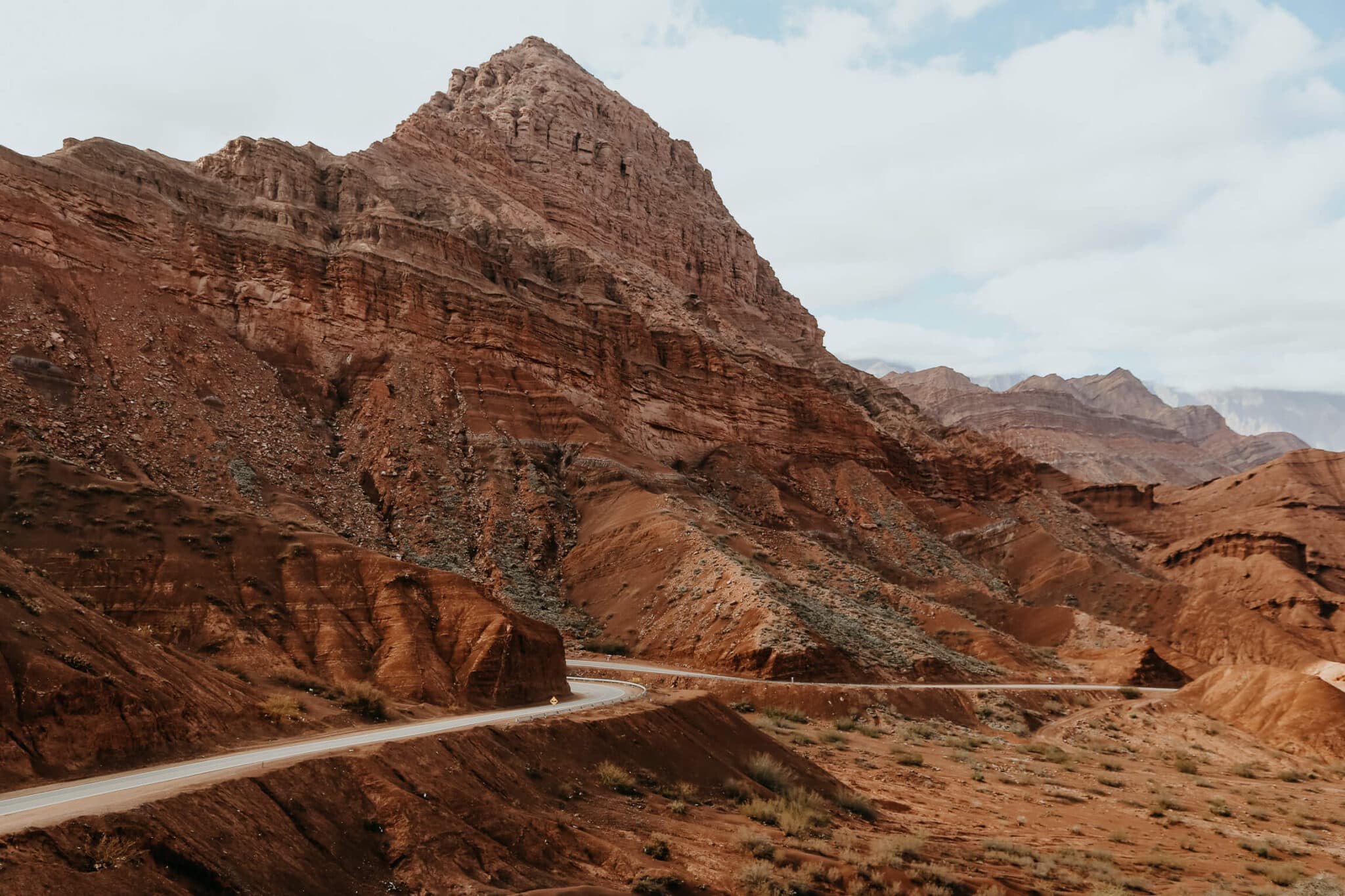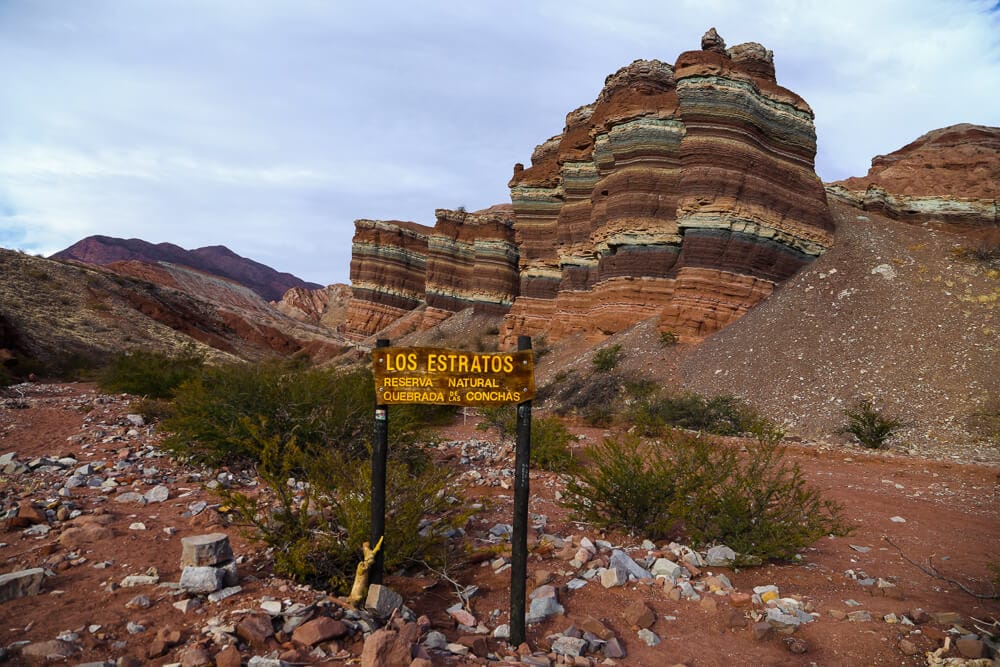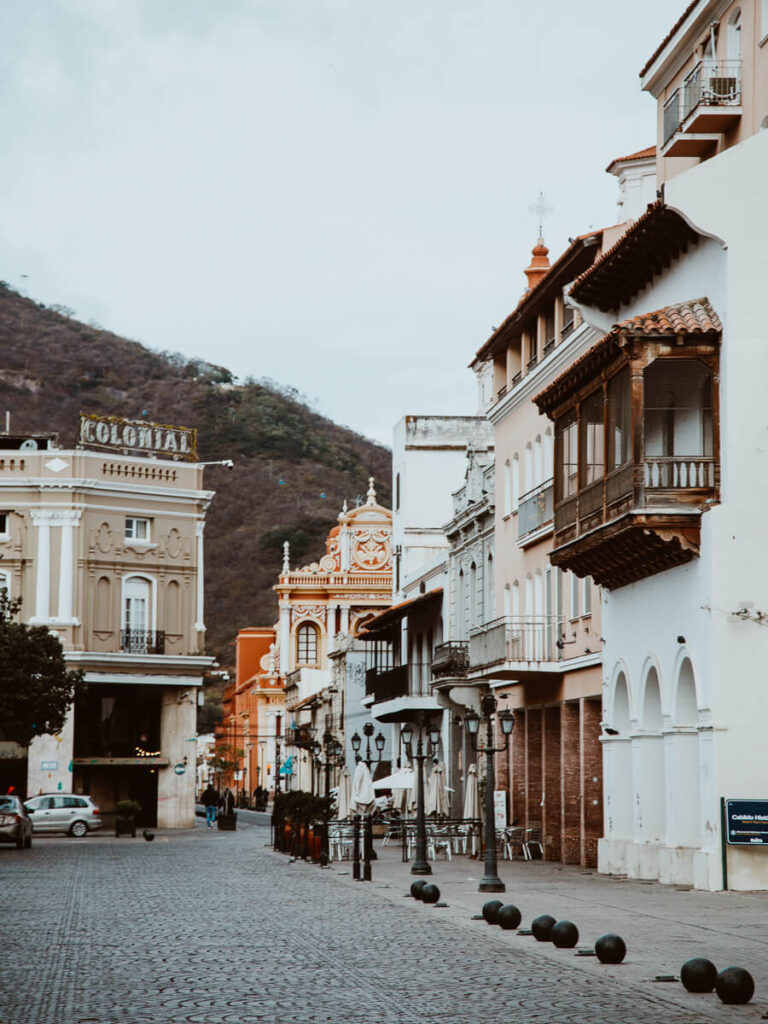 Salta City
This is the end of your epic Salta road trip.
You're back in the city and ready to fly home or onwards to one of these beautiful places to visit in Argentina.
If you have some time to explore the city of Salta, read my post about the best things to do in Salta to plan your time there.
Where to Stay in Salta
If you are staying overnight, I highly recommend the Kkala Boutique Hotel. It's a 5 minute taxi ride from downtown and in my humble opinion it is the best hotel in town.
We stayed on our last trip to Salta and fell head over heels for the place.
If you'd rather stay in the heart of downtown I recommend Villa Vicuña. It's ideally located just steps from all the main sites. My parents stayed there and still rave about it.
Salta Road Trip Summary
I hope this detailed itinerary helps you plan your route through Argentina's most beautiful province!
If you have any questions at all ask in the comments, I always respond!
Read More About Salta
Argentina Travel Resources
Pin It For Later