Choosing your accommodation for your next holiday can make or break your experience.
I can spend AGES researching hotels, neighborhoods, and transportation options for my trips because where you relax at the end of the day is everything.
Whether you're wine tasting or seeking adventure in the Andes, there's a Mendoza accommodation option that will complete your holiday.
I recommend three different bases for where to stay in Mendoza from the city, to the outskirts, and finally on the vineyards themselves.
By the end of this post you'll know where to go for your needs whether your a backpacker on a budget or a wine-lover looking to spoil themselves.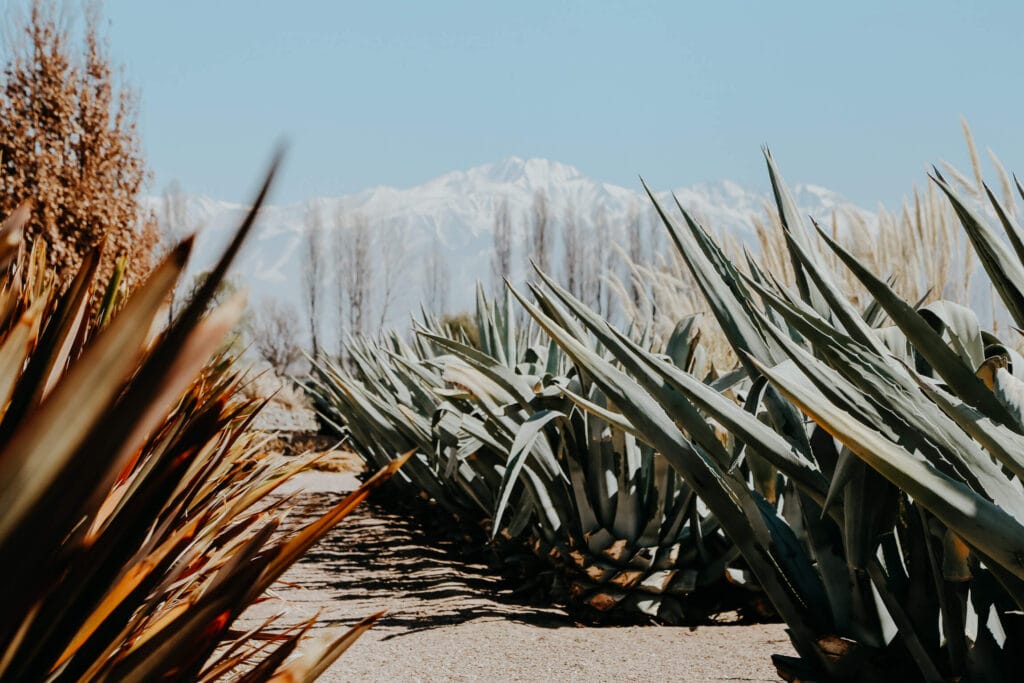 QUICK NOTE: This post contains affiliate links and Sol Salute may receive a commission for purchases made through these links, at no extra cost to you.
Where to stay in Mendoza: Accommodation For Everyone
There are three main areas where for Mendoza accommodation:
IN THE CITY: The most popular place to stay would be in Mendoza city proper. If you won't be renting a car it will be the most comfortable option. You can take day trips or hire a private driver to visit the wineries or go into the Andes. There are options from budget backpacker to luxury.
CHACRAS DE CORIA: This tiny town is a short 20 minute taxi ride from Mendoza center but is a world apart in terms of quaint beauty. There are wineries right here in town, great restaurants, and it's much more peaceful than the city center.
THE UCO VALLEY: Stay on a vineyard in a resort at the foot of the Andes, this is my top recommendation if you love wine and want peace. It is without a doubt the most beautiful option on this list and there are hotels for a range of budget options, but you do need to have your own car to fully enjoy it. Check rental rates here.
Now, let's dive deeper into each of these options with hotel recommendations in each.
TLDR: The Top 3 Mendoza Hotels
In a hurry? Skip to the best hotel for your budget:
More Mendoza Resources:
While you're here, read more of my Mendoza guides to plan your trip. Note that these links will open in a new tab so that you can continue to read this Mendoza accommodation guide.
NOTE: My favorite place and top recommendation is to stay in the Uco Valley. It's the most beautiful option out there, with wine resorts among the vines. Second choice would be Chacras de Coria. Basically, as this article goes my love for each recommendation grows, starting with downtown Mendoza, then Chacras de Coria, then the Uco Valley at the end. So read it all or you'll be missing out!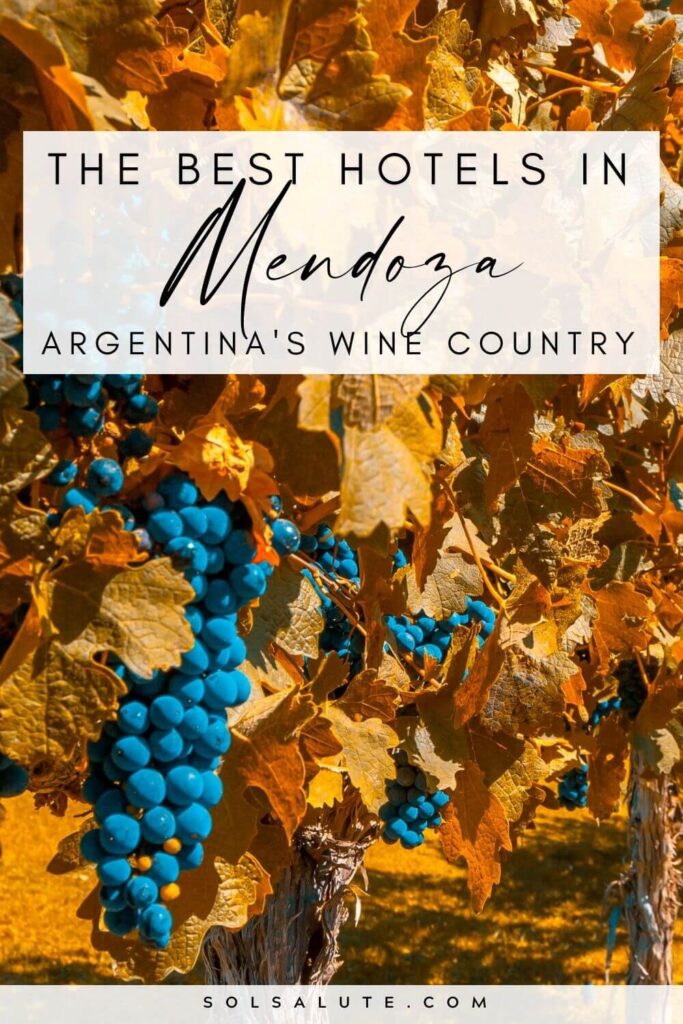 The Best Hotels in Mendoza City
If you don't plan on renting a car stay in the Mendoza city center and take tours to explore the wineries and the mountains.
If you're a backpacker or young solo traveler who wants to meet fellow travelers or enjoy the nightlife, you'll also be best suited in the city center.
Here are my top places to stay in Mendoza city proper.
Park Hyatt Mendoza
The Park Hyatt is one of the best hotels in Mendoza. It's luxury in a historic building perfectly located on the main square.
If you stay here you'll have everything under one roof including a spa, casino, various restaurants, a pool, and more.
Technically, you don't need to leave the hotel with all of that under one roof but with so much to see in Mendoza I recommend you do! Luckily, you'll be walking distance from all the main sites.
Being an international chain you can trust that you'll receive reliable, top quality care at the Park Hyatt.
Check rates & availability here.
Bed & Breakfast Plaza Italia
We stayed at the Bed and Breakfast Plaza Italia on our first stay in Mendoza and really loved it.
The home is beautiful and the rooms are well decorated and comfortable. In our case the bathroom was shared but we never had any issues with having to wait for it.
Plaza Italia's owners were very passionate about Mendoza and sat us down to give us more restaurant and winery recommendations than we knew what to do with. It was a wonderful experience overall.
It's best for couples or even solo travelers (there's a lovely inner courtyard where you can sit and socialize). I don't really recommend it for families.
Check rates & availability here.
Gorilla Hostel
Mendoza is big on the Argentina backpacker circuit and there are plenty of hostels to choose from.
I recommend Gorilla Hostel.
They have shared dorm-style rooms as well as private rooms (option for private or shared bathroom).
There's free Wi-Fi on the entire property and a great shared space complete with parilla, a pool and ping pong (make friends with someone who loves to grill and you're in for a good time!).
At only a few blocks from the main square and Parque San Martin you'll be walking distance from everything.
Check rates & availability here.
The Best Hotels in Chacras de Coria
I cannot recommend Chacras de Coria enough. With only a 20 minute taxi ride from Mendoza's center you'll feel a world apart.
This small town is beautiful with canopies of trees over cobblestone streets, wineries in the heart of downtown, and great restaurants.
By staying here you'll have the peace of a small town but the ease of transport of staying in the city center, with tours and taxis at your doorstep.
Here are the three top hotels in Chacras de Coria.
Posada Borravino
We spent one night at Posada Borravino when in Mendoza with friends. It's a beautiful boutique hotel and is very affordable.
The rooms are well decorated and comfortable but for me the highlight is the inner patio. There's a pool (that it was too cold for us to take advantage of) and comfortable seating to relax at the end of the day. We decided to skip dinner out in lieu of wine and charcuterie here, it was too relaxing to leave.
Another pro is there are bikes free for your use and coincidentally, there are plenty of wineries within biking range!
Check rates and availability here.
Lares de Chacras
We haven't stayed at Lares de Chacras but not for lack of interest! This hotel is slightly more upscale than Pasada Borravino, but still with a relaxed, unpretentious air.
The buildings made out of river stones have the vibe of a luxurious cabin. They have a lush garden, a pool to cool off in, and a buffet breakfast (a rarity in Argentina).
I highly recommend this hotel if you want comfort. Of course, the Park Hyatt is hard to beat but I find that chain hotels lack the charm that you'll find in an independently owned property like Lares de Chacras.
Check rates and availability here.
Club Tapiz
My parents stayed at Club Tapiz when they visit Mendoza and raved about their time there.
The location is perfectly situated between the Maipu and Lujan de Cuyo wine regions and is a great base for exploring the wineries. The only downside is that you aren't walking distance to things in Chacras de Coria (but dinners and nightly wine tastings on property compensate for that).
Their large property offers a lot of amenities such as horseback rides, a spa, short hikes, and epic lounge chairs with a view of a vineyard by the pool.
Check rates and availability here.
The Best Hotels in the Uco Valley
This is my top recommendation, staying in the Uco Valley is my favorite way to enjoy Mendoza!
If a rental car is in your budget, I personally recommend completely skipping the city and staying on a winery resort here.
The Uco Valley is what dreams are made of.
Hotels stand among the vines at the foot of the Andes.
It's peaceful and idyllic.
On our recent trip, we spent three nights in the Uco Valley split between two hotels, it was a dream.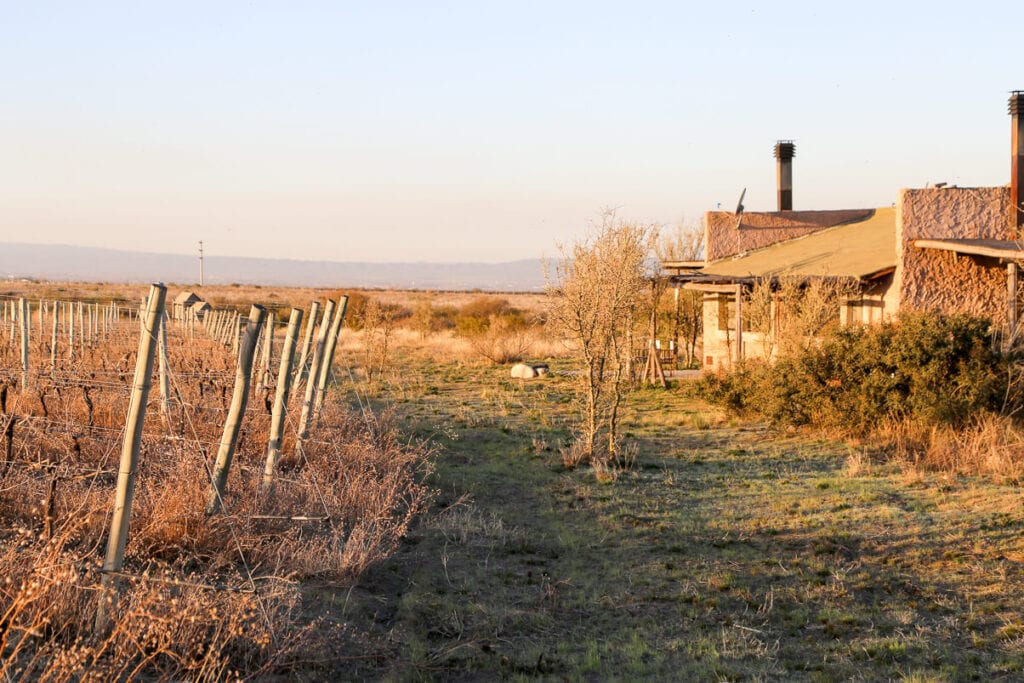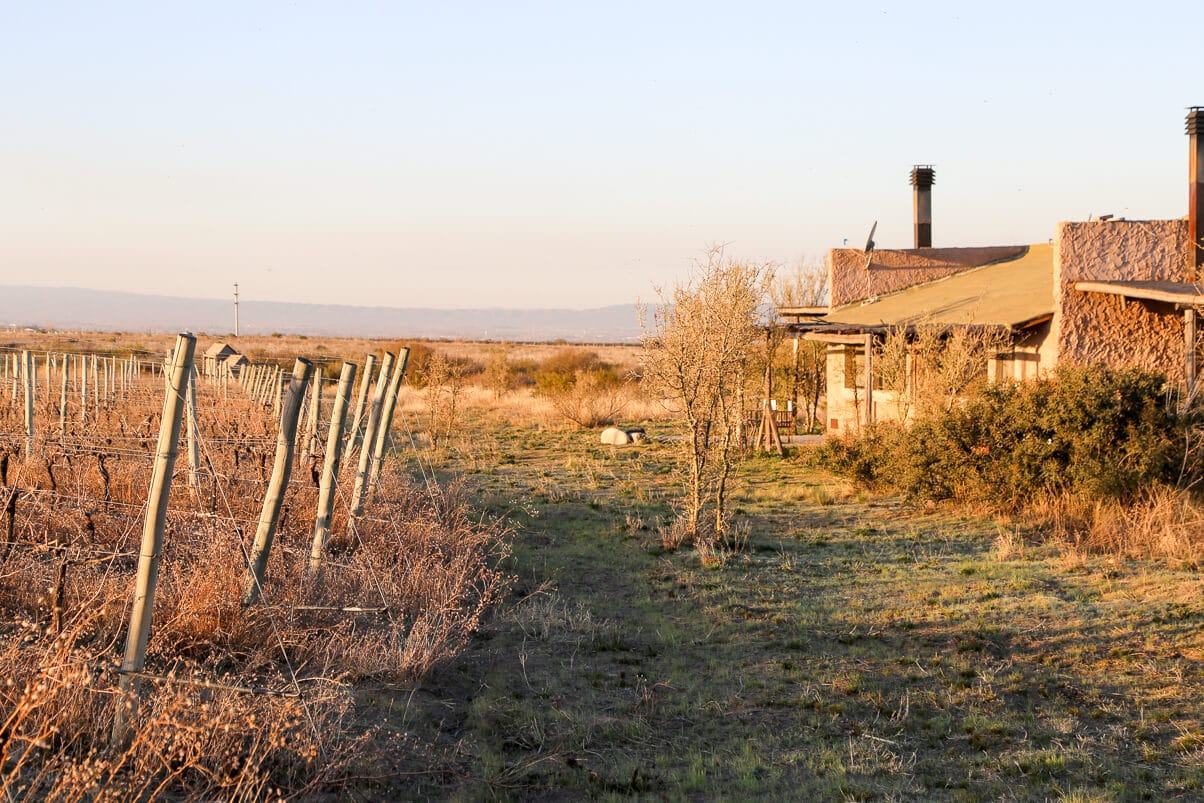 Tupungato Divino
We spent two nights in Tupungato Divino (seen in the two previous photos) and it was, to repeat the name, divine.
At only $97 US a night it was also very affordable for this region.
Tupungato Divino is made up of small cabins on a farm that grows grapes to sell to other wineries. The view from your bed consists of the vineyard, the Andes and one hell of a sunset.
There's a restaurant on property serving up simple but very good lunches and dinners. The pool is also a bonus for hot summer afternoons.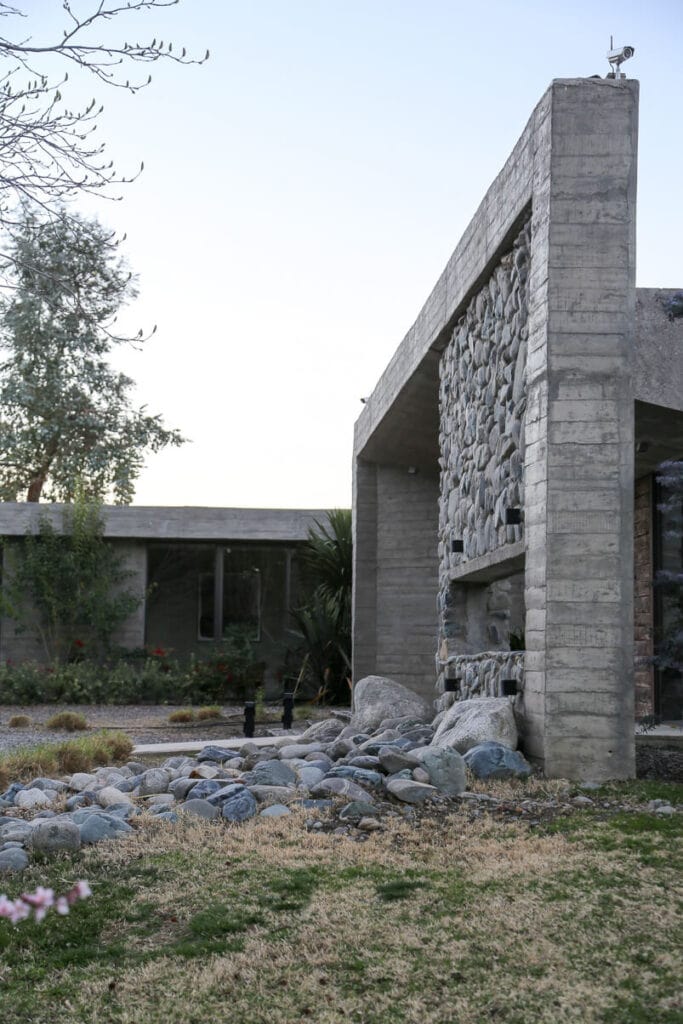 Finca la Azul Guesthouse
We also stayed at Finca la Azul Guesthouse.
Bodega La Azul is my favorite winery in Mendoza (they have the best winery lunch around!). Staying at their guesthouse after lunch with wine pairings at their restaurant was the perfect situation.
The winery and guesthouse are a family project, and the hotel itself is actually the family's original home that's been reformed into a luxury wine hotel.
I can't imagine being lucky enough to live in such a beautiful location, but lucky for us we were able to pretend it was home for one night.
Casa de Uco Vineyards: The BEST Hotel in Mendoza
Casa de Uco is 5 star luxury on a vineyard at the foot of the Andes.
What more can you ask for?
The building itself is modern and sharp against the landscape. They have everything you need from a billiards room to a spa, from an infinity pool to an on-property winery.
I haven't stayed here yet but it's so high on my list. At the moment I'm in the throes of new motherhood and as soon as my husband and I can travel alone and leave our little one with a sitter, this will be where we go (I may or may not dream about it regularly).
Check rates and availability here.
Choosing The Best Mendoza Hotels
There are my 9 favorite hotels in Mendoza. It may sound like a stretch but I have honestly stayed at, know someone who stayed at, or researched every single one.
Why? Because I am a wino who LOVES Mendoza.
I'll sign out with once more recommending renting a car (check rates here) and staying a resort on a vineyard. It will be a once in a lifetime experience.
If you can't do that, don't worry. Stay downtown. Seriously, get to Mendoza in any way that you can, it's a magical place.
Argentina Travel Resources