An unexpected tulip field at the foot the rugged mountains of Patagonia is putting this tiny Argentine village on the map.
But there is a lot more to discover in Trevelin beyond the blooms.
This town and its surroundings features a booming wine region, a national park, and the remnants of Welsh pioneers.
It is still very much untouched.
Bariloche is the beautiful powerhouse of Northern Patagonia but if you're looking for pristine nature that is still off the radar for most travelers, this is it.
This post is a complete guide to help you discover Trevelin, Argentina from tulips to tea time.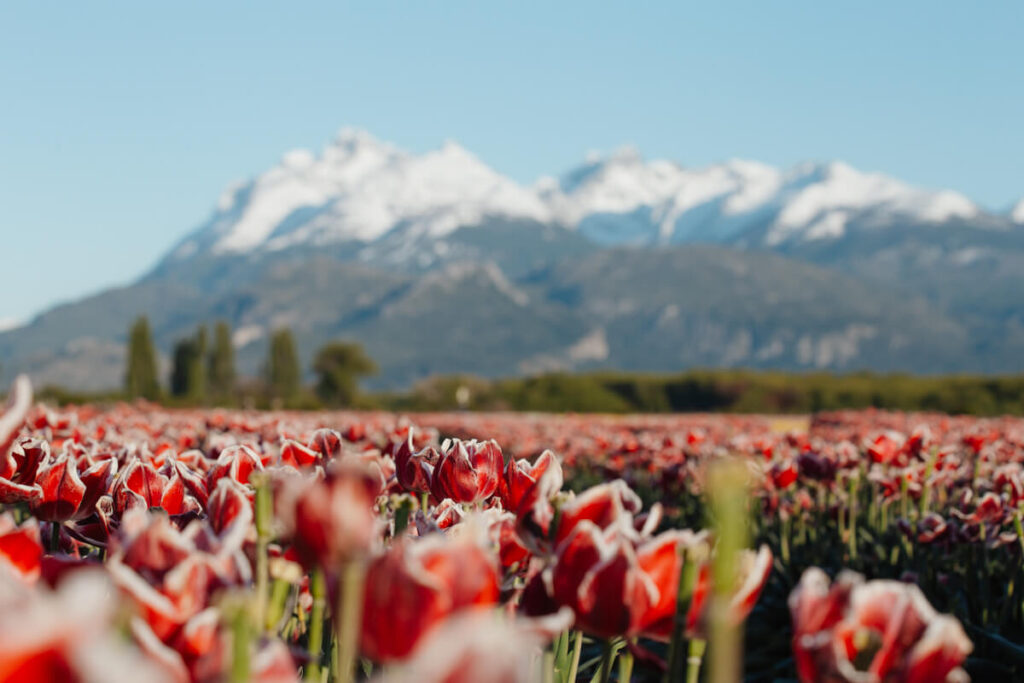 QUICK NOTE: This post contains affiliate links and Sol Salute may receive a commission for purchases made through these links, at no extra cost to you.
Discover Trevelin, Argentina
We had plans to visit Trevelin in 2020 but had to impatiently wait until this year to finally visit.
It was worth the wait, and we'll be back for more.
Tourism in Trevelin is booming with domestic travel but still remains off the radar for most foreign visitors who tend to flock to the larger cities of Bariloche and San Martin de los Andes.
Both of those mountain towns are stunning but they have also outgrown their pristine mountain village feel.
If you want small and pristine, the Bariloche of the 1990's, you want Trevelin and neighboring Esquel.
Where to Stay in Trevelin
In Trevelin you'll find a number of cabins and rentals to choose from, versus large hotels.
If visiting in high season, especially in October to see the tulips, reserve your accommodation as soon as possible. Do not wait.
We waited and it was very hard to find a place with availability.
Getting lucky we snagged the last available cabin at Estancia Río Abajo, a complex of cabins just outside of town on the road to the national park.
They were simple, comfortable cabins on a beautiful property by the river. With two bedrooms plus a bed in the living room they easily fit a family.
The couple that owns Estancia Rio Abajo was very kind (even helping me get my baby to a pediatrician, I will be forever grateful to them). Click here to check their availability.
For couples or solo travelers, my friend stayed in this tiny house on his visit to Trevelin. It is clean, simple, with epic views.
For a more luxurious stay, the Challhuaquen Lodge is excellent for fishermen or luxury junkies. No children are allowed (so you can enjoy their spa in peace).
TIP: Unless you're staying directly in town, you're going to need a car to get around or taxis. Take that into account before making your reservation. Check rental car availability out of nearby Esquel or ask your lodge/cabins about taxi options and the costs to get around.
Things to do in Trevelin
There is a lot more to to do in Trevelin than you may suspect.
I recommend going to at least 3 days and upwards of a week if, like me, you prefer slow travel.
We spent 5 full days there, filled them all, and were left wanting more.
See Patagonia's Tulips
Every October the Ledesma family opens the doors to their farm so we can admire the tulip field and its impressive mountain backdrop.
The field is open roughly from October 1 through November 6 each year, check exact start and end dates each year to be sure.
Go in mid-October for the most blooms and to see them at their absolute best.
We went in the final days of October and it was clear a lot of flowers were missing or in decline. However, that did not take away from the beauty.
In 2022 entrance was 1500 pesos per person, no reservations required. You can walk freely around the perimeter field. Do not pass the rope barriers and walk among the flowers.
There is a tea house on the property for cake, tea, and coffee with a view.
Why are the tulips here? They harvest the bulbs in February, but we get to enjoy the blooms in October!
Public transport to the tulips? Transporte Jacobson offers a bus with 3 scheduled trips to the tulips throughout October (and 3 returns). Confirm hours here and get the bus in Plaza Coronel Fontana. Once you're at the tulips you're walking distance from Viñas del Nant y Fall winery (100 meters) and for a lot more walking but doable, the Nant y Fall waterfalls.
Go Wine Tasting
With tulips, berries, and cherries it's easy to see why Trevelin is called Chubut's Garden. It's also obvious what comes next in wine loving Argentina: vineyards.
There are three wineries in Trevelin offering tours, tastings, and lunch:
Viñas del Nant y Fall – Nant y Fall is the oldest winery in Trevelin, next door to the tulip fields. They have a great restaurant for lunch of pastas and empanadas.
Contra Corriente – Owned by 2 fishing enthusiast friends from Montana, this fishing lodge doubles as a vineyard. It's the easiest to visit, just outside of town on the way to the national park.
Casa Yagüe – This family-run winery is my favorite. It is undoubtedly the most beautiful and the wine is very good. Schedule a lunch or sunset dinner here to make the most of t he beautiful property.
Parque Nacional Los Alerces
Lakes, waterfalls, and centuries-old Alerces trees characterize this UNESCO recognized national park.
The central gate just outside of Trevelin is the main entrance to the park.
You can go with your own car or by taxi and explore the many hiking trails.
Check Alltrails for a breakdown of all the best hikes. If you only have time for one, do Sendero Lahuan Solitario.
One of the more popular ways to explore the park are with organized boat excursions to the oldest Alerce tree in the park, one of the oldest in the country.
There are a few companies that offer these tours, Glaxiar offers smaller group tours for the best experience.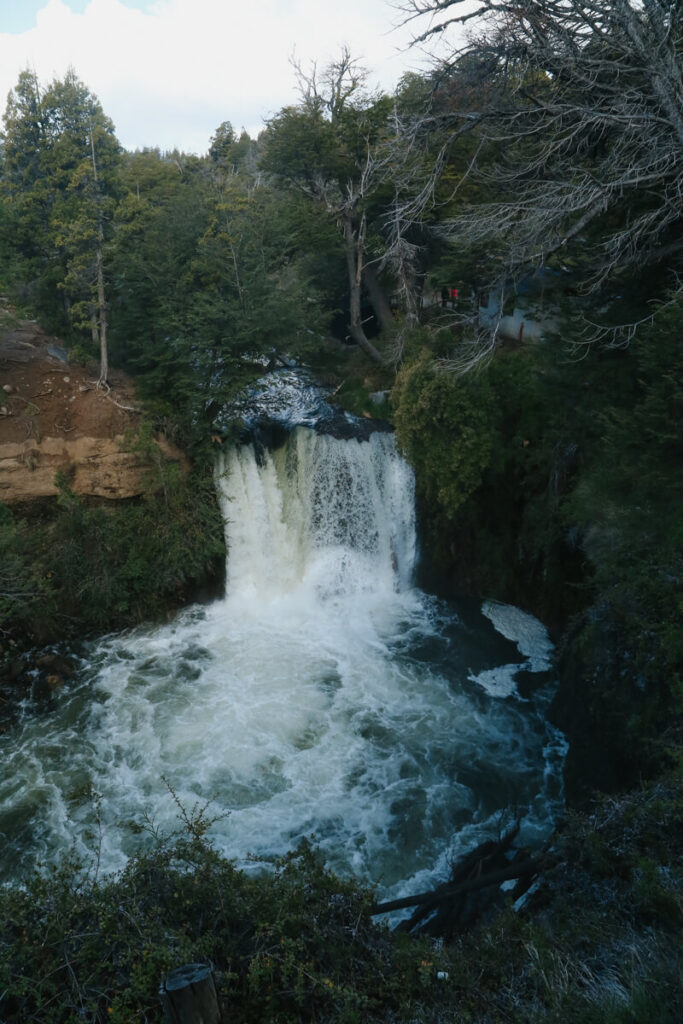 Cascadas Nant y Fall
Cascadas Nant y Fall is a short, easy for everyone hike to three waterfalls.
The access road to the falls is off of Ruta 259 just across from the tulips and Viñas del Nant y Fall. You can easily do all of them together in one morning/afternoon.
You'll drive about 4 km to the parking lot for the falls. Walk to the booth to pay for your entrance which was just 500 pesos per person (as of November 2022).
The hike itself is just 500 meters, the equivalent of 5 city blocks. It is wheelchair and stroller friendly with viewpoints of three major waterfalls.
There are bathrooms and a small shop and restaurant at the base selling drinks, sandwiches, pizza, and cakes.
Molino Nant Fach
Molino Nant Fach is a perfect replica of the antique flour mills that used to dot the valley here.
It was built by a Mervyn Evans, great-grandson of one of the original Welsh pioneers, Thomas Dalar Evans.
Entrance was 1500 pesos per person (November 2022) and included a 45 minute guided tour where you'll learn the history of the mill and the valley.
It's 100% worth doing (unless you also visit with a toddler who is late for a nap and on the verge of a meltdown and have to skip it, like me).
Ride the Patagonian Express on La Trochita
If you're a train enthusiast, La Trochita in nearby Esquel is something you cannot miss.
This scenic route is part of the historic Patagonian Express.
You'll board the historic steam engine and ride an hour to Nahuel Pan.
Here you'll have about 45 minutes of free time to peruse market and get a snack of torta frita (fried bread) before commencing the hour long return journey.
The views are spectaculars and the line is veritable piece of history.
Check departure times here as they depend on the season. In high season it operates daily but in low season it operates just a couple of days each week.
Go Fly Fishing
Fly fishing for rainbow trout is great all across Patagonia but it seems to be a way of life here in Trevelin.
The season starts on November 1 and runs through final days of April.
Click here for more information and a full list of the area's fishing guides. If you speak Spanish and are willing to do a bit of the leg work you can call/message the guides on that list. You'll need a fishing license, click here for prices/options.
For a more complete and luxury experience, stay at one of Trevelin's fishing lodges like Challhuaquen Lodge.
Try Welsh Cake at Nain Maggie
Trevelin is a Welsh settlement and with that comes Torta Galesa.
This Welsh cake originated here in Chubut, rather than Wales as one might guess.
Harsh conditions for the settlers required the matriarchs of the families to get a bit creative with the few ingredients they did have on hand.
Brown sugar, flour, and nuts were the base for what is now the region's most iconic cake.
Try the best Torta Galesa with a tea service at Nain Maggie, the village's oldest and most traditional Welsh tea house.
They open at 3:30 in the afternoon and portions are generous so don't make dinner plans that day.
We were told to plan on it filling us up for the rest of the day, calling it a "meren-cena", a blend of merienda (afternoon tea time) and cena (dinner).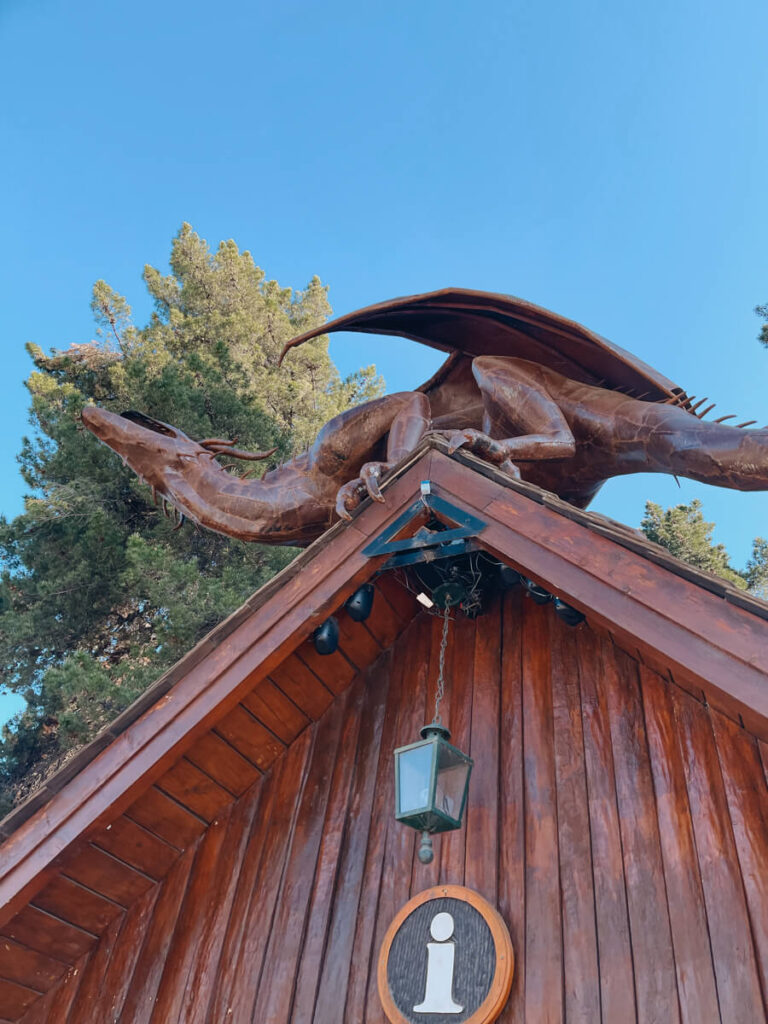 See the Dragon Breathe Fire
You may skip tourist information when you visit most towns but you won't miss the one in Trevelin's main square downtown.
The dragon clinging to the roof won't let you.
It was welded together by local sculptor and artist Tomás Schinelli Casares and sits perched on the roof of the information office, greeting tourists from all around the world.
The story of the red dragon is important in Welsh history and folklore. It's even immortalized on the country's flag.
Learn about the history and see the dragon breathe fire (YES, really!):
November-March: Every day at 8 and 10 pm
July-October – Every day at 6 and 8 pm
April, May, June – Weekends only at 6 and 8 pm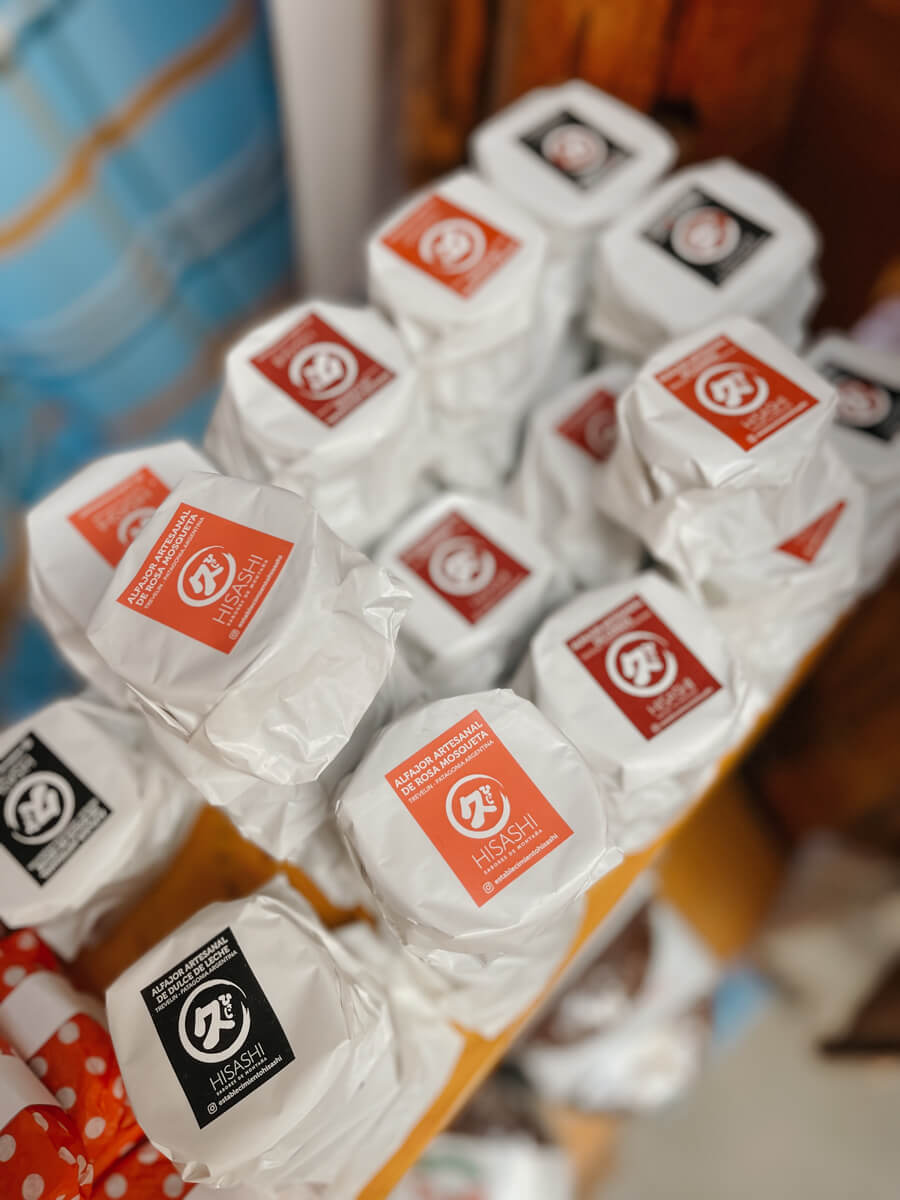 Visit Establecimiento Hisashi for Cherries
For 25 years the Japanese Kikuchi family has been cultivating cherries at Establecimiento Hisashi.
When their children were grown they decided to move to the south to start a new life, planting an orchard of nearly 1,000 cherry trees.
Harvest is in the summer, in late January/early February with the flowers blooming in September/October.
They sell liquors, chocolates, and alfajores made out of their cherries.
Cherry alfajores were something I didn't know I needed in my life until trying theirs and I wish I had gotten more to take home!
Don't Miss the Raspberry Farms
Tulips, peonies, cherries, and of course, raspberries and other fine fruits… Chubut's Garden is the gift that keeps on giving.
Paso Ancho Berries is a berry farm where you can pick your own berries, purchase raspberry treats like liqueurs and chocolates, or buy the already picked fruit to take home.
They're open every day in late Spring through the summer.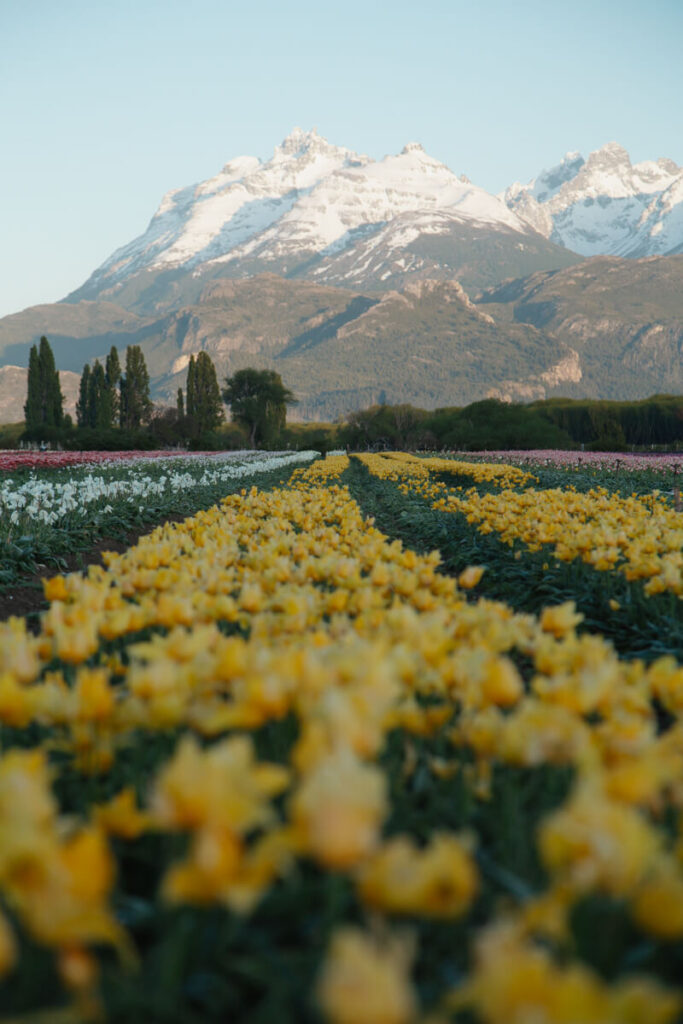 How to get to Trevelin
The closest airport to Trevelin is in Esquel, just 20 minutes to the north.
There aren't a lot of daily flights from Buenos Aires so if you want to fly here, plan in advance.
In busier months (October through December) there are 3-4 a week and in lower seasons there are as few as 2 flights a week.
Also, it's a bit (lot) windier here than in Bariloche and our landing was rough.
Later we were told the airlines keep their more experienced pilots on this routes and thank you for that, Aerolineas Argentina! When a local friend heard I flew into Esquel she called me brave.
That said, the other closest airport is 5 hours away in Bariloche. I don't like turbulence but flying into Bariloche didn't work for my dates/route.
Alternatively, you could fly into Bariloche and road trip southwards (we did this exact road trip in reverse).
You can travel with a rental car or by bus.
Check rental car rates here and bus schedules/options here.
For our road trip, we rented a car in Esquel (from this small local agency) and returned it in Bariloche.
The fee was just under 100 dollars to return the car in Bariloche (we also visited El Bolson along the way).
Since we didn't have the time to loop back south to Esquel it was well worth it for me.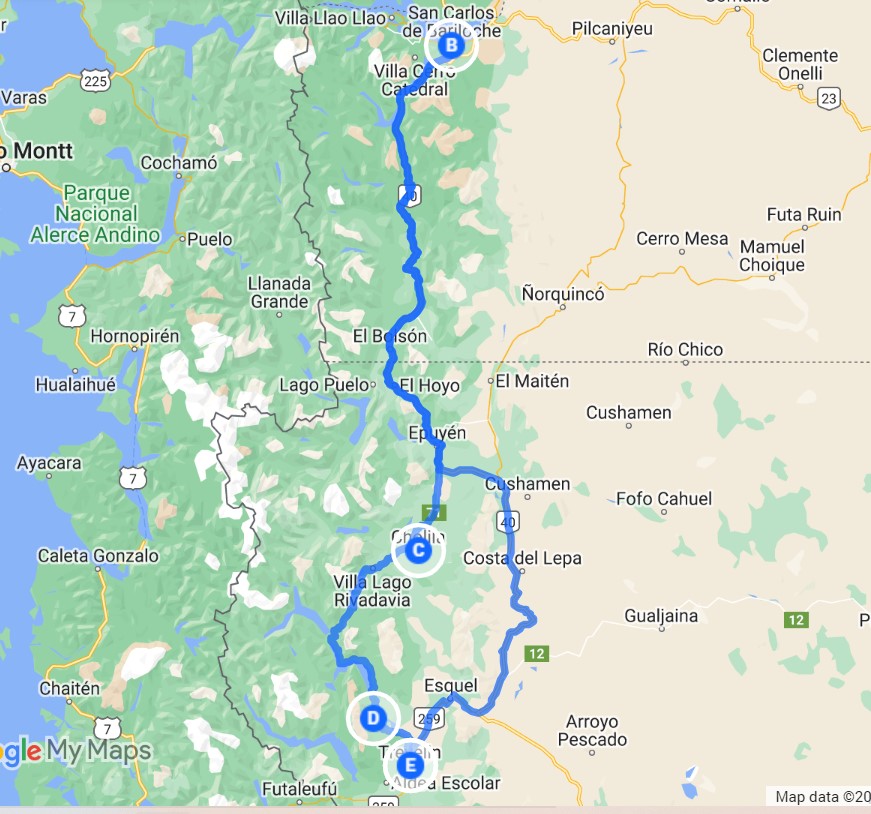 If you'd rather do a loop and return it in Esquel or Bariloche (wherever you picked it up), you could drive Ruta 40 one way, and on the way back take Ruta 71 through Cholila (from Epuyen to Trevelin) to see something new.
See the map screenshot above for an idea of the route.
You'd still have to cover half of the same stretch of Ruta 40 from Bariloche to Epuyen but luckily for you it's a stunning drive.
Pin It For Later