It's not all steak in Argentina, if you head to Tierra del Fuego it's all about centolla, or king crab.
This remote region of Patagonia is pure sea and mountains.
Forget the beef of Buenos Aires, to eat like a local you need to try king crab in Ushuaia.
This post is a complete guide on where to find the best centolla in Ushuaia as well as how to seek out an authentic fishing experience like a local!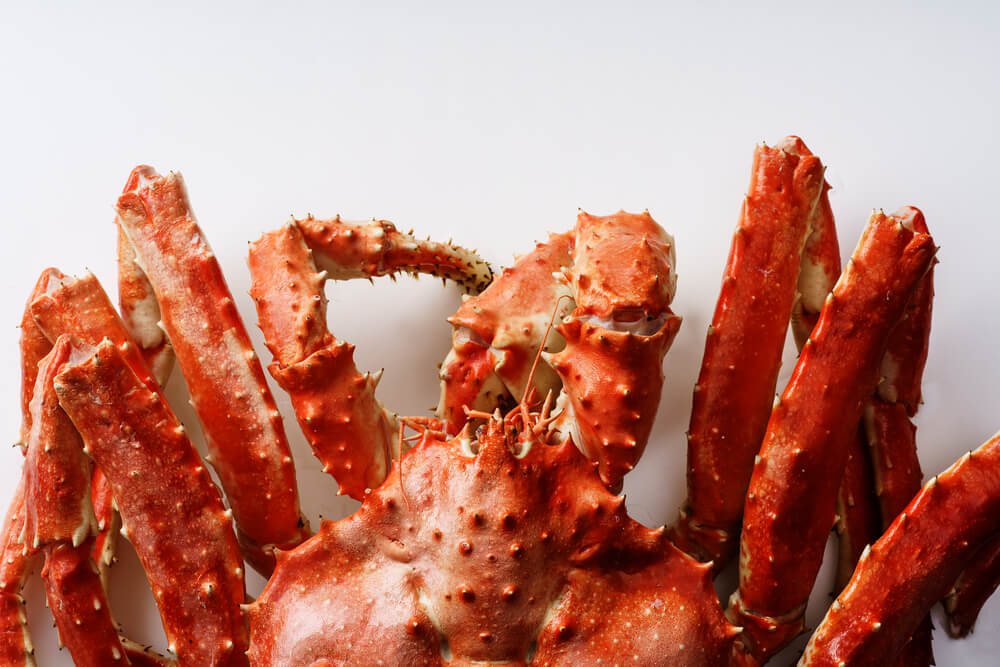 QUICK NOTE: This post contains affiliate links and Sol Salute may receive a commission for purchases made through these links, at no extra cost to you.
Where to Eat Centolla in Ushuaia
One of the best things to do in Ushuaia is eat and eat well.
Which is convenient, considering the weather here can be very unreliable. Is it raining, cold, and windy (despite it being the peak of summer?!), head into one of these restaurants for the best king crab in Ushuaia.
The first three are within a 2-3 block distance on the waterfront, just across from the touristic port.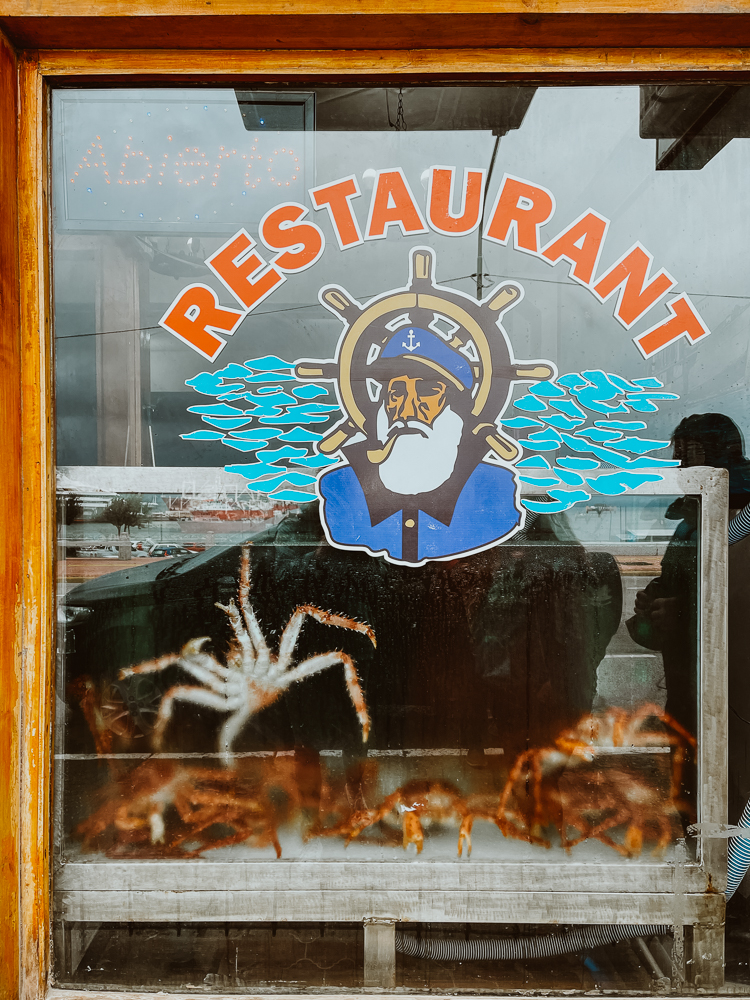 Our Experience & What to Expect
We went to El Viejo Marino, no frills is exactly what we love in a restaurant.
It's important to keep in mind that the menu is basically limited to centolla and variations on how to prepare it.
As you walk in, you'll pass the tank of live king crab awaiting their fate.
Throughout our meal servers kept running to and from the tank, with fingers delicately pinching onto a single leg of a live centolla, holding it at arm's length on their way to the kitchen.
The two most popular ways to try king crab in Argentina is fresh (al natural, served cool and the flavor untampered with) or a la parmesana (my favorite, warm with melted parmesan gratinated on top).
If there are two of you, I recommend ordering an entire centolla to share. It's quite the experience!
If one of you is picky (I apologize, it's me), then there are great dishes for one. My husband tried al natural and also a pasta dish. I was brave (pats own back) and had a la parmesana.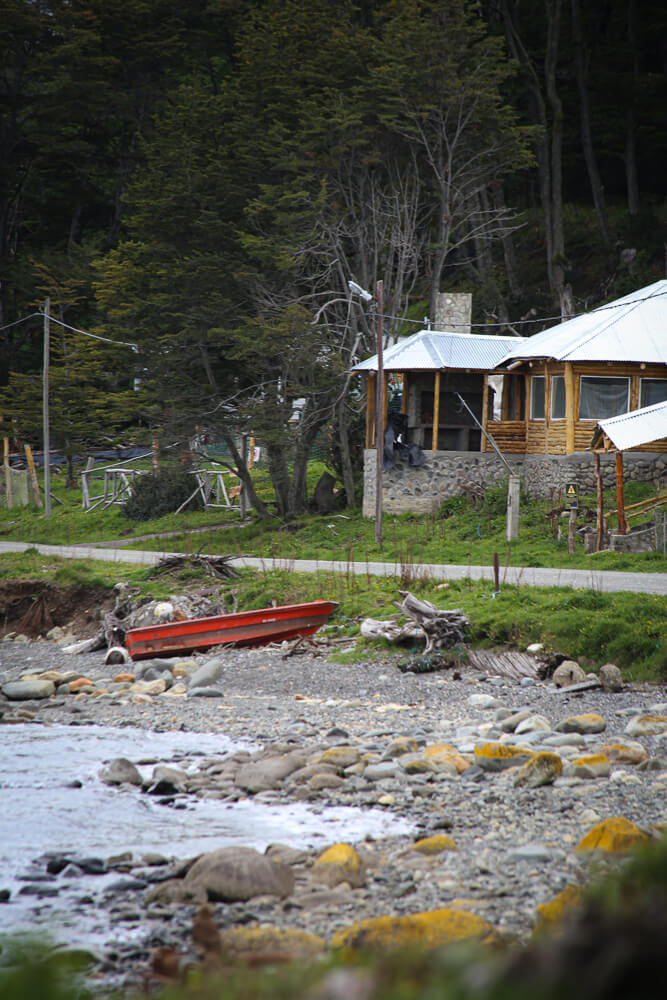 Visit Puerto Almanza: A Centolla Fishing Village
Authentic fishing village just an hour and a half from Ushuaia?
I don't need to love seafood (and I don't) to love an experience like this one!
(Disclosure, my husband DOES love seafood and this was a real treat for him).
Puerto Almanza is the southernmost town in Argentina (yep, further south an Ushuaia).
Only 15 fishing families live here and it's officially the Ruta de la Centolla.
You can eat king crab straight from the source here!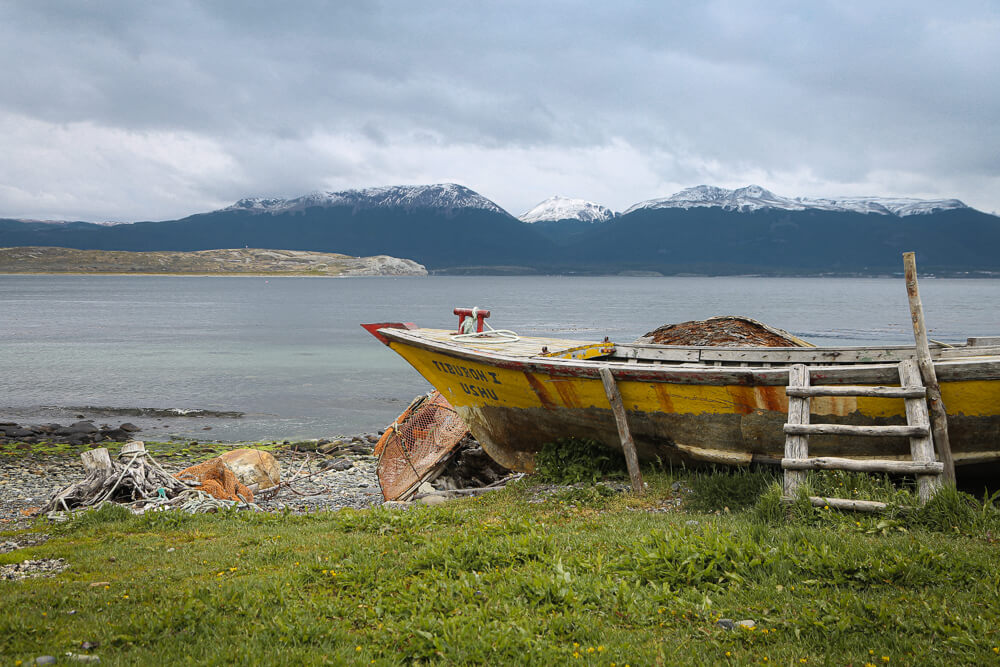 How to get to Puerto Almanza
It's easy but a bit of a trek to get to Puerto Almanza.
We had a rental car (check rates here) so we enjoyed a full day in the area, starting with a tour of Isla Martillo's penguin colony and ending with lunch in Puerto Almanza.
The village is only a few minutes from historic Estancia Haberton so it's very, very easy to combine this tour (penguins + estancia) with Puerto Almanza.
If you have your own car you can simply meet the tour group at the estancia rather than go in their bus and stay afterwards to eat it up in Puerto Almanza.
IMPORANT: The best two restaurants in Puerto Almanza are Puerto Pirata and La Mesita de Almanza. Not all restaurants are open every day, it's ideal to visit on a weekend to make sure they're open or call and reserve. Everything closes on Mondays and on other days it can depend on which restaurants have arrangements with tour groups (another benefit to going with a tour).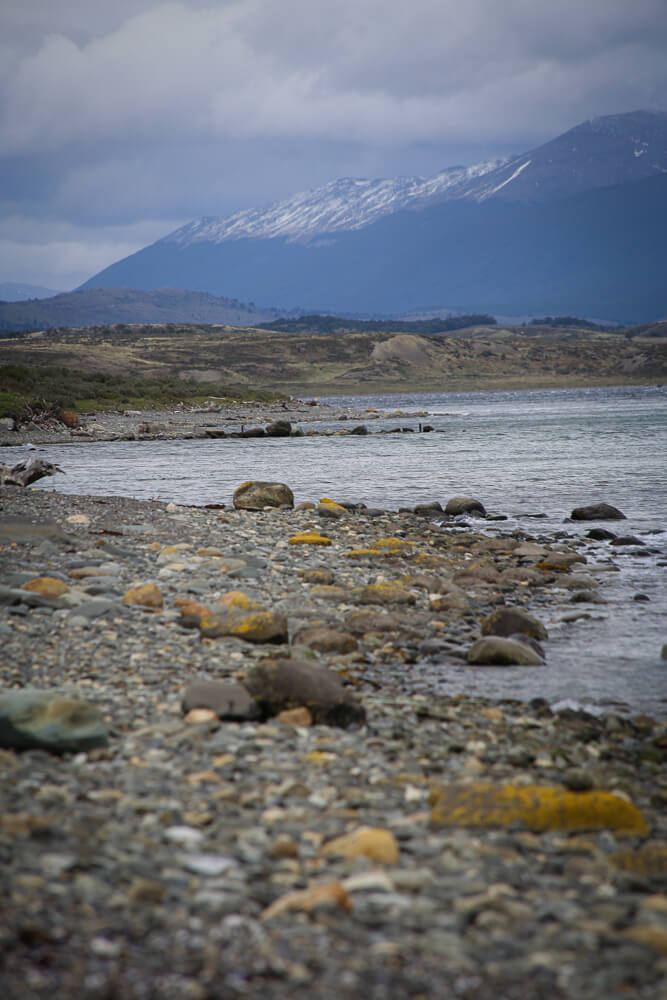 Tours to Puerto Almanza: La Ruta de la Centolla
If you don't have a car, I highly recommend these guided tours to Puerto Almanza.
In fact, rental car or not, I planned on going on the fishing tour during our visit. We reluctantly decided against it because we had our baby with us and the boat with him on a cold windy day wasn't admittedly a bad idea.
Crab Fishing in Ushuaia | If you love to eat, this is THE tour to go on in Ushuaia. You'll go out with a local fisherman and catch your own king crab. Afterward, the centolla is cooked up for you at Puerto Almanza's best restaurant.
Experience The Crab Route | Don't want to fish? This tour is more comprehensive, with a short and easy hike to a waterfall included along with a visit to a restaurant in Puerto Almanza. It's highly-rated for a reason, it's a great way to see this off the beaten path with a local. Ideal if you can't speak Spanish and don't feel comfortable going it alone.
Read More About Eating in Argentina