Buenos Aires is a large city, massive really. You can easily spend a week or two here and never get bored!
When I came for the first time in 2009.
I spent two weeks here thinking I would explore more of Argentina. I ended up spending all fourteen days discovering Buenos Aires.
In those two weeks, I fell in love with the city. And now having lived here for 11 years, I can honestly say I still have yet to run out of new things to see.
I want you to love my city as much as I do, so I've put together this itinerary for 3 days in Buenos Aires to help you see all the highlights!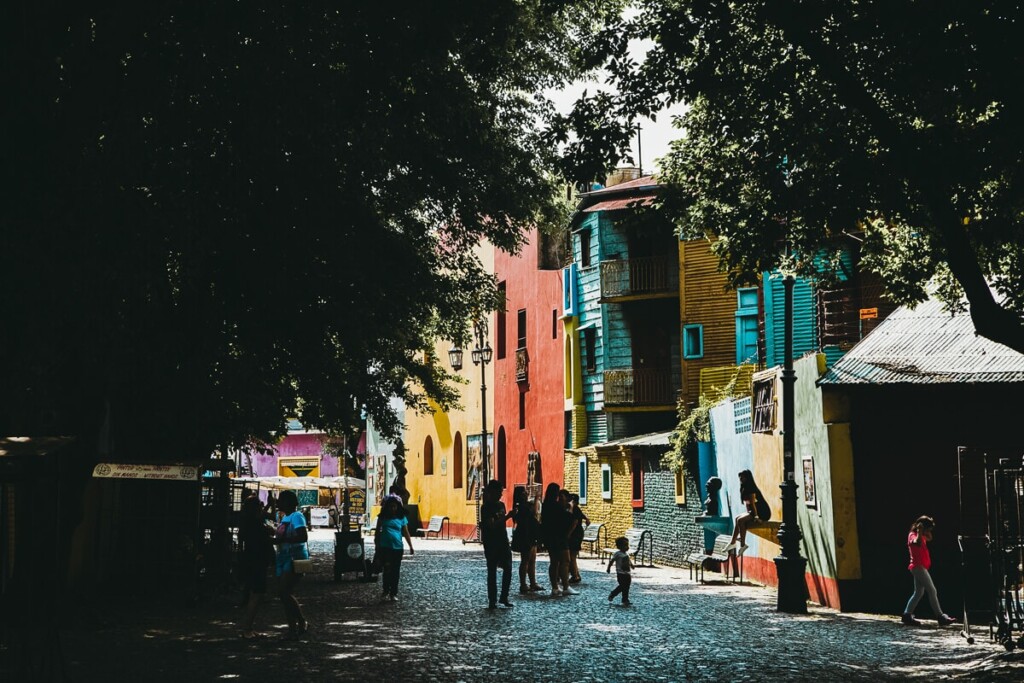 QUICK NOTE: This post contains affiliate links and Sol Salute may receive a commission for purchases made through these links, at no extra cost to you.
3 Days in Buenos Aires
Last updated: April 2021
Don't underestimate the time this city needs. If you have the time to spare, spend at least a week here.
However, if you find yourself limited on time, a lot can be done in only a few days!
If you only have three days in Buenos Aires, this is the perfect itinerary to hit all the must-see Buenos Aires attractions efficiently.
Where to Stay in Buenos Aires
First, let's talk about Buenos Aires accommodation. In such a big city, choosing where to stay can be overwhelming.
I recommend basing yourself in Palermo Soho or Palermo Hollywood, two of the coolest neighborhoods in Buenos Aires.
These two areas are home to the city's cutest boutiques and best restaurants and nightlife. By staying here, you'll be able to return to your hotel or Airbnb to freshen up and rest before heading back out to dinner nearby.
Airbnb is really a great option in Buenos Aires. You can get an apartment all to yourself for as little as $30-50 US a night.
If you'd rather stay in a hotel (because sometimes having breakfast prepared for you while housekeeping makes up your room is just too good to pass up), I always recommend Home Hotel in Palermo Hollywood.
Home Hotel is a cute boutique hotel with a beautiful green yard to escape the craziness of the big city.
For more information, read my complete guide on where to stay in Buenos Aires. I break down all the best neighborhoods and accommodation options in each.
Read Next: 10 Days in Argentina Itinerary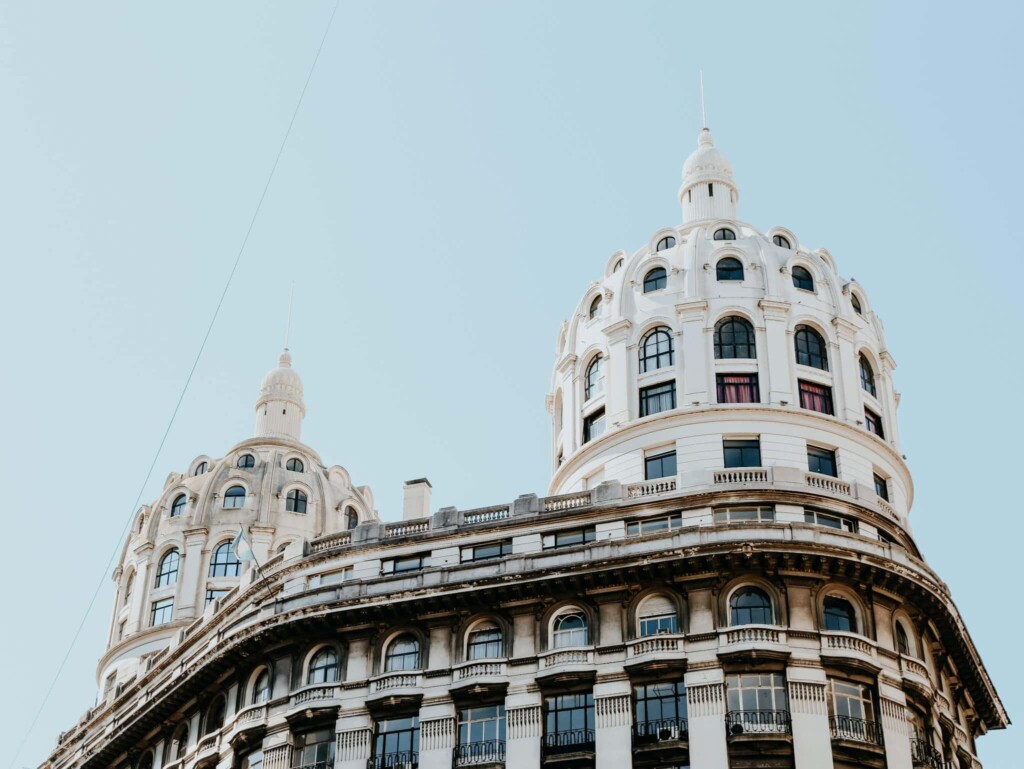 My Favorite 3 Days in Buenos Aires Itinerary
When my best friend visited me we only had a little over 3 days in Buenos Aires before we jetted off to the Mendoza wineries to drink our weight in Malbec.
I wanted her to see everything and this is the Buenos Aires itinerary I created for her.
We walked a lot, we ate a lot, and we saw nearly everything.
Day 0: Arrival in Buenos Aires
I may be cheating a bit with this Buenos Aires in 3 days itinerary because I'm not counting the day you arrive.
Most flights into Buenos Aires are overnight, arriving in the morning or midday, so you'll actually have quite a bit of daylight to take advantage of.
Since you'll be understandably tired from your long trip, take it easy today.
I recommend exploring the shops and cafes of Palermo Soho.
The cobblestone streets of Soho are filled with restaurants and coffee shops to ease you into your vacation.
If the weather is sunny, take a taxi to the Bosques de Palermo and the beautiful parks of Buenos Aires.
You can rent roller blades, lounge on the grass or stop to smell the roses in the Rosedal rose garden.
For more information on how to get to your hotel from the airport, exchanging money, and more, read my Buenos Aires city guide.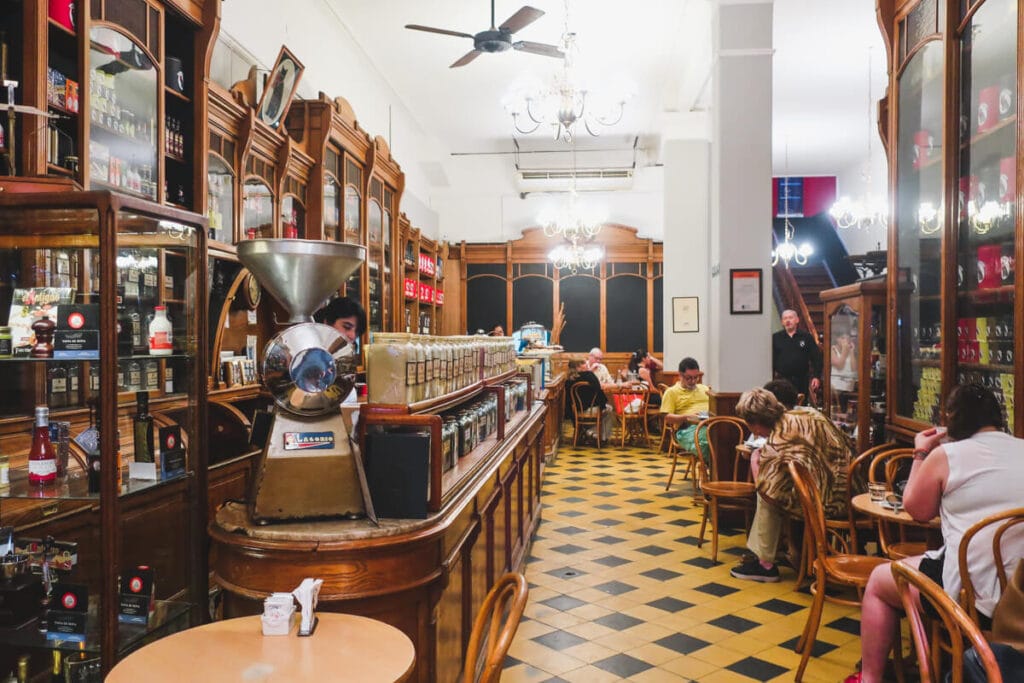 Day 1: Teatro Colon, Downtown & Plaza de Mayo
On your first full day in Buenos Aires, wake up for an early breakfast in the heart of downtown on Corrientes Avenue.
Choose between:
La Giralda, Av. Corrientes 1453
El Gato Negro, Av. Corrientes 1669
Both are no-frills old-school cafes.
La Giralda is famous for its churros and hot chocolate. El Gato Negro offers a bit more ambiance and also sells a wide variety of spices and teas.
Sit and enjoy a slow breakfast (service isn't exactly speedy in these cafes) and people watch.
I particularly love watching the older men sit with their newspapers. They've probably been coming here every day or week for years.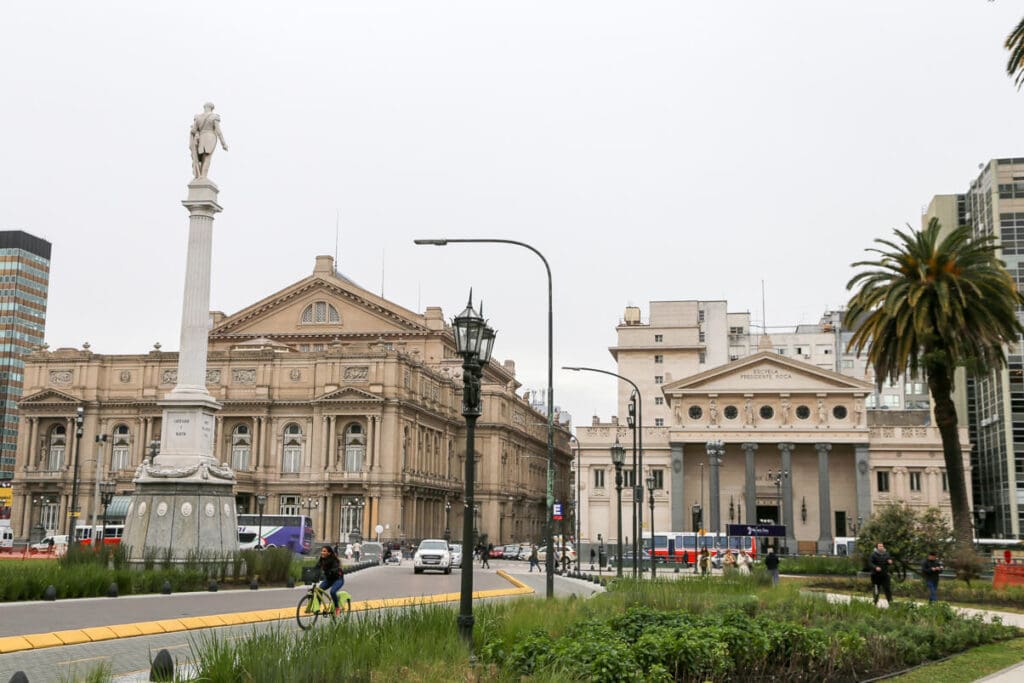 TOUR THE TEATRO COLON OPERA HOUSE
After breakfast, stroll down Avenida Corrientes and take a left on Talcahuano to make your way to Plaza Lavalle.
This large plaza is home to impressive buildings like the Tribunales Courthouse and your next destination: the Teatro Colon Opera House.
I only recently toured Teatro Colon and I wish I had done it sooner.
It's opulent and decadent. For one hour, you would be forgiven for believing you are in Paris.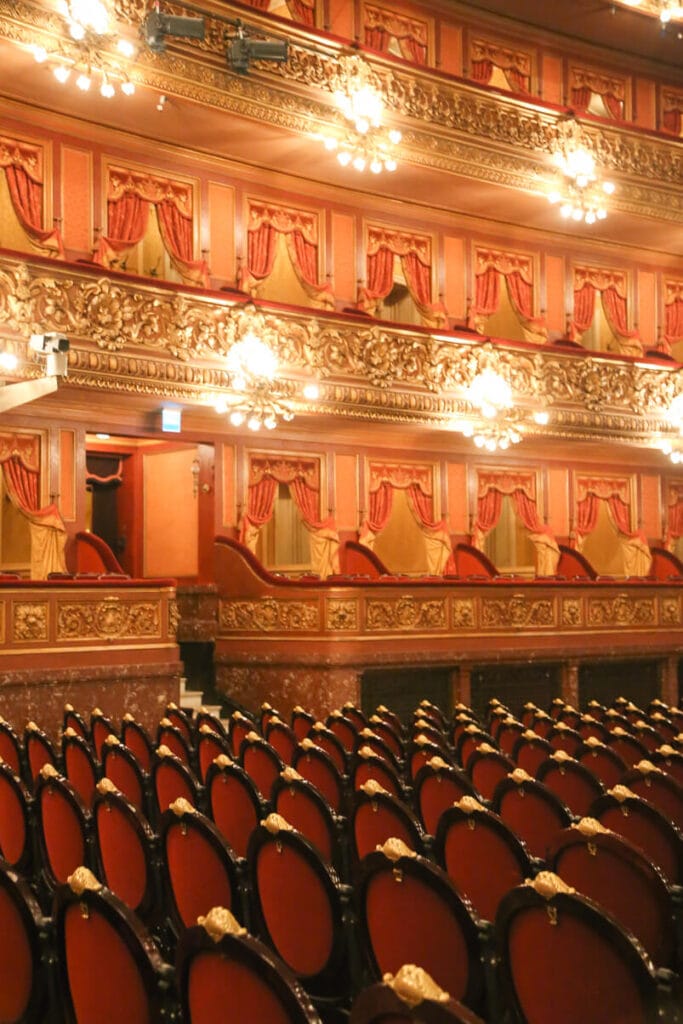 There are guided tours every fifteen minutes, between 9 am and 5 pm.
There are certain holidays when they're closed and times may vary if there are morning or afternoon shows that day.
Double check the Teatro Colon tour information on their official site here.
9 DE JULIO AVENUE & THE OBELISK
After your tour, pour yourself back into the chaos of the busy downtown streets.
Two blocks from the Teatro Colon at the intersection of 9 de Julio & Diagonal Norte, there's a newly constructed staircase and balcony viewpoint of the Obelisk.
Make your way here for the perfect view of this Buenos Aires icon.
Take photos but also take in the organized chaos of the traffic below.
The stairs here are the perfect place to pause and rest your feet before continuing on.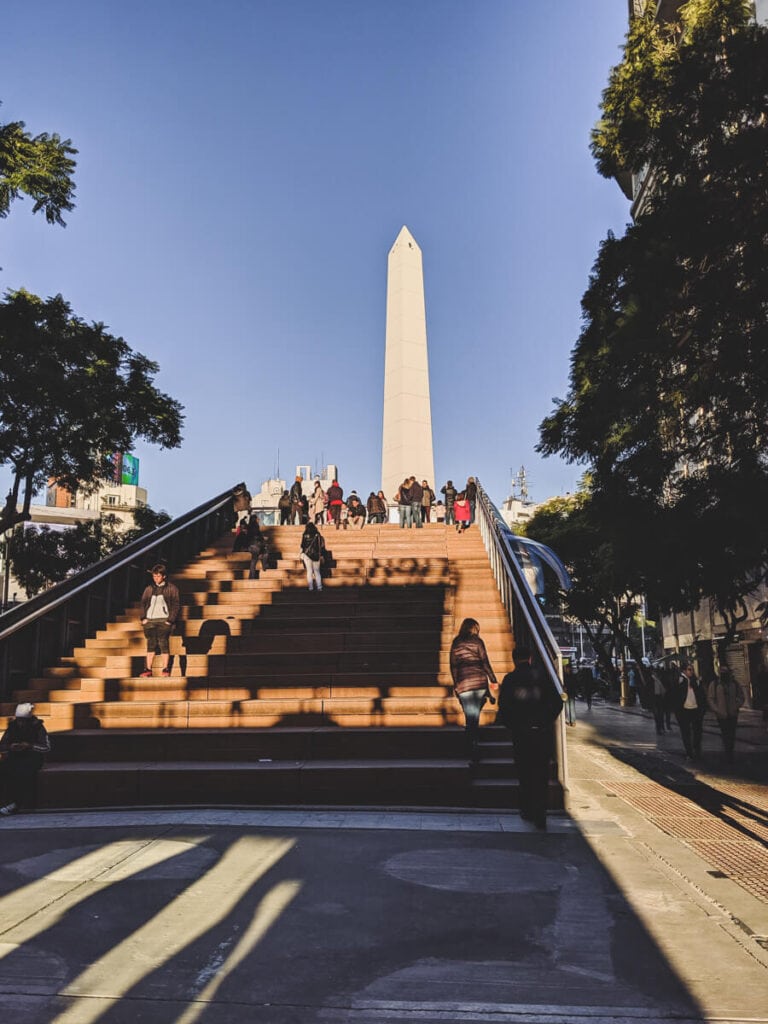 From here, cross 9 de Julio to take a photo in front of the ivy covered BA in front of the Obelisco.
This massive avenue was named after Argentina's independence day.
This is one of the widest avenues in the world (the Eixo Monumental in Brasilia recently stole the world record away from us).
While it may not be the world's widest, it's still impressive. Avenida 9 de Julio is wider than a city block at 110 meters and has as many as 7 lanes in each direction.
After getting the perfect postcard-worthy shot, take a left on Corrientes for lunch at one of the avenue's famous pizzerias.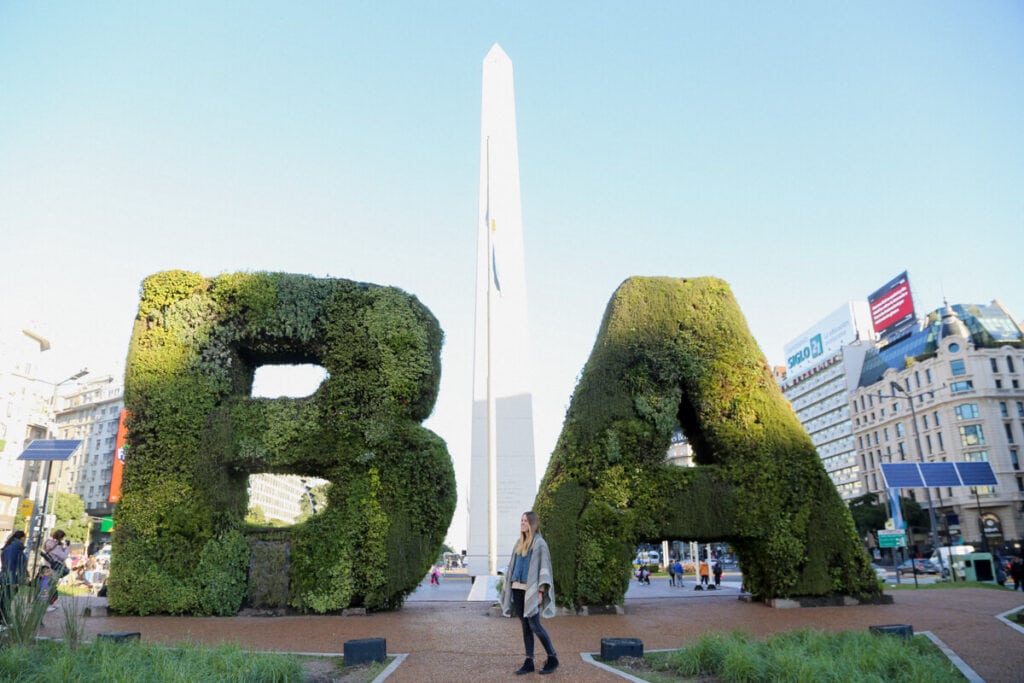 LUNCH AT LAS CUARTETAS
There are a number of pizzerias on Corrientes all serving pizza by the slice,.
Walk two blocks from 9 de Julio Avenue to Las Cuartetas at Av. Corrientes 838.
You can order a slice from the cashier and sit at one of the tiny tables up front or sit at a table in the back and order from a waiter.
The pizza here is thick, heavy on the cheese and light on the sauce, so come hungry!
If you're still hungry after all that pizza, try one of these popular desserts in Argentina.
CALLE FLORIDA & THE GALERIA GUEMES VIEWPOINT
After lunch, you'll be ready to walk off the heavy pizza so hit the pavement!
Find your way to Florida Street.
This heavily commercial street lined by shops has been a street in one form or another since the 1500's when it started as a muddy footpath from the river.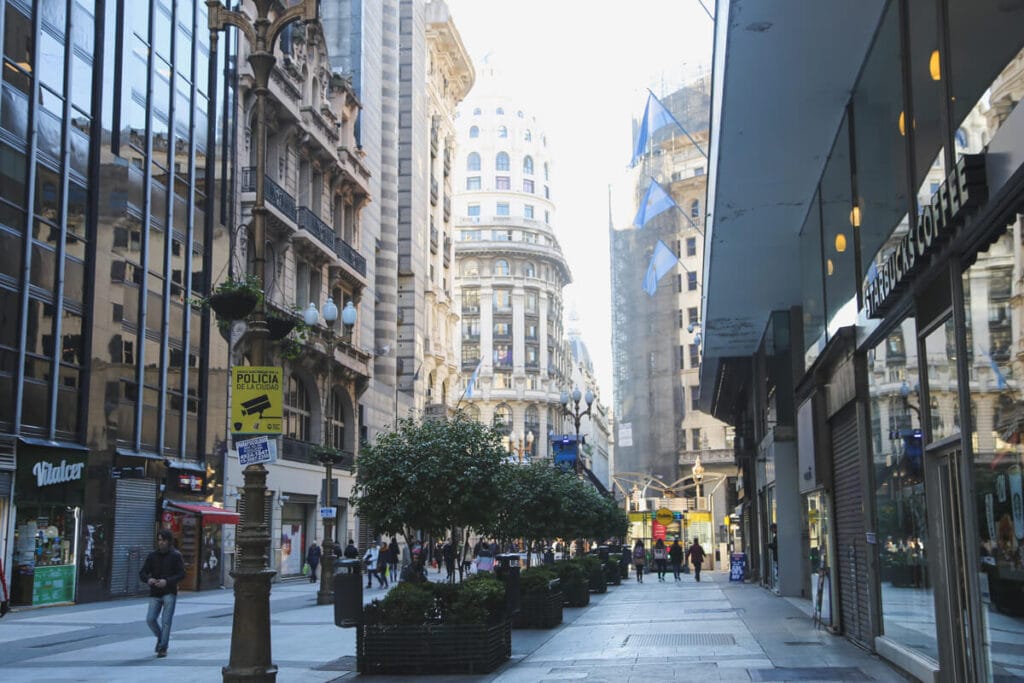 Walk to Galería Güemes at Florida 165. Find the elevators to take you to the viewpoint terrace on the fourteenth floor.
Prices tend to change often in Buenos Aires but it should cost more or less between the equivalent of $2-3 US.
This is one of the cheapest panoramic views in town!
You'll pay your entrance fee at the top. Before going, confirm hours and price on their official site here.
FLORIDA 165 ROOFTOP BAR
There is a new trend in Buenos Aires that I am wholeheartedly behind: roof-top bars.
Galería Güemes has jumped on the bandwagon opening their own roof-top bar and cafe.
Florida 165 Rooftop Bar has a great view of the city's most stunning cupolas, domes, and Florida Street below.
If you'd like to visit go to the 6th floor. It's open on weekdays starting at 5 pm. The menu is fairly limited but it's a good spot to rest your feet with a quick coffee.
PLAZA DE MAYO
Next stop, the iconic Plaza de Mayo. This main square is home to many iconic Argentina landmarks and set the stage for most of Argentina's history.
The Metropolitan Cathedral (seen below) is stoic, looking much more like the Pantheon than a church.
Inside, however, it very much resembles a cathedral and is worth a visit.
San Martin's remains are buried in a chapel here.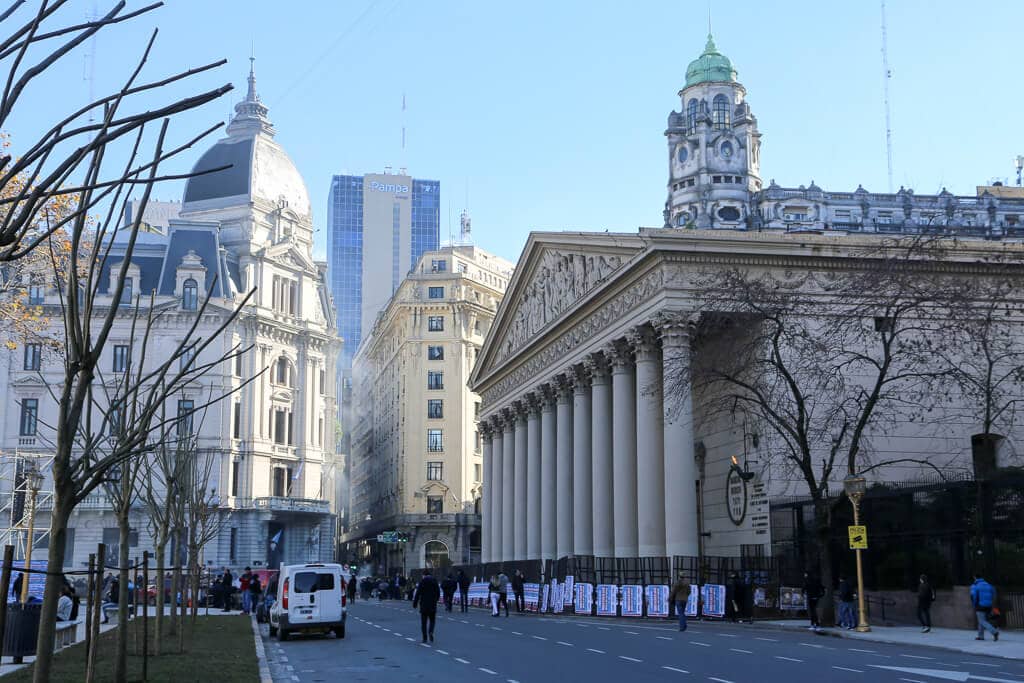 The Cabildo sits on the end of the plaza opposite the Casa Rosada.
You'll see a Cabildo on the main square in every major Argentine city.
They were the seats of government while the country was under Spanish colonial rule.
The museum here is free to visit and has some interesting artifacts to see if you're interested in Argentine history. The second-story balcony offers a great view of the square (seen below).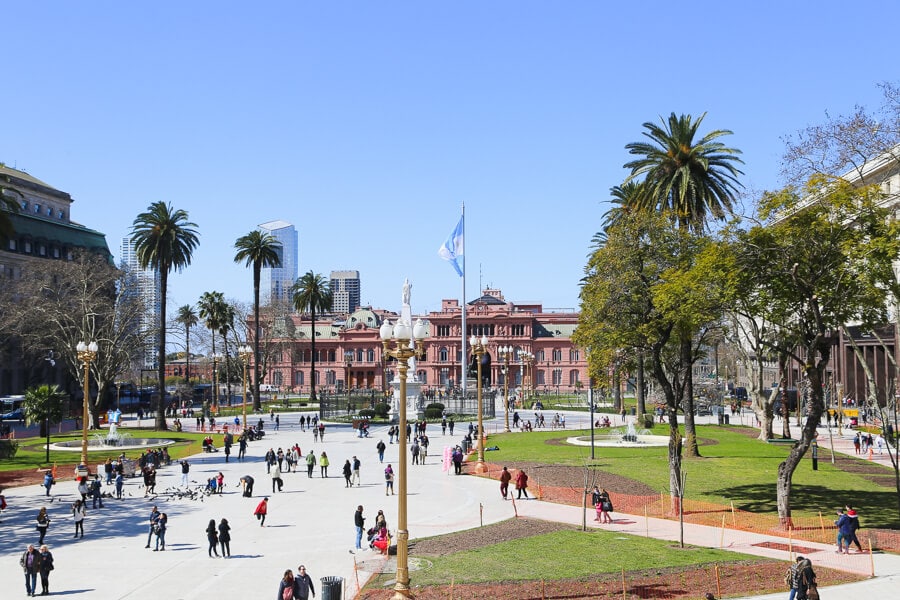 The Casa Rosada at the front of the plaza is the star of the show.
The pink government house, famous for Madonna singing not to cry for her Argentina from its main balcony, is open for guided tours on Saturdays.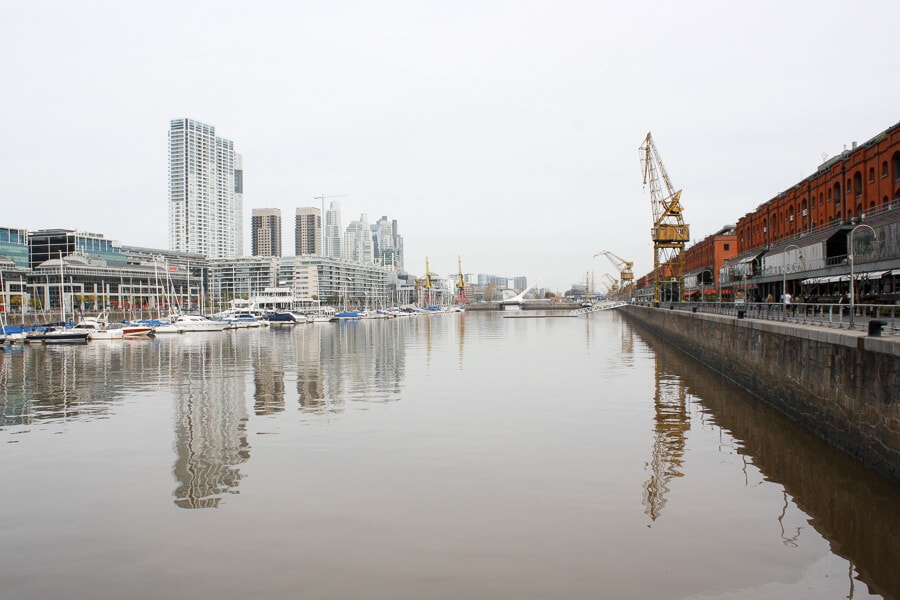 CAFE TORTONI OR PUERTO MADERO
After Plaza de Mayo, choose your own adventure. If you're in the mood for a coffee, make your way to Cafe Tortoni on Avenida de Mayo. This is Buenos Aires' oldest coffee shop.
If you want to keep exploring, take a walk through Puerto Madero, Buenos Aires' youngest neighborhood behind the Casa Rosada.
Puerto Madero was remodeled and brought back to life in the 1990's, with skyscraper apartment towers, cafes, and nice restaurants opening in old warehouses.
The area behind the Casa Rosada has recently been remodeled, making it much easier to cross over to Puerto Madero than ever before.
DINNER & TANGO
When in Buenos Aires, tango! Catch dinner and a show to see this world-famous dance in the city where it was born.
I took my parents to this tango show and dinner at El Querandi and we all loved it!
The food was great and the show and production were very impressive and entertaining.
If you're looking for less of a produced show and more of an interactive experience, you'll need to visit a milonga (a tango dancehall).
However, milongas can be intimidating if you don't know what you're doing.
The locals take it very seriously! I recommend a tour like this one that includes a dance lesson. Visiting with a local guide is the best way to learn the dance and visit a milonga like a local.
Read Next | The 10 Best Tango Shows in Buenos Aires
Day 2: Paris of South America in Recoleta
We covered a LOT of ground on the first day in Buenos Aires itinerary.
This was on purpose.
I personally like to see as much as possible the first day.
This allows me to relax a bit more for the rest of the trip, and if it rains later in the trip at least I'll have seen as much as possible before the storm!
On your second day in Argentina, I recommend visiting the upscale neighborhood of Recoleta.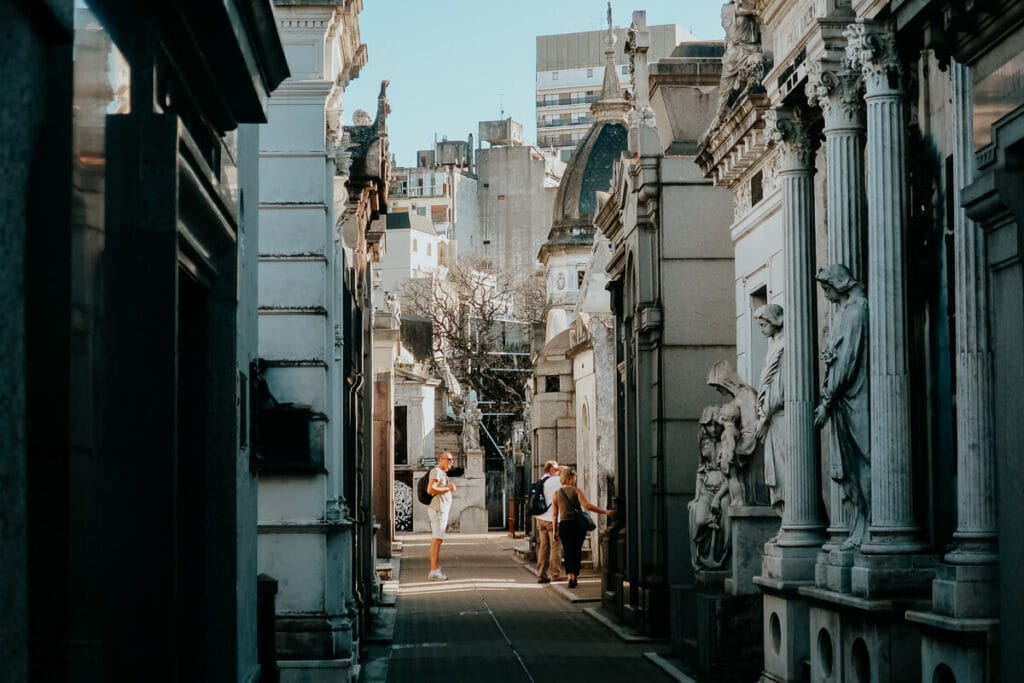 VISIT THE RECOLETA CEMETERY
No Buenos Aires itinerary is complete without a visit to the Recoleta Cemetery.
In this maze of mausoleums and crypts lie Argentina's nobility, past presidents and generals. It's a veritable walk through the history of Argentina.
Entrance is free and while you absolutely don't need a guided tour to visit, a tour like this one can be helpful if you're interested in learning the history of those who rest here.
Some of the anecdotes about the tombs and its residents (and the lore surrounding them) are more interesting than you'd expect!
ARTISAN MARKET IN PLAZA FRANCIA
The square in front of the cemetery, Plaza Francia, is home to a weekly market every weekend.
It's one of the best markets in Buenos Aires and a great place to souvenir shop!
It takes place on both Saturday and Sunday, with artisans selling anything and everything.
In the afternoon, musicians perform at the base of the grassy hill making it the perfect place to lay back and relax if the weather is sunny.
FLORALIS GENERICA
Don't leave Recoleta without taking a look at the enormous metal flower across Alcorta Avenue next to the columned Law School building in United Nations Square.
This large aluminum flower was gifted to the city by an architect as a show of appreciation for the city that made him who he was.
THE MANSIONS OF AVENIDA ALVEAR
Walk down Alvear Avenue for a glimpse into why Buenos Aires is referred to as the Paris of South America.
Mansions turned luxury hotels line the street here, reminiscent of a wealthier time in Argentina's history.
SHOP IN ARANDU (LEATHER, PONCHOS, ETC)
Step into Arandu at Ayacucho 1920 for the best souvenir shopping in town.
This polo style saddle shop sells high-quality leather bags, polo clothing (think Ralph Lauren) and alpargatas (the original Toms) at very affordable prices.
If you're wondering what to get in Buenos Aires, here are the best Argentine souvenirs you should bring home.
But even if you don't want to shop, Arandu's stunning three-story mansion is worth the visit whether or not you purchase anything.
DINNER & DRINKS IN PALERMO
I find myself having a hard time choosing ONE restaurant to recommend for dinner tonight, so I'll stop trying to choose and give you two great wine and dinner options.
We're all adults here capable of making our own choices so pick the option that sounds best for you and grab a fork!
Dinner in Palermo Soho: Whet your appetite with a glass of wine at Pain et Vin in Palermo Soho. This wine shop has a wonderful selection of wines curated by the owner and sommelier Eleonora Jezzi.

Afterward, have dinner at Don Julio, home to one of the best steaks in Buenos Aires if not the world, seriously, it's SO good. Reserve ahead of time here, they book up!!

Dinner in Palermo Hollywood: Whet your appetite with wine at Hache on Carranza Street in Palermo Hollywood. After wine, walk a couple of blocks down Carranza to the politically charged Peron Peron.

The heavy-handed politics had deterred me from visiting before, but friends convinced me to go recently and ya'll, those empanadas were some of the best I've ever had. Reservations required.
For useful apps that help you with restaurant reservations and delivery options, read my guide to the best apps in Argentina.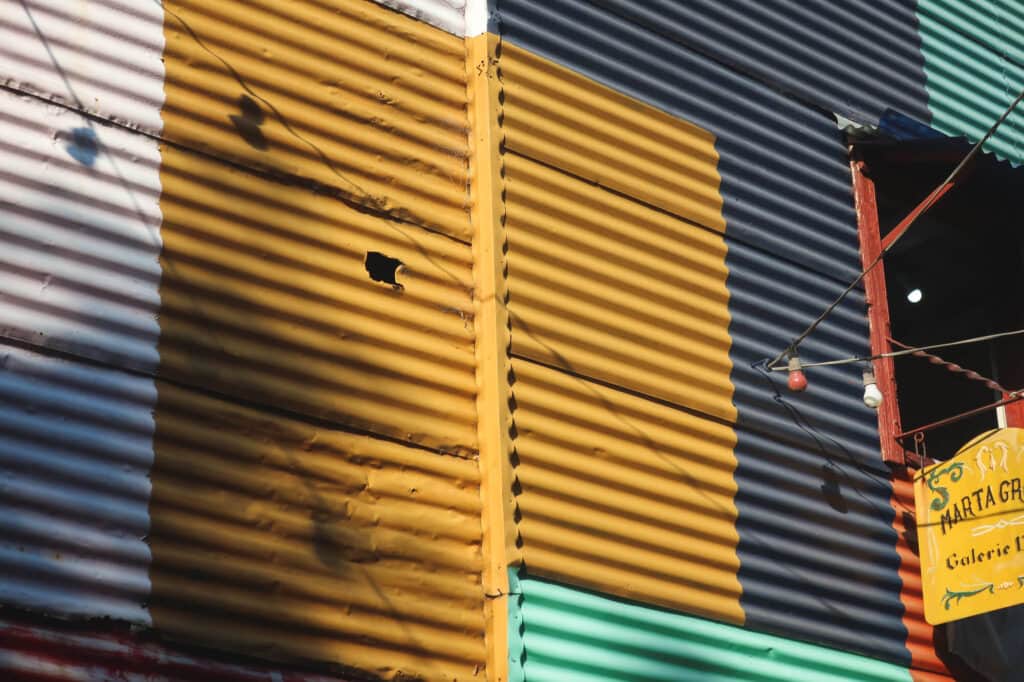 Day 3: La Boca & San Telmo
Try to do today's itinerary on a Sunday if possible. The weekly San Telmo Market takes place every Sunday.
San Telmo's eclectic market is one of the city's best highlights and a must-visit if you're spending a weekend in Buenos Aires.
Sleep in and enjoy a leisurely start to the day.
The market doesn't really get moving until the afternoon and El Caminito in La Boca doesn't require too much time to explore.
Have a relaxing breakfast or brunch then take a taxi to La Boca to begin your day.
Aim to start your day at El Caminito at around 11 am.
EL CAMINITO IN LA BOCA
I say take a taxi because La Boca is far to the south of the city. Hail a cab on the street or use Uber or Cabify to get to the Caminito.
This open-air museum is colorful, lively and likely what's on the cover of your copy of Lonely Planet.
Take a stroll on the few blocks that make up the Caminito, taking photos of the colorful walls and tango dancers.
You can even take your own tango photo with one of the performers for a small price (a cheesy but fun souvenir!).
Don't miss the conventillo style homes turned souvenir shops. These former multi-family dwellings are iconic to La Boca.
Wealthy families fled to the northern suburbs during the yellow fever outbreak in the 1700's.
Less fortunate families were left behind in southern neighborhoods like La Boca.
Previously single family homes became conventillos: multi-family tenement housing.
Entire families shared one room, with multiple families living in each home, sharing the common spaces.
LUNCH AT EL OBRERO
After El Caminito, have lunch at El Obrero.
This traditional bodegon style restaurant has been open since 1954.
The walls are covered in soccer memorabilia and photos of celebrities who've visited in the past.
Order the calamari and tortilla, they're the house specialties.
El Obrero is very busy here on the weekends so make a reservation ahead of time or expect a wait.
Take a look around the surrounding blocks, this area of La Boca is home to some of the best street art in Buenos Aires.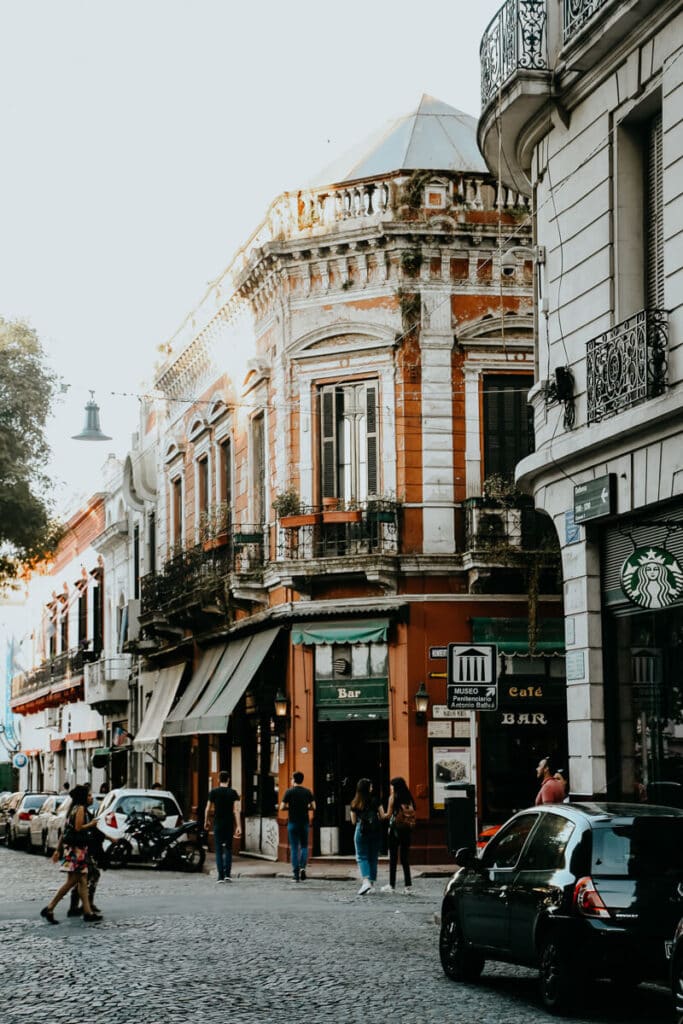 SAN TELMO
After lunch, take your taxi or ride sharing option of choice to San Telmo.
If you're visiting on a Sunday for the market, I recommend starting at Plaza de Mayo, right at the beginning. From here, walk down Defensa towards Plaza Dorrego.
The San Telmo Market takes place every Sunday and really gets going in the afternoon (this is not a city meant for the early riser).
There are stalls covering this street for ten blocks, with the antiques located mainly in Dorrego Square.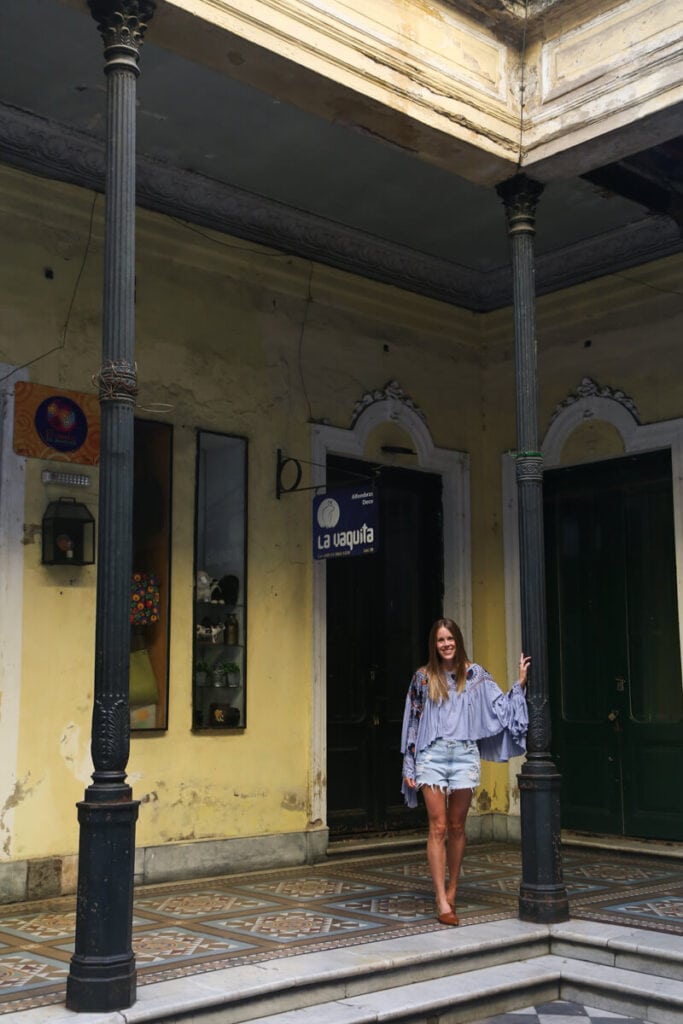 Not visiting on a Sunday?
Don't worry, San Telmo is still beautiful and you'll love visiting this historic neighborhood.
Even without the Sunday market, there are still antiques galore, check out the indoor market at Carlos Calvo 471.
This market is also becoming a gastro-hub, filled with new restaurants and bars alongside stalls selling all sorts of antiques.
Have a drink or coffee in Plaza Dorrego.
Walk and explore Defensa and Balcarce streets, the cobblestone streets and buildings here are beautiful (decaying but beautiful and covered in street art).
I have a San Telmo guide here explaining not only the market but listing museums and activities to do here if you can't be here on a Sunday.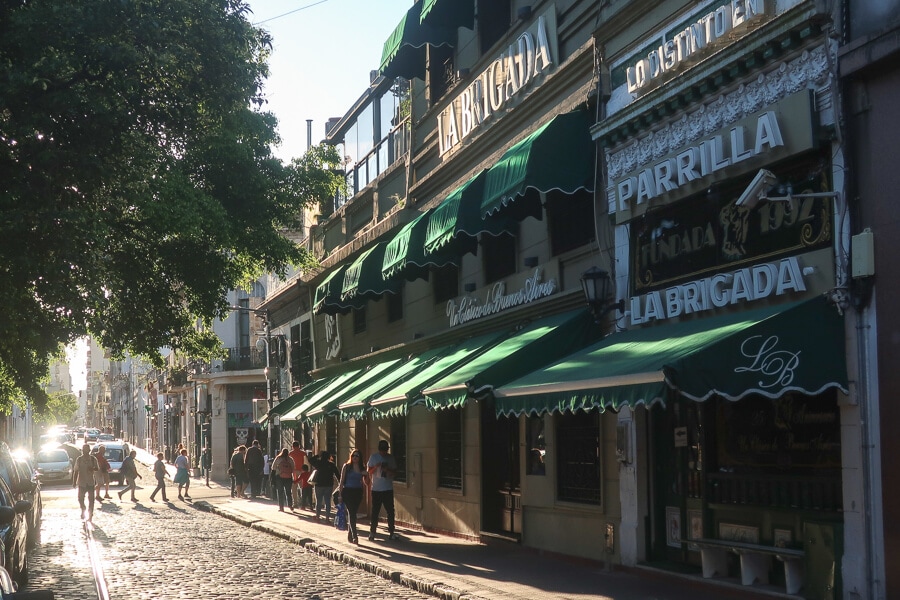 DINNER IN SAN TELMO
Hungry? How about a steak? You may be steaked out by now but it's Argentina! You need to get your fill of steak and red wine while you can.
Coincidentally, my favorite steak in all of Buenos Aires (even more than Don Julio) is at Desnivel right here in San Telmo (on Defensa Street).
So, make your way to Desnivel and order a bottle of your favorite Malbec.
Start your meal with one of their beef empanadas, they're super juicy! For your main dish, I recommend ordering one of their lomo (tenderloin) plates.
I'm partial to their lomo a la mostaza (tenderloin in a creamy mustard sauce). My husband prefers their lomo a la pimienta (with a peppercorn sauce).
AFTER DINNER COFFEE
After dinner, continue the conversation over a cup of coffee at one of the neighborhoods historic coffee houses.
I recommend Bar Dorrego (if it's open, on Plaza Dorrego), Cafe Poesia, or Bar El Federal.
Buenos Aires Itinerary
I hope this sample itinerary helps you organize your time in Buenos Aires.
If you have any doubts of questions, ask away in the comments and I'll make sure to answer as soon as I can. I want you to enjoy Buenos Aires as much as I do.
More than Three Days in Buenos Aires
If you have more time to spend than only 4 nights in Buenos Aires, you can spread this three day Buenos Aires itinerary out over more days at a more leisurely pace.
There are so many things to do in Buenos Aires and there's really no such thing as too much time.
Options to add onto this itinerary:
Argentina Travel Tips Facebook Group
Do you have any particular questions about your upcoming trip or move to Argentina? Looking for the best advice on where to go and what to do?

Join the Argentina Travel Tips Group on Facebook to get first-hand advice from me along with fellow travelers, tour guides, expats, and locals in Argentina.
Buenos Aires F.A.Q.
Here's a few frequently asked questions to help you plan your trip.
How to Get To Buenos Aires
While it's easy to get to Buenos Aires with the numerous direct flights from major cities in North America and Europe every single day, it's not cheap.
Argentina is far and flights are often upwards of ten hours!
This also means that they're costly. While it's affordable to navigate Buenos Aires as a foreigner, it's not cheap to get here.
I recommend using miles or rewards points to get a free flight. I do this all the time for expensive flights to cheap destinations!
I use Travel Freely online to sign up for credit card sign up bonuses.
Travel Freely is a free website that recommends the absolute best bonuses and gets me up to $1,500 US in free travel (keep in mind that it's for US audiences only, unfortunately).
For more information read my review of Travel Freely here or go ahead and sign up here.
How many days should you spend in Buenos Aires?
While you can do a lot with just 3 days in Buenos Aires, a week is ideal.
This allows more time to see not only the highlights of the city along with a few day trips to the countryside, Tigre's river delta, and Uruguay.
Is it safe to walk in Buenos Aires at night?
Buenos Aires is as safe as any large, metropolitan city.
Take care at night as you would anywhere, when in doubt, take a taxi or an Uber.
Leave valuables in a safe in your hotel and take just what you need. Avoid wearing expensive jewelry that calls too much attention.
Is Buenos Aires walkable?
YES! This city is best seen on foot so pack comfortable shoes. Get into the streets and explore the neighborhoods, the sidewalk cafes, and the shops.
Is Buenos Aires expensive for tourists?
It can really depend on when you are visiting, the instability of the economy here can make things very expensive or incredibly affordable.
Luckily, right now (updated October 2020) is a VERY affordable time to visit Buenos Aires if you're used to North American or European prices.
You can enjoy steak dinners, fine wines, and shop for leather without breaking the bank.
What should I pack for Buenos Aires?
Buenos Aires is European and stylish. Dress smart but casual and wear shoes for walking. Pack one night outfit for a tango show and a comfortable pair of jeans for horseback riding at an Estancia.
For more packing help read my Argentina packing list.
Argentina Travel Resources
TRAVEL INSURANCE | While it's always been a good idea to travel insured, it is currently an entry requirement for Argentina. As of Jan 29, 2022, it is a requirement to provide proof of travel insurance that covers COVID with coverage for quarantine and hospital stays. SafetyWing is an affordable plan that meets the requirements of their digital nomad plan (great for tourists as well).
PHONE PLAN | These days, traveling with data is essential. Especially in Argentina where everything is managed on Instagram and WhatsApp. Purchasing a local SIM card can be tricky without a local ID, I recommend this E-SIM card, which has unlimited data. It's hassle-free and affordable. If you have an older phone that doesn't support E-SIM, check out DrimSim for a physical sim card alternative.
ACCOMMODATION IN ARGENTINA | booking.com is the most common hotel site used in Argentina and it's where you'll find the most options.
RENTAL CARS | I love to travel Argentina via road trip, check out RentalCars.com for the best rates for rental cars here.
VPN | If you'll be using a public WiFi connection and want to secure your data, I highly recommend using a VPN, I personally use and have had a good experience with ExpressVPN. I also use it to access Hulu and American Netflix from Argentina.
FLIGHTS | Always check Google Flights and Skyscanner for flights to and within Argentina. Aerolineas Argentina is the local airline with the most routes. FlyBondi and Jetsmart are two budget airlines with dirt-cheap prices (but expect to pay for every add-on like luggage)z
NEED HELP PLANNING? | I offer one-on-one travel consultations to help you plan your trip to Argentina. Pick my brain to get a local's insight. Click here for more information.
PIN IT FOR LATER