Buenos Aires is famous for its many open air weekend markets, but of them all, the San Telmo Market is the most popular.
It spans more than 10 blocks every Sunday afternoon, selling knick-knacks, handicrafts and antiques.
There are street performers and street food and massive crowds.
It's a must-see in Buenos Aires.
There is also much more to this (my favorite) of Buenos Aires neighborhoods than just the market, so this post is a complete guide to not only the San Telmo Market but everything to do here, all 7 days of the week!
And don't miss it: the map at the end of the post pins all the locations mentioned throughout the post for easy planning!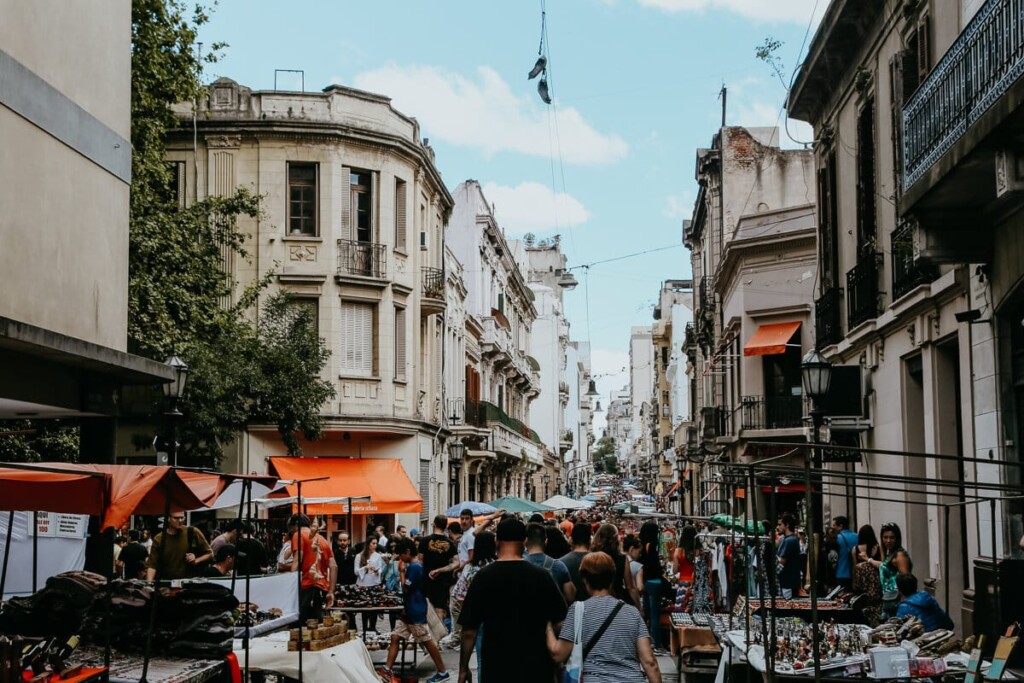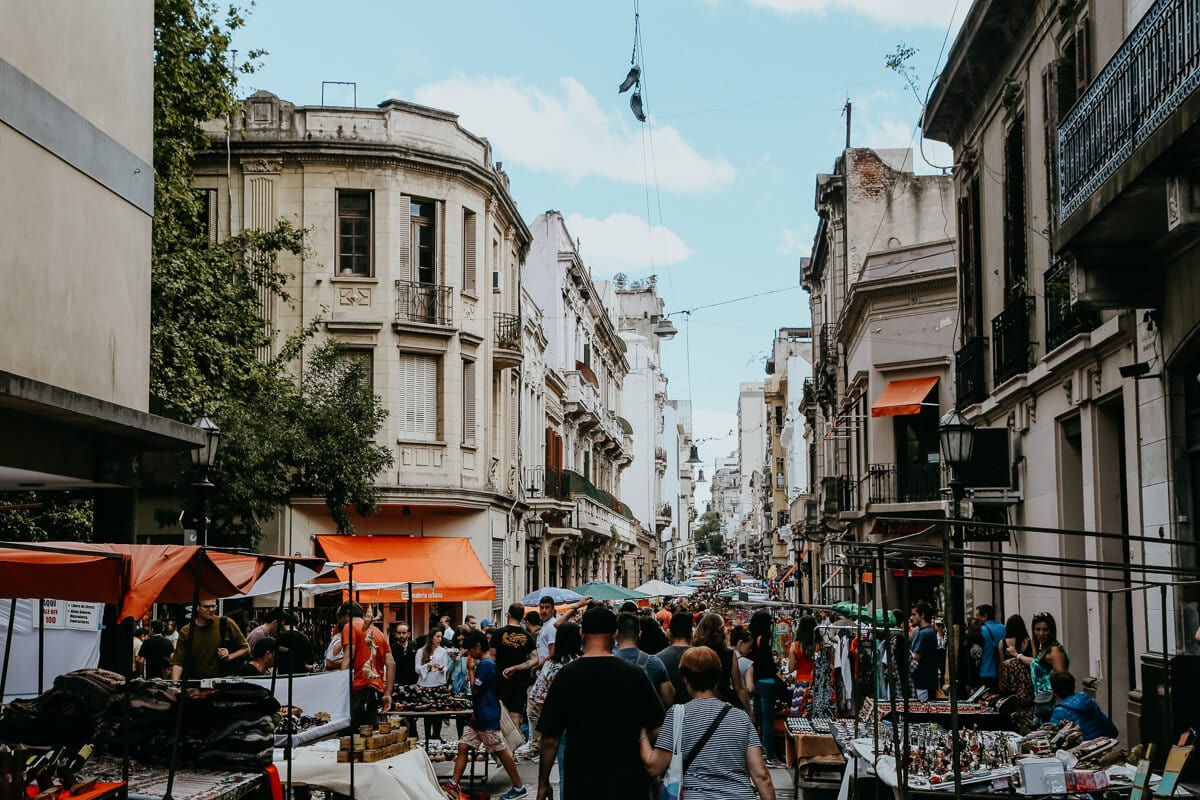 QUICK NOTE: This post contains affiliate links and Sol Salute may receive a commission for purchases made through these links, at no extra cost to you.
The San Telmo Market Buenos Aires
For my first year of living in Buenos Aires, I lived in the heart of San Telmo.
Every Sunday I had the pleasure (or a hungover person's nightmare) of having the San Telmo Market right on my doorstep.
I love San Telmo.
It is my favorite place in all of Buenos Aires and even after 13 years here I still love to wander its weekly market, so throw out the worries that this is a tourist trap.
Quick Tips for the San Telmo Sunday Market
The San Telmo Market takes place every Sunday afternoon
The market runs the length of Defensa Street, beginning in Plaza de Mayo and ending in Plaza Dorrego
Unfortunately, it isn't rain or shine, if it's storming the vendors won't set up
Bring cash, some vendors will accept cards now but most still do not (or will require the use of MercadoPago for card payments, an app not accessible to tourists).
Wear comfortable shoes. You'll be walking all day on cobblestone. You'll also be walking slowly which takes its toll on your back and legs.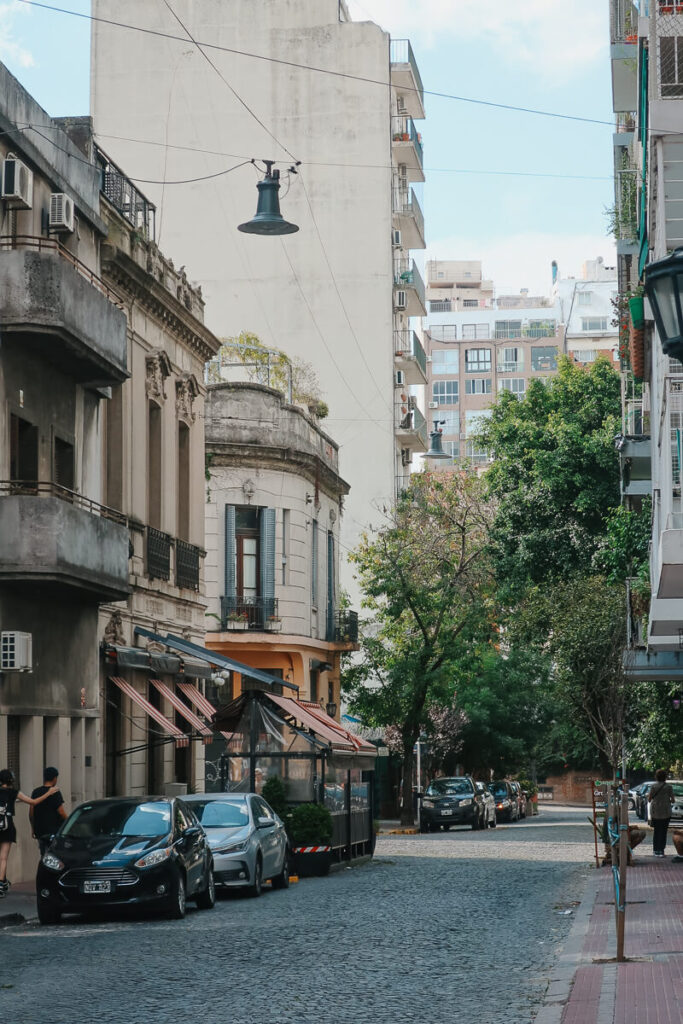 When is the San Telmo Market?
The market takes place every Sunday, converting the cobblestones of Calle Defensa into a treasure hunter's dream.
The hours are officially from 10 am to 4 pm.
However, Buenos Aires isn't exactly geared towards the early riser.
You won't find much activity until the early afternoon.
And even though vendors began dismantling their stands by around 5, the action continues well past sunset with drum troupes marching down the street and tango dancers taking over Plaza Dorrego after dark.
If you have the time in your itinerary (more than 3 days in Buenos Aires), I recommend seeing San Telmo on both a Sunday and a weekday to see both sides of this neighborhood.
Read Next | The 8 Best Markets in Buenos Aires
Where is the San Telmo Market?
The Sunday San Telmo Market runs the length of Defensa street starting in Plaza de Mayo.
You can take the Subte Line D to the Catedral Station to get there.
The vendors closer to Plaza de Mayo are a bit uninspiring but they improve as you go.
The antiques that make the market famous are set up in Plaza Dorrego. They will begin to dismantle at around 5 so don't wait til the end of the day to go.
There is an indoor market that occupies an entire city block at Defensa 963.
There used to be more antique vendors in here, a lot more.
It's turning into a more modern food hall with good options for dining while you're here both inside the market as well as on its exterior (mainly on Carlos Calvo and Bolivia streets).
A few hold outs do remain where you'll find good antiques or vintage clothing.
The indoor market is a great alternative if you can't visit on a Sunday.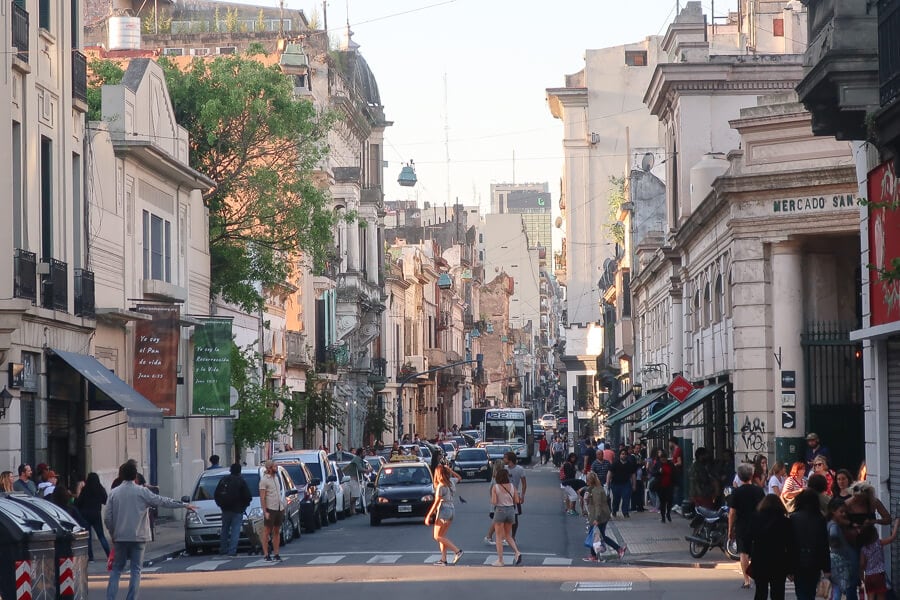 Explore Side Streets
Something happens to tourists in a market that requires them to walk at a glacial pace.
When you need a breath of fresh air step just one block off of Defensa to either side (to Balcarce or Bolivar).
San Telmo is one of my favorite places in Buenos Aires and it isn't because of it's weekly antique and craft market.
Look for the grungy Buenos Aires street art, the historical but decaying old buildings, and a bit of personal space before diving back into the market.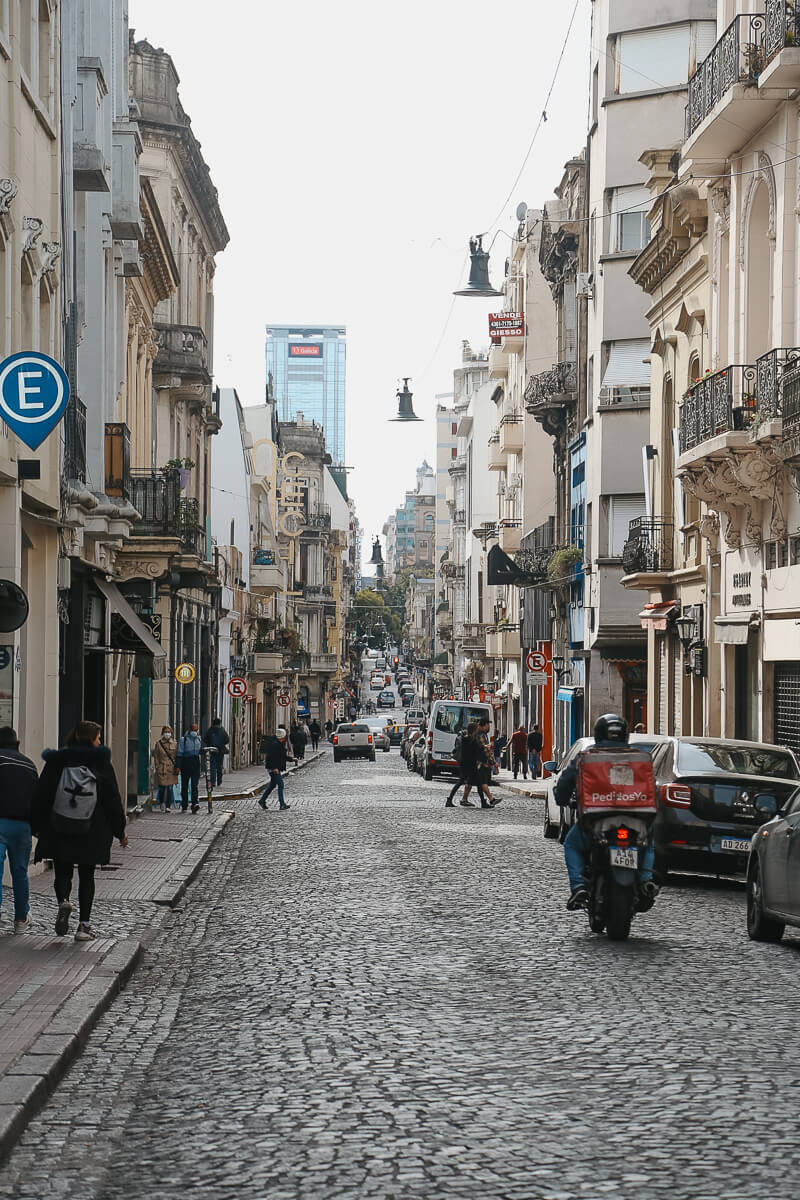 Things to do in San Telmo (besides the Market)
There is so much more to this neighborhood than it's weekly market.
San Telmo is one of the oldest neighborhoods in Buenos Aires and is home to so much history.
If you're not in town on a Sunday, don't worry, there is plenty to do here besides the San Telmo Market and I actually recommend also visiting on a weekday if your schedule allows it.
It is night and day.
Below is a list of Buenos Aires things to do in San Telmo.
Visit San Telmo's History Museums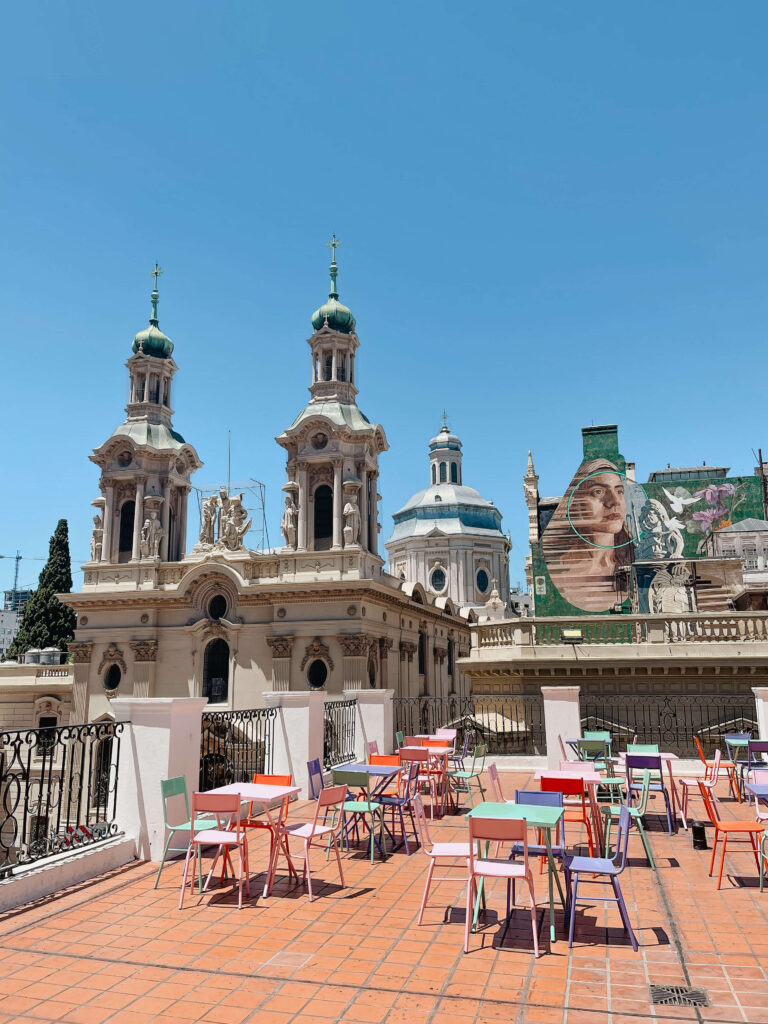 Cabildo, Plaza de Mayo | The colonial white building in Plaza de Mayo, the Cabildo, was the original seat of colonial government here and today it houses an informative history museum detailing Argentina's fight for independence. Entrance is free, don't miss the view of the plaza from the upstairs balcony.
Buenos Aires Museo | This new museum is a must-do in my opinion, entrance is just a couple bucks and you'll see inside on of San Telmo's most beautiful buildings. Learn about the history of the city via culture and daily life. Don't miss the roof top terrace and the murals painted to be enjoyed from this view.
Museo Historico Nacional | The most important history museum in Buenos Aires, located in Parque Lezama. Entrance is free.
Manzana de las Luces: The Illuminated Block
One block in from Plaza de Mayo you'll find the Basilica de San Francisco.
If you hang a right at the historical pharmacy on Alsina and walk two blocks you'll find the Illuminated Block (or Manzana de las Luces), named for the intellectual institutions that occupy the block.
The streets that form the block are Alsina, Peru, Moreno, Bolivar and Avenida Julio A. Roca. 
The institutions include the Colegio Nacional de Buenos Aires (the most prestigious secondary school in the country), the San Ignacio church, and the old Buenos Aires University building, among others.
Librería El Aguila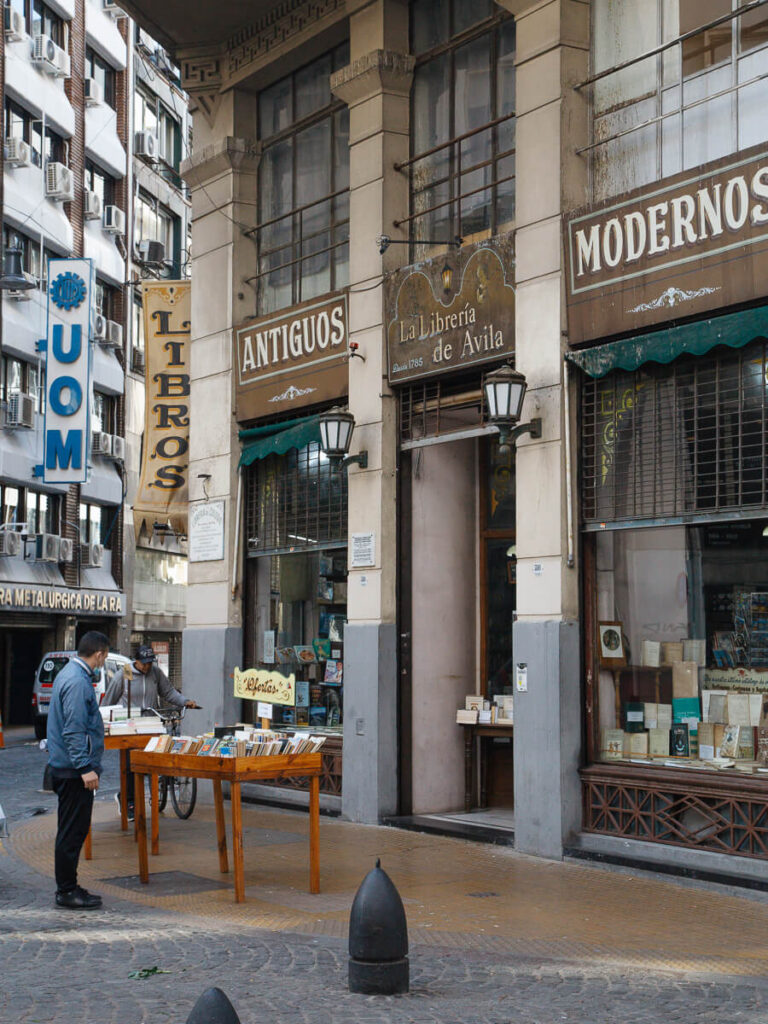 This is the oldest bookstore in Buenos Aires.
El Aguila stands on the corner just across from the Colegio Nacional de Buenos Aires and is a must-visit for bibliophiles.
I love the selection of antique books as well as new but unique books about Argentina culture and history you typically won't find elsewhere.
Take a Picture with Mafalda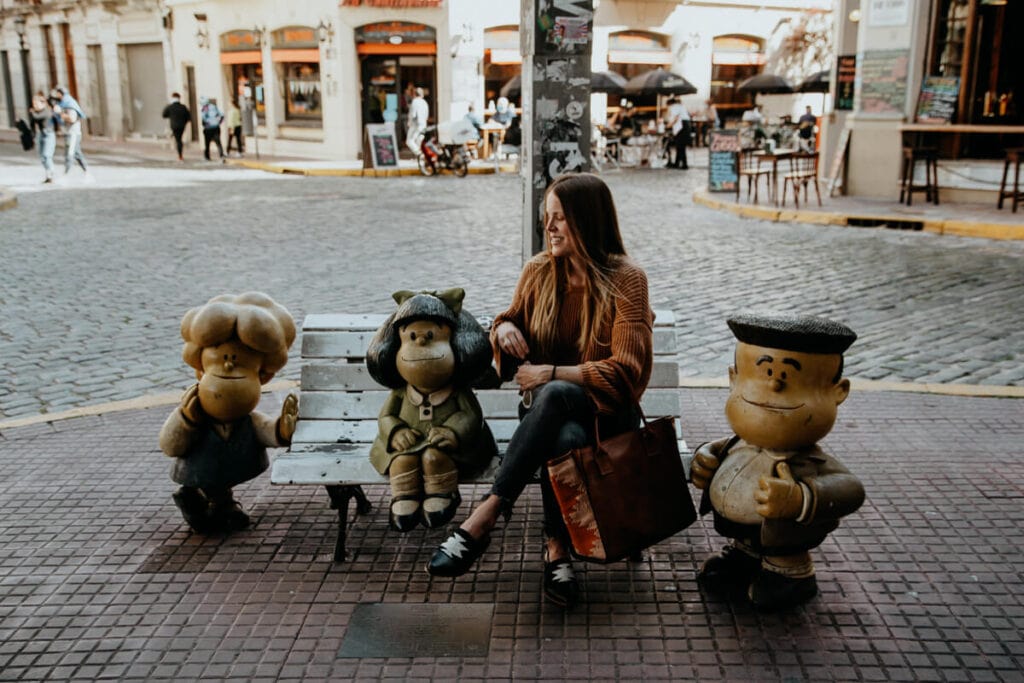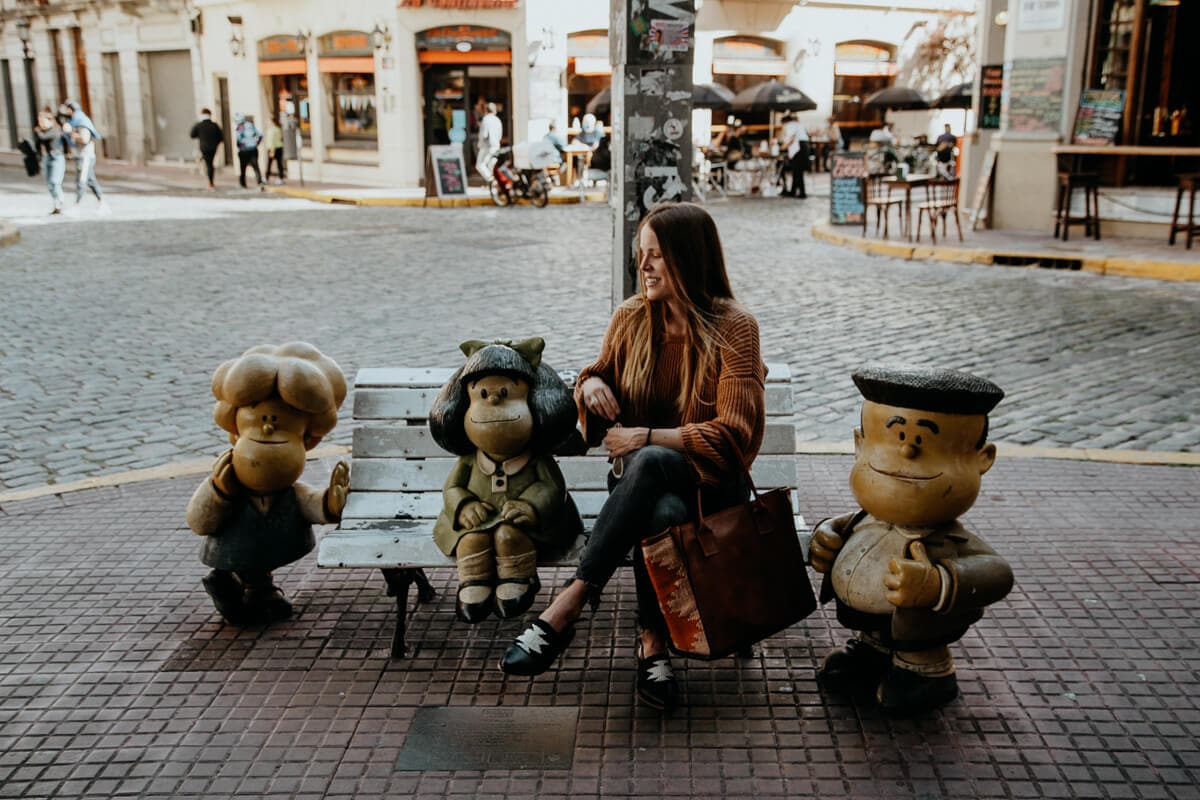 Comic strips form a major part of the cultural fabric of Argentina.
There's a statue of the most famous Argentine character Mafalda at the intersection of Defensa and Chile streets.
If you want THE cliche San Telmo picture then you have to take a picture with Mafalda.
On Sundays you will probably have to wait in line but during the week there will be no one here to get in your way.
Paseo de la Historieta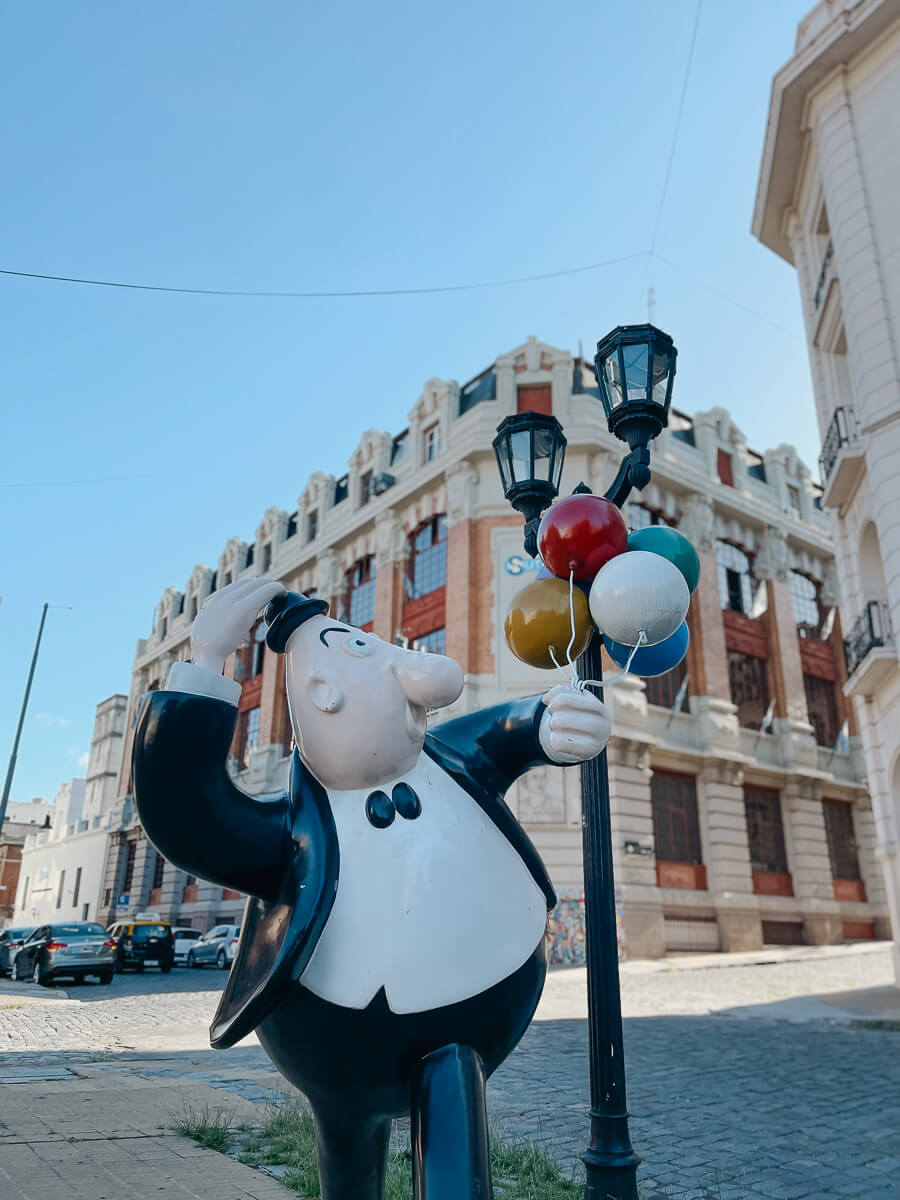 Mafalda doesn't stand alone, she forms part of the Paseo de la Historieta, or the comic strip walk.
Think of it as a scavenger hunt of the country's best comic strip characters.
Statues of all the major characters are all over San Telmo (and neighboring Montserrat and Puerto Madero), click here for the route and more information.
Tour the El Zanjon de Granados Tunnels
Address | Defensa 755
Tours | English Available, click here for dates & times
When Jorge Eckstein bought this land in 1986 he had plans for a restaurant.
What he discovered was centuries of history buried below street level.
Buenos Aires was built on a series of creeks and river tributaries and this museum tours the tunnels built to accommodate them.
The tour takes 50 minutes and is worth every second.
The building is gorgeous and the tour is well done.
There are artifacts on display in the basement museum but the highlight is the tunnels that run below the entire block.
Check here under guided visits for prices and tour times.
La Casa Minima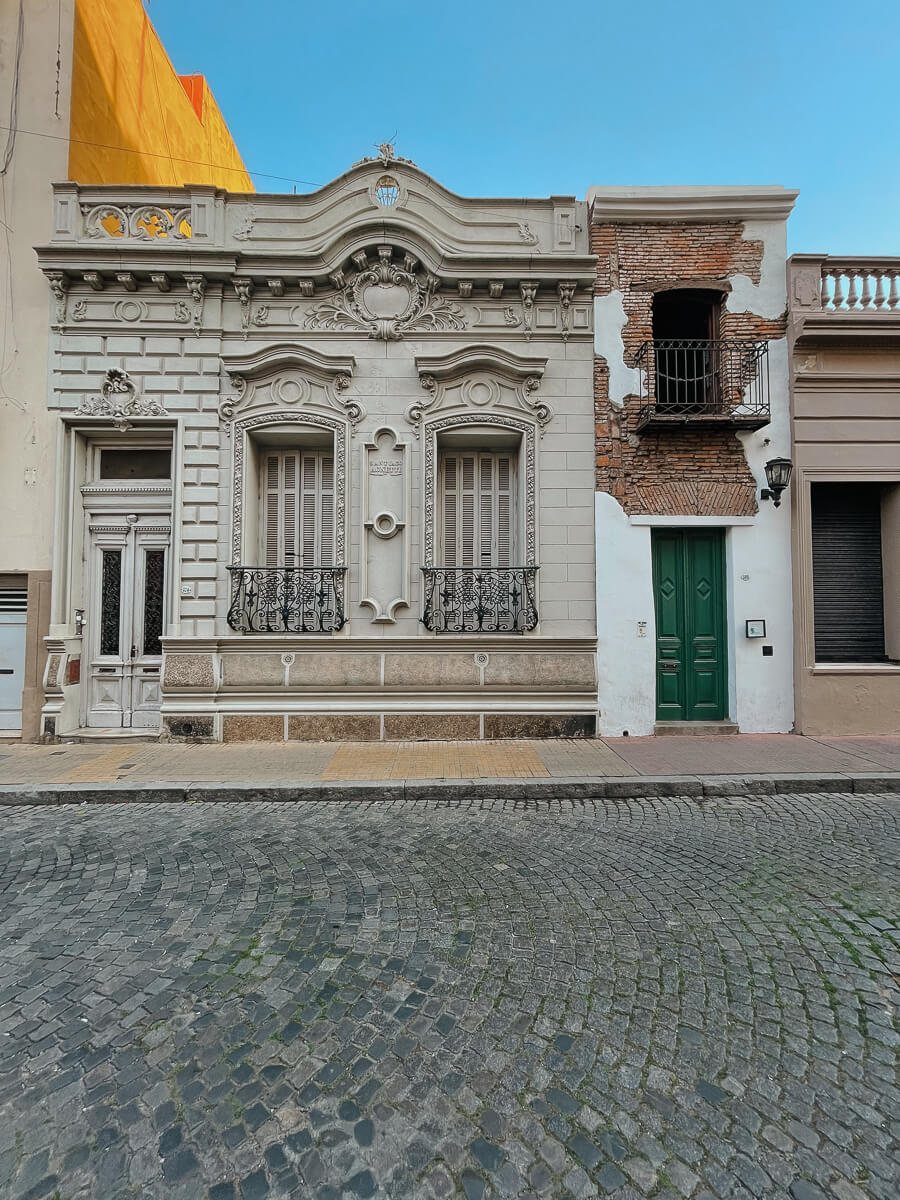 Address | San Lorenzo 380 (in front of the El Zanjon tunnels entrance)
The narrowest house in the city is just meters from the Zanjon de Granados.
In 2018 the house was remodeled and opened for tours.
Legend has it that after the owner of the main house emancipated his slave, he gifted him with this sliver of land to build his home.
The tour isn't the most exciting, mostly taking place in the building next door (understandably one can only spend so much time in the narrowest house in town), but it is a good addition to the Zanjon de Granados tunnels which form part of the same historical complex.
Check here under guided visits for prices and tour times.
Pasaje de la Defensa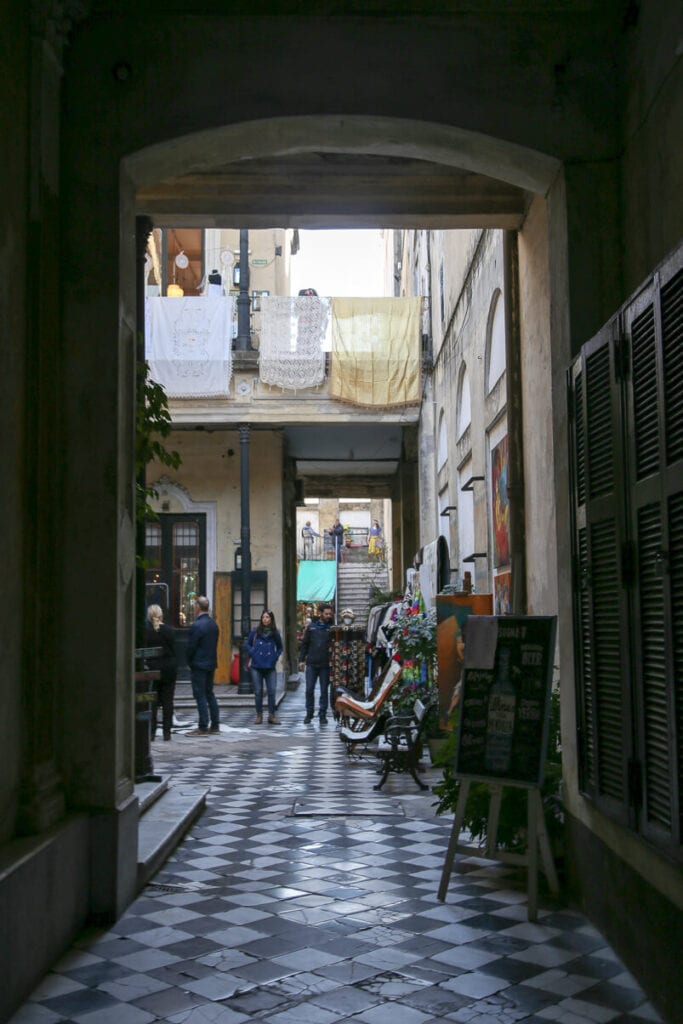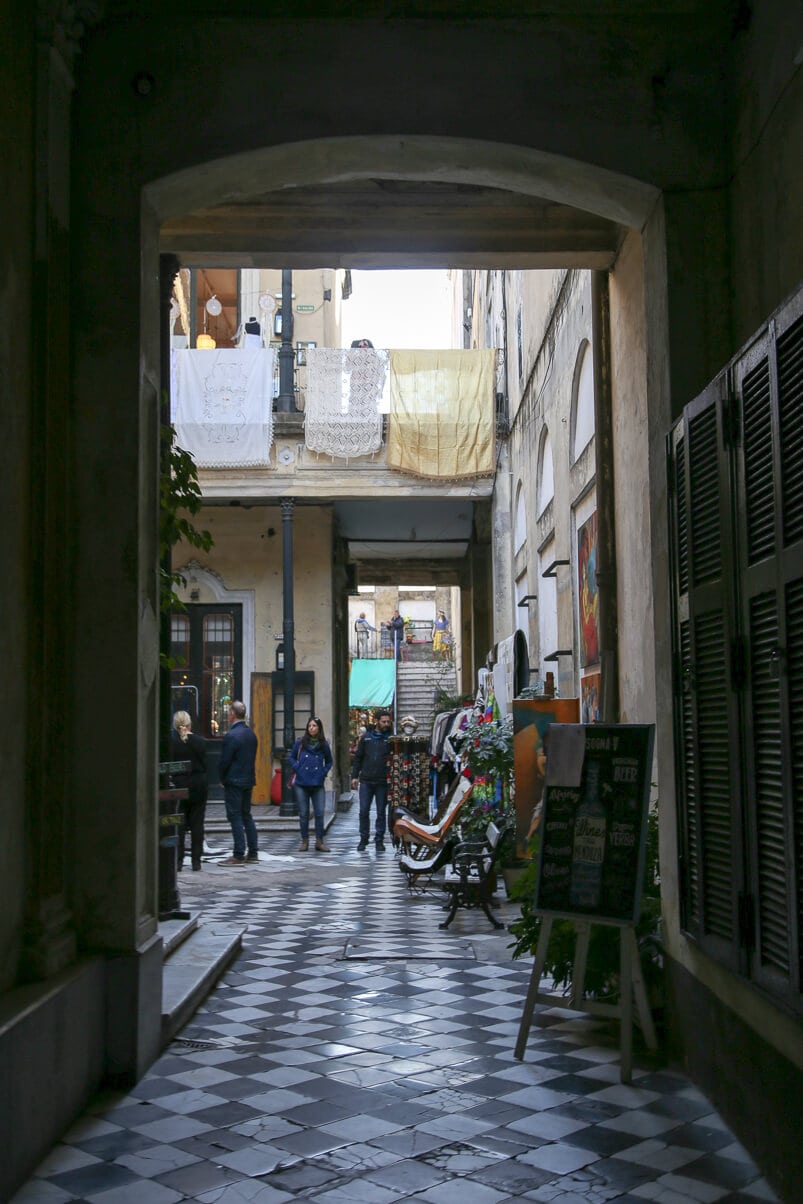 Address | Defensa 1179
Hours | Mondays Closed, Tues-Sat 10 am-7:30 pm, Sundays 9 am-9 pm
One of my favorite not-so-hidden secrets of San Telmo is the Pasaje de la Defensa.
This historic mansion was the home of the aristocratic Ezeiza family built in 1880s.
When the yellow fever epidemic struck, wealthy families like the Ezeizas abandoned their homes and moved to the countryside, to what is present day Recoleta and Belgrano.
Their single family homes became multi-family tenement homes called "conventillos."
Today the Pasaje de la Defensa is home to antique shops and cafes.
You can rest in the courtyards where the wealthy Ezeiza family lounged and poor tenement families shared laundry and kitchen spaces.
Random fact: when the Bachelorette filmed in Buenos Aires, Jojo and Jordan filmed their dinner date here after spending the day in Mendoza! I hate that I know that.
See Tango in San Telmo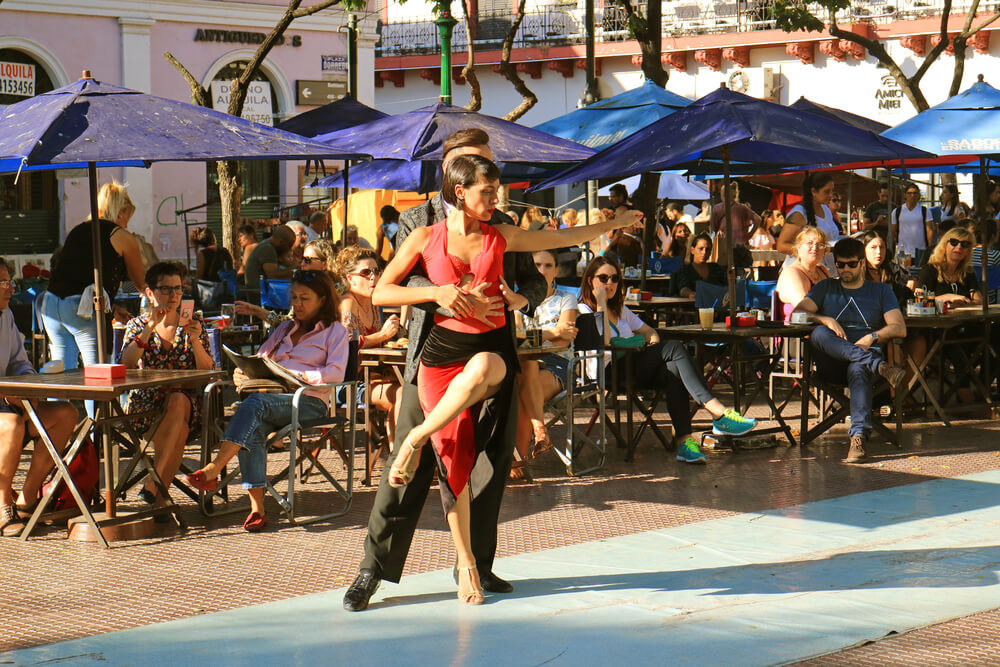 A few of the most historic tango shows are right here in San Telmo.
El Viejo Almacen, La Ventana, and El Querandi all call San Telmo home.
If you're having a difficult time choosing a tango show, read my list of the best tango shows in Buenos Aires.
Want to see locals dance (for free)? Tango dancers lay out a dance floor at the back of Plaza Dorrego at around 7 (give or take) every Sunday night.
As the antique vendors pack up, tango takes over. It's an excellent way to see another side to tango.
Visiting during the week? Tango dancers perform for the outdoor diners in Plaza Dorrego.
Touristy?
Yeah, but it's still very cool (just don't forget to tip the dancers).
Where to Eat In San Telmo
And finally, where to eat.
Always the most important question of them all!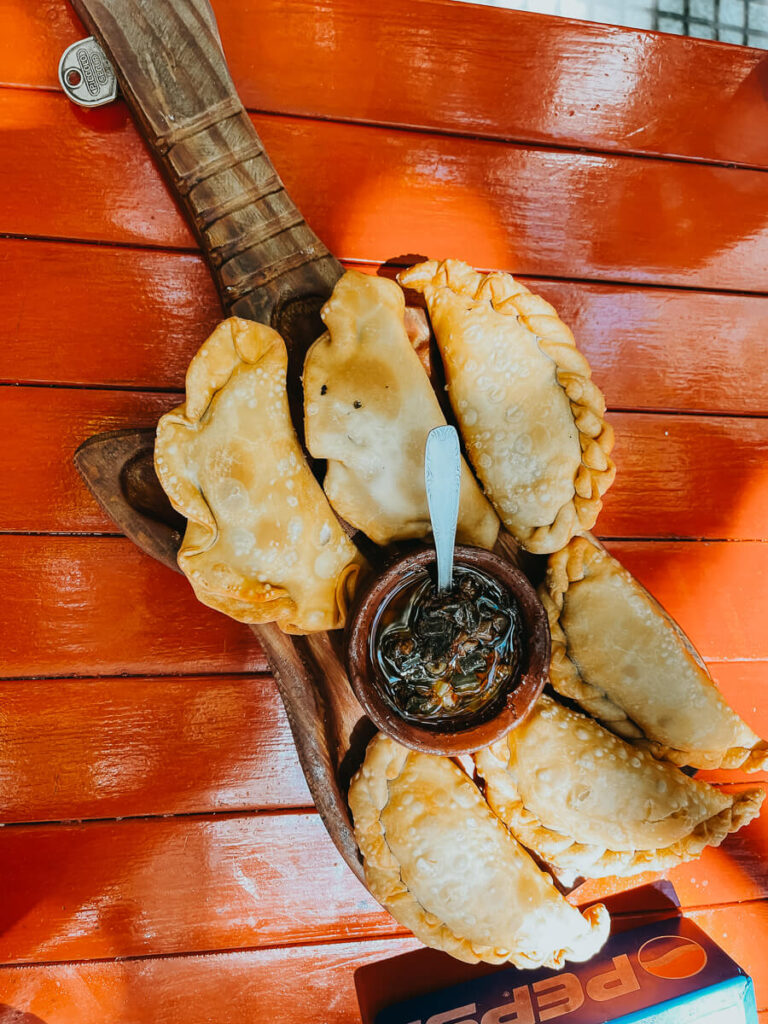 🥩Desnivel | Defensa 855 | It may look kitschy and touristy but the food is incredible. Order one of the lomo (tenderloin) dishes. My favorite is the Lomo a la Mostaza, tenderloin in a mustard cream sauce, my husband prefers the lomo a la pimienta (with pepper kernels)
🥩La Brigada | Estados Unidos 465 | Just around the corner from Desnivel, La Brigada is an institution. Waiters cut every piece of meat they bring to you with a spoon, it's that tender. Football memorabilia wallpaper the dining room adding to the ambiance.
🥟El Gauchito | Av. Independencia 414 | My favorite empanadas in city, from La Rioja.
🍝 Av. Caseros (& Defensa) | A few blocks of Av. Caseros make up one of the most beautiful gastro-hubs in the city. Hierbabuena here is one of the best veggie restaurants in town. Napoles specializes in pasta and houses a huge antique collection.
Read my post about where to eat the best parillas in Buenos Aires & how to order.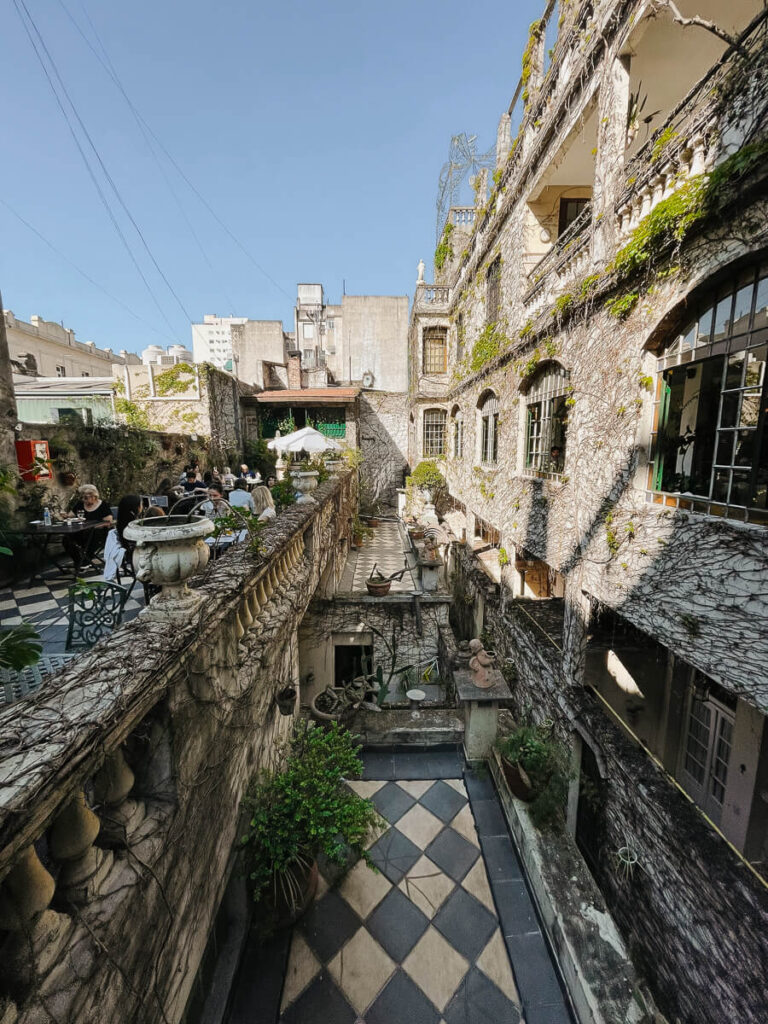 San Telmo Cafes & Bars
☕Dorrego Cafe | Defensa 1098 | This historic cafe has sadly not reopened its doors since the 2020 lockdown and I fear the worst. I'm not deleting it from this list out of hope that someone will take over and re-open it.
☕Coffee Town | Mercado de San Telmo | This coffee stand is located inside the indoor market. It has top quality coffee and offers a chance to people watch while you sip on your flat white.
🍷Nilson | Carlos Calvo 463 | Nilson is a cozy little wine bar serving some of the best wines by the glass. The menu isn't divided by red or white but by intensity, making it easy to choose the best glass for your taste.
🍷Atis Bar | Peru 1024 | The food here is underwhelming but the setting is stunning, it's an old convent and it's worth going to see the space alone. Grab a coffee or beer to rest your feet.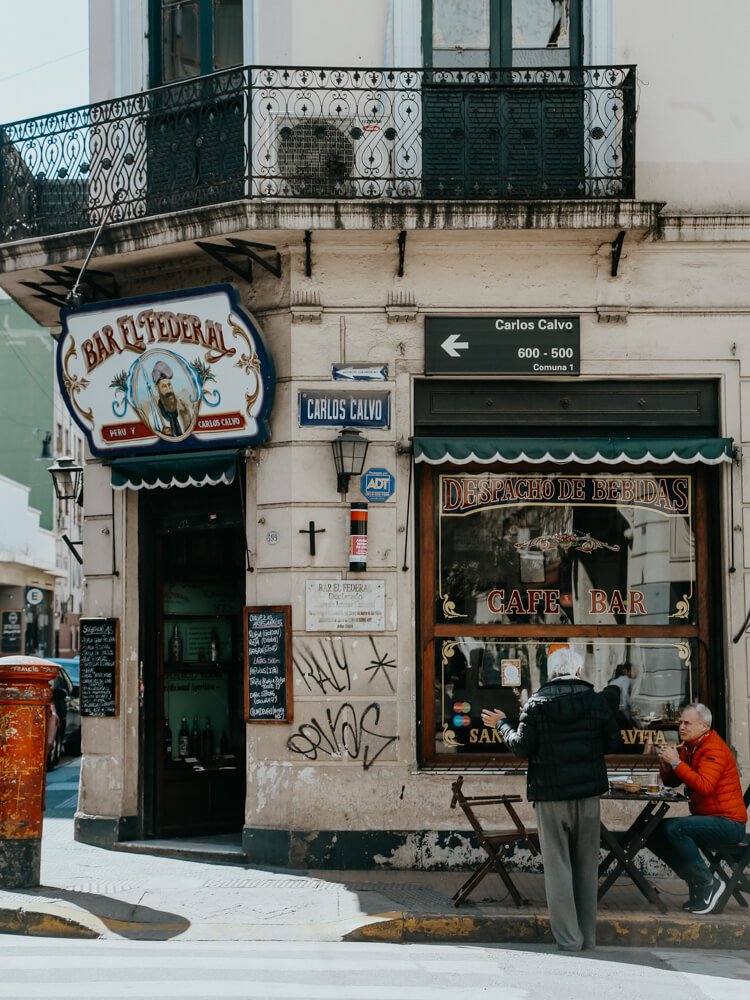 Bares Notables in San Telmo
Notable Bars are historically protected bars and are loaded with character.
San Telmo is home to a few stunners:
☕El Federal | Carlos Calvo 599 | Worth a stop even if you aren't hungry, just come and have a sidra tirada (cider) and enjoy the vibe. But if you're hungry, order a picada (a charcuterie plate). They're incredible here.
☕La Poesia | Chile 502
☕El Hipopótamo | Av. Brasil 401
☕Bar Britanico | Av. Brasil 399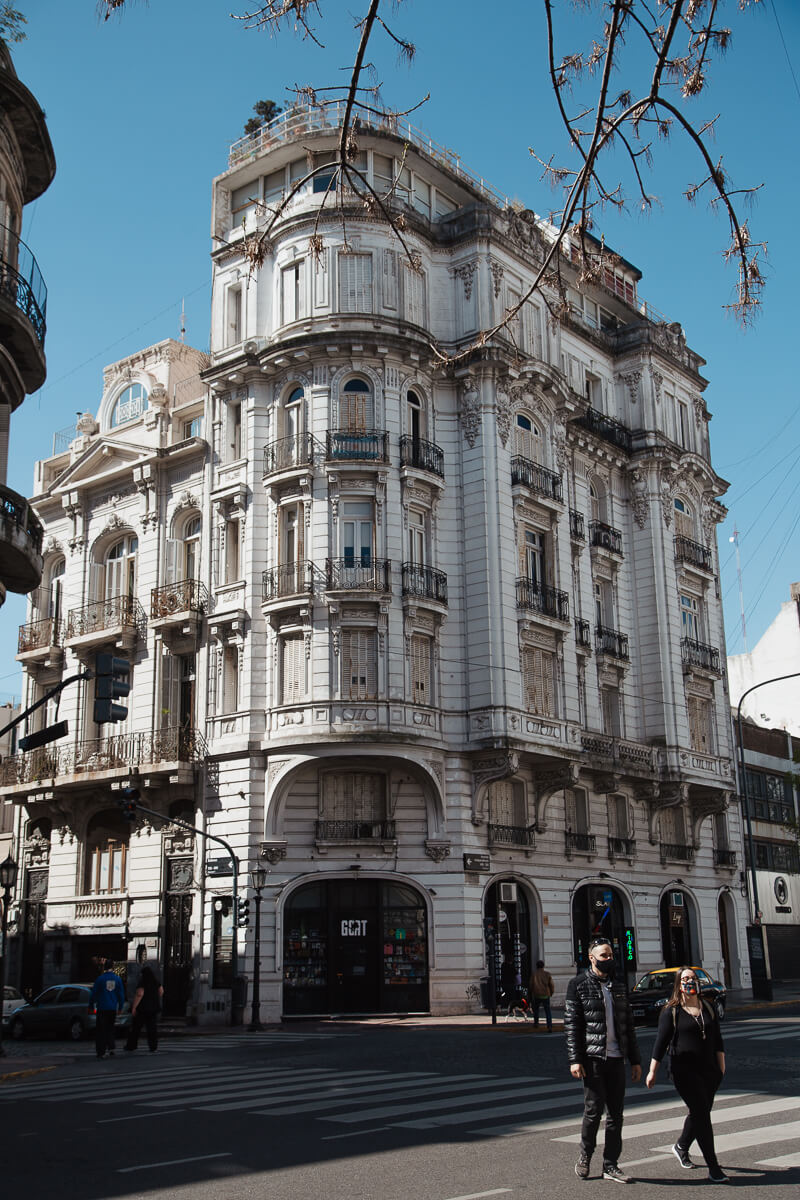 San Telmo Map
The northern highlighted yellow square is the Manzana de las Luces and the second one further south is the fixed antique market.
Read more on each below as well as the details on all my favorite San Telmo highlights.
Argentina Travel Resources