Argentina's Atlantic Coast in Northern Patagonia was settled by the Welsh.
The best place to experience traditional Welsh culture in Argentina is in tiny Gaiman.
It's easy to visit as a day trip from the Peninsula Valdes and Puerto Madryn, which is exactly what we did.
This post will help you visit this adorable tiny town in Patagonia.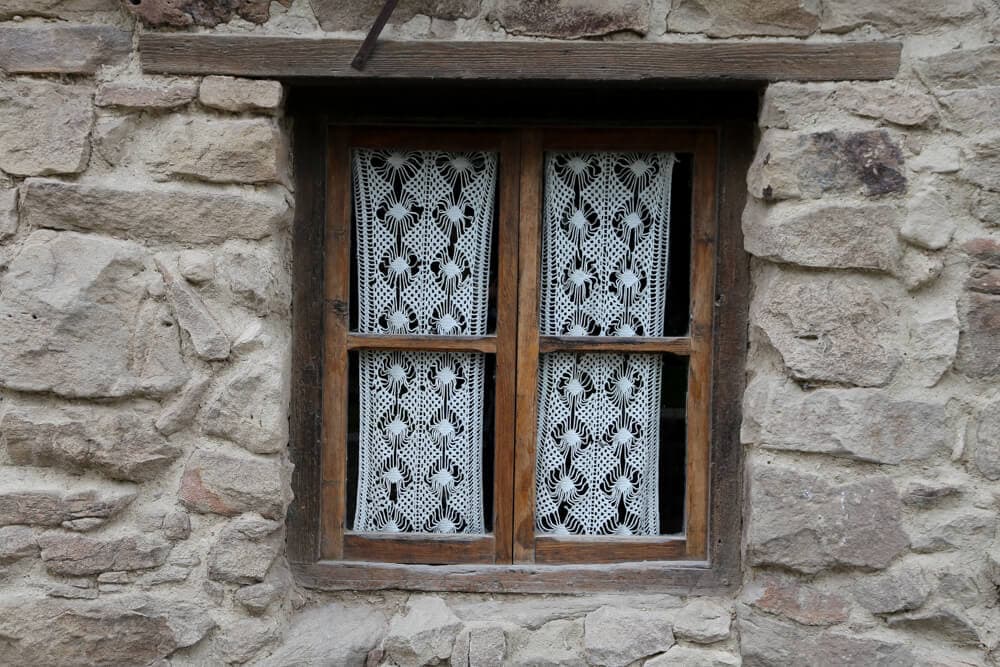 QUICK NOTE: This post contains affiliate links and Sol Salute may receive a commission for purchases made through these links, at no extra cost to you.
Where is GaimaN?
This small Welsh village is just 15 minutes from the large-ish city of Trelew in the Patagonia province of Chubut.
Gaiman is an easy day trip from Puerto Madryn.
The highways here are very well maintained so it was an easy drive, it took us an hour and forty-five minutes to get to Trelew from Puerto Piramides. But, if you're based in Puerto Madryn, it's only a 45-minute drive.
If you don't have your own car, take this organized tour that visits all the best Welsh settlements in the area.
Our Gaiman & Trelew Itinerary
While it's most common to use the city of Puerto Madryn as your base here, we actually stayed on the Peninsula Valdes in the small town of Puerto Piramides.
We spent four days on the Peninsula Valdes but decided to visit Gaiman on our final day before our evening flight back to Buenos Aires.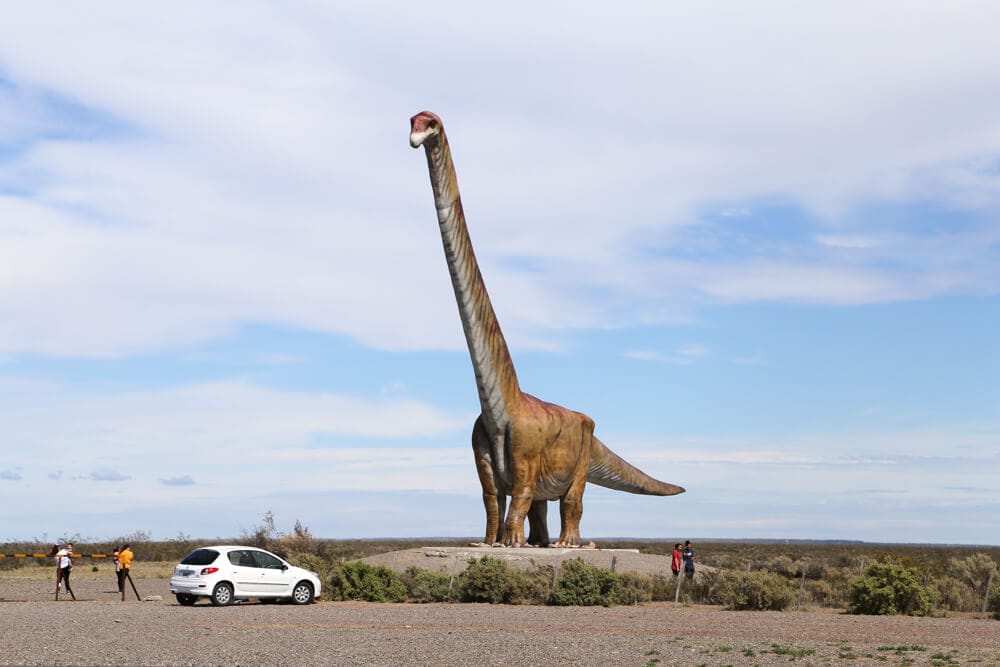 A Dinosaur Pit Stop in Trelew
We got to the city of Trelew just in time for lunch. We had plans to see the Paleontology Museum before heading onwards to Gaimain for tea time.
Driving into town, we stopped for the obligatory photo of the enormous, life-size statue of the Patagotitan mayorum, the world's largest dinosaur (found right here in Chubut!).
Before the dinosaurs, we had to eat but were short on time so we found the closest bakery.
We picked up food to eat in the park, nothing special, but you can't complain about spending only ten dollars on lunch for four adults.
Bellies full of good but not great sandwiches (me) and delicious Shepherd's pie (the men), it was dinosaur time.
Museo Paleontologico Edigio Feruglio
We paid $220 pesos each (check their website for up-to-date prices and hours). They accept credit cards.
The museum is made up of four large rooms filled with fossils and dinosaur skeletons.
I really enjoyed the museum. I'd say it's a must-do if you're visiting Puerto Madryn with kids. But we were four grown-ups who also enjoyed it immensely (and learned a lot!).
We spent just under an hour here so you don't need to budget too much time for this.
Gaimain Tourist Information Center
The drive from Trelew to Gaiman was just 10-15 minutes. Just as you drive into town, you'll see an information center to your right, go here!
Despite it being such a small town, everything you want to see is spread out and not easy to find if you don't know where to look.
The visitor center was very helpful.
He gave us a map and marked all the must-sees for us, helping me organize our afternoon.
I'm not sure if they speak English, but they do speak Welsh (very cool).
All of the signs were in Spanish and Welsh, which I thought was very cool and very unexpected in Argentina.
The first house in Gaiman
First stop, a bit of history. It was still a little early for tea time, so we started off by visiting the first house in Gaiman, or in Welsh, Y ty Cyntaf.
This tiny three-room house was built by the first Welsh settlers who arrived in the area in 1865.
The entrance to the museum was only 40 pesos each and the guide told us all about the family and the history of the home.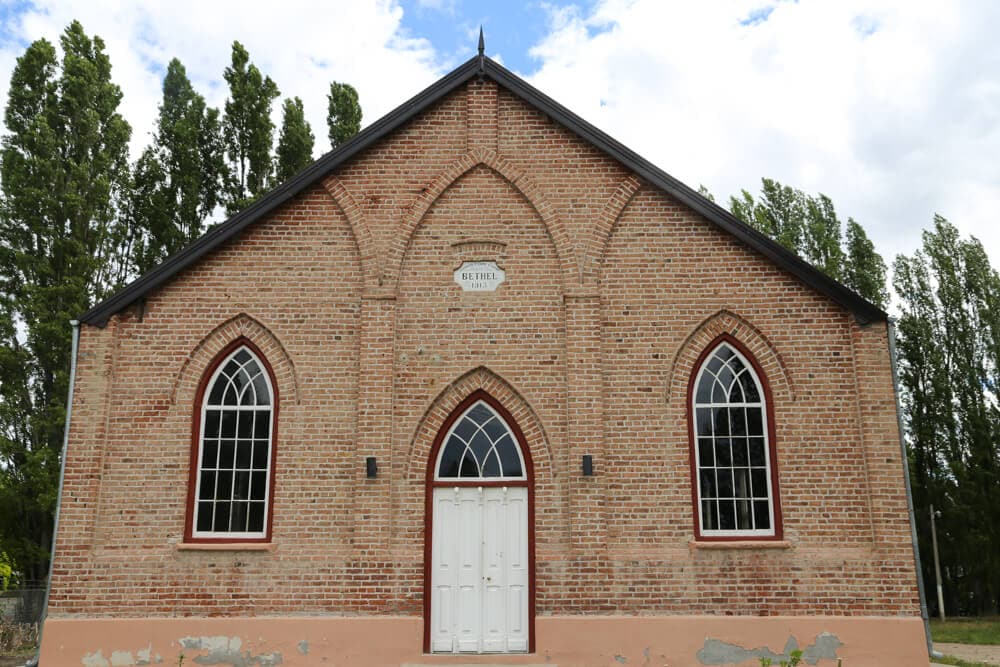 Bethel Chapel
There are two churches to visit in Gaiman, and they are conveniently on the same property.
The old Bethel Chapel was built in 1884 and is a protestant church.
In 1906 there was a religious rebirth in the area which led to the construction of the new chapel (above) in 1913.
It's open for visitors on Mondays, Wednesdays & Fridays from 3-7 pm.
Welsh Tea Houses in Gaiman
Welsh Tea Houses are the highlight of Gaiman and the main thing I was excited about.
We'd been in the cold wind all week on the Peninsula Valdes, so hot tea and a table full of pastries was something I'd been looking forward to.
Jokes on me, because the day we came for tea, the sun had come out and temperatures had risen significantly. But a little heat wasn't going to get between me and cake, so tea time it was.
There are four tea houses to choose from and all are overpriced.
When Tourist Information told us the cost, uncertainty began to set in. But I had come all the way here for this!
So, overpriced tea bedamned, we drove to Ty Te Caerdydd, the tea house that Princess Diana visited when she came to Gaiman (I know, I'm as shocked as you are).
Unfortunately, we arrived at the same time as a huge bus full of retirees unloaded for tea time.
Hardly the relaxing experience we'd hoped for. So we snapped a few pics and drove on to tea house number 2.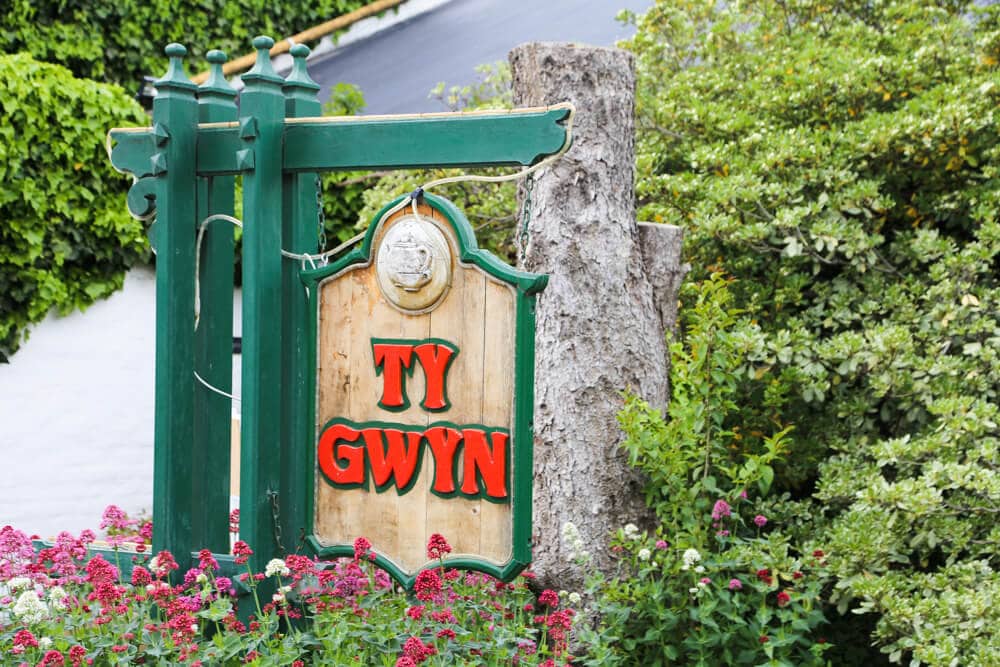 Why we didn't like the Tea Houses in Gaiman
Walking into Ty Gwyn, I was disappointed from the get-go. The atmosphere was dark as if no lights were even on. The was ambiance somber, a restaurant full of sullen people hunched over tables of dismal pastries in silence.
We sat down and placed our order of tea and pastries: a set menu at $500 pesos each. Inflation may have rendered that number meaningless by now but for referece that is twice as much as dish full of seafood with wine in Puerto Piramides that week.
While we sat and waited for our tea, the waitress brought the table next to us their "first course."
It was straight-up white bread with butter spread on it. Nothing else.
This was supposed to be worth 500 pesos? Bread and butter? We left.
We got up and left so fast we didn't even inform the waitress (I apologize Ty Gwyn!).
I know there were more pastries to come after the bread, but nothing I saw on neighboring tables was worth the $2000 pesos it would cost for the four of us.
Something similar happened when we visited Carlos Keen near Buenos Aires as well. Every restaurant in that town offered the exact same menu for the exact same price. The quality of the food served was very low (without any real competition, why bother?).
The tea houses all joining forces, setting a fixed (sky-high) price and menu, has led to something I don't really recommend.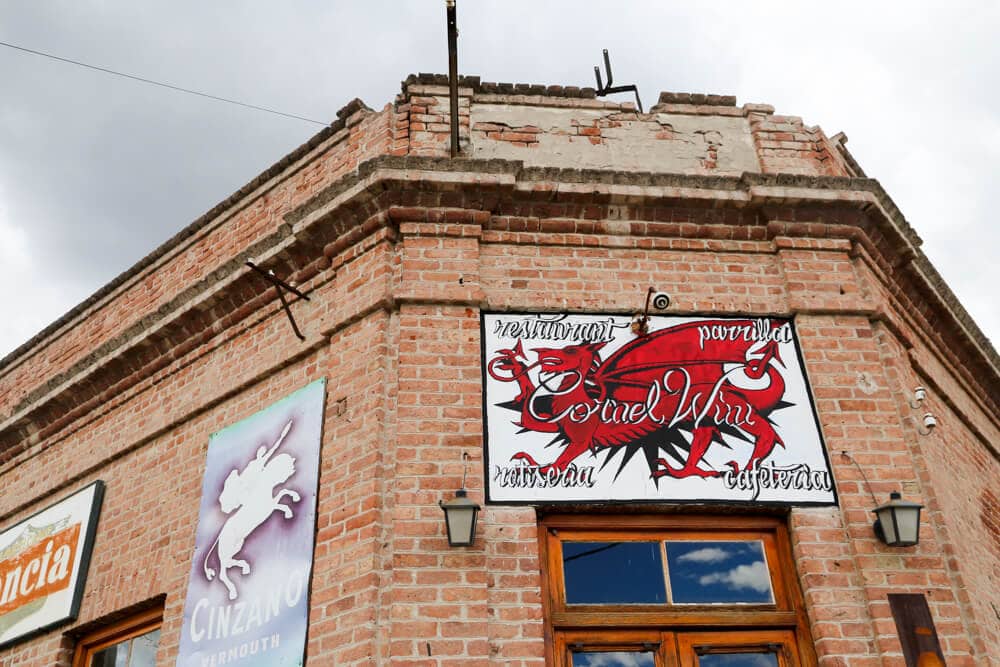 Flan & Tea at Cornel Wini
Having skipped our tea and pastries, we were still hungry.
We found Cornel Wini, a new restaurant on the main street. We ordered flan, coffee, and tea and everything was homemade.
The flan was delicious and at nearly a tenth of the price of the bread and butter we had just abandoned, we were very content.
We relaxed here for a while to end our day in Gaiman before driving back to Puerto Madryn for our late flight back to Buenos Aires.
Tours & Alternatives: What I would do differently
Here are nearby attractions and tours that could help fill out your day in Gaiman.
There is a lot to see in this part of Patagonia.
Adding in a visit to nearby Rawson or not so nearby Punta Tombo could make this day much more exciting.
Dolphin watching in Rawson: The town of Rawson is very close to Trelew and is one of the only places in the world to see Tonino dolphins. If you can make the schedule work to combine a boat excursion with your visit to Gaiman, you're in for an exciting day. I can't personally vouch for this activity but it's high on my list for any future trips to Puerto Madryn!
Bryn Gwyn Paleontological Park: This paleontology park is only 8 kilometers from Gaiman. Visiting this park is described as traveling 40 million years into the past. It would be a great compliment to the Trelew Paleontology Museum for dinosaur lovers.
Penguins in Punta Tombo: Punta Tombo isn't exactly close at 2 hours away, but this is the largest Magellanic penguin colony in the world and is a very popular Puerto Madryn day trip. A tour like this one brings you to Gaiman, Trelew, and Punta Tombo from Puerto Madryn on one jam-packed day.
Any questions? Have you been and loved it? Do you disagree with my tea house hate?
Comment below and let me know!
pin this for later