There is nothing more quintessentially Buenos Aires than tango.
If you're planning your visit to Argentina's passionate capital city, then you absolutely must experience it in some way.
Even after 13 years of living in Buenos Aires, I'd still rather watch than dance.
I love going to tango shows and watching the pros!
This post has the top tango shows in Buenos Aires.
Some are large and some are more intimate, some luxurious, and others more budget-friendly, there's something for everyone.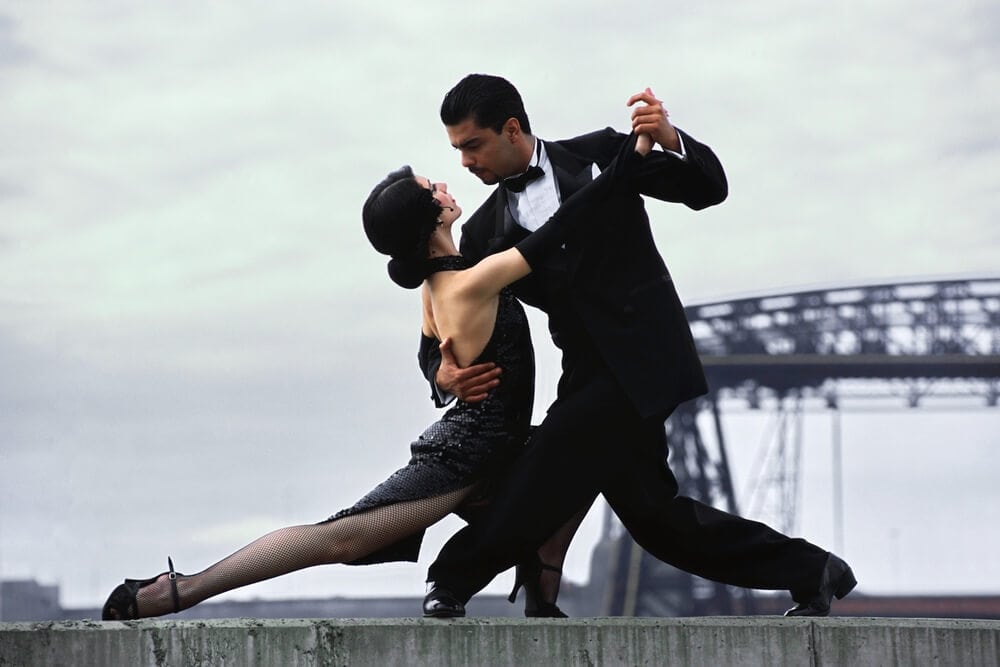 QUICK NOTE: This post contains affiliate links and Sol Salute may receive a commission for purchases made through these links, at no extra cost to you.
The Best Tango Shows in Buenos Aires
The authentic tango that you'll see in these Buenos Aires tango shows is very different than what you've seen in the movies.
The movements are complex.
The man signals to his partner with subtle cues that they've practiced religiously.
The tango you'll see in a proper Buenos Aires tango show tells a passionate story and experiencing this romantic dance is one of the most quintessential Buenos Aires experiences.
I always take my friends to see tango when they visit. It's a must!
But with so many shows on offer, I know it can get overwhelming.
This post will remove all the overwhelm and help you choose from the best tango shows in Buenos Aires for an unforgettable experience!
Helpful Tips for your Buenos Aires Tango Show:
Tango shows tend to start late, usually around 10 pm.
Most Tango Shows offer a dinner and it's optional. For a budget tango show, opt for the show only.
Most shows include transfers from your hotel. If you're staying in an Airbnb, check if you can go to a nearby hotel to be picked up. Rideshare apps like Cabify are also excellent apps to download in Argentina to get to and from the show safely.
Drink all the Malbec and enjoy yourself!
For lessons and going dancing yourself, check out a milonga tour! There is more information about that at the end of this post.
1. La Ventana – A Tango & Folkloric Show
What makes La Ventana in San Telmo stand out from the rest is that they include folkloric music.
Tango is the traditional music of Buenos Aires, but it's far from the only traditional dance in Argentina.
This show allows you to see a more well-rounded show with music and dance from all over the country.
Chamame, chacarera, and zamba are just a few of these folkloric styles that hail from interior provinces like Salta and Santiago del Estero in the north.
They are VERY different from Tango and aren't as common to see here in the city.
I LOVE them, you can see them danced by locals in the street at the Mataderos street market but nothing beats a professional show.
Why choose La Ventana?
This is one of the most popular tango shows in Buenos Aires, and it's easy to see why. Despite being a larger venue with seating for 200, they offer excellent service and you will be well taken care of.
You'll experience true Argentine culture here ranging from tango to gauchos with their 35 dancers and 2 orchestras.
This is the best option to absorb the most of what Argentina has to offer.
2. Rojo Tango – A Luxury Buenos Aires Tango Show
Rojo Tango is located inside the most exclusive luxury hotel in Buenos Aires, El Faena. Beyonce stayed in this hotel. I think that's all I need to say.
This tango show stands out in the sea of tango shows in Buenos Aires.
Rojo Tango's dancers are some of the best in town and they make use of their intimate Caberet-style space, at times even dancing among the audience!
If you're looking to spoil yourself in Argentina, Rojo Tango is the ultimate indulgence.
Why Choose Rojo Tango?
This exclusive tango show is very intimate, allowing you to feel like part of the action rather than tucked away in the back corner of a large dance hall.
If you're looking for pure luxury, it's here at Rojo Tango: from the luscious décor, excellent dancers to the gourmet meal.
3. michelangelo Tango
Michelangelo Tango is in a beautifully restored building in colonial San Telmo.
Dining in the restaurant is charming, with tables seated under bricked archways.
The bar, Dante, is very beautiful and the show itself features traditional folkloric music and dance along with tango.
It is a complete experience in an epic venue.
Why choose Michelangelo?
The dinners in most tango shows aren't much to shake a stick at. They're usually good but not great.
They provide the convenience of not having to make a separate, expertly timed dinner reservation but not much else.
Michelangelo, however, has a wonderful restaurant on property in a historic setting that you'll be happy to dine in.
The fact that the show features folkloric music is a bonus I ALWAYS love, as well.
4. El Viejo Almacen – A Classic Tango Show with History
El Viejo Almacen is located in the heart of the historic neighborhood of San Telmo.
This Buenos Aires tango house was founded in 1969, but the building goes back much further than that.
It was originally owned by immigrants and operated as a Russian Restaurant starting in 1900.
Stepping into El Viejo Almacen is like stepping into old-school Buenos Aires.
The name comes from the Tango song Sentimiento Gaucho and refers to an old general store (or almacen) near this location.
LOCAL TIP: If you want to skip the included dinner and instead eat in San Telmo. Two of my favorite steakhouses in Buenos Aires are just a few blocks away: Desnivel and La Brigada!
Why choose Viejo Almacen?
Buenos Aires' most iconic tango artists have graced this stage, including: Aníbal Troilo, Osvaldo Pugliese, Roberto Goyeneche and Leopoldo Federico.
This is one of the most classic venues in town in one of the more historic neighborhoods in town.
There is a lot to see before or after the show in San Telmo and the performers are great.
5. Esquina Homero Manzi – Off The beaten Path
Esquina Homero Manzi is off the beaten tourist track in Boedo.
This neighborhood is one of the few "barrios tangueros" or tango neighborhoods.
Historic venues like the one that houses the Homero Manzi tango show are steeped in history.
Before the show check out nearby Café Margot, a historic bar overflowing with character.
Who was Homero Manzi? He was a poet who revolutionized tango, writing his first song at age 14.
Esquina Homero Manzi has even been declared an official site of cultural importance by the national government.
Why choose Esquina Homero Manzi?
This is the most affordable tango show on this list.
It's a great value while still offering a fantastic traditional show in a historic venue.
6. Tango Porteño – Classic Tango Show + Optional Lesson
Tango Porteño is worth a visit not only for the show, but for it's venue and its surroundings.
It's located on Cerrito Avenue just steps from the Obelisk.
Corrientes, just a block away, is the Times Square of Buenos Aires, filled with theaters, classic Buenos Aires pizzerias, and people everywhere at all hours.
The blocks surrounding the Obelisco are lined with iconic pizzerias and theaters featuring everything from tango to Broadway worthy plays.
The historic theater that houses Tango Porteño is stunning, reminiscent of the turn of the century grandeur that put Buenos Aires on the world stage.
Why choose Tango Porteño?
It's a classic tango show offering excellent dancers and impressive costumes.
The restored theater will make you feel like you've traveled back in time.
It is a big theater so it doesn't have the intimate vibe of a smaller venue but the show is very good with high production value.
For a full experience, opt for the tango dance lesson!
PRO-TIP: Skip the optional dinner and do Corrientes like a local, with pizza after the show! Nearby Guerrin has my favorite pizza in the entire city. Order a decadently cheesy slice of Muzza and eat at the bar.
Read Next: The Best Bike Tours in Buenos Aires
7. Piazzolla Tango – Homage to a great composer
Piazzolla Tango is yet another tango show that pays homage to one of Buenos Aires' great tango figures.
Astor Piazzolla was born in Mar del Plata and spent part of his childhood in New York, moving to Buenos Aires to study.
This show in the stunning Galeria Guemes downtown features his compositions.
Over the years he befriended Carlos Gardel and performed in Anibal Troilo Pichuco's orchestra. He was a great composer and bandoneon player.
The music in this tango and dinner show pays tribute to his great works.
Why choose Piazzolla Tango?
Go for the location, a restored Art-Nouveau theater. It was built in 1915 and is reminiscent of the richer days of Buenos Aires' past when it really felt like the Paris of South America.
PRO-TIP: The theater is in Galeria Guemes on Calle Florida downtown. There is a roof top bar in the same building called Florida 165.
Go here for drinks afterwards for a priceless view of the most beautiful cuppolas in town (make reservations via the Whatsapp number found on their Instagram).
8. El Querandi – My Favorite Tango Show in buenos Aires
El Querandi is located in a historic mansion mere blocks from Plaza de Mayo.
This is my favorite tango show in the city.
I even took my parents here when they visited me for the first time here! They loved it just as much as I did.
El Querandi's venue is small and even though we were in a table on the side of the room towards the back we still had an excellent view of the stage.
El Querandi as a venue was established in 1920 but the building has been here since 1867, making it one of the oldest and historic on this list.
It is only a few blocks from Plaza de Mayo in San Telmo.
Why choose El Querandi?
The singers are excellent and the small venue provides a great experience regardless of where you are seated.
The historic mansion is a bonus that creates a unique ambiance.
Perhaps I am partial because this was one of the first shows I went to, but I really love El Querandi.
The costumery and the show held my attention captive until the very end.
9. Café de los Angelitos – Tango show in an Iconic Cafe
Cafe de los Angelitos is in one of the city's historic coffee houses called bares notables, established in 1890.
This cafe served as a meeting point for the city's intellectuals, poets and artists, including the tango legend Carlos Gardel.
The walls are covered in photographs documenting the cafe's history.
I have yet to attend their tango show but I used to regularly visit El Angelitos for coffee since I worked in an office on this block.
The dining room is very beautiful, a well-preserved relic of Argentina's wealthy past.
It's worth going for tea time even if you can't make their tango show.
Cafe de los Angelitos is in Congreso, just a few blocks from the Congress Building. If you're nearby during the day, make the detour for a coffee here!
Why choose Cafe de los Angelitos?
This venue is iconic in Buenos Aires. The show takes place in a theater behind the coffee shop's dining room and it is decorated decadently.
The stage is set up above the dining tables, allowing everyone to have a clear view of their 21 dancers.
This is the show I have yet to see that I want to see the most. I've heard the production is excellent with incredible dancers and gorgeous costumes.
The location is also very easy to reach, just a short drive from downtown, not far from neither San Telmo nor Palermo.
10. Señor Tango – The Best Tango Show in Buenos Aires
Señor Tango boasts outstanding dancers, singers, and orchestra.
This wildly popular show's creator, Fernando Soler, has won multiple awards and is the most distinguished and recognized in the industry today.
The production is excellently done, with special effects and a screen displaying images that accompany the dancers on stage.
Señor Tango can easily claim to be the best tango show in Buenos Aires. It is the most in-demand and most highly reviewed.
A close friend of mine went to their show last year and still raves about it today. Her favorite souvenir was a passionately posed photo cheek to cheek with the singer!
The theater is a bit far from the city center in the southern barrio of Barracas so I do recommend taking advantage of their transport or taking a taxi to get there.
Why Choose Señor Tango?
It is the best Buenos Aires tango show on offer at the moment.
The high quality of the singing, dancing and orchestra is guaranteed and you will not leave disappointed.
The venue is very large, so keep that in mind if you'd prefer a more intimate experience (El Querandi is ideal for that).
The production can also feel very dramatic and over the top with a lot of focus on the main singer versus the entire team of dancers. It really comes down to the type of experience you are looking for.
All that being said, it's one of the highest rated and most popular shows for a reason!
BONUS: Milongas & Tango Lessons in Buenos Aires
There are two main ways to see tango in Buenos Aires: in a tango show or in a milonga.
Tango shows, like those listed above, are highly produced and geared towards foreign tourists visiting Argentina.
I am NOT insinuating they aren't amazing experiences.
I tend to lean towards more local experiences over touristy and gimmicky ones but tango shows are different.
The tango they display is professional, authentic, and I highly recommend going.
There is no gimmick or tackiness in a produced tango show.
But if you're fascinated by the dance (and why wouldn't you be) and want to learn more, I recommend taking private tango lessons or attending a Milonga, the name for a tango dancehall.
I recommend a milonga tour for this because milongas can be very intimidating to the uninitiated.
They have their own social norms and codes to follow.
This Milonga Tour includes two milongas in one night, so you'll get to see a lot!
Read More About Buenos Aires:
Pin It For Later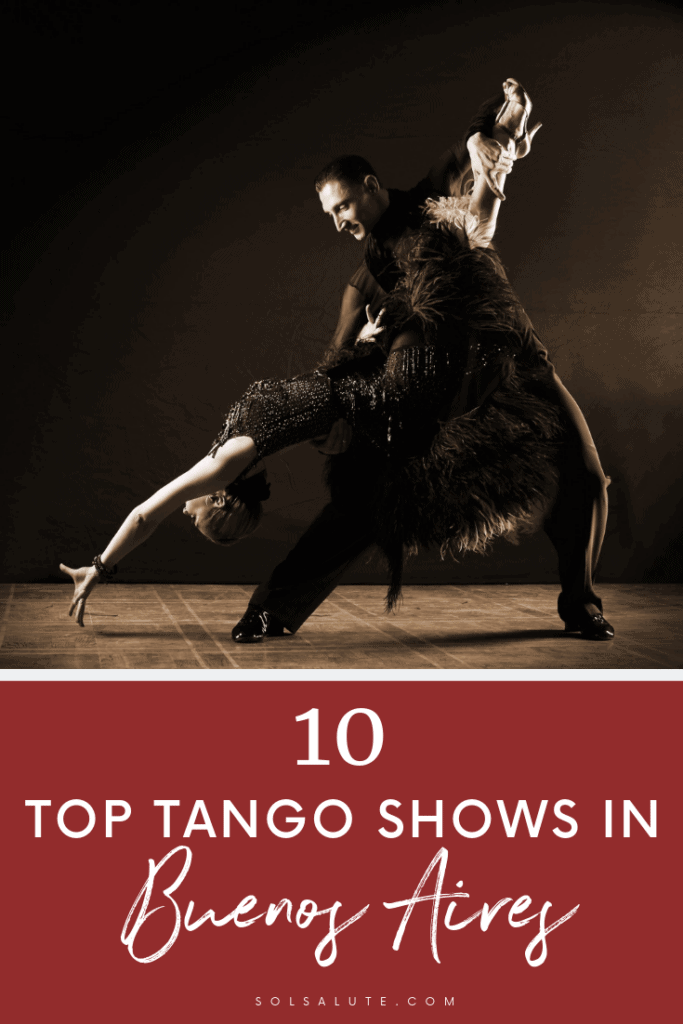 Argentina Travel Resources