Eating a good cut of beef in one of the city's many, many, many parillas (the local name for the best steakhouses in Buenos Aires) is a quintessential Argentine experience.
But if you're a Buenos Aires steak novice, it can be pretty overwhelming.
What cut of meat to order, how to order it, and where to eat it.
This post will help with all of it and give you some of the Spanish vocabulary to eat steak in Buenos Aires like a local.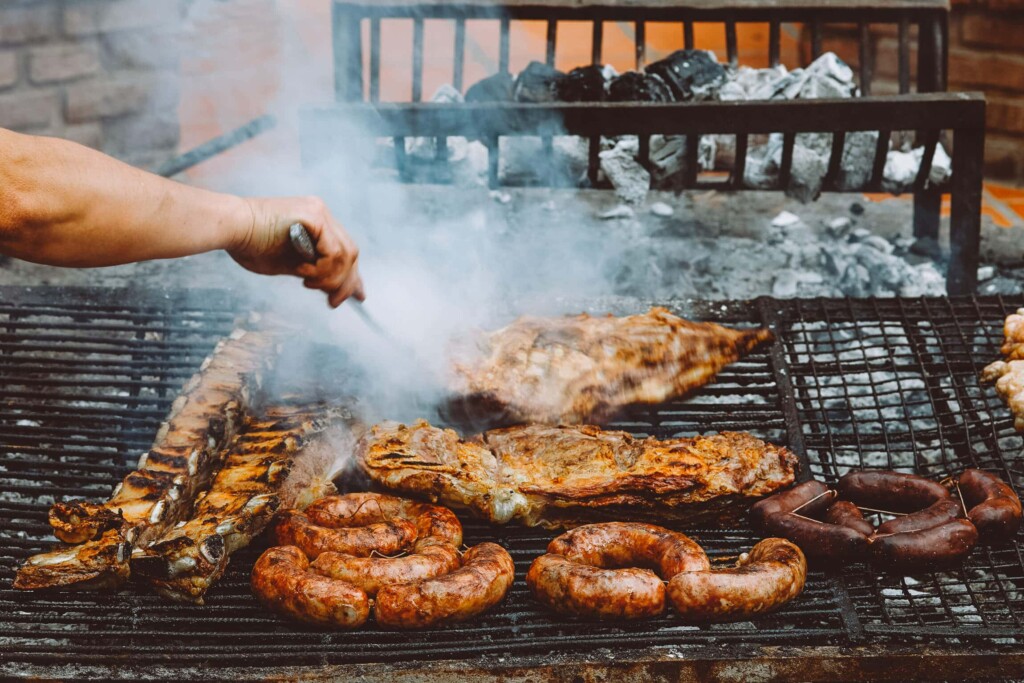 QUICK NOTE: This post contains affiliate links and Sol Salute may receive a commission for purchases made through these links, at no extra cost to you.
Steak in Buenos Aires 101
Beef has played an integral role in Argentina's history since the conquistadors first brought cattle to the country in the 16th century. Fast forward a few centuries and steak remains emblematic of the local culture.
Gauchos, palatial ranch estates, weekly family barbecues, steakhouses, and a powerful export all represent the importance of red meat in Argentina's culture and economy.
All of the best travel shows about food and South America include Argentine beef.
So when in Buenos Aires one, of course, eats their weight in steak.
This post will guide you to the best experience possible, teaching you how to order like a local and the best steakhouses in Buenos Aires.
Read Next: A Complete List of What to do in Buenos Aires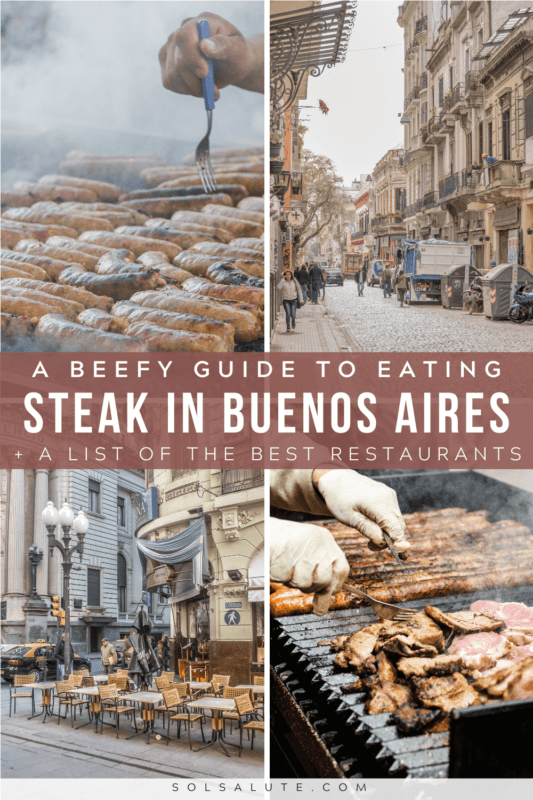 Parilla vs. Asado
First on our steak vocab lesson, what's the difference between a parilla and an asado?
One is a place and a thing, the other is an event.
A parilla is the name for the restaurant and also the grill itself. If you want to eat at a Buenos Aires steakhouse, that's a parilla.
The meat will be grilled on the parilla.
You'll see meat and chicken on the menu as "a la parilla" (basically, grilled chicken).
An asado is the event of a barbecue at someone's home.
They will host the asado by grilling the meat on their parilla.
(Asado is also a cut of meat. Tira de asado is ribs and tapa de asado is brisket.)
Families traditionally spend every Sunday together for a weekly meal, typically an afternoon asado.
Asados are enjoyed with friends and loved ones and can last hours, as they savor the meat (with plenty of Malbec to wash it down).
How to Attend an Asado
Asados are local experiences and not easily accessed by tourists.
But if you want to experience one and learn how to grill like an Argentine, there are tours and experiences available to make you feel just like a local.
The Asado Experience is the best way to do this.
You'll see how it's done, learn the recipes, and best of all, eat all the meat and drink all the wine.
Unless you have Argentine friends of your own to grill for you, this is the only way to experience an authentic asado.
And I highly recommend it if you consider yourself a foodie, there's nothing like it.
Along with red meat and wine, ice cream is also a staple in the Argentine diet. Read all about ice cream in Argentina here, because it will likely be your dessert at the asado!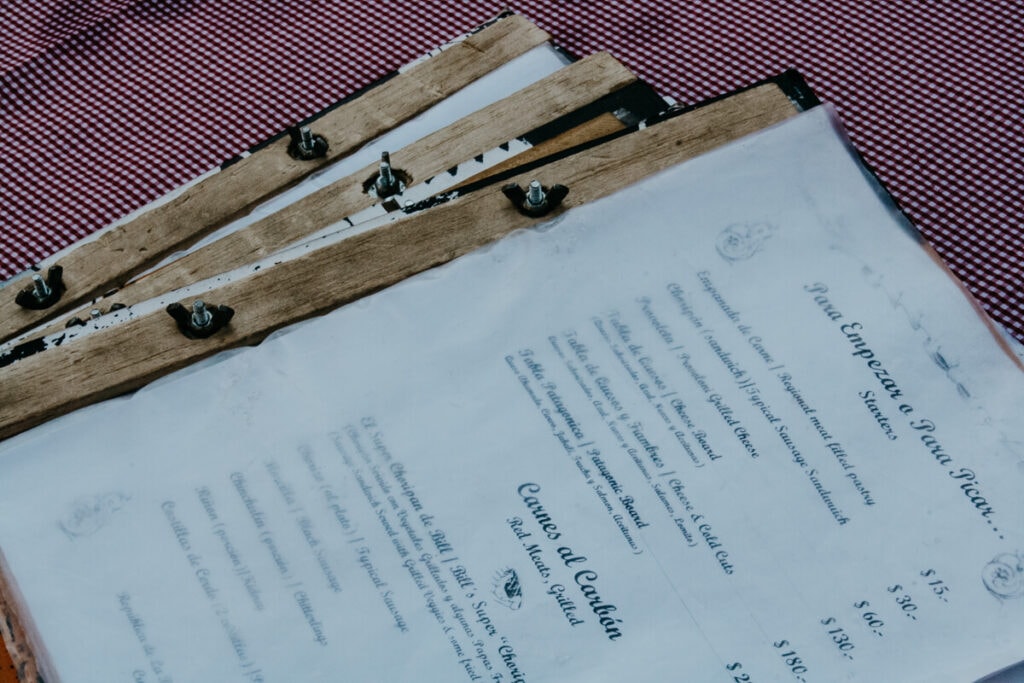 Cuts of Meat in Argentina: Navigate the Menu
You've found yourself in a parilla. The menu is splayed in front of you. Now what?
Here's what to order, how, and when.
Wine
First, order some wine! Live a little. Splurge and get a great bottle of malbec for a fraction of what it would cost in the US or Europe.
For a unique experience, order a pingüino.
House wines sometimes come in bulk (usually in a five liter bottle called a dama juana).
Ordering a pingüino (of red or white, no pretensions of varietals here) will bring you a liter of house wine in a pitcher in the shape of a penguin.
Pour the wine through the beak, drink up, and ponder your order.
Related: The Best Buenos Aires Wine Tasting Experiences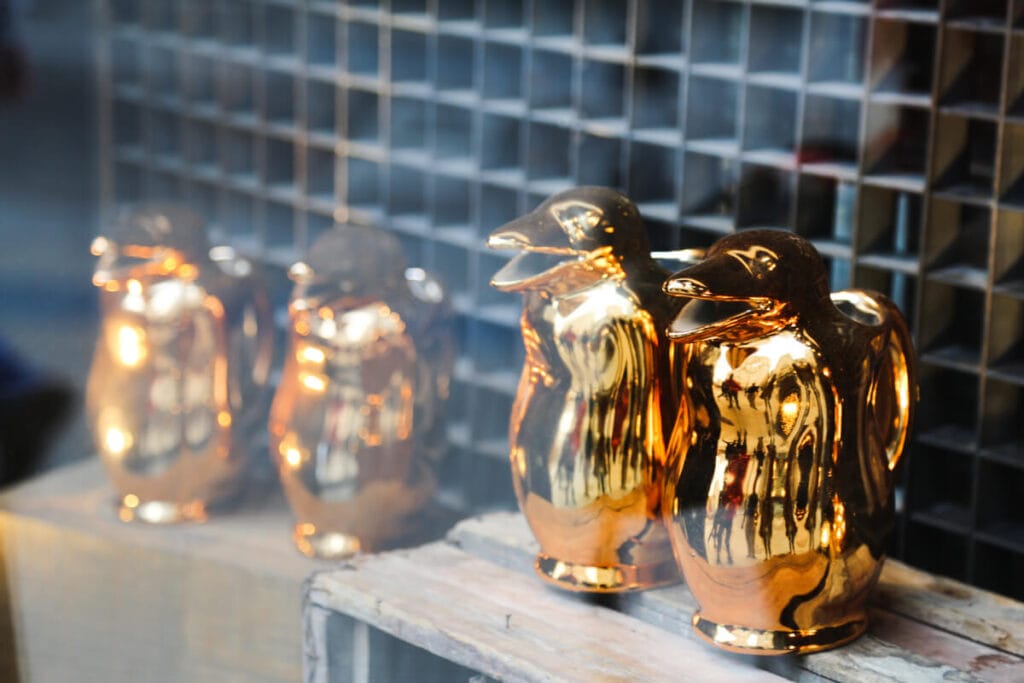 Achuras, Chorizo, & Provoleta
First course, before the star of the show, is time for achuras.
These are served first in an asado as well as in a parilla.
Sweet meats, blood sausage, chorizo, and other innards… pick your poison.
Since I strongly believe if you didn't grow up eating intestines, why start now, I stick to chorizo and provoleta (melted cheese).
If you feel more adventurous than me (it doesn't take much), then here's an achuras vocabulary list to help navigate the menu:
Chorizo: sausage
Morcilla: blood sausage
Chinchulines: lower intestines
Mollejas: sweetbreads
Riñones: kidneys
Provoleta: a small wheel of cheese melted to perfection over the grill. Eat it fast before it cools!
Read Next | Traditional Argentina Foods You HAVE to Try
Steak
This is what you came for, the main dish, the star of not only the show but an entire country.
Cuts of beef here are slightly different than in the US. Cuts are similar but not always exactly the same.
And when eating at an asado, you'll see enormous hunks of meat get tossed on the grill, only to be carved up at the table. Forget the individualistic mindset, this is a communal table!
But you're not at an asado, you're in a parilla with that menu still spread out in front of you.
What to order? Here's a helpful list of the best cuts of steak in Argentina…
Cuts of Steak in Argentina
Entraña: skirt steak
Bife de chorizo: sirloin, the most popular cut of Argentina steak and a fail safe. You can't go wrong ordering a bife de chorizo.
Lomo: tenderloin, one of the most expensive cuts, lomo is lean and tender.
Vacio: a flank steak typical of Argentina, with a layer of fat that adds quite a bit of flavor.
Tira de asado: rack of ribs
Ojo de bife: rib eye
Cuadril: rump steak
Bife angosto: strip steak
Matambre: flank steak
Tapa de asado: brisket
To be honest, this list could go on and on.
Argentines and their beef, but this list includes the most popular cuts and will definitely help you order the best dinner possible!
MENU TIP: In Argentina, steaks tend to stand alone on the menu. Order your meat and order your sides separately.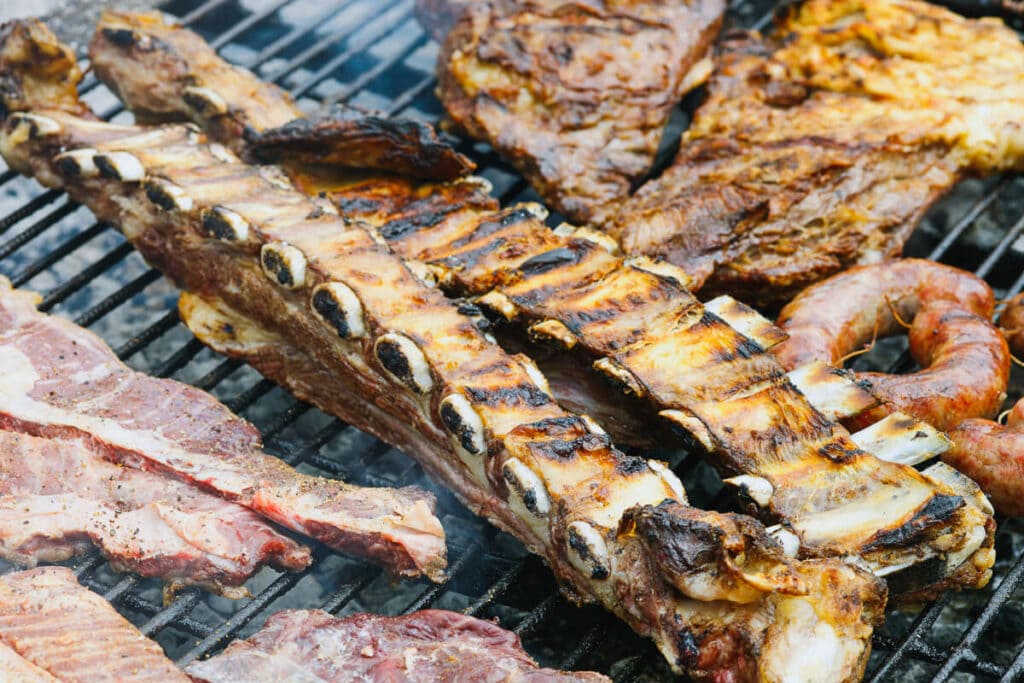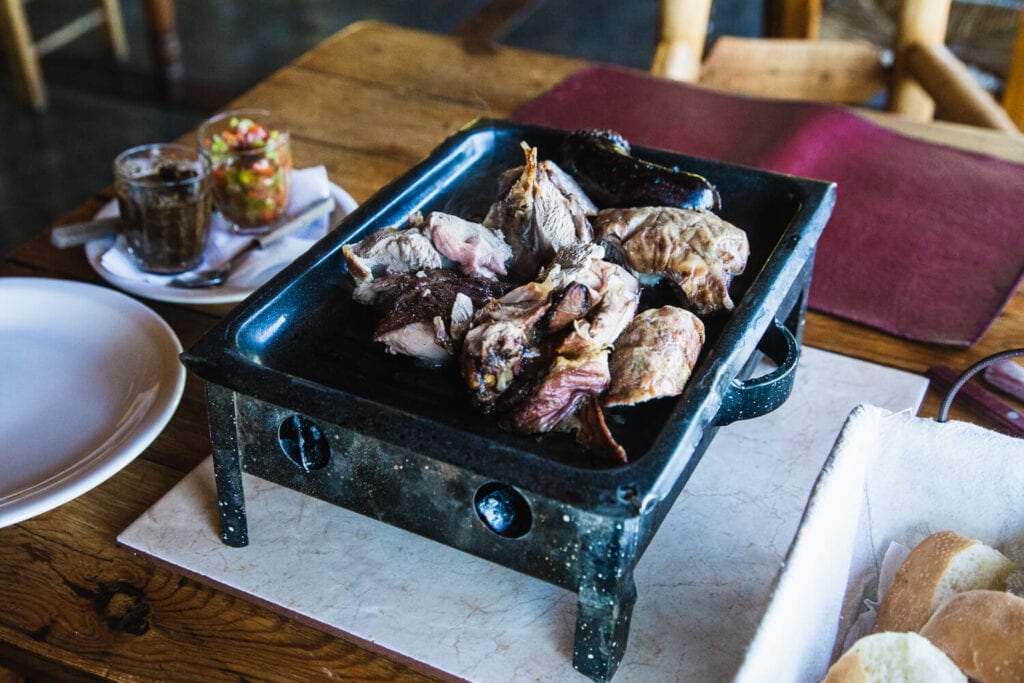 Parrillada
Still can't decide? Order a parillada!
A parillada is a platter that allows you to try a variety of cuts at once. It's typically served on a tiny grill that keeps the meat sizzling hot right on the table.
A parillada is a lot of meat so it's not for the faint of heart.
Order a parillada with a table-full of like-minded hungry friends for best results.
Like one cut in particular out of the mountain of meat?
Just ask the waiter what it was and go straight for that steak next time.
How to order steak in Argentina rare or well done?
Argentines tend to prefer well done and overcook their meat. I'm as baffled as you are! How can the country famous for its beef mistreat it so?
So if you prefer a little pink or for your steak to practically moo from the plate, here's how to order it:
Vuelta y vuelta: rare, basically, you're telling them to just let it touch the pan, flip it, touch the pan and serve it. Accompany the words with the hand gesture of flipping your palm up to palm down for extra effect.
Jugoso: medium-rare, I see most tourists make their mistake here, ordering jugoso and expecting fully rare. So I repeat, vuelta y vuelta is what to say if you want what Americans define as rare.
A punto: medium
Pasado a punto: medium-well
Bien cocido: well-done (WHY)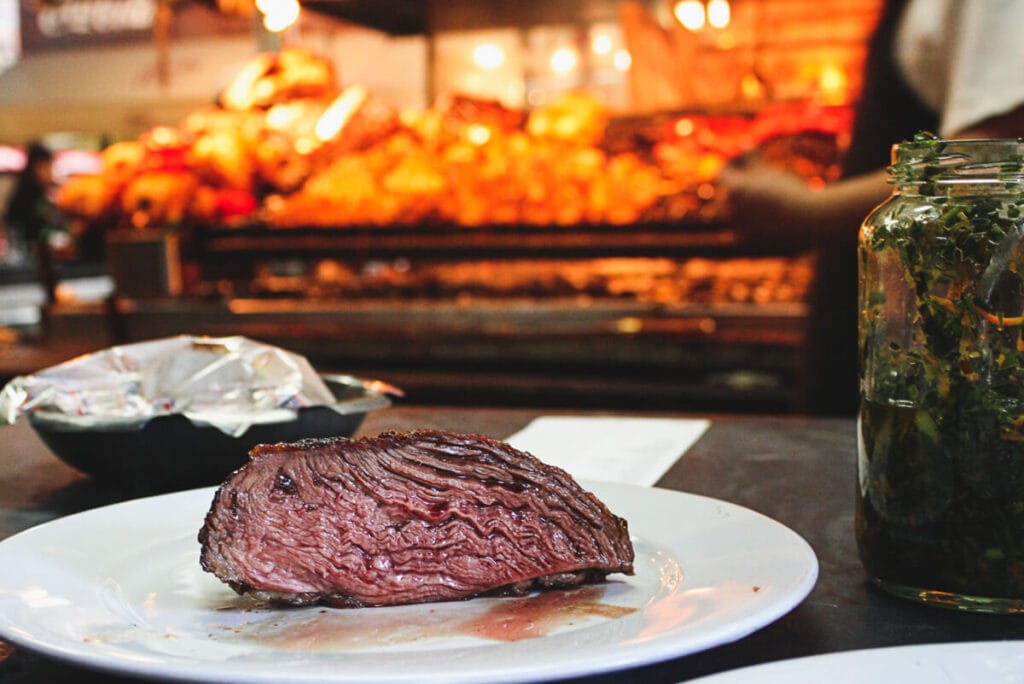 The Sauces: Chimichurri and Criolla
Argentines keep it simple with their steak.
There are no overnight marinades and there's no coating the meat in seasoning.
Just salt to keep it moist and straight to the grill it goes.
And on the table it's simple as well, with only two iconic sauces: chimichurri and salsa criolla.
Chimichurri is a table sauce here in Argentina made of dried and fresh herbs, spices, red pepper flakes, and oil.
Want to make some at home? We make ours fresh but when in a pinch we buy this bottle (not great but will do) or this mix (better) of dry ingredients where you just add oil and vinegar.
Salsa Criolla is even simpler. It's minced onions, red bell pepper and tomato with vinegar.
The best vessel for these two sauces is a choripan (chorizo and crusty bread sandwich).
Heavily douse the butterfly cut sausage in both sauces and enjoy!
Dessert
I hope you saved room for dessert, which is just as heavy as the rest of the meal.
Argentines have quite the sweet tooth. Order some flan, dulce de leche filled pancakes, or bread pudding!
Whatever you eat will likely be dished up with a generous dollup of dulce de leche on the side (order it mixto have it include a dollup of cream as well).
Read my guide to the best desserts in Argentina here. You're welcome.
The Parilla List: The Best Steakhouses in Buenos Aires
Now that you know what to order, maybe you're wondering where to go with all that knowledge (and hunger).
There are a lot of Buenos Aires steakhouses to choose from (understatement of the year), so here's a list of my personal favorites, the best parillas in Buenos Aires.
1. Desnivel
Defensa 855, San Telmo
Desnivel is my personal favorite Buenos Aires parilla. We go way back.
It's where I had my first Argentine steak on vacation here eleven years ago.
Then when I moved to Buenos Aires I lived just two blocks away.
And it passed the important test of impressing the countless carnivorous Texans I've brought here over the years.
It's brightly lit with florescent lights, it's touristy, and the friendliness of the waiters can be hit or miss. But the food is incredible!
Don't let the tourists deter you, it's not a tourist trap, Desnivel is damn good.
What to order: Start the meal with a meat empanada (they're huge, flavorful, and juicy!). My favorite here is the lomo. I prefer the lomo a la mostaza (served with a creamy mustard sauce). My husband and father both love the lomo a la pimienta negra (with a peppercorn sauce).
Desnivel Pro tip: Desnivel is on Defensa Street, right in the heart of the action during the Sunday San Telmo market. Go straight to the counter and order empanadas, a choripan (chorizo sandwich) or a lomito (steak sandwich) to go.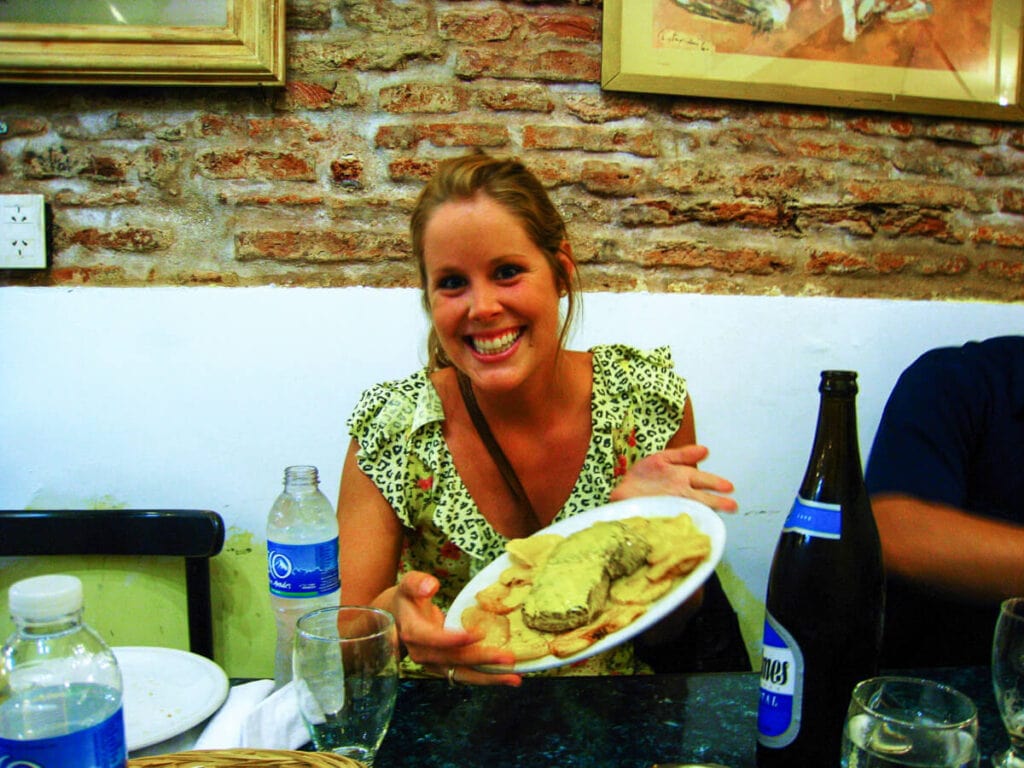 2. La Brigada
La Brigada is one of the city's most popular parillas.
Celebrities often visit for their steak fix when in town and it's said to be a personal favorite of Francis Ford Coppola.
La Brigada is just around the corner from Desnivel so you can compare the menu and crowds at each one and decide.
What to order: Any cut here will be delicious and tender, particularly their lomo.
Their big gimmick is slicing the steak with a spoon as they serve it to prove it.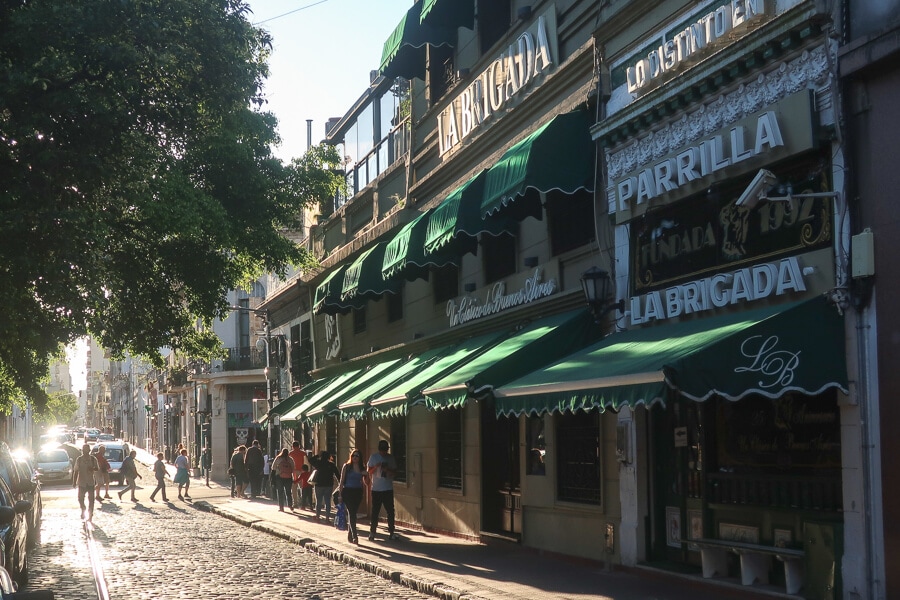 3. Don Julio
Guatemala 4699, Palermo
Don Julio is consistently included in the list of the top 50 restaurants in South America.
It has definitely earned its spot, their meat (everything else) is amazing.
It gets very crowded so don't go without a reservation, unless you're prepared for a long, long wait (they serve sparkling wine to the waiting crowd, so it could be worse).
Reserve on their website here.
I always eat here for lunch to really avoid the crowds, it's much more peaceful at midday (you can reserve for lunch as well).
What to order: Everything. Their entraña (skirt steak) is particularly tender for that cut. My friend is a big fan of their enormous ojo de bife.
The veggie sides are excellent as well, I love their grilled broccoli. Splurge on wine from their great wine list and see if you can sign the bottle after to add the collection lining their walls.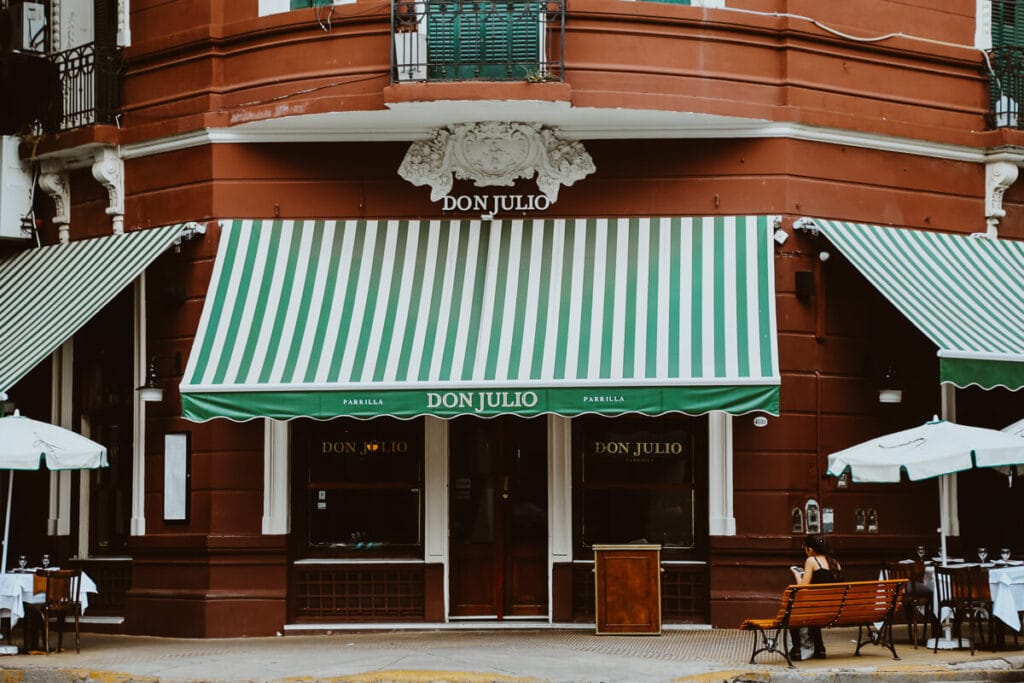 4. La Cabrera
José A. Cabrera 5099, Palermo
La Cabrera is the other beef powerhouse in Palermo Soho. It gets crowded at night so expect a wait without a reservation.
Pro tip: Take advantage of their happy hour. Dine between the early bird hours of 6:30-8 pm and get 30% off the bill. Final seating is at 7:15 but definitely show up right at 6:30 so you don't have to rush (you have to be out by 8!).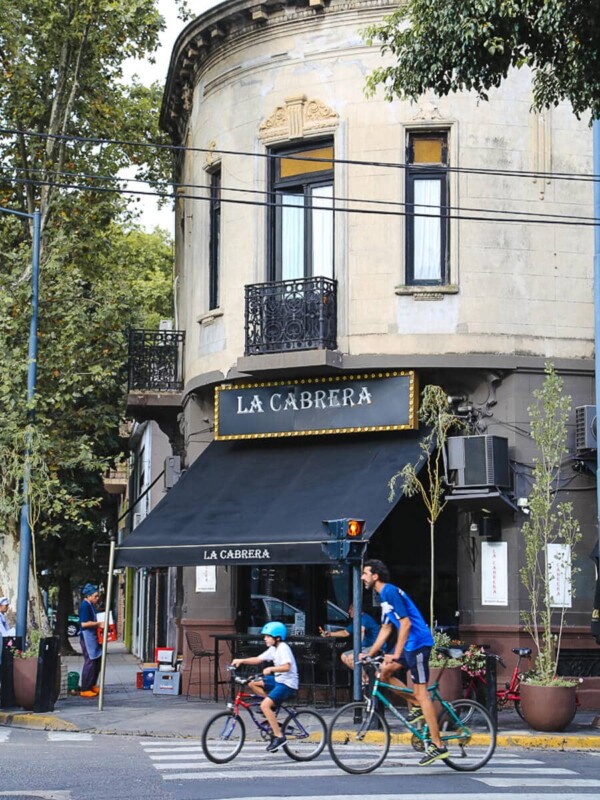 5. El Pobre Luis
Arribeños 2393, Belgrano
Finally venturing out of tourist territory, El Pobre Luis is in the northern barrio of Belgrano (just a block from Chinatown).
This Buenos Aires parilla is hugely popular with the locals so I recommend reservations or showing up right when they open at 8 pm (they don't open for lunch).
What to order: The founder, Luis, was Uruguayan. Try the pamplonas to try a Uruguayan specialty (beef or chicken rolled around cheese, olives, ham and bell pepper).
Order the mollejas and riñones to start. Also, portions are huge! So keep that in mind when ordering.
6. La Escondida
Arcos 3220, Núñez 
La Escondida is
another local spot in Belgrano. The meat is good but not the best, it's an average neighborhood parilla. But I love it.
Why? I love the ambiance of their outdoor patio. They also have a huge salad bar (a rarity in Argentina).
What to order: It's all good, but make sure to order the salad bar and go to town for your entrada and sides.
7. El Ferroviario
Av. Reservistas Argentinos 125, Liniers
El Ferroviario is all the way in the neighborhood of Liniers, on the western edge of the city.
It's massively popular with families coming in from the province.
Don't let it being off the tourist path fool you.
Call ahead for a reservation or show up before they open to wait for a table. It can sit 300 (with additional outdoor seating on weekends) and it still has long waits!
This is a classic, no frills bodegón, hidden away under a highway overpass.
If you've never been before, take a taxi (and definitely if you're not familiar with the language or city). This isn't an area you want to get lost in.
What to order: Try the tenedor libre (all you can eat) to try quite literally everything.
Eat bottomless empanadas, fries, and all the cuts of meat you want. You'll have to be rolled out afterwards.
8. Lo de Charly
Av. Álvarez Thomas 2101, Villa Ortuzar
Lo de Charly is an institution, open 24/7, they never put out the fire.
A bit drunk from your late night boliche? Lo de Charly has your back with a 5 am choripan.
The quality may not be up to Don Julio standards but the experience won't disappoint.
What to order: A late night sandwich or for lunch, try their parillada (a variety of meats served up on a small sizzling grill right on the table).
Buen Provecho.
You have the vocab. You know what to order. And you know where to order it.
I hope you enjoy eating some of the world's best steak in Buenos Aires!
BUEN PROVECHO.
In a city with thousands of steakhouses, it impossible to include them all. Did I miss your favorite? Tell me in the comments!
Argentina Travel Resources