El Calafate is referred to as the Tierra de los Glaciares, or Land of the Glaciers.
And the king of its many glaciers is Perito Moreno.
This post is a complete guide to visiting Perito Moreno Glacier.
How to go it alone on a budget, the best tours, how to trek across it, or even kayak up to its face and feel the cool air on your skin.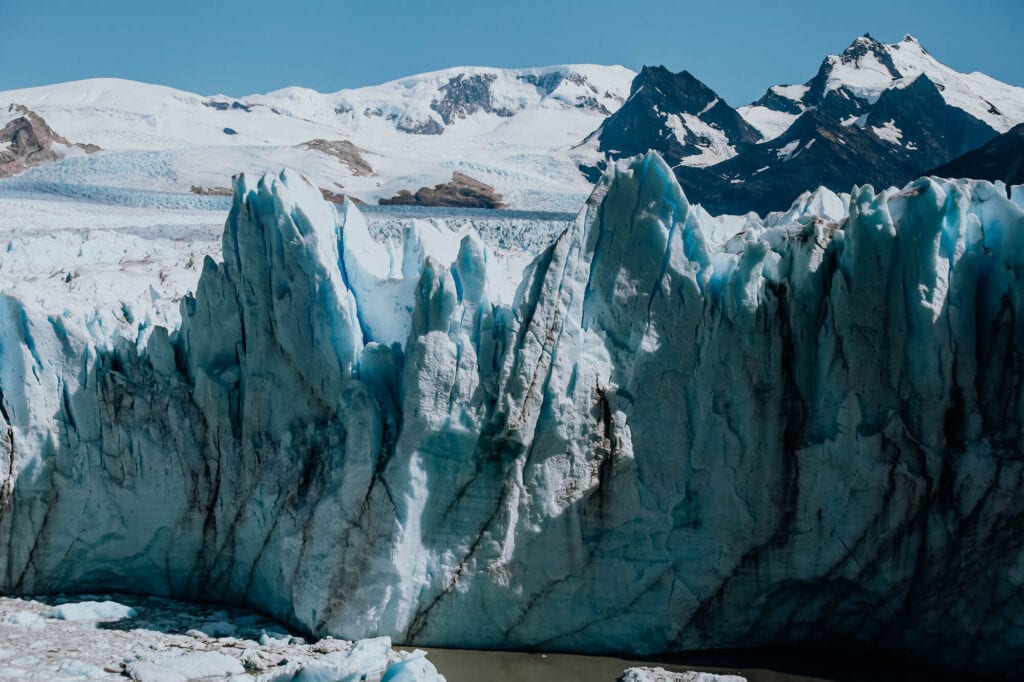 QUICK NOTE: This post contains affiliate links and Sol Salute may receive a commission for purchases made through these links, at no extra cost to you.
A Guide to Visiting Perito Moreno Glacier
After two trips to El Calafate I can promise you that visiting Perito Moreno Glacier lives up to the hype.
Glacier National Park's star is worth a day (or two) to watch icebergs crash into the water, go on a glacier trek, or relax with a bottle of Malbec on the viewing decks.
This post is a complete guide on how and when to visit El Perito Moreno.
Using my personal experience I'll help you choose the best Perito Moreno tour for your budget.
Perito Moreno Glacier at a Glance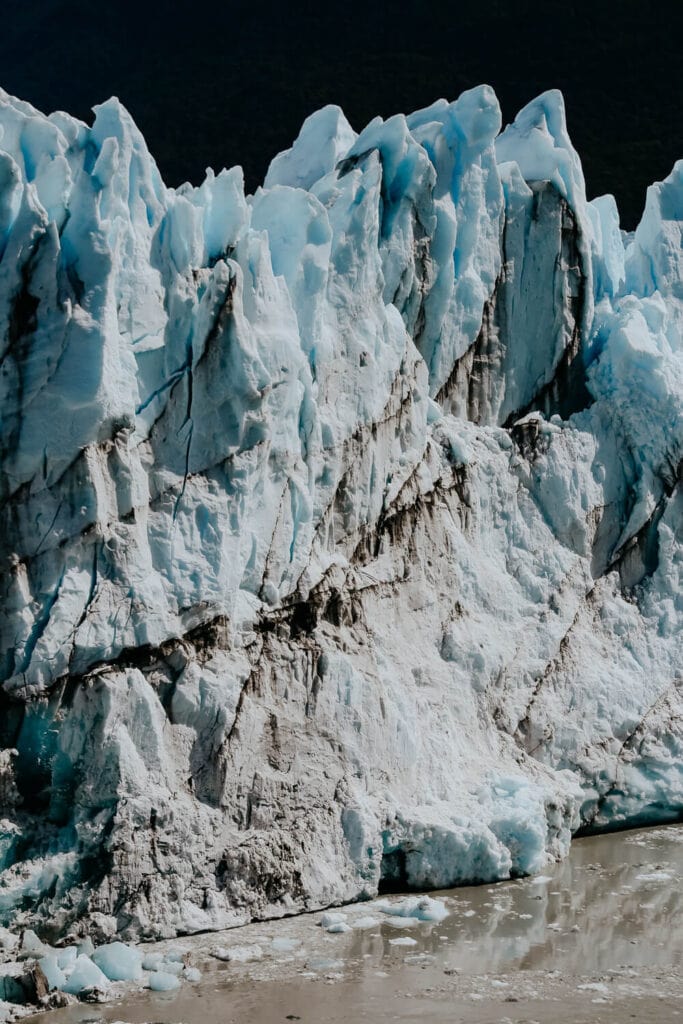 When to Visit Perito Moreno
The best time of year to visit El Calafate is in the warmer Spring and Summer months, from October to April.
The guided treks on the glacier are only held from September through April. Use that as a guide on when to visit. 
Perito Moreno Glacier in Summer 
While Summer brings with it the warmest weather for visiting Perito Moreno, keep in mind that January and February are peak travel months for locals in Argentina. 
It will be very crowded in summer so expect crowds.
You can avoid them by taking a private transfer or taxi to the national park right when the gates open (and beat the tour buses and public transport crowds). 
The park opens at 8 but tour buses typically don't arrive until 10 (and then they arrive all at once).
If visiting during the holiday season or summer months book your hotels and tours well in advance! 
Perito Moreno Glacier in Spring/Fall 
In my opinion, the best time to visit is the shoulder season before and after summer: November-Early December or March-April. 
Spring offers the benefit of the days getting longer and warmer.
Fall is beautiful with the changing leaves. Both still have warm enough temperatures to enjoy and much smaller crowds.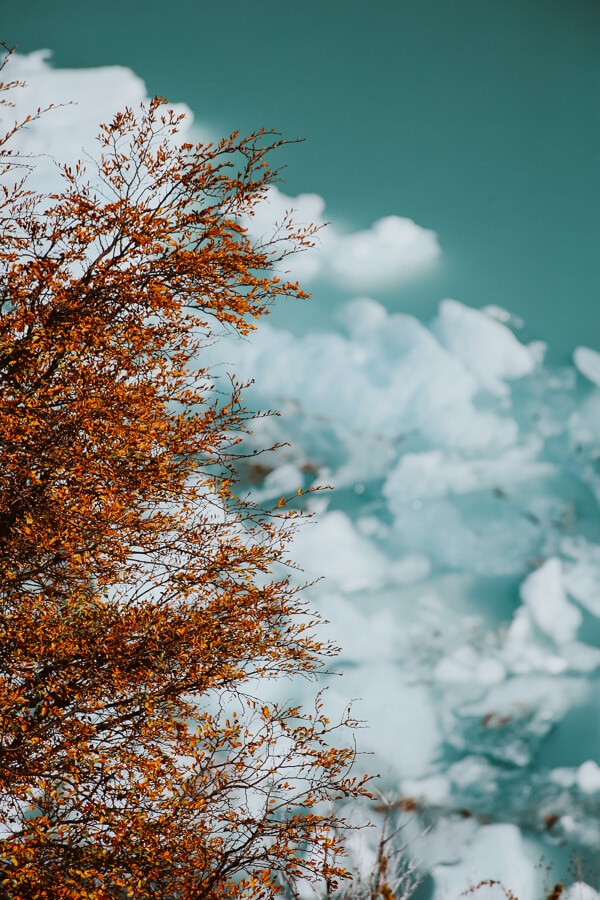 Weather Concerns for Perito Moreno
The weather tends towards inclement in El Calafate.
It's likely you'll have an overcast day, varying temperatures, and strong wind.
I was very lucky to have a sunny day without a cloud in the sky for both of my trips to Perito Moreno.
Seriously, our guides never let us forget our luck (bringing it up all day) on my glacier trek.
Even with clouds, it's stunning. Don't let dreary weather deter you from visiting this landmark! Just be sure to pack appropriately. 
Wear layers that you can add or remove depending on how the day pans out.
What to Pack for Perito Moreno
Since the glacier is 80 kilometers from El Calafate, you'll be spending your entire day there.
Here's what to pack to make sure you have the best day possible in Argentina's most beautiful national park.
Where is the Perito Moreno Glacier
The Perito Moreno Glacier is located in Argentina's southern Patagonia region, just under 80 kilometers from El Calafate. 
Perito Moreno is in the southern section of Los Glaciares National Park, one of Argentina's most popular and largest national parks. 
You can see on the map below how close El Calafate and El Perito Moreno are to Chile. 
It forms part of the Southern Patagonia Ice Field that Argentina shares with its next-door neighbor.
All of this ice forms the third largest reserve of fresh water in the world!  
How to Visit Perito Moreno: Tour Options
Should you splurge on a hiking tour or go it alone? That's the question.
My friends and I went on the full day Big Ice Trek and in my opinion, it was worth every single penny. 
On my second visit with my husband and one-year-old we kept it simple. We drove ourselves and explored the footpaths and viewing decks.
There are also boat excursions, guided tours, and kayaking (which remains at the top of my list for any future trips!).
Here are all the best ways to
Perito Moreno Glacier Hikes
There are two Perito Moreno Glacier hike options: Big Ice or the shorter Minitrekking.
Both are full day excursions from El Calafate but involve different amounts of time on the ice.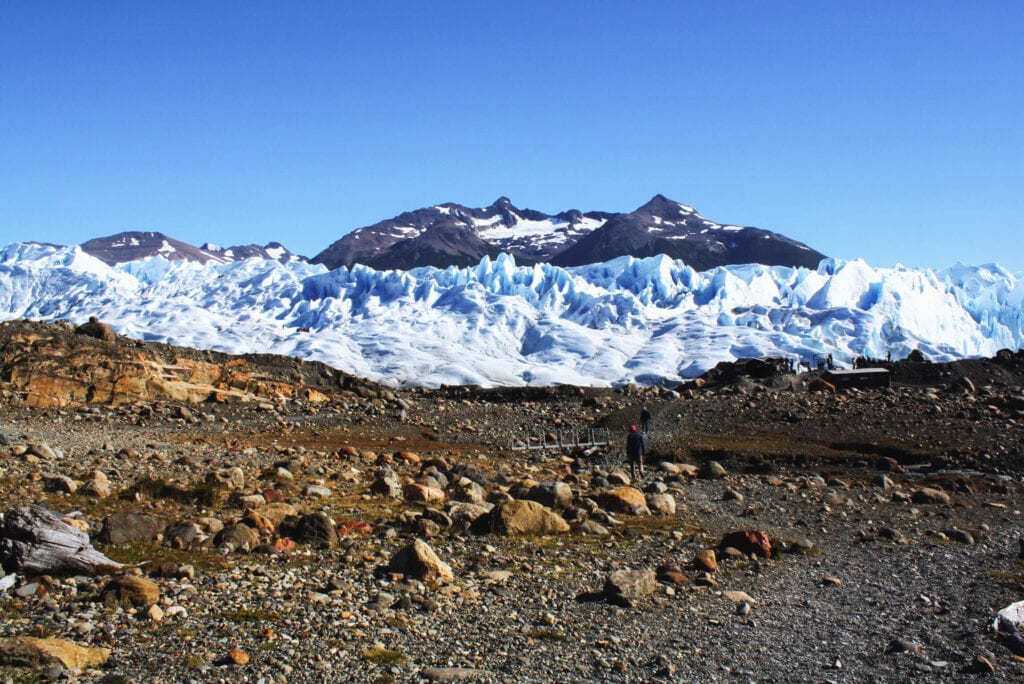 The Big Ice Trek
I see this question pop up all the time: Is the Big Ice Trek worth it? I answer a resounding YES! 
Perito Moreno is hardly the only glacier out there, and if you're a seasoned Patagonia traveler it may not even be your first. 
However, trekking directly on the ice is one of those once in a lifetime experiences you'll never forget.   
There are a few things to consider first. This hike is considered strenuous and you are isolated on the ice. 
For these reasons, they enforce an age limit: you must be between 18-50 and somewhat fit. 
Also, keep in mind: The Big Ice Trek, despite the high price tag, does not include the entrance fee to Los Glaciares National Park or lunch. Bring cash and a picnic.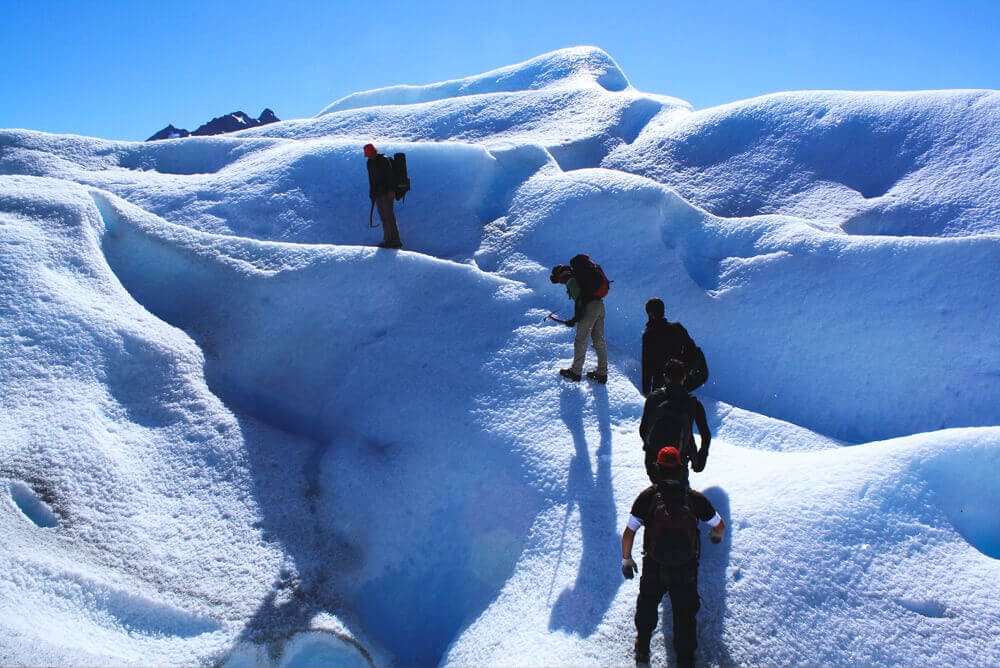 My Big Ice Trek Experience 
We were picked up at our hostel at 7 am for what was to be a long day of Patagonia hiking.  
We arrived at the park early, before most tourists on public transport, so we had the park to ourselves. 
The tour began with free time to walk the pathways and catwalks. Next, we were ferried across the water where we were divided into language-based groups, instructed on safety, and given crampons. 
Crampons firmly strapped to our feet; off we went. We hiked alongside the glacier for nearly an hour and a half before our two guides found the spot where we would hop onto the glacier.  
There is a lot of action near the crampon station, where the Minitrekking tour begins. But after walking an hour and a half, we had the glacier all to ourselves.
It was such an awesome experience (in the literal sense of inspiring awe). We spent over three hours on the ice trailing behind our two guides. 
There were times they had to hack footholds into the ice with their axes, creating makeshift stairs for us to summit peaks of ice. 
Other times they scurried ahead of us, searching for the right path. It's clear that in such terrain, no tour will ever be identical to the previous days' hike. It felt like a real exploration of the ice. 
Read More: 21 Things do to in El Calafate
Reserve Your Big Ice Trek
The Big Ice Trek isn't cheap and will take up a large portion of your Patagonia budget, but if you have the budget it's worth it.
This is one of the only glaciers in the world that is currently advancing. With climate change quickly warming the planet, who knows how long we'll have these natural wonders with us.
Trekking Perito Moreno is truly a once in a lifetime experience that you won't regret.
Reserve your Big Ice Trek here.
PRO TIP | Both the Big Ice and Mini Trekking experiences include 20 minutes of navigation to ferry you across the water for access onto the glacier.
By going on a glacier trek, you see every possible view of the glacier: from the catwalks in the park, from the water, and by hiking directly on the ice. It's the most comprehensive experience available. 
Mini Trekking Perito Moreno
If the Big Ice Trek too long, strenuous, or costly (or all of the above), they also offer a shorter mini-trekking excursion.
These tour groups access the glacier directly next to the crampon station and spend about an hour and a half on the ice.
If you visiting with children this is a great option: the age limits are from 10-65. Check with them before booking if you have any health conditions.
Keep in mind: Despite being a shorter trek, it's still a full day commitment.
Click here to reserve your Minitrekking Excursion.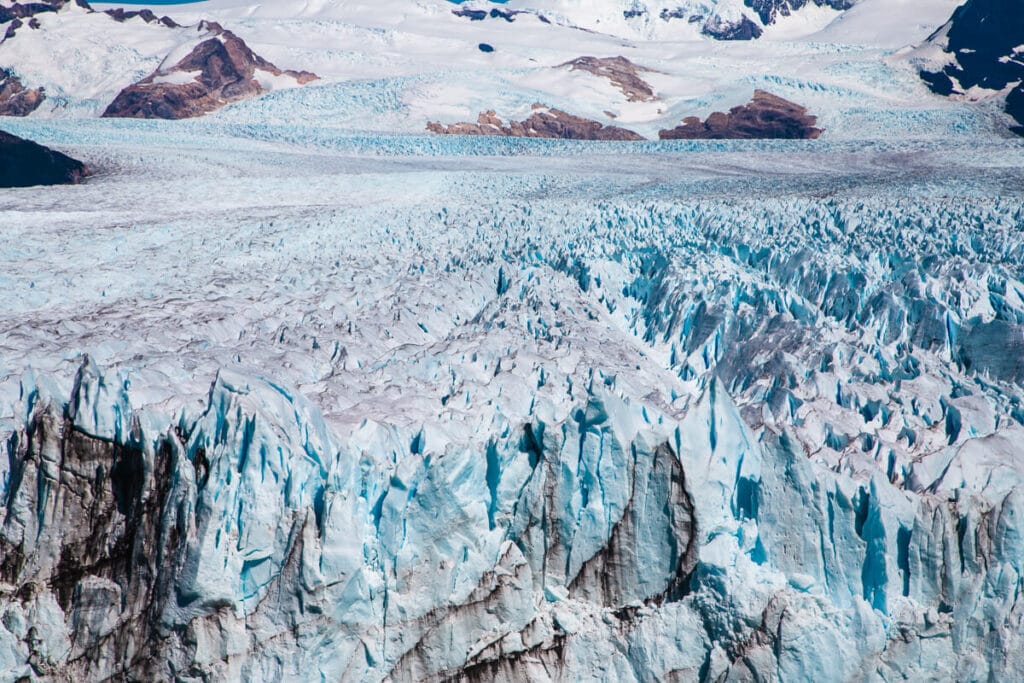 Perito Moreno Glacier Guided Tours
The national park and glacier are 80 kilometers from town. If you'd like a tour that takes care of logistics and guides you through the day, this Perito Moreno tour is a great option.
With a tour like this you won't have to take care of a thing. They'll pick you up from your hotel and make sure you have a great day.
There's an optional boat excursion (not included in the price) that's definitely worth doing.
Reserve your Perito Moreno tour here.
Note: The guided tour is a big tour group so you'll be on a big bus with plenty of fellow travelers. If you'd prefer a more intimate experience, reserve this private tour instead.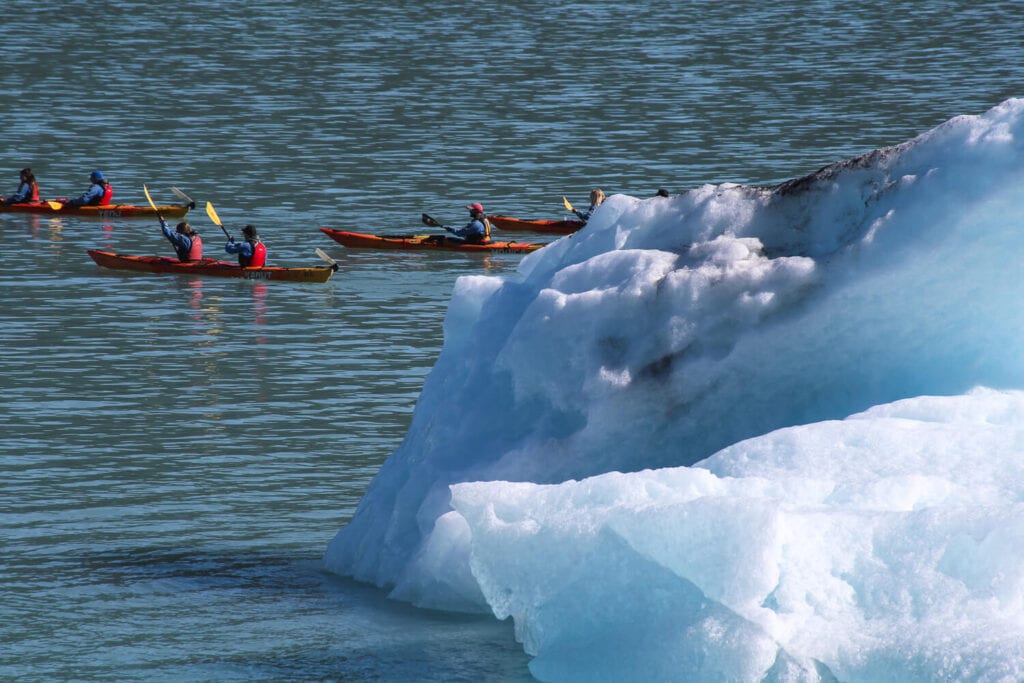 Kayak Perito Moreno
Kayaking to Perito Moreno is a great adventure option.
If we hadn't been with our baby I would have done this on our most recent trip. It's actually motivation to return sooner rather than later! I was a bit jealous watching them paddle by the icebergs.
This kayak tour will let you spend an hour and a half on Lago Argentino. The views of the glacier from the water are unbeatable.
The tour includes all equipment and you don't need any previous experience. Boxed lunch is included.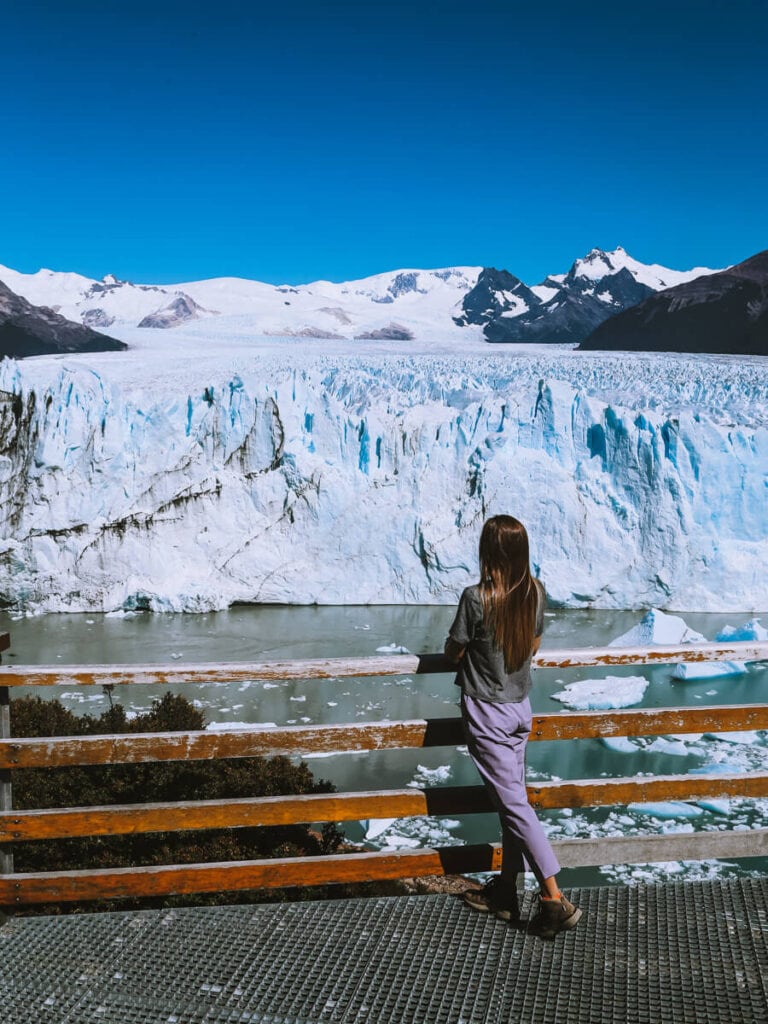 How to See Perito Moreno Without a Tour
If you'd prefer to go it alone, it's very easy to experience Perito Moreno without a tour.
You can take the bus from El Calafate and go at your own pace. This is the most budget friendly option.
If you have a higher budget (or enough people to split the cost with) a private transfer or rental car for El Calafate is ideal.
Perito Moreno Paseos: How to Explore the Footpaths and balconies
Without a tour, you can wander the pathways and catwalks at your leisure.
These footpaths offer panoramic views of Perito Moreno and by going on your own, you're free to spend as much time as you'd like here. 
There are multiple "trails" you can take.
The main paths (the Primer Balcon and Central) are the most trafficked and there were tons of people there. I found it a bit hard to enjoy.
My favorite was the Balcon Inferior. This path was labeled as strenuous but it definitely is not. I didn't notice any difference from the others. Perhaps that spooked most groups because there was barely anyone there.
The path of Balcon Inferior is very close to the ice and offers excellent views.
Perito Moreno Boat Excursions
There are regularly scheduled boat tours departing from inside the park.
You don't need to reserve this ahead of time, but if you'd like to you can reserve it here.
There are two options. One of the north side and the other of the south side, other than departure location they offer the same thing.
You'll see a sign for one dock just before you reach the parking lot for Perito Moreno, this is the dock the Big Ice Trek excursions depart from as well so you'll see the Hielo & Aventura sign too.
The other is easier since it is right by the parking lot and restaurant.
There is a small booth selling tickets in the lower parking lot by the restaurant. You can book your ticket and if you have time to kill this is by the start of the coastal footpath (Paseo de la costa, the blue trail on the maps).
Lunch isn't provided. The tour lasts around an hour and a half. 
How to get to Perito Moreno Glacier by bus 
Unfortunately, there aren't any cheap local city buses to Perito Moreno (it is 78 kilometers away). 
However, there are daily shuttle buses that depart from the main bus terminal in El Calafate.
Here's everything you need to know: 
At the end of your day in the park, find your bus in the parking lot at the designated return time (likely around 4 pm). 
While you can purchase your ticket the day of, it's a good idea to swing by the bus station the day before to confirm the exact departure times and have a better, clear plan for your day.  

If you're Type A like me, you can even reserve ahead of time here on Plataforma 10 (screenshot above), or just use the platform to confirm bus times. 
If you do opt to buy your tickets ahead of time, be careful to buy tickets to GLACIAR Perito Moreno, and not the town of the same name.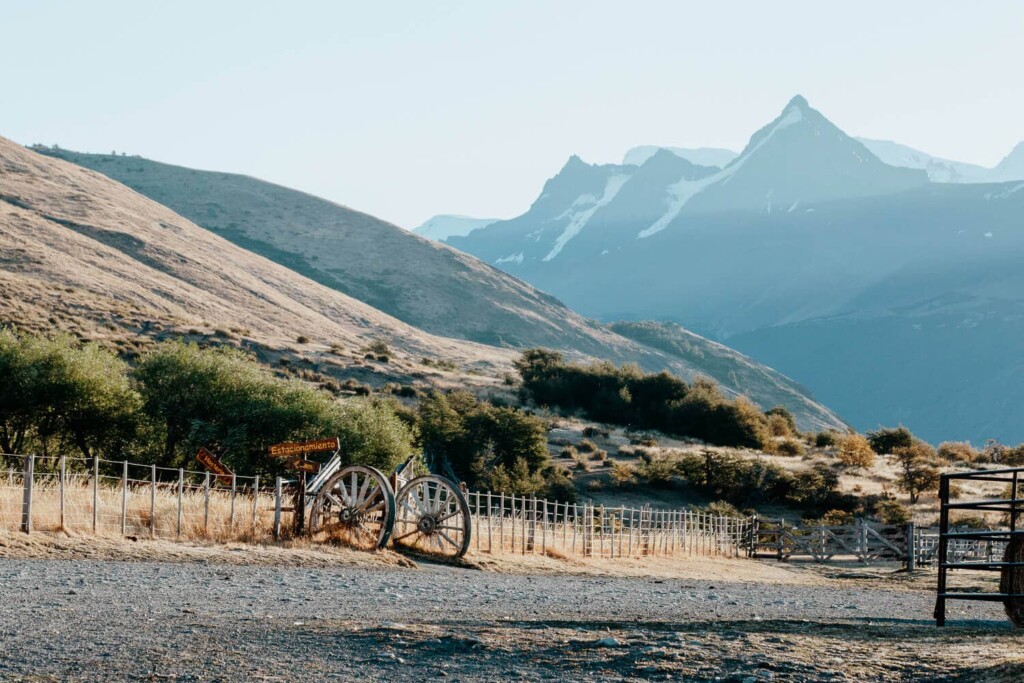 El Calafate Accomodation
Wondering where to stay near Perito Moreno Glacier?
Here are some of the best hotels and hostels for every budget in El Calafate.
Argentina Travel Resources
TRAVEL INSURANCE | While it's always been a good idea to travel insured, it is currently an entry requirement for Argentina. As of Jan 29, 2022, it is a requirement to provide proof of travel insurance that covers COVID with coverage for quarantine and hospital stays. SafetyWing is an affordable plan that meets the requirements of their digital nomad plan (great for tourists as well).
PHONE PLAN | These days, traveling with data is essential. Especially in Argentina where everything is managed on Instagram and WhatsApp. Purchasing a local SIM card can be tricky without a local ID, I recommend this E-SIM card, which has unlimited data. It's hassle-free and affordable. If you have an older phone that doesn't support E-SIM, check out DrimSim for a physical sim card alternative.
ACCOMMODATION IN ARGENTINA | booking.com is the most common hotel site used in Argentina and it's where you'll find the most options.
RENTAL CARS | I love to travel Argentina via road trip, check out RentalCars.com for the best rates for rental cars here.
VPN | If you'll be using a public WiFi connection and want to secure your data, I highly recommend using a VPN, I personally use and have had a good experience with ExpressVPN. I also use it to access Hulu and American Netflix from Argentina.
FLIGHTS | Always check Google Flights and Skyscanner for flights to and within Argentina. Aerolineas Argentina is the local airline with the most routes. FlyBondi and Jetsmart are two budget airlines with dirt-cheap prices (but expect to pay for every add-on like luggage)z
NEED HELP PLANNING? | I offer one-on-one travel consultations to help you plan your trip to Argentina. Pick my brain to get a local's insight. Click here for more information.
Pin It For Later