While many European cities are divided up according to their landmarks (stay by the Eiffel Tower or Big Bend, for example), Buenos Aires is all about its barrios.
Visiting Buenos Aires isn't about checking off a list of landmarks.
The neighborhoods in Buenos Aires are what make this city what it is and the best way to experience it is by wandering the streets, getting lost, and sitting and people watching in the cafes.
Wondering where to stay or just want to know which barrios to explore?
This Buenos Aires neighborhood guide will leave you prepared to choose and plan your stay here.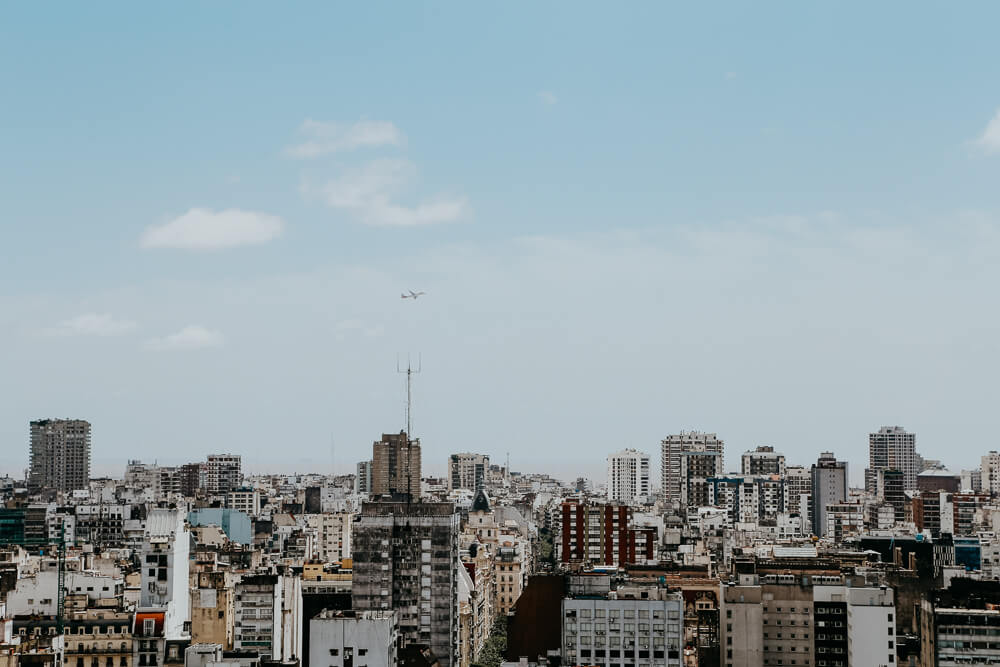 QUICK NOTE: This post contains affiliate links and Sol Salute may receive a commission for purchases made through these links, at no extra cost to you.
10 Top Neighborhoods in Buenos Aires
Getting lost in these Buenos Aires neighborhoods is my favorite way to spend a beautiful day in the city.
I pick one and wander the streets, stopping for a coffee here or a pastry there, pausing for the street art, and always, always people watching.
Here are ten neighborhoods in Buenos Aires to explore. If you're wondering where to explore, I know this guide will help.
If you're wondering which one to stay in or live in, I hope this guide helps you pick the barrio for you.
For a more complete guide on hotels, hostels, and apartments, read my incredibly detailed guide on where to stay in Buenos Aires.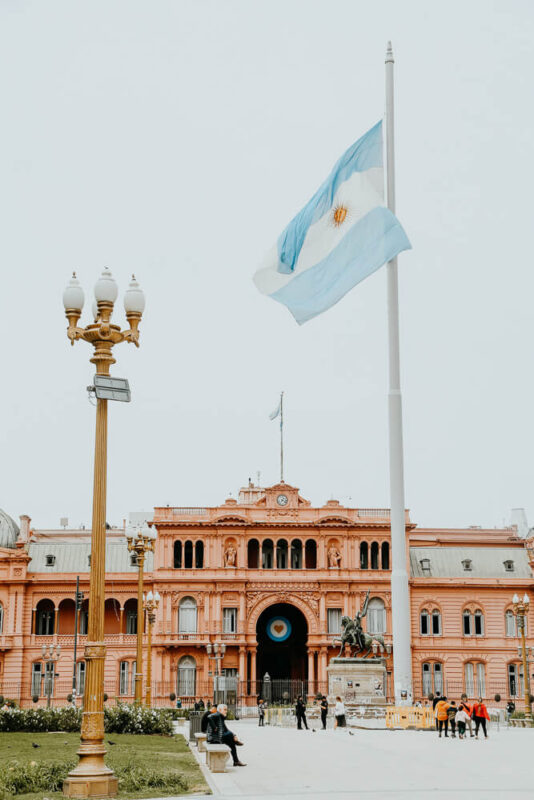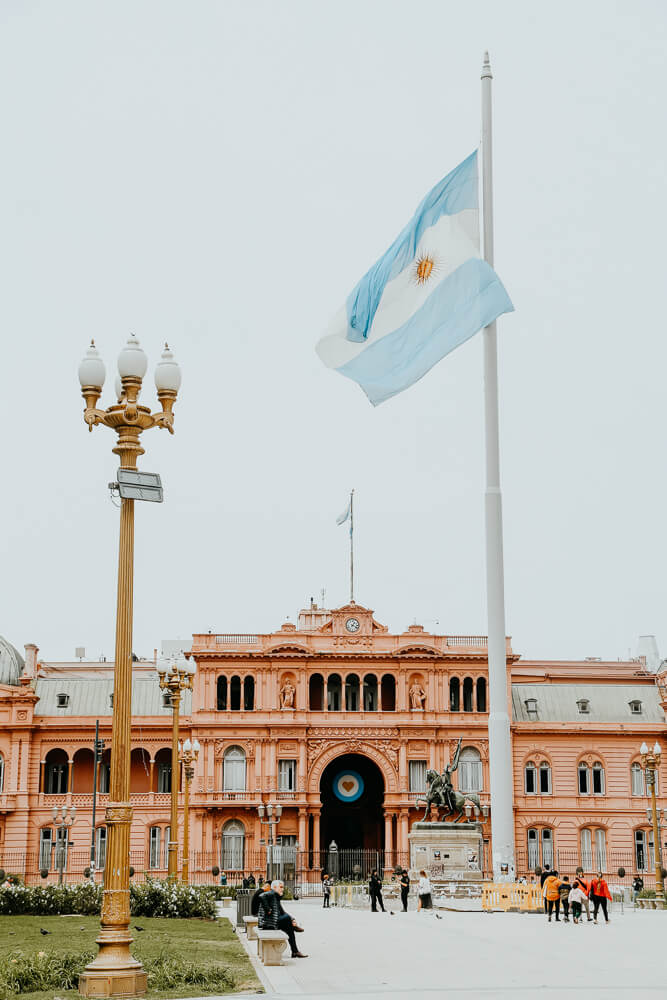 Centro (Montserrat/San Nicolas)
Microcentro, centro, or downtown Buenos Aires is actually made up of more than one neighborhood: mostly Montserrat and San Nicolas.
San Nicolas is where the bulk of the things you'll want to see are. Whether you stay here or not, you'll spend a lot of time here to see the Obelisco, Teatro Colon, Avenida 9 de Julio, Plaza de Mayo and the Casa Rosada, and most of Florida Street.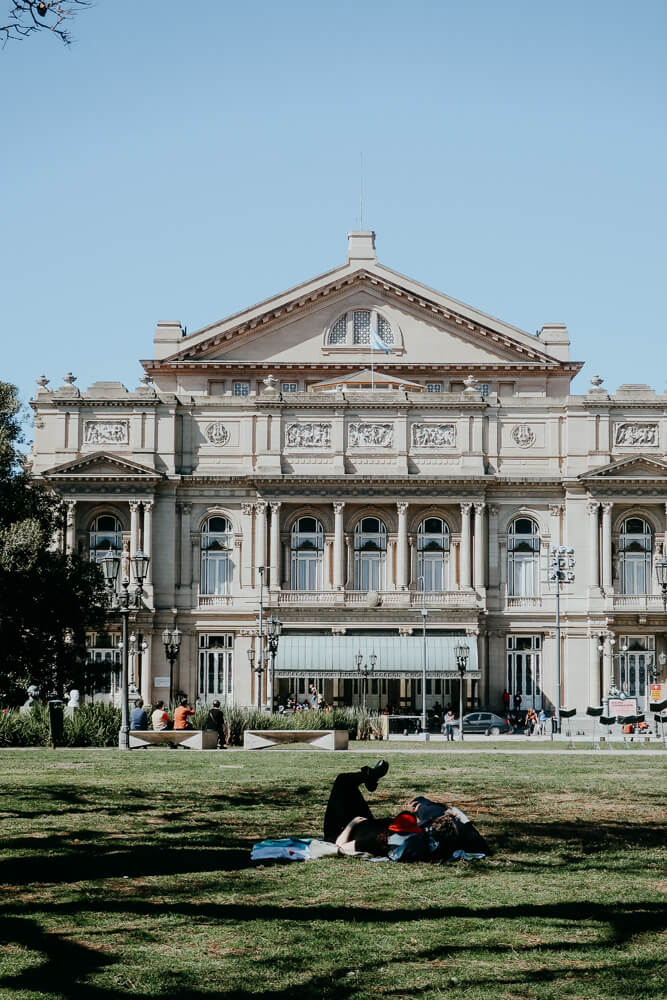 This area is very quiet on the weekends (like many a business centered downtown). Avenida Corrientes can feel reminiscent of Times Square after dark with its theaters and lights.
You might read conflicting advice on whether to stay here or not. If this is your first time in Buenos Aires and you're short on time it's a great base with plenty of hotel chains and hostels to choose from.
For living I would look elsewhere in one of the other Buenos Aires barrios on this list for more a more laidback vibe.
Where to Stay in Montserrat & San Nicolas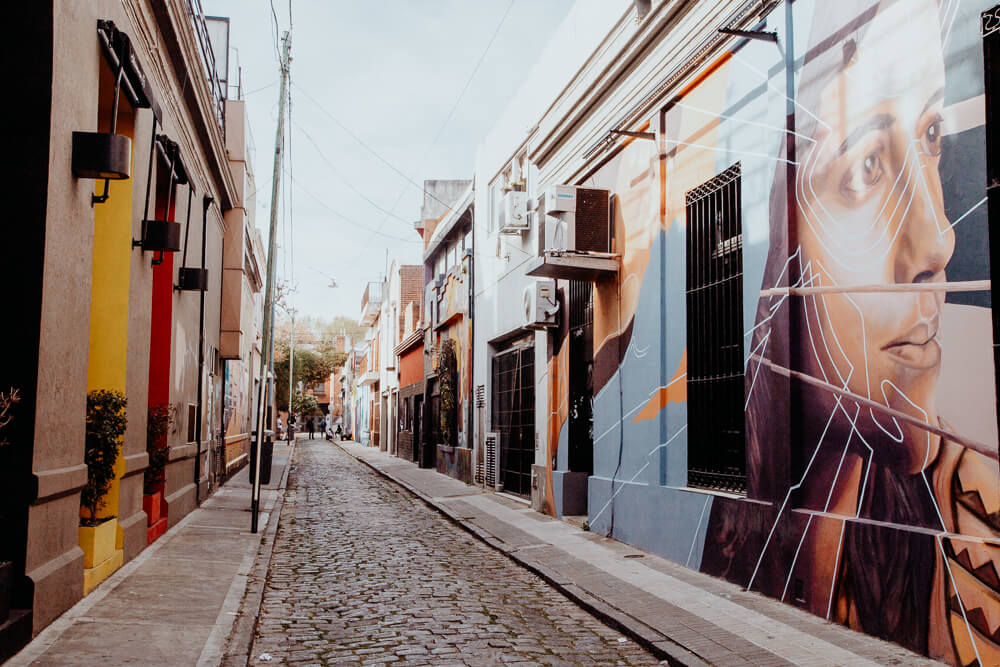 Palermo
Palermo is a beast of a neighborhood and one of the trendiest districts to visit, to live, to go out at night, dine out, shop, you name it.
It is so large that it's divided into many mini neighborhoods, each with its own draw. The two main ones that I'll highlight here are Palermo Soho and Palermo Hollywood.
Palermo Soho is the beating heart of Palermo with the highest concentration of street art, cafes, restaurants, bars, and boutiques.
It's a great place to stay (vacation or as an expat) as you'll spend most of your evenings dining out here and there are countless cafes to choose from brewing pretentious coffee with sourdough avocado toasts for your breakfasts.
The blocks surrounding Plaza Armenia and Plaza Serrano are the most beautiful with the most to see and do.
Palermo Soho's alleyways (pasajes) like Pasaje Russel, Pasaje Soria, and Sta. Rosa, house some of the best street art in Buenos Aires.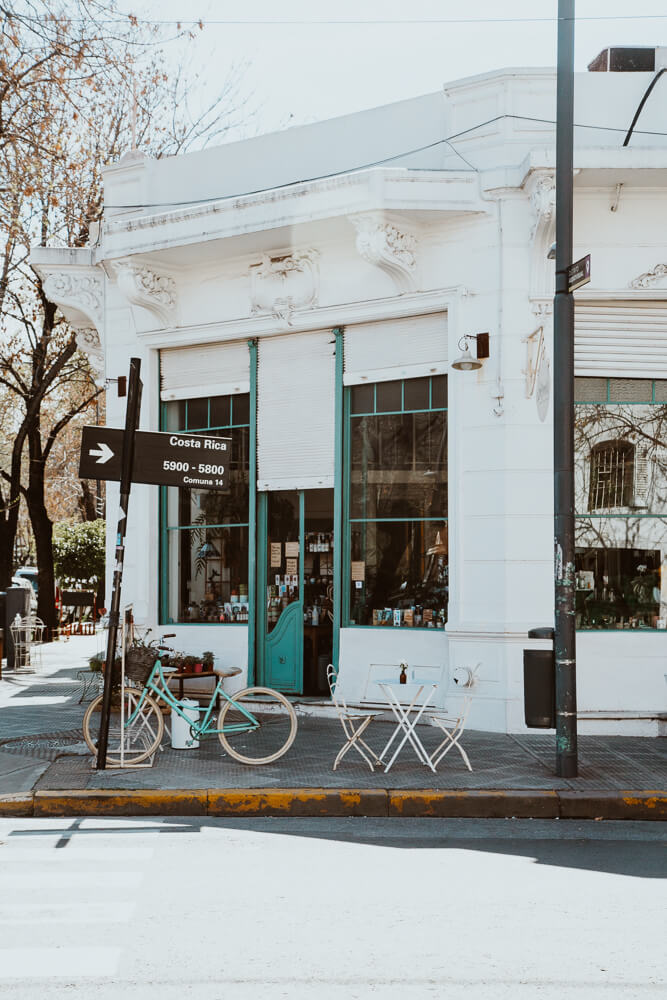 Palermo Hollywood borders Soho. They're separated by Avenida Juan B. Justo. It got its name from the number of film and radio studios located here.
Today Hollywood is filled to the brim with hip restaurants, cafes, and bars. It's great for going out at night (Soho can be a bit quieter after dark). There are less boutiques, with Soho taking the prize for shopping.
Both are so close choosing between the two isn't a make or break decision but that of walking a few extra blocks.
You'll want to spend many a sunny afternoon in Palermo with no plans. Wander, take photos, shop, get lost. Thank me later.
Where to Stay in Palermo
San Telmo
San Telmo is a personal favorite of mine and where I lived for my first year in Buenos Aires.
This bohemian, historic neighborhood is the oldest in the city, dating back to the 17th century.
It is a Buenos Aires neighborhood seeped in tradition.
Some of the best tango shows in Buenos Aires are located here, along with historic bookstores, churches, cobblestone streets, and antique shops.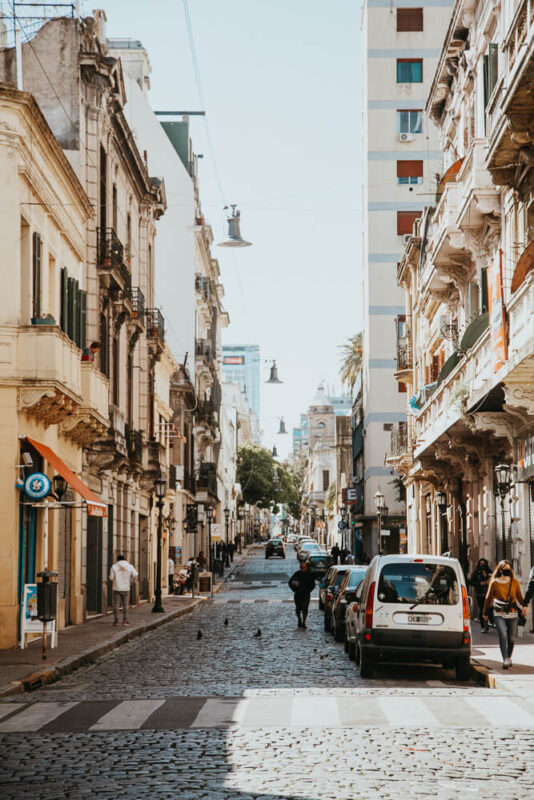 Each Sunday there's a world-famous market down Dorrego Street featuring antiques, handicrafts, artists, and street food.
Daily there's a permanent market on Dorrego (between Carlos Calvo and Estados Unidos) with antiques, fresh fruit and vegetable stalls, and a growing number of trendy cafes and restaurants.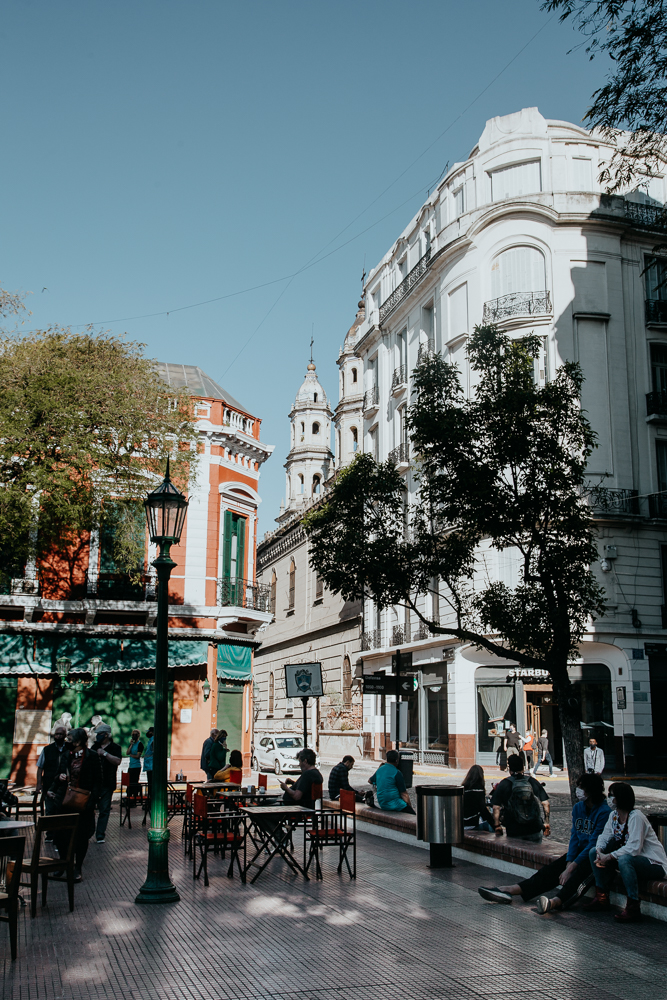 There are boutique hotels here along with historic apartments for rent. It's centrally located bordering Plaza de Mayo and a short taxi right from Puerto Madero and La Boca. If you choose to stay (or live) here I highly recommend staying on or near Dorrego (avoiding the blocks closer to 9 de Julio).
Visiting Buenos Aires? Try to make it here on both a Sunday and a weekday to see two different sides to San Telmo.
Read More: A Guide to San Telmo and its Market
Where to Stay in San Telmo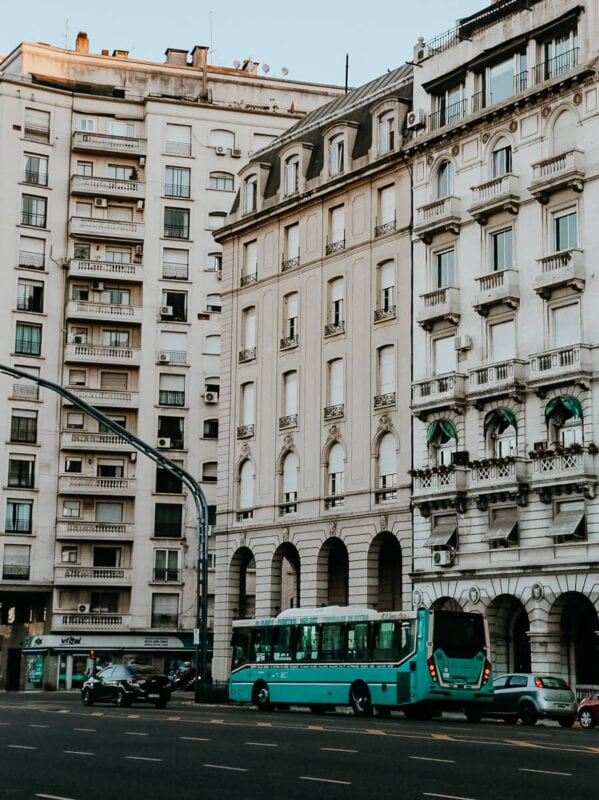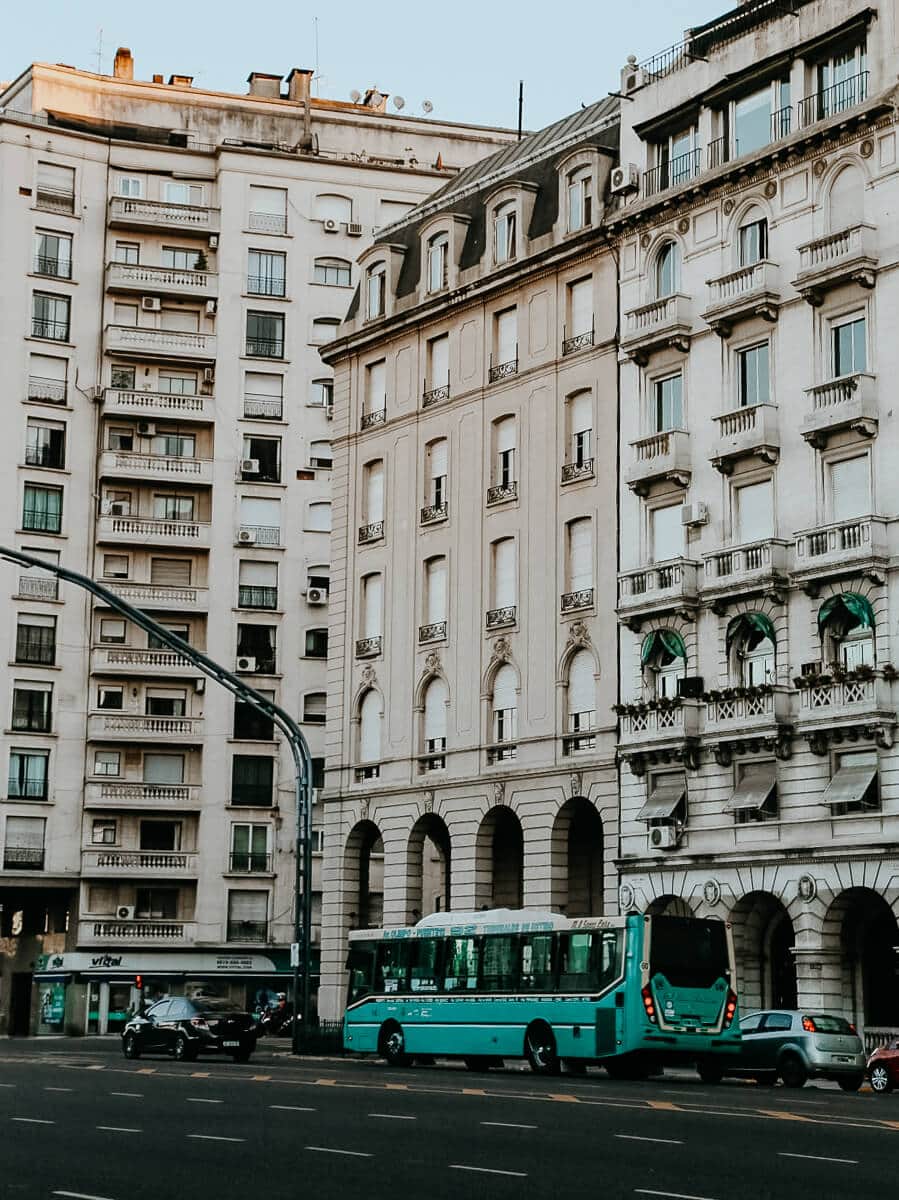 Recoleta
Looking for the Paris of South America? You'll find it Recoleta (and its neighboring barrio Retiro).
These are the wealthiest neighborhoods in Buenos Aires with luxury hotels, mansions, and posh boutiques that I don't dare step inside.
Recoleta got its name from the Franciscan Order that build the cemetery and its adjoining church in the 18th Century.
However, the neighborhood became what it was after a yellow fever epidemic caused families to flee the heavily populated southern neighborhoods in favor of higher elevated areas like Recoleta to the north.
Today the city remains divided this way, with the impoverish left behind in the south areas like La Boca and San Telmo can feel like wealth decayed and bohemian while Recoleta and its neighbors are the most affluent district in town.
The city's aristocracy and infamous political figures are all buried in the Recoleta Cemetery, one of most famous attractions in Buenos Aires. You'll find yourself lost among the dead in the maze of mausoleums and family crypts.
Read More: The Best Things to do in Recoleta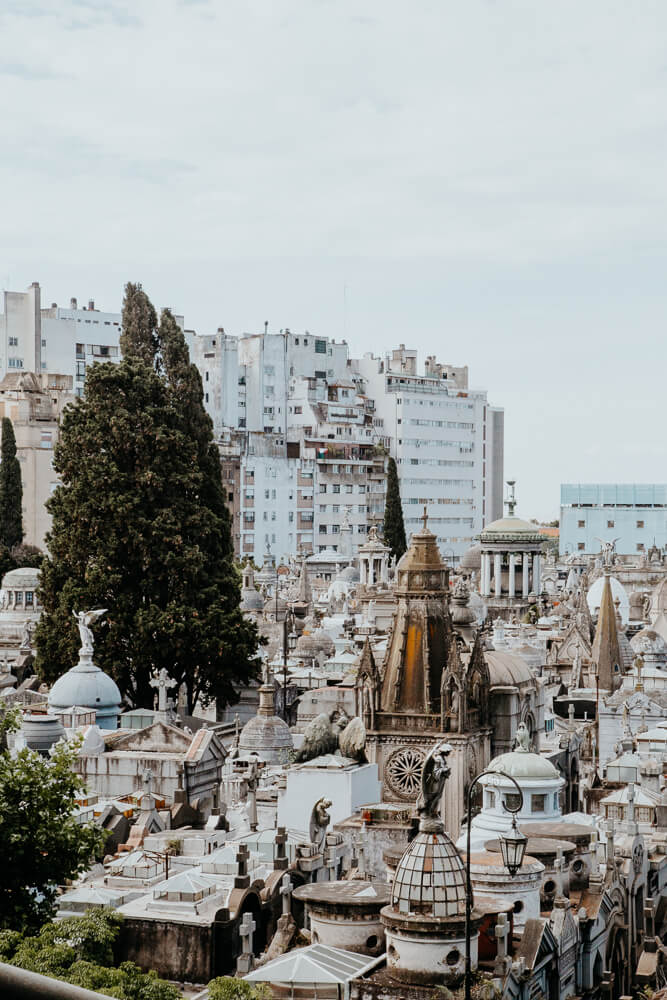 Of the 90 national monuments located here, you'll be able to visit Eva Peron's grave (that Evita), who served as First Lady and has been a polemic figure ever since.
Nearby you'll see the Floralis Generica, the impressive law school, and the Museo de Bellas Artes (Fine Arts Museum).
On weekends the plaza in front of the cemetery comes to life with an artisanal market.
Where to Stay in Recoleta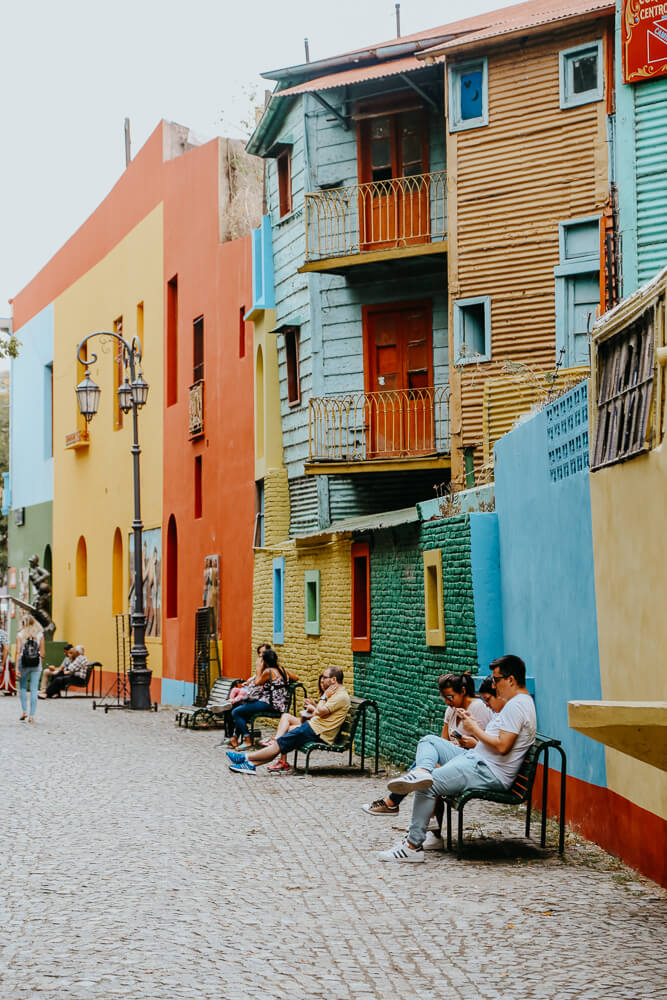 La Boca
The most iconic Buenos Aires neighborhood is La Boca. If you bought a guidebook, its outdoor museum Caminito is likely what's on the cover.
La Boca literally translates to The Mouth and that is exactly what this neighborhood was. This port was the gateway to the city most countless European (largely Italian) immigrants in the late 19th/early 20th centuries.
Many of these impoverished families looking for a better life lived in in tenement houses called Conventillos.
These shared living spaces were common in the southern barrios, particularly after the affluent families abandoned their homes during the yellow fever epidemic.
Entire families would live in one bedroom and the multiple families would share the living spaces (mostly in outdoor patios).
La Boca is one of the most colorful Buenos Aires neighborhoods because rather than pay to paint their homes, families here used leftover paint from the docks, resulting in the patchwork you still see today (some authentic, some re-created in homage/tradition).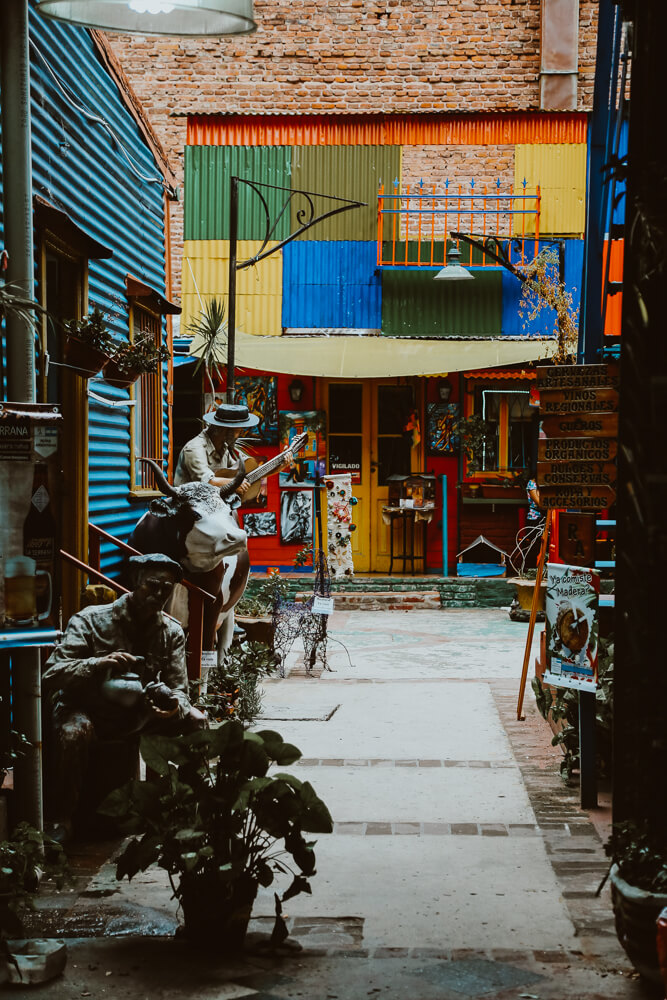 Everything you want to see in La Boca is on or around the Caminito area. This outdoor museum is admittedly the most touristy area in town but it is very worth the visit.
There are old conventillos that have been converted into kitschy souvenir shops. Whether you want to buy a plastic keychain or not, you'll be able to see how these buildings were used as tenement houses (just imagine families living there and try to block out the souvenirs).
SAFETY TIP: La Boca is not the safest area in Buenos Aires. Stay in the touristy area and don't wander too far off in any direction. Leave before the sun goes down (needless to say, don't stay in this area). Do not bring valuables that call attention and leave your passport, etc at the hotel.
Read More: Is Buenos Aires Safe for Tourists?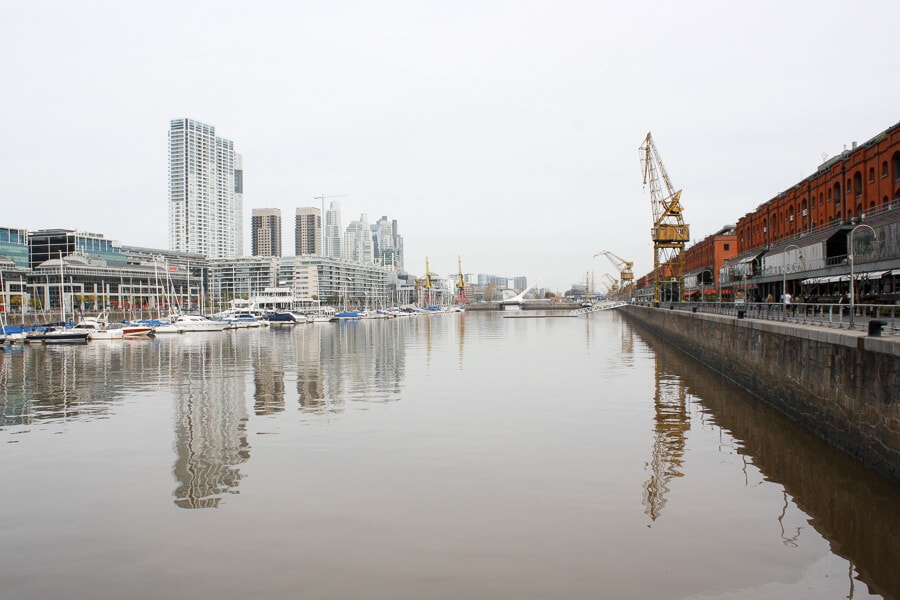 Puerto Madero
Puerto Madero is the city's youngest neighborhood, having been completely restored in the 90's.
It originally dates back to 1911, developed to allow large cargo ships to dock without having to use ferries and barges to bring the cargo to shore.
Despite the massive investment, however, the port only functioned for about 10 years before being rendered obsolete by even larger ships and the new port, Puerto Nuevo, taking its place.
After decades of abandon, the 1990's renewal converted Puerto Madero into one of the most modern, affluent areas in town.
Warehouses were converted into loft apartments, upscale restaurants, and even a private university. Skyscrapers went up housing luxury hotels, pricey apartments and some of the best views in town.
Directly behind the main waterfront (cross the Puente de la Mujer and keep walking) is a modern park. And behind that is the Reserva Ecologica, one of the best green spaces in Buenos Aires.
The main issue I always had with Puerto Madero (and why I discouraged staying here) was lack of connectedness. It's within sight of the Casa Rosada but was still very disconnected via lack of infrastructure.
Recently the city remodeled the space behind the Casa Rosada, turning into a pedestrian friendly path directly to Puerto Madero and its Puente de la Mujer. Problem solved.
Where to Stay in Puerto Madero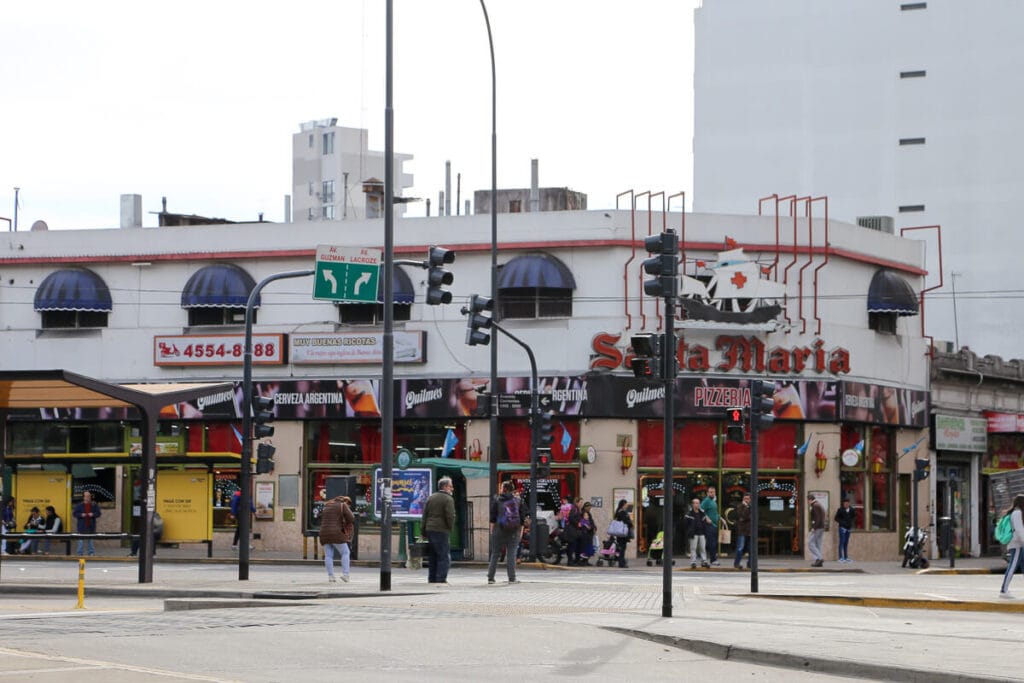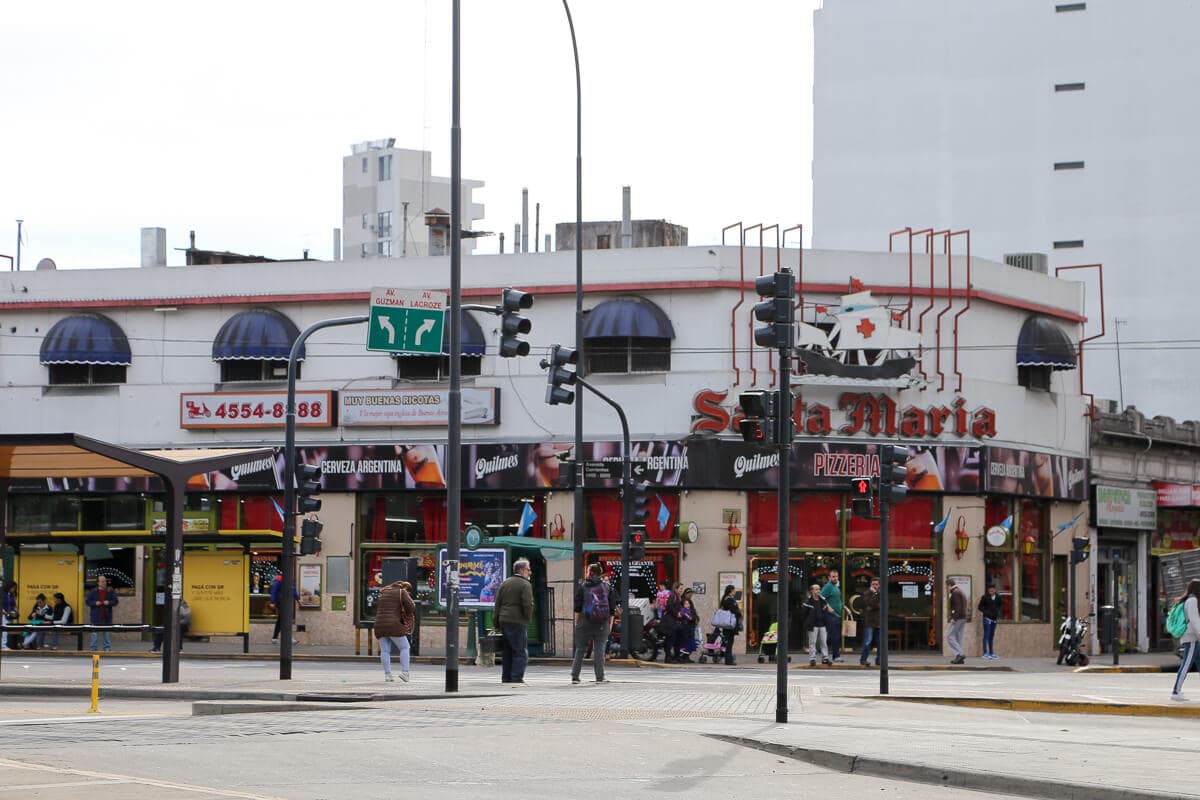 Chacarita
As Palermo Soho's popularity soured so did its rent.
During the pandemic many restaurants and entrepreneurs chose to instead open their new ventures in the now booming Chacarita in lieu of tried and true (and done) Palermo.
This working class neighborhood is quickly gentrifying but still retains most of its original charm and grit.
Read more: A Buenos Aires Neighborhood Guide to Chacarita
Its main claim to fame is its cemetery, much much larger than its Recoleta counterpart. This is the people's cemetery, where everyone is buried to this day. It's worth a visit and houses its own famous residents as well like tango star Carlos Gardel.
There are classic pizzerias like Santa Maria and La Mezetta (dishing up the fugazetta in town) holding their own among the new restaurants opening here.
Most of the new restaurants (Georgie's, Sifon Soderia, Ulua, and La Fuerza to name just a few) are on or near Avenida Jorge Newberry. Base yourself and your wanderings in this area and you're in for a treat, day or night.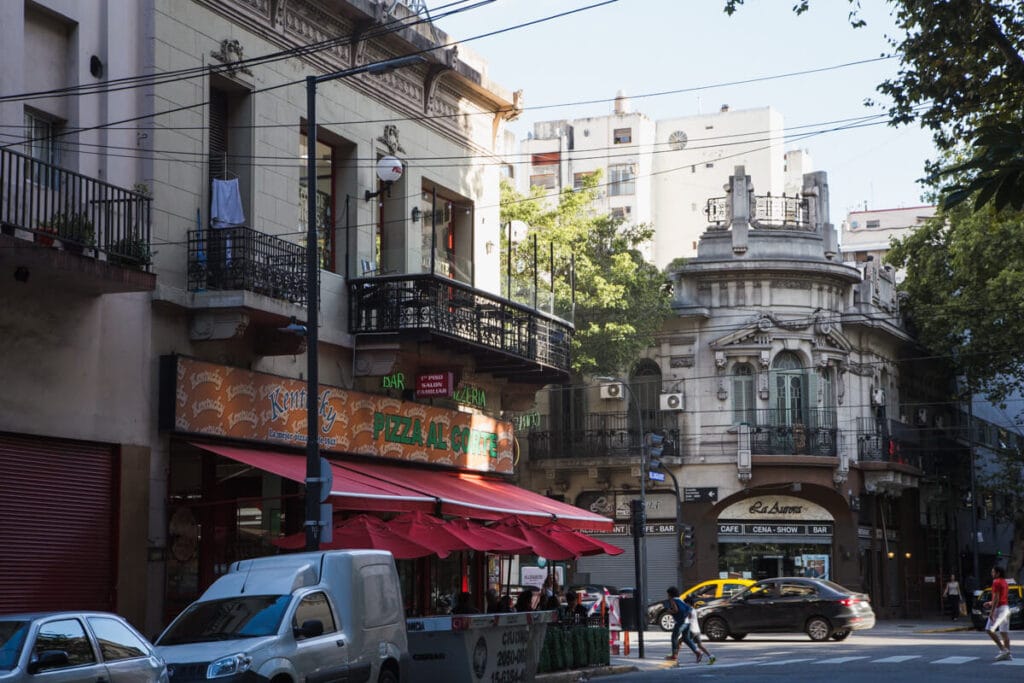 Almagro
Almagro is a working class neighborhood that's filled with tradition of tango and fileteado (the traditional floral style of painting you'll see around the city).
If you want to rent an apartment and truly feel like a local, you will accomplish that in Almagro and its neighboring areas.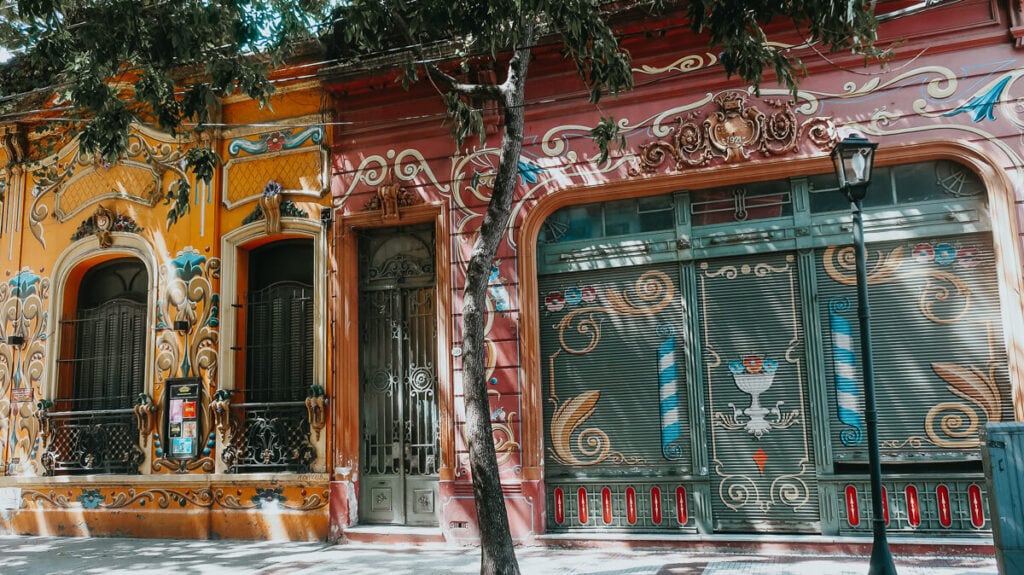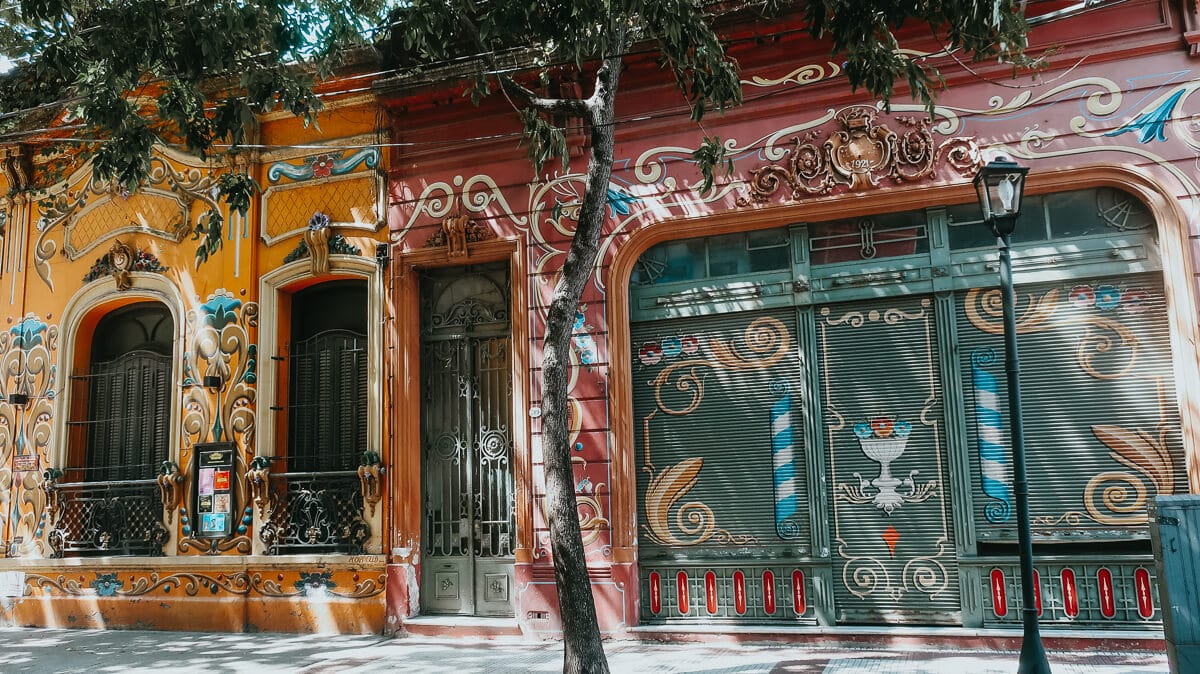 In fact, I remember a few of my co-workers back in 2010 priding themselves on their Almagro addresses, touting them as if it made them a superior expat to the English speakers of Palermo (it did not). But they did choose a pretty great place to live.
My preferred path when I choose to spend an afternoon in Almagro is to see the fileteado houses, tour Gardel's home, and then have a drink at El Banderin, a traditional bar that'll transport you back in time. Read about the entire route in my Almagro neighborhood guide.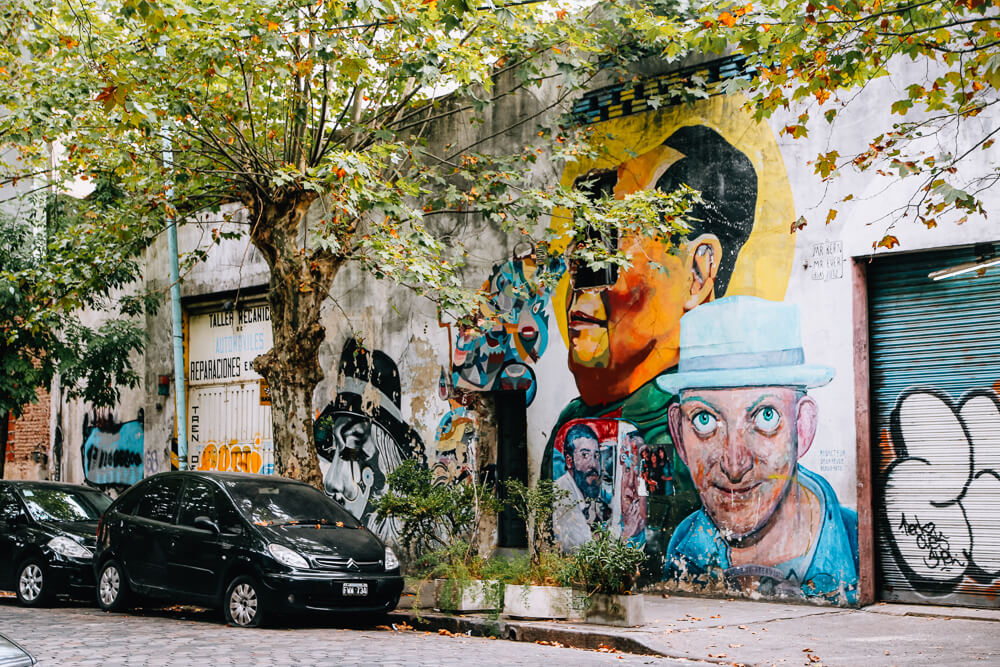 Villa Crespo
Villa Crespo, before Chacarita, was the original Palermo alternative. It borders both Palermo Soho and Chacarita.
This classic Buenos Aires barrio has some of the best street art in town. I recommend wandering its cobblestone streets on a sunny afternoon to hunt down the many, many murals here.
Calle Murillo is also home to the city's leather district with a few blocks dedicated to the craft. If you want a new leather jacket on a budget, head here. Murillo 666 is the name and address of the best brand in the area, start your search and GPS directions there.
Villa Crespo is also where you'll find all of the city's outlets. You may find a deal or two but don't expect bargain basement prices like in the US.
There are plenty of new restaurants opening here every year but the classics reign supreme. Get the best Armenian food at Sarki's (but prepare for a wait, it's worth it).
Bar 878 has mixed up some of the city's best cocktails since way before I arrived over a decade ago, outlasting many a trend bar. For a coffee and pastry, don't miss Malvon or Cafe Crespin.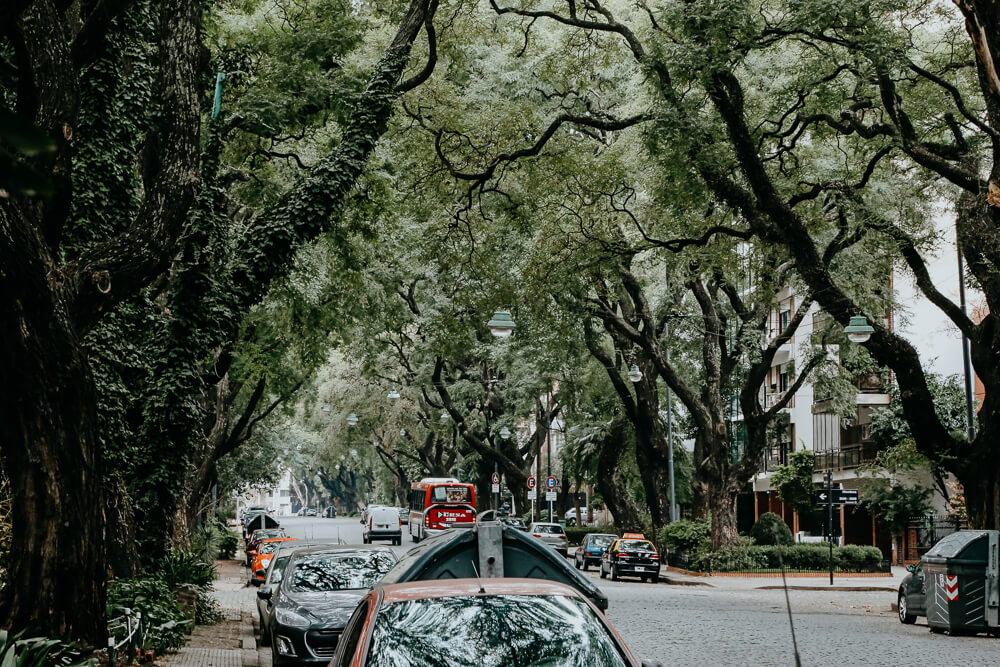 Belgrano
Belgrano is a residential neighborhood on the northern side of the city. Like Palermo, it's a behemoth of a barrio that covers a lot of ground.
It's a wonderful neighborhood for families (and I'd know, I live here with mine!).
The commercial area are the blocks surrounding Avenida Cabildo. This area is characterized by shopping, high rise apartments, and crowded sidewalks.
The Juramento and Cabildo intersection is the major meeting point for Belgrano. The square here in front of the church converts to an artisan market on the weekends.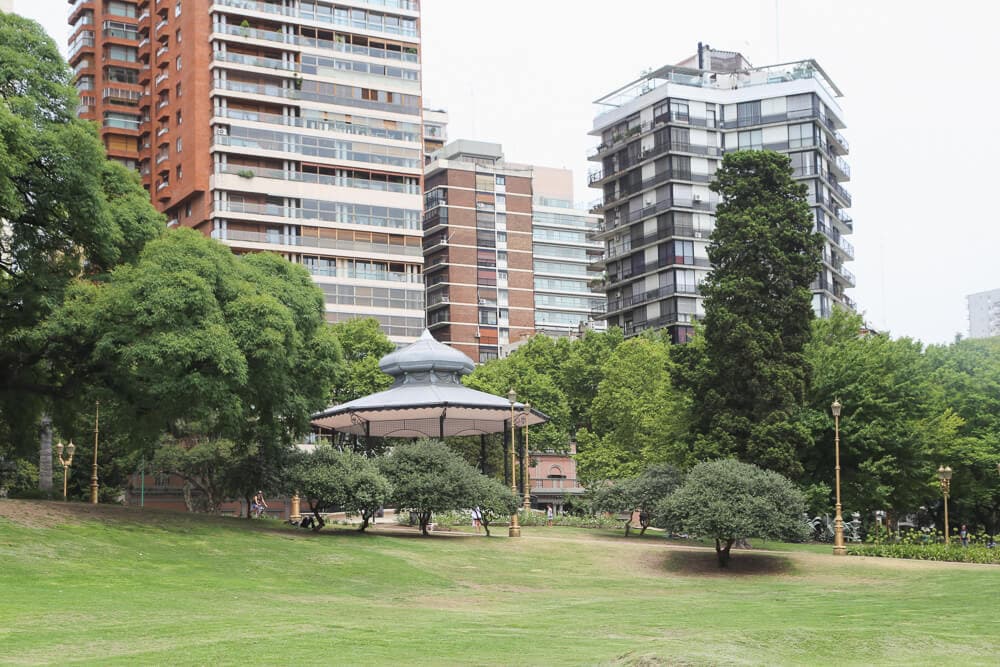 Barrancas de Belgrano, a lovely park, is just a few blocks further down Juramento. This sloped park on the hillside then leads the gates of Buenos Aires' Barrio Chino, a small but mighty four blocks of Chinese restaurants and shops offering the best variety of imports in town.
For a more residential, family-friendly vibe I like Belgrano R on and around the blocks surrounding Plaza Castelli and its aptly named Belgrano R train station.
This area has wider sidewalks and larger homes (peaking with the mansions that line Avenida Melian, one of the most beautiful streets in the city).
The Best Buenos Aires Neighborhoods to Explore
I hope this post has helped you get a quick overview of my favorite city and the neighborhoods that make it special.
If you have any questions ask in the comments, I always respond!
Argentina Travel Resources
Read More About Buenos Aires
Pin It For Later