One of the most difficult things about the sprawling urban beast that is Buenos Aires is feeling so distant from nature.
There are plenty of beautiful parks in Buenos Aires, but of course you'll still be surrounded by skyscrapers and the ever present soundtrack of city buses.
Luckily, and surprisingly, with a short train ride from the city center you can transport yourself to a tropical river delta that feels a world apart from the city's chaos.
This is a complete guide to planning a Tigre Buenos Aires day trip, from budget DIY to relaxing private boat excursions.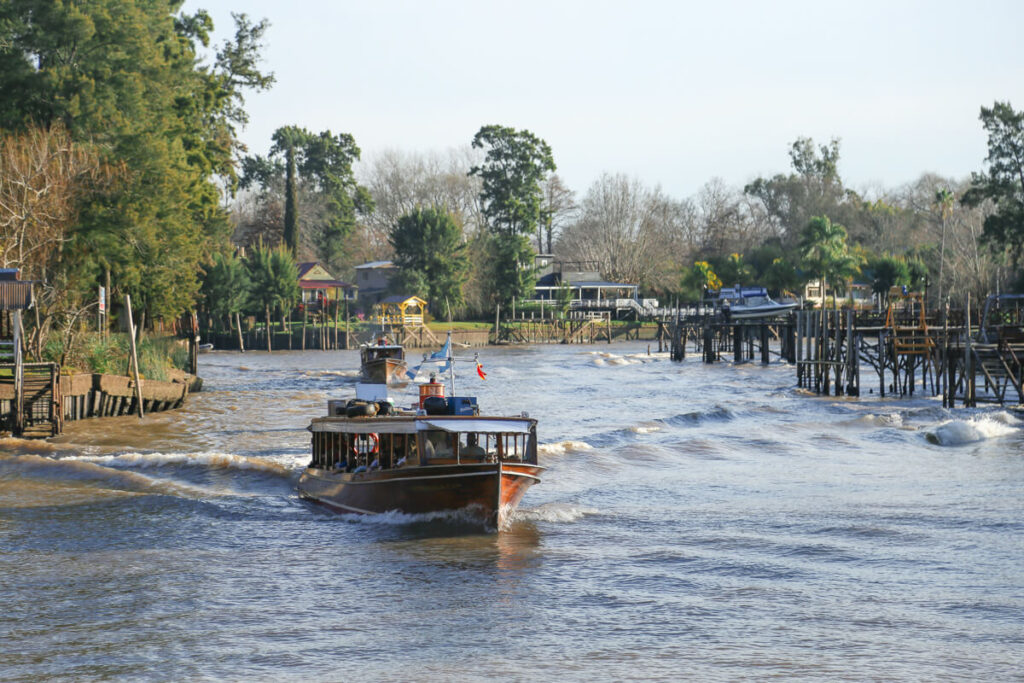 QUICK NOTE: This post contains affiliate links and Sol Salute may receive a commission for purchases made through these links, at no extra cost to you.
Visit The Tigre Delta near Buenos Aires
The Tigre Delta is one of the best day trips from Buenos Aires.
With just a 45 minutes train ride you can go from bustling city center to a natural paradise of lush green islands and river inlets to explore.
This is where the Paraná River ends, being one of the few river deltas to empty into fresh water and not the sea.
The delta's islands are populated with beautiful stilted houses, restaurants, and communities.
There are a few different ways to plan your Tigre day trip and if you have the time, I highly recommend spending a few nights here.
There are rental homes and beautiful lodges tucked away on idyllic islets.
Here are some options for you to choose from to the most out of your Buenos Aires to Tigre day trip.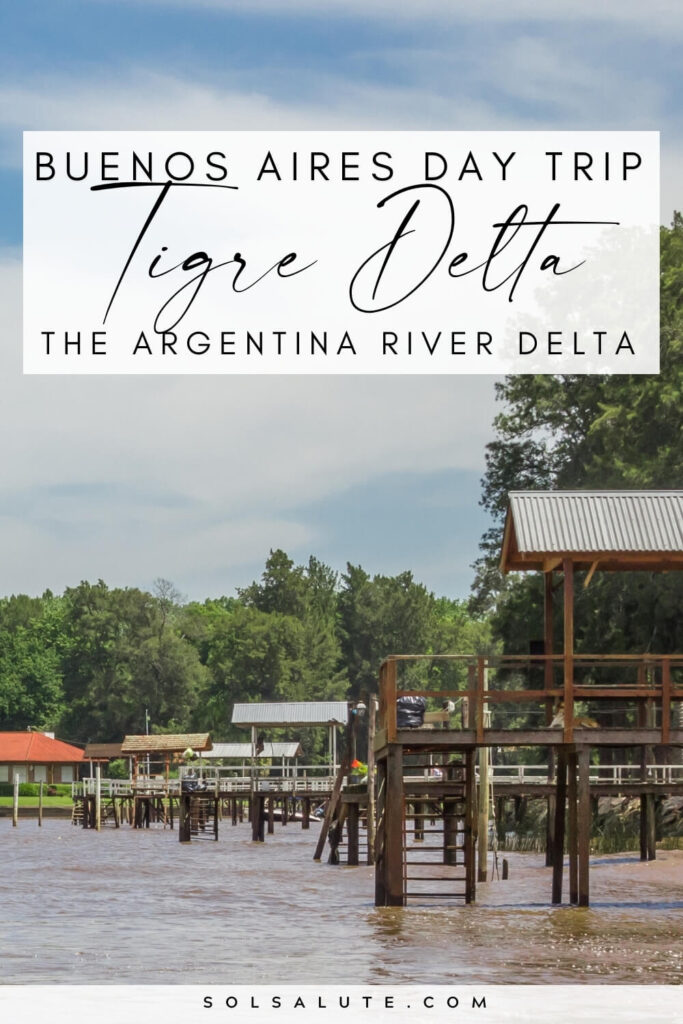 How to Get To Tigre
You can schedule private tours like this that include hotel pick ups.
But if you're on a budget or an adventurer, you can easily get to Tigre on your own with public transportation.
There are two trains you can take to Tigre from downtown Buenos Aires: the Tigre line of the Mitre train or the more touristic Tren de las Costa.
The Tigre Train from Retiro
At the main Retiro train station downtown there are three lines, get a ticket for the Tigre line (impossible to get confused here!) and ride it to the final stop.
The entire ride is just under an hour.
This is the cheapest option at the equivalent of a couple bucks. It's also the easiest.
The Tigre train station is across the street from the port and ticket booths for the many boat excursions, simply cross the roundabout walking towards the McDonald's. You cannot get lost.
MAY 2023 UDATE: Due to seemingly never ending work to update the train lines, the three lines at the Mitre station in Retiro won't depart from or reach Retiro until at least the end of June (official end date unconfirmed, expect delays). Until this is finished, to reach Tigre you can take the Tigre line from the Belgrano C station just blocks from Barrio Chino.
The Tren de la Costa to Tigre
This train was remodeled for tourism purposes and it really is a great experience on a sunny day.
Go to the same Retiro train station but instead get a ticket for the Mitre line and ride it to the end, where you'll have to cross the street to connect to the Tren de la Costa.
This smaller train hugs the coastline with interesting stops along the way like the San Isidro coastline and cute cafes in old train stations.
The final stop is in Tigre right by the Puerto de Frutos market. Take a walk through the market before walking to the port (put Estacion Fluvial into Google Maps).
MAY 2023 UPDATE: Like the Tigre line above, you cannot get the Mitre line in Retiro until at least the end of June. You can get this train in Begrano R (not to be confused with the Belgrano C station above). Until this is finished, to be honest, I'd recommend instead just taking a taxi to the Maipu station to get the Tren de la Costa directly in Martinez and avoid the connection.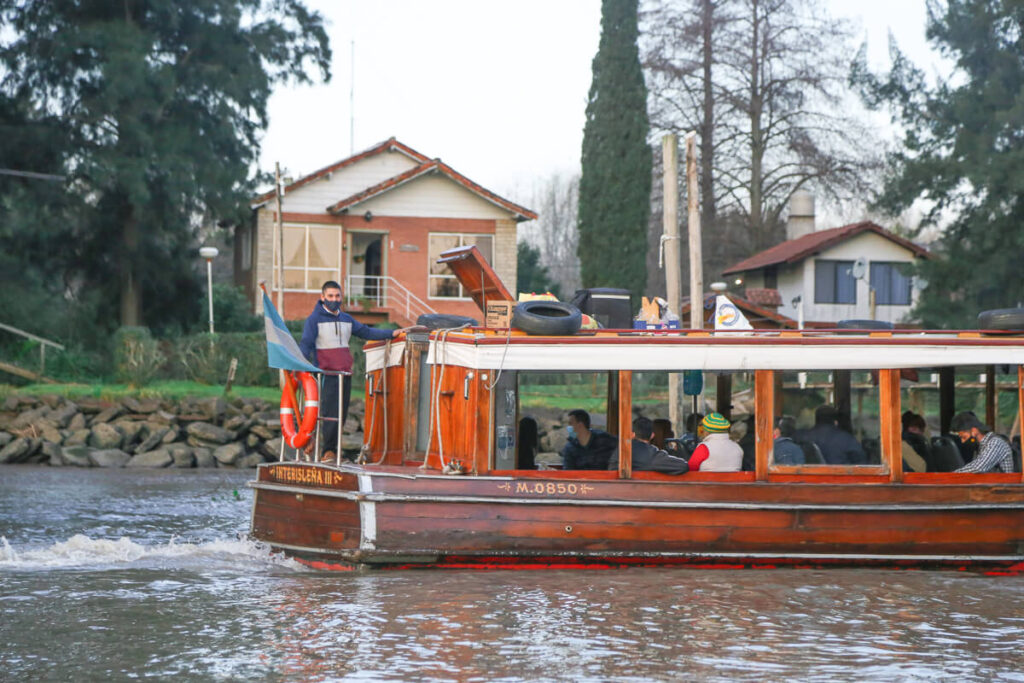 Tigre Buenos Aires Day Trips 4 Ways
Here are four different ways to plan your Tigre – Buenos Aires day trip.
1. visit Tres Bocas: Book Your Own Lancha/Boat of the Delta
For a detailed video on how to use public transportation to explore the Tigre Delta, see my Instgram reel here (and give me a follow!).
Tigre's islands are a thriving community. People live here and with that comes public transportation to connect the islands.
These lanchas colectivas (like a city bus on water) are the best way to see Tigre like a local, with the locals.
A common and easy DIY Tigre Buenos Aires day trip is to visit Tres Bocas.
To do so head to the ticket office for Interisleña.
It's easy to find the ticket office in the building by the dock (the McDonald's is the easiest landmark, it's in that building).
There are boats departing regularly throughout the day, about every half hour, and the ride is about 40 minutes and very scenic.
Hop off at the Santa Rosa pier (muelle).
To avoid easily missing your stop tell the staff when you board where you're going, they'll let you know when it's time to hop off.
Once in Tres Bocas you can stroll the path on a circuit through the traditional stilted homes and have lunch at the few restaurants that have decks hanging over the main canal.
Important note on returning: Boats pass by about every half hour but they can be full or if the water levels aren't favorable they may skip stopping at the restaurant's pier and only stop at Santa Rosa (a short two minute walk away). This happened to us! We had to wait an hour and two missed boats. Give yourself some cushion for your return, just in case.
2. Eat at Gato Blanco: Iconic Restaurant on the Delta
Gato Blanco is one of the many restaurants throughout the delta.
It's one of the most well known and it is very easy to visit.
Head to the same Estacion Fluvial described above and find the Gato Blanco booth.
The booth is unmanned but has all the information you need to visit, which I'm copying below:
The restaurant is open every day from noon to 5 pm.
Reserve your table in advance (we called right before buying our boat tickets but in peak season you can call the day before to be sure): 4728-0390 or email restaurante@gato-blanco.com (using Google Translate to put together an email will be easier if you don't speak Spanish).
You'll take the lancha interilsena boats described above, watch this reel for details.
Departure times for the boats for lunch are: 11:00, 12:45, or 2:15 on weekdays, and 11, 11:30, 12, 1, 2 on weekends. The ride takes one hour and is scenic.
Private water taxi: Don't want to deal with all that? You can always hire a water taxi at the pier, there are booths, to take you direct.
They have a spacious deck and a traditional Argentine menu of steaks, pastas, and salads. It's a great way to spend a relaxing, sunny afternoon in Tigre.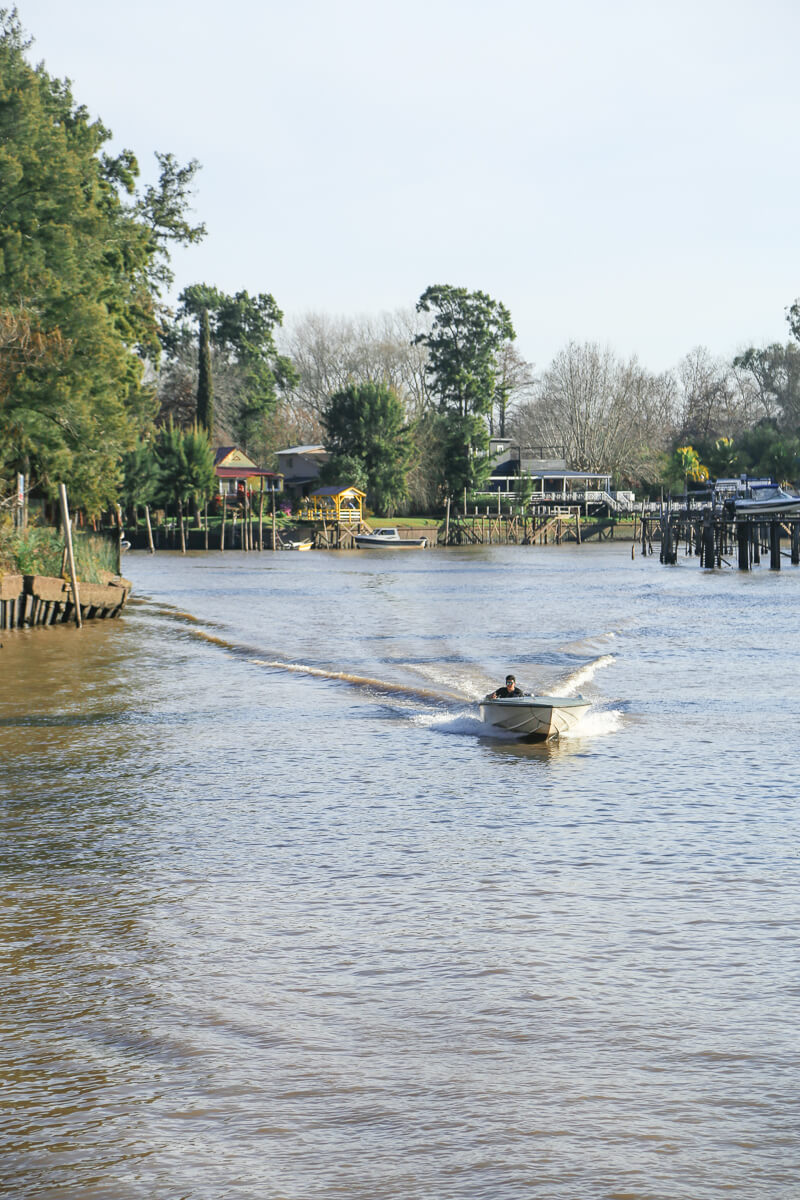 3. Take a Private Boat Excursion of the Tigre Delta
I touched on this earlier but if you have the budget, I recommend hiring a private boat tour like this.
The most beautiful part of the delta is the peaceful rivers and the best way to see them is slowly, on your own time with a guide. In fact, many lucky locals do just this, taking their boats out on sunny weekends.
This tour includes a visit to the historic centers of San Isidro and Tigre before an hour cruise through the delta.
It's four hours but I'd consult about the possibility of including a stop for lunch or drinks at a restaurant (like Gato Blanco) while in the delta to extend your experience.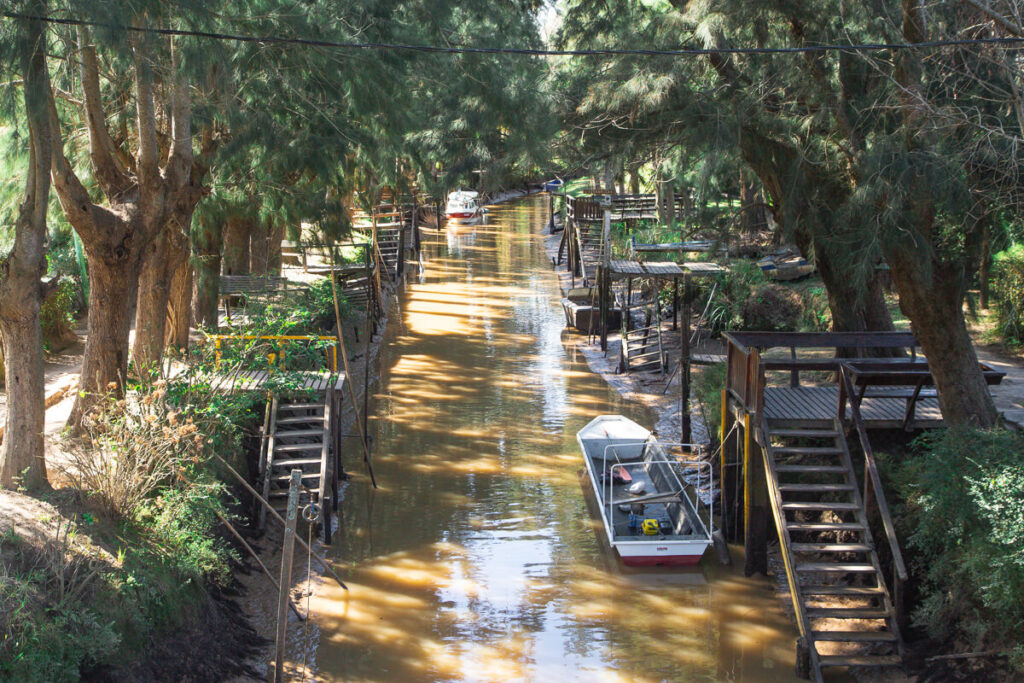 Where to Stay in the Tigre Delta: Relaxing Weekend Getaway
If you have the time you won't regret staying in the Tigre Delta overnight.
I recommend staying for two nights so that you have one full day to enjoy before having to return to the city.
The most fun experience is renting a traditional stilted cabin like this.
It's the perfect way to complete disconnect.
You'll have your own private dock (talk to the owner about transport, public lancha colectiva or private water taxi options) and plenty of room to move.
Most islands have small mini-markets but it's a good idea to bring the bulk of what you'll need for any big meals.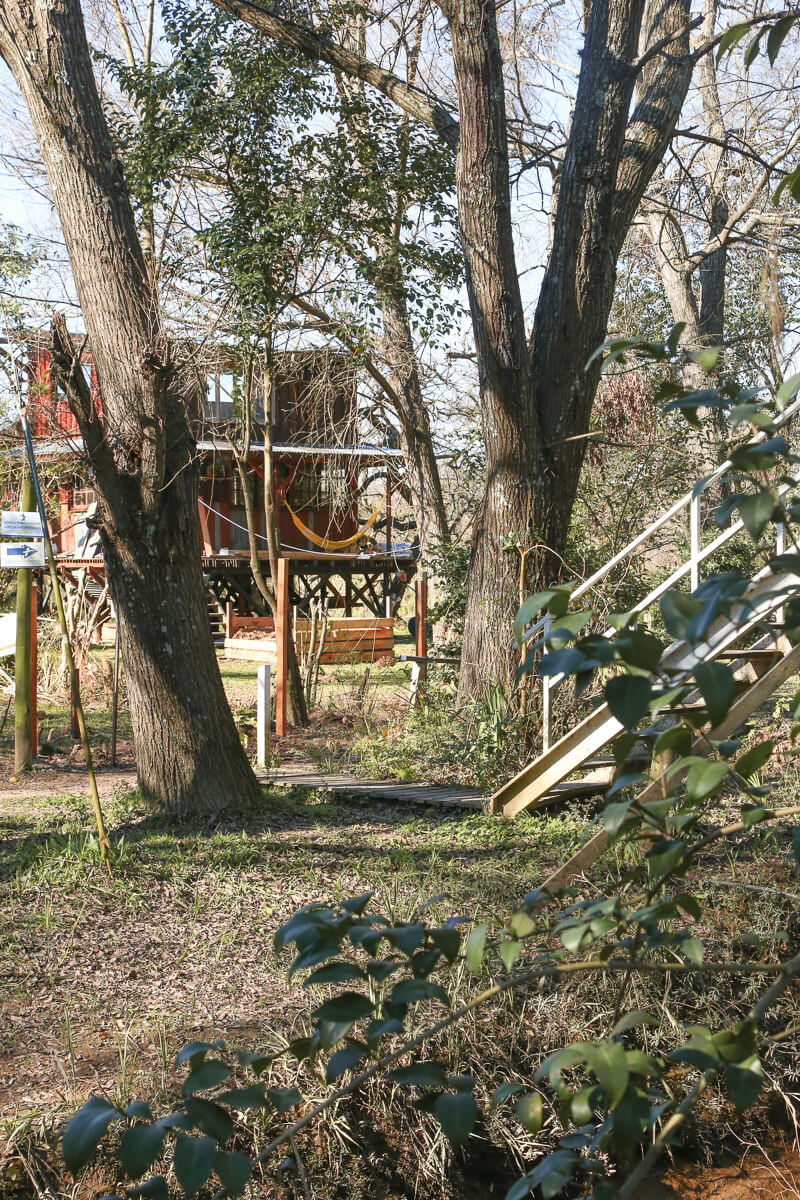 Argentina Travel Resources
Pin This For Later