Buenos Aires is a big city filled with exciting things to do but to truly experience Argentina is to explore its rural culture.
Ride horses with gauchos, eat asado and listen to folkloric music at a traditional ranch or visit Tigre's unexpectedly tropical river delta.
The city is thrilling and filled with culture, street art, and bars to dive into, but when you start to feel overwhelmed in by the chaos, these many day trips from Buenos Aires will save the day.
And I would know, after more than a decade of living here, I'm always looking for new ways to explore the city's surroundings.
I crave wide open spaces and small towns and after years of self-indulging research, I have curated this unique list of Buenos Aires days trips to help you see an authentic side of Argentine life.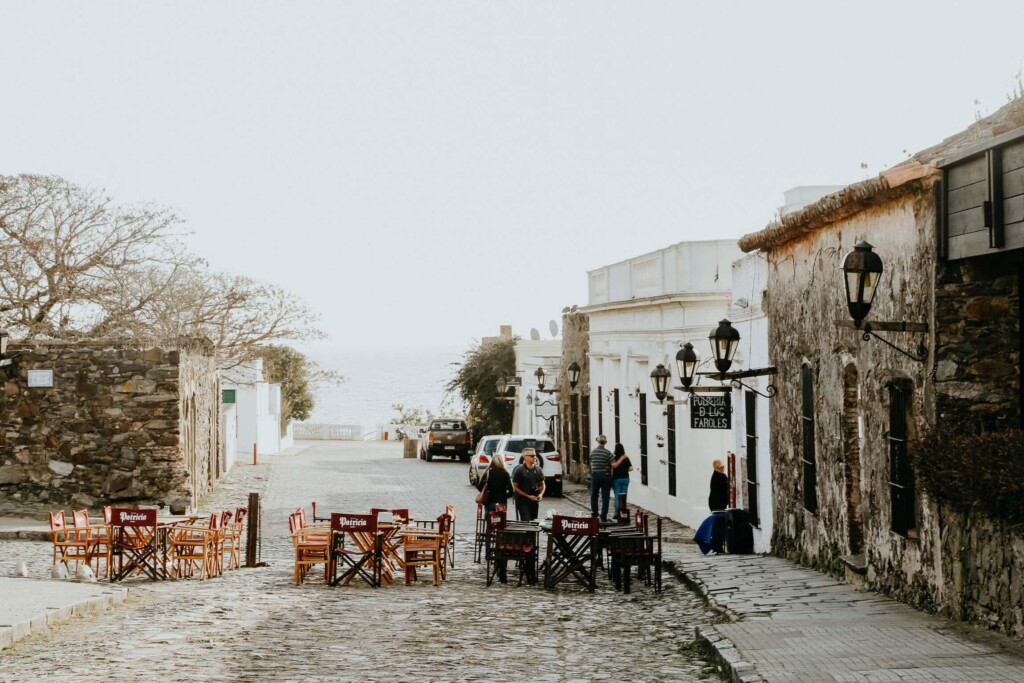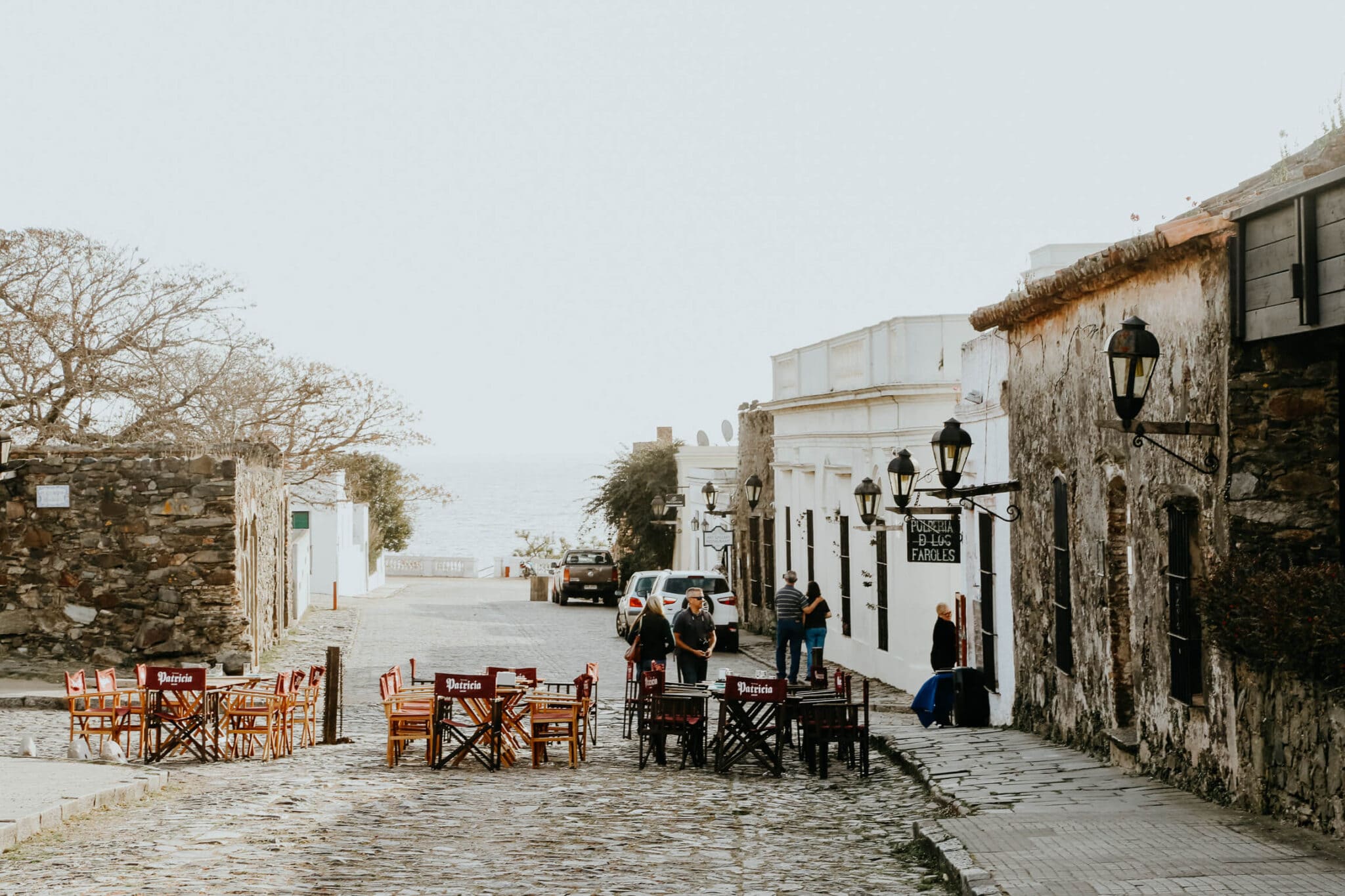 QUICK NOTE: This post contains affiliate links and Sol Salute may receive a commission for purchases made through these links, at no extra cost to you.
8 Essential Buenos Aires Day Trips
This first batch of day trips from Buenos Aires are the essentials, the must-do experiences, basically, the most popular.
And they are the most popular for a reason.
They bring you to beautiful destinations, they are well organized (most with guided tour options), and they each offer a unique insight to rural Buenos Aires life.
Want to go off the beaten path or maybe you've been here a while and already done all of these? Then stay with me for some unique options later on in this article.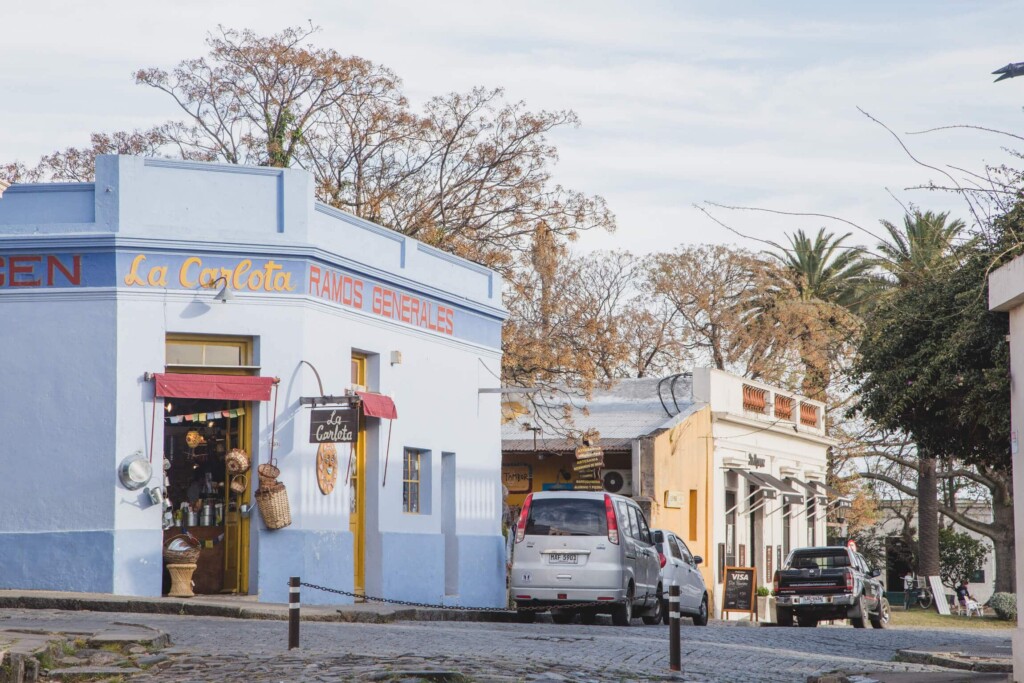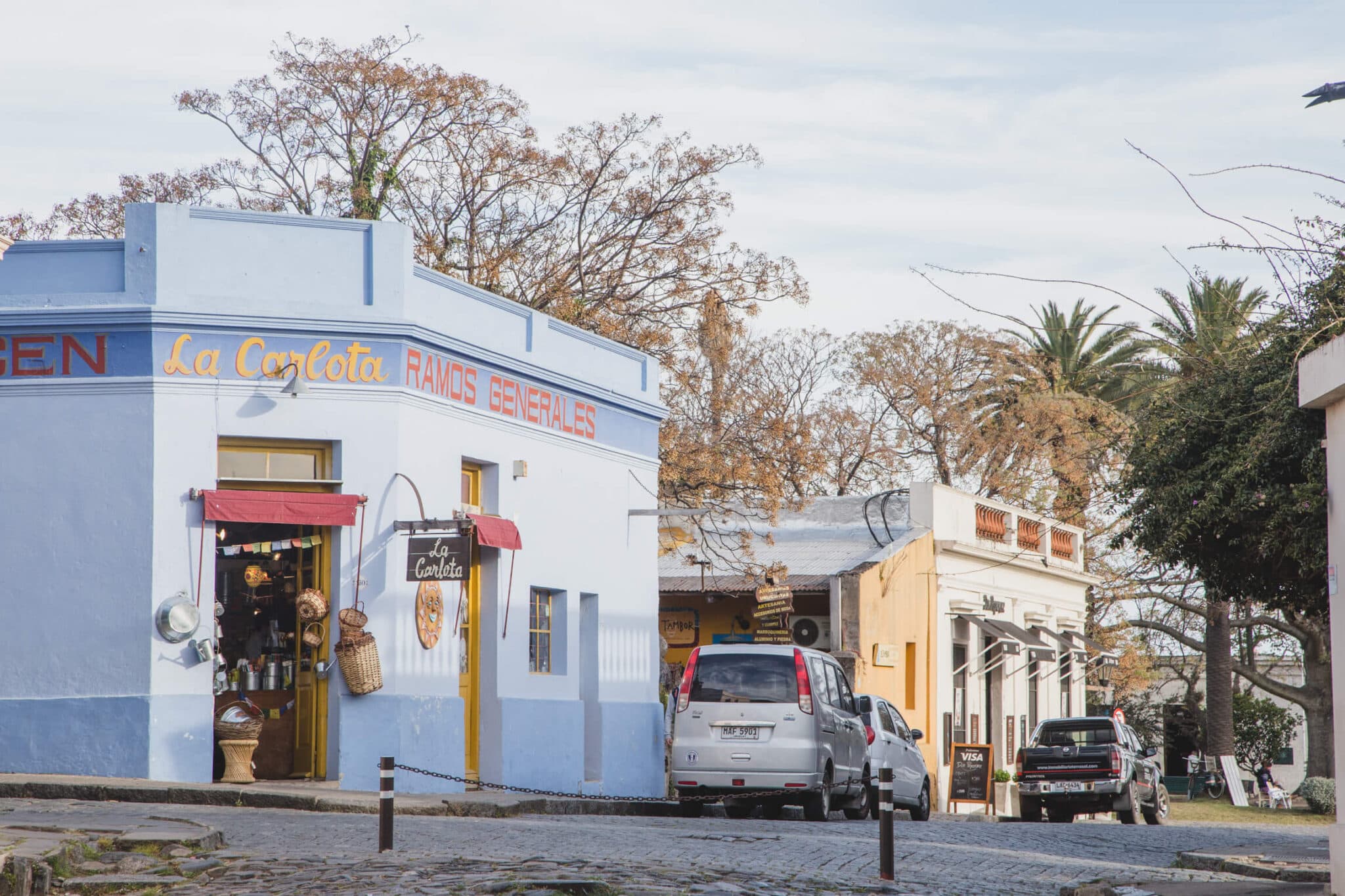 1. Colonia del Sacramento, Uruguay
One of my favorite day trips from Buenos Aires is also the most popular.
The quick hop over the River Plate to spend the day in Uruguay is one of the best excursions from Buenos Aires and best things to do in Uruguay and for good reason.
To say the cobblestone streets are quaint and that the historic downtown is frozen in time may sound incredibly cliché, but it's true!
Take a break from breathing in the city's bus fumes in Buenos Aires and breathe in the fresh coastal air in Colonia. Slow down and ramble aimlessly before enjoying a relaxing lunch overlooking the water.
HOW TO GET TO COLONIA:
DIY | There are a couple ferry companies that offer packaged day trips to Colonia: Colonia Express or Buquebus. Some packages offer guided tours that you can do or skip, but the ticket prices are very convenient and are the best option for going on your own.
GUIDED TOUR | If you want a more organized tour that includes hotel transfers, this tour is excellent. In full honesty, this is one place where a guided tour really is not necessary. Getting your own ferry tickets are very easy and affordable. Once in Colonia, doing less is more. Just relax and wander!
Read More: How to do a Buenos Aires Day Trip to Colonia del Sacramento: A Complete Guide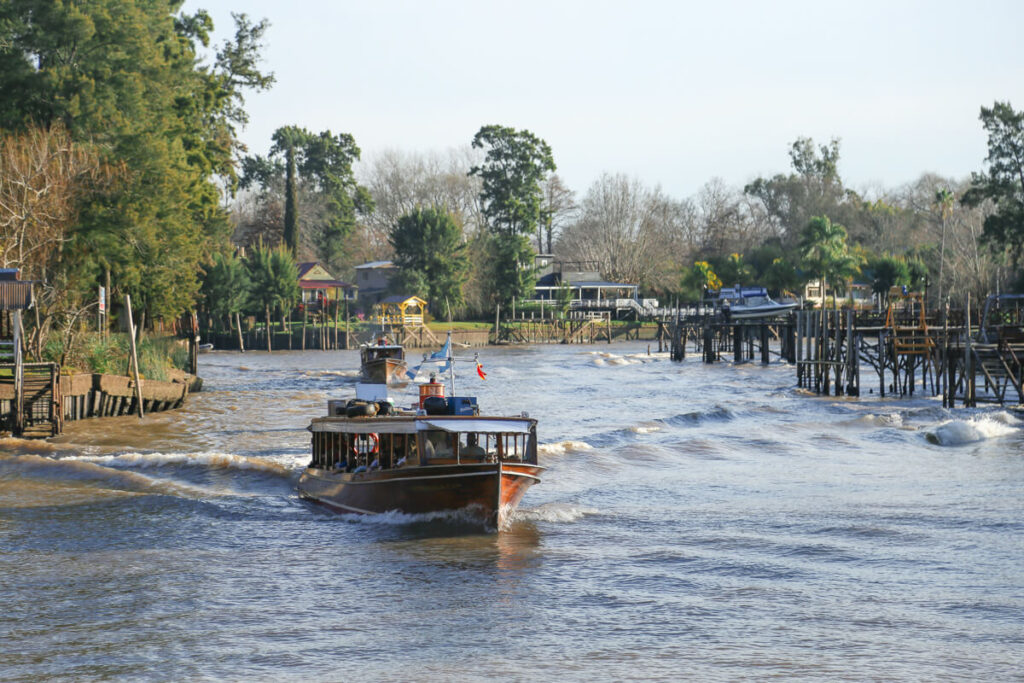 2. Tigre
One of the most unexpected day trips from Buenos Aires is Tigre's river delta.
Spend a day on the water or on one of the lush, green islands (bearing a stark contrast to the wide open pastures of the nearby Pampas).
If you're on a budget, you can DIY Tigre with public transportation.
The most affordable option is to take the train from Retiro to Tigre and take the interisleña boat to Tres Bocas, where you can wander and relax at your own pace (do stay mindful of the boat schedule for your return).
And actually, there are two trains you can choose from. The other option is to take the Tren de la Costa, which requires a connection but has more beautiful views.
PRO TIP | The terminal for Tren de la Costa is right next to Tigre's Puerto de Frutos, a market famous for its mimbre (whicker).
TIGRE TOUR OPTIONS | This is a destination where a tour guide can make a big difference. If you have the budget for it, a tour that includes a private boat is well worth the money because you'll get to go much deeper into the delta.
This tour will take you down less-traveled canals on a private catamaran. You can also opt to stop for lunch at one of the many restaurants on the waterfront, many of which aren't easily accessible with the public interisleña boats.
Read More: A Complete Guide to Planning a Tigre Delta Day Trip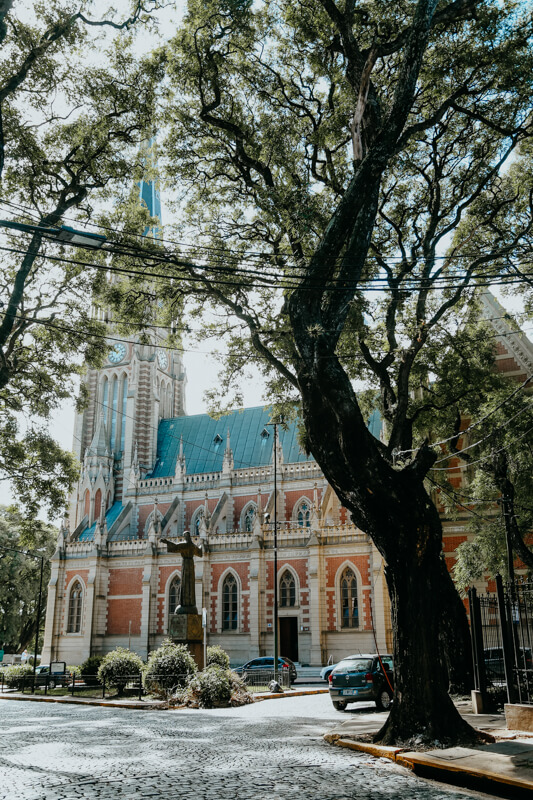 3. San Isidro & Peru Beach
San Isidro is a posh suburb/town in its own right just north of Buenos Aires.
The historic center is compact, with a cathedral at its heart.
You can be cultural and visit museums like Villa Ocampo, a UNESCO site and home to the famous writer, Victoria Ocampo.
Or you can spend your day on the riverside at beach bars like Peru Beach, which is one of my favorite secrets that's absolutely no secret with the locals.
PRO TIP | If you're visiting on a weekend, the Barrancas train platform in front of Peru Beach will have been transformed into a fabulous flea market.
This restaurant is neither Peruvian nor a beach, but the grassy knoll and deck are so enticing you won't miss the actual beach for one second.
Sit at one of the tables to be served by a waiter or waitress, or even better, order at the bar and carry your snacks to enjoy on the grass.
I recommend their clericot (a sangria-like drink sold by the pitcher and theirs is very good!).
While Peru Beach is my favorite haunt, there are plenty of restaurants to choose from here.
If you enjoy windsurfing, kayaking or kite surfing, these restaurants and clubs offer rentals and classes as well.
HOW TO GET TO SAN ISIDRO | This riverside paradise is very easy to get to by train. Take the Mitre train from Retiro and connect to the Tren de la Costa (read logistical details on Tren de la Costa). Get off at the Barrancas station for Peru Beach, or stay on for one more station to reach the historic San Isidro center.
TOUR OPTIONS | Combine a visit to San Isidro and Tigre with this unique bike tour.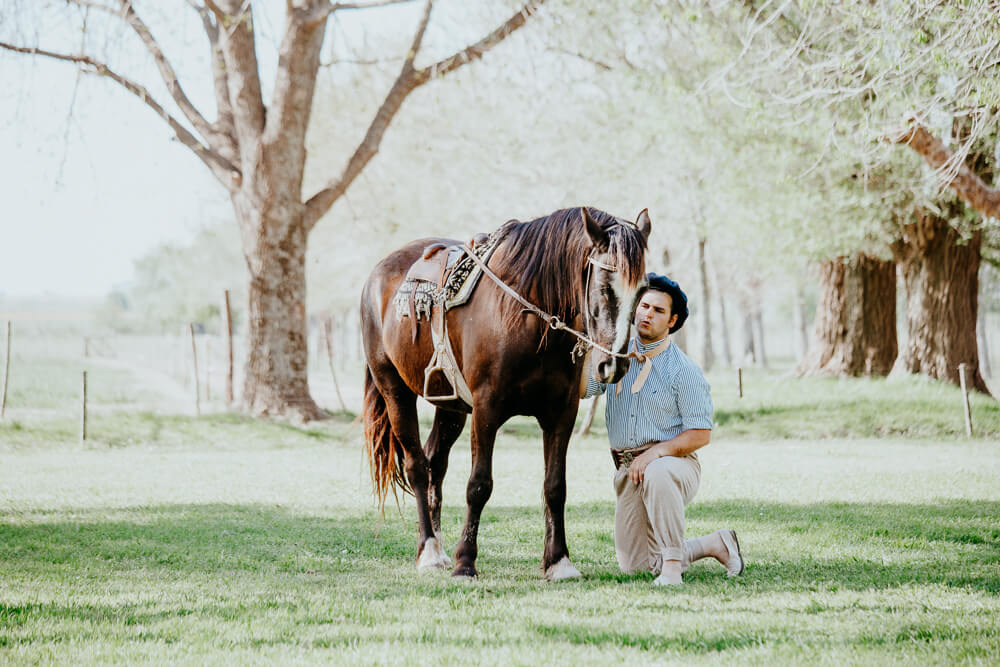 4. Go to an Estancia
How does a gaucho day trip from Buenos Aires sound?
Book a dia de campo, which translates literally to "a day in the countryside." These are full-day packages at traditional Argentine estancias filled with activities fit for a gaucho.
Each ranch will offer their own flare but all offer more or less the same idyllic day at a traditional Argentine ranch.
You'll eat empanadas and meat grilled to perfection drink lots of red wine, and ride horses with gauchos.
Estancia El Ombu offers one of the most popular gaucho day trip from Buenos Aires. And importantly, it includes transportation to and from the ranch.
I did this one for my last birthday and loved it! My favorite part of the day was the display of traditional horse taming after lunch. Gauchos are the original horse whisperers and seeing it in action was so special.
If you have your own car you can go on your own, but otherwise I recommend reserving this tour. Besides transportation, it also includes time in downtown historic San Antonio de Areco in the morning. This is my favorite small town in Argentina and 100% worth seeing!
Read More: The Best Estancias Near Buenos Aires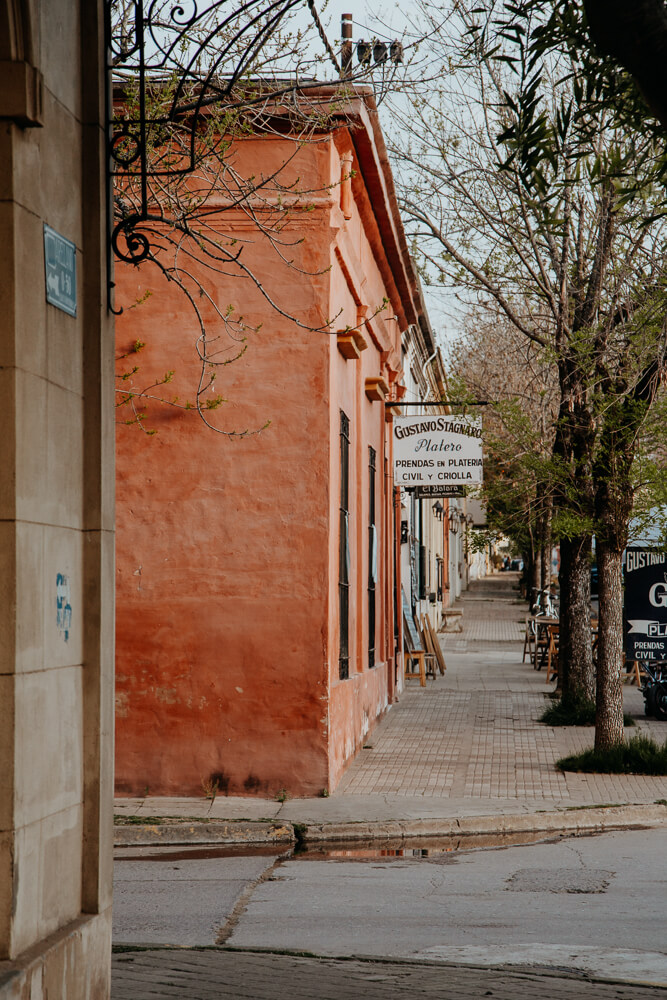 5. San Antonio de Areco
Spend a day in this tiny, rural town that feels years away from Buenos Aires rather than only 115 kilometers.
It is one of my favorite places in the entire country. Whenever the opportunity presents itself, I spend a day or weekend here (and even spent an entire week here for my birthday!).
Historic bars like Boliche de Bessonart (pictured above) has remain unchanged for more than 200 years. They serve great picadas (charcuterie). Order yours with a fernet, like a true local. Then pick up dessert alfajores at La Olla de Cobre.
Every November for Tradition Day, or El Día de la Tradición, the city is taken over by nearly every gaucho and ranch in the country
Hundreds of horses are paraded through the city streets, there's a rodeo and an overall air of celebration.
If you happen to be in Buenos Aires for Tradition Day, get yourself to San Antonio for a once in a lifetime experience.
If you don't happen to be here on that one particular day (and I mean, what are the odds? 1 out of 365, I suppose), spending a morning in San Antonio is still worthwhile.
Ideally, it's easiest to visit with your own car (check rental rates here). And heck, stay a night or two while you're at it.
However, if you don't have access to a vehicle there are plenty of guided tours to estancias like this one that include time in San Antonio de Areco.
Keep Reading: A Complete Guide to San Antonio de Areco
6. Play Polo
Want to experience the Argentine countryside, be posh about it, and also take home a new skill?
Spend a day taking polo lessons.
Polo, the antithesis to the relaxed country gaucho, is huge here in Argentina.
Polo was first introduced to Argentina by the British in the 1800's and it's been a staple of local culture ever since.
Polo Clubs sprouted up almost immediately and they still produce some of the world's best polo players. Learn from the best in a beautiful ranch setting outside Buenos Aires.
Polo day trips from Buenos Aires like this one will teach you the history of the game, how to play, and most importantly, a visit to a beautiful Argentine ranch.
This is one of the coolest day trips from Buenos Aires and unfortunately, I have yet to do it myself. I'd like to stress the yet.
However, one of my good friends from the Netherlands went on this day trip while here and said it was the best memory of her trip!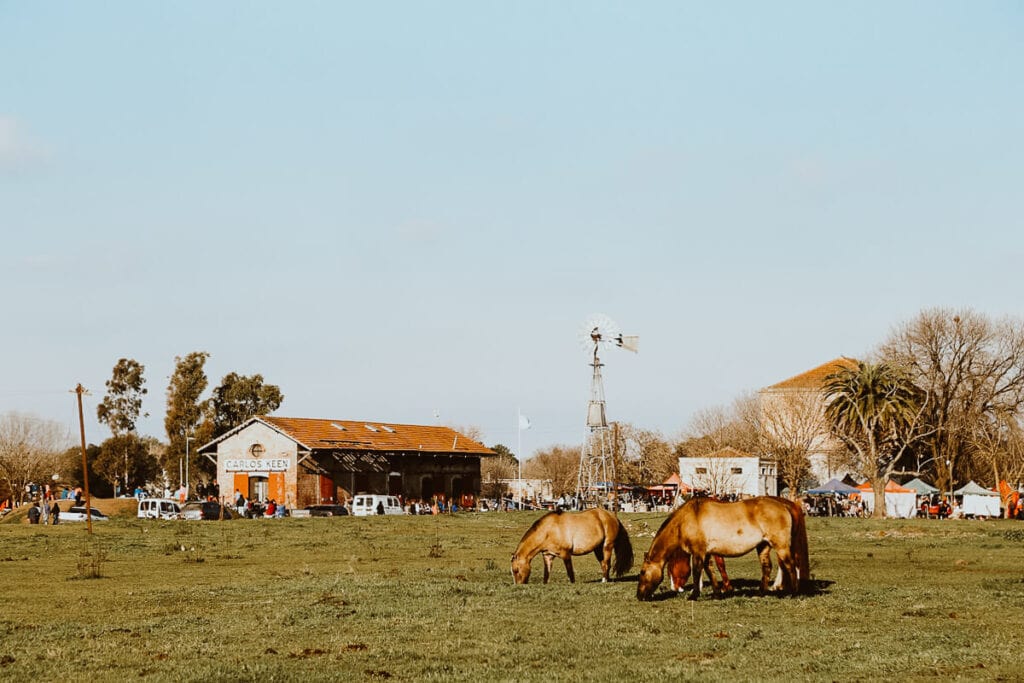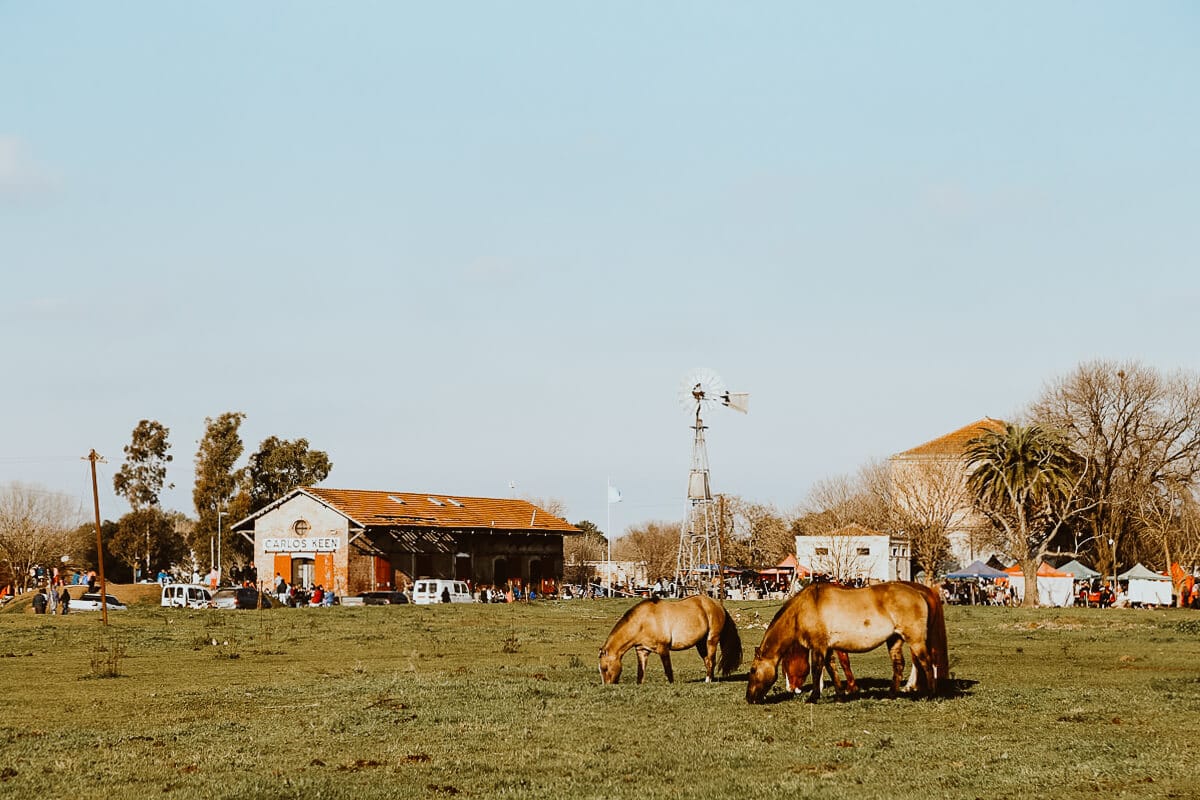 7. Carlos Keen & Lujan
Carlos Keen and Lujan are two small towns near Buenos Aires that are easily visited together in one day if you have a car (check rental rates here).
Carlos Keen is centered around a main square, a green space surrounded by historic buildings from the 1800's turned into parrillas (grills) serving fixed menus.
In this main square is the historic train station that put this tiny village on the map. These historic towns, called pueblos turisticos, have withered since the demise of these train stations. Today they're being renewed as tourist destinations that are very popular with locals looking to get out of the city.
In Carlos Keen, you'll find a market selling all sorts of things from salamis and cheeses to handicrafts and chocolates around the train station.
Read More: How to Spend the Day in Carlos Keen.
While on your way to Carlos Keen, make sure to stop in Lujan to see the famous Lujan Basilica.
There isn't much more worth seeing in Lujan, so after your visit to the basilica dedicate the rest of your day to Carlos Keen.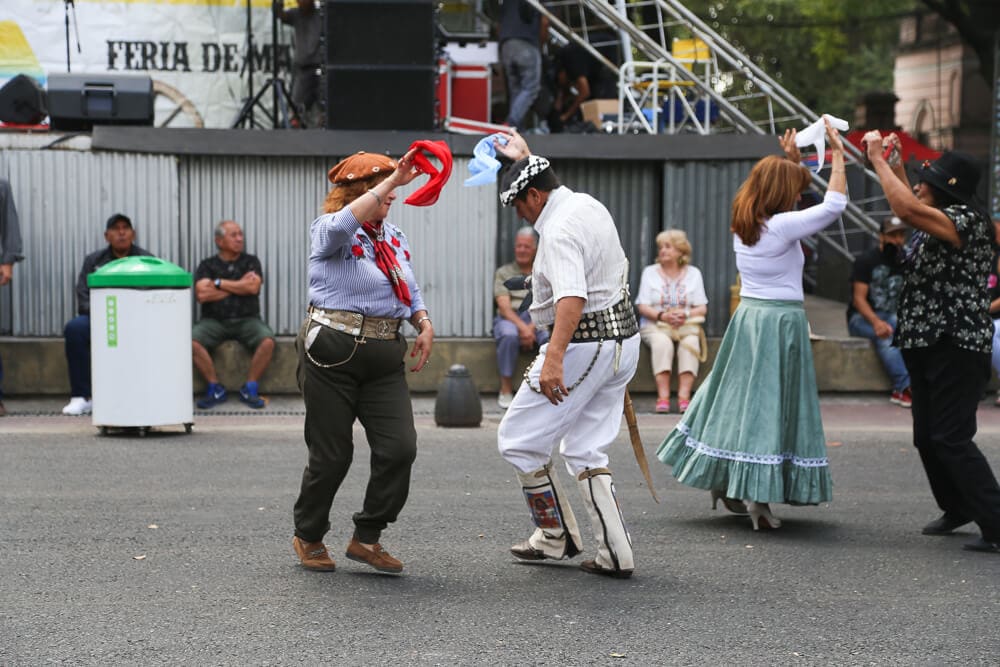 8. Mataderos Market
Including the Feria de Mataderos in a list of Buenos Aires excursions feels like cheating, because it lies within the city limits.
But it's such a trek to get to this Buenos Aires barrio, it counts. It is very far off the beaten path on the western border of Buenos Aires.
This weekly market is worth the effort it takes to get there. Musicians and dancers perform on the stage they painstakingly set up each week in the main square.
On the street below locals dance to folkloric music from the northern provinces like Chacarera and Chamame.
Street vendors sell mouth watering empanadas, tamales and stews hailing from provinces like Salta and Tucuman.
If you want to experience a different perspective of Argentine culture, you won't regret dedicating your Sunday to the Mataderos Market.
Read about all of my favorite outdoor markets in Buenos Aires here.
6 Unique Day Trips from Buenos Aires
After spending one of the strictest lockdowns of 2020 cooped up in my house with a newborn, I've been desperate to get out and explore.
To say I've been exploring the outskirts of Buenos Aires with a renewed vigor would be an understatement.
There are far more Buenos Aires day trips worth doing than I ever imagined. 
If you've done the essential trips already (because I DO recommend those first and foremost) or simply want to get off the beaten path, these unique day trips from Buenos Aires won't let you down.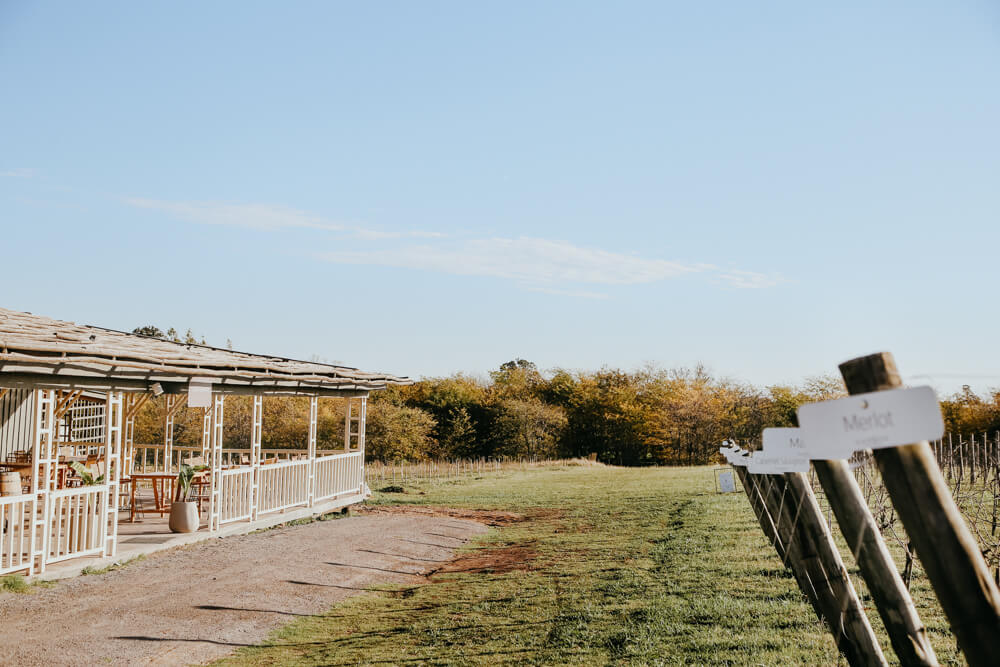 9. Bodega Gamboa: Wine Tasting & Lunch
If you love wine, then don't miss this small family-owned winery less than an hour outside of Buenos Aires.
They have truly created something special in unexpect Campana. The restaurant itself is stylish and modern, with an expansive patio overlooking the vineyard.
They produce a limited number of bottles every year with grapes both from their Buenos Aires vines and from Mendoza. We tried a few varieties and were very impressed by both the wine and the kind service.
LOGISTICS | Reservations are required. Check their website for a full list of their experiences and lunch menus and to make your reservation.
TOUR OPTIONS | However, if you don't have a car then book this guided tour that brings you out to the bodega and includes a tour, tasting and lunch. Alternatively, this tour combines a visit to the winery with a day at a local estancia.
LOVE WINE? KEEP READING: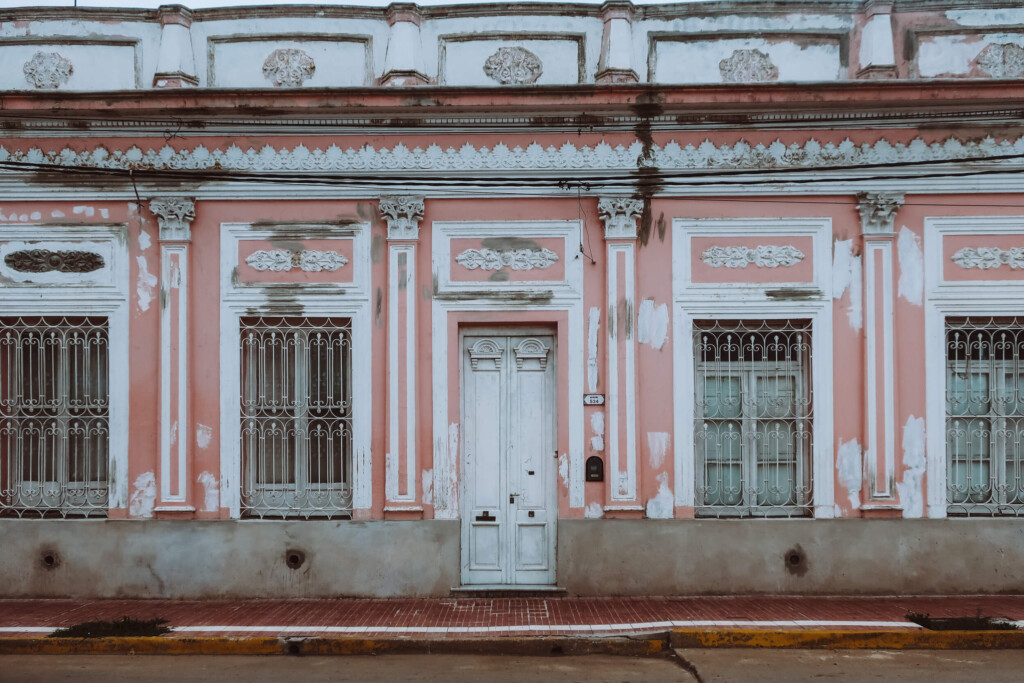 10. Capilla del Señor
I did not think another town could rival my love for San Antonio de Areco, but Capilla del Señor rose to meet the challenge.
What to do here? The train station itself is begging for photos, see the cemetery, and wander the main square and surrounding streets.
Don't miss the Museo del Periodismo Bonarense, right on the main square. This museum is in a historic home and is dedicated to journalism. You'll see all sorts of relics like three massive printing presses and typewriters to show your kids what life was like pre-iPhone.
LOGISTICS | Good news! Capilla del Señor is a rare Buenos Aires day trip that is easy to reach do with public transportation.
Take the Tigre train line from Retiro's main train station. At Estacion Victoria, connect to the Capilla del Señor line and ride it to the end, where you'll step onto the town's historic train station's platform.
11. Eat Farm to Table at La Pebeta
La Pebeta is in the country between Capilla del Señor and Cardales.
You'll need a car or driver to get there but if you can make it there, you won't regret it.
This farm to table restaurant is the perfect place to while away a beautiful afternoon in the country.
We spent hours there, reluctantly leaving at the end of the day. The menu changes weekly depending on that week's harvest, check their Instagram to see the current menu and schedules.
You can watch the IG Reel I made of our day there to get an idea of what to expect.
Reservations are required and it is family friendly with a playground for your kids to burn energy on while you relax.
PRO TIP | Spend the morning in Capilla del Señor before your lunch reservation at La Pebeta to make a full day out of it!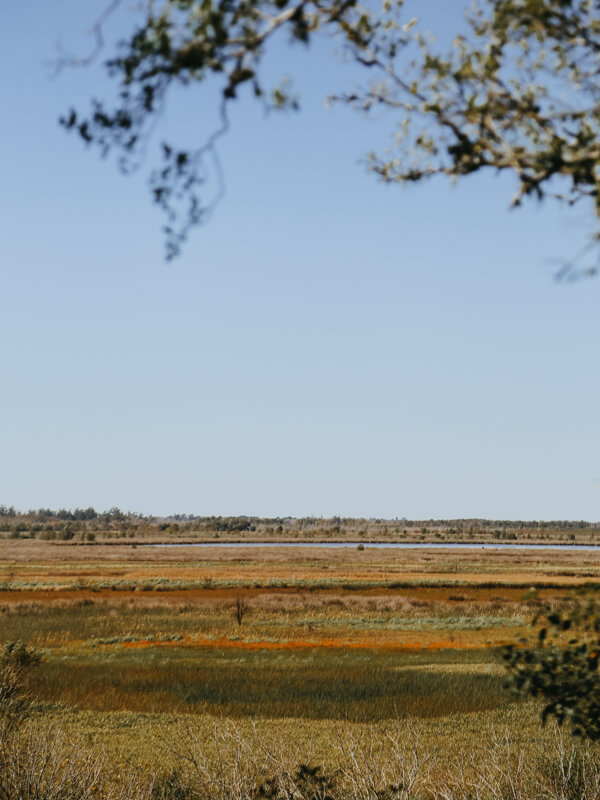 12. Parque Nacional Ciervo de los Pantanos
A national park an hour from Buenos Aires' city limits? Yes, please.
I did not know this park existed until recently and wasted zero time going once I did. The park itself is small for a national park but it is a wonderful place to escape into nature for the afternoon.
It's named after the Marsh Deer and is also home to exotic (to Americans) animals like capybara.
Will you see wildlife here? I recommend lowering your expectations. The population of deer here is very small (more or less 20) and after decades of being hunted to nearly extinction, they are very skittish.
There are short trails here through the forest that lead to viewing platforms. They take between 40 minutes to an hour and are very relaxing. There is also a small garden of indigenous flora.
I recommend packing a picnic to enjoy at the picnic area next to the main building.
WINE TIP | The park is just a 10 minute drive from Bodega Gamboa, if you plan your day right you can visit both!
LOGISTICS | How to get to PN Ciervo de los Pantanos? Unfortunately, you need a car. There is a train that will take you to Otamendi (the town near Cardales and Campana that it's in) and you could technically take that train and walk the rest of the way. However, for safety reasons I don't recommend this. The park rangers let us know there are slums going up outside the station and it's not recommended.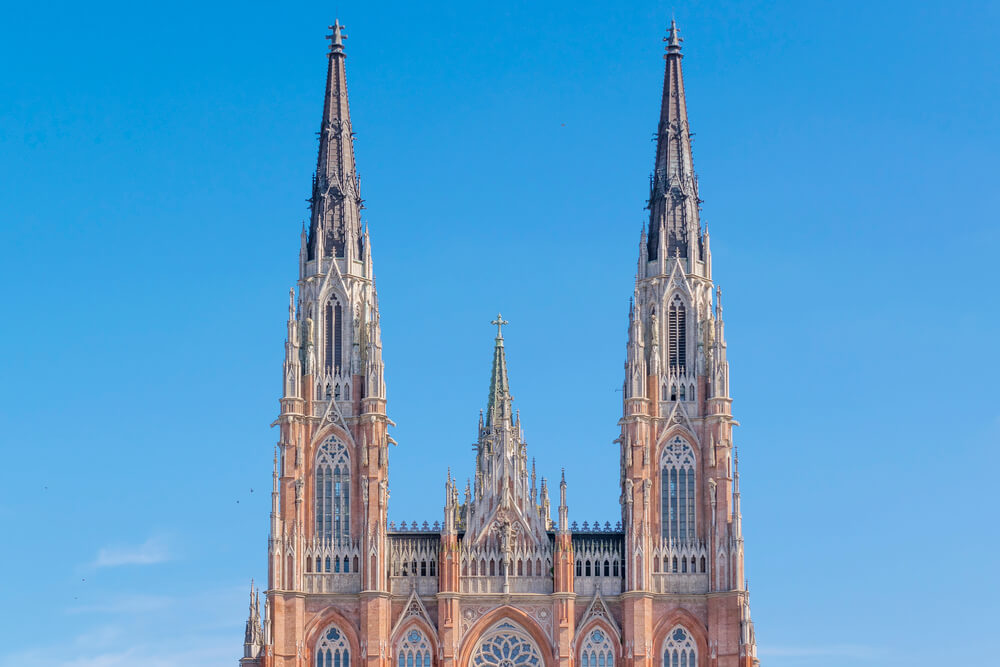 13. La Plata
La Plata is the capital of the Buenos Aires province. This small city is one of the few (only?) urban day trips from Buenos Aires.
The Cathedral, located in the geographic center of the city, is the main attraction and we really enjoyed the guided tour offered by the cathedral itself. 
Want to go on your own? Read my complete guide to La Plata here with things to do, where to stay, and how to get there.
La Plata's streets are well planned, since this city was built with a purpose. From the cathedral they branch out in a grid pattern with strategically placed diagonals intersecting.
The Natural Sciences Museum is a must visit, especially if going with kids.
Architecture buffs will have a field day at the Casa Curutchet, open currently for visits from Friday-Sunday from 13h-17h (but these things change so confirm here).
HOW TO GET TO LA PLATA | We took a bus but there's also a train. You could even take a rideshare or taxi. Read more in my guide.
TOUR OPTION | If you'd rather not deal with public transportation, this guided tour includes transport to and from La Plata, a tour of the city and entrance to the Cathedral and the National Sciences Museum. Reserve here.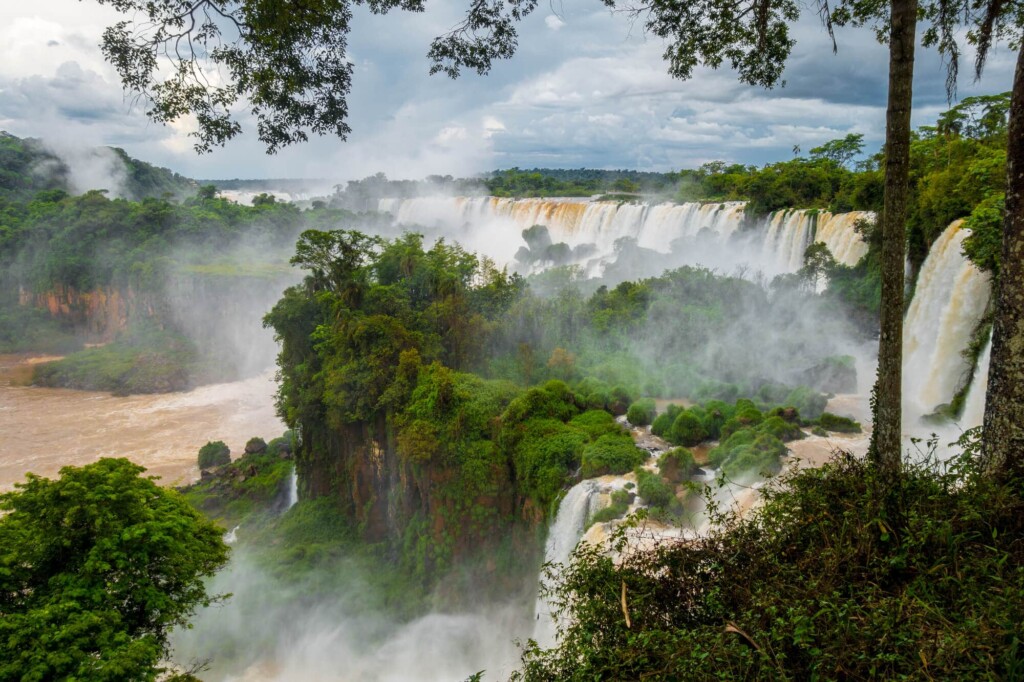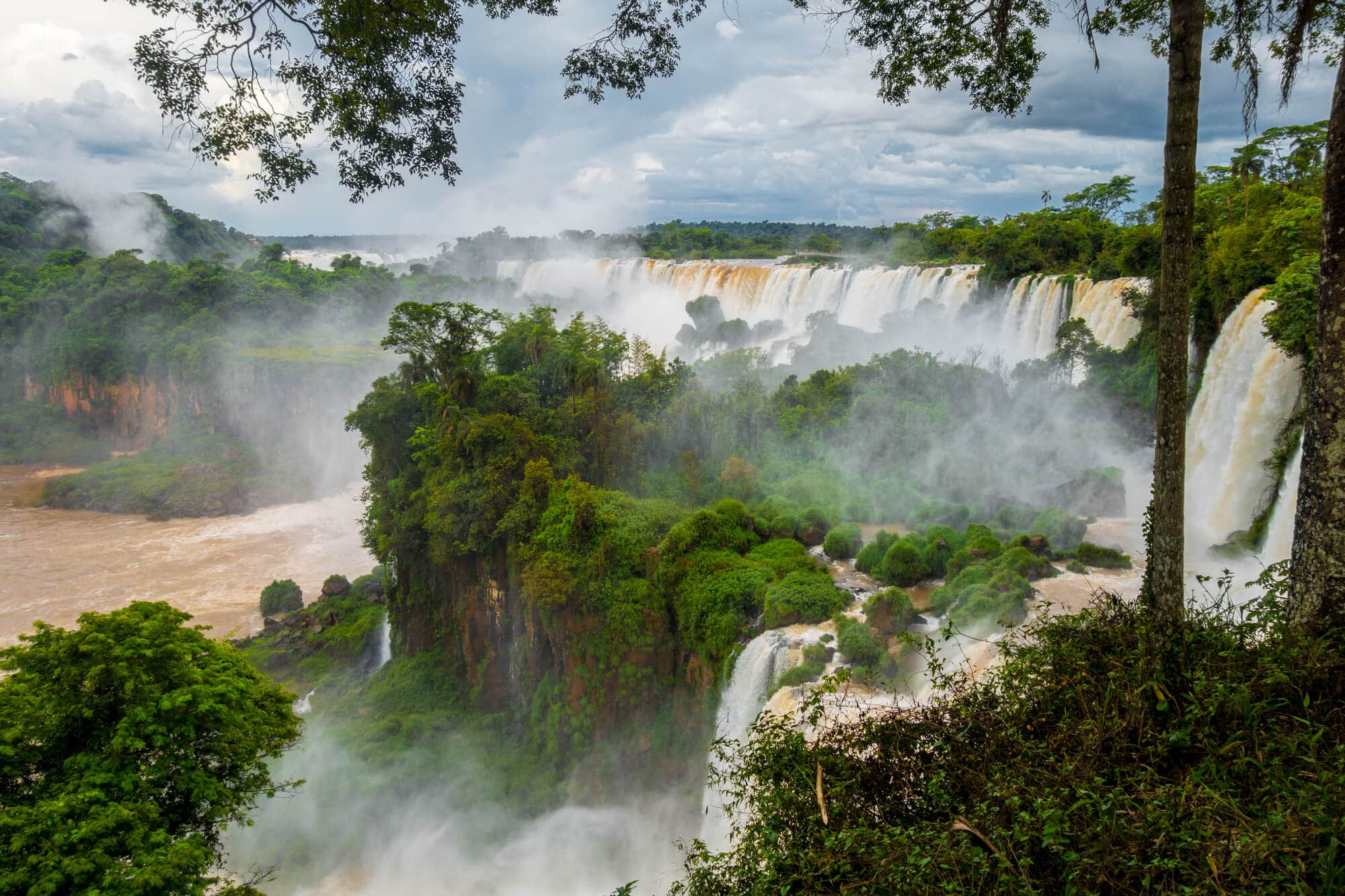 14. Can You Do Iguazu as A day trip from Buenos Aires?
I often see major publications mention big destinations like Mendoza and Iguazu as easy Buenos Aires day trips.
This is ambitious, at best. More accurately, it is misleading.
Both destinations require a two-hour flight. Even with very strategic planning, they would not be enjoyable day trips.
That said, there are companies that will organize a day trip to Iguazu for you (flights included). If you're bound and determined to do this, you can check it out here. If all you have is one day and you want to do it, do it. It's possible.
However, I want to be clear that I do not recommend these destinations as one day excursions. It will be a VERY long day in a destination that deserves more time.
The Best Buenos Aires Day Trips
Thanks for reading! I hope you enjoy your time both in the city and exploring its rural surroundings.
Meet a gaucho, ride horses, or glide across the river in the Tigre Delta!
Read More About Buenos Aires
Pin It For Later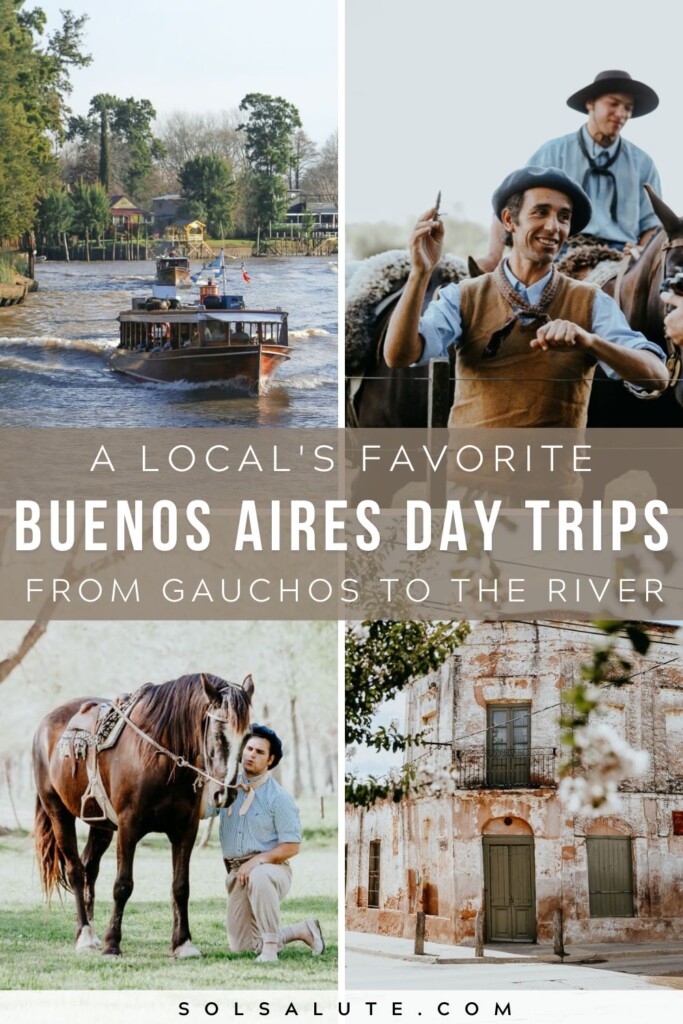 Argentina Travel Resources