If you ask me, I will always advocate for you to spend as much time in Buenos Aires as possible.
There are enough things to do in Buenos Aires to fill weeks.
But, I know we don't all have the luxury of time.
And with Buenos Aires being the gateway to Argentina many people are just passing through on their way to hike in Patagonia or drink wine in Mendoza.
If that's you and you're looking to maximize your short time in the city, look no further.
This is a detailed self-guided walking tour, the perfect way to spend only one day in Buenos Aires.
You'll see the highlights, but beware, you're going to hit the pavement hard so wear comfortable shoes and sunscreen and let's go!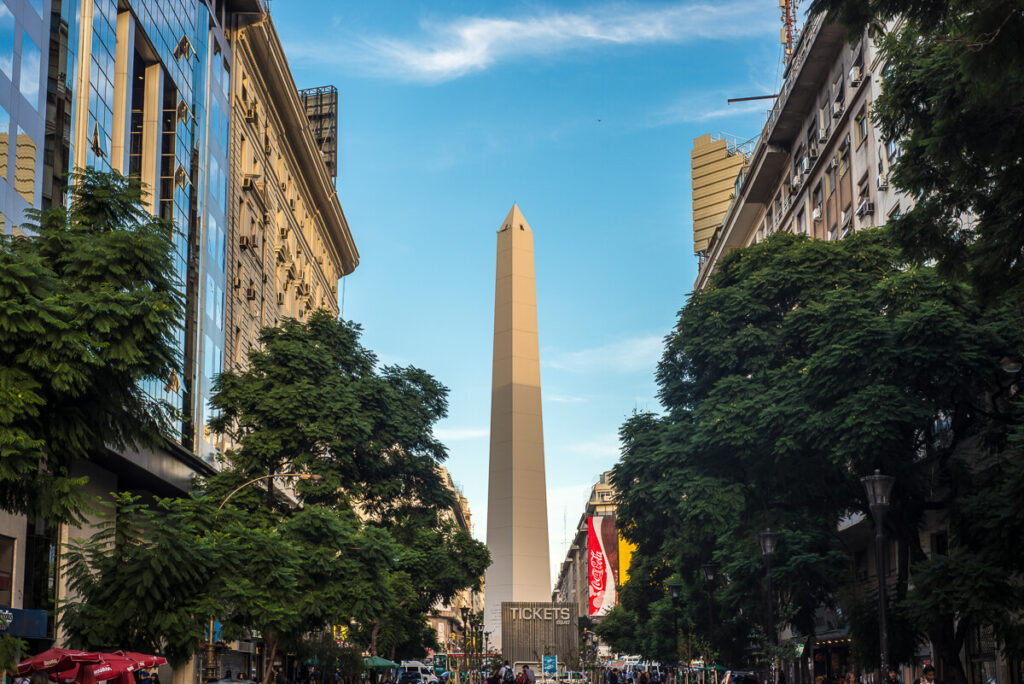 QUICK NOTE: This post contains affiliate links and Sol Salute may receive a commission for purchases made through these links, at no extra cost to you.
One Day in Buenos Aires: A Highlight Filled Walking Tour of Buenos Aires
Ready?
Let's go.
Reference the map below for the route and highlights.
Buenos Aires Walking Tour Map
The Obelisco
📍Av. 9 de Julio y Av. Corrientes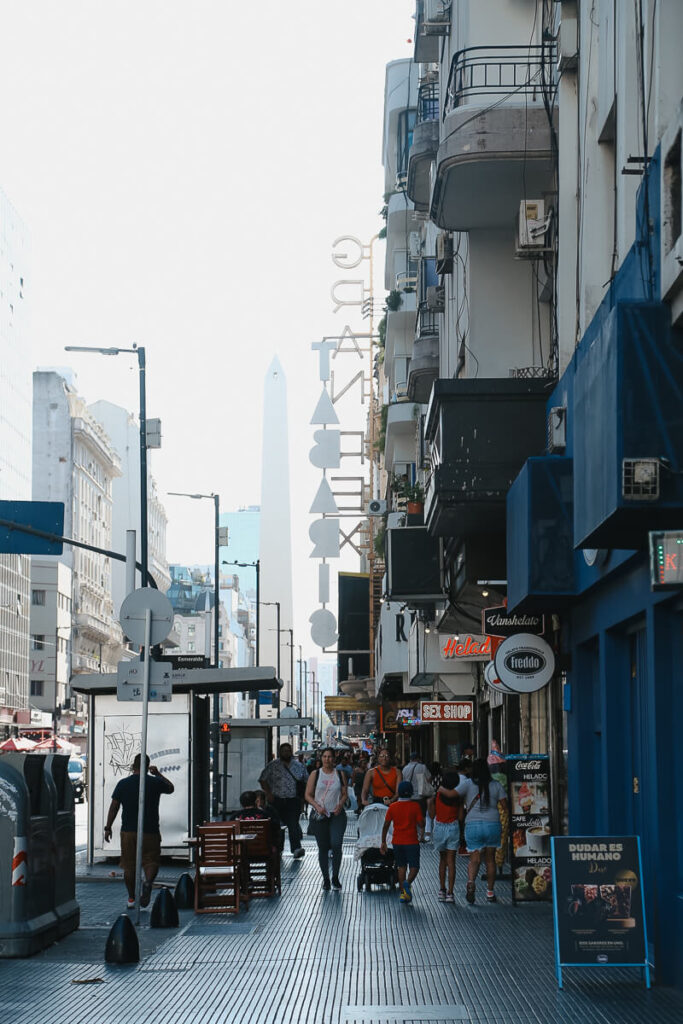 While Buenos Aires isn't a city made up of landmarks you need to tick off like many European cities, the Obelisco is indeed a must-see landmark.
You cannot skip it.
So I want you to begin your "Buenos Aires in a day" tour here.
This is THE meeting point for the city.
Major protests all find their way here.
And major celebrations do as well.
If you followed the 2022 World Cup, you'll have seen how the entire city's population joined together here to celebrate each win.
So much of Buenos Aires' history has happened around this obelisk.
TIP: Take pictures in front of the giant BA sign and from the platform on Diagonal Norte (Mirador del Obelisco in Google Maps) for the best views.
Gaze southwards down 9 de Julio and you'll see a giant profile of Evita on one of the skyscraper's facades.
Look the other way and you'll see the epic Teatro Colon. (If you have more time in the city later, a guided tour of the interior is worth doing).
Up and down Avenida Corrientes you'll see neon lights and theaters.
This is Buenos Aires' answer to Times Square and it comes to life after dark. With theater-goers crowding the sidewalks and pizza by the slice shops keeping them going.
From the Obelisco, walk to Confitería La Ideal for breakfast. Head one block down Corrientes, take a right onto Suipacha and there you are…
Breakfast in Confitería La Ideal
📍Confitería La Ideal, Suipacha 384, San Nicolás (cross street Avenida Corrientes)
You've surely heard of Café Tortoni, but it's not the only historic café in the game here.
La Ideal is equally beautiful (in my opinion, more so) than Tortoni.
After a 7 year closure, it re-opened in 2023 completely renovated.
Start your morning here for an early breakfast.
And I mean early, you only have 1 day in Buenos Aires, don't waste any daylight!
The pastries here are excellent (I love their vigilante) but they have full breakfasts if you need eggs or avocado toast to function.
Take a look around before you leave.
The entire space has been impeccably restored including the detailed glass dome in the center of the dining room.
Optional cappuccino at Le Caravelle
📍 Lavalle 726, Sán Nicolás
This second coffee option is pure indulgence.
You can skip this if you're not into coffee.
You can do this instead of La Ideal if you don't want a long breakfast.
Or you can indulge and do both… I would.
Le Caravelle makes the best cappuccino in Buenos Aires, and at only one block from La Ideal I simply couldn't leave it off of this itinerary.
This historic bar has been run by Italian immigrants since 1962.
Their cappuccino is like a volcano of foam that only by some work of magic doesn't overflow onto the saucer.
Where La Ideal is pure European elegance, Le Caravelle is an unpretentious hole in the wall.
Grab a coffee at both to see both sides of Buenos Aires café culture.
Neither is more authentic than the other.
Florida Street
📍 Lavalle y Florida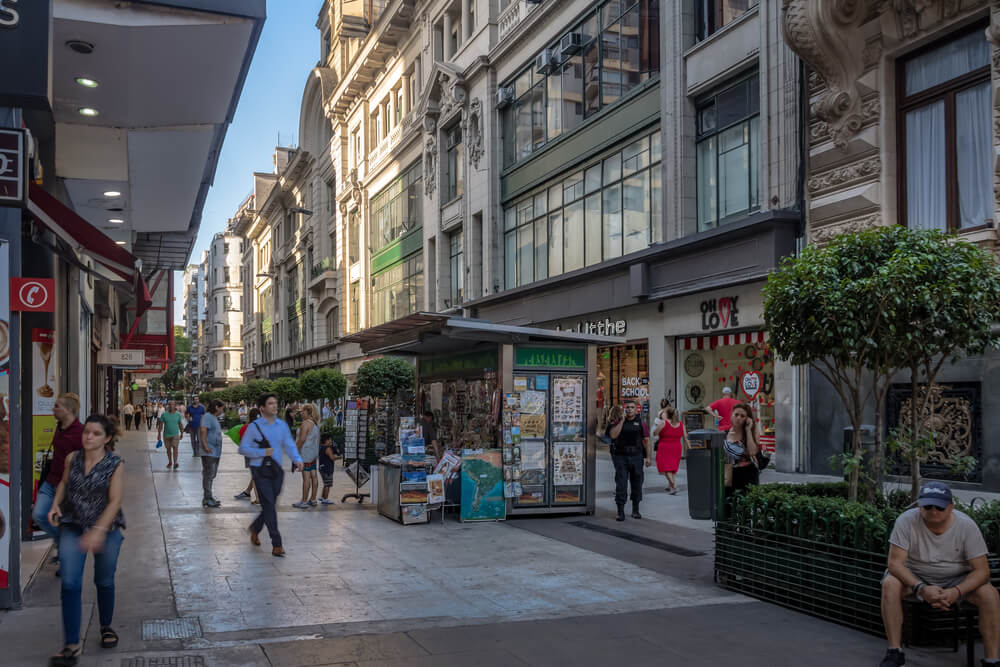 From Le Caravelle, walk one block down Lavalle to reach the city's most important pedestrian thoroughfare: Florida Street.
Take a right down Florida and walk towards Plaza de Mayo.
This street is the city's shopping center (albeit a bit underwhelming in terms of shopping, to be honest).
Most notably, you'll hear the cries of the arbolitos yelling "cambio, cambio, cambio!"
Arbolitos are the names given to these money changers. It means little trees and pays homage to the little green leaves of the dollars they work with.
Galería Guemes
📍 Florida 165, Mirador Galería Güemes
Monday-Friday, 10 am – 1 pm and 2 pm – 4:40 pm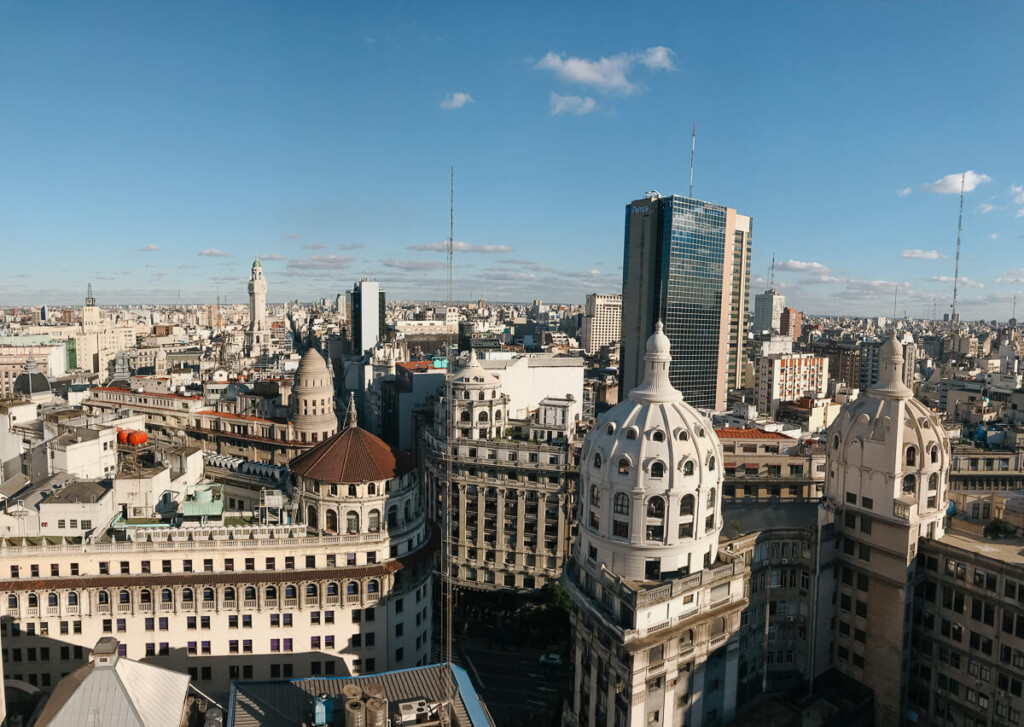 Walk three blocks down to Florida 165.
Galería Güemes is an elegant shopping gallery with one of the best and cheapest viewpoints in town.
Go inside and stay to the right hand side. The first elevator bank you'll see to your right is the Mitre tower. You'll see Mitre written above the archway.
Take the elevators to the 14th floor where you'll be able to pay for entry to the mirador (viewpoint).
It always costs the peso equivalent of around 2 dollars and you'll see downtown's most iconic domes up close.
Note that it's only open Monday through Friday, so if visiting on a weekend you won't be able to access the viewpoint.
I still recommend ducking inside to see the beautiful gallery at ground level.
In fact, this gallery houses my favorite Christmas tree during the holiday season (read more about Christmas in Buenos Aires).
Plaza de Mayo
📍Plaza de Mayo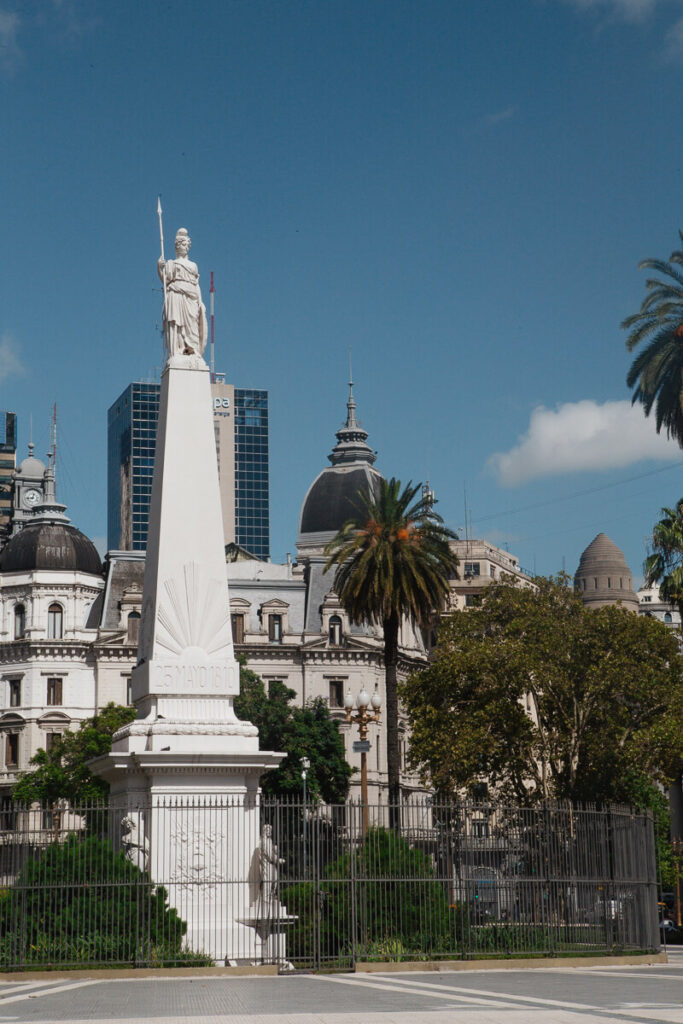 From Galeria Guemes snake your way to Plaza de Mayo.
So much of Argentina's history has happened right here and you can't spend just one day in Buenos Aires without visiting this historic space.
Find the pyramid in the center, this was the first monument in the city's history, erected to honor the Revolución de Mayo.
The Madres de la Plaza de Mayo have been circling this monument since 1979, calling for their missing children and grandchildren that "disappeared" during the military dictatorship of the 1970's.
To this day they still march every Thursday at 3:30.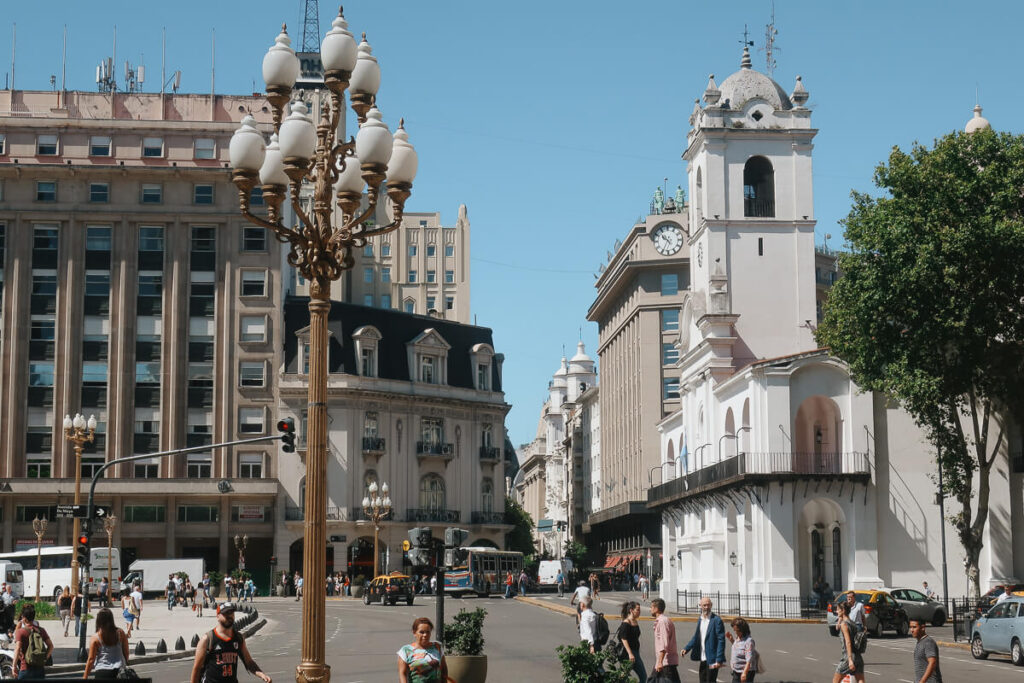 What else to see in Plaza de Mayo? Stand in the center and spin around to see:
La Casa Rosada | The queen of the Plaza, this is the presidential palace. It's similar to the White House in the US as in the president conducts business here. However, the residence is in Olivos, a northern suburb. The upstairs balcony just left of center is where Madonna is depicted belting out her famous "Don't cry for me, Argentinaaaa!"
El Cabildo | Turn a 180 to have the Casa Rosada at your back and you'll see a white colonial building, this is the Cabildo. It housed the Spanish colonial government and you'll see one in many cities throughout Argentina. This one was shorted on either side to make way for the streets that border it. Today it houses a free history museum.
Catedral Metropolitan | Turn slightly to your right to see what looks like a military building with imposing columns along the front, that is the Metropolitan Cathedral. Go inside if you have time, it's stunning. San Martin's grave is inside a side chapel in the center on the right hand side, he is always guarded by two granaderos (the cavalry he founded).
From Plaza de Mayo we'll work our way through San Telmo.
If you're interested in seeing Puerto Madero's modern waterfront, you have that option now.
If it's not something you're interested in, you can skip it and go straight to San Telmo.
Keep reading for both options, choose your adventure!
Choose your own adventure #1: Puerto Madero
📍Puente de la Mujer, Puerto Madero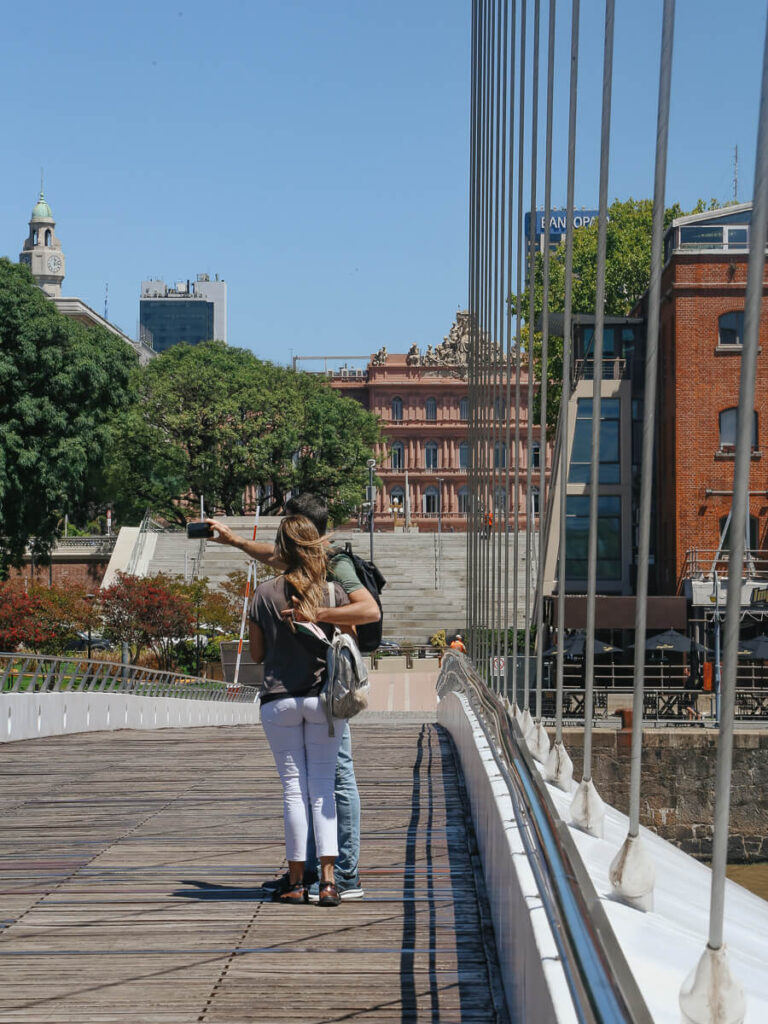 From Plaza de Mayo circle around the Casa Rosada and follow the pedestrian footpath straight to Puerto Madero.
You'll go down a large staircase and walk towards the red brick warehouses turned loft apartments and the famous bridge, Puente de la Mujer.
You may even see tango dancers performing just before you reach the bridge.
Watch, take photos, leave a tip then continue your walk along the water.
Puerto Madero is the youngest neighborhood in the city, brought back to life around 30 years ago.
It's safe and a bit sterile compared to the cool grunge of the rest of the city.
There are restaurants that line the waterfront but resist the urge to stop here. I find most to be underwhelming and overpriced, hold out (if you can) for San Telmo where I'll list more lunch options than you'll know what to do with.
To find your way back to San Telmo, wander down Puerto Madero as long as you like then hang a right on Avenida Belgrano and walk back up to Defensa.
Choose your own adventure #1: Buenos Aires Museo
📍Defensa 187, San Telmo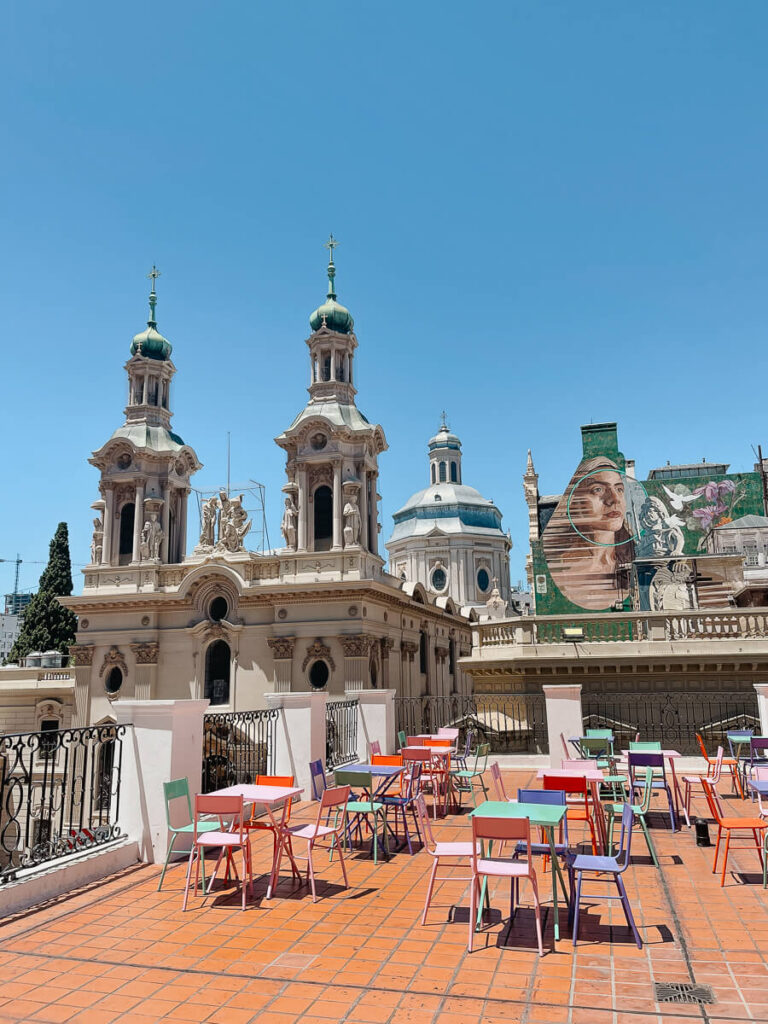 If you're skipping Puerto Madero, from Plaza de Mayo walk down Calle Defensa into San Telmo.
After walking less than one block, at Defensa 187, you'll see the Buenos Aires Museo.
This is a new museum and very impressive.
Entrance is less than the equivalent of two dollars and you'll learn all about the city's history.
Don't leave without visiting the roof top terrace.
It offers a beautiful view of the church across the street and murals were painted on neighboring facades to be enjoyed from the terrace.
San Telmo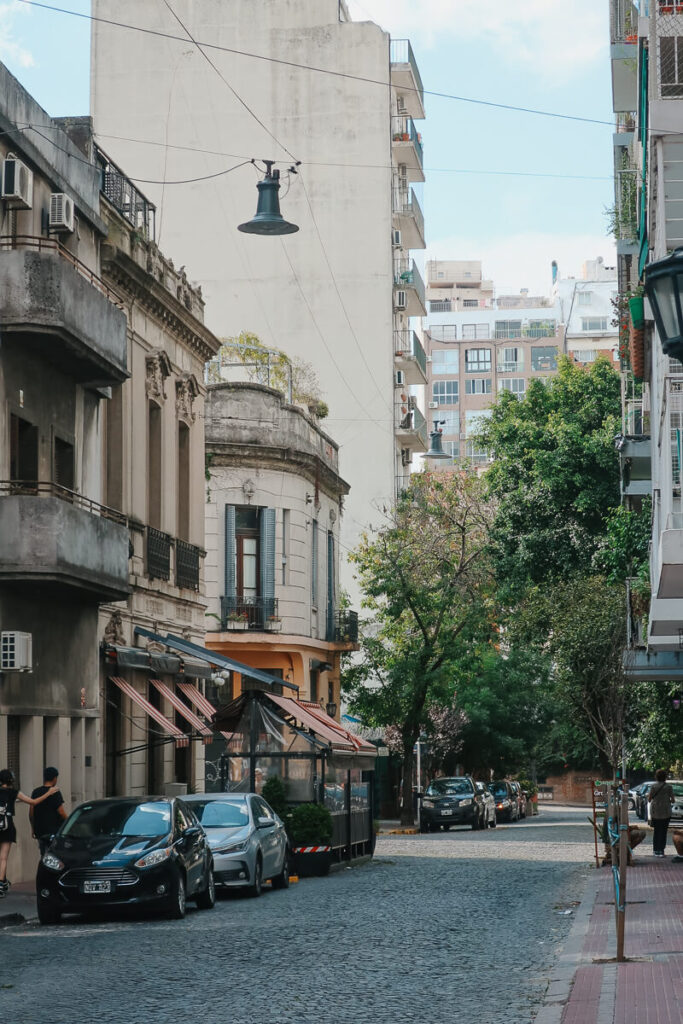 Welcome to my favorite neighborhood in Buenos Aires, San Telmo.
On the corner at Chile and Defensa, you will see a line up of tourists and locals alike waiting to snap a picture on a bench with the statue of a little girl.
This is Mafalda, an iconic comic strip character in Argentina.
If you're lucky and there's no line, sit down for a quick selfie.
Continue half a block further down Defensa to Calle San Lorenzo, where you'll see the Casa Minima.
This is the most narrow house in the city, bequeathed to a freed man.
TOUR TIP: The history around Afro-Argentina heritage is something you don't hear much in museums or on your average tour. If you have more time in your Buenos Aires itinerary, I highly recommend Lunfarda's Afro Argentina Heritage tour (private or small group). Use code SOLSALUTE for save 10% on all Lunfarda tours.
San Telmo Lunch Options
By now you must have worked up quite an appetite.
We've covered a lot of ground.
Here are some of my favorite lunch options in the area.
La Brigada | Parrilla with a lot of futbol flair throughout, steaks are so tender the servers cut it with a spoon.
Desnivel | One of my favorite parrillas in town, it may feel a bit less nice than La Brigada with its fluorsecant lights and often grumpy waiters, but I'm a big fan. I love their juicy meat empanadas and lomo dishes (lomo a la mostaza, tenderloin in a creamy mustard sauce, is my favorite).
Mercado de San Telmo | In the market you'll find some great lunch options for all tastes.
El Gauchito | My favorite empanadas in Buenos Aires, family recipes from the owner's family in La Rioja. You can't beat this hole in the wall. Snag one of the only 2 tables on the bsuy sidewalk or get your meal to go, take it to Plaza Dorrego to eat in the square while watching the tango dancers perform. Get a lot of napkins.
Plaza Dorrego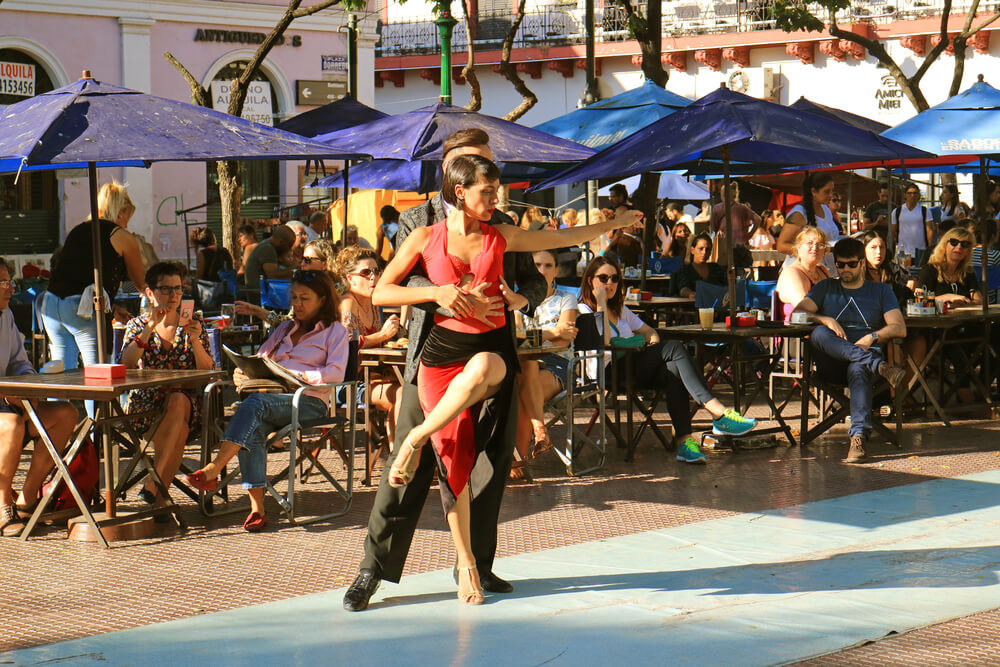 This is the main square in San Telmo.
You'll see tango dancers perform for diners, sit and watch a bit.
Take photos and leave a tip.
If visiting on the weekend, you'll see antique vendors here.
Saturday's are calmer, with only antique vendors in the square. Sundays are a bit chaotic as San Telmo is taken over by the weekly market all along Defensa Street.
You'll see a Starbucks on the corner, marking a newer shift in San Telmo as it gentrifies and "grows".
Taxi to La Boca
From here, take a taxi or ride share app of choice to Caminito to see La Boca.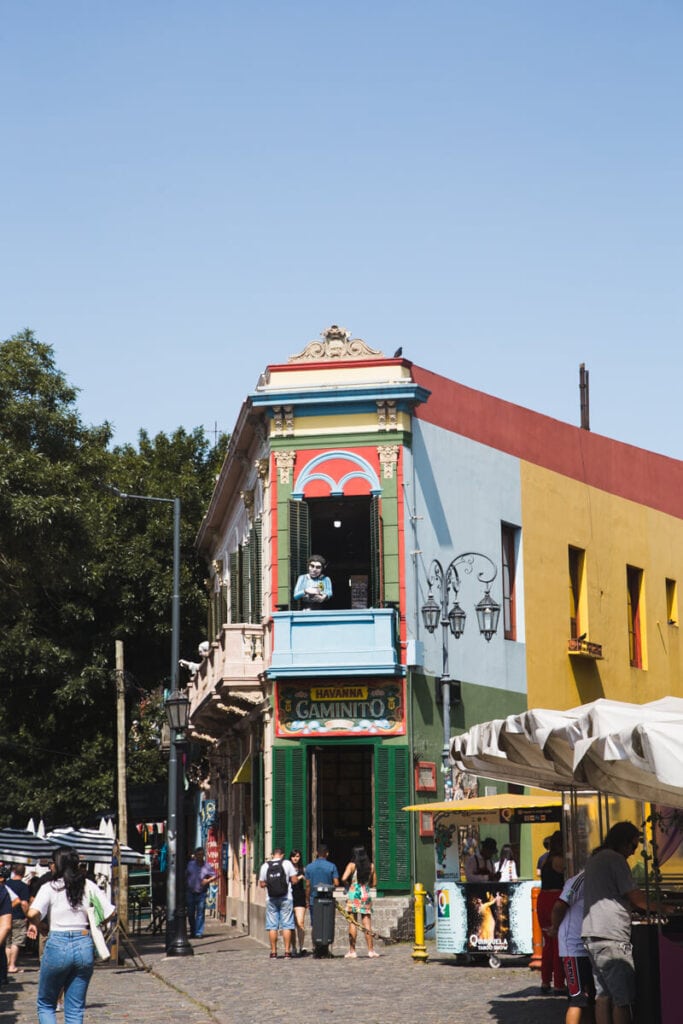 Caminito
📍Avenida Pedro de Mendoza 1929, La Boca
If you've done any research into Buenos Aires, you'll have seen this rainbow colored neighborhood on the cover of your guidebooks or throughout my blog.
It's an iconic image of the city.
That's because this is where the city received its immigrants at the turn of the 20th century, when massive waves of immigration made the city what you see today.
This port was the mouth of the city, giving it its name "La Boca."
Walk around the colorful streets in the tourist area, but don't wander too far off the beaten path.
Look in the colorful shops.
What they sell may be mainly tchotchkes but you're here to see the building itself, not the tango magnets and postcards.
The shops here are housed in historic conventillos, tenement homes that housed multiple families (many in single rooms) during and after the yellow fever epidemic at the end of the 19th century.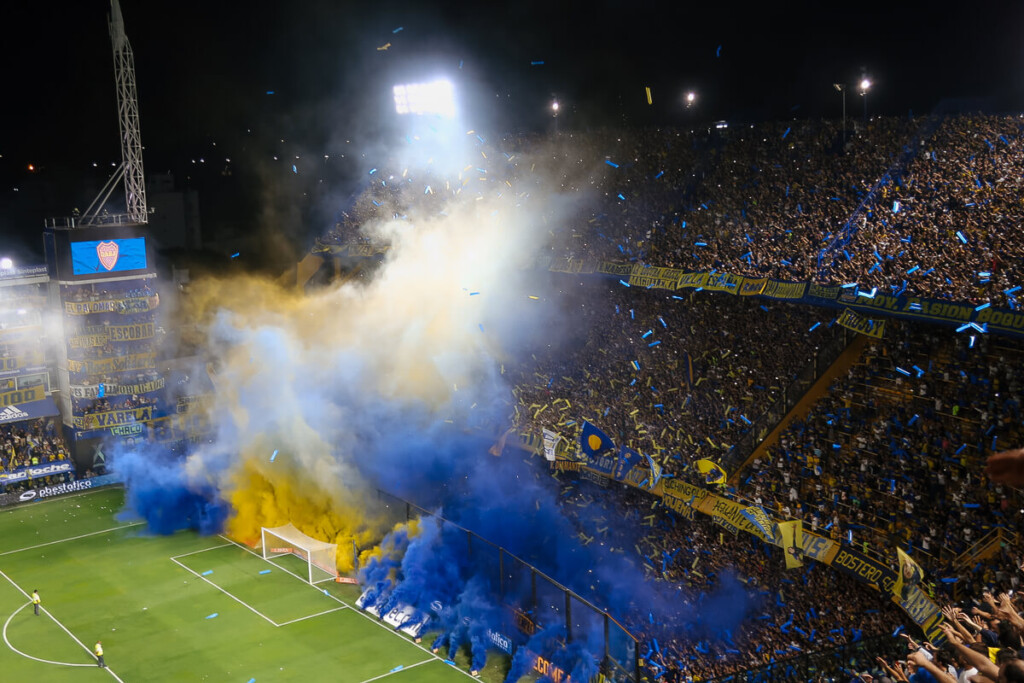 Other things to see in La Boca?
Tour La Bombonera, the infamous Boca Juniors stadium.
TIP: If you want to see a football/soccer game while here, read my football in Buenos Aires guide.
See modern art in the PROA museum and get a coffee with a view from their roof top cafe.
And my favorite? Take a cheesy tango photo with the street performers for a fun souvenir.
The restaurants here are touristy and overpriced.
I'd avoid them for a meal but they can be fun if they have performers dancing tango.
If you want to enjoy that, grab a beer, wine, or coffee and enjoy the show before you call it a day.
Take a taxi back to your hotel to freshen up for dinner.
Dinner & The End of A Full Day in Buenos Aires
Days and nights are long here and you've done a lot with only 1 day in Buenos Aires.
Go for a late dinner at one of the city's many parrillas for a great steak and Malbec.
Don Julio gets all the attention (and rightfully so) but it isn't the only steakhouse in town, check out La Carniceria, Corte Comedor, Madre Rojas, Parrilla Peña, and La Brigada for alternatives.
Read my guide to steak in Buenos Aires to navigate the menu.
And whatever you do, don't end the night without a dulce de leche heavy dessert, I recommend the flan mixto.
Cheers!
Read more about Buenos Aires
Pin It For Later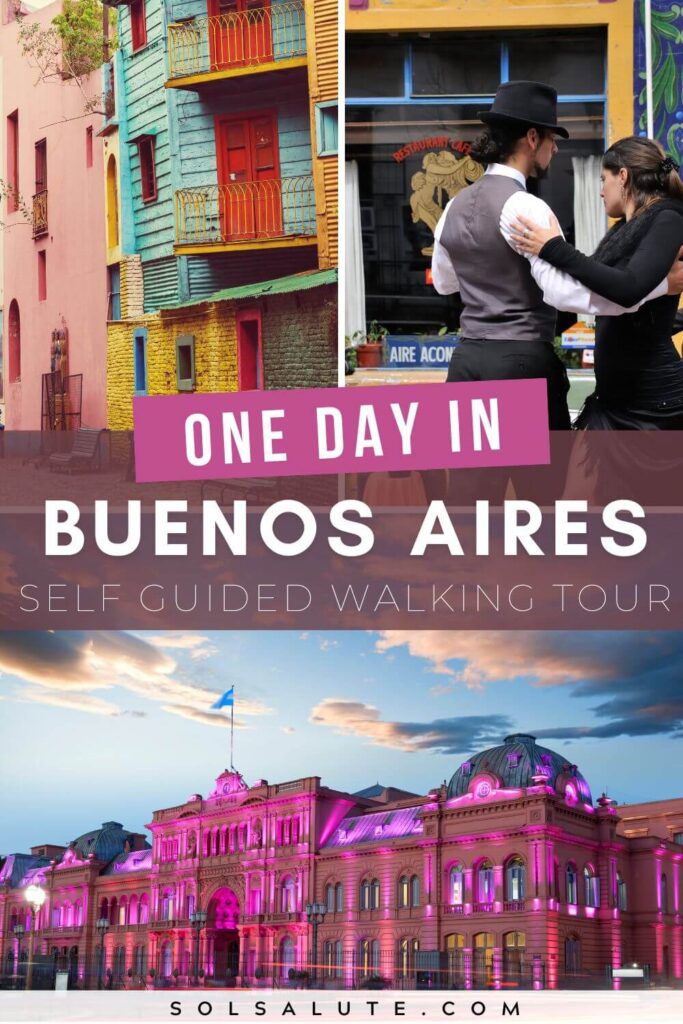 Argentina Travel Resources
Argentina Travel Resources