How did we travel without smart phones and the internet?
I remember carrying a lot of printouts. Itineraries, maps, directions… all organized in a big folder, stored in my backpack next to a huge CD binder. Packing light was hard in the stone age.
Luckily for us, all of this now fits in the palm of our hands (CD binder included). Hotel reservations and maps are all in our phones.
And while living in the "there's an app for that" generation, it's not a bad idea to look up country specific apps before traveling to make your vacation go smoother.
This post includes all the apps to use in Argentina from communication, ride-sharing, and the ever-important food delivery.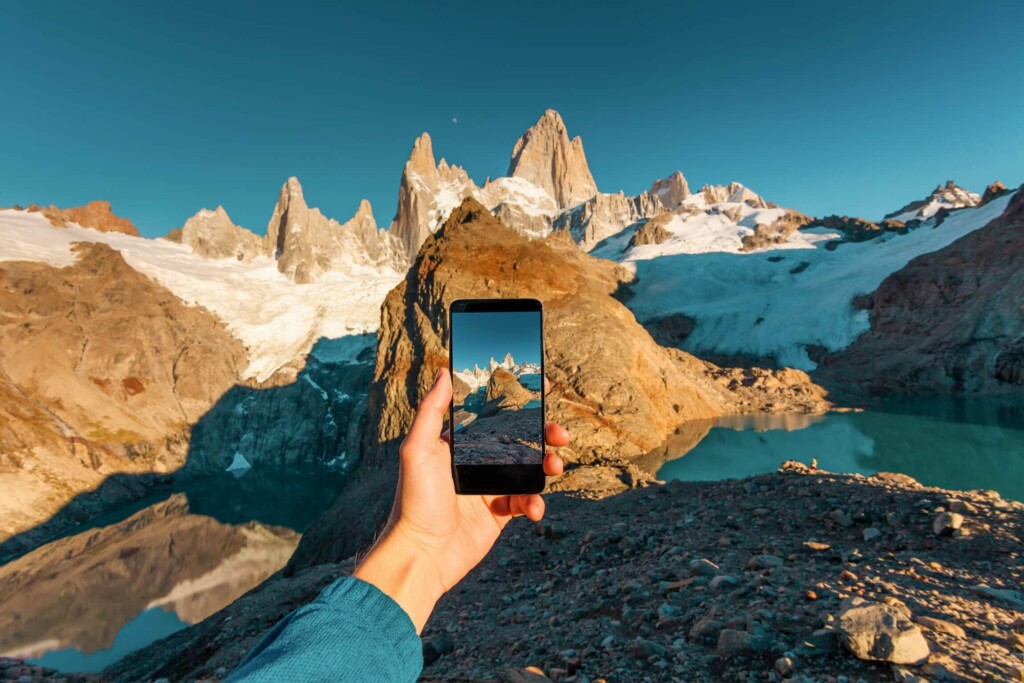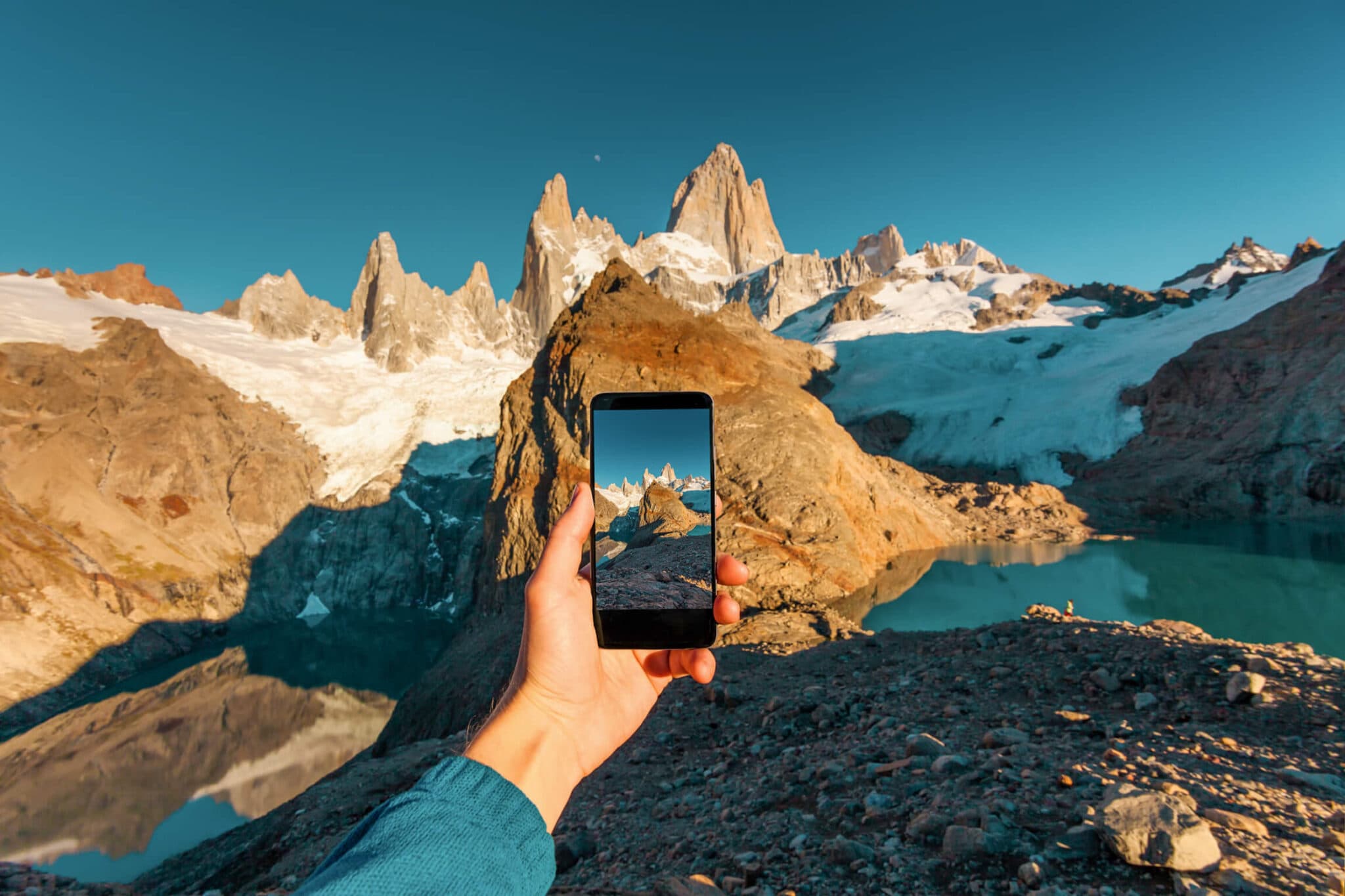 QUICK NOTE: This post contains affiliate links and Sol Salute may receive a commission for purchases made through these links, at no extra cost to you.
Tourism Apps For Buenos Aires
Where to go and what to do in Buenos Aires, all in handy dandy app form.
Buenos Aires Travel
On vacation in Buenos Aires? Or maybe you just moved here and are looking for things to do?
Before we dive into this list, start off by downloading the city's Buenos Aires Travel App here.
It's an overall guide to the city and is an excellent way to have all the basic info you could need right there in your pocket.
Hoy Milonga
Here to dance tango? Download Milonga Hoy to find out which milongas are open tonight.
It will break it down by night and geographic location, helping you know where to go.
It also includes useful information about reservations and classes offered.
If you'd rather watch and not dance, read my guide to the best tango shows in Buenos Aires.
The Fork
Previously known as Restorando, TheFork is where to go to make dinner reservations.
Don't speak Spanish or just feel too intimidated to call for that dinner res?
TheFork has your back.
A lot of excellent restaurants across Buenos Aires take reservations via the app. Even better, many offer discounts (20-40% off) if you reserve with it!
NOTE/2022 Update | A lot of top restaurants are using Meitre to manage reservations now (not an app you can download as a user, but a service they incorporate on their sites). You'll see this on restaurants like Don Julio, for example, when you visit their website or Instagram pages. It makes reservations at in demand restaurants a breeze.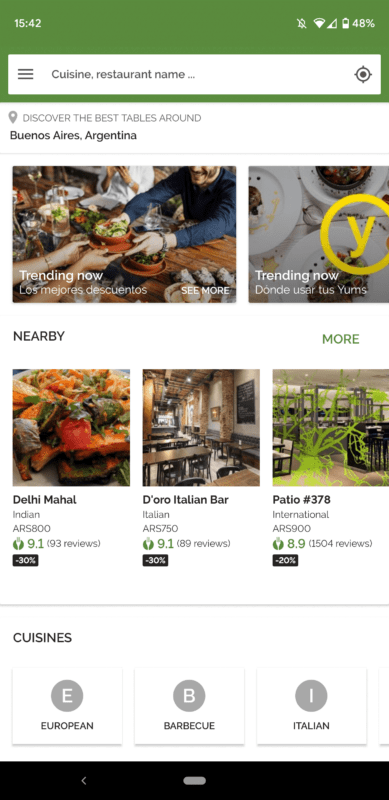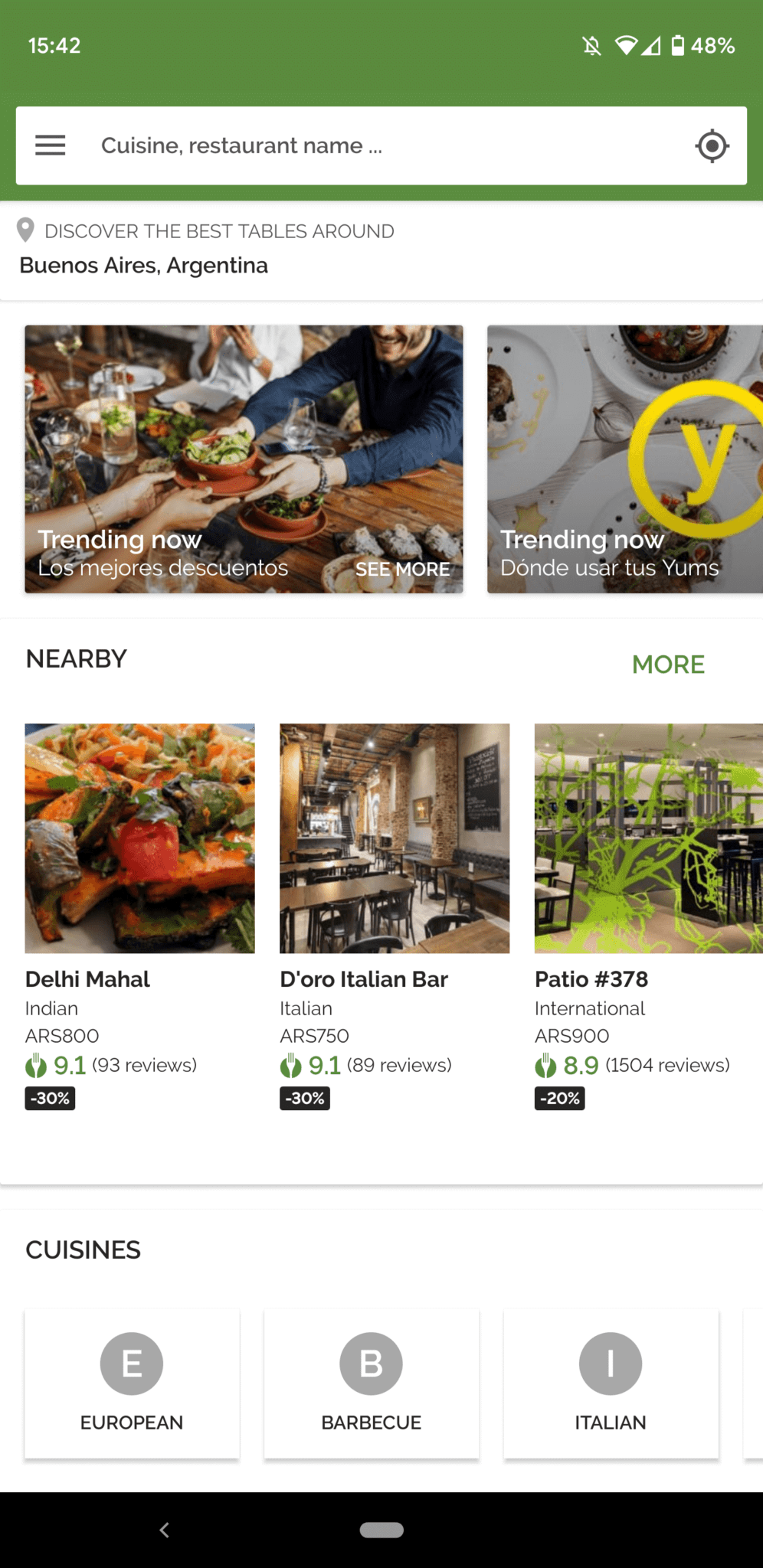 Transportation & GPS Apps to Use in Buenos aires
Perhaps the most important thing you'll need in this new, large city: how to not get lost! Here are the best apps to use in Buenos Aires to find your way.
BA Como Llego
The best app to use for directions in Buenos Aires is the government's BA Como Llego app.
Plug in your origin and destination and you can access walking, biking (including bike lanes) and driving directions.
Prefer public transportation?
Como Llego will give you the best options for your route including buses, subways and trains.
Use the desktop version online or download the app here.
BA Ecobici
A rather new addition to the city landscape, these orange bikes are free to use for short rides on weekdays.
There are different prices for weekends or longer rides, all are affordable.
Download BA Ecobici here and create an account to be able to utilize them.
The app has a live map of all the stations: where are they and which ones have bikes available and how many.
Every year there are even more kilometers of bike lanes in Buenos Aires and Ecobici makes it easy for everyone to see the city on two wheels.
BIKE TIP: These orange bikes can be a bit rickety, if you want to go on a bike tour, here are some of the best bike tours to choose from, or simply rent your own bike here.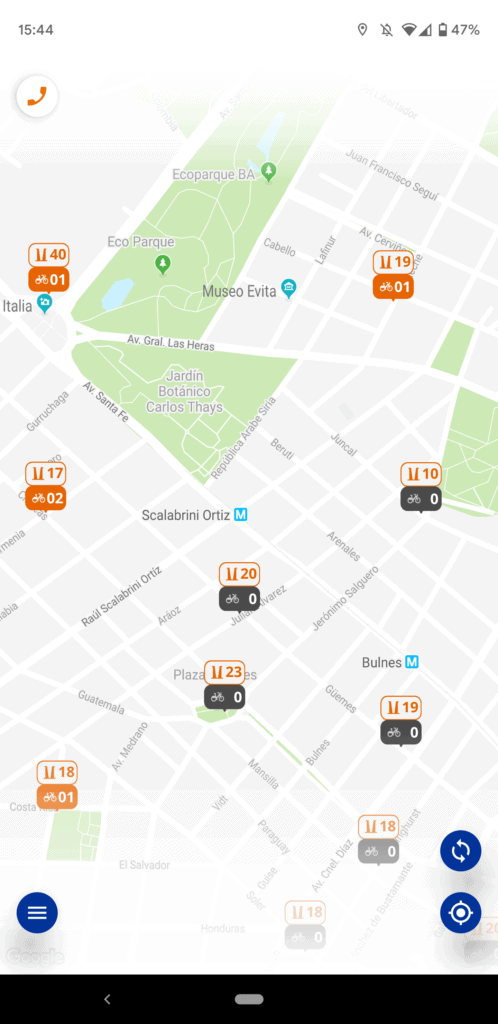 Trenes Argentinos
I'm a big fan of taking the trains in Buenos Aires. The neighborhood I live in is on the northern edge of the city but with the train I can be downtown in just 20 minutes.
If you're on vacation in Buenos Aires, you may not have much contact with the train unless you use it for a day trip to Tigre's river delta.
However, if you're living here, I recommend familiarizing yourself with the train system to make getting around that much easier.
Download Trenes Argentinos here to always have quick access to the train schedule.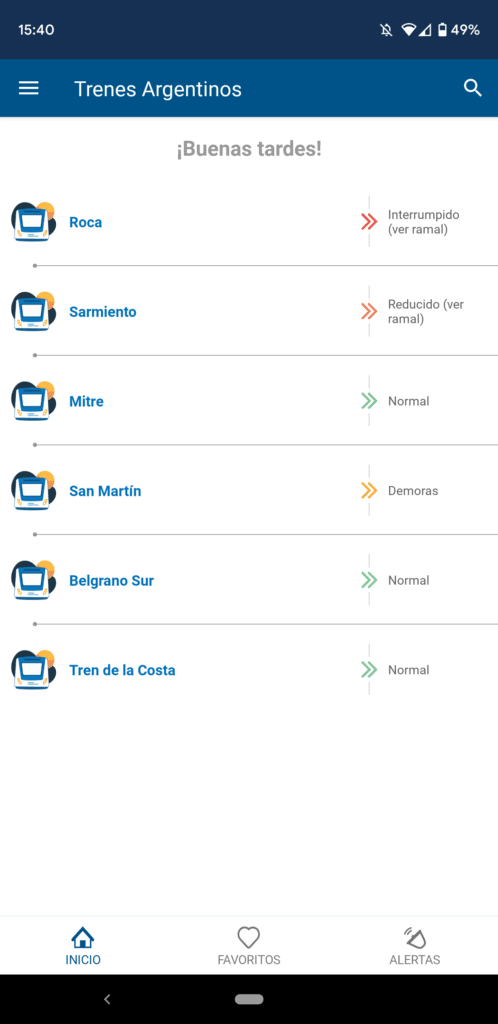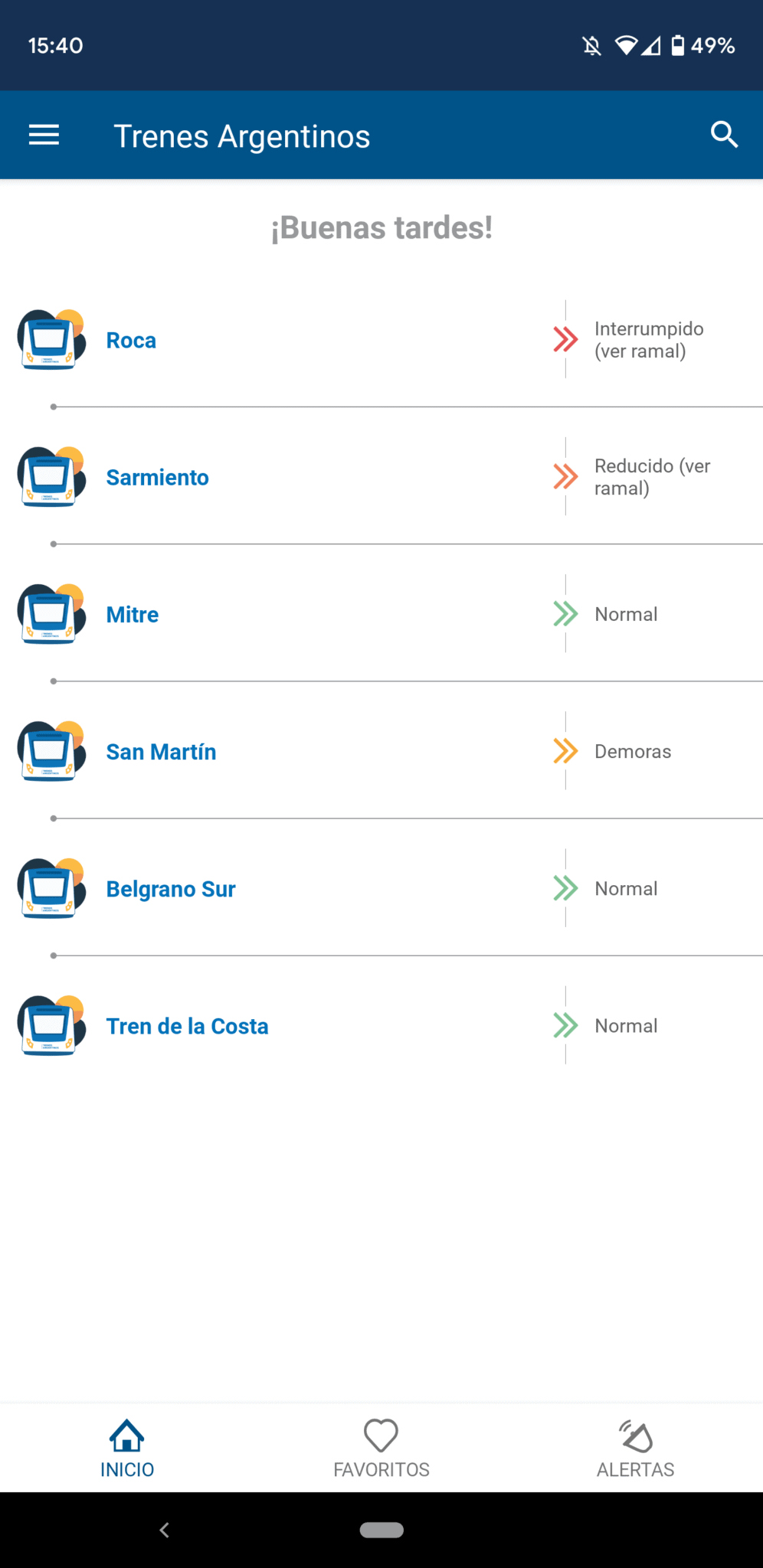 Ride Sharing Apps in Buenos Aires
Want to get where you're going without bothering with the bus?
You have a few different options when it comes to ride sharing apps.
Cabify
Cabify is my ride sharing app of choice in Buenos Aires.
Rides are plentiful and it's always easy to get a safe, reliable ride.
You can also pay with cash (make sure to select method of payment before ordering your ride), to take advantage of the advantageous blue dollar exchange rate (not sure what that is? read all about money in Argentina here).
If you're new to Cabify download it here and use my code, ERINM7, for credit towards your first ride.
BA Taxi
BA Taxi is an app by the city government that allows you to order a classic yellow and black taxi in the same way you'd request an Uber or Cabify.
Personally, I've never used it (despite having it on my phone as a back up since it was created).
I prefer the comfort of Cabify to taxis: nicer cars, air conditioning that's actually turned on, and friendlier drivers.
But if you want to try out the local cabs, BA Taxi is a great way to order your ride.
Food Delivery Apps
Like New York, you can get anything and everything delivered in Buenos Aires.
So it was only natural when delivery apps began to sprout up like weeds.
You can order from their participating restaurants that have their menus already loaded into the apps and sometimes offer discounts, making it a bit easier.
These apps will also run to the supermarket or pharmacy for you! Stuck at home? Not a problem in Buenos Aires.
Here is a list of the best delivery apps to use in Buenos Aires.
Rappi: You can get anything from anywhere on Rappi. Pet food? Check. Beer? Check. Restaurant delivery? Obviously.
PedidosYa: PedidosYa is just for restaurant delivery, but it's been in the game for years. I've been using them since before I even had a smartphone!
Other Vital Apps for Argentina
WhatsApp
Text messages are not cheap here in Argentina. And with the exorbitant cost of Apple products here most locals (yours included) have Androids.
All this makes WhatsApp the best messaging app to use in Argentina. You won't only use it to make dinner plans with your new local friends either.
Businesses often share their WhatsApp numbers first and foremost.
I often use it to coordinate with smaller hotels and have even made restaurant reservations via WhatsApp.
Basically, what I'm saying is, WhatsApp is vital to life in Buenos Aires. Download it here.
Mercado Pago
NOTE: MercardoPago requires a local DNI (ID card), so this app is only accessible for expats with residency.
I've been using MercadoPago for years to handle my payments on MercadoLibre (the local version of Ebay). But in the past year the app version has become very handy!
You can save your credit card into the app and use a QR code from within to app to pay merchants that otherwise wouldn't accept credit cards. This is a game-changer in a city where cash and debit are king.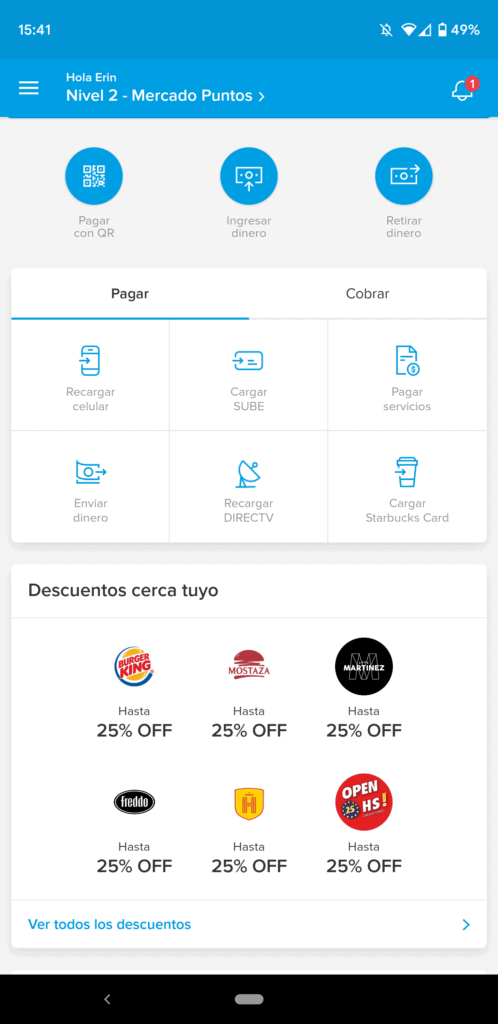 A lot of larger merchants (think McDonald's) offer discounts if you pay with Mercado Pago as well. You can even load money onto your SUBE card or phone plan via the app.
Download Mercado Pago here.
Mercado Libre
Mentioned briefly above, if you're living in Buenos Aires, you need MercadoLibre. It is the answer to every single "Where can I find ___" question you're sure to have.
ExpressVPN
If you want access to Hulu, Amazon Prime, or the much wider US catalog on Netflix, you're going to need a VPN.
VPNs also protect you from hackers when working on a public internet connection. If you'll be working or banking from one of Buenos Aires' many cafes, you'll want ExpressVPN switched on.
I use and swear by ExpressVPN, download it here.
I've been using it for over a year without any problems. When I had a problem setting it up the first time, their customer service was excellent and resolved my (stupid) mistake within minutes.
Health Insurance Apps
Sorry travelers, this one is for the expat. If you've got a local health insurance plan, your provider has an app for that.
I have Swiss Medical and use their app all the time. You can use it to make appointments at their centers, and I will do anything to avoid a phone call.
It keeps track of your appointments, will tell you what your plan includes, organizes your lab results, etc. Discovering it has been a game changer!
Here are the links to download the apps for the biggest insurance providers:
Generic but Handy Travel Apps
The following aren't specifically apps for Argentina, but I find them to be very useful when I'm out and about in Buenos Aires!
Wifi Map: Crowdsourcing at its finest, if someone has gotten the wifi password somewhere they load it in this interactive map for the rest of us to benefit from! You have to download the offline map before you leave home to access it.
Airbnb: Airbnb is the best Buenos Aires accommodation option there is, so if you've never used it, download it now. Click here for $40 US off your first reservation.
MAPS.ME & Offline Maps with Google: If you don't plan on getting a local SIM when you travel, downloading an offline map is essential to not getting lost. On my Android, I download maps with Google Maps. When I had an iPhone I used MAPS.ME.
Argentina Travel Resources
Argentina Apps to Download
Well, I hope you still have some room left on your phone for all the photos you're going to take in Buenos Aires!
These are all Argentina apps that I use on a regular basis (except Milonga Hoy, I do not dance).
They make my daily life so much easier and I hope they will help you too!
Pin It For Later