Buenos Aires is huge. It's the capital city of the 8th largest country in the world.
A third of Argentina's entire population all reside here.
It can be overwhelming when planning a trip to a city this large.
Where do you start, what can't you miss? Don't worry. I've got your back.
This post is a consolidated, easy to follow guide to the best things to do in Buenos Aires.
With these tours, neighborhoods and tips, I promise you'll see everything!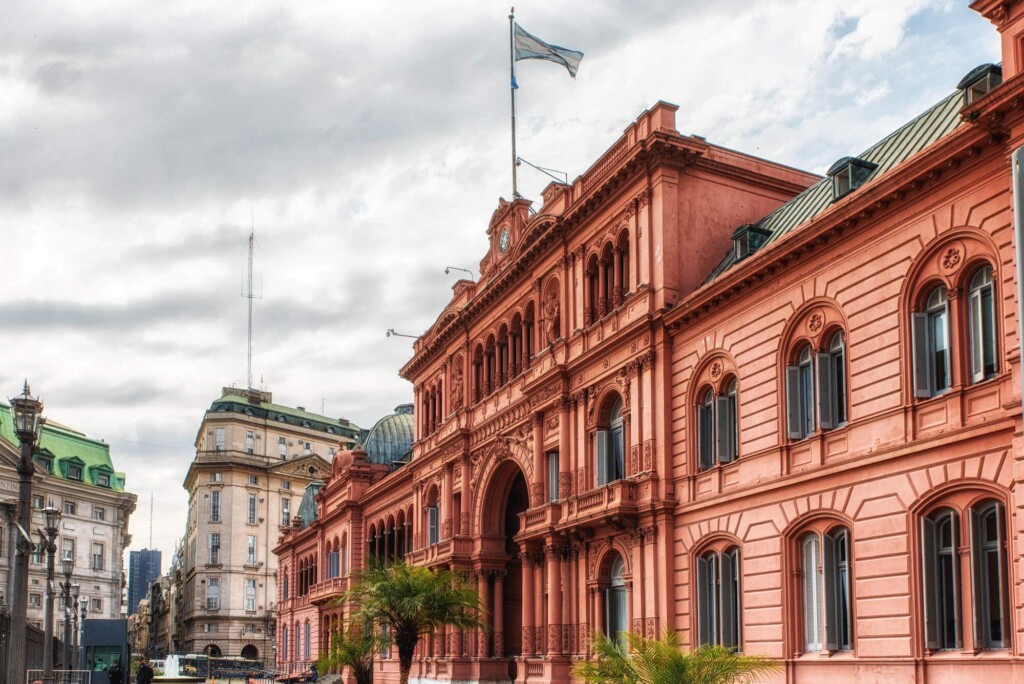 QUICK NOTE: This post contains affiliate links and Sol Salute may receive a commission for purchases made through these links, at no extra cost to you.
The Top 10 Things to do in Buenos Aires
While living in Buenos Aires since 2010, I've had countless friends and family visit.
I've played tour guide to all of them and this post is how I recommend they see the city when helping them plan their Argentina itinerary.
To simplify your planning, I've consolidated all of the top things to do in Buenos Aires into 10 easy to follow steps.
These ten things encompass all of the best things to see and do.
There are tours that cover multiple major sights and neighborhoods, cooking classes that will expose you to the best things to eat, and markets and day trips to round out the experience.
At the end of the post you'll find a map to help you get a better idea of the city.
I pinned all the main sights and neighborhoods that you can't miss.
There are also links to my Buenos Aires posts that will help you finish planning your trip, like a guide on where to stay and my ideal itinerary!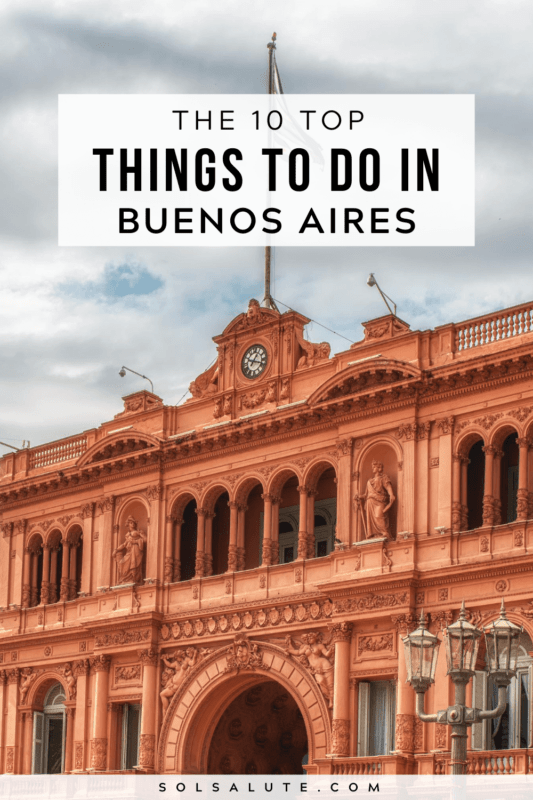 1. Go on a Walking or Bike Tour
One of the best ways to see a city efficiently is by going on a tour: walking, bike or hop-on-hop-off bus.
In fact, the first thing I always do when I'm in a new city is take a walking tour.
You're able to cover a lot of ground this way, seeing various areas of the city while learning everything you can from a local guide.
Pro-tip: Do this at the start of your trip this way so if there's a place you particularly enjoyed you have time to revisit.
With these top tours below you'll see the most important Buenos Aires attractions: La Boca, El Obelisco, Plaza de Mayo, the Recoleta Cemetery, San Telmo, Puerto Madero and more.
Best Buenos Aires Walking Tour: This tour is ideal because it's with a local guide and hits up all the best things to do in Buenos Aires. It gives you a great overview of the city. Reserve your walking tour here.
Buenos Aires Bike Tours: Another great way to tour the city is by bike. This tour company offers two options. Take the south circuit to bike through La Boca, San Telmo, and Plaza de Mayo. The North Circuit explores Recoleta, Palermo, and the parks. Reserve your bike tour here.
Hop-On-Hop-Off Bus: If a walking or bike tour is inaccessible for you, the hop-on-hop-off bus is a great alternative. It covers the entire city with stops at all the major Buenos Aires sites. My parents did this bus on their first trip to visit me in BA and they loved the easy independence it gave them to explore Buenos Aires.
Read More: My 5 Favorite Bike Tours of Buenos Aires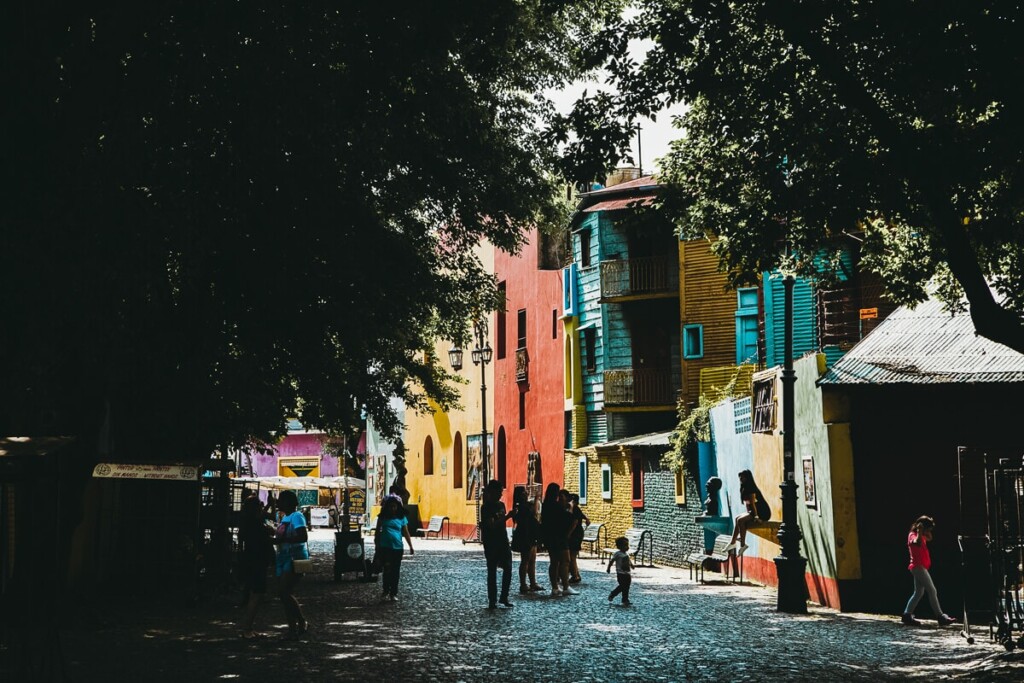 2. Experience the Passion of Tango
Seeing tango is one of the absolute most essential things to do in Buenos Aires! If you want to dance (or learn), visit a milonga in the wee hours of the morning.
To really lose yourself in the dance and to feel the passion, I recommend going to a proper tango show.
There are a lot to choose from and there's something for all budgets. Read my post to compare my favorite 10 tango shows in Buenos Aires.
TLDR: Don't feel like reading that separate post and just want to reserve the most popular show? Book this one, it's my favorite!
If a tango show isn't in your budget, there is a milonga in Plaza Dorrego at 7:30 every Sunday night following the San Telmo Market.
Locals turn up every week to dance. It's an authentic (and free) experience that's not to be missed.
For a cheesy tango souvenir, street performers in La Boca pose for photos with tourists at the Caminito. You can say you're doing it ironically but I promise you'll love it!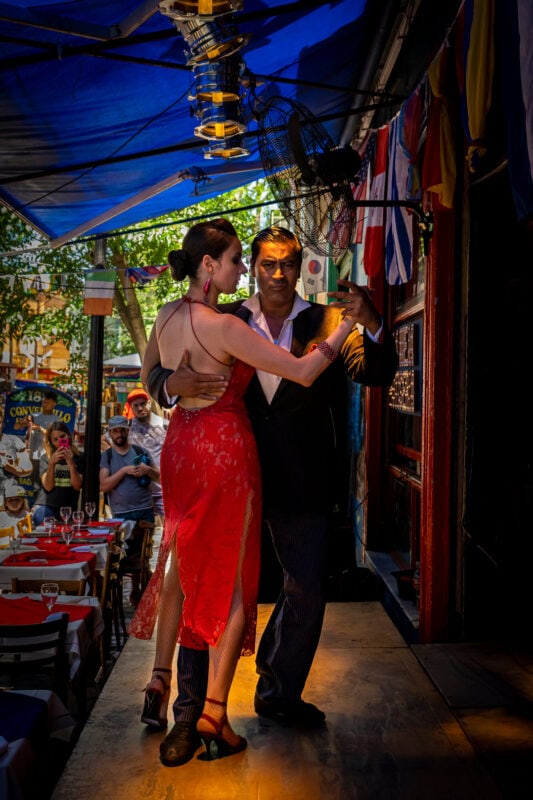 3. Learn to Grill like an Argentine
If you're a carnivore, welcome to paradise. Argentina does beef right.
Visit the city's many steakhouses while in town.
Read my Buenos Aires steak guide for my favorite restaurants and to learn how to navigate the menu.
You can easily spend a week or two trying to get a taste of all the best things to eat in Buenos Aires.
There's much more than just steak, such as empanadas, pizza, pastas, and an entire world of sweets.
If you don't have that kind of time, reserve a night at The Argentine Experience.
This one-night cooking class is wildly popular. It's actually more than a class, it's an interactive dining experience.
You'll enjoy a complete Argentine asado (bbq) accompanied by malbec infused cocktails, learning everything about each course.
Learn how to make empanadas and close out the night with a lesson on yerba mate with alfajores.
Reserve your Argentine Experience here.
Keep Reading: The Most Common Foods in Argentina You Have to Try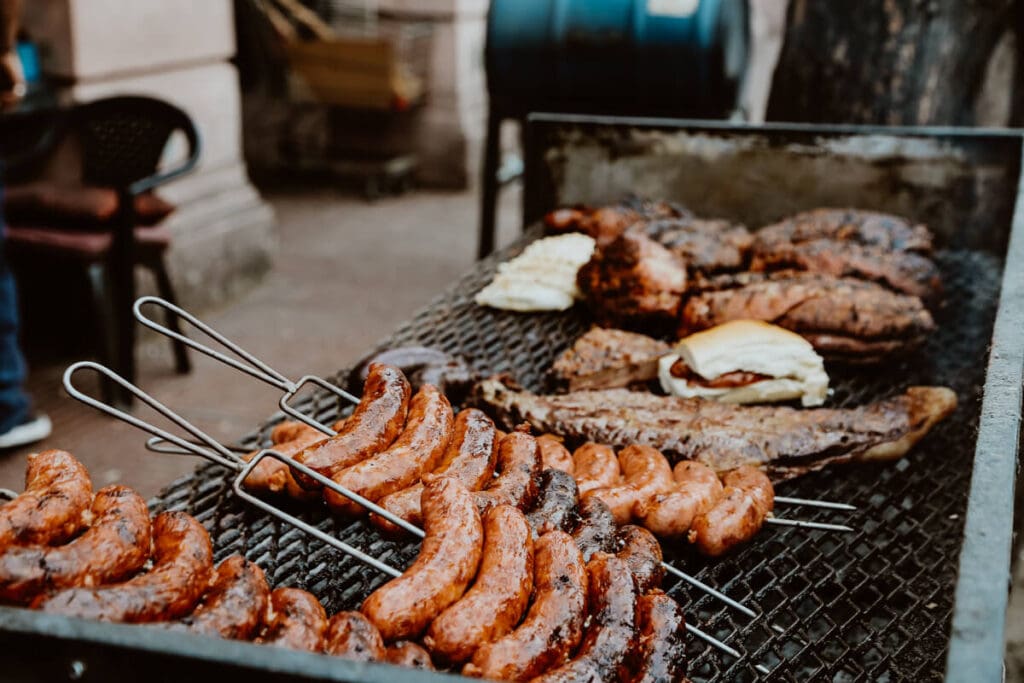 4. Go Wine Tasting
There are two national beverages here in Argentina: yerba mate and, of course, wine!
Wine tasting in Buenos Aires is one of the best things to do here in the evening before those infamous late night dinners.
In recent years there has been a surge of wine bars opening across the city.
The owners are passionate about their wine and you can usually find rare bottles that you won't see on the shelves of the supermarkets.
A few of my favorites are Pain et Vin, Vico, and Hache (all in Palermo).
You'll be sure to try some fantastic wines at any of these bars with the server's guidance.
If you want to delve deeper and learn the history of wine in Argentina, reserve this Argentine wine tour.
And did you know there are even a few wineries in Buenos Aires in the province that make excellent day trips?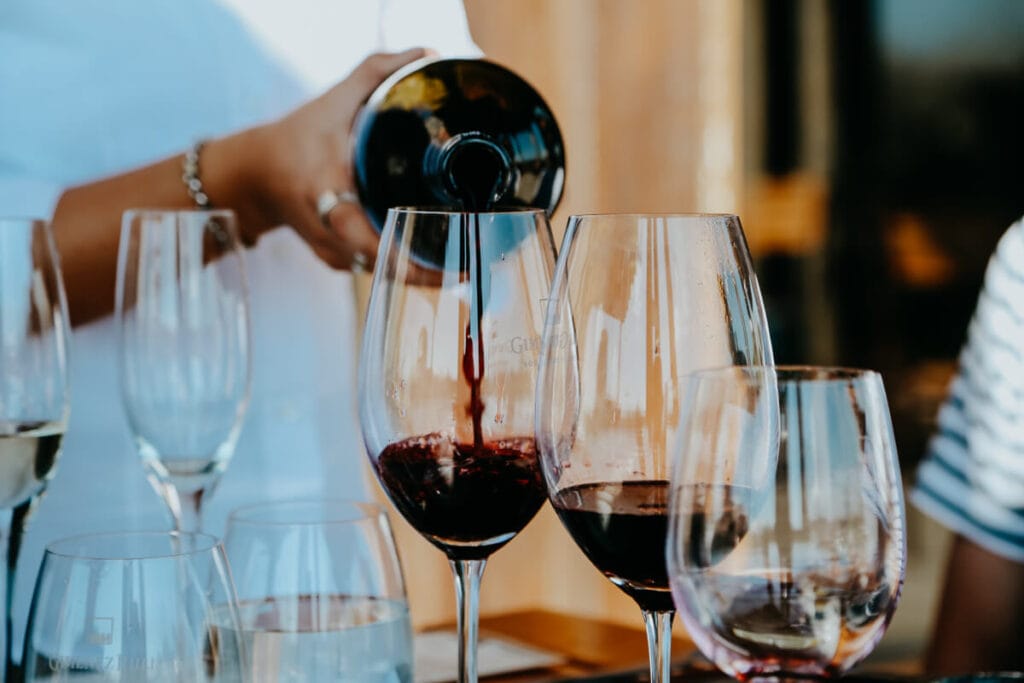 5. Spend a Saturday in Recoleta
No trip to Buenos Aires is complete without visiting Recoleta's cemetery.
And if your plans allow, I recommend visiting on a weekend.
There is an artisan market every Saturday and Sunday in the square in front of the cemetery.
It's one of my favorite ways to spend a beautiful weekend afternoon.
Pick up some unique souvenirs and watch the street performers as you lounge on the grass.
Visit all of the nearby Recoleta sights: the cemetery, the Floralis Generica flower statue (stop to appreciate the view of the Law School from the pedestrian bridge as you go), and the posh Parisian-like mansions on Avenida Alvear.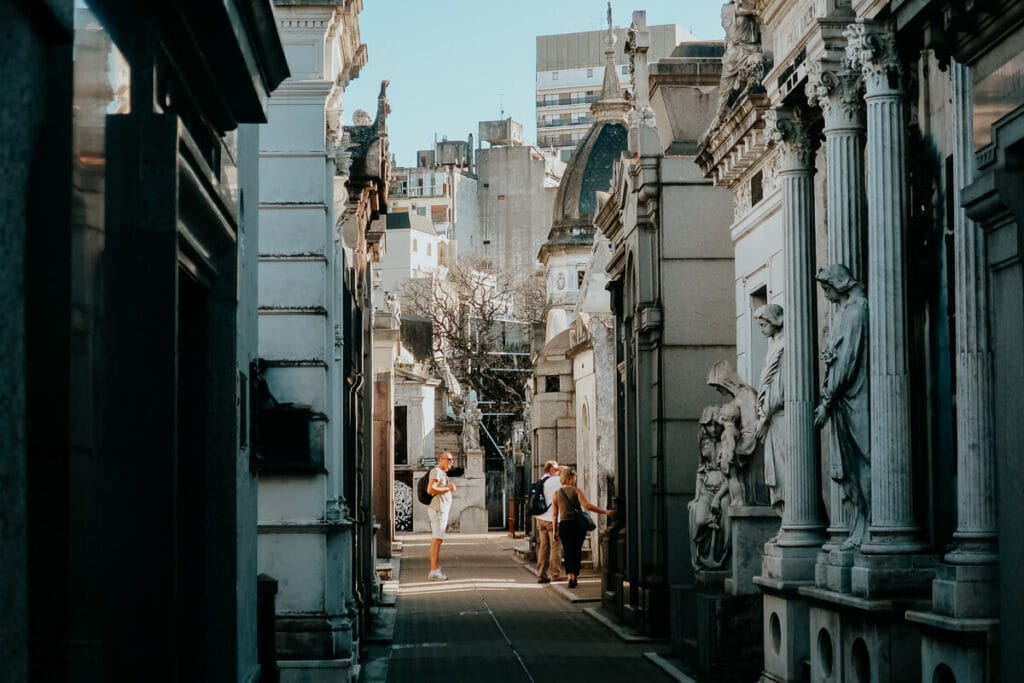 Read Next: The Best Places to Visit in Argentina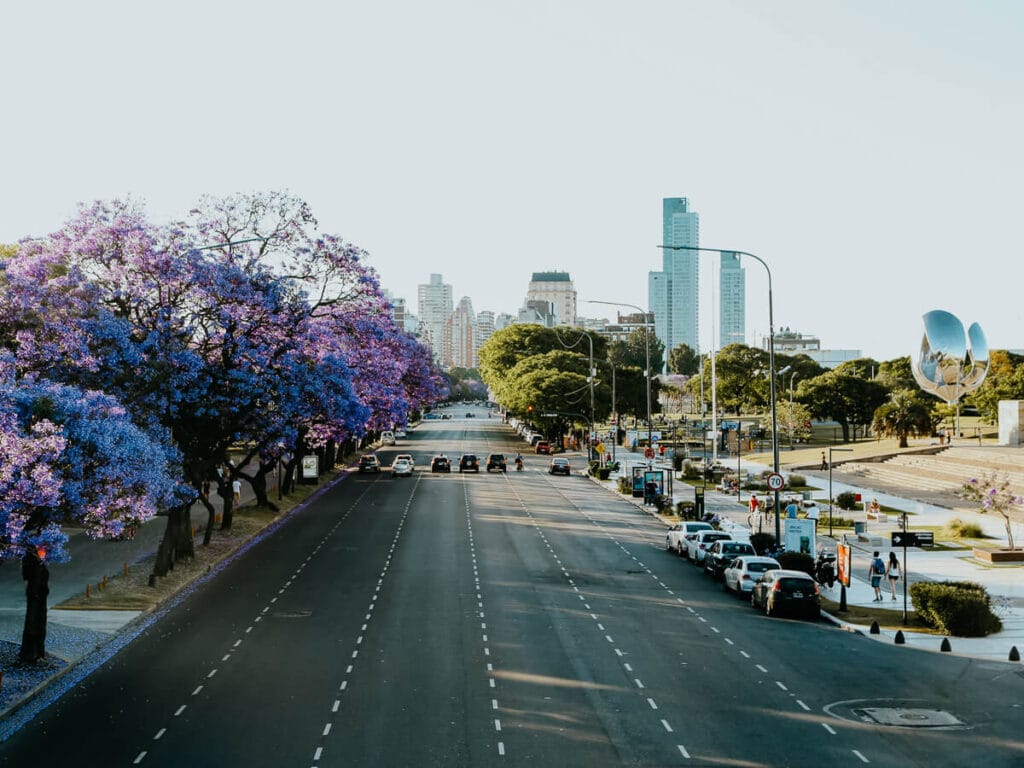 6. Shop in the Sunday San Telmo Market
One of the most iconic things to do in Buenos Aires is the Sunday market in San Telmo. While it's touristy, I still love it.
San Telmo is my favorite neighborhood in Buenos Aires and it really comes to life on Sundays.
The market runs the length of Defensa Street starting in Plaza de Mayo. It doesn't really get going until after lunch so enjoy a lazy start to the day then head to Plaza de Mayo where you can see the Casa Rosada, the Metropolitan Cathedral and the Cabildo.
From here make your way slowly down Defensa into the market.
There are antiques, jewelry, handicrafts, street performers and the best of all, street food.
The pace will be slow going thanks to the throngs of people shuffling along so take your time and peruse the booths as you go.
The market hits its peak at Plaza Dorrego. This is where the antiques are. Keep in mind that these stands start closing up shop at around 5 pm, earlier than those on the street.
Don't miss the indoor San Telmo Market (with antique vendors and restaurant stalls).
It occupies an entire city block on Defensa between Estados Unidos and Carlos Calvo streets.
Can't visit San Telmo on Sunday? Don't worry! You'll still love it. The historic neighborhood is much calmer without the market (and you can still search for antiques in the indoor market).
Pro-tip: If time allows, I recommend seeing San Telmo on a Sunday and on a weekday or Saturday to see both sides of this barrio.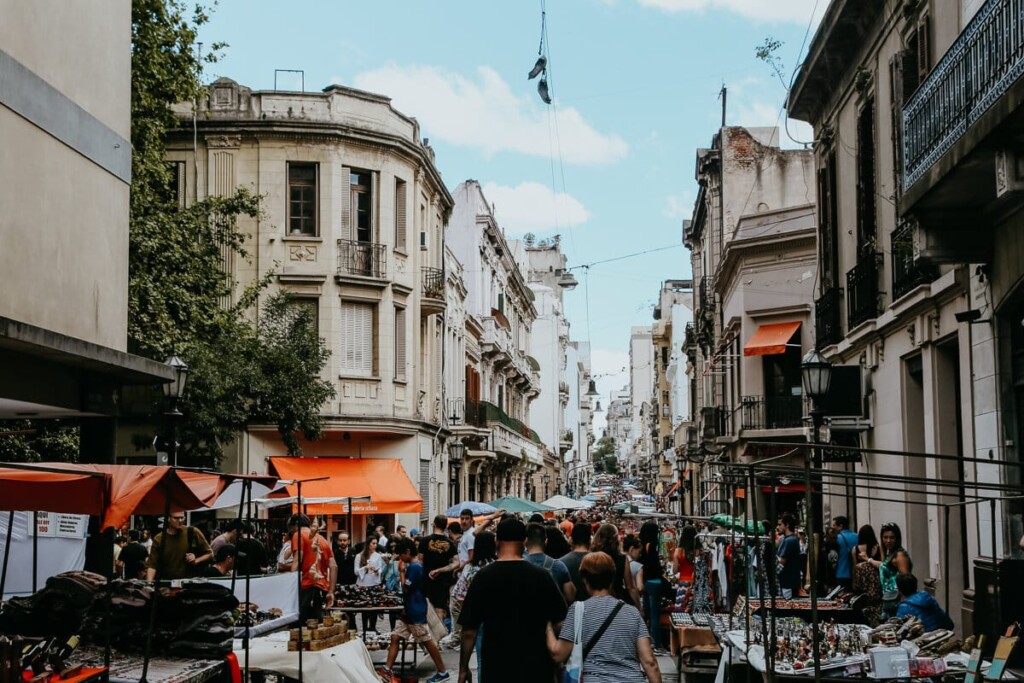 7. Be a Gaucho for a day at an Estancia
Get a taste of Argentina's rural culture by take a day trip to one of the many working ranches, or estancias, in Buenos Aires' surrounding countryside.
The best estancias near Buenos Aires all offer a full day of planned activities called a dia de campo and include transportation to and from the city.
Once you arrive you'll be welcomed with a snack, likely empanadas with wine or pastries with coffee to kick off the day.
The actual itinerary depends on the estancia but all offer more or less the same thing: horseback rides, a complete asado (barbecue) lunch, a folkloric music show, and tea time to end the day.
To see one of Argentina's cutest small towns, combine your estancia visit with a visit to San Antonio de Areco.
This package includes a tour of San Antonio and a dia de campo at the region's best estancia. Reserve it here.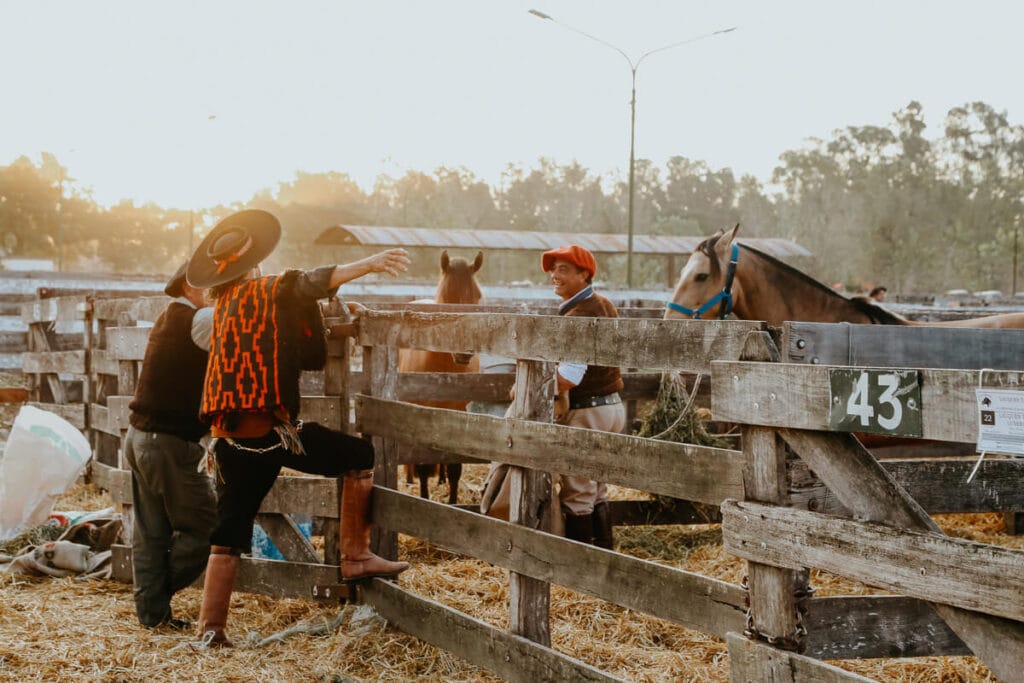 8. Explore Tigre's River Delta
Another great day trip from Buenos Aires is to the Paraná River Delta in Tigre.
Take a river taxi or hire a private boat and glide through the many arms of the river exploring the tropical islands just an hour north of downtown Buenos Aires.
You can go it alone by taking the train from Retiro to Tigre. Once there take one of the lanchas (or water taxis) to Tres Bocas, the most popular island.
There are a couple of restaurants here to stop for lunch after walking through the pathways and admiring the stilted homes.
If you have the budget, hiring a private boat and tour is ideal.
Since the water taxis (lanchas) operate more like a city bus with programmed stops, you'll see much more of the delta with your own boat and leave the crowds behind.
This private tour is run by a Tigre local who will take you out on the water allowing you to see locations not reachable otherwise.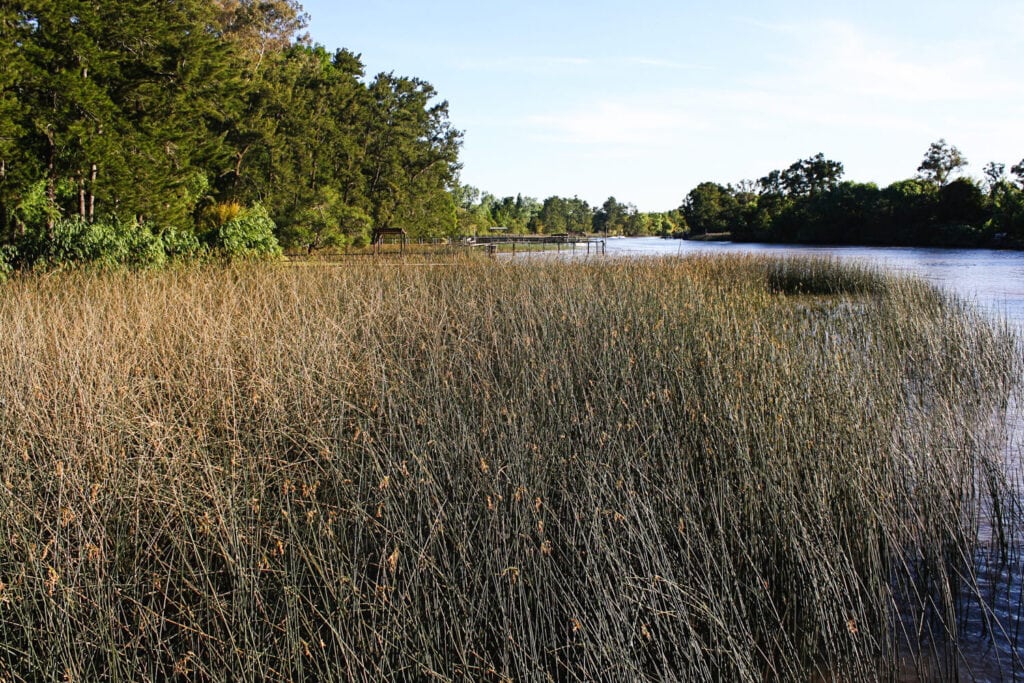 9. See the Street Art
Buenos Aires is one of the best cities in the world for street art.
Lax regulations require that the artist only needs permission from the building owner.
In fact, many owners hire artists to decorate their facades, so leave the idea of graffiti as vandalism at the door. Buenos Aires street art is art, pure and simple.
It's also everywhere. You don't need much help finding some of the city's best murals, just keep your eyes open as you explore.
To find the most famous pieces or the best mural filled neighborhoods, read my Buenos Aires street art guide.
If you want to learn more about the meaning and artists behind the murals, take this street art-focused walking tour of Palermo.
You'll dive deep into the city's political history and how it created the current street art culture you see today.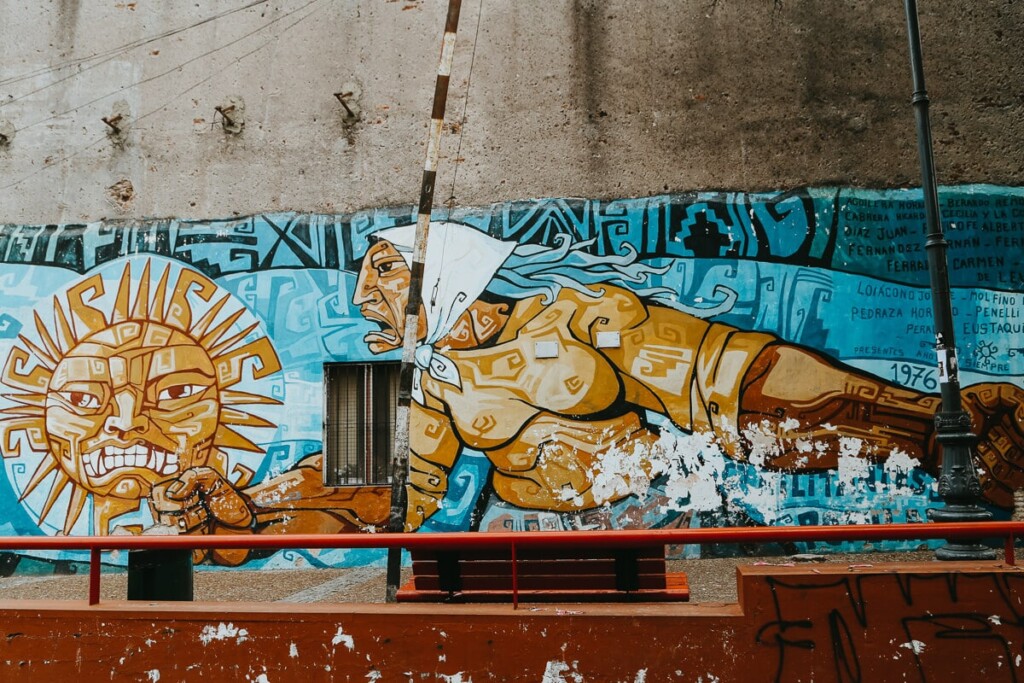 10. Spend an afternoon in Palermo
While most big cities come with a list of iconic landmarks to check off as you go, the best way to see Buenos Aires is by experiencing its neighborhoods.
One of the coolest barrios in Buenos Aires is without a doubt Palermo.
The neighborhood is huge and is divided into a few mini-neighborhoods of sorts.
Of these, my favorite is Palermo Soho. This area, most notably the blocks surrounding Plaza Armenia and Plaza Serrano, is filled to the brim with cute boutiques, sidewalk cafes, bars, the city's best restaurants, and some of the coolest street art in town.
Dedicate a whole afternoon to wander and indulge here.
I recommend saving it for a day when you're tired of non-stop touring and in need of a laid back day.
Window shop (or actually shop!), have a beer at one of the many bar's roof top terraces or a coffee on the sidewalk under the canopy of trees that bow down over the cobblestones.
For dinner, cross Juan B. Justo Avenue into Palermo Hollywood, another section of the greater Palermo.
The restaurants and bars here represent the city's best nightlife.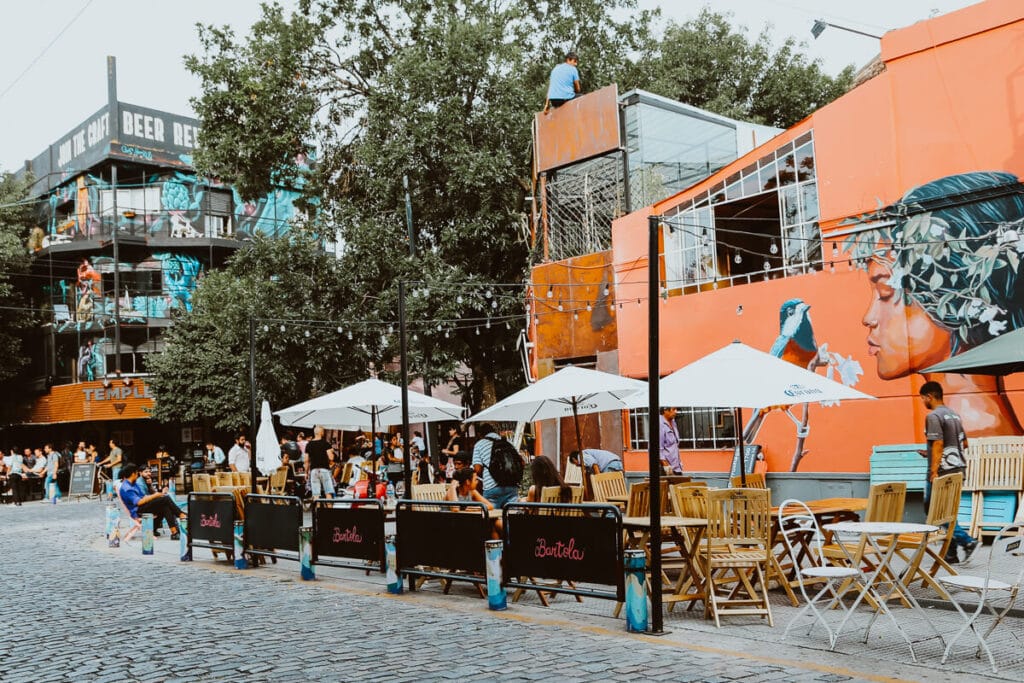 The Top 10 Things to do in Buenos Aires
I hope this guide answered all of your questions about what to do in Buenos Aires.
A city this large and this lively is filled with enough activities to keep you busy for weeks and trying to squeeze as much as possible into just a few days can feel daunting.
I did my best to compress the top Buenos Aires attractions, neighborhoods, foodie activities and day trips into 10 concise and easy to follow bullet points.
Do all of the above and you'll have done the best things to do in Buenos Aires.
Will there be more to see?
Of course! There always is.
So I hope you fall in love with the city as much as I have so you can keep coming back.
If you have any questions whatsoever, ask in the comments and I'll do my best to help!
Argentina Travel Resources
TRAVEL INSURANCE | While it's always been a good idea to travel insured, it is currently an entry requirement for Argentina. As of Jan 29, 2022, it is a requirement to provide proof of travel insurance that covers COVID with coverage for quarantine and hospital stays. SafetyWing is an affordable plan that meets the requirements of their digital nomad plan (great for tourists as well).
PHONE PLAN | These days, traveling with data is essential. Especially in Argentina where everything is managed on Instagram and WhatsApp. Purchasing a local SIM card can be tricky without a local ID, I recommend this E-SIM card, which has unlimited data. It's hassle-free and affordable. If you have an older phone that doesn't support E-SIM, check out DrimSim for a physical sim card alternative.
ACCOMMODATION IN ARGENTINA | booking.com is the most common hotel site used in Argentina and it's where you'll find the most options.
RENTAL CARS | I love to travel Argentina via road trip, check out RentalCars.com for the best rates for rental cars here.
VPN | If you'll be using a public WiFi connection and want to secure your data, I highly recommend using a VPN, I personally use and have had a good experience with ExpressVPN. I also use it to access Hulu and American Netflix from Argentina.
FLIGHTS | Always check Google Flights and Skyscanner for flights to and within Argentina. Aerolineas Argentina is the local airline with the most routes. FlyBondi and Jetsmart are two budget airlines with dirt-cheap prices (but expect to pay for every add-on like luggage)z
NEED HELP PLANNING? | I offer one-on-one travel consultations to help you plan your trip to Argentina. Pick my brain to get a local's insight. Click here for more information.
Read More About Buenos aires
Map of the Top Things to do in Buenos Aires
Here's a map where I've pinned all the top Buenos Aires tourist attractions and neighborhoods you have to visit, all mentioned in this article! Open it and download it for offline use to have access while in the street here in Buenos Aires.
Argentina Travel Tips Facebook Group
Do you have any particular questions about your upcoming trip or move to Argentina? Looking for the best advice on where to go and what to do?

Join the Argentina Travel Tips Group on Facebook to get first-hand advice from me along with fellow travelers, tour guides, expats, and locals in Argentina.
PIN IT FOR LATER