There are enough things to do in Buenos Aires to keep you busy for weeks on end!
This city is huge.
It's the capital city of the 8th largest country in the world.
A third of Argentina's entire population all reside in and around Buenos Aires.
Everything happens here from culture (museums, concerts, theater, the best dining experiences…) to outdoor markets to politics.
Buenos Aires is the hub for literally everything in Argentina.
It can be overwhelming when planning a trip to a city this large.
Where do you start, what can't you miss?
Don't worry. I've got your back.
This post is a consolidated, easy to follow guide to the best things to do in Buenos Aires.
With these tours, neighborhoods and tips, I promise you'll see everything!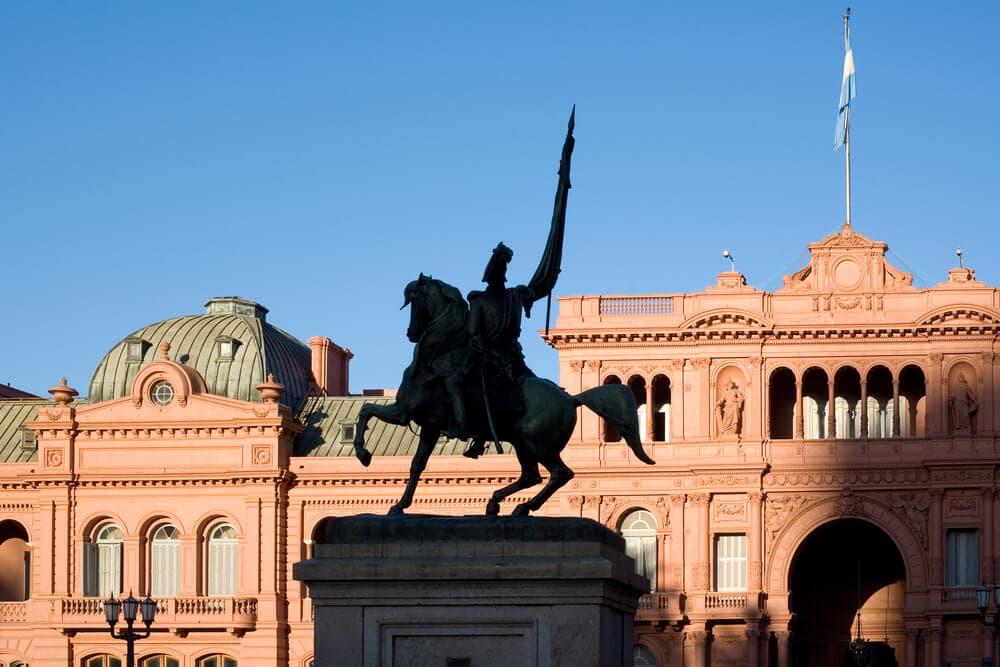 QUICK NOTE: This post contains affiliate links and Sol Salute may receive a commission for purchases made through these links, at no extra cost to you.
The Top 10 Things to do in Buenos Aires
As you read through travel blogs you'll find massive lists of the best things to do in Buenos Aires in one day or over weeks (and any city or country).
In my opinion, it gets overwhelming and can make things hard to plan.
When there's a list of 100 things to do, how do you know what's close to what? What's feasible?
So I'm building this post into two parts.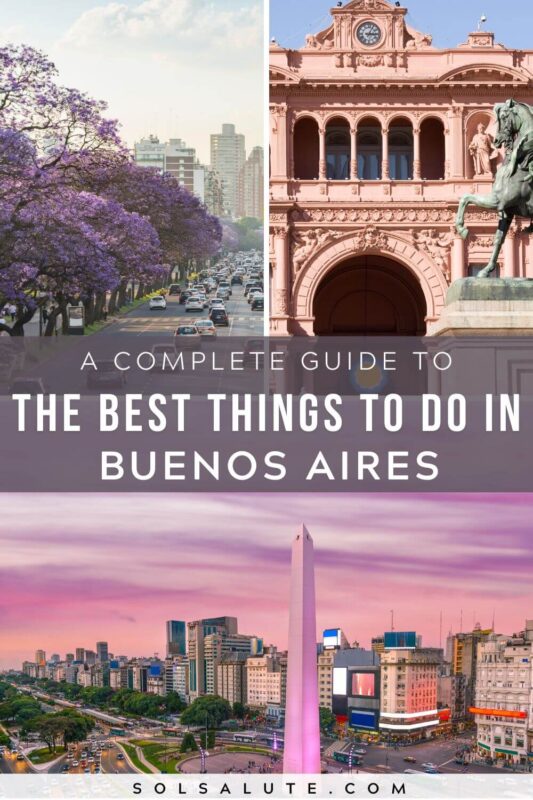 The first half of this post makes up the TOP 10 Buenos Aires attractions grouped into tours, activities, day trips, and markets.
If you're only in Buenos Aires for a few days the first half of this post is all you need.
The second half of this post includes even more things to do here to help flesh out an even longer itinerary, if you have the time.
At the end of the post you'll find a map to help you get a better idea of the city. I pinned all the main sights and neighborhoods that you can't miss.
There are also links to my many Buenos Aires guides that will help you finish planning your trip, like a guide on where to stay and my ideal itinerary
1. Go on a Walking or Bike Tour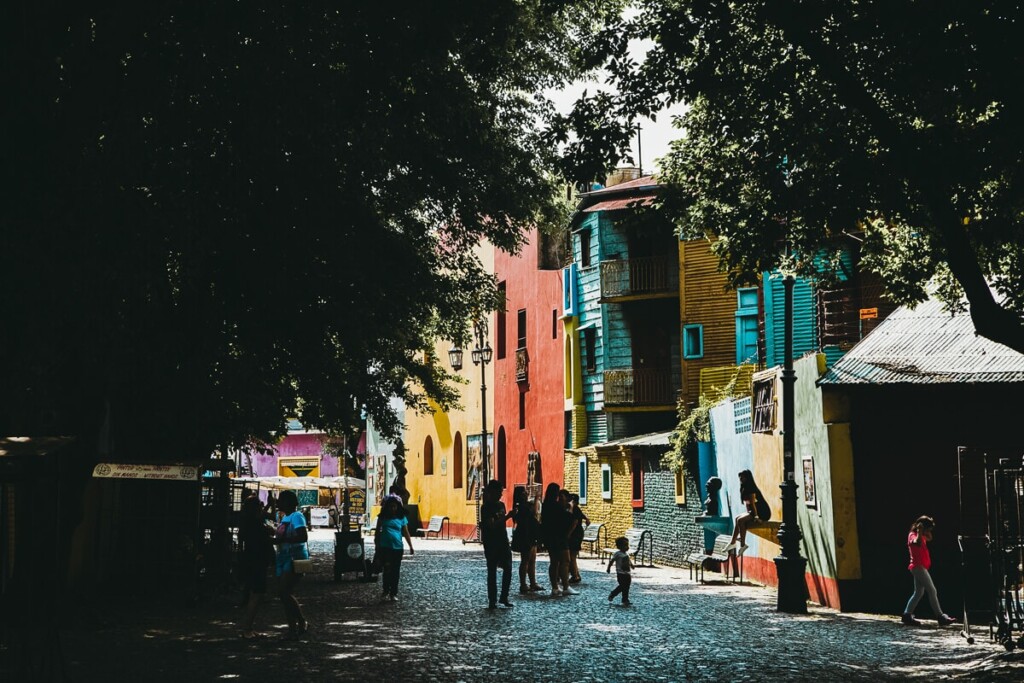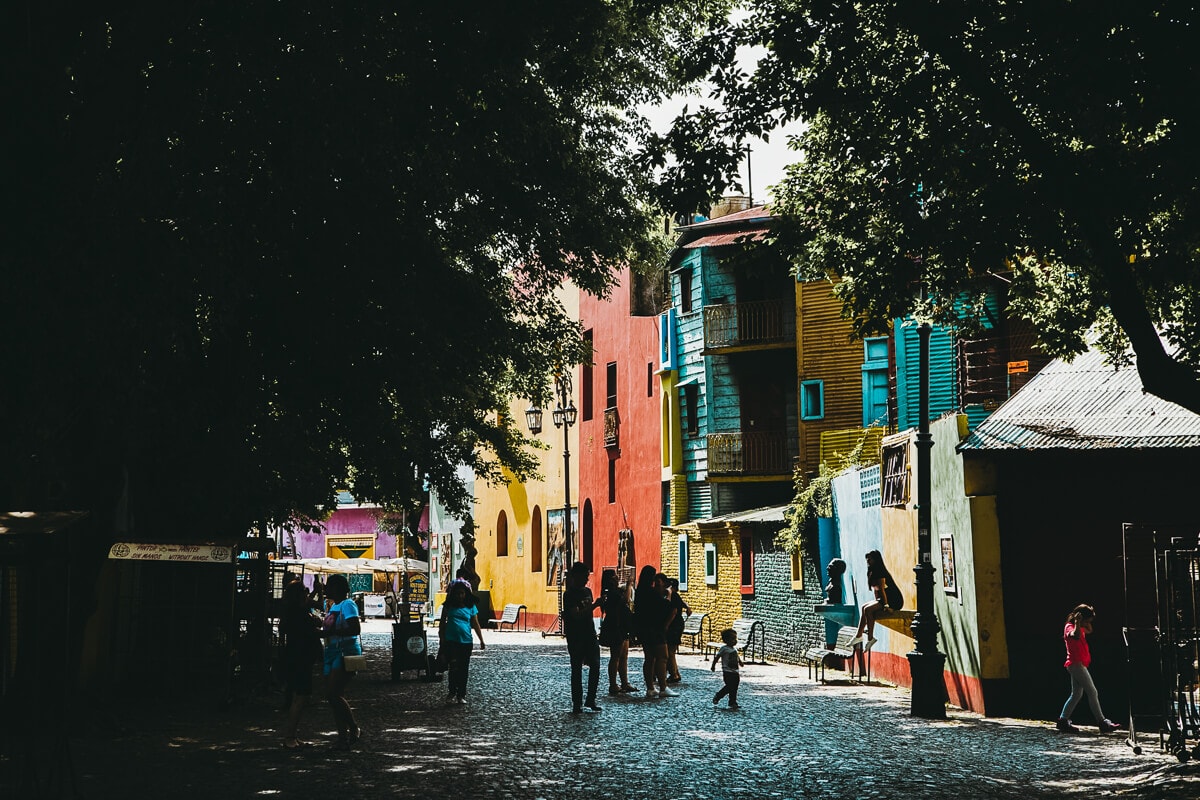 One of the best ways to see a city efficiently is by going on a tour: walking, bike or hop-on-hop-off bus.
You're able to cover a lot of ground this way, seeing various areas of the city while learning everything you can from a local guide.
Tip: Do this at the start of your trip so that you have time to revisit any place you particularly enjoyed.
With these top tours below you'll see the most important Buenos Aires attractions: La Boca, El Obelisco, Plaza de Mayo, the Recoleta Cemetery, San Telmo, Puerto Madero and more.
Best Buenos Aires Walking Tour: This tour is ideal because it's with a local guide and hits up all the top Buenos Aires places to visit, giving you a great overview of the city. Reserve your walking tour here.
Buenos Aires Bike Tours: Another great way to tour the city is by bike. This tour company offers two options. Take the south circuit to bike through La Boca, San Telmo, and Plaza de Mayo. The North Circuit explores Recoleta, Palermo, and the parks. Reserve your bike tour here.
Hop-On-Hop-Off Bus: If a walking or bike tour is inaccessible for you, the hop-on-hop-off bus is a great alternative. It covers the entire city with stops at all the major Buenos Aires sites. My parents did this bus on their first trip to visit me in BA and they loved the easy independence it gave them to explore Buenos Aires.
Read More: My 5 Favorite Bike Tours of Buenos Aires
2. Experience the Passion of Tango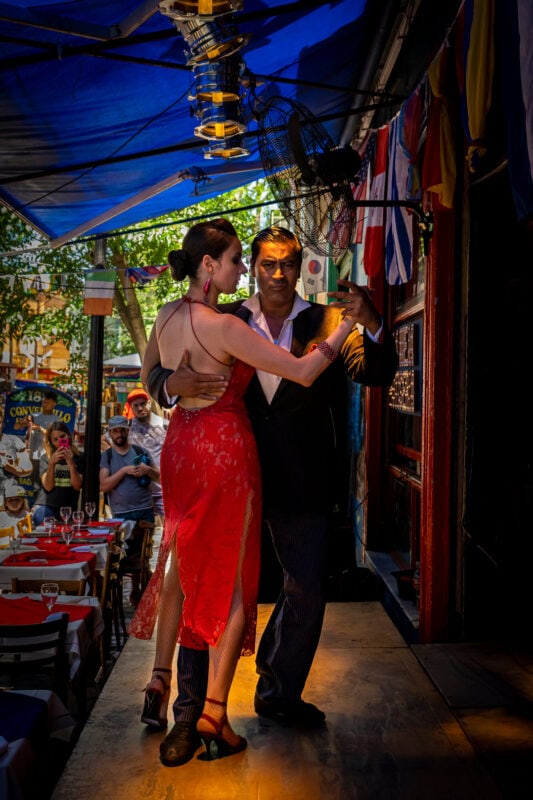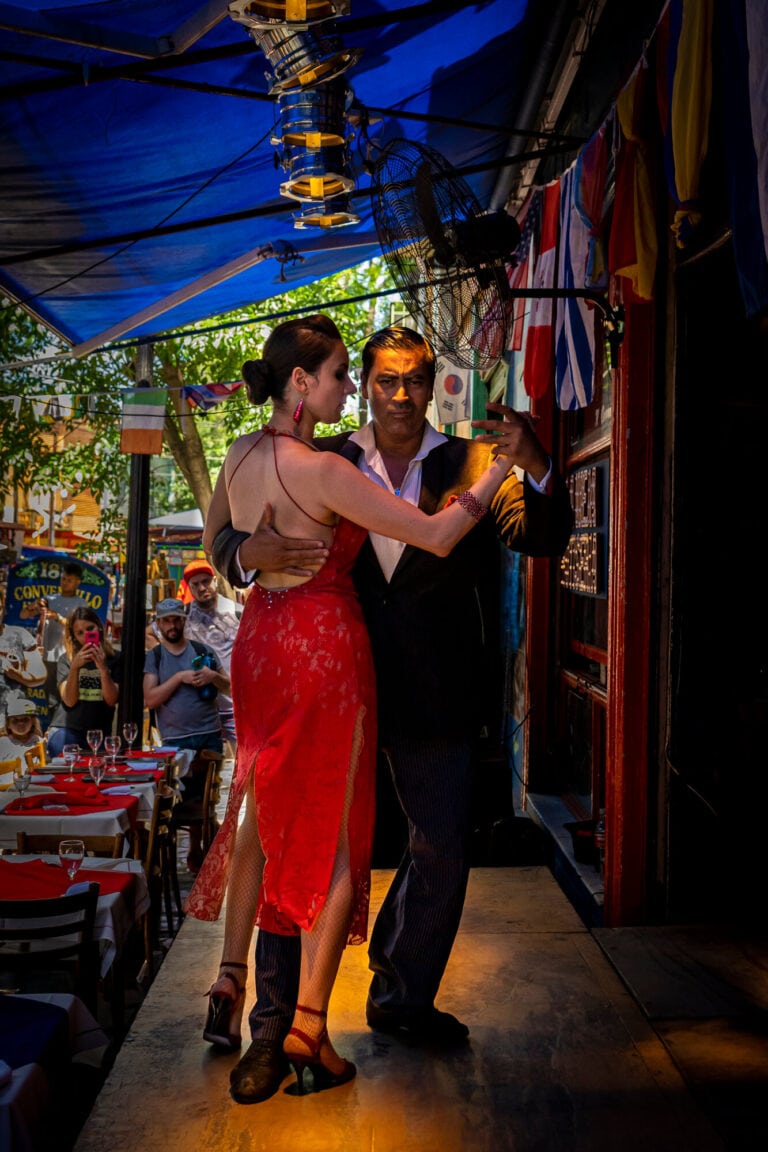 Seeing tango is one of the absolute most essential things to do in Buenos Aires!
If you want to dance (or learn), visit a milonga in the wee hours of the morning.
To really lose yourself in the dance and to feel the passion, I recommend going to a proper tango show.
There are a lot to choose from and there's something for all budgets. Read my post to compare my favorite 10 tango shows in Buenos Aires.
TLDR: Don't feel like reading that separate post and just want to reserve the most popular show? Book this one, it's my favorite!
If a tango show isn't in your budget, there is a milonga in Plaza Dorrego at 7:30 every Sunday night following the San Telmo Market.
Locals turn up every week to dance. It's an authentic (and free) experience that's not to be missed.
For a cheesy tango souvenir, street performers in La Boca pose for photos with tourists at the Caminito. You can say you're doing it ironically but I promise you'll love it!
3. Eat All the Steak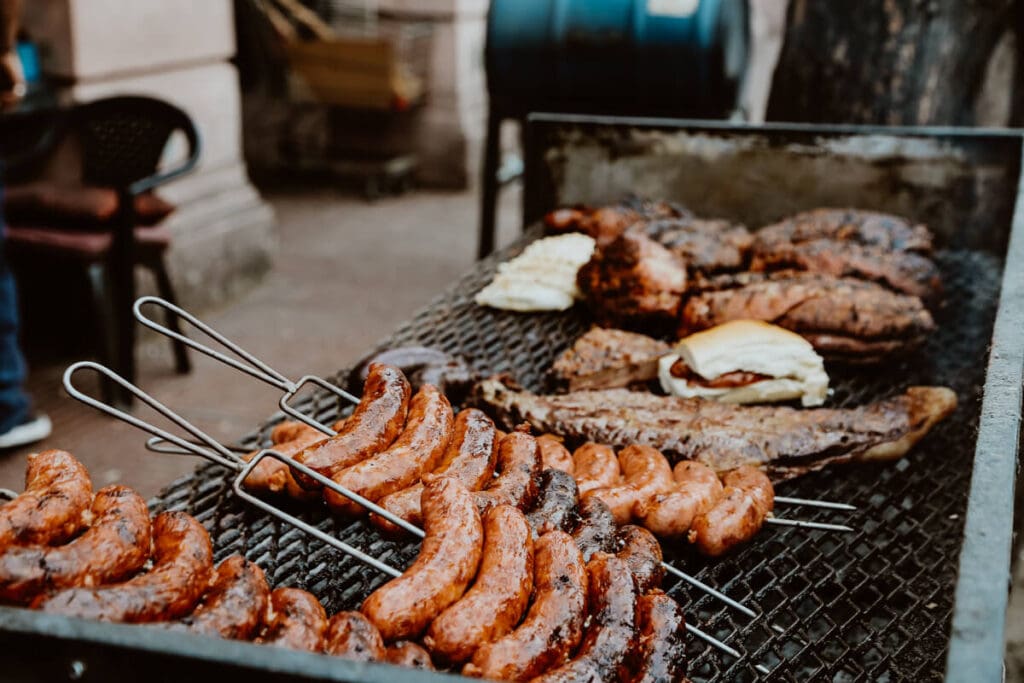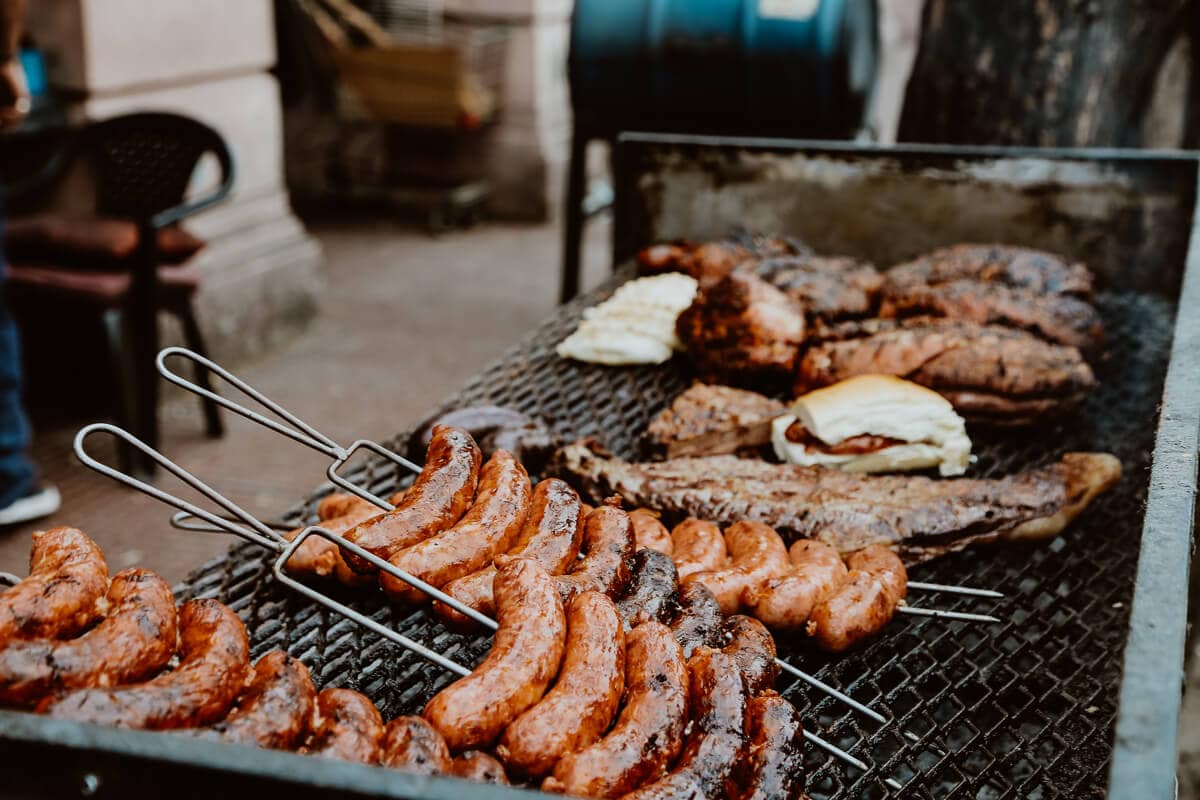 If you're a carnivore, welcome to paradise. Argentina does beef right.
Visit the city's many steakhouses while in town.
Read my Buenos Aires steak guide for my favorite restaurants and to learn how to navigate the menu.
You can easily spend a week or two trying to get a taste of all the best things to eat in Buenos Aires.
There's much more than just steak, such as empanadas, pizza, pastas, and an entire world of sweets.
If you don't have that kind of time, reserve a night at Fogon Asado.
This dining experience takes the traditional Argentine Asado and turns it on its head, creating an 8 course fine dining experience.
The open kitchen design keeps you interacting with the chefs as they cook your dinner step by step. I LOVED my meal here.
The food was incredible and the overall experience was very fun. Book your Fogon Asado here.
Looking for something a little more fun, the same company also operates the Argentine Experience. It's great for solo travelers or couples looking to make friends as the dining concept is family style around a big table. Our whole table went out for drinks together after dinner!
Keep Reading: The Most Common Foods in Argentina You Have to Try
4. Go Wine Tasting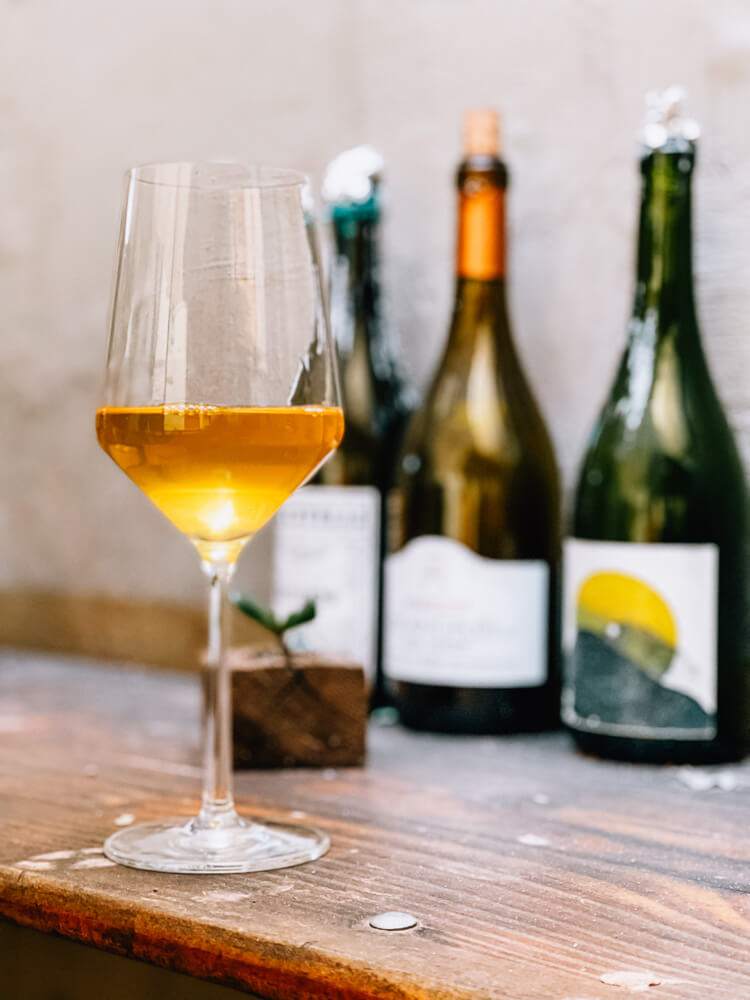 There are two national beverages here in Argentina: yerba mate and, of course, wine!
Wine tasting in Buenos Aires is one of the best things to do here in the evening before those infamous late night dinners.
In recent years there has been a surge of wine bars opening across the city.
The owners are passionate about their wine and you can usually find rare bottles that you won't see on the shelves of the supermarkets.
A few of my favorites are Pain et Vin, Vico, and Hache (all in Palermo).
You'll be sure to try some fantastic wines at any of these bars with the server's guidance.
If you want to delve deeper and learn the history of wine in Argentina, reserve this Argentine wine tour.
And did you know there are even a few wineries in Buenos Aires in the province that make excellent day trips from Buenos Aires?
5. Spend a Saturday in Recoleta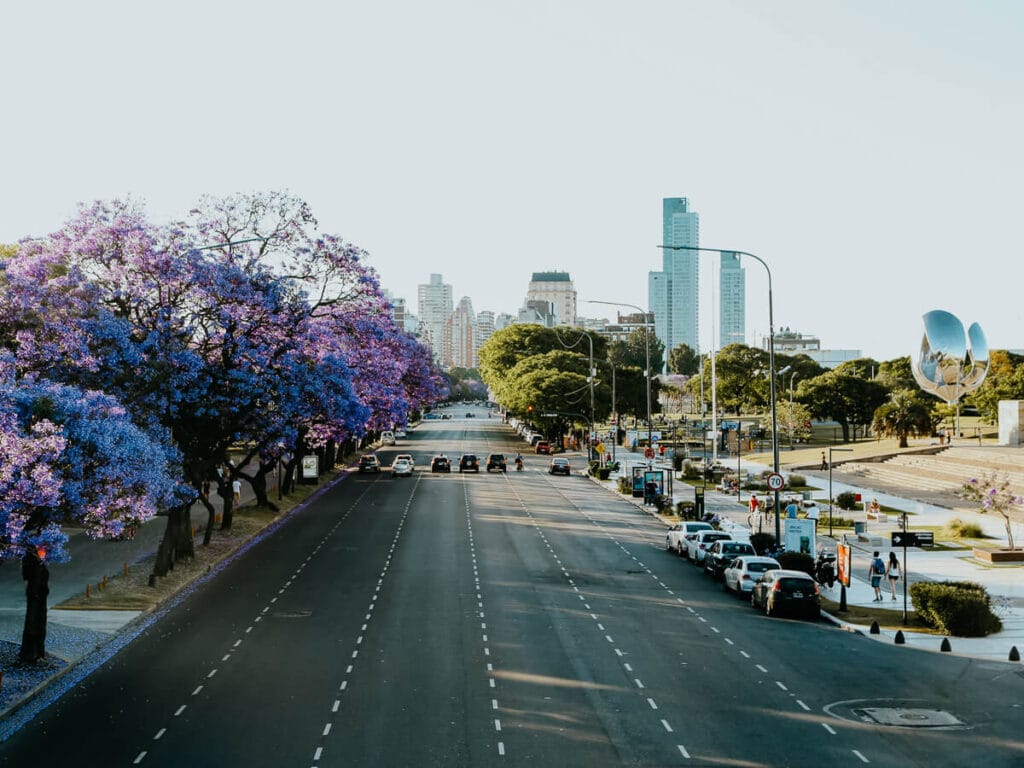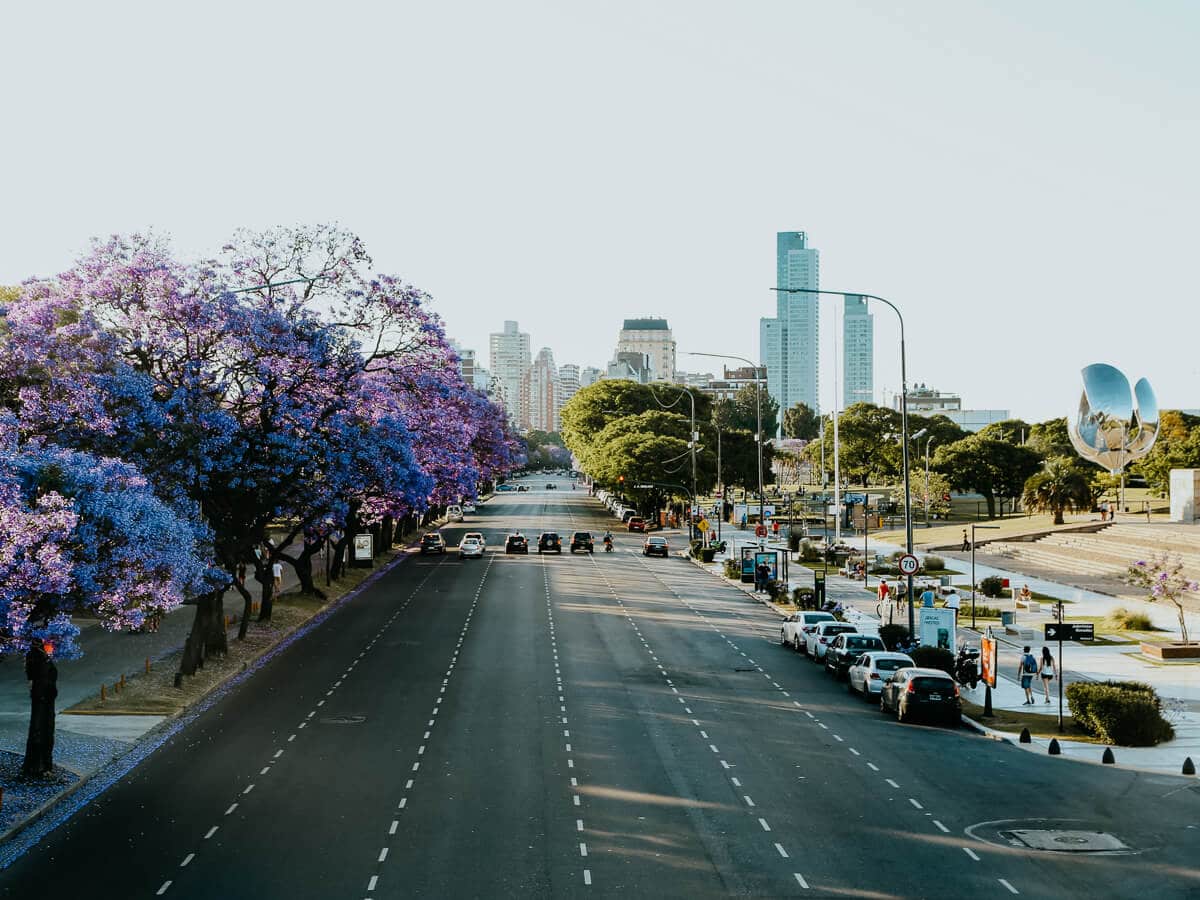 No trip to Argentina is complete without visiting Recoleta's cemetery, easily one of the most famous places in Buenos Aires.
And if your itinerary allows, I recommend visiting on a weekend.
There is an artisan market every Saturday and Sunday in the square in front of the cemetery.
It's one of my favorite ways to spend a beautiful weekend afternoon.
Pick up some unique souvenirs and watch the street performers as you lounge on the grass.
While here, visit all of the nearby Recoleta sights: the cemetery, the Floralis Generica flower statue, the law school, the Fine Arts Museum (Bellas Artes) and the posh Parisian-like mansions on Avenida Alvear.
If you can't visit on a weekend, any day of the week is great for Recoleta. You'll only be missing the market.
Read Next: The Best Places to Visit in Argentina
6. Shop in the Sunday San Telmo Market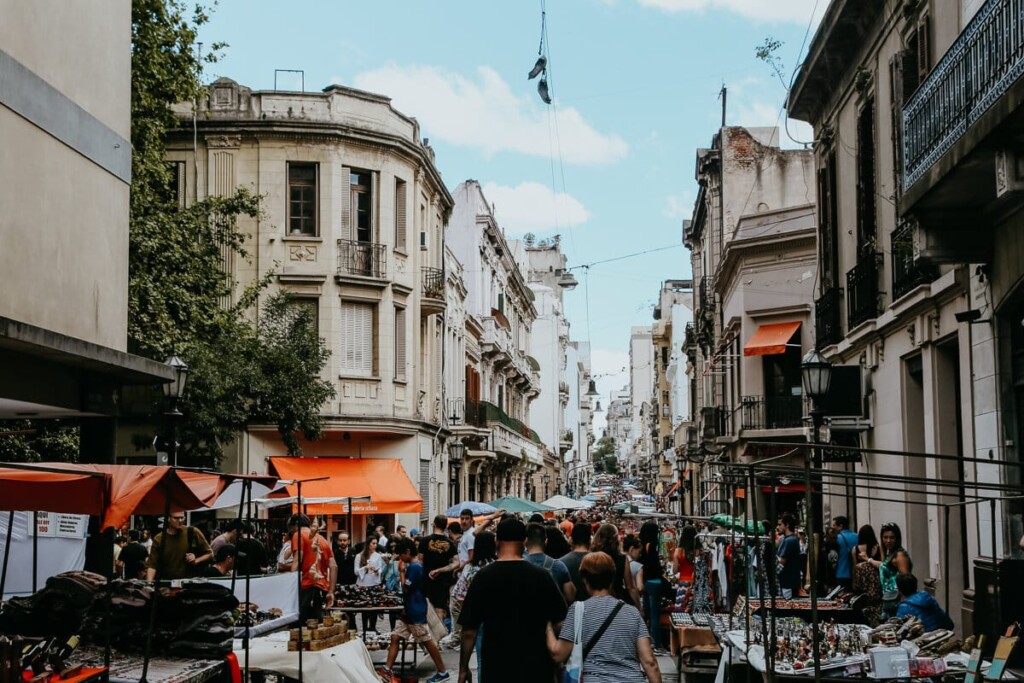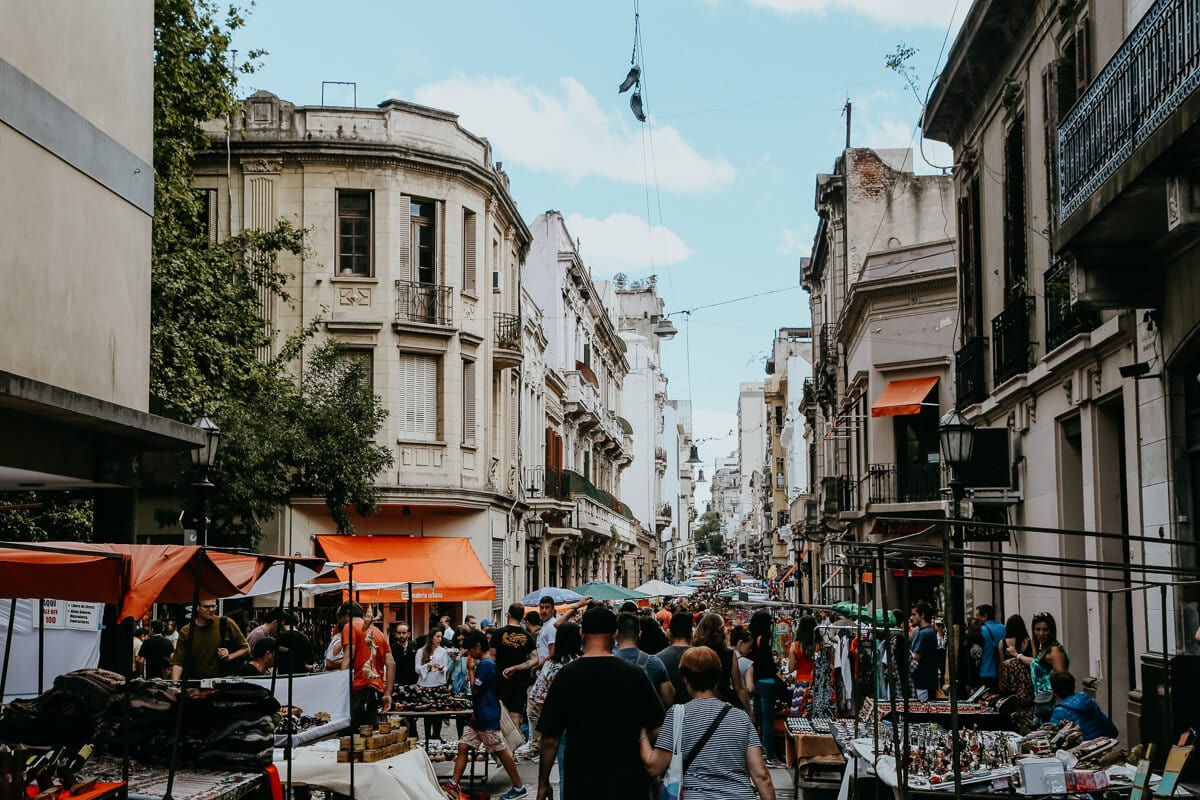 One of the most iconic things to do in Buenos Aires is the Sunday market in San Telmo.
San Telmo is my favorite neighborhood for Buenos Aires sightseeing and it really comes to life on Sundays.
The market runs the length of Defensa Street starting in Plaza de Mayo. It doesn't really get going until after lunch so enjoy a lazy start to the day then head to Plaza de Mayo where you can see the Casa Rosada, the Metropolitan Cathedral and the Cabildo.
From here make your way slowly down Defensa into the market.
There are antiques, jewelry, handicrafts, street performers and the best of all, street food.
The pace will be slow going thanks to the throngs of people shuffling along so take your time and peruse the booths as you go.
The market hits its peak at Plaza Dorrego. This is where the antiques are. Keep in mind that these stands start closing up shop at around 5 pm, earlier than those on the street.
Don't miss the indoor San Telmo Market (with antique vendors and restaurant stalls).
It occupies an entire city block on Defensa between Estados Unidos and Carlos Calvo streets.
Can't visit San Telmo on Sunday?

Don't worry! You'll still love it. The historic neighborhood is much calmer without the market (and you can still search for antiques in the indoor market). In fact, if time allows, I recommend seeing San Telmo on a Sunday AND on a weekday or Saturday to see both sides of this barrio.
7. Be a Gaucho for a day at an Estancia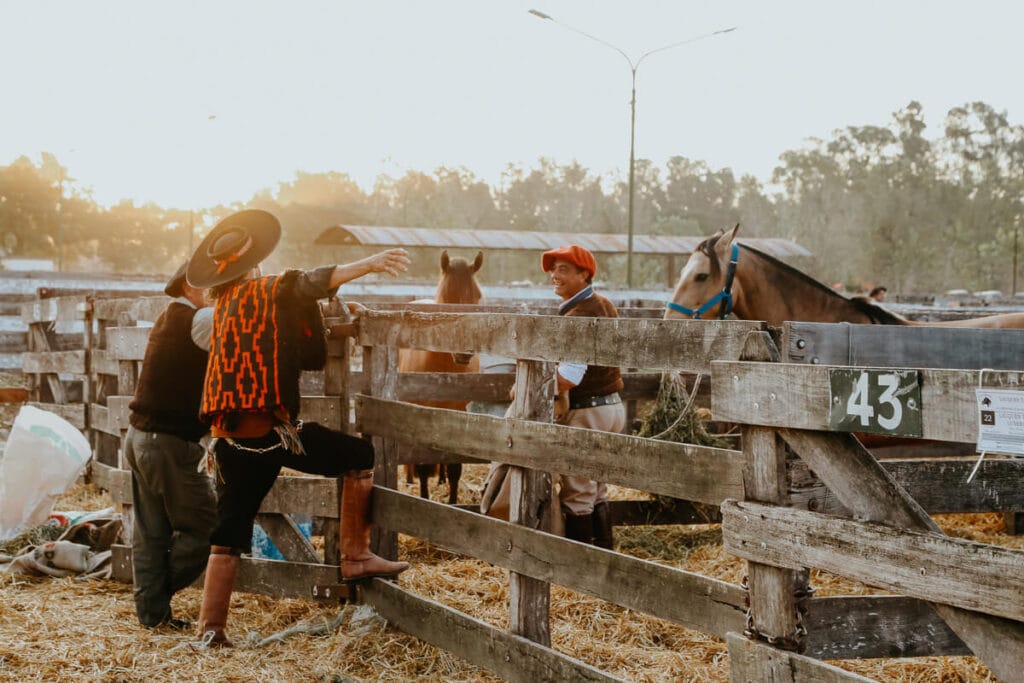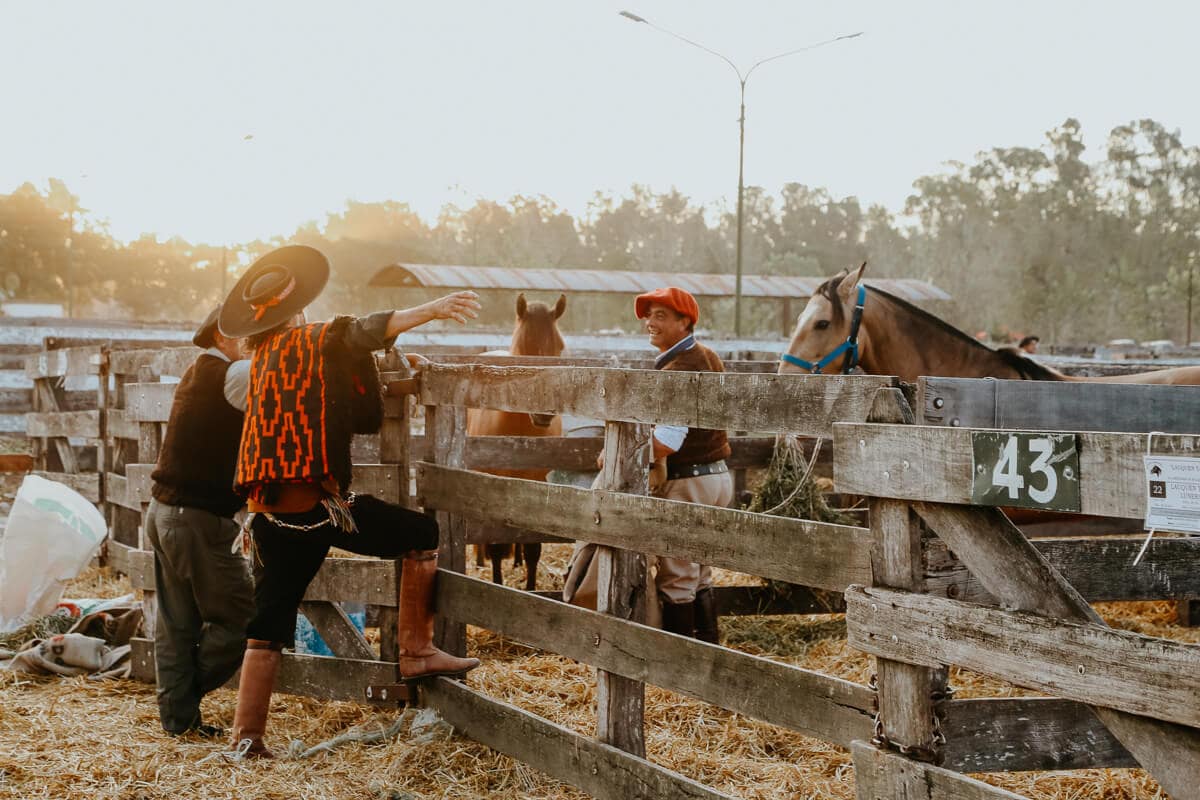 Get a taste of Argentina's rural culture by take a day trip to one of the many working ranches, or estancias, in Buenos Aires' surrounding countryside.
The best estancias near Buenos Aires all offer a full day of planned activities called a dia de campo and include transportation to and from the city.
Once you arrive you'll be welcomed with a snack – likely empanadas – with wine or pastries with coffee to kick off the day.
The actual itinerary depends on the estancia but all offer more or less the same thing: horseback rides, a complete asado (barbecue) lunch, a folkloric music show, and tea time to end the day.
To see one of Argentina's cutest small towns, combine your estancia visit with a visit to San Antonio de Areco.
This package includes a tour of San Antonio and a dia de campo at the region's best estancia. Reserve it here.
8. Explore Tigre's River Delta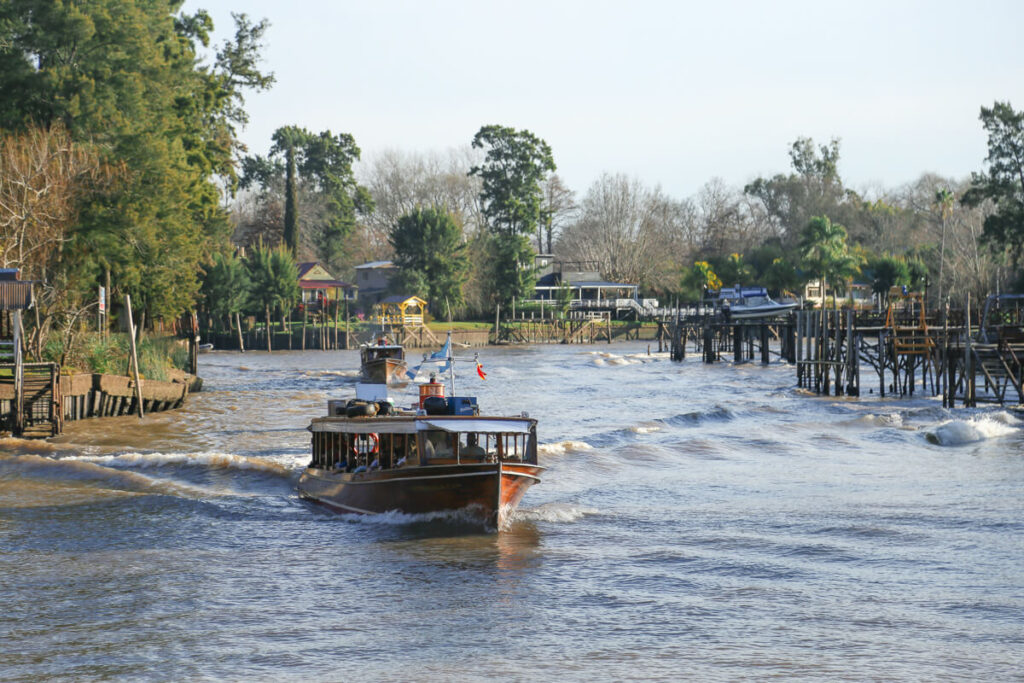 Another great day trip from Buenos Aires is to the Paraná River Delta in Tigre.
Take a river taxi or hire a private boat and glide through the many arms of the river exploring the tropical islands just an hour north of downtown Buenos Aires.
You can go it alone by taking the train from Retiro to Tigre. Once there take one of the lanchas (or water taxis) to Tres Bocas, the most popular island.
There are a couple of restaurants here to stop for lunch after walking through the pathways and admiring the stilted homes.
If you have the budget, hiring a private boat tour is ideal.
Since the water taxis (lanchas) operate more like a city bus with programmed stops, you'll see much more of the delta with your own boat and leave the crowds behind.
This private tour is run by a Tigre local who will take you out on the water allowing you to see locations not reachable otherwise.
9. See the Street Art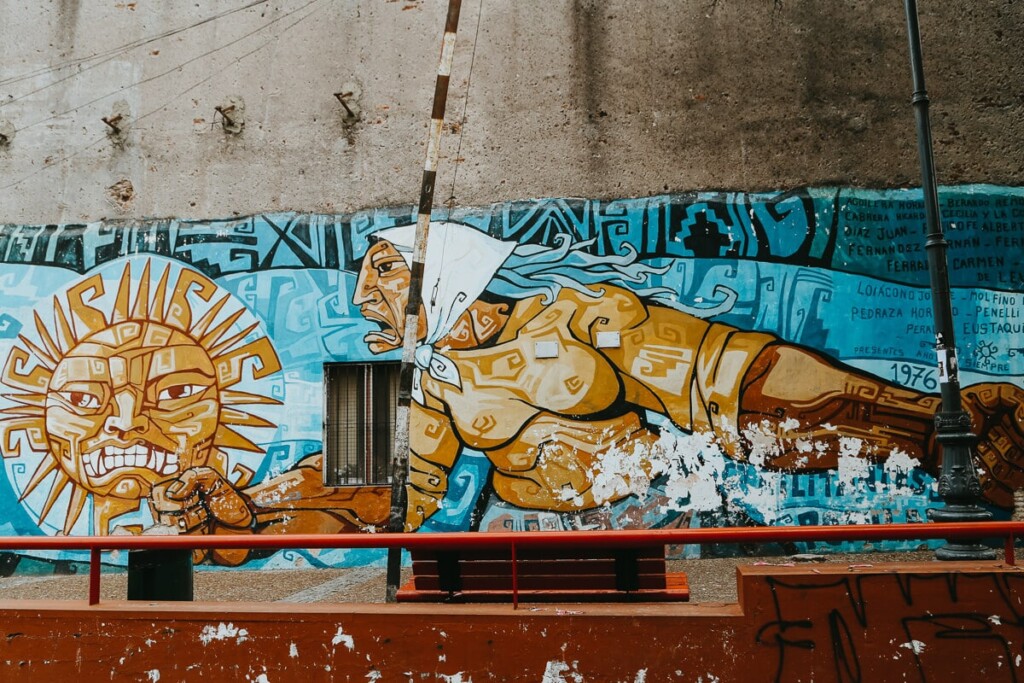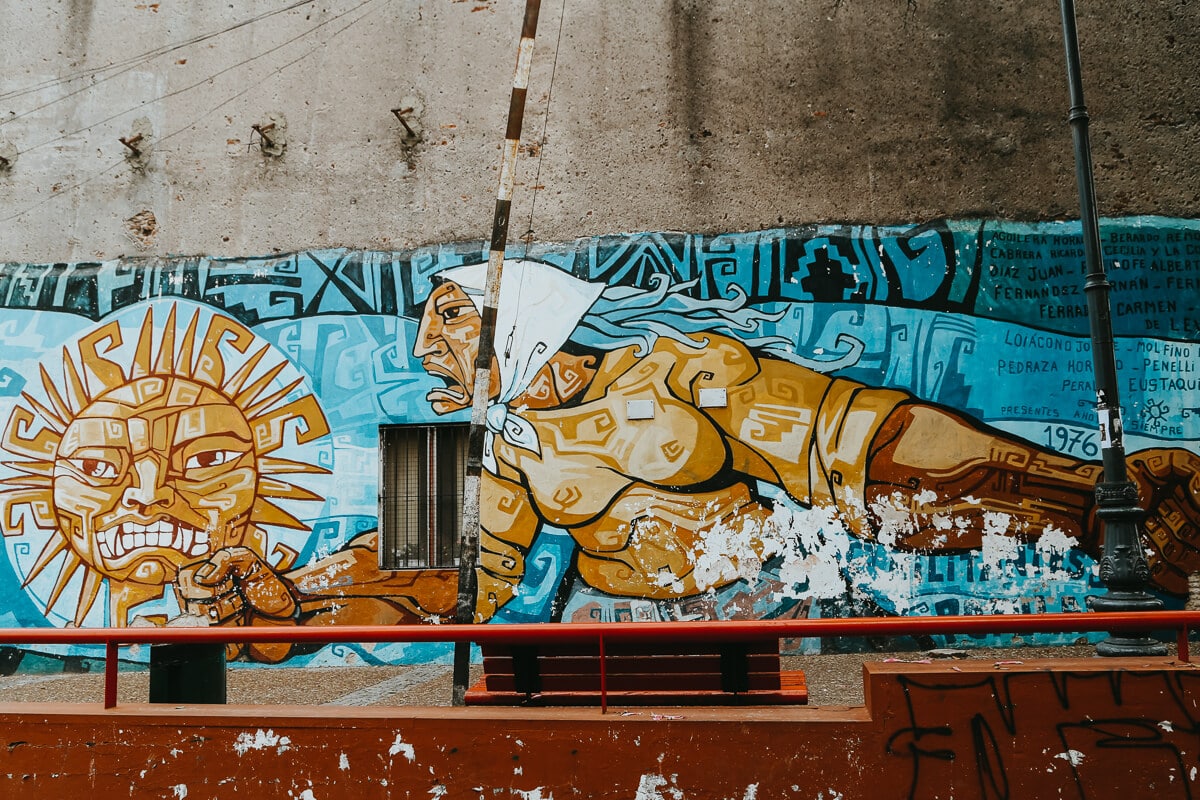 Buenos Aires is one of the best cities in the world for street art.
Lax regulations require that the artist only needs permission from the building owner.
In fact, many owners hire artists to decorate their facades, so leave the idea of graffiti as vandalism at the door. Buenos Aires street art is ART, pure and simple.
It's also everywhere. You don't need much help finding some of the city's best murals, just keep your eyes open as you explore.
To find the most famous pieces or the best mural filled neighborhoods, read my Buenos Aires street art guide.
If you want to learn more about the meaning and artists behind the murals, take this street art-focused walking tour of Palermo.
You'll dive deep into the city's political history and how it created the current street art culture you see today.
10. Spend an afternoon in Palermo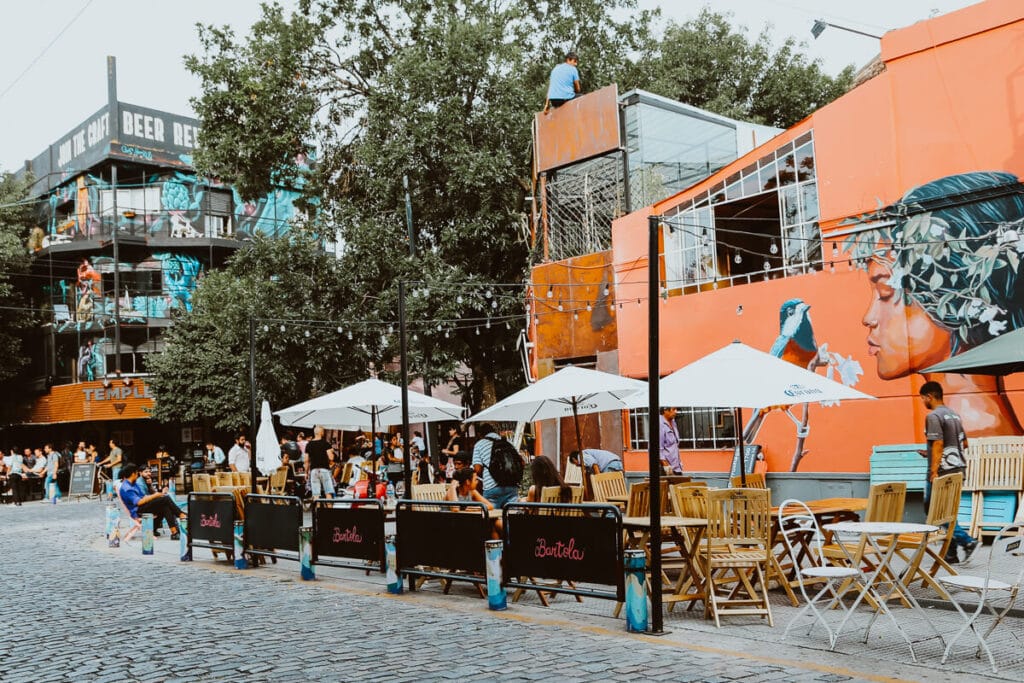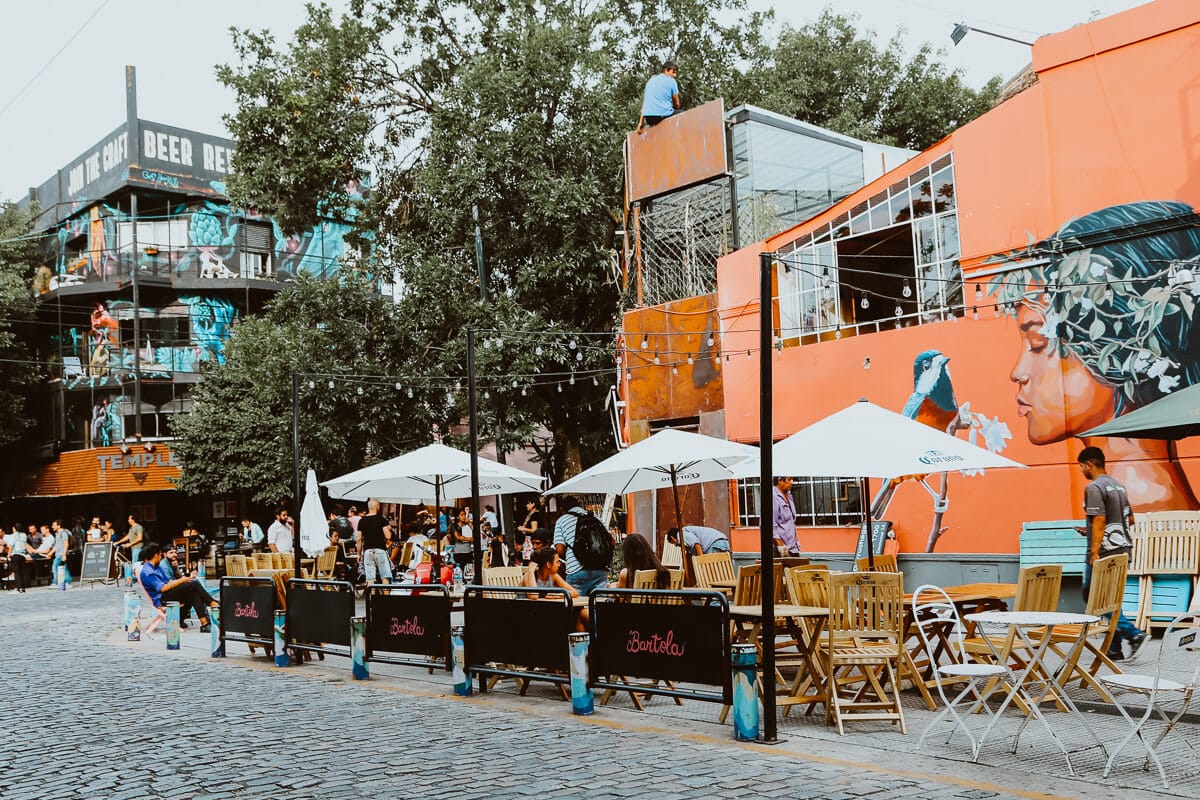 While most big cities come with a list of iconic landmarks to check off as you go, the best way to see Buenos Aires is by experiencing its neighborhoods.
And one of the coolest barrios in Buenos Aires is without a doubt Palermo.
The neighborhood is huge and is divided into a few mini-neighborhoods of sorts.
Of these, my favorite is Palermo Soho. This area, most notably the blocks surrounding Plaza Armenia and Plaza Serrano, is filled to the brim with cute boutiques, sidewalk cafes, bars, the city's best restaurants, and some of the coolest street art in town.
Dedicate a whole afternoon to wander and indulge here.
I recommend saving it for a day when you're tired of non-stop touring and in need of a laid back day.
Window shop (or actually shop!), have a beer at one of the many bar's roof top terraces or a coffee on the sidewalk under the canopy of trees that tower over the cobblestones.
For dinner, cross Juan B. Justo Avenue into Palermo Hollywood, another section of the greater Palermo.
The restaurants and bars here represent the city's best nightlife.
10+ More Things To Do In Buenos Aires
If you have more than just a few days to explore the city, here are more Buenos Aires places to visit to round out your itinerary.
11. Visit El Ateneo Grand Splendid (& The City's Many Other Bookshops)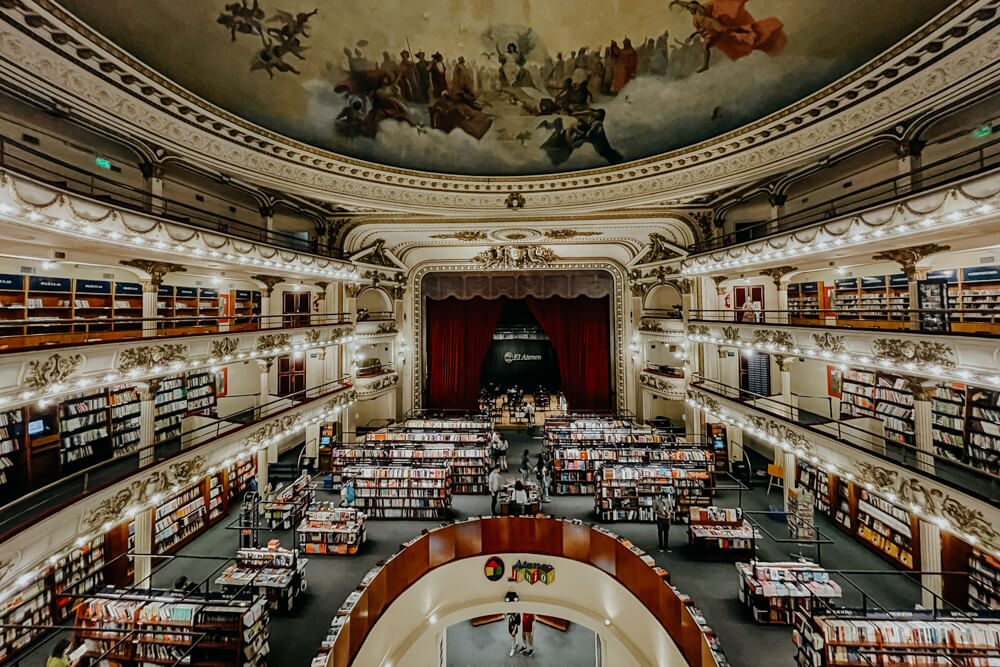 Buenos Aires has more bookstores per capita than any other city in the world.
This is a city that loves to read.
The most beautiful bookstore without a doubt is El Ateneo Grand Splendid in Recoleta, housed in a historic theater.
Go upstairs to the second floor for the most beautiful view. Then grab a coffee at the café on the former stage.
Other bookstores of note:
Libros del Pasaje | This Palermo Soho bookstore is charming, located on Thames at the end of one of the city's most picturesque street art filled alleyways. Rest your feet in the cozy coffee shop at the back of the shop.
La Librería de Ávila | Just a block off of Plaza de Mayo, this is the city's oldest bookstore. While the building has been changed, this corner has been a bookstore as long as Buenos Aires has existed. You'll find interesting books here including collectibles and things about niche aspects of Argentine history and culture you won't find anywhere else.
12. Attend an Asado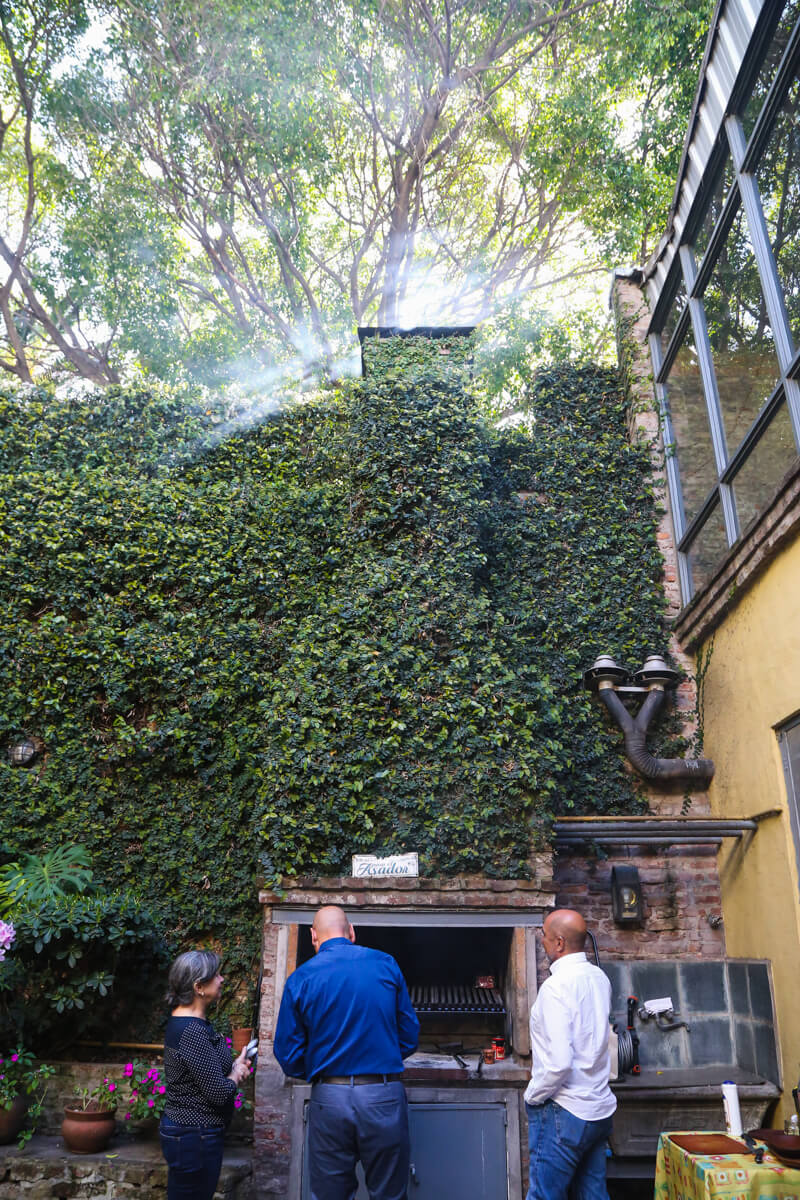 Parrillas (local steakhouses) are great and all, but nothing beats an asado. These local barbecues are a vital part of Argentine culture.
I never let friends visit without throwing them an asado in my backyard. It's also my favorite way to celebrate my birthday every year.
Unfortunately, there's no way to access an asado unless you know someone who can invite you to one.
Luckily, there's a food tour doing just that. Asado Adventure is a food tour in Palermo Soho that brings you into a local's home. You learn all about the neighborhood's history, go shopping for the meat, and learn all things asado.
I went on this tour recently and absolutely loved it. We ate much more than just the meat, too, trying all sorts of things from yerba mate to regional salami and cheese.
If you want to read more about Asado Adventure, read my full review here. If you're already convinced, click here to reserve it and use my code SOLSALUTE for a 10% discount.
13. Visit a Bar Notable (Beyond Tortoni)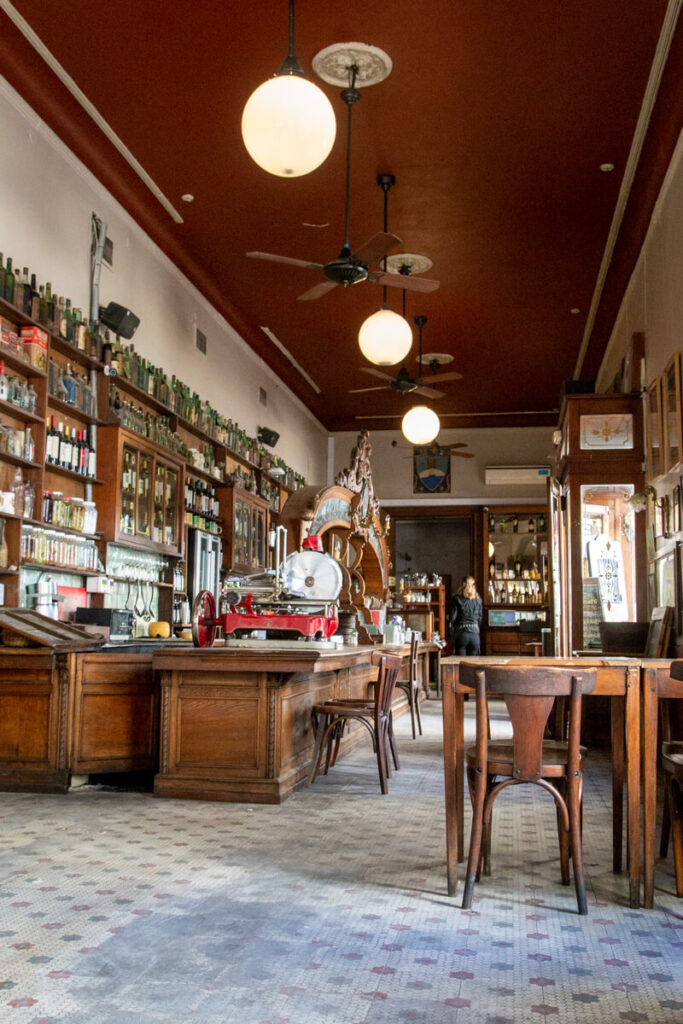 Cafe Tortoni is the oldest cafe in the city. It's on everyone's Buenos Aires must see list but in reality, it's only one the city's many historic cafes.
Bares Notables are historic bars and cafes that are officially recognized by the city government for their cultural importance.
There are dozens to choose from and they offer an authentic Buenos Aires experience.
Order sidra tirada (cider on tap) to drink like a local. If it's late afternoon, you can replace your modern happy hour with a copetin, or seltzer water combined with red wine or vermouth.
Most also have full kitchens so you can grab a greasy lunch like a milanesa or get pastry and coffee for breakfast.
Here are just a few of my favorites (click here for a complete list):
Bar El Federal, San Telmo
Bar La Poesía, San Telmo
Bar de Cao, San Cristobal
Los Galgos, Centro
El Banderín, Almagro
Café Margot, Boedo
14. Become a Fútbol Hooligan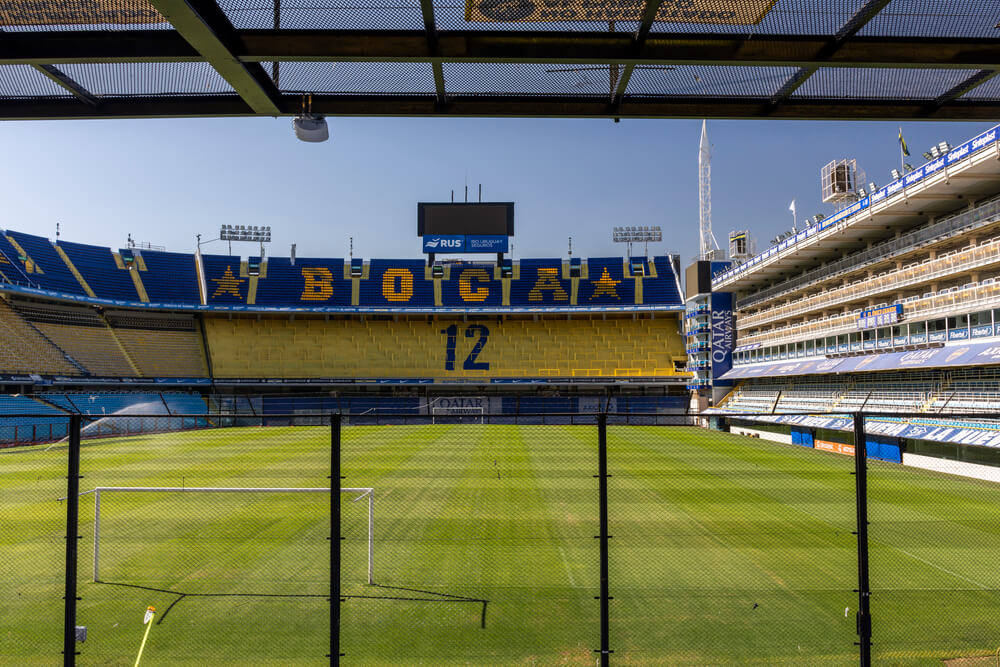 Between Maradona and Messi, the World Cup, and the rival local teams of Boca and River, it's easy to see that fútbol is BIG in Argentina.
Going to a game on your own is nearly impossible if you're not a member of that particular team's club.
So if you want to experience a game, you have to book with an operator that can hook you up with a local.
Homefans is a company that does just that, working with local soccer fans all over the world. You can get tickets to all the major Buenos Aires games with them (and even book complete soccer themed vacations)! Use the code SOLSALUTE to get a 10% discount (you're welcome, enjoy!).
If you don't want to go to a game, you can tour the stadiums of La Boca and River.
These are the biggest teams in Buenos Aires and seeing both stadiums is a must for fútbol fans.
Big fan of soccer AND steak? Grab lunch or dinner at La Brigada, a San Telmo steakhouse brimming with soccer paraphernalia.
15. Relax in the Jardín Botánico
Despite being a veritable urban jungle, Buenos Aires features a number of epic parks to escape the chaos of the city streets.
The most beautiful is easily the Jardín Botánico, housing nearly 6,000 species of plants, flowers, and trees, organized by geographical region.
And fun fact, the garden's complete name is Jardín Botánico Carlos Thays, paying homage to the city's most important landscape architect.
Carlos Thays is responsible for nearly all of the parks in the city and for the trees that bloom in streets. He designed the gardens of many an estancia, and even designed an entire neighborhood (Barrio Parque in Palermo).
Entrance is free of charge and the gardens are open Tuesdays through Sundays (closed Mondays).
The gardens are next to one of the city's busiest intersections in Plaza Italia but you'll feel miles away once you're inside.
ITINERARY TIP | You can visit all of Palermo's major parks in one afternoon by starting at the Jardin Botanico, then crossing Plaza Italia to the Ecoparque. Walk through Ecoparque exiting at Avenida Libertador, cross the avenue to see Parque 3 de Febrero, referred to as the Bosques de Palermo.

This massive park was modeled after New York's Central Park. Don't miss the Rosedal rose gardens when you're here! For drinks or coffee afterward, head to the Arcos del Rosedal (restaurants set under the train tracks on the edge of the park).
16. Tour The City's Many Art Museums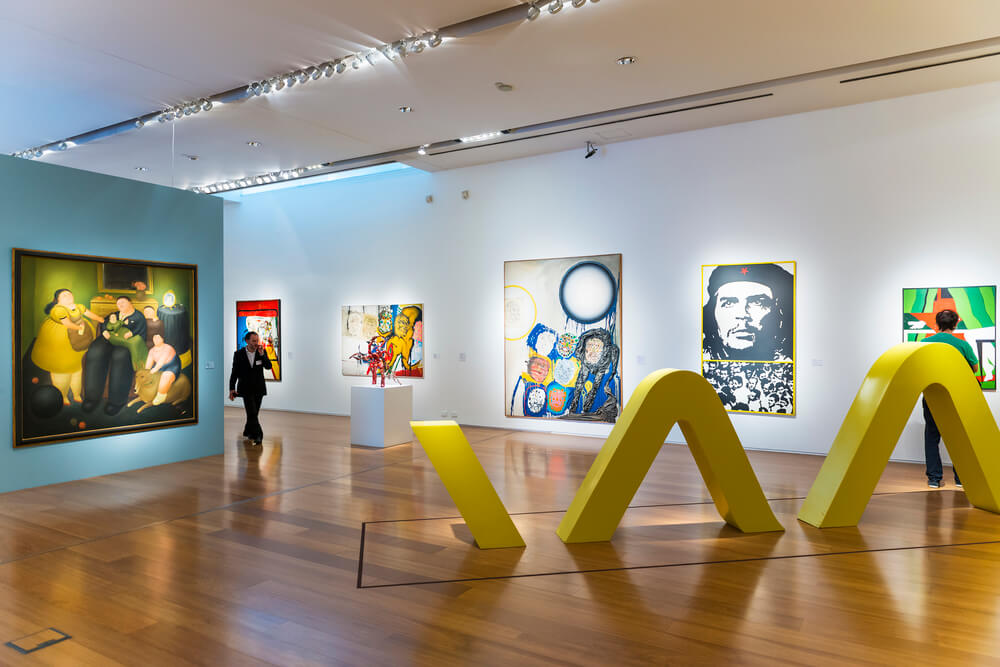 Buenos Aires sightseeing wouldn't be complete without a visit to one of the city's many art museums.
With so many to choose from there is something for every taste:
MALBA – The Museum of Latin American Art of Buenos Aires – This modern museum features an impressive permanent collection and temporary exhibits. Open every day except for Tuesdays, tickets are discounted on Wednesdays. Click here for more information.
Museo Nacional de Arte Decorativo – This mansion turned museum is just a few blocks from MALBA so I recommend visiting them together. Entrance is free and the home itself is more impressive than the exhibits. Closed Mondays and Tuesdays.
Museo Nacional de Bellas Artes – Buenos Aires' Fine Arts Museum is in Recoleta across the street from the Floralis Generica, steps from the famous cemetery. Closed Tuesdays, free entrance on Wednesdays. Click here for full opening hour and tour information.
Museo Benito Quinquela Martín – Quinquela was one of the most iconic artists from Buenos Aires, hailing from La Boca he painted daily scenes of the port and its people. Visit the museum dedicated to him in Caminito, La Boca.
PROA – PROA is a modern art museum in La Boca right on the water in Caminito (a stone's throw from Quinquela's museum). Don't miss the café on the rooftop for beautiful views of the port. The name PROA also pays homage to the Proas (Spanish for a ship's bow) of the port.
Museo de Arte Moderno – For more modern art head to MAMBA in San Telmo at the corner of San Juan and Defensa.
17. Feel Regal in Buenos Aires' Many Palaces
Teatro Colon is epic but it's only one of the city's many palaces, and yes, the word they use to describe them is accurate.
These are mansions that echo the grandeur of Buenos Aires' wealthy past and you can see them in a number of ways.
DON'T MISS PALACIO BAROLO | Palacio Barolo is an office building (palacio may be the wrong name but it is what it is). It's on Avenida de Mayo near Congress and offers regular tours in English. The building is designed after Dante's Divine Comedy. The lighthouse on the roof has some of the best views in town! Click here to book your tour.
Many mansions and palaces provide regular guided tours but they can be tough to organize for tourists. Hours are limited, the tours are almost always in Spanish and you have to email directly to reserve.
The easiest way to visit them is by going to the ones that are open to the public thanks to their in-house café.
Croque Madame is a chain of cafes with locations in a number of the city's most beautiful historic buildings and museums. Click here for a list of all of their locations.
To see three of their cafes in the city's most impressive palacios visit: Palacio Paz (in Plaza San Martin, downtown), Circulo Italiano (in Recoleta not far from the cemetery), or in the Museo Nacional de Arte Decorativo (in Recolta near the MALBA).
To see even more this tour is a very affordable walking tour highlighting the most beautiful palacios in Retiro and Recoleta.
Read Next: What NOT to do in Buenos Aires
18. Go to the Opera at Teatro Colon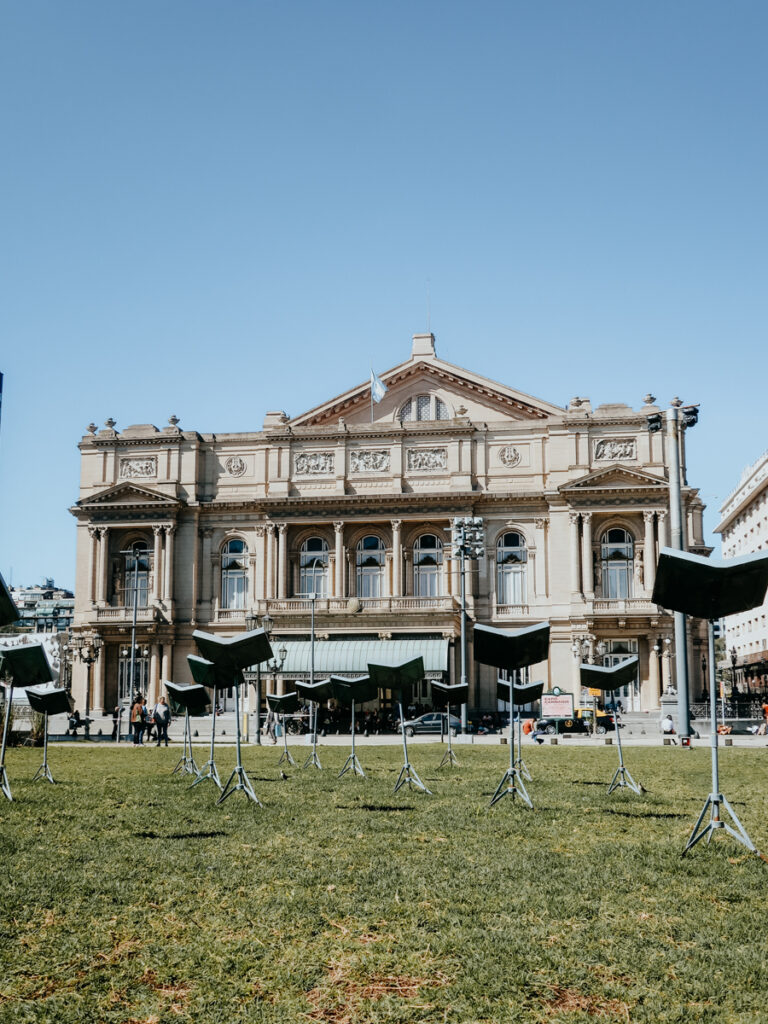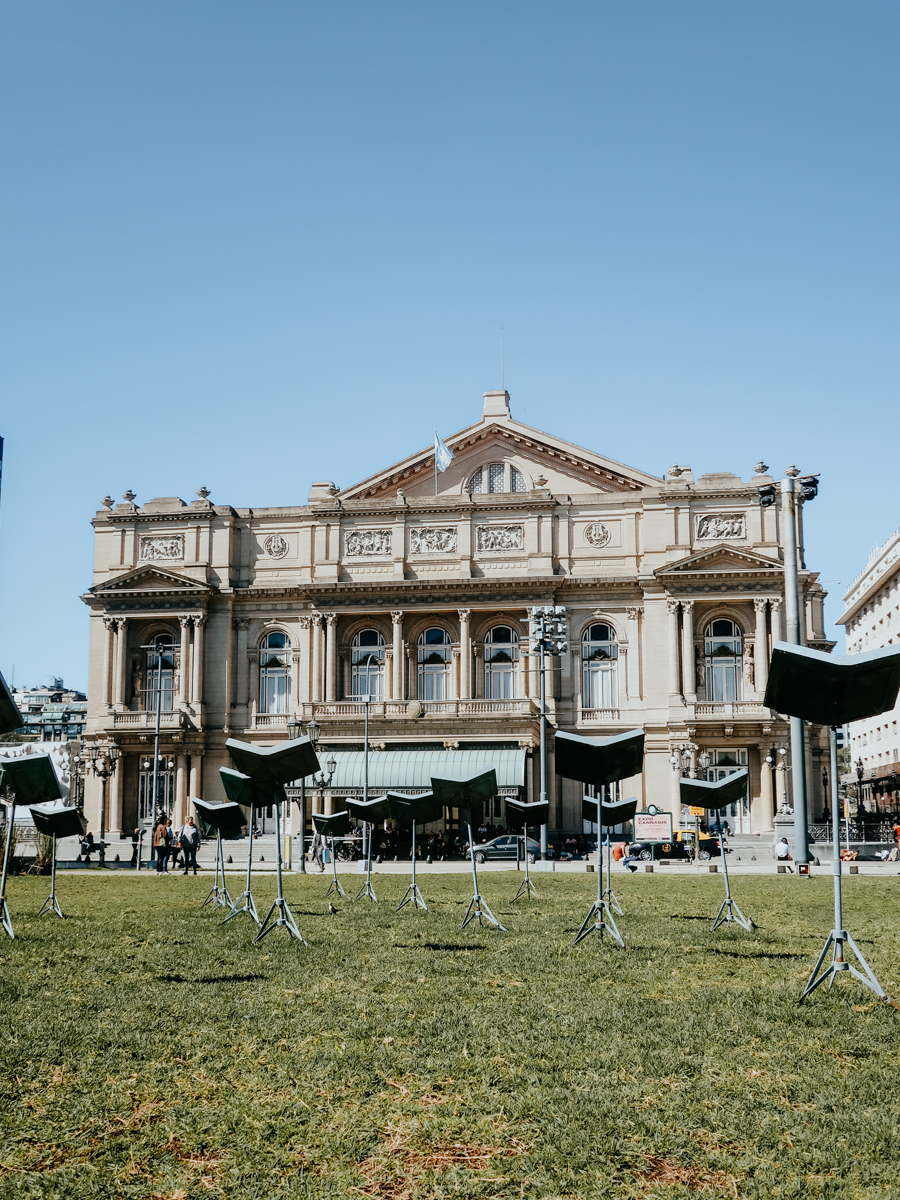 For an elegant night out get tickets for a night at Teatro Colon, click here for the current season.
A show in Teatro Colon is an experience you'll never forget. I saw Juanes play here in a special summer series.
Juanes may have lacked the elegance of the opera but seeing him sing along with an orchestra was an incredible show.
If you don't want to go to a performance, definitely go on a guided tour. Check here for current hours and to reserve. Currently there are only English language tours at 1 and 3 pm.
And for even more Teatro Colon, visit Colon Fabrica when you're in La Boca. This warehouse is filled with costumes, special effects and all things B "behind the scenes." Book tickets here.
19. See All Things Evita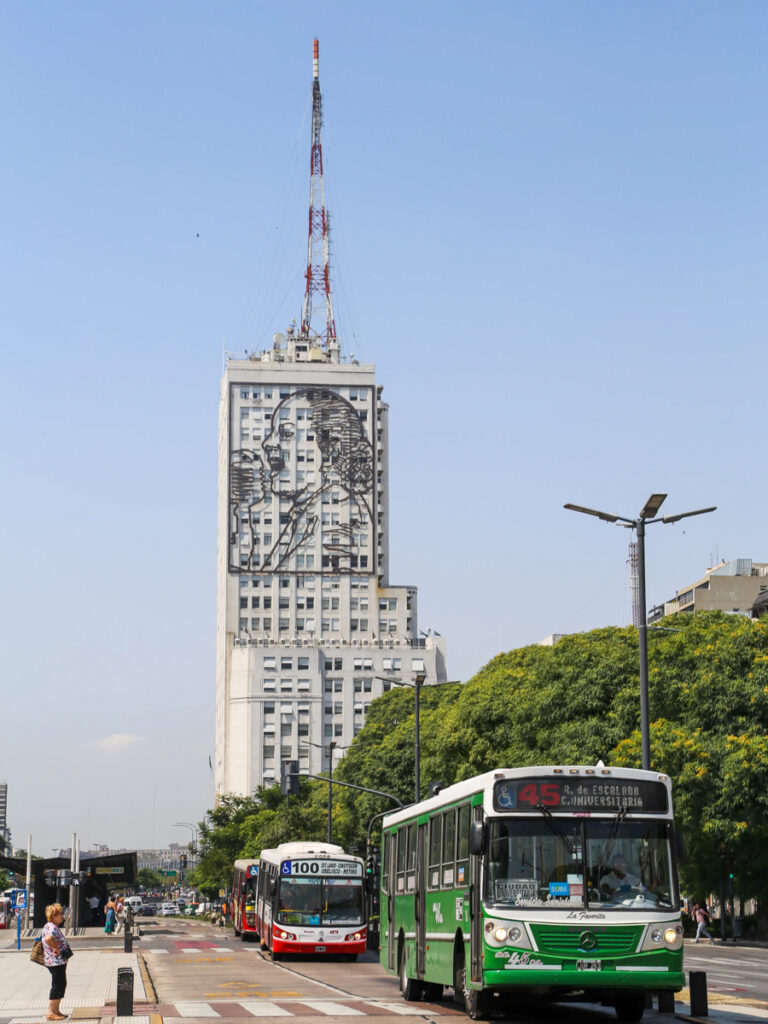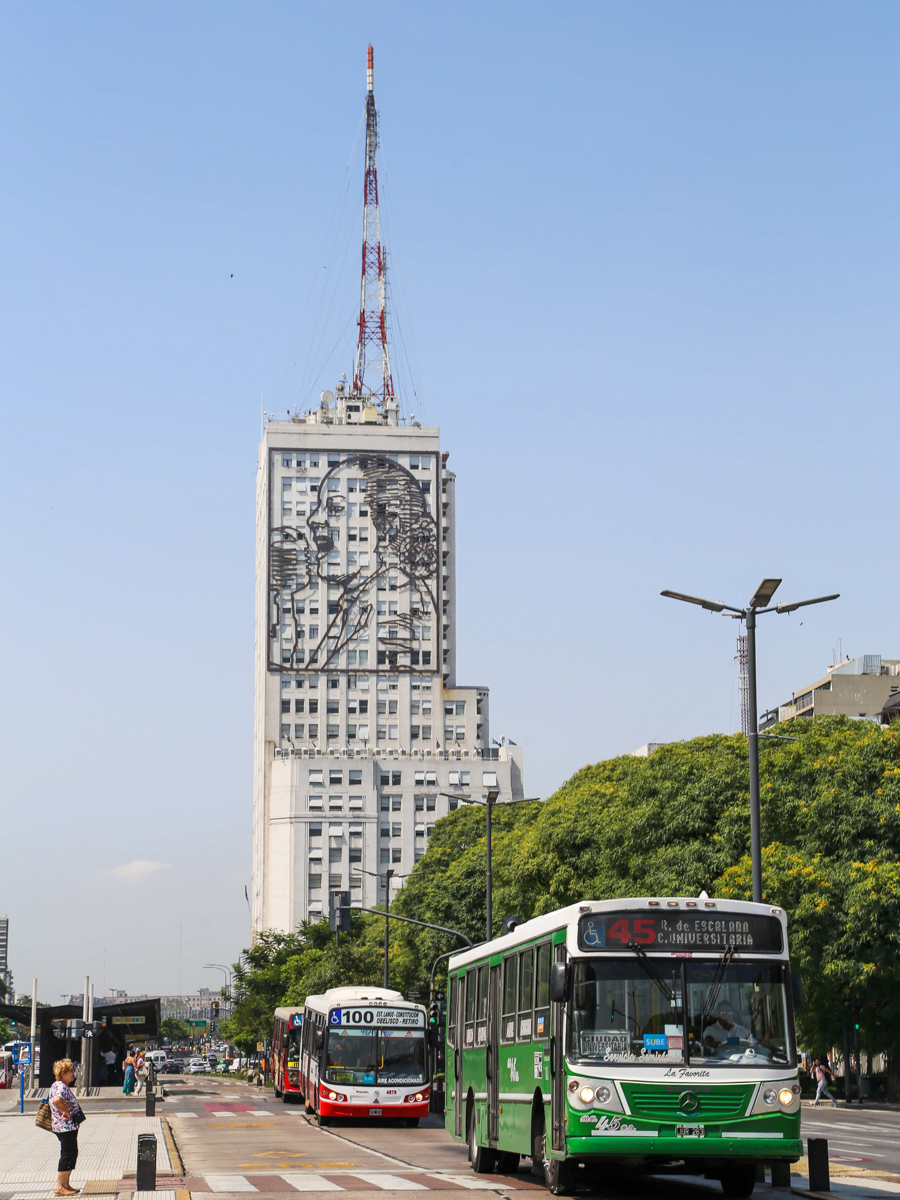 Love her or hate her, Evita's importance in Argentina's political history can't be denied.
You'll see her everywhere, from the 100 peso notes in your wallet to posters for modern political campaigns.
If you want a guided tour to see all of the Evita sites in Buenos Aires, this tour will give you a great history and background.
Start your own Evita scavenger hunt by finding the balcony at the Casa Rosada where Madonna was depicted singing "Don't Cry For Me Argentina."
You can visit her grave in the Recoleta Cemetery, under her family name Duarte.
When in Palermo, go to Museo Evita to learn all about her (it's just a few blocks from the Jardin Botanico). The museum has a beautiful patio for lunch, as well.
For a rousing dinner, go to Peron Peron in Palermo Hollywood. This politically themed restaurant is an ode to all things Juan and Evita Peron. The entire restaurant is practically a shrine to Evita and everything she stood for.
They even regularly burst into song, singing the political anthem. For a glimpse of the place and its Peron-fanatic owner, check out the Buenos Aires episode of Somebody Feed Phil on Netflix.
20. Wander the City's Off-The-Beaten-Path Neighborhoods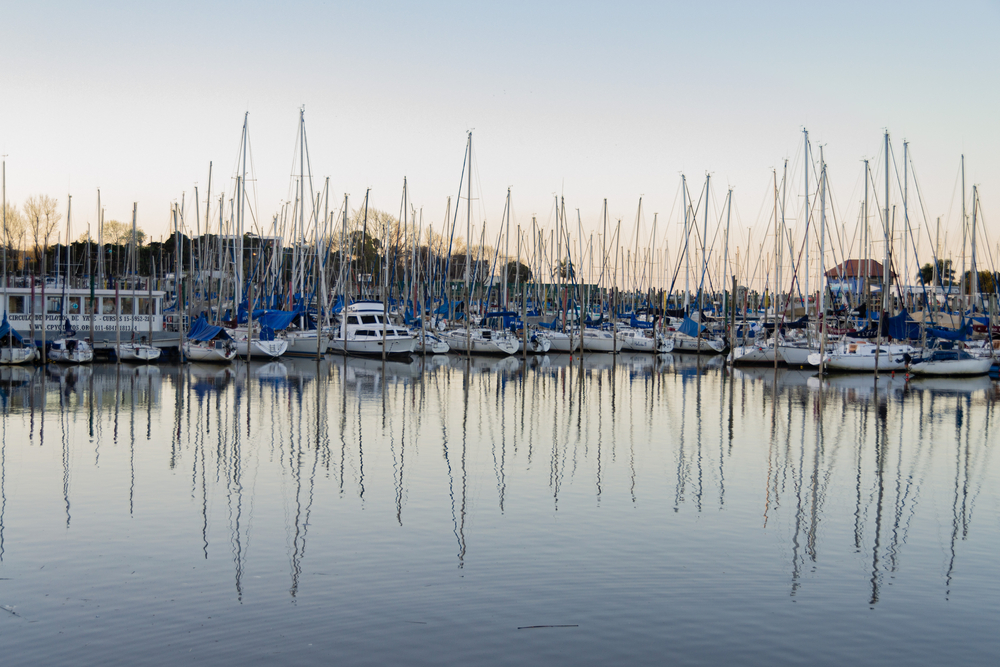 Want to get out of the city center and explore Buenos Aires' more residential barrios?
Neighborhoods on the northern side of town have seen a boom in the past few years.
Barrios like Núñez and Saavedra are just past Belgrano, on the northern edge of town. You can reach them with the subte line D, taking it to the final station Congreso de Tucuman.
Restaurants and cafes have been opening up in droves in these previously sleepy areas.
It should come as no surprise, though, as Argentines rarely leave the neighborhood they grew up in. Wanting to stay close to home, a new generation is looking to buy in their childhood barrios and with that new generation comes new trends like specialty coffee shops and gourmet pizzerias.
You can head even further north to Olivos, a northern suburb just outside of the city limits.
To get to Olivos, take a taxi or the Mitre train to its final station. Use Plaza Olivos as your destination. This leafy square is surrounded by beautiful buildings and an ivy covered church.
Relax here then walk a few more blocks to the port, Puerto de Olivos. For lunch or coffee, visit Mostrador Santa Teresita, a modern cafe with a waterfront view.
A Buenos Aires To-Do List: Summary
I hope this guide answered all of your questions about what to do in Buenos Aires.
A city this large and this lively is filled with enough activities to keep you busy for weeks and trying to squeeze as much as possible into just a few days can feel daunting.
I did my best to compress the top Buenos Aires attractions, neighborhoods, foodie activities and day trips into concise and easy to follow bullet points.
Do all of the above and you'll have done the best things to do in Buenos Aires.
Will there be more to see?
Of course!
There always is.
So I hope you fall in love with the city as much as I have so you can keep coming back.
If you have any questions whatsoever, ask in the comments and I'll do my best to help!
Read More About Buenos aires
Map of the Top Things to do in Buenos Aires
Here's a map where I've pinned all the top Buenos Aires tourist attractions and neighborhoods you have to visit, all mentioned in this article! Open it and download it for offline use to have access while in the street here in Buenos Aires.
Argentina Travel Resources