Almagro is in the heart of the city. It's the pulsing heart of the tango world, with some of the city's best milongas (dance halls), fileteado and it's where world-famous Carlos Gardel called home.
If you want to explore authentic Buenos Aires, then go off the beaten path and explore this barrio tanguero.
Every time I go, I find myself walking the same route.
I cover a few kilometers, more than I ever plan on, but I just can't stop myself from wandering through this purely porteño neighborhood.
This post will take you along my route with me.
Technically starting in the Balvanera neighborhood, you'll quickly cross into Almagro, following in Gardel's footsteps through this picturesque barrio.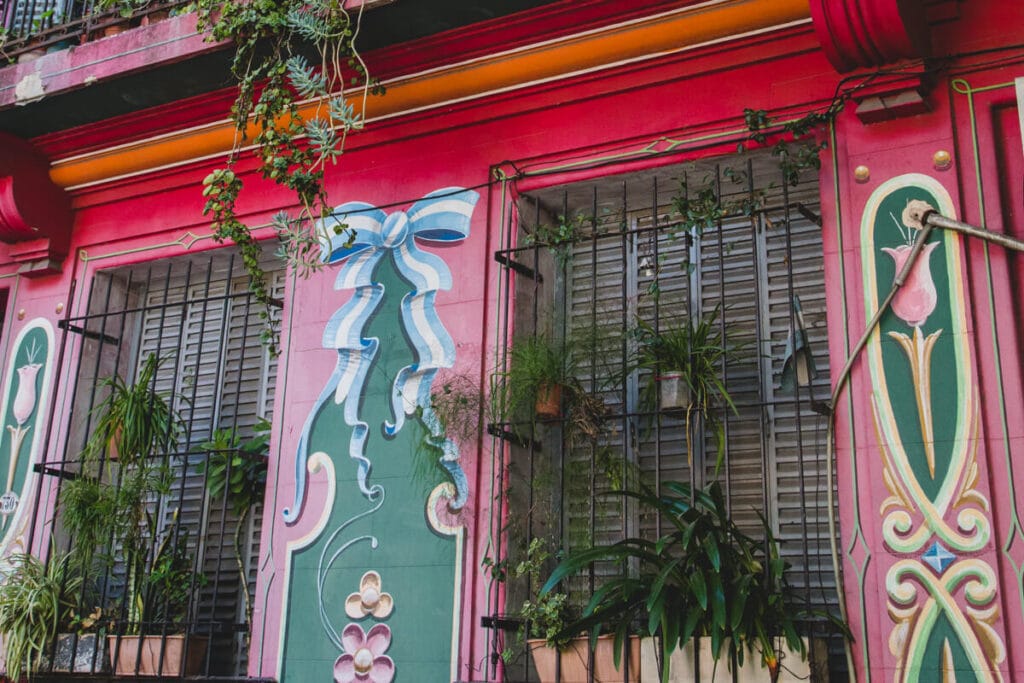 QUICK NOTE: This post contains affiliate links and Sol Salute may receive a commission for purchases made through these links, at no extra cost to you.
An Abasto & Almagro Self-Guided Walking Tour
Below is the route I typically follow when in Almagro.
Start your tour by taking the Subte Line B to the Carlos Gardel stop.
This will spit you out right onto the bustling Corrientes Avenue or within the shopping mall itself (depending on which subte exit you meandered out of).
Abasto Shopping
This walking tour starts in the mall, but not IN the mall. Admire this historical building from across the street.
In 1889 construction began here on the city's Central Market.
At the time this area of the city was considered the outskirts and was centrally located between Buenos Aires' two main agricultural hubs of La Boca and Olivos.
It seems insane to think about that today, when all of the above mentioned neighborhoods are very urban today.
In 1934, this market was re-constructed and amplified to cover 44,000 square meters.
It remained the main market for the city until 1984, when the Central Market was relocated outside the city.
This building lay abandoned until it was remodeled into the shopping mall you see today in 1999.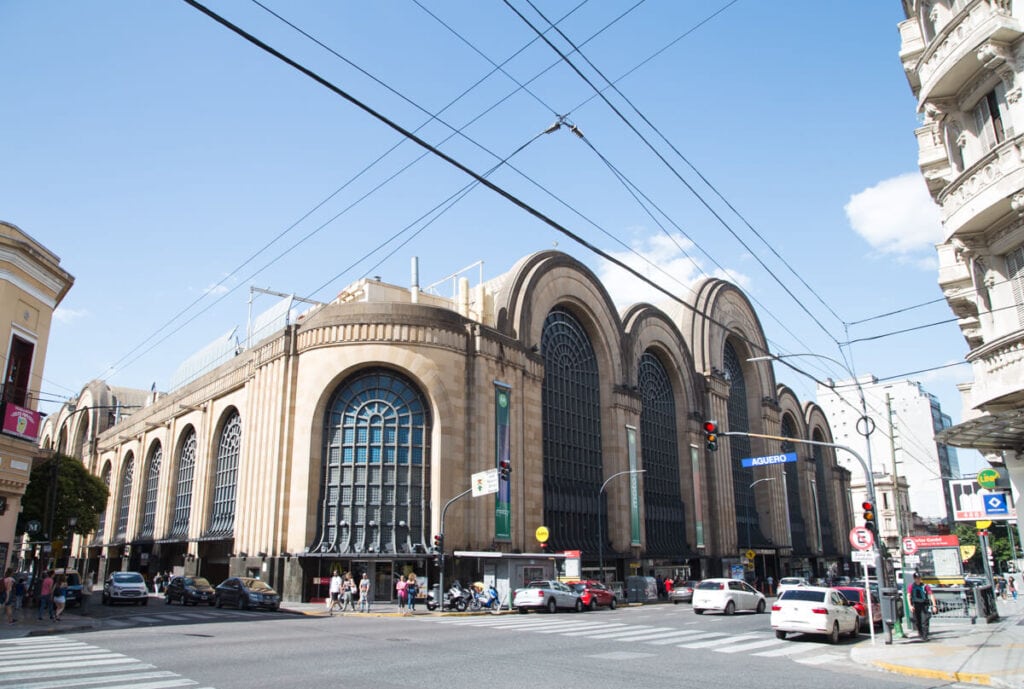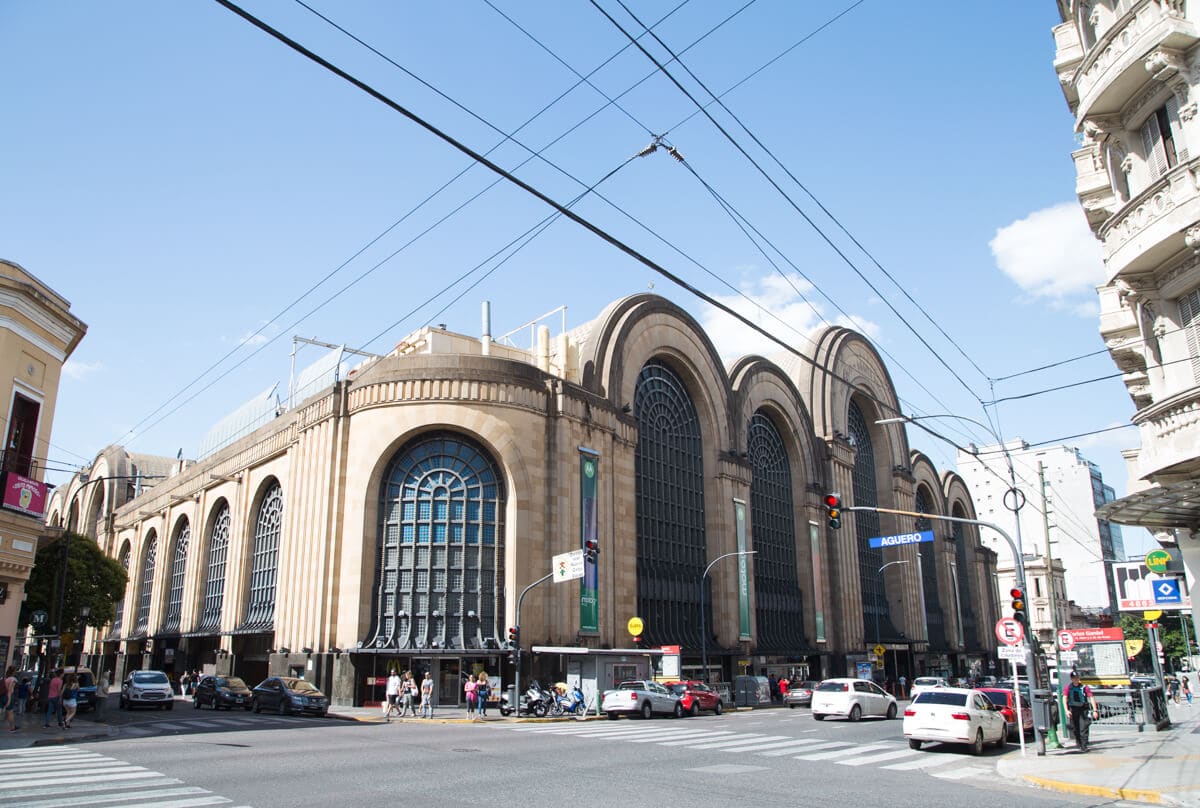 What to see in Abasto Shopping:
There's not a lot to see inside besides your average shopping center features of stores, food court, and playgrounds.
But there are a unique couple points of interest:
Kosher McDonald's: Keeping Kosher but still want a Big Mac? The McDonald's Abasto is the only kosher McDonald's in the world and it's right at home serving the large Jewish community of the Balvanera neighborhood.
Museo de los Niños: If you're traveling with kids you can take a quick break to entertain them at the Children's Museum inside the mall. For more information and hours check the official site.
Almagro, Balvanera or Abasto?
There are a few "unofficial" barrios in Buenos Aires. They may not exist on any official maps drawn up by the city, but they certainly exist in the hearts of their residents.
Barrio Norte is one of them but is technically part of Recoleta.
Abasto is another, technically part of Balvanera bordering on Almagro.
This neighborhood that's not a neighborhood is where you just started this walking tour.
It got its name from the market that founded the neighborhood but its heart beats tango.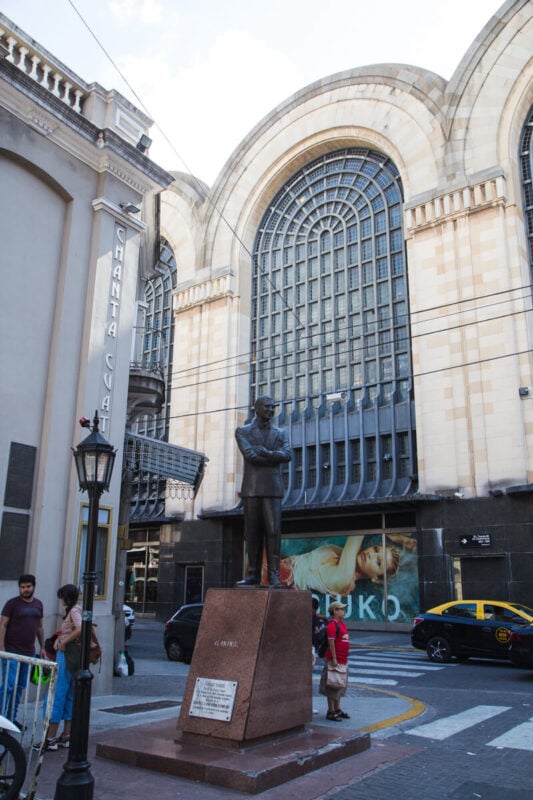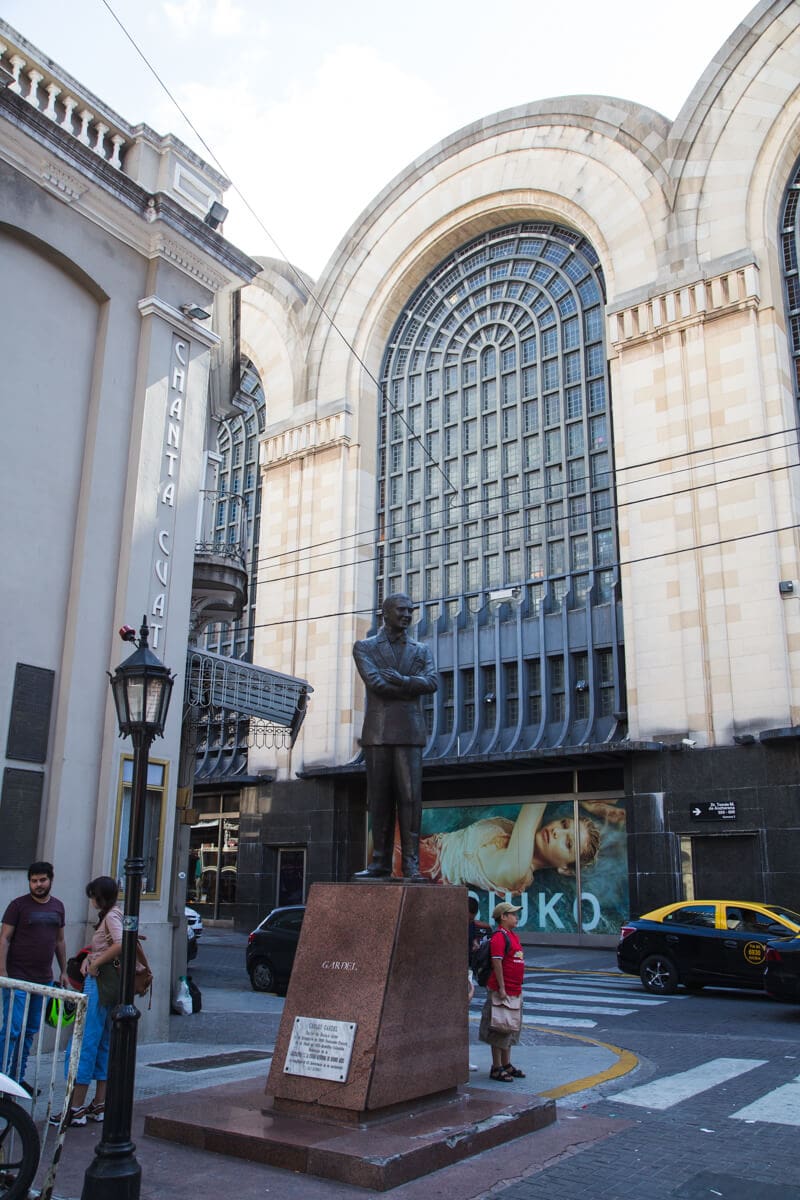 Pasaje Carlos Gardel
Walk around the mall to find the Pasaje Carlos Gardel.
This tiny one block alleyway is really nothing special.
I was expecting more, but it's really not much to look at.
There is a statue of Carlos Gardel (above), one beautifully painted fileteado building on the corner, and a nice view of the Abasto Shopping.
Take a quick look and continue to the end of the street. Take a left on Jean Jaures.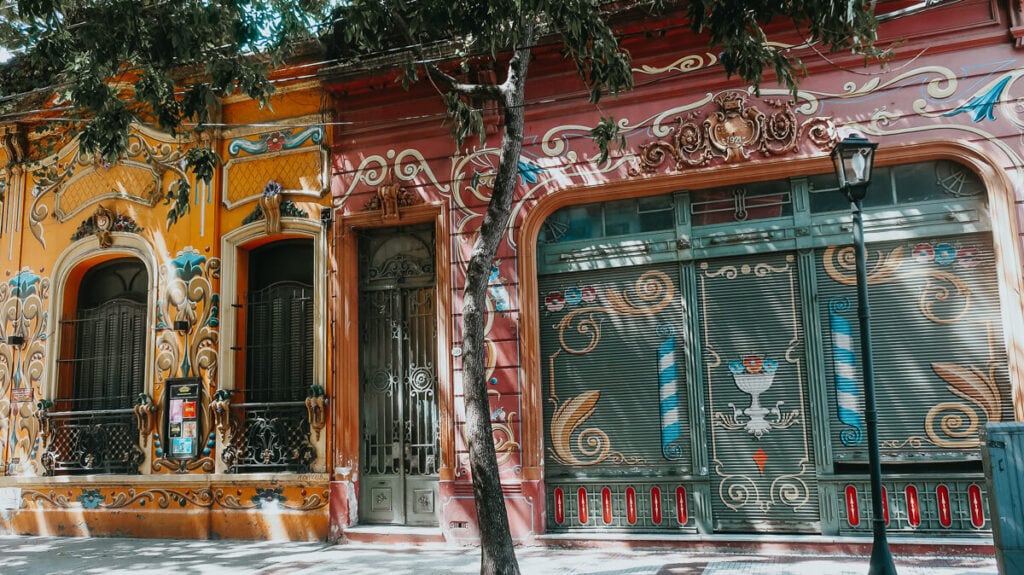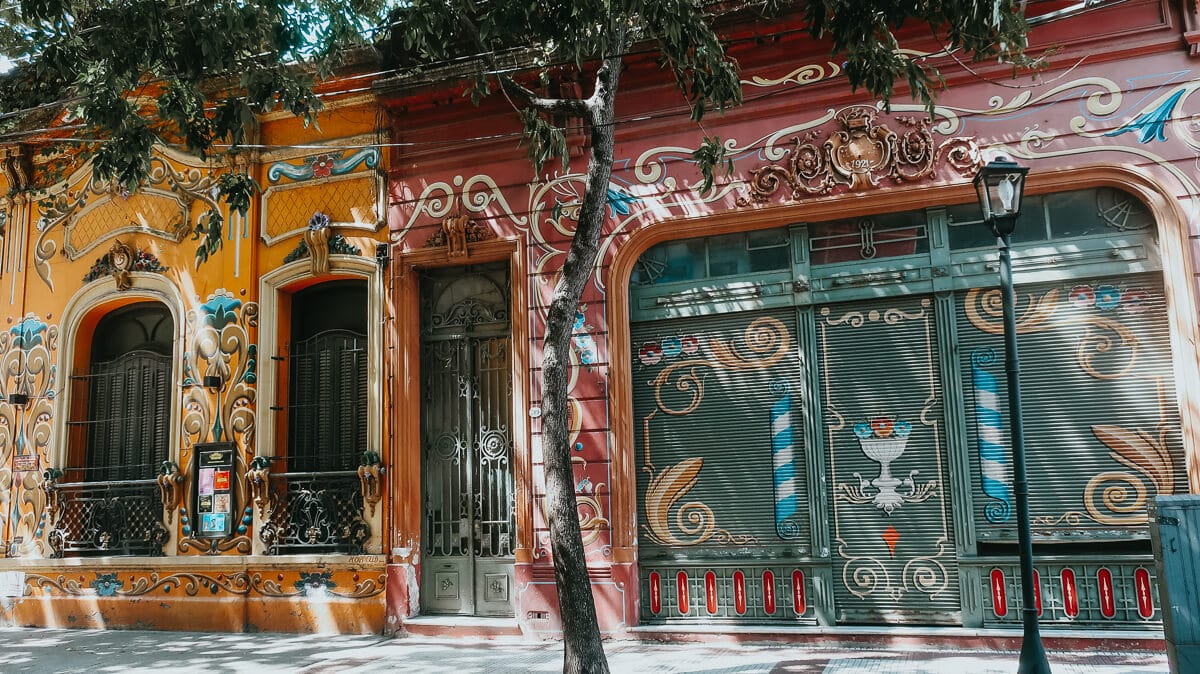 Las Casas Fileteadas
Fileteado Homes, Jean Jaurès 737
Next door to and across the street from the Carlos Gardel Museum are three of the most beautiful homes in Buenos Aires (according to me). They're painted roof to sidewalk with the traditional Fileteado style.
Fileteado is a a style of painting unique to Buenos Aires and characterized by swirled lines and floral designs. It's colorful and uniquely, purely Buenos Aires.
These three historic homes are gorgeous.
I can't ever get enough photos of them when I pass by, so take your time for a little photoshoot.
READ NEXT | A COMPREHENSIVE GUIDE TO STREET ART IN BUENOS AIRES
Museo Casa Carlos Gardel
Carlos Gardel Museum, Jean Jaurès 735
If you've ever heard tango, you've heard Carlos Gardel. This tango giant spent most of his life here in Almagro. He lived in the same home even after making it big internationally, refusing to leave his roots and beloved barrio.
His home, which he shared with his mother, has been converted into a museum showcasing his life. To confirm opening hours check here, but note that it's closed on Tuesdays. Entrance is very affordable at $50 pesos (as of February 2020).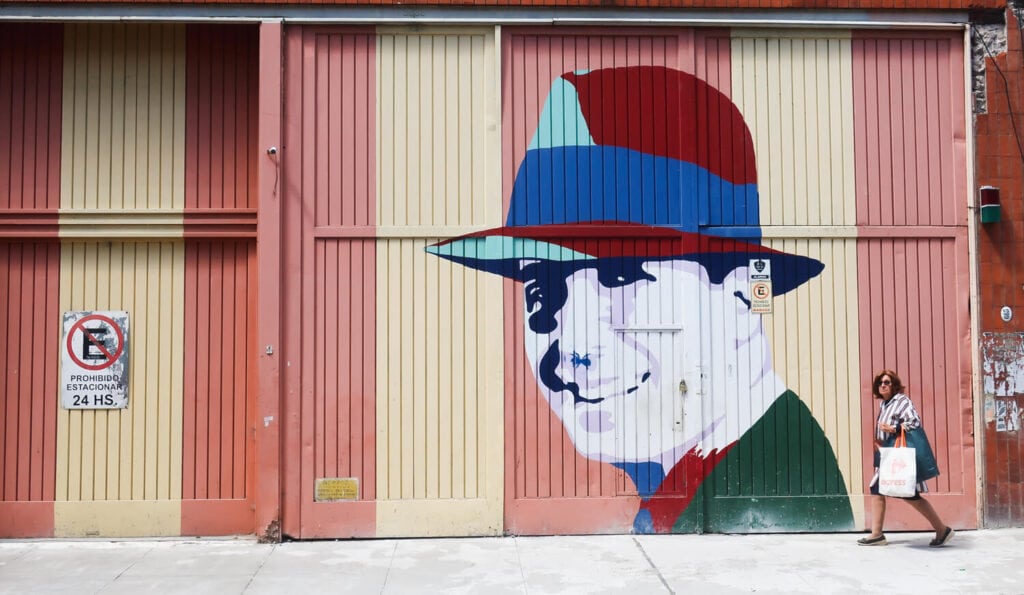 Street Art & Gardel Murals
After the museum, backtrack half a block and take a right onto Zelaya Street.
This quiet two block alleyway is filled with beautiful street art.
See if you can find all the Gardel murals, there are quite a few.
My favorite is the one on the wall of a warehouse on the corner of Anchorena and Zelaya, pictured above.
I marked this mural on the embedded Google Map above as well.
This mural itself is beautiful, but I also love the one painted on the second story level on the street corner (picture below).
To see it best, stand in front of the warehouse mural and look up to your right.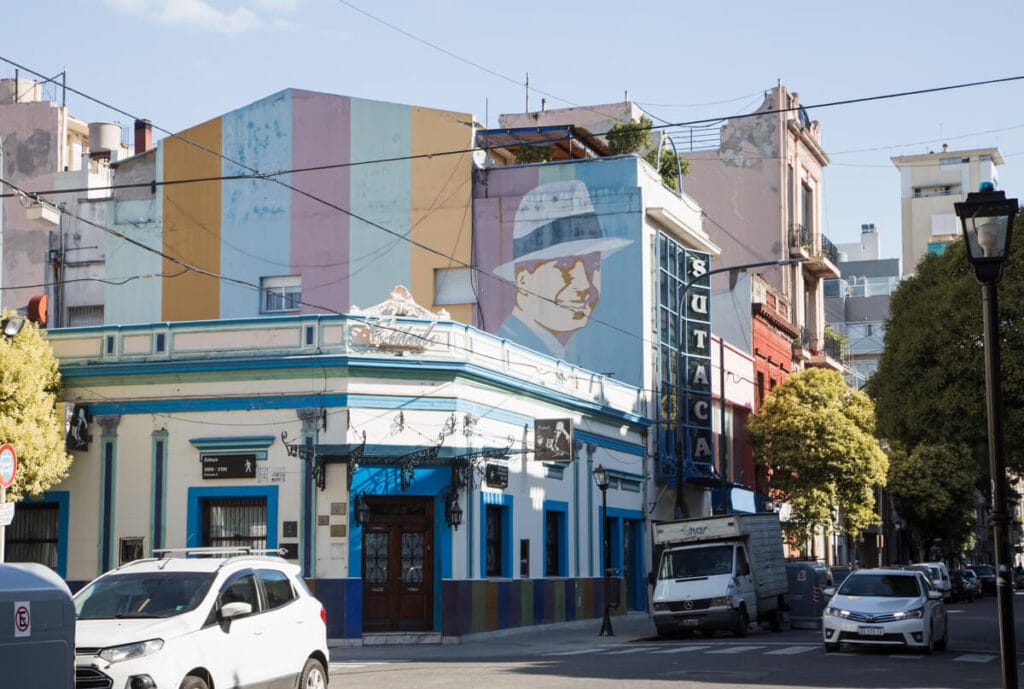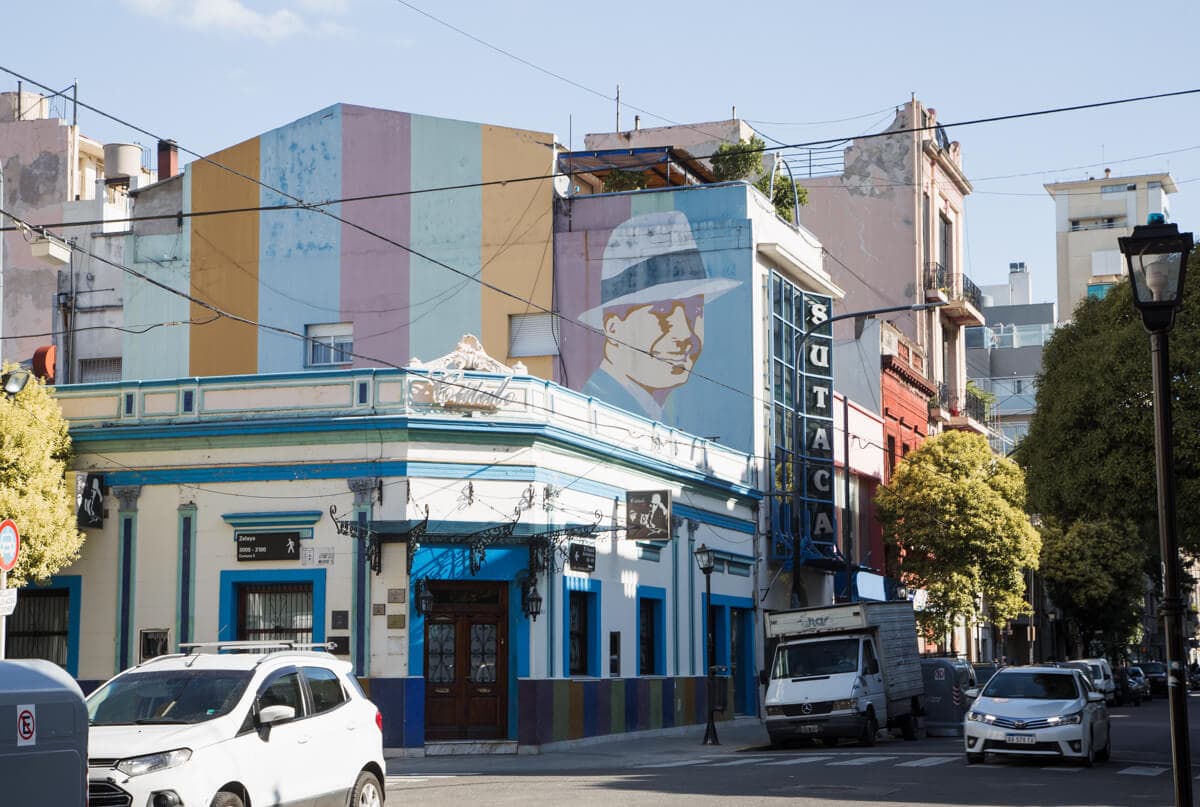 Have a Snack at El Banderín
Guardia Vieja 3601
Bares notables are bars of historic significance in Buenos Aires. These gastronomic gems are classic and grungy in all the right ways, as if frozen in time.
El Banderín is one of these historic bars in the heart of Almagro. It's been open since 1929 and got its name from the more than 500 football flags that decorate its walls.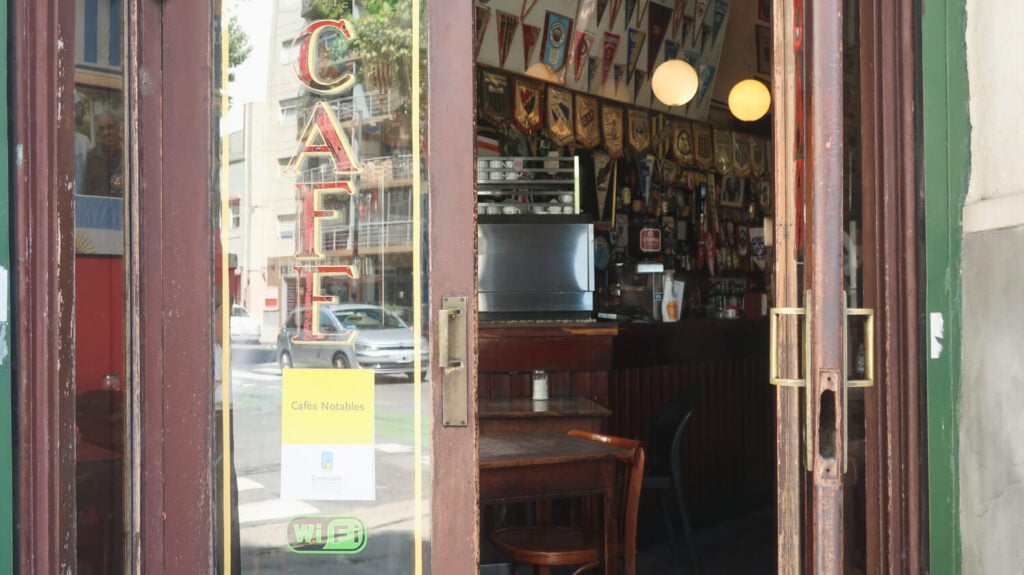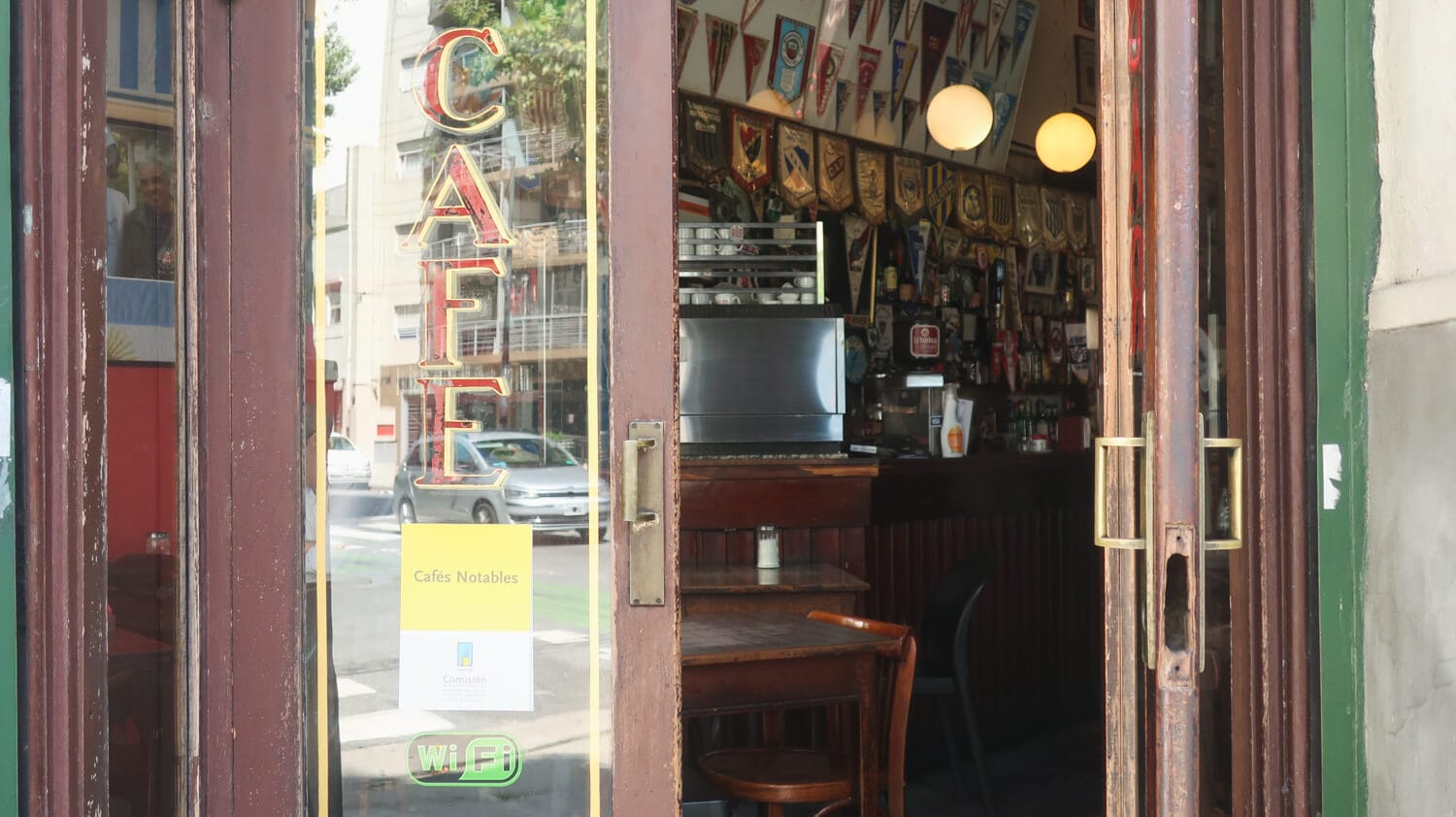 Stop for a coffee with medialuna pastries, or if it's a bit later in the afternoon, a copetín.
The copetín is made up of an aperitif (fernet, campari, or something of the kind with soda water) and a picada (salami, cheese, olives, or something similar).
This version of happy hour came to Argentina with the immigrants of Genoa, Italy.
I love it, it's the way to my heart and is best enjoyed in a bar notable like El Banderín
To walk or to Ride? After El Banderín there is a 12 block walk to the next stop, that's a little more than kilometer. I always walk it. This area is very residential and authentically Buenos Aires.
See the locals out walking their dogs. Pass by small mom and pop shops. This is Buenos Aires. But if your feet are tired, I get it, this would be a good time to call an Uber.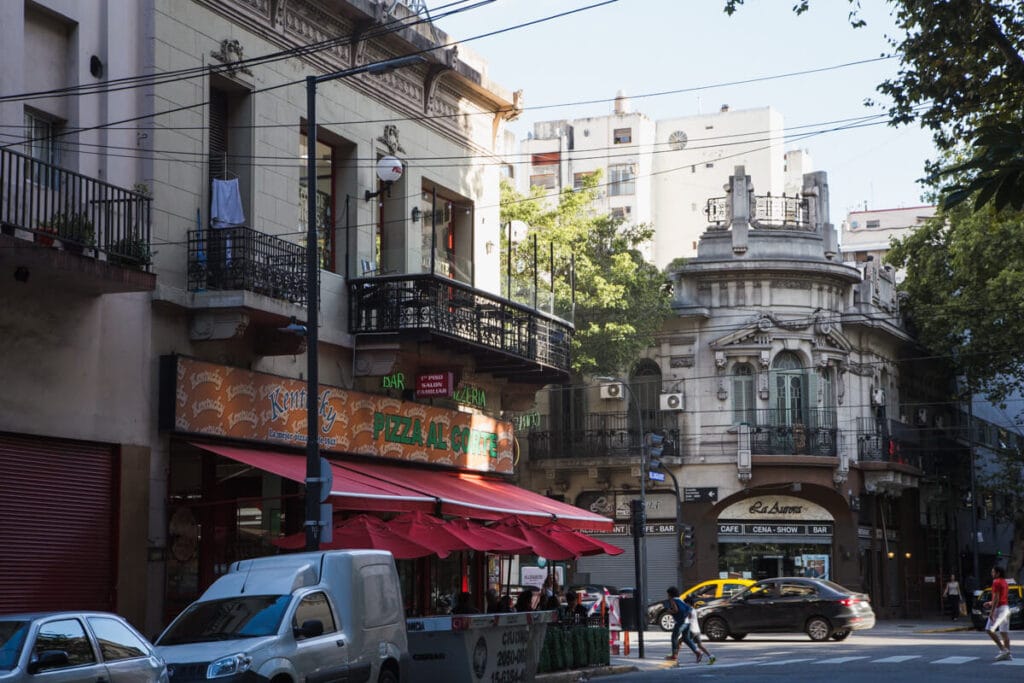 Café Las Violetas
Av. Rivadavia 3899 (y Medrano)
Two cafes, back to back. This might not be the best order to conduct this walking tour.
If you walked the 12 blocks here you may be tired and ready for another refreshing snack.
If you're not, skip this and head to the next and final stop, and double back here afterward.
If El Banderín is a classic hole in the wall where you'd find grandpa having a coffee and debating politics with the neighbors, Café Las Violetas is where you'll find grandma.
This beautiful café is ideal for tea time and makes excellent cakes and pastries.
Las Violetas was originally opened in 1884 and then renewed in 1921 with the stained glass details you see today.
It was closed and abandoned at some point, like many of the stops on this walking tour.
Luckily for us, in 2001 it was completely renewed and reopened as you see it today.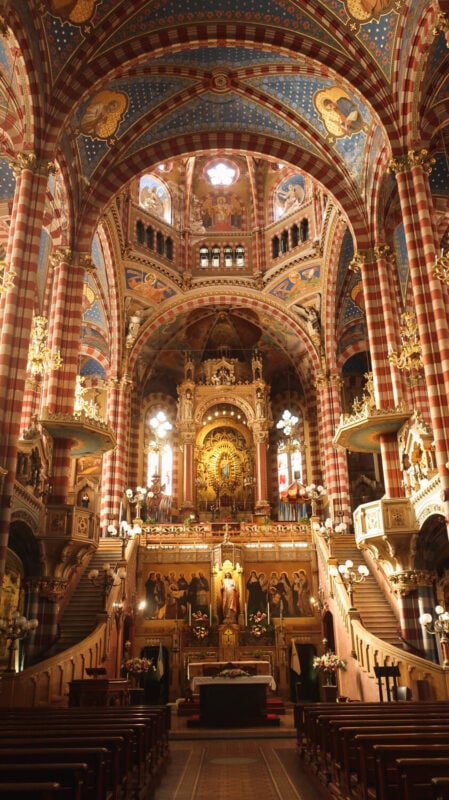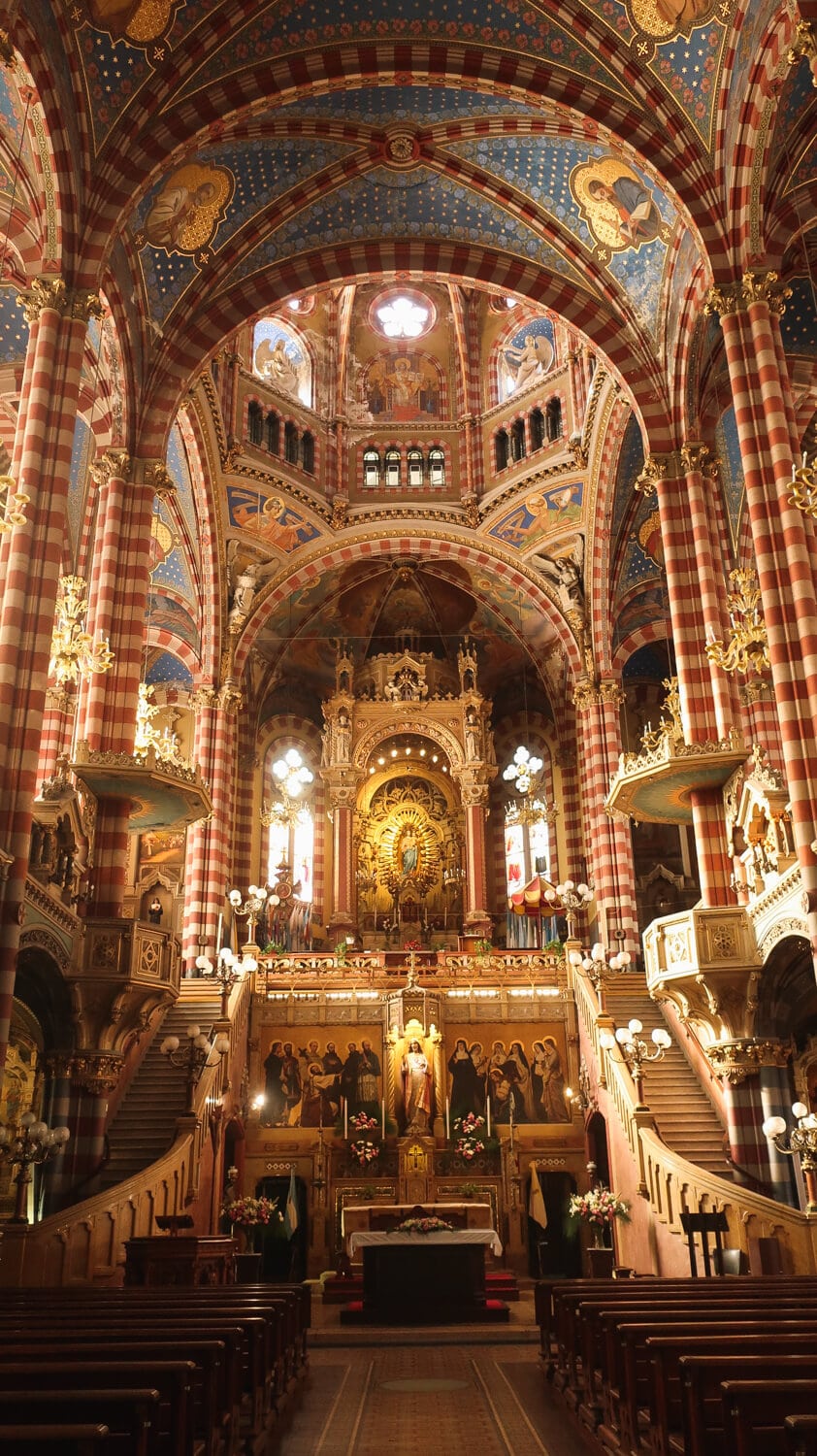 La Basílica María Auxiliadora y San Carlos
Av. Hipólito Yrigoyen 3999
In my opinion, this is the most beautiful church in all of Buenos Aires. A baby Jorge Mario Bergoglio (later to become Pope Francis) was baptized here and a young Carlos Gardel sang in its choir.
It was built in less than 10 years with construction ending in 1910.
Visiting hours are strictly enforced. One time, I walked up as the priest was locking the gate for lunch and was not allowed in.
He'd get in trouble, it was lunchtime, I was told.
Understandable.
So, make sure to confirm hours before going.
The basilica is open in the morning and closes at 12 (according to Google) or 12:30 (according to my experience in 2019).
The doors re-open at 5:30 in the afternoon. It's open only in the morning on Saturdays and only in the evening on Sundays.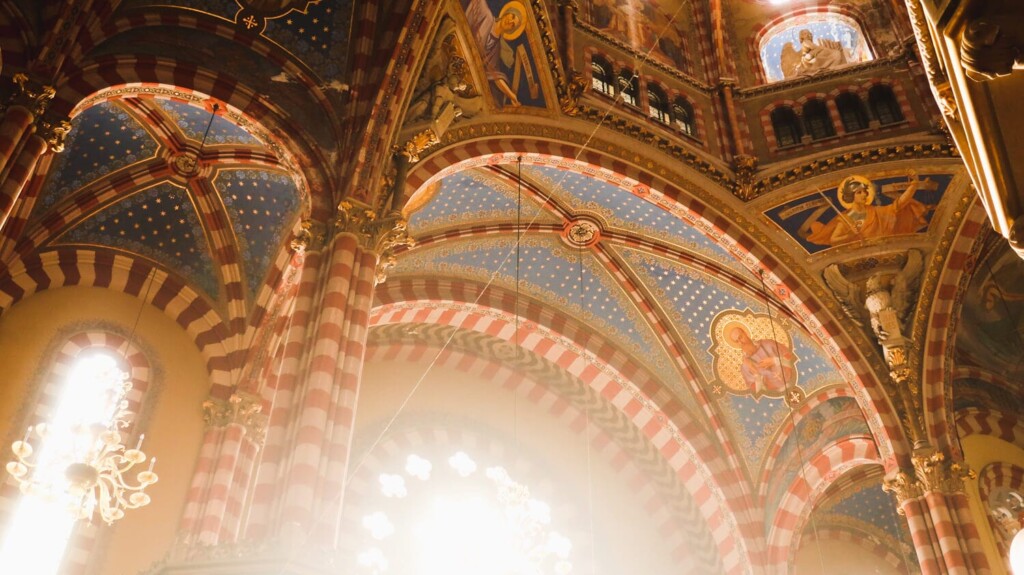 The baroque interior is jaw-dropping beautiful. Red and white candy-cane columns lead upwards to a deep blue ceiling that echos the sky above.
There is no shortage of gold or candles lighting the space and if you time it right, the sunbeams pour in through the windows as if they were God himself.
If you only make it to one place in Almagro, let it be this basilica.
If you skipped Las Violetas before, make your way there afterwards for tea, pastry, and reflect on the beauty of La Basílica María Auxiliadora.
Almagro, Buenos Aires
I hope you've enjoyed your day walking the streets of Almagro.
This working-class neighborhood may lay far off the beaten path for most tourists, but you'll be well-rewarded for breaking off from the norm.
The colorful fileteado, the tango roots, and historic buildings and cafes all make a visit to Almagro well worth the time and effort.
What Else to do in Almagro: Dinner & Tango
Looking for a great way to end your day in Almagro? Here are a few excellent ways to end your day with dinner, dancing and music. All of these locations are pinned on the map up at the top of this post!
Eat Peruvian | This area (as well as neighboring Balvanera) is home to the best hole-in-the-wall style Peruvian restaurants in the city, like Mamaguille's. Leave the fancy restaurants for Palermo Soho, this is where actual Peruvians go for Peruvian food.
Visit La Catedral Milonga | Looking for a real tango dance hall (versus these popular tango dinner shows)? La Catedral offers tango classes every night (think 6-9 pm), but if you already know what you're doing or just want to watch, the real action gets started very late into the night. Check classes and events here.
Konex Cultural Center | Younger and looking for a fun night out? Hit up the Konex Cultural Center. Their most popular event is the Bomba del Tiempo drum show every Monday night.
pin it for later