Are you trying to figure out how to get from Ezeiza into Buenos Aires once you land?
Welcome!
By the end of this post, you'll have a plan for arrival into one of South America's most bustling cities.
Ezeiza (EZE) is Buenos Aires' international airport. It's located just over 30 kilometers and an hour's drive from the city center.
This post is a complete breakdown of all the ways to get into Buenos Aires from Ezeiza from city bus to private transfer.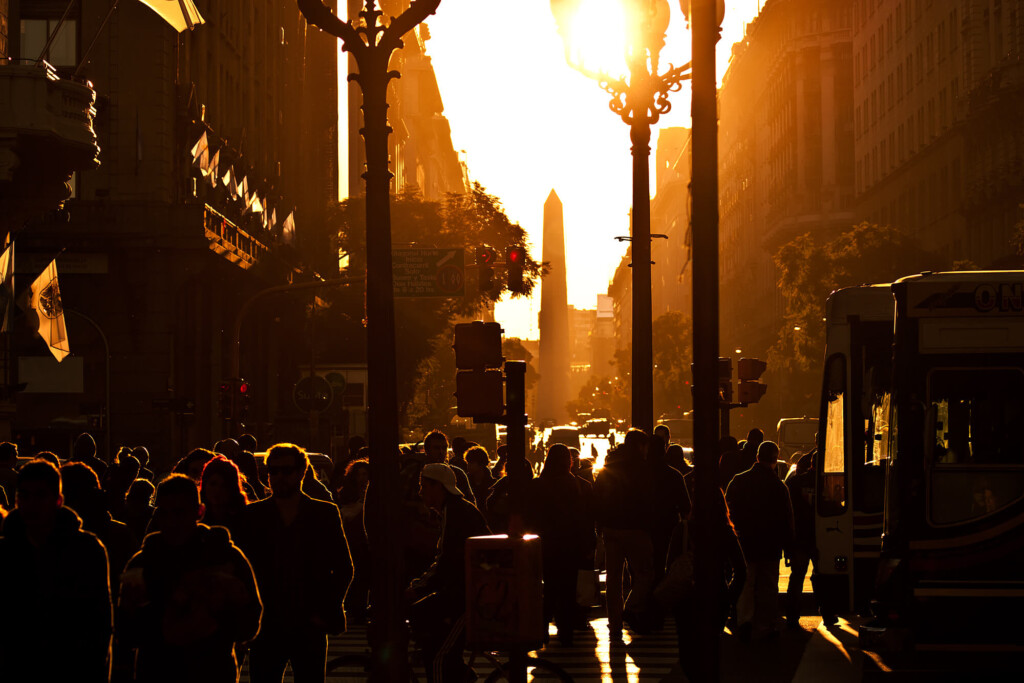 QUICK NOTE: This post contains affiliate links and Sol Salute may receive a commission for purchases made through these links, at no extra cost to you.
Ezeiza to Buenos Aires: Buses, Taxis, and Transfers
There is truly an option for every budget. I'm listing them below in order, starting with my top recommendations and ending with the "only if you have to" public transportation option.
By the end of this post, I hope you have your transfer booked or a plan in place on how to get into the city upon arrival.
First, what NOT to do…
In Buenos Aires, do NOT leave the airport and hail a taxi outside.
They will definitely make up a price upon assessing just how foreign (and rich) you look.
Then they'll smile as they cheekily say of course they'll accept your dollars (as if this is a favor to you and not to them).
At best, you'll pay two or three times the actual cost. At worst, they'll scam you even further.
Stick to the options listed below for Buenos Aires airport transfers and taxis.
Private Airport Transfer
Without a doubt, the easiest option is to hire a private transfer before departure.
Nothing beats having someone waiting for you outside of baggage claim with your name scribbled on a whiteboard.
If you don't speak Spanish and this is your first time here, avoidall possible stress and reserve a transfer.
Prices for these sorts of services in Argentina are very affordable, take advantage of that.
My Choice: Private Transfer from Ezeiza
Honestly, you are here to enjoy your holiday. Save yourself unneeded stress.

This private transfer is the highest-rated and most popular.

If you're traveling alone, this shared transfer is a good option to have the comfort of a transfer with a lower price tag.
Taxi [Remis] from Ezeiza airport to Buenos Aires
Second to a private transfer is a taxi or remis. Remis companies are basically taxis but with set rates based on destination/distance.
When you exit customs with your bags, you'll pass through a small room with taxi booths.
These remis companies have set rates to get you into town. This is how I personally get home from Ezeiza to Buenos Aires when I travel.
The downside is the cars are not great (imagine an old car that probably smells very strongly of cigarettes) and you can forget about the driver speaking English.
If you speak Spanish, this is a great option! If you don't, stick to the transfer options above.
Taxi Ezeiza: This taxi company is the official taxi of Ezeiza. The booth is typically just outside of the room of remis booths but at the moment it's gone due to renovations. You can check out their prices and current offerings/reservations on their website.
Shuttle Bus: Manuel Tienda Leon
Manuel Tienda Leon is a classic go-to for airport transfers in Buenos Aires, check out their website for current prices.
This company has a small bus station downtown in Puerto Madero/Retiro (behind the Sheraton). Their buses connect from there to both Ezeiza and Aeroparque (the city's domestic airport in Palermo).
The bus will save you some pesos if you are traveling alone.
If there are two of you it will cost the same (or slightly less) to take a remis/taxi. If there are more than two of you, it's not even a question. Take a remis/taxi.
You can take the bus to either Terminal Madero downtown or Aeroparque in Palermo. From there, you can get a taxi or rideshare to your hotel.
The website shows the option to reserve and pay in advance, this isn't necessary.
When you leave customs you'll go through a small vestibule with taxi booths. Manuel Tienda Leon has a booth here where you can purchase a ticket for the next shuttle bus and pay with a card. Buses leave regularly and it is very seamless.
NOTE: There are other shuttle services, like Minibus Ezeiza. If you don't speak Spanish or this is your first time in Argentina, stick with Manuel Tienda Leon. It's just so much easier.
If you feel up to it, Minibus Ezeiza is a bit cheaper and departs regularly from San Telmo. But at the moment, they require prior reservations and a bank transfer (which is very normal here but a huge hassle if coming from abroad).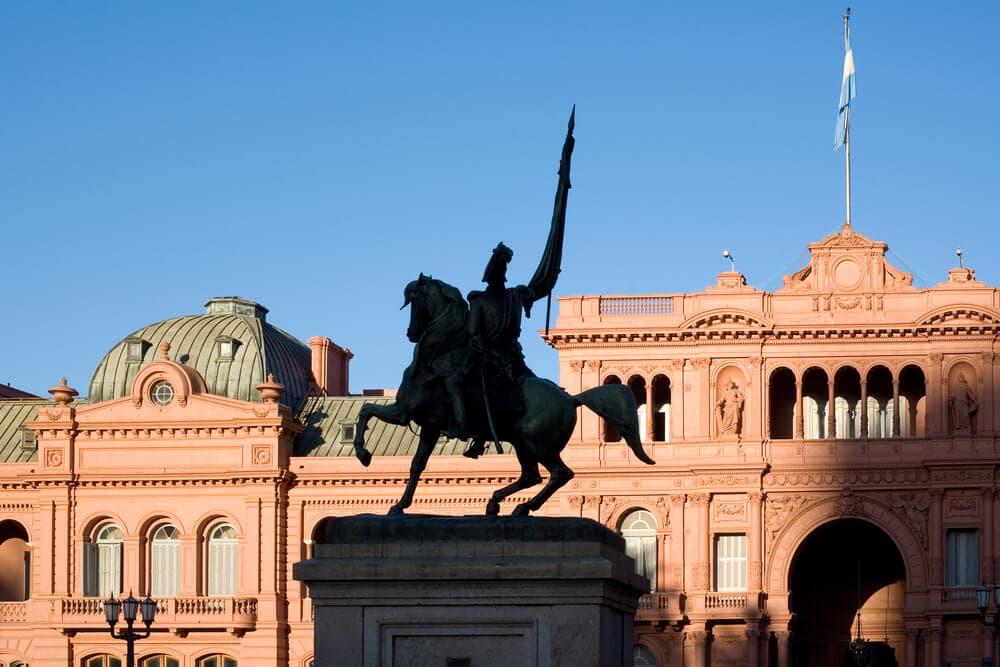 Uber & Rideshares
Uber is still technically illegal in Argentina and taking it from the airport is more than a little complicated.
To avoid violent drama from local taxi unions, your driver will likely make you walk deep into the parking lot to meet them, greet you as a friend, and have you sit in the front seat.
Uber is blocked on the Argentina's Airport wi-fi and you'll need a data plan to use the app and a phone plan to be able to call the driver to coordinate the complicated meet up.
If you're not a local, it's nearly impossible and even as a local, it's not worth the hassle (speaking from experience).
Cabify is a legal alternative if you'd like to use a ridesharing app.
However, the remis companies mentioned above will be similar in experience without the interminable wait.
Public Transportation from Ezeiza: Línea 8 Bus
This option is, in my honest opinion, a non-starter.
I only include it because I personally always search for public transportation from airports (in Europe is almost always the easiest choice) and perhaps you're doing the same thing.yt
Unfortunately, here in Buenos Aires public transportation from Ezeiza isn't really an option. Ideally, there would be a train and I will never stop dreaming about this fictional train line.
Until then, there is only the bus.
Why not take the bus from Ezeiza?
It will take 2 hours to get to your hotel, if you are lucky. On the way, it will go through the entire city and very colorful neighborhoods. You don't want to be on this bus with all of your luggage.
Also, to use public transportation in Argentina you need to have a SUBE card with credit already loaded onto it. But you could ask a local to pay for your (cheap) ticket and give them the cash if you're in a pickle.
Why take it?
Only if you're truly broke and you are traveling very light.
If you want to try it, ask Information for the bus stop location. I don't know where it is (because I swear, it's not a great choice!).
Buenos Aires Guides:
Argentina Travel Resources
TRAVEL INSURANCE | While it's always been a good idea to travel insured, it is currently an entry requirement for Argentina. As of Jan 29, 2022, it is a requirement to provide proof of travel insurance that covers COVID with coverage for quarantine and hospital stays. SafetyWing is an affordable plan that meets the requirements of their digital nomad plan (great for tourists as well).
PHONE PLAN | These days, traveling with data is essential. Especially in Argentina where everything is managed on Instagram and WhatsApp. Purchasing a local SIM card can be tricky without a local ID, I recommend this E-SIM card, which has unlimited data. It's hassle-free and affordable. If you have an older phone that doesn't support E-SIM, check out DrimSim for a physical sim card alternative.
ACCOMMODATION IN ARGENTINA | booking.com is the most common hotel site used in Argentina and it's where you'll find the most options.
RENTAL CARS | I love to travel Argentina via road trip, check out RentalCars.com for the best rates for rental cars here.
VPN | If you'll be using a public WiFi connection and want to secure your data, I highly recommend using a VPN, I personally use and have had a good experience with ExpressVPN. I also use it to access Hulu and American Netflix from Argentina.
FLIGHTS | Always check Google Flights and Skyscanner for flights to and within Argentina. Aerolineas Argentina is the local airline with the most routes. FlyBondi and Jetsmart are two budget airlines with dirt-cheap prices (but expect to pay for every add-on like luggage)z
NEED HELP PLANNING? | I offer one-on-one travel consultations to help you plan your trip to Argentina. Pick my brain to get a local's insight. Click here for more information.