"In Argentina, a house without a parrilla is like a house without a bathroom". 
That's how Frank of Asado Adventure described the importance of asado to Argentine life. 
And he couldn't be more right.
Every house has a parrilla, whether it's a six bedroom mansion or a single room studio apartment.
Asados, parrillas, red meat and red wine… it's all central to everyday life here in Argentina.
Families get together every weekend around the parrilla for the sort of pro-longed meal we only do on major holidays in the US.
So how can you experience an authentic Argentine asado?
One thing I've always lamented for tourists to Buenos Aires is how this major facet of Argentine life is closed off to visitors. 
Unless you know someone who can invite you to an asado in Argentina, you're left to watch the smoke waft out of everyone's backyard without a ticket to the party. 
So I repeat, how can you experience an authentic Argentine asado?
The Asado Adventure is your ticket to the party and one of the best food tours in Buenos Aires.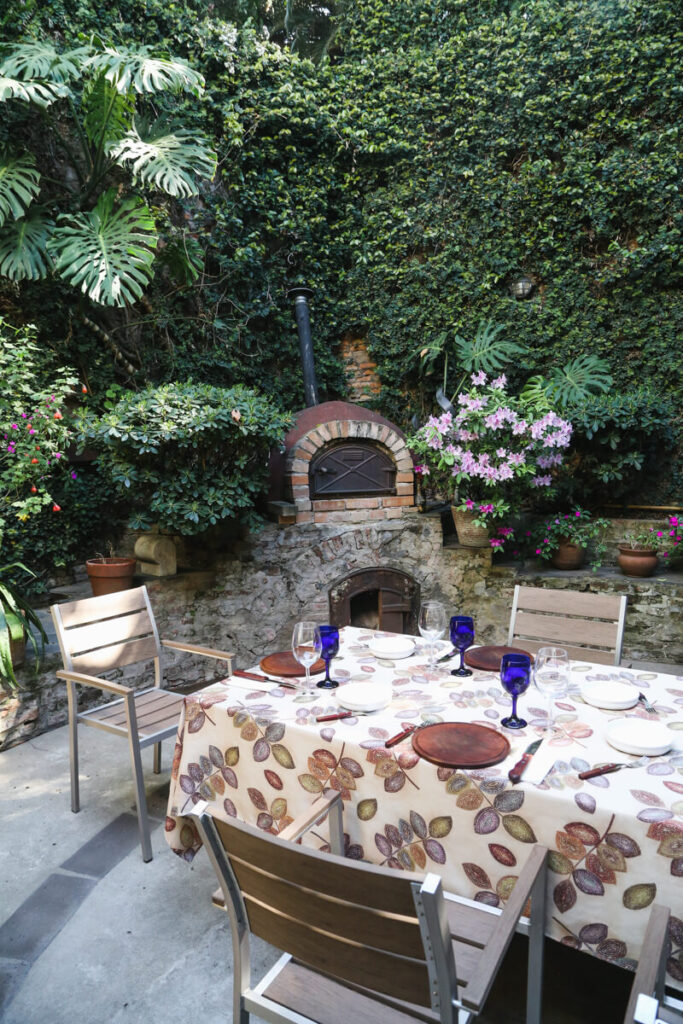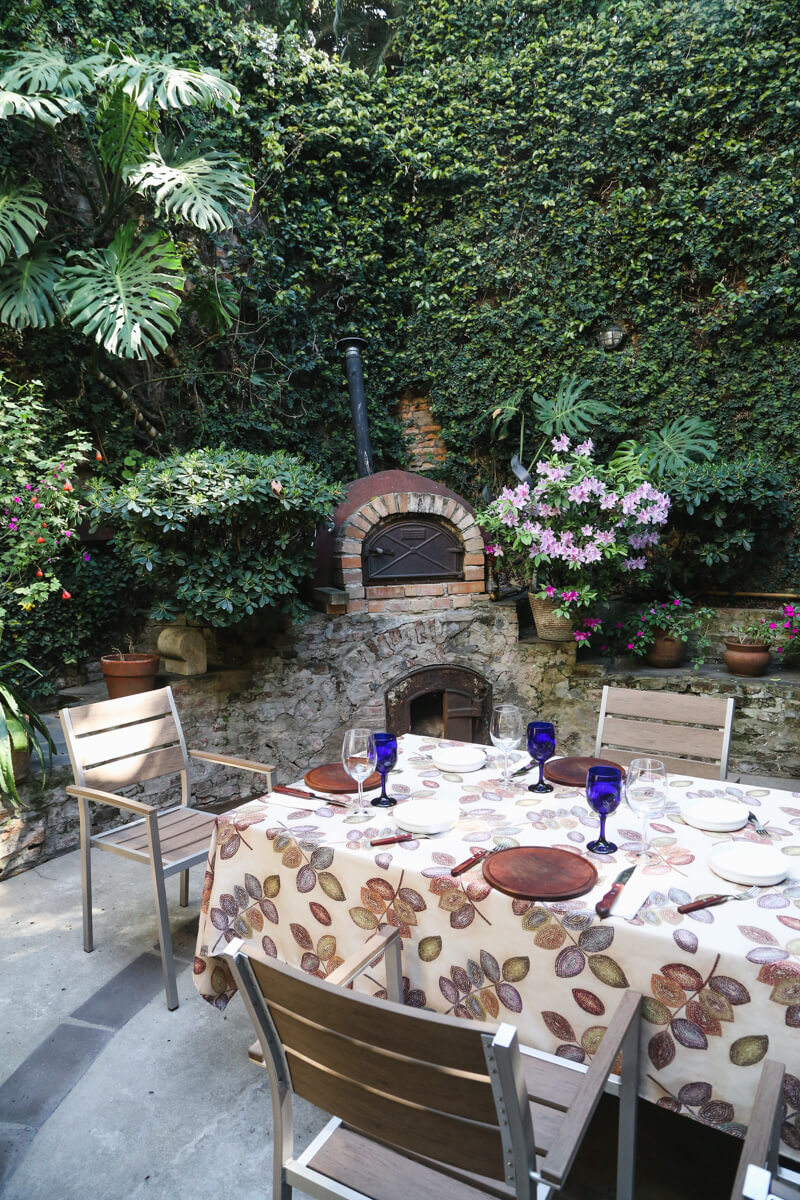 QUICK NOTE: This post contains affiliate links and Sol Salute may receive a commission for purchases made through these links, at no extra cost to you.
Asado Adventure: How to See an Authentic Asado in Argentina
Frank Almeida has been living in Buenos Aires since 1999 and is the founder of Asado Adventure (among other food tours for those of us gluttonous travelers). 
Disclosure: Recently he invited me to join a tour to see what he's offering and what follows is an honest review of the experience. This is not a paid advertisement. I only write reviews for experiences I've truly enjoyed and would do myself and opinions are 100% my own.
What is an asado?
First, what is an asado?
For the beginners out there, here is a bit of vocabulary to help you navigate eating steak in Buenos Aires :
PARRILLA | This is the name for the actual grill in Argentina (no gas barbecues here!) and also the name for steakhouses in Argentina
ASADO | An asado is the name of the event of a barbecue at someone's house and the name of barbecue as a whole in Argentina
Already interested? Keep reading to hear about my experience and what to expect, but if you're already interested in booking your own asado? Click here and don't forget to use my discount code SOLSALUTE to save 10%!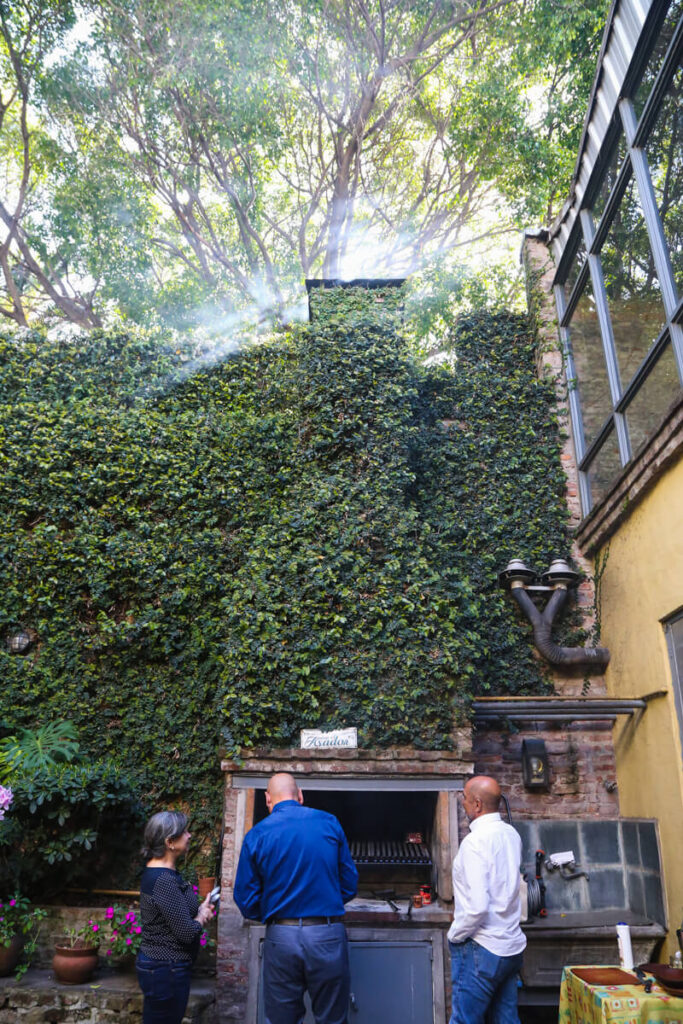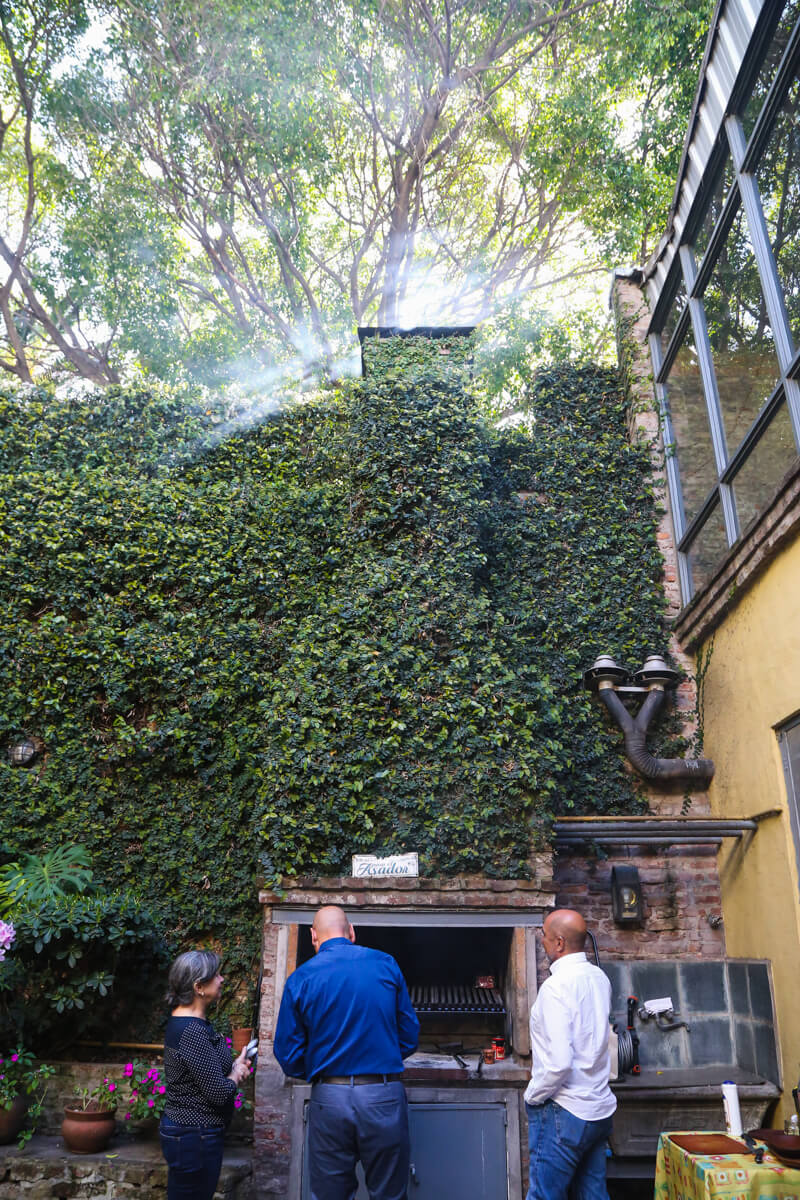 What is the Asado Adventure?
The Asado Adventure is a blend of a walking tour, a cooking class, and a dining experience.
We arrived at Frank's Palermo Viejo home at 10:30 am to start what would be a full day of eating. I recommend eating a light breakfast that day!
The first thing we did was build the fire. It may feel a bit early for that but the fire for an asado the fire is a literal slow burn.
We used a bottle of fernet as a unique and effective fire starter. I'll leave it at that so you can see for yourself if you go!
While the fire was burning, Frank taught us how to make chimichurri, a recipe you're going to want to take home with you because traditional chimichurri is nothing like the fresh green sauce you see on the shelves in the US.
Starters prepared and the fire well on its way, it was time to hit the streets of Palermo.
This is such a great addition to the day.
We walked around the heart of Palermo Soho (the popular nickname of what is actually Palermo Viejo).
Frank taught us about the barrio's history and street art as we went to do the shopping for the steak and wine we'd be enjoying later that afternoon.
When we got back to the house the real fun (read: eating) began.
While the asador was preparing the meat, we tried fernet and coke and a picada (one of the most popular foods in Argentina) to whet our appetites before moving out to the patio to start the feast.
The entire meal was of fantastic quality and I even tried (and liked) things I don't typically enjoy even after 13 years of living here, like morcilla (blood sausage).
In true asado fashion the cuts of meat kept on coming, each one better than the last.
Wine, a simple salad, and chimichurri rounded out the meal and it was just like an asado with my Argentine in-laws (with better quality meat, but don't tell them I said that).
The meal ended with dessert, something Argentines never skimp on, and yerba mate.
Should you Book Asado Adventure?
I know a lot of "travelers" these days cringe at the word tourist and sometimes feel averse to booking tours.
But I personally love a good food tour (like this Mexico City market tour) with a local who knows their stuff.
This is one of those experiences that is worth the money and worth the time.
You'll get to experience a major facet of Argentine life that you would have no way of accessing otherwise.
You'll learn about the history of both Argentina and the meal you're eating.
And from the picada to yerba mate, the meal really covered a LOT of aspects of Argentine cuisine beyond just the meat.
I really enjoyed the day and know any food loving traveler would as well.
TIP: An asado is just like any dinner party, no matter how good the food is, it's only as much fun as you make it. Come with friends and family for a true asado/dinner party feel!
How to Reserve + Discount Code
Click here to book this tour and/or Frank's other highly rated food tours.

Use my code SOLSALUTE (case sensitive) for 10% off!
Keep Reading about Buenos Aires