If you're planning your trip to El Calafate, I'm sure you've heard of Perito Moreno.
But maybe you're wondering what else there is to see and do here.
This post is a complete and easy to use guide on all of the best things to do in El Calafate.
By the end, you'll be ready to plan the perfect itinerary filled with all of the top El Calafate attractions.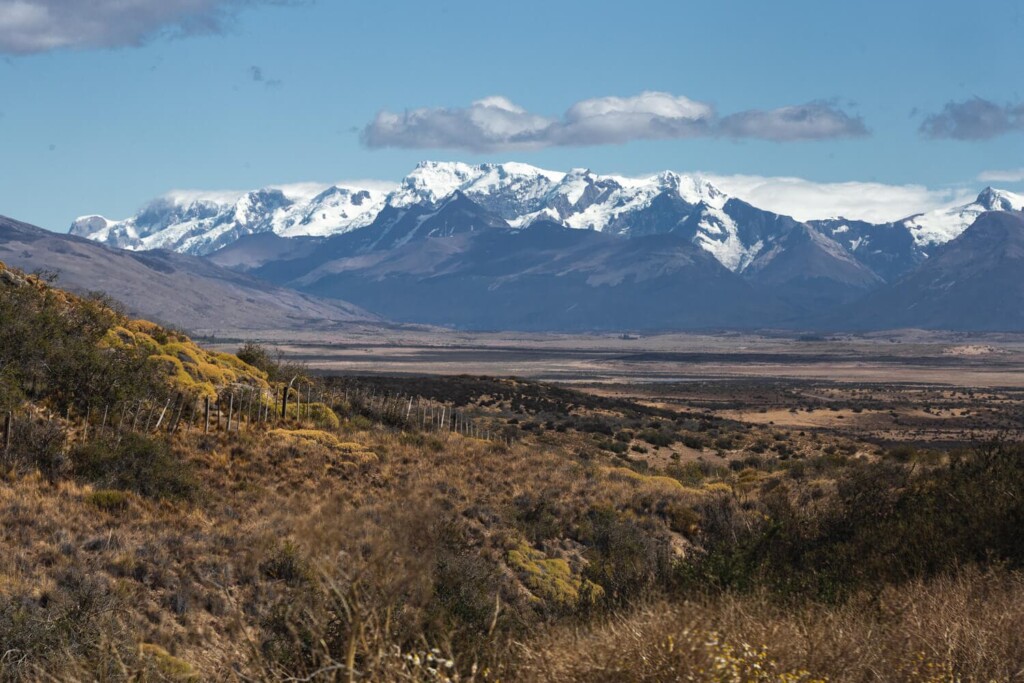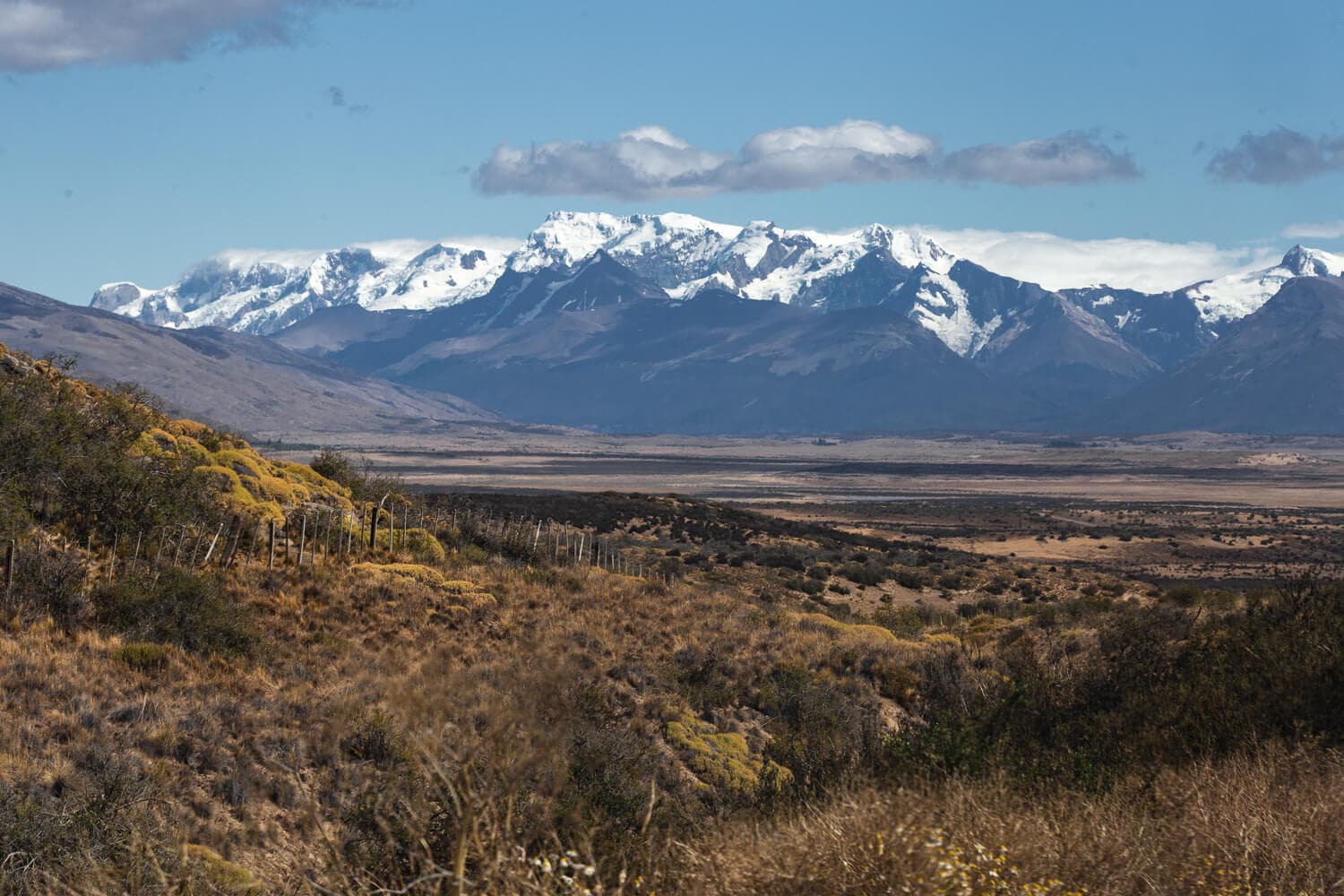 QUICK NOTE: This post contains affiliate links and Sol Salute may receive a commission for purchases made through these links, at no extra cost to you.
Things to do in El Calafate
I've been to El Calafate two times (so far) while living here in Argentina.
To say it is beautiful would be an understatement.
Glaciers, the Andes, historic estancias, wildlife, and crystal clear turquoise lakes and rivers, the beauty here is expansive.
I've grouped these El Calafate activities in an easy to understand format to help you construct the perfect itinerary.
First are the best ways to see Perito Moreno, then the tours of the other glaciers in the area, then estancia day trips, followed by all the other exciting things to do in El Calafate.
For an example itinerary, here is my 3 day El Calafate itinerary detailing everything we did on our most recent trip.
El Glaciar Perito Moreno
The first and more important of all the attractions in El Calafate is Perito Moreno.
But, how?
You can do-it-yourself with no tour for more freedom and less expense, go on a guided tour for less stress, or get active on a more adventurous tour.
This first batch of things to do in El Calafate includes all the different ways to see Perito Moreno.
All are full-day activities, so you can choose just one.
Or you can go all out and spend more than one day at Perito Moreno if you'd like to spend one day on your own and another on an active tour like kayaking or trekking.
1. Perito Moreno Glacier Day Tour (Guided or DIY)
This massive glacier is one of the few advancing glaciers in a world where most are in decline.
Its stunning beauty and accessibility make Perito Moreno one of the biggest tourist attractions in El Calafate (and Argentina, overall).
It's even one of the official 7 Natural Wonders of Argentina.
How to See Perito Moreno With No Tour
You can easily visit Perito Moreno on your own with no tour guide.
Take the bus from the terminal in town.
You don't need to purchase tickets in advance but for peace of mind (especially during the busy season) swing by the night before and get them for the next day.
Buses typically depart at around 8:30 in the morning and will pick you up at Perito Moreno to return to El Calafate at 4 in the afternoon.
This gives you enough time to explore the trails, footbridges, and viewing decks.
You can also easily book a two-hour boat excursion once in the park.
There is a restaurant but I recommend packing a picnic to enjoy from the viewing decks (you'll never find a better lunch view!).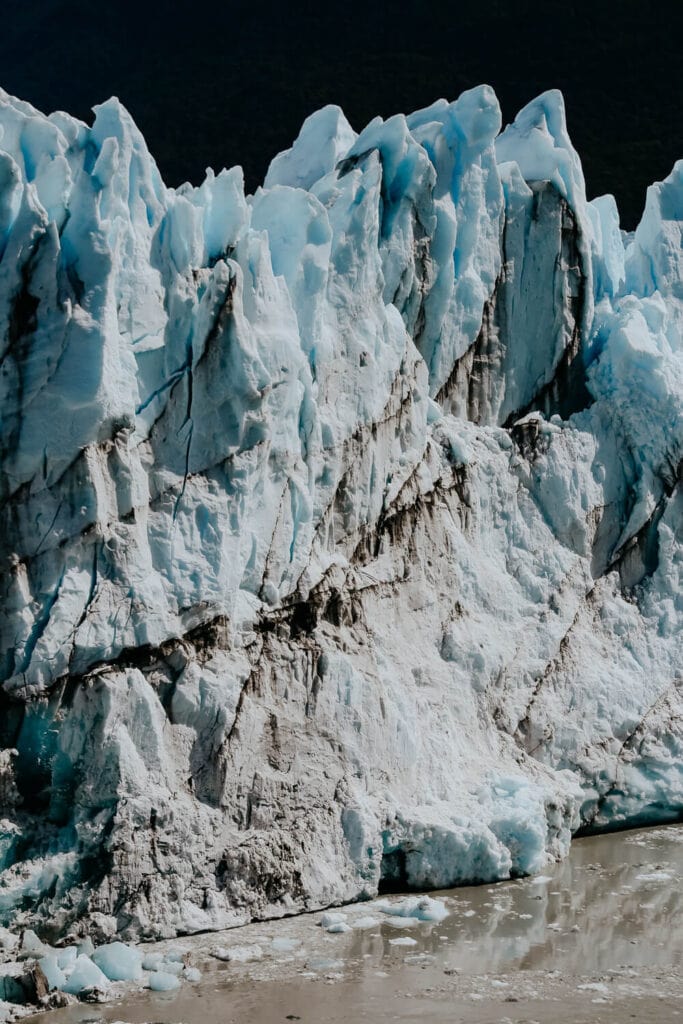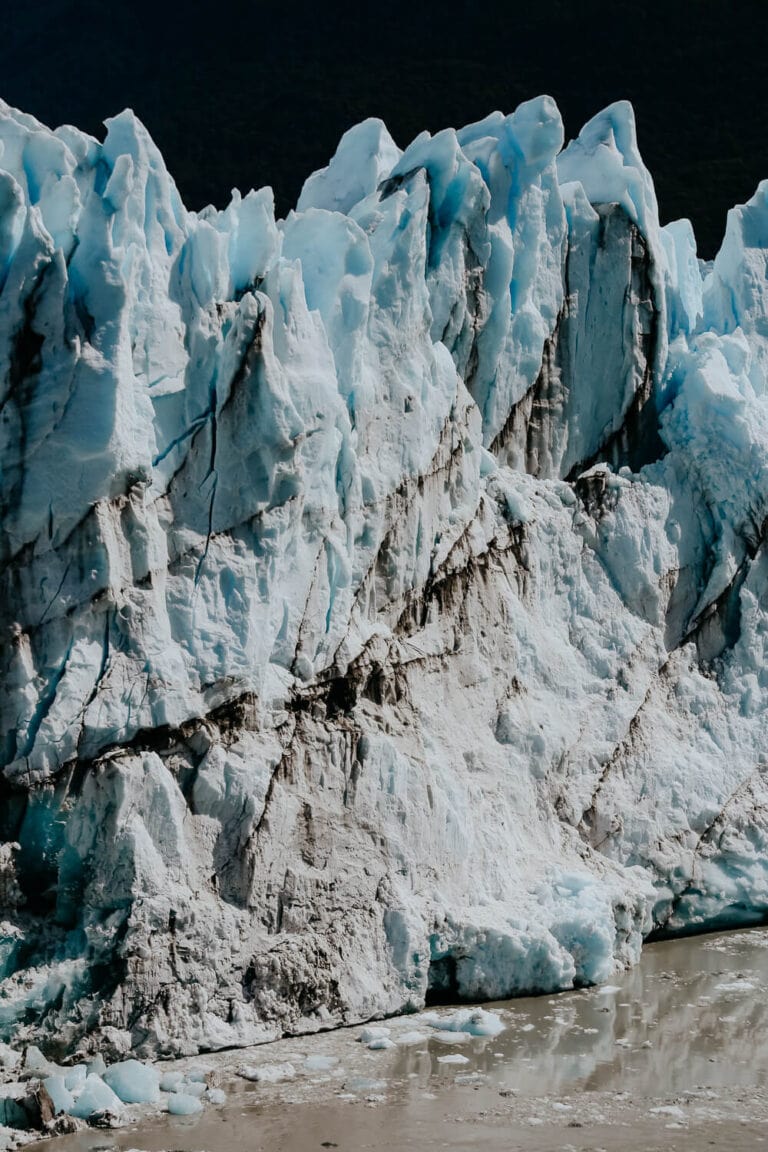 Perito Moreno Organized Tour
If you'd rather have the logistics taken care of for you (rather than handle public transport, schedule, etc on your own), book this small group tour or this private tour.
These tours offer basically the same as above, giving you free time to enjoy the trails and viewing decks and an optional boat tour, but handle everything for you (also a good option if you're worried about not speaking Spanish).
In summary: Is Perito Moreno worth it?
Yes! It's one of those few, once-in-a-lifetime experiences, check out this photo diary of Perito Moreno for more motivation.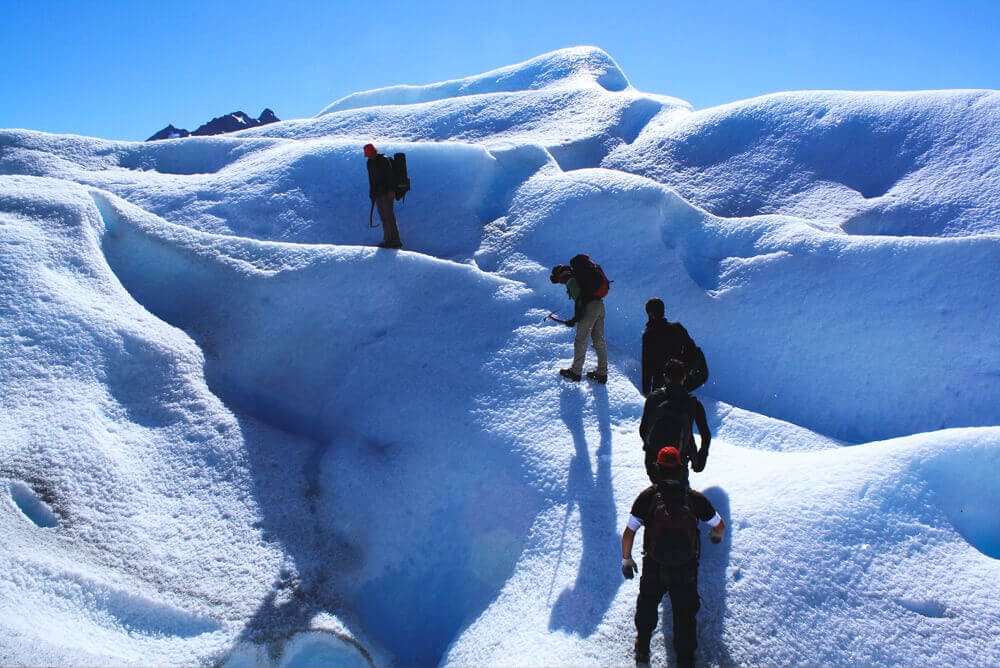 2. Go on a Glacier Trek
One of the best ways to experience Perito Moreno is with a glacier trek. What better way to see it than to be right there, on it!?
There is one tour company offering two different excursions: Big Ice (full day, more demanding) and Minitrekking (less time on the ice, easier and more age-inclusive).
I did the Big Ice Trek back in 2010 on my first trip to El Calafate and it remains one of the coolest things I've ever done.
Full disclosure: it's not cheap and it may one of your main splurges when it comes to things you do in Argentina but it really is worth it. It's a once in a lifetime experience.
The tour is a complete day and you get to see Perito Moreno from various vantage points.
First, they give you some time to walk on the footbridges and viewing decks.
Then you also see it from the water as you take a boat across the lake to reach the glacier to start your hike.
Once on the ice, your guides will choose a path, guiding you across the ice, using pick axes to hack makeshift stairs into steep inclines.
It really is one of the best travel memories I have from Argentina, so far.
The whiskey served on glacial ice at the end didn't hurt either.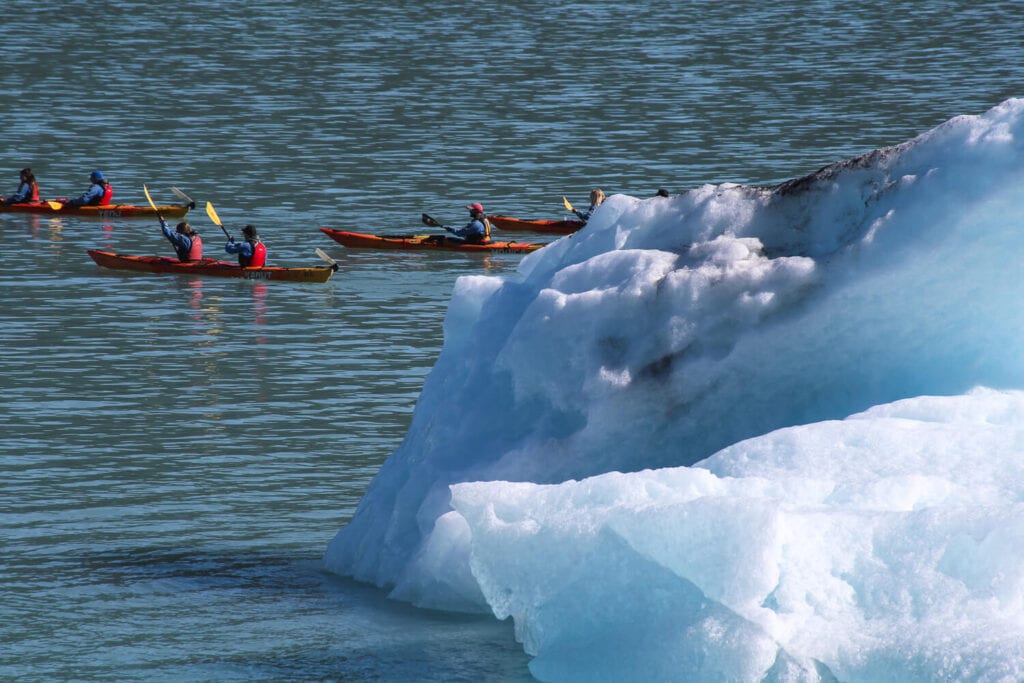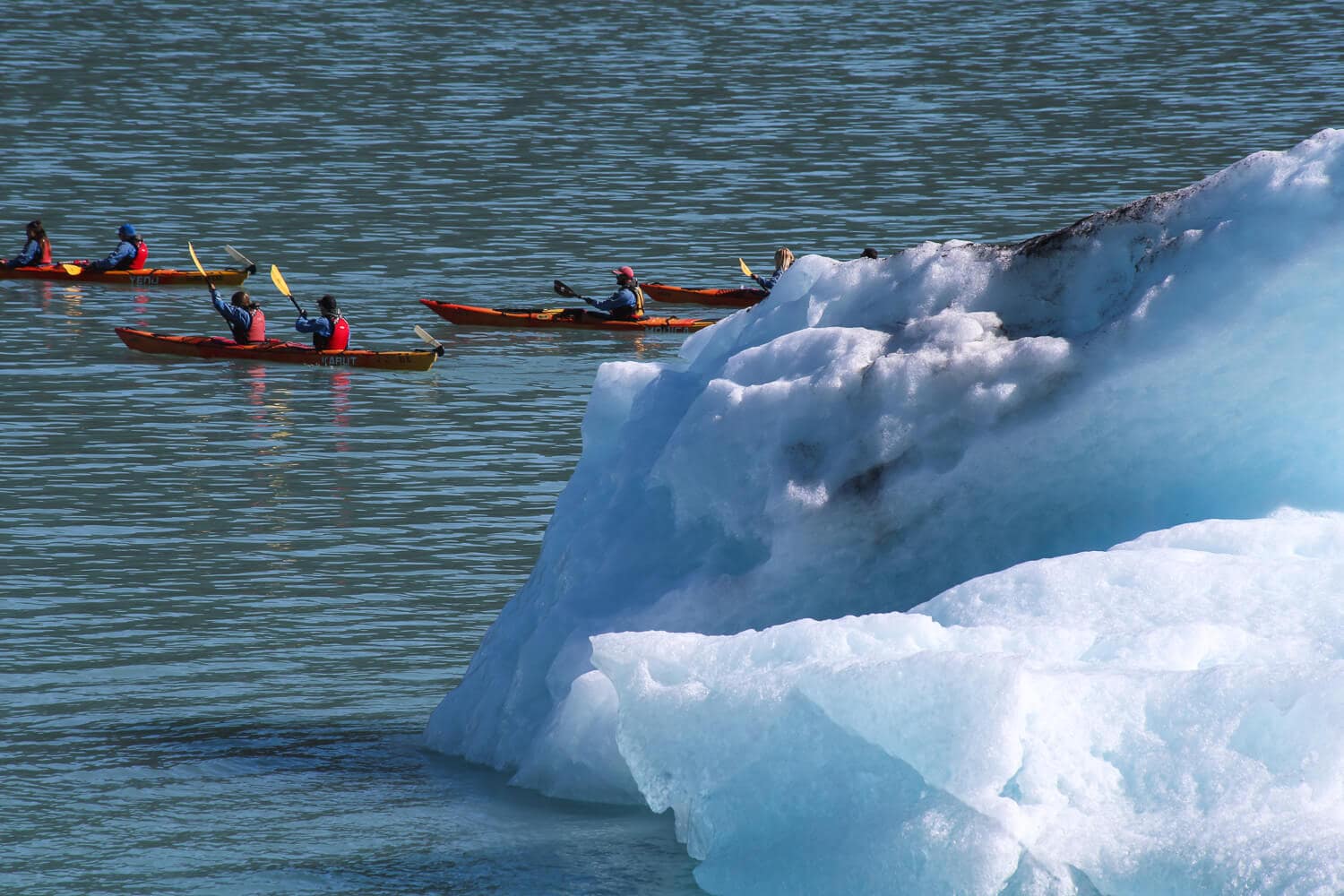 3. Kayak Perito Moreno
Another unique way to see Perito Moreno is on this kayak tour.
There are boat tours in catamarans but you can't beat seeing it from water level, in the free air on your own in a kayak.
No prior experience is needed, the guides will conduct a complete safety briefing and provide equipment.
We watched one tour group start their trip in the morning and I have to admit I was a little (very) jealous.
We had to cool it on the adventure this trip since we were there with our baby, but next time I'm definitely doing this.
They were in a small group and kayaked meters from enormous icebergs that had broken off the glacier. We left as they were paddling towards Perito Moreno.
The tour includes transport from El Calafate and time to walk the footbridges as well.
Reserve your kayak tour here. (Then come back and tell me how it goes in the comments!)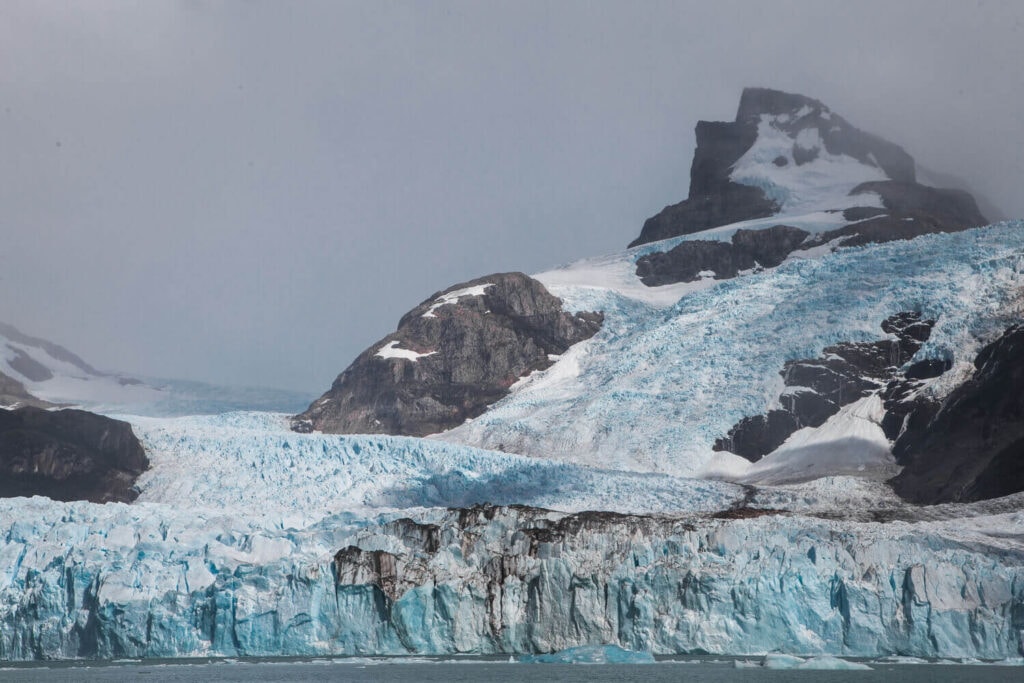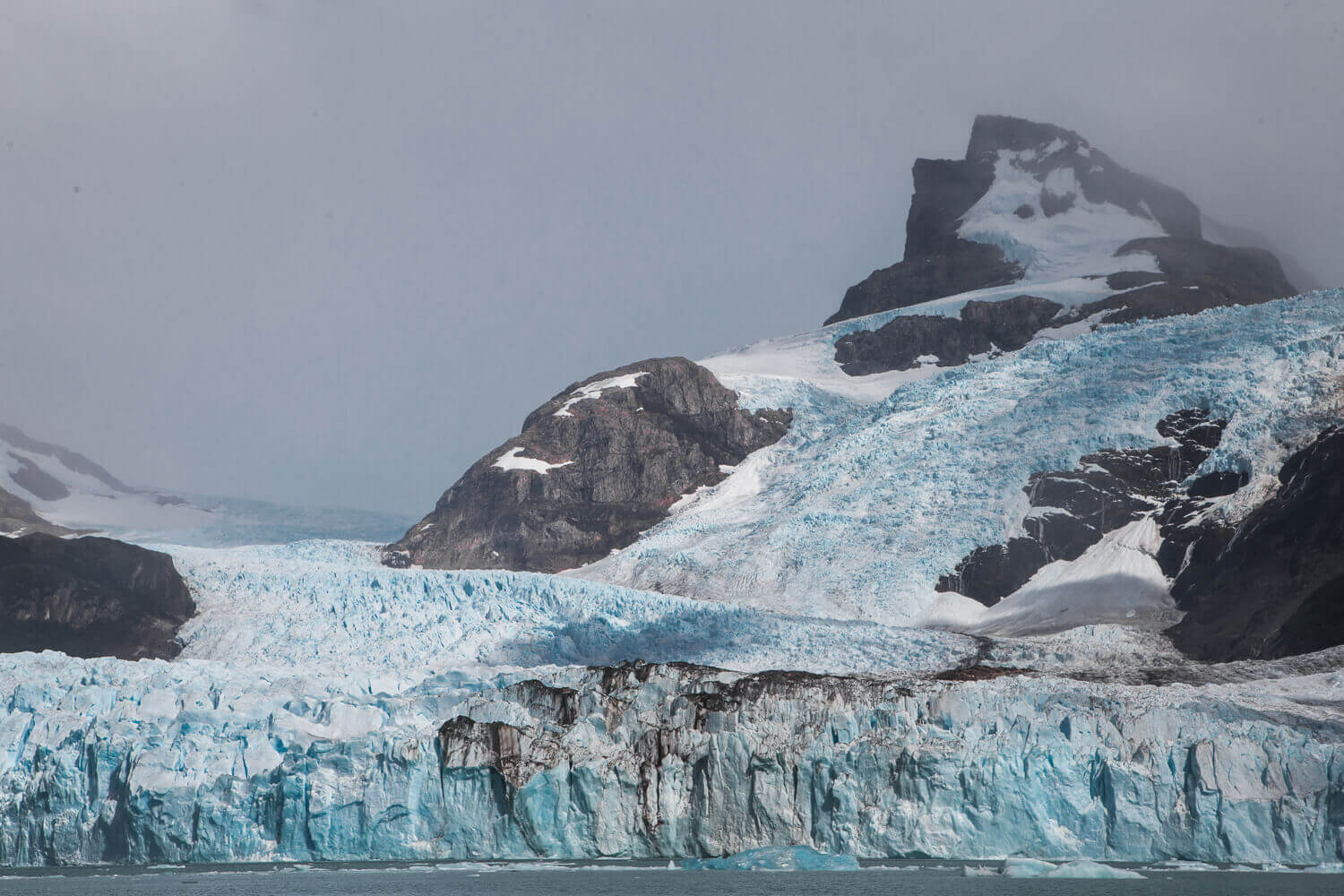 More El Calafate Things to do: See The Other Glaciers
That's right, there is more than Perito Moreno here in Argentina's Tierra de Glaciares.
It's called Los Glaciares National Park for a reason, after all!
Seeing the Spegazzini and Upsala Glaciers is another excellent thing to do in El Calafate. Since they can only be reached by boat it requires a tour.
Here are the best options.
4. Todo Glaciares with Solo Patagonia
On our most recent trip we spent a day on the Todo Glaciares excursion with Solo Patagonia, book it here.
We really enjoyed it! It was a full day on the water with their catamaran navigating Lago Argentino.
We saw Upsala and then Spegazzini, where they have a base camp where we docked for lunch.
There's a restaurant there but we had a picnic that we enjoyed on the rocky beach with a view of Spegazzini just across the water.
It was a great day and we enjoyed our time on the water just as much as when we were viewing the glaciers.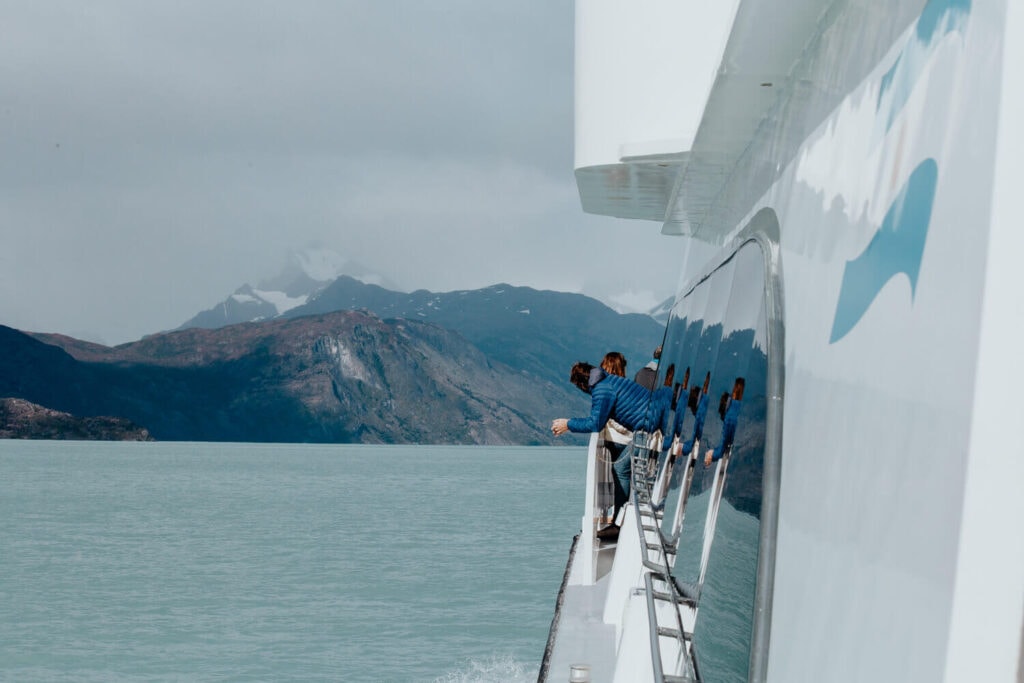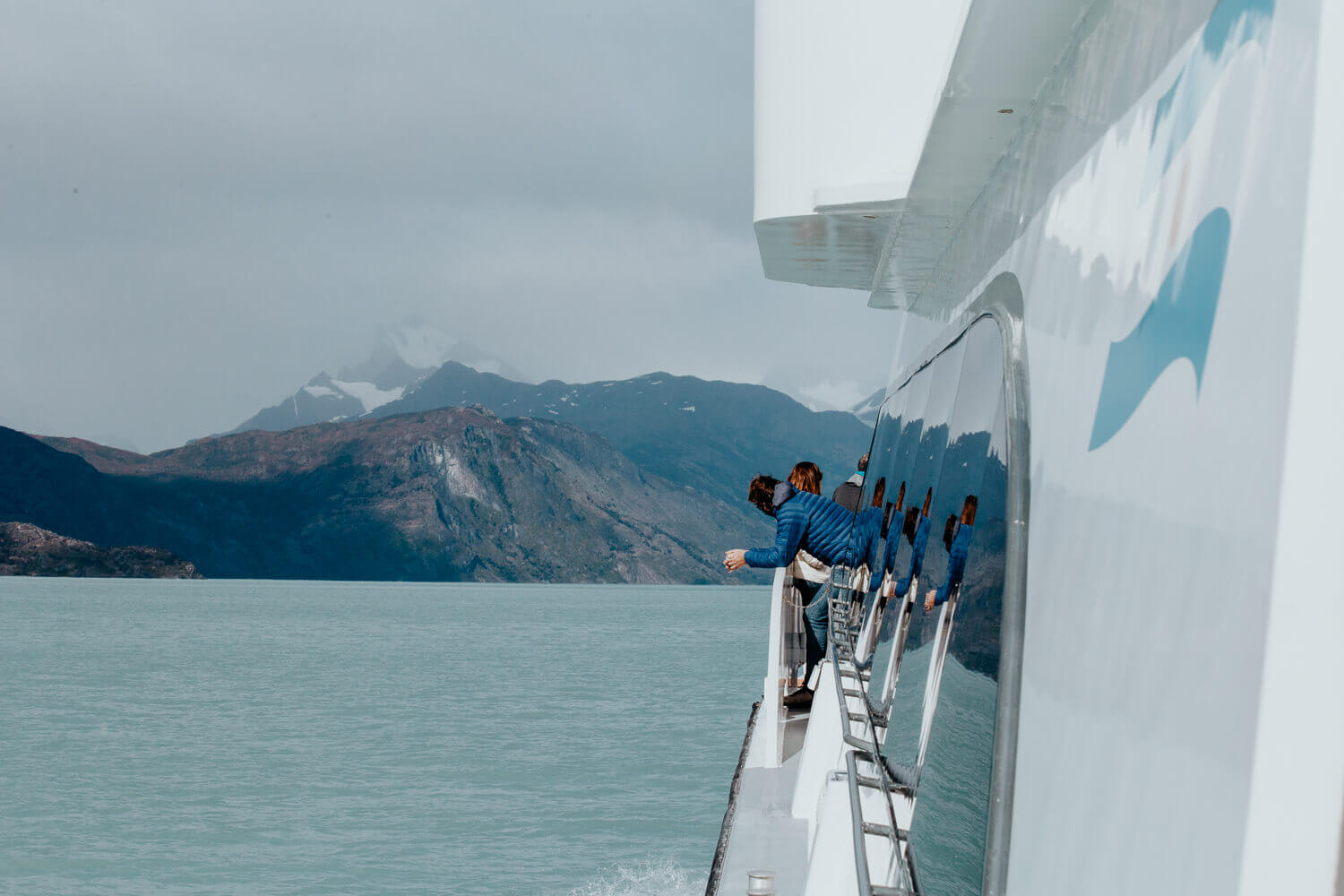 5. Usala & Estancia Cristina
Estancia Cristina offers this full day tour to visit Upsala that is more active, including a hike and a visit to their historic estancia.
This ranch has a coveted location on the northwest coast of Lago Argentino by Upsala so their itinerary is unlike any other.
The excursion departs from Punta Bandera and includes a navigation across Lago Argentino. From there you'll sail through the icebergs, view the glacier, go on a beautiful hike, and visit the historic ranch and learn about Patagonian sheep farming.
I think visiting an estancia here in El Calafate is a must, so if you don't have time to dedicate a separate day to it then this is the perfect way to squeeze it all into one day.
Book your Estancia Cristina Excursion here.
Estancias: Traditional Attractions in El Calafate
If you didn't go to an estancia, did you even go to Argentina?
These ranches are plentiful all across the country, particularly near Buenos Aires, but estancias in Patagonia are particularly extraordinary.
Here a couple of things to do in Calafate that allow you to visit their beautiful ranches by day or as unique accommodation.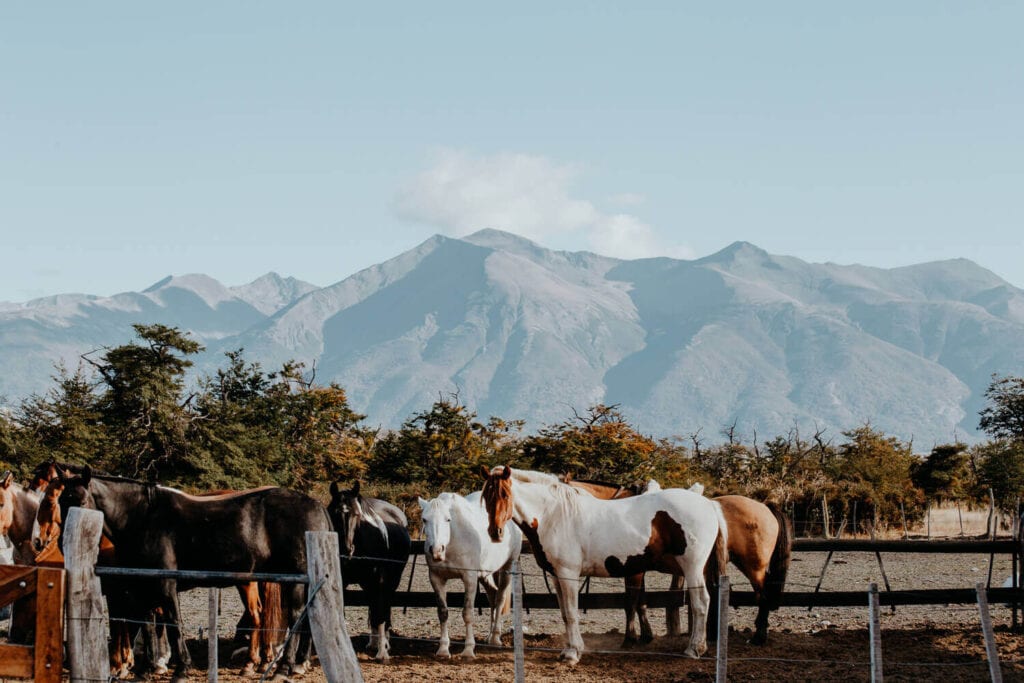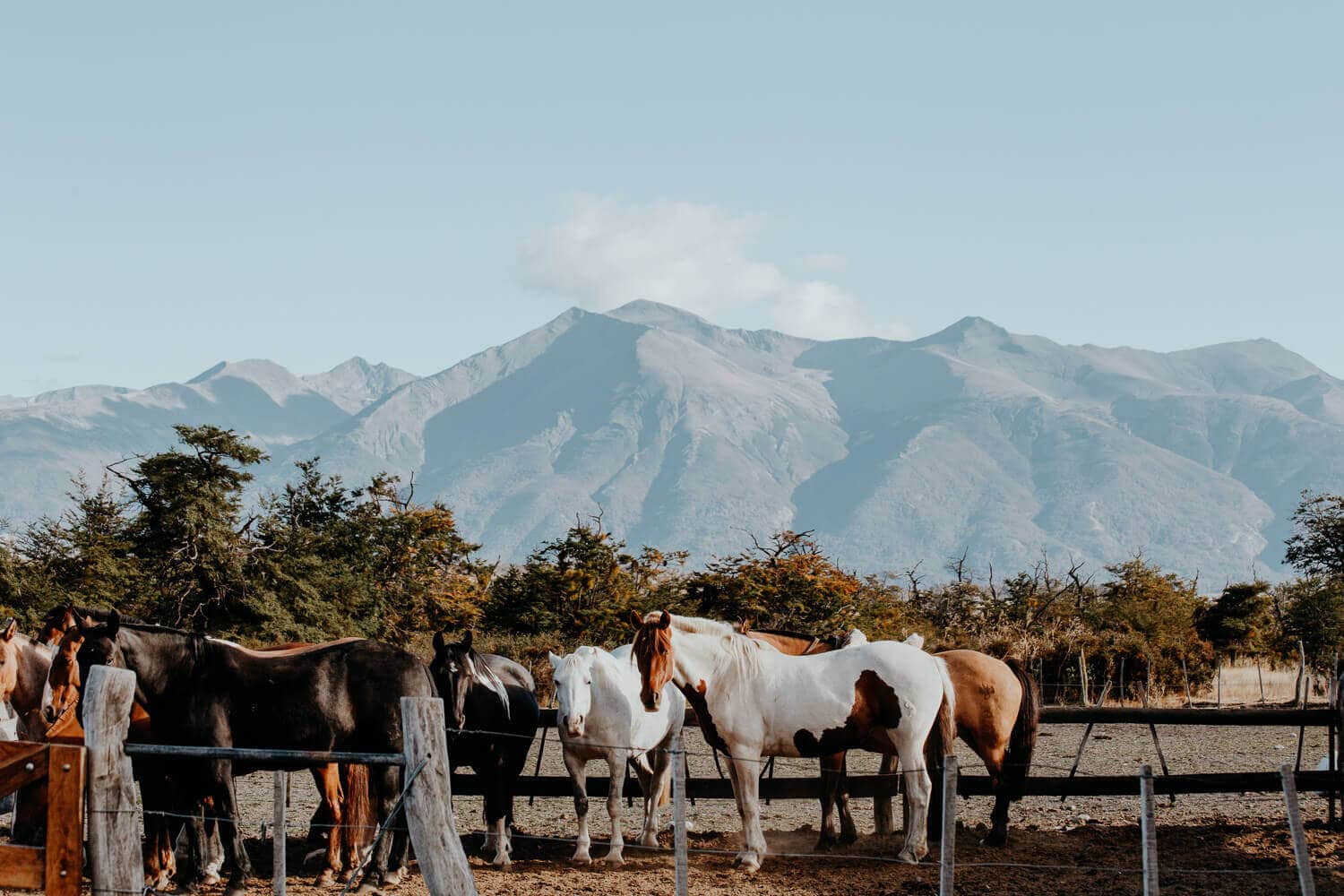 6. Go Horseback Riding
I've gone on a few horseback rides (or cabalgatas in Spanish) in Argentina, but none has surpassed my experience horse riding in El Calafate.
Estancia Nibepo Aike offers these half-day dia de campo experiences that include a 3-hour horseback ride and a lunch of traditional Patagonian lamb.
Since this ranch is located within the borders of Glacier National Park it offers incomparable views of the Perito Moreno Glacier.
I've visited Nibepo Aike on both my trips to El Calafate and can't recommend it enough!
Book here to be a Patagonian gaucho for a day.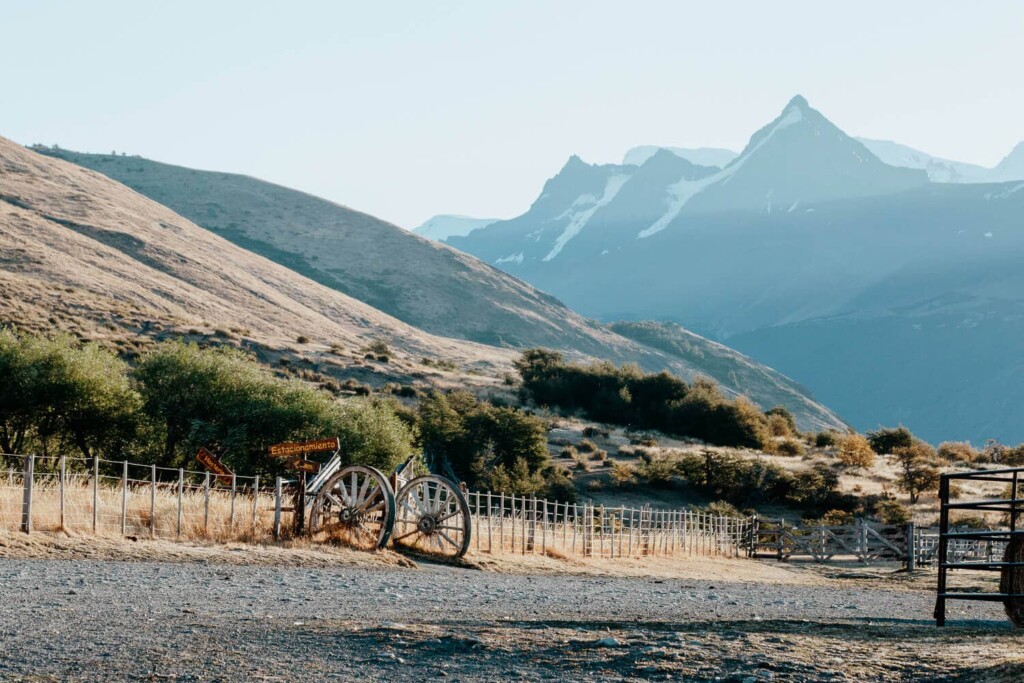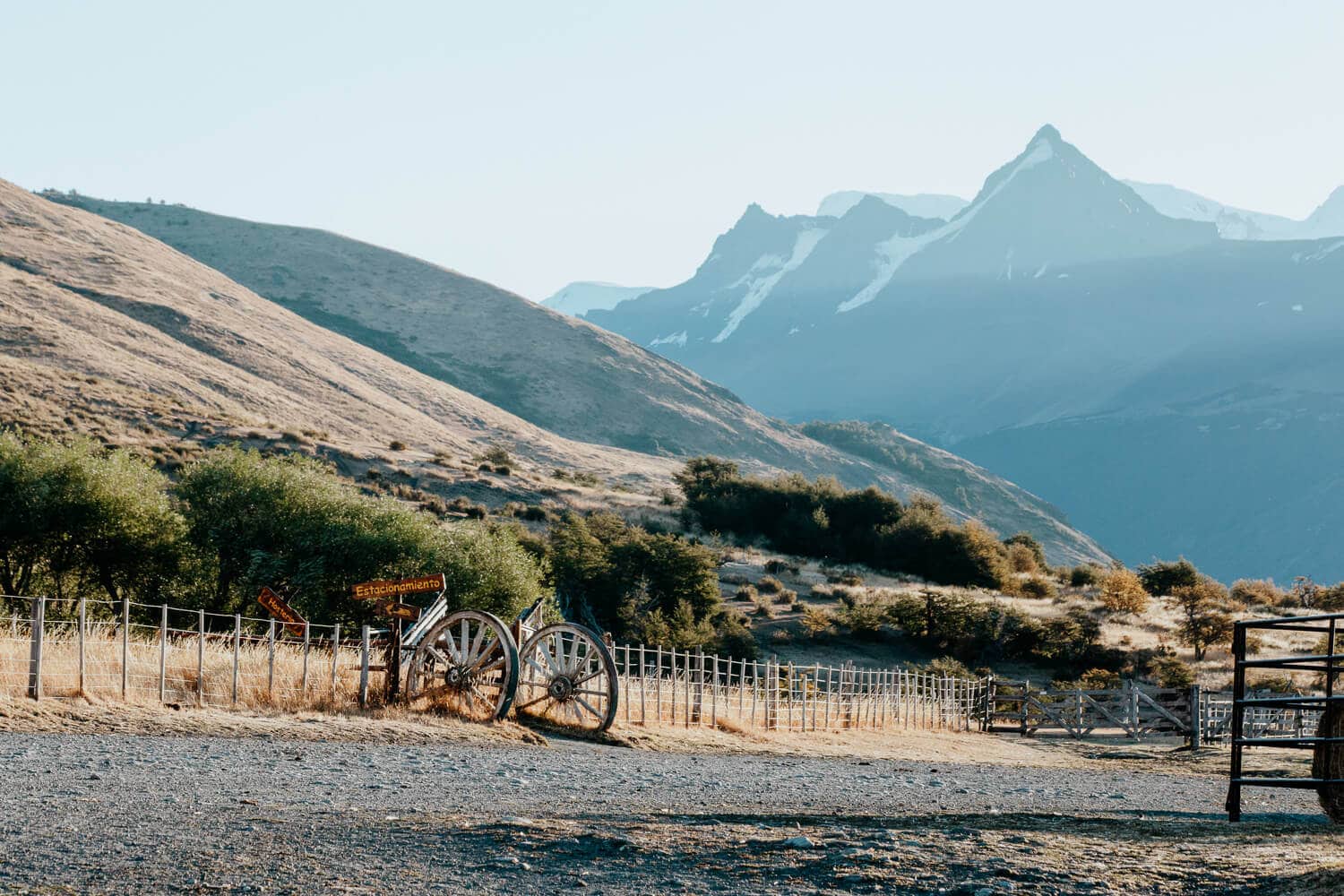 7. Stay at an Estancia
If you have the budget, staying at an estancia is always an unforgettable experience.
Nibepo Aikes Estancia is located next to the shores of El Lago Argentino inside Glacier National Park and on our most recent trip we spent one night there. I loved it!
Its proximity to Perito Moreno and Punta Bandera makes it the perfect base for El Calafate (being closer to the glaciers and national park than the city center itself).
So, while we spent one night there, I recommend staying for at least 3-4 nights to take full advantage of the area.
Estancia Cristina is the other powerhouse estancia in El Calafate.
They offer the aforementioned day tour of Upsala, however, you can reserve a room in their guesthouse.
Estancia Cristina is more isolated than Nibepo Aike and there is no shortage of activities there!
Click here to read all about our stay at Nibepo Aike, one of my favorite estancias in Argentina!
More Things to do in El Calafate to Fill Your Itinerary
Here are more El Calafate attractions to fill out your itinerary with.
Personally, I recommend choosing one activity from each section above: one visit to Perito Moreno, one to Upsala & Spegazzini, and one horseback ride or estancia.
Pick and choose from the below to round out those days or fill a fourth and fifth and…so on.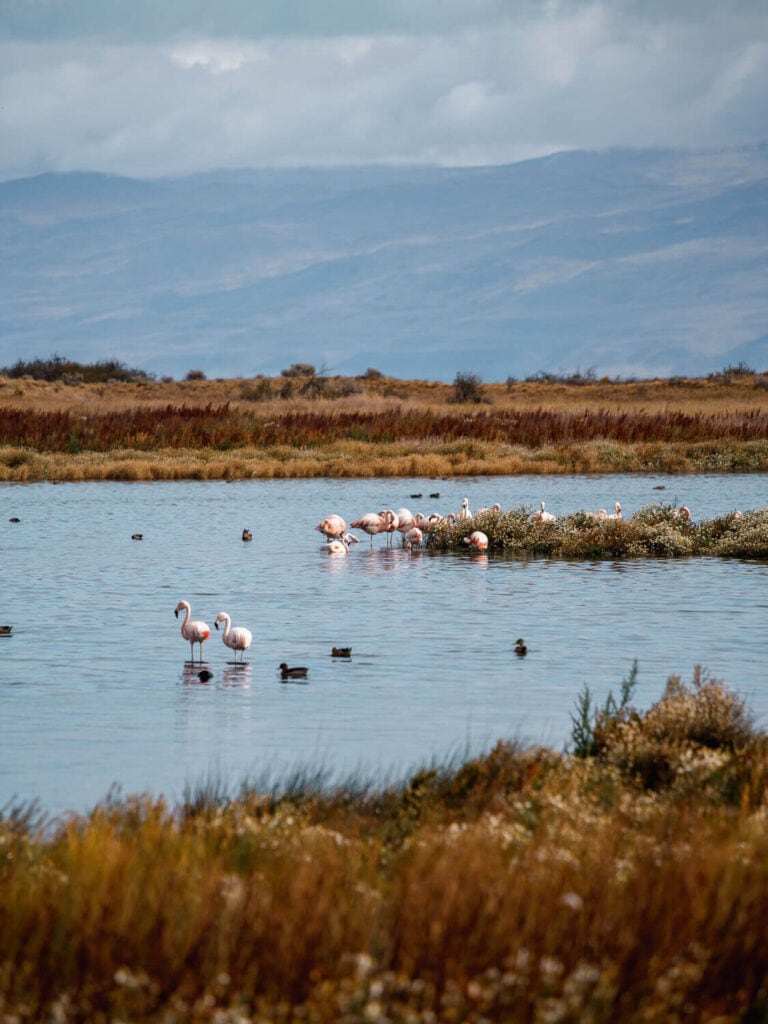 8. Bird Watch at Laguna Nimez
I'll tell you one thing I did not expect to see when I landed in El Calafate, and that is flamingos!
Laguna Nimez is an ecological reserve right in the heart of El Calafate.
Around 80 species of birds call it home but, of course, that depends on the season as many are migratory.
Spring and Summer are the best seasons for birdwatching here.
There's a self-guided trail with markers explaining the ecosystems and wildlife that live here.
It takes an hour and a half (more if you'd like to take advantage of the special access to Lago Argentino's beach).
It's not free and as with most things in El Calafate it is pricier for non-residents, but it's worth the cost.
Pay and get more information at the visitor's center. They have picnic tables and a restroom available as well.
Pro-tip: Bring travel binoculars to be able to see the flamingos up close.
Since this only takes a couple of hours, you can easily do this after or before another day trip. We went in the morning before an afternoon horseback ride.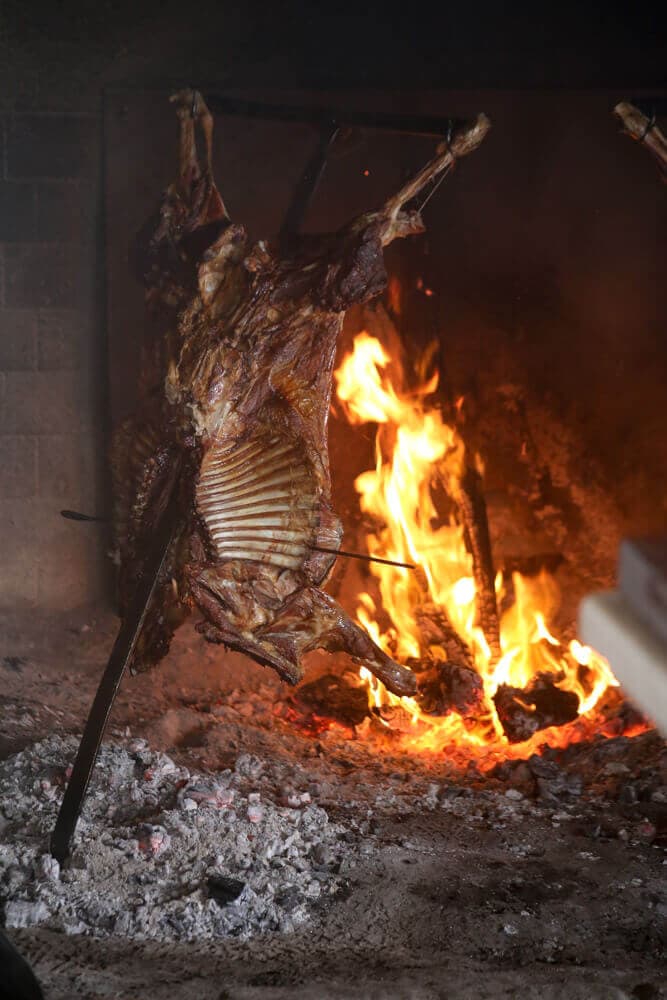 9. Try Patagonian Lamb
Save the beef for Buenos Aires, in Patagonia, it's all about the lamb.
Traditionally lamb, or cordero, is cooked "a la cruz," hung from a large metal cross over a low fire (see above).
The lamb is slow-cooked this way for hours resulting in meat so tender and buttery you could cut it with a spoon.
Head to La Zaina or Don Pichon for the best lamb in El Calafate.
In fact, I never liked lamb before trying the lamb at Estancia Nibepo Aike. There is something special about the grass-fed Patagonian lamb you can try here. So, even if you're a lamb skeptic, give it a try! I never thought I'd like it.
And, insider tip? The man in charge of the grill at Nibepo Aike first worked at Don Pichon for years before moving on to the estancia.
The cooks at Don Pichon were all trained by him! It's easy to see why they have the best lamb in town.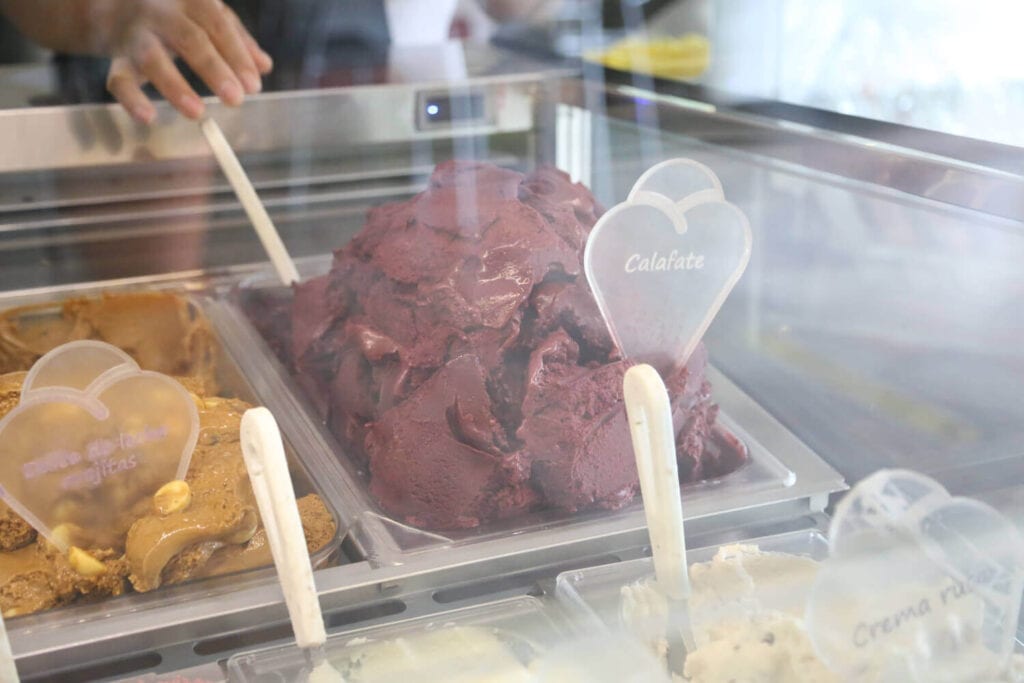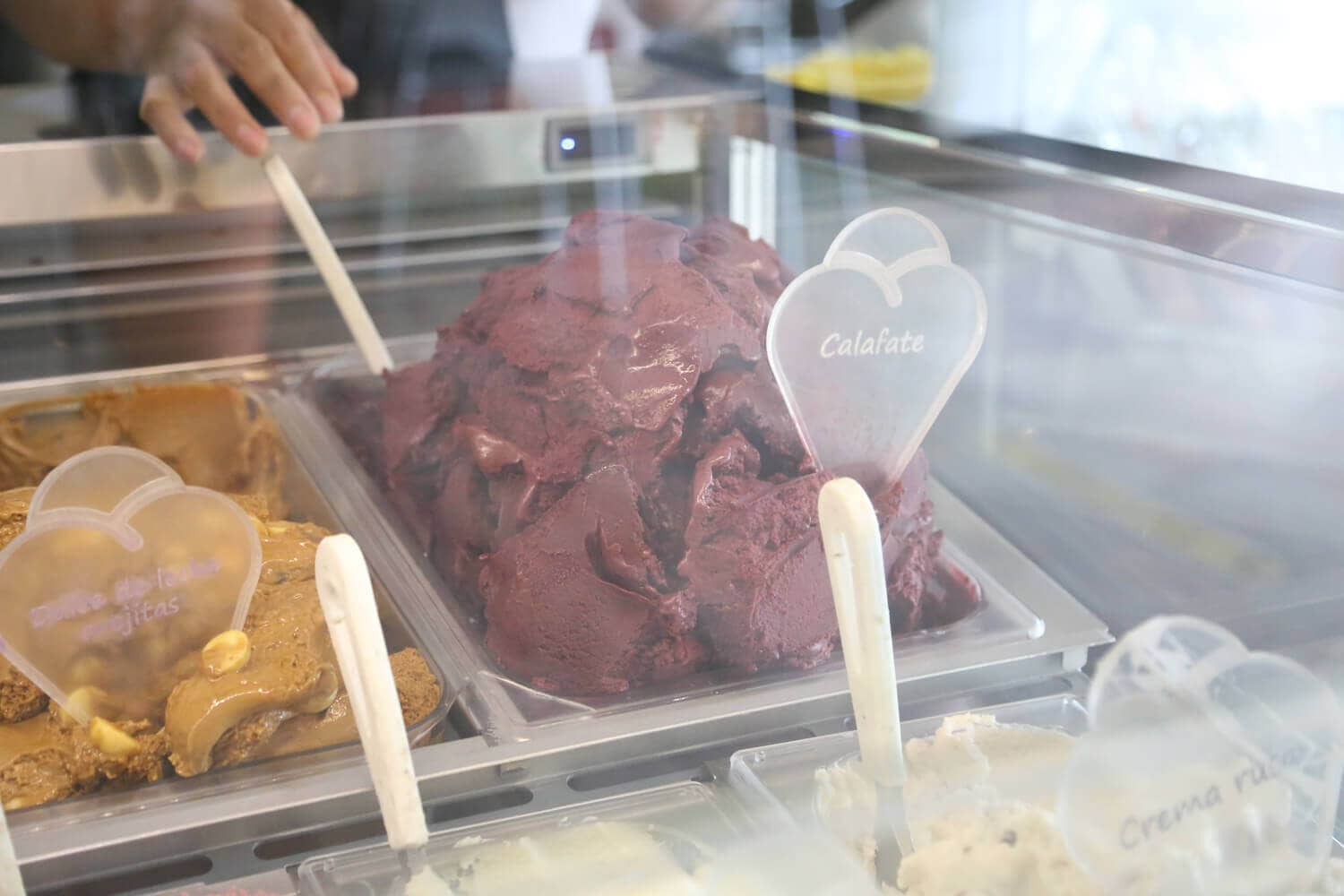 10. Eat Calafate Berries (in Ice Cream & Alfajores!)
Legend has it that if you eat the calafate berries you'll return to Patagonia again one day.
And the best way to try this tiny berry? In sweets, obviously!
Acuarela is an artisanal ice cream shop in downtown El Calafate on Avenida Libertador. All of their flavors are great, but their specialty is the calafate and you won't find it anywhere else in Argentina.
Alfajores are a traditional Argentine sweet made up of two cookies that sandwich a slab of dulce de leche and then bathed in chocolate. But the best alfajores are handmade, not industrial, and usually feature regional flavors.
In Patagonia, that means berries and the best alfajores in El Calafate are at Dulce Lugar (just a couple blocks from Acuarela, also on Libertador).
They have calafate alfajores as well as calafate chocolates! Raspberry is also one of my personal favorites when it comes to alfajores and Dulce Lugar did not disappoint.
11. Visit the Glacarium
The Glaciarum & Ice Bar is located 6 kilometers from El Calafate en route to El Perito Moreno on Ruta 11.
There are free shuttles departing from the parking lot of The Tourism Bureau of the Province of Santa Cruz.
If you want to spend a full day at Perito Moreno and the Glaciarum this tour includes a visit in its Perito Moreno itinerary.
If you're driving yourself, it's easy to stop in on your way back to El Calafate from Perito Moreno.
Personally, we never made the effort to visit. I didn't feel like being inside a museum after a gorgeous day outdoors.
However, if it's rainy or extremely windy (as is very common here) this is a great way to get out of the elements and learn about Argentina's glaciers.
12. See 4,000 Year Old Cave Paintings at the Walichu Caves
The Walichu Caves are about 10 minutes outside of town on Ruta 11 on the way to the airport.
You'll see the sign from the road. It's very easy to visit with your own car, by taxi, or with this guided tour.
Walichu is the name of a Tehuelche deity and their predecessors were the original inhabitants of this land.
They were nomadic hunters who would leave evidence of their passing with cave paintings like the ones you'll see here in Walichu, which depict their hunting methods.
The visit will last around 2 hours so it's easy to squeeze a visit to Walichu in with other El Calafate attractions.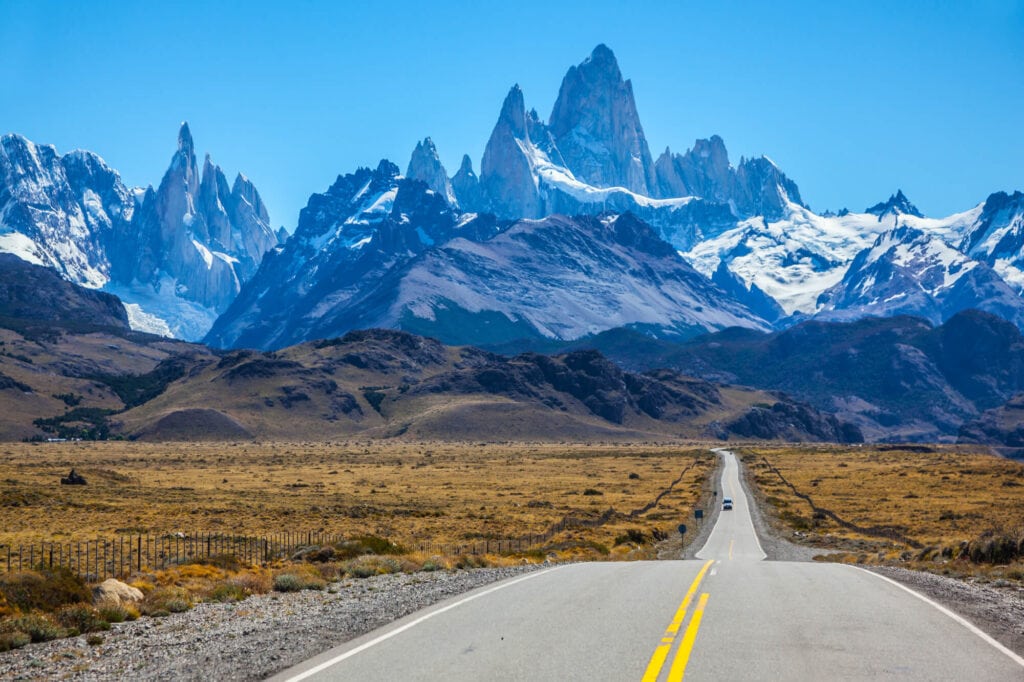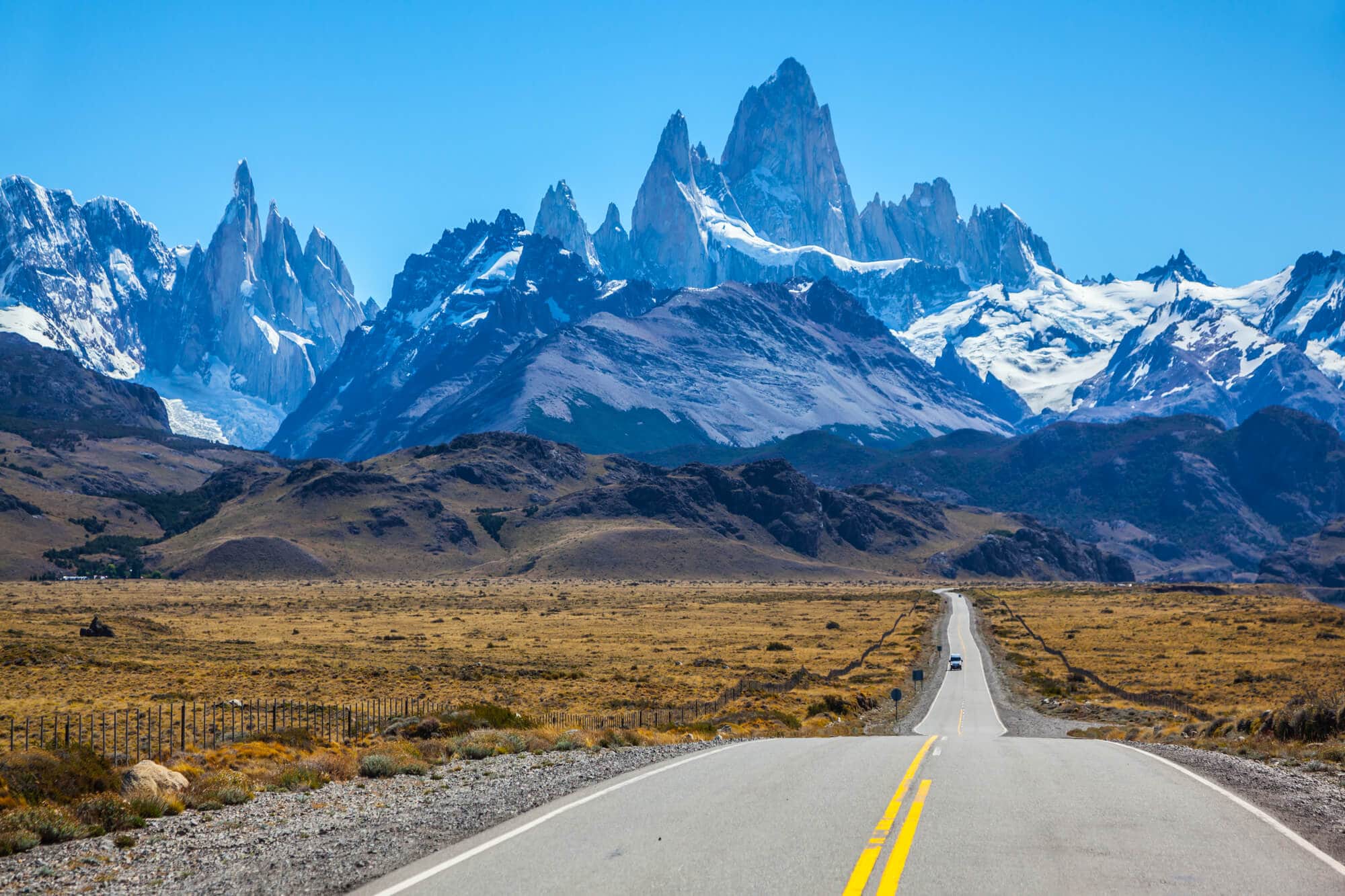 13. Go Hiking in El Chalten
El Chalten is Argentina's hiking capital. It's 3 hours north of El Calafate and in reality, it deserves more time than just a quick day trip from El Calafate.
We spent 6 days there and I already want to go back for more!
However, if you really want to go (and you should, it's GORGEOUS) and you don't have the time to spend a few nights there, you can take a day trip to El Chalten from El Calafate.
Keep in mind that this will be a LONG day for just one hike. It's a 3-hour drive there so you'll have 6+ hours in the bus.
Once there you'll do one hike, very likely to Laguna Capri. This is a moderate 4-kilometer hike (8 km total there and back).
On a clear day you'll see Mount Fitz Roy towering over the laguna.
In full honesty, I really think you should spend at least a few days in El Chalten rather than fly through in one hurried day.
But if one day is all you have and you'd regret not going, this day trip will give you a quick El Chalten experience you'll never forget.
Read More: El Chalten Trekking: Everything You Need to Know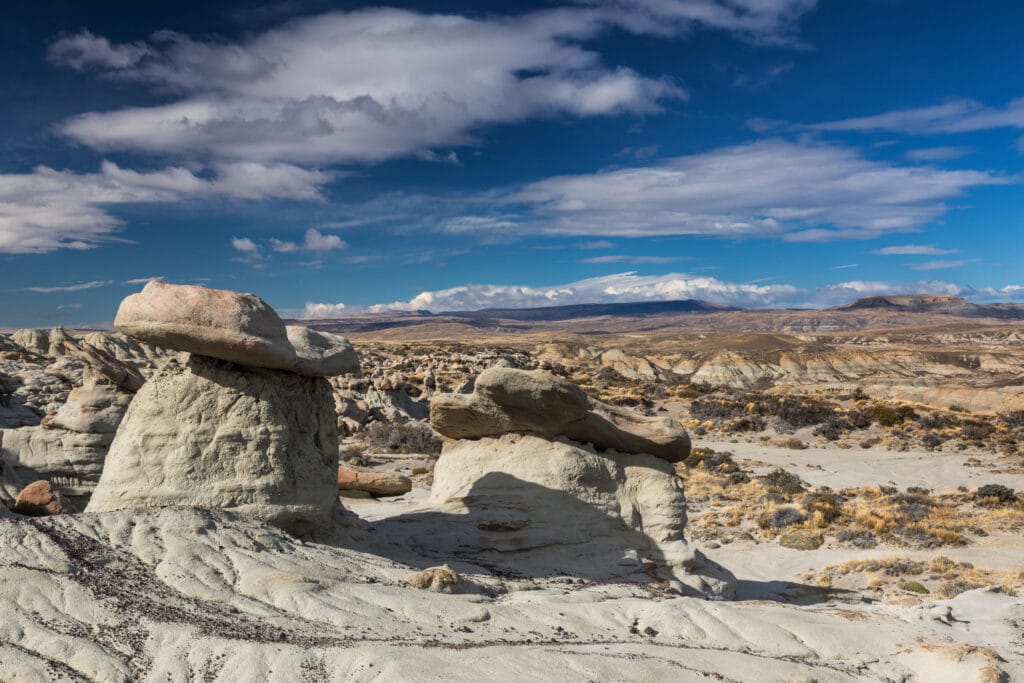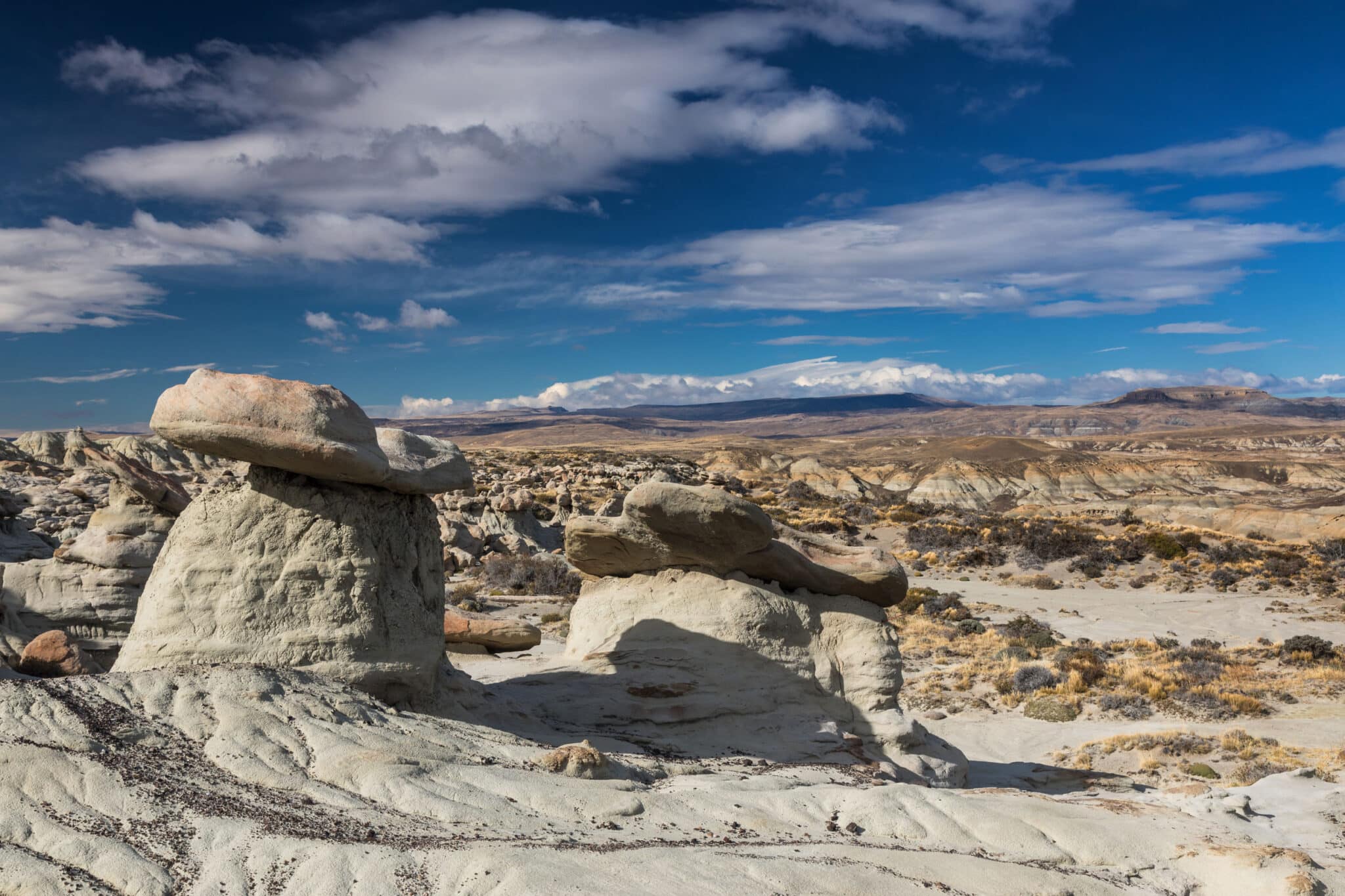 14. La Leona Petrified Forest
La Leona's other-worldly terrain is covered with rock formations and petrified trees (some up to 70 million years old measuring up to 1.2 meters across) that would be right at home on the moon.
Also, did you know that Butch Cassidy and the Sundance Kid were in Argentina? They fled the authorities after a heist and went all the way to Argentina's Patagonia to start fresh. And they stayed right here in the historic Hotel La Leona.
It's only possible to visit La Leona Petrified Forest with a guided tour and this full day tour begins with a visit to the infamous bandits' hotel but the highlight of the tour is the petrified forest.
It includes a moderate 7-mile hike across the moon among a forest of countless petrified trees and distinctive geological formations.
Click here to reserve your La Leona tour.
Pro-tip: La Leona is in between El Calafate and El Chalten. If you're planning on going to El Chalten it is very easy and common to do this day trip on your way to or from El Chalten.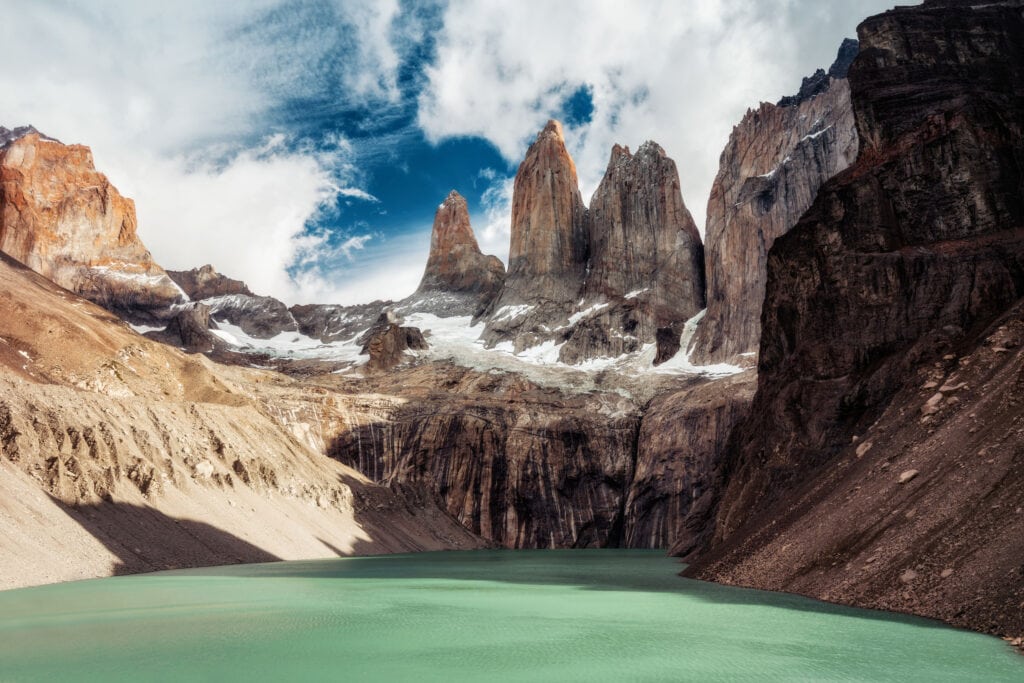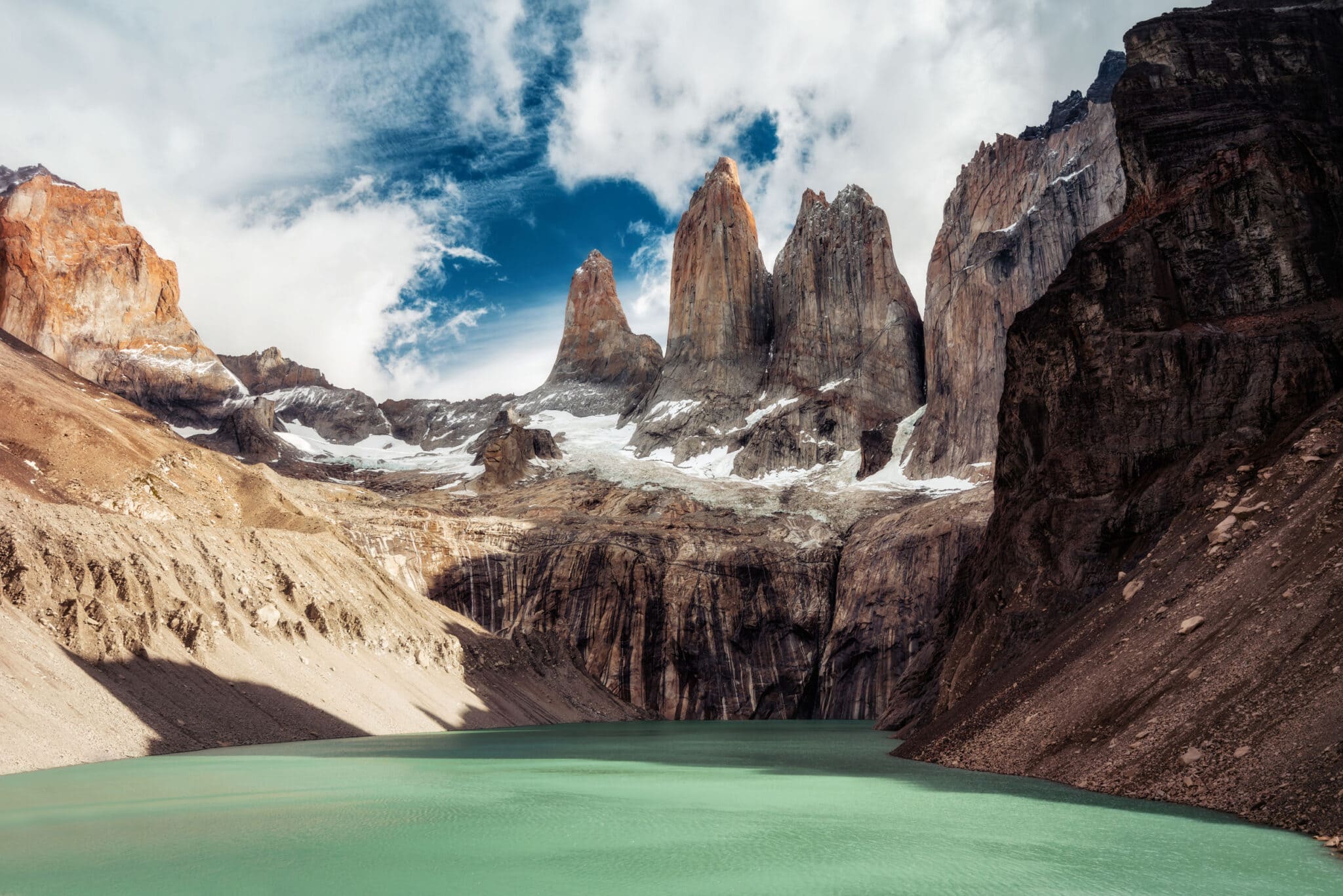 15. See Torres del Paine
For another long day trip from El Calafate, cross the border into Chile to see the famous Torres del Paine National Park.
I must warn you that this will be an exceptionally long day if you choose to do it.
I went to El Calafate with a group of friends and one of these friends had his heart set seeing Torres del Paine.
Not knowing if he'd ever be this close again, he opted to take this trip and swears it was worth it.
I can see why he says it was worth the time and effort. But like the El Chalten day trip, I still have my doubts that nearly 4 hours in a bus each way is worth it when there's so much beauty right there in El Calafate.
But if you're like my friend and are dying to see this natural wonder, then go for it!
This popular full day Torres del Paine tour will bring you to the park, stopping at viewpoints along the way.
The day includes hiking and is highly customizable due to the sheer number of trails to choose from.
Don't forget to check immigration requirements for crossing the border to Chile.
16. Trek through Cañadón de los Fósiles
A lot of fossils have been discovered all across Patagonia and El Calafate is no exception.
Accessible on this day trip to Estancia Cristina, trekking through the Cañadón de los Fósiles will take you across terrain littered with marine fossils.
The trek lasts for 14 kilometers through the canyon, constantly descending.
The tour also includes a boat ride through the lake in front of the Upsala Glacier.
17. Visit Cerro Frias
Cerro Frias is 23 kilometers from downtown El Calafate on the way to the Glacier National Park and Perito Moreno on Ruta 11.
This ranch offers a wide range of adventure actives including a 4×4 excursion in one of their Land Rovers, zip lining and horseback rides.
Their ideal location on the Patagonian steppe also offers opportunities to see native wildlife like guanaco.
Cerro Frias is a great way to spend half a day if you're short on time on a travel day or want to try a different sort of El Calafate sightseeing from the usual glacier tours or hikes
18. CENTRO DE INTERPRETACIÓN HISTÓRICA
The history museum in El Calafate is a great way to spend some time indoors on a poor weather day.
It's also an excellent educational activity if you're visiting with children (and also for us big kids too!).
This museum is designed to display the rich archeological history of the region (dinasours!) up until more modern history, such as the impact of European settlers on the indigenous communities here.
Pro-tip: The museum's café serves mate and is an excellent place to try it since mate isn't typically served in restaurants.
19. Try Local Artisanal Beer and Patagonian Wine
Artisanal beer is huge in Argentina, especially in Patagonia.
Relax at the end of your day of El Calafate activities with a pint at Cerveceria Artesanal Chopen or La Zorra Taproom. Both offer a wide selection of beers to choose from.
Personally, I've never been a fan of beer. I always wind down with a glass of Malbec. If you're like me, try this El Calafate Wine Tour.
It may surprise you to hear that Patagonia has excellent wine. The harsh winds make for a hearty Pinot Noir. If you love wine, don't leave without giving it a try!
Read more: How to get from El Calafate to Patagonia
Where to Stay in El Calafate
Here are my favorite places to stay for all budgets in El Calafate.
Argentina Travel Resources
Continuing through Patagonia?
The nearby town El Chalten is a great way to continue your trip.
It's great for hikers and offfers some of the best views in Patagonia.
You could road trip through the lake district from Bariloche or see whales and penguins in Puerto Madryn.
If you're staying longer in Patagonia, then check out this two-week classic Patagonia itinerary and this complete guide to hiking traveling in Patagonia.