Despite traveling for my entire adult life, I remain a horrible packer. I'll check the forecast and meticulously plan and still somehow to pack sweaters in a heat wave and at least five tops I'll never touch.
But finally, I have a new travel pant staple that has yet to fail me.
I introduce you to the Outdoor Voices RecTrek pant!
Quite possibly the world's best pair of pants.
Disclaimer and promise: This post is not sponsored (but Outdoor Voices.. if you read this, I'm available and a fan!). I've bought three pairs on my own dime (and a pair of the shorts) and yet, I want more.
Keep reading to find out why I've decided to write an entire blog post about a pair of pants.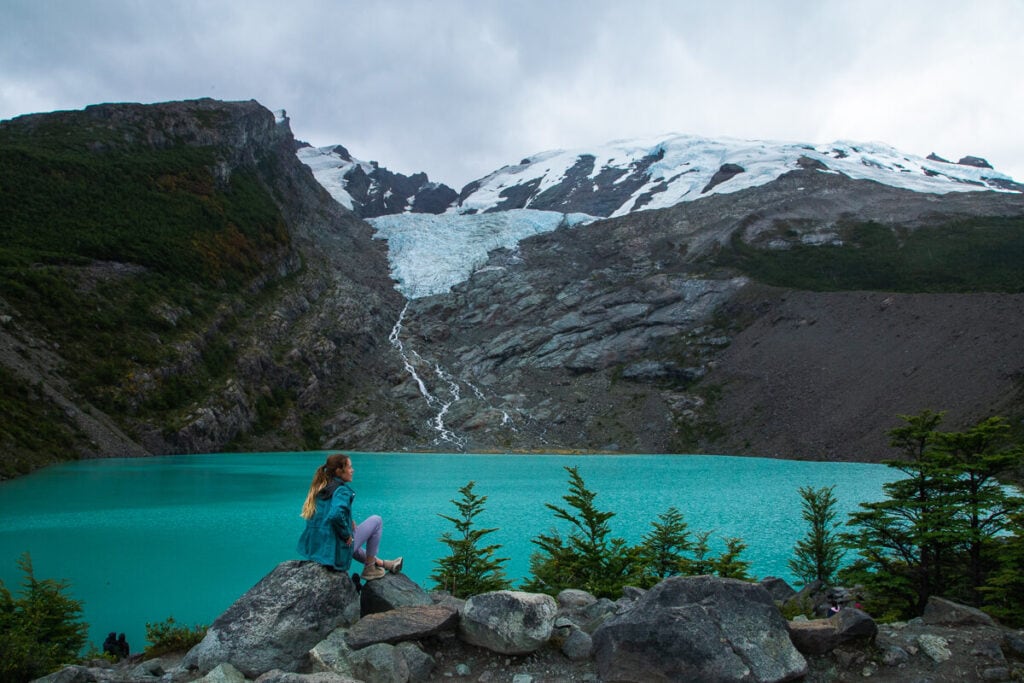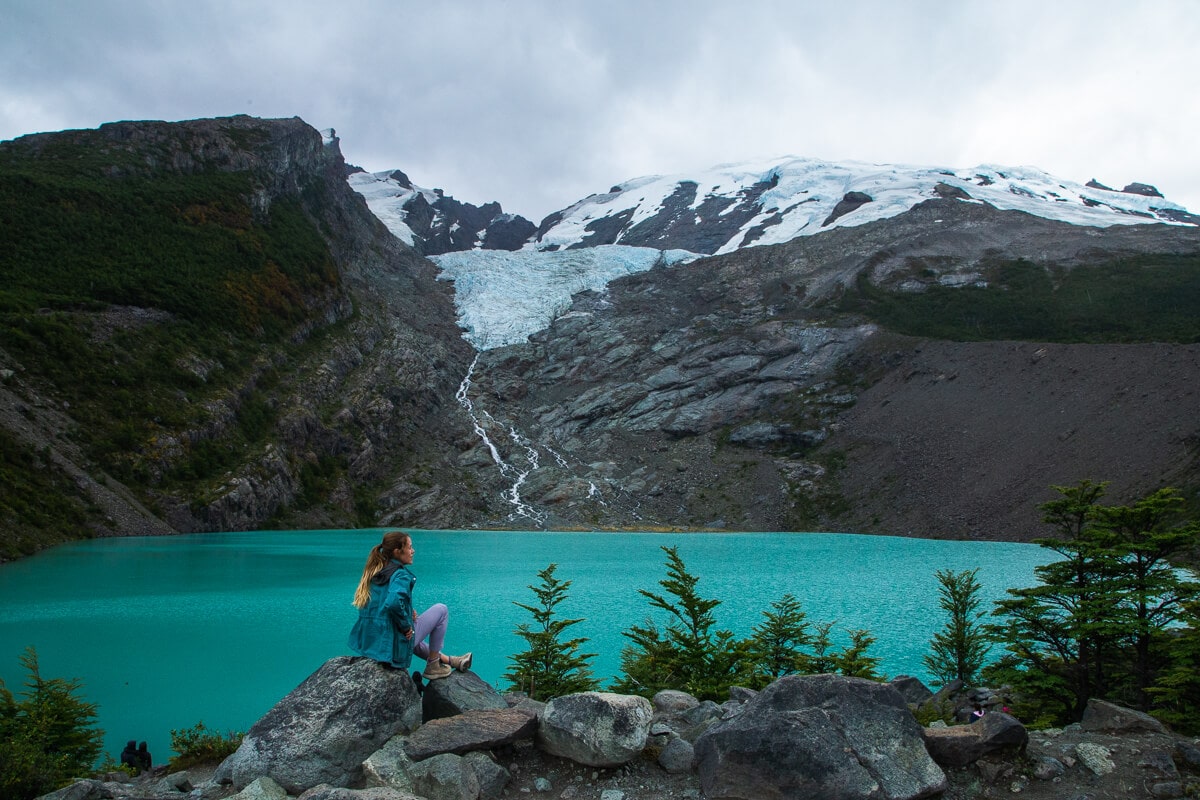 QUICK NOTE: This post contains affiliate links and Sol Salute may receive a commission for purchases made through these links, at no extra cost to you.
Doing Things in my RecTrek Pants
Outdoor Voices started as a small start up out of Austin by female entrepreneur Ty Haney.
The goal was to encourage people to get out there and move their bodies, with the hashtag #doingthings being their main motto.
OV isn't about tracking calories or winning the marathon, it's about enjoying life. And the styles are also effortlessly cool, simple, and logo free (big selling point for me).
I dilly dallied for a long time on investing in RecTrek pants, a pant they advertise hard on their social media accounts.
Honestly, they're not cheap.
But an upcoming hiking trip in Patagonia and the desire to ditch cringe worthy leggings forced my hand. I bit the bullet and went all in, buying three pairs all the way from Argentina and having a friend mule them down for me.
I was committed.
And now after traveling all over Argentina from wandering the city to traversing mountains in them, I'm sold.
Why?
Here's why.
Want $20 off? Use my referral link for Outdoor Voices. This is self-serving as I will also get $20 off if you sign up. Give a little get a little, feed my addiction and sign up here.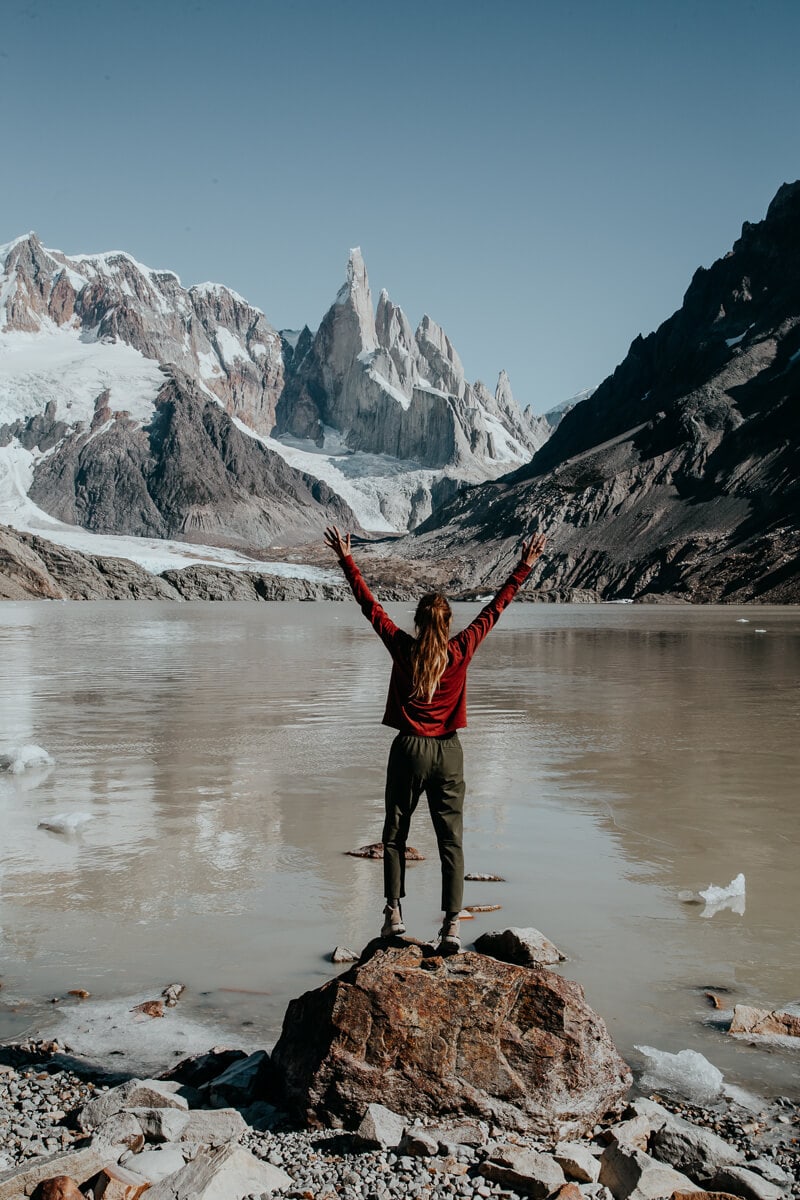 I've ditched Leggings
Whether it's hiking in the Andes or a bike tour of Buenos Aires, sometimes pretty dresses and city street wear won't cut it.
Finding the balance between sportswear comfort and something you won't hate to be seen in/post photos of can be a hard line to toe.
Combine that with the fact that leggings really aren't ideal for a lot.
They're not even recommended for hiking (they can be too compressive or they can snag, among other things).
Leggings also have no useful pockets and aren't typically worn in stylish big cities outside of the US.
I wanted something that could do it all: nature and city, dinner out by night and bike tour by day.
The RecTrek pant tiks all of those boxes.
I still do yoga in my leggings but have ditched them for travel and as daily wear.
Good riddance unflattering leggings.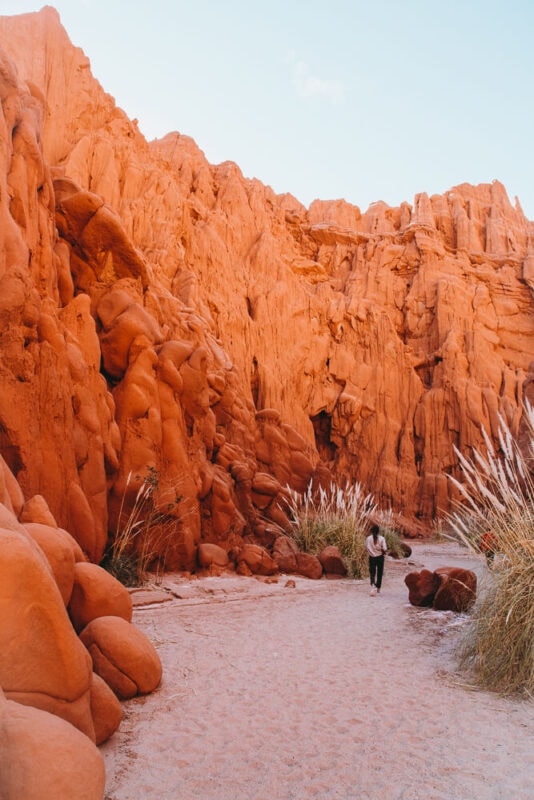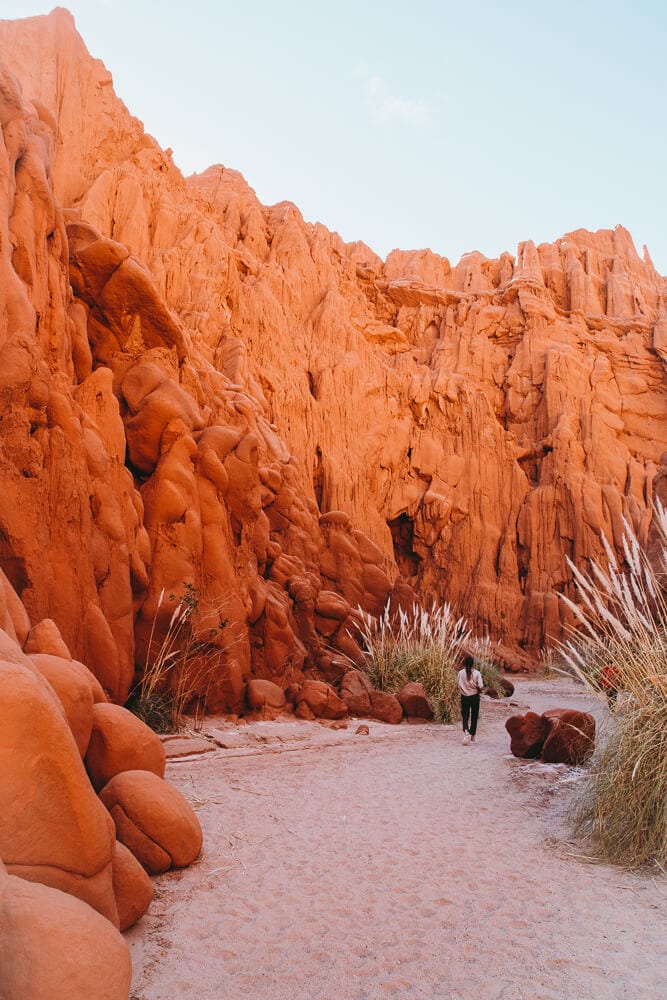 The Pockets Are Actually Useful
Despite having so much crap in our bags, women's pockets are notoriously useless!
The OV RecTrek pockets are DEEP and have zippers so you don't lose anything.
I have a klunker of an iPhone 12 Pro Max and it comfortably fits into the pockets.
My small Canon camera I love for long hikes? It fits too.
And when I'm going around town with my kid, the pockets work great to keep his snacks close at hand (if you're a mom, you know).
They Hold Their Shape
I love a good jogger or sweat pant but I hate when they stretch out at the knees after a long day.
I'll literally think about it all day if I want to use them again on that same trip and limit my movements accordingly. I am that ridiculous about it.
But I took three pairs of RecTrek pants and nothing else for 10 days of hiking in Patagonia.
They held up perfectly and despite the unavoidable dust, they looked as good on days 3 and 4 as they did on day 1.
Ok, they looked filthy. But that's because Patagonia is dusty and incredibly windy. The shape of the pant, though, was like new.
They really do look good in the city.
Despite being hiking pants, they honestly do look good in the city.
I live in Buenos Aires and use them here all the time. Being in the city with a toddler has made my love of tight skinny jeans untenable.
Forget about squatting down to his level and to circle back to a couple points ago, I need the pockets for snacks or toys.
We also bike in the city a lot and these pants work for that while not looking too sporty upon arrival at lunch or at the market.
The only downside is they don't cuff or push up above my calf easily so I have gotten them stuck in the chain a couple of times. Now I pack a binder clip to hold that side's pant leg up and it works fine.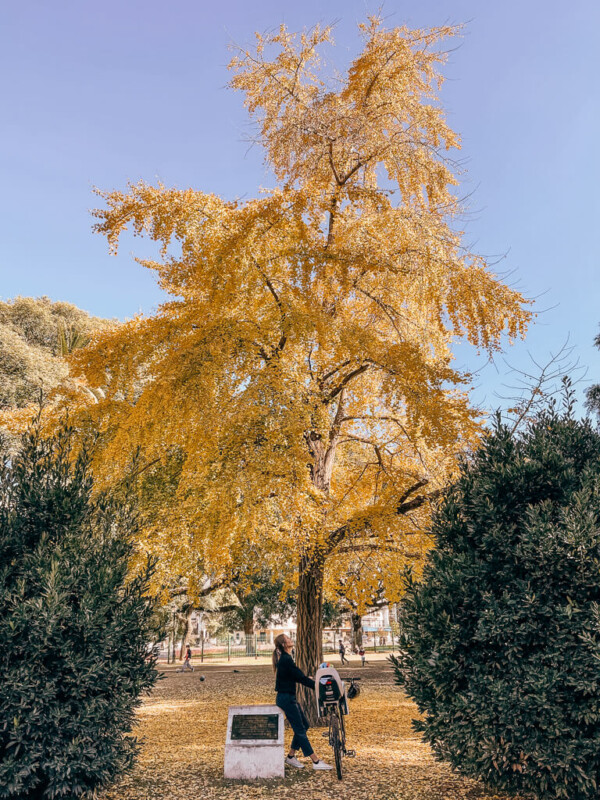 Outdoor Voices Sizing Tips
Since I was ordering these pants from another country, I was very nervous about getting the right size.
They have a very detailed size guide (more helpful than most sites) and if you want to go the extra miles, which I did, you can contact them for more help.
I contacted them because some of their compression leggings fit small for me, and I wanted to be sure. In the end, my normal size Medium was the perfect fit.
The inseam is 26″, which is shorter than my normal preferred 28″. For these pants I prefer it because they rest comfortably above my hiking boots or sneakers when I'm active.
Shop Outdoor Voices RecTrek
If you want to try out my favorite travel pant, click here to see what colors are in stock. They tend to have new seasonal colors that rotate in and out.
The RecTrek pant isn't a heavy material, but they have just released a new pant called the Zephyr that looks identical but in an even lighter fabric. It might be a better option for hotter, summer hikes.
Or, cut to the chase and get the zip–off version or the shorts version. I have a pair and LOVE them, they're so soft and wide at the leg opening so they're extremely flattering.
And, of course, there are men's versions of all of these!
Keep Reading
Wondering what to pack? Here are some more guides to my favorite travel gear that makes my travel easier.