San Carlos de Bariloche is one of Patagonia's most visited cities.
There is no low season, there's just busy and a bit less busy.
And winter falls into the "busy" category.
When you see the views and try the chocolate, it's easy to see why.
In 2020, we spent just under a week in Bariloche so my husband could snowboard and we're now spending all of August here.
Growing up in Texas I wasn't sure I'd like a real winter, but I'm a convert.
This post is a guide to help you plan your own winter holidays in Argentina: when to go, where to stay, and everything you need to know.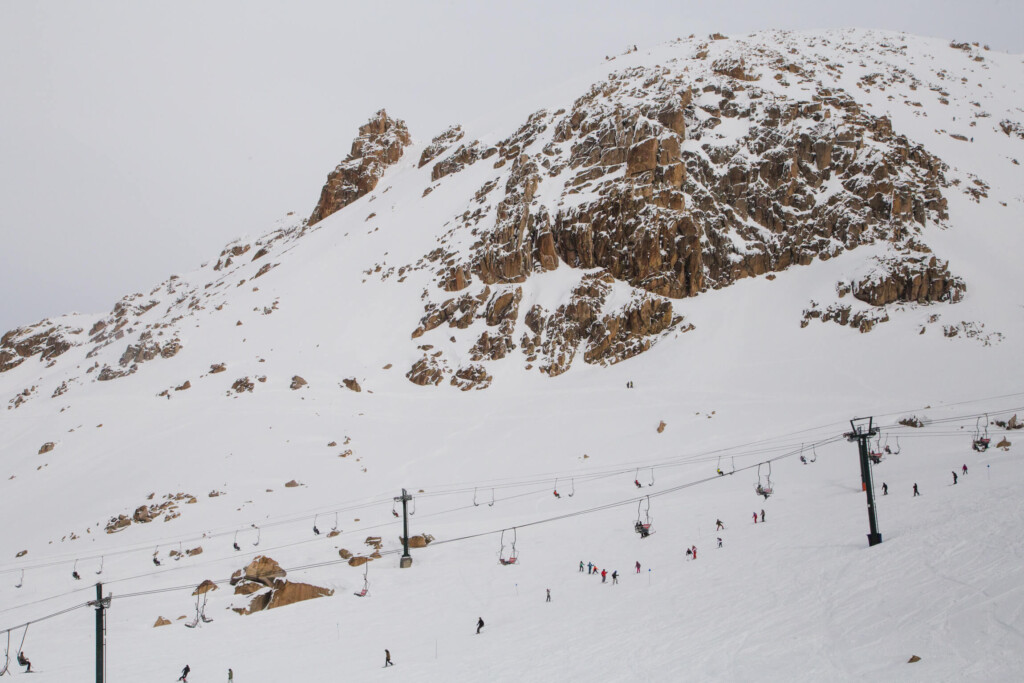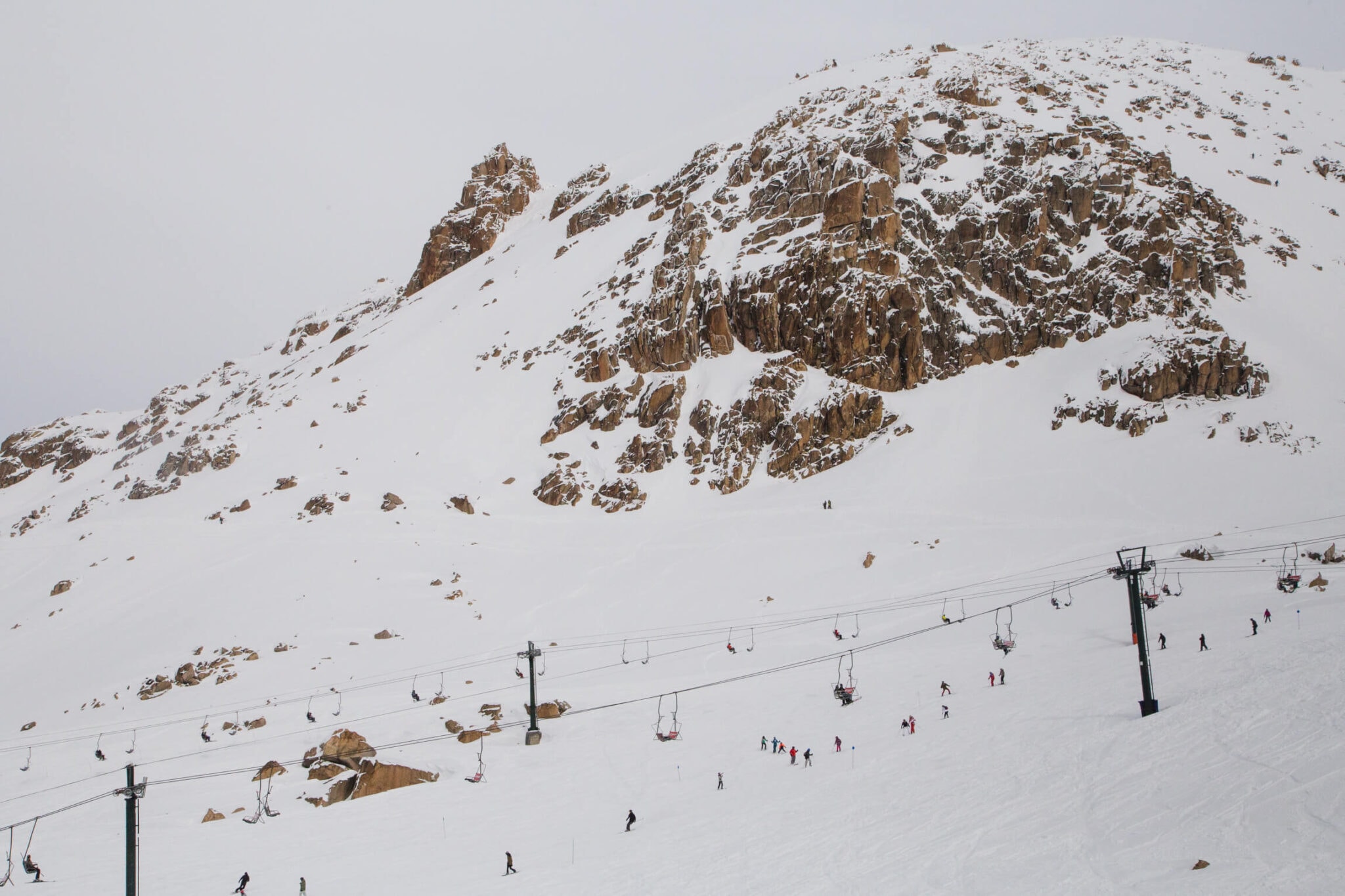 QUICK NOTE: This post contains affiliate links and Sol Salute may receive a commission for purchases made through these links, at no extra cost to you.
Argentina Ski Season: When to Go
Wondering when to visit Argentina to go skiing?
If you're coming from the northern hemisphere, don't forget that the seasons are flipped in the south.
The Argentina ski season starts in July and winds down in September.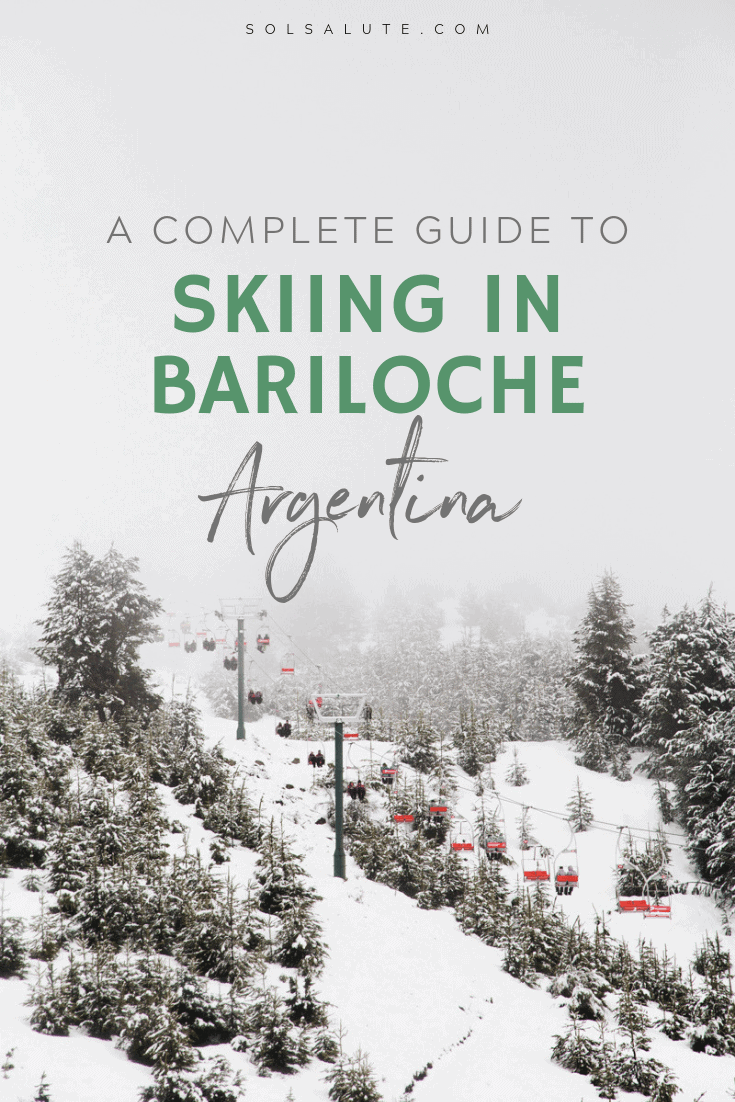 Busy Season: When to avoid
While July, the heart of winter, may be tempting, I recommend going in mid-late August or early September.
The two weeks at the end of July and beginning of August are Argentina's school winter holidays, i.e. BUSY season.
The dates for La Fiesta de la Nieve (The Snow Festival), usually at the end of the school holidays, will also be very busy.
Take my word for it: you do not want to be in Bariloche during Buenos Aires' winter school break.
The city will be at full capacity and at it's priciest.
It gets hectic, not to mention the lines and waits for the ski lifts.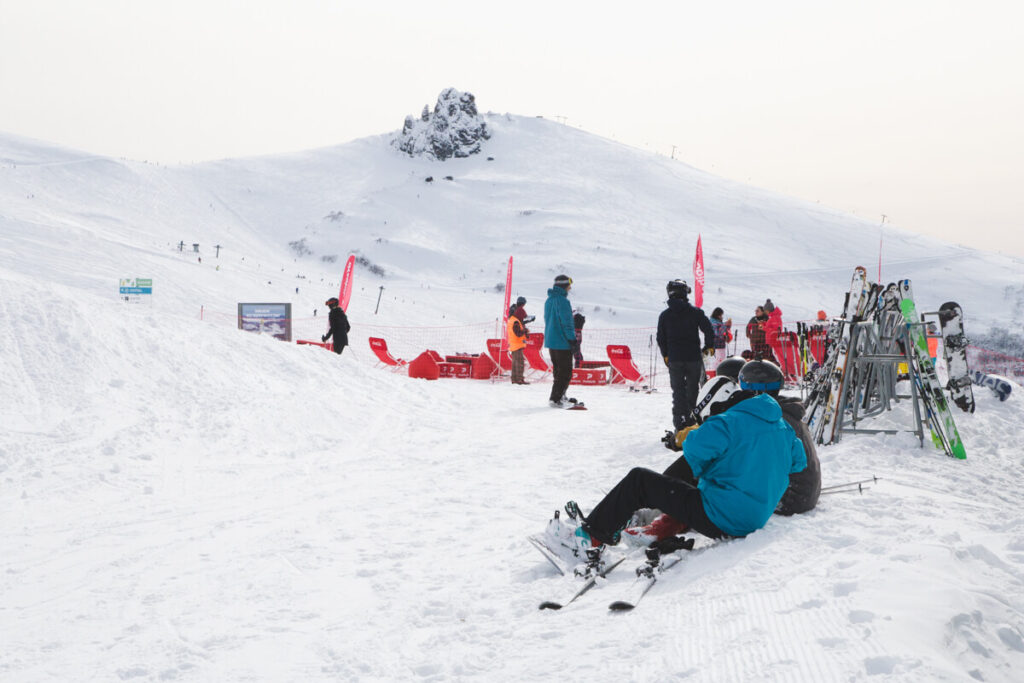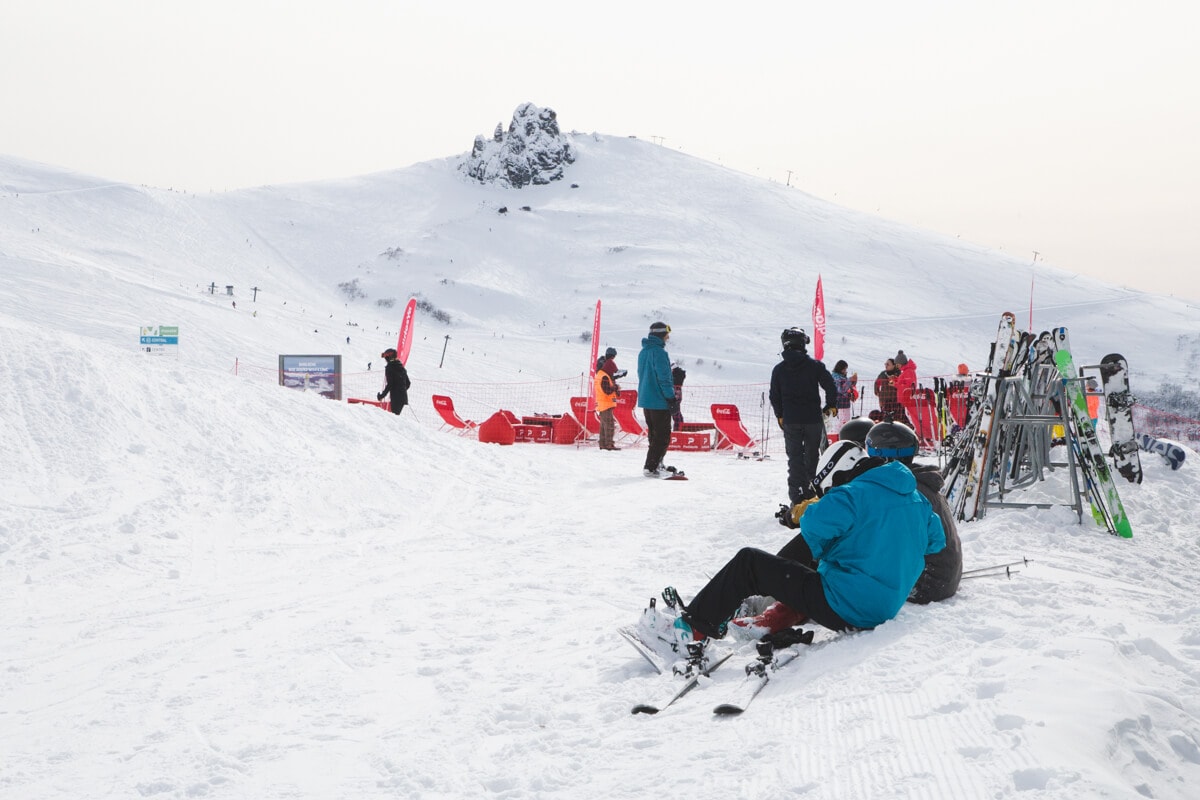 Low Season Dates for Skiing in Argentina
Low season is the end of June (but there won't be enough snow for skiing, yet) and September.
Prices for everything (transport, hotels, etc) are at their lowest.
The first weeks of September are excellent for skiing in Argentina on a budget.
If you want to ski earlier or later in the season and be SURE you'll have a lot of snow, consider Ushuaia.
Cerro Castor is a smaller but good ski resort out
Being as south as you can possibly go, they always have the most snow.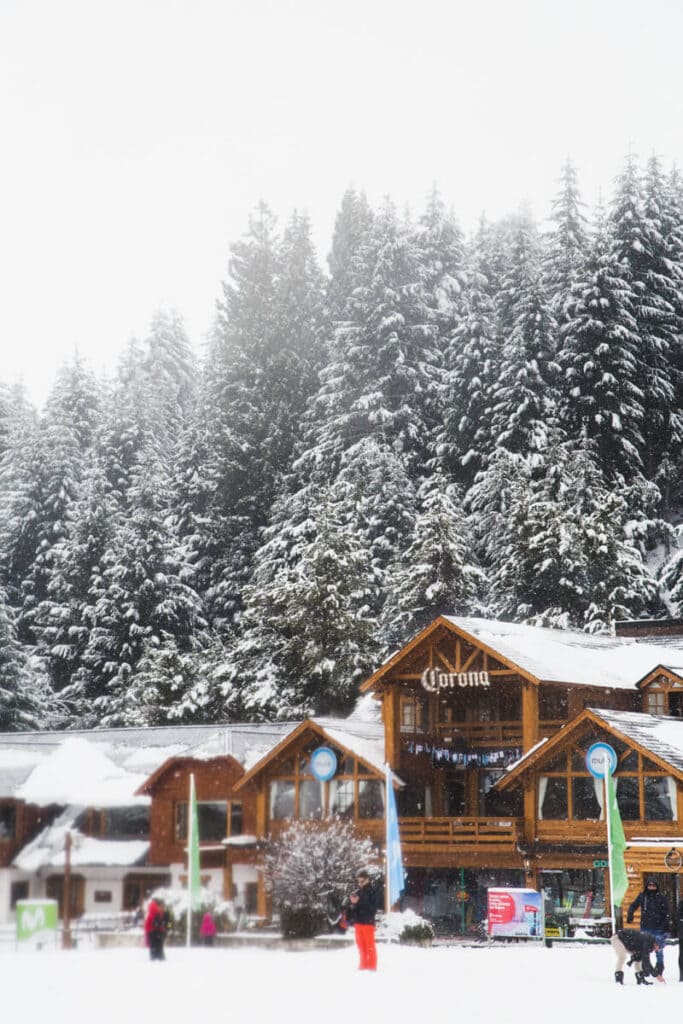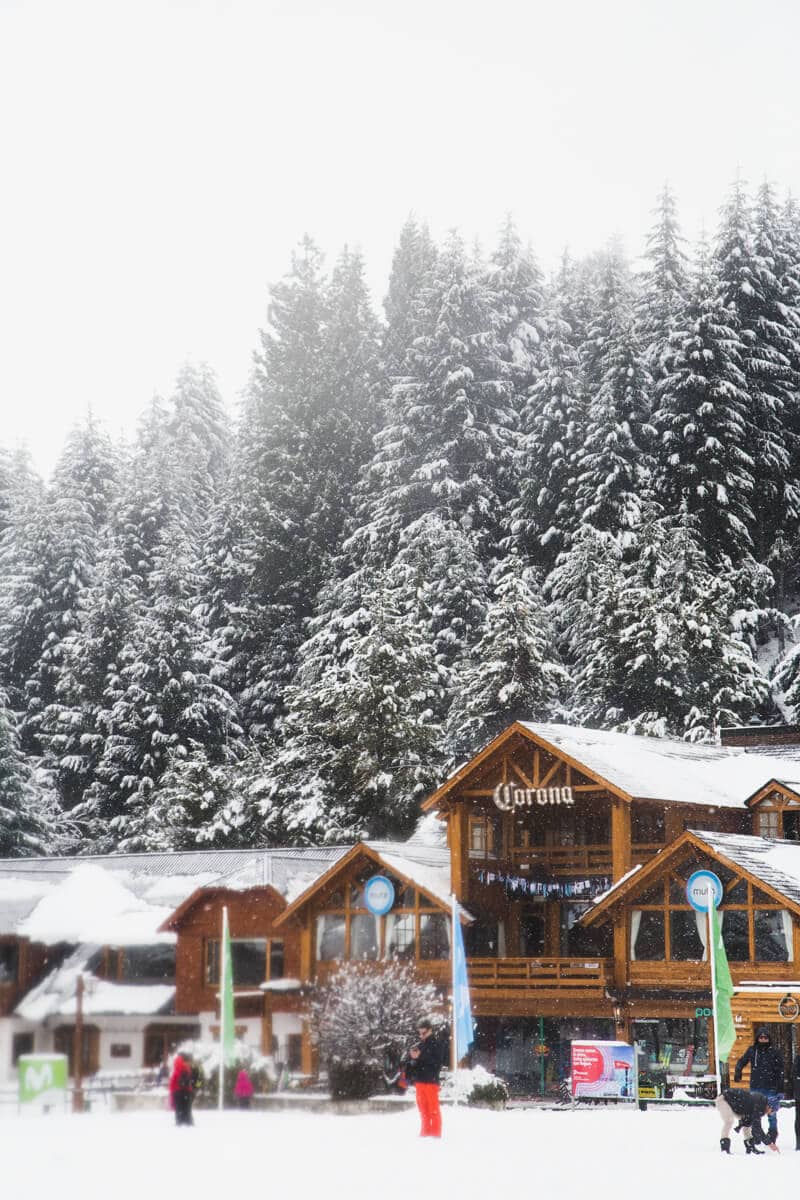 Cerro Catedral Ski Resort
The ski resort in Bariloche is Cerro Catedral.
It's THE spot for skiing in South America because it's the largest ski resort in the entire southern hemisphere.
There are more than 120 kilometers (that's 75 miles for my fellow Americans) of ski runs.
The 34 ski lifts have the capacity to move 36,000 people per hour.
(Remember that number when you consider going in busy high season.)
Cerro Catedral Facilities: Restaurants & More
Cerro Catedral's base has everything you could ever need.
There are a number of restaurants to choose from.
All offer more or less the same menu ranging from Argentine classics (steak or milanesa) to Patagonian specialties (trout, lamb, and even hearty goulash).
There is a small shopping center that houses winter outdoor gear shops and only winter outdoor gear shops (what else do you need here?) and a food court.
There are bars for that perfect apres-ski beer.
Best of all, there are Rapa Nui and Mamushka chocolate shops.
Thaw out with their decadently thick hot chocolates.
Prices, as can be expected, are overpriced here compared to literally anywhere else. For lunch I'd bring a sandwich and granola bar in your pocket to eat with a view from the slopes, save those pesos for a post snow beer or hot chocolate.
Cerro Catedral Lift Passes
Here are some quick tips on choosing lift passes:
Check the table of prices on the official Cerro Catedral site here.
It's not cheap, even at the blue dollar rate in 2023 a day's lift pass came out to around 50 USD.
You can wait and get your pass the day of, but if you already know exactly how many days you want to hit the slopes, getting your lift passes online ahead of time gives you a 5% discount. Buy them here.
Flexipass packs are for non-consecutive days. Weather is unreliable in Bariloche so if you have the time to spend there, so this lets you save your pass for the best weather. If you plan on returning the following year, you can use your leftover Flexipass days the following season.
Exclusive passes give you access to the preferential line, basically, you pay the cut the line. In the busy season, this can save you a lot of waiting and give you a lot more time on the mountain.
Read Next: A Complete El Chalten Hiking Guide: Argentina's Trekking Capital
Cerro Catedral: Ski classes for Beginners
If you don't know how to ski, go on a packaged tour like this one.
They'll take care of transfers to the ski resort, rentals, and include a lesson.
This is a tour for a snow novice that has no idea what they're doing.
It's a great introductory experience and removes all the stress of lift passes, rentals, and classes.
Click here to check out prices and availability.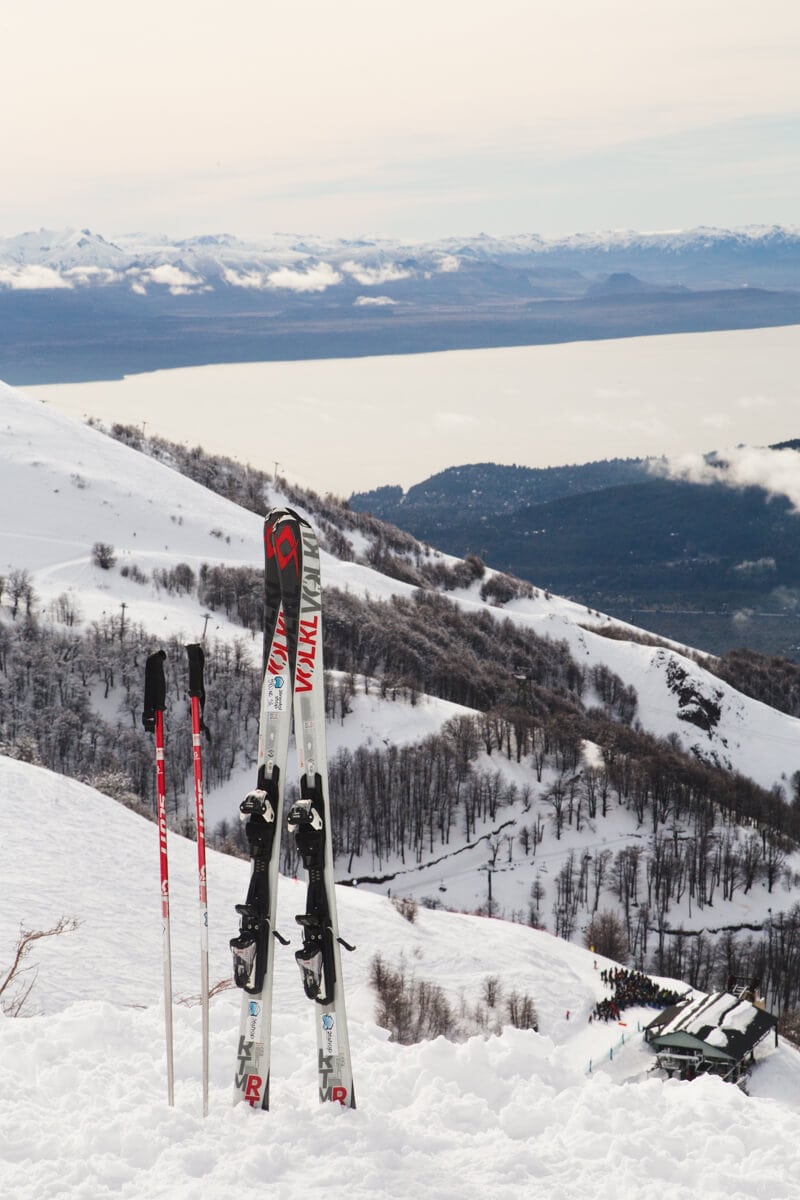 Equipment & Clothing Rental
There are a number of rental outfits to choose from in the Cerro Catedral village.
You can rent your board or skis and even clothing.
You won't have to worry about finding a rental store, they will find you.
We were constantly approached by their representatives trying to lure us into their store.
It was with one of these guys that my husband rented his snowboard and everything worked out great.
If you're more professional or want to be sure of the absolute best quality, it may pay to do a little more comparing.
But from what we were told, the rental companies furthest from the base (towards the bus stop) are the cheapest.
This year I've been renting at Aurelio, which is far from the lifts but the prices are right and they've been so nice.
I do have to walk further with the equipment to get to and from the slopes but it's cheaper. If you spend more, you can rent right next to the ski lifts.
For more gear tips, read this helpful Argentina packing list.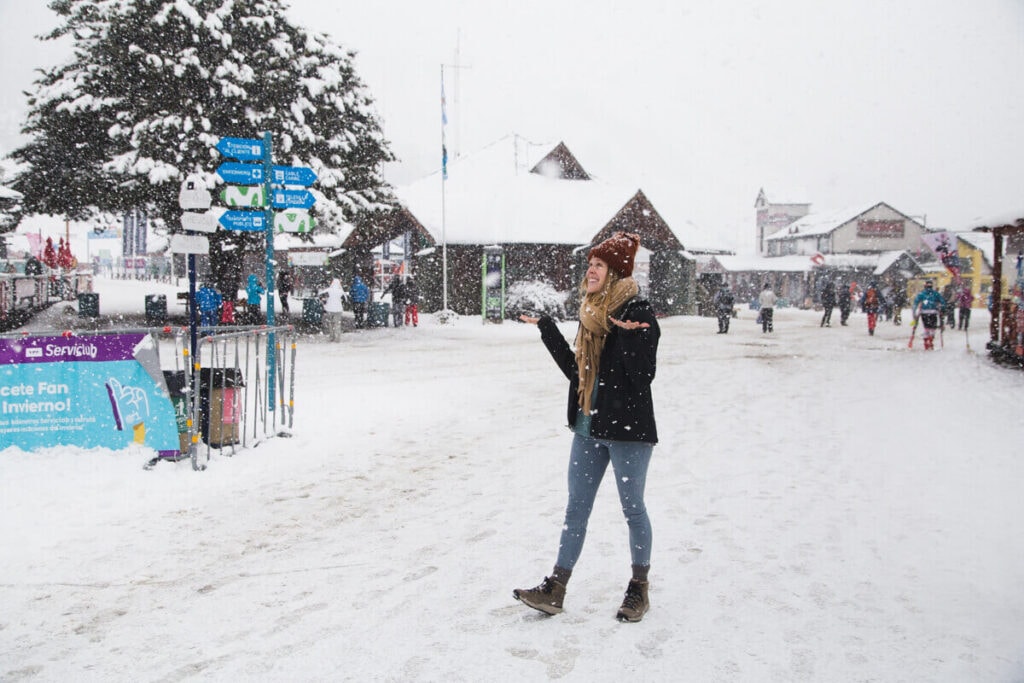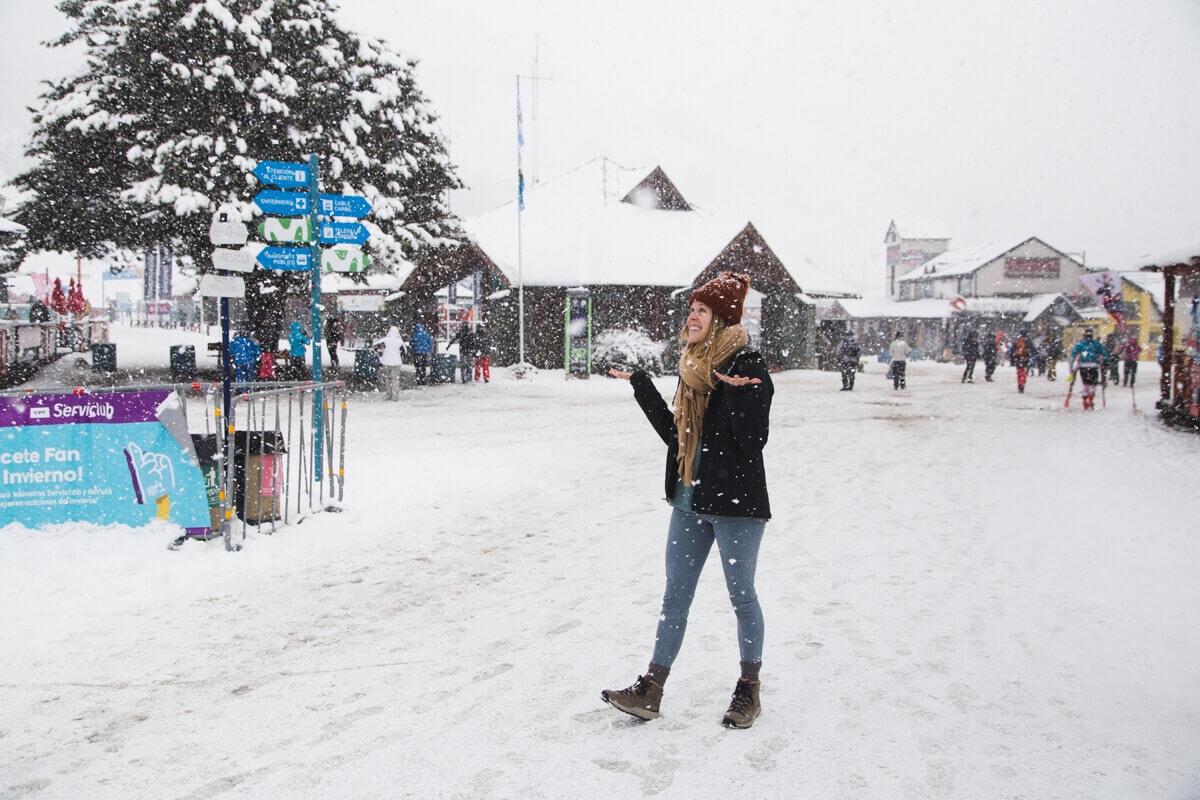 Where to Stay in Bariloche in Winter
If you're planning a winter Bariloche trip to ski or snowboard, staying at Cerro Catedral or on that side of Bariloche city is the most convenient.
Where to stay TLDR:
We spent four nights total in Bariloche on our 2019 trip, splitting our stay between Sudbruk and Charming.
In Spring of 2022 we loved our stay at Villa Labrador.
Charming Luxury Lodge & Private Spa
We were graciously hosted for two nights at the Charming Luxury Lodge (as always, all opinions are my own), and it was the definition of pampering.
If you have the budget for it, you won't regret a stay at Charming, one of the best hotels in all of Bariloche.
This family owned and run property is ideally located on the shores of Lago Nahuel Huapi.
The hotel is built onto a small peninsula that strategically allows it to be the only property on the lake that provides views of Cerro Catedral.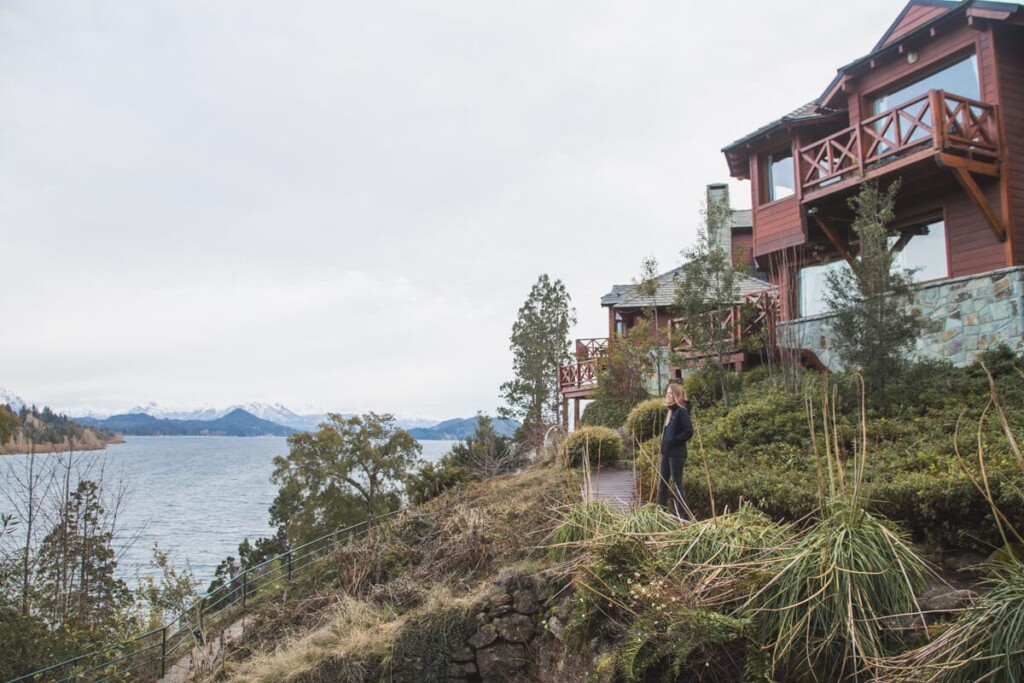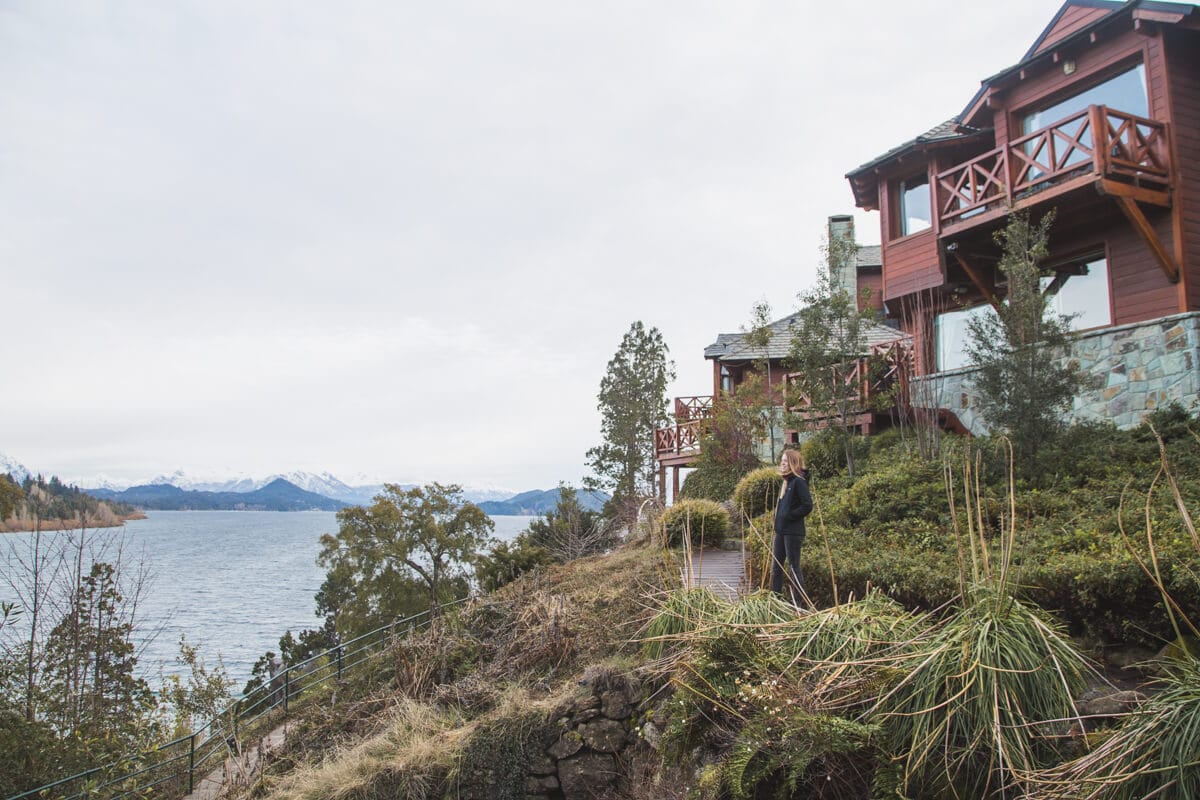 The Charming Luxury Lodge is located in the Playa Bonita neighborhood.
It's on Bustillo on the outskirts of the city of Bariloche, near the turn-off to Cerro Catedral, making it a short and easy taxi ride to the slopes.
The guestrooms are enormous (as in, larger than my husband and I's first tiny studio apartment).
The California king bed faced a panoramic view of Lago Nahuel Huapi and Cerro Catedral.
And when they say "Private Spa" in the name, they mean that literally. Each room houses its own private mini spa.
Our room had a jacuzzi, Finnish sauna, and Scottish Shower.
After a long day on the slopes, my husband was able to indulge in a full spa experience to ease his battered muscles.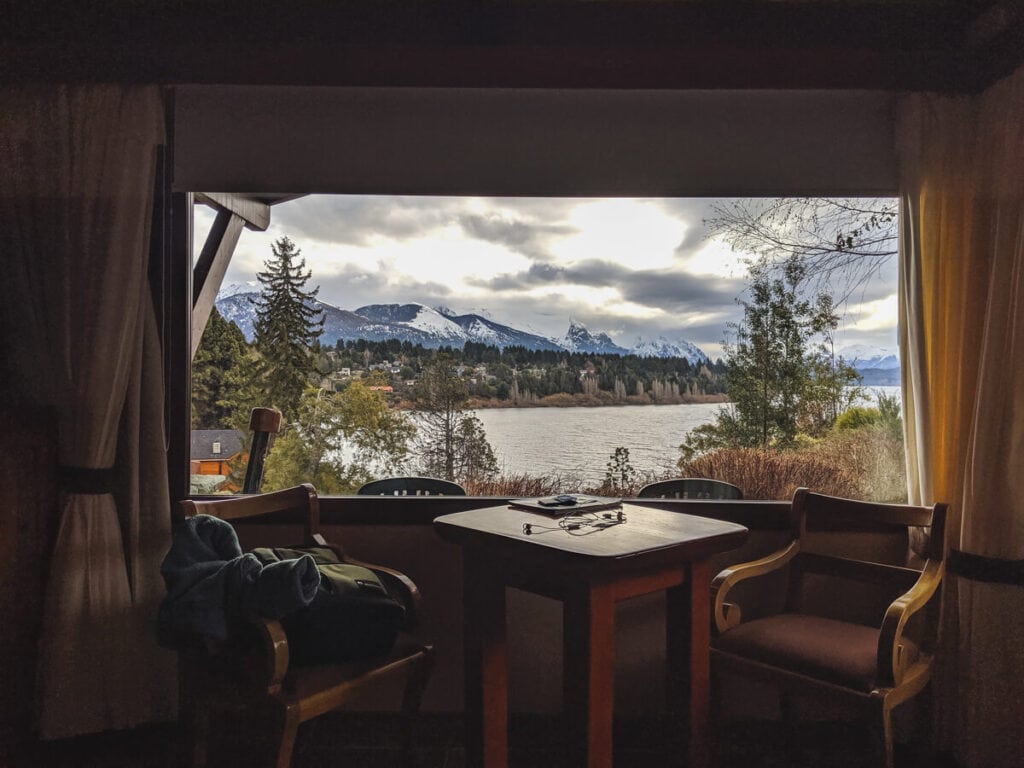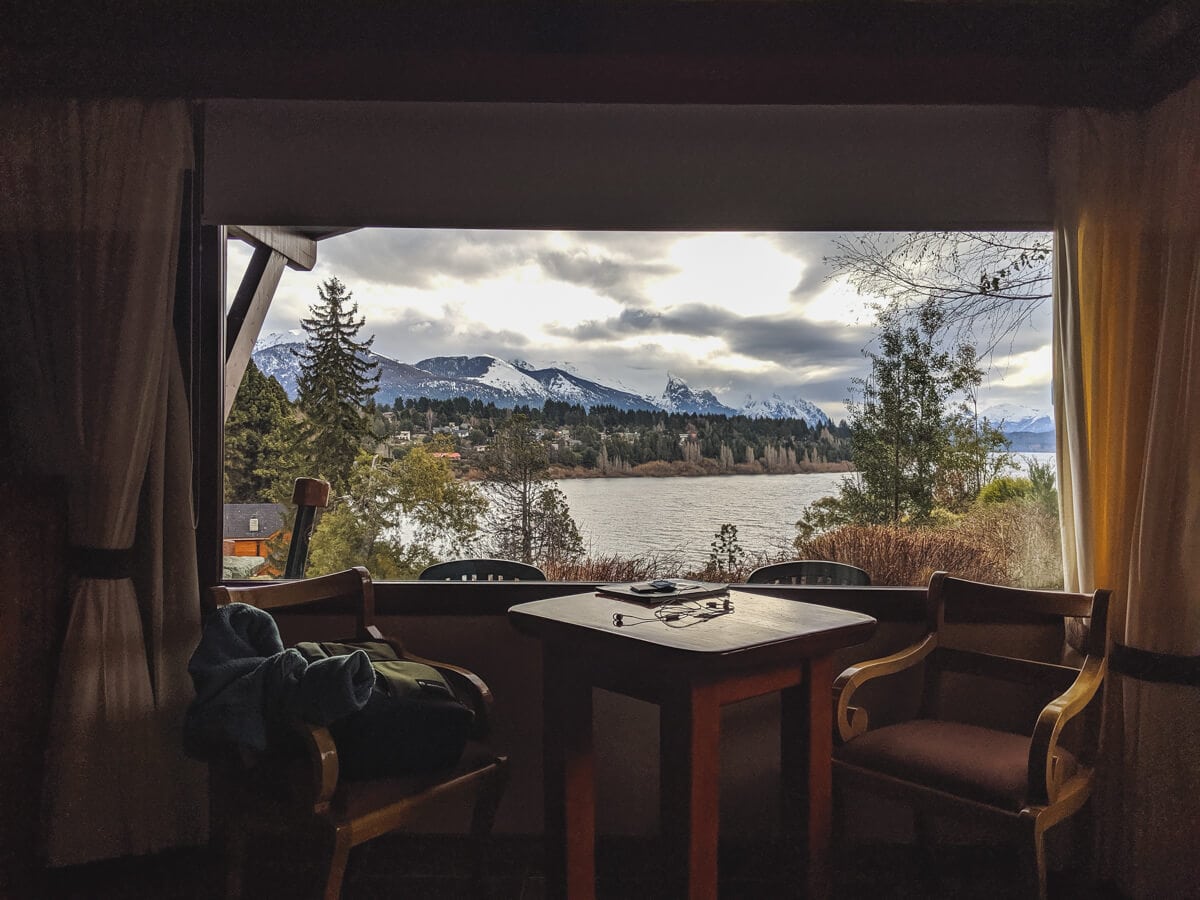 We also loved the restaurant, Stag, so much that we ate most of our meals here instead of bothering to go into town.
The buffet breakfast was filled with house made pastries, eggs cooked any way, seasonal fruit, and regional jams.
Lunch and dinner featured Patagonian specialties like lamb and trout.
The prices were very reasonable and the view was epic.
Even if you're unable to stay at Charming, I recommend making dinner reservations at Stag.
See more photos, get all of the information you need, and book directly at the Charming Luxury Lodge official website.
You can also check rates or book your room on Booking.com.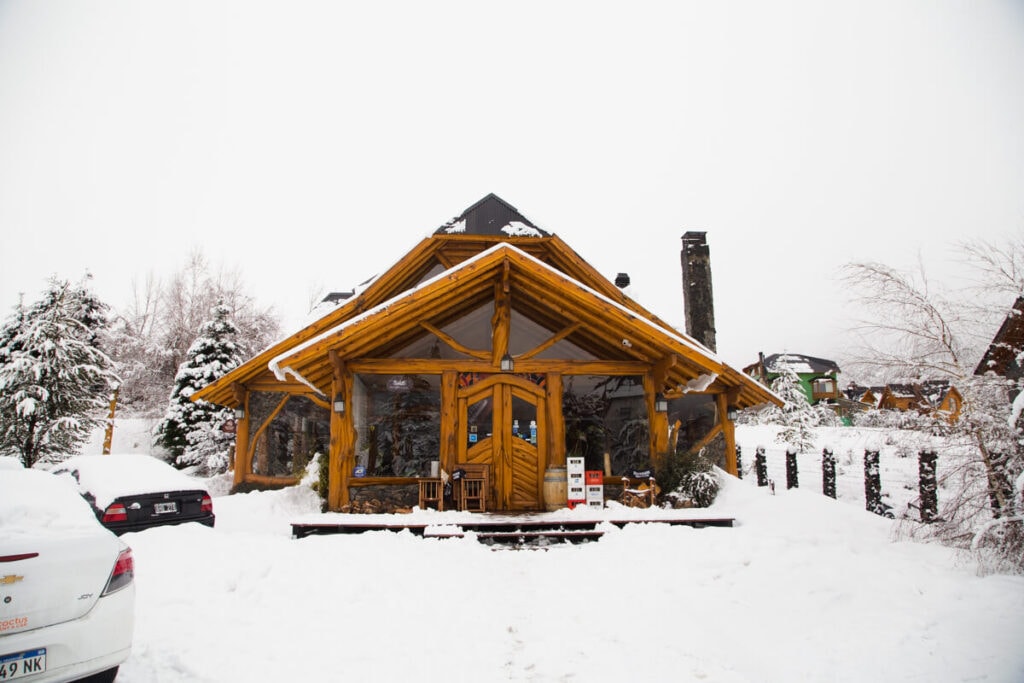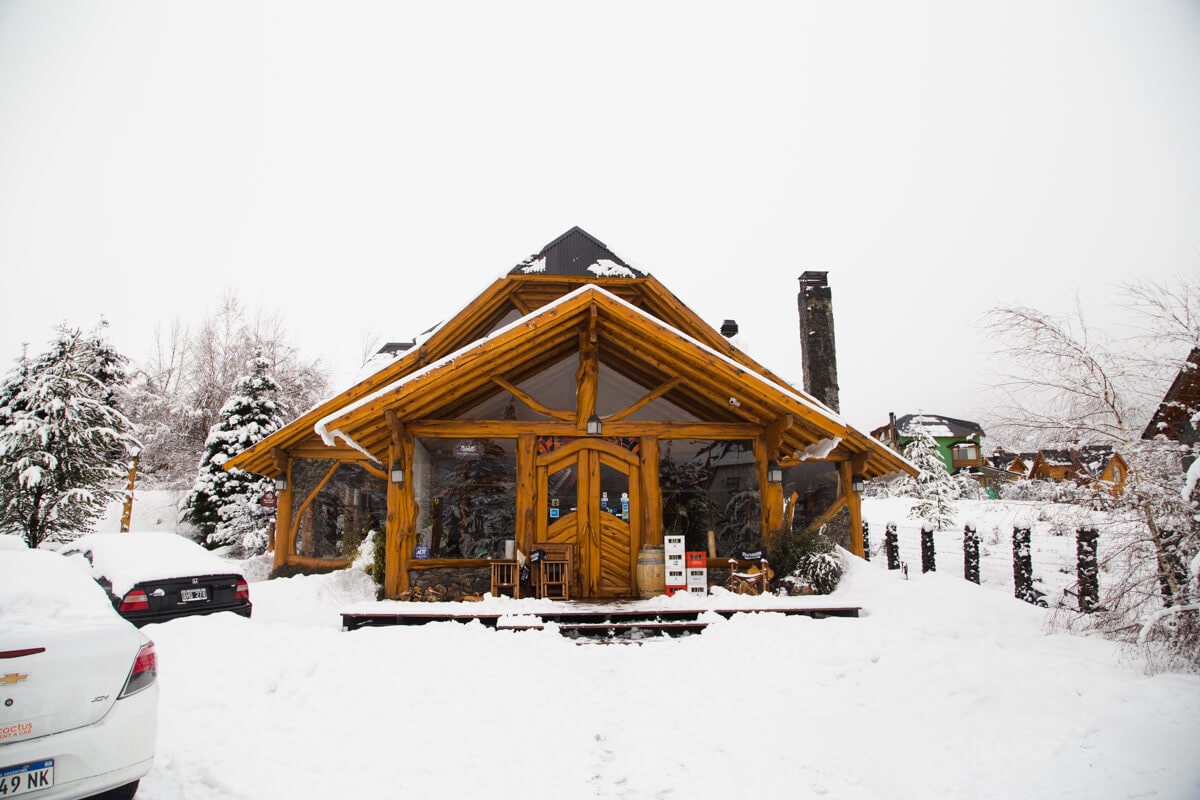 Hosteria Sudbruck (at Cerro Catedral)
We also spent two nights right at the base of Cerro Catedral at The Hosteria Sudbruck.
If you're planning on spending all of your time on the mountain, staying here is really a no-brainer.
It was beyond convenient to be able to wake up and walk to the mountain instead of taking the crowded bus with the masses or a pricey taxi back and forth every day.
Our room in Sudbruck was comfortable but basic.
Not overly luxurious but it was cozy and had everything you could need.
There's even a hot tub that opens after 5 pm to soothe your sore muscles at the end of the day.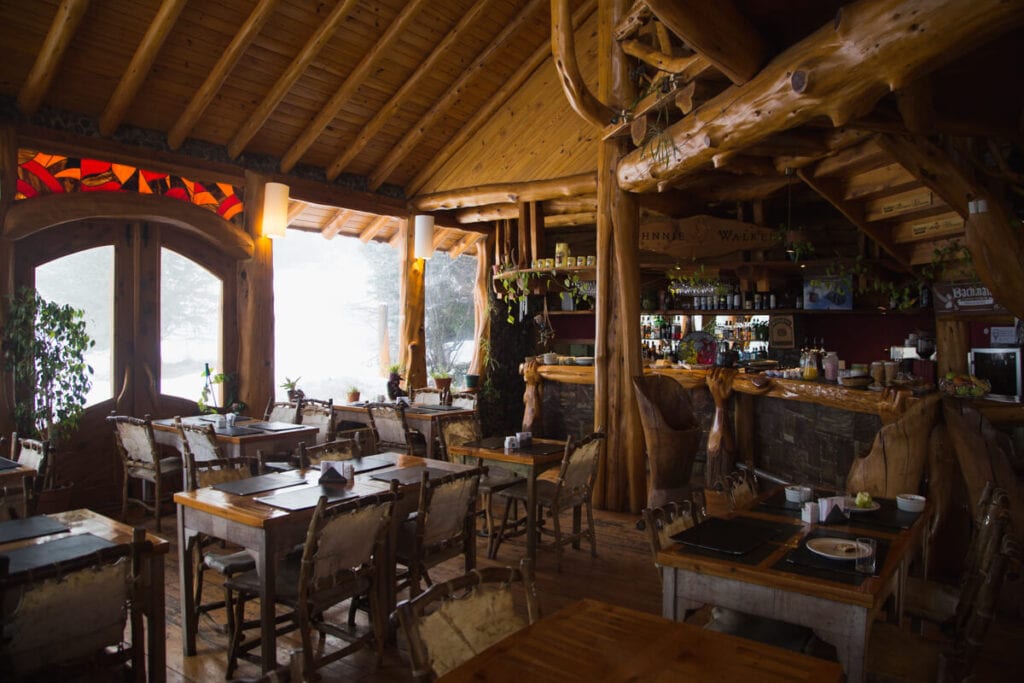 For me, the beauty is in the lobby and restaurant.
Everything is constructed out of solid wooden beams, some columns were entire tree trunks!
It was the definition of cozy, and ideal for a snowy day.
My husband was thrilled to be staying so close to the slopes and told me so multiple times throughout our stay at Hosteria Sudbruck.
Check availability and rates here.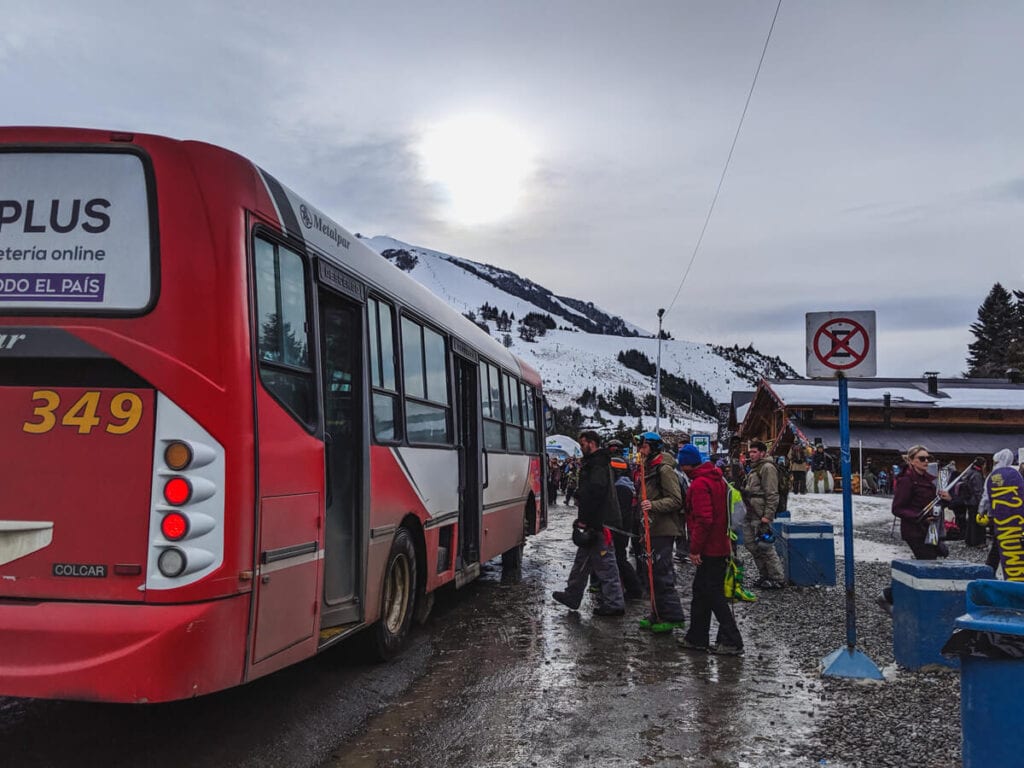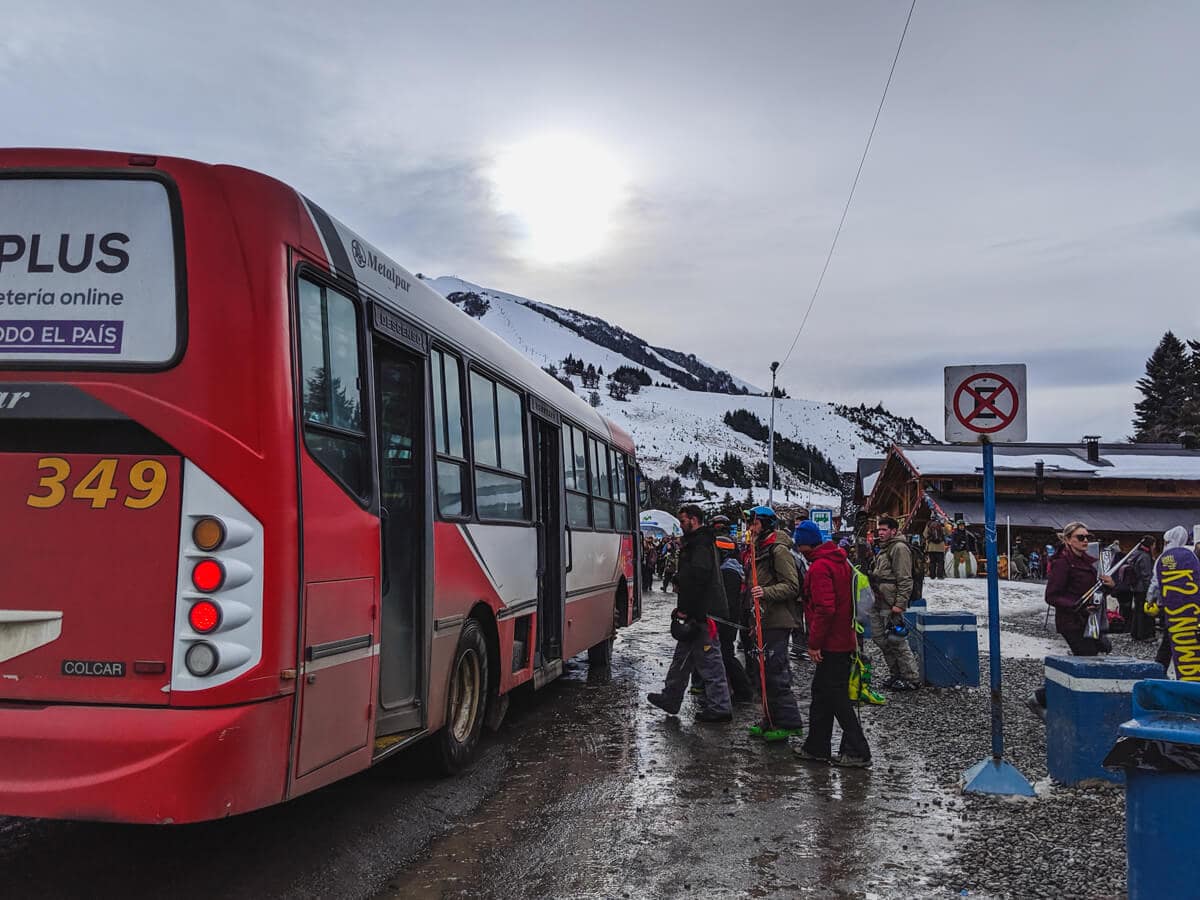 Public Transportation in Bariloche
The bus system in Bariloche is very easy to manage but as of 2023 they're a bit slow to pass by, so give yourself some time to get where you're going.
In a pinch, a lot of people here hitchhike.
If you want to take the bus to Cerro Catedral, check the schedule first.
It leaves once an hour so you don't want to miss it.
The buses (linea 20) to Cerro Campanario, Circuito Chico, Llao Llao etc. run every twenty minutes.
You can check the schedule for that as well, but I never had too much trouble just showing up and trying my luck.
Read Next | Important Things to Know Before Visiting Argentina
Get a SUBE
Like in Buenos Aires, you need a SUBE card to take the bus in Bariloche.
You cannot pay the driver in cash.
If you'll be in Buenos Aires before visiting Patagonia, pick up a SUBE in any Kiosko or Subte station and load it full of pesos.
Otherwise, you can pick on up in any kiosko (small convenience store) in Bariloche, where you can also load money onto it.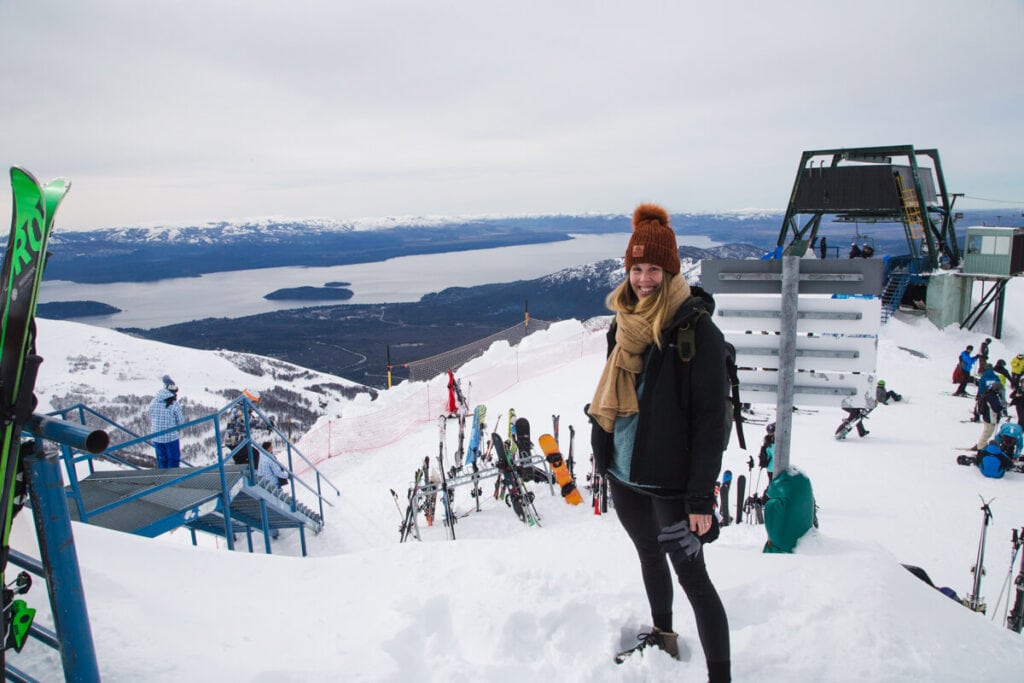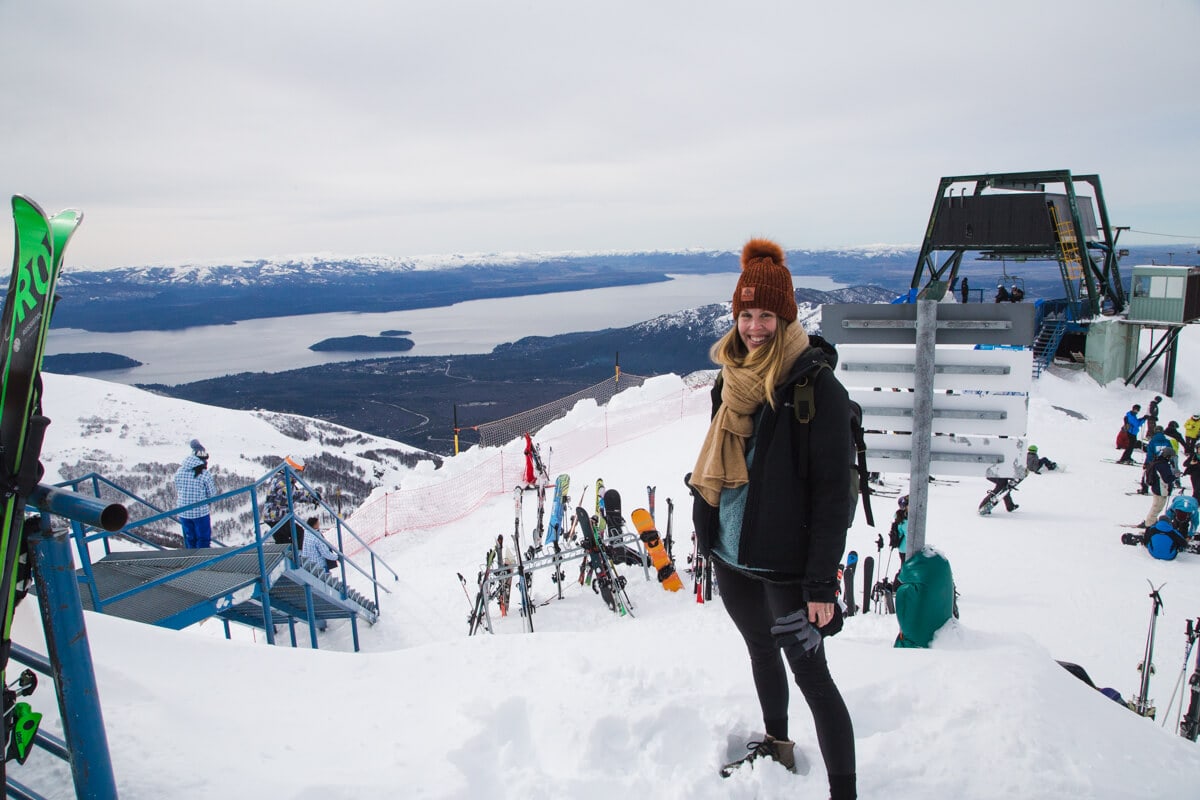 Bariloche Activities for the Non-Skiier
As I mentioned, I'm not a big skier. Ok, I hate skiing (but am, at the moment, learning how to snowboard!).
I'd much rather drink hot chocolate next to the fire with a good book.
So if you're not into skiing you don't need to hide away in your hotel.
There are so many things to do in Bariloche in winter that don't involve skiing or snowboarding.
Explore the Slopes
You don't need to ski to explore the slopes at Cerro Catedral.
Get a pedestrian pass (pase peatonal) to one of the three ski lifts for the day.
I spent one day at Punta Princesa and highly recommend that lift. There are three stops.
The first doesn't offer much, so continue to Punta Princesa 2.
The view there is spectacular. The restaurant is on the edge of a cliff with epic views and a lounge area.
Punta Princesa 3 is way up there. We had lunch here, at the very top.
To be expected, the views from here are the very best (try to come on a sunny day).
The food on the mountain is basic, not good, not bad, and the prices are reasonable.
But you're here for the view, not the milanesa and it's fine!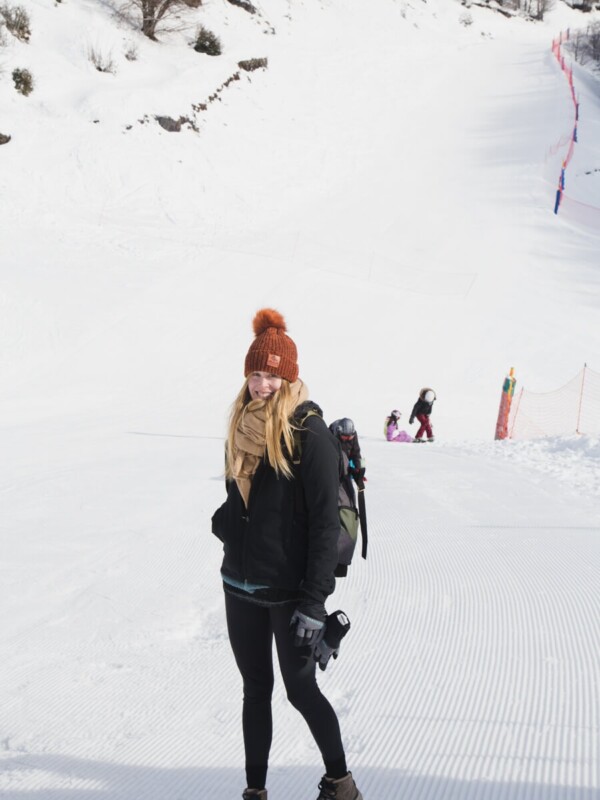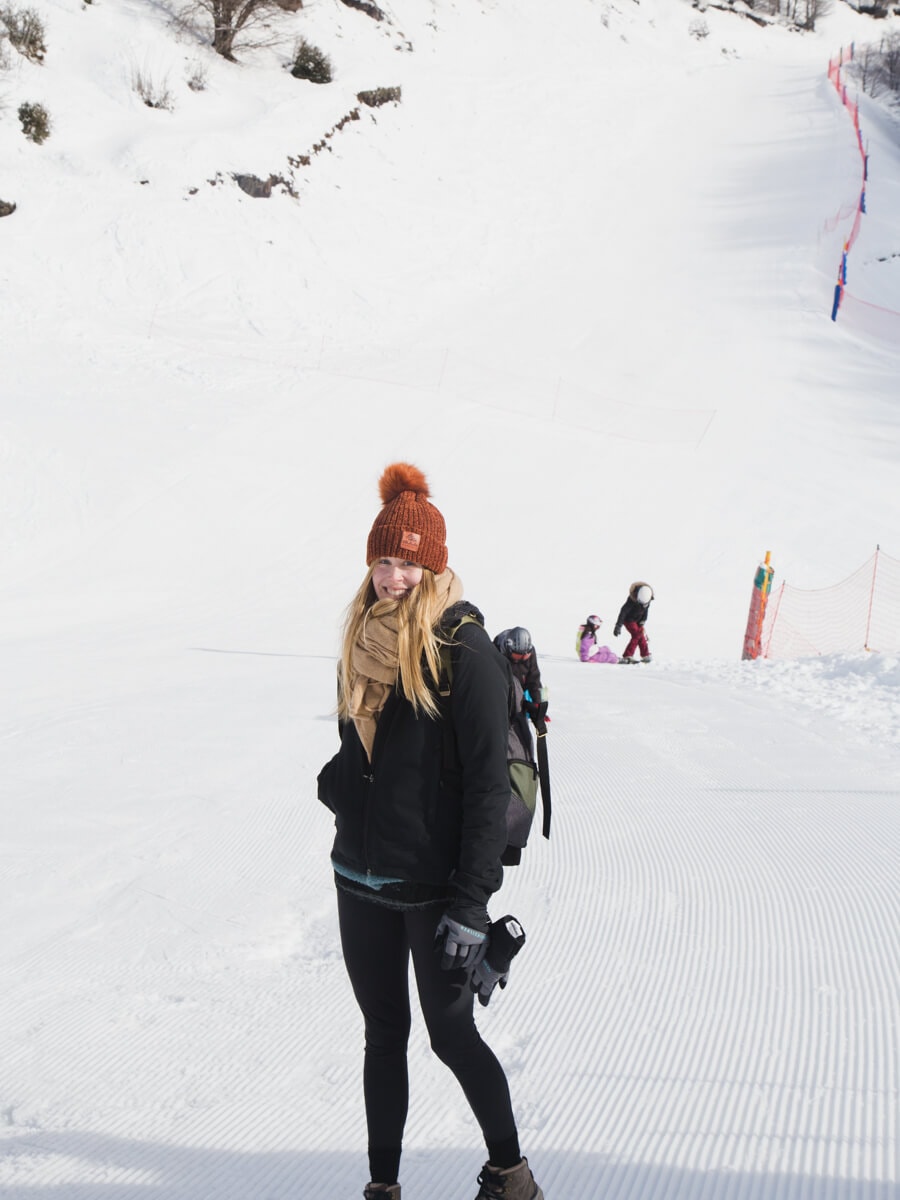 Cerro Campanario
Cerro Campanario is one of the most beautiful viewpoints in all of Bariloche.
It's a short bus ride from downtown down Bustillo.
If you can come at sunset, you'll be well rewarded.
You can take the lift up for under $10 US or hike up to the top.
I highly recommend getting a hot chocolate with pastries at the snack bar at the top!
Cerro Otto
Similar to Cerro Campanario, you can take a lift to the top of Cerro Otto.
The admission fee is twice as much as Campanario but there are a lot of activities at the top.
There are sledding, zip lines, a 360 degree rotating cafe, snow shoe paths and more.
It's a real winter wonderland if you're lucky to have a lot of snowfall. We went without a lot of snow and I would say it didn't fully live up to its potential.
If you're traveling to Bariloche with kids, Cerro Otto is a good place to entertain them.
Go early, lines get long and slow mid-afternoon. Get there at 10 when they open.
Eat All The Chocolate
The chocolate in this region of Patagonia is to die for.
Rapa Nui and Mamushka are the two most popular but there are more chocolate shops than you can count.
Try everything!
The Rapa Nui store on Mitre Street downtown has a beautiful cafe along with an indoor ice skating rink and restaurant.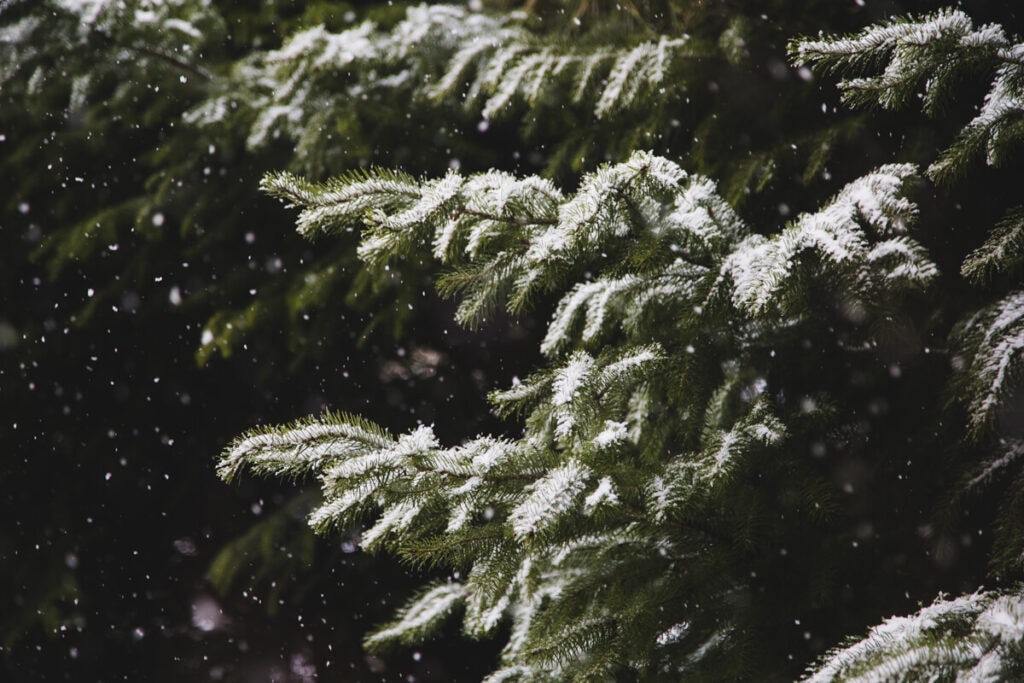 Go on a Hike
Even in winter, it is warm enough on sunny days to comfortably hike.
For an easy level hike with beautiful views, try the Llao Llao trail.
For more information on the many Argentina hikes in Bariloche click here.
Keep your feet warm by packing the best budget hiking boots and wear layers, layers, layers!
Drive the 7 Lakes Route
This is Patagonia's lake district and it's home to one of Argentina's most beautiful stretches of highway.
If you have a rental car, drive north to the smaller mountain town of San Martin de los Andes.
Stop along the way to admire the official 7 lakes and their views.
If going in winter, check on the state of the road before you go.
Even in Winter here you can get plenty of sunny days but if there has been a lot of snow or freezing temperatures, you may need chains. Ask your hotel or a local first.
Read my post about the 7 Lagos Route to plan your day.
Argentina Travel Resources