One of the most breathtaking destinations in Argentina is Iguazu Falls.
It's more than just a little waterfall. The immense power of the falls are beyond what you could possibly imagine and if you're wondering if you should include it in your Argentina itinerary, the answer is a loud, screaming YES!
But once you know you want to go there, you need to figure out the logistics.
And logistics in this country aren't always particularly straight forward, as you can see in my guide on how to get around Argentina.
The first thing you need to know is that Buenos Aires is the largest city and the hub for nearly everything.
Just about all international flights arrive in BA so your Argentina adventure will begin and end here.
With that in mind, you might be wondering how to get from Buenos Aires to Iguazu Falls.
Luckily, despite being a massive country, it's relatively easy to get from the city to the falls.
But you do have a few options to choose from and this post is a comprehensive guide to all of them!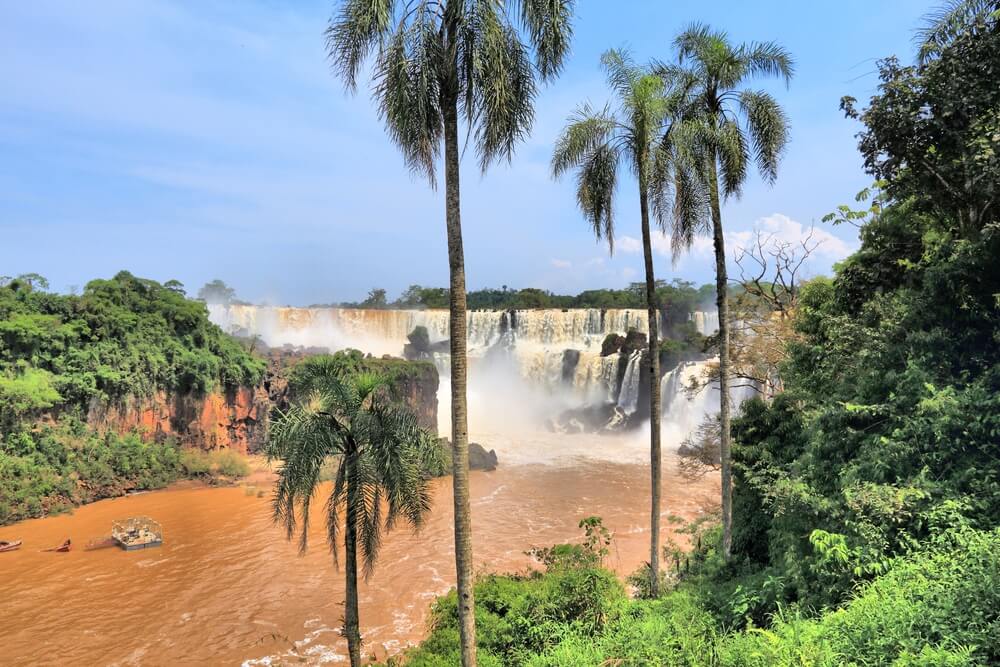 QUICK NOTE: This post contains affiliate links and Sol Salute may receive a commission for purchases made through these links, at no extra cost to you.
Where is Iguazu?
To know how to get to Iguazu you first need to know where it is you're going.
Iguazu Falls is in the northeastern most corner of Argentina in La Selva Misionera (the jungle of Misiones).
Misiones is a tiny jungle-filled province named for the Jesuit ruins located here.
Remember the film The Mission? This is where it was set and filmed!
The city of Puerto Iguazu is located right on the border with both Paraguay and Brazil.
You can stand at the Hito de las Tres Fronteras monument and look across the river at both countries at the same time.
However, the falls themselves are only on the border with Brazil (sorry Paraguay). That means you can (and should) see them in both countries.
For more, read my Iguazu Falls Argentina Travel Guide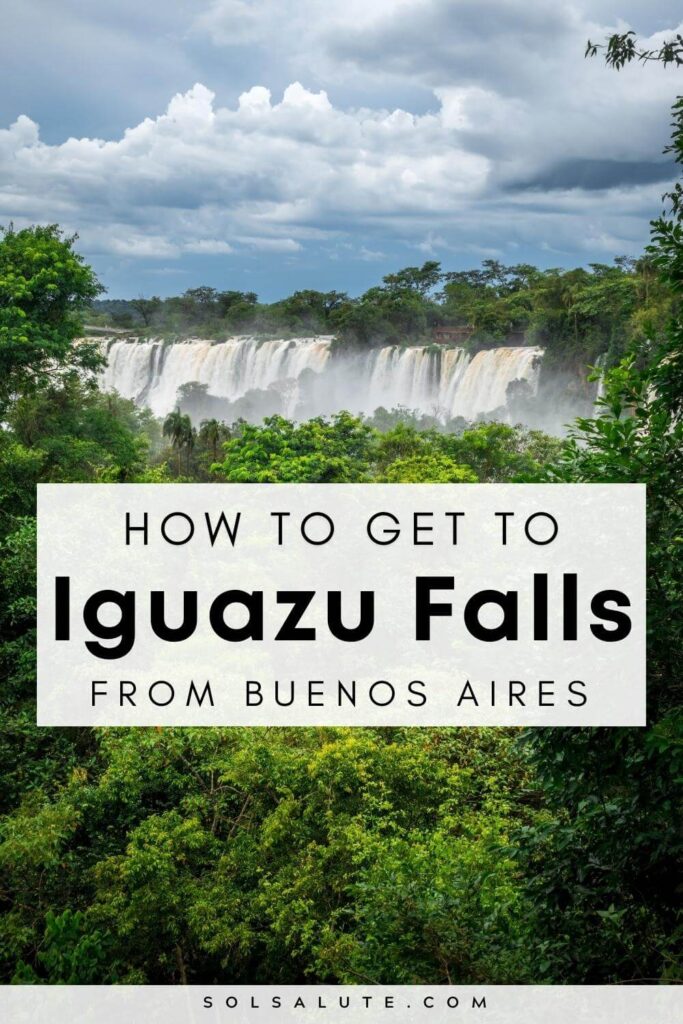 Buenos Aires to Iguazu Falls Travel Guide
Iguazu was the first place I visited after moving to Argentina in 2010.
I went again in 2015 when my parents came to visit and now I've been planning a third visit, this time with my own children.
I've been there as a backpacker by bus and hostel then again by plane with a luxury hotel in the park. On a third trip to Misiones we traveled by car.
So when it comes to all ways to get to Iguazu, I've been there, done that, will do it again.
Buenos Aires to Iguazu: Flight Options
The first up on this list is the easiest and most recommended: take a plane!
Argentina is a big country and to save time and stress, this is the best choice.
The flight from Buenos Aires to Iguazu is just 2 hours and allows you to make the most of your time.
Flights in Argentina have always been a bit tricky.
The main airline here is Aerolineas Argentinas and they dominate the market.
Luckily, there are now also two budget airlines: FlyBondi and Jetsmart.
TIP: Check Google Flights for an overview on your options then book direct, if possible.
With these two budget airlines Aerolineas Argentinas has had to lower their previously exorbitant prices and it's more affordable to fly from Buenos Aires to Iguazu.
Being a popular destination I do recommend reserving your flights in advance. Just like anywhere in the world it will be more expensive the closer you get to your travel dates.
The Puerto Iguazu airport (airport code IGR) is a 25 minute drive from town. It's actually closer to the national park than the town.
You can take a taxi once you're there or reserve a transfer ahead of time, like this one.
I always recommend having a few days to see things at a slow pace (I prefer slow travel) but if you're on a tight schedule, you can easily do Iguazu with just one night. Just book the earliest possible flight on day one and the last flight out on day two.
ABOUT BUENOS AIRES AIRPORTS: There are two airports in Buenos Aires. The international airport – Ezeiza – is a 45 minute to 1.5 hour drive from downtown, depending on traffic. The domestic airport – Aeroparque – is in Palermo.

Be careful when choosing your flights depending on your itinerary. If you're already in Buenos Aires, flying out of AEP is infinitely easier.

If you want to fly into EZE and connect immediately to a flight out of AEP, allow a lot of time for this! It's not an easy connection to make.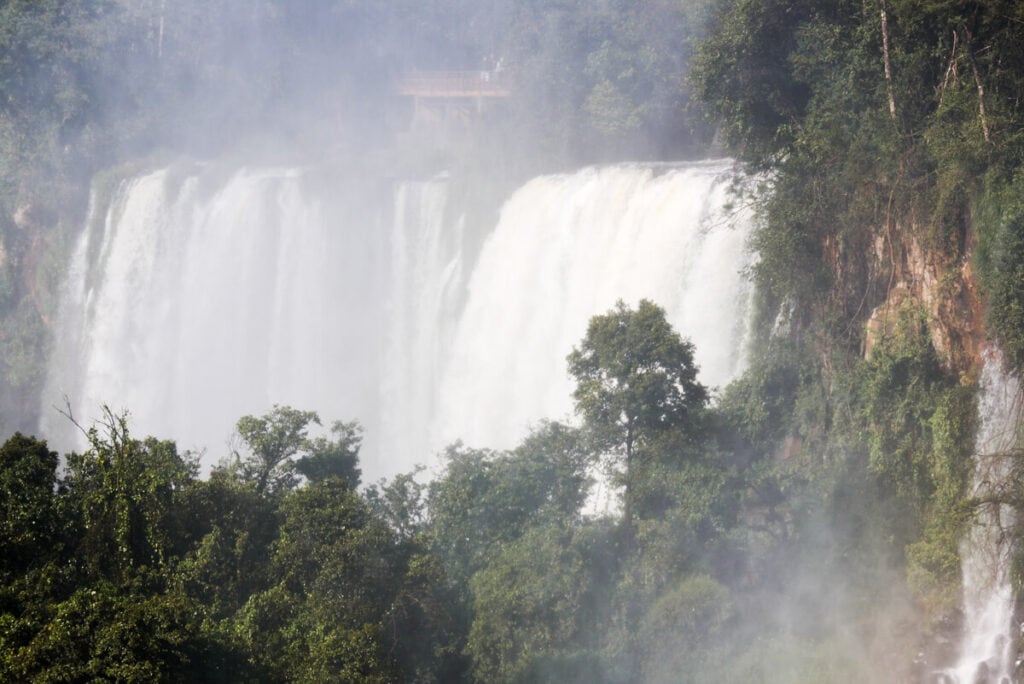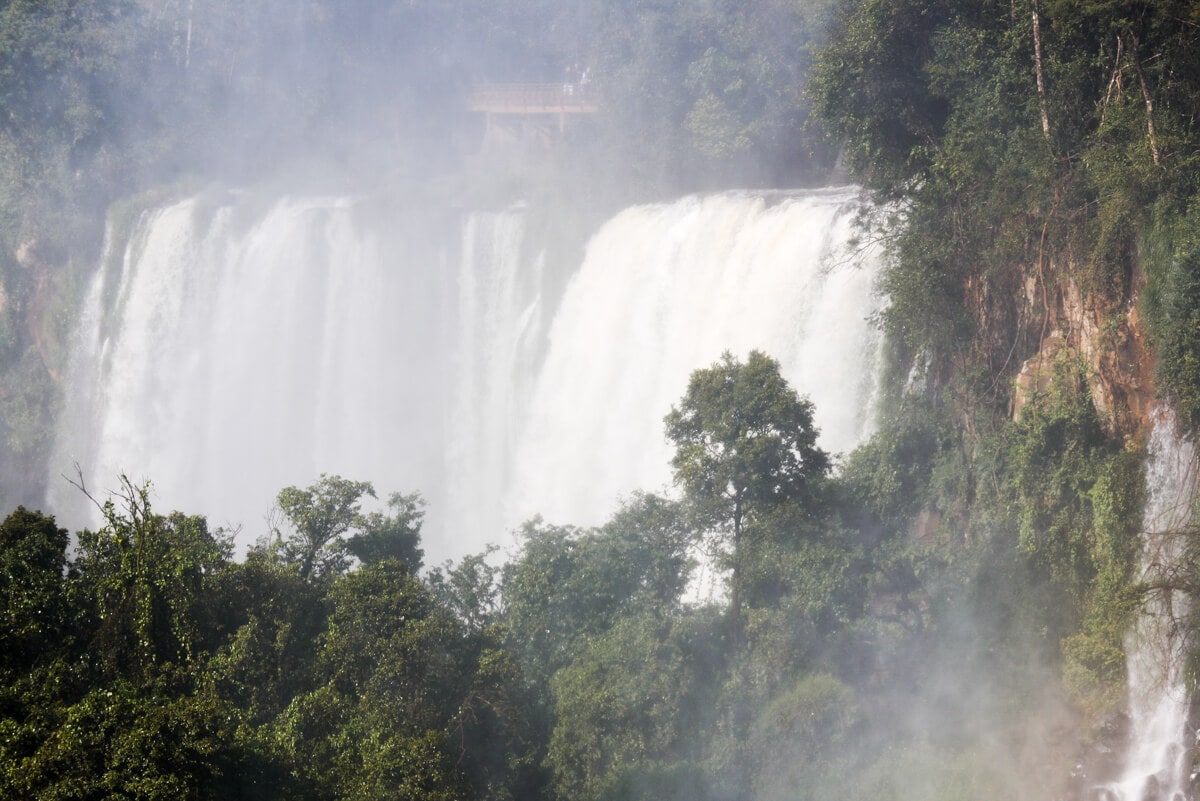 Day Trip to Iguazu Falls From Buenos Aires: DIY or Tour
Taking a day trip to Iguazu Falls is a very popular way to see the falls.
Do I personally recommend it? Absolutely not. This is a natural wonder that you could easily spend 2-3 days at between both countries. There are also other things to see here from Jesuit missions to bird preservation parks.
That said, is a day trip to Iguazu falls from Buenos Aires possible (and popular)? Yes.
You can do it yourself without a tour by booking the earliest flight there and the last flight out in the same day. When you land, take a taxi straight to the national park from the airport.
Skip the town of Puerto Iguazu, there's not much to see there. If your flight home is late, you can see it at the end of the day for dinner.
Too nervous to do it on your own? There are organized day tours you can take.
Book this tour to have a travel agency take care of everything including flights, logistics, and tour guides that speak English.
TIPS FOR A SUCCESSFUL DAY TRIP:
Make sure your flights are in and out of Aeroparque, not Ezeiza, for an easier travel day.
There are lockers and luggage storage at the entrance of the park.
Pack a dry set of clothes to change into as you will probably get soaked at some point during the day.
There are restaurants in the park for lunch.
The park opens at 8 am, I recommend flying early to get there as close to that time as possible. You can stay in the park until 6 pm.
You'll want as much time as possible in the park. There is more to see and do than you think, including the two series of catwalks, the Devil's Throat, and the boat tour.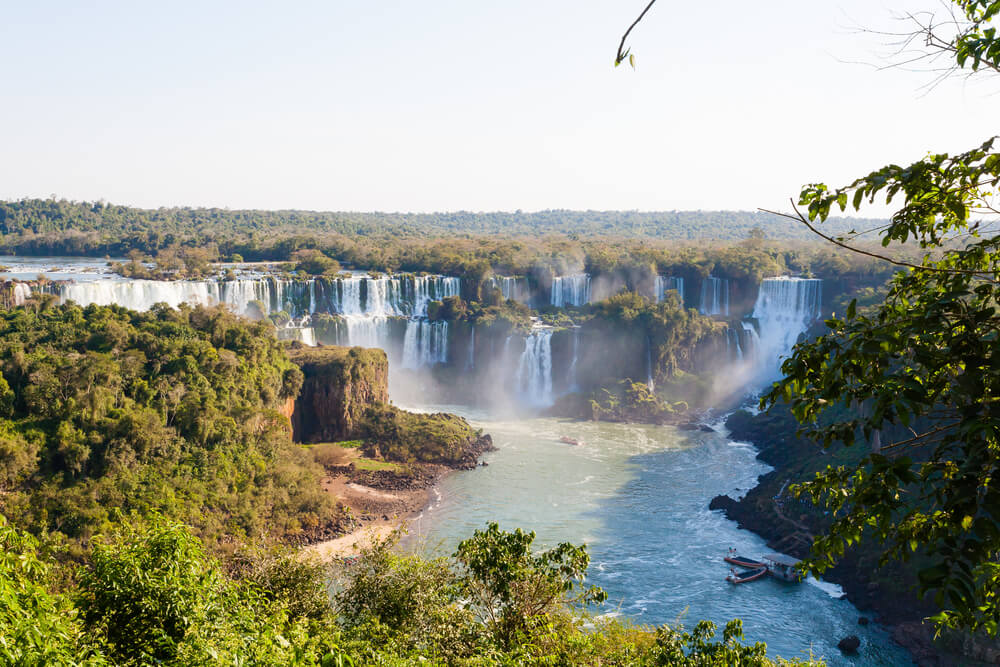 Bus Options from Buenos Aires to Iguazu
Bus travel is very popular in South America but it's important to first recognize that you're gonna be in that bus seat for a long time.
If you're on a tight budget or for any reason would prefer not to fly, you can easily take a long distance bus from Buenos Aires to Iguazu Falls.
You can check schedules and prices and buy tickets on Plataforma 10 or Busbud.
If you want to pay in cash you can get your tickets in person at the Buenos Aires bus terminal in Retiro.
When I first moved here in 2010, flights were a lot more expensive than they are today and bus travel was the only feasible option. I took the 18 hour bus and honestly, it wasn't too bad.
For the most comfortable ride, reserve a lie flat seat called cama suite, cama ejecutivo, or cama. These seats lie back the full 180 degrees.
Semicamas are slightly cheaper but only lie back 160 degrees and let me tell you that after 18 hours in the same chair, that 20 degrees really does matter.
Buses get cold overnight and they supply a small blanket but I recommend also packing a sweater.
They often advertise having WIFI, don't believe it. They also serve food, don't rely on it. It's not usually very great unless you LOVE ham and cheese. Pack snacks.
The bathrooms on the bus are fine but conditions deteriorate with every hour. I recommend wearing tight leggings versus flowy pants that graze the floor for this very reason (a nasty lesson I learned the hard way on a bus to Cordoba).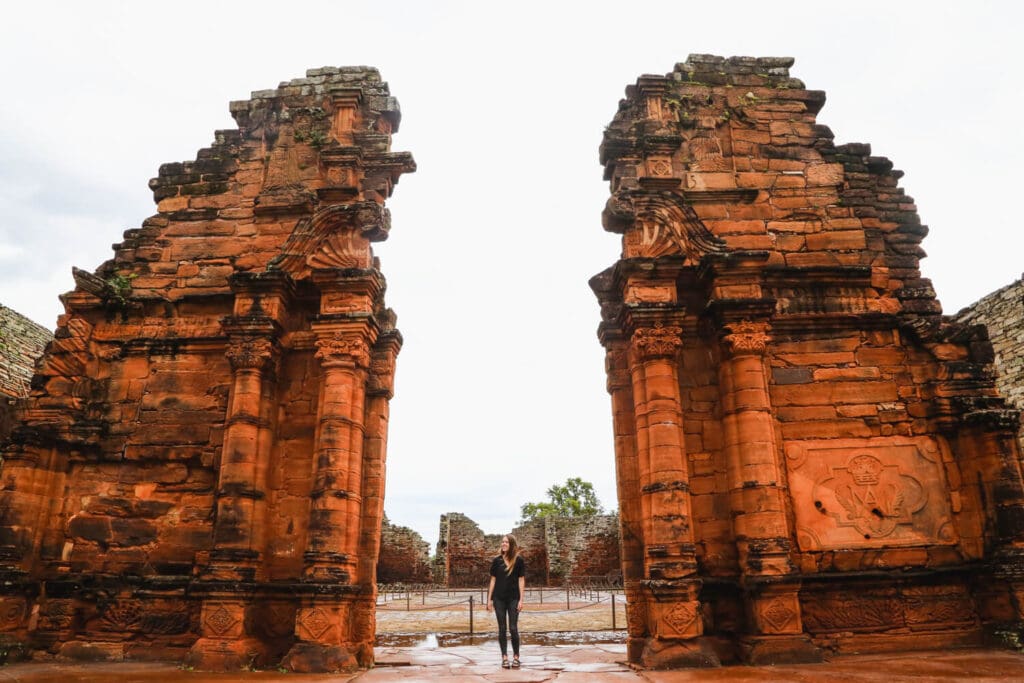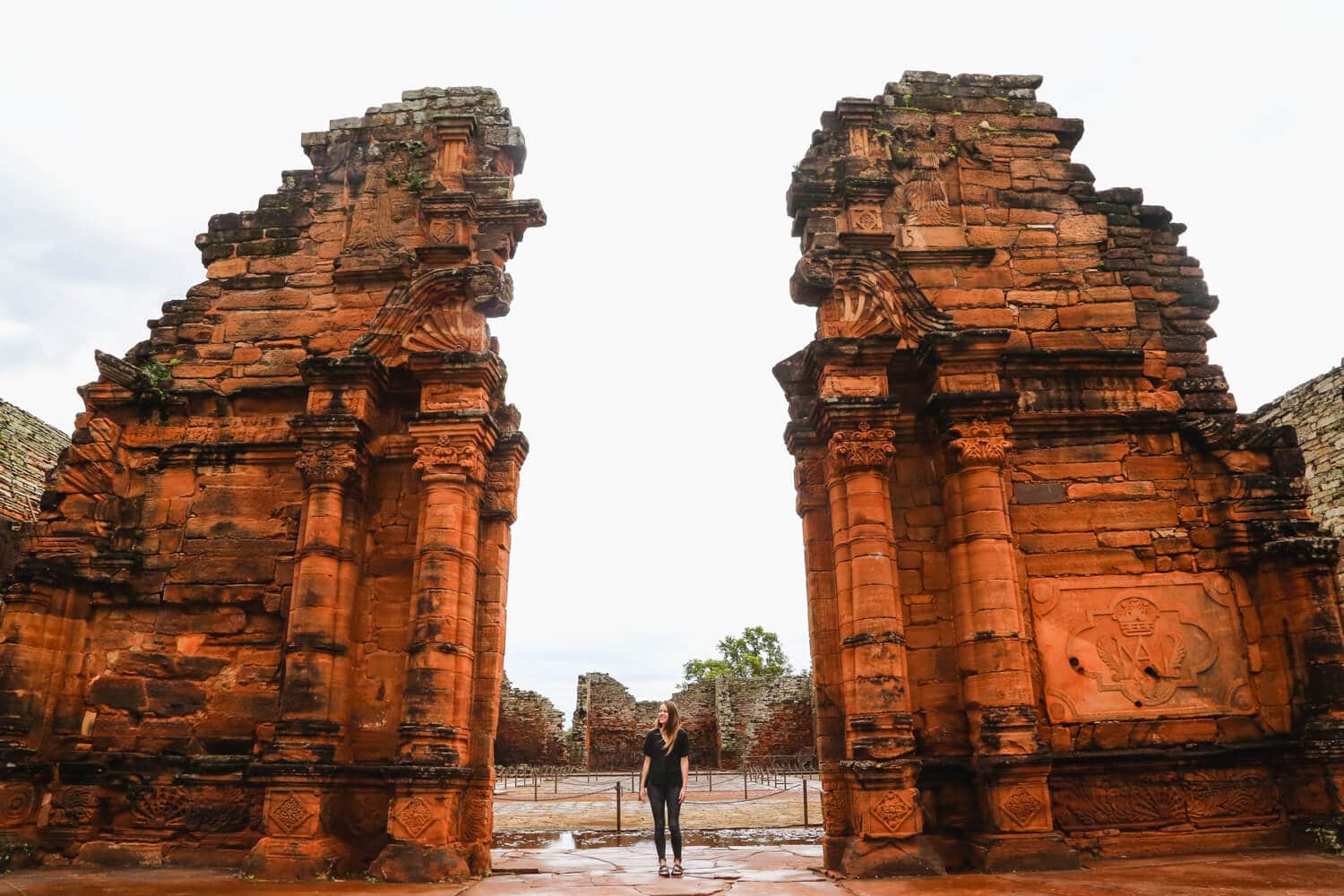 Road Trip from Buenos Aires to Iguazu
It's also possible drive to yourself from Buenos Aires to Iguazu in 15 hours if you have a car or want to rent one.
For rental car prices you can check here.
Five hours out of Buenos Aires you'll reach Parque Nacional El Palmar outside of Colon.
This small national park makes an easy first pitstop to cut the drive if you're looking for a proper road trip itinerary.
Next, I recommend stopping at the Ibera Wetlands either via Mercedes/Colonia Carlos Pellegrini or via Posadas.
To read more about that in detail, read my guide to the Esteros de Ibera Wetlands.
The stretch of highway between Posadas and Puerto Iguazu is where you'll see the Jesuit ruins and Yerba Mate plantations. I recommend staying overnight in San Ignacio along the way to see the area.
If renting a car, you may have to drive back to Buenos Aires to return the car if there isn't an agency with offices in both cities.
To avoid that hassle, international agencies like Avis or Hertz are usually your safest bet.
For more return options, consider looking in Posadas. It's a larger city just a 2 hour drive from Puerto Iguazu and will have more variety.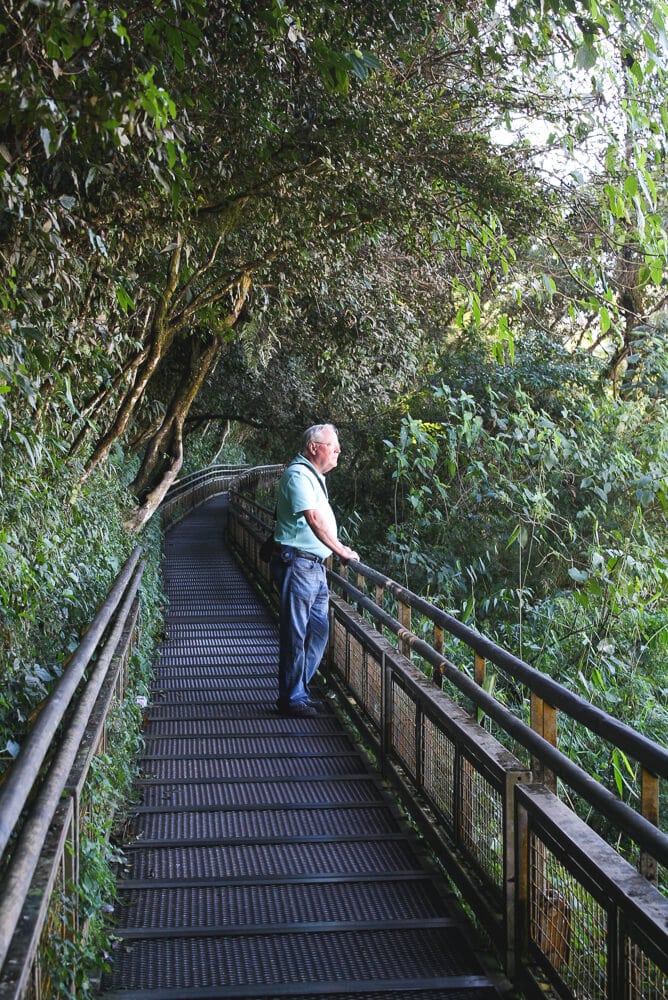 Iguazu Falls Tour Packages
If you've read this far and you're still thinking, "nah, I really don't want to deal with this on my own," then booking a package tour like this is your best option.
It's the least affordable option, logically, as you're paying a travel agency to take care of flights, hotels, and tours.
However if it's in your budget and you're unsure on how to plan the trip yourself, it's a great way to see this natural wonder.
This package tour is three days, giving you a full day on the Brazilian side and a full day on the Argentine side. That's the best way to see everything Iguazu Falls has to offer, stress free.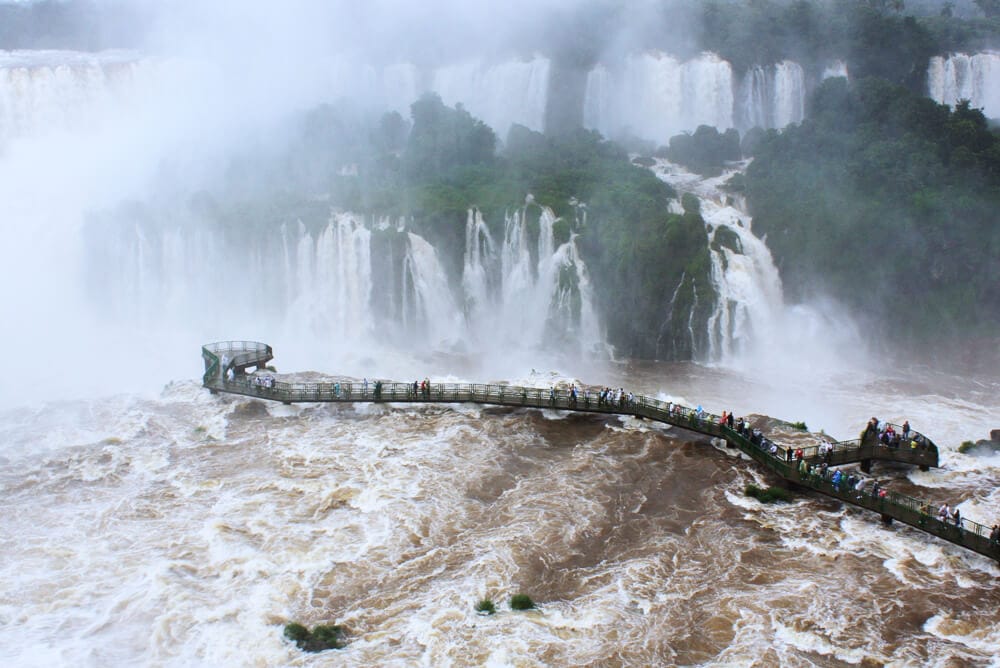 Bonus Option: Visit Iguazu Falls from Brazil
A final travel option to Iguazu Falls is by avoiding Buenos Aires entirely and arriving from Brazil.
Sao Paulo is a major flight hub in South America with even more options than Buenos Aires. From here you can connect to Foz do Iguaçu, the city on the Brazilian side of the falls.
Backpacking? Then maybe you're slowly working your way south through Brazil by bus. If so, very cool, I commend you.
If you're traveling this route, first explore the Brazilian side of the falls, then take a bus or taxi to Argentina.
Stay in Puerto Iguazu for a couple of nights to give the Argentina side of the falls the time it deserves.
From here you can fly from Puerto Iguazu to Buenos Aires and continue with your Argentina itinerary.
Iguazu Travel: What to Know
This post was a comprehensive guide on how to get from Buenos Aires to Iguazu.
If you want to know when to visit, where to stay, and all of the nitty gritty, read my guide to Iguazu Falls.
If you have any questions, let me know in the comments!
Read More About Argentina:
Argentina Travel Resources