Argentina's passion for fútbol is contagious.
When the national team plays the cheers and groans echo across the city as an entire population celebrates or mourns in unison.
Local teams are revered just as highly as the national team.
Everyone is a devotee to one team or another, even the rare fútbol hater (my husband may protest but when it comes down to it he's 100% Team River Plate).
So if you're planning a trip to the land of Maradona and Messi and want to see Buenos Aires soccer in person, you may be surprised that can be a bit harder than you'd initially expect.
If you want to get a ticket on your own you'll immediately hit roadblocks.
Tickets go to members of each team who are in regular attendance.
Scalpers exist but you may easily end up with a fake.
Wandering the barrios where the football stadiums are can also be a risky endeavor as most stadiums are in more dangerous areas.
This is one of those situations where it's really best to put it into the hands of experts and go on an organized tour or use an authorized vendor you can trust.
Here are some of the best and safest ways to see fútbol in Buenos Aires like a porteño.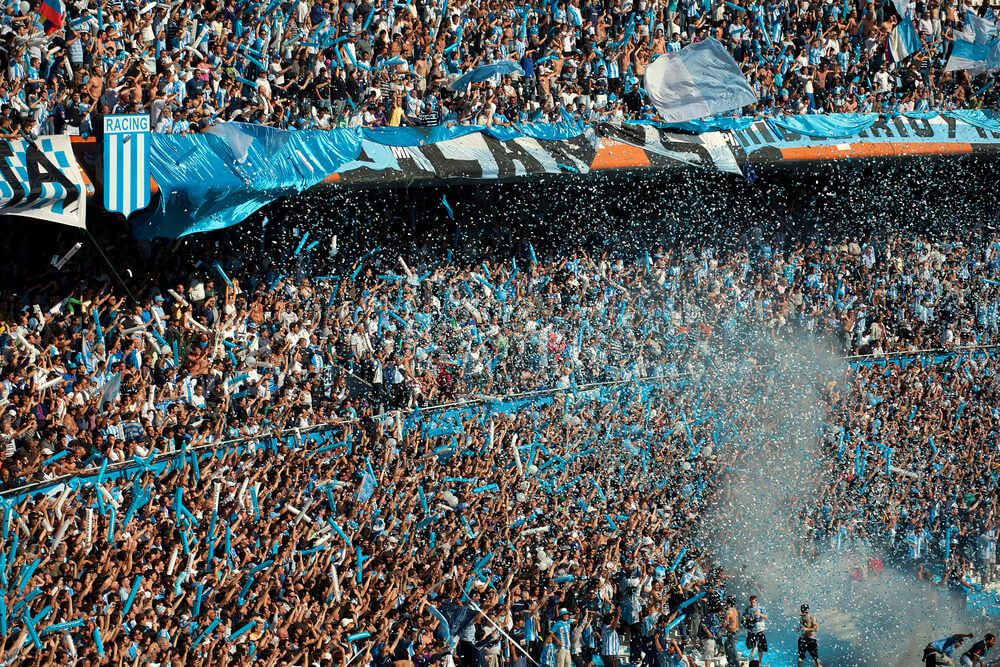 QUICK NOTE: This post contains affiliate links and Sol Salute may receive a commission for purchases made through these links, at no extra cost to you.
About Fútbol in Buenos Aires: Soccer Tickets & Tours
The Buenos Aires soccer season is from late-January through early-August, give or take a few days depending on the year.
28 participating teams all confront each other in a single round robin tournament, click here to see dates and match ups for the 2023 season.
As mentioned earlier, getting tickets isn't as easy as logging into Ticketmaster and swiping your Mastercard.
Tickets go mainly to the club members for each team, who are in regular attendance.
To experience soccer in Buenos Aires, check out the following tours and experiences to avoid getting into a sticky situation or accidentally purchasing fake scalper ticket.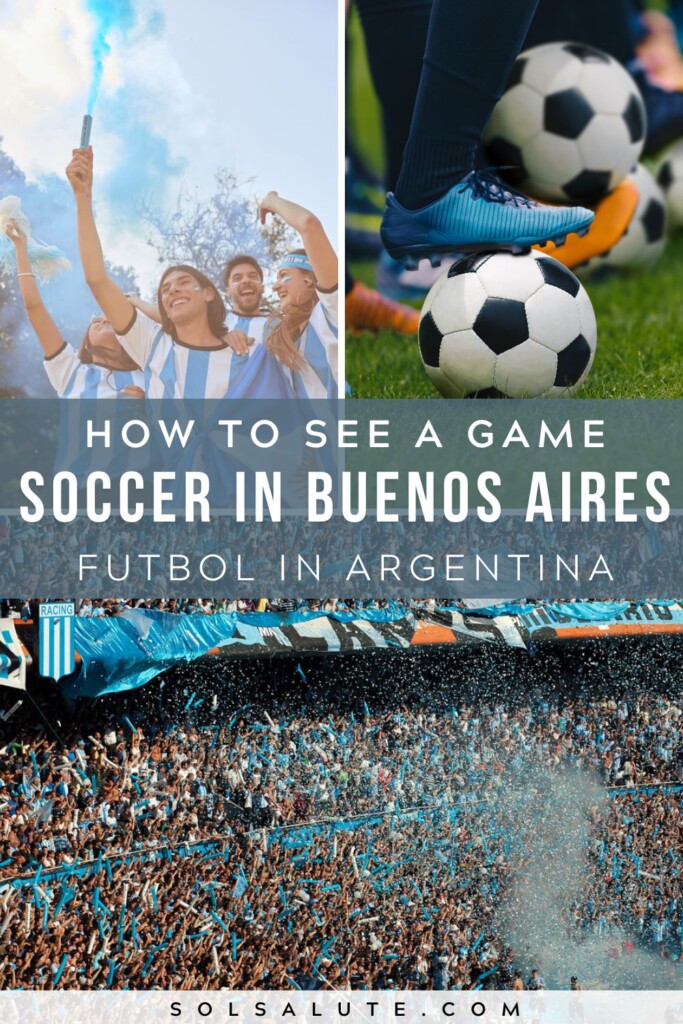 Tour the Stadiums
Whether you're visiting out of season or simply can't swing the cost of visiting an in-person game, a tour of the stadiums is a great alternative.
River Plate and Boca Juniors both offer guided tours.
You'll see the infamous cancha (field), locker rooms, and if you're really lucky, maybe you'll spot a player!
This guided tour is ideal for true soccer fanatics as it includes both major teams' stadiums with transport between the two (they're on opposite ends of the city).
Airbnb Experiences
Along with apartments and rental houses, Airbnb offers some of the best tours around.
It lets locals show you their city and with Buenos Aires that means soccer.
Boca Juniors – See the city's most infamous team safely with a local!
River Plate, Racing, or San Lorenzo – This option allows you to pick from three other major teams. The experience includes lunch and transport. Consult them for tours of the museums and stadiums outside of game days.
It is undeniably expensive but you get what you pay for.
Going to an Argentina fútbol game is no easy task if you don't know what you're doing.
Police checks, rowdy crowds, and rough neighborhoods (for some teams) can make going with a local who knows the best option.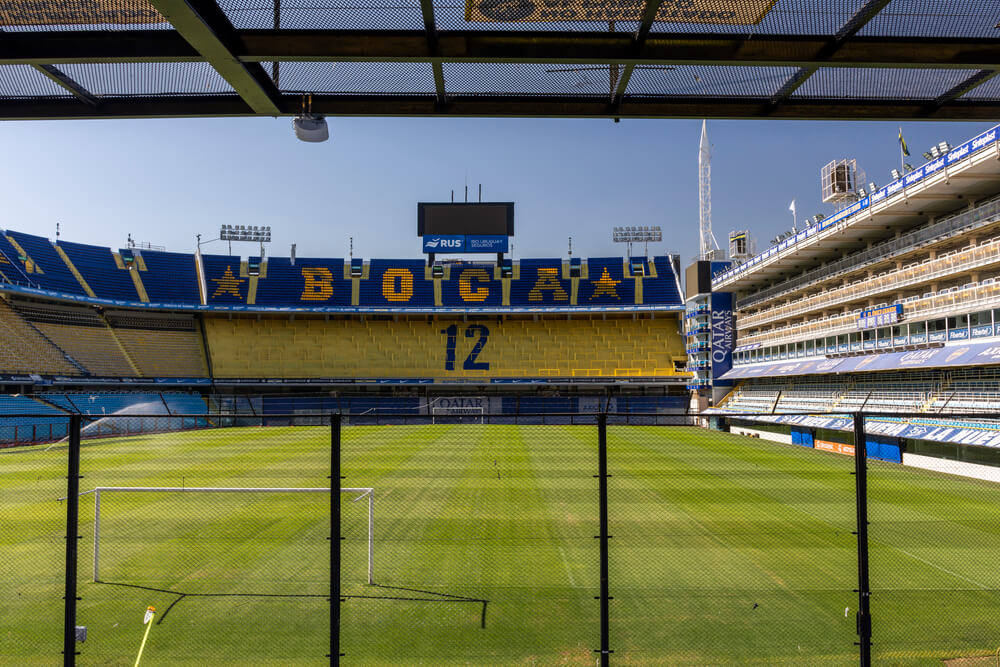 Argentina Futbol Vocabulary
Want to blend right in with the locals?
Google translate will only get you so far, and when it comes to Argentine slang it will get you nowhere.
Here are a few fun words to learn before going to a Buenos Aires soccer game:
Futbol: Soccer (starting with the obvious for those of us yanquis)
To cheer for your team: Alentar
Fans: Hinchas
The field: La Cancha
Football hooligans: Barra bravas
Goal: Goooooooool
Incredible Goal: GOLAZO!
To Win: Ganar
Blow Out: Paliza
To Loser: Perder
Defeat: Derrota
El Mundial: World Cup
Unique Expressions to sound like a Porteño:
Pecho frío – Someone who chokes under pressure, literally "cold chested"
Colgarse del travesaño – To play defensively, literally "to hang from the goal post"
El (defensor) no para ni el bondi – He couldn't even stop the bus
Who's on the field?
Team: Equipo
National team: La Selección
Referee: El Árbritro
Goalkeeper: Arquero
Forward: Delantero
Midfielder: Meriocampista
Defender: Defensor
Captain: Capitán
Argentina Travel Resources