We've all gotten one of those gifts – a tacky t-shirt, sparkly key chain or yet another refrigerator magnet.
Luckily, cliche souvenir stores aren't as common here in Buenos Aires as say, Paris, where tiny metallic Eiffel Towers overflow out of large bins onto nearly every sidewalk.
So when shopping for souvenirs in Argentina eave the Hard Rock t-shirts and Starbucks coffee cups behind.
Instead, opt for one of these authentic Argentina souvenirs.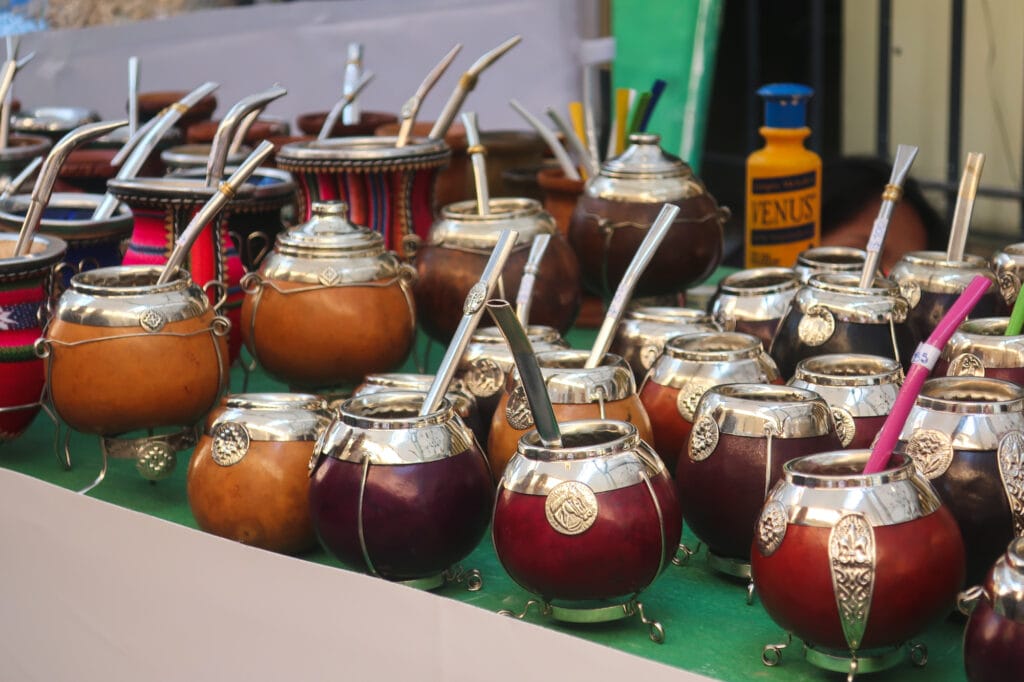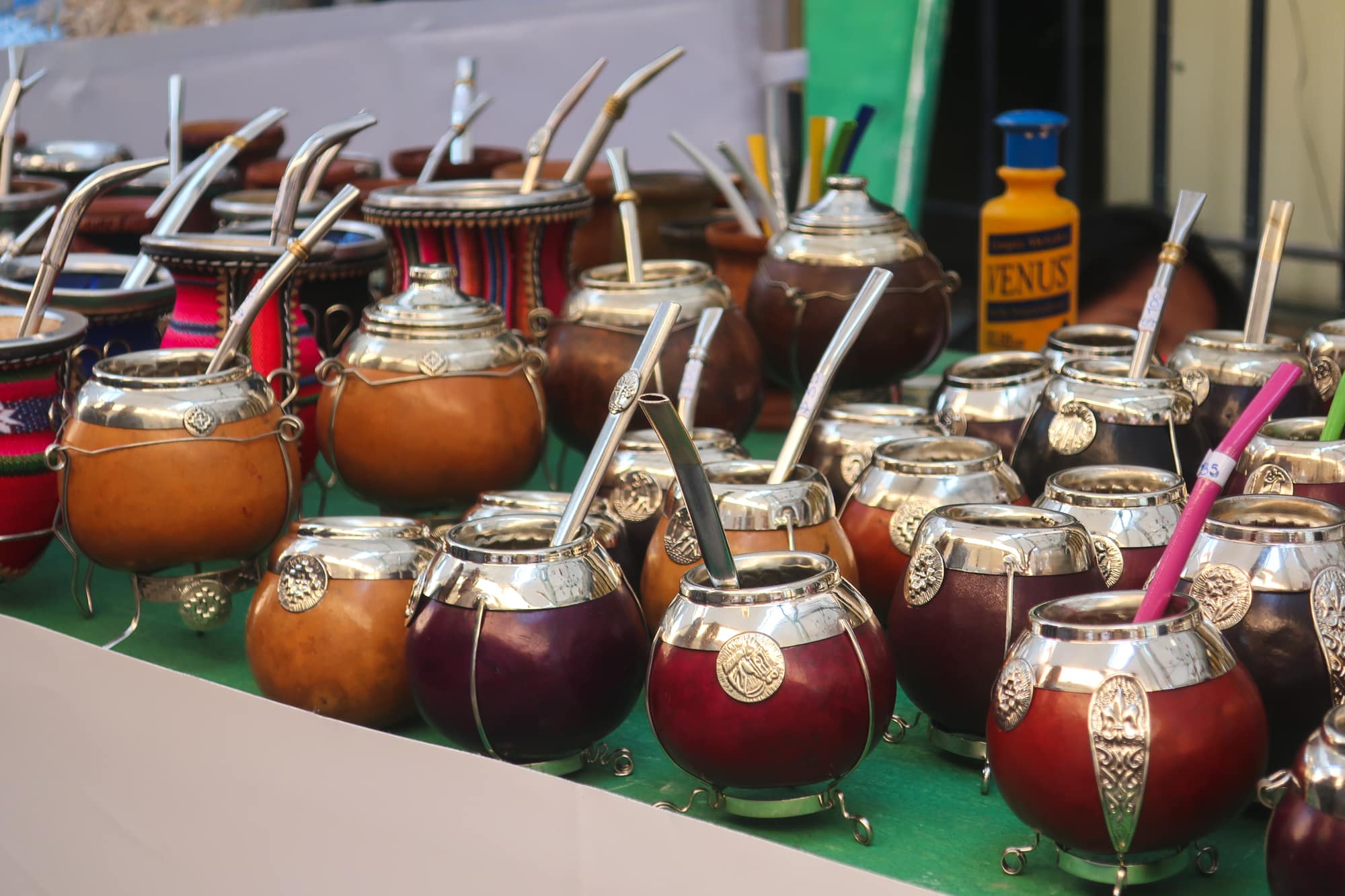 QUICK NOTE: This post contains affiliate links and Sol Salute may receive a commission for purchases made through these links, at no extra cost to you.
Traditional Buenos Aires Souvenirs
There are so many traditional things to buy in Argentina.
This country excels in everything handmade and artisan.
From expertly crafted leather jackets to hand-carved serving platters, you'll be sure to find plenty of Argentina gifts to take home to friends and family (or to keep for yourself).
Buenos Aires is also home to its fair share of antique shops and markets for the treasure hunters out there.
Here's my list of what to buy in Buenos Aires.
And I speak from experience, I own far too much of everything in this post.
Not actually IN Argentina? Check out these Argentina gifts and souvenirs that you can get online, wherever you are.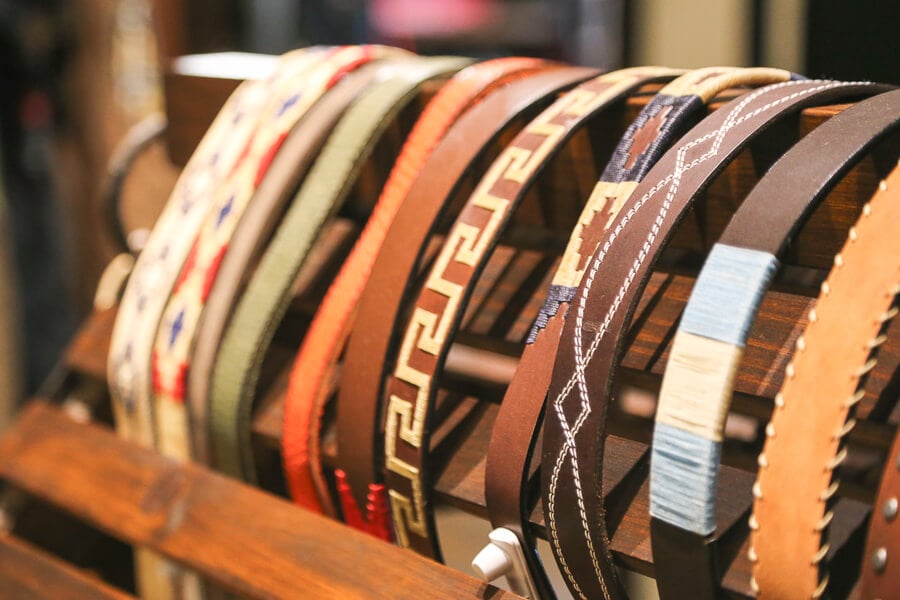 Leather Goods
Argentina is world famous for a few things: red wine, steak, and leather.
If you want to get a high-quality souvenir that will last a lifetime at a fraction of what it would cost back home?
Then you need to get yourself a nice leather jacket, my friend!
Invest in a high-quality leather jacket, pair of boots, or a leather bag while you're here.
Where to shop for leather in Buenos Aires
The Leather District | Murillo Street, Villa Crespo | This is a great place to start. Leather jackets fill the display windows of every shop for a few blocks. I find quality can really vary here, so take your time and investigate the quality of the leather, if it's been dyed, the stitching, etc. Start at Murillo 666, which is both the name and address of the most well-known store here.
Las Pepas is a chain store that you can find in the malls and Palermo Soho, they have very stylish leather jackets. The neighborhood of Palermo Soho, in general, is overflowing with boutiques selling leather bags.
The Markets | I found a stunning brown moto jacket in the San Telmo Market that I regret not buying to this day, so don't discount the markets here (here's my list of the best Buenos Aires Markets). San Telmo on Sundays has a few vendors that come every week with beautiful jackets.
Arandu| Arandu in Recoleta (which may pop up a few times in this post, they are a great one-stop-shop for most souvenirs) sells gorgeous leather bags. Purses or weekenders both, you'll find stunning bags in Arandu.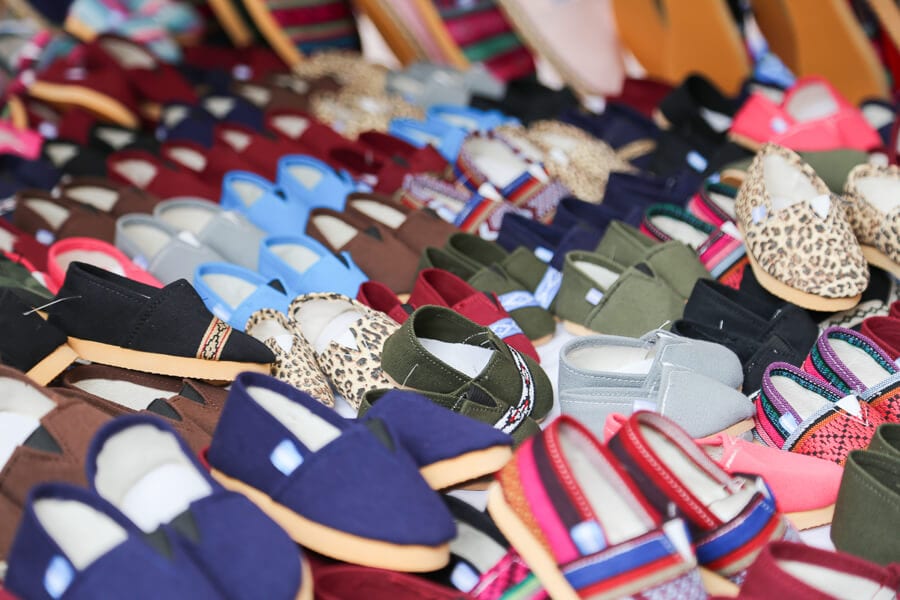 Alpargatas
"Oh, just like Tom's!" No, stop it, forget Tom's. These are the original, the real deal.
If you want to feel like a local, snag yourself a pair of alpargatas.
They're very affordable and come in so many cute colors and patterns.
Alpargatas are my favorite Argentina gift to bring home for friends not only because they're such a huge part of Argentine culture, but because they weigh next to nothing.
Your suitcase won't suffer if you toss in a few pairs of these guys.
Where to find Alpargatas in Buenos Aires
Arandu (I told you that store would show up again) makes my favorite alpargatas. They're super affordable at around the equivalent of $10 US. Their location on Ayacucho in Recoleta is so beautiful that visiting the store alone is a worthwhile experience, the cheap shoes are a bonus.
The outdoor Buenos Aires Markets. There are multiple stalls set up selling alpargatas for children and babies in San Telmo on Sundays. I've also seen them in the Belgrano weekend market on Juramento Avenue (at Cabildo).
Nipa is another shoe brand that sells very stylish alpargatas. They have a store in Plaza Armenia in Palermo Soho.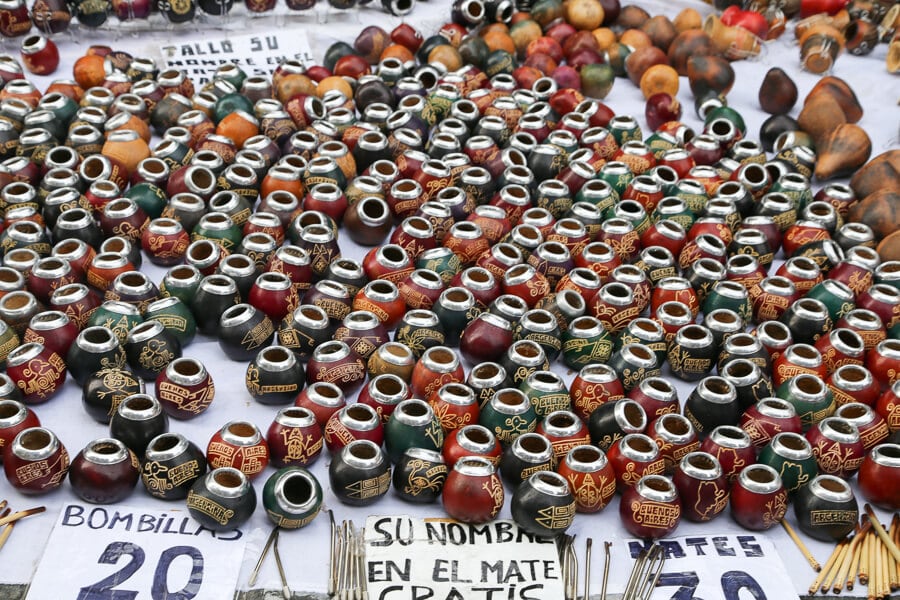 Mate & Yerba
Perhaps the most classic Buenos Aires souvenir is a mate gourd.
The cheapest option is what you see above (at the San Telmo market), an actual hollowed-out gourd.
If you plan on using it or keeping for it for a long time, you'll need to maintain it. Cure it and keep it clean or it will mold.
There are more stylish mates in nearly every single shop (mate is essential here!). Ceramic, silicon, wood, whatever material you want, you'll find it.
The yerba (the tea itself) is available in every supermarket in town.
Stock up to bring it home with you. However, if you run out, it's available on Amazon.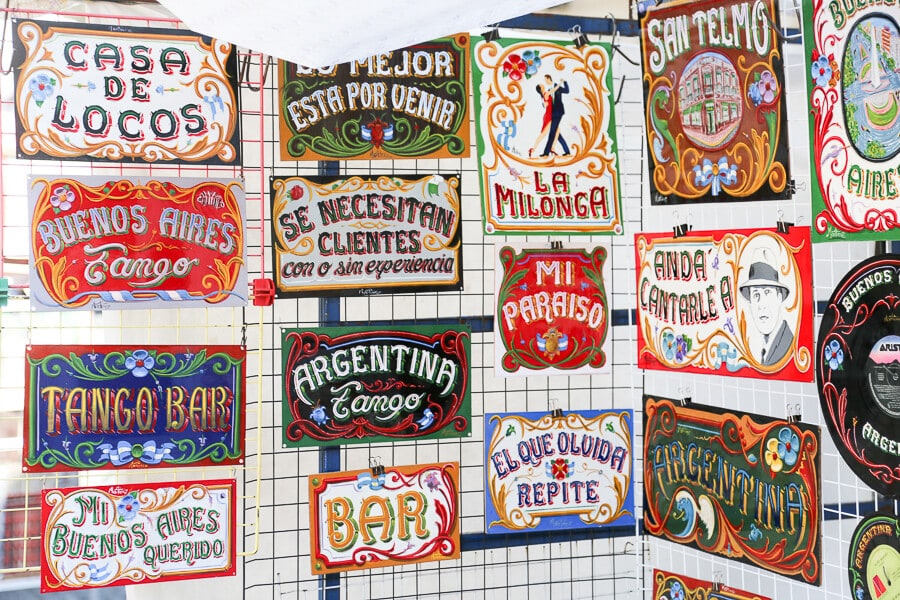 Fileteado
While most items in this post are cultural Argentina souvenirs, fileteado is purely Buenos Aires.
Fileteado is a style of painting (seen above) with swirls of paint, flowers, strong colors and symmetry.
Vendors in all of the markets sell already made signs like those above and most offer the option to customize.
I LOVE fileteado and I personally don't understand why everything in Buenos Aires isn't covered in it.
If you want to learn even more about fileteado then go on this unique tour to discover the artform in San Telmo. It even includes a class where you'll paint your very own souvenir!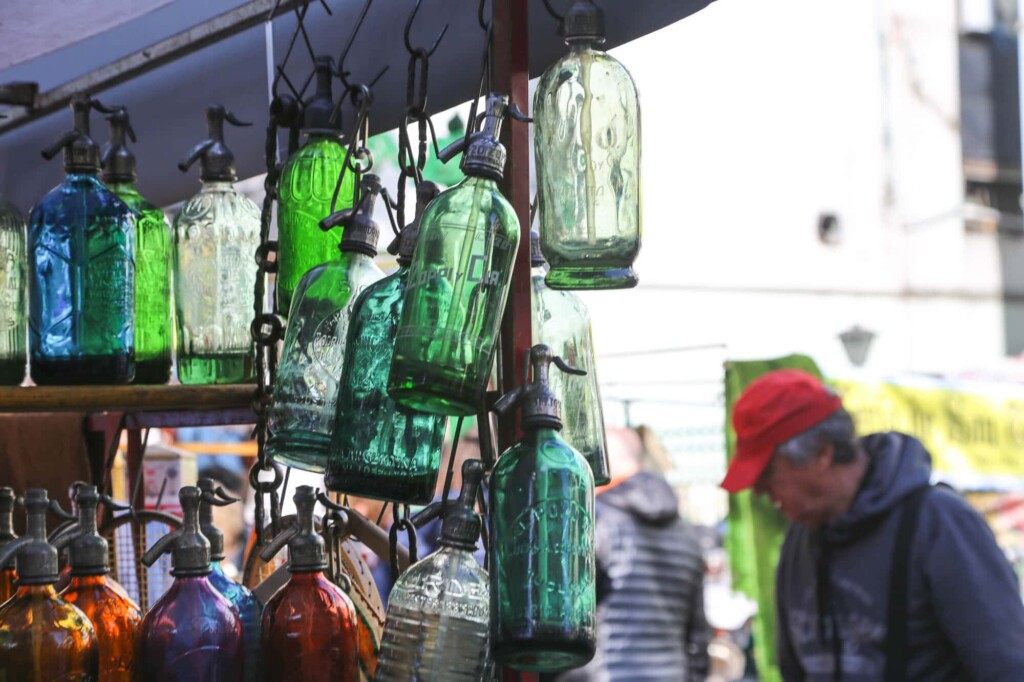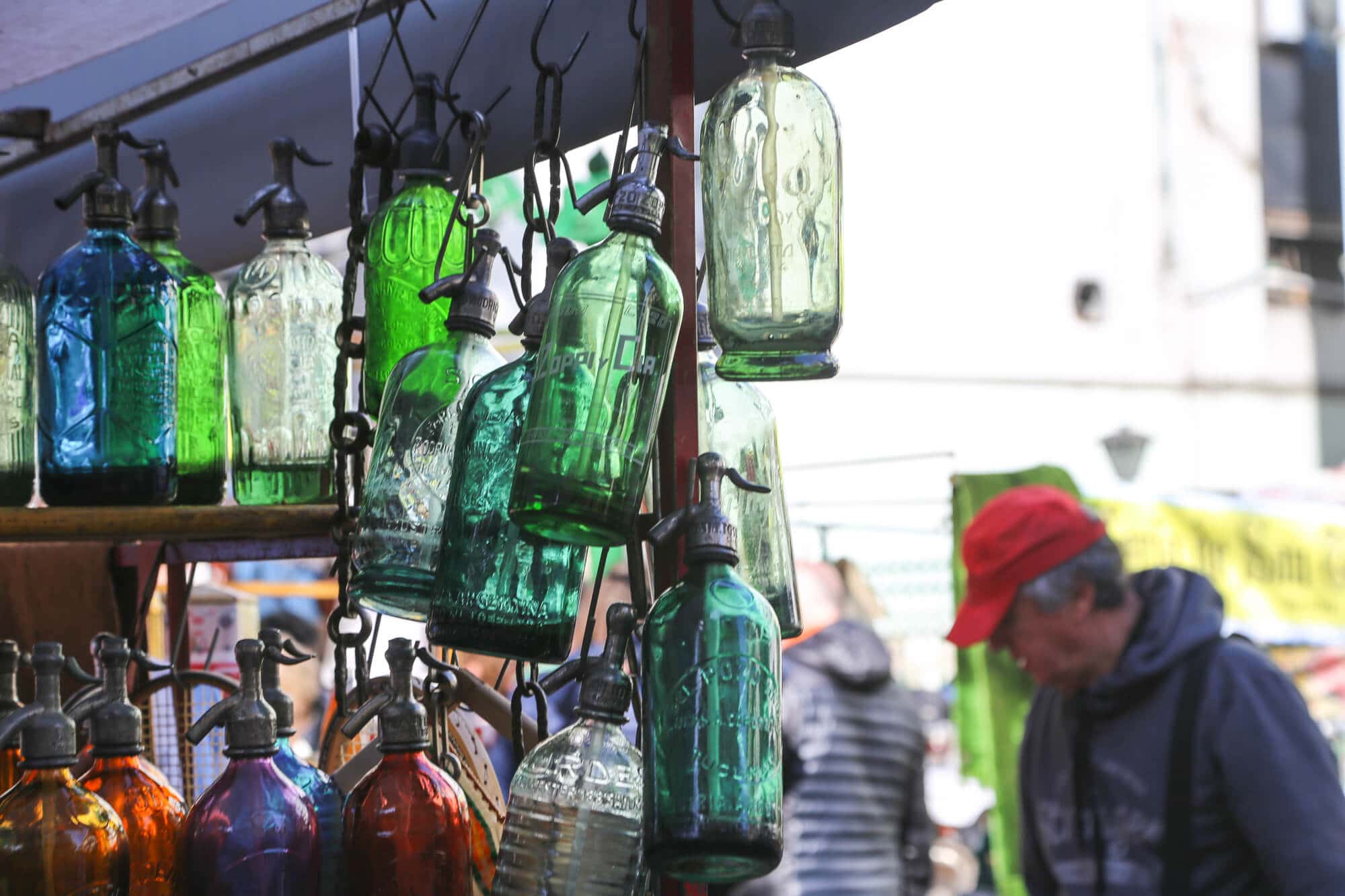 Antique Soda Bottles
While San Telmo is famous for its antiques and unique finds, I particularly love these antique soda bottles.
The colorful glass makes for beautiful home decor and soda truly does form an important part of traditional and popular food culture in Argentina.
Order a vermouth and soda with a side of salami and cheese in any historic bar at the end of a long day of touring to feel like a local. Or visit the more modern Sifon Soderia restaurant in Chacarita to see a modern take on the country's soda culture.
If you want to bring an antique soda bottle home with you, keep in mind that they're very heavy so if you want one, plan your luggage accordingly.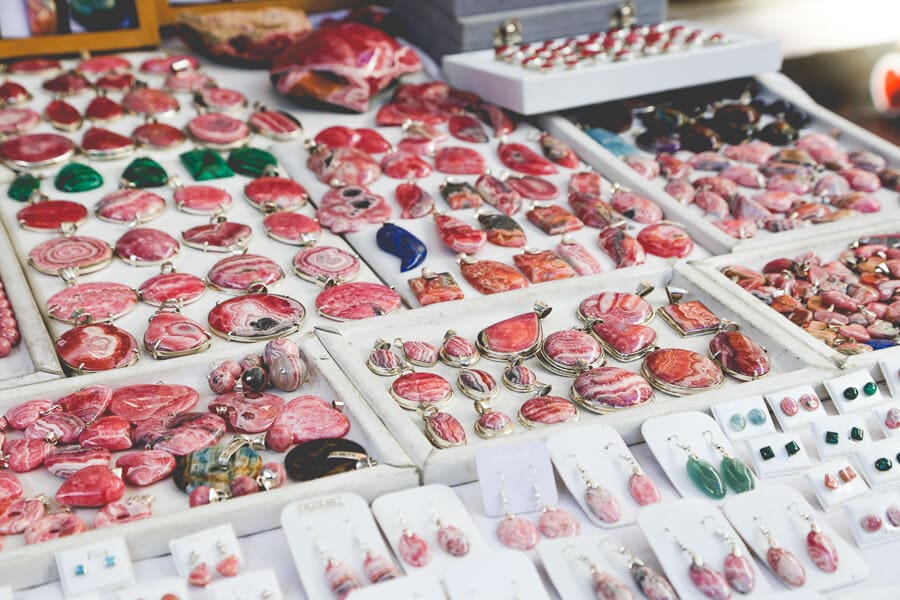 Inca Rose Jewelry
I love jewelry and the bigger the turquoise on it the better. I try to find a local stone when I'm traveling so when I wear my jewelry I can remember my travels.
The official stone of Argentina is the beautiful pink Incan Rose.
The actual name is rhodochrosite but you'll hear it called "Rosa del Inca" on the streets of Buenos Aires.
You can find more expensive pieces in the tourist shops on Florida Street downtown, but my favorite place to get Inca Rose pieces is the San Telmo Market.
There are a lot of vendors here selling Inca Rose jewelry at bargain prices.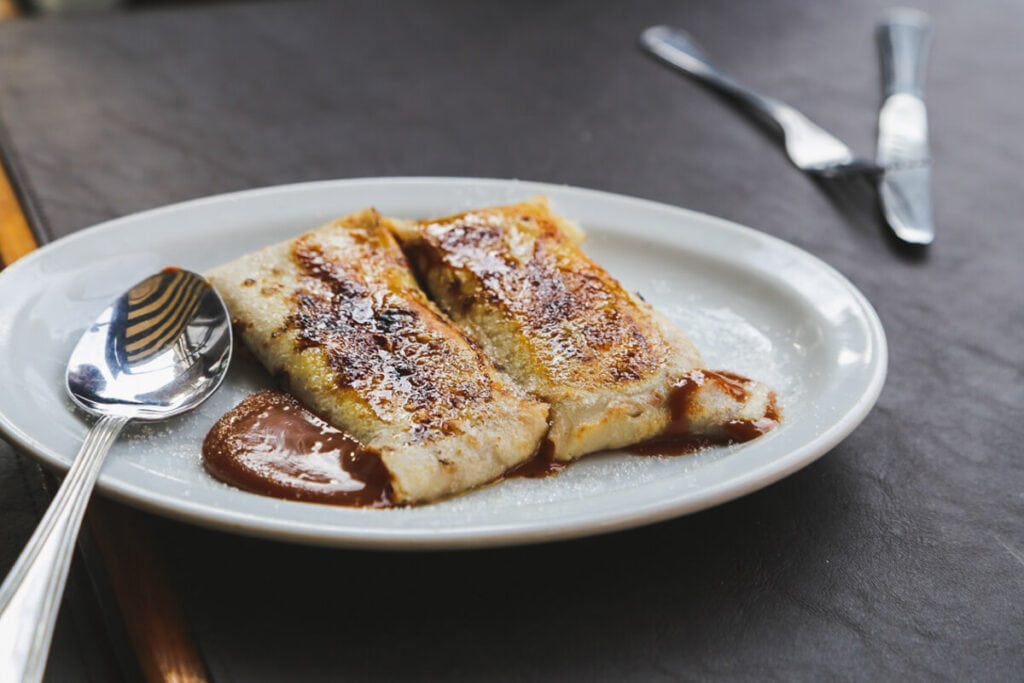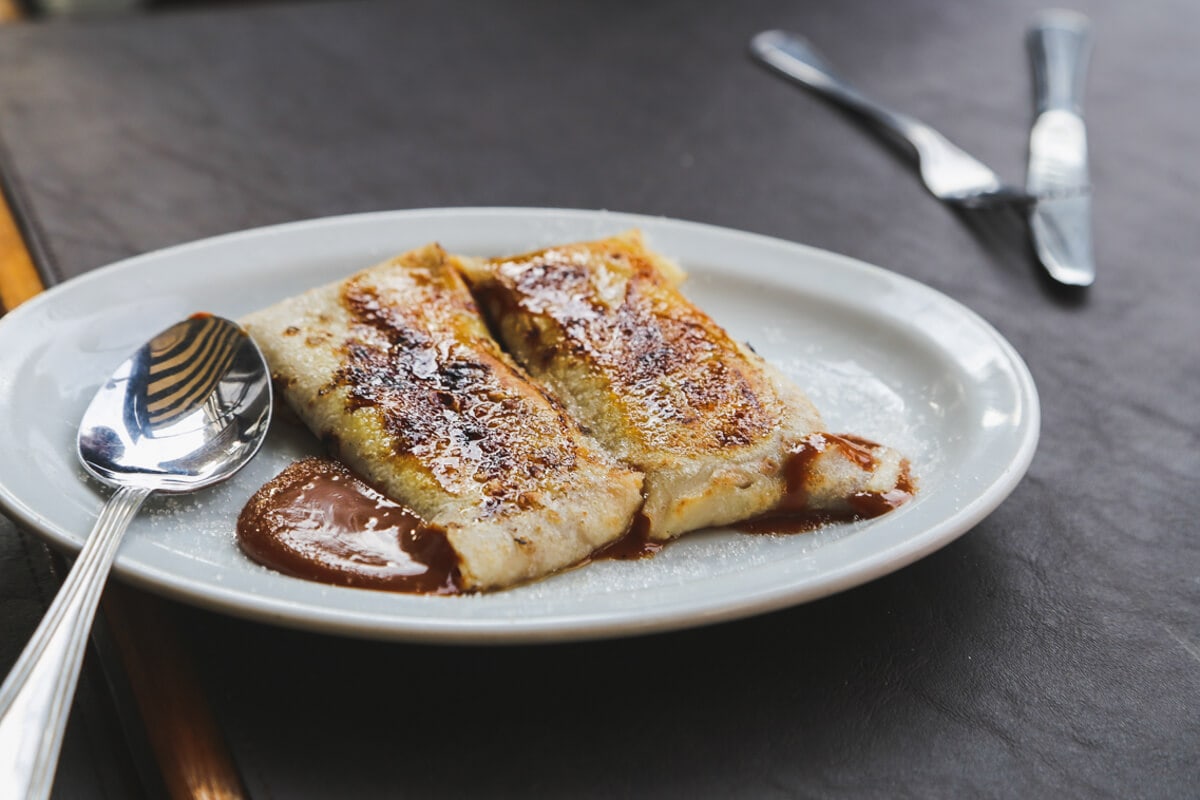 Dulce de Leche
Argentines definitely have a sweet tooth. Dulce de leche is served on just about every dessert in copious amounts.
To bring some home with you pick up a jar in any supermarket in town.
There's also a more dedicated shop in a few locations around town selling everything DDL.
If you want to find a more unique brand than what you find in the supermarket (think small batch production), find Dulce de Leche & Co.
IMPORTANT > If you do bring some back home with you, make sure you put in your checked luggage. Dulce de leche counts as a liquid and shouldn't be in your carry on.
And while pure DDL is great and all, I always love Dulce de Leche Liqueur. Pick up a bottle at one of the markets like San Telmo or Mataderos.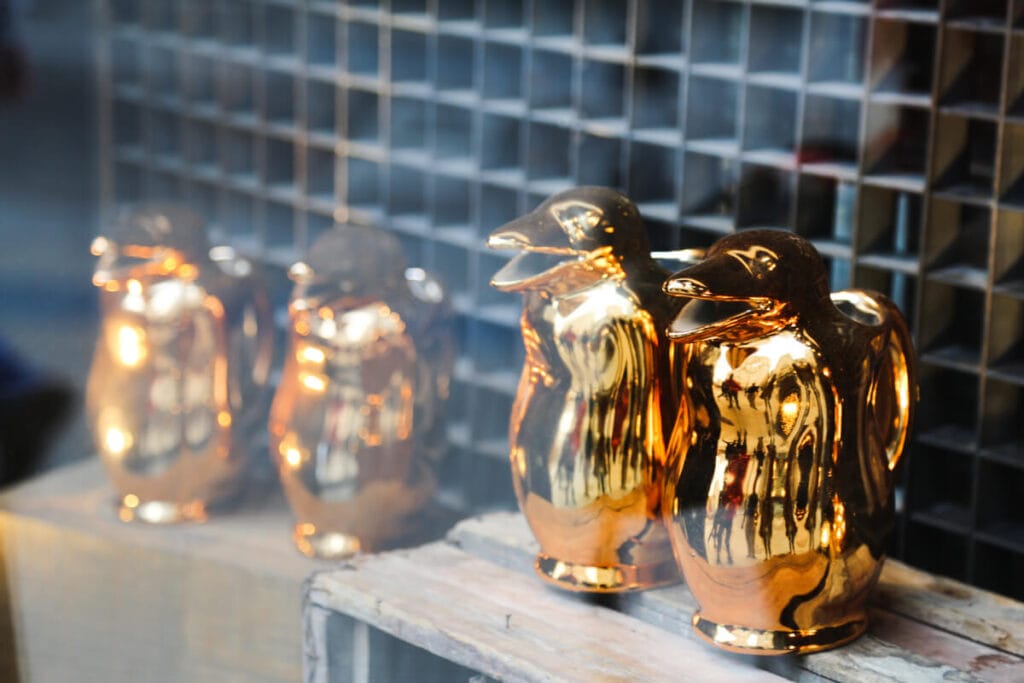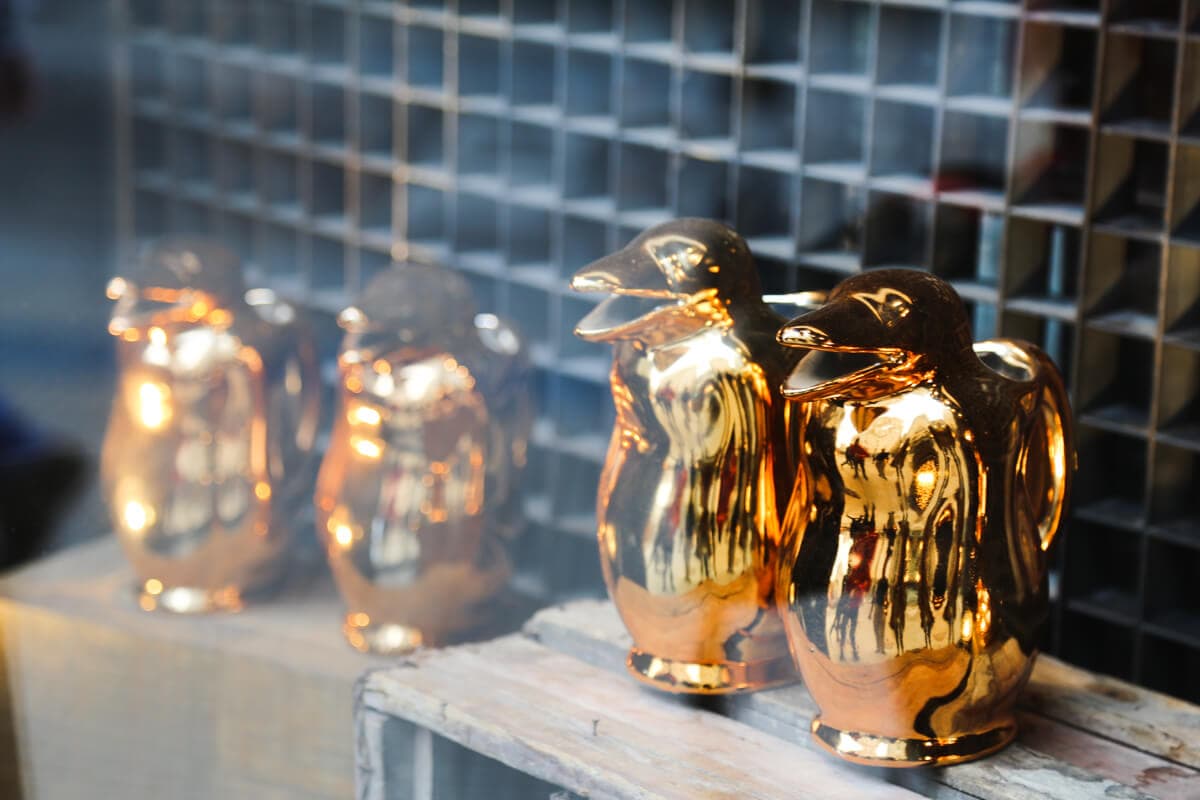 A Penguin Pitcher
One of the most unique Buenos Aires souvenirs, if not the most unique anywhere souvenir, is the pinguino.
If you order a bottle of the house wine at a traditional restaurant here, it will most likely be served to you in a ceramic pitcher in the shape of a penguin.
The wine pours out through the beak.
They're adorable, and if you don't drink, they make great flower vases. I store my spatulas in mine when it's not filled with Malbec.
Where to buy a Pinguino
If you shop around you may find colorfully painted ones in the shops in Palermo Soho. Casa Romero in Palermo Soho and the Tou Tou Galpon in Belgrano sell pastel penguins.
Pinguinos are traditionally only white or brown, and you may be able to find an original on the shelves of the antique market in San Telmo.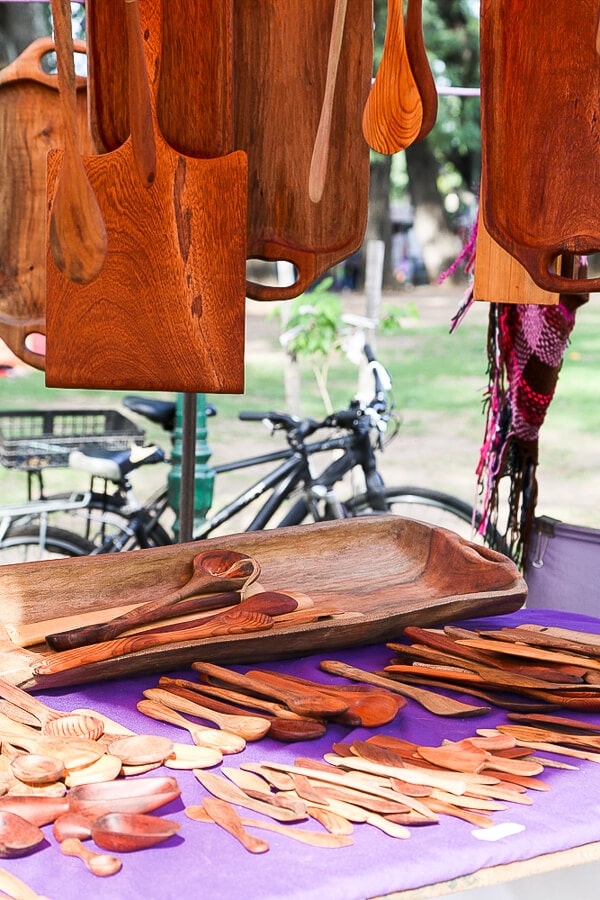 Serving Platters
Charcuterie plates, or "picadas" in Argentina, are very common. Meals are important social events here.
Time spent with family and friends is a priority and meals go on for hours, often starting with a picada served up on a big "tabla" or platter.
You can find serving platters in all of the markets (the ones above are at the Recoleta Feria). Decorated with silver handles or with traditional patterns carved into them, they're great one of a kind piece to bring home with you that will last a lifetime.
Note that some of the larger ones have a groove carved in around the edge. These are for meat at asados (barbeques in Argentina).
They're for carrying the meat to and from the grill and for carving it up to serve. If you host a lot of barbeques back home, this is ideal for you!
Read More of my Buenos Aires Resources:
PIN IT FOR LATER