Penguins, for such a tiny little bird they elicit major reactions.
Squeals, oohs, and ahhs, these waddling little tuxedo birds are worth flying to the end of the world for.
Luckily, penguins in Argentina are actually very easy to see.
Massive colonies with tens of thousands of birds return to the Atlantic Coastline of Patagonia each year to breed.
Many of these colonies are easily accessible on guided tours where you can safely (for you and the animals) walk among them.
This post is dedicated to the world's cutest flightless bird.
Keep reading to learn about what penguins you can see, where you can see penguins in Argentina, and links to the best guided tours (because they are not all created equal).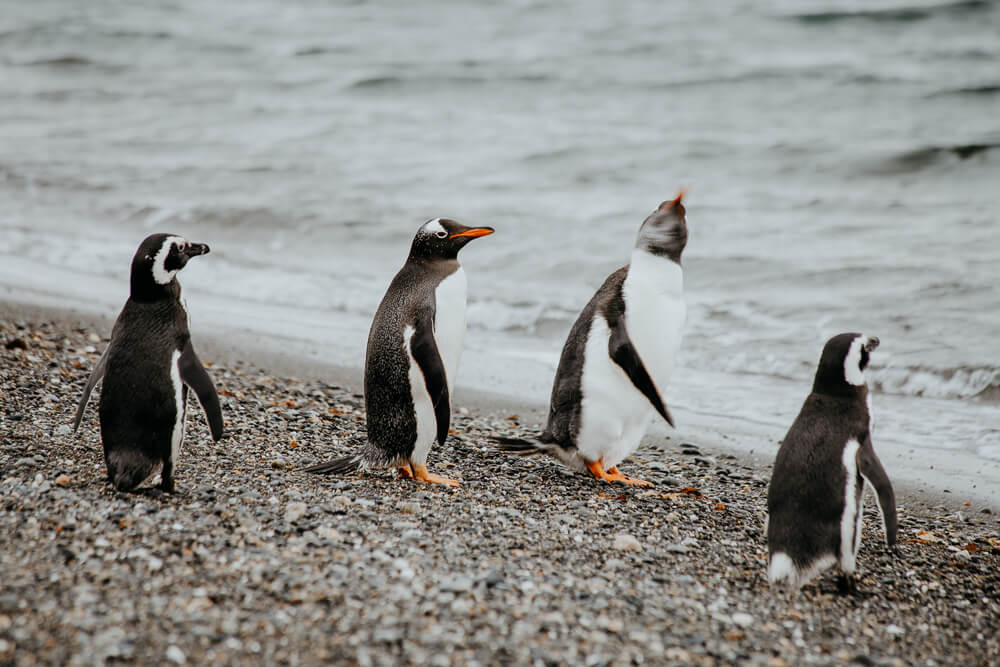 QUICK NOTE: This post contains affiliate links and Sol Salute may receive a commission for purchases made through these links, at no extra cost to you.
Breeds of Penguins in Argentina
When you think of penguins in Argentina, the breeds that come to mind are likely King and Emperor.
But there is so much more to penguins than these regal breeds.
The Magellanic Penguin is by far the most prolific of the penguins in Patagonia. This South American breed can be found all along the coast of Chilean and Argentine Patagonia and as far north as Uruguay and into Brazil. They are named after Ferdinand Magellan who first spotted them in 1520.
Gentoo Penguins (known in Spanish as pingüino papúa or pingüino Juanito) lives mainly in Antarctica, South Georgia and the Falklands but there is a decent sized colony in Ushuaia, Argentina's southernmost city.
Rockhopper Penguins (you may know them from the kooky guru penguin in Happy Feet) are known for their red eyes and black and yellow crests (that resemble fluffy feathery eyebrows).
King Penguins don't technically call Argentina home, but if you're lucky you can spot a stray or two. We saw a pair of lost King Penguins in Ushuaia, lost from their typical habitat further south in Antarctica.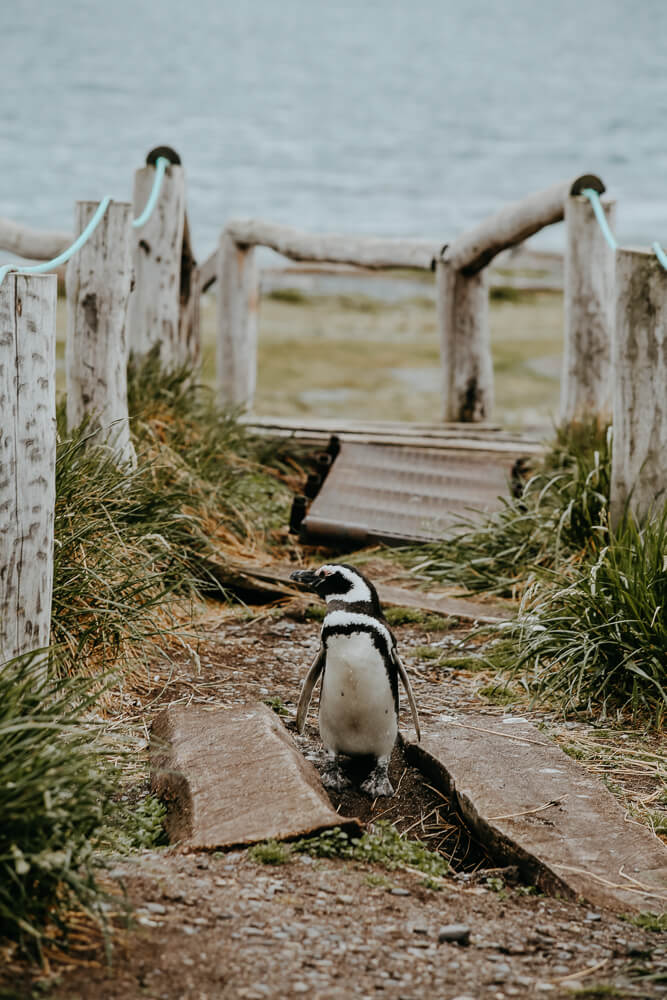 Where to See Penguins in Patagonia, Argentina
When it comes to Argentina penguins you have to head south to Patagonia.
The Atlantic Coastline is a major breeding ground for penguins in Patagonia.
They can be spotted from October through April when they return to the same location year after year to breed.
Penguins are monogamous and even return to the same nest every year. In fact, our guide on our Ushuaia penguins tour told us the first conflict in a penguin's life is when he returns to his parents home as a grown penguin. His father swiftly kicks him out, forcing him to start his own life with his own partner and nest.
I love wildlife and am lucky to call Argentina home. My family and I travel the country north to south searching for the best wildlife viewings and we've seen quite a few penguins in Patagonia.
Here are the top 4 destinations for seeing penguins in Argentina.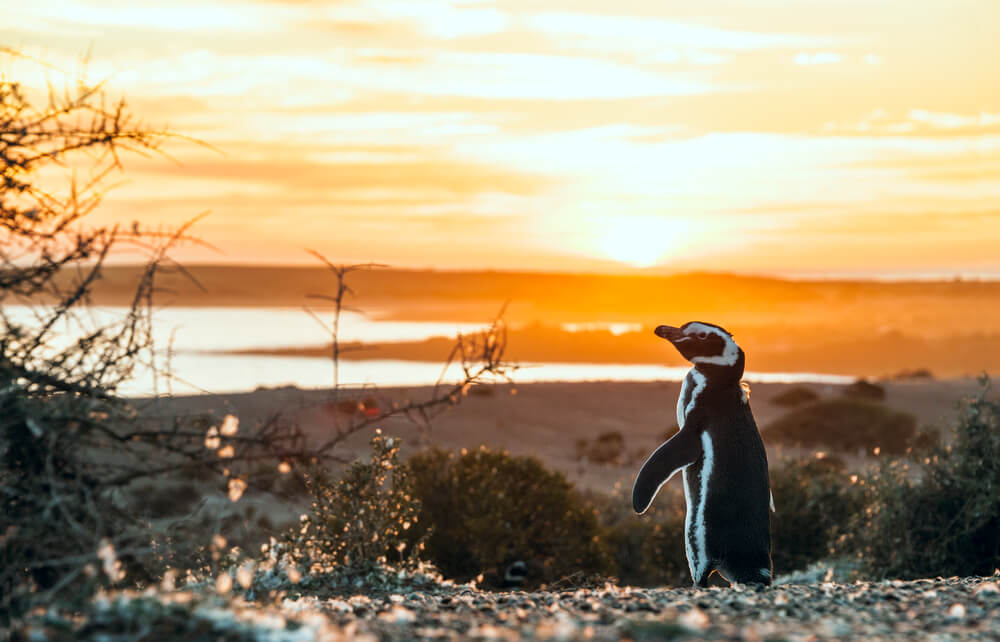 Punta Tombo
If you want to get up close and personal with thousands of penguins, Punta Tombo is the place to go.
An impressive 800,000 Magellanic penguins (some report as many as a million!) reside here throughout the season, from early September through April.
This massive Patagonia penguin colony is just under 200 km south of popular Puerto Madryn and is one of the most popular day tours from the city.
While you can get very close to the penguins here, stay mindful of their space and watch where you step to avoid stepping on any nests.
Keep Reading: Unforgettable Things to do in Puerto Madryn
Peninsula Valdes
Puerto Madryn is one of the most popular wildlife destinations in Argentina.
And nearby Peninsula Valdes is a wildlife paradise, with animals returning every year to breed here. You can see sea lions, elephant seals, southern right whales, orcas, and of course: Magellanic penguins.
Take a full-day tour of the peninsula and you'll be sure to visit the small colony on Caleta Valdes.
We spent a while walking the boardwalks here, listening to the penguins belt out their donkey-like squawks and waddle up and down the hillside. This small Caleta Valdes colony is free once in the reserve but you'll be viewing the penguins from a boardwalk behind a barrier.
If you want to see a larger colony with the possibility of getting much closer, book this visit to Estancia Lorenzo.
This estancia is located in the Peninsula Valdes nature reserve and offers guided tours down to walk among the penguins on their beach.
Peninsula Valdes or Punta Tombo?
If you want to see penguins first and foremost, Punta Tombo cannot be beat. If you want to see more varied wildlife, you want to see Peninsula Valdes.
Which City To Fly Into (Puerto Madryn Or Trelew)?
Puerto Madryn and Trelew are two nearby cities with airports (and regular flights from Buenos Aires). Trelew is closer to Punta Tombo and Puerto Madryn is closer to Peninsula Valdes.
The difference isn't much, at around an hour's drive. I recommend basing your decision on the cheapest flight and rental car options available.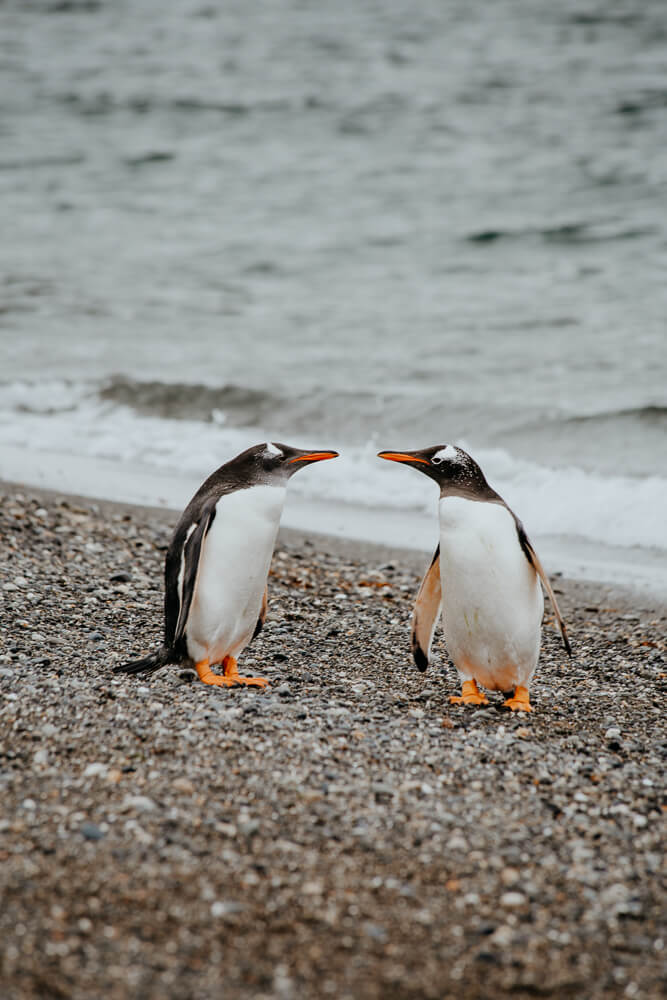 Patagonia Penguins in Ushuaia
Ushuaia is the self-proclaimed end of the world. It is Argentina's southernmost city and the gateway to Antarctica.
Being so close to the penguin paradise that is Antarctica it should be no surprise that it is also home to its own penguin colonies.
You can see penguins here from October through April.
To see penguins in Ushuaia you need to take a day tour to Isla Martillo, an hour and a half from the city. It is one of the most popular things to do in Ushuaia.
This island is home to Magellanic penguins, gentoo penguins, and the occasional stray King penguin or two.
There is only one tour that includes visits onto the island, and that is this tour (including a visit to historic Estancia Haberton).
All other tours view the penguins from a distance as part of a grander Beagle Channel package tour. If you want to see the penguins, definitely book this tour to spend an hour walking on Isla Martillo with them.
I enjoyed seeing a penguin in Patagonia that actually wasn't a Magellanic penguin. The gentoo penguins were adorable.
Not to mention our group's excitement when we spotted a pair of king penguins asleep with a nest of gentoo penguins! They likely got lost and followed gentoo penguins (that they are familiar with from Antarctica) to this rookery on Isla Martillo.
Keep in mind that seeing king penguins in Ushuaia is not guaranteed but it can be an incredibly special surprise!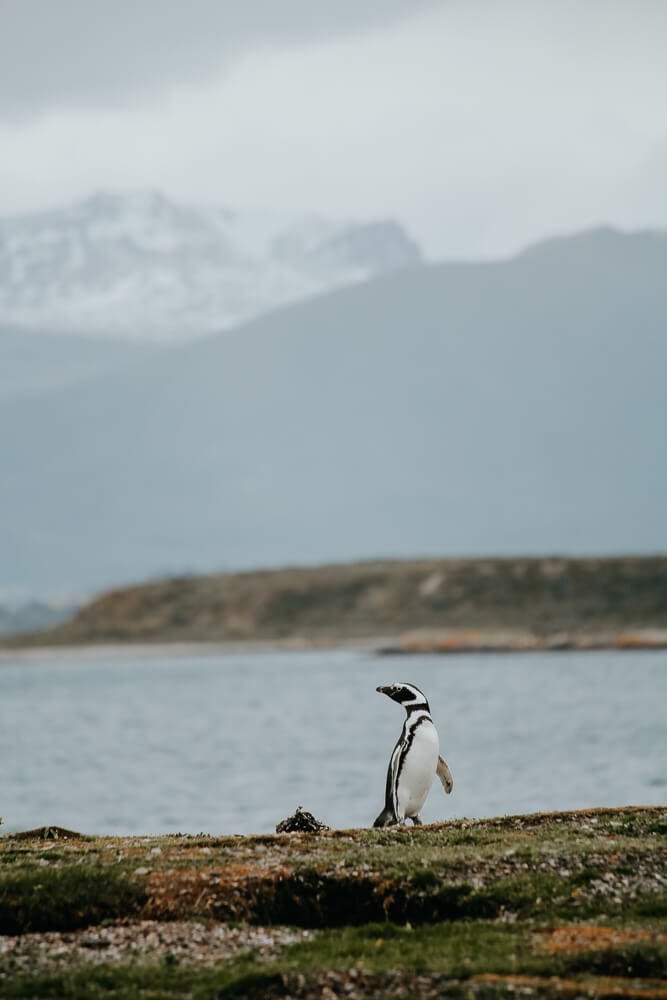 Related: Where to see llamas in Argentina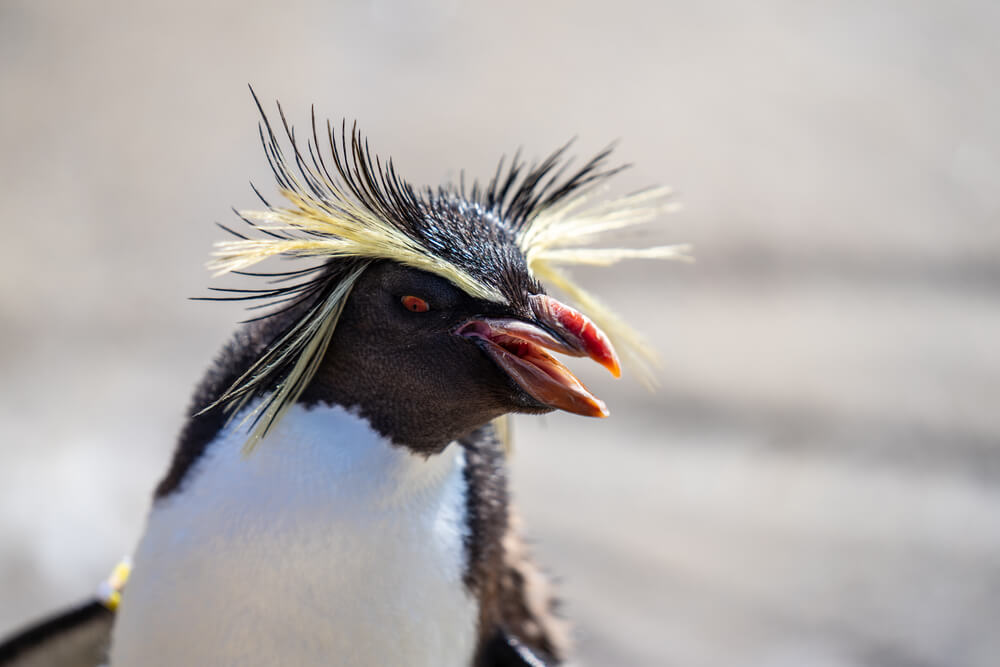 Rockhopper Penguins in Puerto Deseado
You've probably seen Rockhopper Penguins in movies like Surf's Up and Happy Feet. Their quirky look, recognizable by a long yellow brow even a Kardashian would envy, really makes them stick out.
There is a colony of around 30,000 Rockhopper Penguins in Puerto Deseado, Santa Cruz.
They arrive throughout October and stay until the end of March.
You can see them on this guided tour of Penguin Island Provincial Reserve, where you'll also see Magellanic Penguins.
Rockhoppers conservation status is vulnerable, having lost a considerable amount of their population in recent years.
How to get to Puerto Deseado? Admittedly, this Patagonian destination is off the beaten path. The closest airport is in Comodoro Rivadavia, 3.5 hours to the north. I recommend renting a car and driving south for the most freedom to explore. Otherwise, hired transfers or long distance buses are likely the best option.
Puerto Deseado may be tough to get to but you'll be rewarded not only with penguins but with excellent kite and windsurfing, massive beaches, and nature reserves.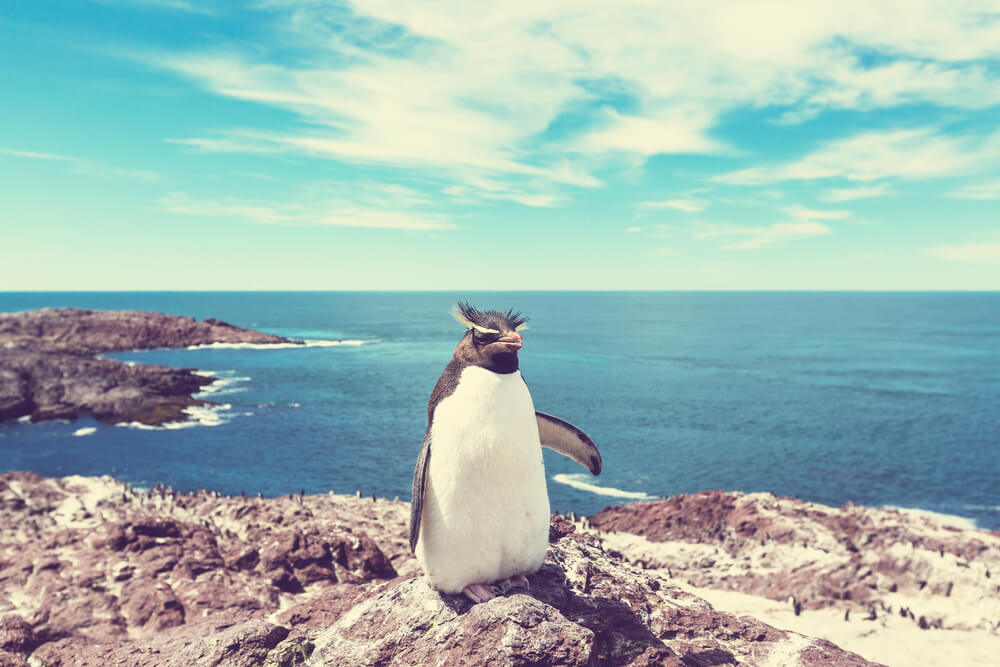 Bonus: King Penguins in Punta Arenas, Chile
While this is an article dedicated to where to see penguins in Argentina, one cannot deny that a trip to Patagonia often includes Chile's side of the border as well.
In the southernmost islands of Chile's Patagonia, it's possible to take a day trip to see king penguins.
This full-day excursion includes a visit to a permanent king penguin colony. Keep in mind that despite the tour taking all day, you spend about an hour and a half with the penguins.
This is typical for most tours (it was the same in Ushuaia), but there are plenty of interesting stops included to round out the day!
Penguins in Argentina: A Summary
If you have plans to visit southern Argentina I hope this post helped you work penguins in Patagonia into your itinerary!
Have any questions or have a great penguin encounter to share? Comment below!
Keep Reading about Wildlife in Argentina
Pin It For Later